The Original College Football Czar
2020-21 Bowl Game Picks, Part Two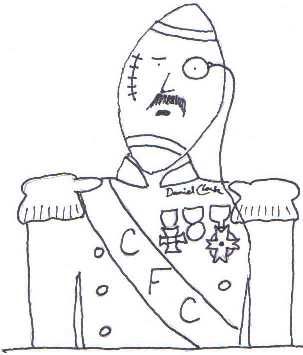 a sports publication from The Shinbone, by Daniel Clark
Week fourteen in review: As explained in Part One, the abnormal bowl game scheduling has caused the College Football Czar to break his picks into two installments. This issue includes all games that take place after Christmas, including the CFP semifinals and championship game. To review his picks for the opening week of the bowl season, please see Part One.
Dec. 26 (Saturday)
First Responder Bowl -- Dallas -- 3:30 (ABC)
La.-Lafayette (9-1) vs. UTSA (7-4)
This game was moved last year from the venerable Cotton Bowl to Gerald J. (as in not the president) Ford Stadium on the SMU campus.

The reason for this was that the NHL was using the Cotton Bowl for its Stadium Series, but the bowl committee must have liked the cozier confines of the 32,000-seat venue, because here they are for a second year in a row.
The Ragin Cajuns were deprived of a chance to avenge their only loss of the season when their Sun Belt Conference Championship game against Coastal Carolina was canceled.

Their regular-season three-point loss to CCU has tainted an otherwise excellent year, which began with a stifling 31-14 stoppage of Iowa State, and has also included a nonconference win over a very good UAB team.
The Roadrunners have got One (1) Acme Game-Breaking Running Back in sophomore scooter Sincere McCormick.

The 5-9 flyer runs like he really means it, gaining 1,345 yards this season, which places him second nationally behind Iowa State's

Breece

Hall.

In his last game, he trounced North Texas for 251 yards and two touchdowns, although that's really not so extraordinary, if you saw that same UNT defense against Appalachian State in the Myrtle Beach Bowl.
It's a little-known fact that the reason this is called the First Responder Bowl is that they invite everybody, and let in the first two teams to accept.

Sorry, Alabama and Clemson.

Too slow.
La.-Lafayette 37, UTSA 24
LendingTree Bowl -- Mobile -- 3:30 (ESPN)
Western Kentucky (5-6) vs. Georgia State (5-4)
These same teams squared off three years ago in the Cure Bowl, where the Panthers prevailed 27-17.

They shut down the WKU ground game that day, for a total of 19 rushing yards, with a fumble.

The Hilltoppers have a more balanced offense this season, averaging almost two more yards per carry than they did in 2017.
GSU salvaged a winning regular season with a victory in a rivalry-in-progress game against Georgia Southern.

Quarterback Cornelius

Browniv

threw for a career-high 372 yards, while rallying his team from an eleven-point fourth-quarter deficit to come out on top, 30-24.
At first glance, one might think the Toppers, having a losing record, would need that towel to wipe the egg of their faces, but with those six losses coming against Louisville, Liberty, Marshall, UAB, Brigham Young and Florida Atlantic, they're clearly among the better group-of-five teams appearing in this postseason.
The College Football Czar utterly fails to grasp the concept of a lending tree.

When you pick an apple from a tree, you probably intend to eat it, so why would you agree to give it back?

And where would you come up with the interest?

It sounds like the target audience for this is the people the Czar has argued with in bars about two-point conversions.

"But still, I get an apple!

Your way, you don't get nuthin!"
Western Kentucky 34, Georgia State 31
Cure Bowl -- Orlando -- 7:30 (ESPN)
Liberty (9-1) vs. Coastal Carolina (11-0)
These former Division I-AA Big South Conference rivals were supposed to have squared off in Week 14, but the Flames were forced to cancel.

That led to CCU's blockbuster matchup with Brigham Young, which it won, 22-17.

Now we'll see how the Chanticleers would have fared against their originally scheduled opponent, which will be better prepared to face their unorthodox, wishbone-influenced, multiple-option offense.
LU stopped getting national attention once it lost a game, but does a 15-14 setback against an 8-3

Nc

State team really drop them a rung below the undefeated Chants?

As strong as the Sun Belt Conference has been, the Czar suspects that Liberty, an Independent, has faced a tougher schedule.

Their three games against ACC teams were all on the road, including a wild 38-35 win over Virginia Tech in Blacksburg.
Coastal isn't the only offense that's dangerous on the QB Keeper.

Flame thrower Malik Willis has 10 rushing touchdowns this year to go along with another 20 through the air.

The juking junior leads his team with 807 yards on the ground.

Unlike some other dual-threat quarterbacks, he has also been an efficient passer, piling up 2,040 yards with only four interceptions.
Earlier this year, the Chanticleers celebrated a victory by beating up a faux Georgia Southern Eagle mascot, WWE-style.

What would they do if they were to defeat the university founded by Jerry Falwell?

Bring out a Jerry Jr. impersonator and pull up his fly?

No, that would be too witty for this crew.

How about if they bring in a faux Liberty mascot, also an eagle, and beat it up WWE-style?

That bit never gets old, to a lardhead.

The rest of us could do without it, though.
Liberty 28, Coastal Carolina 27
Dec. 29 (Tuesday)
Cheez
-It Bowl -- Orlando -- 5:30 (ESPN)
Oklahoma State (7-3) vs. Miami (8-2)
The game that has been called the

Cheez

-It Bowl for the past two years was lamely renamed the Guaranteed Rate Bowl, which is so intensely uninteresting that it makes a cricket test match look like rollerball.

Mercifully, this year's edition of that game has been canceled.

If you were already aware of this, knowing that there is still a

Cheez

-It Bowl must make you feel like you did when Frosty came back to life.
Seriously, this is why the Czar doesn't like supplanting traditional bowl names with sponsorships. If last year they played the

Cheez

-It Cactus Bowl, and this year they played the

Cheez

-It Tangerine Bowl, people would know which was which.

Fans remember great games in the history of the Liberty Bowl or the Holiday Bowl, but nobody recalls great moments in Blockbuster/

Carquest

/Micron PC/Tangerine/Champs Sports/Russell Athletic/Camping World/

Cheez

-It Bowl history.
The NCAA's 2019 leading rusher,

Chuba

Hubbard of OSU, quit after his team's blowout Bedlam loss to Oklahoma, but he won't necessarily be missed.

The self-appointed sheriff of the apparel police should have cared more about the Cowboy jersey on his own back than worrying about how coach Mike Gundy dresses for a fishing trip.

Hubbard's per-carry average had dropped from 6.4 a year ago to 4.7 in 2020.

Still competent, but about a yard worse than either

Dezmon

Jackson or L.D. Brown.
That pair of Poke pounders could bring the hammer down on the Hurricanes, who were

folkshandled

by North Carolina, 62-26.

UNC romped for 554 rushing yards that day, to make up the bulk of a 778-yard assault that was the worst that The U has ever suffered.
The College Football Czar will take his chances eating the It, but

Cheez

with a Z frightens him.
Oklahoma State 52, Miami 34
Alamo Bowl -- San Antonio -- 9:00 (ESPN)
Colorado (4-1) vs. Texas (6-3)
The Pac 12 considered putting the Buffaloes in the conference championship game after Washington withdrew, even though they and USC are both in the same division.

The league did not need to invoke the Just Making Crap Up As We Go Along clause in its bylaws the way the Big Ten did, because CU stumbled in its final regular season game against Utah, 38-21.

Too bad there was no live audience to enjoy the game in the snow that day, because those of us at home might as well have been watching "eSports," what with Fox superimposing yard markers, gigantic arrows, and Mario and Luigi among other things onto the field.
Quarterback comparisons don't come much more lopsided than this.

The Horns have one of the nation's most prolific passers in Sam

Ehlinger

, with 2,406 yards and 26 touchdowns in only nine games.

His counterpart, sparingly used CU senior Sam

Noyer

, who almost transferred before the season, has got only six TDs, while equaling

Ehlinger's

total of five interceptions.
The College Football Czar is surprised by the surprise expressed by others in the Longhorns' announcement that Tom Herman will return next year as head coach.

In his fourth year in Austin, the former Ohio State assistant has won his first three bowl games, including a Sugar Bowl shocker over Georgia two years ago.

In the three years before Herman's arrival, the pointy cows came up short of the .500-mark in each campaign, for a record of 16-21.

They have since gone 31-18.

How is there even a discussion about his future with this program?
Former UCLA coach Karl Dorrell made a successful return to the Pac 12 this year in Boulder, which he rolled over his first four opponents, including his former team in a 48-42 firefight.

What the Czar remembers best about the coach from his days in L.A. is that he would often wear the official cap of the Bruin baseball team as he stood on the sideline, a refreshing show of solidarity with another of his school's athletic programs.

Unfortunately, the Buffs don't field a baseball team.
They do have a ski team, so maybe he could wear a ski lift ticket on his jacket, like a ski geek who imagines it to be an irresistible ice-breaker.

"Hi, ladies.

You might be wondering why I'm wearing this ski lift ticket when I'm nowhere near a resort.

Hey, come back!"
Texas 42, Colorado 31
Dec. 30 (Wednesday)
Duke's Mayo Bowl -- Charlotte -- Noon (ESPN)
Wisconsin (3-3) vs. Wake Forest (4-4)
The Madison Reds have been among the worst underachievers this year, but that is not the fault of their defense, which has allowed only 263.5 yards and 15.7 points per game.

In games in which freshman quarterback Graham Mertz has not been intercepted, they're 3-0
The Badgers beat Minnesota 20-17 in overtime to keep possession of the Paul Bunyan Axe.

UW's two leading rushers were forced to sit out for the usual reasons.

That left it up to little-utilized senior running back Garrett

Groshek

, whose 24 carries were double his career high.

The former walk-on responded by more than doubling his career high in rushing yards, with 154.
Looking at Wake's wacky results, the College Football Czar wonders how they'll react to facing a formidable offense.

In their seven games against Division I-A competition, the average score has been a 34-33 defeat.
Mayo.

Yuck!

All of a sudden,

Cheez

with a Z is sounding pretty good.
Wisconsin 16, Wake Forest 14
Music City Bowl -- Nashville -- 3:30 (ESPN)
Iowa (6-2) vs. Missouri (5-5)
It's been a difficult enough year for college football coaches without some of the hogwash they've had to deal with from "social justice warriors."

At the start of the season, the big story in Iowa City was a lawsuit that had been filed by a handful of former players, alleging among other things that longtime head coach Kirk Ferentz is a racist because he doesn't like backward hats and earrings.

If that wasn't bad enough, the Hawkeyes started the season at 0-2, with a loss to pitiful Purdue.

Their turnaround to win six in a row should be one of the biggest stories of the season.
If Ferentz was really treating players unfairly on the basis of race, the obviously correct thing to do would be to fire him.

The U of I has not done that, so why has it not been more vociferous in defense of a coach who has remained loyal to it for 21 years?

Because college administrators are weasels.

The simplest answer is often the correct one.
The Tigers tumbled to a .500 finish with a 51-32 loss to Mississippi State.

In the three games since shutting out Vanderbilt, Mizzou has surrendered 48, 49 and 51 points.

In other words, they have fared poorly over the past month against teams that are comprised entirely of men.
Iowa 41, Missouri 21
Cotton Bowl -- Arlington -- 7:15 (ESPN)
Florida (8-3) vs. Oklahoma (8-2)
In the SEC title game, the Gators gave Alabama a far better battle than the Czar expected, before falling by a final of 52-46.

Quarterback Kyle Trask added 408 yards to his NCAA-leading total of 4,125.

The senior slinger is now the runaway leader in touchdown passes with 43, ten more than Zach Wilson of BYU.
OU avenged an early loss to Iowa State in the Big XII championship game, 27-21.

The Sooners stuffed the nation's leading rusher,

Breece

Hall, for season-lows in yardage and per-carry average, but their third-ranked run defense will be of little use against the UF aerial attack.
How ironic that this game is no longer played in the stadium that is named the Cotton Bowl, but instead is at the home stadium of that human boll weevil, Jerry Jones.

Why do announcers speak of this atrocious edifice with such reverence?

Is Jerry plying them with concubines?

That's the most innocent explanation the Czar can think of.
"How the edifice got in my pajamas, I'll never know."

It's a little-known fact that those were the dying words of Groucho Marx, after leaving a brick in his britches at the old folks' home.
Florida 35, Oklahoma 27
Dec. 31 (Thursday)
Armed Forces Bowl -- Fort Worth -- Noon (ESPN)
Mississippi State (3-7) vs. Tulsa (6-2)
The Bulldogs started strong with a win over 2019 national champion LSU, and finished with a flourish against Missouri, but in between, they only won one out of eight.

They wouldn't be making a postseason appearance, except that the only qualification was a willingness to play.
TU put up a tussle against unbeaten Cincinnati, but lost on a last-second field goal, 27-24.

The Golden Hurricanes' only two setbacks of the season have been close games on the road against teams with a combined record of 16-3.

In their opener in Stillwater, they stopped the flow of the Oklahoma State offense for three quarters before succumbing, 16-7.
Do the Armed Forces include our new Space Force, and if so, what is it with which it is armed?

Phasers

?

Moreover, why is there not yet a Space Force football team?

Not enough

flubber

?

Enquiring minds that watch too much TV want to know.
Tulsa 24, Mississippi State 21
Arizona Bowl -- Tucson -- 2:00 (CBS)
Ball State (6-1) vs. San Jose State (6-0)
Originally an obscure bowl that tried to appeal to Millennials by broadcasting online, this game has now landed a network time slot normally reserved for the Sun Bowl, which of course has been canceled.
The Spartans stayed unbeaten by bouncing Boise State 34-20 to win the Mountain West.

The conference championship is their first since winning the Big West in 1990.

SJSU went undefeated in league play that year also.

Their 2-2-1 nonconference record included a 48-24 rout of MAC championship Central Michigan in the California Bowl.
The Cardinals have also won six in a row, but it hasn't been easy.

They needed a last-second score to beat Eastern Michigan, barely held off winless Northern Illinois by six, and thwarted a Cal-Stanford-

esqe

final play to stave off Western Michigan.
What bright boy thought it was a good idea to market football to people who like beer with fruit in it and pizza with no sauce?
San Jose State 45, Ball State 33
Liberty Bowl -- Memphis -- 4:00 (ESPN)
Army (9-2) vs. West Virginia (5-4)
The Mountaineers had a favorable matchup set against Tennessee until the West Pointers were offered as a late replacement, forcing Neal Brown to prepare his team to face the triple-option on short notice.

Brown is not a novice at coaching against the wishbone, however.

In four years as head coach at Troy, he faced Georgia Southern every season, winning his last two against that Eagle team.
The Black Knights scored on a late fourth-down play to defeat Air Force 10-7, taking the Commander-in-Chief's Trophy with back-to-back wins in bruising defensive battles with their academy rivals.

Before becoming too impressed with the Cadets' record, though, one must realize that their opponents have included three Division I-AA teams and 0-10 Louisiana-Monroe.
WVU does not think much of the academic standards at West Point, especially the way they soldiers are always showing off with that left-right-left-right stuff.

Big deal.

Most of the

Eers

players are majoring in that.
West Virginia 24, Army 17
Texas Bowl -- Houston -- 8:00 (ESPN)
Arkansas (3-7) vs. TCU (6-4)
The Razorbacks are a significantly improved team, even if it does not yet show in their record.

In addition to winning three SEC games for the first time since 2016, they've only lost to Auburn by two points and to LSU by three.
The leaping lizards could easily be mistaken for chameleons, the way they play to the level of their Big XII competition.

They've lost to an

underfolksed

Kansas State team, but they've also beaten both Texas and Oklahoma State.

The Horned Frogs only lost to Iowa State by three, but they were bullied in the second half of a 33-23 win at Baylor, after leading 30-0 in the second quarter.
Texas Christian had better get cumbered in a hurry, because longtime offensive coordinator Sonny

Cumbie

has left the team to take the same position at his alma mater, Texas Tech.

Cumbie

had been in Fort Worth for seven seasons, and has been instrumental in the development of versatile sophomore quarterback Max Duggan.
Feleipe

"Fenway" Franks, the Hogs' quarterback and former Florida Gator, was once called out by coach Dan Mullen for moping, but you wouldn't know it the way the Red Sox prospect fought his way through a rib injury just to get banged up by Alabama.

With lots of other key players bailing out of their bowl games in recent years, Franks has been adamant that he's a Razorback for the 2020 season, and he's going to see it through.
The Texas Bowl is actually just one of seven bowl games to be played in the Lone Star State this year.

That kind of makes this the

The

Ohio State University of bowl games, doesn't it?
Arkansas 28, TCU 23
Jan. 1 (Friday)
Peach Bowl -- Atlanta -- 12:30 (ESPN)
Cincinnati (9-0) vs. Georgia (7-2)
One might think the location of this game would be a big benefit to the Bulldogs, but between SEC title games, Peach Bowls, and one CFP championship they have lost four of their last five postseason games in Atlanta.

Of course, there's no reason the hometown of Georgia Tech should have been regarded as friendly territory.
There's no doubt the #8 Bearcats are an outstanding team, but are they really better than any of the big league schools that are ranked above them?

Texas A&M, Oklahoma and Florida all played conference championship games in Week 16, in addition to UC.

The College Football Czar cannot possibly consider Cincinnati to be anything other than the fourth-best team among that group.

True, you have to be very good to beat Tulsa, but which of these others would not have done so?
UGA is 3-0 since USC transfer J.T. Daniels took over at quarterback.

The sophomore slinger has nine touchdowns and only one pick, while completing 66.7 percent of his passes.

One must wonder where this Bulldog team would be playing if he had been the starter for their midseason clash with rival Florida.
If the Dogs have to turn to the QB who started for most of their season, that would make this Stetson

Bennetiv

versus

Cincinnat

the First.
Georgia 31, Cincinnati 16
Citrus Bowl -- Orlando -- 1:00 (ABC)
Northwestern (6-2) vs. Auburn (6-4)
The dearth of regular season nonconference games makes it difficult to assess a team like the Wildcats.

Yes, they're fifth in the nation in scoring defense, but how much does that mean when your only opposition has been a bunch of plodding Big Ten teams?

They're only #24 in yards per game allowed, but teams like Nebraska, Illinois, and this year Wisconsin are simply not good at finishing drives.
Tiger trotter Tank

Bigsby

finished his freshman regular season in a big way, with 192 yards on 26 carries in a 24-10 win over Mississippi State.

AU needs more than a good ground game, though.

Earlier this season, they were unable to follow 111 yards of Tank's tracks to victory against lowly South Carolina.
Since winning their Big Ten West battle with Wisconsin, the Cats have lost two of three, including a letdown loss to Michigan State. During that stretch, former Indiana QB

Petyon

Ramsey has been picked off five times and fumbled once.
It's a little-known fact that the title of this game is really a sponsorship by a retail chain called

Cit

R Us.

That's the place to go whenever you need some

cit

, and how do you know you don't?
Auburn 15, Northwestern 10
Rose Bowl (CFP Semifinal) -- Arlington -- 5:00 (ESPN)
Notre Dame (10-1) vs. Alabama (11-0)
The Fighting Irish battled their way into this semifinal in the second half of a game that was already lost.

Had Clemson, leading by four touchdowns in the third quarter, continued to roll over the golden

domers

by a big, blowout score, the CFP committee would not have wanted any part of a possible re-rematch.

The 34-10 final was enough to keep them one step ahead of a Texas A&M team that had lost just as badly to Bama.
Nevertheless, that outcome did nothing to suggest that this clash with the Crimson Tide would be any more competitive than the 42-14 trouncing the Irish took in the 2012 BCS championship game.

When most of the talk the next day is about a septuagenarian announcer's libido, you know it was not good football.
This year's pachyderms are not as perfect as their record, however.

Nor was the 52-46 scare they got from Florida in the SEC championship was the first unsettling performance by their defense this season.

Back in October, Nick

Saban's

team was scorched for 647 yards in a 63-48 win over Ole Miss.
As you're probably aware by now, the venue of this game has been switched from college football heaven to college football hell, and if that was done in order to placate Notre Dame coach Brian Kelly, the CFP committee should have just invited A&M instead.
While the decision to move the game out of the actual Rose Bowl is an understandable response to California's COVID lockdown measures, the decision to play the Granddaddy of Them All at Jerry Jones' House of Inadequacy is totally unjustifiable.

If The Powers That Be Stupid wanted to move operations to Texas, they could have shown a lot more respect by playing in the Cotton Bowl.

Then again, they don't need 92,000-seats, so they could have found a scenic location practically anywhere, except that the people in charge of football don't like football, which is why they love domes.

This is like running out of the brand of beer you like, and having your immediate go-to substitute be Zima.
Alabama 44, Notre Dame 23
Sugar Bowl (CFP Semifinal) -- New Orleans -- 8:45 (ESPN)
Ohio State (6-0) vs. Clemson (10-1)
People can complain all they want about the lumpy nuts being here with so few games played, but seriously, who else is there?

Texas A&M not only has a lopsided loss to Alabama, but it only won its opener against Vanderbilt by five.

Oklahoma has two losses in a league that got its posterior punted by the Sun Belt in nonconference play.

The purpose of the CFP is to ensure that the best team in the nation is not left out of the national championship game.

It has not been.

If this Buckeye team doesn't belong, then this year's four-team CFP field is simply too big.
These teams have met four times before, all of those in bowl games, and all won by the Tigers.

Last year's 29-23 semifinal classic in the Fiesta Bowl was ended by a rare interception from OSU quarterback Justin Fields, who had only been picked off once throughout the 2019 regular season.

This year, Fields faltered down the stretch, throwing three INTs against Indiana, and two more in the Big Ten title game against Northwestern.
In that previous meeting, Travis Etienne was held to 36 rushing yards on only ten carries, but the Tigers did spring him for 98 receiving yards on three completions.

This pattern has become more familiar in 2020, with the sure-handed senior having only three 100-yard rushing games, but breaking the 100-yard mark in receiving twice.
Much of the buzz around this rematch has been about Clemson coach

Dabo

Swinney ranking the Buckeyes #11 in his entry in the coaches poll.

As far as the Czar is concerned, the controversy should be over why such a thing even exists.

The coaches poll has no bearing on anything.

Every head coach is too occupied with his own team to follow 129 others.

Most of the entries are probably filled out by graduate assistants, except when the head coach is looking to make a provocative statement like this one.

All things considered, the coaches poll is barely more legitimate than determining the rankings by something called an "eye test."

Makes about as much sense as picking the champion by turning your head and coughing.
Clemson 38, Ohio State 30
Jan. 2 (Saturday)
Gator Bowl -- Jacksonville -- Noon (ESPN)
Kentucky (4-6) vs.

Nc

State (8-3)
According to the SEC supremacy theory, all these SEC teams with losing records deserve their bowl bids because they haven't played any nonconference games, and because the SEC is so swell, their losses are really better results than victories against teams from any other conference would have been.

In reality, the four teams the Wildcats have beaten (Mississippi State, Tennessee, Vanderbilt and South Carolina) would be the dregs of any power-five conference.
A Kentucky-friendly website even argues that the Cats would easily have qualified for a bowl game if the coronavirus hadn't forced them to drop their entire nonconference schedule, and that's hard to dispute.

Aside from cross-state rival Louisville, they were slated to play Eastern Michigan, Kent State, and Division I-AA Eastern Illinois.
The UK offensive coaches had better pay a ton of attention to Payton Wilson.

The Wolfpack sophomore linebacker and former high school state wrestling champion is third in the nation in tackles, with 11.5 tackles-for-loss, 3.5 sacks and two interceptions.
The whole title of this game is the TaxSlayer Gator Bowl, but that sounds excessively cocky, from the reptilian point of view.

If the matchup were one between the alligators and the IRS, the Czar knows who he'd expect to slay whom.
Nc
State 26, Kentucky 14
Outback Bowl -- Tampa -- 12:30 (ABC)
Indiana (6-1) vs. Ole Miss (4-5)
Lane

Kiffin's

club may be under .500, but they are one of only two teams to have alarmed Alabama's defense.

The 63 points they gave up that day, however, was no fluke.

For the season, they're scoring 40.4 points per game, but giving up 40.3.
It's hard to believe in hindsight that the Hoosiers came a millimeter away from losing to Penn State in their opener.

If only they could have finished their fourth-quarter comeback against Ohio State, it could have been the candelabra-heads who were going to the final four, while probably being totally unranked in

Dabo

Swinney's poll entry.
A lot of people have been storming around demanding, "SAY THEIR NAMES" this year.

The Rebels had better not obey, because by the time they managed to say Ty

Fryfogle

, the IU wide receiver would be behind all their defenders and gliding into the end zone.

The only reason the streaking senior is not among the nation's leading receivers is because he's only played seven games, but he's averaging five catches for 98 yards and one touchdown.

Admittedly, Reb WR Elijah Moore is doing very slightly better, but at least

Fryfogle

is housebroken.
Surely, Australia has its share of quality beef, but why name an Australian steakhouse after a famous wasteland?

If the Texas Roadhouse was called the Mojave Desert Roadhouse, would you want to eat there?

You might think the Czar is nitpicking, but what must half of the punters in the NCAA think?
Indiana 49, Ole Miss 32
Fiesta Bowl -- Glendale, AZ -- 4:00 (ESPN)
Iowa State (8-3) vs. Oregon (4-2)
Oh, boy.

A fiesta!

In a mausoleum that is normally occupied by the Arizona Cardinals.

What fun.
Mind you, a great game can overcome the handicap of its venue.

That was the case the first year this contest was moved to Glendale, when Boise State shocked Oklahoma.

Last year's Clemson-Ohio State game was, in the College Football Czar's estimation, even better.

The dozen games in between, even the close ones, have been eminently forgettable.
ISU's

Breece

Hall, the nation's rushing leader, was held to a season-low 79 yards last game, in a Big XII championship loss to Oklahoma.

UO's run defense hasn't been comparable to OU's, but it has been better than advertised, holding four of six opponents to 100 yards or fewer on the ground.
The Fighting Ducks' clock management has often come under fire since Mario Cristobal has been at the helm, and their 31-24 Pac 12 championship victory at USC hasn't changed that.

On a very late third-down play, they snapped the ball with twelve seconds left on the play clock, and didn't convert.

As a result, they gave

Kedon

Slovis

, of all people, two additional plays to work with on a last-minute drive.

Was the theory that it was so stupid it would take the Trojans by surprise?
When the

webfoots

last went to the Fiesta Bowl eight years ago, they scored a very rare one-point safety against Kansas State.

Following a Duck touchdown, K-State blocked the extra point.

A linebacker picked the ball out of the air at the three-yard line, but then gave ground into the end zone and was tackled while trying to pitch it to a teammate.

Hence, it was a safety on a conversion attempt, which is a one-point score.

Can you believe someone actually had the foresight to put that in the rulebook?

They didn't even have to appeal to the Big Ten Administrators Council, or the Pennsylvania Supreme Court, and ask that a new rule be made up retroactively.
Oregon 29, Iowa State 25
Orange Bowl -- Miami -- 8:00 (ESPN)
North Carolina (8-3) vs. Texas A&M (8-1)
The Tar Heels return to the scene of the crime, where they mugged the Miami Hurricanes 62-26 to end the regular season.

The chief assailants were running backs Michael Carter and Javonte Williams, who combined for 544 rushing yards.

The Czar is speaking figuratively, of course.

Everyone knows that the real perps are the ones in the orange and green.

They don't even bother disputing it.
Aggie coach

Jimbo

Fisher made a strong pitch for a CFP bid on the basis that Ohio State hasn't played enough games, but his Conjunction Boys haven't played a full season, either.

So which team should get the title shot?

The College Football Czar says it's the team that hasn't already lost to #1 Alabama by 28 points.

Besides, Fisher seemed to think his

Agathas

had made an emphatic statement by beating Tennessee 34-13, but the Volunteers' only victory in their last eight games was against Vanderbilt.
UNC has not been as consistent over the course of the season, which is putting it mildly, since they lost to Florida State one game before blasting

Nc

State.

Still, their offense has been blowing up bulbs on the scoreboard all season long.

They've scored 56 points or more in four of their past eight ACC games.
In spite of his surname, A&M running back Isaiah Spiller is no schlemiel.

In only nine games, he has rushed for 986 yards, and added another 174 on 16 receptions.

Isaiah is no relation to former Clemson back C.J., but instead is following in the footsteps of his father, Fred Spiller, a tight end for the

ampersanders

in the early

aughts

.
Okay, so scoreboards don't have bulbs anymore.

As soon as coaches, sportscasters and CFP committee members stop talking about "watching tape," the Czar will care.
North Carolina 45, Texas A&M 41
Jan. 11 (Monday)
CFP Championship Game -- Miami -- 8:00 (ESPN)
Predicted matchup -- Alabama vs Clemson
The College Football Czar completely understands the desire for more parity in the game, but anyone who doesn't want to see these two square off for another national championship has got something seriously wrong with him.

In the past five years, they've met in three CFP championships and one semifinal, with each team taking two of those games.

Bama had the Son of Clem outclassed in the title game to win the 2018 season, but this year looks like it should more closely resemble the pair of games they split at the end of the 2015 and 2016 seasons.

The Tigers took the first game 45-40, with the pachyderms pulling out a 35-31 decision a year later.
Just when it looked like a foregone conclusion that the Crimson Tide would capture this year's CFP trophy, Florida moved the ball against them almost at will in a 52-46 slugfest for the SEC championship.

That result, proving that the Ole Miss game was not a one-off, ought to concern coach Nick

Saban

tremendously as he prepares his team to take on these explosive ACC champs.
There's just as much to fear from the Tide's own offense, however.

Take wide receiver

DeVonta

Smith, as every opposing coach wishes he could.

The seasoned senior already has 1,511 receiving yards, 322 more than his closest competitor.

What more could you possibly

Vont

?
Nobody ever says what the Son of Clem's name is, but we know it's not also Clem, because if it were, the name of the school would be

Clemjr

or

Clemii

.

Ergo, by

calculatus

eliminatus

, the Czar figures his name must be Tristan.

At least that would explain why he refuses to tell us.
Alabama 42, Clemson 39
a sports publication from The Shinbone