The Original College Football Czar
2020-21 Bowl Game Picks, Part One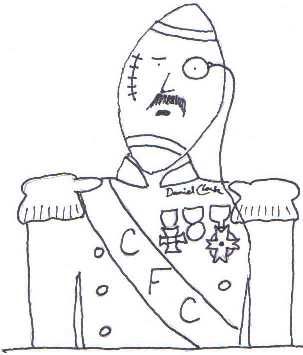 a sports publication from The Shinbone, by Daniel Clark
Due to the unique postseason scheduling for the 2020 season, the College Football Czar has had to issue his bowl picks in two installments. The reason for this is that the first bowl game (now canceled) was scheduled to kick off on the same day as most of the conference championship games. Therefore, some bowls will be played before the participants in others have even been determined. Ergo, the Czar now presents his picks for the first week of bowl games, which runs through Christmas, and will follow up with the rest of his bowl picks once we actually know who's playing the games.
In Week 16, the Czar went 6-0 in Saturday conference championship games, but he failed to foresee a pair of Friday night upsets, and also lost two of three non-title games to finish at 8-4. For the 2020 regular season, his record is 136-78, for a .636 winning percentage.
Dec. 21 (Monday)
Myrtle Beach Bowl -- Conway, SC -- 2:30 (ESPN)
North Texas (4-5) vs. Appalachian State (8-3)
With the Frisco Bowl being canceled, the bowl season begins with this game, although few people will realize it.

The reasons for this are that it is being played on a weekday afternoon, and that, as you can see from the records, the game is a terrible mismatch.

Wins and losses are not always a reliable indicator, but the Mountaineers have also faced far more formidable opposition.

The Mean Green have only beaten four teams with losing records, and they've lost to a mopey Southern Miss squad.
Since App State has become eligible for the Division I-A postseason in 2015, they have played in five consecutive bowl games, and recorded five consecutive victories. In the past two years, they've twice won the New Orleans Bowl, against Conference USA competition (Middle Tennessee and UAB) that was far superior to this UNT team.
Nobody's named Myrtle anymore, so why is a beach? If the Czar went to a place called Myrtle Beach, he'd expect to see a bunch of 90-year-old ladies in striped, full-body bathing suits -- and Kellen Winslow Jr. lurking nearby.
Appalachian State 56, North Texas 17
Dec. 22 (Tuesday)
Famous Idaho Potato Bowl -- Boise -- 3:30 (ESPN)
Tulane (6-5) vs. Nevada (6-2)
Jay

Norvell's

Wolf Pack return to the scene of last year's 30-21 loss to Ohio, in one of the most entertaining games of last postseason.

Coach

Norvell

must be especially motivated to win this year's game, after watching OU coach Frank

Solich

get a Gatorade barrel full of French fries dumped on him so that he could eat them off his hat.

The thick-cut, skins-on spuds would have made anybody envious.
The Green Wave could have gone bye-bye midway through the season, when they were 2-4, having blown big leads against Navy and Houston.

They've gone on to win four of their next five, however, losing only to Tulsa in double-overtime.

Much of that turnaround is attributable to the maturation of freshman quarterback Michael Pratt, whose yardage totals and completion percentages have improved dramatically since October.
It may look like the Pack are past their peak, having dropped two of their last three, but road trips to Hawaii are always treacherous, and a 30-20 loss to San Jose State is really a better result than their earlier wins against UNLV, Utah State and New Mexico.

Romeo Doubs, by any other name, would no

doub

be one of the nation's best receivers.

The junior needs just 40 more yards to reach 1,000 for this abbreviated season, in which he's averaging an even 120 yards per game.
The Idaho Potato must be famous, otherwise we wouldn't know that he's the

babydaddy

of the tater tots.

See how educational Good Morning America can be?
Nevada 35, Tulane 32
Boca Raton Bowl -- Rat Mouth -- 7:00 (ESPN)
Brigham Young (10-1)vs. Central Florida (6-3)
The Cougars say they'll play anyone, anytime, anywhere, and they mean it, but that doesn't necessarily mean they'll win.

In a desperate attempt to boost their ranking, they took a trip to Coastal Carolina on short notice, and got tripped up by the cocky Chanticleers, 22-17.

They should find this day at the beach a little sunnier.

Not only have they had plenty of time to prepare, but they're facing a UCF defense that has none of CCU's ferocity.

The Knights are allowing 474 yards per game, by far the most in the American Athletic Conference.
Knight quarterback Dillon Gabriel is third in the nation in passing yards, behind the two QBs who faced off in the SEC championship game.

In the AAC, he seldom faces a competent defense, however, and BYU's is on par with the one from Cincinnati that held him to season lows in passing yardage and completion percentage.
This game has ended its two-year sponsorship by

Cheribundi

, a tart cherry juice that is marketed as some sort of wonder tonic.

The bowl committee figured out that if the stuff cured rat mouth, they'd have no place left to play.
Brigham Young 38, Central Florida 28
Dec. 23 (Wednesday)
New Orleans Bowl -- New Orleans, obviously -- 9:00 (ESPN)
Georgia Southern (7-5) vs. Louisiana Tech (5-4)
This small-conference bowl game is played in the same building as the Sugar Bowl, but the College Football Czar usually finds it far more entertaining.

Maybe that's because by the end of New Year's Day, a game in a dome is numbingly anticlimactic, especially when you have to work the next day.
A lot of coaches look at bowl games as opportunities to recruit and get in extra practices, but there's no doubt Skip Holtz is in them to win.

His LTU teams have won their bowl games in each of the past six seasons, including last year's 14-0 suffocation of Miami in the Independence Bowl.
The Eagles have been nothing if not exciting this season, although that hasn't always translated into success.

Nine of their twelve games have been decided by eight points or fewer, with GSU having a record of 5-4 in those close contests.

Senior scrambler Shai

Werts

could stand to be a bit more inhibited, having become far more reckless with the ball than a year ago.

In 2019, he had nine TDs and only one interception for the season.

This year, that ratio is 7-6.
Why is a 56-year-old man named Skip, anyway?

Is it just so he doesn't have to change his last name to

Holtzjr

?
Louisiana Tech 23, Georgia Southern 19
Montgomery Bowl -- Montgomery, AL (sensing a pattern here?) -- 7:00 (ESPN)
Florida Atlantic (5-3) vs. Memphis (7-3)
Not to be confused with the Camellia Bowl, which is also played in Montgomery, this is a replacement for the inaugural Fenway Bowl, which has been canceled.

ESPN slapped this game together on short notice, partly to salvage a bowl berth for the ACC, which was in danger of being canceled out of the postseason almost entirely.

Having gone through the trouble of doing that, what must the network have thought when Boston College, Pitt and Virginia opted out of the bowl season?
Nevertheless, they've got a pretty good matchup, with Willie Taggart's Burrowing Owls out of Conference USA trying to become an underground success against the more ballyhooed bunch from the "power six" American Athletic Conference.

FAU has had a rough late-season transition, though, from dual-threat QB Javion Posey to pocket passer Nick

Tronti

, and should have trouble taking advantage of a justly maligned MU defense.
Memphis was fortunate to find wide receiver Calvin

Austiniii

within its own city limits.

The hometown talent has more than tripled his output from a year ago, pulling down 60 catches for 1,025 yards and ten touchdowns.

As a matter of fact, last season he was only Calvin

Austini

.
Memphis 42, Florida Atlantic 31
Dec. 24 (Thursday)
New Mexico Bowl -- Frisco, TX.

--

No, really! -- 3:30 (ESPN)
Hawaii (4-4) vs. Houston (3-4)
You read that right.

This is not the Frisco Bowl, but the New Mexico Bowl, being played in Frisco.

Coronavirus restrictions have been stifling in the Land of Enchantment, but rather than cancel the game, the bowl committee decided to flee the state.

However, the game in the same stadium that debuted last year as the Frisco Bowl has been canceled, so there is one and only one bowl game in Frisco, and it is the New Mexico Bowl.

If that's too confusing to follow, just pretend the game is an episode of Gilligan's Island, and New Mexico has hit its head and now thinks it is Frisco.
In a tough season-ending 30-27 loss to Memphis to finish the regular season, Cougar quarterback Clayton Tune hit a sour note, completing 30 passes for a meager total of 270 yards.

He and his coaches must attack the Hawaiian defense more aggressively downfield, or else it will compress around the line of scrimmage and take away the running game, much like it did against a nibbling Nevada team that never did go deep.
As long as the Texas town is accepting vagabonds, the Rainbow Warriors might want to pack their bags.

Aloha Stadium has abruptly evicted them for next season, on the basis that hosting events in an empty stadium is a bad business model.

UH will be playing in a new 35,000-seat facility in 2023, but until then, they're at a loss.

The Czar suspects the decision will be reversed, assuming the lockdown, which has been especially brutal in our fiftieth state, is ever lifted.

Otherwise, the Warriors could find themselves sharing a sandlot with TC's little league team.
Eric Clapton once sang about mean old Frisco and that low-down Santa Fe.

Who but he knew those two unsavory characters were really in cahoots?
Okay, so the New Mexico Bowl is usually played in Albuquerque, not Santa Fe.

So who are you, the geography police?
Houston 30, Hawaii 25
Dec. 25 (Friday)
Camellia Bowl -- Montgomery, AL -- 5:30 (ESPN)
Buffalo (5-1)

vs.

Marshall (7-2)
The participants in this contest were not announced until it was almost too late for the Czar to include it in this installment of picks, but at long last he heard it through the bovine that the Bulls would clash with the Thundering Herd in this

encownter

.
The Crampton Bowl may feel a little

crampt

, what with that stadium hosting two bowl games in three days, the one-time-only Montgomery Bowl having been played the previous Wednesday.

That's Crampton, and not

Cramden

, although this game has involved plenty of pow and zoom during its six-year existence.

Among the previous five games, two have been decided by last-second field goals, and the greatest margin of victory has been last year's 34-26 win by Arkansas State over Florida International.
UB got away from its ground game in a 38-28 loss to Ball State for the MAC championship.

It was the first time this season they attempted more passes than running plays, by a count of 42 to 29.

Over their previous three wins those numbers had gone the other way by better than a 4-to-1 ratio.

This time, they've got to keep pounding away with Jaret Patterson and Kevin

Marksjr

, even if the Herd has a handle on them in the first half.
MU had a disappointing conference final itself, a 22-13 beating by a UAB team that outgained them by exactly 200 yards.

If the moo-men offense is to remain this anemic for a third game in a row, it might just turn into veal.
Please, oh please don't let this game be canceled on short notice.

There hasn't been a Christmas Day bowl game since the final Aloha Bowl was played in 2000.

Ever since, sports fans have been left with nothing but the National Bolshevik Association.

Spending the day with a bunch of pampered blowhards who hate us and our country is no way to have a merry Christmas.

The College Football Czar would sooner eat chestnuts and drink eggnog.
Buffalo 27, Marshall 24
a sports publication from The Shinbone