The College Football Czar
Week 9
<![if !vml]>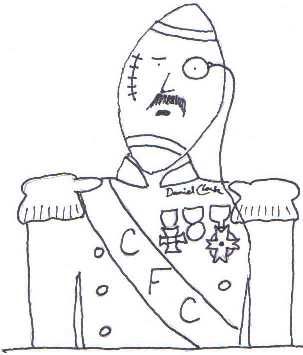 <![endif]>
Week eight in review:  The number of undefeated teams was reduced by two with USC's rout of Utah, and Georgia Tech's upset (as predicted here) of Florida State.  That leaves twelve teams without a defeat, eight of which would be championship contenders if they stayed that way.  One of those eight, however, is Baylor, whose starting quarterback Seth Russell suffered a broken bone in his neck last Saturday against Iowa State.
As explained here last week, this edition of the College Football Czar's picks is being issued a day early.  The good news from that is that the Czar can include three big Thursday night games among this week's picks.  The bad news is that, with one day less to get it done, this installment is bound to be less good edited, the end result being that it is more unliterable than usual.
Late word in from Minneapolis is that fifth-year Golden Gopher head coach Jerry Kill has retired effective immediately due to health concerns.  Kill, who has suffered on-field epileptic seizures in previous years, says the seizures have recently returned, and that he is stepping aside because "I don't want to be a liability."  The big question is, who's going to be the first sports talk radio lardhead to criticize him for the decision?
For the second consecutive week, the Czar went 11-7, which brings his season totals to 92-61, for a .601 winning percentage.
Oct. 29
North Carolina at Pitt
The 6-1 Panthers have been making great second-half defensive adjustments, but only after getting perforated by the option in first halves against both Georgia Tech and Syracuse.  If they don't figure things out this week, the fans at Heinz Field could see a repeat of last year's meeting at Chapel Hill, when Tarheel QB Marquise Williams led his team on a seemingly effortless 13-play game-winning drive in less than three minutes.  Williams is known as a "dual-threat" quarterback.  That's great, but the Czar doesn't understand how being on the fencing team makes him any better at football.
In a 23-20 cliffhanger over the Cuse, Pitt WR Dontez Ford caught four passes for 78 yards, including a 38-yarder from his team's leading receiver, Tyler Boyd.  Expect Boyd to start breaking bigger plays on the receiving end from now on, since the opposing secondary has to start paying some attention to someone else for a change.
UNC is 6-1 also, but unlike their opponents, they're not yet bowl eligible.  That's because you're allowed (for some wholly inadequate reason or other) to count one win against a lower-division opponent toward eligibility, whereas the Heels have beaten up on both NC A&T and Delaware.
Even when they face better competition, the Carolina defense is dramatically improved over the one that allowed 39 ppg a year ago.  After yielding 14 points to each of their first four opponents in Kenan Stadium, they held Virginia to 13 a week ago.  That 26-13 victory over the Cavs was their first competitive home win, after blowing out Illinois 48-14, and putting a 50-14 fumping on Wake Forest.
A fumping is just like a thumping, but with a softer object.  Next year in the NFL, they'll make it mandatory.
North Carolina 26, Pitt 24
West Virginia at TCU
The Mountaineers have had a week off to dread a return trip to the Lone Star State, after getting gunned down by the Waco kids in Week 7.  WVU's October schedule has consisted of the four best teams in the Big XII, against whom they're 0-3 so far.
A completion percentage of 66.4 is generally no big deal in this era of relentless bubble screen offenses, but Horned Frog QB Trevone Boykin has been that efficient while throwing far deeper downfield.  At this point, he's averaging well over ten yards per passing attempt, while many others around the country don't even gain ten yards per completion.
No home team has yet won a game in this budding rivalry.  In three meetings since becoming conference foes, each team has won in overtime in the opponents' stadium, and last year, when the series returned to Morgantown, a late field goal lifted Texas Christian, 31-30.  Their only other meeting was way back in the 1984 Bluebonnet Bowl, where the Eers prevailed 31-14.  That's so long ago, the only image the Czar can recall from that game was some Mountaineer fans hanging a banner that said, "We Ain't Fraida No Horned Frogs."
The truth be known, when they'd gotten up that morning, they were very afraid of horned frogs.  But by kickoff, they'd developed moonshine muscles.
TCU 45, West Virginia 35
Oregon at Arizona State
In a 26-20 win over Washington, the Fighting Ducks had adapted their offense to suit QB Vernon Adams, so that he no longer had to run the read option without being a serious threat to run the ball.  Without the element of misdirection, the read option is just a series of very deliberate handoffs with insufficient blocking.
In spite of that hindrance, UO running back Royce Freeman is seventh in the nation with 997 rushing yards.  That's good for first in the conference, 44 yards ahead of Stanford's Christian McCaffrey, on three fewer carries.
ASU laid a Sun Deviled egg at Utah, where their offense only accounted for three field goals in a 34-18 stinker.  Injured RB Demario Richard returns this week, after leaving the Colorado game on crutches two weeks ago.  They might not have much need of him, against a Duck pass defense that's rated #118 out of 128.
The Czar has always found the whole concept of deviled eggs to be a bit of overkill.  Once the eggs have been hard boiled, they smell pretty demonic already.
Arizona State 38, Oregon 31
Oct 30
Louisiana Tech at Rice
The Houston hooters Owl-asted Army 38-31 to improve to 4-3.  With games remaining against UTEP and Charlotte, and coming from a conference that will have trouble filling its reserved bowl berths, a postseason appearance is a virtual certainty.
Bulldog QB Jeff Driskel, a graduate transfer from Florida, had never had a 300-yard passing game in three-plus years with the Gators.  Now, he's averaging 301 per game at LTU.
The Dogs were excited to make this short road trip because they thought, incorrectly, that Rice University was named after rice, the crop, and they meant to take a giant sack of it home with them.  That's a shame, because without rice, all you've got are the red beans, and who ever heard of eating just those?
Gosh, this week's edition of College Football Czar's picks is starting to read like a public school lunch menu.  If only he could figure out how to work a reference to sawdust muffins into his preview of the following game.
Louisiana Tech 54, Rice 36
Oct 31
Illinois at Penn State
At 6-2, the Nittany Lions must be doing something right, but what?  Last week in Baltimore, they survived a poor defensive showing and three fumbles to stave off a rudderless Maryland team, 31-30.  Earlier this season, they were fortunate to catch San Diego State before that team hit its stride, and to face Indiana without starting QB Nate Sudfeld.
When the Fighting Illini won last year's meeting 16-14, both teams' passing games were suppressed by the high winds in Champaign.  This time, with the rough weather having already blown through midweek, Wes Lunt and Christian Hackenberg should feel less inhibited.  That might not be a good thing, but it'll open the game up one way or another.
PSU's James Franklin is among several coaches being rumored for the Miami job.  He has adamantly declared himself not to be interested, and there's no reason he should be.  It's just that he somehow seems like he belongs there.
It's a little-known fact that "Nittany" is an anagram for "sawdust muffin."  On second thought, scratch that.  That's about as forced a reference as it is when Bob Costas says "plethora" to make himself feel brilliant.
Illinois 28, Penn State 24
Notre Dame at Temple
There was a time when it would have seemed as likely for the Owls to start 7-0 as it did for them to get home games against Penn State and Notre Dame in the same season … or for Owl alumnus Bill Cosby to become Public Enemy #1.
The 6-1 Fighting Irish play four of their last five games on the road, and three of those against teams that are currently ranked.  In two games so far on opponents' home fields, they've escaped from Virginia 34-27, and lost to Clemson 24-22.
TU trailed East Carolina until the fourth quarter, when they took over the 24-14 tussle with a pair of partially blocked punts.  A week earlier, they were losing to winless Central Florida after three quarters, before pulling away to win 30-16.  If they don't play a more complete game against the Irish, any fourth quarter rally will be purely for the purpose of damage control.
As for Cosby's guilt or innocence, all the Czar can say is that the proof is in the pudding.
Notre Dame 48, Temple 27
Florida vs. Georgia
Without power running back Nick Chubb, the 5-2 Bulldogs must try to tiptoe through the juleps in Jacksonville, against a 6-1 Gator team that can all but clinch the SEC East with a victory.
Just as in the Oklahoma-Texas series, logic and momentum have no place in this neutral-site rivalry.  A year ago, offensively impaired UF was 3-3, and had lost two in a row back at The Swamp.  Nevertheless, they eliminated UGA from SEC contention in a 38-20 romp.
This year, it's the Dogs who are looking to catch a second wind, after a deflating loss to Tennessee in which they'd led by 13 in the fourth quarter, followed by a flat 9-6 win over a meandering Missouri team.
The NCAA killjoys won't let this be billed as the World's Largest Outdoor Cocktail Party anymore, but maybe it could be renamed the World's Largest Outdoor Fruit Cocktail Party.  That wouldn't be a misrepresentation.  The olive is technically a fruit, you know.
Florida 21, Georgia 13
USC at California
Freshman linebacker Cameron Smith picked up his first three career interceptions for Southern Cal last week, returning them for a total of 122 yards and a touchdown in a surprisingly easy 42-24 win over #3 Utah.
The Trojans still stand a surprisingly good chance of winning the Pac 12 South.  They're currently in a three-way tie with Arizona State and UCLA, one game behind division-leading Utah, but their head-to-head victories over the Utes and Sun Devils give them the edge in most tie-breaking scenarios.
In Berkeley, there are certain things you can count on every fall.  Just like the thickness of the caterpillars on the lips of the campus feminists foretells a cold winter, the "5" in the Cal Bears' win column tells us that their season has peaked.  After this year's 5-0 start, a 30-24 loss to Utah was no cause for panic, but they began to visibly unravel in a subsequent 40-24 trampling by UCLA.
The College Football Czar apologizes for the rude remark he made about feminists moments ago.  He did not seriously mean to give the impression that their moustaches were caterpillars.  That would be silly.
USC 51, California 31
Tennessee at Kentucky
The 3-4 Volunteers couldn't hang on to beat Alabama, but they've still got a great chance to finish with a winning record.  After this game, they've got the bottom three teams in their division (South Carolina, Missouri and Vanderbilt), and a nonsensical November nonconference game against North Texas.
Wildcat quarterback Patrick Towles pronounces his last name with a long "O" – which incidentally is what the fans in Lexington exclaim every time he puts the ball in the air.  Towles has only eight TD passes so far this year, whereas he's already equaled last year's interception total of nine.
It's a little-known fact that UK is the original Boise State, in that they selected their blue home uniforms so that they could blend into the Kentucky bluegrass.  Don't tell them that bluegrass is really green.  They think the presumably matching colors make them invisible, and their visiting opponents have just been really good guessers until now.
Tennessee 26, Kentucky 14
Stanford at Washington State
The 5-2 Cougars collected 631 yards last week and didn't commit any turnovers, but still only edged Arizona 45-42.  WSU isn't winning as emphatically as their foes from Palo Alto, but they could overtake them for the Pac 12 North lead with a W this week in Pullman.
The Cardinal only continued to build momentum in last Thursday's 56-35 annihilation of UCLA, in which RB Christian McCaffery rushed for four touchdowns and 243 yards.  They actually took it easy on their rivals from Pasadena, after leading 56-20 at the end of three.
WSU coach Mike Leach has a law degree, but it's impossible to imagine him presenting a case in court, as long as he gives halftime interviews looking and sounding like Cool Hand Luke during his arrest.
Q: Coach, how do you intend to slow down the opposing pass rush in the second half?
A: Ayewuzjuss … cuh-tting da mee-uhh.
Just a hunch, but Leach didn't happen to be Martha Stewart's defense attorney, did he?
Stanford 64, Washington State 41
Miami at Duke
The goose egg on the scoreboard after the Hurricanes' 58-0 loss to Clemson is the last one that will be seen in Miami, because Al Golden's goose is cooked.  The fifth-year coach has been dismissed with a record of 32-25 at The U, following the worst loss in the history of the program.  The Cane players just plain quit on him, and it wasn't the first time, as anyone knows who watched them last November against Virginia and Pitt.
The Blue Devils had better keep their dukes up.  It's got to be tempting to let their guard down against this apparently unserious opponent, ahead of battles with North Carolina and Pitt that should decide the Coastal Division title.  Among those top three, the Devils have the easiest path, because their two cross-divisional opponents this year are Boston College and Wake Forest.
Speculation about the Hurricane head coaching job so far has been ludicrous.  Nobody who's already a head coach at a big-time program is going to leave it for the most undesirable position in football.  On the other hand, the Czar can't help but notice that Iowa State has released assistant coach Mark Mangino, who once did a brilliant job with limited resources as head coach at Kansas.  Granted, Mangino's one guy who's driving a hard bargain when he carries a "Will Work for Food" sign, but he'd be worth it.
Duke 35, Miami 24
Ole Miss at Auburn
The Rebels gave Florida and Memphis a sample of their magic helmet.  They should have brought their spear while they were at it.  Rather than relying on their attire, they decided to make the guys wearing it play some defense last week, in a 23-3 thrashing of Texas A&M.
Evidently, the Tigers had other problems besides overhyped quarterback Jeremy Johnson.  Through little fault of their new QB, freshman Sean White, AU has dropped to 1-3 in the conference with a 54-46 four-OT loss to Arkansas.  They might be winless in SEC play, if not for some peculiar play calling that backfired on Kentucky two weeks ago.
The University of Mississippi has removed their state's flag from campus, because it incorporates an image of the Confederate battle flag into its design.  (What, they're seceding from the state now?  How redundant.)  This was the next logical step, once they'd banished the old Colonel Rebel mascot, in favor of a ludicrously irrelevant bear.  But wait a minute, the NCAA cracks down on Indian mascots on the basis that they're "hostile and abusive," but you can't be "hostile and abusive" to Confederates either?  Who won the war, anyway?
They haven't yet decided what to put up in the flag's place, so the Czar humbly suggests a poster of Catherine Bach.
Ole Miss 34, Auburn 24
Arizona at Washington
The Huskies' 31-14 loss to Stanford was by far the worst of their four defeats this season.  The other three – to Boise State, Cal and Oregon – have been by an average of four points.
Senior scrambler Jerrard Randall has filled in occasionally for an ailing Anu Solomon this year, but now seems poised to win the job outright.  In less than one half of last week's loss to Washington State, he threw for 137 yards and two scores, and rushed for 105 yards on ten carries, while rallying the Wildcats from a 17-point deficit to within three.
Cats' coach Rich Rodriguez has got a point when he complains that the Pac 12 didn't schedule his team for a bye week this year, but he goes too far when he piles on by whining about having to play too many road night games.  Save it for the offseason conference meetings, coach. Your players are listening, and you've just given them an excuse.
Rich Rod needs to be more judicious in his anger.  If David Banner blew his stack as often, his "you wouldn't like me when I'm angry" line would be meaningless.  People would just say, "You're always angry, David.  You can't just turn green and throw people around every time your socks droop."
Washington 21, Arizona 20
South Florida at Navy
Coach Willie Taggart has turned the corner in Tampa, and not a moment too soon.  The knocker-noggins have now won three in a row, while scoring a once unthinkable total of 111 points among them.  The Bulls, who at one point had lost three in a row, are now 4-3, and in second place in the AAC's East Division.
At 5-1, the Midshipmen have played the fewest games of anybody so far, and all six of them have been afternoon kickoffs.  Naturally, that means all the games have been rigged in their favor.  If you're a lardhead, that is.  Senior quarterback Keenan Reynolds has only thrown two touchdowns so far, but he hasn't been picked off once, and his team has a plus-9 turnover margin.
Peter Griffin and Quagmire once sang about the virtues of putting butter on a pop tart.  The Czar, understandably motivated by this, tried putting margin on a turnover instead, but you know what it's like once you start substituting ingredients.
Yes, of course the College Football Czar tries things because he saw them on cartoons.  What of it?
Navy 45, South Florida 33
Vanderbilt at Houston
One look at the Cougars' season tells you why an undefeated American Athletic Conference team should not get a shot at the national championship.  Aside from a 34-31 win at Louisville, they've gone unchallenged.  Any competent team would have easily handled Tulsa, Tulane, SMU, Central Florida, Texas State and I-AA Tennessee Tech.  They couldn't come up with a more agreeable lineup of opponents if they hired Mark Gastineau's boxing manager.
The 3-4 Commodores are star-V-ing for some offense this season.  In six games against Division I-A competition, they have yet to score more than 17 points.  Fortunately for them, their defense has been kind enough to pitch in.  A week ago, they allowed only 188 total yards before winning a 10-3 standoff with Missouri.
These teams have met exactly once before, with the Commodores winning 41-24 at the BBVA Compass Bowl, at the end of the 2013 season.  Even the committee members for that bowl game didn't know why it was called "BBVA."  It's just that Mike Leach called it that one day, and the name stuck.
Q: Coach, what will you do to stop giving up so much kick return yardage in the second half?
A: Bbva?
Houston 28, Vanderbilt 17
Air Force at Hawaii
It's been said that you can't go home again.  Unfortunately, it appears to have been said too convincingly to the Rainbow Warriors, who have played only one game at home in their last five, with road trips to Columbus, Madison, Albuquerque and Reno – all losses, unsurprisingly.
The 4-3 Falcons are in a three-way tie for first place in the Mountain Division of the MWC.  The AFA needs no help to capture sole possession of the division title and its accompanying berth in the league championship game, because they face each of those other two teams – Boise State and Utah State – in mid-November.
If you thought you could never go home to Honolulu again, what in tarnation would possess you to leave that home for Columbus?  Why, there's not even a Tony Packo's there.
Air Force 29, Hawaii 20
a sports publication from The Shinbone