The College Football Czar
Week 9
<![if !vml]>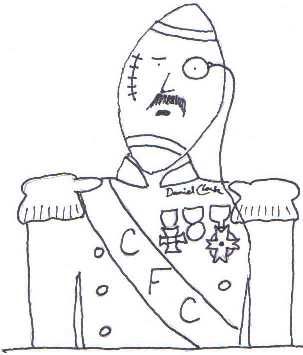 <![endif]>
Week eight in review:  Things held much more true to form than they had in week seven, as no ranked team lost to a lower-ranked or unranked opponent, with the exception of #11 USC, which was blown out by #13 Notre Dame on the road.  All eight remaining unbeaten teams kept their records intact, although both South Florida and Miami made that more difficult than it needed to be.
If you're wondering why this week's issue is being posted a day early, that is because the College Football Czar will be absent from his post on Thursday night due to unforeseen circumstances, namely the Penguins-Jets game.  Yes, the Czar is actually going to leave his computer chair and go out and try to have fun on a weeknight.  He admits he's a little rusty at that sort of thing, but thanks to the modern miracle of Amazon, he's got a used copy of Wanging Chung For Dummies to guide him.  In the meantime, as he always asks when posting on a short week, kindly excuse this installment's relative brevity and semi-literacy.
For the week, the Czar went 12-6, which brings his season record to 107-48, for a .690 winning percentage.
Sept. 26
Florida State at Boston College
At 2-4 with a tough remaining road schedule, FSU is in danger of missing out on the postseason for the first time since 1981, and having their first losing season since 1976.  Analysts can harp on the injury to starting QB Deondre Francois all they want, but that isn't what caused them to allow last-minute scoring drives in narrow losses to both Miami and Louisville.
It has bean a long time since the team from Boston has shown this potent an offense.  In fact, their past two weeks' victories over Louisville (45-42) and Virginia (41-10) are the first time they've scored more than 40 points in consecutive games since the end of the 2002 season, when they pounded Big East foe Rutgers, and then blew out Toledo in the Motor City Bowl.  Freshman QB Anthony Brown's season-high 275 passing yards last week at UVa was a welcome sight, for a program that hasn't seen a prolific passer since Matt Ryan a decade ago.
After the Seminoles' 31-28 loss to Louisville, head coach Jimbo Fisher confronted a fan who was chanting "new coaches."  Rather than admit to taking personal offense, Fisher claimed to be defending his team.  "I'm looking at the hurt and watching our kids cry," he said, "and I look at the coaches, and how hurt they were, and coaches' kids are standing right there in the tunnel, and listening to that guy."  All right, it's been a tough season for the Noles, but are they really so frail?  Just wait until they take the field this Saturday, and realize that the guys on the other side of the field are going to hit them!
Boston College 26, Florida State 23
Sept. 27
Virginia at Pitt
The Panthers' 24-17 victory at Duke opens a window of opportunity for them to salvage their season.  At 3-5, and finishing the season against Virginia Tech and Miami, they must make hay in this two-game home stand against the Cavaliers and North Carolina.  It would sure help if they could get another Big Bam Boom out of Darrin Hall, after the junior running back romped for 254 yards and three TDs against the Blue Devils.
The season for the 5-2 Cavs, conversely, is suddenly imperiled, after they were impaled on their own swords in a 41-10 blunderfest against Boston College.  If they don't clinch a bowl bid this week at Heinz Field, they may never do it, with Georgia Tech, Louisville, Miami and Virginia Tech remaining on their slate.
It's quite obvious by now that the national anthem protesters are being prompted by others behind the scenes, which is why not one of them is capable of explaining just what in tarnation he's doing.  For example, third-string Panther kicker Ian Troost, explains his actions thusly: "It's a result of a culmination of things over the past hundreds of years and legislation that has been passed."  So much for the media scolds who tell us that these players are providing a valuable service by "starting a conversation."  One might engage in a more constructive conversation by appearing on The View.
At least his Commie professors must be proud, because that sort of unfocused, anti-American mindpuke is torn straight from the pages of Howard Zinn, Noam Chomsky, Ward Churchill, and every other academic fraud who should have been subject to a class action malpractice lawsuit by irate graduates.  When Michael Moore was in college, he must have majored in "culmination of things over the past hundreds of years."
The College Football Czar has decided he's not going to stay home from this week's game on account of someone who stands about as much chance of being a real Pitt football player as Jill Stein had of becoming president.  However, if the same kind of disrespect is shown by actual players who are seriously part of the team, he's not going to stick around to see anything they do after that, nor will he return for either of the Panthers' remaining home games this season.  You'd think a school that resorts to Hansen Brothers tactics ("Buy you a soda after the game") just to keep the student section around for the second half would be a little more concerned about repelling what fans its team still has.
Pitt 28, Virginia 27
Penn State at Ohio State
Most people who live west of Altoona have no idea what "Nittany" means.  Whether it's a synonym for "paper," they'll find out this weekend, when the Lions take on the nation's second-rated offense.  Up until now, the best offense they've faced all year has been #62.
The numbers for the two starting quarterbacks in this game are comparable in most areas, except that one of them has the second-best touchdown-to-interception ratio of any starter in Division I-A.  It would surprise many to learn that it is J.T. "everyone in Columbus thinks I stink" Barrett who has thrown only one pick to 21 TDs this season.  The only one better is Nc State's Ryan Finley, who has thrown for a comparatively modest 11 scores with no INTs.
Nevertheless, Trace McSorley dissected Michigan's defense with a series of pinpoint passes to DaeSean Hamilton, in a 42-13 thrashing.  If the Lions were excited by the prospect of that revenge game, they should know what they're up against this week.  The Buckeyes have waited for this rematch for just over a year, in addition to which they're the team coming off a bye week, and they see an opportunity to re-establish themselves as national contenders.  Also, they get this game in the horseshoe, where PSU won't have its army of ferocious white pom-poms behind it, and seriously, that pass interference by Jordan Smith gets called if the game's in Columbus.
It just so happens that "everyone in Columbus thinks I stink" doesn't fit on the back of a jersey, so Barrett replaced it with a Roman numeral IV.  Quite logical, really.
Ohio State 31, Penn State 20
Oklahoma State at West Virginia
Heading into last week, the Mountaineers were ranked #23.  After foiling a late two-point conversion attempt to beat Baylor 38-36, they improved to #22.  How does that work?  Are there only 21 other teams that could've eked out a win against the O-and-everything Bears?  The AP rankings, where teams seldom lose ground for any reason other than a loss, are another monument to the laziness of the average sportswriter.  The coaches' poll is even dumber, considering that the voters don't even have the time to watch each other's games, and so they delegate that duty to the likes of Leonard Kraleman.
The Cowboys (6-1, 3-1) survived an overtime test at Texas 13-10, when senior safety Ramon Richards intercepted a pass in the end zone.  OSU had been repeatedly unable to pull away, despite big advantages in total yardage and time of possession.
If you don't remember Leonard Kraleman, that's because it was Rob Schneider, actually being kind of funny.  Who remembers that?
Oklahoma State 52, West Virginia 33
Nc State at Notre Dame
So Coach Kelly really meant it.  Quarterback Brandon Wimbush really was 100 percent for the USC game.  The Fighting Irish slobberknocked Southern Cal 49-14, as RB Josh Adams combined with Wimbush to rush for 297 yards and five touchdowns.
NCSU is known for its ferocious defense because of the way DE and the rest of the front seven storm the line of scrimmage to stop the run.  In pass defense, they're actually among the bottom ten in the nation, yielding 287 yards per game through the air.  When the Irish give Wimbush a run-pass option in this game, the Czar suspects he will opt to pass a lot more than usual.
On a waterlogged field in Raleigh last season, a blocked punt return provided the only touchdown in the Wolfpack's 10-3 victory.  There's no chance of the same thing happening theis season, thanks to the abomination that is artificial turf in South Bend.
For all the golden domers' incessant yammering about tradition, the Czar can't believe how readily they accepted the spongey surface in Notre Dame Stadium.  What's next, putting an orange slice in your Guinness?
Notre Dame 27, Nc State 17
UCLA at Washington
Bruin tailback Belu Olorunfunmi was all a-runnin' funny when he flung himself into the end zone during a 31-14 win over Oregon.  The little-utilized junior tried to hurdle a defender, but instead stepped on his shoulders and randomly launched himself like a Scud missile.  Luckily, he emerged with six points, and an unbroken neck.
The Huskies would probably rather have played last week than sit around and stew over their 13-7 loss to Arizona State.  Never mind returning to the final four, UW will have enough trouble reaching the final two in their conference.  Currently, they trail Stanford and Washington State by half a game in the Pac 12 North.
Isn't it enough to have a long, unpronounceable name without also being cursed with the initials B.O.?
Washington 38, UCLA 31
Air Force at Colorado State
The Falcons appear to have revived their season with a pair of wins against the Silver Staters, but how good are their prospects, really, after having to rally from 27-points down to defeat UNLV, and edging Nevada on a last-second field goal?
There's been no danger of CSU's Nick Stevens being benched like he was late last season.  The senior slinger has thrown every one of the Rams' passes this year, and been remarkably consistent.  His 231 yards in last week's 27-24 win over New Mexico was actually his season low.
If they're the Air Force Academy, then why do they run the triple-option?  Because they heard somewhere that A-FA is a long, long way to run.  They sure didn't hear this from the Czar, though.  He's never even seen The Sound Of Music, let alone bought it on Blu-ray – just in case you were thinking that he did, which he hasn't
Colorado State 37, Air Force 32
Georgia vs. Florida
Undefeated UGA is top dog in the SEC East, where nobody else has fewer than two losses in conference play.  If the Gators (3-3, 3-2) don't succeed in dragging them back into the pack, it's unlikely that anyone will.
In a matchup of freshman quarterbacks, the Man from M has a distinct advantage over Feleipe with the extra "e."  UF wide receiver charges that Bulldog QB Jake Fromm has only succeeded by "throwing simple passes."  Perhaps he should advise Feleipe Franks to do likewise.  Franks has had one memorable, long-distance game-winner against Tennessee, but other than that, he's only got three touchdowns and an equal number of INTs.
This neutral-site rivalry game in  is billed, unofficially, as the World's Largest Outdoor Cocktail Party.  It used to be second-largest, until Nick Nolte sold his convertible.
Georgia 30, Florida 14
USC at Arizona State
It's hard to say which is the greater embarrassment to the Pac 12, the Trojans' play last week at South Bend, or the way the Sun Devils have caught fire in conference play after a 1-2 start.  In truth, ASU has simply become a more solid team since their struggle against New Mexico State, and their losses to San Diego State and Texas Tech, but their ability to contend in the Pac 12 South makes the league look bad.  If the fans out west rooted for their conference like they do in the SEC, they'd be doing it with bags over their heads this season.
SC has lost two if its past four games, and the two wins in between, over Oregon State (38-10) and Utah (28-27, were equally ugly, During that stretch, they're minus-6 in turnovers, and no, Sam Darnold is not solely responsible.
Sorry, the College Football Czar didn't mean to make fun of people with bags over their heads.  He realizes that to do so must be somethingist-or-other.
Arizona State 41, USC 34
Michigan State at Northwestern
The Spartans have quietly marched their way into a three-way tie with Penn State and Ohio state atop the Big Ten East.  Last week, they scored twice late in the fourth quarter to defeat Indiana, 17-9.  They appeared disinterested most of the way, trailing 9-3, until they remembered they had a chance to win a spittoon, and became inspired.
The Wildcats (4-3, 2-2) haven't contended like they thought they would.  For them not to go to a bowl game, though, they'd have to have a more devastating November than Hillary Clinton.  There's no excuse for not going at least 2-2 against Nebraska, Purdue, Minnesota and Illinois.
The Czar suspects that you read that last paragraph and then wondered, why would Hillary have a devastating November this year?  The answer is simple.  Can you imagine any month of her life going particularly well?
Michigan State 20, Northwestern 13
TCU at Iowa State
Those crazy 5-2 Clones are looking to replicate last week's 31-13 victory over Texas Tech, during which they held the high-powered Red Raider offense off the board for more than half of the game.  Tech was actually the fourth team this season that ISU has held to 17 points or fewer.
A year ago, the Horned Frogs barely got past lowly Kansas, 24-23.  Last week, they blanked KU 43-0, and outgained them 475-21.  That's what "The Bear" would consider a revenge game, since the Jayhawks kind of won the first game, except where actual football is concerned.
Perhaps ESPN should sponsor the Lard Bowl.  It would invite two losing teams that had "winning records" against the spread.  Instead of recognizing a champion, it could award a "cover trophy."
TCU 34, Iowa State 23
Georgia Tech at Clemson
Tiger QB Kelly Bryant is said to be OK to play because he's passed – all together now – The Concussion Protocol.  But what about the way he limped all over the turf of the Carrier Dome during the first half of that 27-24 upset loss to Syracuse in Week 7?  He says his ankle is "80 to 85 percent."  That's probably good enough.
Tech topped Wake Forest 38-24 to remain within a game of the ACC's Coastal division lead.  Because they lost a week earlier to Miami, however, they must now make up two games against the Canes, or else hope to emerge from a three-or-more-way tie-breaker.
Q: Why do the Yellowjackets have a hexagonal pattern on their white helmets?
A: Because 4 out of 5 superstitious crackpots agree that a hex-a-gon is the most effective way to make hexes go away.
Clemson 25, Georgia Tech 16
Mississippi State at Texas A&M
Last season was great publicity for MSU, being allowed into a bowl game based on academic achievement, even though they were only 5-7.  This year, they'd rather earn their way into the postseason on the field, as they are on the brink of doing, at 5-2.  The Bulldogs returned to their form from earlier this season when they were ranked, by clobbering Kentucky at Commonwealth Stadium, 45-7.
The Conjunction Boys kicked three fourth-quarter field goals to beat Florida 19-17, and improve to 5-2 themselves.  For freshman quarterback Kellen Mond, though, it was the worst game since the Aggies' opening choke against UCLA.  Mond completed only 8 of 24 with an interception.
Now that they have a reputation, the mud puppies scoff at the academic standards of their SEC West rivals from College Station.  Seriously, A&M?  Back at the school in Starkville, they learn all 26 of their ABCs.
Mississippi State 35, Texas A&M 31
Louisville at Wake Forest
Last year's meeting was a classic "style points" bid by the Cardinals, who pulled away to a 44-12 victory after trailing 12-10 at the end of the third quarter.  Little good it did the U of L, who proceeded to lose their last two regular season games, and then get slammed by LSU in the Citrus Bowl.  This year, all the 5-3 Cards are looking for is a W, to clinch a postseason bid.
Wake has done a Demon drop to 4-3, after starting the season 4-0.  It's not that they're necessarily playing any differently, though.  Had they started the season against Florida State, Clemson and Georgia Tech, they'd probably have been 0-3.
At Louisville's home stadium, there's lots of signage around identifying the school and the city by the nickname, "The Ville."  It's a little-known fact that Wake Forest at one time tried to market itself as "The Rest," until the Professor and Mary Ann threatened to sue.
Louisville 30, Wake Forest 21
Minnesota at Iowa
The 4-3 Hawkeyes had their third tough loss in four conference games last week at Northwestern, where they fell 17-10 in overtime.  At this point, they're barely over .500, even they've outscored their opponents by 54 points so far.
The Golden Gopers, also 1-3 in the conference and 4-3 overall, snapped a three-game losing streak with a less-than-authoritative 24-17 win over last-place Illinois.  Sophomore quarterback Demry Croft must be singing "We May Never Pass This Way Again," after a 5-for-15 performance, for 47 yards, one TD and two interceptions.
These neighboring rivals play for one of the Czar's favorite college football trophies, the Floyd of Rosedale – a large, bronze likeness of a state fair blue ribbon-winning hog.  This has given first-year Gopher coach P.J. Fleck a brilliant idea for a new motivational catch phrase.  It goes something like, "Sooo-weeeeeee, oinkedy-wiggledy-piggledy th-th-th-that's all, folks!"
It's early yet.  He's working on it.
Iowa 10, Minnesota 7
Utah at Oregon
Former webfoot wide receiver Darren Carrington, now the Utes' leading pass-catcher with 45 receptions for 649 yards, says he has "no hostility" toward his old team.  But then, why is this being reported as anything remarkable, since he was clearly the one in the wrong in the first place?
The Fighting Ducks' season has disintegrated to roughly the same point that it had last year, when they suddenly upended the Utes, 30-28.  The difference is that they got a big game that day from freshman quarterback Justin Herbert, who sustained a broken collarbone this year against Cal, as his team was improving to 4-1.  They have since sunk to 4-4 behind another freshman QB, Braxton Burmeister of La Jolla, CA, who has not been having La Jolla good time, with just one TD and five interceptions.  (Yes, the Czar knows it's not pronounced that way.  So it's a visual gag, all right?)
One might consider this to be some sort of cosmic vengeance against Burmeister, after he declared toys illegal and persecuted Santa Claus.  Heaven knows what would possess him to do such a thing.  Perhaps he's a Jehovah's Witness.
Ironically, Burmeister Meisterbur might have actually been a hero, if only he'd stopped at banning fidget spinners.
Utah 22, Oregon 18
a sports publication from The Shinbone