The College Football Czar
Week 9
<![if !vml]>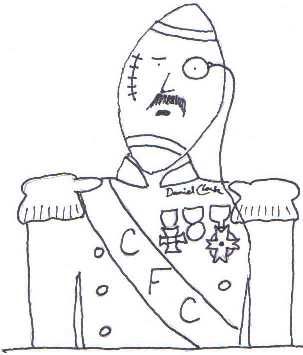 <![endif]>
Week eight in review: Despite the large percentage of teams that were idle, it proved to be the most consequential week to this point of the season, with eight ranked teams being upset by lower-ranked or unranked opponents.  Many of the most surprising results were in the SEC, where LSU, Texas A&M and South Carolina were all beaten, and thus all but officially eliminated from the national championship picture.
The first BCS ratings of the season are out, and as expected, Alabama is on top.  Florida State is rated second, very slightly ahead of Oregon, based largely on the strength of their blowout win over highly-ranked Clemson.  The College Football Czar is not sure he agrees with Ohio State being rated #4 ahead of Missouri, but he is much more comfortable with letting the cold, faceless BCS ratings make that determination than with having a 13-member panel subjectively choose that fourth team, as if they were selecting the semifinalists for the Miss Hooters pageant.
The biggest story of the week has been the rebellion at Grambling, where the players refused to travel to their scheduled game at Jackson State.  The Grambling players published a letter to the school's administrators, in which they complained about deteriorating facilities, moldy equipment and uniforms contributing to staph infections, excessive bus travel, and perhaps most incredibly, being forced to buy their own Gatorade.  In addition, they say that donations had been offered specifically to address the team's concerns, but the university rejected them, instead preferring that all donations go to the school's general fund.
The university contends that its refusal of certain donations has been out of concern for compliance with NCAA rules.  In addition, an item on the school's website says that health inspectors found no violations within the athletic complex, and that the uniforms are cleaned in the same manner as those of many professional and major college teams.  Especially damaging to the players' case is the fact that Lamar University denies the charge that it refused to use the visitors' locker room because of the mold and mildew.
One of the issues they raised in their letter, and in fact the one they saved for last, was their discontent over the firing of head coach Doug Williams.  It sure seems to the Czar that this was the true source of their anger, and that they buttressed their case with an assortment of embellished grievances, accompanied by a handful of carefully selected photos of the cruddier parts of the complex.
The players' loyalty to Coach Williams actually undermines much of their argument.  The state of decay they describe would have to have developed over a longer period of time than the brief tenure of interim coach George Ragsdale.  If they were endangering their health by working out in grimy facilities, wearing filthy uniforms, running through knee-high grass on the practice field, and being put at serious risk of dehydration, the one person most responsible would be the head coach.  Okay, so the program has budgetary problems, but how much money does it take to clean a room or run a mower?
The Grambling players had no business canceling Jackson State's homecoming game.  JSU is threatening to sue, and rightly so, but wherever will the money come from?  Maybe part of the settlement will be to make up the game, so that they can have the satisfaction of trouncing their Southwestern Conference rivals a lot worse than the official 1-0 win they were awarded by forfeit.
If the sports media, who have come down solidly on the players' side, really thought these grievances were legitimate, they would have made some effort to corroborate the most serious ones.  Staph infections are no trivial matter.  If the players really are contracting staph infections as a routine part of being Grambling Tigers, that instantly validates their uprising, even if they went about it in a misguided way.  As of this posting, however, the story is five days old, and the Czar has got to ask, is there a team doctor in the house?  How about some assistant coaches?  Are there no sports reporters seeking out sources to substantiate this crucial element of the story?  Apparently not.  There are only a bunch of pickled posteriors, lazily passing along the players' claims without cynicism.
Anyway, the Czar survived the upheaval of week eight with a record of 11-7, having correctly predicted that Louisville would take its first loss of the season, and that Temple would get its first win.  Conversely, he made by far his worst prediction to this point in the season, by picking a Syracuse team that got slobberknocked by Georgia Tech, 56-0.   For the season, his record is 117-41, for a .741 winning percentage.
Oct. 25
Boise State at Brigham Young
Sophomore Taysom Hill has provided more consistent quarterbacking than the Cougars have had in several years, certainly more than they had during last season's 7-6 loss to BSU.  In last week's 47-46 victory at Houston, he set a career high in interceptions with three, but also in passing yards with 417, and touchdowns with four.
The Broncos are not having nearly as great a season as they've become accustomed to, but they still lead the Mountain division of the MWC, having already defeated the Utah State team that's tied with them in the standings.  Last week, they lost starting QB Joe Southwick to a broken ankle, but still rallied from a 10-0 deficit to roll over nemesis Nevada, 34-17.  New starter Grant Hedrick turned in a tentative performance, completing 18 of 21, but for only 150 yards, with an interception.
In case you've never heard of Mountain division, it's like long division, that's the way they divide numbers in West Virginia.  They don't do very much of it, of course.  You can only sever so many toes.
Brigham Young 29, Boise State 24
Oct. 26
Pitt at Navy
The Panthers' offense was pulverized two weeks ago in a 19-9 loss at Virginia Tech, but their defense showed that it can defend the option better than it did in earlier wins over New Mexico and Duke.
The College Football Czar is throwing a flag on the Associated Press for the way it quoted Navy kicker Nick Sloan, after his missed extra point sent the Middies to defeat against Toledo, 45-44 in double-overtime.  "That's kicking.  That's just how it is," the AP quotes Sloan.  "You make one, one second then you miss one the next second."  This makes him sound like he doesn't care, and is refusing to accept responsibility.  Try squaring that with the quote of his that was selected by the Capital Gazette:  "I've got to come through in that situation and I pulled it.  I just pulled my head.  I've been working on that the entire season, but I guess I haven't worked hard enough."
Obviously, the Gazette quote presents a far more accurate depiction of the sophomore kicker's mindset than the "stuff happens" snippet taken by the AP.  Sloan is surely having a tough enough week, without the most widely-read account of the game wrongly portraying him as some kind of a jerk.  It just goes to show that the media are often dishonest, even when they're not just plain lying.
The Naval Academy should be an easy road trip for the Panthers, who play their home games on the "North Shore" of Pittsburgh.  From there, all they need to do is let the current carry them out to the Altoona Sea, and then follow the Big Dipper.
Pitt 28, Navy 18
Penn State at Ohio State
The Czar has always hated the cliche, "who wants it most," spoken as if the norm was not for both teams to want to win just as badly.  He has to admit that it's got some merit where the PSU-Michigan game was concerned.  The Nittany Lions prevailed 43-40 in four overtimes because coach Bill O'Brien tried to win the game, whereas the Wolverines' Brady Hoke merely tried to escape it.  Hoke had concerned himself only with finding a nice lie for his kicker, until O'Brien reached out and took the win with a bold fourth-down call in the final frame.
Buckeye coach Urban Meyer improved his record at OSU to 20-0, with a 34-24 victory over Iowa, in which they had trailed for almost the entire first half.  The former Utah and Florida skipper is now 100 games over .500, at 123-23.
The lumpy nuts prevailed 35-23 in last year's meeting, which was played on the last weekend of October, also.  That had been quarterback Braxton Miller's most recent 100-yard rushing performance all the way until last week, when he gained 102 yards on 18 carries.  Miller, who has thrown for eight touchdowns in a little more than four games, has yet to hit paydirt with his feet this season.
The Buckeye's team song, for a very long, uninteresting, and not even true story, is Hang On Sloopy.  That sounds like bad grammar, but every time they've tried to hang on "sloopily," they've slid right off.
Ohio State 23, Penn State 10
West Virginia at Kansas State
In last year's 55-14 runaway, K-State handed the Mountaineers their worst loss in Morgantown since a 58-14 mashing by Miami in 1986.  Now, WVU goes on the road for the first time since getting blown out by Baylor two weeks ago, 73-42.
The 2-4 Wildcats are 0-3 in conference play so far, but they've been competitive in all three games, losing to Texas, Oklahoma State and Baylor, by an average of eight points each.
Mountaineer tailback Dreamius Smith was in for a rude awakening last Saturday against Texas Tech.  His second touchdown of the game gave his team a 27-16 third-quarter lead, but the rest of the game was like one of those nightmares where you never get where you're going, as they never crossed midfield again in a 37-27 defeat.
The Eers have had to get used to long road trips since joining the Big XII, but they feel like Bill Snyder Family Stadium is their home away from home.  That's because they think that means its 50,000 occupants are all related.
Kansas State 31, West Virginia 24
UCLA at Oregon
In the preseason issue, the Czar nominated Duck tight end Colt Lyerla for the Lardhead of the Year Award, after he tweeted a Jesse Ventura-like conspiracy theory about the Newtown school massacre.  Since then, he has compiled what might be the most extensive lardhead resume of all time.  Shortly after a public spat with head coach Mark Helfrich, Lyerla was suspended a game for violating team rules.  He voluntarily extended that suspension indefinitely, by wittily quitting the team.  Now, Lyerla has been arrested for possession of cocaine.  In his nostrils, that is.  Oh, and in a car, to boot.  Yes, the police just happened to spot him consuming the substance while sitting in a parked car.  Perhaps he just assumed that any vehicle with cocaine in it must have tinted windows, therefore he could not be seen.
Duck defensive coordinator has apologized for his remarks about Washington State head coach Mike Leach, although the act of contrition wasn't enough to spare him a $5,000 fine.  Aliotti had said it was "low class" of Leach to keep is starters in to continue throwing the ball to score two meaningless touchdowns late in UO's 62-38 rout.  The fact that the Fighting Ducks had put their backups in did not obligate WSU to do the same.  There's nothing the matter with the losing team fighting to the end for every point and every yard it can get.
One reason this may have been a sore spot for Aliotti is because his defenses have routinely been accused by lazy analysts of being soft, because of their tendency to give up points late in games just like that one.  If they wind up playing Alabama or Florida State in January, you can already hear the experts discounting their chances because they gave up 38 points to Wazzu.
The Bruins' 24-10 defeat last week was their third loss to Stanford in less than a year.  Now that they don't face the Cardinal again, the rest of the season is all downhill.  At least one would think so, if one were a lardhead.
This game is being played in Eugene, which starts with the same syllable as UCLA, so why doesn't UCLA start with an "E"?  Becausethat would make five letters, which is too many for an official collegiate acronym.  So they gave their "E" to Bob Uecker, who put it on backwards.  Just another of those things that wouldn't have been funny, if it had come from anyone else.
Oregon 41, UCLA 21
South Carolina at Missouri
Tiger QB Maty Mauk was very convincing at mimicking injured starter James Franklin in last week's 36-17 win over Florida.  In his first start, Mauk passed for 295 yards, and scored on a 17-yard run to put the game away.
The Gamecocks have also lost their quarterback, Connor Shaw, to injury, but likewise will be in good hands if the senior slinger is unable to return this week.  Junior Dylan Thompson has stepped in for an occasional start before, including a 310-yard performance in a big win over Clemson to end last regular season.
Carolina has unexpectedly fallen to 5-2 with a startling 23-21 loss to Tennessee, but not everything about their season has been a disappointment.  Sophomore Mike Davis currently leads the SEC with 879 rushing yards, with an additional 201 yards in receptions.
For the record, Mauk's first name is pronounced with a short "a," as in Matty Alou, and not a long "a" as in "ahoy, matee."  That is, except on September 19th, which is National Talk Like a Pirate Day.
That's the day when the Czar always makes conspicuous use of the word "whom."  It's the little things that really tick people off, and therefore bring pleasure.
South Carolina 41, Missouri 38
Texas Tech at Oklahoma
Since the Belldozer has taken over at quarterback for the Sooners, most of the dozing has been done by the spectators.  Over the past three games, junior Blake Bell is only averaging 139 passing yards, while gaining just 29 more on the ground.  OU's offense has been so laborious that once they trailed Texas by two touchdowns in the first half, the game was already practically hopeless.  That's not a pleasant thought as they prepare to face a Tech team that is second in the nation in passing.
The Red Raiders (7-0, 4-0) are all alone in first place of the Big XII, with half a game's lead on Baylor and Texas.  Last week, Davis Webb was slinging it at West Virginia, completing 36 of 50 for 462 yards.  When Apollo Creed said, "There is no Amaro," he wasn't counting on junior Tech tight end Jace Amaro, who opened the scoring at WVU with a 10-yard TD reception, and closed the game out the exact same way.
Whaddaya mean, Apollo never said, "There is no Amaro?"  The College Football Czar must be way overdue to give his LaserDiscs a good dusting.
Texas Tech 44, Oklahoma 31
Nebraska at Minnesota
The radiant rodents upset Northwestern to improve to 5-2, but their future may not be as bright as their shiny pelts are, what with a treacherous November schedule lying ahead.  After hosting the Huskers, they've still got home games against Penn State and Wisconsin, sandwiched between trips to Indiana and Michigan State.
Surprisingly, the 5-1 Cornhuskers have continued winning in the absence of QB Taylor Martinez, who might be able to return from turf-toe this week.  In the meantime, he'd been replaced by Tommy Armstrong Jr., who was yanked last game in favor of Ron Kellogg III.  If Martinez weren't coming back, by the end of the season the N-men may have resorted to suiting up Ennery the Eightf I Am I Am.
That last outing for Bo Pelini's team, a 44-7 pummeling of Purdue, was a road game like this one, and in between, they were idle.  If it's true that absence makes the heart grow fonder, Pelini and the fans back in Lincoln probably still won't like each other very much.
Nebraska 24, Minnesota 15
Stanford at Oregon State
OSU's Sean Mannion continues to lead the nation in passing, just eight yards short of the 3,000-mark, but he's had to put up numbers like that to compensate for his team's lack of a ground game.  The last time the Cardinal faced a similar one-dimensional opponent, they whacked Washington State, 55-17.
Devon Cajuste helped his own cause with 109 yards on a career-high seven receptions, to lead the Cardinal past frequent foe UCLA, 24-10.  The junior tight end left the game with a twisted knee, however, and is questionable to return against the Beavs.  Like everyone else by this time of year, David Shaw's club has suffered its share of injuries.  Kicker Jordan Williamson missed last week's game with an unspecified leg injury, and was replaced by freshman Conrad Ukropina, whose name is "porcupine" spelled inside-out.  That means Ukropina is a relative of the Beavers, so if he plays again this week, you know the game is fixed.
You can tell this game is a trap from the way the Cardinal are bringing their tree mascot into Reser Stadium to bait the Beavers.  That's kind of like sending Mayor McCheese to Michael Moore's house, with a set of brass knuckles.
Stanford 36, Oregon State 27
Houston at Rutgers
Louisville's loss to Central Florida blows the AAC race wide open, with the Cougars currently tied with UCF for the conference lead.  UH suffered its first setback of the year last Saturday, in a 47-46 donnybrook against Brigham Young.
The 4-2 Scarlet Knights have had a week off, and their quarterback badly needed it.  Gary Nova imploded under Louisville's pressure in Week 7, when he threw four ugly interceptions, and was sacked eight times.
It's a little-known fact that freshman Cougar quarterback John O'Korn was one of the Children O'Korn, until he turned 18 and had to flee.  The Children O'Korn are a cult made up of rural youngsters who meet in the fields to produce radio broadcasts for Hee-Haw.  At least, that's the way it went in the sequel, as seen on Count Floyd's Monster Chiller Horror Theater.
Houston 20, Rutgers 17
Fresno State at San Diego State
The unbeaten Bulldogs were unable to reschedule their game that was washed out at Colorado, and therefore will play only eleven regular season games.  CU replaced them on its slate with last week's hastily scheduled game against Division I-AA Charleston Southern.  There had initially been suggestions that FSU might add a game against Army, which is allowed to add a 13th game because it plays at Hawaii, but that hasn't materialized.
If you know how the Aztecs have fared recently, you won't want to fall asleep on this game, which kicks off at 10:30 ET on ESPN2.  In their last game, two weeks ago, Rocky Long's team rallied from a 20-6 fourth-quarter deficit to beat Air Force, 27-20.  In their previous game, it was Nevada that came roaring back for three late TDs, but SDSU prevailed in overtime, 51-44.
Fresno and San Diego aren't really states, of course.  They will be, though, once they've seceded from California, just like everybody else.
Fresno State 47, San Diego State 42
Texas at TCU
Everyone knows what a letdown the 4-2 Longhorns have been, but what about the Horned Frogs, who fell to 3-4 with last week's 24-10 loss to Oklahoma State?  Texas Christian began the season ranked #20, but has only beaten Kansas, SMU and I-AA Southeastern Louisiana.
The Horns were one of the many teams that was idle in Week 8, which means that, since their 36-20 stunner against Oklahoma, Mack Brown hasn't been in imminent danger of being fired for two whole weeks now.  The pointy cows better be sharp during their next few games, during which these Frogs are followed by Kansas and West Virginia, because they finish the year with three consecutive ranked opponents.  Getting tripped up at any point before then would be a pretty good way of not repeating as momentum ringers.
Gary Patterson's the one who should have given his team momentum rings, because a horned frog has always got momentum.  I mean, have you ever seen one slow down?
Texas 22, TCU 7
Utah at USC
Each of the Trojans' top four rushers is gaining an average of 5.0 yards per carry or better.  Those numbers are likely to improve against a Ute defense that allowed exactly 300 rushing yards in last week's 35-24 loss at Arizona.
The Utes' upset of Stanford has been their only win in Pac 12 play so far this season.  Going back to last year, they've given up 34 points or more in each of their past six conference games against anyone other than the Cardinal.
The Trojan band famously played the song "Tusk" with Fleetwood Mac.  For that reason, the Czar used to think the title was spelled "Tusc," as in "The University of Southern California."  Instead, they must have named the song after the University of Saskatchewan.  Typical artsy types – nothing in this country is ever good enough for them.
USC 23, Utah 21
Vanderbilt at Texas A&M
Johnny Hockey Puck got slapped around by Auburn, which knocked him out of the game with a shoulder injury.  Yet he came back, tough as vulcanized rubber, to lead A&M on a dramatic, fourth-quarter touchdown drive to take the lead.  Just when he thought he'd ended the game with an exclamation point, the Conjunction Boys' defense added a "but," and proceeded to yield the decisive score with just over a minute remaining in a 45-41 upset.
Even in their two losses, the Aggies have scored over 40.  The last time they've tallied fewer than 41 was eleven games ago, in last November's 29-24 triumph over eventual national champion Alabama.
Like their namesake, the Commodore 64, Vandy just keeps coming back.  Following a deflating 51-28 home loss to Missouri, the Commodores knocked off Georgia 31-27 to climb to 4-3.  The Medicine Man, Jerron Seymore, made the Bulldogs swallow a bitter pill when he crammed a 13-yard TD run down their throats, to cap a 17-point, fourth-quarter comeback.
So nobody believes the Commodore 64 is making a comeback?  Well, they probably said the same thing about LaserDiscs.  The fools!
Texas A&M 43, Vanderbilt 29
Toledo at Bowling Green
As long as the MAC has unbalanced divisions, with seven teams in one division and six in the other, they might as well move the Falcons back into the same division with their foes from 25 miles away.  Instead, BGSU is tied with Buffalo atop the 7-team West division, while the Rockets (4-3, 2-1) are struggling to stay in the race in the 6-team East, where they trail Ball State and Northern Illinois.
The Rockets have reeled off three straight in this fiercely contested local rivalry, to reduce BGSU's series advantage to 39-34-4.  Last season, UT took a 24-3 lead early in the third quarter, and staved off a late Falcon rally to win 27-15.
Despite the length and bitterness of this rivalry, the teams play for what is arguably the weakest trophy in college football, the Battle of I-75 Trophy, which consists of a miniature interstate sign mounted on a square base.  They played for a trophy called the Peace Pipe until 2010, until the NCAA put the kibosh on it, apparently because portraying Indians as peaceful is "hostile and abusive."
Bowling Green 37, Toledo 34
UNLV at Nevada
These intrastate rivals have been battling for the Fremont Cannon since 1969, but this is the first time they'll do it as divisional rivals in the Mountain West Conference.  The cannon is a mountain howitzer on a base that is painted in the winning team's color.  That base has now remained Wolf Pack blue for the past eight years, the longest winning streak for either team in the series.
The Rebels (4-3, 2-1) are actually ahead of UNR in the standings right now, but that's because they started conference play against New Mexico and Hawaii, who are now a combined 0-7 in league play.
Last year, the Wolf Pack went into this game without QB Cody Fajardo, who has been back from his latest injury for three games.  In his absence, they still came charging back from a 28-7 deficit to beat the house in Vegas, 42-37.
So what does the University of Nevada's "R" stand for?  It stands for, quite simply, R!  Sadly, they're a month too late for Talk Like a Pirate Day.
Nevada 30, UNLV 28
Duke at Virginia Tech
The Blue Devils are looking for their second consecutive 6-2 start.  Whatever the result in Blacksburg, they expect to fare better down the stretch than last year's team, which lost its last five.  DU trailed Virginia 22-0 last week, but scored a TD in the final minute of the first half, and then dominated the second to win, 35-22.
Since an opening 35-10 loss to Alabama, the 6-1 Gobblers have only allowed more than 17 points on one occasion, and that was a 29-21 victory over Marshall, in which they silenced the Thundering Herd through three overtimes.
VT's mascot is a turkey, and in the South, they serve turkey with, not stuffing, but "dressing."  That's because down there, it's plain bad manners to eat a naked bird.
Virginia Tech 26, Duke 10
a sports publication from The Shinbone