The College Football Czar
Week 9
<![if !vml]>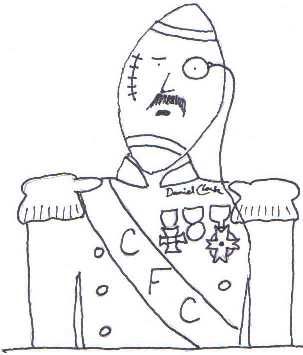 <![endif]>
Week eight in review:  For the third week in a row, those confounded games failed to adhere to the College Football Czar's brilliant predictions.  This time, he actually came in under .500, with a record of 9-10.  For the season, his record stands at 101-66, for a .605 winning percentage.  If that average held through the rest of the season, it would be the Czar's worst since he began posting his picks online, and about 90 points lower than last season.
At least he correctly picked the week's biggest game, in which Florida State held off Notre Dame.  Coach Brian Kelly actually imagines that his Fighting Irish, of all teams, were victimized by a blown call at the end of the game, when the apparent go-ahead touchdown was called back by offensive pass interference with only seconds remaining.  In fact, he had two players who not only ran picks on the play, but who were actually sustaining blocks in the end zone while the ball was in the air.  It was a totally correct call that went against a team that's used to getting all the calls its own way, so expect to hear it incessantly whined about for the next quarter-century or so.
The shame of it is, the Noles deserved to lose that game, because of their timid play-calling on their last possession.  With more than five minutes left, and the ball on their own 7-yard line, FSU made a futile and totally silly attempt to run out the clock, by handing off to freshman RB Dalvin Cook three times, rather than trying to pick up first downs.  Because they were afraid to try a breakout play, they punted the ball back to the Irish, who took over at midfield with almost three minutes remaining.  If coach Jimbo Fisher is going to any Halloween parties this year, perhaps he could go as Brady Hoke.
Oct. 24
South Florida at Cincinnati
The Bulls, who average just over 21 points a game, have never been known as a comeback team, so forgive any fans who tuned out when they trailed Tulsa 27-7 at halftime.  Senior wide receiver Andre Davis, who had missed four games with a bruised sternum, made three touchdown catches in the second half of his 154-yard performance.
USF only won two games in 2013, but they did bump off UC 26-20 in Tampa.  Safety Nate Godwin opened the scoring that day with a 75-yard return of a blocked field goal attempt.
Nothing cures an ailing football team like a meeting with SMU.  The Bearcats had lost three in a row, during which they gave up a total of 146 points, before they beat up on the Mustangs 41-3 last Saturday.  Their offense, which had until then relied far too heavily on QB Gunner Kiel, was on more of an even keel with 240 rushing yards, to go along with 268 through the air.
This game being played a week before Halloween, the College Football Czar will determine the winner by comparing costumes.  The Bulls' helmet may have a Satanic doorknocker from the gates of Hell, but the Bearcats' "C" has its head adorned with four 6's, signifying that it is 133 percent evil.
Cincinnati 26, South Florida 23
Brigham Young at Boise State
Senior slinger Christian Stewart, who has taken over for BYU since Taysom Hill's season-ending injury, threw for 408 yards last week against Nevada, with four touchdowns and no interceptions.  However, compiling those stats took him 63 pass attempts, which is a sure-fire indicator that his team did not win.  The Cougars gave up 29 consecutive points in the second half of a 42-35 defeat, but they did score the last TD of the game, so anyone who refers to those 29 points as "unanswered" is a lardhead.
The Cougar defense, which is allowing only 97 rushing yards per game, will try to put BSU's Jay Ajayi in a jar.  The junior running back has left lots of defenders' doors ajar, after he's rammed them for 867 yards and ten touchdowns.
The Broncos have lost their share of games over the past couple years, but none of them on their home field.  Since the start of the 2013 season, they've gone 4-7 in road and neutral-site games, and 9-0 at home on the strange (turf, that is).
A lot more points go unanswered nowadays, thanks to the invention of caller ID.  If you make the mistake of answering, however, don't make the mistake of asking it to get to the point.  It won't even understand what you mean by that.
Boise State 31, Brigham Young 17
Oregon at California
It was refreshing to turn on an Oregon Ducks football game last weekend, and actually see the Oregon Ducks take the field for a change.  UO broke out their 1994 uniforms to commemorate their unlikely conference championship run from that season.  They even had Donald charging through the big, rectangular "O" on their sleeves.  This week, they'll presumably be back to some variance of their barf-in-a-blender suits with no discernible team logo.
In the Ducks' 45-20 rout of rival Washington, freshman RB Royce Freeman romped for 169 yards and four scores, while Marcus Mariota threw for two TDs and 336 yards.
The 4-3 Golden Bears are 3-2 in games decided by seven points or fewer.  A week ago, they led on three different occasions, including one in the fourth quarter, before falling to UCLA, 36-34.
Cal is hosting this game at Levi's Stadium in Santa Clara, the brand new home of the 49ers.  It looks like a beautiful place to watch a game, but word is the lines at the men's rooms are murder.  Button flies and urinals don't mix.
Oregon 51, California 31
Oct. 25
Georgia Tech at Pitt
It was surprisingly quarterback Chad Voytik who led the Panthers' rushing attack last Thursday night against Virginia Tech, when he led the 21-16 victory parade with 118 rushing yards on 19 carries.  He could stand to ask RB James Conner for a few pointers about running between the tackles, though.  On inside runs, Voytik tends to stand upright and pitter-patter around waiting for a hole to open, until a defender finally breaks through and plants him.  It's a sight that's all too familiar to fans at Heinz Field, who had thought they'd succeeded in forgetting Rashard Mendenhall by now.
Tech fell to 5-2 with its second consecutive ACC loss, 48-43 to North Carolina.  GT twice rallied from 11 points down to take the lead in the second half, but its defense showed little resistance, yielding the winning score with only seconds remaining.
Pitt lost the last meeting 21-10, when their mysteriously inept running game was held to minus-5 yards.  This year's team has already surpassed last season's total, with at least five games remaining.  Connor needs only 41 more yards to reach the 1,000-mark.
The Yellowjackets have been wearing helmets with a hexagonal pattern that supposedly resembles a hornet's nest, but it really looks more like chicken wire.  The Czar suspects it's a stealth advertisement for Bob's Country Bunker.
Pitt 21, Georgia Tech 20
Ohio State at Penn State
Through three Big Ten games, the Nittany Lions are averaging only 263 yards and 10.7 points.  In a Week 7 loss at Michigan, they couldn't even outscore a rudderless Wolverine team whose quarterback was limping around like Long John Silver.
Freshman quarterback J.T. Barrett is making it awfully difficult for coach Urban Meyer to keep his ill-considered promise to start Braxton Miller in 2015.  Barrett had a difficult second start in a loss to Virginia Tech, but he has since led his team on a 4-0 run, during which they've averaged 56 points per game, and he has thrown 17 touchdown passes to one interception.
Last year, the lumpy nuts pulverized PSU 63-14, in the worst beating that team has taken since a 64-5 loss to Duquesne in 1899.  If coach James Franklin claims to have seen the video of that game, don't believe him.
Ohio State 48, Penn State 16
West Virginia at Oklahoma State
Only a lardhead uses a national championship as an excuse to riot and destroy property, but doing that over a regular season win against Baylor is doubly pathetic.  Of course, that's the kind of overkill you can expect from fans who do synchronized Village People motions for every first down.
Morgantown was surprisingly no worse for wear after last year's 30-21 Mountaineer upset over OSU.  That game was the first start at WVU for former Florida State QB Clint Trickett, who this season has thrown for over 300 yards in every game.  Trickett had a scare shortly after last game when his father had a heart attack, but all is apparently well, and he is expected to play this week in Stillwater.
Cowboy sophomore WR Jhajuan Seales and freshman CB Juwan Offray are the latest nominees for the Lardhead of the Year Award, for getting inebriated and falling asleep while in the drive-through lane at Whataburger.  Miraculously, Seales nodded off with his foot on the brake, although, according to police, he needed physical assistance from Offray to turn the key and shut off the engine.  Apparently, being behind the wheel of a running car is not enough to qualify as driving, because there's no report of Seales being charged with DUI.  Both players were cited for public intoxication, and Offray received an additional charge of hampering an officer, for giving the police the name of an alleged friend, instead of his own.  Whatamaroon.  Whateverthatmeans.
Seales and Offray were probably wide awake until they made the mistake of saying, "Hold the onions."  Why does it take some fast food places so long to not put things on your burger?
West Virginia 36, Oklahoma State 32
Ole Miss at LSU
The Tigers' 44-41 loss at Oxford last year was the greatest number of points they've allowed in a single game since 2008.  They barely escaped a big upset at home a year earlier at home, pulling out a 41-35 victory thanks to a fourth quarter touchdown on a punt return, and a pair of sacks that threw the Rebels out of range for a go-ahead field goal.
Mississippi QB Bo Wallace, then a sophomore, took those sacks to back his team up from the 18 to the 36-yard line, and was also intercepted three times that day, while completing just 15 of 35.  So far this season, he's got 17 TDs and six picks, while completing 66 percent of his passes.
It's a little-known fact that Bill Clinton was actually awarded a scholarship to the Oxford in Mississippi, but went to the one in England by mistake.  The oxen over there may not have as many teeth, but they're just as purty.
Ole Miss 34, LSU 27
USC at Utah
The balance of power in the Pac 12 has shifted to the South, where the Trojans and Utes, and both Arizona schools are currently ranked.  Presumptive North division contenders Stanford, Washington and Oregon State already have two conference losses apiece.
Trojan QB Cody Kessler set a team record last week by throwing seven TD passes, not surprisingly against Colorado, in a 56-28 onslaught.  Kessler's third quarter strike to freshman WR Steven Mitchell eclipsed the previous mark of six TDs that had been set by Matt Barkley, who did it twice.
If Fred Gwynn didn't know what was meant by "da two Utes," he must not have been a college football fan, otherwise he'd have recognized the annual Salt Lake City quarterback conundrum in a second.  This week, coach Kyle Whittingham is going with Travis Wilson behind center, even after Kendal Thompson led his team to last Thursday's 29-23 double-overtime victory at Oregon State.  The Czar, for one, doesn't see the need for controversy.  Wilson has racked up a much higher average of yardage per attempt and completion, and he hasn't been picked off once all year.
Since the NCAA put the kibosh on the World's Largest Outdoor Cocktail Party years ago, how can it tolerate the Pac 12 being split into divisions, each of which must then be a 6 Pac?  They must be filled with some of that weenie beer-snob beer that has fruit in it, and therefore doesn't count.
USC 40, Utah 28
Texas at Kansas State
The Longhorns only beat Iowa State 48-45, but it was a welcome sight to fans who had seen few signs of offensive life until the previous week's 31-26 loss to arch enemy Oklahoma.
K-State defeated that same OU team last week, 31-30.  It's easy to deny the Wildcats credit, since they had little to do with the Sooners' missed place kicks, but not every team would have been in position to take advantage.
The pointy cows had lost five in a row in this series until early last season, when their 31-21 victory in Austin was thought by some analysts to have saved Mack Brown's job.  Now we know that it had only saved it for somebody else.
A bunch of big, dumb, malodorous, flea-ridden animals invade Manhattan this weekend, where they will accomplish absolutely nothing.  Sounds like a reenactment of Occupy Wall Street.
Kansas State 35, Texas 21
Michigan at Michigan State
A timely idle week has given gimpy Wolverine QB Devin Gardner a chance to heal after hobbling his team to a critical 18-13 victory over Penn State.  The struggling senior's 192 passing yards were a season high.
The Spartans just played another team with an injured quarterback, and they seemed to enjoy it, in a 56-17 slamming of Indiana.  In this case, IU's Nate Sudfeld wasn't able to play at all, and his replacement only completed five passes for 11 yards.  Even the maize and confused will be able to mount a far better effort than that.
Speculation about MSU getting into the playoff as a one-loss team, like all playoff speculation in October, is premature to say the least.  Sparty still has four regular season games left after this one, against opponents with a combined record of 19-7.  If they prevail, they could be looking at a rematch with Nebraska for the conference championship.
The design of the Wolverine helmet actually has nothing to do with the team nickname.  So, if you ever look out your back door and see some snarling varmint with yellow wings on the front of its head and yellow stripes down its back, don't worry, because it's not a wolverine.  Therefore, it must be perfectly safe to pet.
Michigan State 42, Michigan 23
Arizona State at Washington
The 5-2 Huskies play 13 games this year because they opened at Hawaii, which means they still need two more wins to become bowl eligible.  That won't be as easy as it sounds, considering that they faced practically nobody in their nonconference schedule, and are now 1-2 in Pac 12 play.  After this game, they get a breather at Colorado, but then they must take on UCLA and Arizona, before finishing the year against neighboring rivals Oregon State and Washington State.
All that ASU backup quarterback Mike Berco-"veni, vidi"-vici has done in the past two games is throw for 755 yards and six touchdowns with no interceptions, to help his team vanquish USC and Stanford.  Yet coach Todd Graham says that Taylor Kelly will get the start this week, if he appears to have recovered from his foot injury.  While Bercovici is on the sideline, perhaps Graham will regale him with his loyalty speech again.
The UW kicker is named Cameron Van Winkle, which by reverse calculatus eliminatus makes him a relative of Vanilla Ice.  An opposing coach who calls a time out before one of his attempts is therefore trying to Ice Ice, Baby!
Boy, what a long way to go for such a feeble gag.  Besides, why does he say zis "baby"?  The Czar has never said "baby."  What is with zis "baby"?
Arizona State 30, Washington 27
Rutgers at Nebraska
The Braskymen blasted nemesis Northwestern 38-17, to get back on the winning track after a tough loss at Michigan State.  All that Merely an Abdullah did was rush for 146 yards and four touchdowns.
RU played a penalty-free game last week at Ohio State, although it's easy to avoid being penalized if you're not even going to get in your opponents' way.  The Scarlet Knights were skewered for 585 total yards in the 56-17 defeat.
The Knights travel half the width of the country to Lincoln, the farthest distance between any two schools in the expanded Big Ten.  Now that there are 14 teams in the league, perhaps it will finally change its title, before the Jersey Boys lardheadedly rename it "Yo, I Got Your Big Ten Right Here!"
The Cornhusker mascot is a big, barrel-chested country boy, which is not "gender inclusive," and is therefore forbidden by the Lincoln, Nebraska school board.  Literature distributed to teachers in that city by a bunch of liberal banana-brains called Gender Spectrum instructs them to avoid using offensive phrases like "boys and girls," and suggests instead that they call groups of children names like "purple penguins."
Where do America's educators think of these things?  They must be really … um … smart.
Purple Penguins 28, Rutgers 13
Arizona at Washington State
The 5-1 Wildcats are known for toppling Oregon early this month, but they haven't played nearly as well in any other game this season.  Two weeks ago, they finally lost to USC, 28-26.  Freshman QB Anu Solomon passed for 395 yards, which sounds great until you realize it took him 43 completions on 72 attempts to do it.
Vince Mayle identifies as the leading receiver in the Pac 12 North.  The senior Cougar WR has caught at least five passes in every game, for a total of 57 receptions and 781 yards.  The WSU running game, which had seemed to be improving, has not kept pace, however.  In their Week 7 loss to Stanford, they rushed for minus-26 yards, weighing their season average down to 45 yards per game.
It's a good thing Solomon was an original Wildcat recruit.  Had he been a transfer, that would've made him "A-pre-owned" Solomon, and the Czar can't stand those sorts of euphemisms.
Arizona 44, Washington State 35
South Carolina at Auburn
No visiting team has won at Jordan-Hare Stadium in almost two years, but such a task is not too daunting to the Gamecocks, who have just conquered the mighty Man of Fur, from the Southern Conference in Division I-AA.  Before that colossal triumph, they had lost to Missouri and Kentucky.
The Tigers have had their troubles on the road this year, so they can't afford to lose their last serious challenge at home before traveling to Ole Miss, Georgia and Alabama in November.  In their most recent home game, they hammered LSU 41-7.
Carolina coach Steve Spurrier has been known as "The Old Ball Coach" for a lot of years, and still, he is younger than Bill Snyder of K-State and Frank Solich of Ohio U.  He can no more legitimately be called "The Old Ball Coach" than he can be called "SEC Champion."
Auburn 47, South Carolina 22
Maryland at Wisconsin
The Madison Reds have got plenty of fellow travelers in the Big Ten West, where anybody seems capable of beating anyone else on a weekly basis.  The Badgers' conference-opening loss to Northwestern was on the road, however, whereas their other three toughest league games will be at Camp Randall Stadium.
William Likely was just such a candidate for a big defensive score for the Terrapins last week.  The sophomore cornerback ran an interception back 45 yards to give his team a ten-point lead, early in the fourth quarter of a 38-31 win over Iowa.
The Terps' uniforms are famously designed after the distinctive state flag of Maryland, but did you know that Wisconsin's flag is very distinctive, also?  The crest actually has a picture of a badger, perched atop what appears to be a sampling of propaganda art from post-revolutionary Russia.  If they followed Maryland's lead and put that on their helmets, the 2015 Conference USA expansion team Charlotte – known on these pages as the hammer-and-sickle-heads – could accuse them of plagiarism.
Wisconsin 41, Maryland 30
San Jose State at Navy
In Week 5, the Spartans held Nevada without a third-down conversion for the entire game.  Incredibly, they managed to lose 21-10, nullifying their advantage in yardage with a minus-3 turnover margin.  Nevertheless, that strong defensive showing seems to have revived their season, although it sure helps that there are no more Auburns or even Minnesotas left on their schedule.
The Midshipmen had to beat up on Division I-AA VMI to snap a three-game losing streak.  In their previous game, they lost to Air Force 30-21, which means they'll need Army to upset the AFA in order to have a chance to retain the Commander-in-Chief's Trophy.  Quarterback Keenan Reynolds was held out of their recent tune-up game, and has since had an idle week to rest up.
Dammit, there is no accent mark in San Jose State!  San Jose, Costa Rica has an accent mark, but San Jose, California does not.  It's an American city, the name of which cannot contain non-American characters.  What's next, umlauts?  Norwegian slashes through O's?  If they persist in vandalizing San Jose with an accent mark, Dionne Warwick will never be able to find it!
San Jose State 38, Navy 27
Oregon State at Stanford
Beaver receiver Jordan Villamin must have taken his vegemeat before last Thursday's game against Utah, in which he made three catches for 83 yards and two touchdowns.  His second TD tied the game in overtime, but it wasn't enough, as OSU lost in the second OT, 29-23.
The Cardinal offense is wearing down, without any big, power running backs to prop it up.  Last Saturday, they were held to 76 rushing yards, and were shut out in the first half of a 26-10 loss to Arizona State.  If they didn't have the nation's second-best scoring defense, they wouldn't now be clinging to a 4-3 record, with Oregon and Utah lurking ahead on their schedule.
OSU's football team has lost the last four in this series, but its mascot, Benny the Beaver, has found things even more frustrating.  Any other time he tries to sink his choppers into a tree, it just stands there and takes it.
Stanford 19, Oregon State 17
North Carolina at Virginia
In last week's 20-13 loss to Duke, the Cavaliers did not register a single tackle for negative yardage.  Their considerable advantage in total yards was erased by their committing the game's only turnover, as well as its only turnover on downs and only missed field goal.
The Tarheels topped Georgia Tech 48-43, but they've allowed the second-most points of anybody in Division I-A.  They've given up 50 or more points in three of their last five games, including a 70-41 annihilation by East Carolina.
That win over the Ramblin Wreck snapped the Heels' four-game losing streak, but don't fault their "morale supervisor," Caleb Pressley.  After all, he was one of the few people on that sideline having a successful year.  Why, just look at how happily they'd been losing.
Virginia 27, North Carolina 23
UTEP at UTSA
It looked like a promising season for the Roadrunners when they hammered Houston 27-7 in their opener, but at 2-5, they've now equaled their loss total from a year ago.
Miner coach Sean Kugler must have shown a lot of patience not to make senior quarterback Jameill Showers hit them after a three-interception game three weeks ago, in which they were trounced by Louisiana Tech 55-3.  Given another chance, Showers threw two fourth quarter TDs to RB Autrey Golden, to dust Old Dominion 42-35.
The Alamodome has a capacity of 65,000, but that many people don't turn out to watch Conference USA football.  They only show up because they think that's where to go for pie with ice cream on top.
UTEP 33, UTSA 28
Nevada at Hawaii
The 2-5 Warriors are 2-2 in Honolulu this year, where they opened with a pair of tough losses to Washington and Oregon State.  They've won their only home Mountain West game to this point, when they rallied past Wyoming 38-28 two weeks ago.
UNR used three second half fumble recoveries to come back from a 28-13 deficit to beat Brigham Young 42-35, despite getting gashed for 601 total yards.
Observers think Wolf Pack quarterback Cody Fajardo is signaling the play call when he claps before the ball is snapped, but he's really just singing, "Clap for the Wolfman" to himself.  Anything to keep himself loose.
Logic would dictate that the Pack's helmet logo is a wolf, but it's actually a likeness of Barry Melrose, and boy, does he look ticked off.  The stick was illegal, Barry.  Get over it, already.
Nevada 32, Hawaii 19
a sports publication from The Shinbone