The College Football Czar
Week 9
<![if !vml]>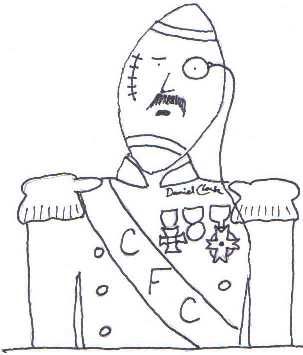 <![endif]>
Week eight in review:  The national championship picture was shaken up by Ohio State's shocking 24-21 loss to Penn State.  Or, was it?  The Buckeyes, who end the regular season with a home game against Michigan, could still claw their way into the final four if they win out.  If they'd beaten Penn State, and gone undefeated into the Michigan game, that might have been a do-or-die game for them anyway.
Not only didn't the College Football Czar's upset pick of A&M over Bama pan out, but he went 0-3 in the SEC overall, for a dismal week's record of 9-9.  For the season, his record is now 85-54, for a .612 winning percentage.
Fresno State has fired head coach Tim DeRuyter, who finishes his four-plus seasons at FSU with a record of 30-30.  Two thirds of those victories came in his first two seasons, with a talented team left behind by longtime skipper Pat Hill.  After three bowl embarrassments, and two and two-thirds losing seasons, the Bulldogs hope to return to the days when they were feared, instead of flogged, by big-league opponents.
If another week has passed, there must be another announcing faux pas that the Czar is seeking to stamp out.  If announcers must use cliches, and arguably they must, the least they could do is use them correctly.  If one is referring to a quarterback or head coach as cool, calm and something, that third word should be "collected," meaning he's got it together.  It's not "collective."  What do the people who say that even think it means, he's cool, calm and a socialist?  Have you ever met a socialist who fits that description?  Bernie Sanders is not cool and calm; he's a twitching, maniacal geyser of phlegm.
This week's installment of picks is being posted a day earlier than usual, because the Czar will be attending the Thursday night Pitt-Virginia Tech game.  As he always asks his readers when he's working on a short week, please excuse these picks' relative illiteracy, as he has had less time to editify them for gramatificational errors that don't be right.
Sept. 27
Virginia Tech at Pitt
If you were an old-time rasslin viewer, back when it was fun, the Gobblers' 2016 season might remind you of The Unpredictable Johnny Rodz.  Tech has gotten stuffed by Syracuse, and been badly outclassed by an overrated Tennessee team, but they've also wiped out North Carolina and hammered Miami.
The degree to which Justin Fuente's team still plays some semblance of Beamer-ball appears to favor the Panthers, who have taken six of the past seven games in this series.  In the past two meetings, they've allowed the Gobbler ground attack a total of only 35 yards.
Johnny Rodz wasn't the only one who was hard to predict in the old WWF.  For instance, the Czar once saw evil manager Classy Fred Blassie sneak up onto the ring apron and hit the opposing rassler with his cane.  Who saw that coming?
Pitt 31, Virginia Tech 26
Sept. 28
Navy at South Florida
After having their game at East Carolina postponed by flooding, the Midshipmen picked up where they left off a week before against Houston, as they ran away from Memphis by a final of 42-28.  The College Football Czar once referred to senior Will Worth as a caretaker quarterback, but if he's a caretaker, the bad guys will have to resort to the sploding light bulb trick in order to stop him.  Last week, Worth rushed for 201 yards and three TDs, both career highs.
If you look at the standings, the Bulls are tied for the AAC East division lead, but because of their 46-30 loss to Temple last Friday, they'll now need help in order to win their first division or conference title since they first joined Conference USA in 2003.
It's about time the Navy showed up in Tampa, so that they can search Tampa Bay for the Buccaneers, Rays and Lightning.  As is evidenced by their names, none of those teams has ever made it into Tampa proper.  They're all out bobbing around in the bay somewhere.
Navy 38, South Florida 34
Sept. 29
Penn State at Purdue
Following the Nittany Lions' 24-21 upset of Ohio State, it's easy to look at their remaining schedule and expect them to run the table to finish 10-2.  However, both of their losses have been on the road this year, and in fact they haven't won a game as a true visiting team since November 2014, when they beat an injury-riddled Indiana team 13-7.  Since then, they're 0-7.
They couldn't have asked for a better-timed opportunity to break that slump, facing the Little Train That Could Puke two weeks after coach Darrell Hazell was thrown off-board as unceremoniously as Gene Wilder.  Without him, PU didn't lose terribly to Nebraska, but then, nobody does.
Boilermaker quarterback David Blough rhymes with cow, which makes perfect sense.  You certainly wouldn't call him "blah," because he's the only source of excitement for the fans in West Lafayette.  In his past two games, he has thrown for 767 yards, with seven TDs and two picks.
Rhyming with a cow is not as easy as it sounds, because everything a cow says rhymes with everything else, so there's no way to keep up.  All you have to do is resort to using one Steve Miller lyric, and you lose.
Penn State 35, Purdue 20
West Virginia at Oklahoma State
The Mountaineers have held three consecutive Big XII opponents to 17 points or fewer, and they haven't even gotten around to playing Iowa State and Kansas yet.  The WVU defense is just about a half-point per game behind Baylor for the conference lead, in spite of having faced a far more formidable schedule.
The Cowboys (5-2, 3-1) badly need a win this week if they are going to remain in contention, having three teams with spotless league records in front of them already.  The Pokes' improving ground game is led by freshman Justice Hill, who rushed for 162 yards and added a 22-yard reception in last week's 44-20 win over Kansas.  Justice has surpassed the 100-yard mark by a long shot in every game in which he's gotten 20 or more carries.  It's getting to the point where opponents would rather he not be there, even if that also meant no peace.
How times change.  It was nine years ago that OSU coach Mike Gundy angrily declared, "I'm a man!"  If he were to throw a similar fit today, he'd have to say, "I identify as male!  And I choose to be referred to with masculine pronouns!"  Otherwise, the NCAA would probably fine him, and if anything ever happened in Oklahoma, they'd put a stop to it.
West Virginia 33, Oklahoma State 30
Clemson at Florida State
Tiger tailback Wayne Gallman has got a lot of nerve.  Two weeks after suffering a concussion against Nc State, he insists he's ready to play against FSU this Saturday.  The decision's not entirely up to him, however, so we may be seeing sophomore C.J. Fuller in his place.
The Seminoles have won back-to-back conference games to even their record, since opening league play with consecutive setbacks against Louisville and North Carolina.  It's not at all clear, though, that beating Miami and Wake Forest constitutes the end of a slump.
With a win, the Noles could keep their division title chances alive, but a third ACC loss could drop them as low as sixth in the Atlantic division standings.  What kind of team rings could Jimbo Fisher think of for sixth place?  Champions of Tallahassee and/or Boston?
Clemson 43, Florida State 29
Nebraska at Wisconsin
The Big Bad Gers have lost so many starters to injury that their roster is beginning to resemble one of those cheeseheads.  The latest is linebacker and leading tackler Jack Cichy, who is out for the rest of the season with a torn pectoral muscle.
Paul Chryst's team halted a two-game losing streak by beating Iowa 17-9.  Those two losses, mind you, were to Michigan 14-7, and Ohio state 30-23 in overtime.
The unbeaten Cornhuskers aren't being talked about as a national contender, and for good reason.  So far, their most significant victory has been a 35-32 escape against an Oregon team that doesn't know which end of the football is which.  In recent weeks, they've gotten more competitive games than anticipated against Illinois, Indiana and Purdue.
The Czar, of course, knows better.  The left end of the ball is the pointy part, precisely one football's length to the left of the other pointy part.  So there.
Wisconsin 20, Nebraska 10
Washington at Utah
It's a good thing Ute running back Joe Williams did not quit with as much stick-to-it-iveness as he thinks he did.  In the second game since his return, Williams rushed for 332 yards and four touchdowns, every one of them necessary in winning a 52-45 track meet at UCLA.
Having the Pac 12's best defense did the Huskies little good last season, when they finished 7-6.  If you believe, therefore, that their current average of 14.6 points allowed per game has got nothing to do with their 7-0 record, then congratulations, you are a lardhead.
Q: Why do they call it a track meet?
A: Because a track tofu would be nasty.
Washington 32, Utah 13
Auburn at Ole Miss
This isn't the way Chad Kelly's senior year was supposed to go, and not just because he wasn't supposed to charge the field at a high school game looking to whomp somebody.  Instead of contending for a divisional title, the 3-4 Rebels are already out of the SEC race entirely, and in danger of missing a bowl game for the first time since 2011.
The Tigers romped over the Arkansas Razorbacks 56-3, to improve to 5-2 (3-1).  Even without leading rusher Kerryon Johnson, they rolled up 543 rushing yards, their most ever in an SEC game.  Johnson may return this week, but if he does, it will be as his team's number two back, 159 yards behind Kamryn Pettway.
The Rebs' run defense plays right into their paws.  Dead last in the SEC in rushing yardage allowed, they've yielded possession to conference opponents for an average of about three quarters per game.  Sounds like their quarterback isn't the only one who needs to go back to high school for whompin' lessons.
Auburn 51, Ole Miss 42
Boise State at Wyoming
If the Cowboys installed a playing surface in their team color like BSU does, when a ball was fumbled, they'd never find it again.  That is, if anyone was willing to step on the field in the first place.  They'd probably have to change their name to the Cow-pies.
Ironically, it's been on the road that the Broncos have blue away opponents this year, dispatching Louisiana-Lafayette, Oregon State and New Mexico by an average of 25.7 points.  At home on their technicolor turf, they're only winning by 4.5.
For last week's 28-27 win over Brigham Young, the Broncs actually wore throwback uniforms, in order to reminisce about the good old days of 2006.  Not much else to do in Idaho before ski season, apparently.
Boise State 38, Wyoming 22
Army at Wake Forest
One more win and the Demon Deacons will be eligible for the postseason, for the first time since losing the 2011 Music City Bowl to Mississippi State.  They've done it against far weaker opposition this time, having beaten Syracuse, Indiana, Duke, Tulane and I-AA Delaware.
The Black Knights looked like they were destined for a rare bowl bid through three games also, but last week's 35-18 loss to North Texas drops them to 4-3, with Notre Dame, Air Force and Navy still ahead.  Because the Cadets' schedule includes two Division I-AA teams this year, they must go 7-5, or hope that there aren't enough bowl-eligible teams to go around.
By "postseason," of course, the College Football Czar is referring to a bowl game.  He didn't mean to plagiarize the brilliant marketing of Major League Baseball, in which they refer to their playoffs with the far more passive moniker "Postseason."  But then, they'd have to admit, if there's anything else that can capture all the excitement of the MLB Postseason, it's Wake Forest football.
Wake Forest 21, Army 9
Miami at Notre Dame
The fans from the Sunshine State have not seen any prevailing winds ever since their Hurricanes had a late extra point blocked by Florida State.  The U's last W was in its conference opener against Georgia Tech, with whom it is now tied with an ACC record of 1-3.
The 2-5 Fighting Irish have had an idle week to recover from consecutive low-scoring losses to Nc State (10-3) and Stanford (17-10).  Against the Cardinal, they led 10-0 at halftime, but were blanked for the entire second half.  As offensively inept as they've become, what makes them so sure Jesus isn't merely signaling a field goal?
The bitter 1988 game that the Irish won 31-30 is famously remembered as "Catholics vs. Convicts," which is a bit of a specious distinction, if you ask the Czar.  I mean, do we imagine that most of the convicts in the Miami area are Episcopalians?
Miami 20, Notre Dame 14
Northwestern at Ohio State
Coach Urban Meyer is taking the blame for a hurried field goal attempt that was blocked and returned, costing his team the game against Penn State.  He says he stayed on the fence too long about what to do on fourth down, and by the time he sent on the place kicking team, they didn't have time to get set before the play clock ran down.
The Wildcats, who had gotten off to a terrible 1-3 start, won their third conference game in as many weeks, easing past Indiana 24-14.  Sophomore QB Clayton Thorson has thrown nine TDs and only one interception during that winning streak, after tossing five touchdowns to four picks in the four previous games.
If the students from Evanston are really so smart, then maybe they can convince the fans in Columbus that the letter "I" does not resemble a triangle.  Perhaps when they were rehearsing their dopey song, the Buckeye faithful should not have consulted Andy Katzenmoyer about the spelling.  Here endeth the lesson.
Ohio State 31, Northwestern 21
Baylor at Texas
A Longhorn victory over BU appears unlikely, but no more so than it did in last year's season-ending 23-17 shocker.  The pointy cows have been sharp at home this year, going 3-0, while suffering all four losses away from Austin.
The Waco kids may love a happy ending, but they've still got a long way to go at 6-0, with most of the Mongos of the Big XII still standing in their way.  After this, they have back-to-back games against TCU and Oklahoma, and they finish the season with a road trip to West Virginia.
Mongo is only pawn in game of life, but he played defensive tackle for the Detroit Lions.  He was suspended for the 1963 season for gambling, just in case you thought he must have been smarter than he looked.
Baylor 49, Texas 45
Arizona State at Oregon
The best thing that can be said about the Fighting Ducks' season is that they've already hit bottom, whereas the Sun Devils are just now headed there.  ASU has lost three of its last four, and the only reason it isn't four in a row is because they were able to knock UCLA quarterback Josh Rosen out of the game.
Injured UO running back "Rolls" Royce Freeman rolled like a shopping cart with a sticky wheel in last week's 52-49 double-overtime loss to Cal.  The gingerly stepping junior was repeatedly unable to gain any ground after first contact, to the point where the webfoots would have been better off throwing the ball out of bounds on first down than handing it off to their number one back.
The Sun Devils are known to steal opponents' play-calling signs, which is perfectly fair game.  Nevertheless, Washington State coach Mike Leach basically called Todd Graham a cheater, prompting Graham, according to ESPN, to call Leach "chickens---."  Leave it to Coach Jethro to forget what he was saying, right in the middle of a word.
Oregon 46, Arizona State 44
Michigan at Michigan State
Last year's 27-23 Spartan victory featured one of the most unlikely endings in college football history, with the Wolverines fumbling a punt snap, and Sparty running it back for a touchdown, on the last play of the game.  If MSU can get another win this year, they'll take it any way they can get it, but after five consecutive losses, they'd probably like to produce a highlight other than one of an opponent's miscue.
The maize and blue defense has allowed an even ten points per game during a 7-0 start, although the real number is even less than that, if you subtract the one defensive score by Colorado.
These cross-state foes compete annually for the Paul Bunyan Trophy.  That trophy used to go to the team with the lumpiest feet, but nobody wanted to judge that contest, so now they just give it to the winners of the football game.  The lumpy feet award is now voted on by people who have never seen the lumpy feet.  Kind of like the Tony Awards.
Michigan 27, Michigan State 7
Kansas State at Iowa State
After narrowly losing to Big XII powers Baylor and Oklahoma State, the Cyclones couldn't keep their wind up, and suffered a letdown in a 27-6 loss to Texas.
The Wildcats have had a hangover themselves, since letting an almost certain win against West Virginia escape in Week 5.  Still, they've been winning since then, however unimpressively, over Texas Tech (44-38) and Texas (27-24).
This rural border battle is known as Farmageddon, and the Czar sincerely hopes that the person who coined that had the foresight to copyright it and sell tee-shirts.  It got that name because the game is so bitterly fought, such barnyard carnage hasn't been seen since last time Michael Moore stopped at Bob Evans.
Kansas State 22, Iowa State 19
Florida vs. Georgia
The 5-1 Gators quietly lead the SEC East with a conference record of 3-1, half a game ahead of Kentucky.  It's really a safer lead than that, because they walloped the Wildcats 45-7 earlier this season.  Their other four wins have come against Umass, North Texas, Vanderbilt and Missouri.
The Bulldogs were bumped off by Vandy last week, 17-16, in the kind of languid performance that has characterized their 3-4 season to this point.  The Dogs dominated in total yardage, 421-171, and there were no turnovers in the game.  Yet they kept the game close by repeatedly sputtering on the cusp of field goal range.
This neutral-site game in Jacksonville used to be officially known as the World's Largest Outdoor Cocktail Party, but the NCAA disapproved of that moniker, so now it's the Festival of Rainbows and Unicorns.  Boy, do they get smashed, though.
Florida 19, Georgia 11
Tulsa at Memphis
Last week, the Tigers wore rip-off Cincinnati Bengal helmets which, in their colors of white and blue, were reminiscent of the USFL's Boston/New Orleans/Portland Breakers.  Fittingly, they were broken, in a 42-28 loss to Navy that dropped them to 5-2.
The Golden Hurricane is 5-2 also, with losses only at Ohio State and at Houston.  Some of their wins, on the other hand, have been kind of discouraging.  It's hard to believe a team can contend for a title in any league, after consecutive overtime wins over Fresno State and SMU.
The Memphis skyline is easily identifiable because there's a pyramid in it.  The space aliens meant to put it in Egypt, but missed, and dropped it in Tennessee instead.  That's what they get, for still relying on Google Maps.
Memphis 37, Tulsa 29
a sports publication from The Shinbone