The College Football Czar
Week 8
<![if !vml]>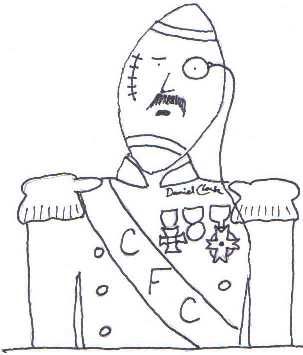 <![endif]>
Week seven in review:  In the greatest shakeup to this point in the season, four of the Top Ten went down to defeat, including second-ranked Georgia, which was waylaid by the same LSU team that had been stuffed by Florida a week before.  At this point, no team appears to be a clear cut above the rest of the field, with the possible exception of Alabama, which has gone so untested that it's difficult to see any vulnerabilities they may have.
… Which brings the College Football Czar to the myth of SEC, and especially SEC West, supremacy.  The excuse for most SEC teams' nonconference scheduling is that their league opponents are just so doggone tough that it wouldn't be fair for them to be seriously challenged in their remaining four regular season games.  What results is a nonconference slate like Bama's, which is comprised of Louisville, Arkansas State, Louisiana-Lafayette and The Citadel (I-AA).  That would make a good schedule for Alabama-Birmingham, but for just plain Alabama it's a disgrace.  So just how brutal is the Crimson Tide's conference schedule, that should justify a lineup of tomato cans like that?  There are really only two national contenders in the SEC West, and obviously, Alabama doesn't have to play itself, so LSU is pretty much it.  Texas A&M is a dangerous team, but both Mississippi schools and Auburn are far worse than advertised, and Arkansas is just plain awful.  Add to that two cross-divisional games against mediocre opponents Missouri and Tennessee, and the Tide's trip through its 12 regular season games is really quite pedestrian.
In spite of only correctly predicting one of the four Top Ten topplings, the Czar somehow steered his way through the debris to finish with his best week so far in 2018, at 15-4.  For the season, his record stands at 82-47, for a .636 winning percentage.
Oct. 19
Air Force at UNLV
The Falcons (2-4, 0-3) are still seeking their first win in the Mountain West, but their four losses are by an average of fewer than six points.  In last Friday's 21-17 setback at San Diego State, it was a blocked punt for a TD seconds before halftime that made the difference.  The Rebels (2-4, 0-2) are half a game ahead of the flyboys, but their two conference defeats have been blowouts against New Mexico (50-14) and Utah State (59-28).
A week after AFA quarterback Donald Hammond led his team to a big win over Navy in his first career start, he suffered a high ankle sprain against SDSU, and is not expected to play this week.  His replacement, Isaiah Sanders, saw significant action in a pair of September losses, but has had little success in either throwing or carrying the ball.  Expect him to continue to lean on fullback Cole Fagan, who is still looking for his first 100-yard game, after gaining 90 on 16 carries against the Aztecs.
Perhaps playing on Friday will be more agreeable to coach Tony Sanchez, who, in his fourth year after being hired away from Bishop Gorman High School, has a .333 career winning percentage at 14-28.  One might have thought he'd have more success with the Rebels, because being in high school is so much like being in Las Vegas.  You're broke, you'll regret most of what you do there, and you mistakenly think you're outsmarting the people in charge.
Air Force 45, UNLV 34
Oct. 20
Penn State at Indiana
Whatever could explain the Nittany Lions losing back-to-back home games to fall into fifth place in the Big Ten East?  As coach James Franklin said after their Week 5 loss to Ohio State, their problem is that they're "only a great team."  Yeah, that's it.  Let's go with that one.
In a 42-16 loss to Iowa, the Hoosiers were content to keep the ball in the air again, even though that approach continues to be unsuccessful.  IU's stable of young running backs had only 13 carries for 52 yards combined.
Trace McSorley has become a faint outline of the quarterback who led the Lions the past two seasons.  Not only does he have his worst completion percentage since his freshman year, but he's on pace to fall about 1,000 yards short of last year's passing totals.  It's not that he's actually gotten worse, mind you.  It's just that not having Chris Godwin, DaeSean Hamilton and Mike Gesicki around anymore kind of matters a little bit – a fact that did not deter the lazy pundits from picking PSU in the Top Ten again this season.
Franklin admitted his team wore down against OSU, and it sure looked like the same thing happened against Michigan State.  It seems almost as if his off-putting, unjustified, in-your-face, "every game is the Super Bowl" hyper-intensity cranked up to eleven may not be the wisest approach to the game.  Of course, it's a moot point, because he obviously can't help it.  This is the kind of guy who makes noises back at his Rice Krispies in the morning, because he just can't let them have the last word.
Penn State 41, Indiana 28
Nc State at Clemson
The two remaining unbeatens in the ACC battle for sole possession of the Atlantic division lead, with each team coming off an idle week.  The Tigers have only taken the last two games in this series by a touchdown each, including a 24-17 OT home victory on their way to the 2016 national championship.
The Paw Boys probably didn't want a week off after their 63-3 thwacking of Wake Forest, but perhaps they've taken that time to find a way to get the ball to Travis Etienne more often.  The sophomore running back's 9.2 yard-per-carry average is third-best in the nation, but he's getting fewer than 14 carries per game.
The strength of the NCSU defense seems to rise and fall in inverse proportion to its star power.  Last year, in DE Bradley Chubb's senior season, they allowed 8.4 more points, and 43 more yards per game than they have so far in 2018.
Before his team won the 2016 national championship, coach Dabo Swinney would get irked by people's use of the term "Clemsoning" to mean failing, by any means necessary, to win the big game.  It's not so much that he found the characteristic insulting, but he recognized that "Clemsoning" is plain bad grammar.  That's because "Clemson" is already a present participle, as anyone knows who has ever clemsed.
Clemson 24, Nc State 10
Oklahoma at TCU
The Horned Frogs have been held to 17 points or fewer in each of their past three games, their worst streak of offensive futility since early 2006.  Not coincidentally, sophomore QB Shawn Robinson has thrown almost as many picks as TDs this year.  In fact, if you subtract the opener against Division I-AA Southern, he has thrown for just six scores and eight INTs against legitimate competition.
Conveniently, the Sooners face the lethargic lizards just in time to make the firing of defensive coordinator Mike Stoops look like a good midseason move.  The new DC for OU is Ruffin McNeill, the former head coach of East Carolina – hardly a school renowned for its defensive prowess.
The College Football Czar hasn't bothered to look it up, but he suspects the word "prowess" is banned by most campus speech codes.  After all, why shouldn't a female prower simply be called a prower, the same as any man would be?  Or is the whole problem that a masculine version exists, and we need to rectify that by calling them "prow persons," regardless of which of the nine and a half genders they belong to?
Fight the prower!
Oklahoma 38, TCU 21
Michigan at Michigan State
Sparty takes umbrage at being called the "little brother" between these schools, but is that so bad?  Peter Brady is Greg's little brother, but which one had a hero party thrown for him?  All right, so nobody showed up, but still!
MSU persevered to beat Penn State 21-17, but they had to make lots of unconventional play calls, because their regular offense is so unreliable.  Quarterback Brian Lewerke has only 8 TDs and 7 interceptions this season, while each of the top three Spartan rushers is gaining under four yards a carry.  To equal last year's numbers, Lewerke needs to toss 12 more touchdowns, without getting picked off once for the rest of the year.
The most surprising part of the Wolverines' 38-13 rout of Wisconsin was Shea Patterson's 81-yard run to set up the opening touchdown.  The junior QB's total of 90 rushing yards nearly tripled his previous career high.
Ever notice how often people take umbrage these days?  That's because it's such an easy thing to do, since nobody's really interested in keeping the stuff anyway.  Seriously, if you lost your umbrage, how long would you bother looking for it?
Michigan 27, Michigan State 14
Oregon at Washington State
The Fighting Ducks are supposedly in the catbird seat in the Pac 12 North after beating Washington, 30-27 in overtime.  In reality, they're in a virtual four-way deadlock, the Cougars being one of the teams right there with them.  In fact, they've lost their last three meetings with Wazzu, whose current record (5-1, 2-1) mirrors their own.
The Cougs' 39-36 loss to USC hasn't slowed them down any, or has it?  They struggled to mount much of an offense until popping one big play late in a 28-24 win over Utah, and last week, they needed a big fourth quarter to pull away from Oregon State, 56-37, after having trailed the Beavers by two in the third.
Just like the Elephant Man was not a man, the catbird is not a cat.  In fact, it even said, "I am not a cat; I am a bird!"  Admittedly, it doesn't sound very dramatic now.  You kind of had to be there.
Oregon 40, Washington State 35
Cincinnati at Temple
Nobody would have expected the Bearcats to be among the last eight unbeaten teams in the nation.  It suddenly becomes a lot less unlikely, however, when you realize that the only winning team they've beaten has been 4-3 Miami Ohio.
The Owls aren't the best advertisement for the American Athletice Conference becoming a power league.  At 4-3, they've won all three AAC games, while going 1-3 outside the league, including an opening loss to Division I-AA Villanova.
When the hooters turned their season around against Maryland, coach Geoff Collins became the object of ridicule for wearing what appeared to be ladies' pants on the sideline.  And if that hadn't halted their losing streak, he would have started breathing through his eyelids like a lava lizard.
Temple 28, Cincinnati 20
Maryland at Iowa
Each team is 2-1 in Big Ten play, but the Terrapins have no illusions of winning the East division.  The Hawkeyes, having neither Ohio State nor Michigan on their regular season slate, seem to have the upperhand in the up-for-grabs West, even though they lost to Wisconsin head-to-head.
"Blame Canada" may be the new LSU fight song, but former Tiger offensive coordinator Matt Canada is 4-2 as interim head coach of the scandal-riddled and not-very-good-anyway Terrapins, with surprising victories over Texas and Minnesota.  The way the team is running without suspended skipper D.J. Durkin, when the University of Maryland Board of Regents receives the results of the school's investigation next Wednesday in Hagerstown, Canada could become a bigger celebrity in that town than the "Scoreboard Cowboy" from its A-ball stadium.
Kyle's mom on South Park had a point.  You really can't trust the Canadians, with their flapping heads and peeling eyebrows.
Iowa 26, Maryland 14
North Texas at UAB
In Week 2, Bill Clark's Blazers inexplicably gave up 47 points in a nonconference loss to Coastal Carolina, but they've only allowed 14 points in three Conference USA games since, to take first place in the West division.
The Mean Green seem to be over the letdown from their loss to Louisiana Tech.  After stumbling their way past UTEP by only a field goal, UNT smashed Southern Miss 30-7, to remain within a game of Alabama-Birmingham for the Conference USA West lead.
Blazer WR Xavier Uboni is putting up numbers that reflect the Scrabble value of his name.  So far this year, he leads the team with 335 receiving yards and three touchdown catches, all on just ten receptions.
Ever wonder how a school came to be named "U-A-B"?  It's a little-known fact that it was originally "U-B-A-B," but that first "B" has since been omitted.  Good to see that there are still a few editors on the ball out there somewhere.
UAB 23, North Texas 16
Buffalo at Toledo
The 3-3 Rockets let one slip away in Ypsilanti, where their delayed launch left them with a 28-3 halftime deficit.  By the time they ignited in the fourth quarter, they needed a two-pointer to complete their comeback, and they fell short, 28-26.
UT leads the series 4-1 since the Bulls climbed up to Division I-A and joined the Mid-American Conference, but these cross-divisional foes in the 14-team MAC have not met since 2013, when the Rockets won a wild one, 51-41.
UB is 6-1, and the College Football Czar thinks part of their success rests on their ability to confuse their opponents with their team name and logo.  Their team is called the Buffalo Bulls, and a male buffalo is called a bull, and yet the thing on their helmets is not a bull buffalo, but just a bull.  If the name of your university and your city is Buffalo, then why not just make the bull a buffalo, too?
That reminds the Czar of when he could have predicted the demise of K-Mart, because of the retail chain's obliviousness to an obvious marketing opportunity.  The store sponsored the strikeout "K's" at Pirate home games, yet the "K's" that were used were the plain, hand drawn ones that were already being used by fans everywhere.  It never occurred to them that their own logo was a big red "K," which they could have used instead.
The other really dumb thing they did was to skip a space for the third strikeout, and put a "K" in the fourth spot, and then backtrack and put the fourth strikeout "K" in space number three.  Why?  They were actually worried about spelling the abbreviation for the Ku Klux Klan.  In effect, their action was the truly offensive one, in that it failed to give black and Jewish fans credit for being able to comprehend that those three consecutive "K's" stood for strikeouts, and were not a secret signal to a domestic terrorist organization.  Another example of friendly fire from the sensitivity police.
Toledo 34, Buffalo 30
USC at Utah
It's the Utes against the Yoots, as Kyle Whittingham's team hosts a young Southern Cal squad that's finally hitting its stride.  The Trojans topped Colorado 31-20 to take the lead in the Pac 12 South, but if they stumble in Salt Lake, all six teams are right back in the running – even UCLA!
SC's freshman quarterback J.T. Daniels gets all the publicity, but that's partly because reporters are afraid of misspelling the names of the team's other star players.  Their leading rusher through six games is Aca'Cedric Ware, and their leading receiver is Amon-Ra St. Brown.  The Czar can't help but wonder if these guys' parents named them at a point in their lives when their reality was being subsumed by an especially long game of Dungeons & Dragons.
The Czar once suggested that when the NCAA "hostile and abusive" police finally come for the Utes, they should change their name to the Utah Puttytats.  He has since realized, however, that there's no good way to spell that.  If you spell it with a U, people will tend to pronounce it "putty" as in silly.  On the other hand, if it were spelled with two O's, it would become a lyric to a Ted Nugent song.
USC 33, Utah 24
Virginia at Duke
Each team intercepted three passes between UVa and Miami, but while the Hurricanes were jerking around like oblivious boobs on the sideline, the Cavaliers converted two of their picks into ten points, and won the game 16-13.
The Blue Devils buried Georgia Tech in the third quarter last week, when they converted three consecutive fumbles into touchdowns, blowing open a 7-7 tie to a 21-point lead, before grinding out a 28-14 victory.  Their defense doesn't figure to have so easy a time with the Cavalier offense, a majority of whose yards come from throwing the ball – though not as much as the Virginia Tech team that reduced Duke of Oil to a drip two weeks ago.
If the Cavs started presenting their defensive playmakers with a "turnover Thomas Jefferson wig" to wear on the sidelines, do you suppose the blowhards from The U would realize they were being made fun of, or would they consider themselves in danger of being out-cooled?
Virginia 21, Duke 18
Ohio State at Purdue
Either the Buckeyes have gotten away with playing three subpar games in a row, or they're simply not as good as everyone thinks they are.  Not that Penn State, Indiana and Minnesota aren't worthy opponents, but none of them has been as good as the Boilermakers have been since starting David Blough at quarterback. The senior slinger was not in the lineup on opening night because he was supposedly not enough of a downfield threat, but to this point, he has thrown for about 3.5 yards more per attempt than Elijah Sindelar has.
The lumpy nuts' ground game has been easier to crack than expected, as they are rushing for an average of only 4.5 yards per carry.  The last time they tallied fewer than five was in 2011, when they finished the season 6-7 and opted not to retain full-season "interim" coach Luke Fickell.  It was especially alarming to see them gain just 3.2 yards a tote in their only other road game so far this season, against a Penn State defense that had been repeatedly gashed a week earlier by Illinois.
If Urban Meyer's team was visibly intimidated by a bunch of body-painting wieners waving pom-poms at PSU, how will they react when they come face to face with the "World's Largest Drum"?
It's really nowhere near the world's largest drum, by the way.  When the Griswolds drove up to West Lafayette to see it, that was an even bigger disappointment than Wally World.
Purdue 30, Ohio State 28
Florida Atlantic at Marshall
FAU continues to take on a ferocious road schedule, already having lost at Oklahoma, Central Florida and Middle Tennessee, and with Florida International and North Texas yet to come.  In their previous Conference USA road game, the led MTSU 24-10 in the fourth quarter, but lost 25-24 when the MT-heads successfully went for two instead of going to overtime.  See, Coach Kiffin?  Two-pointers actually serve a purpose, other than humiliating an opponent you're already beating 48-3 with seconds remaining.
Thundering Herd QB Alex Thomson, a transfer from Wagner who missed last season with a shoulder injury, is still too reluctant to attack downfield.  In two starts so far, he's gaining just barely over ten yards per completion.
Burrowing Owls' coach Lane Kiffin is becoming such a lardhead that nominating him for an award would be redundant.  His latest stunt is to offer a scholarship to the 11-year-old son of former USC slinger Matt Leinart.  This supposes the coach will still be in Boca Raton seven years from now, which everyone including himself knows will not be the case.  If Kiffin proves competent enough to still be a head coach by Leinart the Younger's freshman season, he will by then have surely been hired away by a bigger program.  So why make the offer?  Keeping in mind that the most obvious answer is often the correct one, he must be doing it to deceive recruits into thinking he's at FAU for the long haul, as well as just to be annoying as usual.
Florida Atlantic 31, Marshall 27
Colorado at Washington
The 5-1 Buffaloes didn't mean to play a feeble schedule, but their big nonconference game was against still-winless Nebraska, and the two Pac 12 North teams they don't play are Stanford and Oregon.  They do have back-to-back games against USC and UW, however, -- and halfway through, it's not going very well for them.  Last week in L.A., Laviska Shenault opened the scoring with a 49-yard touchdown dash, but aside from that, they gained just 46 yards on 36 carries, in a 31-20 defeat.
The 5-2 Huskies are still a good enough team that they could easily have been unbeaten at this point.  They repeatedly thwarted their own third-quarter drives in an opening loss to Auburn they should have won handily, and last week, they lost to Oregon in overtime, but only after missing a 37-yard field goal attempt late in regulation time.
These two states, which famously legalized marijuana 2012, have now been followed in that endeavor by the entire nation of Canada.  That country's eyebrow-peeling, flapping-headed Prime Minister Justin Trudeau says the reason they decriminalized the drug is to keep it out of the hands of children.  The Czar doesn't care what Kyle's mom is, she's right!
Washington 35, Colorado 14
SMU at Tulane
The Green Wave look to avenge a controversial 41-38 season-ending loss that kept them out of last bowl season.  Quarterback Jonathan Banks obviously scored on a last-second sneak, but the ball was not visible on the replays, so the blown call stood, along with the 41-38 loss, and the final record of 5-7.  Meanwhile, the Mustangs took that last bowl invitation at 6-6, but must have known they didn't deserve it, when they got blown out of the Frisco Bowl by Louisiana Tech, 51-10.
Southern Methodist had its third lopsided loss to a ranked team last week against Central Florida, 48-20.  If they can push back the Wave on the road, they'll still need to knock off Cincinnati, Houston or Memphis to have a chance to return to the postseason.
When TU demolished Memphis at home in Week 5, they did it while wearing "Fear the Wave" helmets that resembled Mr. Yuk's angrier brother.  It's about time the Green Wave's home games started making the opponents "sick! sick! sick!" instead of the home fans.
Tulane 52, SMU 38
Mississippi State at LSU
In addition to stuffing #2 Georgia for 3.8 yards per rush, the Tigers were a plus-4 in turnovers last week, and went 4-for-4 on fourth-down conversions.  Ed Orgeron's team held UGA off the board completely in the first half, while methodically building a 16-0 lead, on the way to a 36-16 stomping.  As the number of undefeated teams continues to dwindle, Louisiana State's Week 9 home game against Alabama could vault them into commanding playoff position.
The Bulldogs (4-2, 1-2) expected to contend in the SEC West this year, mostly because of QB Nick Fitzgerald, but they've been held to single digits in each of their conference defeats against Kentucky and Florida.  If they hadn't prevailed in a defensive slugfest with Auburn, they'd already be three games off the pace.  Fitzgerald, meanwhile, has only four touchdown passes while completing fewer than half of his attempts.  His team-leading 513 rushing yards is not enough to make up for that.
The SEC has fined the Bayou Bengals $100,000 because their fans swarmed the field after last week's game.  According to league guidelines, this is disallowed, because it constitutes a blatant preference on the fans' part for their home team.  Officially, they're required to stay in their seats, and chant "S-E-C!  S-E-C!" like a bunch of lobotomized peabrains.
LSU 9, Mississippi State 0
a sports publication from The Shinbone