The College Football Czar
Week 8
<![if !vml]>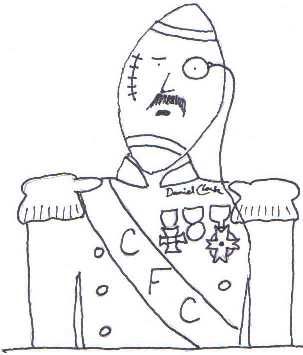 <![endif]>
Week seven in review: They've actually done it. LSU has dismissed head coach Ed Orgeron effective at the end of the season, only two years removed from a 15-0 record and a CFP championship. The sixth-year skipper has a record of 49-17 with the Tigers, although he is only 9-8 since the start of the 2020 season. Media speculation suggests that a few of the most likely candidates to replace him are Texas A&M coach Jimbo Fisher, Oregon's Mario Cristobal, and Penn State's James Franklin. While the College Football Czar cannot swear that none of these three will succeed Coach O, he would like to know why anybody would expect one of them to leave his already nationally competitive, high-profile, high-paying gig to go and work for the school that has shown so little appreciation for the accomplishments of both Orgeron and his predecessor, Fewer Miles.
But that's not all. Washington State has fired head coach Nick Rolovich for defying Gov. Jay Inslee's tyrannical vaccine mandate for state employees. The coach applied for a religious exemption, which was apparently rejected because he is Catholic, and Comrade Francis has declared that all followers of the Church must meekly bow to their totalitarian authorities. Even though Inslee's decree, not having passed through the state legislature, is entirely unlawful, the noodlenecks at WSU have declined to defend their man. The Czar hopes Rolovich enjoys the rest of the season off, and finds another Division I-A head coaching job, in some state whose official sport is something other than arson.
Elsewhere, the fans at Neyland Stadium in Tennessee did their best impression of Mexican soccer hooligans. On the surface, they were angry because of a controversial spot after they thought their team had converted a fourth-and-24. Not that this would be any excuse, at least not to the Czar, who rejects the concept of people being "triggered" and therefore not responsible for their actions. The truth is that some of them arrived at the stadium already loaded for bear to greet hated former coach Lane Kiffin, now with Ole Miss. The fact that Kiffin had been struck by a golf ball, an object that one would not reasonably expect to find in the crowd at a football game, suggests that the person who threw it had gone to the game intending to cause trouble, and just hoping for the opportunity.
Yet another highly ranked team was toppled when Purdue pounded #2 Iowa 24-7 in Kinnick Stadium. Meanwhile, Oklahoma suddenly looks like the team the Czar thought it was when he picked it to win the national championship, now that coach Lincoln Riley has listened to the fans, which is not always an advisable thing to do.
The American Athletic Conference, which is losing Cincinnati, Houston and Central Florida to the Big XII, has replenished itself by raiding Conference USA, adding UAB, Charlotte, Florida Atlantic, Rice, North Texas and UTSA. This should make for fairly compact, seven-team divisions (East: Charlotte, ECU, FAU, Navy, Temple, UAB, USF; West: Memphis, Rice, SMU, Tulane, Tulsa, UNT, UTSA). This leaves C-USA with only eight teams, one of those, UTEP, detached from the others by the entire width of Texas. One possible scenario would be for that conference to add Independent New Mexico State, and then pluck ULL, ULM and Texas State out of the Sun Belt to increase its membership to twelve. The Sun Belt could then extend its reach into the Northeast by adding remaining Independents Army, Uconn, Umass and Liberty, and then persuading James Madison to make the jump to Division I-A. Of course, that league's name wouldn't make any sense then, but neither does the Big Ten.
In spite of some disappointing late results, the College Football Czar scored his most successful week in over a month, with a record of 12-5. For the season, his record stands at 83-55, for a .601 winning percentage.
What royal arsehead is responsible for this week's schedule, in which there are no televised games kicking off after 7:30? Whenever the Czar gets home from the Pitt-Clemson game, the prime time games will be winding down, and then there's nothing on TV, except for Walker, Texas Ranger marathons on four different channels. With 130 Division I-A teams, and three cable networks that have contracts with the Pac 12 or Mountain West, this should never be allowed to happen. The Czar doesn't care how much lazy sportscasters whine about football games running past midnight on a Saturday, there need to be a couple games in that time slot. And besides, those limpwristed milksops are supposed to be enjoying this stuff. It's actually their job to watch it! The fact that they expect to be pitied for it is but one of the countless reasons why nobody can trust them.
Oct. 22
Memphis at Central Florida
The Knights utterly failed to defend their delusional national championship, when third-ranked Cincinnati romped over them 56-21, thus earning the Bearcats the right to think they're better than Alabama for another week. UCF trailed that game 35-0 when it finally got on the scoreboard with 33 seconds remaining.
Tigers may not be able to change their stripes, but they did end a three-game skid with a 35-17 Thursday night victory over Navy. Wide receiver Calvin Austin failed to gain over 100 yards in receptions for the first time all season, but he did score a 69-yard rushing touchdown on a reverse, to give his team the lead for keeps on the last play of the first quarter.
Central Florida led this all-time series 13-0 until last season, when Austin caught his second TD pass with just over a minute to play, punctuating a 50-49 Tiger victory.
Actually, it's usually right after ending a long skid that one needs to change one's stripes.
Memphis 48, Central Florida 31
Oct. 23
Clemson at Pitt
As far as the rankings and home field advantage are concerned, the Panthers should actually win this game. The Czar suspects they will, as long as they don't deceive themselves over how easy their first two conference victories have been. The Paw Boys may no longer be national contenders, but they're certainly still a more dangerous opponent than either Georgia Tech or Virginia Tech.
That's only because of a Tiger defense that allows 12.5 points per game, however. Offensively, this team is capable of being every bit as inept as anybody in the ACC. Through six games, quarterback D.J. Uiagalelei has still not reached the 1,000-yard passing mark, and has thrown for just four TDS. By the same point in last season, Trevor Lawrence had thrown for 1,833 yards, and hit paydirt 17 times. If you subtract this year's meaningless blowout of Division I-AA South Carolina State, Dabo Swinney's team has scored no more than 21 points in any of the five other games. Against Division I-A competition, their average score has been a 15-14 victory, and that's after rounding off in their favor.
It seems like the Panthers have had QB Kenny Pickett for at least a decade, but what they haven't had since offensive coordinator Mark Whipple arrived is a fearsome running back. Sophomore Israel Abanikanda has been expected to be their breakthrough back, but he has inexplicably had to wait his turn behind teammates who have already proven to be unproductive. Finally, in last week's 28-7 win over VT, Izzy got a career-high 21 carries, with which he gained 140 yards to take over the team lead for the season.
As you've probably gathered, Izzy is Abanikanda's nickname. That's because, in the media guide, he identifies himself as an Izzy, and not an Izthey.
Pitt 22, Clemson 17
Illinois at Penn State
As of this writing, it is unknown whether Nittany Lion QB Sean Clifford will be able to play in this game, but his team shouldn't need him against the 2-5 Fighting Illini. Last time out in Week 6, Bret Bielema's team faced his former school, Wisconsin, which itself lacks a productive quarterback. Nevertheless, the Badgers went through Champaign like Liz Taylor, 24-0.
Illini quarterback Brandon Peters is injured again, also, but this matters even less, as Bielema's offense is equally moribund with either Peters or Artur Sitkowski at the helm. Between the two of them, the team has not surpassed the 100-yard passing mark in any game since a Week 4 loss to Maryland.
PSU coach James Franklin likes to say that every game is the Super Bowl. That is in keeping with the excessive, unjustified intensity that is often exhibited by the inhabitants of Jonestown, East of Johnstown, where the fans typically react to every positive play by flexing muscles that half of them don't even have. An innocent bystander witnessing this behavior might say, "so your team stopped Rutgers on a third-and-four in the middle of the second quarter. Whaddaya want, a medal?" The awkward part is that their totally sincere answer would be yes. Then what?
Penn State 27, Illinois 7
West Virginia at TCU
Looking at the Mountaineers' remaining schedule, their Week 6 loss at Baylor has basically ended any chance of returning to a bowl game. It will be a test for third-year coach Neal Brown to keep their intensity up the rest of the way.
The 3-3 Horned Frogs have lost to 5-2 Texas, and to undefeated teams SMU and Oklahoma. The Eers obviously do not fit in that category, but instead have more in common with the Cal and Texas Tech teams that the Frogs have beaten.
Junior quarterback Max Duggan dug in against OU in spite of a bad foot, and threw for 346 yards and four touchdowns, both career highs. That makes this the first time during his three seasons in Fort Worth that he's been playing well heading into the game against the Mountaineers.
Not to worry about the potential loss of bowl revenue for WVU. They'll more than make it up, once they have successfully sued the University of Tennessee for theft of intellectual property, as in wittily hitting people with stuff.
TCU 24, West Virginia 13
Oregon at UCLA
Embattled Fighting Duck QB Anthony Brown showed a lot of character in leading his team to two late scores to beat the Cal Bears, 24-17 last Friday night. The flip side is that he has cemented his position as the starter, which means the UO offense will face a challenge in keeping up with former coach Chip Kelly and the Bruins.
Or will they? The blue bears dominated Washington in total yardage, and had the game's only two takeaways, but still needed a late score to pull out a 24-17 victory. Their lack of big plays was evident from the fact that QB Dorian Thompson-Robinson gained fewer yards per passing attempt (7.0) than he had per rushing attempt (7.3).
With leading rusher C.J. Verdell out for the season, and 190-lb Travis Dye carrying too heavy a load, watch for the Ducks to start giving more carries to freshmen Byron Cardwell and Seven McGee. Not only is Seven a great name for an offensive football player, but he's also a running back who shares a first name with the adopted son of Al Bundy. And his uniform number? Zero, of course. A good tailback can't afford to be predictable.
Oregon 31, UCLA 30
LSU at Ole Miss
At least the rude welcome Lane Kiffin received was from a former school that he had abandoned after one season. Ed Orgeron is being treated at least as badly by the people back in Baton Rouge. This week, Coach O will be going for win number 50 with the Tigers, out of 67 games. Congratu-stinkin-lations!
The Tigers toppled #20 Florida last week, 49-42, but it was the second consecutive week in which they gave up six offensive touchdowns. As of right now, their defense ranks just slightly ahead of the Rebels', but they have yet to face Alabama, Arkansas or Texas A&M.
Kiffin says QB Matt Corral may not be able to play after last week's taxing performance, in which he ran the ball 30 times for 195 yards, in addition to completing 21 of 38 passes. Orgeron, who was one of Kiffin's assistants at USC, assumes that "he's throwing me a smokescreen," which is a sportsmanlike way of calling him a lying sack of fertilizer.
Orgeron may speak in indiscernible walrus groans, but they're surprisingly diplomatic.
Ole Miss 59, LSU 42
Nevada at Fresno State
The Wolf Pack need to learn when to pack it in. With a 34-17 lead over visiting Hawaii and only six minutes to play, they continued to heave the ball downfield with apparent desperation. Then they began initiating unnecessary hostilities, when they should have been quietly running down the clock. Okay, so they'd been embarrassed on their home field by the Rainbow Warriors in 2019, but what better way to remind people of that than to behave like a bunch of chumps this time around?
The Bulldog offense continued to get bogged down as they trudged past Wyoming 17-0. FSU went plus-5 in turnovers for the game, converting three of those into scores, which means they didn't generate any scoring chances on their own. In fact, their only drive of more than 50 yards was when they ran out the clock at the end of the game, and that possession was aided by a 15-yard penalty.
You might wonder why Bulldog mascot, who is lamely named Timeout, wears the letter "V" around his neck. Because it stands for "The Fifth," of course. If pretentious numerical suffixes are good enough for the players, he figures they're good enough for him. Purebreds.
At lease FSU recognizes that "Timeout" is a single, compound word, which cannot be pluralized as "times out." Somebody should have introduced him to Keith Jackson.
Nevada 30, Fresno State 22
Wake Forest at Army
Undefeated Wake might turn into a petrified Forest if ever it faced a national contender, but that is not happening anytime soon. After this visit to Michie Stadium, the Demon Deacons host Duke, before going back on the road to face a terribly disappointing North Carolina team.
Against Wisconsin, the Black Knights rallied for two fourth-quarter touchdowns, but in between, they fumbled at their own one-yard-line to give one of those scores right back. They finally fell short 20-14, to drop to 4-2, without anything that could be considered a quality win this season.
It's a little-known fact that the name on the facade of Michie Stadium is misspelled. It's actually named after the legendary knight Sir Mikey. The scouts all said to watch out for that guy. He was sneaky-brave.
Wake Forest 26, Army 10
Oklahoma State at Iowa State
So we're supposed to think "Da Systum" is rigged in favor of the power five conferences, right? OSU and Cincinnati are each 6-0. The Pokes have won consecutive games against Boise State, Baylor, Kansas State and Texas; nevertheless each poll has them ranked six spots behind the Bearcats. No reason exists for this, other than UC is being given extra credit for being a supposedly downtrodden group-of-five school.
The Cyclones looked like clones of their 2020 selves for the first time in a 33-20 win over Kansas State, in the annual rural clash known as Farmageddon. Breece Hall rushed for a season-high 197 yards, and QB Brock Purdy completed 22 of 25.
Texas conceded a touchdown to OSU to increase the Cowboy lead to eight with 2:18 to play, so that the Longhorns would get the ball back with a chance to tie. This French football has got to stop! Had the Horns played defense, they might have forced a turnover, or at least have held Mike Gundy's team to a field goal attempt. They might have left themselves an opportunity to win the game in regulation time. Conceding late touchdowns has become a fad tactic, used by coaches who want to think they're brilliant. If it is ever justified, it is very rarely so, but it seems to have become about as common as running a reverse. Some week soon, some coach has got to become the trend-breaker, by letting his defense make the big play to win the game.
Once in a while, somebody just needs to stand up and shout, "I don't care if Tony LaRussa batted the pitcher eighth! It's still stupid!"
Oklahoma State 39, Iowa State 35
USC at Notre Dame
When they wake up the echoes for this game, it will be to ask them if they have any eligibility left. Yes, the Fighting Irish are 5-1, but three-point escapes against Florida State, Toledo and Virginia Tech are hardly the stuff of which legends are made.
All three losses for the 3-3 Trojans have been back home in the Coliseum, which strangely makes sense. When a program is in the state that this one is, playing in front of the home fans can actually be a disadvantage. Perhaps they'd have been better off asking Clay Helton to serve out the rest of the season, the way LSU has done with Ed Orgeron. In that case, the players will still want to play for the coach, and the coach will be trying to make a good impression for prospective employers. The way SC has done it, you never know what kind of effort they're going to get from their players or coaching staff on a game-by-game basis. One thing that is for sure, though, is that they are more capable of a brief, game-winning offensive outburst than their hosts in South Bend are.
How cruel it is to keep waking up those Irish echoes over and over again? Let the poor things sleep it off, already.
USC 20, Notre Dame 13
East Carolina at Houston
The Cougars have won five in a row, but each of those has been against a team that currently has a losing record. Could a clash with 3-3 East Carolina actually be too great a challenge for them? Moreover, how much are they even focused on this week's opponent, with a game coming up next week against SMU, which could ultimately decide a berth in the AAC championship game?
Pirate wide receiver Tyler Snead says, "Drive for show, putt for dough." Nobody knows what he means by that. As a result, defenders have been left disoriented as he has caught at least four passes in every game this season. Just to further confuse things, Snead is officially a sophomore, even though he's been playing in Greenville since 2018. This guy couldn't get any more nonsensical unless he sang "Never Been To Spain" at his opponents across the line of scrimmage.
The Cougars' home field is named TDECU Stadium. This week's opponent is ECU. Even if you don't believe in omens, that's a bad omen.
East Carolina 42, Houston 40
Brigham Young at Washington State
If BYU is to bounce back after two consecutive losses, a Pac 12 opponent might be just what they're looking for. The 5-2 Cougars opened the season with consecutive victories against Arizona, Utah and Arizona State.
Defensive coordinator Jake Dickert takes over as interim head coach for the unjustly dismissed (and we're all concerned about "justice," right?) Nick Rolovich. He'll try to keep his team focused on the opposition, and not the on-campus turmoil, otherwise WSU's three-game winning streak is about to come crashing to an end.
The Czar hereby extends a Lardhead of the Year Award nomination to Washington State athletic director Pat Chun, whom Rolovich has called vindictive, and for good reason. Upon announcing the coach's dismissal for "noncompliance with the governor's proclamation," (What are we, feudal peasants?) Chun basically apologized for having hired him in the first place. "To be at this juncture today is unacceptable on so many levels, and is antithetical to the WSU experience our student athletes so richly deserve," he scolded. "I'm saddened for our alumni, and all the proud Cougs all over the world." Pouring it on a little thick, isn't he?
All this because Rolovich declined to be vaccinated. You'd think from the treatment he's getting that he'd been caught embezzling. Meanwhile, the Cougars have been overachieving this year, but they have a tough remaining schedule, so it wouldn't take much for them to miss a bowl game. Then there's the question of how many good coaches want to go to Pullman and play for this arrogant administration, when there are other openings in Division I-A. If Chun doesn't get incredibly lucky on his next hiring decision, it might be he who is the next one to kiss his Wazzu goodbye.
Brigham Young 34, Washington State 27
Kansas State at Texas Tech
The Wildcats' three-game losing streak has been against the three teams that finished atop the Big XII in 2020, so it's nothing over which to panic, at least not yet. If they don't beat either Tech or TCU, back-to-back games against Kansas and West Virginia could only bring them up to the .500 mark, with Baylor and Texas remaining on their schedule.
The Red Raiders (5-2, 2-2) have already beaten both WVU and Kansas, which means things are about to get a lot tougher for them the rest of the way. After this game, they still play three ranked teams, and Iowa State.
Remember before naming rights came along, when all sports venues had different names, so that you knew which one was being talked about? The Red Raiders' home is called Jones AT&T Stadium, no to be confused with the AT&T Stadium upstate in Arlington, which is owned by Jerry Jones. Thankfully, there will not be a quiz on this later, because the NCAA has declared all tests of knowledge to be socially unjust.
Kansas State 38, Texas Tech 31
Utah at Oregon State
The Beavers' four-game winning streak was ended when they got pelted for 399 yards and three TDs by Washington State QB Jayden de Laura in a 31-24 defeat. Now they must try to stop Ute quarterback Cameron Rising, and his trusty tight ends Dalton Kincaid and Brant Kuithe. If they can succeed in shutting them down, OSU would remain tied for the Pac 12 North lead with Civil War rival Oregon.
No Ute wide receiver has yet gained 200 yards this season, but freshman DeVaughn Vele has clearly benefited from the change at quarterback. Over the past two games, he has become the team's leading deep threat, pulling down a combined total of seven catches for 141 yards in victories over USC and Arizona State.
Rising's neatly kept coiffure was looking disheveled by the end of last week's game, but it wasn't because of the ASU defense, which barely laid a finger on him. He must have gotten too close to the Mighty Utah Student Section, which calls itself MUSS for short.
Utah 35, Oregon State 25
Boston College at Louisville
Once 4-0 against minimal competition, the team from Boston has become baked has-beens in consecutive losses to Clemson and Nc State. Last week against NCSU, they only trailed 10-7 at the half, but gave up two touchdowns on turnovers within the first four minutes of the third quarter, and continued to fade to a 33-7 final.
The Cardinals have lost their last two games also, along with a Labor Day opener against Ole Miss. The U of L defense, dead last in the ACC, ranks #115 nationally, in between Vanderbilt and UNLV. The only Division I-A opponent that has failed to score more than 30 against them has been Florida State.
Eagle running back Pat Garwoiii is getting fewer carries as the season goes along, even as he proves to be his team's only offensive threat. Since getting a season-high 25 carries in a 175-yard game against Missouri, he has gotten the ball only 12 times against the Son of Clem, and 11 against NCSU.
That's fewer than four carries per I pre game!
Louisville 44, Boston College 32
Western Michigan at Toledo
All eyes will be on the Glass Bowl for a ferocious battle between two of the big fish in the highly competitive MAC West. WMU is the only team yet to knock off a Pitt team that is now ranked. Meanwhile, the Rockets came just seconds away from scoring a massive upset at Notre Dame Stadium.
At 3-4, UT has lost three games by three points or fewer, including last week's 26-23 overtime loss at Central Michigan. Thomas Cluckey was the cock of the walk after booting a 50-yard field goal in the fourth quarter, but when they needed him to hit from 51 yards in OT, he did doodle. It was hardly his fault, of course. His team had begun the period well within his range, until QB Dequan Finn took a costly sack.
The Mid-American Conference does not now boast the kinds of prolific quarterbacks it has had in the past, but give another year or two to Bronco sophomore Kaleb Eleby, who leads the league in both yardage and touchdown passes. He is not to be confused with Linda Ellerbee, but if he were, you would not watch him when he came on TV, but he would annoy you anyway.
Western Michigan 41, Toledo 37
San Diego State at Air Force
The Aztecs improved to 6-0, but not until surviving their second overtime scare, this time 19-13 in double-OT over San Jose State. In a late Friday night game in The Hose, the points came at a trickling pace through four quarters, with neither team reaching the end zone in a 6-6 stalemate. The TDs understandably came a little easier when the teams only had to drive 25 yards, but after they exchanged scores in the first extra frame, senior safety Trenton Thompson turned away the Spartans with an interception.
The Lightning Eleven must have felt like they were at home on Metzger's Pond when they beat Boise State on the blue turf, 24-17. One play after a seemingly miraculous onside kick recovery for the Broncos, AFA cornerback Milton Buggiii came up with a game-clinching interception to improve the Falcons' record to 6-1.
That's Milton Buggiii, a.k.a., Trey Bugg, not to be confused with his little brother and teammate Mason Bugg, who is a safety. Now, trying to keep track of Milton and Trey, who are kind of like the Malik and Micale of the Rocky Mountains, could be a bit tricky. At this point, you might be asking, if Malik is Micale, then is Milton not really Mason, and if so, does that mean Trey is Manti Te'o's imaginary, identical cousin? And why can't Mason safely boogie? This may be a lot of information to digest, but never fear; the College Football Czar does not find it disorienting in the least. And neither do I.
Air Force 20, San Diego State 12
a sports publication from The Shinbone