The College Football Czar
Week 8
<![if !vml]>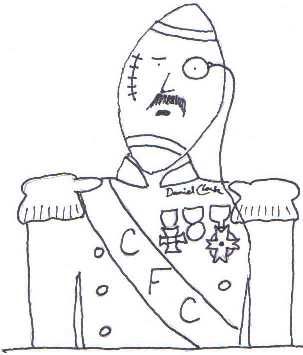 <![endif]>
Week seven in review:  In by far the biggest shakeup to this point in the season, four of the Top 10 teams were upset, and the number of unbeaten teams dwindled to eight.  Given the inevitability that three of those teams will lose conference games before the end of the year, a lot of one-loss teams have had their national title hopes reignited.  It was a less inspiring week for the College Football Czar, who looked as if he might weather all the wild results, until he dropped all four late night West Coast games to finish 9-9.  For the season, his record stands at 95-42, for a .693 winning percentage.
The most shocking upset of the week was Clemson's 27-24 defeat at Syracuse last Friday night.  At least as surprising as the fact that SU won the game was the Tigers' curious handling of their quarterbacks.  Coach Dabo Swinney stubbornly left visibly injured starter Kelly Bryant in for the entire first half, and then left Hunter Johnson on the bench, in favor of his fellow freshman Zerrick Cooper.
If Pitt is making national news, you know the reason can't be good.  The Panthers are the latest team that has let itself be infiltrated by the Occupy Football movement, and coach Pat Narduzzi has less of an excuse than anybody so far.  Third-string kicker Ian Troost, who served for one year as the Panthers' mascot, Vanilla Ice, took a knee during the anthem, thereby making the most irrelevant player on the team a distraction, and an agent of team dissention.  The coach has not only tolerated this act, but welcomed it.  "If you're going to do that, you're trying to make a statement, we're going to stick together," he said.  You stick together by not letting one selfish pinko make himself bigger than the team, coach.  What you're doing instead, in the name of team unity, is compelling the other hundred or so players to "stick together" with the one who is fomenting disunity.  That is so stupid, it lacks the subtlety to even be called ironic.
Is this the tough-guy defensive coach from mighty Michigan State that Panther fans were so excited about when he was hired?  The Czar feels like he's watching an episode from one of the last couple seasons of Coach, by which time Hayden has become so much of a wussified 90s-man that he's letting Stuart tell him how to run his football team.
One slight correction: The Panther mascot whose costume Troost wore was Roc.  It's when Troost is not in costume that he appears as Vanilla Ice.  Sorry for the misunderstanding.
Oct. 20
Marshall at Middle Tennessee
The Thundering Herd haven't made much of a racket during their 5-1 start.  Their only loss, to Nc State, is nothing to have a cow over, but neither have they scored a victory of much significance, beating only AAC doormat Cincinnati, two lower-echelon MAC schools, and the bottom two teams in their own division.
The enigmatic MT-heads have fallen to 3-4 with a tightly contested 25-23 loss at UAB.  Unlike defending national champion Clemson, the Blue Raiders did win in the Carrier Dome earlier this season, 30-23.  However, that was before the starting quarterback and coach's son Brent Stockstill suffered a broken collarbone and cracked sternum.  The mere fact that there's been any anticipation of his return in recent weeks just shows how much trouble the team is in without him.
If you find a thundering herd intimidating while they're on a stampede, you haven't seen anything yet.  It's when they're stationary, and still thundering, that they're really deadly.
Marshall 24, Middle Tennessee 20
Colorado State at New Mexico
There might have been a bit of psychological warfare in play last week, when the UNM kneelers were routed by the red, white and blue-attired Fresno State Bulldogs, 38-0.  It was as if every time the ball was snapped, five Lobos, seeing the opposing uniforms, would immediately take a knee.  But hey, the players are going to do what they're going to do.  The coach can't tell them not to.  (More on that later.)
The Rams (5-2, 3-0) were on their way to an upset loss to Nevada last week, until Michael Gallup came riding to the rescue.  The senior wide receiver racked up 263 yards on 13 receptions, the last of his three TDs being the game winner, in a 44-42 escape.  Stopping him will be a tough task for UNM, which scored a very good win over Air Force in Week 5, but has lost all three times they've faced a proficient passing game this season.
Do you suppose our educational system has decayed to the point where these New Mexico students don't know which country they're from?
Colorado State 48, New Mexico 33
Oct 21
Pitt at Duke
Although they lost to Nc State 35-17, the Panthers improved enough last week that the College Football Czar expected them to beat the slumping Blue Devils.  That was before Pat Narduzzi, in one of his numerous stupid remarks condoning the actions of Ian Troost, said, "I'm never going to tell a guy you can't do something."  Boy, does that go a long way toward explaining the Panthers' play this season.  Telling players not to do things comprises most of a football coach's job description.
You may remember that, before the season kicked off, Narduzzi suspended three players for "violations of team rules," and threw senior defensive end Rori Blair off the team for "conduct detrimental to the program."  Sounds a little like telling guys they can't do things, coach.  Whatever it was that Blair did, he should have been clever enough to claim he did it for "social justice," and he'd still be on the roster.
If the Devils go to a bowl game this year, there's a fair chance they'll have two 1,000-yard rushers.  Senior Shaun Wilson currently leads the team with 506 yards.  Freshman Britain Brown was not named after the River Thames, but he has rolled on a long way himself, for 470 yards on only 78 carries.
The Czar learned about the Thames by watching his local PBS channel, back when it used to run The Benny Hill Show.  Don't you just love educational TV?
Benny hit bald man on head.  Fun-nee.
Duke 28, Pitt 26
Michigan at Penn State
The unbeaten Nittany Lions lead the nation in fewest points allowed with an average of just nine per game, but is their defense really that good?  Perhaps not, but whatever weaknesses it may have will not be exposed by this moribund Michigan offense.
The Czar is all in favor of subordinating individual honors to the team's success, but as long as the team is fulfilling its objective anyway, why not help a guy out?  Against Northwestern, the Lions had the game in the bag early in the third quarter, yet they only got Saquon Barkley 16 carries for 75 yards.  The presumptive Heisman contender is now only #21 in the nation in rushing yardage.
PSU will be holding yet another of its "white outs," when the fans all dress in the same color as the visiting team, apparently in hopes of tricking the opposing QB into throwing the ball into the stands.  That just might work against John O'Korn, who has thrown four picks and only one TD since taking over for an injured Wilton Speight.
If, for the next game in Ann Arbor, the Wolverines call for a "maize out," O'Korn, knowing that "maize" means corn, could take that personally.
Penn State 23, Michigan 13
West Virginia at Baylor
Do the Waco kids need some help?  Ohh?  All they can get.  The Bears lost their opener to Division I-AA Liberty, and haven't left the L-column in five games since.  A lardhead might suggest that they shouldn't have squandered their best effort against Oklahoma, but instead should have gotten blown out that day, and redistributed those 41 points to some of their more winnable games.
The 4-2 Mountaineers turned the tables on Texas Tech to rally from a 35-17 deficit to a 46-35 victory.  The win lands WVU in a five-way tie for second place in the Big XII, one game behind TCU.  Mind you, their only conference loss has been to the Horned Frogs, so they're really in the equivalent of a two-game deficit.  However, they could still play for the league championship by finishing second, and yes, that's as dumb as it sounds.
BU has now lost 12 regular season games in a row, interrupted only by a Cactus Bowl victory over Boise State, which of course means they were already on a six-game losing streak heading into last postseason.  What a clever strategy – go 0-6, and then win a bowl game.  They're already 0-6 this season, and could easily go 0 for their next 6 as well!  Brilliant!
West Virginia 54, Baylor 36
USC at Notre Dame
Fighting Irish head coach Brian Kelly has declared his hobbled starting QB Brandon Wimbush to be in peak condition for this game, or at least that's the way reporters have taken Kelly's remark that "there are no questions about his health."  The Czar isn't so sure that the coach didn't really mean that he simply will not accept any questions about Wimbush's injury.  You never know.  "How's your quarterback doing" might be one of those questions Kelly deems offensive, like "how do you intend to win next game?"
Contrary to the assumptions of preseason Heisman geeks, it turns out that the veteran offensive line and superstar receivers Sam Darnold had with him last season mattered after all.  Midway through this season, the sophomore Trojan QB has almost half as many touchdowns as he did through all of last year, but he has already equaled last season's interception total, with nine.
The 6-1 Trojans have had some ugly victories, like last week when they foiled a late two-pointer to beat Utah, 28-27.  Unlike the 5-1 Irish, however, they've already faced a few of the toughest teams on their schedule.  ND's remaining slate consists of Nc State, Wake forest, Miami, Navy and Stanford.
Coach Kelly doesn't seem to be very helpful in discrediting that Fighting Irish stereotype, does he?  What does he do for an encore, get smashed and lose lots of money at the track?
USC 31, Notre Dame 29
LSU at Ole Miss
Over the past two weeks, the troubled Tigers' coach has fixed the wagons of the naysayers who wanted to drive him out of town on the Orgeron Trail.  After edging Florida 17-16, Louisiana State stormed back from a 20-0 deficit to down #10 Auburn, 27-23.
Even in a 57-35 blowout victory, the Rebels allowed 163 yards to Vanderbilt RB Ralph Webb.  Do they really want to tangle with Tiger tailback Derrius Guice?  Having missed his team's upset loss to Troy with a leg injury, Guice is ready for a breakout game, after some tough trudging against Florida and Auburn.
Orgeron coached Ole Miss from 2005-07, compiling a catastrophic record of 3-21 in the SEC and 10-25 overall.  By all rights, he should be the second ex-coach to apologize to Rebel fans, following Hugh Freeze.  Perhaps he'll feel sufficiently contrite after what he does to them this Saturday.
How come people talk about fixing somebody's wagon, when they really mean that other person ill?  Wouldn't fixing his wagon be kind of a nice thing to do?  Nobody ever says about an enemy, "I ought to bake him an apple pie," or "I'm gonna salt his walk while he's out of town!"
LSU 30, Ole Miss 7
Syracuse at Miami
The way things are going for the Hurricanes, they might want to reschedule all their games for the rest of the season.  Following a dramatic, storm-postponed 24-20 victory over Florida State, they rallied past Georgia Tech 25-24, in a game that had been bumped from Thursday to Saturday.
With leading rusher Mark Walton injured, the Canes turned to Travis Homer, who rushed for 170 yards and a touchdown, and added another score on one of his two receptions.  If you didn't think Homer had those kinds of moves in him, you must never have been watching whenever Mr. Smithers released the hounds.
SU's Steve Ishmael is third in the nation in receiving yards, although the way he tosses DBs out of his way, he'd probably be first at the shotput, or that Scottish log-throwing thing.  Ishmael seems to be taking the old-time Oakland Raiders approach to his penalties.  Start committing them early, and eventually the officials will feel that it's unfair to keep calling them.
Did you hear about the Scottish log thrower who got an irresistible itch at the most inopportune time?  Darn near kilt him.
Miami 23, Syracuse 21
Oklahoma State at Texas
The Longhorn defense gave up plenty of yardage to both USC's Sam Darnold and Oklahoma's baker Mayfield, but they only lost those games by scores of 27-24 in double-OT, and 29-24, respectively.  If they're going to be in that competitive a game with the Pokes, they'd better have learned to protect on special teams.  A year ago in Stillwater, they had three extra points blocked in the first half of a 49-31 setback.  One of those was returned for two points, thus providing a five-point swing altogether.
Cowboy QB Mason Rudolph has thrown for over 300 yards in every game this season, and topped the 400-yard mark for the second time in last week's 59-16 blowout of Baylor.  The only quarterback in the nation with more passing yards is New Mexico State's Tyler Rogers, who has played seven games to his six.
At first, Rudolph's feelings were hurt by not being allowed to play in any reindeer games.  Then, he figured out that reindeer have no hands, a fact that would likely have given him a completion percentage of zero.  Instead, with OSU, he's completing two thirds of his passes, with 19 touchdowns and only four picks.  Who's laughing and name-calling now, hornheads?
Oklahoma State 38, Texas 27
Arizona State at Utah
The College Football Czar would not have found ASU's upset of Washington so surprising if the score had been something like 45-42, but where in the world did 13-7 come from?  The Sun Devils had not allowed so few points to a Division I-A opponent since Todd Graham's first season in Tempe, in 2012.  In fact, they'd given up 30 points or more in each of their previous 11 games.  The Devil defense has a chance to set a more positive trend, however, against a team that has tallied a modest total of seven offensive touchdowns in three conference games.
The Utes lost to USC 28-27, on an unsuccessful game-ending two-point conversion attempt.  The College Football Czar still thinks it was the right call.  The way the Trojans had dominated the second half, going toe-to-toe with them in OT would have been a losing proposition.
Sophomore scrambler Tyler Huntley might be back in the lineup for UU, but how much would that really matter.  Yes, they are 4-0 when he starts, and 0-2 behind senior Troy Williams, but those two losses were to Stanford and Southern Cal by a combined total of four points.  As much as they would hail Huntley's return, they must be mindful that they have no more BYUs or San Jose States left on their schedule.
If you've ever watched a game from Salt Lake City, you're familiar with the MUSS, which stands for the Mighty Utah Student Section.  The Czar isn't sure how mighty it is, though.  He thinks the Arizona State Students' acronym is more representative of the most student sections he's seen.
Arizona State 25, Utah 22
Iowa State at Texas Tech
The Red Raiders yielded 22 points in the fourth quarter of a 46-35 loss to West Virginia, but it was the stuttering of the TT offense down the stretch that really hurt them.  Their last five possessions consisted of a missed field goal, three three-and-outs, and an interception.
In case there was any doubt, Kyle Kempt remains the Cyclones' starting quarterback.  The team has announced that Jacob Park is taking an indefinite leave of absence to deal with an unspecified health problem.  Not knowing what's the matter with Park, the Czar is not going to remark again about the QB's behavior in Week 5 against Texas, other than to say that he can't believe the job was seriously up for grabs at this point ayway.
If ISU is to outpace Tech, they'll need a big game from WR Allen "Leaping" Lazard, who made the acrobatic, decisive touchdown catch to topple Oklahoma two weeks ago.  Well, all right, Lazard's name is pronounced with the accent on the second syllable, so it doesn't really sound much like "lizard."  But how's a czar to know that, without the supercilious ninnies at ESPN sticking an accent mark in his name on their graphics?
Iowa State 39, Texas Tech 33
Central Florida at Navy
UCF coach Scott Frost, the former Nebraska quarterback, has been leading the Knights' scout team to prepare his defense to face the Midshipmen's triple-option.  No offense to the coach, but at this stage of his career, he can probably not adequately simulate opposing QB Zach Abey.
The junior juker Abey passed the 1,000-yard rushing mark with 146 yards and three TDs against Memphis, but he completed only one of seven passes on the day, with two interceptions, as the Middies suffered its first defeat of the season, 30-27.
The Knights have one of the nation's most under-recognized quarterbacks in sophomore McKenzie Milton, who is completing over 70 percent of his passes while also gaining 11.63 yards per attempt, with 15 touchdowns to only two interceptions.  Milton's parents had no way of knowing when they named him that McKenzie would become such a popular girl's name, but that's OK.  They also didn't know that confusion over what sex somebody is would now be considered cool.
These cross-divisional foes face off for the first time ever, which highlights the silliness of keeping the Naval Academy anchored in the AAC's West division.  Their many alumni in the Sunshine State should get to see them play against the Floridian schools all the time, and why not let their fans have an easy road trip to Temple or Uconn every season?  It makes a lot more sense to put Cincinnati in the West, along with their traditional Southern Independent rivals Memphis, Tulane and Tulsa.
Just in case anyone isn't sure, the Navy fight song is "Anchors Aweigh," not "Anchors Away."  They don't actually throw away the anchors, you know.  They want to get them back, eventually.
Central Florida 47, Navy 37
Louisville at Florida State
As part of its punishment against the scandal-ridden Cardinal basketball program, the NCAA is thinking of vacating as many as 123 of the team's victories.  It looks as if the football team, trying to fend off a similar fate, has decided to employ the athletic equivalent of Fail Safe.  The U of L dropped a bomb on its own season last week, with an extremely unlikely 45-42 loss to Boston College.
Before the season started, the College Football Czar thought that the surest thing was that the Seminoles would angrily avenge last year's widely watched 63-20 embarrassment at the U of L.  He now finds that increasingly unlikely, even though the Cardinals are themselves having a disappointing year, at 1-3 in their division and 4-3 overall.
FSU appears to finally be getting its sea legs after being wiped out in its opener against Alabama, but a pair of seven-point wins over Wake Forest and Duke did not display enough firepower to put away a good offensive opponent.  The Noles' inability to hold a last-minute lead against Miami in Week 6 suggests that they must establish a bigger lead over the Cards.
Fail Safe was both a great and stupid movie.  What would President Fonda say when the Soviets came back and told him that New York was not enough, and that they wanted Washington, too?  No?  Eight million is my limit?  No wonder Jane turned out the way she did.
Louisville 35, Florida State 26
Iowa at Northwestern
Wildcat running back Justin Jackson has had three 100-yard games this year, and is well on his way to a 1,000-yard season.  Against the three best teams NU has played, however, he has only 66 rushing yards against Penn State, 25 against Wisconsin, and 18 against Duke.  If the visitors from Iowa City can contain him, the Cats will need a far better than average game from QB Clayton Thorson, who has eight touchdowns and nine interceptions on the season.
Even in the Hawkeyes' two losses, it certainly wasn't the defense that let them down against Penn State (21-19) and Michigan State (17-10).  They have since ended that skid with a 45-16 rout of Illinois, before finally getting a rest last weekend.  So far this season, the Hawks' only defensive letdown came in their 44-41 overtime victory over intrastate rival Iowa State.
Not to be outdone by their opponents' famous psychological ploy of painting the visitors' locker room pink, the eggheads at NU are plotting to confuse their opponents, by scrawling square roots of prime numbers all over the place.
Iowa 21, Northwestern 10
Arizona at California
The Golden Bears' plus-7 turnover margin against Washington State was, unsurprisingly, the decisive factor in that game, but it doesn't amount to any kind of a game plan for the rest of the season.  The Czar expects Cal to revert to their form from Week 5, when they injured most of Oregon's offense, then let themselves get trampled by a bunch of backup Ducks in the second half.  A week after that result, they were outgained 377 total yards to 93, in a 38-7 loss at Washington.
The "Bear Down" slogan emblazoned on the field at Arizona Stadium seemed fitting for last week's 47-30 win over the UCLA Bruins.  Too bad they can't take it with them to Berkeley.  Come to think of it, whenever the U of A hosts a team called the Bears, shouldn't they start the game with an automatic 15-yard penalty for taunting?
Yes, of course it's lame, but it's better than "Bear the Boat" anyway.
Arizona 38, California 20
Boston College at Virginia
Big freshman running back A.J. Dillion ran for about a jillion dillion yards in a 45-42 win at Louisville last week, giving the Eagles their first win against any team outside the MAC this season.  Seriously, Dillon rushed for 272 yards and four touchdowns, almost doubling his yardage total for the season, and tripling his number of TDs.  That's an atypical outcome for BC football to say the least.  Prior to that game, they had been outscored by an average of 28-16 per game.
The Czar admits he thought Bronco Mendenhall's decision to jump from BYU to UVa was a strange one at the time, and probably one he would soon regret.  In Mendenhall's second season in Charlottesville, however, he has turned the Cavaliers around to a 5-1 record, after going 2-10 a year ago.  Meanwhile, his former team is so directionless that it should consider adding a question mark to its helmet logo ("Y?").
You don't know how many a jillion dillion is?  The College Football Czar does.  That's on accounta they learned him about number-usin' when he went to Pitt.
Virginia 25, Boston College 21
Indiana at Michigan State
The Hooseirs were thoroughly outplayed in a 27-20 overtime loss to Michigan, but rallied late in regulation time to tie the game, thanks in part to a TD catch by freshman wide receiver Whop Philyor.  It's a little-known fact that he was not named as an insult to Italians, but instead acquired the unusual handle because his parents met at the Waffle House of Pancakes, a restaurant chain whose owner went on to purchase the Los Angeles Angels of Anaheim.  Hey, this is the 21st Century.  Things can be things they know they're not, if they want to.
Spartan running back L.J. Scott was arrested this week for driving with a suspended license, reportedly his seventh such offense in two years.  As of this writing, the team has not yet taken any disciplinary action, but if he's suspended, MSU's leading remaining rusher will by quarterback Brian Lewerke.
These teams play annually for the Brass Spittoon, which the Hoosiers won last season for the first time in eight years, 24-21 in overtime.  The question is, how badly do they want to hold onto it, which is not that easy a question to answer, when the reward for victory is also the depository for some sort of waste product.
Indiana 28, Michigan State 23
Brigham Young at East Carolina
The Cougars' averages for points scored and yards gained actually declined slightly in a 35-10 loss to Mississippi State, in which the Dogs piled up 546 total yards to their own 176.  If they can't generate more offense in the second half of this season, against the likes of ECU, San Jose State, UNLV and Umass, they might as well try scheduling a game against the handless reindeer next season.
This Pirate defense is so bad, on the other hand, that it just might suck BYU into the end zone involuntarily.  ECU's average of exactly 50 points allowed per game is more than five points worse than anybody else in the nation, even Kansas.
Remember that "ECU" was the original name of the Euro, when it was officially known as the European Currency Unit.  Just in case you've been wondering why the Pirates are playing football like a bunch of namby-pamby Estonian porridge-eaters.
Brigham Young 29, East Carolina 19
a sports publication from The Shinbone