The Original College Football Czar
Week 7
<![if !vml]>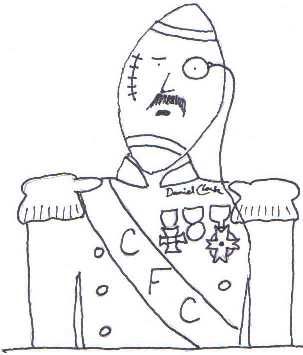 <![endif]>
Week six in review:  One of the usual contenders finally took a hit last week, as Oklahoma was toppled by arch nemesis Texas, 48-45 in the Red River Rivalry, an outcome that resulted in the firing of longtime defensive coordinator Mike Stoops.  In fact, it was a tough day defensively for top teams around the country, as Alabama, Ohio State and Washington all allowed more points and yardage than their coaches would prefer.
One team that charged its way back into the national title chase with a full head of steam was Clemson, which seemed to be in such a shambles just a week before, when they barely survived a home game against Syracuse.  In a 63-3 romp over Wake Forest, three Tiger running backs gained over 125 yards each.
The Czar witnessed the continuation of a disturbing trend in college football at Heinz Field, where Pitt and Syracuse waited it out through a one hour, 15 minute "weather delay."  There are not supposed to be any delays generically for "weather" in football, only for lightning in particular.  At least that's the line we're fed, that the game must stop due to lightning as a safety measure.  A delay is supposed to require a lightning strike within eight miles of the stadium, and play is to resume once half an hour passes without any lightning in that same range.  Last Saturday, the Czar saw no lightning, and nobody made mention of any having occurred.  Nevertheless, the officials stopped the game early in the third quarter, and almost immediately it was announced that the delay would last at least an hour.  One might wonder how they knew that.  Could they foresee a lightning strike coming in half an hour, which would necessitate another half-hour delay?  Not quite, although a message on the scoreboard did explain that a weather system was on the way, that was likely to include lightning.
You don't delay a game because of a forecast of lightning, only for an actual occurrence of the real thing.  What was happening here was simply a rain delay.  In football!  The game was stopped because it was raining hard, and wasn't started again until the entire system had passed.  The Czar might as well have been attending a cricket match.
The College Football Czar got off to a flying start with a 3-0 record, by correctly picking all three road teams on Friday night.  Saturday didn't go quite as well, but he finished the week with a record of 12-5.  For the season, his record stands at 67-43, for a .609 winning percentage.
Oct. 12
Air Force at San Diego State
The Lightning Eleven struck from out of the blue last week, in a startling 35-7 win over rival Navy, to snap a three-game losing streak.  Sophomore quarterback D.J. Hammond caught the Midshipmen off-guard in his first career start, by throwing deep and, by AFA standards, often.  His 6-for-10, 142-yard performance was more than enough, thanks to a defense that prevented the goat-to guys from getting things going, yielding only 178 total yards for the game.
SDSU isn't going to break out the suds just yet, but their 19-13 road victory over Boise State is cause for a minor celebration.  With RB Juwan Washington out with a broken collarbone, the Aztecs had to rely on their defense, and found that they could, holding BSU to its lowest score in a Mountain West Conference game since 2005.
Because the Falcons, like all college teams, are comprised of students, they could be billed as the Millennial Falcons.  The reason they're not is that they don't want prospective attendees to think they're going to see that movie, in which the young, hair-fluffing Han Solo and Lando supposedly flirt with each other.
San Diego State 13, Air Force 10
Arizona at Utah
The Arizona Stadium turf didn't lie when it said "Bear Down" last Saturday, as the Wildcats forced four second-half turnovers to down the Cal Bears, 24-17.  Mind you, that slogan always appears on the field in Tucson, and was not meant specifically to taunt the boys from Berkeley, against whom it always seems to work anyway.  Perhaps at their next home game, two weeks from now against Oregon, their playing surface will have something equally clever to say, like "Duck No Play Good."
If at first Ute don't succeed, Ute take the ball away.  Following their failed attempts to upend Washington and Washington State, UU finally got back in the W-column with a 40-21 decision over Stanford.  The Utes trailed the Cardinal in total yardage by two that game, but were a plus-4 in turnovers.
Mind you, they were fortunate enough not to face Stanford's greatest rushing threat, with Bryce Love injured, but neither will they have to contend with the same Khalil Tate who led the nation in rushing until mid-November of 2017.  This year's version of the Cats' quarterback ran for a season-high of just 40 yards last week against Cal.
The College Football Czar apologizes for getting that saying wrong a couple paragraphs ago.  Anyone can see that it should be, "If at first Ute doesn't succeed."  The Czar majored in word-usin', you know.
Utah 22, Arizona 16
Oct. 13
Pitt at Notre Dame
One thing for sure is that the Fighting Irish won't have to defend 52 passes like they did in last week's 45-23 win over Virginia Tech.  That's because the Panthers, who had hailed QB Kenny Pickett as a budding superstar, have instead become a one-dimensional offense led by tailback Qadree Ollison.
Pitt prevailed over Syracuse, 44-37 in overtime, but the coaches unnecessarily jeopardized their chances in a tentative drive to end regulation time.  So afraid were they to let Pickett pass that they not only wrote off any chance of scoring a touchdown, but made no effort to move the field goal any closer than 45 yards.  Luckily, kicker Alex Kessman, who had already connected from 54 and 55 yards out, was up to the task.
If there's really such thing as luck o' the Irish, coach Brian Kelly has it, otherwise his team would have been eliminated from national contention while he was still playing the wrong QB.  Ian Book ended last season by completing 14 of 19 in a Citrus Bowl victory over LSU.  Why was there any hesitation to go to him this season?
Since this game is in the Hoosier State, maybe the golden domers won't realize that their opponents' passing game is inept.  Instead, they'll think the Panthers are running the Pickett fence on them, and telling themselves not to get caught watching the paint dry.  But so what if they did?  Then, all they'd have to worry about is a dry fence, and an even drier Panther offense.
Notre Dame 47, Pitt 19
Michigan State at Penn State
The Spartans are coming off their first conference loss of the season, to Northwestern.  The same was true a year ago, when they followed a defeat to those Wildcats with a 27-24 upset over the visiting Nittany Lions.
The Lions have had a week off, during which coach James Franklin has hopefully come up with a more sober assessment of his team's 27-26 loss to Ohio State than to assert that PSU's problem is that it's merely "a great team."  While everyone's complaining about the decision for Trace McSorely to hand the ball off on that instantly infamous fourth-down play, the Czar thinks Franklin should worry more about how often he lets his QB keep the ball on the read option, leaving him open to taking a big shot.  McSorely's not the only one who'll be swinging for the fences, you know.
Spartan slinger Brad Lewerke threw for an even 400 yards in last year's severely "weather delayed" victory, but how will his team take advantage of a Nittany Lion defense that has been far more susceptible to the run?
Franklin repeatedly called his team "great" after the OSU setback, and no wonder.  They've already won four Super Bowls this year!  And to think that it took Chuck Noll six years to accomplish that same feat.
Penn State 20, Michigan State 17
West Virginia at Iowa State
For a second year in a row, an obscure, third-string quarterback has stepped forward to lead the Cyclones.  Freshman Brock Purdy threw for 318 yards and four touchdowns in a 48-42 gundown of Oklahoma State.  Last year's surprise starter, Kyle Kempt, might return this week from an ankle injury to take the job back, however.
The Mountaineers remain undefeated, but through five games, their best win has arguably been in its 40-14 neutral-site opener against Tennessee.  In Big XII play, they've roughed up last place Kansas State, and had far more trouble than they should have against undermanned Texas Tech and undergood Kansas.  Starting this week, their schedule gradually gets a lot tougher, both in terms of quality of opposition and number of miles logged.
If Purdy plays, you know you can count on the WVU defenders to repeatedly get in his face.  That's because they're all eager to see for themselves what his mouth looks like.
West Virginia 27, Iowa State 23
Georgia at LSU
There's no need for Joe Burrow to bury his head, but the Tiger QB can't be satisfied with his performance in a 27-19 loss to Florida.  Burrow, a transfer from Ohio State, threw his first two INTs of the season, and they were costly.  The first was returned for a touchdown, to give the Gators a late, eight-point lead, and the second, on the next possession, effectively putting the game away.
The unbeaten Bulldogs play their first cross-divisional game after four easy wins over SEC East opponents.  The Man From M was throwing bb's last week against Vanderbilt, completing 17 of 23 for a season-high 276 yards and three scores, in a 41-13 drubbing.
The fewest points UGA has put up all season has been 38, in a 26-point trouncing of Tennessee.  Mind you, the most they've scored has been 49, which leaves them unable to compete for "style points" with the likes of Bama or Ohio State.
The Bayou Bengals' only chance is for coach Ed Orgeron to somehow get his hands on the Bulldogs' playbook.  It sure helps when you can go undercover as your opponents' mascot.
Georgia 42, LSU 23
Washington at Oregon
Back in the BCS era, a day like last Saturday would have proven costly for the 5-1 Huskies.  Not only would they be hurt by their own poor performance in a 31-24 win over UCLA, but the Auburn team they lost to in their opener was dumped by Mississippi State, 23-9.  If you ask the Czar, it makes a heck of a lot more sense for things like that to count than to rely in part on an "eye test."
The Fighting Ducks' 42-24 win at California two weeks ago was impressive enough, but Cal didn't really deserve its ranking heading into that game, and is almost assuredly headed to a fifth-place finish in the Pac 12 North.  In order to defeat the Dogs, the webfoots will need freshman running backs C.J. Verdell and Travis Dye to have grown up a lot since that Week 4 collapse against Stanford.
The Ducks are well known for their affiliation with Nike, and also for the proliferation of merchandise that results from their countless, unconventional uniform combinations.  You suppose they've got a little more to do with Nike's success than Mr. Pig Socks?  Nah.
Oregon 24, Washington 21
Wisconsin at Michigan
In what amounts to a CFP elimination game, the winner remains undefeated in Big Ten play, although each has taken a bad nonconference defeat.  The Wolverines stand tied with arch rival Ohio State at 3-0 atop the East Division, while the Badgers, at 2-0, are already the only remaining team in the West without a loss in the conference.
The maize and blue lead the nation in total defense, allowing only 231 total yards per game.  Even in a season-opening loss to Notre Dame, they yielded just 302.  The methodical Madison Reds, and the nation's third-leading rusher, Jonathan Taylor, have gotten bogged down a little against better-than-average opposition from BYU and Iowa.
Ever wonder what's the difference between a Badger and a Wolverine?  Badgers loathe James Franklin, whereas Wolverines despise James Franklin.  Here endeth the lesson.
Michigan 27, Wisconsin 17
Central Florida at Memphis
In their last meeting, for the 2017 AAC championship, undefeated UCF barely escaped with a 62-55 double-overtime victory.  Can this Tiger team mount that kind of a challenge, or will this be more like last year's regular season meeting, in which the Knights knocked them around 40-13?
Memphis has had two bad losses, blowing a late lead against Navy, and getting tatered by Tulane, but both of those have been on the road.  They've won 12 in a row on their home field, dating back to November of 2016.
The Tigers are one opponent that can back up the Knights' boastful claims.  That's because the University of Central Florida is located in Orlando, and Elvis makes regular appearances at Memphis home games in the Liberty Bowl.  Still don't see the connection?  We enquiring minds know that Walt Disney has spent the past half-century in cryogenic suspension, and that The King says hi to him every time he goes to the fridge for a fresh stick of butter.  It just so happens that they are the two eyewitnesses to UCF's 2017 national championship.  So, it's official.
Central Florida 51, Memphis 35
Texas A&M at South Carolina
The Conjunction Boys contained Kentucky, 20-14 in overtime, thanks in part to UK's curious decision to give rampaging running back Benny Snell only 13 carries.  The Cat's refusal to go to Snell in OT has become a source of controversy, not unlike Penn State's peculiar play call late against Ohio State.
Gamecock QB Jake Bentley and his injured knee will be ready to play this week, but he's only got 7 TDs and 6 INTs this year, whereas Michael Scarnecchia, who led last week's 37-35 win over Missouri, has thrown for four scores without a single pick.  Nevertheless, Bentley has been announced as the starter.
Here's how new Aggie coach Jimbo Fisher characterizes his relationship with Carolina skipper Will Muschamp:  "We're friends.  We used to own a beach house together."  Not that there's anything wrong with that.
Texas A&M 28, South Carolina 16
Iowa at Indiana
The Hoosiers harassed Ohio State through three quarters, before fading to a final of 49-26.  As encouraging a game as it was in general, IU still has not returned to the ground game that had gotten off to such a great start.  Against OSU, freshman RB Stevie Scott got only nine carries for 64 yards.
The Hawkeyes beat Minnesota 48-31 to win Floyd of Rosedale, which is a schmantzy name for a bronze pig.  In doing so, they still haven't invigorated their running backs, who are averaging 3.8 yards per carry with nobody yet distinguishing himself.  Through five games, sophomore Toren Young leads the team with a meager total of 286 yards.
There's something wrong with two longtime Big Ten schools playing a game with no trophy at stake.  The College Football Czar hereby humbly proposes that the Hoosiers and Hawkeyes compete for possession of an Al Pacino bobblehead.  They could call it the Hoo-Haw Trophy.
Iowa 37, Indiana 24
Duke at Georgia Tech
The College Football Czar has always found it presumptuous that the Yellowjackets are named after garments worn by Pro Football Hall of Famers, but it only seemed fitting last Friday, in a 66-31 thrashing of Louisville.
The Blue Devils have already succeeded in stopping one wishbone team this year, defeating Army, 34-14.  That was their opener, however, which left them all the time they needed for their defense to prepare for the triple-option.  This time, they've got only a week to get ready, after getting bounced out of the Top 25 by Virginia Tech, 31-14.
Tech couldn't help running it up on the U of L, keeping the ball exclusively on the ground for one late touchdown, and scoring the last TD on an interception return.  If only they had thrown 50-yard bombs against a beaten opponent in the fourth quarter, then maybe that GT on their helmets would stand for "Great Team" – at least in the world according to James Franklin.
Georgia Tech 48, Duke 31
Temple at Navy
This is a key game for both teams' postseason chances, with each having three losses and a daunting second-half road schedule.  The Owls seem to have momentum, though, whereas the Midshipmen have had two terrible losses in as many weeks.
The Middies need to come out on top in their next two games, because then they face three teams in a row (Notre Dame, Cincinnati and Central Florida) that are currently undefeated.  If they don't pull off an upset in one of those three, they will only need to drop one other game in order to be eliminated from the postseason.
Have you noticed that the Owls never brag about their most famous alumnus anymore?  Mention his name, and they'll respond, "Who?"  And yet, they never even shunned him like this after Leonard Part 6 and Ghost Dad.
Temple 31, Navy 28
Southern Miss at North Texas
Is UNT's mean streak officially over?  The Mean Green lost their mo-Joe when they were supposed to be paying tribute to legendary alumnus Joe Greene, in a 29-27 loss to Louisiana Tech.  Seven days later, they barely beat winless-as-usual UTEP, 27-24.
All of a sudden, the Golden Eagles' 24-13 loss to Auburn looks lame instead of plucky, as AU ranks among many preseason favorites undergoing an unkind midseason reevaluation.  USM, at 2-2 with a seemingly merciful cancelation against Appalachian State, has only beaten Rice and Division I-AA Jackson State.
How ironic that Mean Joe Day was spoiled by Terry Bradshaw U.  If the former teammates were to meet today, Bradshaw would never stop chuckling and flashing that dopey grin.  Actually, he hasn't stopped doing that since sometime around 1993, but never mind.
North Texas 30, Southern Miss 23
Florida at Vanderbilt
In the Commodores' last home game, they needed a late long bomb to pull out a 31-27 win against Division I-AA Tennessee State.  Hardly an encouraging result, being their only win in their last four games.  VU blew a chance to beat Notre Dame when they were still lame, and have since been steamrolled in their first two SEC games, against South Carolina and Georgia.
The newly aggressive Gator defense did it again, registering five sacks among 11 tackles-for-loss, and forcing three turnovers, in a 27-19 victory over LSU.  That aggression was not without its downside, though, in the form of 11 penalties for 115 yards.
Last week, former Gator coach Steve Spurrier wanted ex-LSU head man Fewer Miles to wear his visor after UF's victory.  Well, if Spurrier's team loses in Nashville, he should have to wear that gigantic, sproingy, orange Bette Midler wig that Shania Twain had on at halftime of last year's Grey Cup.  (Yes, it really was that bad.)  As for the rest of what she wore, never mind.
Florida 10, Vanderbilt 6
Ohio at Northern Illinois
The 3-3 Huskies have won all three MAC games so far, while losing to power five teams Iowa, Utah and Florida State.  Had they played no quality opponents and started 6-0, perhaps they'd be on course to declare themselves 2018 national champions.
Since letting a big lead slip away against unbeaten Cincinnati, the Bobcats have bounced back to win their next two.  Upon second look, it's not at all clear that they played nearly as well in a 58-42 free-for-all at Umass, or a 27-26 squeaker over Kent State, as they did in that 34-30 defeat against the UC Bearcats.
Frank Solich continued to not miss Nebraska last Saturday, when he notched win #100 as head coach of OU.  That tougher-than-expected triumph at KSU was #158 for his career overall.  The Czar hasn't bothered to look this up, but he believes that's a few more W's than Solich's successor in Lincoln, Bill Callahan, ever accumulated.
Northern Illinois 26, Ohio 23
Purdue at Illinois
The Czar would say that the 3-2 Fighting Illini are having a good season, if only they had beaten a serious opponent by now.  So far, their three victories have been against Rutgers, Kent State and I-AA Western Illinois.  However, they have led South Florida in the fourth quarter, and also led Penn State midway through the third.
Like their intrastate rivals from South Bend, the Boilermakers have improved dramatically, ever since correcting the mistake they made at the QB position on opening day.  After falling to 0-2 with an embarrassing home loss to Eastern Michigan, coach Jeff Brohm turned to senior David Blough, who kept PU in the game against Missouri until the final seconds, and then led them past Boston College and Nebraska.
The given name of former Chicago Bears and third-year Illini coach Lovie Smith really is Lovie, you know.  It's only a nickname for that other famous Lovie, whose real name (or as real as it gets, under the circumstances) was Eunice Wentworth Howell.  Just in case you were having trouble telling them apart.
Purdue 45, Illinois 34
Colorado at USC
CU can take command of the Pac 12 South with a victory in the Coliseum, a week after a critical 28-21 win over Arizona State.  A loss would drop them into a tie with this Trojan team, and possibly also Arizona.
Southern Cal (or so-called SoCal, to those who expected better of them this season) have the advantage of having been idle last week, after a pair of close, confidence-building victories over Washington State and Arizona.  Freshman quarterback J.T. Daniels continued to play his way into the season, avoiding any INTs in those two games, in which he dramatically improved his completion percentage, from 57.2 in his first three games, to 66.0 against the Cougars and Cats.
Prior to beating ASU, the Buffaloes had made a habit of punishing the nation's worst underachievers.  After an opening rout of rival Colorado State, they went on to defeat Nebraska and UCLA, both teams suffering severe growing pains under first-year coaches.
How good a coach is SC's Clay Helton?  He's already in his fifth year coaching the Trojans, and yet you hardly ever hear of him.  He must not harbor any ambitions of becoming Nick Saban's offensive coordinator someday.
USC 31, Colorado 18
Hawaii at Brigham Young
Cole McDonald hasn't bought the farm, but he did miss last week's 17-13 win over Wyoming with an undisclosed injury.  The prolific UH run-and-shoot quarterback says he'll play against the Cougars, but his coaches wanted the Cowboys to think the same thing.  That's why they had an imposter in McDonald's uniform, prowling the sidelines during pregame warmups.
BYU tailback Squally Canada has only provided a dusting of yardage in his past couple games, but he could develop into a full-blown blizzard against a Warrior run defense that's ranked outside the Top 100, despite having played a schedule more watered down than the Mai Tais at a Honolulu tourist clip joint. 
The College Football Czar has heard of people treating football as a religion before, but adherents to the Church of Lateral Day Saints take it entirely too far.  Maybe their offense wouldn't be such a national embarrassment, if only they'd let themselves throw the ball forward once in a while.
Brigham Young 25, Hawaii 20
a sports publication from The Shinbone