The College Football Czar
Week 7
<![if !vml]>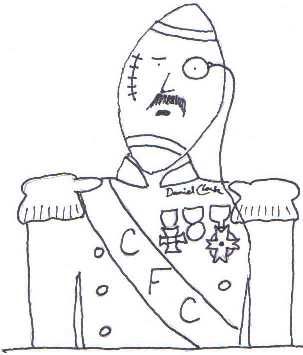 <![endif]>
Week six in review:  Lardhead of the Year Award nominations had gotten far too serious over the past couple years, so the College Football Czar is very grateful to Shalene Ernsberger for throwing her hat in the ring.  Shalene is the sister of Western Michigan tight end Donnie Ernsberger, a fact she advertised on her jersey when she rushed the field to celebrate his overtime touchdown catch.  One slight problem: the game was not over.  We're talking about college football overtime, after all.  The really bizarre thing is that Buffalo had already gotten its possession to begin the extra period, and scored a touchdown.  So, if Shalene was conscious of the score, she couldn't have possibly thought her brother's catch had won the game for the Broncos.  It had only pulled them within one point of tying the score.  WMU was able to laugh off the incident, only because they finally prevailed, 71-68 in seven OTs, and because the officials, realizing that Shalene had come from the stands and not the sideline, picked up the penalty flag they had thrown on her.
Head coach Gary Andersen is out in the middle of his third season at Oregon State, with a record of 7-23 while leading the Beavers.  Going for Corvallis was a peculiar move for Andersen in the first place, abruptly leaving Wisconsin after going 19-7 there in two seasons.  He faulted the UW admission standards for his decision to depart Madison, while maintaining that he thought his recruits "did what they were supposed to do" academically to get admitted.  Exactly what else did they need to do to get into that school, jump through the holes in the cheese?  It seems as if the coach is going to be hard to please wherever he goes.  In what might have proven a bigger factor in his dismissal than his on-the-field problems, Andersen had actually been tweeting disparaging remarks about his assistant coaches to a columnist for The Oregonian, while at the same time boasting about holding himself accountable for their failures.  Evidently, that's a worm's idea of being a standup guy.
The Czar finished the week with a record of 13-4.  For the season, he is 86-33, for a .723 winning percentage.
Oct. 13
Clemson at Syracuse
The 3-3 Orange hung on for a tightly contested 27-24 win over Pitt on this same field a week ago.  If you think that, because the Panthers somehow upset Clemson last season, SU now has a great chance of doing likewise, then congratulations, you are a lardhead.
Tiger quarterback Kelly Bryant is expected to start in spite of an ankle injury that left him watching the end of last Saturday's 28-14 win over Wake Forest from the sideline, in a boot.  Bryant left that game after staking his team to a 21-0 lead.  Hunter Johnson seems to have won the backup job, going 5-for-5 with a touchdown after an ineffective outing by fellow freshman Zerrick Cooper.
Everyone seems to be impressed with the tempo with which Dino Babers' team plays, but until they start functioning a little more smoothly, it hardly matters how frantically they lose to an underachieving Middle Tennessee team, or a reeling LSU.  In that three-point victory over the second-most confused football team in the Iron City, the Orange got caught with 12 don't-call-us-men on the field on three different occasions.  If the Orange won't stand to be called men, but they employ a 12th Man, what do they call him?  Just, "The 12th"?
How did a team that plays indoors in frigid central New York state get a citrus fruit as its mascot?  Perhaps the town has fallen into the clutches of a pagan cultists, who sacrifice human beings in hopes that it will enable them to cultivate crops that are not meant to be grown in their climate.  The Czar was thinking about writing a story about that very subject, but he figured Nicholas Cage would just come along and ruin it many years later.
Clemson 35, Syracuse 13
Oct. 14
Nc State at Pitt
Inevitably, Panther QB Max Browne has taken too many hits, between his OL's inability to protect him, and his own ineffectiveness in throwing the ball to take the pressure off.  The graduate transfer from USC will now miss the rest of his final year to have shoulder surgery, which leaves sophomore Ben DiNucci as the starter for the foreseeable future.  Now that everyone knows he'll be playing, hopefully the team manager will get DiNucci a helmet that fits.  His noggin nodule was jettisoned twice in last week's 27-24 loss to Syracuse, the first time forcing his team to use a timeout, and the second leading them to remove the redshirt from freshman Kenny Pickett, so that he could go in for one play.
The Wolfpack are only allowing an average of 90.7 rushing yards per game, so the Panthers can't continue to suffocate their own offense at the line of scrimmage.  Screens, jet sweeps and shuffle passes are not going to fool NCSU, no matter how clever they may look on paper.
The Pack has already put away both Florida State and Louisville, and is now on collision course with Clemson to decide the ACC's Atlantic division title.  If they come out on top, it will be interesting to see where they fit in the rankings, considering such a disappointing start to the season against South Carolina.
No, it isn't a "shovel" pass.  Just look at the way it's done.  The quarterback shuffles the ball, doesn't he?  The last time the Czar saw a pass that looked like it was shoveled, it was thrown by Garo Yepremian.
Nc State 27, Pitt 7
Texas Tech at West Virginia
The Red Raiders showed WVU how to handle an inferior opponent like Kansas, even when you're on the road.  A week after the Mountaineers were lucky to leave Lawrence with their pride intact, Tech took a 21-0 lead over KU and never looked back, in a 65-19 runaway.  Senior running back Justin Stockman dashed for a career-high 161 yards, on only 15 carries.
The 3-2 Eers have played well in a pair of 31-24 losses.  Nevertheless, they've been defeated by the only two competent opponents they've faced so far, and their schedule is not about to get any easier, with both Oklahoma schools, K-State and Texas remaining.
As the competition gets tougher, more scrutiny will be given to Mountaineer offensive coordinator Jake Spavital.  That's because head coach Dana Holgorsen has given up his offensive play-calling duties this season, so that he may devote more time to personal grooming.  Or to playing Angry Birds.  Whichever.
Texas Tech 38, West Virginia 31
Michigan at Indiana
John O'Korn will lead the maize and blue for the foreseeable future, even after his three-INT performance in a demoralizing 14-10 loss to Michigan State.  ESPN is reporting that starting QB Wilson Speight is out for the season with three broken vertebrae, and since there's no apparent political angle to this story, the College Football Czar is inclined to believe them.
The Hoosiers beat up on Charleston Southern 27-0 last week, but it wasn't their fault.  They weren't originally scheduled to face a lower-division team this year, but CSU agreed to the hastily arranged matchup after IU's game at Florida International was washed out in Week 3.  The game gave freshman QB Peyton Ramsey the chance to establish himself as the starter, without any snaps being given to supplanted starter Richard Lagow.
It looks like the Wolverines are about to go a sixth consecutive season without a 1,000-yard running back.  Ty Isaac currently leads the team with 365 rushing yards, and in the past two games he's barely averaged more than two per carry.
The College Football Czar anticipates a big bounce-back game for the Michigan quarterback, on the basis that you can't spell O'Korn without OK.  Furthermore, the smallest unit of corn is a kernel, and although it's just one among many, a colonel stands out as being in a position of leadership.
See?  This Fleck stuff is easy!
Michigan 31, Indiana 17
Georgia Tech at Miami
This game has been bumped from Thursday night to Saturday.  That's because Miami was rescheduled against Florida State last week while Tech remained idle, and under ACC rules, a midweek game can only be played by two teams that have had the same number of days between games.
Nevertheless, this reshuffling (or is that "reshoveling"?) leaves The Hurricanes with one week less to prepare for the Yellowjackets' triple-option.  GT's 396 rushing yards per game are second in the nation, behind only Navy.
This is the 100th anniversary of Georgia Tech's 222-0 victory over Cumberland College.  Angered by that school's alleged use of ringers in a baseball game, Tech demanded that Cumberland, which had just disbanded its football team, honor its commitment to keep that season's already scheduled meeting.  So, Cumberland fielded a team of misfits who got steamrolled.  And the Jackets still celebrate this a century later?  That's like a monster truck driver bragging that he'd won a demolition derby against a bunch of used Fiats.
Junior QB Malik Rosier led the Canes on a clutch last-minute drive to beat Florida State 24-20, but he had to do it without leading rusher Mark Walton, who suffered a season-ending ankle injury.  Now it appears he may also be without wide receiver Ahmmon Richards, who has re-aggravated a tender hamstring.
Over the years, the U had been trying, with various degrees of effort and success, to live down its cartoonishly cocky image from the 80s.  Now, they've apparently decided to just give up and embrace it, because they have started rewarding any player who forces a turnover with by letting him wear "the turnover chain" on the sidelines.  The trinket is a ridiculously thick necklace adorned with a Hurricane logo pendant, and basically looks like something that would embarrass even the Fat Boys.  That's of little concern, however, because at the university of Miami, they don't know the meaning of the word "embarrassment."
No, really!  They seriously don't.
Georgia Tech 24, Miami 21
Oklahoma vs. Texas
If you listen to the expert football numerologists, you'll think the Sooners are in trouble because the Longhorns have upset them in the last two odd-numbered years.  On each of those occasions, OU came into the game undefeated, and fresh from a big conference victory.  A week after they were sandbagged by Iowa State, they're not about to be sneaked up on again.
The Horns defeated that same ISU team nine days earlier, 17-7, but they didn't have to contend with the best kempt secret, senior Cyclone QB Kyle Kempt.  Instead, all they had to do was wait for the INTs to be dispensed by pouting prima donna Jacob Park.
Talk about overkill, there are three different trophies awarded for this one game.  The Red River Rivalry Trophy is exchanged between the schools' student bodies, and the Governors' Trophy, oddly enough, between the governors.  The winning players themselves are presented on the field with a trophy called the Golden Hat.  It had originally been the Bronze Hat, but apparently, that was too gauche.
Who's in charge of this thing, anyway?  Mark Cuban?
Oklahoma 41, Texas 33
Michigan State at Minnesota
The only game in which the 4-1 Spartans have given up more than 14 points has been a 38-18 loss to Notre Dame.  Even then, the MSU defense held the Irish to a modest total of 355 total yards, but nine penalties and a minus-3 turnover ratio were their undoing.
The radiant rodents got off to a good start this season, or did they?  Opening against Buffalo, Oregon State and Middle Tennessee, it's tough to tell.  The Czar doesn't blame them for that, though.  Unlike a lot of teams that scheduled their way to undefeated Septembers, these guys probably expected every one of those nonconference opponents to be better when they put them on the slate.
P.J. Fleck's Golden Gophers are now 0-2 in Big Ten play, but what did you expect?  You can't teach geese to row a boat overnight.  According to the most responsible estimates, that takes at least a couple months.  You can't argue with science.
Michigan State 15, Minnesota 6
Texas A&M at Florida
The truth be known, the Aggies' 27-19 loss to Alabama has done more to secure Kevin Sumlin's job than all of their four victories combined.  The aggressive ampersanders hounded Jalen Hurts, but couldn't handle Bama running back Damien Harris, who gashed them for 8.9 yards per carry.
UF fell out of first place in the SEC East with a 17-16 loss to LSU.  They thought they had tallied the tying score late in the third quarter, until their usually reliable kicker Eddy Piniero yanked the extra point to provide the margin of their defeat.
The Czar has always thought the Gators have had some of the worst uniforms in football, so he'd have regarded practically anything as an improvement, except the things they'll be wearing this week.  The gray-green, faux-scaly duds are supposed to make them look like alligators, but in truth, they'll make them look more like the critter that hatched out of the disco ball in that Wang Chung video.
For those who don't remember it, the Wang Chung video the Czar is referencing is for the song "Dance Hall Days."  He has never able to make himself sit through the somehow far more popular "Everybody Have Fun Tonight."
Not that it isn't a nice night for wanging some chung.
Texas A&M 20, Florida 12
Washington at Arizona State
The Huskies are giving up the third-fewest points in the nation, at 10.2 per game, but that's partly because they've played Rutgers, Fresno State, Division I-AA Montana, and three Pac 12 foes with a combined conference record of 0-9.
Sun Devil quarterback Manny Wilkins was banged up in a 34-24 loss to Stanford, during which he threw his first two picks of the season, but he's since had a week off to prepare for a Husky pass defense that might not be ready for a challenge.
Their greater concern is that their own defense has allowed at least 30 points in every game this season, and was devastated for 301 yards rushing yards by Bryce Love.  How badly will they get gassed chasing after Husky RB Myles Gaskin?
 ASU head coach Todd Graham says that wide receiver Jalen Harvey is the one player on the team who reminds him most of himself.  How do you suppose Harvey's taking that?
Washington 44, Arizona State 30
Boise State at San Diego State
If the Aztecs prevail this week, their greatest remaining challenge is in their season finale against New Mexico.  It's entirely plausible, if not likely, that they could finish the regular season at 12-0.  No offense to the fans in San Diego, but the Czar hopes that doesn't happen.  Regardless of record, this team, however outstanding, is not one of the best four in the nation, and there is absolutely no chance that they might prove to be the best.  Nevertheless, if they keep their record unblemished, and don't get into one of the national semifinal, calls to expand "the playoff" to eight teams, or even 16, will gain momentum. 
The once-dominant Broncos haven't gone away, but they have receded into the background a bit since their heyday.  Going back to last season, they've lost four of their last seven, and they didn't handle Brigham Young any more easily than everyone else has this year.
The College Football Czar would like to take a moment to belatedly wish the Aztecs a happy Columbus Day.  Mind you, anyone on the SDSU faculty who reads this will take offense, because when they were students they were told that Christopher Columbus personally killed off all the Aztecs by deliberately infecting them with combination skin.
San Diego State 29, Boise State 17
South Carolina at Tennessee
The 4-2 Gamecocks scored three defensive touchdowns in the second half of a 48-22 romp over Arkansas.  That's more than a bit disconcerting for a UT team that has turned the ball over eight times over the past three games.
In a division in which it should be fairly easy to compete, this is basically an elimination game, with the losing team already taking its third conference loss.  In truth, that's a mere technicality for the Rocky Toppers, who have yet to win an SEC game, and must travel to Alabama a week from now.
The Volunteers' starting quarterback this week will be Jarrett Guarantano, owner of that magical, Quran-flushing toilet that Newsweek told us all about.  Guarantano is among the fairly small minority that actually likes the Vols' "Smokey gray" uniforms.  That's because at least they're better than the orange jumpsuits he's used to seeing.
South Carolina 25, Tennessee 20
Navy at Memphis
The Midshipmen responded to a fourth-quarter Air Force onslaught with a late TD to improve to 5-0, with a 48-45 victory that brings them halfway toward recapturing the Commander-in-Chief's Trophy.  It's about to get a lot tougher for the goat-to guys, with a second-half schedule that includes Central Florida, Notre Dame, Houston and Army.  If they get tripped up by the Tigers this week, a winning season is still far from a sure thing.
A 70-point offensive eruption was what was in Storrs for this Tiger team, as QB Riley Ferguson cut up Connecticut for seven touchdowns in a 70-31 thrashing.  Now, they return home to the Liberty Bowl, where they haven't played since they ambushed UCLA, 48-45 in Week 3.
The Czar doesn't understand why Memphis fans like to dress up as Elvis, who wasn't even from there.  Why not instead appear as Memphis-born musician Donald "Duck" Dunn, who himself was very distinctive-looking, and very popular from his role in The Blues Brothers?
Oh, yeah.  Most guys who dress up to go to football games tend to be very greasy and fat.  So that's the reason.
Memphis 47, Navy 43
Middle Tennessee at UAB
The reborn 3-2 Blazers toppled defending Conference USA West division champion Louisiana Tech 23-22, thanks to a blocked last-second 30-yard field goal attempt, combined with two missed Bulldog extra points.  Keep in mind that their other two wins have been against Division I-AA Alabama A&M and Division I-A newcomer Coastal Carolina.
At 3-3, the Blue Raiders are a late entry into the C-USA East race, having followed a loss to Lane Kiffin's Florida Atlantic team with a 37-17 win over Butch Davis and Florida International, last week in Murfreesboro.  Not too late, though.  Looking at their remaining schedule, if they can beat back Alabama-Birmingham, the MT-heads could easily roll on to an eight or nine-win season
This Blazer program had been disbanded for the past two seasons.  Imagine if they'd felt compelled to slap together a ragtag group of students and sent them out to get stomped into the dirt by the likes of Alabama or Auburn.  Would that be cause for celebration a hundred years from now?  Actually, to an SEC powerhouse that defiantly justifies its scheduling of November games against Wassamatta U., it just might be.
Middle Tennessee 21, UAB 19
Utah at USC
The Utes finally faced a quality opponent, and lost to Stanford 23-20.  They still haven't gone up against a prolific quarterback, and the Czar wonders how their formidable front seven will react to the first time they're burned by SC sophomore slinger Sam Darnold.
The 5-1 Trojans steadied their season with a methodical if unimpressive and uninteresting 38-10 victory over Oregon State.  Their next two games, against UU and Notre Dame, will determine whether they can get back into the national championship race.  It helps that a Pac 12 South title might win them a rematch with the Washington State team they lost to two weeks ago.
At some point, leading Ute receiver Darren Carrington has morphed into Darren Carrington II.  Is he trying to convince people that he's actually a different Darren Carrington than the one that got the boot from conference rival Oregon during the offseason?  He might as well go around blaming his past deeds on Invisible Larry.
USC 30, Utah 16
Florida State at Duke
Now that the Blue Devils have lost two in a row, the Czar looks back at their three big wins in September and says, in the parlance of our times, "Meh."  Beating Northwestern, Baylor and North Carolina suddenly seems like no great accomplishment.
The Seminoles fell to 1-3 with a deflating 24-20 defeat against their hated rivals last week, but how many teams would be faring better with a freshman unexpectedly starting at quarterback, and playing a schedule that so far has consisted of Alabama, Nc State, Wake Forest and Miami?
With whom must the Devils make a deal to get a win in this series?  To date, FSU has won all 19 meetings, and the closest game among them was an easy 25-6 victory back in 2007.  The average score has been 47-13.
The College Football Czar doesn't actually use the word "meh."  He's just practicing making sheep noises, so that he can relate to P.J. Fleck's next motivational gimmick.  For instance, sheep grow back their wool after they are shorn.  Hence, they personify resilience, or some such drivel.
Florida State 33, Duke 10
New Mexico at Fresno State
The 3-2 Bulldogs won the Valley Trophy last week, in a game that could gag you with a spoon, 27-10 over San Jose State.  FSU is actually tied with San Diego State atop the MWC's West division at 2-0, but the fact that their first two opponents have been Nevada and SJSU suggests that it won't be easy for them to keep pace.
Air Force didn't put up much of an argument against the Lobos' Richard McQuarley, who scored five touchdowns, including dashes of 65 and 63 yards, in a 56-38 thunderstrike.  UNM is now 3-2 overall, and 1-1 in the wide open MWC Mountain division.
Does Lobo coach Bob Davie know how to play the media, or what?  Being dogged by Sports Illustrated's extremely vague accusations of player mistreatment, the coach has turned the press in his favor by expressing "100 percent support" for the actions of five players who knelt during the national anthem last game, absurdly adding, "I feel more strongly now than ever that our football team is unified."  Let that sink in for a second.  He imagines his players are unified behind five jerks who demonstrated their disrespect for our flag and our national anthem, while members of one of our military academies stood on the opposing sideline.  Someone at "the Family of Networks" should ask The Bear what the odds are that a large number of Lobo players and coaches are actually highly displeased.
Too bad Davie and the vile sports media had to kiss and make up.  Just think of the ratings ESPN could have gotten for The Bob Davie Is a Big Meanie Show.  This week, Coach Davie denies a player a helmet sticker, just because he fumbled.
New Mexico 42, Fresno State 27
UCLA at Arizona
The College Football Czar is finally starting to believe that Bruin QB Josh Rosen is as good as everyone says he is.  That person who had played in his uniform up until this season must have been Fletch in disguise, as Dr. Rosenrosen.
The 3-2 Wildcats clawed out a 45-42 victory over no-longer-defending Pac 12 South champion Colorado.  At 1-1 in league play, the Cats join everyone except CU in what promises to be a very entertaining divisional race.
As long as those left-coasters go all gooey over so-called "renewable energy," they should try to find a way to harness the radiation from Rich Rod's head over the course of a game.  A costly false start, or the unnecessary use of a timeout, could power the stadium lights for the rest of the game.
UCLA 55, Arizona 39
Tulane at Florida International
FIU fell out of first place in the Conference USA East with a 37-17 loss at Middle Tennessee.  It was only a matter of time, considering that their two conference victories had been against the Planet Hooston Hooters and the Carolina Commies.  (That's Rice and Charlotte, for those uninitiated.)
The Green Wave (3-2, 1-1) have yet to win on the road this year, but that's more than a little deceiving.  Their two games outside of the Big Easy were considerably less so, in that they faced Oklahoma and Navy, and they put up quite a tussle in their 23-21 loss to the Midshipmen.
If you happened to see any of TU's 62-28 home victory against Tulsa, you noticed that the field at Yulman Stadium, like most of the team's current helmets, is adorned with the old-fashioned Green Wave logo, a big, ornery-looking character with bad hair, carrying a megaphone.  Stay tuned for the inevitable lawsuit from Al Sharpton.
Tulane 34, Florida International 22
a sports publication from The Shinbone