The Original College Football Czar
Week 7
<![if !vml]>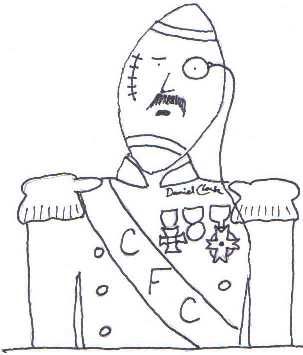 <![endif]>
Week six in review: The College Football Czar posted a sub-.500 record for a second year in a row, at 6-7, as he dropped two games in overtime, and two others that were decided by very late field goals. For the season, he is now 42-26, his winning percentage having plummeted to .618.
A rash of upsets in the SEC has left that conference with only two unbeaten teams, and they (Alabama and Georgia) will face each other this Saturday in Tuscaloosa. The way it's going right now, chances of that league producing two CFP teams appear to be remote, and the Big XII is likely to miss out altogether. By the end of another weekend of carnage, the Big Ten will probably occupy half of the rankings, without having yet taken the field.
One of the big news items this week is that, just for this year, the NCAA is dropping its requirement that a team have a non-losing record in order to qualify for a bowl game. Of course, there have been so many exceptions to this rule over the past four years that it has hardly been enforced in the first place. In 2016, a 5-7 North Texas team was allowed to play in the Heart of Dallas Bowl (which it lost, of course) because it supposedly performed well academically. The Mean Green had gotten blown out by UTEP in its regular season finale to finish 3-5 in Conference USA, and was rewarded with a postseason bid. Why even pretend that any standard exists after that? The NCAA might as well have announced that it will no longer require all of its football players to go to class.
If this week's installment seems a bit light, that's because the Czar had to delete two games (LSU-Florida and Cincinnati-Tulsa) because they've been postponed for the usual reasons. Also put aside for this week are Vanderbilt-Missouri and Oklahoma State-Baylor.
Oct. 16
SMU at Tulane
The way the Green Wave have faded late against both Navy and Houston, perhaps they need to acquaint themselves with another briny, green substance, known as pickle juice. Against the Middies, TU watched a 24-0 halftime lead wash away as they were outscored 27-0 in the second half. Last Friday in Houston, they stormed out to a 24-7 lead in the second quarter, but were wiped out by a score of 42-7 from that point on.
In Week 5, the Mustangs hung on to beat Memphis 30-27 and improve to 4-0. In the process, they lost two of their top thoroughbreds, with tailback T.J. McDaniel and wide receiver Reggie Roberson sustaining season-ending injuries. Ulysses Bentleyiv will have to do the work of IV men, or at least III. The versatile freshman running back rolled up 227 yards and three TDs against North Texas in Week 3, and he's a capable receiver out of the backfield as well.
If you did not know that the letters SMU stood for Southern Methodist University, you'd be able to guess from the fact that they wear an angry fist on their uniforms, which of course is the official symbol of the Methodist Church.
You mean it's not? Gosh. Talk about a schism.
SMU 46, Tulane 38
Brigham Young at Houston
BYU's 27-20 win over the Texas-San Antonio Roadrunners has preserved their undefeated record for the time being, but also squelched all speculation about them crashing the CFP. Because the Cougars' downgraded schedule is not their own fault, they would have probably been let into the final four had they continued to blow all their opponents off the field, but not after they've barely hung on to beat a Conference USA also-ran. If the last CFP berth is between them, at 10-0, and say, a 10-1 SEC or 8-0 Pac 12 team, the Cougs would lose out. No reason to feel sorry for them. They'd probably still get a bid to the Fiesta Bowl and be very happy with it.
Planet Hooston was super after a slow start in its long-awaited season opener. They handed Tulane a 24-7 lead by way of a rash of turnovers, but played nearly flawless football the rest of the way through a 49-31 thumping. After hitting a couple sour notes, junior QB Clayton Tune played merrily, completing 20 of 33 for 319 yards.
Dana Holgorsen, formerly known (here, at least) as the Medusa of Morgantown, has regrown his serpentine locks, but now that he's relocated, he needs a new nickname. The Teresa Heinz of Houston? The Czar will have to work on it.
Serpentine must be the O'Reilly Factor word of the month. So remember, don't be a serpentine.
Brigham Young 37, Houston 34
Oct. 17
Pitt at Miami
Even if Panther quarterback Kenny Pickett is able to play on an injured ankle, he won't be scrambling much, and his team doesn't have any semblance of a rushing attack without him. All their running backs combined are averaging a paltry 92.6 yards per game.
The College Football Czar doesn't often criticize kickers, who generally take more than their share of abuse. Nevertheless, he cringed last week at the cocky sideline display by Pitt's Alex Kessman, after he booted a game-tying 58-yard field goal against Boston College. The Czar dislikes cockiness as a rule, but it seemed particularly unwarranted from a senior kicker who is only 7 of 12 on field goal attempts through his first five games, and ominous considering the inevitability that he would be called on again in overtime. One missed extra point later, the Panthers were dealt their second consecutive one-point defeat.
Pinning that 31-30 loss on the place kicker, however, would be overly simplistic to say the least. The Panthers' season has been imperiled not by Kessman, but by a conspicuously one-dimensional offense, and a defense that suddenly can't stop anybody on a third-and-long.
D'Eriq King and his Hurricane offense got d'molished at Clemson, 42-17. The QB who quit on Houston after a rough start in 2019 only completed 12 of 28 for 121 yards and two INTs. The College Football Czar wonders how much more adversity it will take before he bails on another season to "prepare" for the NFL draft, whatever that means.
Have you ever seen a football player choke at the draft, because he didn't spend enough months preparing for it? What are they doing for all that time, holding their phones up to their ears in front of a mirror?
Miami 28, Pitt 9
Kansas at West Virginia
If the KU-KU Pigeon Sisters can't win this one, it's hard to spot an opportunity elsewhere on their remaining schedule, at least not until their finale against Texas Tech. During an 0-3 start, the only game that was competitive was their opening 38-23 home loss to Coastal Carolina. In two Big XII games, they've been outscored 94-21, and their defense has yet to register a takeaway this season.
Two weeks ago, the Mountaineers committed four turnovers and twelve penalties, but still beat Baylor, 27-21 in double-overtime. They benefited from a blown call that helped them stop BU at the goal line late in the third quarter, when the Bears appeared to have scored.
KU coach Fewer Miles is keeping his distance from his players since testing positive for COVID. Miles is a devout Christian whose father was named Bubba. Therefore, he brought the virus on himself, and deserves to be made the object of scorn and ridicule for doing so. That's the way this stuff works, isn't it?
Miles has been so successful during his previous stints at Oklahoma State and LSU that it's only a matter of time before he turns the Jayhawks into contenders. And if you buy that one, the College Football Czar has got some cloth masks to sell you.
West Virginia 30, Kansas 13
Georgia at Alabama
It appears likely at this point that these two teams will meet again in the SEC championship game, but this regular season battle will be better, because it's being played in an actual football stadium. The College Football Czar is thinking of petitioning The Powers That Be Stupid to move the major bowl games and league championships back outside where they belong, as a means of combating the coronavirus.
Speaking of which, Alabama coach Nick Saban has tested positive for the virus, as you are well aware, because ESPN covered this news as if he had been the victim of an assassination attempt. So far, the coach is asymptomatic. In fact, he's the sixth Division I-A head coach to test positive this year, and none of them has actually gotten sick, even though these are mostly men well into their sixties who have high blood pressure and drink Pepto Bismol for breakfast. At this point, it appears that the most tragic outcome is that Saban's team might have to rely on Steve Sarkisian to guide them through this week's game. Not that this isn't alarming.
The porous defense being played in the SEC so far is grabbing the headlines, and rightly so. The flip side is that there's been an offensive explosion, and the Crimson Tide have been the most volatile element in the mix. In three games, all against conference opponents, the pachyderms have piled up 153 points, while QB Mac Jones has already topped 1,000 passing yards, and leading rushers Najee Davis and Brian Robinson are averaging 6.7 and 6.4 yards per carry, respectively.
The Bulldogs, conversely, are the one traditional conference power that's still dominating on defense. They've given up only three offensive touchdowns in as many games, and have yet to allow an opponent to gain more than 280 yards. So this matchup might be seen as a test for the conventional wisdom that says defense wins championships.
That's one of those things that lardheads assume is always true, just because they hear it said a lot. Those old Desert Swarm teams at Arizona played great defense, but never threatened for a national championship because once somebody took a lead on them, they couldn't come back. The baseball version is that great pitching beats great hitting, which of course is often true, but not always. The '54 Indians and '71 Orioles each had four 20-game winners, but lost the World Series. The escape hatch from such contrary evidence is to posit that the pitching wasn't great in the series. Had the pitching been great, it would have beaten the great hitting. Likewise, if UGA can't contain the Tide this Saturday, it will still be true that defense wins championships; it will just be that the Bulldog defense didn't show up.
Saban is now challenging Navy's Ken Niumatalolo for the Dale Gribble Award. Following his team's 63-48 shootout win over Ole Miss, he said, "I don't know if they had our signals or what." He was serious. Mind you, Rebel coach Lane Kiffin left Saban's staff after the 2016 season, so the whole roster has turned over since then, so how's he supposed to have gotten the signals? Is the suggestion that there's a mole on the Tide's coaching staff? Perhaps Saban was kidnapped and hypnotized into divulging his whole play book, and then had his memory of the whole episode erased. By lizard people. Enquiring minds want to know.
Alabama 35, Georgia 31
Boston College at Virginia Tech
The Gobblers' roster has been ravaged by COVID quarantines, especially in the defensive secondary. That dearth of second-level tackling contributed to the 399 rushing yards they allowed in a shocking 56-45 loss at North Carolina. Yet there may be more to their troubles than being temporarily shorthanded. Their defensive disintegration began in last year's 39-30 loss to rival Virginia, and continued through the Belk Bowl, which they lost 37-30 to Kentucky.
The Eagles are ill-equipped to take advantage, however. Through four games, they are averaging only 60 rushing yards per game, and 1.9 per carry. Despite this, they've somehow managed to go 3-1 so far, all against legitimate competition.
The logo on the Tech helmet is the square root of one, which equals one, which equals UNITY! That's been their emblem since 1983, and the rest of college football is just now catching on. Who knew the team wearing burgundy and orange would be the trendsetters?
Burgundy and orange is the new periwinkle and brown. Think about it. After some more beer.
Virginia Tech 29, Boston College 26
Marshall at Louisiana Tech
The 3-1 Bulldogs bombed in their big game against Brigham Young, 45-14 in Week 5. On the other hand, that was arguably the highlight of their season to this point, as opposed to their wins over Southern Miss (31-30), UTEP (21-17) and Division I-AA Houston Baptist.
The Thundering Herd handled Western Kentucky 38-14 to improve to 3-0, with two postponements. With three first-half touchdowns, running back Brenden Knox went as crazy as a fox in socks on a box. Or is it that he was one of the Moos in shoes reading the news about the Fnoos with their blinkedy-bloos? Rhyming is easy, when you're allowed to just make crap up.
Unlike their hosts at LTU, the Herd has captured one high-quality victory this season, when they put a 17-7 bruising on Appalachian State before a large TV audience in a 3:30 CBS game. Looks like they didn't leave any defense there for the SEC teams in the weeks that followed.
Lazy announcers refer to Louisiana Tech as "La Tech." According to the song, La is a note to follow So, but the Czar doesn't see why that should be. If somebody says, "So?" the response "La" doesn't seem very persuasive.
Marshall 37, Louisiana Tech 21
Kentucky at Tennessee
The Wildcats intercepted Mississippi State quarterbacks six times last week, returning one for a touchdown, and setting up another at the two-yard-line. It's a good thing they did, because their offense only contributed 157 yards of its own, in a 24-2 snooze.
The School of Hard Knox was taught a tough lesson at Georgia, where they led 21-17 at halftime, only to be dominated in the second half of a 44-21 trouncing. Including the five times Jarrett Guarantano was sacked, the Volunteers rushed for a total of minus-1 yard for the game.
On the sideline, Vols coach Jeremy Pruitt wore an orange and white checkered covering over every part of his head except his face. Coaches not keeping their masks on has been an issue in recent weeks, even though it shouldn't be. A head coach has to yell a lot, and can't afford to be muffled. Besides, wearing a mask is about as effective at stopping the coronavirus as balancing a tea kettle on one's head while singing Volare. Nevertheless, Pruitt's fashion statement was amusing. He looked like a great big Russian peasant girl in a babushka. When other people were near, he pulled the tubular accessory all the way up over his head, making him look a little like Racer X instead. Talk about a transformer.
That particular kind of covering is called a gaiter, which explains a lot. No UT coach has ever known how to handle a gaiter.
Tennessee 7, Kentucky 6
Virginia at Wake Forest
Wake got in the W-column with a feelgood Week 5 win over the Division I-AA Campbell Fighting Camels. What must have felt even better was having their previous week's game against Notre Dame postponed. In ACC play, the Demon Deacons are 0-2, although their schedule gets a lot softer from this point on.
No, that wasn't a fullback throwing passes for the Cavaliers last week. Lindell Stone is a 240-lb quarterback who, for some reason, wears uniform #36. The little-utilized junior entered last week's 38-21 loss to Nc State in relief of an injured and ineffective Brennan Armstrong, and had 30 completions. That sounds great, until you realize that he threw 54 passes, and only amassed 240 yards. On second thought, maybe he really is a fullback, and is only identifying as a quarterback. Or is it the other way around? Perhaps the Czar should simply refer to him as "they/us/(s)he". That ought to avoid any further confusion.
It's a little-known fact that camel fighting started when Michael Vick eluded the authorities by moving his operations overseas. As you might guess, it's inhumane beyond belief. He tapes sporks to their hooves.
Virginia 33, Wake Forest 25
Auburn at South Carolina
By all rights, the Tigers should already be out of contention in the SEC, if not for a badly blown call at the end of last week's game against Arkansas. While trying to stop the clock, QB Bo Nix made the mistake of turning away from the line of scrimmage before spiking the ball. The incomplete backward pass should have been ruled a fumble, recovered by the Hogs. Instead, AU was allowed to retain possession, even after a review, and they kicked a field goal to escape with an undeserved 30-28 victory.
The 1-2 Gamecocks hammered Vanderbilt 41-7. Then again, LSU had beaten the Commodores by that exact same score a week earlier. Sophomore running back Kevin Harris scored on touchdown runs of 25 and 88 yards, and in neither case did the Vandy defense get close enough to take him down, even if they'd been armed with tasers. Yards and touchdowns are about to get a lot tougher to come by.
Carolina's leading receiver is Shi Smith, who had a 140-yard game in the opener against Tennessee. Who ever heard of a shy wide receiver? That must be the kind who gives some credit to the other ten guys on the field with him. Then, after the game, he and D.B. Cooper go sasquatch hunting together.
South Carolina 24, Auburn 23
Central Florida at Memphis
Believe it or not, the Tigers are winless all time against UCF since the then-Golden Knights made the move to Division I-A. In a series that started in 2005, the Knights are 13-0, including two AAC championship game victories. The closest that MU has come has been a 62-55 double-overtime defeat in the league title game in 2017.
Another AAC setback would make it unlikely for the Tigers to successfully defend their conference title. In their last game, they came roaring back from a 24-3 deficit to tie SMU, but then allowed a sack, a fumble, and a late Mustang field goal in a disappointing 30-27 defeat.
Talk of an undefeated season ended early for the Knights this year, when they toppled by Tulsa in Week 5. No loss can possibly ruin your season, however, if you assume the power to award yourselves whatever you like. UCF can still become 2020 national champions, at least on the facade of their own stadium. They can also award themselves the Academy Award for best gofer, the Nobel Prize for origami, and anything else they can think of. In a world where insipid rattlenoggins are constantly asserting "my truth," who's to argue?
Memphis 44, Central Florida 41
Texas A&M at Mississippi State
A&M wide receiver Caleb Chapman has suffered what is expected to be a season-ending knee injury, but not until after hauling in nine passes for 151 yards and two touchdowns. Those included a 51-yarder to tie the game in the fourth quarter, as the Aggies dragged down Florida, 41-38. As big a loss as he is, QB Kellen Mond has still got plenty of options, with WRs Ainias Smith and Chase Lane, along with tight end Jalen Wydermyer, each having a dozen or more receptions in three games.
Evidently, morphing an SEC team into Mike Leach's merry band of air raiders is going to be more difficult and time-consuming than the LSU defense made it look in their opener. The team that tossed 44 points on the board against the no-longer-defending national champions only reached paydirt twice in a 21-14 loss to Arkansas, and then had their offense held off the board entirely in a 24-2 collapse at Kentucky.
Following that UK debacle, Leach suggested that there may soon be a "purge" of the Bulldog roster. From most coaches, that wouldn't be so chilling, but Leach is a history buff. In addition, most universities heartily approve of Stalinism, and the same is now true of the world of sports. He may not be able to send his players to Siberia, but Yazoo City is just a couple hours away.
Texas A&M 45, Mississippi State 28
Navy at East Carolina
If not having played yet before facing the Midshipmen was an advantage for Air Force as Coach Ken believes, the same was certainly not true of Temple. The goat-to guys took advantage of their rusty rivals from Philadelphia to build a 21-10 halftime lead, and then thwarted a late two-point conversion attempt to prevail, 31-29.
The Pirates scuttled South Florida 44-24 for their first win of the season, and their best since beating a 3-7 Cincinnati team in 2017. The last time they defeated a team that had a .500 record or better against Division I-A opponents was when they took out a 3-2 Tulsa team in 2015.
The name of one of these teams was in the title of a popular song by the Village People. Incredibly, that team is not the Pirates.
Navy 39, East Carolina 32
Ole Miss at Arkansas
Had the Razorbacks not been ripped off last week against Auburn, they would have had their first winning streak since they downed Ole Miss and Coastal Carolina in the latter half of the 2017 season. Instead, any thoughts they might have entertained about the possibility of a winning season have been squelched. That's "squelched," as in crushed and silenced, not "squealed," as in Ned Beatty, while we're on the subject of pigs.
For the sake of humanity, everybody stop referring to the quarterback "clocking" the ball. Spiking the ball is called spiking the ball, not clocking it. Clocking a football makes about as much sense as harpsichording your wombat.
The Rebels went toe-to-toe with the team from Tuscaloosa until late in the fourth quarter, before finally getting knocked off balance in the final minutes of a 63-48 free-for-all. The entire season is becoming a feeding frenzy for quarterback Matt Corral, who has already thrown for 1,080 yards in three games, with nine TDs and only one interception. If Corral isn't golden, then at least he's a lot better than that gruel they pass off as pot roast.
Ever try to entertain thoughts? They're a tough audience. Even Ned Beatty jokes fail to amuse them.
Ole Miss 42, Arkansas 34
a sports publication from The Shinbone