The College Football Czar
Week 6
<![if !vml]>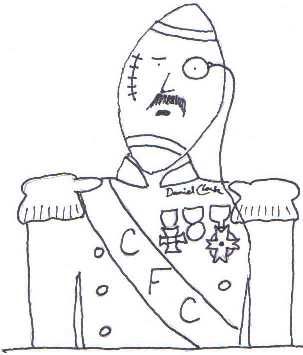 <![endif]>
Week five in review:  The most significant development in Week 5 occurred on Friday night, when Washington State stopped USC 30-27, apparently making themselves the team to beat in the Pac 12.  The greatest obstacle in Wazzu's path between now and November was going to be this week's visit to Oregon, but that game no longer figures to be competitive, with Duck QB Justin Herbert out for the season with a broken collarbone.
Apart from that, the big story was LSU's upset loss to Troy, fueling speculation about the supposedly imminent dismissal of coach Ed Orgeron.  If it had been up to the College Football Czar, Orgeron would never have gotten the job on any greater than an interim basis in the first place, but since the Tigers decided that he's their man, dismissing him after 11 games would be completely unreasonable.  This season is not lost, especially considering the depleted depth of the SEC.
There has already been one head coach dismissed, and that's Sean Kugler of UTEP, who resigned, ironically, after his team's most respectable performance so far this season, a 31-17 loss at Army.  Former coach Mike Price, now 71 years old, takes over for the 0-5 Miners, and will re-retire after the season.  Price ended up in El Paso the first time around when he lost his job at Alabama, because he did something irresponsible, to which Sports Illustrated added lots of other stuff that they made up, just because that's what they do.
Normally, you'd find at least one Friday night pick here, but this week, there aren't any matchups competitive enough to justify inclusion.  In general, it's a down week as far as the quality of the matchups is concerned, but unlike the beginning of the season, when everybody's fattening up on creampuffs, this week is just an accidental coincidence of a large number of uncompetitive conference games.  The Czar went 0-2 last Friday night, but only dropped two more games on Saturday, to finish the week at 15-4.  For the season, his record stands at 73-29, for a .716 winning percentage.
Oct. 6
Pitt at Syracuse
The Panthers' game against Rice was not dangerous before it happened, but it is now.  If they think, because of that 42-10 win, that they've turned the corner, their defense has settled in, and Max Browne "is back," in the words of coach Pat Narduzzi, then they're in even deeper trouble than they were before.
What a perplexing remark that is from Narduzzi.  Where is it he thinks Browne had been before, to which he has now returned?  Had he been known for 400-yard passing games anytime in the past?  As the former Southern Cal QB was picking apart that overmatched Owl defense, the Czar sincerely doubts that any of us in that Heinz Field crowd of allegedly over 33,000 was thinking, "It's good to see the old Max Browne again."
Late last season, these teams combined for the most points in a game in the modern era, with the Panthers prevailing 76-61  It would have been even higher-scoring than that, if only Jerome Lane could hit a few free throws.  Pitt is incapable of that kind of output this year, but the Orange are rolling along at 460 yards and 33 points per game.
In the middle of last century, SU had a mascot known as the Saltine Warrior, who was dismissed in 1978 for being ethnically insensitive.  Perhaps they should have named him the Fighting Cracker instead.
Syracuse 31, Pitt 28
Penn State at Northwestern
Starting with Saquon Barkley's opening kickoff return, the Nittany Lions blew away Indiana early, thanks to turnovers and big special teams plays.  They ought to be very concerned, however, about yet another subpar performance by their offensive line, which only helped Barkley to 56 rushing yards, while allowing QB Trace McSorley to be sacked five times.  If the 2-2 Wildcats were focused on this week's game, instead of what you'll be reading about in a moment, PSU could be ripe for an upset.
The College Football Czar hereby extends a Lardhead of the Year Award to Wildcat head coach Pat Fitzgerald, who is encouraging his players to demonstrate against their country at this week's game, while also denying that's what they'd be doing, and insulting those who understand that the players are protesting the thing they're literally demonstrating against.  "When you really research and read about what is trying to be accomplished, I think it's getting lost by a lot of people," he said, "… if you don't get what these gentlemen are trying to accomplish, then you're really not listening to the message."
The Czar has edited Fitzgerald's remarks for space, but the coach rambled on for an entire paragraph's worth of gobbledy, without himself actually explaining the protests' aims.  The first rule of a demonstration is that you're supposed to demonstrate your point.  You don't leave it up to others to "really research" it.  If you choose the occasion of the playing of our national anthem to put on your demonstration, then you are demonstrating against the anthem, the flag, and the United States of America.  If that's not really what you meant to do, then you are the ignorant one, not all the observers who are mad at you for it.
An honorable mention goes to safety Kyle Queiro, who is not himself nominated, only because he's obviously the victim of educational malpractice by his professors at NU.  Queiro justified the players' evasiveness about what they're protesting on the basis that, "Rosa Parks was not protesting the public transportation system."  Actually, she was doing exactly that, insofar as the public transportation system was subject to Jim Crow laws.  Rosa Parks demonstrated against segregation by going to a place where it was being conspicuously enforced, and defying it.  That's called "relevance."  You should try it sometime, Kyle.
Penn State 40, Northwestern 24
West Virginia at TCU
The Czar expects WVU to have its struggles during a taxing Big XII road schedule, but not at Kansas, of all places.  The Mountaineers allowed the Jayhawks to pull within eight points of them midway through the fourth quarter, before popping in two late TDs for a misleading 56-34 final.  If the KU-KU pigeon sisters could roll up 564 yards on them, the lizard kings have got to be licking their lips.
The truth be known, the 3-1 Mountaineers have played by far their best game in their opening 31-24 loss to Virginia Tech.  Granted, they're undefeated since then, and have scored over 50 points in each game, but that has been against Kansas, East Carolina, and Division I-AA Delaware State.
Everyone knows by now that the Horned Frogs stymied Oklahoma State 44-31, but that was their third quality win in a row, having previously overpowered Arkansas 28-7, and outgunned SMU 56-36.  Despite facing a tougher than average schedule, Texas Christian is fifth in the nation in scoring, at 47.8 points per game.
Okay, so lizards don't have lips, but don't tell them that.  Some of them have got sensitive feelings.
TCU 55, West Virginia 41
Alabama at Texas A&M
The Conjunction Boys are looking to topple the Tide for the first time since 2012, when Johnny Manziel was a redshirt freshman, and had so far only alienated a significant fraction of the football universe.  Since then, the pachyderms have pounded them four times in a row, averaging 45.5 points per game during that stretch.
Have you noticed how much easier Bama's games have gotten since the start of conference play?  ("S-E-C!  S-E-C!  S-E-FREAKIN-C!")  Since wandering through a 41-23 nonconference win over Colorado State, Nick Saban's team has pulverized Vanderbilt and Ole Miss by a combined score of 125-3.
Ditto that for A&M, who opened the season with that colossal choke against UCLA, and then had to break a fourth-quarter tie to defeat Division I-AA Nichols Don't-call-us-a-state.  The ampersanders are 2-0 against SEC opponents, although an overtime win over Arkansas and a 24-17 struggle with South Carolina do not suggest that they might take out the Crimson Tide.
What the Czar really couldn't stand about Johnny "Show me da munny" Manziel was not so much his taunting, but that he insisted on repeatedly referencing such a completely annoying, crappy movie.  Had he instead walked around the field reciting movie quotes like, "Lighten up, Francis," and "Think you used enough dynamite there, Butch?" the rest of his conduct would probably have been forgiven.
Alabama 41, Texas A&M 17
Miami at Florida State
The postponement of this game from Week 3 has been a definite advantage for the Seminoles, who have gotten new starting QB James Blackman two games of valuable experience in the meantime.  The freshman probably won't be carrying his team anytime soon, but he's been steady enough to give his running backs and defense a chance to take control of a game.
The 3-0 Hurricanes wore down Duke, and then finished them off with two long fourth-quarter touchdowns, in a surprisingly easy 31-6 stroll.  If they can get past FSU, it's not hard to imagine them running the table.  If they were to finish 10-1, though, needlessly canceling the Arkansas State game could come back to haunt them.
FSU finally got into the W-column at Wake Forest, but barely, 26-19.  The game winning score, a 40-yard touchdown pass from Blackman to WR Auden Tate, didn't come until less than a minute remained.
Members of the sensitivity police from outside the NCAA have long been frustrated by that body's tolerance of the supposedly "hostile and abusive" Noles, with their spear helmets, Chief Osceola and the Tomahawk Chop.  They should keep in mind that it could be worse, from their standpoint.  At least all those tens of thousands of fans in Doak Walker Stadium aren't behaving like saltines.
Miami 30, Florida State 21
Michigan State at Michigan
Anyone who doesn't remember what happened last time the Spartans went to the Big House probably also can't remember his own middle name, or what toast tastes like.  For the benefit of any such person who may be among the Czar's readers, Wolverine punter Blake O'Neill bobbled a snap, and then fumbled the ball up in the air, where MSU safety Jalen Watts-Jackson picked it off, and returned it for a touchdown on the last play of the game.  Although he was the hero of that 27-23 victory, the game didn't end especially well for Watts-Jackson, who suffered a dislocated hip when his teammates dogpiled him in the end zone.
Sparty took control of its 17-10 win over Iowa early, with two first-quarter TD passes to receiver Felton Davis III, who made nine catches that day, which comes out to three apiece.  No, wait a minute … upon further review, Felton Davis III is only one player, who is credited with making all nine catches, for 114 yards.  It seems that the College Football became momentarily confused, there.  And so did I.
The 4-0 Wolverines lost QB Wilton Speight on an awkward late hit in the first quarter against Purdue, but John O'Korn was reliable in relief, leading his team to a 28-10 victory.  The former Houston Cougar connected on 18 of 26 for 270 yards, with one TD and one interception.
If you read through that last paragraph too quickly, you might have come away with the impression that the former John Cougar is now named O'Korn.  That's not true, of course.  After mysteriously becoming popular in the 80s, John Cougar reverted to his given last name of Mellencamp.  It's the lyrics he wrote that were o'korn.
Michigan 28, Michigan State 18
SMU at Houston
Don't look now, but Southern Methodist is 4-1, with its only loss to Big XII contender TCU.  Actually, go ahead and look.  It's probably been a few years since you've watched the Mustangs in action, after all.  Their last winning season was in 2012, when they finished 7-6 by beating the poi out of Fresno State in the Hawaii Bowl.
The 3-1 Cougars had to stave off a second-half rally by Temple to win 20-13, after taking a 20-point lead early in the third quarter.  Although they held onto the win, DT Ed Oliver sustained a knee injury, and is considered a game-time decision for this week.  Major Applewhite's team cannot afford any deficiencies on defense, just as they are about to face four very formidable offenses in consecutive games.
The most famous game between these former Southwest Conference foes was in 1989, when the Mustangs were coming back from the Death Penalty with an all-freshman team, and cocky UH coach Jack Pardee ran up a final score of 95-21.  Not a very diplomatic move, from a man who was hired for his first head coaching job by the Washington Ambassadors of the WFL.  Then again, that team never took the field before moving, and becoming the Orlando Blazers instead, so to blazes with diplomacy.
Actually, he could have used a bit of it during his NFL career.  During Pardee's stint with the Houston Oilers, the famously loony Atlanta Falcons' coach Jerry Glanville called him a "total jerk," to which Pardee wittily responded, "He certainly knows what a jerk is."  So … Glanville was right, then?
SMU 45, Houston 42
Minnesota at Purdue
It's Truth Oar Consequences time for P.J. "Row the Boat" Fleck, whose team struck a reef in its conference opener, a 31-24 loss to Maryland.  The radiant rodents were run over for 5.6 yards per carry, including a 34-yard TD with just over a minute to play.
The Boilermaker offense went off the rails against Michigan, when it huffed and puffed for a meager 189 total yards in a 28-10 setback.  Quarterbacks Elijah Sindelar and David Blough combined to go 12-for-29, as their team fell to 2-2.
All of a sudden, goose decoys are being seen all over the Golden Gophers' football facilities.  Why?  "Geese fly in a 'V'," Fleck explains, "and we're talking about developing leadership here."  But of course.  How stupid of the rest of us not to have thought of that ourselves.
"Eye of the goose, Rock!  Eye of the goose!"
Minnesota 30, Purdue 23
Arizona at Colorado
Rich Rod's Wildcats must be relieved to get back on the road this week.  Back in Tucson, they've lost six of their last seven, the only victory coming in last year's Territorial Cup game against rival Arizona State.
CU quarterback Steven Montez finally had his first 100-yard rushing game of the season in a 27-23 loss to UCLA.  The sophomore scrambler may need to use his feet a little more often from now on.  Against Division I-A competition, he's only thrown for three touchdowns and five interceptions.
The loser of this game is left alone in the basement of the Pac 12 South, where the Buffaloes now reside after dropping their first two conference games.  The Cats (2-2, 0-1) are the only other team in the division without a conference victory, having lost their league opener to Utah, 30-24.
Guess you could say the chips are down.  Buffaloes!  Dropping!  It's a joke, son, you missed it.
Arizona 21, Colorado 20
Wake Forest at Clemson
Wake fans might want to get some shuteye over the next few weeks, because their 4-0 start is about to be reciprocated.  Having already fallen to Florida State, they now face the defending national champs, followed by Louisville and Notre Dame.
Against Virginia Tech, it was Tiger tailback Tavien Feaster who did much of the gobbling, as he scored one touchdown on a 60-yard reception, and another on a one-yard plunge, in a 31-17 turkey shoot against last year's ACC runners-up.
It's been said of the Tiger faithful that "they sure love their Clemson down there."  Just imagine what their reaction would be if they ever found out that Clem was not the real father.  Just a tidbit the Czar picked up while watching some of the educational programming on The No She Di-'Unt Channel.
Clemson 28, Wake Forest 3
Air Force at Navy
The 1-3 Falcons begin their defense of the Commander-in-Chief's Trophy without yet having defeated a Division I-A opponent.  A week ago, they got slobberknocked by New Mexico 56-38, after having led 21-14 at halftime.
2016 was a rare year in which the Midshipmen lost to both the AFA and Army, something that hadn't happened since they went winless in 2001.  So far this year, they're 4-0, after rallying past Tulsa 31-21, to take command in the AAC West division.
The winner of the trophy has it presented to them by the Commander-in-Chief himself during a White House ceremony, but the other two academies still receive the honor of being tweeted about.  "The Black Knights are losers!  No wonder nobody watches them on TV, and their games draw nowhere near as many people as my rallies do.  Very sad!"
Navy 35, Air Force 23
Stanford at Utah
If the Utah Utes taw a putty tat, it would be the toughest competition they've faced so far this season.  Their schedule gets considerably tougher from this point on, partly because the two Pac 12 North teams they don't play are Oregon State and California.
Cardinal running back Bryce Love is the nation's leading rusher by a long shot, with 1,088 yards in five games.  If he's already sick of painfully unclever TV analysts talking about "giving him some love," he hasn't heard anything yet.  By now, he must wish his surname was Money, or Beer.
Stanford quarterback K.J. Costello may not know who's on first, but he knows his own place is behind center, where he's guided his team to two conference victories to stay in their divisional race.  Having begun the season as the third-stringer, the sophomore has played it safe, gaining only 7.2 yards per attempt, but having yet to throw an interception.
Have you ever been to a baseball game where they've played the "Who's On First" sketch during a rain delay?  Honestly, the rain is funnier.
Stanford 29, Utah 27
Maryland at Ohio State
Somewhat surprisingly, these teams never played each other until the Terps joined the Big Ten in 2014.  Since then, the Buckeyes lead the series 3-0, while scoring an average of 55 points.  In last year's 62-3 thrashing, they allowed just one third-down conversion on 15 attempts.
The 3-1 Terrapins have beaten widely hyped opponents Texas and Minnesota, but they were buried 38-10 by a quietly efficient club from Central Florida.  If UCF could hold them to 197 total yards, then the Buckeyes, who allow an average of 201, should be able to contain them in their shells.
OSU quarterback J.T. Barrett – all together now – "the Fourth", has taken a lot of grief for the Oklahoma game, but the truth be known, he didn't even play in it.  With three other generations of himself on the sidelines, his coaches probably sent his great-grandfather into the huddle by mistake.
Hey, at least that would be an excuse.
Ohio State 43, Maryland 12
Western Michigan at Buffalo
The 3-2 Broncos have carried over the momentum from last season, even with a new head coach, quarterback and receiving corps.  Following competitive losses to USC and Michigan State, they've won three straight against lesser competition, including last week's 55-3 blowout of Ball State.
UB's season has basically followed the same course so far.  The Bulls started 0-2 with tough road losses to Minnesota and Army, but have since won three straight, though by not nearly the same margins as their visitors from Kalamazoo.  They won the last meeting in this series, 33-0, but that was back in 2013, when WMU was wallowing at 1-11.
In this, the first season of the post-P.J. Fleck era for the Broncs, the College Football Czar humbly submits for their consideration a new slogan:  "Play the Football Game."  That sounds like more fun than rowing a boat, anyway.
Western Michigan 45, Buffalo 35
LSU at Florida
Coach Orgeron says he and Tiger athletic director Joe Alleva are "on the same page."  What he doesn't seem to realize is that only one of them knows how the story ends.  In fairness to Orgeron, he took over a team that was relying heavily on running back Derrius Guice, who was injured during a lopsided loss to Mississippi State, and did not play in last week's upset against Troy.  The Tigers are hopeful for his return this Saturday.
The Gators defeated a divisional opponent for the third week in a row, this time having a slightly easier time in a 38-24 victory over Vanderbilt.  They did lose backup QB Luke Del Rio to a broken collarbone, however, putting more pressure on the shoulders of freshman Feleipe Franks.  It was when Franks had faltered the previous week against Kentucky that Del Rio had stepped in to lead the winning touchdown drive.
The Czar might have to nickname Gator head coach Jim McElwain "Cool Hand," because he keeps winning with a handful of nuthin.  If only he were scheduled to face Mike Gundy's OSU Cowboys, so that Dragline could have another excuse to say "you stupid mullet head!"
Florida 13, LSU 7
Wisconsin at Nebraska
Husker coach Mike Riley's chances of keeping his job through this season are like he's trying to stave off the Grim Reaper by swinging a cornstalk at him.  That might buy him a few seconds, like his consecutive wins over Rutgers and Illinois have done, but his Plan B had better be incredibly good.
Badger head coach Paul Chryst served as an assistant to Riley back in 1991, with the San Antonio Riders of the World League of American Football.  More interestingly, Chryst freely admits this.  The Czar attributes this to a more general tactic by which the coach gives opponents a false sense of security.  Why else would he wander the sideline, looking like someone who couldn't possibly be in charge of anything more important than the pregame bratwurst?
The Big Bad Gers scored a late safety last week, to defeat Northwestern 33-24 in their Big Ten opener.  If they can defeat the N-men, they will already become the only team in the West division without a loss in conference play.
When the Cornhuskers fired athletic director Shawn Eichorst two weeks ago, they publicly gave "on-field performance" as the reason.  That sounds a little like they consider the football team, and its on-field coach, that is the real problem.  Either that, or else Mr. Eichorst's plays the sousaphone, badly.
Wisconsin 33, Nebraska 17
Notre Dame at North Carolina
The mounting injuries and inexperience caught up with the Tarheels in a 33-7 loss to Georgia Tech.  At 1-4 with four ranked opponents remaining, they're almost certain to miss out on a bowl bid for the first time since 2012, when they went 8-4 but were ineligible due to sanctions.  UNC hasn't had a losing regular season since 2007.
The Fighting Irish roster may be taking a significant hit of its own, with QB Brandon Winbush on crutches after last week's 52-17 blowout of Miami Ohio.  Even if Wimbush plays, the Irish will probably give a few series to Ian Book, just to find out if they'd like to see the movie.
So the golden domers have improved this year, but analysts are getting overzealous in speculating about their chances of making it into the final four.  This team has still got to take on USC, Nc State, Miami, Navy and Stanford.  Let's at least wait and see if they win those first two, and then maybe we can talk about it.
Q: Why does the Heels' head coach go by the name Larry Fedora?
A: His real first name is Herbert, but he keeps it under his hat.
Notre Dame 27, North Carolina 21
a sports publication from The Shinbone