The College Football Czar
Week 6
<![if !vml]>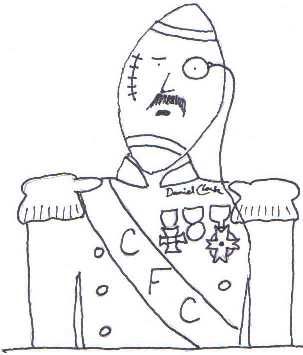 <![endif]>
Week five in review: If you've been hoping for more parity in college football, you've got it. Mostly, anyway. There are still two powerhouse SEC teams that are head-and-shoulders above everyone else, but beyond that it doesn't seem that anyone really stands out from the crowd. That was illustrated again last week, as Oregon fell from the same #3 perch from which it knocked Ohio State back in Week 2. Yes, of course the College Football Czar knows that ducks don't perch. So who are you, the ornithology police?
It already appears unlikely that anybody in either the ACC or Pac 12 will make it into the CFP this year, and anyone who sees that as justification to renew calls for expansion is a lardhead. The whole point of the CFP is to make sure the best team is crowned champion, not to see to it that each of the power five conferences is represented. This year, the # 3 and #4 teams are likely to be so mediocre compared to Alabama and Georgia that the four-team format is going to be perceived as too big already. The thought of throwing eight more teams into the mix will sound every bit as ridiculous as it is.
Speaking of mediocrity, the Czar had his third subpar week in a row, this time plunging to 10-10. For the season, his record stands at 62-42, for a .596 winning percentage.
The College Football Czar hereby extends a Lardhead of the Year Award to Tim Brando and Spencer Tillman of FS1. At last Friday's Iowa-Maryland game, these two appeared with large green ribbons on their lapels, for mental health awareness. The game turned out to be a blowout, so Brando and Tillman started talking about irrelevant things, as announcers often do once the competitive phase of a game is long over. Somehow or other, they got themselves onto the subject of what a great movie Young Frankenstein was, and in particular, they started guffawing over the "Abby Normal" gag. Dr. Frankenstein had transplanted an abnormal brain into the monster, get it? Not that it isn't funny, but whoever had forced them to put on those ribbons must have been appalled. In the real world, the Czar sees nothing wrong with what Brando and Tillman said, but in an era when people lose their jobs for referring to people with totally correct pronouns, these guys had better keep in mind who their employers are, before letting their guard down and behaving like regular people on the air.
Oct. 8
Stanford at Arizona State
The Cardinal showed a lot of tenacity in their 31-24 overtime win over Oregon, but how much of that was really their own doing? The Ducks, who haven't played at all well with the exception of the Ohio State game, committed two 15-yard penalties in the last minute, and made multiple play-calling and clock management miscues.
The Sun Devil defense demolished UCLA in the second half of a 42-23 victory, which leaves them in sole possession of the lead in the Pac 12 South. Their lead had only been 24-23 at halftime, but they blanked the blue bears in the second half.
It's hard to argue with success, but the College Football Czar couldn't help but cringe at ASU coach Herm Edwards' repeated use of the term "eye candy" to describe the UCLA offense. Anybody who uses that phrase in reference to a football play should be tied to a chair and forced to watch The Garbage Picking Field Goal Kicking Philadelphia Phenomenon. And anyone who says "a tale of two halves" should have to watch Gus.
Arizona State 38, Stanford 26
Oct. 9
Penn State at Iowa
The winner of this game will be perceived as the only serious threat to win the CFP from outside the SEC, but in the Nittany Lions' case, that kind of speculation would be extremely premature. PSU's remaining road schedule includes Ohio State and Michigan State in addition to this game, and a November meeting with Michigan at Beaver Stadium could be trouble, too.
With a win on Saturday, by contrast, the Hawkeyes could be home free, having only to face the other six teams in the woeful Big Ten West, none of whom currently has a better record than 3-2. They've already put away their first two opponents, Indiana and Maryland, from a favorable cross-divisional schedule.
As long as the Lions keep winning, the Czar cannot argue with their ranking, but whom have they beaten so far? A watered-down Wisconsin team, a middle-echelon MAC club, an average SEC team with an erratic quarterback, Division I-AA Villanova, and probably the worst team in the Big Ten East. Hardly anything for tens of thousands of alleged men to wave puffy white pom poms about.
Does "cross-divisional" mean they really are in the opposite division, or only that they are identifying as if they were? Somebody needs to write up a rule book for this stuff.
Iowa 27, Penn State 13
West Virginia at Baylor
The Mountaineers' 23-20 loss to Texas Tech ended a seven-game winning streak in Morgantown. If they don't also snap their six-game road losing streak, their hopes for a second straight winning season may disappear like a puff of couch smoke.
Even with a plus-3 turnover margin, the Bears could not prevent Oklahoma State from dealing them their first defeat of the season, 24-14. It seemed like the Waco kids were not awake for the first half, but if they were, they'd have been very puzzled by their inability to mount a drive longer than four plays. A week earlier against Iowa State, BU reserved that kind of offensive ineptitude for the second half, while clinging to a 31-29 win over the Cyclones
One thing about the Eers this year is that they always give their viewers a competitive game with a good finish. Going back to last season's Liberty Bowl victory over Army, their last five games against Division I-A opponents have been decided by six points or fewer.
You never hear about WVU fans burning couches anymore. That's because they just sit on rocks now. Progress is a relative thing.
West Virginia 17, Baylor 12
Alabama at Texas A&M
It's a long way from Lent, but the College Football Czar is giving up picking against the Crimson Tide. Last week, Bama bullied former offensive coordinator Lane Kiffin and Ole Miss 42-21, and it wasn't even that close. With that win, Nick Saban is now 24-0 all-time against his former assistants.
The Conjunction Boys were expected to challenge the Tide for the SEC West again this year, but they are already 0-2 in conference play, after getting marooned by Mississippi State, 26-22. One would think that by his fifth year as head coach at A&M, Jimbo would have become a fisher of men when it came to recruiting. He's been forced to play sophomore Zach Calzada at quarterback due to injury, but freshman Haynes King had been struggling anyway, with three interceptions against Kent State before being injured at Colorado. Transfer rules being what they are today, how does a presumptive contender leave itself without a little insurance at that position?
To the visiting fans from Tuscaloosa, the Aggie faithful must seem like rank amateurs. Among the overkill of annoying traditions at College Station is holding "yell practice" the night before the game. If they don't already know how to yell at a football game, they'll certainly have gotten used to it by the time this one is over.
Alabama 51, Texas A&M 27
Oklahoma vs. Texas
The Sooners are still not attacking downfield, which is why they only escaped Kansas State 37-31 while QB Spencer Rattler completed 22 of 25. Rattler is the one hearing the hisses, but with a 76.3 percent completion rate, there's little more he can do. It seems to the Czar that it's OU's game plan, and not its quarterback, is its biggest problem.
Bijan Robinson is now second in the nation in rushing with 652 yards, after a 216-yard, two-TD effort in a 32-27 victory over TCU. Without a clear leader at QB in Austin, expect the 35 carries that Robinson got in that game to become the norm.
If Bijan had an alter ego named Leetlejan, he could have co-starred with himself in the world's worst Saturday morning TV show. For those who fortunately don't remember Big John, Little John, the main character alternated between being a man and a boy, because he had taken a sip from the fountain of youth while on vacation in Florida. Big John's wife had to treat Little John as her nephew to keep people from becoming suspicious, even though Little John was still her husband. Creepy as hell for the 70s, but it turns out it was just a half-century ahead of its time.
Texas 30, Oklahoma 23
Notre Dame at Virginia Tech
The Fighting Irish must have been miffed at the College Football Czar for picking against them, so they missed a late extra point to prevent him from nailing the final score of their 24-13 loss to Cincinnati. The Pyne-Coan partnership again failed to bear fruit, as the quarterbacking tandem of James Coan and Drew Pyne split time, with a few snaps going to Tyler Buchner for good measure.
The 3-1 Gobblers needed a 60-yard TD on a punt return by wide receiver Tayvion Robinson to pull away from Division I-AA Richmond, 21-10. Tech's offense is now second-worst in the ACC, behind Florida State and ahead of only Syracuse.
All right, so a pine cone is not a fruit. So who are you, the botany police?
Notre Dame 19, Virginia Tech 7
Georgia at Auburn
Against LSU, Tiger QB Bo Nix repeatedly escaped the pass rush to extend plays and find open receivers, but he'll have a much tougher time escaping the grasp of this Bulldog defense. UGA is allowing only 4.6 points per game so far, and has beaten its last two opponents by a combined score of 99-0.
The Dogs have an unsettled quarterback situation of their own, but it hardly matters. Starter J.T. Daniels has missed the last two games with a back injury, but his numbers and those of backup Stetson Bennettiv are almost identical.
The 4-1 Tigers are currently second in the SEC West, but don't expect that to last. After this game, they play at Arkansas, before returning home to face Ole Miss. The Czar had assumed that RB Tank Bigsby had been taken out by a sticky bomb, but coach Bryan Harsin insists he is fine, even though he only got nine carries last game. Tank may be well, but he isn't fine, if his declining per-carry average over the past three games is any indication.
You know, a sticky bomb. The Czar isn't making that up. It's in the field manual.
Georgia 48, Auburn 17
Utah at USC
Cameron Rising would be an optimist's way of putting it, but the truth is that Charlie Brewer got benched and decided to re-transfer. The starting Ute QB job has fallen to the sophomore Rising, rather than his having reached up and taken it.
A third of the way into the season, the Trojans have already got two losses, a couple beaten-up quarterbacks, and an interim head coach. If this were a Tinseltown script, a precocious two-toed sloth would now arrive out of nowhere to lead them to the Rose Bowl.
They shouldn't hold their breath waiting, though. Sloths are not known for their punctuality.
USC 24, Utah 16
Boise State at Brigham Young
A year ago, the Broncos got blue away on their home turf by BYU, 51-17. That was BSU's only regular season loss of 2020, but including the Mountain West championship game, they have now lost four of their past six games.
The 5-0 Cougars won the Wagon Wheel against intrastate foe Utah State, 34-20 last Friday night. Rumbling sophomore running back Tyler Allgeier was allover USU for 218 yards and three TDs on only 22 carries.
BYU is enough of a geographic mismatch for the Big XII, in which it will begin play in 2023, but the Broncs are among four Mountain West teams that reportedly resisted a recent overture from the American Athletic Conference. Can we all agree that a league that stretches from Boise to Philadelphia would not have much of a future? On the other hand, if there's ever an AAC TV Network, it would have had that coveted Pocatello market nailed down.
Brigham Young 33, Boise State 24
Arkansas at Ole Miss
Consider this the bronze medal game between two teams that failed to compete against the dominant powers of both their conference and the nation. The Hogs got hammered by Georgia last week, 37-0, while the Rebels were routed by Bama, 42-21. Then again, we all know now that the bronze medalist is the real champion, right Simone?
The Hogs' leading tackler is linebacker Bumper Pool. That was originally a nickname, until the young James Pool had his first name legally changed to Bumper. Oh, sure, but I suppose "Caitlin Pool" would have been above criticism.
Rebel coach Lane Kiffin has said lots of imprudent things in his career, but the College Football Czar fails to see why his "get your popcorn ready" remark is considered controversial. What is that supposed to have meant, other than he expected last week's game to be entertaining for the viewers at home? It doesn't exactly rank up there with publicly accusing Urban Meyer of recruiting violations, and then in a forced apology, claiming that offending Meyer "was not my intention." The treatment his popcorn remark is getting might make it the dumbest controversy since Mitt Romney's "binders full of women" remark.
... because everybody knows that's the way Mormons create their own homemade girly magazines. They use binders.
Ole Miss 35, Arkansas 31
Michigan State at Rutgers
Spartan quarterback Payton Thorne has given paws to opposing offensive coordinators. Thanks largely to the sophomore slinger, MSU has been scoring an average of 38 points this season, as opposed to 18 a year ago.
The Scarlet Knights have dropped their first two conference games, barely losing a 20-13 defensive battle with Michigan before getting waylaid by Ohio State 52-13. After facing a third consecutive ranked opponent in Sparty, they'll have a chance to bounce back in a series of games against the West division.
In 2019, the Knights signed a new naming rights deal that changed the title of their home field to SHI Stadium. They can't possibly be getting paid enough.
Michigan State 30, Rutgers 18
Ball State at Western Michigan
Already having a conference defeat, the defending MAC champions from Muncie will practically be out of the running if they don't come away from Kalamazoo with a W. A week ago, BSU finally beat a Division I-A foe for the first time in 2021, and at the same time handed Army its first defeat of the season, 28-16.
Rather than let down after their 44-41 upset of Pitt at Heinz Field, the Broncos have stomped San Jose State 23-3, and won a tough conference opener, 24-17 at Buffalo. Quarterback Caleb Eleby has now thrown nine TDs and no interceptions this season.
This game is being played at Waldo Stadium, which presents a challenge. You know how easy it is for a kid in a striped shirt and a tassel cap to get lost in a 30,000-seat stadium in Western Michigan?
Western Michigan 42, Ball State 31
Wisconsin at Illinois
It's wine and cheese time once again as the cheddarheads invade Champaign. Two years ago, all the stars illin'd for the Fighting Illini, who pulled off one of the biggest upsets of the season, 24-23. Up until then, the Madison Reds had won nine straight in this series, and they have since begun a new streak, with a 45-7 blowout win on their home turf a year ago.
Badger quarterback Ethel Mertz is questionable for this game, but then he's always questionable, isn't he? Little used junior Chase Wolf finished last week's 38-17 loss to Michigan, in which he completed 3 of 8 with one TD and one interception.
Fighting Illini QB Brandon Peters was injured during an opening victory over Nebraska, but he returned in Week 3 and resumed his starting role. The results haven't been good: a 49.3 completion percentage and only one touchdown. Remarkably, this is little different from last year's five-game season, in which he tossed three touchdowns, while completing just 48.8 percent. It may be time for sophomore Arthur Sitkowski, or "The Sitk," as the Czar doesn't call him, to become big man on campus.
Illinois is known as the Land of Lincoln, even though it's not where Honest Abe was born. Amazingly, it isn't the state where he was shot, either.
Wisconsin 12, Illinois 7
East Carolina at Central Florida
Third-year head coach Mike Houston seems to have steadied the ship in Greenville, where his Pirates have now won three straight. The former Division I-AA championship skipper at James Madison is now 10-16 after a 52-29 wipeout of Tulane. His predecessor, Scottie Montgomery, never did reach double digits in wins, finishing at 9-26.
The 2-2 Knights were upset by Navy in their first game without prolific passer Dillon Gabriel, who is out with a broken collarbone. Freshman Mikey Keene didn"t fare badly in his first career start, but his comparatively modest numbers are not enough to carry a team, as the fans in Orlando are used to seeing their quarterbacks do. Still, he helped stake them to a 30-17 lead at the end of three, before the Midshipmen dominated the fourth quarter to win, 34-30.
UCF once rightly ridiculed the idea of developing a rivalry with Connecticut. Pretty soon, the Knights won't be able to have any rivals at all, because once they join the Big XII, their nearest conference opponent will be Cincinnati, nearly 900 miles away. Next time you see a story about declining college football attendance, keep in mind how many fewer conference matchups are drivable for the visiting fans these days.
You might be wondering how someone can go through life as Mikey, but if you remember, Mikey went through Life at a torrid pace.
Central Florida 55, East Carolina 44
Northern Illinois at Toledo
With a little help from Ball State, the winner of this game could have sole possession of first place in the MAC West division. That would not be a surprising position for the Rockets, but NIU is already 3-2 this year, after finishing winless in all six games of an abbreviated 2020. In their opener, the Huskies toppled Georgia Tech 21-20, although that might not look so impressive by this point in the season.
The Rockets have already taken down defending conference champion Ball State, 22-12 in Week 4. They actually did not allow an offensive touchdown in the previous week's 22-6 loss to Colorado State, and against BSU they only yielded four field goals, which means their defense did not give up a TD for almost three games, until mop-up time in the fourth quarter of last week's 45-7 stomping of Umass.
UT nearly knocked off Notre Dame back in Week 2, but then they thought, why bother? It's only on Peacock. Nobody would ever know it happened anyway. So they gave up a 20-second, 75-yard touchdown drive with a minute to go, and lost 32-29. As it happened, there were reporters at the game, so word got out anyway. They might as well have gone ahead and won.
Toledo 25, Northern Illinois 10
Uconn at Umass
Each of these inept Independents is 0-6 as expected, but the Huskies have come close to winning each of their last two games. In Week 4, they came a foiled two-pointer away from tying Wyoming with seconds remaining in a 24-22 setback, and last week they lost to Vanderbilt, 30-28 on a last-second field goal.
The Minutemen have lost 16 games in a row, since scoring a 37-29 home win over Akron in September of 2019. Later that same season, they were clobbered by the Conn Men, 56-35. At least their own university likes them, though. The Huskies, on the other hand, were basically disowned by their own school last season, and left to fend for itself like a teenager having been thrown out of the house. The University of Connecticut left the AAC to rejoin the Big East, which of course no longer has a football conference. As a result, the Husky football team is now wallowing as an Independent, with no prospects for future conference membership, and no reason for any valued recruit to ever go there.
Yet it's difficult to find any criticism of the move in the media, which causes the College Football Czar to smell a rat. The jump back to the Big East was done almost entirely for basketball. The Huskies have a famously excellent women's basketball team, as well as men's. So this decision is a benefit to the school's most prominent women's sports program, while cruelly giving the shaft to the naughty, toxically masculine football team. Surely, this represents some form of "justice" or other.
Whatever you do, don't ever tell the Huskies that Yukon Cornelius is a Canadian, and not a supporter of theirs after all. They feel betrayed enough already.
Uconn 32, Umass 15
San Jose State at Colorado State
The Spartans are doing their best to soldier on after the loss of quarterback Nick Starkel, whose throwing arm was injured during a 23-3 loss at Western Michigan. In his absence, Nick Nash completed 15 of 18 with three touchdowns, albeit in an alarmingly close 37-31 win over New Mexico State.
The 1-3 Rams must now be incredulous that they ever let their home game against Vanderbilt get away. After losing that game on a last-second field goal, they stifled Toledo 22-6 on the road, and then went to Iowa City to give a surprising 24-14 tussle to the highly-ranked Hawkeyes. Now they return to Fort Collins in search of their first home victory of 2021.
Please, CSU, spare us the arse-ugly uniforms with the orange horns and the letter "A" decals. Those references to the school's previous identity as Colorado A&M have become ubiquitous, to the point that it's a surprise when the Rams are adorned with their modern-day official colors of green and gold. The College Football Czar cannot account for this unjustified nostalgia. It's not as if the program had anything to be proud of in its pre-State era. In the annuls of public figures who never accomplished a stinkin thing, the old Colorado A&M Aggies rank somewhere between Rachel Carson and Yahoo Serious.
Colorado State 19, San Jose State 17
a sports publication from The Shinbone