The College Football Czar
Week 6
<![if !vml]>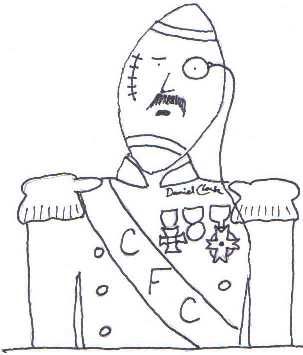 <![endif]>
Week five in review:  If you're wondering why the Czar's picks are being published a day early this week, he was forced to make that decision due to unforeseen events.  Well, all right.  It wasn't unforeseen, exactly, at least not since this year's NHL schedules came out, with the Pens and Caps opening this Thursday.  As the Czar usually asks when working a short week, please excuse the relative lack of coheritude of this week's picks.
The big story of the week was that Clemson quarterback Kelly Bryant quit the team upon being demoted to second string, and was therefore unavailable to enter the game against Syracuse when new starter Trevor Lawrence was injured.  The College Football Czar was pleased to see the Tigers rally around third-stringer Chase Brice, but also dismayed to hear that coach Dabo Swinney was thinking of pleading with Bryant to come back.
It's one thing to transfer during the offseason, but once the games began, Bryant was a 2018 Clemson Tiger.  It's a team game, and he had lots of teammates counting on him, and he abandoned them.  For that, he deserves the scorn of football fans everywhere.  But no, nonjudgmentalism remains the order of the day, just like it did after Christian McCaffrey and Leonard Fournette bypassed their "meaningless" bowl games in order to protect their draft standing.  What else should we expect, now that we've reached the point where making a good play for one's team is not enough.  Nowadays, a linebacker who's just tackled an opponent for a loss needs to run immediately to the sideline and put on the Tackle-For-Loss Tiara, so that he can be seen to have been personally validated.
Son of Clem's 27-23 comeback victory set the tone for another week in which college football was plagued with injuries, but not upsets.  There were two Top Ten teams that lost, but that was inevitable, since those teams were playing opponents who were in the Top Ten themselves.
It was another tough week for the Czar, who needed a win in the late night Oregon-Cal game to remain over .500 for the week, at 10-8.  For the season, he is now 55-38, for a .591 winning percentage.  If he were to keep up this pace for the rest of the season, it would result in his lowest winning percentage since he started publishing his picks online, in 2010.
Note to all the players whose hair is obscuring the names and sometimes the numbers on the backs of their jerseys:  If you've been auditioning to become the new Philadelphia Flyers' mascot, you can stop now.  So go to the barber and get on with your lives, already.
Have you seen the Flyers' new mascot, Gritty?  Yeesh!  Where's Randall Simon when you really need him?
Oct. 5
Georgia Tech at Louisville
Some uncalled-for first-half risks by Tech coach Paul Johnson cost his team a 24-19 decision at Pitt in Week 3, which means the Yellowjackets still haven't won a game away from Bobby Dodd Stadium since the end of the 2016 season.
Sophomore Cardinal QB Jawon Pass has yet to convince his coaches that his name is meant ironically.  So far this year, Pass has four TDs and seven interceptions, while barely completing a majority of his passes.  Last week against Florida State, Pass was picked twice late in a 28-24 Seminole comeback, the Cards' first home loss in just plain Cardinal Stadium.
The U of L, remember, terminated Papa John's naming rights for the stadium after the pizza chain's founder admitted to using a racial slur.  They probably feel good about themselves for having done that, but they'd feel better if they got a new sponsor, and actually had some hope of ever paying off the 20-year-old facility.
Georgia Tech 19, Louisville 16
Middle Tennessee at Marshall
The 2-2 MT-heads have been bounced twice by SEC opponents on the road.  When they scheduled three games against that league, they probably thought they'd given themselves a break in that third one, at Kentucky in mid-November.
The Thundering Herd held off rival Western Kentucky 20-17, to improve to 3-1.  Their wins have all been close, however, against two 1-4 teams (WKU and Miami Ohio), and Division I-AA Eastern Kentucky.
Blue Raider coach Rick Stockstill eschewed overtime by going for two late in regulation time, and got it, with a little help from his son, QB Brett.  The 25-24 victory toppled C-USA favorite Florida Atlantic and its loudmouth coach Lane Kiffin.
Eschewing is a popular major at MTSU.  They're not sure what it means, but don't it sound fancy?
Middle Tennessee 30, Marshall 22
Utah State at Brigham Young
This traditional battle for the Old Wagon Wheel has been won by BYU 40 times out of 64.  One day, the Cougars will hook up all those wagon wheels to the team and take a road trip to Ogden to whoop it up.
In Week 2, the Aggies avenged last year's Arizona Bowl overtime loss to New Mexico State in a 60-13 thrashing.  USU kicker Dominik Eberle went 6-for-6 in field goal attempts, booting not one but four 51-yarders.
Believe it or not, that maligned Cougar offense from 2017 actually hasn't improved at all this season.  Its current average of 295 yards per game is 30 yards below last season.  It has, however, made slightly more efficient use of that yardage, scoring 4.3 more points per game than a year ago.
Utah is called the Beehive State, and you'd know why if you've ever seen the women's hair in one of those documentaries about polygamist camps.  Okay, so they're not allowed to consume alcohol, but at least let those poor girls have some beer to shampoo with.
Utah State 27, Brigham Young 17
Oct. 6
Syracuse at Pitt
The rationalization du juor for the Panthers' increasingly humiliating season is that they're really better than people think, but are suffering from the rigors of the nation's toughest nonconference schedule.  How that explains a 38-35 loss to North Carolina is a mystery.
The Orange won last year's game at home in the Carrier Dome, 27-24, holding the Panther running backs to a total of 49 rushing yards. That won't be so easy this year, with revitalized senior Qadree Ollison averaging 5.9 yards per carry.  Besides, the Cuse has been cursed in the Iron City since they last won there, in 2001, Pitt's inaugural season at Heinz Field.  The Czar finds that streak of futility peculiar.  You'd think their mascot, Otto, would be able to get the Heinz family to pull a few strings, Ja?
Pitt home games this year have featured appearances by gigantic-headed mascots depicting Panther greats Mike Ditka, Tony Dorsett, Dan Marino and Larry Fitzgerald.  It would be interesting to see how this year's team would fare against those guys.  Not the ex-players, that is, but the people inside those costumes.
Pitt 21, Syracuse 20
Kansas at West Virginia
WVU wobbled to a 42-34 win over Texas Tech, with an interception return by cornerback Keith Washington accounting for the Mountaineers' only second-half score, after they knocked Tech QB Alan Bowman out of the game.
The 2-3 Jayhawks didn't play badly in a 48-28 loss to Oklahoma State, but they've fallen to 0-2 in Big XII play, and their schedule doesn't get a whole lot more cooperative.  KU went plus-6 in turnovers in each of its two victories this year, which is great, but is that really what it takes for them to win?
Jayhawk coach David Beaty has no idea what he's getting into when he travels to Morgantown, and that's not just because the game is a mismatch.  Beaty is bound to be hounded by autograph seekers who think he's the guy from Deliverance, and repeatedly beg him to say, "Wheeeh!"  Still, things could be worse.  At least he's not the one with the purty mouth.
West Virginia 49, Kansas 27
Clemson at Wake Forest
Anybody who saw what happened to Trevor Lawrence last week must be shocked that he is expected to start against the Demon Deacons.  The freshman looked as if he might permanently be transformed into a flamingo lawn ornament last week against Syracuse, when he took a shot to the head and neck at the end of an overzealous sideline scramble.  It looks like the Tigers have at least one quarterback who feels a responsibility to his team.
The Czar expected the Demon Deacons to be a continually improving team this season, but not if they continue to allow 461 yards per game.  The firing of defensive coordinator Jay Sawvel after four games had little impact on last week's 56-24 win over Rice.
Wake doesn't really need a defensive coordinator, anyway.  If, on the other hand, you look at those uniforms they have at Maryland, now there's a coordinator who has reason to be defensive.
Clemson 34, Wake Forest 30
Oklahoma vs. Texas
This Red River Rivalry often seems like about as fair a fight as John Wayne and Montgomery Clift slugging it out in the final scene, but just as in the movie, Monty has stood his ground surprisingly well.  In the past four years, unranked Longhorn teams have tangled with ranked Sooner squads, losing three of those games by five points each, and winning by seven in 2015.
As punishment for being late for practice last Friday, Sooner quarterback Kyler Murray was not allowed to start on Saturday against Baylor.  So he went in on the second series instead, and wound up throwing for 432 yards and six touchdowns in a 66-33 bombardment of the Bears.  The Czar trusts he's learned his lesson.
There wasn't nearly so much O in the 4-1 Longhorns' 19-14 win at Kansas State, in which the pointy cows scored on an interception return, and then added a safety, with the offense chipping in only ten points of its own.  Sam Ehlinger's 207 passing yards came on 29 tedious completions, with the longest offensive play from scrimmage being good for only 21 yards.
And to think there are those who say the Duke was not a very good actor.  How else does a guy manage to actually fall down after getting punched by a noodle-boy like Montgomery Clift?
Oklahoma 41, Texas 27
Kentucky at Texas A&M
The Wildcats have started 5-0 for the first time since 2007, when they struggled through a daunting second-half schedule and went on to defeat Florida State in the Music City Bowl.  They haven't gone 6-0 since 1950, when they won the Sugar Bowl over Oklahoma, and really, the remainder of this year's schedule looks a lot more like it did that year, when they stormed through a series of .500-ish teams, before losing their regular season finale to an 11-win Tennessee team.
The Conjunction Boys' only two losses have been to Alabama and Clemson, but they were awful in eking out a seven-point win over Arkansas, and their wins over Louisiana-Monroe and Division I-AA Northwestern State of Louisiana don't say much for them, either.
A&M coach Jimbo Fisher has refreshingly defended himself from criticism over his confrontation with linebacker Tyrel Dodson during last week's 24-17 win over the Razorbacks in Arlington.  That's no small matter, considering how Kansas' Mark Mangino and South Florida's Jim Leavitt were once fired over vague insinuations of not-so-niceness, and Bob Davie came under similar criticism last year at New Mexico.  Dodson, a defensive team captain, says Fisher was right to grab his facemask while trying to settle him down, and prevent him from getting himself ejected from the game.  Nevertheless, we can expect the coach to come under continued criticism for demeaning his player, and being anti-self-esteemy in general.
Kentucky 28, Texas A&M 23
Utah at Stanford
The Cardinal lost to Notre Dame 38-17, and also lost Bryce Love to yet another injury, this time to his right ankle.  If they can't come up with a competent running game to back off the Utes' defense, quarterback K.J. Costello will never get to Who's On First.
The Utes are 0-2 in Pac 12 action after letting one get away at Washington State.  A defense that had contained the Cougars for most of the game relented in the fourth quarter, and allowed an 89-yard touchdown pass in a 28-24 setback.  They don't face the same big play threat this week, though, and their DBs are tall enough to contend with the trees' receiving corps.
If you happen to be among the segment of the population that continues to insist that Who's On First is funny, please seek help.  Sure, the Czar admits he thought it was funny too, when he was eight.  Back then, he used to laugh at Larry Storch's "Who says I'm dumb?" line in F-Troop, too.  Live and learn.
Utah 21, Stanford 17
Iowa at Minnesota
The Hawkeyes have won five of the last six in the Floyd of Rosedale series, in which the teams compete for possession of a bronzed, state fair blue ribbon-winning hog.  Originally, the winners were presented with a real hog, but that was during the Great Depression, so the hog got et, naturally.
The Golden Gophers tried to Row the Boat in the Chesapeake, when they tragically discovered that subterranean rodents cannot steer a boat, and went under in a 42-13 loss to Maryland.  Good thing they're going home to the upper Midwest, where their lack of seamanship is less of a factor.  Unfortunately, the same can't be said of their run defense, which allowed 315 rushing yards to the Terrapins.
Floyd may be a funny name for a pig, but remember that the trophy was first awarded in 1935.  If it were just minted today, they'd probably name it something like Aidan, or Becca.  If there's anything the Czar can't stand, it's trendy livestock.
Iowa 34, Minnesota 16
Florida State at Miami
You'll have to excuse the Hurricanes for their slow start this year.  Sure, their football has suffered, but Saving The Planet doesn't come for free, you know.  They finally played like they meant it last Thursday, in a 47-10 drubbing of North Carolina, which must mean they've already succeeded in eradicating the scourge of evil plastic drinking straws.
Whereas the Canes finally turned to backup quarterback N'Kosi Perry during that game, their foes from Tallahassee have been determined to stick with Deondre Francois, who had his best statistical game of the year in last week's 28-24 win at Louisville, but still needed lots of help from his defense in order to pull that game out.
The Seminoles sealed that victory in The Ville with a pair of late interceptions, by A.J. Westbrook and Stanford Samuels.  What the Czar would like to know is, how does anyone know they did it?  I mean, they didn't put on any interception galoshes, or anything!
Miami 23, Florida State 10
Notre Dame at Virginia Tech
The Fighting Irish managed to survive three ugly weeks in which head coach Brian Kelly must have been the only person in America not to know he'd been playing the wrong quarterback.  In two big wins over Wake Forest and Stanford, new starter Ian Book has changed their story line from one of overhyped behemoth to legitimate national championship contender.  Looking at their remaining schedule, there's not a lot else standing in their way until season-ending games against Syracuse and USC.
How bad was the Gobblers' upset loss at Old Dominion two weeks ago?  Maybe not as much as it seemed at the time.  Tech has since manhandled a ranked Duke team 31-14, while ODU barely lost to East Carolina on a late field goal, 27-25.
Too bad the Irish don't play Miami this year.  With the Hurricanes proudly embracing their sociopathic past, if the Irish could "throw Book at them," it would seem like old times.
Notre Dame 24, Virginia Tech 13
LSU at Florida
Give Ed Orgeron credit.  No, really!  The College Football Czar didn't think he was a good hire either, but the third-year Tiger coach is now 20-6 in Baton Rouge, with a 5-0 mark this season that includes victories over Miami and Auburn.
The Gators are putting some more chomp in their defense by relying more on the blitz, as they did very effectively in mauling Mississippi State 13-6.  Will they be able to find their targets as quickly while being impeded by the always stout Tigers' offensive line?  The Czar thinks not.
Former UF coach Steve Spurrier has offered a challenge to former LSU coach Fewer Miles, that if the Tigers win, he will eat some of the grass from their stadium.  If, on the other hand, the Gators are victorious, Miles must wear the Old Ball Coach's visor.  That's hardly a fair bet.  I mean, who would have any serious problem eating a little grass?  But a visor?  If we forced one of the detainees at Guantanamo to wear a visor, the ACLU would raise hell – and for once, they'd have a point.
LSU 21, Florida 6
Arizona State at Colorado
Eno was enough last week against Oregon State, when Sun Devil tailback Eno Benjamin rushed for a team record 312 yards, while scoring four TDs in a 52-24 runaway.  Perhaps that result will temporarily pacify the Herm headhunters, after ASU had suffered consecutive seven-point setbacks against San Diego State and Washington.
Okay, so the Buffaloes are 4-0, but the three Division I-A opponents they've beaten – Colorado State, Nebraska and UCLA – have a combined record of 1-12.  The toughest part about those games for CU was getting out of the way when they heard the announcement, "Your opponent will self-destruct in five seconds."
Note to the GameDay crew:  You've never once in your life heard Herm Edwards say, "You play to beat the spread," have you?
Arizona State 45, Colorado 28
Boston College at Nc State
The 4-1 Eagles got back in the W-column with a wild 45-35 win over Temple, but they lost leading rusher A.J. Dillon to an ankle injury, and his status for this week's game is uncertain.  In his first five games, Dillon has rushed for 652 yards and scored seven touchdowns.
The Wolfpack are still undefeated, with a little help from mother nature, who nixed their Week 3 meeting with West Virginia.  Still, their schedule has gotten a little tougher lately, but the wins haven't come much less easily, in beating Marshall 37-20, and Virginia 35-21.  BC doesn't look nearly as sharp in recent weeks.  Against the Owls last game, the two teams combined for 21 penalties and five turnovers.
It's good to see that Nc State and East Carolina – each of whom had a game wiped out by Hurricane Florence – have agreed to play each other on Dec. 1st, but should Wolfpack fans be excited by that?  The decision makes total sense for ECU, but what are the Pack's expectation's for this season, that they're currently undefeated, but already planning to be available on the day of the ACC championship game?
Nc State 22, Boston College 19
Navy at Air Force
The loser of this game is out of the race for the Commander-in-Chief's Trophy, and might not be left with a lot else to play for this season.  The Midshipmen are now 2-2 with losses to Hawaii and SMU, while the Falcons are winless so far against Division I-A competition.
How bad have things gotten in Colorado Springs?  The Lightning Eleven are four games into the season, and their leading rusher has only 219 yards.  That player, fullback Cole Fagan, has gotten 58 carries, for a meager 3.8 yard per carry average.  Meanwhile, the Middies' leader is quarterback Malcolm Perry, with 530 rushing yards and 6.2 per carry.
Awarding the trophy gives Commander-in-Chief Donald Trump another big victory, in that he's been fighting with local Washington politicians over whether to put on a military parade like the ones he's seen on Bastille Day in France.  Well, on the day that one of these teams, or else their common rival from West Point, comes to the White House to pick up the hardware, there will be over a hundred military men walking around D.C.  Hence, a mitary parade.
What.
Navy 35, Air Force 23
Tulane at Cincinnati
All those coaches who are struggling with their new teams can take heart in the job Luke Fickell is doing in his second year at UC.  At 5-0, with a road win over UCLA and a big comeback to beat Ohio, the Bearcats could be among the first teams to qualify for bowl eligibility this season.
TU donned its ferocious "Fear the Wave" helmets last Friday night, when they wiped out Memphis 40-24 in their American Athletic Conference opener.  The Wave outrushed the Tigers 318-31, as their top three ground gainers took more than seven yards per tote.
The College Football Czar could never understand why Adam Sandler thinks he's some kind of an athlete, but perhaps he thinks he and Fickell are one and the same.  Just look at them.  They've got the same facial expressions, the same haircut, and they've each made the same number of movies worth a crap over the past 20 years.
Cincinnati 30, Tulane 27
a sports publication from The Shinbone