The Original College Football Czar
Week 5
<![if !vml]>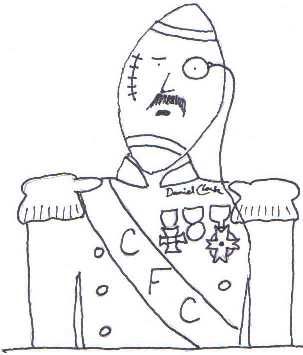 <![endif]>
Week four in review: After three weeks of sparse schedules with relatively few competitive games, Week 4 finally paid off with a seemingly never-ending series of great finishes, especially in the late afternoon games. With only two games being played between ranked teams, few of the others were expected to be competitive, but it turned out that four ranked teams were toppled, and four others won by eight points or fewer. That doesn't even include Auburn's tainted victory over Georgia State, which was punctuated by a pick-six to provide a ten-point margin. The Tigers' last-minute go-ahead touchdown had been aided by a blown call allowing a 19-yard pickup, when the ball had clearly been trapped. The replay officials incredibly allowed the play to stand. So much for the old "the important thing is to get the call right in the end" defense.
The creeping takeover of sportscasting by gambling interests is demonstrably enstupidifying the alleged college football analysts in the media, as demonstrated by Bowling Green's victory over Minnesota. If you thought announcers and studio hosts were dramatically exaggerating the magnitude of this upset, you're right. Fans who closely follow the game know that the Golden Gophers' air attack abandoned them last year, and also that their dominant offensive force coming into the season, running back Mohamed Ibrahim, was lost for the season after being injured against Ohio State. So, what we have here is a second-echelon Big Ten team that had lost most of its offensive firepower, getting toppled by a team from the MAC. How big a deal is that, really?
The uproar was due entirely to the betting line, which sportscasters largely allowed to overrule their own analytical abilities. For the sake of any lardheads out there who are still unaware, the games are about the games, and not about the gamblers. The betting lines do not indicate what should be expected to happen in the games; they only demonstrate how the oddsmakers expect people to bet. To put it mildly, gamblers do not know as much as they think they do. They considered Minnesota to be such an overwhelming favorite, based largely on reputation. However, the radiant rodents are not nearly as good a team as they've been for a few years, and the Falcons seem to be slightly improving. So BGSU was not expected to win the game, but as upsets go, it hardly ranks up there with Douglas-Tyson. Anyone whose job it is to analyze and report on college football, who declared this to be a historically unlikely result, was suspending his own judgment in favor of that of the Vegas wiseguys, who themselves were not even trying to predict the outcome of the game. That's just plain lazy, but hardly surprising.
The week started out terribly for the College Football Czar, who went 0-2 last Friday, and then was faring poorly in the early games, until UTSA's comeback against Memphis turned things around. They turned again at the very end, however, as the Czar lost late games in which he'd picked USC and California. For the week, he finished 10-8, for an overall record of 52-32, and a .619 winning percentage.
Oct. 1
Houston at Tulsa
In spite of an opening 19-17 loss to Division I-AA Cal-Davis, the Golden Hurricane were very competitive against both Oklahoma State and Ohio State, before finally breaking through to beat Arkansas State, 41-34 last Saturday. Through a third of the season, QB Davis Brin has passed for 1,208 yards, but his five TDs are only equal to his number of interceptions.
The Cougars are on a three-game winning streak, but their opponents during that stretch have been woeful Rice, I-AA Grambling, and winless Navy. In last week's AAC opener against the Midshipmen, Marcus Jones scored on a first-quarter punt return to pace them to a 28-20 victory.
It's only a matter of time before TU becomes the latest victim of the sensitivity police, and is forced to change its helmet in order to avoid offending people. Sure, the helmet logo is only the script word "Tulsa", which seems innocuous enough, but just try reading it backwards!
Tulsa 29, Houston 24
Iowa at Maryland
The undefeated Hawkeyes rushed for only 1.7 yards per carry, while gaining just 278 total yards, in a halfhearted 24-14 win over visiting Colorado State. The question is just how far below their standard that performance really was. Their current Top Five ranking is based on the strength of their early victories over Indiana and Iowa State, but neither of those teams has played up to its expectations so far.
Terrapin quarterback Taulia Tagovailoa seems to have taken care of his turnover problem, which ought to have the rest of the Big Ten trembling. Through a 4-0 start, Tua II has tossed ten touchdowns to one INT, as opposed to last season, when he threw seven of each. Part of the reason, though, is that he hasn't had to be protected from a defense like Iowa's, which is only allowing 10.2 points per game this season.
Tagovailoa may be a tough name to get a handle on, but what about the name of the team he's playing? Some linguists would argue that Iowa is completely devoid of consonants. I you've ever driven through the state, you've probably gotten a feeling that something was missing. Now you know what.
Iowa 23, Maryland 19
Oct. 2
Pitt at Georgia Tech
Panther coach Pat Narduzzi downplayed his team's Week 3 loss to Western Michigan, as he often does, by pointing out that "it wasn't an ACC game." This has been a common refrain throughout his six-plus years in the Iron City, even where bowl games are concerned. Against Division I-A nonconference opponents, Narduzzi has a record of just 9-14. For whatever it's worth, he really has been more successful in conference games, with an ACC record of 29-21.
In last year's finale in Atlanta, running back Vincent Davis led the undermanned Panthers to a 34-20 victory with a career-high 247-yard game. The junior's second-best total also came against the Yellowjackets a year earlier, but that mark was a comparatively meager 67 yards.
Tech was toppled in its opener by Northern Illinois, which had gone 0-6 in 2020. They have since lost a close one to Clemson, and then slobberknocked North Carolina, 45-22. So perhaps coach Geoff Collins is indifferent to nonconference games as well.
Memo to Dooz: Success within the conference doesn't count for much if you don't perform well in your other games. That's why you don't see Panther fans walking around in 2018 ACC Coastal Division Champions tee-shirts. You only went 7-7 that year, by going 0-4 against I-A teams outside the conference. You even dismissed the importance of the Sun Bowl the day before the game, based on Stanford's being a nonconference opponent. You lardhead.
Pitt 30, Georgia Tech 27
Indiana at Penn State
The way the Nittany Lions lost last season's game, along with their home field advantage in this rematch, and the Hoosiers' disappointing play thus far, adds up to a merciless revenge beating in Beaver Stadium on Saturday. A year ago in Bloomington, the Nittany Lions dominated in total yardage, but they made the mistake of scoring to lead by eight instead of killing the clock, and ended up going to overtime. That's when IU converted a fourth-and-goal with less than an inch to spare. By the end of a lengthy review, they had handed James Franklin's team the first of five losses to open the season.
The Hoosiers withstood a resilient Western Kentucky team, 33-31 on the road, to level their record at 2-2. Although they were presumed to be the emerging power in the Big Ten East before the season kicked off, it's becoming increasingly difficult to figure why they should be expected to beat any of the other six teams in their division. Both of their leading ground-gainers are averaging under four yards a carry, and QB Michael Penix has already exceeded his interception totals from each of the past two seasons.
PSU defensive tackle P.J. Mustipher insists that he and his team don't believe in revenge games because, "We can't go back and change time." That, of course, misses the whole point of revenge, which is not to undo the previous event, but to punish the perpetrator. In Once Upon a Time in the West, Charles Bronson has no illusions about going back and changing time so that his brother would still be alive. His only mission is to kill Henry Fonda, which he does. Mustipher is not selling the Czar on the idea that the Lions do not believe in this.
Henry Fonda didn't often play the villain, but when he did, he was great at it. Had he saved a little bit of that personality for his kids, they might not have remained such booger-eating toddlers into their 70s.
Penn State 38, Indiana 13
Texas Tech at West Virginia
The 3-1 Red Raiders will be without quarterback Tyler Shough for at least a month, because of a broken collarbone. Not that he would have helped their tackling any, in a 70-35 trampling by rival Texas, during which they yielded 639 total yards. TT will turn to capable senior Henry Colombi behind center, to keep the team on target for a winning season through a series of winnable October games.
WVU threw a scare into Oklahoma last week, before falling by a final of 16-13, on a last-second Sooner field goal. That might sound kind of impressive, until you realize that it only puts the Mountaineers on par with Tulane and Nebraska. It was the second game they'd let get away after entering the fourth quarter with a lead, the other being their opening 30-24 setback at Maryland.
Eers kicker Casey Legg has been perfect so far this season, going 6-for-6 in field goals, and making all 14 of his extra points. Too bad they don't do TV commercials for L'eggs panty hose anymore. Gender fluidity being all the rage these days, he might have scored himself a nice NIL contract.
A few years ago, TV Land was showing classic commercials during its programming, including a L'eggs ad from the early 80s. Frankly, the Czar had never given Joyce DeWitt credit for having such a fantastic set of gams. He knew it had to be something that got her a regular TV gig, though, and acting sure wasn't it.
West Virginia 19, Texas Tech 17
Ole Miss at Alabama
It won't take long for the Crimson Tide to figure out that Southern Miss is no relation to Ole Miss, and that last week's 63-14 stroll over USM is irrelevant to this week's SEC West blockbuster. They only have to remember as far back as last season, when the game was tied 42-42 in the fourth quarter before Bama pulled away, 63-48.
Whether or not the pachyderms have improved over last year is difficult to tell, but the Rebels assuredly have. After a 5-5 finish in 2020, they've started this season 3-0, while averaging just under 53 points per game. They haven't done that by trying to satisfy the "eye test", either, as one might expect from coach Lane Kiffin. Instead, his team has taken it easy in the second half against each of his three opponents.
The only game for either team that's been anywhere close has been the Tide's two-point escape against Florida. So how good are the Gators, as opposed to this Mississippi team? In the Czar's estimation, it's no contest. For starters, reckless scrambler Emory Jones can't compare to prolific Rebel passer Matt Corral. Traditionally, UF would make up the difference defensively, but their D actually rates slightly below the Rebs, giving up nine more yards per game.
If Southern Miss and Ole Miss really were one and the same, then they could replace their Colonel Rebel mascot with ole southern miss Dolly Parton, and the controversy would be over. Of course, then they'd have the college feminists making a racket about the new logo, no matter how much airbrushing they did.
Ole Miss 45, Alabama 42
Baylor at Oklahoma State
How about a little applause for the Waco kids? Against Big XII co-favorite Iowa State, BU was outgained by almost 200 yards, while also committing exactly 100 yards in penalties. And yet, they stopped the Cyclones 31-29, foiling a two-point conversion with less than a minute to play. The Bears are now atop the conference standings at 2-0, but their next five league games are against OSU, West Virginia, Texas, TCU and Oklahoma.
The Pokes finally started jabbing a little harder last week, in their conference opener against Kansas State. The 31-20 final was their biggest margin of victory so far in 2021, and it wasn't really that close. Running back Jaylen Warren must have wabbit in his blood, because the Cowboy coaches have decided to let him scamper. In his past two games, the little-used senior has suddenly gotten 59 carries, with which he's gained 341 yards.
The Cowboys are celebrating the tenth anniversary of their 2011 Fiesta Bowl team that was controversially (well, not really) left out of the BCS championship, in which Alabama blanked LSU in a replay of the "Game of the Century" from earlier that season. Coach Mike Gundy the Man still contends that it should have been his team playing the Tigers, instead of the Crimson Tide team that had lost that previous 9-6 slugfest.
"At that time," he misremembered, "LSU was scoring maybe 20 points a game and was happy with it." In fact, that 2011 Louisiana State team averaged 35.7 points per game. When they weren't playing Alabama, they scored 40.9. Furthermore, Bama and LSU only lost to each other that year, whereas Gundy's guys were upset by an Iowa State team that finished 6-7. As excellent a team as he had that season, they so completely didn't belong in the BCS title game that the 2011 season could actually be used as an argument against expanding the field to four.
"That still bothers me, that we didn't get a shot, and if the system was set up like it is now, we would have been in the playoff," he continued. " But I don't dwell on it like I used to." Really, coach? How did you use to dwell on it? He sounds like the chauffer in The Big Lebowski, telling the Dude the "you know me, I can't complain" joke.
Oklahoma State 33, Baylor 25
Cincinnati at Notre Dame
The 4-0 Fighting Irish have feasted on poor quarterbacking, especially in last week's 41-13 win over Wisconsin, in which they scored back-to-back pick-sixes in the fourth quarter. Unfortunately for them, Bearcat bomber Desmond Ridder is not too large to fit through the visitors' tunnel.
UC has had a week off to prepare for its first-ever meeting with the golden domers. In Week 3, they spotted Indiana a 14-0 lead. Whatever a bearcat is, they were lucky it was able to afford the loss of a few spots, so they could come back to win 38-24, with the help of four takeaways.
Irish QB Jack Coan left last game with an ankle injury in the third quarter, but he has been practicing, and might be able to start. The College Football Czar suspects we'll see some variation of the Pyne-Coan duo, with freshman Drew Pyne seeing significant playing time, after an encouraging performance in relief.
The Catholics might need to call in the exorcism team for this one. If you look above that "C" on the Cincy helmets, you'll see that each player has a series of four sixes on his head. That makes them 133 percent evil!
Cincinnati 24, Notre Dame 14
Arkansas at Georgia
UGA is one presumptive national contender that hasn't gone wobbly so far. A week ago, they scored five touchdowns in the first twelve minutes of game time, in a 62-0 annihilation of Vanderbilt. Freshman tight end Brock Bowers scored a rushing touchdown on an end-around, to go along with two TD catches.
The Hogs ran wild early in last week's battle with Texas A&M in Arlington, but the second half went to slop, as they slogged their way to a 20-10 win. Quarterback K.J. Jefferson left the game briefly after taking a shot on the knee, but soon returned and should be ready to go against the Dogs.
The first four games between these two clubs came in bowl games, but of course they've met with greater frequency since Arkansas joined the SEC in 1991. The Razorbacks are 0-5 against the Bulldogs all time back in Fayetteville, but here in Athens, between the hedges, they're 2-2. Could it be that hedges are not that great an intimidation factor after all?
If there's a bustle in your hedgerow, it's probably a bunch of ornery pigs. That's the way the rough draft went, anyway. Then, Jimmy Page and Robert Plant sobered up and decided it was bleeding silly.
Georgia 34, Arkansas 15
Boston College at Clemson
In last year's 34-28 comeback victory over BC, Tiger quarterback D.J. Uiagalelei went 30-for-41 for 342 yards and two TDs in his first career start. It's hard to imagine how, when you watch his mechanics. The super-sized sophomore seldom steps into his throws, but instead often stands with his feet spread horizontally, and furiously rotates his torso as if he were trying to escape from the La Brea Tar Pits.
After a 41-34 overtime win over Missouri, Eagle fans are going to have to learn how to say the name of Pat Garwoiii. The third-year sophomore running back dashed for 175 yards and two touchdowns, both career highs to this point.
So the Eagles are 1-0 against Tigerses so far this year. One might think that highly significant, if one were a lardhead. In reality, any team that needed OT against Mizzou, after beating up on Temple, Umass and I-AA Colgate, is not ready to jump into its ACC schedule against the six-time defending conference champions.
What's that you say? It's Garwo the third, and not Garwoiii? Oh, sher! Like there have really been three Pat Garwos!
Clemson 23, Boston College 13
Oklahoma at Kansas State
Wildcat QB Skylar Thompson is apparently ahead of schedule to return from a knee injury, but he won't be back this soon. That means K-State will be counting on Will Howard or Jaren Lewis, who have combined to complete only 31 of 61 so far this season.
During the latter stages of OU's 16-13 struggle with West Virginia, the fans started chanting "We want Caleb." It turns out they were referring to freshman backup quarterback Caleb Williams. The College Football Czar had assumed that caleb was some kind of nasty Millennial food, made of cauliflower and drenched in ranch dip.
Vegetables are grown on a farm, not a ranch. No food should be allowed to be called ranch unless it contains beef. Calling that pasty puke ranch dip brings to mind an image of John Wayne and Gary Cooper sitting with their legs crossed and dipping carrot sticks, while arguing about who should win Dancing With the Stars.
Oklahoma 26, Kansas State 17
Arizona State at UCLA
The winner of this game becomes the prohibitive favorite to win the Pac 12 South, a week after the Bruins stopped Stanford 35-24, and the Sun Devils sporked Colorado 35-13. Elsewhere in the division, Southern Cal already has two conference losses, while Utah is playing poorly on the road.
This should be where we find out what effect all the offseason turmoil has had in Tempe. Head coach Herm Edwards appears as calm as ever, but three of his assistants remain out of the lineup while COVID-related recruiting violations continue to be investigated.
Quarterback Dorian Thompson-Robinson finished last Saturday's game with a shoulder injury, but is expected to play for the blue bears this week. Thankfully, he doesn't need to be as mobile, with the arrival of RB Zach Charbonnet from Michigan. The 220-pound ex-Wolverine is actually a native Californian, but he must not be an eco-dingbat like most of the people in his state, the way he leaves his Charbon footprints all over the field.
UCLA 38, Arizona State 35
Florida at Kentucky
The 4-0 Wildcats have already won their first two SEC games, but beating Missouri by seven points and South Carolina by six does not suggest they can beat a team that came a two-point conversion away from forcing overtime against Alabama. Last week, UK committed the game's only three turnovers at Carolina, but their defense stopped the Gamecocks on 3-of-3 fourth-down conversion attempts.
In an easy 38-14 runaway, the Gators tore up the field for 505 yards against Tennessee. Then again, who doesn't. They should be in for a better challenge than that against Mark Stoops' defense, which is ranked ninth in the nation.
Stoops needs seven more victories to tie Bear Bryant as the all-time winningest head coach ... at the University of Kentucky. That's kind of like tying Cool Hand Luke's egg-eating record from before he went to prison.
Florida 14, Kentucky 3
Michigan at Wisconsin
It looked like a typical Michigan-Rutgers game at halftime, with the Wolverines leading 20-3. In the second half, the maize and blue scraped up a meager total of 47 yards on six possessions, with four punts, a missed field goal, and a final series to run out the clock. The 20-13 victory kept them undefeated, but exposed their early-season offensive numbers as unrealistic.
The Badgers' big neutral-site game against Notre Dame in Chicago turned into a comedy of errors, with Ethel Mertz at quarterback. With his team already having surrendered 17 consecutive points, Ethel gave up two pick-sixes to finish the game on the wrong end of a 41-13 final score, even though the UW defense only allowed the Irish to gain 242 total yards.
Last week, the "W" on the Badger helmets was accompanied by a ribbon that said "FORWARD." No wonder their offense has been struggling so badly. They've given away their whole playbook.
Michigan 22, Wisconsin 13
Auburn at LSU
The College Football Czar still isn't buying into the SEC officiating conspiracy, but that conference really didn't need to have AU beat Georgia State with the aid of an enormous blown call, one week after the officials kept them in the game at Penn State.
The Czar thinks the real conspiracy is in the rankings. Bryan Harsin's Tigers have lost to their only power five opponent, everybody knows they should have lost to GSU, and they've beaten up on Akron and I-AA Alabama State. Nothing about that says Top 25, except that a 3-1 SEC team has to be ranked, because it just has to be.
Since the beginning of last season, the Bayou Bengals are only 7-6. During that time, the only two teams they've held under 20 points have been Vanderbilt and Division I-AA McNeese Don't-Call-Us-A-State. Ironically, coach Ed Orgeron's son Cody was quarterbacking that McNeese team, leading the only offense Ed's defense has been able to handle this season.
If Auburn gets another blown call in its favor this week, that proves the refs are crooked. On the other hand, since this is an SEC game, if it is called more fairly than the last two AU games, that proves the refs are crooked. With the lard, all things are possible.
LSU 31, Auburn 24
Washington at Oregon State
The 3-1 Beavers buzzsawed USC 45-27, on the strength of 322 rushing yards for a 6.3 per carry average. Having just recorded their first victory in the L.A. Coliseum since 1960, they're not likely to be intimidated by UW's current nine-game losing streak in this head-to-head series.
The 2-2 Huskies got stuck in the mush in an opening 13-7 loss to Division I-AA Montana, but they finally started pulling their weight against Arkansas State two weeks ago, and appear to be hitting their stride. A week ago, they forced a fumble at the goal line to preserve a 31-24 overtime win over California.
Before the season, it appeared unlikely that OSU would have a standout running back to take over for Jermar Jefferson. B.J. Baylor is well on pace to blow away the 1,000-yard mark, however, having already compiled 422 rushing yards and seven touchdowns through four games.
If the Beaver is Theodore Cleaver, does that mean the Husky is Larry Mondello? If so, he's not just coming over to mess around.
Washington 28, Oregon State 27
Louisville at Wake Forest
The ultimate dual-threat quarterback, Micale/Malik Cunningham, threw for two touchdowns and rushed for two more in the first half at Florida State. He and his Cardinals were held off the board in the second half, however, as they staved off a late Seminole charge, 31-23.
Don't look now, but if the Demon Deacons can beat the Cards, they could easily be 8-0 by the time they run into some serious resistance in November. After this week, their next three opponents are Syracuse, Army and Duke. What this really means, though, is that the reason they're starting to draw so much attention at this point in the season is that, unlike the U of L, they have not faced any opponents nearly comparable to Ole Miss.
If Wake were to start up a hockey team, it could be called the Dekeing Demons. That would be groovy.
Louisville 49, Wake Forest 45
Nevada at Boise State
It's beginning to look like the Wolf Pack need a new Sergeant Hulka to lead their ground game, because running back Toa Taua has been stubby so far this season. In two games against Division I-A competition, he has only gained 52 yards on 16 carries. That 3.3 yard per carry average is lower than he had in any single game in 2020.
The Broncos were in a statistically even battle with Utah State in last week's big noon game on CBS, but they thwarted three consecutive long Aggie drives in the first half. First, they forced a turnover on downs at their own 35-yard-line, then they blocked a field goal, and then intercepted a pass, to halt USU drives of 40, 63 and 58 yards, on the way to a deceptively lopsided 27-3 victory.
The Pack have had a week off since their first loss of the season, 38-17 to Kansas State, and they've probably needed it. By the end of that game, they looked as if they'd taken a big swing at the big toe, and for some reason done so with their left hand in their front pants pocket. Not very good form there, Winger.
Boise State 30, Nevada 21
Texas at TCU
Losing in Week 2 at Arkansas was not a good start for new Longhorn coach Steve Sarkisian, but his reaction to that result has been. Sark correctly second-guessed his decision to start freshman Hudson Card at quarterback. Behind junior Casey Thompson, the pointy cows have pummeled their past two opponents by a combined score of 128-35.
The Horned Frogs have won 6 of the last 7 games in this series, but they had also been dominating their Iron Skillet series against SMU, before getting panned by the ponies for 595 total yards a week ago.
What's more lardheaded than some SMU players trying to plant a flag at midfield on TCU's logo after last week's game? How about Frog coach Gary Patterson refusing to accept the apology of Mustang coach Sonny Dykes? Moreover, how about the appearance that his inconsolability is due to the fact that the Mustang Twitter page made fun of a song that Patterson had written about COVID?
"If I had the time, I'd go out and get all the copyright laws and I'd get after their [posterior]," he said, "but I've got the Longhorns on my mind right now." No, he doesn't, obviously. The man is practically beside himself because some people from a rival school are mocking his song! One must wonder how badly he'll be taken off his game if he ever notices that people laugh at him for wearing that dopey visor, especially in that ridiculous all-black getup he thinks is so cool.
Texas 61, TCU 44
Liberty at UAB
At long last, the Blazers christen their new home, 47,000-seat Protective Stadium, and junior quarterback Dylan Hopkins must be hoping it lives up to its name. Hopkins took over the starting job late in a Week 2 blowout loss to Georgia, and has guided Alabama-Birmingham to victories over North Texas and Tulane. For the season, he has completed 29 of 39 for 501 yards, with seven TDs and one interception.
The 3-1 Flames were stymied at Syracuse last Friday, where they lost 24-21 on a last-second field goal. LU could have made a go-ahead kick of their own midway through the fourth quarter, but coach Hugh Freeze eschewed the chip shot to go for a fourth-and-goal, and was stopped.
Protective Stadium is so named because its naming rights were sold to the Birmingham-based Protective Life Insurance Company. The College Football Czar finds that odd, in that an insurance company doesn't literally protect anybody, but only comes along to assist after the fact. Nobody has ever been saved by a bullet hitting the life insurance policy in the pocket of his suit jacket -- except maybe in some really crappy movie that nobody watches, starring ... oh ... Bill Pullman, or somebody.
UAB 35, Liberty 31
a sports publication from The Shinbone