The Original College Football Czar
Week 5
<![if !vml]>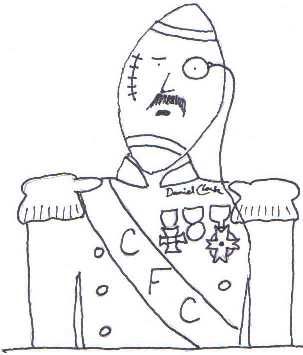 <![endif]>
Week four in review:  The race for the national championship remains intact as most fans envisioned it, but that doesn't mean there haven't been surprises.  The shocker of the season so far happened last Saturday, when #13 Virginia Tech was downed by Old Dominion, 49-35.  Not that the Gobblers had appeared invincible, but that's the same ODU team that got blown out of its opener against Division I-A newcomer Liberty 52-10, and lost to Charlotte 28-25 in Week 3.
Another, mostly unexpected development has been the struggles that some of this year's hot shot coaches are having with their new teams.  Nebraska's Scott Frost and UCLA's Chip Kelly are still winless on the season, and Willie Taggart at Florida State hasn't fared tremendously much better.
The Czar hereby nominates Brenda Tracy for the Lardhead of the Year Award.  Who is Brenda Tracy?  According to ESPN, she's "an advocate and public speaker who travels the country speaking to football programs about sexual assault issues," who intimidated Ohio State into taking down a tweet referencing this week's game at Penn State.  The tweet was under the heading, "Silence," and said that OSU would "silence the white noise," obviously meaning the crowd at PSU's Beaver Stadium.  But no!  Tracy declared, "Even if this is about a game, in light of the domestic violence and sexual assault scandals at OSU, this is inappropriate."  So, by saying, in so many words, "Hey Nittany Lions, shaddap," the Buckeyes were really using some sort of code language, meaning that alleged victims of sexual abuse must be silenced.  That's the kind of logic one would expect from someone who identifies as "an advocate and public speaker," instead of getting a job.    
The College Football Czar recovered somewhat from a woeful Week 3, but still did not have what he would consider to be a successful week, at 12-7.  For the season, his record stands at 45-30, for a .600 winning percentage.
Sept. 28
UCLA at Colorado
CU has swept through its nonconference schedule at 3-0.  The same was true as they entered conference play a year ago, but once the chips were down, the Buffaloes couldn't get back up again, as they fell to a record of 2-7 in the Pac 12.  One of their better performances during that stretch was a 27-23 setback against this Bruin team, in which the Buffs might have had a shot at a winning last-second field goal, if only they'd kicked one late in the first half, instead of going on a fourth-and-seven from the 11-yard-line.
The College Football Czar admits he didn't expect the Bruins to start 0-3, but he's not at all surprised that Chip Kelly is having a rough go of it in his first season in Pasadena.  When Kelly took over at Oregon, he'd already been offensive coordinator for a year, and was following Mike Bellotti, whose offensive philosophy was not altogether foreign to him.  Therefore, he had the kinds of players he needed to run his system there from day one.  To impose the same game plan on these plodding blue bears is like trying to squeeze a gigantic Charlie Brown head into a flimsy visor.
… Oh, wait!  Maybe he can do it after all!
Colorado 24, UCLA 22
Sept. 29
Pitt at Central Florida
These teams' only previous meeting was also in Orlando, in 2006.  The Panthers prevailed with surprising ease that Friday night, 52-7, convincing UCF to cancel the return game at Heinz Field.  In a prime example of the wit of Dave Wannstedt, the coach handed out wooden mousetraps to his players, signifying that he perceived that clash with the Knights as a "trap game."  Perhaps he thought he'd stumbled upon a pun.
This time the Panthers will need to bring those traps with them, and toss them in front of their opponents' feet like Harpo's banana peels.  The Knights may not be national champs, but if it weren't for Hurricane Florence, they'd have proven themselves far better than the North Carolina club that defeated Pat Narduzzi's team a week ago.  When UCF returned to the field a week later, it ran away from intrastate foe Florida Atlantic, 56-36.  That does not portend well for a Panther team that has been outscored 63-10 in the second half through four games.
UCF is rightly ridiculed, on these pages and elsewhere, for awarding themselves a faux national championship for last year's 13-0 record.  Few people around the nation realize, however, that the University of Pittsburgh boasts nine national titles, although they only have one in the post-WWII era.  In the old days, several teams often claimed the championship for the same year, because all they needed was to be selected by one among many publications.  The Czar has never actually bothered to research it, but he's pretty sure Pitt's 1929 title was awarded to it by Felix the Cat.
Central Florida 61, Pitt 28
Ohio State at Penn State
Both teams have been putting up huge numbers, the difference being that the Buckeyes don't have to wait until the fourth quarter to do it.  If they wanted to, they could have probably scored 90 last week against Tulane, but instead they shut the game down in the second half and cruised to a 49-7 victory.
The final score of last week's Nittany Lions' 63-24 win at Illinois would have us believe they innil-ated the Illini right from the opening kickoff, but this was far from the case.  In fact, PSU trailed 24-21 midway through the third quarter.  Up until then, their defense was getting carved up by the one-dimensional offense of a lower-echelon Big Ten team that was without its starting quarterback.  Yes, they eventually stepped up and closed off all the Fighting Illini's running lanes, but they should have done that two hours earlier, upon realizing that their opponents' passing game was nothing to fear.
The Czar doesn't believe in complaints about running up the score, at least not when the opposing teams are supposed to be on the same level, as in the case of conference rivals.  Still, it says something about coach James Franklin and his Nittany Lions that they felt the need for a 50-yard bomb while whaling on an already beaten team in the fourth quarter.  Among other things, it demonstrates that they know that the image left by a final score matters, whether it was truly characteristic of the game or not.  Anybody who watched them that night could see that they'd been caught flat-footed by an inferior opponent, which became the latest team to expose the susceptibility of their interior run defense, yet all that seems to matter is their final margin of victory.  Now that we've replaced the overly-hated BCS with a far more subjective system that factors in something called "the eye test," Franklin's approach to the game, though obnoxious, is only sensible.
Last year in Columbus, the lumpy nuts nearly doubled the Lions' output in total yardage, but turnovers and special teams evened the game out to the point where they needed to mount a furious rally to eke out a 39-38 victory.  The hero of that game, OSU quarterback J.T. Barrett, has since moved on, but so have a majority of PSU's star players other than QB Trace McSorley.
Like many big games at Beaver Stadium, this is designated as a "White-Out," which is a popular tradition at PSU, because it is named after a substance that is used to cover things up.
Ohio State 56, Penn State 35
West Virginia at Texas Tech
These long conference road trips usually take their toll on WVU.  Since becoming a geographical misfit in the Big XII in 2018, the team from Morgantown has a record of 6-12 in games played in the states of Oklahoma and Texas.
Both teams put on surprising demonstrations of defense last week, as the Red Raiders rolled over Oklahoma State 41-17, while the Mountaineers contained Kansas State 35-6.  We can expect a more typical Big XII shootout in this game, when Tech's young QB Alan Bowman lets fly in an attempt to topple Will Grier and the Eers.
Suave Tech coach Kliff Kingsbury will be appalled by the coiffure of his counterpart, Evil Phil Collins, just as he must have been last week, when facing OSU coach Somewhat Less Evil Billy Ray Cyrus.  What's the matter?  Can't these guys stop singing long enough to groom themselves?
Texas Tech 47, West Virginia 45
Stanford at Notre Dame
The Fighting Irish finally got smart by playing Book at quarterback last week at Wake Forest.  Ian Book, who had spent the season-opening three-game home stand on the bench behind Brandon Wimbush, threw for two touchdowns, and rushed for three more, in a 56-27 runaway at Winston-Salem.
It was the Cardinal who got all the luck last week, but they've got to be given credit for making the most of it, when arch rival Oregon flat-out refused two chances to put the game away.  It looked for a moment like the Ducks had led Stanford 30-7 and counting, until a touchdown call was correctly taken off the board by the replay officials, who actually got it right for a change, that the pylon is out of bounds.  A pair of wild shotgun snaps later, and Cardinal linebacker Joey Alfieri scored on a long fumble return to complete a two-TD swing.  Then, when it looked like UO might run out the clock, freshman running back C.J. Verdell struggled to make a first down his team didn't need that badly, and fumbled.  Card QB K.J. Costello then led his tree-like receiving corps downfield into range for a tying field goal, before ultimately prevailing in overtime, 38-31.
Wonder how Alfieri is able to run so fast?  He gets lots of practice, running away from irritating people who can't resist asking him what's it all about.
Stanford 29, Notre Dame 21
South Carolina at Kentucky
UK has been fined $100,000 by the SEC for allowing its fans to storm the field last week.  It's amazing that such a penalty was even necessary, in light of the 2002 "Bluegrass Miracle" loss to LSU, when grinning, lardheaded Cat fans were so intent on charging onto the field that they didn't even realize that their team blew it on the last play of the game.
The Wildcats hadn't lost nearly 31 games in a row against Mississippi State, yet their 28-7 stifling of the mud puppies was a far greater surprise than the previous week's historic victory over Florida.  At 4-0, and already having dispatched the third-toughest team on their schedule, they could be on their way to better than an 8-win season for the first time since 1984.  That is, unless they grow complacent against a Carolina team they've beaten four times in a row.
The Gamecocks went back to wearing their familiar fighting chicken helmets last week, when they clawed up Vanderbilt 37-14.  Junior running back Rico Dowdle polly-wollied all day on a formidable Commodore defense, for 112 yards and a touchdown on 20 carries.
Polly Wolly Doodle was not an alleged actress who famously said, "kiss my grits," but that's okay.  In SEC country, they do that without having to be told.
South Carolina 17, Kentucky 14
Army at Buffalo
Considering the way these two teams and Syracuse have all played so far, this has got to be the greatest year for college football in the Empire State since the 1987 Orangemen had their perfect season spoiled by a tie against Auburn in the Sugar Bowl.
The Black Knights played keep-away from Oklahoma, possessing the ball three times as long and running more than twice as many plays as the Sooners.  They were a minus-1 in turnovers, however, which proved critical, as OU intercepted them in overtime to survive a 28-21 scare.
The Bulls blew out Rutgers on the road 42-13, to improve to 4-0.  Still, a loss to the Cadets could jeopardize their postseason chances, with their next four games against Central Michigan, Akron, Toledo and Miami Ohio.  They sure don't seem ready for a slump, however, as their week-to-week results have been far more consistent than the wilder fluctuations from the West Pointers.
If some UB players were to transfer to the academy, would that make them Buffalo soldiers?  And if so, how high would that register on the NCAA's hostility-and-abuse-ometer?
Buffalo 26, Army 24
Brigham Young at Washington
This Husky team is just what BYU is usually looking for in an opponent – a very good team, but one with a methodical offense that lends itself to getting bogged down in a slugfest with the visitors from Provo, just like Wisconsin did two weeks ago.
Already, this Cougar team is 1-1 against Pac 12 opponents, but those have both been close games against teams that don't figure to contend.  A week after holding off Arizona 28-23, they were suffocated by the Cal Bears, 21-18.  Through four games, they're actually averaging five yards per game fewer than they did in 2017, when they ranked 118 out of 130 nationally.  So far this year, they're tied for that #118 spot, with UCLA, at 320 ypg.
UW beat up on the North Dakota Fighting Effeminate Birdy-Thingeys in Week 3, 45-3.  Subtract that result, and they're average score is a modest victory of 21-16 – which, coincidentally, was the final of their season-opening loss to Auburn.
The Cougs are excited about this road trip, because they've heard you can charter a boat in Seattle and sail out onto the Hi-C's.  To a Mormon, that's almost like drowning in beer.
Washington 13, Brigham Young 12
Florida at Mississippi State
The Bulldogs would rather have been playing better by the time former coach Dan Mullen came calling with his new team from Gainesville.  After last week's lopsided loss to Kentucky, and with a wicked October schedule approaching, MSU cannot afford an 0-2 start in SEC play.
The Gators did not have a breakout offensive game last week at Tennessee, as the 47-21 final might suggest.  Instead, their defense dominated, with four fumble recoveries, two interceptions, a turnover on downs, and a safety.
Coach Mullen is used to the sound of cowbells in Davis Wade Stadium, but they used to be happy, inspiring cowbells.  Now, they will be hostile, angry cowbells.  Surely this will prove critical to the outcome of the game.  How much do you expect a guy to take, anyway?
Mississippi State 25, Florida 14
Syracuse at Clemson
The Orange are looking for their first 5-0 start since their undefeated 1987 season.  You know, back when they were men.  Mind you, Florida State's fall has made the first third of this year's SU schedule easier than it's been in any of those years in between.
When the Tigers were toppled last year in the Carrier Dome, it was because coach Dabo Swinney left quarterback Kelly Bryant in the game for far too long when he was visibly limping.  There's no danger of that happening again, because Bryant is no longer even on the team, having decided to transfer now that Trevor Lawrence has been named the new starter.  If Lawrence gets injured this year, it's not clear the Cuse has a backup quarterback anymore, but unless that happens, Bryant's departure should actually help, by diffusing any team dissention from players who remained loyal to last year's starter.
Swinney was literally very lucky to find Lawrence, you know.  From the look of the young QB's publicity photos, he must have been the original girl whose face was on the milk carton.
Clemson 42, Syracuse 32
Purdue at Nebraska
What must those 85,000 fans be thinking who waited in vain through an all-night thunderstorm to usher in the Scott Frost era, only to have it start like this?  Aside from, "Gee, I'm wet and gullible," that is.  The head coach of last year's pseudo-champions from UCF is getting a rude introduction into the big leagues.  In last week's conference-opening 56-10 loss to Michigan, his Huskers were outgained 491 yards to 132.
So much for the old adage that a quarterback should never lose his starting job due to injury.  Elijah Sindelar, the Boilermakers' season-opening starter, is expected to return this week from an undisclosed injury.  In the meantime, David Blough, who has engineered a near-upset of Missouri and a big victory over Boston College, remains the starter.
An undisclosed injury?  They could at least have had the decency to sew the poor guy up.
Purdue 46, Nebraska 29
Utah at Washington State
The Cougar offense must be careful not to bite of more than it can Minshew.  Quarterback Gardner Minshew, a transfer from East Carolina, is off to a great start, but he hasn't often thrown deep downfield.  WSU will probably need a more vertical passing game to back off the Ute defense, but in doing so, they would risk exposing their QB to the Pac 12's best pass rush.
The Utes actually lead the nation in defense, yielding only 205 yards and 12.3 points per game.  Not bad, for a team that just played defending Pac 12 champion Washington, and dared to play a dangerous road game against Northern Illinois.
How lame a name is the Utah Utes, anyway?  If it weren't "hostile and abusive," the Czar would want them to change it.  The team was probably named in a contest, that was won by somebody who sits around drinking Juicy Juice, and listening to George Harrison's "Got My Mind Set On You" all day long. 
Utah 23, Washington Sate 16
Louisiana Tech at North Texas
The 2-1 Bulldogs put up a battle against LSU last week, losing 38-21 in Baton Rouge.  Already, they face another very challenging game in a road schedule that also includes Florida Atlantic and Mississippi State.
The 4-0 Mean Green will temporarily un-retire the number of famous alumnus Mean Joe Greene (who was nicknamed after his team, not the reverse), during a tribute to the Steeler great.  Greene's number will be worn by defensive end LaDarius Hamilton, to whom the Hall of Famer tosses his jersey in a reprise of his famous Coke commercial.
That was the pinnacle of Mean Joe's acting career, as anyone knows who remembers his performance in an SCTV spoof ad for "Big Dude TV dinners."  By comparison, he made Terry Bradshaw's appearance in Hooper look like the work of Alex Karas – the Olivier of football-actors.
North Texas 51, Louisiana Tech 38
Virginia at Nc State
The Wolf Pack's rebuilding defense hasn't faced much of a challenge yet, since their Week 3 battle with West Virginia was washed out.  With games coming up against BC, Clemson and Syracuse, that wide-mouthed wolf on their helmets had better hold on to his dopey hat.
Cavalier coach Bronco Mendenhall is having a big comeback season so far, much like his former team at Brigham Young.  A week after outslugging Ohio 45-31, UVa batted around Louisville, 27-3 in its ACC opener.  In the Coastal division, Mendenhall's team finds itself in an early three-way tie with Virginia Tech and North Carolina, hardly Murderers' Row.
Why would a bunch of murderers stand in a row, anyway?  That's hardly discreet.  Still, it's a little-known fact that this was how they caught the Boston Strangler.  He figured that, surrounded by a bunch of other murderers, he'd just kind of blend in.
Virginia 28, Nc State 24
Michigan at Northwestern
Already worried about the health of starting quarterback Clayton Thorson, the Wildcats learned during their idle week that leading rusher Jeremy Larkin has been diagnosed with cervical stenosis, a narrowing of the spine that has forced the promising sophomore to retire from the game.  With Larkin out of the lineup, their leading remaining rusher is John Moten (the Fourth, lest we confuse him with all those other John Motens we see on the football field), who has gained just 21 yards on 12 carries so far this season.
The 3-1 Wolverines travel to Evanston, having lost three in a row away from Ann Arbor.  Since a bad opening loss at Notre Dame, however, they've easily won three in a row, including a seemingly effortless 56-10 trouncing of Nebraska last Saturday.
Keep feeding Jim Harbaugh another directionless, discombobulated opponent every week and, before you know it, he becomes every bit the tactical genius he thinks he is.
Michigan 38, Northwestern 17
Charlotte at UAB
Last season, the Green Menace pulled off an upset in the unlikeliest manner to beat Birmingham 25-24, thereby endangering the Blazers' storybook season.  The 49ers rallied from a 17-0 deficit to force overtime, and then scored the game-winning two-pointer on a flea flicker.  It was their only victory of the 2017 season, but so far in 2018, the hammer-and-sickle-heads have already started 2-2, with a win over that same Old Dominion team that shocked Virginia Tech last Saturday.
Since restarting their program last year, the Blazers are 8-0 at Legion Field, where they have a peculiar home field advantage since there are always about 50,000 empty seats in that cavernous stadium.  They tend to fill it with piped-in music that's so loud it will annoy you while watching on TV.
Cranking "Mambo Number 5" up to eleven is enough to make anyone just give up and go home.
UAB 33, Charlotte 30
Oregon at California
Junior Fighting Duck quarterback Justin Herbert hasn't had a lot of luck in his first two meetings with the Golden Bears.  As a freshman in 2016, he made one of his very few mistakes by throwing an interception in the second overtime of a 52-49 defeat.  Last year, his team won 45-24, but only after he suffered a broken collarbone that would keep him out for the next five games.
The Cal defense appears to be dramatically improved from last season, but they've now lost starting linebacker Cameron Goode for the season, just as they face their most serious test before November.  In deliberately opaque NHL-speak, the Bears have announced that Goode has suffered a "lower body injury," which could be anything from appendicitis to a broken toe.  Actually, the fact that it is so euphemized makes it sound like a venereal disease.
It's a good thing the Ducks aren't the ones with a lower body injury.  They, being modeled after Donald, don't wear any pants.
Oregon 32, California 19
Marshall at Western Kentucky
The closest thing to a traditional Conference USA rivalry, these teams first met in that unforgettable 67-66 Hilltopper overtime victory that spoiled an undefeated 2014 season for the Thundering Herd.  WKU went on to go 3-0 in the series during the Jeff Brohm era, but new head coach Mike Sanford was unable to come away from Huntington with a W last season, as the Herd held on, 30-23.
The 2-1 moo-men have a favorable November schedule, which means they can attack these midseason games with abandon.  This is especially true because it hardly matters where they end up in the standings.  That's because the difference among Conference USA bowl bids is like the difference between Chocolate Soldier and Yoo-Hoo.
Western Kentucky defeated Ball State by eight points.  Notre Dame defeated Ball State by eight points.  So, to a lardhead, WKU and ND must be equal, right?  Not so fast!  By the ciphering of the lardheadeder-by-the-week GameDay crew, this actually means Big Red is superior to the Fighting Irish, because at least they did better against the spread.
Thus endeth the lardheaded lesson.
Marshall 35, Western Kentucky 31
a sports publication from The Shinbone