The College Football Czar
Week 5
<![if !vml]>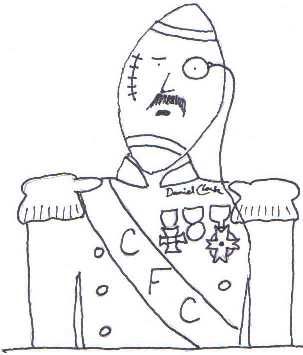 <![endif]>
Week four in review:  In a complete reversal from last week, it's Alabama that suddenly appears to be in midseason form, and Clemson that found itself deadlocked through three quarters against an offensively inept opponent.  The Tide tore apart the vaunted Vanderbilt defense in a 59-0 romp, whereas the Tigers were tied 7-7 with Boston College, until a four-TD outburst in the fourth quarter.
If you were watching the games last Saturday, you've surely seen the Hyundai ad in which some bearded wuss drives around singing along to "Sweet Caroline."  Well, the College Football Czar would like to make it known as widely as possible that he would never, ever, under any circumstances, ram into somebody, and then get out of his car and crowbar that person into another dimension.  So, if exactly that should happen, you'll know that it must have been done by someone else.  Glad to have cleared that up.
The Czar fell on the wrong side of the .667 mark that he usually, more or less guestimates as the definition of a successful week.  In a rare Sunday game, Uconn's comeback against East Carolina fell short, dropping the Czar's record for the week to 13-7.  This season's mark now stands at 58-25, for a .699 winning percentage.
Sept. 29
Miami at Duke
The U is 2-0, after pulling away in a tough game against Toledo, 52-30.  When they trailed UT at halftime, it suddenly became a little easier to understand why they pulled out of an earlier road game against Arkansas State.
Not many teams have won three consecutive tougher games than the 4-0 Blue Devils have, over Northwestern, Baylor and North Carolina.  It's been since the middle of the 2014 season since the Canes have gone on a similar run themselves.
This is the Hurricanes' first visit to Durham since what the College Football Czar has wittily nicknamed the Cal-Stanford-Miami-Duke Game, which the Canes won 30-27 in 2015.  Just as in that 1982 Bay Area classic, the winning score should not have counted, because a player's knee was down before he threw a lateral to keep the final play alive.  Upon sifting through the frenzied aftermath, the ACC suspended both the on-field and replay officials.
The Czar is quoting from memory here, but he's pretty sure that, after a nine-minute delay, the referee announced, "Upon further review, we're going to review the play now, so we can view it again, as in, you know, "re".  The game clock will be kept emblazoned on a pink walrus."
At least that infamous "givin' him the business" ref understood what he was trying to say.
Duke 35, Miami 31
USC at Washington State
The 4-0 Cougars are getting plenty of home cooking on the Palouse, where they're playing for the fifth time in as many games this season.  It's not as if they're stuck in a rut, though.  Sometimes, they have their potatoes with chives!
Southern Cal, also 4-0, had to resort to playing small ball in a 30-20 victory over Cal, in which Sam Darnold passed for a meager total of 223 yards on 26 completions.  If that's the way they were going to play, they might as well have kept Max Browne.  The Trojans didn't need to take chances, as they forced five of the Golden Bears' seven second-half possessions into turnovers, and stopped them on downs once more.  WSU, easy winners over Oregon State and Nevada, might not be prepared to face that kind of resistance.
Does Wazzu coach Mike Leach have any idea what he's getting himself into?  Leach is known for his colorful, freewheeling press conferences where he often discusses issues that may not seem closely related to the game at hand.  He's been a favorite of the media up until now, not only because he's entertaining, but because the political views he voices are predominantly liberal.  Earlier this season, however, the coach opined that the existence of God is far likelier than the suggestion that life came about by accident.  Now, he's expressing confusion about the NFL protests against the National Anthem, asking for someone to explain to him what they're all about.  The sports media do not want to meaningfully engage the issue, because that would expose the Occupy the NFL movement as morally and logically bankrupt.  The easiest way around that is to destroy Mike Leach, in order to deter anyone else from asking such questions.  Any odds on that one, Bear?
USC 38, Washington State 24
Sept. 30
Rice at Pitt
During the Oklahoma State catastrophe, the Heinz Field scoreboard tried to induce students to stay to the bitter end by offering them each a free beverage.  The only reason they'll even show up for this one is because they think they're getting free rice, to add some variety to their usual mac and cheese/Oodles of Noodles diet.
Even with the advantage of a special teams touchdown, and a turnover margin of plus-3, the Panthers were unable to compete with Georgia Tech in a 35-17 thumping.  Their offensive coaches' refusal to attack directly downfield made it easy for the Yellowjackets to come forward and nullify their running game, which gained only 37 yards on 20 carries.  The proximity of opposing defenders to the line of scrimmage also makes it unlikely for them to break a big play with their weenie passing game.  If you don't threaten the defenders with a vertical attack, there's no reason for them to give any cushion.  Thus, a two-yard bubble screen, if complete, will be good for exactly two yards.  What have they got against the idea of throwing over the pass rush to a tight end in the middle of the field.  Not ingenious enough?
When the Owls opened the season in Australia, the fans there might have assumed that American football worked something like cricket, in that one team did all of the scoring for half of the day, and then the other team got its chance to catch up.  By the end of the 62-7 debacle, they must have been wondering when Rice would ever get its turn at bat.
Panther coach Pat Narduzzi is right about Georgia Tech's cut-blocking, but that's something every triple-option team does.  For him to pick a feud with Paul Johnson serves no purpose but to improve Narduzzi's own stature by making him appear to be on the same level with a coach who's already accomplished something.  If he continues to behave like the Al Franken of football coaches, he'll never be good enough, he'll never be smart enough, and doggone it, people won't like him.
Pitt 25, Rice 13
Indiana at Penn State
Last year, right in the middle of PSU's tremendous winning streak, the Hoosiers led them several times, including once in the fourth quarter, before they rallied to win 45-31.  IU quarterback Richard Lagow, who threw for 292 yards and two scores that day, seems to have regained the starting job for this season.  In a Week 2 victory over Virginia, Lagow started slow, and was yanked in favor of freshman Peyton Ramsey.
Isn't it enough to have to stop Saquon Barkley without being required to tackle him twice on the same play?  On a critical touchdown drive in their 21-19 cliffhanger over Iowa, PSU was awarded 33 free yards when Barkley was allowed to get up off one knee and continue running.  It would have been no big deal if that call was missed in the pre-replay era, but the outrage was that it was among the minuscule percentage of big plays that went un-reviewed, even though the tailback's knee kicked up a spray of black turf pellets.
Of course, Barkley had no choice but to keep running.  Had he stopped suddenly, he might have broken Kirk Herbstreit's nose.
Penn State 28, Indiana 23
Clemson at Virginia Tech
Each team is 4-0, but the Gobblers have gone untested since their opener against West Virginia, whereas the defending national champs defeated both Auburn and Louisville before letting down against Boston College.
Freshman Tiger tailback Travis Etienne is no relation to Clifford "the Black Rhino" Etienne, but you wouldn't know it from his fourth-quarter touchdown charges of 10 and 50 yards in that BC game.  For the season, Etienne has 292 yards and four touchdowns, on only 23 carries.
In case you're wondering whatever became of Clifford Etienne, the former NABF heavyweight champion who was KO'd by Mike Tyson in just 49 seconds, his career fizzled from that point and he retired in 2005, with a record of 29-4-2.   In 2006, he was convicted of robbing a check cashing store, and attempting to shoot two policemen as he made his getaway by carjacking a vehicle with a woman and children inside.  At first sentenced to 160 years in prison, he later had it reduced to 105 years, which means he's only got 94 left to go.
Actually, Travis the Tiger is from Jennings, Louisiana, which is right next door to Clifford the Black Rhino's hometown of Lafayette, which makes the Czar skeptical that there is no relation.  But if Travis wants to deny that there is, who can blame him?
Tech overmatched Old Dominion last week, putting the lion kings to sleep in a 38-0 snoozer.  Wide receiver Cam Phillips had his third 100-yard game in as may attempts against I-A competition this season, pulling down seven receptions for 106 yards.
These teams last met in the ACC championship game, where the Paw Boys prevailed 42-35.  That game was moved to Orlando, which was a tremendous relief to the team from Blacksburg.  It seems that those terrible, judgmental people in Charlotte insisted on figuring out what a Hokie was, before deciding where it was allowed to go to the bathroom.
Clemson 31, Virginia Tech 30
Ole Miss at Alabama
The Rebels have been Bama's most challenging opponent in recent years, toppling the Tide twice before losing last year's 48-43 shootout.  That's not the result of some sort of hex, though.  Mississippi had the talent to challenge the Tide in those games.  This year, it's not at all clear that they do.  In fact, the Rebs' leading rusher so far has only got 103 yards, through three games.
Having been one of the least interesting teams in the nation for the previous few weeks, the pachyderms pulverized Vandy 59-0, while outgaining the unsuspecting Commodores by 599 yards.  Junior running back Damien Harris rushed for 151 yards and three scores on only 12 carries.  His previous career-high was 144 yards, against this same Rebel team a year ago.
The Crimson tide mascot is an elephant because, as Groucho said, in Alabama, the Tuscaloosa.  The Rebel mascot is a bear, because … um … something unfunny was probably said about Oxford, Mississippi and something to do with a bear by, oh, David Brenner or somebody.
Well, can the real reason possibly be any better?
Alabama 48, Ole Miss 10
Northwestern at Wisconsin
Last time the Wildcats went on the road, their ground game was squelched for 22 yards on 21 carries.  Now they visit a Badger team that's allowing fewer than 100 rushing yards per game for a second year in a row.
The Big Bad Gers might be the best team in the Big Ten this season, but we'll never find out from the competition they've faced so far (Utah State, Florida Atlantic, BYU).  In fact, their conference schedule isn't so much either, since they don't play either Penn State of Ohio State in the regular season.  If they can get past this somewhat disappointing NU team, they could pick apart the open field all the way until consecutive season-ending matchups with Michigan and Minnesota.
This game could prove to be a hard lesson for the boys from Evanston, but maybe they can use their superior brain power to teach the cheeseheads a little something in return.  Like the difference between Swiss and cheddar, for instance.
Then again, maybe the Wildcats are not so smart after all.  It turns out that they intend to take the field with their arms locked, in a sign of unity.  Um, if unity is what you guys are looking for, you could try all wearing the same uniform, while participating in an athletic competition as a cohesive unit known as a "team."  Sorry if the concept is too complex for you.
Wisconsin 34, Northwestern 17
Oklahoma State at Texas Tech
So much for the hypothesis that Pitt's not really so bad, but the Cowboys' super-nucular offense is simply unstoppable.  The Pokes were slow out of the gate in a 44-31 loss to TCU, scoring only one first-half touchdown, and turning the ball over four times.  A couple more showings like that, and Mike Gundy the Man's widely praised mullet will officially become stupid.
The 3-0 Red Raiders held off Houston 27-24, after having scored early in the fourth quarter to lead by 17.  Kliff Kingsbury's club is currently second in the nation in turnover margin, at plus-7, after taking a 5-to-1 advantage against the Cougars.  Say, it's a good thing the College Football Czar didn't spell "club" with a "k" in that last sentence, or else his readers might think that Kingsbury's team had something to do with three strikeouts.
Is anyone besides the College Football Czar disturbed by the fact that all the OSU students happen to have those long paddles, and be well practiced at using them?  Whatever they do with those things, do you suppose it's a requirement, or an elective?
Oklahoma State 50, Texas Tech 42
Georgia at Tennessee
Having already lost to Florida on a last-second long bomb, the Volunteers will basically be eliminated from the SEC East race if they don't beat the Bulldogs.  They deserve to be.  A week ago, Butch Jones' team had to cling to a 17-13 win over a rudderless Umass team, while gaining only 63 yards in the second half.
Jones is the latest head coach to flip out on reporters without justification in his press conference.  When a reporter asked if an injury to defensive tackle Shy Tuttle was caused by a teammate, meaning as the result of a fight, the coach went on a rant against "fake news."  But if there are reporters publishing speculation about such a thing, why jump all over the one who's doing the responsible thing by asking if it's true?
The 4-0 Bulldogs are no longer panting for the return of last year's starting quarterback, Jacob Eason, from a knee injury.  That's because freshman Jake Fromm has completed 62.3 percent of his passes so far, with seven touchdowns to only one interception.  Last week he threw the ball only 12 times, but completed nine of those for a total of 201 yards, in a 31-3 undoing of upstart Mississippi State.
In his Week 4 picks, the College Football Czar nicknamed Fromm "the Man from M."  Since then, he's penned some lyrics that he thought Fromm might want to purchase from him for a future Heisman promotion.  Here is but a sample:  "The Man from M stopped eatin' C and eatin' B, and now he only eats G."  Sound like a hit.
Georgia 35, Tennessee 23
North Carolina at Georgia Tech
One might think from the final score of the Yellowjackets' 35-17 win over Pitt that they didn't have a lot to be concerned about, but the inexperienced personnel in their wishbone offense fumbled four times, and they're not likely to have gotten it out of their system just yet.
During a 27-17 defeat against rival Duke, the Tarheels lost three more players to injury, including leading receiver Austin Proehl.  UNC had already been badly depleted from last year by graduation, yet their 1-3 start has included three tough losses against quality opponents.  If everyone in the Top 10 had played a September schedule similar to theirs, half of those teams would probably be out of the championship picture by now.
As long as the Czar was feeling creative, he started to dash off another song entitled, "The Man from UNC," but he gave up at the point where the title character starts eating gunc.  That's just plain dopey.
North Carolina 17, Georgia Tech 14
Colorado at UCLA
No bear has been this bad on defense since the Russo-Japanese War.  Through four games, the Bruins have yielded 43.3 points and 525 yards per game.  Last week at Stanford, they were stomped for 553 total yards in a 58-34 drubbing, despite facing the Cardinal's third-string quarterback for most of the game.
The blue bears' offense has been able to keep up, partly because of a dramatic improvement in their running game.  With basically the same personnel, they're averaging 4.8 yards per carry this season, as opposed to 2.9 in 2016.
The 3-1 Buffaloes fared four points better against Washington than they did in last year's Pac 12 championship, this time losing 37-10, as opposed to 41-10.  At this rate, they'll beat the Huskies in only seven more tries.  Sophomore scrambler Steven Montez threw three picks, and started his slide too soon while trying to pick up a first down.
For the benefit of the historically challenged, the Russo-Japanese War did not in any way involve Renee Russo.  Heck, she probably hadn't even started wearing makeup by then.
UCLA 45, Colorado 28
Mississippi State at Auburn
MSU was supposed to be top dog after lifting its leg on LSU, 37-7.  A week later, between the hedges, they were bushwhacked by Georgia 31-3.  The UGA defense let the air out of tailback Aeris Williams, who gained only 24 yards after having bowled over the Bayou Bengals for 146.
The Tigers haven't played a serious game since being tamed by Clemson, 14-6 in Week 2.  Since then, all they've done is struggle past Division I-AA Mercer, and mercilessly beat up on the leftovers at Occupy Missouri.
The Czar often expresses his approval of the fact that the NCAA, unlike the NFL, enforces some standards of sportsmanlike conduct.  He was surprised, then, that New York Giants' receiver Odell Beckham (as if his alma mater LSU wasn't embarrassed enough) was actually penalized for pretending to urinate like a dog in the end zone.  Given the way the league's been encouraging that sort of behavior, the Czar thinks he's got a good case to make for entrapment.
Oh, that's right.  Roger Goodell makes up new secret rules on a daily basis, by spinning his Wheel of Pomposity.
Auburn 24, Mississippi State 14
Florida State at Wake Forest
Granted, Appalachian State is the favorite to win the Sun Belt Conference, but the 4-0 Deacons should not have needed a blocked field goal to escape with a 20-19 victory.  In fact, they were statistically dominated, except that they tormented the App State kicking unit all day long.  They'll need more than that to stop the Seminoles.
Despite a 27-21 loss to Nc State, freshman FSU quarterback James Blackman made a fairly successful debut, completing 22 of 38 for 278 yards and a touchdown.  That's about as well as Deondre Francois did in last year's 17-6 win over Wake.
The Noles are allowed to keep their non-hostile, un-abusive team nickname, supposedly because they've gotten permission from the tribe.  It's a little-known fact that the Demon Deacons, in order to win approval for their moniker, needed the endorsements of both the Southern Baptists Convention and the Satanic Temple.  Isn't bipartisanship wonderful?
Florida State 22, Wake Forest 13
Arizona State at Stanford
Todd Graham gambled on a first-half onside kick against Oregon, and it paid off with a field goal that ended up making the difference in a 37-35 victory.  The Sun Devils are now 2-2, but their losses to San Diego State and Texas Tech don't look so bad in hindsight.
Cardinal fans are smitten with running back Bryce Love, whose 263 yards against UCLA bring his season total to 787.  The 58-34 beating of the Bruins brings his team's record to 2-2.  Love must feel motivated to carry his team to a bowl game this year, so that he can decide it's meaningless and stay home.
Christian McCaffrey famously skipped his team's trip to last year's Sun Bowl in order to preserve his draft status, a move that was widely praised by media rattlenoggins on the basis that the bowl game was "meaningless."  So now, McCaffrey is playing in a league that fewer and fewer people pay attention to every week.  There are only nine things in the world more meaningless than a Panthers-Bills game, and eight of those are Sam Peckinpah movies.
Stanford 54, Arizona State 42
Iowa at Michigan State
The Hawkeyes barely lost to fourth-ranked Penn State 21-19, and yet, they might be the least formidable opponent the Spartans face in their next seven games.  In 2016, MSU finished 3-9 after a 2-0 start.  A repeat doesn't sound unlikely, the way they were manhandled last week by Notre Dame.
How the Hawks hung in that PSU game is a statistical mystery.  They were outgained 579-273, while possessing the ball for only a third of the game.  Moreover, they gave up 3 of 4 fourth-down conversion attempts, and were only plus-one in turnovers, while being at a decisive disadvantage in field position.
Chicken Little tried to warn Brian Lewerke that the sky was falling, but Lewerke didn't believe it, until he threw a pick-six in the first quarter against the Fighting Irish.  The Spartans never recovered from that play, even though their sophomore QB went on to throw for 340 yards and two touchdowns, in a 38-18 loss in East Lansing.
If the people in the Big Mitten are referred to as Michiganders, shouldn't the women be called Michigeese?  Furthermore, if a man is identifying as a Michigoose, and you call him a Michigander, do you have to go to word prison?  These are important questions, all of a sudden.
Michigan State 20, Iowa 17
San Jose State at UNLV
If you've ever wondered what a football game would be like between the Blue Man Group and the Red Hat Society, this is pretty much it, so enjoy!  The accent-mark wearing Spartans couldn't accentuate the positive if they wanted to.  In four games against Division I-A competition, they've been steamrolled for an average of 53.3 points per game.  The Rebels at least have registered a win over Idaho, but only after being humiliated by an opening defeat against Division I-AA Howard.
The Rebs were actually somewhat optimistic heading into this season, and they showed why in a 44-16 win at Idaho in Week 2.  Against Howard, they had simply done what Division I-A teams often do against I-AA opponents, and approached the game as an exhibition.  Not only does the Czar think a win over a I-AA school shouldn't count toward bowl eligibility, but a loss to one should be disqualifying.
Whenever they get around to making a crappy movie about the Blue Men-Red Hats game, which team do you suppose Adam Sandler will be on?
UNLV 43, San Jose State 29
California at Oregon
The U of O had promised to dress more ducklike this season, and so far, they're liars.  Twice now, they've worn the dreaded Tooth Fairy helmets, and both times, they've underperformed badly.  Coincidence?  The Czar thinks not.
To say the Golden Bears blew some opportunities against USC is like saying the throwback uniforms they wore were bush league.  The good news for Cal is that they only punted twice.  Unfortunately, that's because four of their possessions ended with interceptions, two with fumbles, one a missed field goal, and yet another a turnover on downs.  All things considered, the 30-20 final wasn't so bad.
During a 37-35 loss at Arizona State, Fighting Duck running back Tony Brooks-James made a touchdown reception, after which he spiked the ball, thus penalizing his team 15 yards on the ensuing kickoff.  The College Football Czar was gratified to see head coach Willie Taggart going ballistic on Brooks-James, and not the officials.  It doesn't matter that most people, including the Czar, see nothing unsportsmanlike about spiking the ball.  It's against the rules, and everybody knows that.  If Brooks-James can't exercise enough self-discipline not to do it, then he's the kind of person for whom sporks were invented.
California 26, Oregon 23
Northern Illinois at San Diego State
Unlike the home team, NIU is not going to miss Qualcomm Stadium.  The Huskies have played on that field three times before, in the now-defunct Poinsettia Bowl, where they were bullied by TCU 37-7 in 2006, upset by Utah State 21-14 in 2012, and bombarded by Boise State, 55-7 in 2015.
Aztec running back Rashaad Penny is no loafer.  The senior stomper has already carried the ball 91 times this year, for 716 yards and seven touchdowns.  At his current pace, he will surpass last year's total of 1,005 yards next week against UNLV.
When SDSU isn't using it, Qualcomm Stadium is completely empty.  The strange thing is that there's not even an NFL team playing there anymore.
San Diego State 47, Northern Illinois 31
Air Force at New Mexico
The Falcons had the SDSU Aztecs right where they wanted them, under a cloudburst, where the AFA splashed its way to a 9-0 lead until there was a lightning delay.  When the skies cleared, their lead disappeared, in a 28-24 setback that dropped them to 1-2.
UNM knocked off Tulsa on the road, in a critical turnaround game that leveled their record at 2-2.  Jason Sanders' last-second 53-yard boot, which gave the Lobos the 16-13 victory, was his sixth in seven attempts this year.  Sanders only miss was also from 53 yards, in a loss at Boise State.
Lobo coach Bob Davie is supposedly in some kind of trouble, not for allegedly mistreating his players, but just for not being palsy-walsy enough with them.  The damning evidence is probably that he unfriended somebody, or texted without emoticons, or something.
Do you suppose they're much more Millennial-friendly at the Air Force Academy?  "LOL!  U will land better next time" [winkysmileyface].
New Mexico 24, Air Force 19
a sports publication from The Shinbone