The Original College Football Czar
Week 4
<![if !vml]>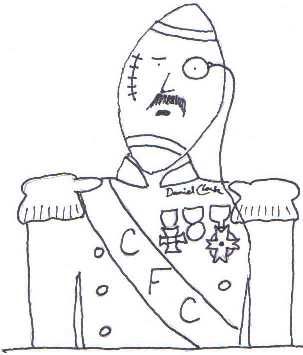 <![endif]>
Week three in review: It was a dismal week for the College Football Czar, who only went 1-4 in games involving SEC teams on his way to a 7-11 finish. Nevertheless, there are only a couple games he might pick differently if they all had to be played over again this week. September schedules being what they are these days, it's not surprising that there were no upsets among the Top Ten, but that doesn't mean there wasn't still a great deal of upheaval. Top-ranked Georgia and #3 Florida State got far tougher challenges than expected, and #10 Alabama turned in a shoddy performance in a 17-3 win at South Florida. Among the shockers of the week was the 29-16 bruising that Florida put on rival Tennessee, which appears to make UGAs path to another division title a whole lot easier.
Michigan State has gone ahead and fired head coach Mel Tucker for sexual harassment, which is supposed to get them out of paying him the bulk of his considerable contract. The Czar doesn't see how they're going to make it stick. The alleged victim was not an employee of Tucker's, so there was no power dynamic in play between them, which makes it questionable whether whatever happened meets the legal definition of sexual harassment. So far, the worst the coach is accused of is a lewd phone call, for which the woman remained on the line. That does not add up to a firing for cause, other than cause he's not as good a coach as they thought he was.
This may not seem like a college football story at first, but the NFLPA is demanding that pro football get rid of all artificial surfaces in the wake of Aaron Rodgers' injury. If the players really hate the Field Turf as much as it seems like they do, then the Czar hopes we will soon see colleges start to re-install natural surfaces as a recruiting tool, at least at schools where the faux fields are especially unjustified, like Notre Dame, Ole Miss and Wake Forest. This wouldn't be a first. When the old, flat Astroturf was considered to be state-of-the art, it was turning up in stadiums that had no business using it. In fact, just about the only thing that marred the single greatest sporting event of all time (Super Bowl X) was that it was played on a nasty, splotchy rug, in the Orange Bowl of all places! Eventually, the fad passed, and at least in some places, sanity prevailed.
It's early yet, but at this point in the season the Czar's record stands at an unsettling 36-29, for a puny winning percentage of .554.
Sept. 22
Boise State at San Diego State
If this is all the offense the Aztecs can muster on the football field, they might as well just quit the game altogether and invent their own sport, like the Mayans did. Hopefully, they'd come up with something less stupid than OmegaBall, or some of the more recent ESPN offerings.
In three games against Division I-A competition (Ohio, UCLA and Oregon St.), SDSU has averaged only 13 points. In last week's 26-9 loss to OSU, they almost got shut out for the entire first half, until kicker Jack Browning bailed them out with a 52-yarder in the last minute before the break. Browning is 6-for-9 on field goals this season, which is pretty good considering that the offense has only gotten him two attempts from fewer than 40 yards away.
Opponents are having little trouble tailin Taylen Green, because the dual-threat Bronco quarterback has only run the ball 5.3 times per game. If the idea is to improve his accuracy by keeping him in the pocket, the BSU coaches might come up with a new idea, because he has completed fewer than half of his passes against both Washington and Central Florida, while throwing more interceptions than touchdown passes.
You can tell by their name that the Mayans (as opposed to your-uns) were always the home team. They must have been charter members of the SEC.
Boise State 15, San Diego State 10
Sept. 23
North Carolina at Pitt
The best that can be said about the Panthers' 17-6 loss at West Virginia is that at least QB Phil Jurkovec did not speak to the media afterwards. A week after giving a prickly response to having been booed during a 10-for-32 effort against Cincinnati, he went 8-for-20 with three interceptions. After the game, WVU cornerback Beanie Bishop said, "We knew coming into the game that their quarterback, he wasn't that good at his job, or whatever." The Panther coaches still do not seem to share that assessment, because the BC transfer remains the unquestioned starter.
Incredibly, head coach Pat Narduzzi endorsed Jurkovec's whining, when the coach called Pittsburgh "Boo City, PA" in his press conference. Seriously? Does he realize that this city is in the same state as Philadelphia? The College Football Czar has been to a lot of Pitt games through some unimaginably bad seasons, and he has never witnessed a negative fan reaction to the home team that was not entirely justified. Just for the record, it has now been entirely justified for the rest of the 2023 season.
For the second game in a row, Narduzzi's defense was facing an opponent that did not have a reliable starting quarterback, which should have allowed them to crowd the line of scrimmage and take away the run. Nevertheless, they allowed 7.7 yards per carry to UC running back Corey Kiner, and 5.7 to WVU's C.J. Donaldson. Now, they go up against one of the premier passers in the nation in UNC's Drake Maye. The need to defend the entire length of the field against the seasoned slinger will only open up even more massive holes in their run defense.
The 3-0 Tar Heels are playing their first game of the season as the true road team, which might sound as if it would give the Panthers hope, but all five of Carolina's losses in 2022 were either home games or postseason games at neutral sites. They've won their last six games as the visitors, dating back to a tough loss at Nc State to end the 2021 regular season.
If the Pitt players appear to be discombobulated, there may be a reason for that. They used to play ketchup at Heinz Field, but now that it has become Acrisure Stadium, they have no idea what to do.
North Carolina 34, Pitt 14
Iowa at Penn State
Aside from their squishy schedule, the Nittany Lion ground game is the biggest reason why the team should be headed for another 10-win season. In an uncomfortable 30-13 win at Illinois, however, running backs Kaytron Allen and Nicholas Singleton only combined for 91 yards on 24 carries. It was only PSU's plus-5 turnover margin that prevented the otherwise even game from going nine overtimes just as it had two years ago.
The Hawkeyes, who have matched the Lions' record at 3-0, will be without starting tight end Luke Lachey for the rest of the season, because of an ankle injury. This would be a significant blow to any team, but especially one for whom the TE has always been such a leading contributor to the offense. Kirk Ferentz's club without its top TE is like a dog without a bone.
No, wait a minute, that's a really dumb analogy. Dogs don't have bones most of the time, yet they're almost always happy. Why must every tenth song ever written contain such a stupid simile? As bad pop music cliches go, that probably ranks second, next to all the variations of "I saw her walking on down the line." Is there a particular place where women go and get in line, just so they can walk on down it? Perhaps this is just an excuse that women give to bad songwriters who ask them out. "I can't make it Friday." I've got to walk on down the line that day."
Anyway, the Czar is pretty sure his point was going to be that without Lachey in the lineup, the gains this Hawkeye team has made on offense this season may now be lost. If they revert to their play of a year ago, that means 50 fewer yards per game, which left them at second-worst in the nation, ahead of only New Mexico.
If Pittsburgh is Boo City, PA, then State College is Unjustified, Intense Self-Regard, Characterized By The Constant Flexing Of Muscles That Aren't Even There City, PA.
Okay, so that doesn't exactly sing, but it's no worse a name than State College.
Penn State 17, Iowa 7
Texas Tech at West Virginia
WVU will take any win against Pitt, but this one may prove costly. During their suffocating 17-6 victory last Saturday, the Eers offense lost starting QB Garrett Greene to a leg injury early in the game. In the fourth quarter, leading rusher C.J. Donaldson hobbled off the field, also.
The Red Raiders have won only one of their past seven road games, dating back to the middle of the 2021 season. Earlier that same year, they did win in Morgantown, storming out to a 17-0 halftime lead before staving off a late Mountaineer rally with a last-minute field goal, 23-20.
Tech may only be 1-2, but one of those losses was in double-overtime at Wyoming, and the other one was against Oregon, when they gave up the lead on a late field goal, and then had two late desperation passes picked off for a 38-30 final.
Q: What does the W on the West Virginia helmet stand for?
A: It don't stand for nuthin. Looks like it's settin down on that other thang.
Texas Tech 27, West Virginia 14
Ohio State at Notre Dame
The Fighting Irish haven't beaten the Buckeyes since the FDR administration. That's not as bad as it sounds, since they've only met four times since. OSU took both ends of a home-and-home in the mid-90s, and then defeated the golden domers in a pair of Fiesta Bowls, a real one in Tempe at the end of the 2005 season, and then one of the new phony Fiesta Bowls in Glendale ten years later.
Buckeye coach Ryan Day finally decided on Kyle McCord as his starting quarterback, and he has yet to be given reason to regret it. The junior threw for 318 yards and three touchdowns in a 63-10 torching of a Western Kentucky team that might have been a dangerous opponent for just about anyone else. The rugged defense of the lumpy nuts has held its first three opponents to a combined total of 20 points. That's the fewest of any team in the nation except for arch rival Michigan.
That defense will be tested by an ND offense that has put 41 or more points on the board in each of its first four games. Of course, the Irish have only played a probably pretty good Nc State team, to go along with Navy, Central Michigan and Division I-AA Tennessee State. What has become of all that Notre Dame tradition? First the cheap-looking artificial turf, and now they play the same namby-pamby schedule as everyone else. Some of their games aren't even on real TV anymore.
No, FDR is not the nickname of some fashionable athlete with a hyphenated last name.
Ohio State 38, Notre Dame 20
Colorado at Oregon
If there were still a BCS, the quality of the Fighting Ducks' nonconference schedule would become an issue the longer they stay undefeated. Now that we're in the "eye test" era, their 55-10 rout of Hawaii was more than good enough. Like their also unbeaten visitors from Boulder, the webfoots don't really know what they're made of yet.
Buffalo QB Shedeur Sanders led his team on a clutch last-minute drive to avert the upset last week against Colorado State, even though he should no longer have been on the field to pull it off. As a result of the 43-35 double-overtime victory, Coach Prime has successfully defended the honor of sunglasses everywhere, and mothers who curse, and stuff.
CU is currently 3-0, but now it enters a loaded conference schedule, and does so shorthanded, with two-way superstar Travis Hunter out with an undisclosed injury. The CB/WR was on offense against CSU, when he unsuspectingly took a vicious late hit near the sideline, after an off-target pass had already bounced several yards beyond him. As if that weren't enough, it had been briefly speculated that QB Sanders might be suspended, and the College Football Czar would love to hear an explanation as to why he's not. One would hope that the coach's son would at least be put in his own family doghouse after he attempted a Moe-style eye poke against Ram DL Mohamed Kamara, taking great care to make sure his fingers were not impeded by his opponent's facemask.
Seriously, this was a deliberate attempt to injure an opponent. Whatever happened to the NCAA policy of Player Safety Uber Alles? The incident reminded the Czar of the 2013 Armed Forces Bowl, in which Middle Tennessee linebacker Roderic Blunt attempted a similar eye gouge against Navy QB Keenan Reynolds. In that case, Blunt could not be disciplined after the game because his collegiate career was over, but a media firestorm ensued, and MT coach Rick Stockstill apologized to Reynolds, the Naval Academy, the bowl committee, the Elks Club, Kevin Bacon, and anybody else he could think of. Shedeur's actions, by contrast, are being dismissed as just a heated exchange during a chippy game. Why is that, exactly? Is it because quarterbacks are special, so it's a big deal when a quarterback is the victim of an eye gouge, but not when he's the perpetrator? Or has the Sanders family achieved the status of a politically protected class, and thus become immune from criticism?
Or could it be that Shedeur Sanders has fun poking people in the eyes? I mean, we don't want to take the fun out of the game, do we?
Oregon 45, Colorado 28
Florida State at Clemson
An early interception return set the tone for the Tigers last week, as they tore their way to a 34-0 halftime lead, on their way to a 48-14 final against Florida Atlantic. They didn't have that great an advantage in overall yardage, but they were plus-3 in turnovers, in addition to thwarting an FAU fake punt.
Say what you will about how inspired Boston College was for its red bandana game, which it plays in honor of alumnus and 9/11 hero Welles Crowther, but the Seminoles should still have been able to handle that BC team a lot easier than 31-29. FSU had already survived an early onslaught to take a seemingly insurmountable 31-10 lead in the third quarter, only to hang on in regulation time thanksd to a missed Eagle extra point and subsequent two-point attempt.
If that subpar performance was the result of the Noles looking ahead, it is certain not to happen again this week. Their next game is against a completely non-threatening Virginia Tech team, with an idle week between now and then.
The Tigers traditionally enter one of the stadium gates before their home games and run downhill onto the field. Brent Musburger declared this to be "the most exciting 25 seconds in football." He must have announced a lot of really boring games!
Brent finally changed his mind when he found something to get more excited about, during that 2012 BCS championship game between Alabama and Notre Dame.
Florida State 23, Clemson 16
Ole Miss at Alabama
For any lardheads out there who still think an expanded playoff format is a good idea, starting next season, these Alabama and Clemson clubs would still be well in the running for postseason bids. Does anybody who's not a fan of one of those schools really want to see that?
It's easy to discount the Rebels' 37-20 win over a Tulane team that had lost QB Michael Pratt just hours before kickoff, but Lane Kiffin's club followed up that effort with an easy 48-23 win over Georgia Tech. Quarterback Jaxson Dart must have been racking up the triple scores to have piled up 251 passing yards while only completing 10 of 18. In addition, he led his team in rushing, with 136 yards and two TDs on 14 carries.
It looked like Tyler Buchner was flinging boogers last week, as he completed only 5 of 14 for 34 yards, in a 17-3 slog against South Florida. For that reason, among others, Jalen Milroe returns to the lineup for the Crimson Tide, even though he did not see any action a week after having a tough day in a 34-24 loss to Texas. In fact, coach Nick Saban claims Milroe displayed great leadership in not playing. Talk about damning somebody with faint praise. That's like referring to a weak-armed pitcher as "sneaky-fast."
Not that the College Football Czar knows what it looks like to fling boogers.
Ole Miss 32, Alabama 30
UCLA at Utah
Now UU see them, now UU wish you hadn't. Though still undefeated through three games, the Utes have been hard to watch this season, in grinding out victories over Florida (24-11), Baylor (20-13) and Division I-AA Weber State (31-7). They have gotten this far without the services of QB Cameron Rising, who might finally be ready to return from the ACL tear he suffered at last year's Rose Bowl. He and his team lost twice in that building in 2002, having been bounced by the blue bears 42-32 in October, but now they welcome Chip Kelly's club to Rice Eccles Stadium, where opponents tend to get the eccles beaten out of them.
The 3-0 Bruins continue to play before less than half-capacity crowds in the Rose Bowl for a fourth season in a row, not counting the crowdless 2020 Covid season. That's not a problem they're likely to cure next year, by playing conference home games against opponents like Illinois and Maryland.
Freshman QB Dante Moore has been named the new starter for this Bruin team, although former Kent Stater Colin Schlee gives them a dual-threat option that they will likely utilize at some point, if the Ute defense starts getting too comfortable teeing off on their pocket passer.
The Czar refuses to employ the phrase "true freshman," but this truly is Moore's first year in college, and he's already starting. That's a bit unusual anymore, when there are seventh-year seniors all over the place, and every school seems fiercely loyal to a quarterback that just transferred to it five minutes ago.
A few years from now, you'll be watching a pro football game when somebody asks, "where'd that guy play in college?" By the time you finish answering, your beer will be warm.
Utah 27, UCLA 22
Rutgers at Michigan
Suspended head coach Jim Harbaugh returns to the sideline for the final game of the Wolverines' four-game homestand, after watching them hold East Carolina, UNLV and Bowling Green to a combined total of 16 points. The offense has not exactly been what he'd hoped for, especially in last week's 31-6 win over BGSU. Quarterback J.J. McCarthy passed for only 143 yards, while ending three drives with interceptions, and three others with three-and-outs. Not many of this year's presumptive national contenders entered the season with an experienced starting QB, but that fact does not seem to be translating into much of an advantage for the maize and blue.
Wow, the Scarlet Knights are 3-0! Oh, wait a minute. They had also gone 3-0 last year, and the year before, and they finished each of those campaigns with eight losses. Still, there's an energy in this team that has been lacking in those other two, aside from the fact that all three of this year's opponents to date (Northwestern, Temple and Virginia Tech) have been Division I-A teams.
For the most part, the Antifa craze in athletics has thankfully died down. One of the remaining vestiges is that "Chop 4 Change" sign on the base of the RU helmet. The change, of course, is a continuation of all the terrible, destructive things that have ravaged our country for the past three years. "Chop" refers to the annoying "chopping wood" motivational device that has become a tradition for the Scarlet Knights, but CHOP was also an acronym for the Capitol Hill Organized Protest that unlawfully occupied a section of downtown Seattle.
That's a coincidence, of course, but a fitting one to be sure. Can the coaches and administrators in Piscataway not see this, or does Seattle still not look so bad to residents of New Jersey?
Michigan 28, Rutgers 10
Brigham Young at Kansas
The KU-KU pigeon sisters barely came away from Nevada with a 31-24 win late last Saturday night. Okay, so the Jayhawks are 3-0, but they'll have to play a lot better to match last season's 5-0 start, with BYU and #3 Texas to open their Big XII schedule.
Going back to last season, the Cougars have won seven in a row. That includes road games against Boise State, Stanford and Arkansas, so they're not likely to be intimidated by the Jayhawks' home field advantage.
If QB Kedon Slovis wanted to escape Boo City, then Provo is just the place for him. A fan in that town wouldn't say boo if he ate Boo Berry out of a bamboo bowl, and for some reason felt the need to tell everyone about it. If a quarterback like Slovis plays as poorly as he did at Pitt last year, the BYU fans chant, "Persist! Persist!"
To those among you who laughed at that, thank you, but the College Football Czar is not entirely certain he was joking.
Brigham Young 24, Kansas 21
Army at Syracuse
Including last Friday's 37-29 upset at UTSA, the Black Knights have won 7 of their last 8 games in domes, as well as their only indoor postseason game, a 10-6 win over Michigan State in the 1984 Cherry Bowl, in the Pontiac Silverdome. Perhaps this record of success is due in part to the fact that games in domes all look like Knight games.
Considering that the Orange started 6-0 last year, maybe this year's 3-0 record should not get them excited, but last week's victory over Purdue was not a fluke. At home in 2022, they needed PU to hand them the game. This year, on the road in West Lafayette, they just took it.
This Army team is a lot armier than usual, having discarded the wishbone and taken to the air with relative frequency. Bryson Daily is not the latest late night host that nobody watches. He's the Cadet QB who has already thrown four TD passes in three games, including the game-winner against Texas-San Antonio.
Doesn't anyone ever name a quarterback Joe anymore?
Syracuse 35, Army 26
Oregon State at Washington State
This longtime rivalry in the Great Northwest has gone unnoticed by most of the country, but now it will surely get some attention, since it can be billed as a preview of the 2024 Pac 12 championship game. Wazzu had beaten the Beavers eight times in a row until last season, when they failed on all four of their fourth-down conversion attempts, in a 24-10 defeat in Corvallis.
While everyone's gushing superlatives about Colorado's 2OT win over Colorado State, remember that the Cougars clobbered that same CSU team 50-24 in Fort Collins. Cam Ward went crazy on them for 451 passing yards and three touchdowns. Through three games, the former Incarnate Word winger has nine touchdowns to no interceptions, and is only 14 yards short of a thousand.
D.J. Uiagalelei may look fashionable in his new orange, but the former Clemson QB produced an ugly line score in last week's 26-9 win over San Diego State. In completing only 14 of 30, he threw one TD and was picked off twice. His yardage total of 284 looks impressive, but that includes a wide receiver screen that Anthony Gould caught at the line of scrimmage and carried 75 yards for a touchdown.
Perhaps next year, these two schools could rename their conference the 2Pac, but something tells the College Football Czar that wouldn't end well.
Washington State 44, Oregon State 31
SMU at TCU
Southern Methodist has got something to prove, having been passed over by the Big XII when it took three other teams out of the American Athletic Conference during the offseason. Determined to be able to say it is in a power conference, the school has instead joined the ACC, where its inclusion possibly makes even less sense than those of Stanford and Cal. Their fans had better appreciate the ability to drive to road games like this one while it lasts.
Each team is 2-1, but the Mustangs only lost 28-11 to an Oklahoma team that is obliterating everything else in its path. The Horned Frogs' opening 45-42 loss to Colorado was far less encouraging, as their defense refused to allow them to hold a lead for much longer than three minutes. Texas Christian has since hammered Houston 36-13 though, more than doubling its opponents' offensive output, 564 yards to 266.
The winner of this game takes home the Iron Skillet, which may then be used as a visual aid to teach the student athletes where food used to come from before DoorDash. Perhaps the kids could also learn that the cowboys who used that chuck wagon frying pan did not put ranch sauce on everything, not just because it didn't exist yet, but just because it's horrid stuff. It shouldn't even be legal to call any food product "ranch" if it doesn't have any beef in it. If Randolph Scott were alive today, he would clobber anyone who put any of that nasty goo on his food. Prove the Czar wrong.
TCU 43, SMU 39
Auburn at Texas A&M
The ampersanders got U-sed by Miami in Week 2, when they allowed the Hurricanes to score points as easily as making withdrawals from an aTm, in a 48-33 thwacking. Sure, they've won their other two games, but blowouts of New Mexico and Louisiana-Monroe give little indication of what can be expected now that their SEC schedule is underway.
Payton Thorne appears to have hit a snag at AU. The former Michigan State quarterback was a late addition to the Tiger roster, and he doesn't seem to have gotten a grip on the offense just yet. In three games against inferior competition, he has got a total of only 517 yards, with four TDs and three interceptions. He did run the ball 11 times for 123 yards and two scores last week against Samford, but why risk your QB's knees like that against a lower-division opponent?
MSU ex-coach Mel Tucker could stand to take a lesson from first-year Tiger coach Hugh Freeze. Go to a private Christian school and win enough games to convince them you've mended your ways. Then you're ready to return to the big time. That's got to be the most ingenious play that's been drawn up since the fumblerooski.
Texas A&M 25, Auburn 20
Boston College at Louisville
The College Football Czar apologizes for misinforming his readers about the location of the Cardinals' Week 3 game against Indiana, which was actually played in Indianapolis, and not Bloomington. When the Czar turned on the noon game, it looked so gloomy that he figured there would be a lightning delay any minute. The he realized that they indoors at Lucas Oil Stadium, the same facility that helps to make the Big Ten championship a big disappointment every year.
Cardinal wide receiver Jamari Thrash put a whoopin on the Hoosiers in that neutral-site contest, catching four balls for 159 yards and a touchdown. The fifth-year junior (for those who are still counting) leads the ACC in receiving yards with 329 through three games.
If the Eagles were so wired up last week against Florida State, how will they maintain that intensity for a road game that is not dedicated to a national hero? And if they can't, will they be much better than the BC team that lost its opener at home to Northern Illinois, and then barely held off Division I-AA Holy Cross by a field goal?
The Cards are getting along better than some might have expected with journeyman QB Jack Plummer replacing longtime fan favorite Malik Cunningham, a.k.a., Micale Cunningham. But you see, the departure of their two-named quarterback left them more NIL money to spread around.
Louisville 34, Boston College 18
Colorado State at Middle Tennessee
Before we all agree that Coach Prime's Buffaloes are the greatest team that ever trod sod, let's keep in mind that this CSU team turned the ball over four times, and committed 17 penalties for 182 yards, and still took them to double-overtime before falling by a final of 43-35.
The MT-heads were overwhelmed in their opener at Alabama, but they have no more opponents of that caliber left on their schedule. They nearly knocked off Missouri a week later, and they finally got into the W-column against Division I-AA Murray State, an opponent that has so little hope that its slogan is "It just doesn't matter!"
Rumor has it that former Blue Raider alumnus Roderic Blunt will come back to suit up for this game, to gouge a few eyes for old time's sake. It seems he watched last week's CU-CSU game and saw that against the Rams, that kind of stuff appears to be perfectly legal.
Middle Tennessee 14, Colorado State 10
Arkansas at LSU
The Razorbacks statistically dominated Brigham Young last week, but on consecutive second half possessions they turned the ball over on downs, were intercepted and missed a field goal. That was enough to allow BYU to battle back from ten points down to topple them, 38-31.
Never mind their nonconference loss to Florida State, the Tigers are the only team yet to win a game in SEC West play, flattening Mississippi State by a final of 41-14. Usually prolific MSU quarterback Will Rogers finally met some men he didn't like, in the form of a Bayou Bengal defense that held him to 103 yards on 11 completions, in 28 attempts. On offense, tailback Malik Nabers came calling in the state next door, running for 239 yards and two touchdowns, and all without even spilling the contents of his casserole dish.
What, you've never gone hog-topppling? City slicker!
LSU 52, Arkansas 35
Appalachian State at Wyoming
If Cowboy QB Andrew Peasley was waiting for another Texas team to know when to fold 'em, he must have been disappointed when the Longhorns blew open a tie game in the fourth quarter, plowing through his Pokes for three touchdowns in a 31-10 setback. Nevertheless, the men from Laramie are already in a great position for a postseason bid at 2-1, and with a season-ending schedule that consists of UNLV, Hawaii and Nevada.
The Mountaineers face a foe from outside their home state for the first time this season, and boy, is that some kind of a hike. So far, App State has won home games against intrastate foes East Carolina and Division I-AA Gardner-Webb, and put up a great battle in a 40-34 double-overtime defeat at North Carolina.
Of all the fields the College Football Czar would like to see return to a natural surface, War Memorial Stadium has got to top the list. It just doesn't look nearly footbally enough without the players'cleats prying up miniature frozen divots all over the field. The colorful, rubbery surface that resides there now looks more like a Twister mat that might have been used by Jake Gyllenhaal and Heath Ledger.
Believe it or not, the Czar just researched that movie to make sure he'd gotten the names of the actors right, and Gyllenhaal's character is actually named Jack Twist. You just can't write this stuff, except that somebody did.
Wyoming 29, Appalachian State 27
Georgia Tech at Wake Forest
The Forest people have struggled to a 3-0 start, even though they set up their schedule for them to go on a Smurf-stomping spree. Let's see how they fare when they're facing someone who's more than three apples high.
In 2006, the Demon Deacons defeated Tech in a defensive duel for the ACC championship, 9-6. That may be the biggest game these teams have ever played, but the Ramblin Wreck has run away with enough of the smaller ones to make up for it, leading the all-time series 23-8.
The Yellowjackets are clearly an improving club, even though they've lost their first two games this year against Division I-A competition. Haynes King must have been too busy dancing in the moonlight when he should have been practicing at Texas A&M, because he was about as erratic as GT quarterbacks are expected to be. Since his transfer, he has turned it around dramatically, throwing for nine touchdown passes to only one INT, and more than 300 yards in each of those losses against Louisville and Ole Miss.
It was when the College Football Czar got to thinking how critters could live in mushrooms if they're three apples high that he concluded that Smurfs do not really exist. He was so proud of himself that he drove right to the nearest bar to tell everybody.
Georgia Tech 26, Wake Forest 22
a sports publication from The Shinbone