The Original College Football Czar
Week 4
<![if !vml]>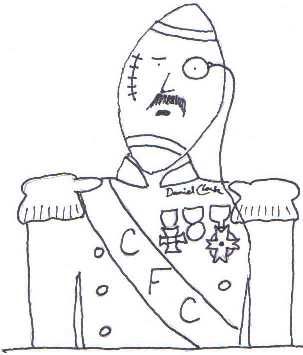 <![endif]>
Week three in review: In his last installment, the College Football Czar panned three Pac 12 quarterback transfers. Although he stands by his assessment, he must acknowledge that Washington's Michael Penix and Oregon's Bo Nix had very good games in key nonconference victories. Emory Jones, however, helped Arizona State lose at home to Eastern Michigan, resulting in the long-expected firing of head coach Herm Edwards.
You might remember that, during the offseason after the COVID-shortened 2020 season, Edwards was the subject of a dossier that was delivered to ASU, apparently by a disgruntled assistant coach. It detailed the head coach's disregard for COVID-inspired recruiting restrictions, among other alleged violations. What the Czar would like to know is, if Edwards had committed such gross violations, the university surely had enough on him to can him prior to last season. So why was it necessary for him to lose to EMU before getting the axe? The Czar can only conclude that if the controversy weren't repelling prospective prospects and transfers, the Sun Devils would be content to keep Herm as long as he was winning. So, when you hear the A.D. and other administrators bloviate about their ethical standards, please recognize that they are speaking through their opposite orifices.
Sadly, the vast majority of televised Week 3 games were absolutely horrid, mostly because none of the Top Ten teams were in particularly competitive matchups. There was a shakeup in the middle of the rankings, however, where numbers 11, 12 and 13 (Michigan State, BYU and Miami) were toppled by lower-ranked or unranked opponents.
Through three weeks, the College Football Czar still hasn't gotten out of the starting gate, as he stayed at .500 with a record of 9-9. As much as he tries to select the most difficult games to pick, there are always a couple high-profile games, as well as some of the matchups for Pitt, Penn State and West Virginia, that are virtual gimmes, which means that a .500 record is nowhere near what he would consider breaking even. He'd better start improving on that mark real, real soon, so let's get right to it.
Sept. 23
Virginia at Syracuse
Each team pulled out a dramatic victory in the final seconds in Week 3, although the Orange did have a little help. Purdue had just gone ahead 29-25 with only 51 seconds to play, when tight end Payne Durham started swaggering in the back of the end zone and blowing kisses to the Syracuse fans. When he was flagged for unsportsmanlike conduct, PU coach Jeff Brohm vehemently disputed the call, to the point where he was cited for unsportsmanlike conduct as well. As a result, the kickoff was pushed back to the 10-yard-line, allowing SU to return the ball to midfield. From there, they were further aided by a defensive hold and a pass interference penalty, leaving them only a 25-yard game-winning drive. One pass from Garrett Shrader to Oronde Gadsdenii later, and the Orange won, 32-29, to improve to 3-0.
UVa avoided the same fate that befell its rival from Virginia Tech, by kicking a last-second field goal to turn away upstart Old Dominion, 16-14. The lack of offense continued a surprising trend for the team that boasts 2021 ACC-leading quarterback Brennan Armstrong. A week earlier, they got moidered by Illinois, 24-3, and even in their opener against Division I-AA Richmond, the 34-17 final did not reflect as fearsome an offense as one might have expected. Against ODU, the Cavs actually rolled up an impressive total of 513 yards, but they nullified many of those gains with three turnovers and 80 yards in penalties.
Historically, the Cavaliers are enemies of the Roundheads. One look at SU mascot Otto will tell them right away that they're in unfriendly territory.
Syracuse 20, Virginia 17
Sept. 24
Central Michigan at Penn State
The Nittany Lions are undoubtedly better than expected this year, but how much is difficult to say. Their first three opponents, who seemed so formidable before the season started (Purdue, Ohio and Auburn), haven't really played well against anybody so far.
Freshman PSU running back Nicholas Singleton currently has the thirteenth-most rushing yards in the nation. What's extraordinary about that is that his 30 carries (10 in each game) are by far the fewest among everybody in the top 25, and his per-carry average of 11.1 yards is best of anyone. By comparison, NCAA-leader Chase Brown of Illinois has toted the ball 75 times, for 6.6 per carry.
A ground game is conspicuously lacking at CMU, however. Team leader Lew Nichols averaged only 2.2 yards per carry in losses to Oklahoma State and South Alabama, and even last week's 166-yard breakout is tempered by the facts that it came against I-AA Bucknell, and it took him 30 carries to do it.
The team from Mt. Pleasant visits Happy Valley. Isn't that swell? The College Football Czar only hopes a big fight doesn't break out between the two teams, over who loves who more.
Penn State 45, Central Michigan 17
Florida at Tennessee
The Gators must be grateful to hit the road, the way they've gotten bogged down in their own Swamp. A week after a suffocating loss to Kentucky, they barely managed to stave off South Florida, 31-28. Through three home games, sophomore scrambler Anthony Richardson has yet to throw a touchdown pass, but has been picked off four times.
As is the case with most highly ranked teams at this point in the season, it's tough to tell if the #11 Volunteers are really as good as advertised. On either side of a mucky 34-27 overtime win at Pitt, they've mowed under two MAC opponents, Ball State and Akron, by a combined score of 122-16. Through this opening streak, quarterbacks Hendon Hooker and Joe Miltoniii have combined for nine TDs and no interceptions.
Despite the Gators' struggles in recent years, they've continued their winning ways in 16 of the past 17 games in this series, to take a 31-20 lead. The Vols dominated the early years of the rivalry, through 1955, but then these teams didn't meet again until the 1969 Gator Bowl, which is pretty peculiar considering that they remained in the same conference throughout.
Not that they didn't try, but the visiting team kept getting pulled over along the way, and forced to play a gig at the Boar's Nest to pay off its traffic tickets.
Tennessee 31, Florida 22
Notre Dame at North Carolina
If there were still a BCS, Marshall's loss to Bowling Green would have eliminated the Irish from national contention. Given the subjective nature of the CFP, though, the committee may yet find a way to weasel them in. Just wait until the CFP expands, and we're speculating about a team like this making it in with a record of 8-4. Oh, joy.
All the media posterior-puckering has not done Marcus Freeman any favors. This year's edition of ND was never anywhere near being a Top Five team, and it's not the rookie coach's fault that they won't live up to that totally unreasonable expectation. As Moriarty (Gavin McLeod) said in Kelly's Heroes, "I can't make it work without the parts, no matter how positive I think!"
If a trip to Chapel Hill doesn't bring the Fighting Irish out of their offensive doldrums, it's hard to imagine what will. The Tar Heels are allowing 468.3 yards per game so far, which is tenth-worst in the nation. The College Football Czar is still not sure how they held on to beat Appalachian State in spite of allowing six fourth-quarter touchdowns. Yes, they're 3-0, but with two razor-thin victories against Sun Belt teams, and a pseudo-scrimmage against the Division I-AA Florida A&M Rattlers.
The Carolina Commiefisty won't do them much good this week, because by the time they pull it down out of the air to use it, that boxing leprechaun will have landed a one-two combination right in the uncs.
Notre Dame 28, North Carolina 23
Minnesota at Michigan State
The radiant rodents may be 3-0, but they had to burrow pretty low to come up with three such pitiful opponents. Last week's 49-7 rout of Colorado hardly seems worth the loss of leading receiver Chris Autman-Bell, who is out for the season with a non-contact leg injury. Their leading remaining WR, Michael Brown-Stephens, is a junior who has yet to catch more than four passes in a single game in his career.
The Spartans entered last week with a high ranking, but proved themselves to be very ordinary. For starters, they couldn't wait to get the heck out of Seattle, just like everybody else. MSU spotted Washington a 22-0 lead, and never pulled any closer than they did by the end of a 39-28 setback, which leaves them at 2-1 with both wins against MAC opponents.
Sparty has won five straight in this series, but these cross-divisional opponents have not met since 2017, which was coach P.J. Fleck's first season in Minneapolis. The Golden Gophers hadn't even learned how to row a boat by then. Instead, they rode those dastardly e-scooters, and abandoned them on the sidewalk, as usual.
Gophers are not the most considerate of critters. Okay, so the Czar doesn't actually know that for a fact, but it's probably one of his better guesses so far this season.
Michigan State 20, Minnesota 10
Arkansas vs. Texas A&M
As you can tell by that dreaded "vs.," this is a neutral-site game in Arlington, where these teams will continue to meet through 2024. A&M has expressed a desire to move the games back on-campus after that, and here's hoping the Hogs agree. At least it helps a little this year that this game does not kick off until 7 ET, whereas most of the previous meetings in Jerry Jones' House of Inadequacy have been at 3:30. An afternoon football game in a dome is like taking a perfectly good slice of pizza and dipping it in ranch goo.
The Razorbacks had a very uncomfortable game last week, against former coach Bobby Petrino and his Division I-AA Missouri State Bears. They were lucky to be able to turn it on in the fourth quarter to score three touchdowns, after putting in a typically awkward, exhibition-like performance against a lower-division opponent for most of the day.
After their loss to Appalachian State, the Conjunction Boys introduced a "but," in the form of a 17-9 victory over Miami. Now they'd like to add an "and" to that by taking down #10 Arkansas. Last Saturday, the ampersanders shredded the Hurricane offensive line, taking time away from pocket passer Tyler Van Dyke. They'll be facing a less stationary target this week, however, in K.J. Jefferson, a QB who led his team in rushing last year with 664 yards.
You might remember that Petrino was dismissed from coaching the Hogs in 2012, when he was discovered to be having an extramarital affair with a female employee. He had gotten away with it until he crashed his motorcycle, and the police report showed that his mistress was a passenger, contrary to his statement that he had been alone. He should have claimed to be the victim of a reverse Manti Te'o hoax, by which the girlfriend he thought was imaginary turned out all along to have really existed, without his knowledge.
Say, this reality-optional "my truth" jazz can be fun!
Arkansas 30, Texas A&M 27
Clemson at Wake Forest
It's coach Dave Clawson against the Paw Boys in this anthropomorphic game of hand-to-hand combat, which has been won by the Tigers for 13 years in a row. Even last season, when Wake wound up winning the ACC Atlantic division, it lost this game handily, 48-27.
If Dabo Swinney thinks his Tiger offense has successfully addressed its problems, just because they've put up pretty good numbers against three terrible opponents, the College Football Czar suspects he's in for a disappointment. His team, ranked #5 for the time being, faces a formidable schedule from this point on, including road games against Florida State and Notre Dame, as well as the Demon Deacons. On the road last season, they only went 3-2, including narrow escapes at Syracuse and Louisville.
The Deacons needed to thwart a late two-point conversion attempt in order to defeat Liberty 37-36, but that's really not a bad result. LU may have lost Malik Willis to the NFL, but they had won their previous two games, against pretty good opponents from Southern Miss and UAB. Look at who the Tigers have played (Georgia Tech, Louisiana Tech, and the mighty Man of Fur), and the Flames would probably be undefeated against those guys, also.
What does it say about Clemson athletics, that they've seen fit to incorporate fingerprints into their team logo?
Wake Forest 29, Clemson 19
Wisconsin at Ohio State
As formidable as the Badgers usually are, they have lost their last eight to the Buckeyes, and it's no wonder. Having a mascot called Bucky, he can't help but have divided loyalties, perhaps thinking he is a buckeye himself. The Czar is guessing that Bucky is not a very good speller. Not because he's a wild animal, but because he's a yoo-dub alumnus.
One might hope that this cross-divisional game would diminish the possibility of these same two teams meeting in yet another Big Ten championship game, but it didn't work out that way when they last met, twice, in 2019. Even though the Madison Reds got rolled by the lumpy nuts that October, 38-7, they still managed to win the West, and lose to OSU again, 34-21 in the title game.
OSU fans are relieved to have star WR Jaxon Smith-Njigba back in the lineup, but in the meantime, Marvin Harrisonjr has emerged as the team's leading receiver. Son of the Indianapolis Colts Hall-of-Famer (whose name, coincidentally, is Marvin Harrison), the Buckeye sophomore scored his first three career touchdowns against Utah in last year's Rose Bowl, and has already hit paydirt five times this season.
The Badgers' 66-7 blowout of New Mexico State must have felt good, but it did nothing to cancel out the previous week's result, when they were beaten on their home turf by Washington State, 17-14. Most facets of the game went their way, except for the eleven penalties they committed, for a total of 106 yards.
If Bucky Badjr had a son, would he be Bucky Badiii?
Ohio State 38, Wisconsin 20
USC at Oregon State
If there were a transitive property of football, that would benefit the Trojans, who easily handled the same Fresno State team that the Beavers had barely beaten on a last-second touchdown. In last week's 45-17 Southern Cal victory over the Bulldogs, tailbacks Austin Jones and Travis Dye each gained over nine yards per carry for over a hundred yards, as they combined for 212 yards on only 23 rushing attempts.
The Beavs' last-minute drive to beat FSU was a costly one. Tight end Luke Musgrave, son of former Oregon quarterback and current Cal OC Bill Musgrave, had led the team in receiving through two games, but missed last week's faux-game against I-AA Montana State with an unspecified injury, and is not expected back for several weeks. Each of the team's other TEs has only one reception this season, as opposed to Musgrave's eleven.
Malcolm Epps scored a touchdown in the fourth quarter for SC last Saturday, but when the announcer called the play, it sounded like it was Malcolm X who had scored. This surprised the Czar, who would have thought those thick glasses would make it difficult to play the wide receiver position. Well, that, and having been murdered half a century ago.
USC 35, Oregon State 23
Boston College at Florida State
With FSU quarterback Jordan Travis suffering an ugly lower leg injury in the first half at Louisville last Friday, freshman Tate Rodemaker came off the bench and rallied his team for three second-half touchdowns and a 35-31 win. Amazingly, the Cardinals never caught onto the fact that the inexperienced slinger was locked in on WR Johnny Wilson, who caught the tying and winning TDs in the fourth quarter, and finished the game with 149 receiving yards. Expect BC to double-team Wilson, and force Rodemaker to look for somebody else, or take a chance on getting picked.
Even after last week's 38-17 win over I-AA Maine, the Eagles have produced little offense so far this year, averaging only 299 total yards per game. Their ground game has accounted for just 1.7 yards per carry, and their kicker has missed three very makeable field goal attempts out of five.
These teams usually have very similar uniforms, except that last Friday, the Noles played in what were officially "ice white" helmets. They were unveiled on Twitter, to the tune, to use that term loosely, of "Ice, Ice Baby."
Vanilla Ice, of course, is just a stage name, for Robert Van Winkle. Speaking of which, you don't have to worry about missing much action if you leave your chair to take a Robert Van during this game.
Florida State 14, Boston College 10
Maryland at Michigan
The QB competition in Ann Arbor had already been decided in favor of J.J. McCarthy, long before Cade McNamara left last week's game with an injury. Five potential replacements are now vying for the backup position, including former Texas Tech tosser Alan Bowman.
In what was expected to be a shootout last week against Southern Methodist, the Terrapin defense came up with a shutout in the fourth quarter, allowing their team to come from behind to win, 34-27. Once the Terps had taken the lead, they stopped SMU on downs twice in a row, to put the game away.
It would have been next to impossible to put together a weenier nonconference schedule than the Wolverines did, without including at least one lower-division team. Colorado State, Hawaii and Uconn are a combined 0-9 against Division I-A competition, and none of those games has even been close.
Perhaps when Jim Harbaugh scheduled these opponents, he had taken a look at his own team's helmets, and gotten the mistaken impression that he was coaching the Delaware Fighting Blue Hens.
Michigan 30, Maryland 21
TCU at SMU
Last year, when he was at Southern Methodist, coach Sonny Dykes won the Iron Skillet, 42-34. The Mustangs wouldn't let him take it with him to Fort Worth when the Horned Frogs hired him away, so he'll just have to try to win it back.
It's not known at the time of this writing whether freshman QB Chandler Morris will return for Texas Christian this week, or if the offense will continue to be led by senior Max Duggan. The College Football Czar thinks Duggan should remain the starter, and not just because he had a big game against a I-AA team called Tartar Sauce, or something. Duggan has been a very productive and scrappy QB for four years, and surely didn't deserve to lose his job to a newcomer. Nevertheless, Morris was named the opening-day starter, but left with a knee injury during a tentative performance against Colorado.
The Mustangs could hardly come up with a clutch play all day in last week's 34-27 loss to Maryland. In addition to three turnovers of the conventional variety, they also turned it over on downs three times. In Canada, that counts as six turnovers. Then again, Canadians think the word "bacon" just means really good ham, so what do they know?
Speaking of bacon, have you seen the Iron Skillet that is awarded to the winner of this game? It's so huge, it looks like the entire team could eat out of it, like horses at a trough. Here's hoping they don't fill it with beans.
TCU 41, SMU 38
Baylor at Iowa State
In Week 2, the Cyclones more than doubled Iowa's offensive production, yet they needed a 99-yard fourth-quarter drive in order to pull out a 10-7 victory. For the game, they held the Hawkeyes to 150 total yards, while forcing three turnovers.
Oh, deary-dear, look what the cat dragged in. It's the Waco kids, after a 26-20 double-overtime loss to Brigham Young. True, BU rebounded with a 42-7 trouncing of Texas State, but we'll see what kind of energy they really have in this, their next road game following that frustrating defeat in Provo.
Sophomore Bear quarterback Blake Shapen is an example of what we're seeing far too much of in football these days, a QB with a great completion percentage, but for far too little yardage, in a far too tentative offensive scheme. 18-for-28 used to be a very good day, but not when you're only passing for 137 yards, as Shapen did against BYU.
Never underestimate the killer instinct of the Waco kids. They must have killed more men than Cecil B. DeMille.
Baylor 16, Iowa State 7
Oregon at Washington State
Cougar QB Cameron Ward had a big game against a little Colorado State team a week ago, but is he really all that Wazzu has built him up to be? Not only has he yet to reach the 300-yard mark in a game this season, but his former Division I-AA team, Incarnate Word, doesn't seem to be missing him. In Week 2, his replacement threw for 406 yards and four TDs as UIW upset Nevada, 55-41. In three games, the guy has 1,069 passing yards, with 13 TDs and only one interception. It sure seems like Ward was partially a product of the system.
Last week against Brigham Young, the Fighting Ducks looked like the team that was expected to show up for their opening game in Atlanta. Of course, it matters that they weren't playing Georgia anymore. Quarterback Bo Nix made much better decisions than he did against UGA, mostly because he was given the time to do it. WSU must try to take that time away, and force him into the kind of mistakes that he's typically made while under duress.
Stop snickering. There's nothing wrong with a man being under duress. Besides, the undergarments are so much more comfortable. Or so the Czar has heard.
Oregon 27, Washington State 17
Indiana at Cincinnati
Before the College Football Czar gets to his pick for this game, he must point out that he erred last week when he said that Notre Dame's last home loss to a group-of-five team had been to Tulsa in 2010. These Bearcats, who of course are in the same conference as Tulsa, won in South Bend only a year ago.
Next to that game, their big, blockbuster victory that earned them so much respect from the CFP committee was their 38-24 win over IU in Bloomington. The fact that the Hoosiers came crashing to a 2-10 finish did not harm UC's standing, cuz fairness.
This year's Hoosier team has already won more games than it did a year ago, but it hasn't been easy. Last week, they needed a 51-yard field goal in overtime to finish a comeback victory over Western Kentucky, 33-30. As usual, they're disdaining the run, in spite of having a couple backs with good per-carry averages. Instead, they've attempted more than 50 passes with Missouri transfer QB Connor Bazelak in each of two games against Division I-A competition.
Bearcat quarterback Ben Bryant has roughly equaled Bazelak's production through three games, but on far fewer passing attempts, for a per-attempt average of 8.9 yards, as opposed to 6.6 for his counterpart.
Contrary to popular opinion, there really is such an animal as a bearcat. It's a weasel-like Southeast Asian animal, related to the mongoose, and it's called the binturong. Speaking of which, as the Czar indicated four paragraphs ago, he binturong also. He fix now.
Cincinnati 24, Indiana 14
Duke at Kansas
Like Kentucky's Mike Stoops, the coaches of these two 3-0 teams probably don't like being told that they running football programs at basketball schools, but that's obviously the truth, whether they like it or not. And when basketball takes precedence over football, that football must be really, really bad.
If the Jayhawks have put a spell on you, perhaps that's because you've been mesmerized by their offense, which has tallied a total of 13 touchdowns in consecutive road victories against West Virginia and Houston. This does not include the defensive score, an 86-yard interception return by Cobee Bryant, to finish off that 55-42 overtime triumph at WVU.
The Blue Devils are already 2-0 against the other doormats from the days of yore. They teed off on Temple in their home opener, 30-0, then went on the road to outwrestle Northwestern, 31-23. It's too bad they've run out of nonconference dates, or else they could have played Vanderbilt and Rice, after this showdown with the KU-KU pigeon sisters.
Cobee's given name, by the way, is Jacobee. KU is not such a great basketball school that it succeeded in recruiting the late L.A. Lakers star. Can you imagine the NIL deal if it had?
Kansas 49, Duke 34
Iowa at Rutgers
The way these teams have been playing, this game figures to be the longest three and a half hours since the short version of Heaven's Gate. The Scarlet Knights are actually undefeated, having edged Temple 16-14, a week after whaling on Division I-AA Wagner. In hindsight, their opening 22-21 win at Boston College doesn't count for much, either.
In a relative offensive explosion, the Hawkeyes knocked around Nevada 27-0, a week after that same Wolf Pack team was outgunned by I-AA Incarnate Word. The seven-hour Hawkeye win included three lightning delays, and those were the highlights. Even including that result, UI ranks dead last among 131 teams in total offense, averaging a paltry 217.7 yards per game.
It's a little-known fact that Kris Kristofferson didn't really act in Heaven's Gate, as the credits would have us believe. It turns out they replaced him at the last minute with a dead bear, and nobody noticed the difference.
Iowa 12, Rutgers 9
Western Michigan at San Jose State
One might think these would have been prime candidates to clash in the California Bowl decades ago, but the first time they ever met was just last season, when WMU won 23-3 in Kalamazoo. The Spartans were squelched for 119 yards that day, while going minus-3 in turnovers.
SJSU has had an idle week since a 24-16 setback at Auburn. They probably felt pretty good about that result, until they got to stay at home last Saturday and watch that same Tiger team on TV. They've had only two games so far to put together the parts transplanted from their Mountain West rivals, with former Hawaii QB Chevan Cordiero throwing to ex-Nevada receivers Elijah Cooks and Justin Lockhart.
The Broncos deserve a broncs cheer for the run defense they've been playing, which has yielded an even five yards per carry. In the fourth quarter of last week's 34-13 loss to Pitt, they were unable to even obstruct the Panther ground game, even when they knew it was coming, and regardless of who was carrying the ball. They were likewise inept in an opening 35-13 defeat at Michigan State. However, it's doubtful that these other Spartans, who could only muster 49 rushing yards in their opener against I-AA Portland State, can take advantage.
Originally a teachers' college, or normal school, SJSU used to be nicknamed the Teachers, the Normals, and the Pedagogues. In the Bay Area these days, that last one is a little too close for comfort.
Western Michigan 17, San Jose State 14
a sports publication from The Shinbone