The Original College Football Czar
Week 4
<![if !vml]>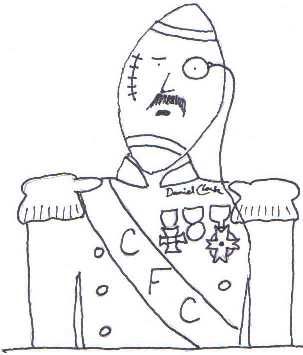 <![endif]>
Week three in review:  After a long offseason of boasting that the Big Ten would soon supplant the SEC as the nation's premier football conference, a funny thing happened:  They started actually playing games.  In Week 3, seven Big Ten teams lost to nonconference opponents, including #6 Wisconsin, which fell to Brigham Young on a missed last-second field goal.  If loyalists of that league were trying to come up with a cheer to rival the acolytes of the Southeastern Conference, they can stop now.  Besides, what kind of a dork roots for a conference, anyway?
They weren't the only ones to have a rough week, though.  The College Football Czar had a rare sub-.500 week, at 7-8, partly because he made the mistake of consistently picking against the Big XII in nonconference games.  It turned out instead that Texas, Texas Tech, Oklahoma State and Kansas all won impressively, and TCU put up a better scrap than expected against Ohio State.  All together now, "X-I-I!  X-I-I!  X-I-FREAKING-I!"
For the season, the Czar's record now stands at 33-23, for a .589 winning percentage.
Sept. 21
Penn State at Illinois
The Nittany Lions ease into their Big Ten opener, before getting to the meat of their schedule midseason.  PSU's next six opponents after the Illini are Ohio State, Michigan State, Indiana, Iowa, Michigan and Wisconsin.  Sure, a few of those teams have taken some lumps, but how formidable would the Lions look by now if they'd faced Arizona State, BYU or Notre Dame?
Not only did the Fighting Illini put up a good battle at Soldier Field last week against South Florida, but they actually led the Bulls 19-7 through three quarters, before wearing down in the fourth for a 25-19 defeat.  A win would have lifted Lovie Smith's team to 3-0, which sounds good until you see that in their two victories, they barely rallied past Kent State 31-24, and then pulled away late for a 34-14 win over the Division I-AA Western Illinois Leathernecks.  If the NCAA wants to address attendance slippage, they don't need to look any farther than that.  Undefeated September records simply aren't what they used to be.
The word "I" appears eight times in "Illinois Fighting Illini."  Perhaps that should have been Penn State's team name instead.  After all, PSU is the only team in America whose fans go to sporting events to cheer for themselves.
Penn State 50, Illinois 14
Florida Atlantic at Central Florida
The 2-0 Knights haven't played a real game since the season's opening Thursday night, when they nuked Uconn, 56-17.  Since then, they've beaten up on I-AA South Carolina State, and had their following game at North Carolina canceled by Hurricane Florence.  Now, they must be ready to dodge whatever is thrown their way by crafty FAU coach Lane Kiffin.
The Burrowing Owls have become an underground success under Coach Kiffin, going 13-3 since his arrival.  The former USC head coach and Bama assistant has turned heads as well as stomachs, such as in last year's Boca Raton Bowl, when he elected to go for two after a late touchdown, just to put a big, round number on the board in a 50-3 blowout of Akron.  Bob Diaco should take note.  Kiffin doesn't have to produce a trophy in an effort to concoct a rivalry.  All he has to do is be himself, and the bitterness will naturally follow
UCF has already pounded a lower-division opponent and scratched a game against a team from the ACC, which means they're following the exact same formula as last year.  Does that make them 2018 national champions yet?  When do they start printing Three-Peat tee-shirts?
Central Florida 49, Florida Atlantic 38
Washington State at USC
On another Friday night a year ago in Pullman, the Cougars scored what seemed at the time like the unlikeliest of victories, 30-27 over the Trojans.  The most surprising stat was that Wazzu's pass defense held Southern Cal slinger Sam Darnold to only 164 yards.  It wouldn't be nearly as remarkable if they did the same this year against freshman J.T. Daniels, who has just one touchdown pass and three interceptions during his team's 1-2 start.
The early success for East Carolina grad transfer Gardner Minshew at WSU has been one of the feel-good stories of the month, but story time is over.  This Trojan team may have its troubles, but it is not to be mistaken for any of the Cougs' first three opponents – Wyoming, San Jose State and I-AA Eastern Washington.
Cougar coach Mike Leach revealed recently that the one job he'd always wanted when he was younger was garbage man.  Judging from the way his team was attired in last year's game against SC, he must have loved the uniform.
USC 23, Washington State 21
Sept. 22
Pitt at North Carolina
Pat Narduzzi's Panthers bounced back from a humiliating loss to Penn State to beat Georgia Tech in their conference opener, but not without a little help from the coach's counterpart, Paul Johnson, who approached the game with undue desperation.  Tech attempted a fake punt, and later eschewed a 40-yard field goal attempt, and was stopped both times on fourth-down conversion attempts, staking Pitt to a 21-0 halftime lead.  The eventual 24-19 final left the Yellowjackets wondering what would have been, if only their coach had kept his cool instead of looking for a dramatic breakout from a road losing streak.
Tarheel coach Larry Fedora knows better than to force his hand in the first half, because if there's one thing he's learned from playing the Panthers, it's that the game will come to him, eventually.  UNC has won all five meetings since these teams have become ACC rivals, with those games decided by an average of just 4.8 points.  Last season at Heinz Field, WR Anthony Ratliff-Williams returned the opening kickoff for a touchdown, and later added a decisive fourth-quarter TD reception, in a 34-31 shocker that ultimately kept Pitt out of the postseason.
For the Heels to make it six in a row would be the unlikeliest result yet in the series.  Not only are they 0-2, with a bad 41-19 loss to East Carolina and a merciful washout against UCF, but they still have one game left in the suspensions of seven players, including QB Chazz Surratt.
The College Football Czar hereby nominates Narduzzi for the Lardhead of the Year Award, because of his explanation after his team captains made a mistake on the opening coin toss against Penn State.  The Panthers won the toss, but the players opted to receive the kick, whereas the coach had instructed them to defer their choice until the second half.  "I said, 'Don't you guys know what defer means?'" he recalled, before revealing that he didn't know the meaning of the word himself.  "Just say you want to play offense or defense.  They'll figure it out from there."
No!  The officials will not "figure it out from there."  The team captains are the ones making the call.  When you defer, that means you put off your choice until the second half kickoff, in which case the referee turns to your opponents for their choice to open the game.  If you say you want to play defense to start the game, you have not deferred.  You have simply opted to kick off.  When your opponents make their call to start the second half, they'll elect to receive, so that you're kicking off to begin both halves.  How can a fourth-year head coach remain so confused over such a simple decision?  Let's hope, for Narduzzi's own sake, that he never wanders into a Bugs Bunny sketch, or else he'll wind up jumping up and down yelling, "Shoot me now!  Shoot me now!"
As any real football fan knows, "defer" is de name of de critter wrapped around Joe Namath.
Pitt 29, North Carolina 26
Kansas State at West Virginia
Last week's cancelation at Nc State whittled a little distance off WVU's typically foreboding travel schedule.  Next week they leave for Lubbock, for their first of four long conference road trips.  In the meantime, they open their Big XII schedule at home, against a K-State squad that always wins a couple more games than it seems like it should.
The absence of a breakaway running back is getting to be a concern for the Cats, whose ground game in last week's 41-17 win over Texas-San Antonio was led by quarterback Skylar Thompson with 66 yards.  Junior RB Alex Barnes is down more than a yard per carry from a year ago, and has found paydirt only once in three games.
A year ago, the Mountaineers defeated the Wildcats on the road, 28-23, but the highlight was how much the boys from Morgantown got a kick out of visiting Bill Snyder Family Stadium.  The place only holds 50,000!  Is that all the kin he's got?
West Virginia 38, Kansas State 21
Texas A&M at Alabama
New Aggie coach Jimbo Fisher hasn't fared all that well in a couple previous run-ins with the pachyderms.  In last year's opener, his Florida State Seminoles were hammered by Bama 24-7.  Ten years earlier, he was denied his first chance at a head coaching job, when the U of A board of regents torpedoed UAB's attempt to hire him.
Fisher's Conjunction Boys functioned better than expected in a 28-26 loss to Clemson.  & what do they do for an encore?  The ampersanders face their second presumptive national contender in three weeks, of course.
Unlike that Clemson team, the Crimson Tide don't have a genuine QB controversy, as much as coach Nick Saban wants to maintain the illusion of one.  In last week's 62-7 overwhelming of Ole Miss, Tua Tagovailoa completed 11 of 15 for 191 yards and two scores.  Jalen Hurts filled in adequately for a while, but he did toss the Tide's only interception of the game.
So, is it safe to say that Saban's found the right man to run his offense for the rest of the season?  Why, how could you be so insensitive to even ask such a thing?  You fiend!
Alabama 44, Texas A&M 25
Wisconsin at Iowa
The Hawkeyes had a hangover after last year's blowout victory over Ohio State, and got hung out to dry a week later at Camp Randall Stadium, 38-14.  (And if you think Hawkeye was hung over, you should have seen Colonel Potter, that old rummy.)  This time they're at home in Iowa City, with no reason for a letdown after going 3-0 against a fairly weak nonconference schedule.
For a second week in a row, the Badgers were slow out of the blocks, but this time they didn't have the inevitability factor working for them, like they did in their previous game against New Mexico.  Kicker Rafael Gaglianone gagged on a last-second, 42-yard attempt in a 24-21 upset loss to Brigham Young, but blaming the kicker would be a mistake.  BYU running back Squally Canada blew a frigid wind UW's way, as he streaked past them for 118 yards on only 11 carries.  Meanwhile, the Madison Reds committed the game's only turnover, which set the Cougars up for a short touchdown drive.
It wasn't all bad news for the Gers, however.  Little-utilized senior tailback Taiwan Deal scored his first two touchdowns since the 2015 season.  Yeah, but just wait until our fearless leader tears up Taiwan Deal, and forces the Taiwanese to pay back the thousand-hundred and fourteen billion dollars they've stolen from us in unfair trade practices over the years.  Won't look so tough then, will you, Badgers?  MAGA!
Iowa 20, Wisconsin 14
Stanford at Oregon
Because A&M canceled on them, it's not all the Ducks' fault that they played the nation's worst nonconference schedule.  But regardless of who's to blame, they're not likely to be ready for a game of this magnitude, after remaining in exhibition mode against Bowling Green, I-AA Portland State, and San Jose State.
Cardinal fans are looking for a little Love power to return to their lineup, with running back Bryce Love being held out of last week's 30-10 snooze against Division I-AA Cal-Davis, after apparently sustaining an injury late in the USC game.  In truth, he hasn't been right yet this season.
You might remember the song "Love Power" from the Mel Brooks movie The Producers (the real one, not the insufferable remake).  If you do, then you know why the people in Palo Alto will never run out of love power.  It was sung by LSD, which, it just so happens, can be found in abundant supply in the Bay Area as well.
Stanford 30, Oregon 16
TCU at Texas
The pointy cows stampeded USC last week, 37-14, but they were charging at a stationary target.  The same won't be true when they tangle with a Texas Christian team that tallied 511 total yards in a 40-28 loss to Ohio State last week in Arlington.
The lizard kings have got a long way to go to even up this series, which the Longhorns lead, 58-25-1.  They've got a start over the past four years, however, going 4-0 and outscoring the Horns 153-33.  If you're expecting that streak to end because you're a believer in the doofer theory, consider first the fact that Texas once won 24 in a row against their foes from Fort Worth, from 1968 through 1991.
The shuffle pass has gained popularity in recent years, partly because of ball security.  It works out like a handoff, but if the exchange is bungled, the result is an incompletion instead of a fumble.  That is, assuming the ball ever reaches the ground.  Last week against Ohio State, Frog QB Shawn Robinson gave up a second-half lead by chucking the ball straight into the arms of a defensive lineman.  It was an uncharacteristic blunder by the sophomore scrambler, who threw for 308 yards in that neutral-site setback.
If Horned Frog coach Gary Patterson wants to play the tough guy by wearing all black, one of his assistants needs to break it to him that he's got to lose the visor.  If Johnny Cash had worn a visor, he'd have looked like a doofer, too.
TCU 40, Texas 22
Notre Dame at Wake Forest
This is a matchup the NCAA honchos have just got to hate, what with all the "hostile and abusive" imagery, based on wholly unfounded stereotypes.  Seriously, the "Fighting Irish"?  That's about as unrealistic as Wake's portrayal of a sinister clergyman.
The Fighting Irish (not that they do that sort of thing) scrapped their way to a third consecutive victory, 22-17 over Vanderbilt, in spite of the fact that they're rushing for 101 yards per game fewer than they did a year ago.  That offensive ineptitude may finally catch up to them in Winston-Salem, where they play their first road game since last year's losses at Miami and Stanford.
Even in an earlier-than-scheduled Thursday night 41-34 loss to Boston College, the Demon Deacons demonstrated a far superior offense than anything the Irish have faced so far.  Against BC, they rushed for 298 yards and passed for 214 more, while converting an incredible 6-of-7 fourth downs.
It seems to be a common flaw among football coaches that they think anything they do that is counterintuitive must be ingenious.  For example, ND coach Brian Kelly has been sticking with scrambling QB Brandon Wimbush all game long, until he gets his team near the goal line, when the coach sends in pocket passer Ian Book to wittily hand the ball off.  Kelly decided to pull that one out of his bag of imploding tricks only after he realized that batting the pitcher eighth wasn't an option.
Wake Forest 28, Notre Dame 21
Georgia at Missouri
The Tigers needed a last-second field goal to put away Purdue 40-37, after allowing 572 passing yards to backup Boilermaker QB David Blough.  That doesn't speak well of their chances in this upcoming three-game stretch against UGA, South Carolina and Alabama.
This is already the Bulldogs' second SEC road game of the season, and if the first is any indication, they have little to worry about.  In Week 2, they rumbled over a rugged South Carolina team 41-17, as the Man from M reestablished M-self as starting quarterback.  Sophomore Jake Fromm, once considered to be challenged by freshman Justin Fields, has completed 80.4 percent of his passes so far.
If the Tigers can defeat the Dogs, they will become the new frontrunners in the SEC East, but doesn't anyone see a problem with that?  If Missouri is called the Show-Me State, then someone ought to show it that it's not in the eastern half of the Southeast.
Georgia 52, Missouri 35
Michigan State at Indiana
The Spartans have had a week off to recover from a surprising 16-13 loss at Arizona State, but will it do them any good?  They had an idle week at this same juncture of last season, and returned with a terrible showing, getting dumped at home by Notre Dame 38-18.
At 3-0, the Hoosiers have so far declined to participate in the Big Ten's troubles, perhaps in part because they had few expectations in the first place.  Freshman running back Stevie Scott has been anything but frugal so far, gaining an average of 5.6 yards per carry.  Last week, he ran the ball 18 times for 114 yards and two TDs, as his team rolled 38-10, against the same Ball State team that sent South Bend into a panic a week before.
Ironically, that same 114 yard total is what MSU is averaging through two games as a team.  Senior L.J. Scott (probably no relation) gained just 19 yards on seven carries against ASU, before being pulled out in the second half with an unspecified injury.
These teams play for one of the Big Ten's most colorful trophies, the Old Brass Spittoon.  The most amusing part is that nobody these days knows what a spittoon is, so the players on the winning team think it's a half-yard stein.  There's just enough residual, hundred year-old tabacky flavor left in it to make any beer taste like a fashionable snob microbrew.
Indiana 31, Michigan State 24
Arizona State at Washington
Husky running back Myles Gaskin finally cranked up his odometer with 143 yards in a 21-7 victory over Utah.  He hopes to shift into cruise control against an ASU defense that allowed 311 rushing yards a week ago, in a 28-21 loss to San Diego State.
The Sun Devils' ground game got off to a good start in their opener against Texas San-Antonio, but since has ground to a halt.  It turns out that Eno is not enough, but is rather just half that.  Promising sophomore running back Eno Benjamin has gained only 48 yards on 26 carries in his last two games.
One thing about Eno, though.  He's no dumb dipstick.
Washington 13, Arizona State 7
Nebraska at Michigan
At 0-2 with losses to Colorado and Troy, the Cornhuskers might be relieved to have failed to coax Akron into sticking around an extra day to play their opener.  If they don't win in the Big House, they're already at risk of being left home for the postseason.
The N-men played last week without their starting quarterback, freshman Adrian Martinez, who had injured a knee in the opener against CU.  In that supposedly huge upset against TSU, they were led by Andrew Bunch, a walk-on, who will try not to become a carry-off in what promises to be a bruising game in Ann Arbor.
Wolverine wide receiver Donovan Peoples-Jones caught three TD passes in last week's 45-20 smushing of SMU.  Mind you, Donovan is the Peoples-Jones, meaning that he's the Jones the people would have chosen, in the estimation of the politburo.  Any person who would rather choose some other Jones shall be forced to perform ten year's labor on the people's beet farm.
Michigan 19, Nebraska 11
Florida at Tennessee
The 2-1 Volunteers notched their first Division I-A win of the season, 24-0 against UTEP, which is Esperanto for, "If you don't score at least 35 on us, you reek!"  Even if they don't speak the language, they'll understand well enough after their next three games, against Georgia, Auburn and Alabama.
First-year Gator coach Dan Mullen is convinced Feleipe Franks is the man to lead his team, even though he has had to chastise the sophomore slinger for being mopey.  Is Mullen seeing mopes of encouragement from his QB?  Who knows what goes on in a coach's mind these days?
The NCAA changes its rules as whimsically as the commissioner of Rollerball does, but for now, UF needs to win seven games to be bowl-eligible, because they play two Division I-AA opponents, and can only count one of those games toward bowl eligibility.
Have you ever seen the 1960 William Shatner movie Incubus, which was filmed entirely in Esperanto?  Please don't.  Trust the Czar, just knowing of this film's existence is amusement enough.
Tennessee 15, Florida 12
Kansas at Baylor
Are the Jayhawks actually a good team all of a sudden?  What happened, did coach David Beaty start saying mean things to his players, like the Mayor of Oz, a.k.a, Mark Mangino, allegedly did before being weirdly fired in 2009?  Perhaps the KU-KU pigeon sisters have finally recaptured their mean streak.
Last week's 40-27 loss to a shorthanded Duke team was the Bears' eighth consecutive home loss against Division I-A opposition.  In what ended up a statistically even game, BU was blanked by the Blue Devils in the first half while building a 23-point deficit.
In consecutive blowout victories over Central Michigan and Rutgers, KU has gone an amazing plus-12 in turnovers.  Too bad the players have nothing to wear for the occasion.  How else are they to know when they've done a good thing?
Kansas 26, Baylor 24
Nevada at Toledo
The first meeting between these teams was not just a great game, it was the first overtime game in Division I-A history.  The Rockets prevailed in that 1995 Las Vegas Bowl 40-37, and have won all three regular season meetings since.
Last week, the Wolf Pack defeated Oregon State 37-35, when they watched a 34-yard Beaver field goal attempt sail wide on the last play of the game.  UNR once led the game 30-7 in the second quarter, but in their next eight possessions, they punted seven times, a streak broken only by a two-play possession to kill the clock in the first half.
This was supposed to be a rebuilding year for UT, but it put up a battle against Miami through three quarters, for the second year in a row.  In that 49-24 setback, Rocket receiver Diontae Johnson reeled in six catches for 119 yards and two scores.
Guess what?  Nike sales have gone up since last month!  That means everybody loves former Pack QB Colin Kaepernick, and therefore agrees that America is just one gigantic sewage sandwich.  Either that, or else Nike just naturally sells more merchandise at the beginning of football season.  Whichever.
Toledo 33, Nevada 18
Charlotte at Umass
The Minutemen return home to Amherst after being routed in three consecutive road games.  Their 55-21 loss to Boston College went pretty much as expected, but they've since gotten slammed by Georgia Southern 34-13, and flattened by the Florida International House of Pancakes, 63-24.  By contrast, the Niners are now 2-1, having played their first three games at home, but how will they hold up through a road schedule that goes from here to UAB, Middle Tennessee, Just Plain Tennessee, Marshall and Florida Atlantic?
The College Football Czar has noted before how obviously deliberate it is that Charlotte's logo resembles a Soviet hammer and sickle.  Ergo, he has decided to rename them the Green Menace.  It makes a lot more sense than calling a Carolina team the 49ers.  The official excuse for that moniker is that the school embodies the adventurous "49er spirit."  Yeesh!  Even the Utah Jazz have probably got a better reason than that.
Umass, on the other hand, calls its teams the Minutemen, who actually lived in Massachusetts.  What simpletons.  They should have called themselves the Massachusetts Gauchos, because they have that fighting gaucho tenacity, or something.
Umass 54, Charlotte 43
Texas Tech at Oklahoma State
Last week, each of these teams put on a powerful demonstration against one of the nation's best group-of-five teams.  The Red Raiders outgunned AAC favorite Houston 63-49, while the Cowboys easily rounded up the Boise State Broncos, 44-21.
BSU played the Pokes an almost even game statistically, with the exception of two blocked punts.  OSU returned one of those for a touchdown, and set up its offense to take over the big tater at the seven yard-line with the other.
For the Raiders, freshman Andre Bowman fired a quiver of five TD passes, in an amazing 605-yard passing game against Ed Oliver and that vaunted UH defense.  So it's true.  You really can't always get all you vaunt!
You might not think Tech coach and nationally recognized fashion plate Kliff Kingsbury would care for counterpart Mike Gundy the Man's not-really-a-mullett.  To the contrary, he thinks it could be knitted into a very dapper scarf.
Oklahoma State 45, Texas Tech 42
a sports publication from The Shinbone