The College Football Czar
Week 4
<![if !vml]>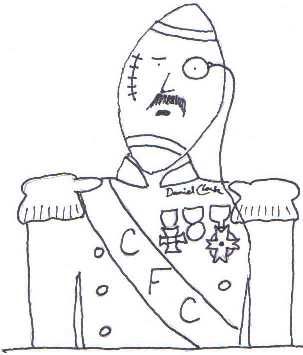 <![endif]>
Week three in review:  The biggest story of 2017 continues to be that defending national champion Clemson, in spite of having to replace nearly every key offensive player from a year ago, is looking even stronger this season.  In this year's sequel, the Son of Clem has rampaged through Auburn and Louisville with an ease that was unseen last regular season.  Right now, the College Football Czar would say that if there's no rubber match in this year's championship game, it will only be because the Tide, and not the Tigers, were unable to make it happen.
Last week's edition of College GameDay included a segment with Chris "The Bear" Fallica that provided what, in the parlance of our times, may be called a "teachable moment."  When the rest of the crew looked to the Bear for his best bets of the day, he went on at length about how much he liked New Mexico State against Troy, not only because he expected the Aggies to be considerably better than last year's injury-riddled squad, but because there was a revenge factor at play, with the Trojans having won the past two meetings 52-7 and 52-6.  However, when he was asked if he was picking NMSU outright, he said no, but he thought they'd beat the seven and a half point spread.
The Bear's analysis proved to be pretty accurate, insofar as the Aggies only lost 27-24, but what about that constitutes revenge?  By suggesting that it did, he gave us a peek into the scrambled mind of a professional gambling lardhead.  "Take that, Vegas!  When I came to town last year, I lost $2,000, but this time I only lost $500!  Ergo, I'm really $1,500 ahead!  Vengeance is mine!"
Unlike week two, the late games weren't so kind to the College Football Czar, as he dropped the last two of the day to finish the week at 12-6.  For the season, his record stands at 45-18, for a .714 winning percentage.
Sept. 22
Utah at Arizona
A tentative Lardhead of the Year Award nomination is extended to the alleged vandals of a statue on the Brigham Young campus.  (No, it was not a monument honoring a Confederate Mormon, but why not, as long as we're supposed to "celebrate diversity"?)  A statue of a Cougar had been spray painted with a series of red U's before BYU's clash with the Utes, for which four UU students have been arrested, after allegedly returning to the scene of the crime to take pictures of their dirty work.  If these are truly the perpetrators, and they weren't satisfied with pulling up the photos that already exist online, then the Czar shudders over what that implies about the quality of education they're receiving over there in Salt Lake City.
So far, the untested Utes have handled the Division I-AA North Dakota Fighting Effeminate Birdy-Thingeys 37-16, survived a slow-motion comeback by blundering BYU 19-13, and beaten the accent marks out of an inept San Jose State team, 54-16.  If there were still a BCS, they'd be facing a bigger uphill climb than they did when they were still playing in the Mountain West.
After a scoreless first quarter last Friday night at UTEP, the Wildcats scored five touchdowns in the second frame, on their way to a 63-16 romp.  But still, they went scoreless for an entire quarter against UTEP.  Not even Rice did that.  Nevertheless, junior quarterback Brandon Dawkins has the Cats confident that they can compete again for the Pac 12 South.  Through three games, Dawkins has thrown for four TDs and rushed for five more, while fumbling once and throwing no interceptions.
These schools are separated by the Grand Canyon.  It's a little-known fact that it's really only a Two Hundred Canyon.  It has been inflated for tourists' sake, kind of like ten gallon hats and hundred year-old eggs.
The College Football Czar can kind of understand the selling point of humungous hats, but why would anybody want to eat an egg that's been on earth longer than Larry King?
Arizona 20, Utah 17
Sept. 23
Pitt at Georgia Tech
The Panthers traditionally defend poorly against the option, but it will be a welcome change of pace after they were bombed into oblivion by Oklahoma State.  Pat Narduzzi's D barely impeded OSU on its first seven possessions, all of which resulted in touchdowns.  The 59-21 final was actually far better than they deserved.
In the only real game the Yellowjackets have played so far, they gained 655 yards in a baffling Labor Day double-overtime loss to Tennessee.  Tech QB TaQuon Marshall rushed for five touchdowns that night, but he turned into TaQuon "Doh!" on a failed two-point attempt, in the second OT of the 42-41 defeat.
How rapidly are the Panthers repelling viewers?  In the third quarter of last week's game, the Heinz Field scoreboard announced that all students who stayed until the end of the game would receive a free beverage.  ABC embarrassed them for that desperate ploy by showing the message on camera for the whole nation to see, and the embarrassment was well deserved.
If they really want to fill some seats for their yawner of a return home next week against Rice, they'll take a page from Bill Veeck's "Disco Demolition Night" by advertising the event as Splode "Sweet Caroline" Day.  Zillions of Neil Diamond discs would be dynamited at midfield, thus preventing the hyper-creepy, saccharine ode to child molestation from ever being heard at the stadium again.
Georgia Tech 26, Pitt 16
Penn State at Iowa
PSU didn't always play well during last year's nine-game winning streak, but one time they needed to and did was in their 41-14 flattening of the visiting Hawkeyes.  Saquon Barkley's 167-yard performance did not even account for half of his team's rushing yardage against a U of I defense that was otherwise formidable throughout the season.
The Iowans were unable to run the ball that day, and it looks so far like that might be a theme for their 2017 season.  Through three games against less than ferocious opposition, they're averaging only 3.8 yards per carry.  Leading rusher Akrum Wadley is only getting 4.3, which is more than two yards per attempt less than last year.  In fairness, Wadley is playing on a bum ankle, although he's probably a go for this game.  If not, Nevada graduate transfer James Butler will get the bulk of the carries.  (Somebody graduated from the University of Nevada?  Stop the presses!)
Nittany Lions' coach James Franklin has taken some flak for calling a timeout to ice Georgia State's kicker with a 56-0 lead.  For the record, he says that's not the reason he called it, but that his players were simply having trouble lining up to defend the kick.  Furthermore, he had to do it, in order to defeat Akron in the Super Bowl.  What's not to believe?
Seriously, as much fun as it is to watch Franklin get angry and evasive in response to criticism, the Czar has got to ask when it became a violation of football etiquette to try to prevent the other team from scoring.  Any team that has a chance to post a shutout against any other team is going to make an effort to close it out.  GSU tried to break the shutout with a late field goal, and Franklin figured the kick would be less likely to succeed if he made the kicker wait through a timeout, so he did.  There's nothing scandalous about that, even as far as regular people are concerned, let alone Penn State.
The last meeting between these two was such a blowout, it can only mean we're due for a big Bear's Revenge game in this rematch.
Penn State 21, Iowa 15
West Virginia at Kansas
The Mountaineers ease into another typically daunting Big XII road schedule.  In addition to this trip to Lawrence, they also visit Fort Worth, Waco, Manhattan and Norman.  That's Manhattan, Kansas, of course.  They're not playing the Manhattan Jaspers, although as long as they're beating up on the likes of Division I-AA Delaware State, they might as well.  Actually, the Jaspers haven't had a football program since 1942, but their alumni team could have put up as much resistance as DSU did.
KU is officially 1-2, but they've lost to two opponents from the Mid-American Conference, and have won only their opener, against I-AA Southeast Missouri State.  That university, located in Cape Girardeau, is known to the locals as "SEMO," with a long "e".  Yes, that's revolting, but don't blame the Czar.  He's just the messenger.
The Jayhawks are so comically bad that the Czar may start referring to them as the Kansas J. Hawks.  That's because every hapless cartoon character has the middle initial "J" – like Elmer J. Fudd, Bullwinkle J. Moose, Homer J. Simpson, and a certain president we all know.
West Virginia 49, Kansas 19
USC at California
The Golden Bears did their part to explode the myth of SEC supremacy last week at Kabam Field, where they muzzled Ole Miss 27-16.  Cal picked off three Shea Patterson passes, the last of which was returned for a touchdown by freshman linebacker Cameron Goode, to put the game away.
Sam Darnold has been intercepted twice in each of his first three games this season.  That's not the kind of consistency that Southern Cal had hoped for, but with the loss of most of last year's OL and receivers, it shouldn't come as a surprise.
Just one day after the Trojans defeated Texas in double-overtime before a packed house, the Los Angeles Rams played in the same stadium, for a crowd that was only two-thirds as large.  Coliseum, Coli-don't.  The NFL is so full of lame excuses anymore, and so unwilling to own up to its real problems, that it's probably blaming the disparity on the Rams' decision to go with those boring uniforms with the white horns on the helmets, instead of yellow.
The Czar is kicking himself for not citing this as a possible upset in his preseason issue.  Where better for a Land Mine Game than Kabam?
California 35, USC 32
Florida at Kentucky
Last time the Wildcats won a game in this series was 1986.  That was the year that President Reagan walked out on the Reykjavik Summit, the Monkees made their big comeback, and everyone thought the coolest person in the world was Paul Hogan.  Just about a decade later, Hogan was regularly seen on TV driving a Subaru.  How the mighty had fallen.
Unlike that '86 team, these Cats can actually contend for an SEC East division title.  Last week, they stuffed South Carolina 23-13, and if they can get past the Gators, they shouldn't be seriously challenged again until a Week 8 visit to Mississippi State.
Don't get carried away with the dramatic ending of the Gators' 26-20 win over Tennessee.  That mistake-riddled slog through the Swamp was arguably the worst-played game so far this season, and did nothing to justify UF's completely undeserved ranking.
For throwing last week's game-winning long bomb, freshman Gator QB Feleipe Franks was awarded a trophy – by his American history professor.  Somewhere, former Uconn coach Bob Diaco is seething with envy.
Kentucky 24, Florida 20
Michigan at Purdue
Expectations for the maize and blue are unrealistic, judging from the disappointed reactions to their 29-13 victory over Air Force.  The College Football Czar, who predicted a final of 30-13 for that game, sees no cause for alarm.
Through two weeks, the Boilermakers played exciting football, but last Saturday, Brohm's lullaby put Missouri to sleep, 35-3.  PU possessed the ball for almost three quarters of the game, and only allowed the Tigers two third-down conversions.
By the end of the second quarter against Florida in Week 1, viewers would have expected a spate of interceptions from Wilton Speight by this point in the season.  He decided to stop throwing them, however, because that pun would have really annoyed him.
Michigan 28, Purdue 20
TCU at Oklahoma State
The Cowboys have outscored their first three opponents 162-52.  There's nothing so impressive about the Big XII that's going to stop that trend, just because OSU is entering conference play.  In 2016, the Pokes averaged 36.8 points per game in league games, as opposed to 36.7 against Division I-A nonconference opponents.
The 3-0 Horned Frogs won the coveted Iron Skillet last week, but their performance is being panned.  Their 56-36 win over lowly rival SMU was a tight game until they pulled away with three touchdowns in the fourth quarter.
Last year, the Frog receivers couldn't catch a fly.  Not only were unproductive, but had an extraordinary number of unforced drops.  (The Czar doesn't know exactly how many, because nobody keeps count, but that's okay.  Please don't go inventing any more statistics.)  They're faring only slightly better this season, even though they've had a stat-padding game against I-AA Jackson State.
Mike Gundy the Man is in his 13th year as head coach at Okie State.  So you'd think by now he'd be better at coaching – you know – his head.
Oklahoma State 53, TCU 27
Mississippi State at Georgia
The mud puppies mucked up LSU's season with a 37-7 mauling last week in Starkville, but the Czar wonders if that result doesn't reflect more on the Tigers than it does on MSU.  We'll soon find out, because Dan Mullen's team now faces UGA and Auburn in consecutive road games.
Georgia quarterback Jacob Eason has returned to practice, but he's unlikely to be ready to play by Saturday.  In the meantime, the Dogs will continue to rely on Jake Fromm, or "The Man From M," as nobody calls him.
If one of these impending hurricanes looks like it could make landfall in Georgia, that would place coach Kirby Smart under "the Cone of Uncertainty" that meteorologists have been yammering about.  Then he could say something like, "Gee, Chief, I dunno."
Georgia 30, Mississippi State 22
UCLA at Stanford
This matchup provides fodder for loyalists of the supposedly downtrodden Group of Five conferences, with these presumptive Pac 12 contenders falling last week to Memphis and San Diego State, respectively.
Statistically, the Cardinal and their leading rusher Bryce Love aren't really missing Christian McCaffrey that much, but that doesn't guarantee success.  Even with him, they played very poorly for a stretch early last season, when they were walloped by both Washington schools, and lost to Colorado 10-5.
The blue bears' offensive production has been offset somewhat by the fact that they're averaging nine penalties a game.  They should have paid more attention when the NCAA announced that raiding pickanick baskets would be a point of emphasis this year."
UCLA 35, Stanford 31
Nc State at Florida State
The 2-1 Wolfpack try to redeem themselves for blowing their first big game of the year, having lost their opener to South Carolina 35-28, in spite of having outgained the Gamecocks by better than a 2-to-1 ratio.
Because of the Seminoles' cancelation of their game against Louisiana-Monroe, and the postponement of their meeting with Miami – both of which were completely necessary – they still don't know how they'll get along without QB Deondre Francois, who suffered a season-ending leg injury in the waning moments of an opening loss to Alabama.  Gangly freshman James Blackman gets the start this week, at 6-5 but only 185 lbs.  Having yet to throw his first collegiate pass, he'll need to succeed immediately, because the ferocious NCSU run defense will put the onus on the youngster to beat them through the air.
The Pack nearly knocked off the Noles a year ago, but blew a 10-point second-half lead and lost, 24-20.  It was their fourth setback by seven points or fewer, during a 7-6 season that could have been a whole lot better.
By the end of this season, FSU coach Jimbo Fisher might stop expressing relief that he didn't end up with the UAB job.
Nc State 20, Florida State 14
Washington at Colorado
These teams last met in the 2016 Pac 12 title game, but while the Huskies stand a reasonable chance of repeating as champs of the North division, the Buffaloes are certain to get lost in the shuffle in the South.
UW won that previous contest handily, 41-10, thereby landing themselves a CFP bid in the Peach Bowl against Alabama.  The Buffs went on to suffer a second straight blowout loss, 38-8 to Oklahoma State in the Alamo Bowl.
These teams represent the two states in which marijuana is legal.  The Czar is surprised that the pro-pot activists did not seize upon last year's conference championship as proof that their drug of choice is really good for you.  The leaders of the Libertarian Party must be lying down on the job.  Then again, when aren't they?
Washington 44, Colorado 26
Syracuse at LSU
You'd think former Pitt offensive coordinator Matt Canada would be welcome anywhere they speak sort-of French, but so far, his tenure in Baton Rouge has been the worst thing to hit that state since – what was the name of that really big disaster in Louisiana that one year? – oh yeah, the Mickey Rourke movie Angel Heart.
The Orange have defeated Central Michigan and I-AA Central Connecticut, and been toppled by Middle Tennessee.  How imposing must it now be for them to have to line up and play against an entire state?
Not only did the Tigers lose badly at Mississippi State last week, but they also lost leading rusher Derrius Guice to an undisclosed injury.  Coach Ed Orgeron says Guice is "very questionable" for Saturday's game against SU.  Just don't "very question" him about exactly what's wrong?
THIS JUST IN: As this issue is going to publication, Coach O has announced that Guice is going to play after all, his injury now being re-undisclosed, evidently.
Mickey Rourke has not been seen driving a Subaru, but if he were, it would serve him right.
LSU 19, Syracuse 9
Notre Dame at Michigan State
A year ago, the Spartans squelched the Irish running game in a 36-28 upset to improve to 2-0, but then they lost nine out of ten to finish the season.  Again, MSU is 2-0 this season, but with both wins coming against MAC opponents, another freefall would not be unexpected.
The Fighting Irish wore down rival Boston College for a big second half, in a 49-20 trampling that improved their record to 2-1.  That's welcome news to reporters who cover ND, because when the Irish lose a game, coach Brian Kelly won't stand to be asked questions about his having lost a football game – and what else would there be to discuss, really?
After some mild disgruntlement following the Georgia game, the media seem to be okay with this.  As the saying goes, when in Rome – which South Bend might as well be sometimes.
Notre Dame 41, Michigan State 33
Oregon at Arizona State
Even in the middle of last season's swoon, the demoralized Ducks had enough left in the tank to power past ASU, 54-35.  Once having trailed this series 9-0, UO has reeled off the last ten in a row, to take a 19-16 lead.
The forgotten Royce Freeman is third in the nation in rushing with 460 yards, but is the runaway leader in rushing touchdowns, with nine.  Three players trail him with six TDs, including the webfoots' own Kani Benoit.
For the Sun Devils to improve upon last season, they really needed to complete a home-and-home sweep over a tattered Texas Tech team.  Alas, their 18-point comeback was undone by a late interception, in a 52-45 shootout in Lubbock that dropped their record to 1-2.  They're really 0-3 in the Bear's book, though, having only defeated New Mexico State 37-31.
No wonder mob accountants keep two different sets of books on everything.  It's because real world records and gambling lardhead records are genuinely different.
Oregon 51, Arizona State 38
Texas A&M at Arkansas
The Conjunction Boys are looking to take a fourth consecutive game since the resumption of this neutral-site series in Arlington.  After needing overtime in each of the first two, they continued their streak last year in a 45-24 mismatch.
At least Aggie coach Kevin Sumlin has got sumthin goin for him, in that his players seem to be motivated to help him save his job.  Don't overlook the importance of their dominant second half against Louisiana-Lafayette, because the ampersanders' second-half schedule is so treacherous, they really can't afford to go into the Alabama game any worse than 4-1.
If the Razorbacks thought they broke their slump with an opening rout of I-AA Florida A&M, they're mistaken.  They played every bit as badly in a subsequent 28-7 loss to TCU as they did in blowing leads late last year against Missouri and Virginia Tech.  Not to mention, any fan of theirs who finds this game promising because the Hogs are 1-0 against A&Ms is an irredeemable lardhead.
The U of A is honoring alumnus Jerry Jones by wearing uniforms modeled after his team, the Dallas Cowboys.  The fact that this tribute to him still includes the pig logo is coincidental, presumably.
Texas A&M 47, Arkansas 41
Duke at North Carolina
A 4-0 start would not be unprecedented for the Blue Devils, but when they last did it in 2014, it was against far lesser competition.  For them to have failed to sweep through I-AA Elon, Troy, Kansas and Tulane would have been like managing to lose the duck pond game at the church fair.  Even Brutus Thornapple never did that.  Or if he did, the Czar doesn't remember because it wasn't funny.
Good endings of seasons are far more rare in Durham.  A year ago, they started 3-3, but then salvaged only one game from the second half of their schedule.  That lone victory was a 28-27 upset of UNC that effectively ended the Heels' hopes of another division title.
The Tarheels arguably suffered worse losses to graduation last year than anyone else in the nation, and it shows in their current 1-2 record.  That's a good Old Dominion team they just beat by 30 points, however, and are those losses to Cal and Louisville really so bad?
For the benefit of any Millennials among the College Football Czar's readership, Brutus Thornapple was a character in what was known as a "comic strip," a series of still-framed cartoons that used to be published in daily informational packets we called "newspapers."  Here endeth the lesson.  Next week, the Czar will tell you all about the vertical hold knob.  You can hardly wait.  Trust me.
Duke 33, North Carolina 30
Alabama at Vanderbilt
The Commodores have won five straight games at home in Nashville, since a one-point loss to Georgia last October.  In what was strangely perceived by many to be an upset against Kansas State last week, Vandy stifled the Wildcats 14-7.
Since an opening 24-7 victory over Florida State, the Crimson Tide has appeared indifferent in a pair of games that were not very different themselves, against teams from the Mountain West.  A week after walking past Fresno State 41-10, Bama led Colorado State by that same score, before giving up a couple cosmetic touchdowns for a final of 41-23.
VU turned back the Tide once in 1969, and then again in 1984, and then not again up until now.  Do you realize what this means?  They're 18 years overdue!  And if they were due way back in 1999, and they still haven't won since then, that can only mean … They're DUE!
If the SEC has such great depth, then why does is it home to so many streaks of almost absolute futility?
Alabama 22, Vanderbilt 7
La.-Monroe at La.-Lafayette
The 0-2 Warhawks really ought to be 0-3 by now, but that's only because the belligerent birds always play such a challenging nonconference schedule.  Their Week 2 washout at Florida State fell in between competitive losses to Memphis and Southern Miss.
Following a 45-21 loss to Texas A&M, the Ragin Cajuns remain the nation's most scored-upon team, averaging 53 points per game.  It's only a matter of time before some lardhead concludes that these teams can never compete with the big programs, so this intrastate rivalry should be considered the championship of the FHLBCS (Football Hyphenated Louisiana Branch Campus Subdivision).
Actually, ULL now often refers to itself simply as the University of Louisiana, as if it has become ashamed of Lafayette for some reason or other.  The College Football Czar logically deduces from this that Lafayette must have posted a video of itself on YouTube, singing Afternoon Delight, or something.
La.-Monroe 43, La.-Lafayette 34
Sept. 24
East Carolina at Uconn
The American Athletic Conference has managed to scramble its schedule to assure that all conference games are played, after having postponed two games not so much because of Hurricane Irma as to promote hurricane sensitivity.  This meeting between the Pirates and Huskies has been moved up from Week 10, but it is being played on Sunday at noon, because on Saturday, Rentschler Field is hosting a soccer match between the Houston Dynamo and NYCFC.
Most of the attendees at that Saturday MLS match will never have heard of Paul Hogan, but will nonetheless take offense to the suggestion that there's anything uncool about driving a Subaru.  In fact, by next season, the league will have made it mandatory.
At least these teams appear to be evenly matched.  Then again, so do midget rasslers.  ECU took its second pummeling from a ranked team in as many weeks, 64-17 against Virginia Tech, whereas the Conn Men faced their first I-A opponent, losing to Virginia 38-18 after being blanked in the first half.
Three cheers for Sunday afternoon college football, also known as Reason #89B not to watch the NFL.  That ranks it somewhere in between, "My pets really hate the sight of Joe Buck," and "I'll be too busy thinking about going ice fishing."
Uconn 29, East Carolina 25
a sports publication from The Shinbone