The Original College Football Czar
Week 3
<![if !vml]>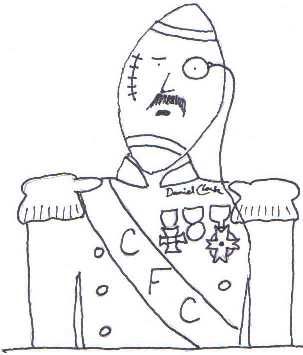 <![endif]>
Week two in review: The next phase of the new realignment has taken place, with the Big XII having added Cincinnati, Central Florida, Houston and Brigham Young as of 2023. The College Football Czar admits to being surprised, having expected the American Athletic Conference to raid the remnants of the Big XII, instead of the other way around. In addition, last time there was a rumored Big XII expansion, there were protests from existing member schools against accepting BYU, on the basis of the LDS church being at odds with the LGBTQIA-otherQ-MSNBC-ampersand-infinity sign-schwa community. Funny how the dire state of the league, with the impending loss of Oklahoma and Texas, has put this dispute to rest.
For that reason, the Cougars should never have accepted. If the Big XII has a problem with the Mormon faith, that problem will resurface as soon as the league realizes it is no longer in danger. In short, the Big XII cannot be trusted. The Cougs should have remained patient, and angled for an invitation into the Pac 12 instead.
Speaking of which, after Oregon outslugged Ohio State early Saturday, the pundits already started declaring it to be the week that the Pac 12 unstunk. It turned out not to be true, as the league's other presumptive contenders proved to be disappointments. USC got stomped into submission by a pedestrian Stanford team, Utah was taught a lesson by BYU, Cal took another tough setback at TCU, and Washington showed that its opening upset loss was no fluke.
That Southern Cal defeat was the end of the line for the perpetually endangered head coach Clay Helton, who has been dismissed with a career record of 46-24. If that's not good enough, then why didn't they just fire him at 45-23 and start anew for 2021, instead of letting the program wallow for most of the season under an interim coach? The Czar can't help but wonder if athletic director Mike Bohn watched Texas get trampled earlier in the day, and noticed that ex-Longhorn coach Tom Herman is available. Okay, so he's currently employed as an "analyst" for the Chicago Bears, but that's about as available as a recently fired head coach can get.
The College Football Czar had been having an excellent week, until he went 0-3 in the late night West Coast games, which dropped his record to 13-6. For the season, he is now 35-14, for a .714 winning percentage.
Sept. 17
Central Florida at Louisville
The Knights rallied to a big Week 1 victory over Boise State, charging back from a 21-0 deficit to beat the Broncos, 36-31. Might that mean they're on their way to another delusional national championship? There's not all that much left standing in their way, aside from a Week 7 trip to Cincinnati, and challenging AAC home games against Memphis and Tulane. If they were specifically seeking a power five team that would make them look good, they just might have succeeded when they scheduled this game against the Cardinals.
The Cards have already faced one offensive juggernaut this year, when they gave up 569 total yards in a 43-24 Labor Day loss to Ole Miss that deserved to be a lot worse. The Rebels had taken a 26-0 halftime lead before coasting the rest of the way. It's unlikely that UCF, looking both for team recognition and to boost the profile of QB Dillon Gabriel, would be so merciful.
To pronounce Louisville "Lllvvll" as you often hear on TV is a shameful waste, especially since you have to buy a vowel, whereas consonants are free.
Central Florida 49, Louisville 33
Sept. 18
Western Michigan at Pitt
The Panthers were lucky Tennessee started the wrong quarterback, or else their many blown defensive assignments in the first quarter might have put them down three touchdowns before they had a chance to play their way into the game. Nostalgia was the order of the day at the Johnny Majors Classic, but the game was hardly one for the time capsule. Pat Narduzzi's team was a plus-2 in turnovers, and benefited from 134 yards in Volunteer penalties, and still barely pulled out the game. Not only that, but when they led by two TDs in the fourth quarter, their 2.1 yard rushing average would not allow them to drain the clock.
In an opening 47-14 loss to Michigan, the Broncos left their cornerbacks in man coverage, and still managed not to get any penetration from their defensive front. The key to stopping the Panther offense is to prevent plodding QB Kenny Pickett from getting his feet set, but they do not appear to have the capability to keep him off balance.
WMU has got the second-worst Bronco helmet logo in the world. They and Boise State must hold "draw the horsehead" contests at postgame tailgate parties. Just in case you were wondering what people do when they're too drunk for cornhole.
Pitt 34, Western Michigan 24
Auburn at Penn State
The 2-0 Tigers have outscored the opposition 122-10 so far, but that opposition has consisted of Akron and Division I-AA Alabama State. As long as they were going alphabetically, they might as well have played the Alouettes next. In the old days, that might have actually improved their BCS rating.
It may be the case that in Week 1 at Wisconsin, the Nittany Lions were lucky to face a weak quarterback, but in Week 2, they took on a prolific quarterback, and made him look weak. The PSU pressure caused Ball State slinger Drew Plitt to check down so immediately so often, he only compiled 176 passing yards on 25 completions, while coughing the ball up twice. That same D might not feel very threatened by an opposing offense, like Auburn's, that did not exceed 300 passing yards a single time throughout an 11-game season in 2020.
What's in a name? More than one might think, at least as far as football is concerned. If Tiger QB Bo Nix were named Percy, there's no way he'd be the unchallenged starter at a major program like AU. The Czar has never understood how quarterback ratings are calculated, but the name Bo has got to be worth at least 20 points.
Penn State 21, Auburn 16
Virginia Tech at West Virginia
The 2-0 Gobblers will have to play the rest of the season without starting tight end James Mitchell. In his absence, they'll turn to sparingly used junior Drake DeIuliis, who has six career catches in five games played. Mitchell had made the team's only touchdown reception in an opening 17-10 victory over North Carolina.
WVU wraps up its nonconference schedule before opening Big XII play at Oklahoma. The Mountaineers are surely celebrating the fact that Cincinnati will soon be joining the conference, but the College Football Czar suspects more good news could be coming soon. The Big XII expansion, which has made the league even more geographically nonsensical, can only make sense if it is the first phase of a plan to grow the league to 16 members. Perhaps if it raided Conference USA to add Marshall, Western Kentucky, UAB and Southern Miss, it could be broken down into somewhat reasonable East and West divisions.
The fans in Morgantown think it's terribly unfair to have to go up against an entire team of graduate transfers. They aren't doing that, of course, but they're convinced that they are, because according to their text books, "Tech" is the past tense of "teach"
West Virginia 17, Virginia Tech 12
Alabama at Florida
Cross-divisional foes don't tend to meet often, but these two have played 17 times in the past 20 years. That's because nine of those have been in SEC championship games. The Crimson Tide have won 7 in a row, to lead the all-time series 28-14.
Are the Gators baiting the visitors from Tuscaloosa? Word is that Emory Jones will start at quarterback for UF, in spite of his meager total of 264 passing yards in two games, with two touchdowns and four INTs. Supposedly, fleet-footed freshman Anthony Richardson will enter the game at some point, but coach Dan Mullen is downplaying his potential impact on this game.
Okay, we're all convinced that Crimson Tide quarterback Bryce Young is for real. So why not spend more of last week's game against Division I-AA Alabama State trying to establish a number one running back? There's no excuse for not getting any of the Bama ball carriers more than 22 carries through two easy wins, during which they should have been working the clock anyway.
You'd think the visiting team would be the Ala. Gators, but that critter was already taken by the team in Gainesville. All that was left on the shelf was a dusty old phant, which meant the Tide had to take pot luck when it came to mascots. Thus, the rivalry was born.
Yeesh! Is the College Football Czar already resorting to that, with eleven weeks to go? It's shaping up to be a long season.
Alabama 49, Florida 13
Cincinnati at Indiana
The Bearcats' path to the CFP had appeared to go through consecutive road games against IU and Notre Dame. Now, even if they win both games, they'll be subject to the charge that their schedule wasn't tough enough. With each of these next two opponents underachieving, UC might already be regretting last week's cupcake feast against Division I-AA Murray State.
The Hoosiers' feelgood 56-14 victory over the formerly Division I- A Idaho Vandals means nothing as far as this week's battle with the Bearcats is concerned. The more relevant result is their opening 34-6 loss to Iowa, in which the fearsome Indy offense only managed 233 yards, 85 of which were given back on interception returns.
UC opened its season by beating up on ancient rival Miami Ohio, 49-14, a result that only looks better in hindsight, since that same MU team put up an impressive fight in a 31-26 loss to Minnesota. Fourth-year starting QB Desmond Ridder rushed for one touchdown that day, while passing for four more. This means he actually scored five touchdowns, not that five touchdowns could generally be attributed to him.
It can't possibly be coincidental that the Hoosiers, one of the few remaining teams with Commiefisty on their uniforms, are from the same hometown as John Mellencamp, the biggest something-something-C-K in the USA.
Cincinnati 38, Indiana 10
Arizona State at Brigham Young
If the Sun Devil program is embroiled in scandal, the guys on the field haven't been burned by it yet. Their biggest concern so far is that junior quarterback Jayden Daniels, who rushed for 125 yards in last week's 37-10 trouncing of UNLV, is accounting for too much of their offense. Finally, they've started giving more carries to senior running back Rachaad White, who averaged an even 10.0 yards per attempt a year ago.
Through two games, new Cougar starting quarterback Jaren Hall has got a very good completion percentage, to go along with five touchdowns and no interceptions, but he hasn't taken a lot of shots downfield. To this point, he has only gained 347 yards, while completing 36 of 58.
The Cougars beat arch rival Utah for the first time in a decade, 26-17. It's not at all clear that they'd have gotten many more chances. BYU and Utah once led the great WAC rebellion, when that 16-team league released a schedule that didn't have them meeting every season. As a result, the Mountain West Conference was formed, and WAC football no longer exists at the Division I-A level. Now that the Cougs have joined the Big XII, it's hard to see how they can continue to play this game annually.
The family-friendly crowd in Provo is in for a shock from the sight of Sparky, the Sun Devil mascot. Nobody so scary-looking has arrived in that town since Mrs. Brigham Young #43. Yikes, what a crow!
Arizona State 35, Brigham Young 33
Virginia at North Carolina
After a dismal showing in a widely-watched opening Thursday night loss to Virginia Tech, UNC quarterback Sam Howell is not going to win the Heisman. So what in the world was he doing on the field with a 45-10 lead over Georgia State with twelve minutes to play? Howell's third touchdown pass of the day, to go along with two rushing TDs, led the Tar Heels in a 59-17 romp that had only been 24-10 midway through the third quarter.
The Cavaliers were already in command against Illinois before most of the country realized that last Saturday's games were even underway. In a rare 11AM start, UVa vanquished visiting Illinois, 42-14. Quarterback Brennan Armstrong stretched the field for 405 passing yards and four touchdown.
Since losing seven straight in this streaky series, the Cavs have now won four in a row, improving their overall record against NC coach Mack Brown to 10-3. A year ago, the Heels had the better of the game statistically, but Bronco Mendenhall's team went 4-for-4 on fourth-down conversions to prevail, 44-41.
If Carolina continues to wear Commiefisty on its uniform, does that make its quarterback a Howell of protest?
Virginia 38, North Carolina 30
Oklahoma State at Boise State
The Broncos must have gotten tipsy on still water when they played there in 2018, because they staggered to an uncharacteristically ugly 44-21 defeat that day. The yardage in that game was almost even, at 422-414, but BSU committed the game's only turnover, and had a punt blocked for a touchdown.
The blue turf of their home stadium doesn't provide them the comfort it once did, either. Last time they hosted as formidable a foe as the Cowboys was last November, when BYU came into Boise and tatered them, 51-17.
The Pokes were almost a step too slow last Saturday, until they came from behind in the fourth quarter to defeat Tulsa 28-23. Tailback L.D. Brown broke a 98-yard kickoff return to give them their first lead of the game.
OSU coach Mike Gundy the Man has been looking forward to this road trip for a long time, so that he can find out who the Bronco mascot's barber is.
Oklahoma State 40, Boise State 29
Tulane at Ole Miss
The 1-1 Green Wave play their first scheduled road game of the season, having been the official home team for their opener at Oklahoma, which had been moved from New Orleans by Hurricane Ida. The extremely accommodating Sooners actually painted an image of TU mascot Riptide at each 25-yard-line. The Wave, feeling right at home, gave an inspired performance before falling short by the final of 40-35.
Gee, the College Football Czar wishes Tulane would rename that mascot. Riptide is the name that Johnny Fever gave himself in that episode of WKRP when he turned into a creepy disco guy ("Hi, kids! Hug, hug, hug"). That's a disturbing image for any costumed critter. Entirely too Disney.
Can we knock it off with the crappy neutral-site games, already? With two fairly distant teams playing in the Labor Day opener in that big ball of gloom in Atlanta, the mismatched Mississippi-Louisville game only drew about 30,000 spectators. The Rebels drew 50 percent more than that for last week's home opener against a Division I-AA opponent.
In that game, they improved to 2-0 with an easy 54-17 win over Austin Peay, but it was not without controversy. After all, why is Austin allowed to pee, when Ole Miss wide receiver Elijah Moore got flagged for it in the 2019 Egg Bowl? Well, if Austin decided to pee while jumping off a bridge, would the Rebs to do it too?
Ole Miss 47, Tulane 34
Fresno State at UCLA
The Bulldogs only lost to Oregon by the same number of points that Ohio State did, but what does that say about their chances of winning in Pasadena? Perhaps not much. FSU has put up lots of tough scraps against the Ducks over the years. Besides, they had already played a Week Zero game before arriving for UO's opener. They won't have that same advantage against the Bruins.
The blue bears are cruising at 2-0, but the College Football Czar has got to ask, just as he did at this time a year ago, how good is a win over LSU, anyway. In 2020, it was Mississippi State that beat the Bayou Bengals early, but they proceeded to lose 7 of their next 8 games.
Bruin fans must be popping corks over the transfer of tailback Zach Charbonnet from Michigan. Through two games, he's gained 223 yards on only 17 carries, with four touchdowns. That's an average of more than 13 yards per tote.
Can you imagine witnessing the postgame conversation between Chip Kelly and Ed Orgeron? It must have been like watching a nature documentary in which a dolphin confronts a sea lion.
UCLA 45, Fresno State 28
Michigan State at Miami
That cat hanging from the upper deck of Hard Rock Stadium wasn't the only one that made a narrow escape last Saturday. The Hurricanes needed a late field goal to edge Appalachian State, 25-23, to level their record at 1-1.
The Spartans have been rejuvenated by sophomore slinger Payton Thorne, who won the starting job from Temple graduate transfer Anthony Russo. His passing numbers are not attention grabbing, but they've been enough to prevent defenses from keying on the ground game of what had been a one-dimensional offense.
Has the eligibility of Cane quarterback D'Eriq King finally run out? It's a relevant question, because we're reaching the same point in the season he redshirted himself two years ago in Houston. He's got to be wondering if he can hit the reset button again, if the first four games haven't gone so well. Perhaps he'll simply quit so he can "prepare" for the NFL draft. Whatever that entails, it's bound to be seven months better spent than remaining loyal to the teammates who are failing to overcome his subpar play.
At least this time, he'd be doing it to a team that deserved it. Perhaps The U would even let him stay on the sideline while wearing the Opt-Out Ascot, or something.
Michigan State 24, Miami 21
Utah at San Diego State
Both teams provided surprising results late last Saturday. The Aztecs disheartened Arizona with a decisive 38-14 victory in Tucson, while the Utes proved to be les mon than Brigham Young in a 26-17 defeat.
SDSU may be 2-0, but so far they've beaten a U of A team that is now on a 14-game losing streak, and a New Mexico State team whose only win in its last six has been against the barely I-AA Dixie State Trailblazers. Who's next, Bishop Sycamore?
In his first start as a Ute against Division I-A competition, former Baylor quarterback Charlie Brewer was about as successful as a batch of Mr. Beer, as he threw for a meager total of 147 yards with an interception in that surprising loss to BYU.
It takes two weeks to finish making a batch of Mr. Beer. If the College Football Czar starts now, he could have it ready in time for the Uconn-Vanderbilt game, which will deserve it.
Utah 27, San Diego State 20
Minnesota at Colorado
How pher can the Golden Gophers go without the services of bruising back Mohamed Ibraham, who was lost for the season to a lower leg injury during a 45-31 setback against Ohio State? Ibrahim led the team in 2020 with 1,076 yards in only seven games, gaining over 100 in each.
The 1-1 Buffaloes battled Texas A&M right down to the end of a defensive donnybrook, but relented by a final of 10-7. On consecutive possessions in the second quarter, they missed a 46-yard field goal, and then turned the ball over on downs at the five-yard-line.
Q: Why is coach P.J. Fleck making his Gophers row a boat all the way to Boulder, Colorado?
A: Well, they can't dig their way up there, can they?
Colorado 17, Minnesota 16
Nevada at Kansas State
The Wildcats' opening 24-7 win over Stanford in Arlington seemed like the most uninteresting football game of all time, but it has suddenly become a bit more compelling since that same Cardinal team broke out for 6 TDs in a road win over USC.
That speaks well of the K-State defense, but unfortunately, quarterback Skylar Thompson is out of the lineup yet again. Against the I-AA Southern Illinois Salukis, Thompson dropped three bombs for 96 yards before being carried off with a knee injury. Will Howard passed for only 76 yards while completing 8 of 17 in relief.
Having been displaced by wildfires during fall camp, the Wolf Pack were barely able to get in any normal practices as they roamed the countryside looking for alternate sites. Whatever they did, hopefully they were writing it down, because it appears to have worked. UNR is now 2-0, including a bruising opener in Berkeley, where they banged up the Cal Bears 22-17. Carson Strong, another of the two-last-named quarterbacks, rallied his team from a 14-0 deficit by passing for 312 yards and 2 TDs.
This matchup features two towns that are deeply infected with small man's disease: Reno, the Biggest Little City in the World, and Manhattan, KS, a.k.a., The Little Apple. If these teams played with greater frequency, it could become a rivalry game. The winners could be awarded a life-size statue of Robert Conrad, with a battery on his shoulder.
Nevada 30, Kansas State 21
Florida State at Wake Forest
The farther things go south at FSU, the more the coaches must find the Tomahawk chop a bit unsettling. Second-year skipper Mike Norvell called last week's 20-17 loss to Division I-AA Jacksonville State unacceptable. It should have been unhappenable.
On the final play of the game, with the Noles leading 17-14, Norvell's defense seemed to be drifting randomly around the field as if they were on the aluminum gridiron of an electric football game. Freshman defensive back Sidney Williams brought unwanted attention upon himself by gliding right past the receiver and out of bounds to clear the way for the touchdown. Frankly, the College Football Czar was impressed that Shirley, at her age and size, was able to keep up with the play at all.
The College Football Czar extends a Lardhead of the Year Award to Seminole guard Brady Scott, who made up his mind to propose to his girlfriend after the game, and then followed through on it. The fact that he planned it means he assumed his team would win, which ought to just please the crud out of his coaches. Moreover, he actually went ahead and proposed in the end zone, with celebrating JSU fans visible in the background. This is not to say he necessarily should have called the whole thing off just because of the outcome of the game, but for heaven's sake, he could have found someplace nice to take her to pop the question. Instead, he has forever associated his marriage with loserhood, in addition to taking the devastating defeat lightly, after having taken the opponent lightly in the first place.
Any guy who makes a point of proposing in front of a lot of people deserves a rejection, anyway. That's just an attempt to enlist onlookers into pressuring the poor girl into saying yes. If the guy is afraid of her honest answer, just maybe it won't work out anyway.
Just kidding about Sidney Williams. Don't call him Shirley. Or Cindy, either.
Florida State 12, Wake Forest 10
Mississippi State at Memphis
Not many teams are 2-0 against two teams that legitimately made it to bowl games last year, but the Bulldogs followed their big comeback victory over Louisiana Tech with a stifling 24-10 win over Nc State. Sophomore WR Lideatrick Griffin, who had returned a punt for 70 yards against LTU, opened the scoring against the Wolfpack by returning the opening kickoff for a touchdown. With one more big return, he will complete the lideatrick, which is like a hat trick, except that instead of throwing one's hat, one must eat it.
The Tigers held off Arkansas State a week ago, 55-50, in spite of giving up 582 passing yards and five touchdowns through the air. Preparing to face such a defense has got to seem like a dream for second-year Bulldog coach Mike Leach.
Actually, Leach's dream consists of preparing to face the Tiger pass defense, while at the same time being endlessly served platters of Suzy Q's by buck nekked, three-breasted, nine-foot-tall women from the earth's core, who somehow speak fluent English, and seem to know everything there is to know about German expressionist painting. Hey, whatever turns him on.
Mississippi State 42, Memphis 39
a sports publication from The Shinbone