The College Football Czar
Week 3
<![if !vml]>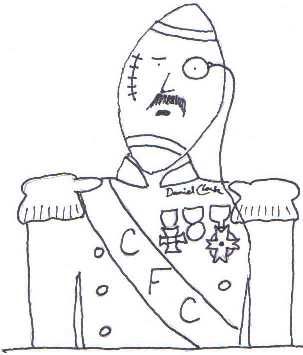 <![endif]>
Week two in review:   The College Football Czar has no excuse for not picking Oklahoma in last week's marquee game at Ohio State.  Yes, he still thinks Bob Stoops' sudden retirement will harm the team in the long run, but why would they suffer from the absence of Big Game Bob in such a big game?
Several contests were canceled by Hurricane Irma in Week 2, some of them obviously out of necessity, others not.  The Czar maintains there was no reason for Miami and South Florida to call off their scheduled road games, at Arkansas State and Uconn, respectively.  They argue that it was somehow terribly important to actually get back to Florida in time for the storm, as if the rest of the state could not survive it without them.  Florida Atlantic, however, kept its scheduled meeting with Wisconsin in Madison, and nobody back home seems to have suffered for it.  The Canes and Bulls should have to forfeit their games, and not wipe them off the books altogether.
Now that the storm has passed through, leaving unspeakable damage in some parts, it becomes necessary to postpone or cancel games for some teams that were already idle a week ago.  The ACC has gotten the jump by reshuffling its schedule, to push this week's big Florida State-Miami game back to Week 6.  Sorry, Hurricanes, you're going to have to play this one, eventually.
For the week, the Czar went 14-5, even though he dropped three of the big prime time matchups.  He recovered with a 4-0 mark in what turned out to be some very entertaining late West Coast games.  You know, the kind that lazy Eastern sportswriters who have votes for the Heisman and Top 25 get paid to watch, but don't bother to?  His closest pick of the week was on Indiana's 34-17 win over Virginia (predicted score 34-18). The Czar's season record stands at 33-12, for a .733 winning percentage.
Sept. 15
Illinois at South Florida
Good thing the Bulls stayed home to greet Hurricane Irma last Saturday, instead of embarking on that death-defying trip to Connecticut.  Their decision to cancel their scheduled conference game may not have spared them Irma's wrath, but it did prevent them from having an extended stay in East Hartford.  Phew, that was a close one.
The Fighting Illini defense held a wide-open Western Kentucky offensive attack to less than half of the yardage it averaged in 2016.  The only touchdown pass thrown by prolific Hilltopper quarterback Mike White was a pick-six for linebacker Julian Jones, in a surprising 20-7 shutdown.
It's no surprise that USF is still unbeaten at this point in the season, but so far they've had to rally from a 16-0 deficit to beat San Jose State 42-22, trailed at halftime before downing Division I-AA Stony Brook 31-17, and called their third game off.  Unlike his successor at Texas, Charlie Strong never used the "fairy dust" argument (more on that later) to justify his struggles with the Longhorns, but if he had, he might have reached a receptive audience, judging from the state of that program by the end of the Mack Brown era.  There's no excuse for not having success with this talented team he's inherited in Tampa, however.
Since when do fairies have dust, anyway?  Wouldn't you think they'd be … I dunno … neater?
Illinois 23, South Florida 20
Sept. 16
Oklahoma State at Pitt
The College Football Czar doesn't normally reference quarterback ratings because he does not consider them to be a valid statistic.  However, he couldn't help but notice that in last week's 33-14 loss to Penn State, QB Max Browne's rating was 8.8.  Out of what, a thousand?  The only reason the Panthers scored a touchdown was because Browne had lost his helmet during a goal line series, and had to come out of the lineup for what turned out to be the scoring play.
Last season in Stillwater, the Cowboys outlasted the Panthers and a two-hour lightning delay to win, 45-38, on the strength of Mason Rudolph's career-high total of 540 passing yards.  Judging from last week, Pitt's defense should fare a little better this time around, but they're not likely to match their own offensive output from that game, either.
Having played last Friday night, in a 44-7 slamming of South Alabama, coach Mike Gundy the Man says he spent Saturday turtle hunting.  If you're not familiar with turtle hunting, just watch the Panther offensive line let Browne get mangled a half dozen times or so, and you'll get the idea.
Oklahoma State 37, Pitt 10
Georgia State at Penn State
The GSU Panthers' debut at the refurbished Turner Field went over about as well as John Rocker's Sports Illustrated interview.  (What?  Don't we all support professional athletes' freedom of expression these days?)  A fourth-quarter touchdown made the 17-10 loss to Division I-AA Tennessee State seem more competitive than it really was.
Last Saturday was a banner day for PSU coach James Franklin.  Not only did his team avenge last year's loss to Pitt, but he earned himself a Lardhead of the Year Award nomination after the game, by trying to play it cool and pretending that beating the Panthers was unimportant to him.  "I know last year, for their win, it was like the Super Bowl, but for us this was just like beating Akron."
When a reporter suggested that people in Pittsburgh might not find that remark very sportsmanlike, Franklin flip-flopped.  "I've been saying for two years that each win is like the Super Bowl for us.  You can interpret it however you want.  Last week, we beat Akron, and it was a great win.  This win, we beat Pittsburgh, and it was a great win.  This win is no more significant for us than last week."  This explanation raises a number of questions that the College Football Czar wishes someone would ask the coach:
If Pitt's win was like the Super Bowl, "but" yours was like beating Akron, and beating Akron is also like winning the Super Bowl, do you have any idea what the word "but" means?  If you are distinguishing your reaction from that of the Panthers, then they can't be the same, can they? 
If we take you at your word that you treat every victory as if you've just won the Super Bowl, then by playing Georgia State, you've given yourself about a 99 percent chance of winning the Super Bowl, as opposed to about a 50 percent chance if you were playing Georgia instead.  Wouldn't you be inclined to take the 99 percent chance over the 50 percent chance every time?  Assuming this is so, why would you belittle Akron?  Have you considered that remarks like that might make it more difficult to schedule the Zips in the future?  Do you intend to alienate GSU in the same way?
From a motivational standpoint, isn't it completely stupid to pretend every game is the Super Bowl?  The Super Bowl wouldn't be any big deal, then, would it?  When you lost the Rose Bowl, did you treat it as no more important than your September opener against Kent State, and if so, do you think this approach contributed to your defeat?  If beating Pitt is no different from beating Akron, then when you lost to Pitt, was that just like losing to Akron?  So how do you like losing to Akron?
Finally, if your aim is to insult Pitt, then why don't you come right out and do that, instead of being a weasel?
"But Czar, at least he's a 51-time Super Bowl champion weasel!"
Point well taken, Mr. Typical PSU Lardhead.
Penn State 58, Georgia State 9
Clemson at Louisville
The Tigers may have lost a lot of talent from last year's national championship team, but they're playing far better than they were headed into last October's 42-36 victory.  The Cardinals are just as surely not, having survived offensive slugfests against Purdue and North Carolina.
Dabo Swinney's team posted three shutouts last season, one of them against Ohio State in the Fiesta Bowl, as their band annoying reminded us in Week 1.  Their defense was probably not as dominant even in that game as it was in last week's 14-6 victory over Auburn, in which they held former Baylor QB Jared Stidham to 3.3 yards per attempt, and the AU rushing attack to 0.9 yards per carry.
One of the obstacles standing between Cards' QB Lamar Jackson and a second Heisman Trophy is his team's weenie scheduling.  A team already with ACC games against BC, Virginia and Syracuse didn't need a nonconference slate consisting of Purdue, Kentucky, Kent State and Division I-AA Murray State.  If Jackson falters in one game of this magnitude, there's no room for recovery.
Jackson's mother hadn't planned to attend last week's game, but she decided to flee Pompano Beach ahead of Irma, so her son's game at Chapel Hill seemed like a natural destination.  That stupid woman!  Doesn't she realize that leaving the path of a hurricane for a football game hundreds of miles away is the absolute most dangerous thing a person can possibly do?
Clemson 35, Louisville 20
UCLA at Memphis
If Bruin coach Jim Mora thinks that big comeback against Texas A&M has gotten him out of trouble, then he's in trouble.  The blue bears may think they're out of the woods after mauling Hawaii 56-23, but this road trip to MU has been a trap waiting for them ever since they scheduled it.
The Tigers' visit to Central Florida last week was bumped up to Friday in order to avoid the hurricane.  It was a good idea, and they should've played the game, but after the rest of the Floridian teams had canceled for Saturday, the Tigers and Knights, and the American Athletic Conference, were not about to appear unconcerned.  AAC commissioner Mike Aresco admitted the non-reality basis for the decision when he attributed it to "an abundance of caution," and added that, "whether the conditions would have allowed [the game] was irrelevant."
Oh, by the way, the last time the Tigers took the field, they narrowly hung onto a 37-29 win against Louisiana-Monroe.  Now, 16 days later, they must face a Pac 12 opponent brimming with confidence.  They don't have the benefit of an extra week's preparation, either, because they'd been preparing for a game that never happened.
This week, the College Football Czar throws in a special bonus prediction, which is that by the end of this season, you will hear commentators look back at these early cancelations and credit them with saving lives through reduced numbers of brain injuries.  Somebody will even suggest that the NCAA should be compelled to shorten the season, by government force, if necessary.  The Czar suspects the most likely candidate to get it started is USA Today columnist Christine Brennan.
UCLA 43, Memphis 31
Texas at USC
Longhorn coach Tom Herman caused a bit of a stir after his team's opening 51-41 loss to Maryland, when he said, "If we all thought we were going to come in here and in nine months sprinkle some fairy dust on this team and think that we've arrived, then we're wrong."  His former boss, Ohio State head coach Urban Meyer, chastised him for these remarks, and it's easy to see why.  He should have called it "gender fluid community dust."
The Trojan team everyone expected to see in Week 1 belatedly showed up for its Pac 12 opener, a 42-24 flattening of North division powerhouse Stanford.  Tailback U became Tailback U2, with freshman Stephen Carr streaking for 119 yards on 11 carries, to go along with a workmanlike 116 yards from junior Ronald Jones – all together now – "The Second".
Shouldn't all juniors be required to add a "JR" prefix to the names on their jerseys, so that Robert Jones II appears as "JR JONES II"?  I mean, as long as we've all agreed to be blithering nincompoops about this, that is.
USC 55, Texas 28
Kentucky at South Carolina
With Georgia's starting QB out, the winner of this game could be in the running for the SEC East division title.  At this point, Missouri is the only team of the seven that can safely be scratched off the list of contenders.  That might not sound remarkable this early in the season, but in the old days you could count these two and Vanderbilt out before opening day kickoff.
The Gamecocks have been the more successful program in previous decades, leading this head-to-head series 17-10-1.  The Wildcats have won the last three, however, including a 17-10 tussle last year in Lexington.  Bennie Snell, then a freshman, got the bulk of the carries in the fourth quarter, including the game-winning TD.
Cats coach Mike Stoops probably wishes he'd phrased things differently in a recent interview, in which he said of his players, "They like to take the medicine, so to speak."  Why doesn't he just tape an "Investigate Me" sign to his back next time?
Kentucky 20, South Carolina 16
Notre Dame at Boston College
The 1-1 Eagles need this rivalry game to refocus themselves, after getting wiped off their home field by Wake Forest, 34-10 in their ACC opener.  Freshman QB Anthony Brown, who went 11-for-29 with one TD and three picks, will have a chance to redeem himself against an ND team that lost to another inexperienced quarterback a week ago.
In a 20-19 setback against Georgia, the Fighting Irish rushed for a meager total of 55 yards, and only reached the end zone once, courtesy of a fumble recovery at the UGA 32-yard line.  Out of their 16 possessions in that game, only half of them lasted more than three plays.
Lots of football coaches speak insultingly to reporters at press conferences (see: Saban, Nick), but the reporter Brian Kelly barked at was a woman.  How could someone be employed by a university without understanding that this matters?  The woman had asked a perfectly innocent question about why the Irish might respond any better to this one-possession loss than all of the ones they had last year.  At the end of a series of unnecessarily angry and demeaning responses, he nonsensically scolded, "Losing by one possession?  No, it was one point."  If she hadn't been so polite, she might have shot back that if Kelly had any kind of a point, he might not be such a loser, then.
Notre Dame 15, Boston College 6
Tennessee at Florida
As of this writing, this SEC East clash is expected to take place at The Swamp as scheduled.  Hopefully, the conference has a Plan B worked out, so that the game isn't canceled if the post-Irma conditions refuse to cooperate.
A year after blowing a big chance to finally beat the Gators, the Volunteers snapped their 11-game slide in the series, 38-28.  Quarterback Josh Dobbs, who led them to five second-half TDs, is gone, but if the Vols' offense has fallen off, you wouldn't know it from their 42-41 double-OT win over Georgia Tech.
The Gators were spoon-fed a 17-10 lead by Michigan in their opener in Arlington, but then they watched helplessly as the Wolverines trudged past them 33-17.  Freshman Feleipe Franks will start behind center for UF, for lack of any better options.
If you were a football-playing volunteer, you'd be eager to get in line for a shot at this Gator team right now, also.
Tennessee 24, Florida 10
Air Force at Michigan
The College Football Czar has got to hand it to the Wolverines for their nonconference scheduling.  All their opponents are respectable, but none has enough offensive firepower to threaten them.  The AFA won't make it any tougher on them than Florida (33-17) and Cincinnati (36-14) already have.
You might assume the 1-0 Falcons have had a game hurricane out, but they haven't.  The Lightning Eleven's pointless 62-0 slobberknocking of Division I-AA VMI is really the only game they had scheduled up until now.  The way they chewed up their overmatched foes, you'd think VMI was the official abbreviation for vermicelli.
The Czar often discusses the disconnect between the sports media and sports fans, so it didn't surprise him that the ABC announcers for the Wolverines' game against Cincinnati were confused that Bearcat running back Mike Boone was penalized for unsportsmanlike conduct after scoring a touchdown.  The color analyst actually suggested that the official must have mistaken "that Superman thing" for a throat-slashing motion.  Is it too hard to understand how "that Superman thing" is itself unsportsmanlike?  "Say, fellows, no taunting intended, but I'm superior to all of you!"  How much discipline does it take to not do that, really?
Michigan 30, Air Force 13
Ole Miss at California
In this era where star players bypass "meaningless" bowl games, a truly meaningless game has taken out productive Golden Bear running back Tre Watson for the season.  The senior, who gained 950 all-purpose yards in 2016, injured his right leg during his team's ragged 33-20 win over Division I-AA Weber State.
Sophomore Rebel QB Shea Patterson is so good, he's already got an imploded stadium named after him in New York.  Talk about foresight.  Patterson has nine TDs and only one interception in two games, albeit against South Alabama and I-AA Tennessee-Martin.  Why he would bother to pick on the author of Cat on a Hot Tin Roof is unknown, aside from the obvious fact that it's annoying.
Why do we call them "all-purpose yards" anyway?  Whether a player gains yardage rushing or receiving, it's for the same purpose in either case, isn't it?  Or are there some running backs who are trying to suck up to their professors, by pledging all their receiving yards for "social justice"?
Ole Miss 38, California 34
Purdue at Missouri
Perhaps it's no coincidence that, in coach Jeff Brohm's first year with the Boilermakers, they're no longer wearing those helmets with railroad tracks over the top, which made it all the more inviting for opponents to run them over.
Following an encouraging performance against Louisville, PU piled the points on Ohio, 44-21 last Friday night.  David Blough seemed to establish himself as the starting QB over Elijah Sindelar by completing 11 of 13, for 235 yards and three touchdowns.
Tiger defensive coordinator DeMontie Cross has been fired, but who will replace him?  Nobody wants to go to Mizzou anymore, since the campus has morphed into Occupy Columbia.  Seriously, that school's freshman enrollment dropped by 35 percent this year.  So it turns out that faculty-led riots are actually detrimental to a university.  Who saw that coming?
Purdue 47, Missouri 36
Oregon at Wyoming
First-year Fighting Duck coach Willie Taggart denies his offense went vanilla in the second half against Nebraska, but the proof is in the pudding.  In the first half, QB Justin Herbert completed 21 of 25 in staking UO to a 42-14 lead.  In the second, he went only 4 of 8, with most of those attempts in obvious passing situations, while watching that near-blowout margin dwindle to a final of 42-35.
The Cowboys were overrated from the outset, based on QB Josh Allen's presumptive Heisman campaign.  The fact that they've got to replace Brian Hill, who ranked third in the nation in rushing last season, was barely remarked upon, until his absence became conspicuous in a 24-3 loss at Iowa.  Now Allen, who is nursing an injured non-throwing shoulder, will be harder for the OL to protect, without a potent ground game to back opponents away.
Everyone thinks "the proof is in the pudding" is just a figure of speech, so nobody would ever think to actually look there.  That's why Bill Cosby remains a free man to this day.
Oregon 39, Wyoming 22
Kansas State at Vanderbilt
The Czar wonders whether the Wildcats will be ready for a road game against a quality opponent, after effortlessly beating up on I-AA Central Arkansas, and Division I-A neophyte Charlotte.  One would hope that kind of scheduling was beneath even Bill Snyder's standards.
As long as the Commodores, at one of the inland-iest schools in the nation, are persisting with their nautical theme, it's fitting that they put the vaunted offense of rival Middle Tennessee in a bottle, in an opening 28-6 stomping.  Derek Mason's defense stopped MTSU for only 215 yards.
So why was UV's founder known as Commodore Vanderbilt, when his business was in railroads, and not ships?  Because his first name was Cornelius.  Wouldn't you rather be called Commodore, too?  On the other hand, perhaps not.  After all, the Cornelius Brothers were way groovier than the Commodores, weren't they?
Vanderbilt 31, Kansas State 17
Northern Illinois at Nebraska
The Cornhuskers' comeback at Oregon was cut short when QB Tanner Lee threw his fourth interception of the game.  Lee, a graduate transfer from Tulane, has thrown 25 picks to 28 touchdowns in his collegiate career.
As long as the Czar is questioning "all-purpose" yardage, why do we refer to stints in college athletics as "careers"?  I mean, the NCAA won't even let these guys have jobs!  Nobody really makes a career out of college except John Blutarsky.
After the Huskies' potential game-tying field goal against Boston College fell short due to an apparent anti-flubber attack, their fans watching on TV are hoping not to have a screening of Son of Anti-Flubber this week.  Not only don't they want NIU to lose another game, but sequels are always a disappointment.  Except, of course, for Breakin 2: Electric Boogaloo – unjustly snubbed at Cannes, as the College Football Czar recalls.
Nebraska 37, Northern Illinois 27
La.-Lafayette at Texas A&M
The big news from A&M this week was the piece of threatening, racist hate mail that Kevin Sumlin's wife received and posted on Twitter.  The Sumlins say they're pressing charges, but how?  The letter was sent anonymously, and with the return address of the Houston Country Club, which makes it sound more like somebody's idea of a spoof of racist hate mail than the real thing.  The perpetrator might as well have signed it, "Love, the late Marge Schott."
However much sympathy that episode has gotten Sumlin, it won't last for long if his Conjunction Boys continue to malfunction.  Last week, they broke a fourth-quarter tie to beat I-AA Nicholls don't-call-us-a-State, 24-14.  Senior Jake Hubenak and freshman Kellen Mond split time at quarterback, with starter Nick Starkel having suffered a season-ending ankle injury in that disastrous opener against UCLA.
The Ragin' Cajuns were toasted by Tulsa 66-42, a week after a 51-48 scare from I-AA Southeast Louisiana, which did not require overtime as one might presume.  As you've surely guessed, that 57 point against per game average is by far the nation's worst.
There's an easy way to tell if a letter purportedly signed by Marge Schott is a forgery.  It's a little-known fact that she didn't actually write out her name, but instead signed by making an X.  A fancy, pinwheely kind of an X, in fact.
Texas A&M 49, La.-Lafayette 47
Tulsa at Toledo
Golden Hurricane running back D'Angelo Brewer showed he's got the hops last week against Louisiana-Lafayette, by rushing for 262 yards and three scores in a 66-42 runaway.  Having begun the season with a 59-24 loss to Oklahoma State, TU is looking at another tidal wave of touchdowns in what promises to be a wild game against the high-powered Rockets.
UT quarterback Logan Woodside paddled Nevada's hind quarters for 314 yards and two touchdowns, in a 37-24 victory.  The senior slinger led the nation last season with 45 touchdown passes, while being picked off only nine times.  Considering the MAC's track record for producing prolific quarterbacks, you'd think he'd get a little national attention.
Tulsa is not the name of a very expensive but still crappy electric car, produced by some corporate welfare-swilling crackpot who warns us that robots are going to rise up and conquer us.  But the Czar doesn't really have much more to say about this game, so he'll simply conclude by pointing out that Elon Musk is a lardhead.
Toledo 41, Tulsa 38
Arizona State at Texas Tech
When these defensively impaired opponents met a year ago in Tempe, it was just like an arena football game, but with spectators, and a running game.  Actually, those two things make it completely unlike arena football, so never mind.  Sun Devil tailback Kalen Ballage stomped through the Red Raiders for seven touchdowns, while averaging 10.5 yards per carry, in a 68-55 sillyfest.
After ASU's 30-20 loss to San Diego State, coach Todd Graham said, "We need to go to work and get better and find out what our identity is."  Tisk, tisk!  "Find out" what their identity is, as if it were an objective fact, to be discovered?  How unenlightened.  Everyone knows that if the Sun Devils choose to identify as the Rockettes, everyone must refer to them as the Rockettes – or else be subjected to sensitivity training, complete with the Clockwork Orange eye drop treatment.  Doesn't he get it?  Why have a "dream job," which is how the coach referred to the Sun Devil gig, when he can simply have a hallucination job instead?
It's a little-known fact that when Rice visits Pitt later this month, fans of the two teams will put on a Todd Graham effigy contest.  The winning team gets to do what it is that people do with effigies, which in the Czar's case would be to call it a lardhead, and walk away.
One catch, though.  The winning effigy must be a stuffed, inanimate likeness of the coach.  A real live Max Baer Jr. will not be admitted.
Arizona State 59, Texas Tech 48
a sports publication from The Shinbone