The Original College Football Czar
Week 3
<![if !vml]>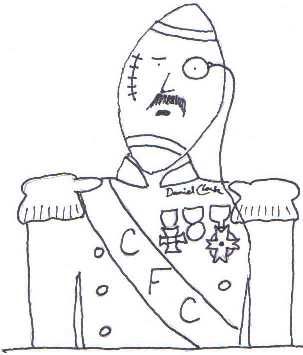 <![endif]>
Week two in review:   There were no major upsets last week, but lots of major injuries, including Oklahoma tailback Rodney Anderson, whose season-ending knee injury threatens to shake up the national championship race.  Other key players to get hurt during the week were Duke quarterback Daniel Jones, out indefinitely with a broken collarbone, and Minnesota running back Rodney Smith, who like Anderson, is out for the season with an injured knee.
The players weren't the only ones getting hurt.  Georgia State head coach Shawn Elliott tore a bicep while celebrating the touchdown that gave his Panthers a 7-0 lead over Nc State.  His team, obviously moved by pity, declined to score again for the remainder of the 41-7 defeat.  Elliott claims the injury occurred as the result of a fist bump, which the Czar finds about as credible as an Oliver Stone movie.  Somewhere, somebody's got to have video footage of what really happened, and if it is ever made public, it will make Elliott an instant nominee for the Lardhead of the Year Award.
For the week, the College Football Czar went 11-6, in what was shaping up to be a much better week for him until late collapses by Memphis, Nebraska and Michigan State.  For the season, the Czar's record stands at 26-15, for a .634 winning percentage.
This will be an unfortunately abbreviated edition of picks, because of the six games and counting that have been canceled or postponed due to the approach of Hurricane Florence.  In most cases, there's little choice, because they're games – like West Virginia-Nc State, Central Florida-North Carolina and Marshall-South Carolina – that were scheduled to be played in areas that are being evacuated.  The one that concerns the Czar is East Carolina's decision not to keep its scheduled meeting with Virginia Tech, much farther inland in Blacksburg.  ECU cited "imminent safety concerns" when announcing its decision, which not coincidentally, is the same justification that will be used for canceling the entire game of football any year now.  In the meantime, the Pirates have relocated their football team to Orlando, in preparation for next week's game in Tampa against South Florida.  So, they've fled from home, but not to the town where their game is supposed to be played.  It sounds like the imminent threat they fear is from the Gobbler defense, not the weather.
Sept. 15
Georgia Tech at Pitt
Last year, Penn State coach James Franklin caught flak for saying that playing Pitt was no different from playing Akron.  Now, Panther coach Pat Narduzzi has helped him prove it.  After last Saturday night's horrific 51-6 loss to the Nittany Lions, Narduzzi admitted about his team, "We obviously didn't have them ready to go in any capacity – offensively, defensively or special teams."  Big of him to say so, but why should a fourth-year head coach have any trouble preparing his team for a big game?
Narduzzi has never yet been among those coaches considered to be on the hot seat, but if getting his team humiliated on its home field on national TV against its hated cross-state rivals, and in the process letting the most obnoxious fans in the world take over their home stadium, doesn't ignite a blaze under his buttocks, nothing will.  Last week, the College Football Czar noted that the excitement surrounding Pitt QB Kenny Pickett has been mostly about potential to this point.  The same is true of Narduzzi, except that when potential still fails to be realized by year four, it can't really be said to exist anymore.  The coach's career record now stands at 22-18, which means that if you subtract the four phony games against lower-division teams, he's only .500.
How unprepared were the Panthers?  Try three turnovers, 0-for-3 on fourth-down conversions, and 14 penalties for 116 yards.  As if the 13 penalties the players committed weren't enough, Narduzzi did his best Serena Williams impression after an illegal substitution penalty, and got a 15-yarder tacked on for unsportsmanlike conduct.
For any team that's not currently in self-destruct mode, facing the Yellowjackets this week would be a great opportunity.  First of all, Tech's tough 49-38 loss in a seesaw game at South Florida reinforces the team's troubles playing away from its home stadium, where it has now lost six in a row.  Second, their backfield was beaten up in that game, with QB TaQuon Marshall having to come out for a few series before returning, and running back KirVonte Benson sustaining a leg injury that might keep him out this week.  Finally, triple-option teams like GT are under increased scrutiny this season, as the borderline cut blocks they often employ have become a point of emphasis for officials.  Alas, Penn State has got plenty of weaknesses too, but did it matter?
Narduzzi has said of this week's game, "We can't have a hangover."  That's just a figure of speech, of course.  Narduzzi was not actually drunk last Saturday night, although that would have been a far better excuse than any the Czar can come up with offhand.
Georgia Tech 30, Pitt 18
Kent State at Penn State
The Golden Flashes have already faced one Big Ten opponent this season, assuming Illinois still fits that description.  KSU led the Fighting Illini 17-3 at halftime of their opener, before falling by a final of 31-24.  Surprisingly, this Ohio school, which has been playing Division I-A football since 1962, never faced a team from the Big Ten until 2000.  Their overall record against that league is now 0-13, with three of those losses to PSU.  (If you're thinking of the shocker the Flashes pulled against a 9-win Rutgers team in 2012, the Scarlet Knights were still in the Big East at the time.)
So, which is the real Nittany Lion team, the one that needed overtime to eke out a home win over Appalachian State, or the one that made such a big splash a week later in a 51-6 pummeling of Pitt at Heinz Field?  There's no need to choose between them, because they were the exact same team, nowhere near as good as their ranking, but good enough to take advantage of a team that disintegrates before their eyes.  The latter should be the case again this week, and again next Friday at Illinois.  Then, they face a six game stretch that consists of what are probably the five best teams in the Big Ten, plus an improving Indiana club on the road.
To Lions' coach James Franklin, playing Kent State is no different from playing Akron.  The Golden Flashes' response:  Flattery will get you nowhere.
Penn State 45, Kent State 13
Ohio State vs. TCU
This is the final game of OSU coach Urban Meyer's three-game suspension.  In the first two, the lumpy nuts slobberknocked Oregon State 77-31, and routed Rutgers 52-3, thereby demonstrating Meyer's expendability.  At least you'd think so, if you were a lardhead.  In truth, General Patton's brown-nosing aide was right when he said if you've beaten Rommel's plan, you've beaten Rommel, and the same holds true in football.  Meyer has still been preparing his team during the week, and the Buckeyes have been too dominant to be done in by a simple coaching miscue like a misused timeout.  If the Horned Frogs are going to pull this one off, they'll have to be good enough to beat Coach Meyer, even though he won't be there on the sideline.
The lizard kings have virtual home field advantage, playing this game in Arlington, mere eye-blood-squirting range from their home in Fort Worth.  The roof fell on them the last time they entered the Cowboys' cave, however, when Oklahoma overwhelmed them 41-17 in last year's Big XII championship game.  The Frogs' coach, Gary Patterson, was not suspended for last Friday's 42-12 win over SMU, but he probably wished he wasn't present for the first quarter, when they bungled their way to a 9-0 deficit.
Outside of Paris is a new indoor rugby stadium called UArena, which is home to the club called Racing 92 – pronounced with a short "a", for those who care.  It's even more bleak and depressing on television, and has an even more pointlessly enormous video screen, than Jerry Jones House of Inadequacy.  Just France's way of reminding Jerry that he did not invent the Napoleon complex.
Ohio State 51, TCU 27
LSU at Auburn
It's tempting to think of this battle of the Tigerses as an early elimination game in the SEC Tigers division, but last year it was Louisiana State that prevailed 27-23, and AU that ultimately represented the division in the conference title game.
Each of these teams collected a big, neutral-site victory over a Top Ten opponent in Week 1, but the two weren't nearly equivalent.  Both teams played sloppily in Auburn's win over Washington in Altanta, but in the Bayou Bengals' victory in Arlington over Miami, only one did.
In that LSU-Miami game, it was Ed Orgeron's team that came away with the only two turnovers.  Each of the intercepting players was rewarded with possession of the ball for his team.  What a motivational innovator that Coach O is.
Q: Why do so many Southern schools name their teams the Tigers or Bulldogs?
A: Because they can't spell "bear."  Homonyms confuse them.
LSU 16, Auburn 12
Washington at Utah
This game might not jump out as one of the week's marquee matchups, but there's a fair chance of it being a preview of the Pac 12 championship  The unflashy Utes could quietly take care of business in the South, while the Huskies remain the favorites in the North, despite having stopped themselves repeatedly in a bad opening loss to Auburn.
In 2016, when he was a sophomore, UW quarterback Jake Browning threw 43 touchdowns to only 9 interceptions, while rolling up 3,430 passing yards.  In no other season has he reached the 20-TD mark, nor surpassed that 3,000-yard plateau.  So far this year, Browning has thrown for only three scores, and just as many picks.
Like their opposing QB, the Ute defense is trying to return to its form of two years ago, after their pass rushers got pushed around a bit last season.  A week ago in a challenging game at Northern Illinois, linebacker Chase Hansen recorded two sacks, to go along with a 40-yard touchdown on an interception return. 
The Utes share their home field with a Major League Soccer team called Real Salt Lake, and the Czar finds that pleasantly surprising.  The way those MLS fans are, you'd think they'd demand that it be renamed Uncured Lake With Celery Salt.
Utah 20, Washington 19
Boise State at Oklahoma State
So far, this season has been a return to the potato salad days for BSU, which has blown away Troy and Uconn by a combined score of 118-27.  Although the Broncos have remained formidable in recent years, it's been a while since they've shown this kind of domination on both sides of the ball.
If the Broncs are at their best, it must be time for them to square off against a team from Okieland, an occasion bound to conjure up references to their historic Fiesta Bowl victory over Oklahoma, to cap the 2006 season with a record of 13-0.
Aside from putting on a one-man show of Planet of the Apes, it's not clear what Taylor Cornelius can do.  The little-used 22-year-old senior Cowboy quarterback had only 15 completions through three years, and so far this season has put up underwhelming numbers against dubious competition.  Considering the weak opposition so far, the Czar is surprised that Hawaii transfer Dru Brown hasn't gotten any snaps.
Reportedly, OSU coach Mike Gundy has gotten rid of his mullet, although from the look of him, the Czar doubts the late George Steinbrenner would agree.  Obviously this, and not the Pokes' QB situation, will be blamed if they fail to win ten games this year.
Why is it called a mullet, when anyone who actually had mulled it would never have gone through with it?
Boise State 28, Oklahoma State 23
Vanderbilt at Notre Dame
Vandy is a renowned academic institution, so don't be surprised if it introduces Book to the Fighting Irish lineup.  The 2-0 golden domers have been lackluster behind QB Brandon Wimbush, who has thrown just one TD pass and four picks in ugly wins over Michigan and Ball State.  Coach Brian Kelly can't be reluctant to go to backup Ian Book against a Commodore defense that has held Middle Tennessee and Nevada to a total of just 17 points.
In the past, there's been an obvious intimidation factor when some lesser-regarded team visits Notre Dame Stadium, but the College Football Czar wonders if that effect hasn't been mitigated by the destruction of the most familiar field in football.  Does anybody seriously believe a lower-echelon MAC squad would have thrown a scare into the Irish if they were playing on that iconic grass surface, instead of just another plot of rubber pellets?  If the aim is to make their stadium just like all the others, what will they do next, replace Number One Moses with a badly sculpted statue of a coach who's not even dead yet?
If the Commodores can come home from South Bend with a victory, they'll be the biggest thing to hit Nashville since Miranda Lambert.
Notre Dame 13, Vanderbilt 10
Houston at Texas Tech
These former Southwest Conference rivals finish an interconference, intrastate home-and-home, which saw Tech escape with a 27-24 victory a year ago in Houston.  Now they meet again in Lubbock, at the exact opposite end of the Lone Star State, which continues to expand at a rate of about 67 kilometers per second.
One would think the Red Raiders had seen enough of Houston after visiting that city for a neutral-site opener, in which they were manhandled by Ole Miss, 47-27.  Contrary to lardheaded opinion, their 77-0 pummeling of I-AA Lamar doesn't mean they've fully recovered.
Dominant DT Ed Oliver and the Cougars came charging out to a 38-0 lead over Arizona, on their way to a 45-18 final.  It seems that the U of A was caught off-guard because they believed their opponents' star player was named Olive Earl.  If the best player for UH was a scrawny, sailor-hunting spinster, they figured they had little to worry about.
Houston 56, Texas Tech 45
Alabama at Ole Miss
Through two games, Crimson Tide QB Tua Tagovailoa has completed 71.4 percent of his passes, while throwing six TDs and no interceptions.  Still, don't dare ask coach Nick Saban if his team's quarterback competition has been decided.  He's got sensitive feelings, you know.  What kind of a witch does it take to ask a six-time national champion football coach a hurtful question like who is going to be his starting quarterback?
For several years, this Rebel team was Bama's nemesis, beating the Tide twice in a row, and then losing the next game 48-43.  The pachyderms must have since gotten a nemesectomy, however, because they stomped Mississippi last season by a final of 66-3.  It was the third-most lopsided game in this series next to a pair of 64-0 shutouts, in 1917 and 1930.
Ever wonder what the hospitals do with those nemeses after they've been ectomized?  The Czar thinks they are used to make Frank n' Stuffs, but he finds that too obvious a conclusion to actually bother proving.
Alabama 48, Ole Miss 21
Hawaii at Army
Suddenly, the Black Knights' schedule has gotten tougher than it seemed before the season began.  A loss to these Rainbow Warriors would probably leave them 1-3 after a subsequent game at Oklahoma.  Then, their postseason chances could be unexpectedly jeopardized by road games against Buffalo and Eastern Michigan.
If Cole McDonald had a farm, he might just bet it on himself this Saturday.  Through three games, the Warrior QB has thrown 13 TD passes without a single interception, while completing 70.3 percent of his passes.
Bet some of those transfers who left UH during the offseason are having second thoughts about now.  They've abandoned not only a 3-0 football team, but an excuse to spend the fall and winter in Hawaii.  In hindsight, that seems about as dumb as remaking Magnum P.I. and casting a woman as Higgins.
Gosh, what a terribly sexist thing to say!  Sorry, the Czar meant it's perfectly fine for a woman to be Higgins, especially since the kinds of women who would applaud such a development pretty much resemble him already.
Hawaii 49, Army 44
USC at Texas
Freshman quarterback J.T. Daniels is shouldering much of the blame for Southern Cal's 17-3 loss to Stanford, but it's the Trojans' uncharacteristic lack of leadership at the tailback position that's hurting their offense the most.  Whenever you hear the phrase, "running back by committee," that simply means nobody's in charge.
As ugly as the Longhorns' opening loss to Maryland was, a 28-21 home win over Tulsa is no better.  Herman's heifers evened their record at 1-1, largely because the Golden Hurricane missed three field goals and dropped two balls in the end zone.
In spite of their offensive deficiencies, the Trojans are obviously head-and-shoulders above the Horns.  They couldn't possibly lose this game, unless they inexplicably throw up a reckless lateral.  Oh sure, like that's really going to happen.
USC 24, Texas 10
Eastern Michigan at Buffalo
The winner of this game improves to 3-0, thereby becoming a virtual lock for its third-ever postseason bid.  Between the two, EMU is the one that has won a bowl game, albeit the California Bowl over San Jose State, way back in 1987.  More recently, the Eagles lost to Old Dominion in the 2016 Bahamas Bowl.  The Bulls have lost twice – to Uconn in the 2008 International Bowl in Toronto, and to San Diego State in the 2013 Famous Idaho Potato Bowl.
UB is off to a 2-0 start for the first time since joining Division I-A back in 1999.  Freshman running back Kevin Marks has no X to indicate his spot, but he didn't want to stay in one spot, anyway.  Instead, he dashed for 138 yards and two touchdowns in a 36-29 victory at Temple.
The team formerly known as the Hurons were on last week at Purdue, where they toppled their Big Ten opponents, 20-19, on a last second field goal.  The Boilermakers scored with 6:41 remaining to take the lead, but were all but forced to kick the extra point to lead by two, because of an unsportsmanlike conduct penalty on the scoring player, running back D.J. Knox.  Lardheads are defending Knox by claiming that he'd merely slipped at the end of his 45-yard run, whereas anybody can see on the replay that the reason he lost his footing was because he was high-stepping into the end zone.  The Czar realizes that every meathead in the sports media (where they abound) sees nothing wrong with what Knox did, but it's unquestionably against the rules, and how much discipline does it take not to do it, anyway?  Thankfully, PU coach Jeff Brohm isn't buying the media spin, and is promising to discipline those who commit such selfish penalties.
Too bad the camera was on Knox at the time, otherwise he might have used that feeble fist bump excuse.
Eastern Michigan 29, Buffalo 27
North Texas at Arkansas
The Mean Green have a conspicuously one-dimensional offense, averaging 455 yards through the air through two games, and only 110 on the ground.  Thankfully for them, this Razorback team couldn't be any more tailor-made.  The Hogs held Colorado State to 40 rushing yards on 23 carries, but still blew a 27-9 lead, by giving up 389 passing yards in a 34-27 setback that may have already expended one of new coach Chad Morris' 9 lives.
UNT has only had to P-UNT twice in each of its first two games.  Granted, those have been against SMU and Division I-AA Incarnate Word, which have been a little easier to move the ball against than Arkansas.  A little bit, that is.
When the College Football Czar first heard of Incarnate Word, he'd thought the announcer said, "Art Carney Word."  So, naturally, he sprang from his chair and triumphantly asked, "What is 'Va-va-va-voooom?'"
North Texas 43, Arkansas 38
Ball State at Indiana
The state may be buzzing over the fight BSU put up in a 24-16 loss at Notre Dame, but it's IU that is 2-0 so far, and may have just introduced the next offensive star into the Big Ten.  Stevie Scott, a 230-lb. freshman running back, romped for 204 yards and a touchdown to defeat Virginia, 20-16.
Cardinal QB Riley Neal doesn't throw downfield very often or well, as evidenced by his 23-for-50, 18-yard, two-INT performance against the Fighting Irish.  The Hoosiers' defense, which ranked #17 nationally a year ago, will keep the Cards' offense close to the line of scrimmage.
Sophomore Peyton Ramsey has won the job as starting slinger this year for the Hoosiers, but obviously, that's largely because his name suggests a quarterbacking pedigree.  I mean, if he really does turn out to be "Rams"-ey, he just might become the next Dieter Brock!
Indiana 37, Ball State 17
Rutgers at Kansas
The Jayhawks finally won a road game, and emphatically so, 31-17 at Central Michigan.  It was their first victory away from home in 46 attempts, since trampling UTEP 34-7 in 2009.  Can they make it two in a row with a triumphant return home against the Scarlet Knights?  Here's a hint: No.
The Knights were no contest for Ohio State a week ago, but they did handle Texas State in their opener, 35-7.  Their new Big Man On Campus is 6-5 freshman quarterback Artur Sitkowski, or, "The Sitk," as his awe-struck admirers Malph and Pottsie call him.  Sitkowski appeared to be injured on a sack just before halftime against OSU, but coach Chris Ash says he's fine, and will start this week at KU.
RU have hardly been road warriors themselves, having gone 1-10 away from home since the start of the 2016 season.  They prefer their home cooking, and it's no mystery why, because their hometown of Piscataway is named after one of the Czar's favorite foods.
Rutgers 30, Kansas 14
a sports publication from The Shinbone