The Original College Football Czar
Week 2
<![if !vml]>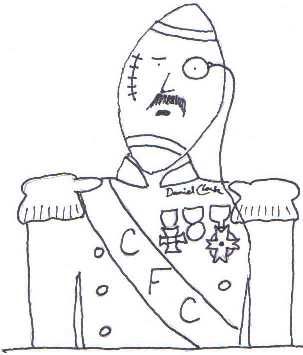 <![endif]>
Week one in review: Last week, we learned that losing most of the starters from the previous year's roster is a significant hindrance even for a legendary program like Notre Dame, and yet it never does anything to faze Nick Saban and Alabama. The Crimson Tide crushed Miami 44-13, just as if last season had never ended, whereas the Fighting Irish barely staved off Florida State in overtime. In the biggest game of the weekend, Georgia pretty much eliminated the entire ACC from national championship contention with a 10-3 triumph over Clemson. With those losses by Clemson and Miami, as well as North Carolina's upset defeat at Virginia Tech, the ACC is all but mathematically eliminated from Final Four contention. But that's so unfair! Every power-five conference has got to be represented! So the CFP must be expanded to 16 teams immediately! Or so a lardhead might say.
So much for getting back to normal. Last Saturday, the College Football Czar wasted an afternoon of his life attempting to attend the Pitt-Umass game, when he found himself confronted with a sign that said, "Heinz Field is a cashless stadium." No further explanation. No instructions about what that meant or what to do about it. What it means, according the Heinz Field website, is that it "will accept credit and debit cards, as well as Apple and Google Play. Reverse ATMs will also be available in stadium to convert cash to credit." One slight problem, these reverse ATMs had not yet been installed, which means the Czar's options were to: (a) use his debit card, making it more difficult to keep track of what he was spending, as well as putting every beer purchase on his permanent record; (b) download one of the specified apps, from the big tech companies that are so obviously dictating this jagoffery in the first place; (c) not spend any money while in the stadium; or (d) get the hell out and go watch the game at a nearby pub. It was not a difficult decision.
There is obviously nothing about COVID that justifies such a policy. This is a miniature version of the "Great Reset," by which the coronavirus is being used as an opportunity to make sweeping societal changes that had never otherwise been plausible. Because people have proven to be such passive pushovers up until now, the longtime wish of many to create a cashless society has suddenly become attainable. Instead of being customers to accommodate, the fans are now just stooges to be ordered around. Of course you can't come into this building and just start buying things with money, you selfish pig! Get with the program, or get out!
The College Football Czar has had more than enough of this war on actuality. No more stuff that is not things! Dammit!
As long as you're staying home and watching the games on TV, however, they've been great! Throughout Week 1, the Czar only saw two teams that were persisting with Commiefisty on their uniforms. Those were North Carolina and Indiana, each of which suffered a humbling defeat, in yet another pair of triumphs for athletic justice. Everybody else has gotten back to making the football season about football. It's almost like being transported back in time, all the way to the year 2019.
For the year's first installment of picks, encompassing both Week Zero and Week 1, the College Football Czar finished with a record of 22-8, for a .733 winning percentage.
Sept. 10
Kansas at Coastal Carolina
The KU-KU pigeon sisters have lost to the Chanticleers in each of the past two seasons, both times at home in Lawrence. Now they must play on the teal turf of Brooks Stadium, where last year's meeting was originally scheduled, before being forced to move by Hurricane Dorian.
The rest of college football has had an entire offseason to dissect CCU coach Jamey Chadwell's unorthodox, shotgun-based triple-option offense. That's bad news for his first few opponents, because you know he's been devising some new wrinkles in response. A year ago, his offense led the Sun Belt Conference, averaging 37.2 points per game.
New head coach Lance Leipold tries to make the Jayhawks change their spots, but that will prove more difficult than using a terrible pun to mangle a metaphor, all within one sentence. A procession of high-profile coaches has failed to revive the KU program, ever since the Mayor of Oz, Mark Mangino, was told to hit the yellow bricks back in 2009.
He would hit an innocent brick, the big meanie!
Coastal Carolina 43, Kansas 34
Sept. 11
Pitt at Tennessee
The Panthers play their first regular season game against an SEC opponent since they took two games at Rocky Top in the early 80s, by scores of 30-6 and 13-3. Jackie Sherrill, head coach at Pitt for the first of those games, will be the team's honorary captain for this renewal, which has been christened the Johnny Majors Classic. That's in honor of Sherrill's old boss and predecessor in Pittsburgh, Johnny Majors, who had been head coach at both schools during his illustrious career. The coaching procession did not go so harmoniously at the School of Hard Knox, where a hospitalized Coach Majors was replaced for keeps by Phillip Fulmer in 1992.
The Volunteers have fallen a long way since winning the inaugural BCS championship to end the 1998 season. Last year's 3-7 campaign was their eighth losing season in the past 13 years. Former Michigan quarterback Joe Milton is their surprise starter this year, ahead of Virginia Tech transfer Hendon Hooker. In Week 1, Milton completed only 11 of 23 in an otherwise easy 38-6 win over Bowling Green.
All visiting teams loathe the song "Rocky Top" by the time they leave Knoxville if not sooner, but the Panthers have no business complaining until they stop inflicting "Sweet Caroline" on the rest of us. At least the Vols' abrasiveness is original.
Pitt 19, Tennessee 13
Ball State at Penn State
The Nittany Lions traditionally dispatch quality small-conference opponents like this one with ease. However, they could be caught off-guard against the defending MAC champions, in between a big opening win at Wisconsin and a highly anticipated home game against Auburn.
A week ago in Madison, PSU would have been doomed if the Big Bad Gers had a quarterback like Drew Plitt. The senior slinger for the Cardinals enters this game with 6,698 career passing yards and 52 touchdowns. Of course, that doesn't mean James Franklin's defense can't contain him, especially since he doesn't have that UW offensive line to protect him.
PSU wide receiver Jahan Dotson must be the son of the dot from the old Coleco electronic football game. If you're old enough to remember that primitive gizmo, you know that it stopped being fun once you got the pattern down, at which point the dot repeatedly streaked into the end zone with ease. As wide open as Jahan ran for his five catches and 102 yards against the Badgers, he must be a chip off the old dot.
BSU is famous for being the alma mater of David Letterman, but the Cards had better not bring their most famous alumnus on this road trip. If there's anything that can't be tolerated in State College, it's some creepy guy skulking around campus.
Penn State 34, Ball State 17
Oregon at Ohio State
The Buckeyes always break a certain number of big plays, but last Thursday it was hard to distinguish how many of those were of their own doing, and how many were because the Minnesota defenders were rowing a boat instead of picking their feet up. It probably won't look so easy this week, regardless of whether Kayvon Thibodeaux is able to play. The Fighting Duck defensive end spent the second half of last week's tough scrape against Fresno State cheering his teammates on from the sideline, where he stood in a plastic boot.
Former Boston College QB Anthony Brown was a very good pickup as a graduate transfer for the Ducks last season, but is he good enough to lead a team that has ambitions of contending for a national title? A week ago, the fifth-year senior scrambler came up with a few big plays as always, but 172 passing yards in a 31-24 win over a Mountain West opponent is not the kind of a performance they'll need against OSU. If the self-defeating QB rotation system the webfoots used in the Fiesta Bowl had anything to do with driving Tyler Shough to Texas Tech, that could prove to be a very costly mistake.
In the 2014 CFP championship, the lumpy nuts ran away with a 42-20 victory when they sucked the UO defense into what appeared to be the same trap play about 40 times. Last time a duck fell for the same trick so many times in the same episode was when Daffy yelled "shoot me now" at Elmer Fudd.
Ohio State 29, Oregon 21
Iowa at Iowa State
The Cyclones escaped Division I-AA Northern Iowa 16-10, but just like last year's opening loss to Louisiana-Lafayette, this result doesn't nearly doom their season. ISU historically plays poorly against UNI, but that fact never seems to affect them in the battle for the Cy-Hawk Trophy, which has often taken place a week later.
The Hawkeyes could have defeated Indiana with half the team tied behind their backs. A pair of touchdowns on interception returns were more than enough to beat the Hoosiers, in a surprisingly one-sided 34-6 slobberknocking. It was the fourth time in seven games that Kirk Ferentz's defense held its opponents to a single score.
It's a little-known fact that before Cy Hawk became a trophy, he was not only the owner of the Feather Club, but he was also a client.
Iowa 23, Iowa State 20
Washington at Michigan
The Division I-AA Montana Grizzlies helmets say "Griz" on them, but they should have spelled it with an "s" last week, because what they did to this Husky offense was downright grisly. UW scored on their opening possession, but then got blanked for the remainder of a 13-7 defeat.
2021 is the latest of the last chances for Jim Harbaugh, whose Wolverines never win their bowls or rivalry games, but otherwise have a stellar winning percentage. In last week's opener, they walked all over Western Michigan 47-14. Sophomore tailback Blake Corum scored one touchdown on the ground and another on a reception, while gaining 133 all-purpose yards.
Why is there still a team called the Huskies in this day and age, and in Seattle, no less? One would think that by now they'd have changed their moniker to the Curvies. The people up there may assault random passersby, brazenly steal and destroy the property of others, and burn American flags and bibles in the streets while waving Commiefisties and hammer-and-sickle logos, but body shaming is beneath them.
Michigan 27, Washington 10
UAB at Georgia
The Blazers are used to playing in a huge stadium. Their problem is that this one will be filled with about 90,000 opposing fans. Back at their former home stadium, Legion Field, they would typically compensate for the dearth of humanity by physically filling the stands with sound waves from the excessively loud music that blared from the p.a. system.
SEC teams are not known for competitive nonconference scheduling, but the Bulldogs follow up their titanic clash with Clemson by taking on the reigning Conference USA champions. Their nonconference schedule is comparatively soft, with South Carolina, Vanderbilt and Arkansas for starters.
The Dogs could stand to start chomping off some bigger chunks of yardage, though. Against the Son of Clem, UGA quarterback J.T. Daniels scraped up a meager 135 passing yards while completing 22 of 30. Although he played that entire game, his status for this week's game is questionable, due to -- not to get overly technical about this -- but an "upper body injury."
So he has an upper body and a lower body? Since when does each athlete have two bodies? And why can't one of them play while the other is injured?
Georgia 35, UAB 13
Texas at Arkansas
In order to finish with a non-losing record for the first time since 2016, the Razorbacks need to pull off an upset of this magnitude somewhere along the line. Their SEC schedule includes road games against Georgia, Ole Miss, LSU and Alabama.
Looking at the final score, one would think the Hogs had handled Rice in their opening 38-17 victory. However, they trailed that game 17-7 in the third quarter, and didn't take the lead until two minutes into the fourth.
In what was almost an even matchup according to the rankings and the game stats, the Longhorns hammered Louisiana-Lafayette 38-18, in coach Steve Sarkisian's first game in Austin. Bijan Robinson can be John Jacob Jingleheimerschmidt if he wants to be, after the versatile running back gained 103 rushing yards, to go along with another 73 yards on four receptions, while also tallying his first rushing and receiving touchdowns of the season.
Oh, but if he wanted to be Caitlin Jacob Jingleheimerschmidt, that would be perfectly fine!
Texas 48, Arkansas 28
Utah at Brigham Young
The Cougars are already 1-0 against Pac 12 opponents, as they avoided getting tripped up on the crinkly carpet in Las Vegas, in a 24-16 win over Arizona. Wide receiver Neil Pau'u went Pow! Zoom! for 126 yards and two TDs on eight receptions, and even threw a pass for a nine-yard gain.
Salt Lake City is a strange place for a guy named Brewer to end up, but the graduate transfer from Baylor has won this year's starting job with UU. He arrives having already been a four-year starter in Waco, and having led BU to the Sugar Bowl two seasons ago.
The Utes have won the last nine games in this series, seven of which have been decided by eight points or fewer. They hold the overall lead by a surprisingly wide margin of 59-31-4, mostly because they started out on a 20-game unbeaten streak prior to World War II.
If a football player already has two bodies, then how many wives' bodies must he have in order to be a good Mormon?
Utah 17, Brigham Young 14
Liberty at Troy
At first glance, this might look like a mismatch with the Trojans having only gone 5-6 in 2020, whereas LU toppled Coastal Carolina in the Cure Bowl, 37-34 to finish 10-1. TSU ended last season by barely coming out on the wrong end of a 42-38 scrap with that same CCU team, however, and now returns all 11 starters from that offense.
In 2020, Flames' quarterback Malik Willis threw for 2,260 yards and 20 touchdowns, and added another 944 yards and 14 TDs on the ground. So he scored a total of 34 touchdowns. Not "was responsible for" as if by some technicality. He actually scored them. Really! The way announcers talk about it with this "responsible" jazz makes it sound as if quarterbacks are fathering rushing touchdowns out of wedlock.
Gosh, if there were a "responsible for" stat in baseball, just think of what Steve Garvey's career numbers would have looked like.
Liberty 40, Troy 27
Rutgers at Syracuse
Big East nostalgia month continues for the Scarlet Knights, who trounced Temple 61-14 in a flood-postponed opener. Based on that score, it's surprising that nobody had that big an offensive day for RU, but they did go plus-5 in turnovers, converting their five takeaways into four touchdowns.
Defeating an upper-echelon MAC opponent on the road is seldom as easy as the Orange made it look in last week's 29-9 win over Ohio in treacherous Peden Stadium. Freshman Sean Tucker tucked it and ran for 181 yards and a touchdown.
A couple years ago, some typical collegiate rattlenoggins protested the Scarlet Knight mascot, for not representing a diversity of ethnicities, genders and sexual proclivities. In order to avoid a similar controversy at SU, Otto the Orange is demanding to be addressed as Rita the Dominatrix until further notice. Well, not really, but would you doubt it?
Rutgers 26, Syracuse 24
Texas A&M at Colorado
These former conference opponents meet for the first time since bailing out of the Big XII. The game is being played at Mile High in Denver, instead of Folsom Field in Boulder, probably just to make things as inconvenient as possible for the home fans, as is all the rage these days. In addition, you're not allowed through the gate without a banana in your butt, and you can only pay for refreshments with Wikipediabucks, which do not yet exist.
This should be the only possibly competitive game for Jimbo Fisher's ampersanders until they host Alabama in Week 6. Last Saturday, they cruised past Kent State 41-10, in spite of three interceptions from freshman quarterback Haynes King in his first career start.
Buffalo QB Brendon Lewis played a much cleaner game in his first start, a 35-7 win over Division I-AA Northern Colorado, but he didn't take many chances downfield. For the game, he completed 10 of 15 for just 102 yards and one touchdowns. Needless to say, CU is going to need more production than that in order to cause trouble for the Conjunction Boys.
When you turn on your TV on Saturday and start watching football, do you ever feel like Gilbert Gottfried, trying to escape from the land of the two-last-named people?
Texas A&M 31, Colorado 22
Buffalo at Nebraska
It should be a frosty reception for the Cornhusker head coach at this year's home opener, after his team lost at Illinois, to a second-string quarterback. Scott Frost is now 12-21 with the N-men. If he loses to the visitors from the MAC a week before having to travel to Oklahoma, the thing the athletic director comes nipping at will not be his nose.
As formidable as the Bulls usually are, they've never had a breakthrough nonconference victory. Their only two wins over power-five opposition have been against Rutgers teams, each of which finished 1-11.
The University of Buffalo often goes by the initials UB. It is very important not to confuse it with the University of Alabama-Birmingham, which is UAB. Whereas UB means you exist, UAB means you are a bee. Many a tourist has created an embarrassing scene by getting the two confused.
The College Football Czar am a English gradjeeate from Pitt.
Nebraska 15, Buffalo 12
Houston at Rice
Each team played well early last week, before falling apart in the fourth quarter against a power five opponent. The Cougars led Texas Tech 21-7 at halftime before being beaten by a final of 38-21, while the Owls took too many licks after leading Arkansas 17-7 in the third quarter, and were defeated 38-17.
These former Southwest Conference foes play for possession of the Bayou Bucket, which they admit is a rip-off trophy, inspired by the Old Oaken Bucket of the Indiana-Purdue rivalry. Still, the Bayou Bucket is a trophy that features an actual bucket, whereas the Old Oaken Bucket is really a lidless barrel, so score one for the academic superiority of the old SWC. UH has carried away the prize on each of the past five occasions, and leads the overall series, 31-11.
This crosstown rivalry will easily be the biggest football game in Rice Stadium since last June, when the Linemen defeated the Jousters to win The Spring League championship, also known as the Mega Bowl. You better believe after that game, they were dancing in the streets of ... oh, never mind.
Houston 26, Rice 16
Appalachian State at Miami
As part of college football's new NIL arrangement, Hurricane QB D'Eriq King has signed a deal with the NHL's Florida Panthers. After last week's performance, it looks like that team's worst personnel decision since trading Roberto Luongo. The dual-threat quarterback was multifacetedly awful in a 44-13 loss to Alabama, in which he compiled only 178 yards on 23 completions, and rushed for just ten yards on nine carries.
In a neutral-site interconference game in Charlotte, App State downloaded on AAC foe East Carolina by a final of 33-19. Former Clemson backup QB Chase Brice, who has landed in Boone, NC after an unsuccessful one-year layover in Durham, threw for 259 yards and two TDs while completing 20 of 27 in his ASU debut.
Drawings of Yosef the Mountaineer feature him with a corncob pipe, but when you see the mascot stalking the sidelines, he hasn't got one. Do you suppose he just hasn't earned it yet? Perhaps that's the Blocked Punt for a Safety Pipe, or some such stupid thing.
Miami 38, Appalachian State 20
Nc State at Mississippi State
The Bulldogs overcame five lost fumbles and a 20-point, fourth-quarter deficit to turn away Louisiana Tech, 35-34. MSU also opened last season with what should have been an energizing win over a Louisiana school (44-34 against LSU) only to lose seven of their next eight games.
Those cowbells they ring in Starkville will sound like dinner bells to the Wolfpack, who made a meal of the South Florida Bulls, 45-0 in their Week Zero opener. NCSU rolled up a total of 293 rushing yards as a team, averaging 7.3 per carry.
Of his team's big comeback, mud puppies coach Mike Leach said, "It's like they thought with the same brain." What, only one?
Nc State 49, Mississippi State 37
San Diego State at Arizona
The Wildcats, who have lost 13 games in a row, looked as if they'd gone back in time in last week's opener in Las Vegas. Not only were they wearing their traditional Desert Swarm uniforms with the white helmets, but they played a competent defensive game, albeit in a 24-16 loss to BYU.
SDSU does not have a real home field this year, and that's a good thing, or else the fans might have pelted them with vegetables when they trailed New Mexico State, 10-0 at halftime. They dominated the second half to win 28-10, which may have been just enough to avoid total embarrassment.
What kind of vegetables would Aztecs have, anyway? It would have to be something that goes well with human hearts. Probably fava beans, with a nice Chianti. Hardly the stuff of which a good tailgate is made.
Arizona 23, San Diego State 7
Missouri at Kentucky
In his Wildcat debut, former Penn State QB Will Levis threw for 367 yards in a 45-10 rout of Louisiana-Monroe. Consider the competition, one might say, but that's 100 more yards than Terry Wilson had passed for in any game over three years as a starter. In fact, no UK quarterback has had a bigger game since 2014.
Tiger tailback Tyler Badie took off for 203 yards on 25 carries, leading his team to a 34-24 victory against an always dangerous Central Michigan team. Both the yardage and number of carries were far and away career highs for the senior stomper, who figures to finally see a lot more of the ball this year.
With all the talk about SEC expansion, and the impression that the league is light years ahead of the rest of Division I-A, it's important to remember that Mizzou was an afterthought for decades in the Big XII, but won division championships in their second and third years as a member of the SEC. Once you get past the top two or three teams, the talent in this league is really not so extraordinary.
So now the league is expanding again, but why? Is it going to improve itself by adding teams that were inferior to it before joining? Or is it admitting that Oklahoma and Texas are already better than most of its current members? The assumptions behind the reporting of it make about as much sense as putting Missouri in the East division of the Southeast Conference.
Kentucky 37, Missouri 33
Vanderbilt at Colorado State
Both of these teams got manhandled by lower-division opponents a week ago. The Rams couldn't keep up with the South Dakota Jackrabbits in a 42-23 runaway, whereas the Vandy offense got its Dores blown off by East Tennessee State, 23-3. These two outcomes are not nearly equivalent, though. SDSU, like the rest of the Missouri Valley Conference, might as well be considered Division I-A(ii), because it's clearly a cut above ETSU and the rest of Division I-AA.
CSU head coach Steve Addazio went 9-4 in his first season with Temple back in 2011, but hasn't done better than 7-6 in any year since. After a two-year stint in Philadelphia, he was remarkably consistent, if not remarkably successful at Boston College, where he went 44-44 in seven seasons.
Commodore sort-of kicker Sarah Fuller transferred to North Texas last year, where she lost the starting goalie job on the women's soccer team. Somebody forgot to tell her that she actually had to be better than the other goalie in order to play. This bigotry in favor of people who are good at things has got to stop. Thankfully, there's still the VU football team as a refuge for victims of this social injustice.
Colorado State 10, Vanderbilt 2
a sports publication from The Shinbone