The College Football Czar
Week 2
<![if !vml]>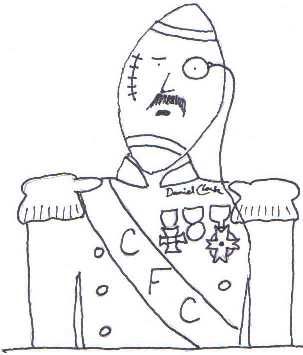 <![endif]>
Week one in review: There were so few games of consequence during the opening week that Saturday's highlight was when a Bowling Green defensive lineman attempted the worst fake injury in recorded history.  DT Mike Minns lost a shoe between plays in a goal line series against Tennessee, and for some reason expected the officials to stop the game until he could put it back on.  They didn't, so he did what must have appeared to be the only sensible thing to do.  Waving his shoe over his head, he pleaded for a stoppage, and then, realizing that he couldn't get off the field in time for a substitution, he collapsed to the ground as if he'd been struck from behind by a gigantic mallet.  Needless to say, he convinced absolutely nobody.  On the other hand, the incredulous reaction of Volunteer QB Joshua Dobbs was Oscar-worthy, except that he wasn't acting.  The only reason the College Football Czar doesn't nominate Minns for a Lardhead of the Year Award is that to this point, he's gotten away with it.  Therefore his nomination does not become effective until some punitive action is taken against him.
The SEC has agreed to keep its conference championship game in Atlanta through 2027.  The good news is that it will be moved out of the dreadful Georgia Dome after two more seasons.  The bad news is the new venue, Mercedes-Benz Stadium, is going to have a retractable roof.  As every sports fan knows, retractable roofs are seldom retracted, and even when they are, the effect is more like that of an enclosed vehicle with a sunroof than a convertible.
If you've watched any of the coverage on ESPN so far, you're aware that the network has decided to stop caring about college football so much, and instead focus on the betting lines, which have nothing whatsoever to do with the game.  They've even started giving "Cover Alerts," to let you know who is currently beating the spread.  Honestly, anybody who has bet on the game is already acutely aware of that.  The rest of us are just going to be annoyed.  Even College GameDay, the only watchable football pregame show on the air, is now being dragged under the seamy underbelly, and has begun incorporating a certain amount of degenerate scumbucketry into a show that used to be all about football.  The Czar can't help but wonder how this change is being received by the NCAA.
The Czar opened the season with a 16-5 week, although he acknowledges that the games were fairly predictable, due to a dearth of competitive matchups.  However, he did come within one point of picking UCLA's 34-16 victory over Virginia (predicted score 34-17).  He currently has a .762 winning percentage.
Sept. 11
Utah State at Utah
Last year, when the Aggies trumpeted the return of injured QB Chuckie Keeton, they ended up making noises like you'd hear for a losing game show contestant (WOH-Wohh-wohhh).  Keeton, who had missed the last eight games of 2013 with a knee injury, hobbled off the field again an opening loss to Tennessee, and was only sparingly used from that point on.  This time, at least he survived Week 1, but last Thursday's 12-9 win over the Division I-AA Southern Utah Thunderbirds was not encouraging.  USU generated nine of its points from a safety and a punt return, while Keeton completed 16 of 33 for only 110 yards with an interception.
At the same time that game was going on, the Utes put on a far more impressive display against Michigan, to spoil coach Jim Harbaugh's debut with the Wolverines, 24-17.  The veteran defense picked off Jake Rudock three times, including a 55-yard interception return by safety Justin Thomas, who scored what proved to be the winning touchdown.
This rivalry is known as "The Battle of the Brothers," because that's what the young men in that state must inevitably be.
Utah 13, Utah State 3
Sept. 12
Pitt at Akron
A year ago, the Zips came into Heinz Field and zipped the Panthers' body bag, after the home team gave a lifeless performance in a 21-10 defeat.  Now, the scene shifts to InfoCision Stadium, where the U of A hosts a major conference team for the first time since losing its 2010 opener to Syracuse.
Panther running back James Conner was needlessly injured in a ragged, exhibition-like 45-37 win over I-AA Youngstown State – a game that served no purpose other than to soak the season ticket holders for an additional home date.  Conner, who rumbled for 1,765 yards and 26 touchdowns a year ago, is out for the season to repair a torn MCL.
Suddenly, Conner's club is somewhat shallow at the tailback position, with Rachid Ibrahim sidelined, and Chris James playing hurt.  The team is encouraged by freshman Qadree Ollison's 207-yard performance, but let's see how he does against Division I-A competition.
It's a good thing we're still 1,100 years away from Super Bowl MCL, because nobody would want to play in it.
Pitt 33, Akron 17
Buffalo at Penn State
Whichever NFL team selects Nittany Lion QB Christian Hackenberg with the #1 overall pick in next year's draft is going to be terribly disappointed, judging from last week's 27-10 loss to Temple.  The junior threw for only 103 yards while completing just 11 of 25, and setting up the decisive touchdown with a terrible interception.
Just as in that game, PSU is facing a team that, like itself, is thin on the offensive line.  The Bulls do, however, have the most potent backfield tandem in the MAC, in QB Joe Licata and RB Anthone Taylor.
The Lions allowed Hackenberg to be sacked ten times, including once when Temple rushed only two men.  The O-linemen didn't lay a finger on them, but at least they shouted "We Are Penn State" at them on their way by.
Penn State 22, Buffalo 9
Oregon at Michigan State
The Spartans had the advantage until midway through the third quarter of last year's game in Eugene.  Then, the webfoots whacked them for three TDs in just over five minutes of game time, on their way to a big 46-27 victory.
UO's defense has diminished from last season, and it showed in an opening 61-42 shootout with I-AA Eastern Washington.  You'd think they wouldn't give up so many points, considering that they pilfered EWU quarterback Vernon Adams during the offseason.  Adams left the game in the fourth quarter, after taking a cheap shot to the head by former teammate John Kreifels, who was ejected for targeting, and then engaged in some pro rasslin antics on his way to the locker room.  He might as well have just held up a giant Wile E. Coyote sign saying, "Yes, I'm Guilty!"
MSU was far from midseason form itself in a shaky 37-24 win at Western Michigan, during which its much-scrutinized secondary yielded 356 passing yards.  Happily for them, they're about to begin a four-game home stand.  In fact, don't have to leave the comfort of the Big Mitten for the first time of the season until they travel to Rutgers in Week 6.
Why is there only one Big Mitten, anyway?  Just who owns this pair of mittens, the King of the Crab People?
Michigan State 41, Oregon 37
LSU at Mississippi State
Is college football doormat Southern Miss really resurgent, or did MSU only make it appear that way during last week's unexpected battle in Hattiesburg?  The Bulldogs pulled away for a 34-16 final, but the score was close most of the way, and the teams were statistically almost even.
The Tigers had their opener against I-AA McNeese State canceled due to "inclement weather."  Apparently, the lightning was relentless in Baton Rouge that night, so the Czar wishes everyone would just say it was canceled due to lightning.  This creeping, media-promoted suggestion that "inclement weather" justifies postponing or canceling a football game is one of the many forces threatening to suck the life out of the sport.
Last Friday, the College Football Czar tuned in to the Big Ten Network to find that the Illinois-Kent State game was about to be postponed until the following day.  The studio host explained that the game had been delayed "first by lightning, and then because it was raining so hard …"  the Czar doesn't know exactly how that sentence ended, because he exploded in a geyser of unpleasant-sounding words that hadn't yet been invented.
Memo to all you, "It's all about da munny" lardheads out there: Kindly explain how canceling football games due to "inclement weather" is "all about da munny."  Then, you can get back to theorizing about how Dick Cheney's stockbroker used GMOs to bring down Tower #7.
LSU 31, Mississippi State 14
Minnesota at Colorado State
The Golden Gophers are 0-1, but it's nothing to bury their heads over, the way they kept fighting back against presumptive national contender TCU.  Their defense took the deep ball away from Horned Frog QB Trevone Boykin, whom they held to fewer than ten yards per completion in the 23-17 defeat.
What ought to embarrass the radiant rodents is that coach Jerry Kill says they need to soften their schedule.  Let's see.  In 2014, their three nonconference opponents other than the Horned Frogs were Middle Tennessee, San Jose State and Division I-AA Eastern Illinois.  In 2013, they played San Jose State, UNLV, New Mexico State and I-AA Western Illinois.  In 2012, they dared to take on Syracuse, Western Michigan, UNLV and I-AA New Hampshire.  This year's comparatively brutal nonconference slate finishes with Kent State and Ohio.
First-year Ram coach Mike Bobo must have thought he'd won a booby prize by getting a W just for sauntering past I-AA Savannah State, 65-13.  This week's challenge more closely resembles the ones CSU faced at the end of last season, when they lost to Air Force and Utah.
In a disturbingly frank moment of non-competitiveness, Coach Kill said, "When I was at Southern Illinois, no one remembered eight years later who we played.  They just know we won."  Really?  If you schedule good opponents and beat them, the fans don't remember that?  It sounds as if he's been reading a self-help book written by Butterbean.
Minnesota 27, Colorado State 17
Temple at Cincinnati
Bearcat QB Gunner Kiel might be forced to go off half-cocked, as he stares down the barrel of an Owl defense that allowed only 17.5 points per game in 2014, and is ahead of that average this year, following a 27-10 pounding of Penn State.
These teams have begun the second stint of a conference rivalry that began in the Big East, after that league plucked Cincy from Conference USA, but before it banished the Owls to the MAC.  Between Big East and AAC games, UC has won all five meetings, although Temple still leads the all-time series 9-7-1.
The Owl's win over PSU was their first victory in that series since shortly before Pearl Harbor, but it threatens to leave them vulnerable to a sneak attack of their own.  As historic a week as it's been for them, defeating the Nittany Lions just isn't that big a deal, and wouldn't be even if there were such things as lions that were nittany, whatever in tarnation that means.  They could soon learn against the Bearcats that not all fictitious felines are created equal.
Cincinnati 23, Temple 12
Oregon State at Michigan
The Beavers better be prepared for this noon kickoff – which is 9AM Pacific Time – a little better than their divisional rivals from Stanford did a week ago.  When OSU has traveled this far east in the past, they haven't fared well.  For example, they were blanked at Wisconsin 35-0 in 2011, and smacked around at Cincinnati 34-3 in 2007.  And who could forget the 2008 "bunch of schlemiels" game, in which they were routed by Penn State, 45-14?  In fact, they haven't won a regular season game west of Colorado since beating Minnesota in 1978.
The Wolverines have lost their last six games against Pac 12, nee 10, opponents, but in those cases, they've taken on teams among the top echelon of that league (USC, Oregon and Utah, twice each).  The Beavs were an also-ran even when they still had slinger Sean Mannion.  This year, their starting QB is freshman Seth Collins, who did himseth no favors with a flat performance in his debut against I-AA Weber State.
Mind you, a "bunch" of schlemiels is slightly inaccurate, because schlemiels travel in gaggles.  If you know what a schlemiel is, you probably don't want to park your car anywhere near a gaggle of them.  Unless you want to have it souped up, of course.
Michigan 30, Oregon State 13
East Carolina at Florida
Imagine a genie has just granted you a wish.  If you would respond, "Gee, I wish I could see a rematch of last year's Birmingham Bowl," then you are indeed fortunate, if weird.
Leading Gator rusher Kelvin Taylor has only had as many as 25 carries in a game once, in last year's upset of Georgia.  Not coincidentally, that's also the only time he's topped the 100-yard mark.
Pirate coach Ruffin McNeill was counting on sophomore QB Kurt Benkert to take over for Shane Carden, but Benkert suffered a season-ending knee injury a week before the opener.  Without him, they barely scraped by I-AA Towson, 28-20.
The Gators won the aforementioned bowl game 28-20, on a long, frustrating day for the ECU offense.  For the game, the Pirates outgained UF by almost 200 yards, but they were stopped on downs twice, ended three other drives on turnovers, and missed a field goal attempt.  There goes any chance of them being featured in any "Great Moments in Birmingham Bowl History" retrospectives.
Florida 15, East Carolina 6
Boise State at Brigham Young
The College Football Czar wasn't aware that they practiced the Hail Mary in Provo, but they executed it perfectly.  Perhaps they've really been doing it for decades, except that in their case, it's called the Hail Smith.
The Cougars scored the most dramatic win of Week 1 by beating Nebraska 33-28, on a last-second long bomb.  Unfortunately, the drama was necessitated by the latest injury to quarterback Taysom Hill, who is out for the season.  The winning heave was thrown by freshman Tanner Mangum, who completed 7 of 11 in relief.
BSU almost blew a 16-0 lead against former coach Chris Petersen and his Washington Huskies last Friday night.  Only a missed UW field goal late in the fourth quarter allowed them to escape with a 16-13 victory.
As the Czar is writing this, it occurs to him that he might have used the gag in the opening paragraph before.  If that's the case, so be it.  When you're working with a two Mormon gag per week quota, originality is a bit of a luxury.
Brigham Young 24, Boise State 20
Notre Dame at Virginia
The Fighting Irish have lost starting running back Tarean Folston for the year, but they have enough depth at that position that his injury might not affect the outcome of their season.  Like their future opponents at Pitt, the golden domers have suddenly got a problem with depth at that position, because suspended tailback Greg Bryant has decided to leave the team altogether.  The Irish hope they've found Prosisely the guy they need in C.J. Prosise, who gained 98 yards on 20 carries in last week's 38-3 romp over Texas.  The underutilized senior will split carries with freshmen Josh Adams and Dexter Williams.
These teams have only met once before, in the 1989 Kickoff Classic, where the Cavaliers were competitive most of the way through a game that was a total mismatch on paper, before losing 36-13.  When that game was announced, the UVa program wasn't nationally well known.  Most fans were disappointed to realize that it was not a rematch of the previous year's national championship game between ND and West Virginia.
The usually defensively tough Cavs could rename themselves the Calves – as in veal – the way they were tenderized by UCLA a week ago.  In that 34-16 loss, they allowed a freshman QB to throw for 351 yards and three TDs in his debut.
The University of Virginia was founded by the author of the Declaration of Independence, but the Czar figures Notre Dame must be named after the first female notary public.  Is there any question which is the greater accomplishment?  She'll probably be replacing him on the nickel any year now.
Notre Dame 32, Virginia 14
Oklahoma at Tennessee
It was the first quarter of last week's game when Mike Minns collapsed with a gruesome shoe injury.  From that point on, the Volunteers coasted to a 59-30 win over Bowling Green.  He must be one extremely valuable player.
Sooner coach Bob Stoops wanted more offense, and he got it with the addition of Texas Tech transfer Baker Mayfield at quarterback, but does he really want to import the Red Raiders' offense altogether?  Of his team's 539 yards in a 41-3 rout of Akron, 439 came through the air.  Tailback Samaje Perine, a freshman phenom a year ago, led the meager march on the ground by gaining only 33 yards on 11 carries.
Stoops' team won last year's meeting 34-10, which should give him confidence for this rematch.  All the same, he might want to have his players practice losing their contact lenses, just in case.
Vols' senior WR Pig Howard will see his first action of the year against OU, because he was suspended for the opener for an undisclosed violation of team rules.  It's already been a tough year for Pig.  First his breakup with Kermit, and now this!
Oklahoma 39, Tennessee 21
Washington State at Rutgers
Before the season, Cougar coach Mike Leach proposed a 64-team playoff.  If the idea was for his own team to qualify, he might want to double it to 128, which would equal the number of teams in Division I-A football.  Then again, even that might not be enough, if WSU doesn't improve on last week's 24-17 loss to I-AA Portland State.
A year ago, the Knights knocked off Wazzu 41-38 in Pullman.  Wide receiver Leonte Carroo cut up the Martin Stadium rug for 151 yards and a touchdown on six catches.
Five RU players have been dismissed following their arrests on various felony charges, even as head coach Kyle Flood is embroiled in a grade-fixing scandal.  And they said the Scarlet Knights would never fit into the Big Ten.
Rutgers 52, Washington State 35
Wake Forest at Syracuse
Orange quarterback Terrel Hunt would probably just as soon sit out these opening faux-games against lower-division opponents.  Last week against Rhode Island, he suffered an season-ending Achilles injury.  You may remember that in the 2014 opener, Hunt got himself suspended by punching the facemask of a Villanova linebacker.  Now that SU has to play a serious game, it will be freshman Eric Dungey behind center.
The Demon Deacons had the nation's fourth-weakest offense last season, averaging just over 216 total yards per game.  In their 30-7 loss to the 'Cuse, Wake's offense gave up more points than it scored, allowing defensive TDs on a fumble return and an interception.
Dungey is no relation to former Indianapolis Colts' head coach Tony Dungy, whose name, as you can see, is spelled differently.  Still, he's bound to have just as prolific an acting career.
Syracuse 8, Wake Forest 5
Arizona at Nevada
Roh-ro!  How will the Wildcat defense cope without injured linebacker Scooby Wright?  Not all that well, if last Thursday's 42-32 win over a rebuilding Texas-San Antonio team is any indication.
The Wolf Pack have yet to prove they can compete without Hall of Fame coach Chris Ault on the sideline.  Brian Polian is only 9-14 against Division I-A competition so far, and his team turned in the most disappointing and disinterested performance of last bowl season, losing to Louisiana-Lafayette 16-3 in the New Orleans Bowl.
The Cats really seem to like those atomic fireball red helmets they wore against UTSA.  Perhaps that's because they make all the players look just like coach Rich Rod by the fourth quarter.
Arizona 45, Nevada 41
UTEP at Texas Tech
A year ago in El Paso, the Miners briefly led Kliff Kingsbury's team in the fourth quarter, before Tech QB Davis Webb led his team to a late score and a 30-26 victory.  Webb will not be starting this week, however, as Kingsbury has tabbed Patrick Mahomes as the new first-stringer.
Kingsbury looks like Henri from Cheers, and he'd better start practicing his pickup lines, because he could soon be available.  Last week, he evened his career record at 13-13 with a win over I-AA Sam Houston State, although the game itself was a loser.  His Red Raiders were equally lame in both phases of the defensive game, as they yielded 320 passing yards, and another 317 on the ground, in a 59-45 farce.
The Raiders have been merciless to their foes from El Paso over the years, beating them six times in a row since the Miners' last victory in 1957.  That's because Tech is jealous, but it's not UTEP's fault.  "Out in the West Texas town of Lubbock" just doesn't sing.
UTEP 38, Texas Tech 37
Eastern Michigan at Wyoming
Nobody beats these Wyoming Cowboys – or at least it seems that way after they lost their opener to Division I-AA North Dakota, the team formerly known as the Fighting Sioux, but is currently known as nothing.
The Eagles could learn a thing or two from Boise State about how to blend into their own turf.  In last week's opener, the EMU players in their bold green uniforms stood out against the goofy gray playing surface, while it was the white and silver-clad visitors from Old Dominion who were better camouflaged.  Perhaps that's why they let ODU sneak off with a 38-34 decision.
Like North Dakota, Eastern Michigan has given up its "hostile and abusive" Indian nickname.  Up until 1991, they were named the Hurons.  Thank heaven they've seen the error of their ways, and have spared the poor Hurons of any further hostility or abuse.  There's no doubt this effort has been successful.  I mean, not even Joe Biden tells a lot of Huron jokes these days.
Wyoming 32, Eastern Michigan 30
Kentucky at South Carolina
Carolina is probably about as close to midseason form as anybody, since they're one of the handful of teams that took on a genuine challenge for openers.  Early last Thursday evening, they trailed North Carolina three times before finally taking the lead in the fourth quarter, and hanging on to win 17-13.  Shon Carson scored on a 48-yard run, and finished the game averaging almost 19 per carry.  It might have been a good idea, in hindsight, to hand him the ball more than four times – especially since sophomore QB Connor Mitch seemed overwhelmed at times, even before sustaining a hip pointer.
The Wildcats won what might have been the week's most entertaining game – which isn't saying much – by beating back Louisiana-Lafayette 40-33.  What concerns Cat fans is that their team once led that game 33-10, before getting ULL-ed into a false sense of security.
It's a little-known fact that "hip pointer" is a misnomer, because pointing hasn't been hip since the days of Saturday Night Fever.  Those among the Czar's readers who remember what the Joe Paterno statue looks like know this to be true.
South Carolina 23, Kentucky 16
Florida International at Indiana
The International Men of Mystery went unsolved in their opener, when they came back from a 14-3 deficit to bump off Central Florida, 15-14.  Coach Ron Turner jeopardized their chances by going for two on FIU's first touchdown, when it was far too early to do so.  Because the attempt failed, the Golden Panthers had to go for two again after their second TD, and were again unsuccessful.  As a result, they could have been beaten by a field goal, but they blocked UCF's last-second, 47-yard try.
IU's pass defense was riddled for 411 passing yards and four TDs in a 48-47 cliffhanger against I-AA Southern Illinois, but the bigger riddle is, how can you predict who's going to win between the Hoosiers and the Salukis, without having any idea what either of them are?
It's a little-known fact that the reason people from Indiana are called Hoosiers is that "Indianans" was deemed to be hostile and abusive.  It would also have been the worst one-word movie title of the pre-Maleficent era.
Indiana 34, Florida International 25