The College Football Czar
Week 2
<![if !vml]>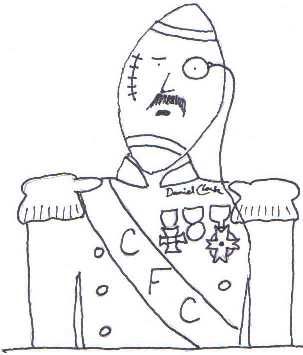 <![endif]>
Week one in review: If you thought you were watching the same game throughout the long weekend, that's because it was everyone's last chance to wear white before Labor Day.  Watching highlights from around the nation, one might have thought that all the games had been sponsored by Sta-Puft marshmallows.
One of the big story lines was the number of Division I-A teams that were upset in their openers by Division I-AA opponents.  This is really nothing new, but viewers are more aware of it now, because so many of those games are being televised.  For two-time defending I-AA champion North Dakota State to knock off a Kansas State team that is rebuilding almost entirely from scratch isn't really surprising, but for a ranked Oregon State team to be outgunned by Eastern Washington is.  Also shocking is the margin of victory for a couple of the lower-division teams.  McNeese State stomped South Florida 53-21, while Eastern Illinois slammed San Diego State, 40-19.
News flash: Texas A&M's Heisman-winning quarterback, Johnny Manziel, is an equine posterior.  Just in case you hadn't heard.  The sophomore scrambler was suspended for the first half of last Saturday's 52-31 win over Rice, but he still found enough time to commit multiple acts of unsportsmanlike conduct, prompting coach Kevin Sumlin to bench him midway through the fourth quarter.
The College Football Czar didn't quite nail any scores on the head in Week 1, but he came close on Northern Illinois' 30-27 win over Iowa (predicted score 31-27) and Northwestern's 44-30 victory over California (45-28).
For the week, the Czar was 23-7, for a .767 winning percentage.  He might have reached the .800-mark if not for a lardheaded call by Alabama-Birmingham coach Garrick McGee.  Just as his Blazers had taken a 24-14 third-quarter lead against rival Troy, McGee inexplicably called for an onside kick, which the Trojans recovered and promptly converted into a field goal.  McGee's team would ultimately lose the game in overtime.  Needless to say, the Czar does not consider UAB's Week 2 game at LSU to be competitive enough to include among this week's picks.
Sept. 6
Wake Forest at Boston College
If these ACC Atlantic division foes are going to play a nationally televised Friday night game, it might as well be now, while they're still relevant.  Both teams recovered from slow starts to stave off lower-division opponents last week.  The Demon Deacons spotted the Presbyterian Blue Hose an early touchdown, but gradually took over and pulled away to win 31-7, whereas BC had to pour it on in the second half to overcome Villanova 24-14.
The Eagles' defense seems to offer Wake a great opportunity to reestablish its traditional running game, as coach Jim Grobe has sworn to do.  In his first game as Eagle defensive coordinator, Don Brown was roasted over an open fire at Chestnut Hill, where Nova rushed for 197 yards, averaging 5.5 per carry.
BC's punt and kickoff returner is named Spiffy Evans.  Before you start laughing, keep in mind that President Obama uses the word "spiffy"; therefore, it's cool.  Not coincidentally, Evans has got a little brother named Letmebeclear.
Blue Hose is a spiffy name for a football team.  See?  Just oozes coolness, doesn't it?
Wake Forest 30, Boston College 19
Central Florida at Florida International
UCF pays a visit to the House of Pancakes, where they fell flat in a 17-10 upset two years ago.  Last season, they had FIU badly overmatched and also at home in Orlando, but only won by a modest final of 33-20.
Last week, the Golden Panthers visited Maryland, where a lot more humanity landed on them than just Mary.  The Terrapins piled on 40 points in the first half, and then took it easy through the rest of a 43-10 trouncing.
George O'Leary's Knights have quietly put together three 10-win seasons in the past six years.  They'll try to raise a little more of a racket over the next five weeks, when they take on Penn State, South Carolina and Louisville.
Unlike the Golden Panthers, the Knights removed the word "Golden" from their nickname several years ago.  Wanting to dissociate themselves from their foes at FIU, the Knights went through the gold-off machine operated by Sylvester McMonkey McBean.  You see, they have to sneak Seuss characters across the Orlando border, to do the jobs that Disney characters just won't do.
Central Florida 42, Florida International 23
Sept. 7
Eastern Michigan at Penn State
Freshman quarterback Christian Hackenburg tossed two long touchdown passes in the Nittany Lions' neutral-site game against Syracuse, and they needed him to, as inept as their running game was in an ugly 23-17 win at the Meadowlands.
The Eagles are 0-23 all-time against Big Ten teams, including lopsided losses to PSU in 1992 (52-7) and 2011 (34-6).  They don't seem to be inclined to break that streak, having needed to rally from an 11-point deficit to defeat Division I-AA Howard, 34-24.
The "Penn State community" is so self-absorbed, its inhabitants think Jackie Robinson wore #42 as a bittersweet tribute to Michael Mauti.
Penn State 39, Eastern Michigan 10
West Virginia at Oklahoma
If there was concern about all of the Sooners' losses on defense, you'd never know it from the way they gunned down the invading Louisiana-Monroe Warhawks.  Bob Stoops team halted ULM for a meager total of 166 total yards, in a 34-0 pounding.
Former Florida State backup QB Clint Trickett is eligible to play for the Mountaineers this season, but he only threw two passes, both incomplete, in an opening 24-17 scare against William & Mary.  Junior Paul Millard took the bulk of the snaps, completing 19 of 25, including a 69-yard TD strike to WR Ronald Carswell.
When WVU trailed the Tribe, one of the Fox announcers made a remark to the effect that the couches had better beware.  Doesn't he get it?  The fans in Morgantown only burn couches in the streets (where they somehow happen to be) after a victory.  But burning a couch because your team lost a football game?  That's just dumb.
Oklahoma 44, West Virginia 17
South Carolina at Georgia
Not only did the Bulldogs lose their much-anticipated opener at Clemson, 38-35, but they also lost RB Todd Gurley for part of the game, and WR Malcolm Mitchell for the season on the same play.  Gurley, who would later return, pulled a muscle while dashing 75 yards for a first-quarter touchdown.  Mitchell tore his ACL in while celebrating the score with Gurley, by doing the ubiquitous flying arse-bump that we see players do dozens of times a game without incident.
Gamecock coach Steve Spurrier is not hiding his displeasure with the conditioning of his defense in general, and DE Jadeveon Clowney in particular, following a sluggish performance in a rain-interrupted 27-10 win over North Carolina.  While Clowney is taking all the abuse in the papers, the Czar suspects that Spurrier's assistants are the ones feeling most of the heat behind the scenes.
Carolina handed the Dogs their only defeat of the 2012 regular season, 35-7 in Columbia.  UGA quarterback Aaron Murray completed only 11 of 31 passes that day, for 109 yards and an interception.  The OL's inability to keep Clowney and company from romping through their backfield had a lot to do with those totals.
Spurrier is commonly referred to as the Old Ball Coach.  Before the Czar realized that, he thought the Old Ball Coach was the big, schmantzy vehicle used to transport people to the Old Ball.  That's where all of the town's most distinguished citizens get together and do the chicken dance until somebody breaks a hip.
South Carolina 26, Georgia 16
Notre Dame at Michigan
One of the many bumps along ND's way to last year's championship game was a dismal performance against their arch rivals, which had to be the worst game the Czar watched all season.  Even with a plus-4 turnover margin, the Fighting Irish only managed to win 13-6.  They haven't been so lucky in Ann Arbor, however, where they've lost three in a row.
The golden domers have started the 2013 season in a similar fashion, outlasting Temple 28-6, in a game that was about as entertaining as watching Philadelphia cream cheese expire.
Running back Fitzgerald Toussaint played his first game since breaking a leg last November, carrying the ball 14 times for 57 yards and two scores.  The maize and blue had no trouble finding the path to the end zone, in a 59-9 slobberknocking of Central Michigan.
This will be the last visit to the U of M for a while, until the Fighting Irish figure out how to juggle these traditional games with their new ACC commitments.  Already angered by this, the Wolverines were up in arms over a comment from Irish coach Brian Kelly that, "I really haven't seen it as one of those historic, traditional Notre Dame rivalries."  Oh, wait a minute … Kelly now says, "It's a great and historic rivalry."  You can tell he didn't kiss the Blarney Stone during last year's road trip to Ireland.  Must've been afraid of getting the O'Cooties.
Michigan 37, Notre Dame 23
Florida at Miami
Everybody tunes in whenever the Gators and Hurricanes collide, because that's when they become Hurrigator, the new Syfy Channel epic in which a powerful tropical storm drops man-eating reptiles from the sky.
At least that would be more interesting than UF's 24-6 trudge past Toledo.  In the Czar's opinion, Will Muschamp's team is taking a bad rap due to the poor entertainment value of that game.  They held a very good offensive team out of the end zone all day, while QB Jeff Driskel was his usual, boring, methodical self.  In other words, they did exactly what they needed to do.  Had the game gotten exciting at any point, then they might have been in trouble.
The Hurricanes likewise allowed only two field goals, in an equally unenthralling 34-6 win over Florida Atlantic.  Sophomore running back Duke Johnson rushed for 186 yards and a touchdown, on only 19 carries.
The Miami players call their team "the U" because that's what's on their helmets, just like the Gators know their name because their helmets say "Gators" on them.  In the Canes' case, the equipment manager thought it wise to stick to one-letter words.
Florida 22, Miami 17
Houston at Temple
This is the first league game in the newly christened American Athletic Conference, which is basically the Big East, but with most of the Big East teams having been replaced by former Conference USA members.  If you haven't seen the AAC logo, it looks like the logo of some regional fast food chain whose ads you'd see during a west coast broadcast.  You know, one of those ones that makes you want to puke, buy showing you hamburgers topped with cold chili.
Last week's game in South Bend could have taken a surprising turn, if only the Owls had come equipped with a kicking game.  Second-generation TU kicker Jim Cooper Jr. missed two field goal attempts, and had an extra point blocked, in the 28-6 defeat.
The Cougars aren't going to win 13 games like they did in 2011, but they've got a chance to get off to a very good start.  If they aren't already bowl-eligible by the start of November, however, they could repeat last year's 5-7 finish.  In that final month, they face Central Florida, Louisville, Cincinnati and SMU.
Supposedly, Temple is the AAC school that got its team name because it was originally a night school, but the Czar doesn't believe it.  After all, there are two teams in that league called the Knights, you know.
Houston 19, Temple 12
Syracuse at Northwestern
The Wildcats lost scrambling QB Kain Colter to a concussion early in last week's game against California.  His absence will surely make itself felt at some point, but it didn't seem to slow down their 209-yard rushing attack, which was complemented by a 299-yard passing effort, in the 44-30 victory.  Trevor Siemian played the rest of the game behind center, throwing for 276 of those yards.
Last year at the Carrier Dome, the Orange rolled up 596 total yards while bouncing back from a 22-point deficit to take a late 41-35 lead.  It was Siemian who led the Cats back for the winning score in the last minute, completing 6 of 7 passes on the final drive of a 42-41 win, which propelled his team to a 5-0 start.
There's no S-'Cuse for the 260-yard, three-turnover performance by Scott Shafer's offense in last week's 23-17 loss to Penn State.  The SU defense gained almost a third as much territory, by returning its four takeaways for a total of 85 yards.  Had the Orange O shown up, it could have walked away with a W.
Rumor has it that once all the Indian mascots have been stamped out, Otto the Orange is next on the NCAA's "hostile and abusive" list.  Who knew spray-on tan users had such a powerful grievance lobby?
Northwestern 41, Syracuse 23
Arkansas State at Auburn
This was set up to be a meeting between coach Gus Malzahn and his former team, except that his former team was supposed to be Auburn, not ASU.  After Gene Chizik's firing, however, the former AU offensive coordinator was hired back for the head job, following a one-year detour through Jonesboro.
Malzahn's Tigers were tested by Washington State's air attack, which riddled them for 344 passing yards.  That stat was mitigated by three interceptions, though, including a late pick in the end zone by Robenson Therezie, which preserved the 31-24 victory.
ASU opened against the Division I-AA Arkansas-Pine Bluff Golden Lions.  When the Red Wolves called their bluff, the Lions said, "Psych, we haven't actually got any pine at all!"  Naturally, this made the Wolves very angry, so they beat UAPB, 62-11.
Auburn 48, Arkansas State 35
San Jose State at Stanford
Last year's 20-17 victory was one of eight games the Cardinal won by seven points or fewer.  How will they continue to grind games out like that, while having to replace two NFL tight ends, and perennial 1,000-yard rusher Stepfan Taylor?
SJSU's 24-0 win over Division I-AA Sacramento State was its eighth consecutive victory, although obviously it wasn't as impressive as their last three wins of 2012, against BYU, Louisiana Tech and Bowling Green.  Going back to the start of last season, the Spartans' only losses have been to Stanford and Utah State, whose combined record for the year was 23-4.
It's a good thing this game is being played in Palo Alto, because Spartan Stadium used to host a bowl game called the Silicon Valley Classic, and the last time it was played there was a long delay, due to a power outage.  Oh, sure.  You can choose to believe that the lights just happened to go out during a bowl game, but the College Football Czar and all other intelligent, responsible, law-abiding people know that this proves the fix was in.
Stanford 16, San Jose State 7
Middle Tennessee at North Carolina
The MT-heads rolled their last ACC opponent, Georgia Tech, 49-28 last year in Atlanta.  Nevertheless, they were frozen out of the bowl season with a record of 8-4, while Tech, at 6-7, received a special dispensation to play in the Sun Bowl.  UNC logically has absolutely nothing to do with that, but the bitter Blue Raiders aren't going to care.
Tarheel tosser Bryn Renner's streak of four consecutive 300-yard games came to an end in their season-opening loss at South Carolina.  In that game, the senior QB scraped up only 194 yards on 26 completions, mostly because the SC pressure just wouldn't let him look for the deep ball.  He should be able to open his game up against an MTSU defense that allowed 275 passing yards in the Raiders' 45-24 win over the Division I-AA Western Carolina Quantity O' Felines (or Catamounts, if you insist on being official about it).
How come there's a North Carolina, a South Carolina, an East Carolina, and a Western Carolina, but there's no Middle Carolina?  That must be the Carolina in James Taylor's mind, which explains why nobody else goes there.  Ol' Jim's got a dirty mind, you know.
North Carolina 45, Middle Tennessee 41
Oregon at Virginia
Duck fans had been hoping that freshman Matt Wogan would end their team's kicking woes, so why wasn't he allowed to attempt any field goals during last week's tune-up against I-AA Nicholls State?  Wogan booted just three extra points, while Alejandro Maldonado chipped in the team's only three-pointer from 29 yards out.
It was Maldonado whose misses against USC and Stanford have helped keep UO out of the national championship each of the past two years.  So why not use a 66-3 rout against a lower-division opponent as an opportunity to get the new kid some confidence?
The Cavaliers didn't cross midfield until less than a minute remained in the first half against BYU, when Ian Frye booted a 53-yard field goal to keep them in the game.  They weren't much better at moving the ball in the second half, but were able to pull out a 19-16 victory on the strength of a safety, a blocked punt, and an interception return down to the 13-yard-line.
Everyone knows that UVA was founded by Thomas Jefferson.  The question nobody will answer is, who hided it from him in the first place?
Oregon 38, Virginia 21
Toledo at Missouri
Former UT and current Mizzou coach Gary Pinkel had never awarded a game ball to an individual player until last week, when he gave one to junior tailback Henry Josey.  So the momentous occasion for which he broke this tradition was a 58-14 blowout of Division I-AA Murray State.  What's next, momentum rings?
At one point last season, the Rockets had won eight games in a row.  Since that streak was snapped, through last week's loss at Florida, they've dropped four out of five, beating only Akron.  In last year's Famous Idaho Potato Bowl, they trailed Utah State 13-9 midway through the fourth quarter, but still found time to give up four more touchdowns to lose 41-15.
Gary Pinkel has coached for 12 years at Missouri, after being head coach for 10 years at Toledo, and in-between he's managed to find the time to play the villain in countless Secret Squirrel cartoons.  Talk about a well-rounded career.
Missouri 34, Toledo 26
Washington State at USC
Trojan wide receiver Marquise Lee must be very unhappy after his team's lackluster 30-13 win at Hawaii, because it did little to clear up the quarterback competition.  Cody Kessler completed 10 of 19 for 95 yards, with one TD and an interception, while Max Wittek went 5 for 10 for 77 yards.  So, basically, the two of them combined are equal to Munchie Legaux.
Mike Leach is looking for a little more balance out of his Air Raid offense this year.  In last week's loss to Auburn, the Cougars gained 120 yards on the ground, more than quadrupling last year's average of 29.1 rushing yards per game.  Only once did they top the 100-yard mark in 2012, when they tallied 108 in an early win over I-AA Eastern Washington.
Former Penn State running back Silas Redd returns from a knee injury, and is expected to see limited action in this conference opener.  There's probably not much he can do to bring the Trojans' moribund offense to life, but all the same, the SC fans will be pleased to hear the sounds of Silas.  Unfortunately, that means they also have to see Art Garfunkel, creepily standing around with his hands in his pockets.
Washington State 30, USC 28
Navy at Indiana
Last year in Annapolis, the Midshipmen defeated a Big Ten team for the first time since 1979, when they rallied from a late nine-point deficit to edge IU, 31-30.  To pull that off, they played the entire game without turning the ball over, while committing only two penalties for ten yards.  They're not likely to be that sharp in this rematch in Bloomington, being one of the few teams yet to play a game this season.
The Hoosiers haven't been to the Rose Bowl since 1967, but at least they're determined to lead the league in helmet designs, having introduced six different ones to be used during the 2013 season.  Their apparent hope is that if they continue to change them indefinitely, they'll eventually stumble upon one that looks like a Hoosier – and then they'll know what one is.
Indiana 54, Navy 35
Hawaii at Oregon State
The fact that UH coach Norm Chow has got a year under his belt, combined with the return of the traditional team nickname and last week's surprisingly close 30-13 loss to USC is supposedly announcing the Rainbow Warriors' return to competitive football.  The College Football Czar doesn't mean to burst any Tiny Bubbles, but let's not get carried away.  As badly as Southern Cal's QBs performed, they still badly outplayed the Warriors' Taylor Graham, who completed 16 of 41 with four interceptions, and didn't complete a TD pass until only 30 seconds remained.
The Beavers rallied from a 12-point deficit to lead I-AA Eastern Washington three times during the second half, but were hopelessly unable to hold their lower-division foes out of the end zone in the fourth quarter of a 49-46 upset.  Their defense will have it much easier this week, despite the presumptive step-up in competition.
UH is really making this trip to scout out the area, in preparation for a new TV series called Hawaii Five-O-Corvallis.  Sure, nobody wants to watch it now, but in a few years they'll be showing marathons of it on FX.
Oregon State 42, Hawaii 13
Bowling Green at Kent State
The defending MAC East champion Golden Flashes averted a terrible upset when they rallied past Division I-AA Liberty, 17-10.  They did lose leading rusher Dri Archer to an ankle injury, although he is expected to return for this conference opener.
The Falcons had the league's leading defense a year ago, and should do so again, with nine starters returning.  On the opening Thursday, they stopped the mighty Tulsa rushing attack in its tracks, holding the Golden Hurricane to 51 yards on the ground to win, 34-7.
For the record, Archer's first name is pronounced "dree," which is why you don't hear him singing, "How dry I am."
Archer should sing that song anyway.  It's spiffy.
Bowling Green 21, Kent State 12