The College Football Czar
Week 2
<![if !vml]>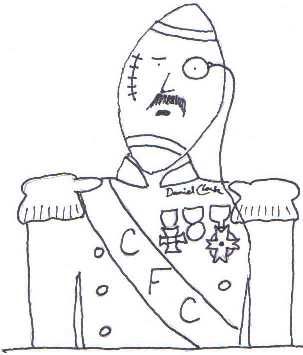 <![endif]>
Week one in review: The College Football Czar started the season with a record of 18-8, and a winning percentage of .692 – which isn't great, considering that the dearth of competitive games over Labor Day weekend provided him a couple gimmes.
We have a new nominee for the Lardhead of the Year Award, and a pretty formidable one at that.  USC cornerback Josh Shaw suffered high ankle sprains to both legs in an off-the-field incident, the details of which he'd rather not disclose.  So, naturally, he made up a story that portrayed himself as a hero, selflessly hurling himself from a balcony in order to save his 7-year-old nephew from drowning in a swimming pool.
Once Shaw's story began to unravel under questioning, he admitted that it was a fabrication.  Still, the fact that he got caught telling a self-flattering whopper doesn't mean that the true circumstances of his injuries were anything but innocent.  Just because the LAPD has interviewed him in connection with a domestic dispute at his girlfriend's apartment, and just because he's hired Snoop Dogg's defense attorney, who has advised him to stop talking to the police, and just because this same attorney has stated that Shaw was injured when he fell from a balcony at the same apartment complex where his girlfriend lives, that doesn't mean …
… Oh, wait a minute.  It probably does.  Never mind.
Wussification alert !!! – Florida's home game against Idaho last Saturday was canceled due to "unsafe and unplayable field conditions," which is what used to be known as "mud," prior to the Era of Wussy.  The College Football Czar doesn't recall muddy conditions ever causing a disproportionate number of injuries, but once the cancelation was officially attributed to the reigning policy of Player Safety Uber Alles, nobody was going to argue.
There seems to be a movement among the jocksniffer class (and they know who they are) to look upon any game conditions that originate outside of human control as an impediment.  The way they see it, removing the game from nature creates a purer version of the sport, in that it allows the ath-uh-letes to put their ath-uh-leticism on display, without the hindrance of icky things like dirt, precipitation, and less than ideal temperatures.  If opposing players could be taken out of the way also, that would be ideal.  It is because of this jocksniffer attitude that more and more big games at both the pro and college level are now played in lifeless, miserable, stinkin' bucket o' crud domes, and that the thought of snow at the Super Bowl causes mass hysteria.
Well, football players aren't just ath-uh-letes, they are sportsmen as well, and part of the sport of football is overcoming obstacles.  Because football by nature is an outdoor sport, that means they may have to play in the rain and the mud, even if that means they could fall down and go boom.  Take the sporting elements out of the game, and football players will become little more than gymnasts, displaying their talents in a noncompetitive environment.  If you sniffers out there actually enjoy watching the NFL combines, that's your problem, but leave the actual game of football alone.
Sept. 5
Pitt at Boston College
What was the point to pummeling the Division I-AA Delaware Fighting Blue Hens 62-0, if the Panthers weren't going to take the opportunity to find out what kind of a quarterback they've got?  Sophomore Chad Voytik only threw 13 passes all day, completing 10 for a meager total of 84 yards.  What's more, they were almost exclusively on roll-out plays, giving no indication of whether he can stay in the pocket and throw downfield.
The Eagles officially opened their season on the road, although they are much closer to Umass' temporary home in Foxboro than the Minutemen are.  Tyler Murphy, yet another former Florida Gator QB, threw for 173 yards and rushed for 118 more, to lead BC to a 30-7 victory over the only other major college team in their state.
The Czar always liked Dave Wannstedt when he was at Pitt, but there's something unsettling about a head coach who precedes every third sentence with, "Daaahhhhh…"  Last Thursday, Wannstedt, now an analyst at Fox Sports 1, roundly criticized Rutgers QB Gary Nova for his play in the first half.  One of his fellow panelists, Petros Papadakis, pointed out that Nova had originally committed to Pitt, and that Wannstedt had recruited him.  After a moment of stunned awkwardness, the coach replied, "Daaahhhhh … I did!  That's how smart – That's why I'm sitting here!  Ya got me there."
At least he's honest.
Pitt 13, Boston College 10
Washington State at Nevada
In the last of a series of home games that were stupidly moved into enemy territory in Seattle, the Cougars held the lead three different times in the second half before falling to Rutgers, 41-38.  WSU had taken the lead and then gotten a rare stop in the fourth quarter, when wide receiver River Cracraft fumbled a punt at midfield, which the Scarlet Knights converted for the winning score.
The Wolf Pack have yet to prove that they can succeed without Hall of Fame coach Chris Ault on the sideline.  Having his name printed on the field is a poor substitute, if last week's 28-19 scare from the I-AA Southern Utah Thunderbirds is any indication.
UNR quarterback Cody Fajardo threw for 303 yards in that game, and rushed for another 68.  The senior scrambler needs just another 32 all-purpose yards to reach the 10,000 mark.  Come to think of it, he's gaining yards for the same purpose regardless of whether he's throwing or running the ball, so correct that to "32 same-purpose yards."  What other purpose there is for gaining yardage in a football game, the Czar doesn't know.
For the record, River Cracraft was not shoplifted by Jameis Winston.  Just in case you were wondering.
Washington State 51, Nevada 38
Sept. 6
Akron at Penn State
For football fans, there could be plenty of worse things than having PSU be declared bowl-eligible this year, but the Czar has no tolerance for members of "the Penn State community" who have been demanding an end to the bowl ban by employing variations of the Delta House defense.  "The issue here is not whether one of our coaches took a few liberties, he did.  But if you hold the whole program responsible, then isn't this an indictment of the system in general?"
Last week in Dublin, the Nittany Lions dominated Central Florida in most facets of the game, but still needed a last-second field goal to prevail, 26-24.  Sophomore QB Christian Hackenberg heaved the ball for a team record 454 yards.  The truth be known, he was lucky to only have been intercepted twice.  Not only did he throw into tight coverage all day long, but he would recklessly toss the ball up for grabs whenever he felt himself being tackled.
The Zips' 41-0 rout of Division I-AA Howard might not count for much, except that it keeps their confidence up after having won their last three games of 2013.  Last time they faced a Big Ten team, they scared the stripes off Michigan in the Big House, where they rallied for a brief fourth-quarter lead before falling by a final of 28-24.
In James Franklin's debut as the Lions' head coach, the former Vanderbilt skipper was cocky, abrasive and whiny, and he came off like a jerk in his halftime interview.  It was just as if he'd already been there for decades.
Penn State 41, Akron 24
Michigan State at Oregon
This might as well have been a season opener, because beating up on I-AA teams Jacksonville State and South Dakota has done absolutely nothing to prepare these teams for what might be the biggest interconference game of the regular season.
With a rugged defense and power running game, Sparty is being compared to the Stanford team it defeated in last year's Rose Bowl.  Hardly a compliment in that case, but the reason it's supposed to be significant is that Stanford had beaten the Fighting Ducks a month earlier, by keeping the ball out of their feathery fingers for most of the game.  The relevance of that is questionable, however, since UO quarterback Marcus Mariota was playing injured at the time, and unable to run the ball.
Last time these teams met was the debut of the Oregon "O" logo.  Luckily for the Spartans, it was not yet the debut of Joey Harrington.  MSU won that 1999 meeting 27-20 in East Lansing, in spite of a gutsy performance by Duck quarterback A.J. Feeley.
Had Harrington been the starter for that entire season, the webfoots would have gone to the Rose Bowl.  Mike Bellotti was compelled to go with Feeley for the first several games, however, because he had such a speedy delivery.
Any of you Millennials out there who don't get these obscure, decades-old references in the Czar's picks, never fear.  Just pretend that you already know all about them.  It's what you're best at.
Oregon 29, Michigan State 25
Brigham Young at Texas
When the Longhorns hired Charlie Strong, their fans' first reaction must have been that they won't see another debacle like last year's 40-21 loss to BYU anytime soon.  In that game, they allowed a school record 550 rushing yards – 259 of those to Cougar QB Taysom Hill.
There's little doubt that the defense will give a better effort this time, and they'll have to, with the Horns' own quarterback David Ash out with a concussion.  Untested sophomore Tyrone Swoopes will try to snatch a victory, in spite of having only completed 5 of 13 last season, for 26 yards.
In the Cougs' 35-10 Friday night win at Uconn, they overcame 15 penalties for 150 yards, as well as two fumbles, and a missed 33-yard field goal.  They'll need to play a far cleaner game this week, even in light of the fact that their opponents are undermanned (or is that undercowed?).
The "Y" on the Cougar helmets stands for "Young," and yet they're the oldest team in the NCAA, because the players are encouraged to serve on two-year missions, and often don't graduate until they're 23 or 24 years old.  For that fib, they'll have to spend at least two more years in wherever it is that Mormons go instead of purgatory.  Probably Ogden.
Texas 21, Brigham Young 20
USC at Stanford
A year ago, Southern Cal endangered the Cardinal's conference title chances with a 20-17 upset in the Coliseum.  Wide receiver Nelson Agholor, now a senior, led the way with eight receptions for 104 yards.
The bright side to the Trojans' recent problems is that neither of the troublemakers is with the team any longer.  The rest of the guys didn't look like they missed them, as they reran their rout of Fresno State from last year's Las Vegas Bowl.  SC had won that previous meeting 45-20, but improved on that score by a touchdown in each direction in this year's opener, a 52-13 thrashing.
Cardinal conversions may not be so sure a thing in short-yardage situations, now that they are without an every-down running back, as well as four of last year's starters on the offensive line.  They also need to break in a new fullback, one of the possibilities being senior Patrick Skov, brother of former linebacker Shayne.
One of Stanford's rotating running backs is Barry James Sanders, who is the son of Detroit Lions legend Barry Sanders, but is not a "Jr."  Thankfully, that means we don't have to look at "Sanders Jr." on the back of his jersey, as if a suffix like that were part of one's last name.  It goes without saying that they're expecting a very good season from Sanders, but he's not a typical Cardinal back in the mold of Tyler Gaffney, Stepfan Taylor and Toby Gerhart.
Just for clarification, calling Barry the Elder a "Detroit Lions legend" is not meant in the Paul Bunyan sense of legend, as in not being real.  They've had a rough eight decades or so in the Motor City, but they haven't yet resorted to erecting statues to fictitious athletes, like they did in Philadelphia.
USC 23, Stanford 21
Michigan at Notre Dame
The Irish are ending this series for the foreseeable future, so that they may honor their commitments to the ACC.  The Wolverines' anger over that development probably hasn't worn off since last year, when they won their final meeting in Ann Arbor, 41-30.
In truth, the golden domers' quasi-ACC membership is a weak excuse, because it still leaves them seven dates a year to fill in.  It's just that they, like everyone else, want to maximize their number of home games.  If they played Michigan the next two seasons, it would have to be a home-and-home series, whereas in the absence of those games, they've been free to schedule Umass next year and Nevada in 2016, each in South Bend, with no expectation of a return game.
Wolverine QB Devin Gardner is continuing to wear #98 this year, in honor of the great Tom Harmon.  The other Devin, WR Funchess, has switched to uniform #1.  The Czar suspects he's done this in honor of some president or other.  Presidents are always presented with #1 football jerseys.  They must all look like kickers, or something.
Fighting Irish QB Everett Golson looked sharper than ever in last week's 48-17 romp over Rice, in which he threw for two touchdowns and rushed for another three.  It was as if missing a year due to academic misconduct did him some good.  No wonder the idea has caught on like it has among his teammates.
Michigan 42, Notre Dame 40
Missouri at Toledo
Tiger coach Gary Pinkel visits his old school, where he might not be remembered all that well, since he's now been in Columbia for 13 years and 103 victories.  Last year at home, his team downed the Rockets 38-23.
UT went 7-5 in 2013, but a season-ending upset loss to Akron kept them home from the postseason for the first time since 2009.  They expect to return to a bowl game this year, though, with the arrival of former Crimson Tide QB Phillip Ely, who tossed four TDs in last week's 54-20 tuneup against I-AA New Hampshire.
The lyrics to "Eli's Coming" are cryptic, and there's nothing in there explicitly about transferring from Alabama, but the Czar figures it must be about Phillip Ely anyway.  It's just that someone from Three Dog Night spelled it wrong when he wrote down the title of the song.  The Czar's money is on that cocker-spaniely-lookin' guy.
Teammates of former Mizzou defensive end Michael Sam have criticized him for referring to himself in the third-person, as in statements like, "What I do on the field will determine how great Michael Sam will be."  The College Football Czar thinks people who talk like that are stupid.
Missouri 30, Toledo 27
Virginia Tech at Ohio State
The Buckeyes' 34-17 win over Navy does not reestablish them as national contenders, but it does suggest that their offense is not nearly as depleted as it seemed to be.  Freshman quarterback J.T. Barrett completed 12 of 15, including an 80-yard go-ahead touchdown pass to Devin Smith.
Texas Tech transfer QB Michael Brewer should be good for what ales the O at VT, which was second-worst in the ACC in total yardage last year.  Brewer left Lubbock after losing his shot at the starting job, when he suffered a fractured vertebra.
Note to journalists and editors everywhere: "vertebrae" with an "e" is plural only.  If you've put in print that Brewer had fractured "a vertebrae," then you must not be "an alumni" of a very good school.
Ohio State 20, Virginia Tech 14
East Carolina at South Carolina
SC's opening 52-28 blowout loss to Texas A&M has raised a lot of questions.  For one, if they're called the Gamecocks, then what is their game?  Parcheesi?
Carolina may be the cock of the walk, but they could have used some help from the rooster of the run in their 67-yard rushing performance against A&M.  Leading rusher Mike Davis left that game early with a rib injury.
The Pirates, however, have lost eight starters from the strongest defensive unit they'd fielded in recent memory.  Just because the new guys were able to shut down I-AA Nc Central doesn't mean they're ready to stand up to an SEC offensive line.
Why must the skull on the ECU's helmet sarcastically wear an eye patch, when it knows that it has no eye to patch?  Is it making fun of the differently-abled?  Get Phil Simms and Tony Dungy on the case right away!
South Carolina 51, East Carolina 41
Arkansas State at Tennessee
Considering what became of South Carolina and Vanderbilt last week, there's an opportunity for the Volunteers to climb back into the upper echelon of the SEC East.  Butch Jones' team faced a tougher challenge than most in Week 1, but dispatched Utah State with unexpected ease, 38-7.  Now they face another quality small-conference team, before having to take consecutive road trips to Oklahoma and Georgia.
Despite being good enough to have its coach hired away every year, ASU has yet to ever defeat an SEC opponent.  The team formerly known as something hostile and abusive is 0-22-1 all-time against teams from that league, salvaging only a 15-15 tie with Mississippi State in 1993.
The Red Wolves' logo, consisting of the word "STATE," doesn't seem very clever, but notice that the "A" is taller than all the letters around it.  That's because it's a long "A."  Wonderful phonics program they have there in Jonesboro.
Tennessee 34, Arkansas State 20
Navy at Temple
In what had to be their biggest victory since shocking Virginia Tech in 1998, the Owls preyed on unsuspecting Vanderbilt, 37-7.  (All together now – S-E-C! S-E-C! S-E-freaking-C!)  They forced seven turnovers while shutting out the Commodores' offense, allowing their only touchdown on the recovery of a blocked punt.
Why did Navy QB Keenan Reynolds only throw four passes in last week's 34-17 loss to Ohio State?  Anyone can see that the only way to stand a chance against the Buckeye defense is to throw the deep ball, even if that's not what you're accustomed to doing.  The Middies understood this when they nearly knocked off OSU to open the 2009 season.  Did coach Ken Niumatalolo forget?
These teams won one game apiece in Philadelphia last season, each of them defeating Army.  The difference is that the Midshipmen were 1-0 in Philly, whereas TU was 1-5, including a loss to I-AA Fordham.
Why are attendees of the Naval Academy known only as Midshipmen, without any regard for the other parts of the ship?  It must be a school for people who can't keep straight which side is port or starboard, so they concentrate on studying the middles of ships.
If you think that's overly-specialized, what about Temple, a college dedicated to the study of sides of foreheads?
Navy 27, Temple 17
Western Kentucky at Illinois
In mashing MAC favorite Bowling Green, the Hilltoppers seemed to have saved up the energy they would have otherwise spent in a bowl game, if they and their 8-4 record had been invited.  They broke five school records in the 59-31 runaway, including the one for total yardage in a game, with 708.
Former Oklahoma State QB Wes Lunt looked comfortable in his first game with the Illini, albeit against the Division I-AA Youngstown State Penguins.  He got little help from the running game, however, in a 28-17 scrap that YSU led much of the way.
It's a little-known fact that WKU mascot Big Red used to be Mr. Mouth, from the game in which participants flung tiddlywinks into him as he performed.  He isn't proud of that, but he was young, and he needed the money.
Western Kentucky 35, Illinois 31
Northern Illinois at Northwestern
What a disappointing Labor Day weekend for the Wildcats, whose comeback bid fell short in a 31-24 home loss to California.  As usual, the proletariat was crushed under the heel of the boygeorges, or something like that.
Will NIU finally have to do some rebuilding?  With the loss of QB Jordan Lynch, they don't appear to be set for the kind of seamless transition they had when Lynch took over from Chandler Harnish.
In yet another Week 1 game that never should have happened, the Huskies won 55-3 over the Presbyterian College Blue Hose.  Who knows how they ever managed to get a date with the Blue Hose.  Perhaps they borrowed Captain Kirk's little black book.
Northwestern 48, Northern Illinois 33
Georgia Tech at Tulane
The Green Wave hopes to have a better result in the opening of its new facility than AAC foe Houston did last Friday.  30,000-seat Yulman Stadium has an artificial surface, but otherwise strives for a throwback look, including a traditional checkerboard pattern in the end zone.
The Ramblin Wreck is supposed to be reverting to its traditional wishbone offense this year, but you'd never know it from the 282 passing yards that Justin Thomas had last week against I-AA Wofford.  It looks as if Tech, not having a breakaway running back, will look to open the O up like they've failed to do over the past two seasons.  One might think that they're pulling a feint, and will go back to their ground game starting this week, but why wouldn't you want to use a lower-division opponent as an opportunity to get your new QB and center used to running the wishbone?
The Czar is thinking of starting trouble by claiming that Yulman Stadium is actually spelled Yule Man, as a subtle way of naming the building after Jesus.  It isn't true, of course, but it would tick off all the right people.
Tulane 21, Georgia Tech 18
Middle Tennessee at Minnesota
Las time MTSU took the field, in the Armed Forces Bowl, they were embarrassed not by the 24-6 loss to Navy, but by the actions of LB Roderic Blunt (since departed), who committed multiple personal fouls, and gouged the eyes of Middies' QB Keenan Reynolds.  Coach Rick Stockstill, who said he didn't know the extent of Blunt's actions until after the game, was rightly mortified.  He must have wished all his players' heads had been MT, rather than one of them being so jam-packed with lard.
Speaking of heads of lard, let's have no more moping about the new Big Ten divisions being unbalanced.  First of all, you don't draw division alignments in order to achieve short-term parity.  Second, the Big Ten West has Wisconsin, which has gone to seven Rose Bowls and five Capital One Bowls in the past 21 years, along with perennial contender Nebraska, and a very good Iowa team.  The Golden Gophers could easily improve upon last season, and still finish fourth.  That's not a bad division.
Rumor has it that the public address announcer at TCF Bank Stadium is refusing to say the name "Blue Raiders," out of deference to any blue people who may be in attendance.  Especially if they happen to be blue hose.  Haven't those poor girls suffered enough?
Minnesota 44, Middle Tennessee 36
Colorado State at Boise State
During the Rams' 31-17 victory over rival Colorado, they showed themselves to be a more rugged team than that program has fielded since the Bradlee Van Pelt era.  Their bulldozing ground game was led by Alabama transfer Dee Hart, who had lost his spot on the Crimson Tide's depth chart due to injury, so he followed coach Jim McElwain to Fort Collins.
The numbers from BSU's loss to Ole Miss in Atlanta are uglier than the Muppet-blue turf in Bronco Stadium.  The teams were each intercepted three times in the first half alone.  The Broncos committed nine penalties, which would have looked bad if the Rebels hadn't committed 14.  Bronco QB Grant Hedrick completed 36 passes, but for a puny total of 264 yards.  The score – in a dome, mind you – was 7-6 after three quarters, before the Broncs finally collapsed in the fourth and lost, 35-13.
If only the Rams would trek a little farther west to Oregon State, the game could be billed as Beavers and Buttheads.
Colorado State 35, Boise State 19
Buffalo at Army
The Bulls actually trailed early in the fourth quarter against Duquesne, before leaning on their veteran offensive line to secure a 38-28 win.  Lots of I-A schools struggle in openers against lower-division opponents, but the Dukes play in the Northeast Conference, which is kind of like the Sun Belt of Division I-AA.
Coach Jeff Monken arrives at West Point from Georgia Southern, where in his last game of 2013, his team defeated Florida 26-20.  He has not yet made his debut with the Cadets, who are among the small number of teams that did not kick off last weekend.
UB beat the Black Knights when they last met, in 2008, but that was the year they shocked unbeaten Ball State for the MAC championship, and went on to the International Bowl in Toronto.  If they end up going to Toronto this season, it will only be to see a Bills game.
Army 15, Buffalo 12
Louisiana Tech at LA-Lafayette
Including last week's 48-16 loss to Oklahoma, Skip Holtz has coached 13 games at Tech, and his team has scored 16 points or fewer in nine of those.  More embarrassing yet is the fact that those games were not against nine Oklahomas.  In 2013, his team was held to those meager totals by Nc State, Tulane, Kansas, Army, North Texas, Rice, Tulsa and Texas-San Antonio.
The Bulldogs have won the last six games in this series, but the teams haven't met since prior to ULL's run of three consecutive New Orleans Bowl victories.  The last Cajun victory was in 1996, back when their school was still called the University of Southwest Louisiana.
Louisiana-Lafayette, arch rival of Louisiana-Monroe, must view the folks from LTU as a bunch of intruders.  I mean, there ain't no town in that state called Tech.
LA-Lafayette 25, Louisiana Tech 14
New Mexico State at Georgia State
The Panthers snapped their 16-game losing streak on national TV last Wednesday, but they needed a last-second field goal to beat I-AA Abeliene Christian, which had been a Division II team until last season.  Not only did GSU have to eke out a 38-37 win, but they had by far the more bush-league uniforms.
NMSU won a close game against Abeliene Christian themselves a year ago.  In fact, since the start of the 2013 season, their only three victories have been against ACU and Cal Poly, both of which are Division I-AA schools, and Idaho, which might as well be.
Aggie fans must be watching whatever unfolds in Calgary, where the CFL's Stampeders are under fire for a commemorative uniform that features a pair of crossed pistols on the shoulder.  The fear, apparently, is that the sight of the logo will somehow trigger a plague of gun violence in the streets of their town.  For evidence, they undoubtedly cited the rash of saber attacks that have taken place in Charlottesville, Virginia.
The reason this matters to the folks in Las Cruces is that the Pistol Pete logo on their helmets is brandishing a six-gun.  There was a time when the politically correct forces prevailed, and Pete's pistol was taken away in favor of a lasso, but the pistol returned thanks to good old-fashioned superstition, because the Aggies were an even crappier team since switching to the lasso.  That argument will be harder to sustain if they lose this week's game at the Georgia Dome.  For Pete's sake, they can't let that happen.
New Mexico State 47, Georgia State 32
Oregon State at Hawaii
Since last year's 1-11 campaign, there have been rumblings about folding the UH football program.  There was similar talk after their winless season in 1998.  Back then, they hired June Jones in a desperate effort to save the team, and it worked.  Current coach Norm Chow seems to have gotten the message: turn the team around right now, or we'll look for another savior.  Perhaps that's why the Rainbow Warriors gave such a spirited effort in last week's 17-16 loss to a ranked Washington club.
Beaver bomber Sean Mannion became the Pac 12-slash-10-slash-8's fifth all-time leading passer last week.  He'd probably rather have a rushing attack to help him compete for a conference title.  In last year's 33-14 win over the Warriors, the team gained only 57 yards on 33 carries, while Mannion threw for 372.
It's a little-known fact that "Mannion" is a traditional Irish name that, translated from Gaelic, means "man with onions."
Oregon State 37, Hawaii 30
Air Force at Wyoming
These longtime conference foes have a pretty good rivalry, considering that they're alphabetically at opposite ends of major college football.  Think that doesn't matter?  Just look at how many traditional rivalries, like the one between Oklahoma and Oklahoma State, are in close alphabetical proximity.  Coincidence?  I think not!
Both teams beat up on lower-division foes last week, so there's little that is meaningful to derive from those results, except that Falcon QB Kale Pearson returned from a torn ACL, and made it through the game without incident.
A year ago, WR Dominic Rufran went over the heads of the AFA defenders for 117 yards and two touchdowns, as the Cowboys cruised, 56-23.  If that isn't enough to scare his opponents, when he writes his name on the door in lipstick, it spells "Narfur" in the mirror.  Well, okay, maybe that isn't so scary, but it's freaking weird.
Wyoming 26, Air Force 16