The College Football Czar
Week 2
<![if !vml]>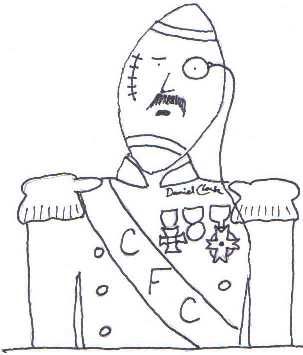 <![endif]>
Week one in review:  College football has reached a crisis point with its early scheduling, as evidenced by the absolutely dismal Saturday slate of games we witnessed last week.  A majority of them were deliberately scheduled mismatches, while the small number of marquee neutral-site dome games predictably fizzled.  Moreover, after most of the prime time games went bust, there were no quality late night matchups, but only two games in which Pac 12 teams mercilessly pummeled opponents from the Division I-AA Big Sky Conference.
We're nearing the point where early September football games are understood to be as inconsequential as pre-Christmas college basketball, and the NCAA has brought this upon itself.  When it decided to let Division I-A teams count games against I-AA opponents for bowl eligibility, that meant an extra home game, and usually an easy victory, for most I-A schools.  Most head coaches find bowl games invaluable, because of the extra month's practice it gives them in building toward the following year, among other reasons.  Stop rewarding the scheduling of phony football games with bowl invitations, and competitive football will return to the first Saturday of September.
There's a new runaway favorite for the Lardhead of the Year Award, and his name is Ed Cunningham.  The former football broadcaster has quit his job to become a champion of the football-hating media.  Cunningham told the New York Times that he "can just no longer be in that cheerleader's spot" because of the physical dangers of the game.  Okay, so nobody knew who this guy was, and now he's made himself a celebrity.  Bully for him.  Not content to critique the game in general terms, however, the former Washington Huskies' center has repeatedly called out Iowa coach Kirk Ferentz for his "abuse" of C.J. Beathard in last year's Outback Bowl, when he allowed the senior quarterback to play through a leg injury in the final game of his collegiate career.  Beathard, of course, wanted to stay in that game, and his father has issued a statement in the coach's defense.  Nobody who was involved in the situation wants Cunningham's help.  What's he going to do for an encore, go around freeing llamas from petting zoos?
You can only tell so much from one week, but there appeared to be a clear delineation between those presumptive national contenders that had a lot of turnover on their rosters (USC, Florida State), and those that returned with their teams basically intact (Alabama, Penn State).  You can count on Southern Cal closing the gap as their lineup jells over the course of the season, but we can probably count FSU as the first team eliminated from the race, not so much because they lost to the Crimson Tide, but because quarterback Deondre Francois suffered a season-ending patella tendon injury.
For the week, the College Football Czar went 19-7, for a winning percentage of .731.
Sept. 8
Memphis at Central Florida
This game has been moved to Friday night from Saturday, because of the approach of Hurricane Irma.  Actually, nobody told the Knights that it was a hurricane.  They just don't want to be around when some gigantic being named Irma shows up.
Seriously, lots of Floridian schools have moved their game times on account of the storm.  Miami has already canceled its game, which had been scheduled for this Saturday in … Jonesboro, Arkansas?  Ah, but there must have been a logistical problem with the team's ability to make the road trip, right?  Well, no.  They say they could get to the stadium all right; it's only the trip back that would be problematic.  Oh, so it's a good thing they'd already happen to be evacuated, isn't it?  Probably, but so what?
Don't bother trying to come up with a way that the weather requires the cancelation of the Miami-Arkansas State game.  It doesn't.  The way things like this go is that one person proposes the cancelation in order to appear sensitive to the storm's victims, and everyone else is afraid to disagree.  Even now, as the College Football Czar explains that there's no good reason that the Hurricanes and Red Wolves shouldn't play, he knows that some of his otherwise sensible readers are thinking, "but Czar, why must you hate the children so?"
Furthermore, in today's political climate, the most high-minded and compassionate thing anyone can possibly do is cancel one of these naughty, brain-pummeling football games.  Do you doubt it?  Just look at how little effort there is to reschedule postponed games anymore.  Merely rescheduling a football game is not considered virtuous.  It must be canceled.
Perhaps you find this counterintuitive.  After all, football's their game.  Why would it be in their interest to attack it?  Because they're trying to get into the media's good graces, even if it takes a tacit admission of their own supposed evil to accomplish that.  Make no mistake, when Miami athletic director Blake James ungrammatically declares, "There's bigger things than football," he expects to be praised.  It's the same reason McDonald's makes a show of agreeing with its enemies about what a malignant entity it is, and appearing to confess to its poisoning of generations of customers.  When they dress Ronald in a jogging suit and introduce inedible "healthy options," they're apologizing for all the food they've ever served that people have actually wanted.  Instead of "I'm Lovin' It," their new slogan ought to be, "McDonald's: Sinister No More!"
Anyway, the Tigers were tripping over their own stripes in the fourth quarter of last week's 37-29 win over Louisiana-Monroe.  Mike Norvell's team already led comfortably by 23 points when they intercepted the ball at the ULM 41-yard line.  They went backward on the ensuing possession before punting, and then fumbled next time they got the ball, and all of a sudden, they and the belligerent birds were in a battle.
UCF's offense did not spudder behind McKenzie Milton in its opener against Florida International.  The sophomore slinger threw for 360 yards and four touchdowns, both marks surpassing his highs from last season.  The 61-17 strafing was the Knights' first win in a Division I-A opener since they ack-acked Akron 38-7 in 2013.
Okay, so in real life, the guys doing the strafing and the ack-acks would not be on the same side.  So who are you, the air combat police?
Central Florida 44, Memphis 31
Sept. 9
Pitt at Penn State
Last week's 28-21 overtime win over Division I-AA Youngstown State was everything Panther fans had feared about the upcoming season.  The pass defense showed no signs of improvement, yielding 311 yards while leaving men wide open on mid-range sideline patterns all day long.  The coaches didn't let new QB Max Browne even try to throw the ball downfield, settling instead for a meager 140 yards on 17 completions.  Tailback Qadree Ollison started strong, but was less successful as the game went on, because the YSU defense was free to storm the line of scrimmage with abandon.  New kicker Alex Kessman missed two easy field goal attempts, either of which, if successful, would have put the game away.  In spite of all these glaring deficiencies, they still managed to become complacent with a 21-0 halftime lead.
Okay, so the Panthers didn't set the field on fire in last year's opener against I-AA Villanova either, and yet they beat PSU, 42-39.  But that Nittany Lion team was itself coming off a lackluster win over a dismal Kent State team.  This year, they opened against a more formidable MAC opponent, and easily overpowered Akron, 52-0.
Incredulous reporters tried to get Pitt coach Pat Narduzzi to suggest that he was just playing possum against his lower-division opponent, and was about to spring a more aggressive offense against unsuspecting big-league foes.  If you're tempted to believe that, consider that the Panther coaches have reportedly set a 70 percent completion rate as their goal for Browne.  The only way that's a plausible expectation is if they're eschewing the vertical passing game, and relying entirely on weenie dump passes near the line of scrimmage.
The Lions can't become so dedicated to winning a Heisman for RB Saquon Barkley that they neglect to take advantage of the Panther defense through the air.  There is no basis for the belief that the reason they lost last year's game was that they only gave Barkley 20 carries.  If anything, it was Trace McSorley's 35 passing attempts that were too few.
If the Panthers are playing possum, McSorley must be licking his chops like Jethro Bodine.
Penn State 45, Pitt 24
East Carolina at West Virginia
In last Sunday's 31-24 loss to Virginia Tech in Landover, the Mountaineers rolled up 592 total yards, but only reached the end zone three times, with their frantic, last minute drive falling 15 yards short.  The most critical of many key plays occurred after WVU knotted the game up 17-17, and gave up a 44-yard kickoff return, with a late hit penalty tacked on to set up the Gobblers at the Eers' 32-yard line.
The Pirates got the pieces of eight beaten out of them by a Division I-AA opponent, as James Madison marched for 614 yards in a 34-14 shocker.  The loss was ECU's first to a lower-division team since they were upended by Eastern Kentucky in 1980.
It's a little-known fact that Pieces of Eight was the title of a movie that featured a chainsaw killer played by Dick Van Patten.  Sure, it was in incredibly poor taste, but Dick's career was well past its peak, and he'd made some bad investments recently.  Besides, he thought it was edgy.
Who are you gonna believe, IMDb, or the College Football Czar?
West Virginia 51, East Carolina 13
Oklahoma at Ohio State
Nothing fuels a Heisman candidacy quite like a nationally televised opener against UTEP.  Sooner quarterback Baker Mayfield picked the Miners apart for 329 yards and three TDs, while completing 19 of 20 passes.
The lumpy nuts got off to a bumpy start last Thursday night, before they got things rolling in the second half of a 49-21 win over a feisty Indiana team.  OSU allowed an alarming total of 420 passing yards, but held the Hoosier ground game to 17 yards on 27 carries.
Last year in Norman, the Sooners figured to get the best of the Buckeyes on the ground, but they were outrushed 291-177 in a disheartening 45-24 defeat.  That was with Joe Mixon and Samaje Perine in their backfield.  If they have anyone of that caliber on their roster today, they don't know it yet.
How come, after all these years, Buckeye quarterback J.T. Barrett has suddenly become "Barrett IV"?  Is it that there's more than one of him, and that's what explains his longevity?  Perhaps he's one of the Five Chinese Brothers, from that children's book, every copy of which the open-minded champions of free expression have surely burned by now.
Ohio State 29, Oklahoma 20
Stanford at USC
According to the Czar's preseason issue, this is a preview of the Pac 12 championship game, and when has the Czar's preseason issue ever steered you wrong?  Well, all right, but at least he doesn't steer you wrong while boring you into a stupor, like Phil Steele.
If the Trojans' 49-31 struggle against Western Michigan looks bad now, just wait until everyone realizes that this season's WMU team is a shell of what it was a year ago.  That final score is even a bit flattering, considering that the Broncos had tied the game at 28-28 midway through the fourth quarter.
Last season, David Shaw's team was lucky enough to face Southern Cal before Sam Darnold took over as starting quarterback.  The 27-10 stuffing looked at the time as if it had cooked SC's goose in the conference championship race.
Australian sports fans will never want to see American football again if we keep sending them trash like the Cardinal's 62-7 rout of Rice.  That's as ludicrous as if the Aussies sent us a game between the Adelaide Crows and the Brisbane Lions.  No, really!
USC 32, Stanford 30
Georgia at Notre Dame
In a 49-16 trampling of Temple, three Fighting Irish players rushed for over 100 yards each, including the new starting quarterback, Brandon Winbush.  For the game, they outran the Owls 422-85, but they can count on that number on the opposite side of the ledger to be a little bigger, now that they're facing Nick Chubb.  The oft-injured senior scored two TDs while averaging 6.4 yards per carry in last week's opener.
UGA quarterback Jacob Eason has suffered as sprained knee, and will not be able to face the Fighting Irish in what had promised to be an outstanding game.  Bulldog fans are hoping his replacement, Jake Fromm, provides more action than Ethan Frome, which shouldn't be hard.  In fact the freshman completed 10 of 15 for 143 yards in his debut, to beat Appalachian State, 31-10.
Just when you thought your second most-hated book from ninth grade (next to Great Expectations, of course), would never come back to torment you again!
Notre Dame 27, Georgia 23
Auburn at Clemson
The SEC went 3-0 against the ACC last week, which means all those mutant fans who root for their conference instead of their respective home teams will be unbearable – or untigerable as the case may be – after Auburn prevails in this battle of the big cats from those two leagues.
AU snapped the wishbone of Georgia Southern in Week 1, holding the Eagles to 78 total yards, and stopping them on all 15 third-down conversion attempts, in a 41-7 runaway.  On the offensive side, running backs Kam Martin and Kerryon Johnson each gained 136 yards and scored a touchdown.
Perhaps just to see if people were still watching their teams' numbing 56-3 win over Kent State, the Clemson band formed the score "31-0" on the field, which was the final of their Fiesta Bowl rout of Ohio State along the way to last year's national championship.  The College Football Czar doesn't think that says much about their prospects for this season, if they're still gloating over last year – and not even the title game, but a semifinal?  In fact, the Czar's got half a mind to zap a few thousand volts through the late Woody Hayes, so that he can go down there and sock somebody in the throat.
Auburn 31, Clemson 17
Boise State at Washington State
A win over a lower-division team isn't usually considered an accomplishment, but the Cougars had lost their past two openers, to I-AA foes Portland State, and Eastern Washington, respectively, and still gone on to win nine and eight games during those seasons.  By comparison, last week's 31-0 thumping of Montana State is cause for encouragement.
The Broncos beat a good Troy team 24-13, but all of a sudden they've got a question at quarterback.  Brett Rypien was unceremoniously ripped from the lineup in favor of Kansas transfer Montell Cozart, and the two are expected to split their snaps for the foreseeable future.
THIS JUST IN!:  In this week's press conference, WSU coach Mike Leach revealed that he does not – repeat – DOES NOT believe in Bigfoot.  And the Czar thought Howard winning at UNLV last week was an upset.
Washington State 33, Boise State 26
TCU at Arkansas
The Razorbacks blew halftime leads of 24-7 and 24-0 against Missouri and Virginia Tech to end the 2016 season.  Earlier in the year, they held a 20-7 fourth-quarter lead against these Horned Frogs, but then allowed three quick touchdowns, before turning around and mounting a comeback of their own, in a 41-38 double-overtime victory.
The Frogs have lost 5 of their last 7 games against Division I-A opponents, meaning that beating up Jackson State in this year's opener does nothing to slow that trend.  In fact, the best team Texas Christian defeated all last season was Baylor.
Oh, no!  They're playing football this Saturday in Arkansas?  What about the children!  What about the children!
Arkansas 39, TCU 34
Louisville at North Carolina
The Cardinals' careless ball-handling almost cost them yet again, but they overcame three fumbles to prevail over Purdue, 35-28 in Indianapolis.  Bobby Petrino's team had four takeaways of its own, including a late interception that allowed them to exhaust all of the Boilermakers' timeouts.
Former LSU quarterback Brandon Harris performed poorly in a 35-30 loss to California, getting picked off twice while completing just 7 of 16 for 60 yards.  Backup Chazz Surratt was ookk by comparison, completing 18 of 28 for a meager total of 161 yards, but with one TD and no interceptions.
Q: If an Indianapolis a pomegranate, then why don't they just call it that?
A: Because "Pomegranate 500" sounds like something old people drink to stay regular.
Louisville 28, North Carolina 18
Nebraska at Oregon
First-year Fighting Ducks coach Willie Taggart can get the Autzen Stadium crowd on his side early, just by deciding to kick the extra point after his team's first touchdown.  It was a year ago that the beginning of the end of the Mark Helfrich era arrived, when the coach went 1-for-5 in two-point conversions, providing the margin of victory for the Cornhuskers, 35-32.  UO often goes for two on its first score, which Helfrich did, successfully.  It's understandable how he might have thought he'd catch the N-men off guard by trying it a second time, but he failed.  Oh well, two TDs, 14 points, no harm done.  But no, the doomed head Duck chased that missed conversion for the rest of the game, and never caught up.
In a hard-fought 43-36 victory over Arkansas State, the Husker defense was repeatedly scorched by screen passes.  That's not a good sign when going up against a Big O offense whose running backs are among its best receivers.
Just because Helfrich had a two-point conversion, he didn't have to become a religious zealot about it.
Oregon 37, Nebraska 26
Middle Tennessee at Syracuse
The Blue Raiders are not known for their defensive struggles, but they almost left an MT-head on their side of the scoreboard last week, before salvaging a fourth-quarter touchdown in a 28-6 loss to intrastate rival Vanderbilt.
That Raider O should get rolling against the Orange, who came out on the wrong end of the highest-scoring game in Division I-A history to end the 2016 season.  SU had to play ketchup at Heinz Field all day long, in a 76-61 loss to Pitt, in which they actually outgained the Panthers in total yardage, for whatever that's worth, and it's not.
Last week, the Orange don't-call-us-men beat up on the Division I-AA Central Connecticut State Blue Demons, 50-7, to which the folks from Murfreesboro responded, "Central Connecticut?  What part of the state is that?
Middle Tennessee 38, Syracuse 35
Iowa at Iowa State
The Cy-Hawk Trophy may be in the running for the weakest trophy in college football, but at least the series has been competitive.  Since they started awarding the trinket in 1977, the Hawkeyes hold a 42-22 advantage, but the schools have split the past 20 meetings.
The Hawkeye defenders spoiled one of the more promising matchups of the week, when they waylaid Wyoming 24-3.  In doing so, they foiled their own team's attempt to give the game away, with four turnovers to the Cowboys' two.
Actually, the Cy-Hawk game is now on its third trophy, the first two having been irredeemably silly.  The first attempt looked as if it had been made of spare parts from some trophy store's going-out-of-business sale.  This was replaced in 2011 by a sculpture attempting to depict a Rockwell-esque scene of an Iowa family gathered around a basket of corn.  That effort, being justly ridiculed, only lasted one year before the current manifestation was unveiled, featuring the two team mascots seeming to prepare to fight over possession of a giant football.  If anyone complains about that one, they'll just have to play for a bronze bust of Gary Burghoff.
Looking at that rejected trophy, one imagines a typically feminized college administrator saying, "Enough of this rough stuff.  Can't we make this bad old football game be about something nice for a change?"  And that's how we get special periwinkle uniforms for the annual hurt feelings awareness game.  Thanks, Ed Cunningham.
Iowa 26, Iowa State 14
Houston at Arizona
The Cougars are one of the last two teams to take the field this year, because of the cancelation of their game against Texas San-Antonio.  Conventional wisdom says the Wildcats, having already played a game, have the upperhand but that factor did nothing last week to help Colorado State or Umass.
The U of A rushed for over 500 yards in each of its past two games, but those were against Arizona State and I-AA Northern Arizona.  How will the Cats react now that they're meeting some resistance, in the form of a Cougar run defense that ranked fourth in the nation last year?
Boy, the conventional wisdom sure is wrong a lot.  The people who attend those wisdom conventions must really get smashed.
Houston 31, Arizona 23
Buffalo at Army
The Bulls must be formidable, because when Minnesota beat them 17-7, Gopher coach P.J. Fleck reacted as if he'd just won the Rose Bowl.  Then again, he reacts the same way whenever he gets marshmallows in his Lucky Charms, which of course he always does.
The Black Knights' 64-6 stomping of Division I-AA Fordham didn't tell us a whole lot, except that coach Jeff Monken has most of his starters back from last year's 8-5 campaign, and he knows how to use them.
Neither of these teams plays Syracuse this year, so the winner of this game can claim to be the college football champions of the state of New York.  Granted, the competition for that is about as fierce as it is at the Miss Antarctica pageant, but these days, it's probably reason enough to distribute championship rings. (eh, Jimbo?)
Army 45, Buffalo 35
Utah at Brigham Young
The Utes have picked up former Oregon leading receiver Darren Carrington, who was dismissed from the Ducks during the offseason when he got hammered, and then took the McDonald's drive-through a bit too literally.  It wasn't his fault, though.  I mean, did the sign say "drive-around"?  No!
Last week against LSU in the Superdome, the Cougars put on the most lethargic display that building has seen since Ali-Spinks II.  Their offense amassed a total of 97 yards, and never crossed the midfield stripe all game long.
If ol' Brigham had been as impotent as this BYU offense, Mormonism would now be a less popular religion than Scientology, the Raelian Cult, and whatever Susan Sarandon is.
Utah 15, Brigham Young 12
Wake Forest at Boston College
The Eagles earned (to the degree that anyone does these days) a bowl bid in last year's 17-14 victory against Wake, but they only did it by converting two early turnovers into ten points.  Offensively, they scraped up just 167 total yards.
The Demon Deacons opened with a 51-7 victory over the I-AA Presbyterian Blue Hose, who are still waiting for an apology from Don Imus.  Speaking of which, have you got your season tickets for the Rutgers "Courageous Heroes" women's basketball team yet?  How brave of them, to have had un-nice things said about them!  The fact that they didn't receive an ESPY for that was a travesty.
BC won a tough game at Northern Illinois, 23-20, but the Czar has trouble giving them credit, after a last-second 39-yard NIU field goal attempt actually fell short.  How does that happen?  Was the ball injected with anti-flubber?
… And if you don't believe in anti-flubber, then how do you explain Tower 7 coming down?  Jesse Ventura says that was a controlled, anti-flubber implosion if ever he's seen one, and if he was really a Navy SEAL like he claims to be, he'd know what he's talking about!
Boston College 19, Wake Forest 17
San Diego State at Arizona State
If the Sun Devils looked like a pretty good team by the time you went to bed last Thursday night, then surprise, they're not!  Against a woeful, rudderless New Mexico State club, they almost blew a 24-point fourth-quarter lead, before hanging on to win, 37-31.  Kalen Ballage had a respectable game running the ball with 79 yards on 18 carries, but the rest of the team had 22 rushes for no yardage.
It's kind of important for SDSU to play well in order to keep itself visible, until there's some solution to the question of where they're going to play after the 2018 season.  Otherwise, Roger Goodell might hurl a thunderbolt from Mount Pompous, and move the university to Los Angeles.  Whether or not anyone would ever attend the school there would be a secondary consideration, of course.
The Aztecs used to make human sacrifices to the sun god, Huitzilopochtli, which is an awfully long name for a bloodsucking hummingbird, if you ask the Czar.  By comparison, the Sun Devil demands that they throw a football game.  Sorry, Sparky, that's simply too much to ask.
San Diego State 46, Arizona State 42
Indiana at Virginia
In last Thursday's 49-21 loss to Ohio State, Hoosier wide receiver Simmie Cobbs reeled in eleven catches for 149 yards and a touchdown.  He'd better keep it up, because IU's leading receiver from last year, Nick Westbrook, tore an ACL on the opening kickoff and is out for the season.
UVa was supposed to have an easy time of it last week against I-AA William & Mary, but in the tighter than expected 28-10 battle, they didn't give themselves much Lee-way.  Oh, drat.  Let me rephrase that.  The Cavalier offense never did get untracked, but the defense, which forced punts on all four first-half Tribe possessions, was like a stone wall.  Oh, heavens, what an unfortunate reference.  What the Czar means to say was that if QB Kurt Benkert continues to play like he did last week, he could become a big star, just like Tom Wopat.  Curses!  I give up. 
The Cavs rip off their rivals from Virginia Tech, by giving themselves an alternative nickname based on a cheer, in their case the Wahoos, or "Hoos" for short.  Naturally, they resent those toffee-nosed fellows from Bloomington, with that Hoosier-than-thou attitude of theirs.
Indiana 34, Virginia 18
Toledo at Nevada
The Rockets take off for the Silver State for the first time since 1995, when they played there twice, defeating the Wolf Pack 49-35 in Reno, and then winning a rematch in the Las Vegas Bowl, 40-37 in the first-ever Division I-A overtime game.
Evidently, the Pack's transition to a pass-happy offense is going to be more gradual than expected.  In their opening 31-20 loss at Northwestern, UNR still ran the ball 26 times, compared to 37 passing attempts.  This is due mostly to the lack of a quarterback to run Jay Norvell's system.  Alabama transfer David Cornwell was unimpressive enough in camp that the coach has already named Ty Gangi the starter against UT, despite his having completed just 16 of those 37 in the opener.
Of course, the Czar merely means that Norvell decided to let Ty Gangi start the game, not that he actually named Ty Gangi.  Whoever's responsible for that must have observed that there's no "I" in "gang," so he added one.
Toledo 24, Nevada 21