The College Football Czar
Week 2
<![if !vml]>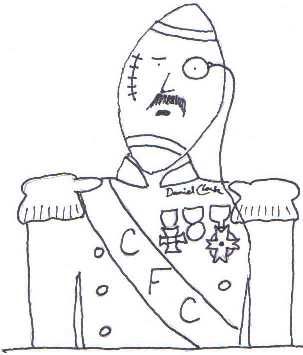 <![endif]>
Week one in review: Opening week, by default, is usually a record-padding week for the College Football Czar, because of the traditional dearth of competitive games.  Not so this year, with three of the Top 10 teams losing their openers, and three others just barely hanging on.  After a promising stretch during the early Saturday games, the Czar's results leveled off, for an 18-10 finish.  His winning percentage after one week stands at .643.
Much is being said about the mediocre week the SEC had, but at least a few of that league's better teams played very well.  The Pac 12, by contrast, has got remarkably little to show for itself, other than dominant performances by Washington and Colorado over lowly opponents, and a good comeback by UCLA in an overtime loss at Texas A&M.  Besides that, Washington State was toppled by a Division I-AA team, USC got annihilated by Bama after a huge build-up, Stanford turned in a pedestrian performance, Cal was idle after a wobbly win over Hawaii, Arizona and OSU were defeated, and the other three teams beat up on lower-division schools.  The Czar understands the desire by many to ridicule the arrogant SEC, but let's give condemnation, like credit, where it's due.
Sept. 9
Louisville at Syracuse
The Cardinals ushered in a new season in this great American game of college football by sending the hammer-and-sickle-heads of Charlotte to the ash heap of history, 70-14 last Thursday night.  For whatever it's worth against such dismal opposition, QB Lamar Jackson threw for 286 yards while rushing for 119 more, and tallying an amazing total of eight touchdowns.
When these teams were rivals in the Big East, the Cuse was guilty of sabotaging the U of L's season on several occasions.  In fact, the teams split their last six games as members of that league, despite it being an apparent perennial mismatch.  In their first two ACC meetings, the Cards have won handily, by scores of 28-6 and 41-17.
SU's teams used to be known as the Orangemen, but now they're simply called the Orange.  That must make it difficult for them to figure out which rest room they can use.  For instance, must it be an orange one, or will any color do?
Louisville 45, Syracuse 24
Sept. 10
Penn State at Pitt
One of the greatest series in college football finally resumes after an inexcusable 15-year lapse.  Joe Paterno had been determined never to play the Panthers again, at least not on a one-to-one, home-and-home basis.  Considering PSU's superiority at the time the series had ended, the Czar is amazed that Joe Pa was willing to carry that last result, a 12-0 loss at Three Rivers Stadium, to his grave.  Had the teams continued to play regularly, Paterno's team would have built considerably on its 44-41-4 series advantage, but by now, the two are on much more even footing.
James Conner's return from Hodgkin's lymphoma to score rushing and receiving touchdowns was the highlight of the Panthers' otherwise unremarkable 28-7 trudge past Division I-AA Villanova.  Second-year coach Pat Narduzzi must find it a bit disconcerting that, in the first year of the post-Tyler Boyd era, none of his young wide receivers seized the opportunity of that tune-up game to step to the forefront.  Instead, it was senior TE Scott Orndoff who repeatedly made the big play.
The Lion OL only allowed one sack in a 33-13 win over Kent State, but that's partly due to a new offensive scheme that relies on a much quicker release from the quarterback than they'd been getting from Christian Hackenberg.  The game plan clicked only intermittently, totaling a modest 354 yards, while relying on the defense to set up one touchdown and score another.
The Panther defense is improving, but is not yet playing up to Narduzzi's reputation.  If the Nittany Lions' line can't handle their pass rush, then QB Trace McSorley may find himself being traced in chalk when he visits Michigan later this month.
A lot of people wonder why Jerry Sandusky is bothering to ask for a new trial.  It may be that he's trying to draw the process out so long that by the time the final outcome is determined, his behavior will have become socially acceptable.  The Czar wishes he was only joking about that.
Pitt 29, Penn State 21
Tennessee vs. Virginia Tech
This ABC prime time spectacle will take place at Bristol Motor Speedway, where an all-time record football crowd is expected.  It would have probably sounded like a brilliant idea to you and your friends about an hour before last call, but let's sober up and take a look at this.  The football field is laid out on the infield of the racetrack, which is at least twice as large.  It is surrounded, obviously, by the track, leaving the best seats in the house just barely out of catapult range of the sidelines.
If you've ever been to a football game in a stadium with a running track, imagine being separated from the field by eight concentric running tracks, and that's about what they're dealing with in Bristol.  The fans in the end zone seats will be much farther away still, because of the difference in length between the gridiron and the infield.  All things considered, people who go to outdoor hockey games in baseball stadiums are probably better able to see the action than the attendees at this gimmickey game will be.
Because the state line separates Bristol, Tennessee from Bristol, Virginia, this is being billed as a "border rivalry," but history says otherwise.  The Vols and Gobblers have only met five times before, three of those prior to WWII.
The Volunteers took a pounding from the pundits over their unsettling, opening-day, overtime win against Appalachian State, but let's wait and see just how good those Mountaineers are.  By the end of the season, a victory over App State of any margin might be considered quite an accomplishment.
Anyone expecting to see a dramatic transition away from Beamer Ball in coach Justin Fuente's first game in Blacksburg must have been a surprised to see Tech's traditionally balanced offense, run by a quarterback who led the team in rushing yards.  In addition, the special teams got in on the scoring with a third-quarter safety.  The 36-13 win over I-AA Liberty doesn't say much either way about what kind of season they can expect, other than that Fuente is not going to misuse the personnel he inherited from Beamer by forcibly molding them to a particular system.
Never mind that nobody at this game will really be able to watch it, other than on the video screens.  They're only going in hopes of seeing a Gobbler crash anyway.  Come to think of it, that would be cool!
Tennessee 30, Virginia Tech 17
Washington State at Boise State
For the second year in a row, WSU opened with a loss to a Division I-AA opponent, this time falling to Eastern Washington, 45-42.  Last year's defeat to Portland State mattered little once the real games began, as the Cougars rolled to a 9-4 finish, capped by a snowy Sun Bowl victory over Miami.
BSU beat the peppers out of Louisiana-Lafayette last week at Cajun Field, 45-10.  Wide receiver Thomas Sperbeck spurred the Broncos with a 35-yard touchdown catch, as well as a 48-yard TD pass to tailback Jeremy McNichols.
Cougar QB Luke Falk will have to luke a little farther downfield if he is going to beat the Broncs' defense.  Against EWU, he collected 418 passing yards, but it took him 41 completions to do it.
How would someone from Boise explain why the "e" isn't pronounced at the end of "State" as well?
Boise State 39, Washington State 35
Arkansas at TCU
Following his Horned Frogs' sloppy 59-41 comeback win against the Division I-AA South Dakota State Jackrabbits, coach Gary Patterson stated the obvious when he admitted, "I did a poor job of getting them ready to play."  It's not just him, though.  It makes total sense for big-league teams to approach those early-season games against lower-division opponents with an exhibition game mindset.  For that reason, it would be a mistake to overreact, and assume that Patterson's defense will be as lax this week against an opponent from the SEC.
The Hogs had lots of trouble with up-tempo passing offenses last season, as Bret Bielema's spat with Texas Tech's Coach Henri, as well as his team's SEC-worst pass defense, can attest.
The Razorbacks won by the thinnest of margins last week against Louisiana Tech, 21-20.  Tight end Jeremy Sprinkle dusted LTU on a four-yard, fourth-quarter, fourth-down touchdown catch to lift his team to victory.  And now, we know what number every lardhead in the state of Arkansas played in the next day's lottery.
Lardheads never don't play the lottery.
TCU 52, Arkansas 31
Nevada at Notre Dame
ND was knocked off in its opener by Texas, 50-47 in double-overtime.  That was a CFP-caliber game, however, whose outcome said a lot more about the Longhorns' dramatic improvement than it did about the Fighting Irish.
The Wolf Pack was a more formidable team the last time they visited South Bend, in 2009, but that team was visibly awed by the occasion, and by all of the Irish pomp and tradition.  UNR bungled its way to a 35-0 loss that day, although it would end up having an 8-5 season, complete with an unprecedented three 1,000-yard rushers.  This year's Pack is probably less talented, but maybe they'll be better psychologically prepared.
The golden domers have a lot of history to brag about, but the University of Nevada-Reno is the school that educated Colin Kaepernick.  Okay, so that's obviously nothing to be proud of, but as they say at Penn State, if you can't live it down, celebrate it instead.
This is getting pretty far afield from analyzing the Irish-Pack football game, but the Czar feels compelled to point out that USA women's soccer player Megan Rapinoe is a lardhead, and far worse.  In "a nod to Kaepernick," Rapinoe refused to stand for the Star-Spangled Banner at one of her league matches in Seattle, later adding that she did it to "keep the conversation going."  While Kaepernick has been less than eloquent in his explanation of his own behavior, it is quite obvious that his conversation and the one Rapinoe is having are not one and the same, but that she is transparently using him as an unwilling platform for her own cause.  So, Rapinoe is not only a disloyal American, but a leech, to boot.
Furthermore, nobody would even know who she is if she hadn't engaged in pretend patriotism by playing for Team USA for the past ten years.  If she feels this is such a rotten country that she won't stand for the anthem, then she should never have been able to put on the uniform.  In fact, she should be forbidden from doing so ever again, although we all know that is not going to happen.
Remember when people liked our women's national soccer team, about five or six obnoxious acts ago?  Pretty soon, they could become the most widely disliked sports team in America … next to Notre Dame, of course.  See?  The Czar knew he'd find a link somewhere.
Notre Dame 41, Nevada 21
Northern Illinois at South Florida
This sounded like a far more competitive matchup before NIU lost its opening game at Wyoming, 40-34 in 3OTs.  Husky QB Drew Hare was conspicuously un-wabbitlike, as he rushed for negative yardage for the first time in 26 career games.
Could this be the year the Bulls finally succeed in unscrewing the Tampa-proof lid that's prevented them from winning their first division or conference title?  USF won 7 of its last 8 regular season games in 2015, but their big victory over Temple was too late to stop the Owls from clinching the AAC East.
Unlikely as it seems, this is the fourth time these teams have met since South Florida jumped to Division I-A in 2001.  They lost to the Huskies in DeKalb that year, but beat them the following season at home.  At the end of the 2009 season, they met again at the International Bowl in Toronto, where the Bulls romped, 27-3.
How can you tell if you've got an international bowl?  Easy.  You won't be able to eat out of it, because once you've poured the milk, it will smell like wet foreigners.
South Florida 48, Northern Illinois 30
Brigham Young at Utah
In last year's Las Vegas Bowl, the Cougars coughed up the ball on their first five possessions to spot their arch rivals a 35-0 first-quarter lead.  The way they dominated the remainder of that 35-28 defeat, they must have wanted a rematch almost immediately.  And so, they've got it.
The Ute offense will need all the help it can get from BYU turnovers again this time, in their first real game since the departures of both QB Travis Wilson and RB Devontae Booker.  In an opening 24-0 snooze against the I-AA Southern Utah Thunderbirds, they only rushed for 3.7 yards per carry, without anyone managing to break a run for more than 16 yards.
The Cougs are already 1-0 against the Pac 12 this year, having shut down Arizona, 18-16 last week in Glendale.  Trailing with just under a minute and a half to play in a defensive slog, they suddenly broke free to march swiftly downfield for the game-winning field goal.
It's a little-known fact that the reason Utah is called the Beehive State is not that it has a disproportionately high bee population.  Contrary to popular belief, it's actually because of the hairstyle.  Ever get a load of the coifs of the women at those polygamist compounds?  Yeesh!
Brigham Young 21, Utah 13
Texas Tech at Arizona State
Coach Jethro's fancy ciphering at the end of last year's Cactus Bowl didn't quite add up.  Having just scored to take a 41-36 lead with about five minutes left, ASU's Todd Graham elected to kick the extra point to lead by six, as if he expected West Virginia to score two field goals in what little time remained.  Instead, WVU drove for a late TD to beat the Sun Devils, 43-42.
Look at that LSU team whose offense oozed across the tundra of Lambeau Field las week, and imagine them scoring 56 points.  That's how bad the Red Raider defense is, as evidenced by last year's 56-27 Texas Bowl loss to that same Bayou Bengal team.  Tech's D was third-worst in the nation in 2015, yielding 548 yards and almost 44 points per game.
Coach Henri may be a smoothie, but in this matchup, he's out of his league.  Jethro is a gen-yoo-wine international playboy, you know.
Arizona State 55, Texas Tech 51
Nc State at East Carolina
As wussy as the NCAA is about the weather these days, it's a wonder that any September meeting between these teams is not preemptively postponed.  In 1999, when ECU's hometown of Greenville was flooded by Hurricane Floyd, NCSU invited their neighboring rivals to use their home stadium in Raleigh.  The Pirates accepted, and scored a classic 27-23 upset of those other Hurricanes from Miami.  Mind you, none of the coaches or players from these teams was around at the time, so there are no more warm feelings left between the two.
Funny how an incredibly destructive hurricane in 1999 was not the fault of the President of the United States, like the ones in 1992 and 2005 were.  Whatever could the difference be?  Hmmm.
Scottie Montgomery has been beamed up to the head coaching position for ECU at the age of 38.  A North Carolina native, he was once a standout wide receiver at Duke, where he has served as offensive coordinator for the past two seasons.  Scottie seems determined to carry on the offensive tradition left behind by Ruffin McNeill, as evidenced by his hiring away of Louisiana Tech offensive coordinator Tony Peterson.
The Wolpack, by contrast, kept sophomore quarterbacks Ryan Finley and Jalan McClendon in safe mode last week against William & Mary.  If they're not willing to open up the passing game against lower-division competition, then how will they survive an October stretch of games against Notre Dame, Clemson and Louisville?
Have you noticed that Hurricanes are often given supposedly human names that no human being really has?  When's the last time you met someone named Floyd?  Or Hermine?  Or Georges (pronounced "Zhohhrgzh")?  Perhaps people just naturally resist the idea of naming a child after a massive force of destruction.  Or maybe they just want to name their kids something they can say without choking.
East Carolina 34, Nc State 24
Ball State at Indiana
The Hoosier offense produced only a field goal through three quarters at Florida International, by which time they trailed 13-12.  This, despite the fact that they'd driven into FIU territory on every one of their six first-half possessions.
If IU doesn't make more of its early opportunities this week, the visitors from Muncie won't let them have the ball often enough to get so many chances.  In last Friday's 31-21 win at Georgia State, the Cardinals cranked out 325 yards and four touchdowns on the ground.
You can tell that Muncie is a college town.  Why else would it be named after the feeling a student gets after a long night of smoking weed?
Indiana 32, Ball State 19
South Carolina at Mississippi State
The Bulldogs can't be too quick to bury kicker Westin Graves for his missed 28-yarder at the end of last week's 21-20 loss to South Alabama, because there's plenty of blame to go around.  MSU was lucky to be leading 17-0 at halftime, and then were dominated in the second half by the underdogs from the Sun Belt Conference.
Just as Carolina was headed south, senior QB Perry Orth came to the rescue, rallying his team from a ten-point deficit to defeat Vanderbilt 13-10.  The Gamecock offense lacked any sense of direction until Orth led them on a vertical passing attack in the second half.
After this, the mud puppies don't play at home again for another month.  If they lose to SC, their fans can ring their bells until the cows come home, but the cows may find better things to do in Starkville than going to another losing football game.  For instance, there's got to be an inflatable bounce house around somewhere.  Cows love those.
South Carolina 24, Mississippi State 22
California at San Diego State
There was a lot of good for the Golden Bears to take from their opening 51-31 win over Hawaii in Sydney.  Journeyman QB Davis Webb fit right in, throwing for 441 yards and four scores, and he found a new top receiver in Chad Hansen, who caught 14 passes for 160 yards and a pair of TDs.  Still, they gave up 31 points, 482 total yards, and 6.5 rushing yards per carry.  To Hawaii.
The Aztecs' 31-0 rout of Division I-AA New Hampshire shouldn't really count, but since it does, it's their eleventh win in a row.  That's the second-longest active winning streak in the nation, next to Alabama, which is up to 13.  Running back Donnell Pumphrey fell short of the 100-yard mark against UNH, but he's rushed for 90 yards or more in every game out of those eleven.
Aztecs are like Hawaiians, except that they eat hearts and throw people off pyramids.  Oh, and they're also extinct.  Come to think of it, Aztecs aren't really much like Hawaiians at all, except that wear the same spiffy hats.  Or at least they would … if they weren't all … you know … dead.
San Diego State 42, California 38
Wake Forest at Duke
The Blue Devils knew in the spring that they might be without QB Thomas Sirk, so the announcement that he's out for the season with a recurring Achilles injury does not leave them unprepared.  In the one game Parker Boehme had to start last season, however, their offense was squelched in a 31-13 loss to Pitt.
Last Thursday, the Demon Deacons barely held off Tulane 7-3, in what was mercifully the only untelevised game between I-A teams on that opening night.  The Wake defense allowed only 175 yards, although frankly, the Green Wave gave them plenty of help.
Both team mascots are from hell, but give the Demon Deacons the advantage for being well disguised.  A Blue Devil walking around town is about as conspicuously evil as Mark Cuban.
Wake Forest 17, Duke 14
Cincinnati at Purdue
LSU coach Fewer Miles should take a lesson from the Bearcats' Tommy Tuberville.  If you know you're not wanted at your current school, don't just wait for the axe to fall.  You'll be more greatly appreciated by your next employers if you allow them to hire you away, as Tuberville did in jumping from Texas Tech to Cincy.  Miles should be on the lookout right now for opportunities to arise at programs like the one in West Lafayette.
UC's prodigal QB Gunner Kiel is back with the team, but as a third-stringer.  The Czar wonders whether that designation will last through this week's game, after sophomore Hayden Moore gave an uneven performance in a 28-7 win over I-AA Tennessee-Martin.  Going back to last year, Moore has thrown as many interceptions (11) as touchdowns.
Coaches seem to put a lot of stock in the psychological effects of their uniform choices, so the Boilermakers' Darrell Hazell should consider that PU hasn't really been very good since introducing the wussified, aerodynamic helmet logo.  They would instantly look like a tougher team if they'd bring back the big, rigid, anvil-like "P".
At least they've apparently abandoned those helmets with the train tracks over the top, signifying that they're making it all the easier for opponents to run over them.
Cincinnati 25, Purdue 20
Middle Tennessee at Vanderbilt
The Commodores led through most of their game against South Carolina, but appeared helpless when SC brought in its backup quarterback and began attacking more directly downfield.  That doesn't portend well against the MT-heads, whose QB Brent Stockstill averaged 308 passing yards a year ago.
MTSU had been 3-0 against Vandy before dropping last year's game, 17-13.  The Blue Raiders led that game 13-3 midway through the fourth quarter but were unable to close it out, partly because they lacked any semblance of a running game.  Coach Rick Stockstill (the QB's dad) hopes to have solved that problem with the arrival of RB I'Tavius Mathers, a transfer from Ole Miss.
I'Tavius is no relation to Jerry Mathers, but he might prefer to have a nickname like Beaver all the same.  Can you imagine going through grammar school named I'Tavius, as cruel as kids can be?  Especially that Violet Rutherford.
Middle Tennessee 19, Vanderbilt 10
North Carolina at Illinois
The Tarheels once led Georgia 24-14 before falling 33-24 in their opener at the Georgia Dome, although if you look at the box score, it really wasn't that close.  Behind junior quarterback Mitch Trubinsky, the Heels averaged only 6.5 yards per pass completion, and fewer than four yards per attempt.
The Fighting Illini won their opener by a final of 52-3.  That's the same score by which they defeated Kent State to begin last season, but they finished the year at 5-7, and got slobberknocked by UNC 48-14 along the way.
Last week's Lovie-fest against I-AA Murray State means nothing, now that the former Bears coach faces the first legitimate opponent of his collegiate career.  Lovie might not have known that Julius Caesar was a pin cushion, but he surely knows the difference between a lower-division team and the defending ACC Coastal division champs.
The College Football Czar has known that Julius Caesar was a pin cushion for decades now.  Just goes to show what a fine Pitt education can do for you.
North Carolina 37, Illinois 24
Ohio at Kansas
The Jayhawks' opening 55-6 victory probably felt good to players and fans alike, but keep in mind that the opponent was a Division I-AA Rhode Island team that's coming off back-to-back 1-10 seasons.  So, basically, they've beaten a lower-division version of themselves.
OU scored on a 75-yard pass play with only 38 seconds left to take a 38-35 lead against Texas State, but then allowed TSU to turn around and drive 77 yards for a last-second chip shot to force overtime.  In the third extra frame, Bobcat QB Greg Windham was sacked on the two-point conversion attempt, in a 56-54 defeat.
The Czar can't help but be amused by analysts worrying about the Big XII watering itself down through expansion.  A league that already has KU as a member, watering itself down?  That's like breaking crumbs – which, incidentally, is listed among the activities in the Things To Do In Kansas tour guide.
Ohio 42, Kansas 40
New Mexico at New Mexico State
The Aggies' most potent weapon is running back Larry Rose III, who continues to silence skeptics everywhere.  Not that anyone doubted his ability; it's just that nobody believed that there could ever be three consecutive generations of Larrys.
A year ago in Albuquerque, Rose scored on long TD runs of 63, 67 and 51 yards to stake NMSU to a 29-14 third-quarter lead.  The Lobos roared back, however, to score the last 24 points of a 38-29 victory, which proved to be instrumental in UNM's successful quest for its first winning season since 2007.  Oh, all right, so lobos don't roar.  So who are you, Old MacDonald?
The College Football Czar likes to refer to our 47th state as New and Improved Mexico, and he thinks the state should use that title to promote tourism.  After all, if it wasn't an improvement, why would so many people come stampeding from the old Mexico to the new one?  Besides, the current state motto, "Land of Enchantment" is way too Michael Jacksonny.
New and Improved Mexico 55, New and Improved Mexico State 36