The Original College Football Czar
Week 2
<![if !vml]>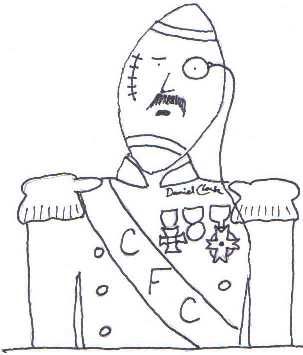 <![endif]>
Week one in review: There may have been a dearth of marquee games in Week 1, as there always is anymore, but there was certainly no shortage of nominees for the Lardhead of the Year Award. In fact, the College Football Czar is going to call an audible, and award a Lardhead of the Week, just because the competition was so fierce.
Honorable mention: whoever edited the new Big XII ad, the audio of which boasts of the league's "uncompromising values," while a Baylor cheerleader is seen on video. We're talking about a football program where sexual assault was treated as just a perk that goes with team membership. If you saw the ad, you probably shouted at your screen for the poor girl to get the hell out of Waco while she still can.
Second runner up: Oklahoma assistant coach Shane Beamer. The son of the Virginia Tech coaching legend is on a fast track to become a head coach himself, but not until he learns to coach his head first. During a 49-31 win over Houston, OU tight end Jeremiah Hall scored a touchdown. Beamer, whose duties include serving as the tight ends coach, was understandably excited, so he not-so-understandably head-butted his player in the helmet, causing himself to receive serval stitches right between the eyebrows. No wonder so many players behave so stupidly after making a big play, with people like the young Coach Beamer to guide them.
First runner-up: Jackson State Tiger mascot Wavee Dave, for penalizing his team by running into the end zone after a JSU touchdown. At first glance, it appeared as if he'd entered the field of play to celebrate with the players, but he was actually fighting with a Bethune-Cookman defender for the ball. The BCC player had tried to rip the ball from the receiver's hands after the TD had been scored, when Wavee Dave joined the fray, trying to it free again. In a scene befitting a terrible movie with Rob Schneider in it, the referee actually announced a 15-yard unsportsmanlike conduct penalty on the mascot, and he was correct to do so. You'd think they'd teach the rules of the game in critter school.
And the winner of the Lardhead of Week 1 Award: Auburn running back JaTarvious Boobie Whitlow, for remarks he made while gloating on behalf of his conference after the Tigers' 27-21 comeback win over Oregon. "Nobody wanted to lose to Oregon," he said. "We feel like that's a bad reputation on them [sic]. What are they? ACC? Pac 12? I didn't even know what they were." Really, Boobie? Oregon on the Atlantic Coast? These remarks call to mind the time there was a small fire at Auburn's library during a game, just across the road from Jordan-Hare Stadium, leading Florida coach Steve Spurrier to quip that the real tragedy was that some of the books hadn't been colored in yet.
For the week, the College Football Czar went 15-7, for a .682 winning percentage.
Sept. 6
Marshall at Boise State
This Friday night home game is a quick turnaround for a Bronco team returning from a long, season-opening road trip to Tallahassee. What energy that might have sapped from them will be replaced by the excitement from their invigorating 36-31 comeback victory over Florida State. Undersized freshman flinger Hank Bachmeier bombarded FSU for 407 yards while rallying his team from a 31-13 deficit.
VMI is not an abbreviation for vermicelli, but that didn't prevent the Thundering Herd from chewing up their lower-division opponents 56-17, in an exhibition that does absolutely nothing to prepare them for a game of this magnitude. Last year, MU beat up on a I-AA school before facing their toughest opponent, but were unable to defend their own field from an invading Nc State team, in a 37-20 defeat.
Considering the luck BSU fans have had with the weather in the past two games, they may just stay home from this one, figuring it will be delayed until the Herd stops thundering. Sure, there's no legitimate safety concern there, but there is a concern about being concerned about it, and isn't that what's really important?
Boise State 39, Marshall 27
Sept. 7
Ohio at Pitt
Be sure to tune in early for this one, which kicks off at 11AM Eastern Time. That's because it is being televised on the new ACC Network, which has pushed the starting time back in order to squeeze in a quadruple-header.
Since making his debut against Virginia Tech in November of 2017, Panther QB Kenny Pickett has gone from a promising prospect to a junior who just doesn't seem to be getting it. Yet Pat Narduzzi and his offensive coaches don't acknowledge the difference. For a second year in a row, they've hyped Pickett's progress during the offseason, only to watch their hopes dissipate during the season opener. Nevertheless, no other option is being considered at quarterback, and probably won't be next year, either. Panther fans have sat through this picture before. The College Football Czar hereby entitles the sequel, Tino II: The Wrath of Can't.
These teams seem like familiar foes, but they haven't met since the Bobcats pulled a 16-10 overtime upset at Peden Stadium in 2005. OU is 0-4 all time in the Iron City, and has been outscored in those games by an average of 29-9. Expect this game to be more competitive, with the Bobs looking like the class of the MAC headed into the season (and nothing says class like "Mac," except maybe "Bub").
PC alert: Ohio is no longer to be called "round at both ends." It must henceforth be referred to instead as "curvy." That is all.
Pitt 28, Ohio 20
Buffalo at Penn State
Nittany Lion fans must have been relieved to see their depleted offense overwhelm Division I-AA Idaho 79-7, but in a way, that's the worst thing they could have possibly done. If that gives them the impression that concerns over their losses are overblown, and they really are one of the nation's 15 best teams, they're in for a rude awakening once they get to the meat of their schedule (as opposed to the taters). Happily for them, that doesn't happen until Week 7, at Iowa.
Bulls are colorblind, which means they're the only ones who knew what was going on last Thursday when their team wore light gray uniforms, while the visitors from Robert Morris were decked out in dark gray. It looked like the battle of the gigantic dust bunnies. When UB declared victory, 38-10, nobody could sort out the bodies well enough to doubt their word.
Those had to be the weakest Bulls' uniforms since Brewster's Millions, arguably the ninth-worst Richard Pryor movie of all time. Seriously, why do we even know who this man was? Because he set fire to himself? There's nothing so special about that. Shane Beamer will probably get around to it any week now.
Penn State 35, Buffalo 10
West Virginia at Missouri
Just when you'd think they'd had enough long trips to Ames and all points south, the Mountaineers pay an additional visit to Big XII country to play the team that was fortunate to escape that conference, just as they were making the mistake of joining.
Too bad the Eers were televised last week, because they'd probably have preferred that their 20-13 win over Division I-AA James Madison not be made Publius. For the game, WVU rushed the ball for only 34 yards on 24 carries, but they prevailed thanks to a plus-3 turnover margin.
The Tigers took a long trip west themselves, and came back with their tails between their legs following a 37-31 loss to Wyoming. Like in the WVU-JMU game, three turnovers were the key, as they were all committed by Mizzou, undoing a 423-yard effort by former Clemson QB Kelly Bryant.
When Missourians named their home the Show-Me State, they hadn't yet been visited by West Virginians. Remember, they asked for it.
Missouri 30, West Virginia 25
Texas A&M at Clemson
The Conjunction Boys nearly derailed the Tigers' championship run early last season, before the Paw Boys clawed out a critical 28-26 victory. That was before Trevor Lawrence took over at quarterback, however, and his team has not been involved in a close game since.
Last Thursday, the Son of Clem took a bulldozer to a Georgia Tech team that's still in the demolition phase of a rebuilding project. Tailback Travis Etienne trounced his neighboring ACC opponents for 205 yards and three TDs on only 12 carries, in a 52-14 runaway.
A&M left guard Jared Hocker predicted an upset victory this week, to which coach Jimbo Fisher responded, "Well, Jared had better play well, then." We don't know what Fisher said to the lineman about his Broadway Joe impression behind closed doors, but it probably wasn't, Ahhh juss wanna keese yeeeew.
Clemson 44, Texas A&M 21
Stanford at USC
The Trojans survived a 31-23 scare against Fresno State, but their division title chances are already imperiled, after losing quarterback J.T. Daniels to a right leg injury. Freshman Kedon Slovis finished the game behind center, completing 6 of 8, with an interception. Is it too early to speculate about how devastating this is to Clay Helton? Having gone 5-7 a year ago, the fifth-year coach may be ahead of the game at 1-0, but his next five games are against Stanford, BYU, Utah, Washington and Notre Dame.
The Cardinal could be without its QB for this game, also. K.J. Costello left the second quarter of a bruising battle against Northwestern with a possible concussion. Entering the game with a 10-0 lead, little-utilized junior Davis Mills guided his team the rest of the way to a 17-7 victory.
According to reports, Daniels has suffered a torn meniscus. That's what they call the piece of cartilage that cushions the knee. Before learning that, the Czar had assumed it was the name of a frisbee for non-wusses.
Stanford 13, USC 10
LSU at Texas
It's one thing to easily handle a dangerous small-conference opponent, but the Tigers squelched Georgia Southern's wishbone offense for a meager 1.9 yards per carry, in a 55-3 romp through the bayou. In total yardage, they left their guests from Statesboro shocked by a count of 472-98.
For those SEC chuckleheads who perceive conferences as macro-teams, they've lost their last two to the Longhorns, who upended Georgia 28-21 in last year's Sugar Bowl, and rolled over Missouri 33-16 in the Texas Bowl the year before. Perhaps more germane is the question of how they can get past the Bayou Bengals' defensive front with a nibbling passing offense that gained fewer than ten yards per completion in a 45-14 win over Louisiana Tech.
It's almost obligatory now for Texas' opponents to taunt them with a "horns down" gesture. They would respond in kind by turning Louisiana State's symbol upside-down, but they can't, because it would all spill out.
LSU 24, Texas 14
Cincinnati at Ohio State
Ballyhooed QB Justin Fields had a day -- or at least a first quarter -- during which he threw for three TDs and rushed for a 51-yarder to stake the Buckeyes to a 28-0 lead over Florida Atlantic. The lumpy nuts seemed to become disinterested at that point, as they meandered their way to a 45-21 final.
There's been lots of anticipation for Bearcat coach Luke Fickell's first meeting with his former team, but it'll be a tremendous letdown if he doesn't get more production out of RB Michael Warren. In UC's 24-14 victory over UCLA, Warren picked up a pedestrian 92 yards on 26 carries, for an average of 3.5.
One thing's for sure, the OSU offense will face stiffer opposition than it did against FAU. Early in that game, the receivers were running so wide open, it looked like they were practicing dotting the "I".
Ohio State 30, Cincinnati 16
Southern Miss at Mississippi State
MSU looked like it was without its dog paddle last week in New Orleans, but still managed to stroke its way to a 38-28 win over Louisiana-Lafayette. The Czar, for one, hates to see this trend of big-league schools weaseling out of tough road games against lesser opponents by moving them to neutral sites. That game only drew 22,440 fans, so why was it played in the 70,000-seat Superdome, instead of at raucous Cajun Field, with a capacity of 41,000? Because the Bulldogs might have lost, then?
The Golden Eagles could use a big nonconference victory to put them on track to the postseason. A year ago, they lost a tough early game at Auburn, and wound up among the smattering of teams staying home with six wins.
The Czar doesn't like watching games from Starkville, because of the way the Bulldog fans cheat by using their cowbells. Not only are such artificial noisemakers against the rules, but it's not right that their bells have clappers in them. To play a cowbell properly, you're supposed to hit it with a stick. You know, like cows do.
Southern Miss 20, Mississippi State 17
Syracuse at Maryland
Both teams scored shutouts in Week 1, but the similarities end there. For SU to enter a hornet's nest at Liberty and emerge unscathed, 24-0, is infinitely more impressive than the Terrapins' meaningless 79-0 manhandling of hapless I-AA foe Howard.
That game was the second win in a row for new Terps head coach Mike Locksley, who had won the 2015 finale against Rutgers as interim coach at the U of M before joining Nick Saban's staff at Alabama. During that four-year stretch, Locksley's career winning percentage has now risen from .006 to .011. Yeesh, even the College Football Czar's past two bowl seasons have been better than that.
The dominant defensive performance by the Orange gave Tommy DeVito a chance to get comfortable running the offense, which he didn't. The sophomore QB completed just 17 of 35 for 176 yards, with no TDs and two interceptions.
In case you don't remember Foe Howard, he was the orneriest of all Stooges. He always sharpened his nails before eye-poking. Kind of like Ty Cobb.
Syracuse 21, Maryland 3
San Diego State at UCLA
Bruin quarterback Dorian Thompson-Robinson is nicknamed DTR, but he does little to deter defenders from pouring into the backfield. Last Thursday in Cincinnati, he completed only 8 of 26 with a pair of interceptions, while carrying the ball 10 times for minus-20 yards.
The Aztecs have an all-time record of 0-21-1 against the blue bears, and that third column is no longer an option. This is probably the weakest Bruin team they've played since 1989, however, when they only lost 28-25.
In what had to be one of the worst football games nobody ever saw, SDSU stumbled to a 6-0 win last week against I-AA Weber State. The Big Sky Conference school, located in Ogden, Utah, is pronounced "WEE-ber State," so it was not named after Potsie Weber, if that's what you were thinking, and why would you not have been? If it had been, then they'd probably play Splish Splash at every game, instead of Sweet Caroline. Just in case ther's any doubt, yes, even that would be an improvement.
UCLA 19, San Diego State 11
Vanderbilt at Purdue
Senior Boilermaker quarterback Elijah Sindelar threw for a career-high 423 yards in Week 1 at Nevada. His recklessness caught up to him in the end, however, as two late interceptions proved very costly in a 34-31 defeat. His second pick set up the Wolf Pack at its own 39-yard-line with 38 seconds left, just long enough to creep into range for a dramatic, winning field goal.
Vandy should find the relative lack of defensive resistance liberating, after being bottled up by Georgia throughout a 30-6 defeat. VU is idle in Week 3, so there's no reason they should get caught looking ahead to LSU, which they probably don't really want to do anyway.
One of these teams sometimes uses a train track motif, but not the school that's named after a railroad magnate. Instead, the Commodores go with a nautical theme, even though their home in Nashville is hundreds of miles inland. By the way, they're really smart, you know.
Vanderbilt 27, Purdue 23
California at Washington
Cal pulled off the stunner of the 2018 season in the Pac 12, when they shut down the Huskies 12-10, temporarily making UW's conference title hopes appear bleak. With neither team gaining more than 250 yards, the decisive play came at the very end of the third quarter, on a 37-yard interception return by linebacker Evan Weaver.
The Golden Bears' opener against Division I-AA Cal-Davis might as well have been against Ann B. Davis, because it was maid to order. It was they who served up a 10-0 lead to UCD, however, before averting embarrassment by coming back to win 27-13.
The Huskies didn't play a real game either, but their 47-14 win over Eastern Washington was important for ex-Georgia QB Jacob Eason, who was very sharp in his first start since 2016.
Any team that faces Ann B. Davis would be stupid to let her have home field advantage. That backyard Astroturf looks really painful.
Washington 38, California 24
Army at Michigan
The Black Knights trudged over Rice 14-7 last Friday, registering their worst offensive output since last year's opening game, a 34-14 loss to Duke. The Cadet offense, which was held 82 yards below last year's per-game average, had to take to the air in order to score the winning fourth-quarter touchdown.
The Wolverines' new spread offense was running on MT against Middle Tennessee. They scored enough points in the end, but they were often in disarray during a 40-21 tussle that proved tougher than it should have been.
This game is being played at Ann Arbor, not to be confused with the aforementioned Ann B. Davis. The Czar figures Ann Arbor probably played Mrs. Brown on My Favorite Martian. He hasn't bothered to actually look it up, which is just as good as its being true.
Michigan 26, Army 17
Illinois at Uconn
Former Connecticut coach Bob Diaco was a man ahead of his time. Fabricating rivalries will soon be the only way the Huskies can get anybody to schedule them. Perhaps they'll propose a series with the Fighting Illini, with each year's winner taking home the Northeasty-Midwesty Boy Do We Suddenly Loathe Each Other For Some Reason Or Other Trophy. That doesn't exactly sing, but it still beats the snot out of every trophy that's lamely entitled the Governor's Bell.
If the Illini really love Lovie, they'll continue to play hard against a soft nonconference schedule, having already dispatched Akron, 42-3. It wasn't such an easy week, however for running back Mike Epstein, who suffered a season-ending knee injury. As if that weren't bad enough luck, the poor guy's probably got everyone asking him if he's related to his namesake, the scumbucket.
Jeffrey, that is, not Juan.
Illinois 26, Uconn 12
Nevada at Oregon
Justin Herbert won't soon put the Auburn debacle behind him, but he'll sure feel better throwing against a UNR defense that allowed 423 passing yards to Purdue's Elijah Sindelar last Friday. The Wolf Pack managed to win that game, on a last-second 56-yard boot from freshman kicker Brandon Talton, who was awarded a scholarship immediately after the game.
This offseason's recruiting, combined with last week's opener, has cemented UO coach Mario Cristobal's reputation as someone who's very good at running a football program, but not very good at running a football team. Late in the fourth quarter against AU, the Fighting Ducks led 21-20, when Herbert was shaken up on an egregious late hit that somehow went uncalled. Because the game was stopped for his injury, he had to come out of the game for at least one play. Cristobal wasted a timeout, apparently believing that by doing so, he could put Herbert immediately back on the field. Instead, freshman Tyler Shough had to come in for a critical fourth-and-one from the 42-yard-line. Cristobal eschewed the punt and went for the first down, leading the Tiger defense to rightfully expect a rushing attempt. As if the play weren't badly telegraphed enough, they had Shough hand the ball to C.J. Verdell five yards deep in the backfield, dooming him to a one-yard loss.
In addition to that disastrous sequence, critics have been blasting Cristobal for his clock management in general, and in particular for not taking enough time between plays when his team is protecting a lead. The Ducks' consistent underachievement would be bad enough, without their being mocked by the irony of having a coach named Cristobal, who habitually fails to foresee the obvious.
Oregon 50, Nevada 28
Minnesota at Fresno State
The Golden Gophers may safely emerge from their hole again after escaping potential humiliation against I-AA powerhouse South Dakota State. What's not so safe is traveling to Fresno to face a rebuilding team that acquitted itself well in an opening 31-23 loss at USC.
Before hosting SDSU, Gopher coach P.J. Fleck showed his team the movie The Dark Knight, and then handed out Batman Pez dispensers to his players. Don't ask why; it's just what he does. Ever inspired, the radiant rodents played like armless Pez people, allowing the Jackrabbits to gain 5.1 yards per carry.
Did the Czar just use the phrase "Pez people?" What he meant to say was "Confectionary-Americans." Sorry.
Fresno State 37, Minnesota 35
Nebraska at Colorado
This will be a damaging loss for one of these former Big 8 rivals, each of which underperformed in an uneasy Week 1 win. The N-men never got things rolling in a 35-21 struggle against South Alabama, while the Buffaloes yielded too much yardage in beating Colorado State, 52-31.
The Buffaloes are still selling beer at Folsom Field, but they will replace the evil plastic cups with aluminum ones that are "infinitely recyclable." What, as opposed to plastic? Their effort is, of course, part of an initiative by the United Nations and probably Bill Walton to combat "climate change." Pardon the Czar, but of all the eco-dingbattery out there, have you ever heard the claim that drinking out of plastic is making the world any warmer? If human activity really were incinerating the earth, wouldn't using plastic cups be a far lesser offense than, say, thousands of delegates from all over the world burning countless gallons of fuel traveling to a UN "climate change" conference? The only reason this doesn't qualify for a Lardhead of the Year nomination is that the contents of the perpetrators' noggins are far too soupy.
It's a little-known fact that the Big 8 Conference was named after a gigantic number 8 that was found etched into a corn field one morning. While there remains no official explanation for this phenomenon, the College Football Czar attributes it to space aliens with unwavering certainty. You can't argue with science.
Nebraska 31, Colorado 20
a sports publication from The Shinbone