The College Football Czar
Week 15
<![if !vml]>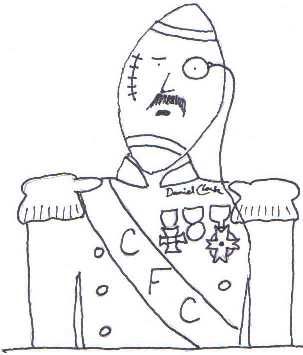 <![endif]>
Week fourteen in review: The College Football Czar nearly had another sub-.500 week, but rallied in the four late games on Saturday night to finish 14-13.  As much as the Czar criticizes the SEC supremacy theory, he admits to have gotten caught up in it himself over Thanksgiving weekend.  Not only had he become convinced that Mississippi State was a national championship contender, but he picked the SEC to dominate its traditional ACC rivals, when it turned out that the ACC went 4-0 in those matchups.  For the season, that means the SEC is only 5-6 in nonconference games against major conference opponents.
In hindsight, the Czar would have still picked almost all the same teams if he had it to do over again.  In many cases, what appeared to be the better team just made inexplicable errors, the most egregious example being Georgia.  With just 18 seconds to play, the Bulldogs had taken a 24-21 lead over arch rival Georgia Tech.  There was simply not enough time for Tech to drive back into field goal range.  That is, unless coach Mark Richt called for a really witty kickoff that would needlessly give away lots of yardage while taking little time off the clock.
The squib kick gave the Yellowjackets the ball at their own 43-yard line with 14 seconds remaining.  One play and 21 yards later, they were able to give Harrison Butker a shot at a 53-yard field goal, and he nailed it.  UGA lost the game in overtime, 30-24.  Rest assured, neither Richt nor any of his peers will take a lesson from it, either.  The Czar doesn't know if anyone keeps statistics on it, but it seems to him that the squib kick backfires most of the time it is tried, and still, every coach is convinced it's a brilliant thing to do.  It must be that each of them figures that no other coach who ever squib kicked has been a certified genius like himself, which is why nobody's ever done it right before.
The Czar's overall record stands at 180-111, for a .619 winning percentage – his all-time lowest, if he does not significantly improve on this final week of the regular season.
UAB, R.I.P.  It's official.  The University of Alabama board of trustees has snuffed the football program at Alabama-Birmingham, just as it was showing signs of life.  Whatever financial excuse the trustees give for their decision, the real reason is that they govern three U of A schools – the main campus in Tuscaloosa, Alabama-Huntsville and Alabama-Birmingham – and that they had it within their power to shut down a program that had the potential to siphon some tiny percentage of talent from Big Brother Bama.
The U of A would have us believe that the reason it has decided to Schiavo the Birmingham football team is a recently commissioned study of the system's finances.  Anyone who believes that is not familiar with the history of this conflict.  The trustees had been undermining UAB at least as far back as 2006, when they disapproved the school's attempt to hire Jimbo Fisher as head coach.  In 2011, they put the kibosh on plans for a new, on-campus stadium.  They had originally signed coach Bill Clark through 2016, and had scheduled nonconference games through that year, which led to speculation that 2016 would be the last year of Blazer football.  The coach had already started turning the program around this season, however, so they had to act immediately to stamp it out.  These plans for the team's demise have obviously been in the works for quite a while.
They claim that the move is part of a restructuring that will benefit the rest of UAB athletics, and if you believe that one, I've got a 2015 Blazer season ticket to sell you.  Conference USA has gone to a lot of effort to mold itself into an all-sports conference, without a lot of extraneous basketball-only members.  In fact, the league has felt it necessary to release a statement recognizing that, "The Conference's current bylaws require all members to sponsor football."  So C-USA must give Birmingham the boot.  That doesn't leave many good options.  The best they could do would probably be to latch on to the Southland Conference, and compete with the likes of Lamar, Central Arkansas, and the University of New Orleans.
Just last month, BBVA Compass donated $1.5 million dollars to UAB for the construction of a new soccer stadium.  It should now rescind that offer, if at all legally possible, and make it contingent on the school's remaining a C-USA member.  If $600k was too high a price tag for Coach Fisher, then two and a half times that amount is too generous a gift to waste on a bush league athletic program.
Dec. 5
MAC Championship – Bowling Green vs. Northern Illinois
Geographically, BGSU shouldn't be in the MAC's East division, but if they weren't, who would there be to challenge 10-2 NIU for the league title?  If the Falcons were in the West where they belong, that division would have had the league's five best teams this year, leaving the East to be represented by 6-6 Ohio.
In this same title game a year ago, the 12-0 Huskies appeared to be headed for their second consecutive BCS game, when they were ambushed by BG, 47-27.  That Falcon team had dominated its last four regular season games, however, by a combined score of 176-17, whereas this year, they back their way into Ford Field with consecutive losses to Toledo and Ball State.  With one more defeat, they'd find themselves on the bowl bubble at 7-6.
Huskie quarterback Drew Hare, a.k.a., Wudy the Wabbit, was at his most ewusive when it counted in last Friday's regular-season finale at Western Michigan.  Although he only gained 36 yards on the ground that day, he found his way to the end zone twice in the fourth quarter of a 31-21 W at Waldo Stadium.  Unlike most dual-threat QBs who gravitate toward open spaces, Wudy the Wabbit likes to wun in close quarters, as if he were ducking tree branches, jumping over stumps and the like, while some Camp Mohawk loser takes a header trying to keep up with him.
Yes, they actually spell the singular "Huskie" with an "ie" in DeKalb, but what other way is there?  The rule is "i" before "e" except after "c", so the only way to justify removing the "ie" is to spell the word "Huscy."  At least that's the most convincing defense the College Football Czar can come up with.  As far as explaining why there's an "l" in Dekalb, and an "s" in Illinois, they're on their own.
Northern Illinois 39, Bowling Green 30
Pac 12 Championship – Oregon vs. Arizona
For the first time, the Pac 12 title is being decided on neutral turf, at Levi's Stadium in Santa Clara. The Ducks have already won a game there, but in their worst defensive showing of the season, when they bombarded the Cal Bears, 59-41.
The Wildcats won 31-24 in Eugene in Week 6, but the Fighting Ducks just weren't themselves that night, as you could tell by the black and pink uniforms.  UO's ailing offensive line was down to one original starter, a weakness that had been exposed a week earlier in a scare from Washington State.  Right tackle Jake Fisher soon returned to the lineup, however, and the others are more cohesive after playing together for two months.
Beating Arizona State by any points at all is a great result, but the Cats' division-winning 42-35 win was their sixth victory of the year by seven points or fewer.  As big as two of those wins have been, the other four – over Washington, Cal, Nevada and UTSA by a combined total of 15 points – were the kinds of performances that, if repeated, would get them perforated by a powerful and vengeful opponent.
In that previous meeting, the Fighting Ducks were done in by a lardheaded unsportsmanlike conduct penalty by defensive end Tony Washington.  After sacking Wildcat QB Anu Solomon, to apparently thwart a fourth-quarter threat, Washington ran to midfield, turned toward the stands, and did an I Dream of Jeannie bow, for which he was correctly flagged.  The first down allowed the U of A to continue on what turned out to be the game-winning touchdown drive.  The Czar has been horrified by how many players around the NCAA have been mimicking that bit, even after watching someone cost his team a chance at a perfect season by doing it.  Not only is that an incredibly unnecessary risk to take, but unless that bow is going to magically turn you into Barbara Eden, nobody wants to see it.
If you're not familiar with Santa Clara, that's what Santa Claus calls himself on days when he's feeling pretty.  Only in California.
Oregon 41, Arizona 31
Dec. 6
SEC Championship – Missouri vs. Alabama
The Crimson Tide haven't lost to an East division team in more than four years, when they were upended at South Carolina.  Back then, Mizzou was having to mull a possible future in Conference USA.
Bama scored a twofer against its intrastate enemies this past week.  First, the Tide avenged last year's loss to Auburn in a 55-44 epic, and then, for an encore, they finally succeeded in killing the program at their branch campus in Birmingham.  Talk about playing hardball.
Wide receiver Amari Cooper reeled in 224 receiving yards in that Iron Bowl game, but what's really incredible is that it only tied his season high, which he had also reached against Tennessee a month earlier.  For the season, Cooper has 1,573 yards, second only to Colorado State WR Rashard Higgins.
In last year's conference championship, the Tigers gave up more than twice as many points as they had in any game all regular season.  The defense that had carried them to the first of their consecutive SEC East titles offered no resistance to an Auburn attack that rushed for 545 yards in a 59-42 romp.  To the horror of almost all who watched, they persisted with a three-man front all the way to the end.  Everyone knows that three men are never enough.  Even the Marx Brothers were never as funny after they ditched Zeppo.  That may not be logical, but it's true.
Don't criticize the Tiger players if they all march onto the field with their hands up before this game, because that won't be an ill-conceived commentary against the police.  They'll genuinely be pleading for mercy.
Alabama 34, Missouri 3
Big Ten Championship – Ohio State vs. Wisconsin
Nothing says Big Ten championship football like an indoor game played smack in the middle of the state that's home to the league's two worst teams.  Unfortunately, the contract with Lucas Oil Stadium in Indianapolis runs through 2021, and although the roof on that building is retractable, it will never, ever be opened for a night game in early December.
With OSU down to its third-string quarterback, this game may actually seem anticlimactic to a Badger team that has duked it out with West division contenders Nebraska, Iowa and Minnesota over the past three weeks.
UW running back Melvin Gordon needs to average 183 yards over his last two games in order to catch up to Barry Sanders' single season rushing record.  Mind you, they didn't count bowl games in individual statistics when Sanders played.  There were also no conference championship games, and the regular season was one game shorter.  So if you wanted a fair comparison, you'd have to subtract the 151 yards that Gordon gained against the Gophers last week, and stack his previous total of 2,109 up against Sanders' 11-game total of 2,628.  Then again, times change, and if the record is for officially recorded yards in one season, and Gordon finishes with 2,629, that will be just as legitimate as Roger Maris' 61 homers.
The Buckeye faithful must be holding out hope that Cardale Jones will keep their team in national contention just like J.T. Barrett did after Braxton Miller went down.  The problem is, contrary to what coach Urban Meyer has suggested, they're losing a better quarterback this time around.
Jones, a redshirt sophomore, is not a total unknown to football fans, but he probably wishes he was.  As a freshman in 2012, he was suspended for, as you've surely already guessed, a tweet.  "Why should we have to go to class if we came here to play FOOTBALL," he wrote, "we ain't come here to play SCHOOL, classes are POINTLESS."
You can see why he had to be disciplined.  If there's one thing that every Buckeye athlete is required to do, it's "play school."
Wisconsin 50, Ohio State 38
ACC Championship – Florida State vs. Georgia Tech
Yet again, an offensively impaired opponent failed to put the Seminoles out of every football fan's misery.  This time, it was the Florida Gators who couldn't take advantage of four Jameis Winston interceptions as FSU survived, 24-19.
The Noles have been knocked down another spot in the CFP rankings, to #4, behind TCU.  They'll be sure to stay in position to play in the semifinals, however, if they can win this game against a more formidable opponent than any of the three that they've slipped past in recent weeks.  As sure, that is, as one can possibly be, when trying to predict the totally capricious decisions of twelve people who are bound by no objective criteria whatsoever.
Every time the Ramblin Wreck tried to give last week's game away, Georgia refused delivery.  An unforced fumble by QB Justin Thomas set up the go-ahead Bulldog touchdown, but the UGA squib kick let Tech kick the tying field goal.  Then in overtime, GT had an extra point blocked, but cornerback D.J. White thwarted the Dogs' subsequent drive, by intercepting a ball that was thrown right at him.
This neutral-site title game is played in Charlotte, a city whose namesake, the spider, is famously dead.  Jameis, that connoisseur of eight-legged critters, did not eat her, but if he had, what would anyone do about it?
Georgia Tech 42, Florida State 35
Conference USA Championship – Louisiana Tech at Marshall
The 11-1 Thundering Herd may have trouble getting moo-tivated for this game after watching Western Kentucky spoil their undefeated season, 67-66 in overtime.  With that "Group of Five" New Year's bowl apparently out of reach, they're probably headed to either the Heart of Dallas Bowl or the New Mexico Bowl, regardless of whether they win or lose against LTU.
If MU does have a letdown in the conference championship, that would be far from unprecedented.  Last year, they ended the regular season on a furious, five-game rampage, but then seemed strangely disinterested in a 41-24 title game loss to Rice.
Up until this season, if someone had told you that a Skip Holtz-coached team scored 76 points in a game, you'd have assumed that he'd gotten fired and found refuge in the arena league.  During a three-year stretch at South Florida, and then in his first season with the Bulldogs, Holtz the Younger was lagging as far behind his father's offensive production as he was his salivary output.  A year ago, he took a very promising Tech offense and generated a meager 19.2 points per game.  In 2014, he's more than doubled that average at 38.8, and in turn nearly doubled that average with last week's 76-31 rout of those defending champion Rice Owls.
Mind you, Coach Lou never means to spit on people when he speaks.  So the way he looks at it, he's only imparting rivulets of wisdom.
Louisiana Tech 48, Marshall 44
Mountain West Championship – Fresno State at Boise State
Under the current rules, a 6-6 team like FSU is still bowl-eligible if it falls to 6-7 by losing a conference title game.  The bad news for the Bulldogs is that parity has produced so many 6-6 teams that, even with the addition of four bowl games, there will probably be between six and eight bowl-eligible teams that don't get invited.
The Broncos won these teams' regular season meeting 37-27, in a game that was also played in the Tater State.  Running back Jay Ajayi rushed for 158 yards that day, including two touchdowns that staked his team to a 20-10 lead.
If BSU doesn't win this game, heaven knows what subjective criteria will be used by the CFP committee to determine which "Group of Five" team gets a New Year's bowl bid.  For weeks, it's been assumed to be between the MWC champ and Marshall, but all of a sudden, Memphis and Northern Illinois could be in the running.
The coveted Milk Can, won by the Broncs earlier this season, will not be at stake in this game.  That makes it kind of like a non-title bout, after which the champ retains his belt even if he's just been slobberknocked by some palooka.  If the Milk Can is a rivalry trophy, and this is another game in the rivalry, then why not award the trophy?
Actually, it's a little-known fact that there is no trophy called the Milk Can.  The way the twin evil forces of "wellness" and "awareness" have taken over on campus, the word "Can" here is being used as an auxiliary verb.  After the game, the winning players are brought to midfield, where they must recite the virtues of milk – as in, "Milk Can … strengthen teeth and bones."
The really sad part is that this probably sounds believable.
Boise State 33, Fresno State 20
Kansas State at Baylor
Do the Waco kids need some help?  Oh? … all they can get.  The Bears must climb over two more teams to get into the final four, and still, they're in danger of being caught from behind.  If Arizona topples Oregon, for example, the Wildcats might then be rewarded with a position in the top-four.  Furthermore, even if Alabama loses to Missouri, the Crimson Tide might still cling to a #4 ranking.  What BU needs is for Florida State to lose to Georgia Tech, and TCU to get upset by Iowa State.  Even then, they'll only make it if they fight off a dangerous K-State team, with their own QB Bryce Petty returning from a concussion.
If the Wildcats had a significant nonconference victory, we might now be seriously discussing their chances of playing for the national championship.  With their only setbacks against Auburn and TCU, a win would almost definitely make them the highest ranked two-loss team.  After two consecutive 196-yard games, wide receiver Tyler Lockett broke his father's school record for career receiving yards with 119 in last week's 51-13 blowout of Kansas.
With Petty out of last week's game, the Bears watched a 35-17 lead dwindle to the point where they had to stave off a late two-point conversion to win  48-46, against a mediocre Texas Tech team.  BU was burned for 712 yards in the game, but were aided by Tech's committing four turnovers, and 11 penalties for 125 yards.
… And please, spare the Czar the feeble argument that Baylor deserves to be ranked ahead of TCU because they beat them head-to-head.  Each team has one loss, and when you're a one-loss team, it matters whom you lost to.  TCU lost to Baylor, another Top 10 team, whereas the Bears lost to a West Virginia team that is now 7-5.  Logically, if Baylor's win over TCU is so important, shouldn't it also matter that TCU beat WVU, and WVU beat Baylor?  Furthermore, the Horned Frogs at least have a quality nonconference win over Minnesota, unlike the Bears, who beat up on SMU, Buffalo and I-AA Northwestern State of Louisiana.
Who knew there was another state of Louisiana in the Northwest, also?  Guess that explains how Louisiana-Walla Walla got in the Sun Belt Conference.  It looks like Lewis and Clark got a lot more land than they bargained for.  How they must have been laughing inside, while handing over all of those unwanted Sacajawea dollars.
Kansas State 27, Baylor 24
Houston at Cincinnati
This game's just for fun, since both teams are already bowl-eligible, and the AAC's five reserved berths, being all in minor bowl games, are pretty much interchangeable.  Based on geographical considerations, the Czar supposes that East Carolina will land in the Military Bowl, UCF in St. Petersburg, Memphis in Birmingham, and Houston in the Armed Forces Bowl.  By calculatus eliminatus, that leaves the Bearcats in the new Miami Beach Bowl against BYU.
The Cougars' 7-4 record is rather impressive, considering their surprisingly poor play at quarterback.  Sophomore John O'Korn was expected to become a mighty oak, but since he was benched early this season, one wonders if he might just make like autumn, and leave.  New starter Greg Ward has been an improvement as far as his completion percentage is concerned, but his TD-to-interception ratio (7-6) is nearly as bad.
UC has won six in a row, but that's largely a product of their schedule.  The Cats had lost three in a row to Ohio State, Memphis and Miami, but have since faced only one quality opponent, in a 54-46 shootout victory over East Carolina.
… Or maybe it will be the Bearcats who stick around St. Petersburg – not for a bowl game, but because they see it is a time for a change.  As the College Football Czar has noted previously, those four 6's on their "C" logo indicate that they're 133 percent evil.  Not that there's anything wrong with that.  After all, this is college.
In case you were wondering, the Czar has no plans to attend the St. Petersburg Bowl.  Why tempt fate?
Cincinnati 45, Houston 42
Oklahoma at Oklahoma State
In this year's Bedlam game, the 5-6 Cowboys, who have lost their last five in a row, are being led like a lamb to bed.  The sooner the Sooners put an end to their season, the better.  (Geddit?  The Sooner team name can also be used as an antonym for later.  Bet you'll miss that kind of wit during the offseason.)
With quarterback Trevor Knight out for a third week in a row with a neck injury, OU has little choice but to continue playing freshman Cody Thomas, who has completed 40.8 percent of his passes, with one touchdown and four interceptions.
Last year in Stillwater, the Sooners scored three non-offensive TDs in a 33-24 shocker that gave underdogged OU the Big XII tie-breaker and its accompanying berth in the Sugar Bowl.  They scored their first touchdown of the day on a punt return, then burned OSU on a touchdown pass off a fake field goal attempt.  Finally, they scooped up the Pokes' poorly thrown desperation lateral, and took it in for a score on the last play of the game.
Okay, so the saying is "like a lamb to the slaughter," but they've cleaned it up so as not to upset people.  Kind of like how the first two little pigs used to get eaten, but now they just run away from one house to the next.  Of course, the removal of the fear pretty much nullifies the lesson.  Anymore, a kid hears that story and thinks, "So the pig that did all the work will let me into his brick house anyway?  Cool!"
Oklahoma 26, Oklahoma State 21
Temple at Tulane
For the first time in its history, the Temple football program is in a more enviable position than its famous alumnus, Bill Cosby.  Memo to Cos: If, and only if, you are innocent, shave the gray stubble already!  Your attempt at reverse psychology, figuring that nobody would think a guilty man would go with the creepy old insane guy look, is obviously backfiring.
A win would even the Owls' record at 6-6, but the devil is in the detail that is that third 6 – meaning their place in the standings.  The AAC has only five reserved bowl berths, so a sixth team would have to lobby for an at-large bid.  Based on the quality of their nonconference schedule, and their competitiveness against the leaders of their own conference, the College Football Czar thinks there's got to be a place for them if they can finish with a win over the Wave.
The Green Wave said a long overdue hello to their new on-campus digs at Yulman Stadium this year, but the facility has not been all that welcoming.  At home, TU is only 1-3 against Division I-A opponents this year, having beaten only tenth-place Connecticut, 12-3.
Do you get the impression that when you were watching Captain Kangaroo, Bill Cosby had some pages in his "Picture Pages" that you didn't have?
Temple 34, Tulane 24
Iowa State at TCU
The Horned Frogs must have been having some nog after watching the Egg Bowl, because Mississippi State's loss clears the path for Texas Christian to stroll into the final four, just as long as they don't get cyc'd out by the 2-9 Cyclones.
Lost amid ISU's latest lost season has been a fairly dramatic improvement for junior QB Sam Richardson, who has thrown 18 touchdowns to 8 picks, while completing 57.9 percent of his passes.  Unfortunately, he missed out on his team's best chance for a Big XII victory when he injured his shoulder, and had to watch his team get clobbered by lowly Kansas, 34-14.
The Frogs would be unbeaten right now, if they hadn't blown a 21-point fourth-quarter lead at Baylor.  Even if they'd hung on to win that game, the 782 total yards they'd given up would have been more than a little alarming.  There's been no cause for concern when they've played at home, though.  Earlier this year in Fort Worth, they beat Minnesota, Oklahoma and Kansas State, and traumatized Texas Tech, 82-27.
Officially speaking, the ISU quarterback's name is listed as Sam B. Richardson, but the College Football Czar has omitted his middle initial here, for the simple reason that we already know he bes a Richardson.
TCU 58, Iowa State 27
SMU at Uconn
If they can't salvage this season finale against the 2-9 Huskies, 2014 will be remembered as the year the SMU program died of natural causes.  If Jagoff Jack Pardee were still coaching at Houston, he'd have no problem hanging a hundred on these guys.  The only good news the Mustangs have gotten all season has been the recent hiring of Clemson offensive coordinator Chad Morris to be their head coach next season.
A month ago, the Conn Men put one over on AAC contender Central Florida, 37-29.  That's been the only game in which they've scored more than 21 points, however, and they needed the help of four interceptions to do it.  For the season, UC has the third-least productive offense in the nation, generating only 15.1 points per game.  And if there's a team that's capable of devising a play to score a tenth of a point, it is they.
Southern Methodist has the exact same helmet logo as the Calgary Stampeders, who won the Grey Cup last week over the Hamilton Tiger-Cats, 20-16.  What does that have to do with this game?  Absolutely nothing, but the Czar thought he'd insert a paragraph about a good football team in this preview, just to cheer himself up.
Uconn 11, SMU 5
Dec. 13
Army vs. Navy
The Black Knights look to put an end to the Dark Ages in this series, during which they've lost 12 consecutive games since beating a winless Navy squad, 26-17 in 2001.  For a few years there, it looked like the rivalry was becoming competitive again, until last season, when the Cadets were boringly beaten by a final of 34-7.
Considering the way these teams play, there's no disgrace in the fact that they're the two lowest in the nation in passing yardage, but if running the ball is all you do, you should be near the very top of the rushing stats, like the Middies, who are #2 behind Georgia Southern.  At #6 in rushing yardage, the West Pointers are gaining an entire yard less per carry than their rivals from Annapolis.
The 6-5 Midshipmen have already secured a bid to the Poinsettia Bowl, but barely.  Last Friday in Mobile, they hung on to win 42-40, when South Alabama's apparently successful two-pointer was called back for an illegal man downfield.  The College Football Czar would like to explain to you why an offensive lineman would be sauntering through the end zone on a conversion attempt, but he's afraid he'll have to write to Johnny Wonder for an answer to that one.
Come to think of it, the Czar objects to that call altogether.  The players should be allowed to go wherever on the field they want to, because there's no such thing as an "illegal man."  Ergo, any official who calls an "illegal man" downfield penalty is hereby declared to be a Nazi.
The preceding message was brought to you by Geraldo Rivera, and other people who have had bits of their posteriors injected into their heads.
Navy 45, Army 28
a sports publication from The Shinbone