The College Football Czar
Week 14
<![if !vml]>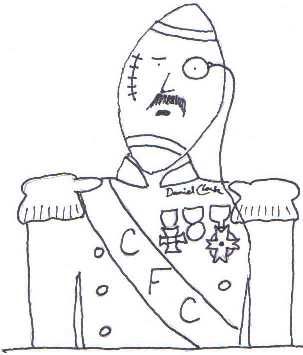 <![endif]>
Week thirteen in review: LSU has decided to keep coach Fewer Miles, although the College Football Czar wonders why he bothers to stick around.  In 11 years in Baton Rouge, Miles has compiled a record of 111-32, highlighted by the 2007 national championship.  Yet, athletic director Joe Avella allowed rumors of the coach's imminent firing to swirl for two weeks before finally addressing the question, at which time he insultingly advised Miles to focus on his upcoming game against Texas A&M.  The Tigers won that contest by a typically LSU-ian score of 19-7, after which Avella announced that Miles would be allowed to stay.
Incredibly, ESPN is reporting that the decision not to fire Miles was not made until the third quarter of the A&M game.  Really?  The guy's been one of the best coaches in the game for over a solid decade, and his fate hinged on the outcome of a single, routine conference game?  Surely, there's a less fickle employer out there who wouldn't mind having a coach for whom a three-loss season is considered a disaster.
Elsewhere, Stanford edged Notre Dame in the best game of the week, 38-36, an outcome that pushed the Fighting Irish out of the national championship picture, and diminished the chances for genuine controversy when the final four brackets are drawn.  At this moment, it looks as if Alabama and Oklahoma will join the winners of the ACC and Big Ten championship games, although this is all predicated on the expectation of sanity prevailing within the CFP committee.  The Czar remains incredulous that we've thrown out the flawed but semi-objective BCS ratings in favor of a dozen very biased individuals administering "the eye test."
With 80 bowl berths to fill this year, the NCAA is going to give a special dispensation to at least two losing teams, and probably more.  Supposedly, they'll determine who the lucky losers are based on academic performance.  Good thing for the #1 Clemson Tigers that they don't need any help.  But seriously, the Powers That Be Stupid continue to commission more and more bowl games, supposedly because the conferences complain it isn't fair to have leftover bowl eligible teams with nowhere to play.  The correct response should have been to rescind the rule allowing games against lower-division opponents count toward bowl eligibility.
Instead, a postseason appearance has become an entitlement for everyone that goes 5-6 against legitimate opposition.  It has actually reached the point where it's normal for a team to receive a bowl invitation right after firing its coach for poor performance.  What used to be a reward for a successful season has simply become game number 13.
Watch for targeting penalties to be called with a renewed emphasis, due to the pre-release hype for the movie Concussion, starring Will Smith.  Judging from the trailer, this film, weirdly due to be released on Christmas Day, promises to be about as enjoyable as spending two hours in the urologist's waiting room.  Mind you, that doesn't mean concussions aren't a valid concern, just because they don't make for riveting cinema.  The College Football Czar is not a doctor, nor does he play one on TV; nevertheless, the offers the following medical advice to every football player within earshot.  Please stop striking yourself in the forehead with your right arm every time you think you've made a good play.  No charge.
Come to think of it, the Czar doesn't play anything on TV, but if he did, he would like to be a "non-attorney spokesperson," like you see on ads promoting class action lawsuits over faulty medical devices.  Being not an attorney, he feels he is eminently qualified.
The Czar went 14-7 for the week, which brings his season record to 156-87, for a .642 winning percentage.
Dec. 4
MAC Championship – Bowling Green vs. Northern Illinois
The Huskies mushed up their feathered foes in last year's title game 51-17, behind a 334-yard rushing attack.  They had a healthy Drew Hare at quarterback, however, and six consecutive victories as they rode into Ford Field.  Last Tuesday, freshman backup QB Ryan Graham was unable to run the ball in a 26-21 loss to Ohio, which left NIU needing Western Michigan's upset of Toledo so that they could back into another division title.
There is no question mark at QB for the Falcons, who boast the nation's leading passer in Matt Johnson.  The senior needs 535 more passing yards over his last two games to reach the 5,000-mark for the season.  That might not be as easy as it sounds, since he has had his only three sub-300-yard games in a row to end the regular season.
Detroit's Ford Field has got nothing to do with the late president Gerald R. Ford, who played both center and linebacker for the University of Michigan.  The Czar finds it kind of odd that you don't see a lot of football fields, being such symbols of Americana, named after former presidents.  He used to think there was one named after Bill Clinton, but his kind of feeled is something different altogether.
America's enemies might have found it amusing had they known that Gerald Ford's given first name was Leslie.  Oh, yeah?  Well, the Soviet premier during the Cuban Missile Crisis was named Nikita!  Take that, you Commie wuss.  And don't call me Shirley.
Bowling Green 35, Northern Illinois 27
Dec. 5
AAC Championship – Temple at Houston
By taking first place in the American Athletic Conference East Division, the 10-2 Owls have captured their first championship of any kind.  That's got to be welcome news to a city whose professional teams have had so little success that it chooses to celebrate fictitious athletes, like Rocky Balboa and Ron Jaworski.  (Oh, sure, like Ron Jaworski is real.)
The way UH came back to beat Memphis, they might have thought they were a team of destiny.  How stunned they must have been a week later at Uconn, when the big game-saving play never happened.  With major bowl game speculation stifled, they dispensed with the drama for their regular season finale against Navy, which they won in a 52-31 runaway.
Last time the Cougars hosted a postseason game, their undefeated season was dashed in a 49-28 loss to Southern Miss, in the 2011 Conference USA title game.  That team might have been distracted by the fact that head coach Kevin Sumlin was being hired away by Texas A&M.  Then again, there are already rumblings that first-year coach Tom Herman is already on a lot of teams' short lists.
The Czar has a short list of his own.  It says, "beer."  Come to think of it, he really shouldn't have to write it down.
Houston 38, Temple 31
C-USA Championship – Southern Miss at Western Kentucky
WKU quarterback Brandon Doughty is exactly 100 passing yards away from jumping three spots to #2 in the nation, behind only Matt Johnson, from that other Bowling Green in Ohio.  Last week against Marshall, the senior slinger threw for 370 yards and five TDs, to clinch the East Division in a 49-28 trouncing.
USM coach Todd Monken, who went 4-20 during his first two seasons, has better than tripled his career win total during this year's 9-3 campaign.  Here's hoping Todd's brother Jeff, the third-year head coach at Army, succeeds in turning things around there as well.
If you think Western Kentucky Hilltoppers is a mouthful, the name of the place where they're hosting this game is Jimmy Feix Field at Houchens Industries-L.T. Smith Stadium.  The worst part is that you can't get there without asking for directions.
Western Kentucky 55, Southern Miss 44
SEC Championship – Florida vs. Alabama
The past week's events must have given Crimson Tide coach Nick Saban a chance to give thanks that he's no longer at LSU.  It's a wonder he got to leave Baton Rouge on his own terms, considering that his record there was only 48-16, for a mere .750 winning percentage.
Bama may seem like a sure thing, to the degree that anyone can be in a conference title game, but if they should stumble, that could let Ohio State and Stanford sneak into the national championship picture.  Their best chance would be for the pachyderms to predictably pound the ball in an attempt to push Derrick Henry's Heisman candidacy, and get bogged down against that formidable Florida run defense.  Don't count on it.
While learning your greater than-less thans in elementary school, you might have been taught that the alligator eats the bigger number.  If that's true, then the Gators of UF must have eaten out last Saturday, when their offense was held off the board entirely in a 27-2 beating by Florida State.
These days at school, they try to make the alligator eat turkey bologna and goat cheese on a whole wheat English muffin, with a side dish of beets.  The alligator just throws all that crap away, and sneak-eats big numbers in the stairwell between classes.
Alabama 34, Florida 7
MWC Championship – Air Force at San Diego State
The Falcons could have come home for this Mountain West title game, but they took a wrong turn at Albuquerque, where a 47-35 loss to New Mexico pointed them westward to Qualcomm Stadium instead.
Any fan who cheers for his conference instead of his team is a dork, but it would be especially embarrassing for anyone rooting for a Mountain West team.  It does not speak well of that conference that the Aztecs have gone 8-0 in league play, after losing all three of their games to Division I-A nonconference opponents.  SDSU's unbeaten conference mark is a little deceptive, though, in that nobody else in their division has an overall winning record, and the three Mountain Division teams they didn't play are the AFA, Boise State and New Mexico.
The flyboys have put on an unexpected air show over the past four games, with QB Karson Roberts throwing out of the triple-option for between 150 and 300 yards in each game.  By now, they've lost the element of surprise, as the senior scrambler has been picked off three times in each of his last two outings.
Have you ever noticed that the element of surprise does not appear on the Periodic Table of Elements?  No wonder nobody ever expects it.
Air Force 37, San Diego State 34
Pac 12 Championship – Stanford vs. USC
The Trojans have rewarded interim coach Clay Helton by giving him the job for real, but for a team with such great expectations this year, does a 5-2 stretch really inspire such confidence?  The Czar suspects there's a bit of superstition at work here.  SC's last interim coach was Ed Orgeron, and when they declined to offer him the head job, that led to the hiring of Steve Sarkisian.
Sark was still coaching Southern Cal when the Cardinal beat them 41-31 in Week 3.  Not enough has improved since his departure to make the Czar expect a different result.  In the seven games Helton has coached, his defense has allowed an average of 29.9 points.
Last week, Notre Dame concentrated on stopping Christian McCaffrey, and at least prevented him from making the big play. In doing so, they left the field wide open for QB Kevin Hogan to pick them apart, which he did.  The Trojans did the same in that earlier loss, holding McCaffrey to 4.4 yards per carry, but letting Hogan complete 18 of 23 for 279 yards and two TDs.  What could they possibly have in mind for Plan B, drop back into coverage and open up the running lanes?
Speaking of lanes, former Trojan head coach Lane Kiffin, now offensive coordinator at Alabama, is being rumored for another head job at a major program.  Perhaps Helton's hiring was athletic director Pat Haden's preemptive "hell-no" to speculation about the ex-coach's return.
Stanford 29, USC 21
Big Ten Championship – Michigan State vs. Iowa
If you don't understand why the Czar gets so disgusted over the Big Ten title game being played indoors, just look at this Thanksgiving's NFL games.  This conference could be putting on a game like the Bears and Packers at Lambeau, but it would rather settle for recreating the annual afternoon snooze at Ford Field.
Spartan QB Connor Cook and his injured shoulder made it through most of the game against Penn State, even though the team would have gotten along fine without him in the second half of the 55-16 steamrolling.  The Czar takes that as an indication that the injury will be a non-issue seven days later.  Even as he often shook his arm to loosen the joint up, Cook cruised for 248 yards and three scores, while completing 19 of 26.
The Hawkeyes are the unbeaten team in this matchup, but they're in the comparatively week West Division, they haven't had to face MSU, Ohio State or Michigan out of the East, and their last-second win against Pitt was their only serious nonconference game.
If you ever want to incite an angry mob at a football game (and who doesn't?), try loudly informing the crowd that "frozen tundra" is redundant.
Michigan State 27, Iowa 17
ACC Championship – Clemson vs. North Carolina
Yes, the Tarheels' loss to South Carolina is a terrible blot on their record, but that game – the very first of the 2015 college football season – says a lot less about what to expect this week than the Tigers' 37-32 struggle against that same Gamecock team a week ago.  Ever since an emphatic 58-0 romp through Miami, the Son of Clem has had its stumbles in three straight road wins.
The Czar thinks UNC should play for the CFP title if they can knock off the #1 Tigers, but he can't fault the committee if it leaves the Tarheels out on the basis of their schedule, which included two Division I-AA opponents.  There are times when a team winds up scheduling a second lower-division team due to a cancelation by a I-A opponent on short notice, but it couldn't happen if they hadn't already scheduled one I-AA team already.  Don't schedule NC A&T, and then you can't get stuck playing both NC A&T and Delaware.
With former Auburn and Iowa State head coach Gene Chizik as first-year defensive coordinator, the Heels have cut their average points allowed almost in half, from 39 ppg to 20.8.  Chizik, who won a national championship as head coach at Auburn in 2010 but was fired two years later, has been trying to keep a low profile in the meantime.  That's not because he can't handle the spotlight, but because he fears there are illiterate cows out there demanding that he be eaten.
North Carolina 30, Clemson 28
West Virginia at Kansas State
As weenie as it will be to see losing teams in bowl games, that might be better than if the 5-6 Wildcats clinch a bid with a win against WVU.  To this point, Louisiana Tech has been the only competent team they've beaten all season.  Pathetically, schedule strength is apparently not a factor for selecting 5-7 teams for bowl games.  Instead, the NCAA will reward those otherwise ineligible teams that have excellent academic standing.  Sounds noble, but who wants to see a demoralized K-State team with a losing record get pummeled by a bowl opponent that deserves to be there?
The 7-4 Mountaineers are 7-0 this year against teams that are outside the CFP Top 25.  Their only losses have come all in a row, as they ran a midseason gauntlet against Oklahoma, Oklahoma State, Baylor and TCU.
This is WVU's fifth Big XII road trip of the year, already having trekked to Norman, Waco, Fort Worth and Lawrence.  Before they joined this conference, they must have consulted the team geographer, running back Rushel Shell.
West Virginia 49, Kansas State 33
Texas at Baylor
The Horns nearly knocked off Texas Tech on Thanksgiving night, thanks to a tremendous game by freshman running back Chris Warren – all together now – "the Third."  They must be hoping that "III" suffix on his jersey means there's a sequel on the way, as in "Chris Warren IV.  This time, it's personal."  It would probably take a repeat of his 276 yard, four touchdown performance to beat BU.
With a win, the Bears could climb ahead of Oklahoma State in the bowl pecking order.  That would probably send them to the Alamo Bowl as opposed to the Russell Athletic Bowl, hardly a great motivational factor.  Freshman Chris Johnson returns for a third start at quarterback, having completed only 12 of 34 passes so far.
In his first year as head coach of the Longhorns, Charlie Strong tried to solidify his team by giving all the problem players the boot.  Perhaps in year two, he can still reach a bowl game by dismissing all the stupid buys, thereby improving the team's academic average.  Heck, it's got to be easier than actually winning six football games.
Baylor 31, Texas 22
Georgia State at Georgia Southern
GA State Panthers' quarterback Nick Arbuckle is not the owner of Garfield the cat, as is immediately recognizable by the fact that he isn't a noseless wussy.  Arbuckle has rallied his team to a 5-6 record by throwing for over 300 yards each in 9 of his last 10 games.
The Eagles laid an egg in their opener, a 44-0 loss to West Virginia, but have since gone 8-2, with each of their victories by 20 points or more.  Matt Breida, ninth in the nation in rushing, has the best per-carry average among the top 100 ground-gainers at 8.3.
These schools have doubled their state's number of Division I-A football programs within the past three years.  The Czar is confident there's enough talent to go around.  It seems like there are more football players from Stone Mountain, Georgia than there used to be worthless pamphlets from Pueblo, Colorado.
Georgia Southern 28, Georgia State 23
Troy at La.-Lafayette
The old college Troy was the last dynasty of the Sun Belt Conference before the rise of ULL and Arkansas State.  The Trojans appeared in five bowl games in seven years from 2004-10, when it was not yet compulsory to do so.  As implausible as this sounds today, they actually did not play in the 2007 postseason, despite having a record of 8-4.
The Ragin Cajuns have won the last four games in this series, to narrow TSU's overall lead to 7-5.  In last year's regular season finale, Elijah McGuire rushed for 169 yards and two scores, to hand longtime Trojan coach Larry Blakeney a 42-23 defeat in his final game.  McGuire isn't having such a bash in his junior season, but he'll have no trouble reaching the 1,000-yard mark again.
The 4-7 Cajuns will not get a chance to win a fifth consecutive New Orleans Bowl, because they will not be receiving one of the NCAA's lucky loser academic exemptions.  Just a hunch.  Perhaps the Czar gets that impression because, when he saw the Cajuns (then known as Southwestern Louisiana) play at Pitt in 1997, their official media guide said of the history between the two teams, "Ain't none."
La.-Lafayette 30, Troy 23
Appalachian State at South Alabama
Even with the bowl games accepting every bowl eligible team and then some, the Sun Belt will likely only scrape up three berths from their 11-team conference.  As things stand now, App State, Arkie State and Georgia Southern are in, while Georgia State and South Alabama need somewhat unlikely victories to qualify.
With a conference record of 6-1, the Mountaineers can't catch the Arkansas State team that defeated them in Week 10.  Still, they're a shoo-in for their first bowl game since climbing to Division I-A, perhaps on a return trip to Mobile for the GoDaddy Bowl.
The 5-6 Jaguars were expecting bigger things out of the ten transfers they got from the temporarily defunct UAB Blazers, which is kind of like expecting something delicious out of a bag of Funyuns.
Appalachian State 21, South Alabama 10
Dec. 12
Army vs. Navy
The Midshipmen have won the last 13 games in this storied rivalry.  The College Football Czar won't try to build up any phony suspense.  They're going to win this one, too, and probably very easily and boringly.
The Czar was relieved that the Middies lost to Houston, because now they will play in the Military Bowl at home in Annapolis, regardless of whether or not they beat the Black Knights.  Had they instead been in line for a CFP bowl, everyone's postseason plans would have been put on hold, awaiting the outcome of this game.
One of the Cadets' two victories this year was against Division I-AA Bucknell.  The only major college team they've beaten all season has been Eastern Michigan.  And, contrary to what Johnny Bench says, EMU stinks.
Navy 29, Army 6
a sports publication from The Shinbone