The College Football Czar
Week 14
<![if !vml]>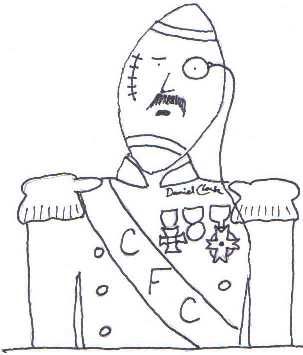 <![endif]>
Week thirteen in review: Notre Dame did what it had to do, by defeating another diminished opponent to finish the regular season at 12-0.  The Fighting Irish defense stuffed the USC ground game on a late goal-line stand, and harassed freshman QB Max Wittek into two interceptions in a 22-13 victory.  That presumably advances them to the BCS championship game in Miami, where they will face the winner of the SEC title game.  Alabama and Georgia both dominated their rivalry games, which eliminated all other contending teams from the chase.
The college football czar will try to end the regular season on a high note, after finishing week 13 with his worst record of any week all season long.  His 7-10 mark drops his season record to 163-79, for a .673 winning percentage.
This week's off-the-field updates are far too numerous to specifically list here.  Suffice it to say that about half of the head coaches who deserved to be fired have been by now.  Also, the next round of realignment is underway, with the Big East continuing to morph into Conference USA, which in turn continues to morph into the Sun Belt Conference, hardly upward mobility for either of them.
A pox upon the Czar for not realizing that he was in the midst of Michael Mauti Awareness Month.  In their season finale against Wisconsin, Mauti's Penn State teammates all wore his number 42 on the sides of their helmets in solidarity with the senior linebacker.  That's the kind of honor that is usually reserved for someone who has died, been paralyzed, or contracted a terminal disease.  So what is the tragedy that befell Mauti?  He suffered a knee injury, which caused him to miss the final game of his PSU career.
Sniff.
For those of you outside the state of Pennsylvania who still don't understand why Penn State is so widely hated, this is a textbook example.  If the impropriety of the tribute was not apparent to the coach or the equipment manager, one would have hoped that Mauti himself would have objected out of sheer embarrassment.  Instead, there he was, actually walking along the sideline as if to illustrate the absurdity of treating him as if he'd undergone some devastating, life-changing event.  As we saw during last year's spooky blue ribbon ceremony, there is no display too maudlin or too unjustifiably self-congratulatory for "The Penn State community."  Is it any wonder that their priorities have gotten so scrambled?
Nov. 30
Pac 12 Championship – UCLA at Stanford
By winning last week's meeting in Pasadena, the Cardinal have earned a chance to return there to play in the Rose Bowl.  Just six days prior to this conference title game, they bounced the Bruins off their home field, 35-17.
Jim Mora's defense made the mistake of sticking its face in Stepfan, and senior Stanford running back Stepfan Taylor blew them away with 142 yards and two touchdowns on 20 carries, with an additional three receptions for 27 yards.  (Okay, so he doesn't really pronounce his name "step fan."  It's a visual gag, all right?)
The blue bears' last two trips to the Bay Area haven't gone well.  Earlier this year, they suffered a shocking 43-17 defeat at Cal-Berkeley, which appeared at the time to knock them out of conference title contention.  Last year, their ignominious 6-8 season came to an end with a 20-14 loss in the Food Fight Bowl in San Francisco, snapping Illinois' six-game losing streak.
That game's not really called the Food Fight Bowl, of course.  That's just the Czar's nickname for it.  It's actually called the Kraft Fight Hunger Bowl.  The way the its organizers fight hunger is to invite two teams so bad that the fans will feel compelled to throw vegetables at them.
Stanford 41, UCLA 28
MAC Championship – Kent State vs. Northern Illinois
Each of these division champs enters the game with a record of 11-1 overall, and 8-0 in the conference.  That's a far more familiar experience for NIU than it is for the Golden Flashes, who are playing their first postseason game since 1972.  For the Huskies, it is their third consecutive 11-win season, a record that includes a big comeback victory over Ohio in last year's championship, and an upset loss to Miami Ohio the year before.
KSU is plus-20 in turnovers this season, a factor that figured prominently in their midseason upset of Rutgers.  Last Friday, they scored two defensive touchdowns in the first quarter to take command of a 28-6 win over Ohio.
Huskies' first-year starting quarterback Jordan Lynch is fourth in the nation in rushing yardage, and is by far the leader among quarterbacks, 340 yards ahead of Ohio State's Braxton Miller.  In addition, Lynch has had an excellent year throwing the ball, with 2,750 yards, 23 TDs and only four interceptions.
This is the first game being played at Ford Field since the Lions' overtime loss to the Texans on Thanksgiving.  The Czar only mentions this so that he may again give thanks for the return of those impeccably accurate NFL officials.  Now that the regular refs are back on the job, never again will a critical call be blown in a professional football game.  Huzzah!
Northern Illinois 37, Kent State 34
Dec. 1
SEC Championship – Georgia vs. Alabama
What little vulnerability the Crimson Tide has shown this year has been in its pass defense, which was surprisingly challenged by LSU before being beaten by Texas A&M.  Even so, they have yet to allow any quarterback to top the 300-yard mark against them.
The Bulldogs, like the Tide, are 11-1, but they're only 2-1 against Division I-A teams with winning records.  Their only opponents from the SEC West have been Ole Miss and Auburn, and their nonconference schedule has consisted of Georgia Tech, Buffalo, Florida Atlantic and I-AA Georgia Southern.
Last season, Mark Richt's team rolled into the SEC title game on a 10-game winning streak, also against dubious competition.  Although they took an early 10-0 lead over LSU, it didn't take long to see that they were overmatched, as they were struck down by a final of 42-10.
This game is being played in the Georgia Dome, which is what shields UGA from missile attacks by neighboring states.  Unfortunately for them, Bama is planning a more conventional attack, using football players instead.  Still, if the game starts going the Bulldogs' way, don't put it past the Tide fans watching at home to launch a few Scuds.  As any opposing team's trees can tell you, those guys can be a mite overzealous.
Alabama 31, Georgia 7
Big Ten Championship – Wisconsin vs. Nebraska
The Badgers (7-5, 4-4) finished third in the Leaders division, but they've advanced to the title game because Ohio State and Penn State are both ineligible.  Last week, their 2012 overtime record dropped to 0-3, with a 24-21 loss at PSU.  It turned out they were so immersed in Michael Mauti Awareness Month that they failed to notice all the opposing defenders who actually took the field that day.
In last year's championship, UW avenged a tough regular season loss by beating Michigan State in a 42-39 classic.  To duplicate that result this year, they'll have to do it with third-string quarterback Curt Phillips, who has completed barely more than half of his passes in consecutive OT losses to the Buckeyes and Nittany Lions.
In the regular season meeting between these teams, the N-men rallied to score the last 20 points of the game to win 30-27.  Both squads were wearing throwback uniforms that night, each featuring the school's first initial on the front of the jersey, with the player's number in the upper right-hand corner.  Since Cornhusker QB Taylor Martinez is #3, his jersey read "N-cubed."  Heck, if the Heisman voters couldn't resist "RG3," just wait until Martinez goes algebraic on them.
Nebraska 34, Wisconsin 13
ACC Championship – Florida State vs. Georgia Tech
The Ramblin Wreck (6-6, 5-3) finished in a three-way tie for first place with North Carolina, which is on probation, and Miami, which has declared itself ineligible in hopes of preempting a more severe penalty.  Based on the UCLA precedent, the NCAA must allow Tech to play in a bowl even if it loses this game, to fall to 6-7.
The Seminoles (10-2, 7-1) staged a 17-point third-quarter rally to take a 20-13 lead over Florida, but were then dominated in the fourth, as the Gators prevailed 37-26.  Or, as a lardheaded announcer would put it, the Gators scored 24 "unanswered points," before an FSU touchdown on the last play of the game.  Noles' quarterback E.J. Manuel was a little too hands-off, in that he fumbled once and threw three interceptions.
Tech actually outgained rival Georgia last week, rolling up 426 total yards, 306 of those on the ground.  Yet they were unable to cross the goal line until midway through the fourth quarter of a 42-10 trouncing.  In addition to their two conventional turnovers, they turned the ball over on downs four times, and missed a mid-range field goal.  Freshman QB Vad Lee could have changed his name to "Even Vurse," after completing just 4 of 12 with an interception.
If GT loses, then the three bowl-bound teams in the Coastal division will have a combined record of 18-19.  And to think that there are actually people questioning whether Pitt will be a good fit in this league.
Florida State 49, Georgia Tech 23
Conference USA Championship – Central Florida at Tulsa
By virtue of a week twelve win over UCF, the Golden Hurricane has home field advantage, in spite of last week's 35-27 loss at SMU.  The first two times they've faced the Knights in their conference title game, they've had to travel to Orlando, where they won 44-27 in 2005, but lost 44-25 two years later.
The Knights bounced back from their 23-21 loss to TU to easily defeat UAB 49-24, although they did allow a shocking total of 599 yards to the lowly Blazers.  Wide receiver Quincy McDuffie scored his first three rushing TDs of the season in leading his team to the victory.
Has anyone ever thought of what an offensive name "Conference USA" is?  What if some foreign college football team undocumentedly migrates here to play in their league?  Should that team be denied its civil liberties, just for the crime of being different?  O, the jingoism!  The xenophobia!  The racism!
If that last paragraph made any sense to you at all, you have officially been in college entirely too long.  Get out now, while you still have a chance.  And stop listening that lardhead Geraldo.
Tulsa 22, Central Florida 17
Pitt at South Florida
The Bulls finally pushed their way into the end zone halfway through the fourth quarter in Cincinnati, and Skip Holtz inexplicably decided to kick the extra point to trail 27-10, which turned out to be the final score.  So the odds of converting three consecutive two-pointers are slim, but it was the only chance USF had to stay in the game.  When you have to kick off with seven minutes to play, the difference between a 16 or a 17 point deficit is significant.  The difference between 17 and 18 really isn't.
Right when they seemed ready to pack it in for the season, the Panthers pulverized league-leader Rutgers, 27-6, amid the flurries at Heinz Field.  A win this week would likely earn them a return trip to the Tampa Bay area, to play in the Beef 'O' Brady's Bowl in St. Petersburg.
Note that it's not spelled "Beef O'Brady's" as if it were an Irish name.  Instead, the 'O' is in quotation marks, as if it were a nickname.  "Allow me to introduce you to Mr. Beef Brady, or 'O', as I know him.  He only lets important people call him 'O', you know."
Come to think of it, "Beef" does sound like a first name that was picked right out of The Preppie Handbook.
Pitt 24, South Florida 14
Kansas at West Virginia
The College Football Czar assumes he speaks for hundreds of thousands of viewers when he thanks Mountaineer coach Dana Holgorsen for being merciful enough to wear a hat during last Friday's 31-24 victory over Iowa State.  Hopefully, he'll adopt it as his good luck hat, which would prevent the Medusa of Morgantown from reappearing this week against KU.
In Turner Gill's debut in Lawrence two years ago, he lost to Division I-AA North Dakota State, 6-3.  The Offensive Goo improved on that in his first game, with a 31-17 win over the I-AA South Dakota State Jackrabbits.  Since then, his Jayhawks have lost all ten games against major college competition.  In fact, they're actually scoring a field goal per game less than they did a year ago.
After the 2009 season, Kansas fired Mark Mangino for allegedly verbally abusing his players.  Since then, they are 6-29.  But their self-esteem is just peachy.
West Virginia 54, Kansas 35
Boise State at Nevada
A win would knot BSU in a three-way tie for the Mountain West title with Fresno State and San Diego State.  The tie-breaking system is basically irrelevant, because Boise would have the best overall record, as well as the best reputation among the three.  These factors would make them the obvious choice for the Las Vegas Bowl to pit against a Pac 12 opponent, probably Arizona.
Last time the Broncos rode into Reno, they had their 2010 BCS Championship hopes dashed in a 34-31 overtime thriller.  There's nothing that big at stake this time, with Chris Petersen's team at #20.  Meanwhile, the Wolf Pack are locked into fifth place in the MWC and a minor bowl game regardless of this week's outcome.
The second syllable in "Nevada" is pronounced as a short "a", not an "ah" sound.  Pack quarterback Cody Fajardo's name is likewise pronounced far less Mexicanly than it looks, with the "j" sounding just like in "jello."  At least that's what the pronunciation guide says in the UNR media guide, as edited by Les Nessman.
Boise State 28, Nevada 23
Texas at Kansas State
The 10-1 Wildcats may be lucky to have had a week off to regroup after their 52-24 bashing at the hands of Baylor.  A second consecutive loss would likely deal them out of the BCS altogether.
Case McCoy gets the start at QB for the Longhorns, after David Ash was dusted by TCU in a 20-13 Thanksgiving night upset.  McCoy took over during that game, and directed the pointy cows to their only touchdown of the night.  His one interception was costly, though, stopping their final drive of the game at midfield, with under two minutes to play.
K-State's home field, Bill Snyder Family Stadium, has a capacity of 50,000.  Dang!  Coach Snyder must have been busier than Steve Garvey.
Kansas State 38, Texas 27
Middle Tennessee at Arkansas State
This is not one of the many official conference championship games being played this weekend; nevertheless, it will decide the championship of the Sun Belt Conference.  The 8-3 Red Wolves have reeled off six straight victories since stumbling in their conference opener against Western Kentucky.  The MT-heads also dropped their first Sun Belt game, but have equaled ASU's overall and league records of 8-3, and 6-1.
ASU must have a chip on its shoulder to be in position for a second straight conference title, and have no offers to jump to another league.  The Blue Raiders, on the other hand, will be among the four Sun Belt teams migrating to Conference USA by 2014.  Whether or not that's an improvement is no longer apparent.
MTSU used five takeaways to topple Troy last week, 24-21.  If safety Kevin Byard got paid by the yard, he'd have put in a full day's work with a game-winning 77-yard interception return with six minutes to play.
Not that college football players get paid, or anything.
Middle Tennessee 25, Arkansas State 22
Oklahoma at TCU
The 9-2 Sooners are playing for a probable BCS bowl bid, whereas Texas Christian could land anywhere from the Cotton Bowl all the way down to the Pinstripe Bowl.  If OU wins, they would need a Kansas State loss to Texas in order to win the Big XII and advance to the Fiesta Bowl.  Even if K-State wins, however, Bob Stoops' team would be a likely choice for an at-large BCS bid.
Sooner QB Landry Jones needs 255 more passing yards to reach the 4,000-mark for a third consecutive year.  It wasn't until his fifth game that Jones posted his first 300-yard performance of the season, but he's now done it in six of his last seven games.  In the past two games, he's thrown for 554 against West Virginia, and an even 500 in an overtime victory in the bedlam game against Oklahoma State.
The Sooners' two losses, to Kansas State and Notre Dame, have been alike in that both opponents were able to possess the ball and keep Jones and his offense off the field.  It's not likely that the Horned Frogs, next-to-last in the conference in rushing yards, will be able to do the same.  For the record, Texas Tech is the only team that trails them in that department, and they were dominated by Oklahoma, 41-20 in early October.
Of course, you wouldn't expect Horned Frogs to be in much of a rush.  Perhaps if they changed their name to the Runnin' Horned Frogs, that would help.
Oklahoma 38, TCU 13
Cincinnati at Uconn
These schools may not have developed the fiercest of rivalries, but things might get just a little bit ugly this Saturday.  That's because the Bearcats openly campaigned to replace Maryland in the ACC, by specifically arguing that they would be a better choice than Connecticut, which was widely presumed to be at the top of the ACC's list of potential invitees.  As it turns out, the ACC went of the board and picked Louisville instead.
In a mediocre season that has included losses to Western Michigan, Temple and South Florida, the Conn Men have still managed to get their foot in the postseason door by upsetting Louisville last week in overtime.  If they can contain the Cats, they'll have rallied their way to the .500 mark from three games under, and earned a trip to the BBVA Compass Bowl, probably to play Ole Miss.
Not that geographic conference distinctions matter anymore, but Louisville isn't very Atlantic or coastal, is it?  If Cincy and Connecticut are bent on leaving the Big East, they could start their own conference, along with Independent Army, and soon-to-be former WAC members Idaho and New Mexico State.  They could call themselves the Upper Midwest Eleven, just to annoy people.
Cincinnati 26, Uconn 15
New Mexico State at Texas State
The Czar, among others, expected NMSU to contend in the withering WAC this season.  Instead, they're in danger of finishing dead last in a conference with two Division I-A expansion teams.
In their first season of play at the I-A level, the Bobcats have only faced one lower-division team.  Dennis Franchione's latest team has rolled over Houston and Idaho, and put up some impressive scraps against San Jose State, Louisiana Tech and Navy.  Perhaps that's what makes last week's 38-31 loss to fellow newcomer Texas-San Antonio so disappointing.
The Bobs' school used to be known as Southwest Texas State University.  They shortened it to Texas State in order to take advantage of the popularity of the film Necessary Roughness, only to later discover that it didn't have any.
Texas State 40, New Mexico State 18
Oklahoma State at Baylor
The Waco kids may be the fastest guns in the West, but do they have as much firepower as the visiting Cowboys from Stillwater?  The offensive numbers say that they do, but BU's problem is that it has the nation's fifth-worst defense, while OSU is near the middle of the ratings in that category.
The Okey-Pokes have scored at least 30 points against every opponent all year long, with the exception of Kansas.  The 20-14 scare they survived against last-place KU in mid-October was by far the lowest score they've posted since a 21-7 Cotton Bowl loss to Ole Miss, on New Year's Day, 2010.
Sophomore tailback Lache Seastrunk, a transfer from Oregon, has proven to be a treasure trunk for the Bears late this season.  He has now had three 100-yard outings in four games, including an 185-yard explosion in his team's upset of then-#1 Kansas State.  Lache is one trunk of the seas whose value is likely to live up to expectations.  Davy Jones' locker, by comparison, was a terrible disappointment.  All they found was a tambourine and a pair of maracas.
Oklahoma State 63, Baylor 45
La.-Lafayette at Florida Atlantic
The Sun Belt will get at least three bowl bids, but perhaps no more than that, which makes this an important game for the fourth-place Ragin Cajuns (7-4, 5-2), who recorded their first ever bowl victory last season against San Diego State.
FAU has had a week off since a Friday night 34-24 loss to intrastate rival and future Conference USA foe Florida International.  The Burrowing Owls should have never surfaced, because they were held to minus-12 yards on the ground that night.  Junior running back Jonathan Wallace, who gained only 21 yards on 10 carries, was the only rusher on his team to finish with a positive yardage total.
Since ULL is only facing a 3-8 team, strength and conditioning coach Rusty Whitt can crank the intensity down a notch.  Instead of letting blood trickle down his face all game, he'll settle for clipping his fingernails just a little too short, and holding them up to the camera every time it's on him.
La.-Lafayette 37, Florida Atlantic 17
South Alabama at Hawaii
The song says, "outta South Alabama come a country boy."  That's a relief.  The last thing the Czar wants to deal with is one of them fast-talkin' city slickers from Mobile.
The 2-10 Jaguars are the newest edition to the Sun Belt, which means they'll probably stay there for three or four more years.  Although they've only won one conference game, they've generally been surprisingly competitive, losing to co-leaders Arkansas State and Middle Tennessee by seven and eight points, respectively.
This is the twelfth and final game of the season for the 1-10 Warriors, who are allowed to play thirteen.  First-year coach Norm Chow was reportedly in favor of accepting an additional game against Temple on short notice, but practically everyone else at UH would rather see their season put out of its misery.
In case you've never heard of the Sun Belt, that's the name of the fruit drink that was known in more hostile and abusive times as Hawaiian Punch.  They had initially changed it to Polynesian Pugnaciousness, but they only got away with it for a couple months before the Chief of Sensitivity Police looked those words up.
South Alabama 32, Hawaii 29
Dec. 8
Army vs. Navy
Philadelphia is always eager to host the Army-Navy game, which has been played there 83 times out of 114 times.  They never invite the Air Force into their city, though.  At least not since that MOVE incident.  Of course that was a police helicopter, which had nothing to do with the Air Force, but how's a cockroach-infested commune full of Luddites to know the difference?
The Midshipmen had gotten off to a dismal start with a long voyage to Ireland, and an even longer one home, following a 50-10 drubbing by Notre Dame.  They turned their season around, however, with a week six overtime victory over the AFA, and have now clinched a berth in the Food Fight Bowl, perhaps to play Arizona State in an interesting contrast of offensive schemes.
Just when it looked like this series might become competitive again, all the progress the Black Knights had made under coach Rich Ellerson has been lost during this, his fourth season.  The Cadets' 2-9 record includes a 23-3 loss to Division I-AA Stony Brook.  At that point, Ellerson's team could have scheduled a game against Stoney Curtis, and it wouldn't have helped them any.
If you're under 30, none of this week's issue has made any sense to you at all, has it?
Navy 31, Army 12