The College Football Czar
Week 14
<![if !vml]>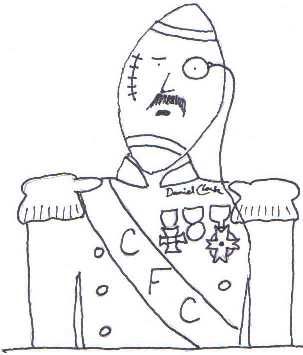 <![endif]>
Week thirteen in review: As much as the College Football Czar dislikes the result, the officials got it right on that controversial fourth-down call in the second overtime of the Ohio State-Michigan game.  As much as it looked at full speed like J.T. Barrett was stopped short of the line to gain, still photos clearly show that when he lunged forward, an instant before being sent tumbling back, he had reached the ball halfway across the 15-yard-line, which is exactly where the line judge spotted it.  So, again, for any lardheads out there who are fond of saying "it all depends on the spot," you're wrong.  For all the problems there are with officiating in college football, spotting the ball is not one of them.  It does not depend on the spot, it depends on whether the ball carrier picked up the first down, which Barrett did.
The race for the "group of five" major bowl bid appears to have been narrowed down to Western Michigan and Navy, with WMU being the obvious choice if they win the MAC title this Friday.  Contenders from the Mountain West Conference continued to beat up on each other to the point where neither Boise State, San Diego State nor Wyoming is any longer viable.
Notre Dame DT Jerry Tiller is apologizing for a couple cheap shots he delivered during his team's 45-27 loss to USC.  Tillery had tried to be sneaky about kicking Trojan RB Aca'Cedric Ware in the head, and stepping on OT Zach Banner's ankle, but both incidents were right out in the open for anybody to see.  The Czar can't help but wonder if the Irish lineman is related to Elijah Tillery, the heavyweight boxer who was featured in a classically strange bout in 1991.  Angered that Riddick Bowe had thrown a punch after the bell, Elijah began kicking Bowe in the backside.  He was then clotheslined by Bowe's manager, who pulled him over the top rope and out of the ring.  By the time climbed back in, he'd been disqualified.  Ridicule him if you want, but can you think of a heavyweight fight that memorable in the last 20 years?
Oregon coach Mark Helfrich is the latest to be dismissed, following a 4-8 campaign that would have still been a disappointment even if those numbers were reversed.  The Czar wasn't convinced that the Fighting Ducks would cut the coach loose after he'd had to play so many freshmen this season, but his strange reliance on lower-division graduate transfers at quarterback, combined with his inability to find a competent successor to retired defensive coordinator Nick Aliotti, that cooked his gizzard.
The College Football Czar hereby extends a Lardhead of the Year Award nomination to Lamar Jackson.  The ever-cocky Cardinal QB struck a Heisman pose in the end zone last week after giving his team a 7-0 lead against Kentucky.  He proceeded to throw three interceptions in the game, and with the score tied 38-38, fumbled at the Wildcat 10-yard-line.  Had anyone ever bothered to cast an Everett Golson trophy, perhaps Jackson could pose for that one next.
This week features the eight existing conference title games, along with a smattering of regular season action from the Big XII and Sun Belt Conferences.  Next season, there will be no regular season games on this final weekend, because all ten conferences will by then have adopted championship games.
Week 13 was not a particularly friendly one for the Czar, who only finished 13-10.  For the season, his record stands at 147-91, for a .618 winning percentage.
Dec. 2
MAC Championship – Ohio vs. Western Michigan
What had figured to be a highly competitive game against Toledo was taken over by the Broncos on the first play from scrimmage, when safety Asantay Brown scored on a 21-yard pick-six.  WMU only gained momentum from there in a 55-35 runaway, thereby ending the regular season undefeated.
The fans in Kalamazoo better enjoy this season while it lasts, because Coach Tooey is being discussed as a possible candidate for the head job at Purdue.  Can you imagine the fun he could have with the Boilermakers' train motif?  He's probably already sewing the letters onto his "Chugga-Chugga-Woo-Woo" sweater.
The Bobcats (8-4, 6-2) got lulled into a snooze by those Z's on Akron's helmets last Tuesday, but still defeated the Zips 9-3, and in doing so clinched the MAC East.  For most of the season, the Bobs floated around at the top of a division that produced no other team with an overall winning record.
The MAC title game often looks like a mismatch, but seldom turns out to be.  Within the past decade, it has seen three ranked teams toppled by lightly regarded, unranked opponents, most recently when Bowling Green knocked off Northern Illinois in 2013.  Don't count on it this year, though.  Whatever the Czar's criticisms of Tooey, he certainly can't fault him for his game preparation.
The "pick-six" is every lardhead's favorite play in all of football.  That's because it sounds so nice and lottery-ey.
Western Michigan 49, Ohio 20
Pac 12 Championship – Washington vs. Colorado
These division champs did not face each other in the regular season, making this the first time the Pac 12 title game has not been a rematch of a regular season meeting since the first year of the championship, in 2011, when Oregon and UCLA met for the first time of the year.
You never know what a completely subjective panel of unavoidably biased people is going to do, but it's unthinkable that the 10-1 Huskies could win this game and not end up among the final four.  The Czar is somewhat disappointed that this is the case, because the program richly deserves to be penalized for putting together a nonconference schedule consisting of Rutgers, Idaho and Division I-AA Portland State.  Next year's slate is only more challenging in that they face Rutgers on the road, in addition to home games against Fresno State and I-AA Montana.
It's a shame that the Buffaloes, who played a more competitive game against USC than UW did, are on the outside of the bubble, just because they dared to take on Michigan in Ann Arbor.  The significance of this cannot pass unnoticed by the other coaches and AD's around the Pac 12.  If you want to play for the national championship, pick your Big Ten opponents very carefully.
When you watch Husky quarterback Jake Browning, some of his throws may look reckless, but he's only thrown seven picks this year, as opposed to 40 touchdowns, while completing 65 percent of his passes.  By contrast, CU quarterbacks Sefo Liufau and Steven Montez have combined for seven interceptions also, but only half as many TDs.
This meeting between the two former teams of Rick Neuheisel presents a great opportunity for charity.  They could have the ex-coach walk out onto the field first wearing Buffaloes' gear and then sporting UW duds, and see which version of him gets pelted with more vegetables by opposing fans.  What they are able to glean from the surface of Levi's Stadium could feed hundreds.
Washington 38, Colorado 34
Dec. 3
American Athletic Conference Championship – Temple at Navy
If Western Michigan were to stumble in the MAC championship, a win for the Naval Academy could force many bowl invitations to be withheld until after the Army-Navy game, to see if the Midshipmen ought to be considered for the Cotton Bowl.  Because the Czar happens to know that WMU will defeat Ohio – especially since he neglected to upload this AAC title game write-up until after 11:00 Friday night (Doh!) – the Broncos should secure that major bowl bid, which means the Middies should be headed for the Armed Forces Bowl, regardless of the outcome of this game.
Lost in this discussion are the 9-3 Owls, perhaps the most overlooked team in the nation.  TU opened the season with an inexcusable loss to Army, but since then, they have only dropped a pair of seven-point road decisions to Penn State and Memphis.  A dramatic comeback against Central Florida has launched them on a six-game streak that has included consecutive shutouts of Uconn and Tulane.
Will Worth, has put up 1,363 passing yards this season, the most of any Navy QB since Ricky Dobbs in 2010.  That year, Dobbs fell short of the 1,000-yard rushing mark, whereas Worth has run for 1,181 yards and 25 touchdowns.  He'll have more trouble than he's used to, trying to find holes in an Owl defense that's ranked third in the nation, allowing more yards per game than only Alabama and Michigan.
It's a little-known fact that Temple is called the Owls because they were founded by that famous Benjamin Franklin admirer, X the Owl.  That's why when the Czar was rooting for the Owls against Penn State, he wore one of those hats with an "X" on it that were all the rage in the early 90s.  He couldn't believe some of the looks people were giving him that day.  You'd think they'd never seen an Owl fan before.
Navy 13, Temple 10
Conference USA Championship – Louisiana Tech at Western Kentucky
The Hilltoppers' only C-USA defeat this season was at LTU, by a final of 55-52.  They had rallied from a 21-point fourth-quarter deficit to make it that close, but then fumbled on their final possession of the game.  This time, they get to play at home in Bowling Green, thanks to the Bulldogs' upset loss to Southern Miss a week ago.  Tech tailback Jarred Craft needed only 20 yards to reach 1,000 for the season in that USM game, but was held three yards short, gaining only 17 yards on nine carries.
WKU's only other losses have been a respectable 38-10 decision against #1 Alabama, and a 31-30 setback to a surprisingly tough Vanderbilt team.  That Vandy game has been their only home loss in their last 16 games at Feix Field.  Their most recent previous defeat was well over two years ago, against a UAB team that does not currently exist.
If you had as little shame about bad puns as the Czar has, you could say the feix is in.
Western Kentucky 51, Louisiana Tech 42
SEC Championship – Florida vs. Alabama
Oh, goodie.  The thought of watching the Florida Gators play a game whose outcome is virtually predetermined, and in the ever-gloomy Georgia Dome no less, is about as exciting as watching Neil Simon's Boring People Behaving Boringly in a Boring Hotel Room, while snacking on a bowl of tapioca.
Last year's SEC title game was equally enthralling, with the Crimson Tide holding UF to 7 first downs and 180 total yards.  A late Gator touchdown and two-point conversion made the 29-15 final look unrealistically competitive.
The Czar never ceases to be amazed by Southern football fans who root for their conference instead of their respective teams.  After so many years of lopsidedness in that conference, perhaps they'll start chanting "SEC West!  SEC West!  SE-freakin-C West!"  If you think that would be weird, you should have been around to hear the Prince of Wales Conference cheer that the College Football Czar used to do in front of his TV.  It started to sound pretty good to him by the end of the third period, but then, drinking a Molson for every goal during an all-star game will have that effect.
Alabama 26, Florida 3
Mountain West Conference Championship – San Diego State at Wyoming
And to think they called this year's election a "race to the bottom."  That's nothing compared to the MWC in recent weeks, where SDSU lost to this same Wyoming team 34-33 in Week 12, and then got stomped into their home turf by Colorado State in their season finale, 63-31.  Since they were the only winning team in their whole division, they had already clinched a berth in this game.  Meanwhile, the Cowboys were able to back their way in despite losing two of their last three, by virtue of Boise State's season-ending upset loss to Air Force.
So, there's not really that much at stake here, and certainly no longer a New Year's Six bowl bid.  Nevertheless, viewers could have ended up with something a lot worse than a rematch between two teams that put on a good show just two weeks ago.
Neither star running back really distinguished himself in that previous meeting.  The Aztecs' Donnel Pumphrey gained only 76 yards.  Brian Hill gained 131 for the Pokes, but it took him 31 carries to do it.  The two backs nationally rank second and fourth, respectively, although Pumphrey is a shoo-in to overtake idle Texas RB D'Onta Foreman for the lead.
Last time the Men from Laramie played for a league title, they faced BYU in Las Vegas for the 1996 WAC championship.  In his last game before leaving for Purdue, Cowboy coach Joe Tiller took an intentional safety late in the game, trimming his team's lead to 25-22.  To nobody's surprise but his own, Brigham Young converted the favorable field position from the free kick into a tying field goal, and then prevailed in overtime.  Current coach Craig Bohl, who expects to show his face around town a little longer, will not repeat that classically lardheaded performance.
That weekend in Vegas could not have gone any worse for Tiller if he'd taken in a Wayne Newton show.  Yeesh!  With a voice like that, the NCAA would let Newton enter any rest room he wanted.
Wyoming 40, San Diego State 34
ACC Championship – Clemson vs. Virginia Tech
The Tigers have spent much of the week fending off a charge made by South Carolina DE Bryson Allen-Williams, that one of the Tigers' offensive linemen had shouted a racial slur at a Gamecock teammate during last week's game.  If there were such things as sports reporters, they would have gone back to Allen-Williams and demanded that he identify the culprit, instead of forcing the Clemson players and coaches to defend their team against the nebulous accusation.  To date, they haven't even prodded him to name the as yet unidentified teammate he says was the target of the remark.
Needless to say, after Dabo Swinney's full-throated defense of his players, if one of them did commit such a classless act, you don't want to be him.  Are we expected to believe, however, that this insult is what triggered the teams' pregame fracas, and yet in the middle of all those players, nobody but Allen-Williams heard it?  Or should we think that most of those players, being from Clemson, heard the epithet but were perfectly fine with it, to the point of unanimously lying to their coach?  The Czar suspects instead that Allen-Williams, who says he wants to be a political correspondent for CNN or MSNBC, is getting a head start on fulfilling his ambition of becoming the next Brian Williams (no relation, probably).  The sports media won't press him on the details, because they want his accusation to be true, and are afraid of debunking it.
The 9-3 Gobblers have certainly had some quality wins this season, but is a team that has lost handily to Tennessee, Syracuse and Georgia Tech ready to compete with the likes of Clemson?  Sure, they beat out Pitt, among others, for the Coastal division title, but they haven't got anywhere near the ground game that the Panthers used to topple the Tigers in Week 11.
There's no telling how distracted the Tigers may be, but they're also angry about being distracted, which makes it bad luck to be wearing burgundy and orange this weekend.  Coach Swinney's team played mad throughout that Carolina game, which they won 56-7, behind Deshaun Watson's six touchdown passes.
This game is being played in Orlando, although its original location of Charlotte would have been a far preferable neutral site for these two particular opponents.  But at least now, ACC officials will be able to relieve themselves while in the company of members of the opposite sex, and isn't that what's really important?
Clemson 38, Virginia Tech 16
Big Ten Championship – Penn State vs. Wisconsin
In case you were wondering why the Czar was displeased by the outcome of the Ohio State-Michigan game, here's the result – the Nittany Lions in the conference title game, with an outside chance of rallying their way into the final four.  A week ago, PSU easily handled an undermanned Michigan State team 45-12, to finish the regular season at 10-2.  Running back Saquon Barkley left the game with an ankle injury after gaining just 14 yards on 12 carries, but his coaches are confident that he will be well for this title game in Indianapolis.
The Badgers have endured a quarterback controversy all season, so the loss of Alex Hornibrook should have minimal effect.  Bart Houston has completed 63.9 percent of his passes this year, and he guided his team to a 31-17 comeback victory over Minnesota last week.                                      
Second-year Badger head coach Paul Chryst, formerly of Pitt, probably still has friends in the Iron City who might advise him on how to defeat the Lions.  Unfortunately, "play them in September" is not really an option at this point.
With all the classic stadiums in Big Ten country, why do league officials insist on playing their championship in this lifeless cave in Indy?  Because an Indianapol is another name for a pomegranate, and we know how trendy those are these days.
Penn State 20, Wisconsin 17
Oklahoma at Oklahoma State
The Czar wonders how much longer the NCAA will allow this series to be nicknamed Bedlam.  That's offensive to the loono-American community, don't you know.  It will eventually have to be named something less judgmental, like Spontaneity, or Whimsy.
If the Big XII had a championship game this year, this would be a terrible regular-season matchup because neither team would want to give away its game play for the following week.  Such devaluation of late-season games is something to consider the next time The Powers That Be Stupid start tossing around proposals for playoff expansion.  If both Ohio State and Michigan were already assured of tournament bids, last week's game would have been totally anticlimactic.
The 9-2 Sooners are another victim of a challenging nonconference schedule.  You'd think a two-loss team whose defeats occurred very early in the season, to Houston and Ohio State, would stand a great chance of finishing among the final four if they could beat another national contender for their ninth consecutive win to end the season.  Looking at the current CFP ratings, however, there doesn't seem to be any playoff trail open to the Schooner.  Alabama and Clemson will most likely win, and Ohio State will stay put.  Meanwhile, all four combatants in the Big Ten and Pac 12 title games are already ahead of OU, so one would assume that the winners will stay there.
Also 9-2, the Cowboys are out of the big picture, too – and no, we don't want to hear any more about that first loss.  No team that has also lost to Baylor is getting cheated out of a shot at a national championship.  Mullethead Mike's team also barely survived against conference also-rans Iowa State, Kansas State and Texas Tech.
Not content with everything it had screwed up so far this year, the Big XII has announced that its first four title games are going to be played in tat sensory deprivation chamber in Arlington.  The league's record in decision-making couldn't possibly get any worse at this point, unless they invited David Lee Roth to sing the National Anthem.
Oklahoma 52, Oklahoma State 43
Baylor at West Virginia
One of the drawbacks to there being so many bowl games is that the Waco kids won't be riding off into the sunset this week.  After a 6-0 start, BU has lost five straight, most recently a 54-35 decision to Texas Tech.
The Mountaineers should reconsider whether being a "power five" team is worth their continued association with this shabbily run and masochistic league.  If they were having this good a season while playing in the AAC, they'd probably be headed for a major bowl game.
Interim head coach Jim Grobe says he is not interested in returning to coach the Bears next season.  While he was at it, he also announced that he won't be eating any tinfoil sandwiches, skinny dipping in rubber cement, or attending a Steven Seagal film festival.
West Virginia 37, Baylor 19
Kansas State at TCU
Legendary Wildcat coach Bill Snyder picked up career victory #200 last week, 34-19 over cross-state foe Kansas.  In the Czar's eyes that record is cheapened somewhat, by decades of pathetic nonconference scheduling, and the fact that he gets to beat up on KU every season.
The 6-5 Horned Frogs have got a bowl game in the bag, even though they have only one win against a non-losing Division I-A team, and that team is Baylor.  The only other team they've beaten that is now over .500 is the I-AA South Dakota State Jackrabbits.
Sometimes, it's hard to figure out how K-State does it.  Nationally, they're ranked #113 out of 128 in total yardage gained, but #48 in points scored.  As a team, they have only eight TD passes all season, and their rushing stats are only average by Big XII standards.  It's enough to make their opponents shoot blood out of their eyes.
Horned Frogs are known to do that, you know.
Kansas State 23, TCU 21
LA-Lafayette at LA-Monroe
The Ragin Cajuns' 24-19 upset of Sun Belt leader Arkansas State gives them an unexpected chance to qualify for a bowl game.  ULL had won the New Orleans Bowl four years in a row before missing last postseason with a record of 4-8.
The 4-7 Warhawks are among the shrinking minority of teams that aren't going to the postseason, but their regular seasons tend to be lucrative enough.  This year, the belligerent birds took big paydays to get blown out in road games against Oklahoma and Auburn.  Memo to all of you "it's all about da munny" lardheads out there:  Yes, ULM's brutal nonconference schedules are, from their perspective, "all about da munny."  So stinkin' what?  Taking those big paydays is very important at this stage of their program's development.  What kind of a Commiebastard would deprive them of the ability to do so?
When you were in school, you probably learned about the Monroe Doctrine.  In Louisiana, Monroe doct'rin is what they call it when the doc gives you a shot of bourbon in hopes of making your headache go away.
LA-Lafayette 37, LA-Monroe 24
Troy at Georgia Southern
The 4-7 Eagles have lost three conference games by seven points or fewer, and have fallen to big-league foes Georgia Tech and Ole Miss by ten and eleven points, respectively.  Their biggest nonconference game, however, was against MAC leader Western Michigan, which defeated GASO, 49-31.
A win would probably land the Trojans in a season-ending three-way tie with Appalachian State and Arkansas state atop the Sun Belt Conference.  If there is a tie-breaking mechanism, it doesn't matter much, because there's no specific bowl berth reserved for the champion of this league.
Troy, being in Alabama, would be a likely candidate to go to Mobile for the Dollar General Bowl.  To get the spoon, they'll probably have to go to Walmart, though.
Troy 31, Georgia Southern 23
Arkansas State at Texas State
Everett Withers' first year as head coach at TSU started promisingly enough, with a 56-54 triple-overtime road victory over eventual MAC East champion Ohio.  Since then, his only win has been against Division I-AA Incarnate Word.
The Red Wolves fell to 0-4 with an embarrassing loss to the I-AA Central Arkansas Bears, but then they won six straight before being beaten by Louisiana-Lafayette, thereby preventing themselves from winning the Sun Belt Conference championship outright.
The truth be known, the 2-9 Bobcats have had considerable trouble with the relatively simple task of equipping themselves.  That's because they play in San Marcos, which the Czar figures is Spanish for "without a lot of shoes"?
Arkansas State 44, Texas State 16
New Mexico State at South Alabama
The Jaguars have a chance to level their record at .500, despite only being 1-6 in the Sun Belt Conference.  Their 4-0 nonconference record includes upsets of Mississippi State and San Diego State, but the other two wins are against I-AA foes Nicholls State and Presbyterian.  That means even if they finish 6-6, they'll be bowl-ineligible, unless the NCAA starts yanking new rules out of its opposite orifice, as usual. 
The Aggies, who are being booted from the Sun Belt Conference, would like to make a better impression on potential new affiliates than they have by going 3-8 so ar.  It appears unlikely at this time that any Division I-A conference will accept NMSU in the near future, unless the Big XII does an about-face on expansion, and plucks a team out of the Mountain West.
The song says, "From South Alabama come a country boy."  But then, whom else were you expecting, William F. Buckley?
South Alabama 39, New Mexico State 22
Georgia State at Idaho
Too bad the Vandals aren't moving into a new outdoor stadium next year like GSU is, or they might be able to justify playing as a Division I-A Independent until they could latch onto a new league.  Instead, the Tater Staters are rejoining the I-AA Big Sky Conference next year, but not until after qualifying for a bowl game in their final season as a major college team.
The 3-8 Panthers said good riddance to the Georgia Dome last week, when they held off intrastate foe Georgia Southern 30-24.  Former WR coach Tim Lippano won his debut as interim head coach, after the firing of Trent Miles.
Who ever said Moscow was in the sun Belt in the first place?  Pravda?
Idaho 41, Georgia State 27
Dec. 10
Army vs. Navy
The 6-5 Black Knights are a shoo-I for a bowl game, even if they lose and therefore aren't really eligible.  The Cadets have beaten up on two lower-division teams, so, because only one of those results can count toward bowl eligibility, they should need to win this game.  The czar doesn't know if their APR is good enough to get them one of those special academic dispensations, but even if not, the NCAA is not about to send losing teams to bowl games while a 6-6 military academy stays home.
If the Midshipmen have beaten Temple for the AAC title a weak earlier, the CFP might have to wait for this game to be decided before announcing which "group of five" team gets a Cotton Bowl bid.  If that proves to be the case, many bowl bids won't be decided until seven days before the first bowl games kick off.  The Czar hates to say this, but it would be for the best if Western Michigan wins the MAC, and the committee names them the "group of five" winner regardless of how the Middies fare.
You'd like to think nobody would look past the Army-Navy game, but last year the Naval Academy ran the same vanilla dive play dozens of times, while preserving their offensive playbook for their bowl game against Pitt.  Hopefully, the 21-17 scare the Knights gave them will force them to take this game more seriously.
If our Army football team functioned like the old Soviet Red Army hockey team, they'd rarely lose, simply because they'd have the power to draft all the best players in the game.  That would almost be worth it, just to see the look on Lamar Jackson's face when he received his induction notice.
Navy 34, Army 20
a sports publication from The Shinbone