The College Football Czar
Week 14
<![if !vml]>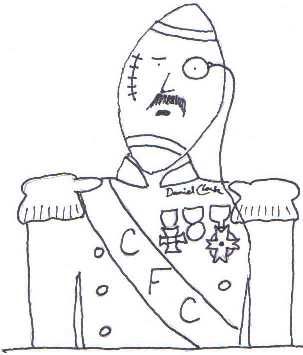 <![endif]>
Week thirteen in review:  The predictable media narrative is that Pitt's upset of Miami and Auburn's victory over Alabama have thrown the CFP picture into chaos.  This is what they were bound to say regardless of last weekend's results, for two basic reasons:  (a) many of these pundits have boring talk shows that manufactured controversies help them fill with endless blather; and (b) most of them are agitating for the inevitable playoff expansion that will eventually destroy college football as we know and enjoy it.
In reality, the championship formula is really quite simple.  The winner of this week's SEC championship between Auburn and Georgia will be one of the semifinalists, and if favorites Clemson, Oklahoma and Wisconsin all win, there's your final four.  If there's an upset in the ACC, Big XII or Big Ten championship, then Alabama steps in as the #4 seed.  If Miami defeats Clemson, and either OU or Wisconsin also loses, then Bama is the #3 seed and Miami #4.  If both the Sooners and Badgers are upset, then Ohio State joins the final four, along with the SEC champion, the ACC champion and Alabama.  That's all there is to it.
By the way, if you would happen to be among those demanding that the CFP expand to 8 or 16 teams, and you are also outraged that in the current system, a two-loss team might get a shot at the national championship, then congratulations, you are a lardhead.
The College Football Czar erred last week in speculating about the bowl-eligibility of Ole Miss.  The Rebels are on a self-imposed bowl ban for this season, and thus are ineligible in spite of their 31-28 win over rival Mississippi State.  Nevertheless, so many 5-6 teams won their regular season finales to climb to .500 that there will be no need for any of the NCAA's special dispensations for losing teams with high academic progress ratings.  In fact, there will be between one and four bowl-eligible teams that don't get invited, which will probably be bad news for Middle Tennessee and Buffalo, and any 5-6 Sun Belt teams that capture win #6 this Saturday.
The Czar did not foresee the downfall of the top two teams, but he otherwise had a fairly successful week at 16-7.  For the season, he is 166-81, for a .672 winning percentage.
Dec. 1
Pac 12 Championship – Stanford vs. USC
Announcers tend to be biased toward the conferences they cover, so if you're watching this game, you'll probably hear how the Trojans can still get into the final four.  Kindly ignore any such speculation, because it's as unrealistic as the dopiest of Disney sports movies.  Anybody who's waiting for a precocious sloth to burst onto the scene and lead Southern Cal to the CFP championship has got a long wait ahead of him.
The Trojans worked over their foes from Palo Alto 42-24 back in Week 2.  Although Cardinal tailback Bryce Love had one of his typical performances (160 yards on 17 carries), it was the Southern Cal ground game that stormed the field for a total of 370 yards, 200 more than David Shaw's defense is allowing on average this season.
The Czar almost hates to pick against the Cardinal this week, he feels so grateful to them for clearing up the CFP picture.  When the playoff selections are subjective, you know the committee will find a way to weasel Notre dame into the field as long as it's remotely justifiable.  It no longer is, thanks to Stanford's 21-point fourth-quarter explosion in last week's 38-20 triumph.
For the fourth season, the Pac 12 decides its championship at Levi's Stadium in Santa Clara, which anymore should be more specifically named after that brand's relaxed fit cargo pants.  Especially during 49er games, the stadium has got plenty of extra room in the seats.
USC 37, Stanford 27
Dec. 2
MAC Championship – Akron vs. Toledo
The Czar doesn't understand why this game has been moved to Saturday afternoon this year.  Until now, the MAC title game had been on Friday night, where it and the Pac 12 game kicked off an hour and a half apart.  Now it starts at the same time as the AAC and C-USA championships, and is only half an hour before the Big XII.  With so many games for viewers to choose from, who wants to see a noon game with no national repercussions, played in a dome?
These teams met in Week 8, when the Rockets were penalized 11 times for 104 yards, while the Roos weren't called for a single penalty.  That seems to have only indicated an intensity gap between the teams, as the Rockets prevailed in a 48-21 runaway.
Zips coach Terry Bowden says QB Thomas Woodson, who was suspended for the last three games of the regular season, will be available this week.  Whether he plays is another matter.  Backup Kato Nelson dragged his arse up from O.J.'s coach to throw for 322 yards and four TDs in a division clinching 37-34 victory over Ohio.  A week later, however, he only completed 6 of 20 for 69 yards in a 24-14 win over lowly Kent State.
You might be wondering why a team called the Zips would represent itself with a kangaroo.  It's a little-known fact that their mascot was originally going to be Zippy the Jumping Indian, but they had a last-minute change in plans, for kind of obvious reasons.
Toledo 53, Akron 30
Conference USA Championship – North Texas at Florida Atlantic
The Mean Green return to Rat Mouth to serve Lane Kiffin's cleated vermin a second helping, following a 69-31 feeding frenzy back in Week 8.  FAU scored on its first eleven drives that day, before turning the ball over on downs midway through the fourth quarter.
In a way, the Burrowing Owls are undermining the credibility of Conference USA.  Although they're 8-0 in league play, they're 0-3 against Division I-A nonconference opponents, including a loss to Buffalo.  Their only win outside the C-USA has been against I-AA Bethune-Cookman.
C-USA boasts some of the best running backs you've never heard of.  Owl tailback Devin Singletary is fourth in the nation in rushing with 1,632 yards, while UNT's Jeffery Williams is #25 with 1,215.  Each of them is gaining more than six and a half yards per carry.
The great thing about Conference USA is that you know you won't be seeing one of those awful Canadian halftime shows, like the one at this year's Grey Cup, which featured either Shania Twain or Youppi.  It was harder to tell than one might suspect.
Florida Atlantic 36, North Texas 21
American Athletic Conference Championship – Memphis at Central Florida
The only loss either team has suffered has been in their hurricane-postponed meeting with each other, in which the Knights ultimately prevailed, 40-13.  Sophomore tailback Adrians Killins made one with a game-breaking 96-yard touchdown dash, to which he later added another TD on a 19-yard reception.
That was the only game of the regular season in which the Tigers were held to fewer than 30 points.  In their last two games, they've outgunned SMU 66-45 and annihilated East Carolina 70-13, to increase their average output to 47 points per game.
UCF coach Scott Frost says he'll be "hurt" if his alma mater Nebraska isn't interested in him.  Perhaps he should be alarmed if they are.  Bill Callahan?  Mike Riley?  Of the N-men's last three coaches, the only one who was competent was current Youngstown State coach Bo Pelini, who should have been hired in Lincoln four years sooner, and who, in any case, is loony.
This year's AAC championship, like last year's ACC championship, is being held in Orlando.  There's a far better reason for that this time, in that Spectrum Stadium is the home field for the best team in this conference.  Last year, the ACC's game, originally slated for Charlotte, was moved out of North Carolina because of the opinion, apparently shared throughout college athletics, that men going to the women's rest room is some kind of a civil right.
Can you imagine a woman going into a public rest room and finding herself surrounded by defective samples of men?  That would be like being trapped in Matt Lauer's office, after he has pressed the button!
Central Florida 49, Memphis 41
Big XII Championship – TCU vs. Oklahoma
This is a weenie conference championship for at least two reasons.  First, it is being played in Arlington, a town that fittingly shares a name with our nation's most famous cemetery, because it's where football goes to die.  Second, the league has not been split into divisions, which means Texas Christian is the champion of nothing, but is only invited for being the second-best team in the league.  So why should the Frogs get the same chance as the Sooners, who won the regular season title?
A week after his blowup against Kansas, West Virginia tried to goad Baker Mayfield into throwing more bombs of the F variety than the long one.  The temperamental Heisman favorite kept his composure, though, well completing 14 of 17 for 281 yards and three touchdowns, as OU waxed the Eers, 59-31.
The 10-2 Horned Frogs have hit their share of sour notes this season.  Two weeks after an error-riddled loss to Iowa State, they fell at OU, 38-20.  Subsequent victories over conference tomato cans Texas Tech and Baylor probably haven't done much to stop their spiraling momentum.
It's a wonder that the NCAA has never cited the Horned Frogs, and their mascot, Super Frog, for being "hostile and abusive."  The school probably gets away with it because Super Frog does not actually look all that French.  More Belgian, really.
Oklahoma 31, TCU 17
SEC Championship – Georgia vs. Auburn
The College Football Czar did not pick the Tigers to beat UGA last time, nor did he think they would beat Alabama.  Therefore, a lardhead might call him a "hater" for picking against them again, in spite of those previous successes.  However, those two games were in Jordan-Hare Stadium, whereas their losses to Clemson and LSU were both away from home.  This may not be a true road game for them, but the team from Athens is more than accustomed to winning in Atlanta, where they routed rival Georgia Tech last week at Bobby Dodd Stadium.
Furthermore, AU might have to leave Kerryon Johnson in the overhead compartment for this game.  Their leading rusher's right shoulder took repeated bruisings in the second half of last week's Iron Bowl, and his status for this week is uncertain.  Equally important is what to expect from Bulldog running backs Nick Chubb and Sony Michel, both of whom were completely ineffective in that 40-17 defeat to this same Tiger team in Week 11.
This league championship, previously held in the Georgia Dome, has been moved under Atlanta's new retractable dome at Mercedes Benz Stadium.  From the look of it, they should have called it the AMC Gremlin.  The Czar thought about calling it the Pacer, but it doesn't let in enough sunlight.
Georgia 21, Auburn 20
Mountain West Conference Championship – Fresno State at Boise State
This matchup was already set before the same teams met a week ago, which makes for an uncomfortable and tentative regular season finale.  The only other time a conference title game has been a rematch from the previous game was in 2012, when Stanford ended the regular season with a 35-17 win at UCLA, and then beat the Bruins again, 27-24 in the Pac 12 championship.
Just to render last week's game completely irrelevant, the Mountain West Conference determines home field for its championship by the CFP ratings going in to the last week of the regular season.  At the time, that was BSU.  So the Bulldogs have now matched the Broncos' overall and conference records (9-3, 7-1), and defeated them head-to-head, by a final of 28-17.  Yet Boise gets to host this game on its blue turf at Albertson's Stadium.  Yes, that is every bit as dumb as it sounds.
The Broncos are obviously formidable, but they've lost the mystique they had several years ago, mostly because of a gradually declining defense.  This season, they find themselves among the lower half of all teams in Division I-A in pass defense, even with New Mexico, BYU and Air Force on their schedule to hold down their average.  Last game, FSU's Marcus McMariyon mussed up their manes for 332 yards and two TDs.
Each of these teams played a role in deposing last year's MWC champion, San Diego State, with Boise State beating the Aztecs in Week 7, and Fresno State stifling them a week later to take over the West division lead.  But only the Bulldogs won the Oil Can for their efforts, which could prove to be critical, should this game turn out to be a squeaker.
Yeesh!  Has the Czar really resorted to that?  The end of the season can't come soon enough.
Fresno State 29, Boise State 25
ACC Championship – Clemson vs. Miami
This is one conference final that isn't a rematch, which means the paw boys haven't had to show their hand.  The Tiger defense ranks sixth in the nation, which should be good enough to stop a UM offense that was unable to run in the Iron City a week ago, gaining just 45 yards on 23 carries.
The way the Hurricanes promote selfishness, they ought to change their name from The U to The Me.  Take the turnover chain.  (Please take the turnover chain!)  A Miami player who makes an interception or a fumble recovery is entitled to wear this enormous emblem of self-parody so that he may stand up on the bench and beg for attention.  Since when is that kind of individual incentive needed to encourage someone to make a play?  One would hope that for his team to get the football would be reward enough.
In last week's 24-14 loss to Pitt at Heinz Field, Canes' safety Jaquan Johnson was offered the chain for making a fumble recovery, but he declined, and instead asked that it be given to teammate Sheldrick Redwine, who had forced the fumble.  Could this be the beginning of the end for the touchdown chain?  After all, recognizing the contributions of teammates defeats the whole purpose.  What's next, an intercepting player crediting his linemen for forcing a reckless pass?  Perhaps the Hurricane players can teach their coaches a lesson about teamwork before this is all over.  Then, maybe The Me will go back to trying to live down its disgraceful past, instead of embracing and celebrating it.
And then, monkeys will fly out their butts and start singing "Alexander's Ragtime Band."
Clemson 28, Miami 9
Big Ten Championship – Ohio State vs. Wisconsin
Buckeye quarterback J.T. Barrett is expected to play after undergoing minor knee surgery during the week.  The very senior QB was hobbled in his final regular season game at Michigan, when he collided with a cameraman on the sideline shortly before kickoff.  Coach Urban Meyer has promised an investigation, a Cold War summit meeting, and a network miniseries to look into the incident.
Last time these two met for the conference title, UW was riddled with more holes than a wedge of … um … pie, that happens to have lots and lots of holes in it.  Okay, so that's not a very good metaphor, but you get the idea.  In 2014, the Buckeyes romped over the Madison Reds 59-0, on their way to capturing the first-ever CFP championship.
After what happened last year, the Badgers must be no more eager to return to Indianapolis than the Czar is to watch them playing there on TV. In that 2016 title game, Paul Chryst's club blew a 28-7 lead in a 38-31 loss to Penn State.  It would be better for the viewers and for the cheeseheads alike if this game were being held someplace more worthy of the Big Ten Championship, like Soldier Field, Lambeau, or even FirstEnergy Stadium in Cleveland.
Actually, that stadium has yet to produce its first energy, being the home of the NFL's Browns.  In fact, an alleged fan of that team has secured a permit to hold a parade around the stadium, in the event that the Brownies should finish 0-16.  The really sad part is that the city council approved it.  They must have feared that if they said no, they might appear bigoted against the loser community.
Ohio State 27, Wisconsin 10
Troy at Arkansas State
The winner of this game claims at least a share of first place in the Sun Belt Conference, in the last season before that league breaks into divisions and plays a championship game.  The NCAA's decision to allow a championship for a league with at least ten teams instead of twelve has freed the SBC to jettison geographic misfits Idaho and New Mexico State without scuttling its long-term plans.
It looked like the Trojans might take first place all for themselves after they toppled LSU 24-21 in late September, but they were upset in their very next game by intrastate rival South Alabama, 19-8.  The Red Wolves' lone conference loss was also to the USA Jaguars, who themselves are about to finish in the bottom half of the league.
In 2008, the NCAA bullied the ASU Indians into changing their team nickname, and the school went completely in the other direction, by picking the most politically correct name it possibly could.  After all, their state's most famous resident is both a red and a wolf.  Obviously, they've named the team after Bill Clinton.
Arkansas State 45, Troy 35
La.-Monroe at Florida State
The Warhawks hung half a hundred on the scoreboard last week, but Arkansas State put up two-thirds, as ULM lost a 67-50 firefight, in a battle of the ex-Indianses of the Sun Belt Conference.  Thus, this rescheduled game is not nearly as important to them, at 4-7, as it is to the 5-6 Seminoles.
FSU made this game matter by beating Florida 38-22, forcing four Gator turnovers to win a game in which they could only muster 216 total yards.  It may be difficult for them not to look at this game as a mere pre-bowl formality.  The belligerent birds are always willing to tangle with the big-league teams, however, and sometimes, they win.  They toppled Alabama back in 2007, and have since scored a victory over Arkansas, and two against Wake Forest.
By the time you're reading this, Noles' coach Jimbo Fisher may or may not have been hired away by Texas A&M.  Assuming they succeed in luring him away, FSU is reportedly trying to hire away first-year Oregon coach Willie Taggart, but the Ducks have offered Taggart a more lucrative contract in an attempt to stave off that effort.
Perhaps Fisher ought to think twice before making the move to College Station.  Considering how pushed out of shape he became over a mild criticism from one Seminole fan earlier this year, he might want to take a look at the letter Kevin Sumlin's wife posted on Twitter before making up his mind.
Florida State 34, La.-Monroe 13
La.-Lafayette at Appalachian State
With a win, the Mountaineers would share the Sun Belt Conference title with the winner of the Troy-Arkansas State game.  There's no tie-breaker, because unfortunately, App State has not faced either of those teams this season.
The Ragin' Cajuns' schedule was strong enough, with road losses to Texas A&M and Ole Miss, that they might get a bowl invitation if they win this game to finish 6-6.  Still, the fact that they lost at home to Georgia Southern last weekend leads the Czar to conclude that there won't be any pepper games being played this postseason.
Ever wonder why "Appalachian State" is pronounced differently from the way the word "Appalachia" usually is?  Legend has it that the founder of the university was asked if all those "A's" belong in its title.  "No," he replied, "they all be short."
Appalachian State 38, La.-Lafayette 27
Umass at Florida International
This originally unscheduled meeting came about after FIU needlessly canceled a road game against Indiana so that they didn't appear insensitive to potential hurricane victims, and Umass was bought out of its game at South Florida when the AAC reshuffled its schedule.
The Golden Panthers pounced on unsuspecting Western Kentucky to halt a two-game skid, 41-17.  At 7-4, they have already virtually guaranteed themselves their first postseason appearance since losing to Marshall in the 2011 Beef O'Brady's Bowl.
The Minutemen are only 4-7, but each of their losses has been by eleven points or fewer, including tussles with Temple, Tennessee and Mississippi State.  They have now won four of their last five, including a 16-10 victory over BYU in Provo.  Isabella may not be necessary on a fire engine, but the undersized WR is very important to the Massachusetts offense, leading the way with 1,043 all-purpose yards and ten touchdowns.
The Czar had always thought Beefo was a Marx Brother.  Who knew he was even Irish?
Umass 42, Florida International 39
South Alabama at New Mexico State
It will be interesting to see which team appears more motivated in this battle of lasts.  The Jaguars are playing their last game under Joey Jones, their only coach since the program was started in Division I-AA in 2009.  On the other side, the Aggies are getting the boot from the Sun Belt Conference after this game, and will have to fend for themselves as an Independent in hopes the next round of realignment will provide them a better opportunity.
At 5-6 after last week's 17-10 win over also banished Idaho, NMSU has the additional incentive of bowl eligibility, although it is doubtful they would actually be extended an invitation.  If they are, it will surely be a sympathy bid, since the Aggies have the longest active bowl drought in the nation.  Their last postseason appearance was a 20-13 win over Utah State in the 1960 Sun Bowl.
Back when the Ohio Bobcats hired Frank Solich, they very annoyingly ripped off a beverage ad campaign by papering the town with billboards and posters that said, "got frank?"  The folks in Mobile thought about doing something similar, using the slogan, "Joey Jones is a Joeyer Jones," but they decided that simply having a head football coach named Joey is embarrassment enough.
South Alabama 26, New Mexico State 20
Georgia Southern at Coastal Carolina
The Chanticleers' inaugural game in Division I-A was a win over Umass, but then they lost nine in a row before finally winning a Sun Belt Conference game against Idaho.  Their last performance has been in a 39-38 defeat against Arkansas, which surely contributed to Bret Bielema's firing.
If anything turned out to be a worse decision than the Eagles' move away from the triple-option, it was this year's return to that same scheme.  GASO lost its first nine games of this season, getting head coach Tyson Summers fired once they were 0-6.  In their past two games, however, they've slammed South Alabama 52-0, and probably spoiled the season for Louisiana-Lafayette, 34-24.
The locals in Conway, SC call their team the Chants, which sounds pretty much like the contraction for "shall not."  The College Football Czar figures they must know something.
Georgia Southern 42, Coastal Carolina 17
Idaho at Georgia State
The College Football Czar had heard there was a big game being played in Atlanta this Saturday, so this must be it.  The 6-4 Panthers probably already have a bowl bid in the bag, even though they christened their new stadium with a loss to Division I-AA Tennessee State, and their best win has been against Louisiana-Monroe.  Ironically, their position has been secured by having a game against Memphis canceled as part of the AAC 's hurricane-induced rescheduling.  GSU would surely have lost that game, in which case they would now be in danger of falling to the .500 mark and being left out.
The Vandals had hoped to leave Division I-A on a winning note, following last year's victory over Colorado State in the Famous Idaho Potato Bowl.  Since they made this decision to downgrade, however, they've accumulated a lot of freshmen and sophomores on their two-deep roster who were recruited for I-AA ball, and it shows, in their 3-8 record.
Georgia State Stadium is not really new, of course.  It's the Braves' old home, Turner Field, having been purchased by the university and renovated for football.  You can tell that it's Turner Field because before and after every game, Ben Mankiewicz appears in a pair of Mr. Potatohead glasses and whines about how unfair America has been to Communists over the years.
Georgia State 15, Idaho 12
Dec. 9
Army vs. Navy
Once again, these two branches of our military descend on Philadelphia, to renew their football rivalry, as well as to impose the martial law that city so desperately needs.  It's the next logical step after not getting the desired results from actually putting a jail inside the stadium.
Can the Cadets make it two in a row?  At 8-3, they have a better record than their rivals from Annapolis, but the Midshipmen play in the very competitive American Athletic Conference, and have their traditional nonconference game against Notre Dame, to boot.  The Black Knights, by contrast, cruised for much of the season against opponents from Conference USA and the MAC.  In Week 12, they lost their three-match against last year's regular season and bowl opponent, North Texas, 52-49.
The 6-5 Middies have lost five of their last six, but those five losses have all been by ten points or fewer, and against teams with a combined record of 43-14.  Losses by three points to Memphis, ten to Central Florida and seven to Notre Dame do not depict a team on the downslide.
Contrary to popular belief, W.C. Fields did not have the epitaph, "All things considered, I'd rather be in Philadelphia" put on his headstone.  On the other hand, we do know that when Fields was seen leafing through a bible, he explained that he was "looking for loopholes."  So, he probably figured he was headed for Philadelphia all the same.
Navy 38, Army 31
a sports publication from The Shinbone