The College Football Czar
Week 14
<![if !vml]>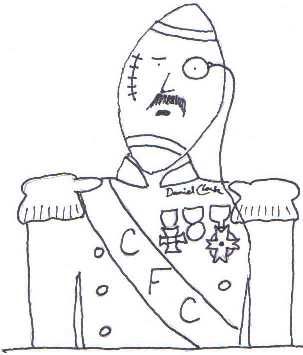 <![endif]>
Week thirteen in review:  Ohio State's shocking rout of rival Michigan has dropped the 10-2 Wolverines from CFP contention, and Washington State was rubbed out also, but the national championship picture remains fairly simple.  Notre Dame is in, and so, probably, is Alabama, which the Czar can't see dropping lower than #4 even with a loss this week to Georgia.  Clemson will also be a semifinalist, as long as it defeats Pitt as universally expected.  If the Bulldogs beat the Crimson Tide for the SEC championship, the final four will probably pit #1 Clemson against #4 Alabama, and #2 Notre Dame against #3 Georgia.  If Bama wins, and OU beats Texas, it will be #1 Alabama against #4 Oklahoma and #2 Clemson against #3 Notre Dame.  If the Sooners lose but the Buckeyes don't, Ohio State will become the #4 seed instead.
Central Florida doesn't belong anyway, but a season-ending, though hopefully not career-ending knee injury to QB McKenzie Milton clinches it.  If UCF beats Memphis, and perhaps even if it doesn't, the Knights may play intrastate foe Florida in a New Year's Six bowl.
Texas A&M scored an improbable tying touchdown to force not one, but eight overtimes before prevailing over LSU, 74-72.  Any time a game goes on that long, it's bound to spur debate over whether the current overtime rules need to be tweaked or totally overhauled.  The College Football Czar knows he's practically all alone on this one, but he never had any problem with ties in college football, at least in the regular season.  They weren't that frequent, but one or two of them in conference play would help sort out the standings, so that a championship wouldn't be determined by some arcane, four-way tiebreaking procedure.  For the bowl games, the teams could play an entire overtime quarter, with no two-minute clock-stopping rules, and no timeouts.
The Czar had a successful week, thanks to a 4-0 record in small conference games, to lift him to 13-6.  For the season, he is now 150-84, for a .641 winning percentage.
Nov. 30
MAC Championship – Buffalo vs. Northern Illinois
This is the only group-of-five championship that's played at a neutral site.  It should not be, because it never draws unless a nearby school happens to be involved.  The attendance and atmosphere for this one would be far better if it were being played at UB Stadium instead of Ford Field.
Once 6-0 in the conference, NIU has backed into the West division title while losing their last two, to Miami Ohio and Western Michigan.  The Huskies' three previous losses had been to power five teams Iowa, Utah and Florida State.
The Bulls blew their first chance to clinch also, but blasted Bowling Green 44-14 last Friday, to finish the regular season at 10-2.  This is their second trip to the MAC championship, but the situation was different a decade ago, when they were the five-loss team, and they bounced previously unbeaten Ball State 42-24.  This is far more familiar territory to the team from DeKalb, which is making its seventh appearance since 2010.
It's only fitting that a small conference would name itself the "Mid-American."  That's the politically correct term for midget, isn't it?
Buffalo 34, Northern Illinois 29
Pac 12 Championship – Washington vs. Utah
The Utes' offense hasn't really suffered much since losing starting QB Tyler Huntley and leading rusher Zack Moss to injury.  Last week, they won the Holy War by rallying from a 20-point deficit to beat BYU 35-27, for their third straight victory since those two offensive leaders went down.
Nobody stopped the Huskies from playing for a national title but themselves.  In their opener against Auburn, UW should have scored on every third-quarter possession, but thwarted themselves on every occasion.  In Week 7 at Oregon, they lost in overtime only because of their own unforced error on a 39-yard kick at the end of regulation time.  Still, they won at CFP contender Wazzu last week, and are one game away from their first Rose Bowl since 2000.
To most football fans, there are few sights more enjoyable than a snow-covered field.  If you're a fun-hating, geeky, network crustybutt, on the other hand, the snow is a problem that must be overcome with technology, which is why you superimpose black yard markers over the snow.  While observing this travesty, the College Football Czar imagined people calling their friends to alert them to the fact that a snow game was on, and halfway through saying "never mind," and hanging up.
Seriously, these people won't be happy until real football is done away with altogether, and replaced with national broadcasts of a bunch of dorfuses playing "e-sports."  It's a little-known fact that the "e" stands for "ennyone can do it."  Hey, just because they're geeks, that doesn't make them good spellers.
Washington 30, Utah 17
Dec. 1
Big XII Championship – Oklahoma vs. Texas
When these teams meet for their conference title in Arlington, all football fans should be grateful that they opted not to move the Red River Rivalry there a few years ago, but will continue to play that regular season classic at the Cotton Bowl in Dallas for the foreseeable future.
During this year's renewal of that game, the Longhorns were propelled to a 48-45 victory by Sam Ehlinger's 314 passing yards.  However, the sophomore slinger, who is now nursing a shoulder injury, has compiled less yardage in his last two games combined.
After the game, Ehlinger went to shake his counterpart Kyler Murray's hand, and a spat ensued, apparently because Murray figured seeking out a defeated opponent for a handshake was a cheap excuse to gloat over the outcome.  Cool it with the Millennial sensitivity there, Kyler.  That's got to be the most bristly overreaction by one athlete toward a competitor since Picabo Street and Hilary Lindh.
Murray says that regardless of how this season turns out, he still plans to forego the NFL to play baseball for the Oakland A's, who drafted him last spring.  One cannot fault his reasoning.  At least the Oakland A's will probably still be there five years from now.
Oklahoma 51, Texas 30
Sun Belt Conference Championship – La.-Lafayette at Appalachian State
If you find noon football in a dome to be as depressing as it is, you might want to switch over to this inaugural championship game for the smallest of the ten Division I-A conferences, to be played at a raucous Kidd Brewer Stadium in Boone, NC.  The only unfootbally thing about it is that it's still got that wretched running track keeping the fans too far from the field.
The Mountaineers turned back Troy 21-10, and in the process became kings of the mountain in the SBC East.  The Trojans, who had been unbeaten in conference play until then, fell into a tie with ASU, their head-to-head result obviously serving as the tiebreaker.
The Ragin Cajuns have reeled off three straight to go 7-5, assuring that the pepper games will continue into December.  ULL finally won a big road game over rival Louisiana-Monroe, 31-28, having previously lost at Mississippi State, Alabama, Troy, and this same App State team, 27-17 in Week 8.
If you've never seen The Pepper Games, it was the least successful among The Hunger Games movies, in which the kids finally eat.  Peppers, that is.  The cause of the film's downfall was that devotees of the original complained that it was not insipid enough.
Appalachian State 28, Louisiana-Lafayette 12
Conference USA Championship – UAB at Middle Tennessee
These same two teams return to Floyd Stadium, where they ended the regular season a week ago.  The Blazers might want to rename it Count Floyd's Monster Chiller Horror Stadium, after that 27-3 nightmare dropped their record to 9-3.
Four-year MT-heads' starting QB Brent Stockstill is the son of head coach and former Alabama bomber Rick Stockstill, but there's been no nepotism necessary to keep him in the lineup.  In his career with the Blue Raiders, Brent has thrown 103 touchdowns to 31 INTs, while piling up 11,803 yards.
Alabama-Birmingham has played poorly in two losses since clinching their first division title.  Perhaps they'll be re-energized if they go to a bowl game close enough for their fans to travel.  Ending last season in the Bahamas sapped the excitement from what had until then been the triumphant return of the program from its brief disbandment.
The College Football Czar wishes MTSU would officially adopt his proposed moniker, the MT-heads.  "Blue Raiders" reminds him of a misshapen John Madden lumbering along the sideline at the Oakland Coliseum, in that kimono-like blue polo shirt that you could smell through the static on your 17-inch bubble screen.
Middle Tennessee 42, UAB 33
American Athletic Conference Championship – Memphis at Central Florida
If you haven't seen McKenzie Milton's knee injury, you're a lot luckier than he is.  In the Heisman hopeful's absence, UCF continued to roll over a self-destructive South Florida team 38-10, but now they face nemesis Memphis with a freshman QB who's completed fewer than half of his passes.
The 8-4 Tigers have won four straight since a midseason loss to Missouri.  Their last defeat in AAC play was when they let a 16-point lead slip away in a regular season 31-30 setback against these Knights.  Milton ran for the winning score that day, in addition to his 296 passing yards.
If MU hopes to win a championship in their faux-Bengals uniforms, they've come to the right place in Orlando.  It calls to mind the typical synopsis of the eternally recycled Disney sports movie.  "A precocious sloth leads the Cincinnati Bengals to the Super Bowl.  Co-starring Tony Danza, as usual."
Memphis 31, Central Florida 21
SEC Championship – Georgia vs. Alabama
In last year's national championship game, the Crimson Tide trailed 20-7 when Tua Tagovalia was intercepted, setting the Bulldogs up 39 yards away from goal.  Another INT on the very next play by DE Raekwon Davis began the turnaround that would eventually send the game into overtime.  After UGA retook the lead with a field goal in the top of the extra frame, things looked bleak for Bama when Tua was sacked for 16 yards to start their possession.  One play later, he threw a championship-winning 41-yard touchdown pass.
The Dogs may relish this shot at revenge, but the fact that it's being played in the same venue might produce more familiarity than they're comfortable with.  At least they'll be able to marvel at the state-of-the-art retractable roof at Mercedes-Benz Stadium, which is never open because it is prone to leaking – and also because any lardheads who finance a dome at a far greater cost than a real football stadium must do it because they actually like domes.
Unlike his counterpart from Tuscaloosa, The Man From M is not likely to get to New York, let alone London, Paris or Munich, but if he can go back to Athens with an SEC championship, that'll do for now.  Bulldog QB Jake Fromm is only #67 in the nation in passing yards, but he's completed just under 70 percent of his passes, with a touchdown-to-interception ratio of almost 5-to-1.  Who knows?  If he continues to improve, The Man From M could get promoted to The Man From The Buggles.
Before you start sending in your trivia answers, the College Football Czar already knows that The Man From The Buggles is Todd Rundgren.  He's not sure why he knows that, or why so many other people know who Todd Rundgren is, for that matter.  The guy probably spends most of his spare time walking around saying, "Don't you know who I am?  I'm Todd Rundgren!"
Alabama 29, Georgia 18
Mountain West Conference Championship – Fresno State at Boise State
This is a rematch of last year's MWC title game, also played in Boise, in which the Broncos prevailed 17-14.  The conference wrongly awarded home field advantage to BSU for that game, by announcing their decision before the regular season was over in hopes of increasing ticket sales.  This time, the Broncs have earned it, by beating FSU 24-17 on this same field in Week 11.  The Bulldogs have now lost all seven games on the tinted turf since both teams have been on even Division I-A footing.
If Central Florida falls, the winner of this game could get the group-of-five bid to a New Year's Six bowl game, and if that happens, it will start an interesting argument about the subjectivity of the CFP committee.  Shouldn't the bid go to UCF regardless, based on their objectively being the best group-of-five team over the course of the season?  Or should the committee have the latitude to elevate the Broncos or Bulldogs, on the basis that they're the strongest small-conference teams at this particular time.  The Czar thinks the former must be the case, even if it results in a clunker of a major bowl game.  If the first twelve games are deemed not to count for that much, then the committee's decision will amount to nothing short of a group-d'etat.
FSU wide receiver KeeSean Johnson is not the son of Keyshawn Johnson, although Keyshawn does have a son, also named Keyshawn (follow me, now), who is also a wide receiver, although he has yet to play a collegiate game.  Keyshawn Jr. took an indefinite leave of absence from Nebraska last year after being arrested for possession of marijuana, and has since transferred to Arizona, but was mysteriously missing from this year's Wildcat roster.  When Keyshawn, son of Keyshawn, left the Cornhuskers, KeeSean should have taken that opportunity to declare – as Houston's Ed Oliver did recently, and many, many others before him – "That's not who I am."  For the first time in the history of athletics, that would have been a true statement.
Boise State 19, Fresno State 10
ACC Championship – Clemson vs. Pitt
Son of Clem does not want to see a sequel of the 43-42 upset that nearly derailed their 2016 national championship, but there are very obvious reasons why this one should turn out differently.  For starters, a league championship is not a trap game.  The Tigers may have been unsuspecting two years ago, but this time they'll be loaded for bear, and when they start blowing holes in the Panthers, the fact that they're doing it with bear bullets will hardly matter.  In addition, this game will be worked by the best officials in the ACC, whereas in that previous meeting, the paw boys clearly got the worst of a poorly officiated game.
A third factor is that the Panthers were led that day by quarterback Nate Peterman, who passed for 308 yards and five touchdowns against the national champions-to-be.  Just stop and let that sentence soak in for a minute before proceeding.
The Panthers' powerful rushing attack has been held in check for two games in a row, with differing results.  Wake Forest contained the ground game and dared QB Kenny Pickett to beat them, which he did.  Miami, however, never gave the slowly improving sophomore much of a chance, in a suffocating 24-3 snooze.  There's no reason to expect any less from Dabo Swinney's run defense, which leads the nation with only 2.2 yards allowed per carry.
Everybody laughed before the season when Panther coach Pat Narduzzi brazenly declared that his team would be playing in Charlotte this year.  But are they laughing now?  Well … kind of, yeah.
Clemson 49, Pitt 13
Big Ten Championship – Ohio State vs. Northwestern
Every game has been competitive for the 8-4 Wildcats, whose greatest margin of victory was in a 31-17 win over an undermanned Wisconsin team.  Their worst loss was a 21-7 decision to Duke, and on average, their games have been decided by just barely over a touchdown each.
The Cats have beaten the Buckeyes only once in the past 29 meetings, and that was in front of a roaring home crowd in 2004, not in a famously quiet, neutral-site indoor stadium that has all the character of a mayonnaise sandwich.  The last time they won a game in this series outside of Evanston was 1972.
All OSU did last week was put up 62 points and 567 yards on what had been the nation's leading defense all year long, and in doing so climbed over arch rival Michigan's in the CFP rankings.  Not bad for a team that really had no business beating Maryland a week earlier.  In fact, the lumpy nuts had been a disappointment practically all year long, even though they'd won every game but one.  Otherwise, a dominant performance like last Saturday's by a one-loss team would have surprised nobody.
So how can you tell when buckeyes are playing possum?  They just kind of sit still with a vacant expression all the time anyway.
Ohio State 30, Northwestern 22
Stanford at California
Postponed from Week 12 by wildfires, this is one of five rescheduled regular season games to supplement the ten conference championships.  Unfortunately, a majority of those are too uncompetitive to include here.  It's actually refreshing to have these teams delay their meeting until December.  In recent years, they've played multiple times in the middle of the season, hardly befitting a rivalry that flatters itself with the moniker "The Big Game."
If coach Justin Wilcox hadn't been so intent on rotating his quarterbacks at Washington State, his 7-4 Golden Bears would now be 8-3, and on a five-game winning streak.  During that stretch, freshman Chase Garbers has thrown only one interception,
Perhaps the upset of the year in college football is that the Cardinal have gained 72.6 percent of their yardage through the air.  Wide receiver J.J. Arcega-Whiteside leads the team with 860 receiving yards and 14 touchdowns, whereas Bryce Love has rushed for only 665 yards and reached paydirt just six times.
These Bay Area foes play annually for possession of the Stanford Axe.  Not that Cardinal coach David Shaw has much to worry about at this point, but you'd think he'd just as soon have the official school axe hauled away to Berkeley.  Come to think of it, the team mascot, being a tree, has even less desire to keep an axe lying around in his stadium.  That's almost like the wicked witch, keeping a bucket of stuff in her castle that would melt her.
California 20, Stanford 14
Marshall at Virginia Tech
The Gobblers' unlikely overtime victory over Virginia led them to add this game against the 8-3 Thundering Herd, to replace the game that each of them had wiped off the slate in September.  The reason is that Tech, now 5-6, still has a chance to extend its quarter-century streak of bowl appearances intact, but even if they win to become bowl-eligible, that would not guarantee them an invitation.  That's because VT would be the eleventh eligible team from a conference with nine reserved bowl bids.
How strange that this game is even being played, come to think of it.  The playoff-mongers assure us that bowl games are "meaningless," and yet here's a team with a proud tradition, hastily scheduling a game that would not otherwise of happened, just to give themselves a chance to move on to one of those meaninglessnesses.
The Thundering Herd became available for this game by being eliminated from the race in Conference USA's East division.  They did win their last three to finish second, however, leapfrogging Florida International last week with a 28-25 victory.
You may have noticed over the course of the season that the College Football Czar prefers to use Virginia Tech's traditional team name, the Gobblers, instead of the more commonly used Hokies.  That's because a gobbler is something, and the Czar understands what it means.  But what in the world is a Hokie?  The means by which a lewd woman enters her apartment?
Virginia Tech 37, Marshall 24
Dec. 8
Army vs. Navy
Don't get carried away with the disparity in these teams' records.  There's no question the Midshipmen have had a disappointing year, but they've played a full season in the nation's sixth-best conference, with a nonconference game against Notre Dame.  The 9-2 West Pointers, by contrast, might as well be playing in Division I-A and a half.
 "Army" has always been something of a misnomer, but they're a lot armier this season than they were last year.  In fact, it's about a fifty-fifty shot that quarterback Kelvin Hopkins ends up tripling the team's 2017 total in passing yardage.  He's already got six touchdown passes, to the one the Cadets uncorked a year ago.
Last year's 14-13 classic ended with Midshipman kicker Bennett Moehring barely missing a 48-yard boot in the snow.  That kick was his second misfire of the game, which is the same number he's had all this year, going 10-for 12 in field goals, as opposed to 8-for-15 a season ago.
It's good to see that the president has deployed our military to protect the integrity of our nation from these invading hordes.  After all, the last thing we need is a bunch of Philadelphians sneaking into the country.  Next thing you know, we'd all be speaking whatever they speak.
Navy 24, Army 20
a sports publication from The Shinbone