The College Football Czar
Week 14
<![if !vml]>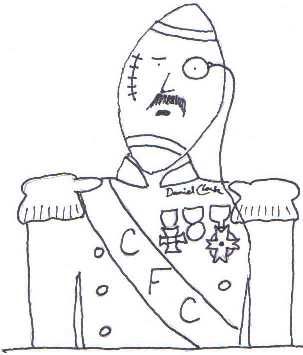 <![endif]>
Week thirteen in review: The College Football Czar started the week with a pair of lopsided Friday night losses, and it didn't get much better from there, as he went crashing to a season-low record of 7-10.  And talk about asking for it – did he really pick Penn State, Notre Dame and Michigan?  Yeesh!  For the year, the Czar's record now stands at 164-98, for a .625 winning percentage, which, if it remained consistent through the end of the year, would be his lowest percentage since his first season of posting his picks online.
For the benefit of those who read the Czar's picks at their work computers, he always posts his Thanksgiving week picks on Tuesday night so that they will be available on Wednesday.  That makes for a very short week, so as he always does this time of year, the College Football Czar asks you to please excuse the relative brevity and illiteracy of this week's installment.
The nation's two remaining unbeaten teams barely survived the week, and one of them probably should not have.  In the third quarter of Florida State's 20-17 squeaker over Boston College, FSU was trying to run a hurry-up offense, but they had substituted a player, which meant that the umpire had to hold the play up to allow BC to make its substitutions as well.  No problem for QB Jameis Winston, who simply bulldozed the umpire out of the way so that he could take the snap.  The result should have been a 15-yard penalty and an ejection, but alas, the authorities have once again agreed with Winston that he is too important to be held to the same rules as everyone else.  Unsurprisingly, coach Jimbo Fisher wholeheartedly agrees.  The ACC has decided to just plain lie about the incident, describing Winston's deliberate physical removal of the umpire as "incidental."  And those crab legs just jumped up and followed him home, too.
Elsewhere, Melvin Gordon's single-game rushing record was broken after only one week, which must make the Badgers wish they'd kept playing him in the fourth quarter of that Nebraska game.  Oklahoma freshman Samaje Perine romped over Kansas for 427 yards and five TDs in a 44-7 stomping.  Either we will be hearing a whole lot more from Perine next season, or else he will become the Timmy Smith of college football.  Smith, you may recall, rushed for a Super Bowl record 204 yards for the Washington Redskins in SB XXII, and was never heard from again.  The Czar assumes that Perine, who played an outstanding game earlier this year against West Virginia, will have more staying power.
Nov. 27
LSU at Texas A&M
In the SEC West, where all seven teams have qualified for the postseason, these two enter the week tied for fifth, with identical overall and conference records (7-4, 3-4).
The Conjunction Boys have continued to malfunction on defense this year, where they had expected to see a more dramatic improvement.  Their average of 445 yards per game allowed is the worst in the SEC by a long shot, and nationally, it places them barely in front of that Kansas team that gave up the new single-game rushing record last week.
Louisiana State is only 1-2 in true road games this season, having eked out a 30-27 win at Florida, and gotten trounced by both Auburn and Arkansas.  They did open the season with a big nonconference, neutral-site win over Wisconsin, however, which is a lot more than A&M can say for its play outside the league.
One of the many proud and annoying A&M traditions is that they hold "yell practice" the night before a game.  What must the visiting fans from Baton Rouge think of that?  You have to practice yelling?  What will you amateurs try next, elbow-bending exercises?
LSU 31, Texas A&M 17
TCU at Texas
The 9-1 Horned Frogs fell out of the CFP final four with a gruesome 34-30 win over Kansas two weeks ago.  Gary Patterson's team actually trailed KU 27-17 in the third quarter, and only took the lead thanks to a TD on a punt return by Cameron Echols-Luper.
Florida fans must be disappointed that they weren't in the market for a head coach a year earlier, or else they might have landed former UF defensive coordinator Charlie Strong, who has given the pointy cows a sense of direction in the latter half of this season.  The Longhorns have become bowl-eligible by winning their last three, during which they've outscored Texas Tech, West Virginia and Oklahoma State by an average score of 32-12.
If there's anything the College Football Czar can't stand, it's a punt returner who loops his echols.  The truth be known, he probably puts those pretentious little hashes through his 7's, too.
Texas 38, TCU 35
Nov. 28
Arizona State at Arizona
The winner of this year's Territorial Cup could represent the Pac 12 South in the conference championship, but only if Stanford upsets UCLA at the same time.  The Sun Devils had seemed to be blazing a trail toward a December duel with Oregon, until they were stopped cold in a 35-27 loss at Oregon State in Week 12.
Last week, ASU got scorched for 601 passing yards by Washington State, but nullified much of that yardage with a plus-5 turnover margin, and pulled away to a 52-31 victory.
The Wildcats washed away Utah 42-10 during a downpour in Salt Lake City, but at the cost of freshman starting QB Anu Solomon, who was removed from the game at halftime, apparently due to a worsening ankle injury.  Another freshman, RB Nick Wilson, picked up the slack, along with three touchdowns and a season-high 218 yards.
Coaches Rich Rodriguez and Todd Graham take pride in their explosive offenses, but they've become at least as well known for their behavioral pyrotechnics on the sidelines.  Logically, the winning team should be the one whose head coach explodes last, so that's got to be Graham's team.  The last time the Czar saw anything quite like one of Rich Rod's fits, it was a video of a kernel of corn popping in slow motion.
Arizona State 49, Arizona 38
Arkansas at Missouri
The SEC East leaders host the last-place team from the West in what is anything but a mismatch, after the Razorbacks blanked LSU and Ole Miss in consecutive games.  Not only are the Hogs in by far the tougher division, but they've had the misfortune of being scheduled against the top two teams in the East, having already lost to Georgia in Week 8.
Tiger QB Maty Mauk's poor completion percentage hasn't changed much over the course of the season, but his TD-to-interception ratio has.  In his last four games, Mauk has thrown for seven scores and only one INT.
If Mauk's improvement continues, might he be selected in the mock draft?  And if so, will there be a mock football league for him to play in – other than the FXFL, that is?
Missouri 28, Arkansas 24
Nebraska at Iowa
De'Mornay Pierson-El was not the right personnel for the Cornhuskers last week, when they had a chance to redeem themselves in an important Big Ten West meeting with Minnesota.  Freshman WR Pierson-El twice had the ball stripped away near the goal line in the 28-24 defeat.  Late in the first half, it was correctly ruled that he had broken the plane of the goal line by extending the ball before he lost control, the resulting touchdown giving his team a 21-7 halftime lead.  Later, when they trailed 28-24 with under two minutes to play, he caught a pass inside the 10-yard line, but had it ripped out of his hands as he backpedaled toward the goal line.
The Hawkeyes had a tough 26-24 loss to Wisconsin last week, yet it might have been their best game to this point in the season.  It was certainly the best performance by QB Jake Rudock, whose starter status had been in doubt earlier this year.  Rudock threw for 311 yards and two TDs, while completing 20 of 30.
Since Pierson-El has that "El" suffix on his jersey, does that make him De'Mornay Pierson the Fiftieth?
Iowa 21, Nebraska 19
Stanford at UCLA
The Cardinal clobbered Cal 38-17, capturing the Stanford Axe, as well as bowl eligibility, after having lost four of their previous six games.  If you asked Remound what's happening, senior RB Remound Wright would tell you he doubled his career touchdown total with four scores in that game.  Stanford had to rely more on its running game, however, after Ty Montgomery suffered a shoulder injury.  The team's leading receiver and dangerous kick returner has been ruled out for this week's game in the Rose Bowl.
The Bruins buried rival USC 38-20, giving themselves a chance to clinch the division title, and set up a rematch with the Oregon team that dealt them their last loss back in Week 7.  Quarterback Brett Hundley gave away the an early touchdown on an interception, but came back to throw three TDs for his own team, and rush for one more.
If you've ever heard the cheer, "Give 'em the axe, the axe, the axe!  Right in the neck, the neck, the neck!" that's what the Cardinal fans used to chant while one of them used the fabled axe to decapitate a straw man wearing Cal colors.  Nowadays, not only can't you behead straw men in the Bay area, but you have to refer to them as Cereal-Americans.
UCLA 42, Stanford 27
Northern Illinois at Western Michigan
It's been a great comeback week for the Broncos, but they are not likely to win the MAC West, even though they are now tied with NIU and Toledo at 6-1 in the conference.  If Toledo finishes its regular season with a win over hapless Eastern Michigan, they would win a tie-breaker against WMU, having prevailed when they met early this year, 20-19 in double-overtime.  Bronco coach P.J. Fleck decided to go for two one OT period earlier than he had to, but the attempt was unsuccessful.
The Huskies, on the other hand, defeated Toledo 27-24 two Tuesdays ago, and would therefore meet Bowling Green for the conference championship if they can capture a W at Waldo Stadium.  Speaking of our twenty-third letter, sophomore quarterback Drew Hare has been making like Wudy the Wabbit, adding 754 wushing yards to his passing total of 1,720.
This will be such an historically big game at Waldo Stadium, they just might have to call for a Waldo-out.  It only counts if the fans come dressed in their own red-striped shirts and tassel caps, though.  Handing them out at the gate is just cheating.
Northern Illinois 24, Western Michigan 22
Western Kentucky at Marshall
The Thundering Herd halted UAB's final drive ten yards short of the end zone to preserve their undefeated record with a 23-18 victory.  At 11-0, they still have a chance to play in a New Year's bowl game, although it's far from a guarantee.  It'd sure help their cause if Utah State would emerge victorious in its three-way MWC Mountain division race with Colorado State and Boise State.  In C-USA, the Herd will likely face Louisiana Tech in the title game.
The 6-5 Hilltoppers have won three in a row, but all of those have been at home.  WKU is only 1-4 on the road this season, with their lone win coming, unexpectedly enough, at Navy.  Last time they ventured outside the Bluegrass State, they were blue away by West division leader LTU, 59-10.
Bluegrass isn't really blue, but if it were, just imagine how scary that would be.  From space, it would look as if Walter Mondale had just won Kentucky!
Marshall 55, Western Kentucky 38
Virginia at Virginia Tech
The London blitz shell-shocked Miami 30-13, as Mike London's Cavaliers improved to 5-6 going into this must-win intrastate rivalry against the also 5-6 Gobblers.
Tech played at Wake Forest last Saturday, where they left a message to wake them when it was over.  By the time the last-place teams in their respective divisions were finished, they had played the first game to go into overtime scoreless since 2005, when Arkansas State blanked Florida Atlantic, 3-0.
Even starting 25 yards from the goal line, Frank Beamer's team could only muster one field goal in two OTs, and lost 6-3.  The defeat was their fourth in five games, during a season that has included wins against Ohio State, North Carolina and Duke.
The Gobblers are more commonly known as the Hokies, a nickname that originated from an old school cheer that began, "Hokie, Hokie, Hokie, Hy!"  The word "Hokie" was not intended to actually mean anything, though.  For the same reason, they briefly thought about renaming the team the Sussudios, but they thought that would be silly.
Virginia 14, Virginia Tech 13
Colorado State at Air Force
The 10-1 Rams appear to be the best among the "Group of Five" conference teams, but they're not likely to get the New Year's bowl bid over undefeated Marshall if they don't win their own division.  Because their loss was to divisional rival Boise State, they need not only to beat the AFA, but also for BSU to lose to Utah State late Saturday night.
If four conventional turnovers weren't enough for the Falcons last week, they also failed on a fourth-and-short at midfield, in a 30-14 loss to San Diego State.  That result guarantees the flyboys a fourth-place finish in the division, which will probably also make them the fourth bowl selection out of the whole Mountain West Conference, with SDSU leading the West with a record of 6-5.
Tailback Dee Hart, a transfer from Alabama, rushed for a season-high 230 yards in CSU's 58-20 annihilation of New Mexico.  For the season, Hart has 1,139 yards, whereas leading Bama back T.J. Yeldon has 758.  If you think that means the Crimson Tide, also 10-1, do not deserve any higher a ranking, then congratulations, you are a lardhead.
Colorado State 45, Air Force 33
Navy at South Alabama
At 5-5 with the Army game remaining, the Midshipmen shouldn't have much trouble qualifying for a reserved berth in the Poinsettia Bowl, but they'd rather settle that question on this road trip to face their third Sun Belt opponent of the season.  Last game, they steamrolled league-leader Georgia Southern, 52-19.
The 6-5 Jaguars forced five turnovers last week at South Carolina.  The problem was that they gave just as many back, in a 37-12 setback.  Another loss would drop them to .500, but with their nonconference schedule, there's no doubt that they'll deserve their bowl bid, whether they beat the Middies or not.
Getting the sailors to agree to a road trip to Mobile was a snap, mostly because they think they'll get to meet that girl on the pink motorcycle from the commercials.
Navy 56, South Alabama 35
Buffalo at Umass
The Czar hereby predicts that if the Bulls win this game, they will be the first of several losing teams to be given a special dispensation by the NCAA to be considered bowl eligible.  At 4-6, UB had last week's game canceled because Kent State's equipment truck couldn't make it through the blizzard.  They almost surely would have beaten the 1-9 Golden Flashes last night, so if they finish 5-6, their ineligibility may appear to be a mere technicality.
The 3-8 Minutemen have had several close losses against good competition, but last week's 30-6 thrashing by Akron was not among them.  Starting QB Blake Frohnapfel didn't fro any apples during that game, or footballs either.  The 6-6 senior slinger was held out because of a bone bruise in his leg.  He'll probably return this week, but if not, the starter will be Austin Whipple, son of head coach Mark Whipple.  The redshirt freshman, who transferred from Penn State, went a respectable 12 of 20 against the Zips for 157 yards, but with three interceptions.
Whipple probably made a mistake in going to the Nittany Lions in the first place, if he doesn't want people squeezing the Charmin.  In Happy Valley, that barely even registers on the creep-o-meter.
Buffalo 29, Umass 26
Nov. 29
Pitt at Miami
The 5-6 Panthers have invented all sorts of unlikely ways to blow games this season, but last week, Syracuse simply didn't provide them with any opportunities.  Running back James Conner left the game early with a hip injury, but backups Chris James and Isaac Bennett combined for 197 yards, as they trudged past the Orange 30-7.
WR Tyler Boyd accused most of his teammates of being insufficiently motivated a few weeks ago, but it was he, on a nine-yard reception against SU, who chose to taunt a fallen opponent rather than walk the extra yard that was needed for a first down.  If the Panthers, who led 17-7 at the time, hadn't succeeded on a subsequent fourth-down conversion, the final score might have looked a lot different.
The offense of the 6-5 Hurricanes was hurried throughout a 30-13 loss to Virginia, but their plays will have a lot more time to develop against a Pitt defensive front that has never found a way to compensate for the departure of Aaron Donald.
Last time the Panthers won in Miami was 1963.  Not only were the Canes still playing in the Orange Bowl at the time, but they were the only team occupying that stadium.  The AFL's Dolphins would not take the field for another three years.  In football terms, Miami was still "a hinky-dink town," as Vince Lombardi called it.
It's a good thing Lombardi's coaching wasn't as overrated as his oratory, or else NFL teams would be competing for the Stram Trophy today.
Miami 31, Pitt 20
Michigan State at Penn State
Most of the Nittany Lions' games are so low-scoring, they just can't afford to give away three points like they did in their 16-14 loss at Illinois.  The Fighting Illini were kicking off after tying the game 7-7, when the wind swatted the ball down near the 20-yard line.  The Lions failed to react, and allowed the Illini to recover the ball, setting up a go-ahead field goal.
PSU's defense kept them in the game all the way until double-overtime against Ohio State this year, but how will it handle a Spartan offense that is averaging 44 points a game?  MSU's season-low this season has been 27 points each in a loss to Oregon, and a win over Nebraska.  Spartan tailback Jeremy Langford is only fifth in the Big Ten in rushing yardage, but he's had eight consecutive 100-yard games, and has scored 13 touchdowns in his last five.
Lion QB Christian Hackenberg opened the season with a team record 454-yard game against Central Florida in Dublin.  A week later, he threw for 319 against Akron, and then 309 against Rutgers a week after that.  He's never come anywhere near the 300-mark since then, and last week at Illinois, he passed for a season-low 93 yards.
The Land Grant Trophy gets the College Football Czar's vote for worst trophy in college football.  Actually, it isn't a trophy at all, but an asymmetrical wooden display case with several small knick-knacks on it, along with a postcard of a building from each campus, and a bunch of tiny metal plates on the side, to make it look as if it had a century-long tradition.  If they wanted to award something hideous and disturbing, they could have simply replicated the thing from Led Zeppelin's Presence album, and saved some C-minus woodshop student a lot of work.
Michigan State 29, Penn State 19
West Virginia at Iowa State
Not only did the Mountaineers lose their third in a row last Thursday night, but starting QB Clint Trickett left the game with a concussion.  They ended last season on a downslide also, dropping six of their last seven, including a 52-44 triple-overtime finale against ISU.
The 2-8 Cyclones have been competitive in most of their games this year, and have scored quality nonconference wins over Iowa and Toledo.  When given a chance to win a Big XII game, however, they surrendered the first 24 points in a 34-14 loss to Kansas in Week 11.
It makes no sense for a team called the Cyclones to have a cardinal for a mascot.  (Well, okay, it makes a little more sense than the Presbyterian Blue Hose Scotsman, but that's little consolation.)  The Czar proposes, therefore, that the ideal mascot for a school called ISU would be Joe Isuzu.  He could pace the sidelines, saying things like, "This is the year the Cyclones go 19-0.  Just ask our hundreds of thousands of screaming fans."
West Virginia 39, Iowa State 22
Auburn at Alabama
Since it's the Canadian football playoff season, hopefully Crimson Tide coach Nick Saban is having his players watch the games, to remind them that missed place kicks are returnable.
The winner of the Iron Bowl has played for the national championship every year since 2009.  That streak would likely end with an AU victory, although the possibility of a three-loss team being among the field of four is not out of the question.  The 8-3 Tigers have lost their last two against legitimate competition, however, and a 31-7 win over I-AA Samford probably won't get them back in the running.
If not for that fumbled kickoff against Ole Miss, Bama would be #1 in the CFP.  Oh, wait a minute, they are anyway.  Only the lazy sportswriters in the AP poll are oblivious enough to give Florida State the top ranking, just because they are undefeated.
So let me get this straight.  The song is Sweet Home Alabama, but the band is from Florida.  If that's the kind of loyalty they have down there in SEC country, it's no wonder they root for their conference, instead of their teams.
Alabama 27, Auburn 7
Minnesota at Wisconsin
These teams meet annually for possession of the Paul Bunyan Axe, which the Badgers have won every year since 2003.  Last year, they provoked a confrontation by pretending to chop down the goal posts in the Golden Gophers' home stadium, including the one where the Minnesota players were still standing.  Fortunately, there were none of those bright boys from Stanford around to cheer, "Right in the neck, the neck, the neck!"  To avoid a repeat of that disturbing sight, UW coach Gary Andersen says the axe will now be kept in the end of the field near the winning team's locker room.
Since beating Nebraska last week, the radiant rodents can see the light at the end of the burrow.  If they can finish the season with a win over Wisconsin, they would win a tie-breaker for the Big Ten West, and a rematch with the Ohio State team that beat them by a touchdown two weeks ago.
Badger back Melvin Gordon doesn't have the single-game record anymore, but he did add another 200 yards to his total in last week's 26-24 victory over Iowa.  Gordon already leads the nation in rushing, by 194 yards over Indiana's Tevin Coleman, but he can keep collecting yardage for another two games, with a regular season-ending win at home in Madison.
Why the Paul Bunyan Axe?  Because the legendary woodsman was inquisitive, but had poor diction.  But who was going to correct him?
Wisconsin 35, Minnesota 32
Georgia Tech at Georgia
The Ramblin Wreck has already captured an ACC championship game berth opposite Florida State, whereas the Bulldogs need a hand from Arkansas if they are to take the SEC East.
Injured RB Todd Gurley isn't coming back this year for the Dogs, but freshman Nick Chubb actually has more yardage by now (1,152 yards to 911), with almost as good a per-carry average (7.2 to 7.4).
In Tech's last game against Clemson, they allowed only 59 passing yards, while returning three interceptions for 147 yards and two TDs.  They won't have things so easy against UGA quarterback Hutson Mason, who hasn't thrown a pick since Week 6.
Followers of these schools refer to their rivalry as "Clean, Old-Fashioned Hate."  How much longer before the NCAA puts the kibosh on that?  I mean, it sounds so … hateful!  By next year, the NCAA will probably make them call it "The Mutual Self-Esteem Cultivating Exercise."  The Czar sincerely wishes he was joking about that.
Georgia 44, Georgia Tech 31
Michigan at Ohio State
Last year at Ann Arbor, the Buckeyes barely held on to win 42-41, after foiling a late two-point conversion attempt.  The decision to go for the win seemed to catch OSU off-guard, but after Urban Meyer called timeout, the Wolverines should probably have kicked, and carried their momentum into overtime.
Whatever momentum the maize and blue might have had was squelched last week in a 23-16 loss to Maryland.  In a game that was tied on four different occasions (in addition to 0-0, that is), Brady Hoke's team never trailed until it gave up the deciding score with six minutes to go.
In the lumpy nuts' 42-27 win over Indiana, they let Tevin Coleman run for 228 yards on them, in spite of having no IU passing game to worry about.  Luckily for them, they now face one of the few Big Ten teams that lacks a marquee running back.
Former offensive coordinator Al Borges had tried in vain to return the Wolverines to a pro-set offense, but they just haven't had the right personnel to run it.  To this day, they think the I-formation is what the OSU sousaphone player does at halftime.
Ohio State 24, Michigan 6
Notre Dame at USC
Not only do the 7-4 Fighting Irish keep losing, but each loss has been worse than the one that preceded it.  Last week, they were beaten at home by a Louisville team that was led by its freshman backup quarterback.  Rather than stack the line of scrimmage and dare the inexperienced passer to beat them, they allowed 229 rushing yards, and then missed a 32-yard field goal attempt to seal a 31-28 defeat.
Trojan RB Javorius Allen will try to wash the taste out of his mouth from consecutive 60-yard performances.  In last week's 38-20 loss to UCLA, he fell 18 yards behind the Bruins' Paul Perkins for the Pac 12 rushing lead.
Ironic stat o' the week: The Irish, who controversially installed an artificial surface at their own stadium this year, are 0-2 when playing on grass.  There's no official word on what their record is while drinking beer, but they probably should have just stuck with it.
USC 49, Notre Dame 28
Mississippi State at Ole Miss
A great season continued to unravel for the Rebels, as the Hogs showed them who's Boss, 30-0.  It would be a mistake to think they have no fight left in them, because QB Bo Wallace still wants to wipe last year's Egg Bowl off his face.
In a game his team was expected to win, Wallace threw no touchdowns and three interceptions.  As if the picks weren't enough, he fumbled at the three-yard line in overtime, to end the game in a shocking 17-10 loss to their rivals in Starkville.
The #4 Bulldogs will have a hard time maintaining their ranking without playing in a conference championship game, but that will be solved for them if Auburn topples Alabama, and if MSU can put away the reeling Rebels.
Why do those Bulldog fans always have to ring their cowbells, anyway?  They must have an unnatural yearning for bovine companionship.  Not that there's anything wrong with that.
Mississippi State 28, Ole Miss 13
Oregon at Oregon State
The way these teams matched up a year ago, you'd have expected the game to be served up to UO on a silver platypus.  The Beavers had different ideavers, though, as they deviated from their usual game plan, and rushed for 231 yards.  Only a flawless last-minute drive by QB Marcus Mariota salvaged a 36-35 victory for the Fighting Ducks.
OSU had suddenly discovered how to run the ball for 247 yards in a 35-27 upset of Arizona State, but couldn't remember how they did it last week at Washington, where they were held to 47 rushing yards in a 37-13 thumping.  Oh, well.  The Czar must admit that if he had a tiny head, and was constantly jackhammering his teeth off a tree, he'd be forgetful too.
It's a little-known fact that the Silver Platypus was the stage name the Brady children had to adopt, after the Platters threatened to sue them for copyright infringement.  Not that the group that recorded "The Great Pretender" needed to get any money out of the deal.  They just wanted those cloying kids to shaddap!
Oregon 42, Oregon State 24
South Carolina at Clemson
Tiger coach Dabo Swinney says that fans who boo QB Cole Stoudt need to "get a life."  Well, gee, coach, if they did that, then maybe they wouldn't have time to attend your games anymore.  I mean, we're not talking about threatening the guy, just booing.  Surely, the price of the tickets entitles the fans to do that, if they want.
The Gamecocks might be without tight end Pharoh Cooper, who sustained a rib injury in last week's 37-12 win over South Alabama, but that's not all.  Sure-handed running back Mike Davis, who entered the game with a bum shoulder, fumbled on two early carries and was taken out of the game.
When asked about his concern over Pharoh's status for this game, coach Steve Spurrier did not say, "Tut, Tut" – but he should have.
South Carolina 30, Clemson 27
Florida at Florida State
The way the undefeated Seminoles have been playing, they could make tempting Gator bait, depending on how loyal the UF players are to departing coach Will Muschamp.
Before the FSU-Notre Dame game, people were wondering if this year's Irish team was comparable to the 2012 edition.  No, it's actually the Seminoles who are like the Fighting Irish of two years ago.  As long as they stay unbeaten, they're going to get a shot at the national title, but just look at the results up until now.  Yuck!  It's not just the close calls in the last two weeks against Miami and BC.  They barely beat Oklahoma State in their opener.  They very nearly lost to that Notre Dame team that has since discovered its mediocrity.  They gave up 412 yards to Syracuse.  This is not a championship caliber team.  If they make it to the final four, we will see that Bama-ND title game all over again.
Aside from their meltdown against Missouri, have the Gators' results really been that bad?  Their other losses have been to Alabama by 21, and to LSU and South Carolina by a field goal each.  No, they aren't contending nationally like they'd expected when they hired Muschamp, but most teams would be content with the season they're having.
As long as it's legal for Heisman winners to manhandle officials, maybe Jameis Winston can raise the referee's arms for him if there's a close goal-line play this week.  Who would dare overrule it?
Florida 24, Florida State 21
Utah State at Boise State
The winner of this game will, at worst, finish in a tie atop the MWC Mountain division.  That would be good enough for the Broncos, who would win the tie-breaker with Colorado State and advance to the league title game.  The Aggies can only finish first if Air Force has already upended CSI a day earlier.
BSU has played a very challenging home schedule so far (Colorado St., LA-Lafayette, Fresno St., BYU and SDSU) and gone 5-0.  Their border rivals from Logan won't mind the color of the turf, however, and they won their last game on that field, albeit against Toledo, in the Famous Idaho Potato Bowl.
USU is 5-0 since third-string QB Kent Myers made his debut, but that's been during a soft patch in their schedule, and the gangly freshman has yet to throw for 200 yards in any single game.
If those Idaho Potatoes were really famous, they wouldn't have to walk around saying, "Don't you know who I am?" – because you'd be able to actually tell them apart.
Boise State 52, Utah State 39
Nc State at North Carolina
Both teams are already bowl eligible, although NCSU really doesn't deserve to be, at 2-5 in the ACC with wins over Syracuse and Wake Forest.  The Wolfpack's best nonconference win by far was against Division I-A neophyte Georgia Southern, by a final of 24-23.
The Tarheels trounced Duke 45-20 to recapture the Victory Bell, the base of which they then had the honor of repainting in Carolina Blue.  Unfortunately, there are a few lardheads on that team who took the opportunity to spray paint graffiti in the visitiors' locker room at Wallace Wade Stadium.  UNC coach Larry Fedora apologized and promised that his school would pay to fix the damages, but there is not yet any word of any disciplinary action.
No, the word "neophyte" has got nothing to do with uninhibited amorous exploits.  Get your minds out of the gutter, all of you out there besides the Czar who even thought of that.
North Carolina 33, Nc State 17
Washington at Washington State
The 7-5 Huskies, who are permitted to play 13 regular season games because of their road trip to Hawaii, finally nailed down a bowl bid by barreling over Oregon State, 37-13.  Sophomore running back Dwayne Washington has tallied 248 yards in his last two games, although he's only gotten 33 carries between them, for a per-carry average of just over 7.5.
Freshman QB Luke Falk, who has taken over for injured starter Connor Halliday, bombarded Arizona State for 601 yards.  He could have stood to do a little more precision bombing, instead of chucking away four interceptions in the 52-31 loss.  Falk had to take chances, however, because he knew he had no help from a running game that gathered a meager total of 21 yards on 24 carries.
This, the battle for the Apple Cup, is one of the nation's most fiercely contested rivalries, if for no other reason than that the losers must go an entire year with their apples unprotected.
Washington 40, Washington State 23
a sports publication from The Shinbone