The College Football Czar
Week 14
<![if !vml]>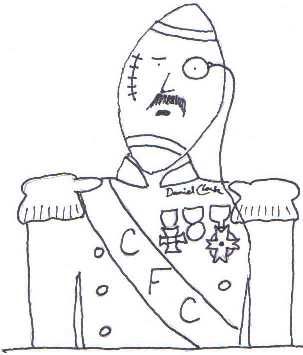 <![endif]>
Week thirteen in review: Before we get to last week's events, you've probably already noticed that this week's installment of picks is being released two days early.  That's so that they can be available to College Football Czar's readers at work, on the last day before Thanksgiving weekend.  This, of course, leaves the Czar a condensed time frame in which to make a larger-than-usual number of picks, so please excuse their relative brevity and semi-literacy.
The number of undefeated national contenders has been whittled to three, with Oklahoma State's 49-17 blowout of Baylor.  The top two teams were in no such danger, as Alabama followed the now-traditional SEC formula of kicking around a Division I-AA tomato can in mid-November, in a ludicrous 49-0 win over Chattanooga.  Florida State at least faced a I-A opponent, but one of the worst in the nation, as they tatered Idaho 80-14.
Ohio State remains unbeaten after brushing aside Indiana 42-14.  The lumpy nuts will surely be rooting for Auburn to upset Alabama this Saturday, but the question is, would that result then vault the #4 Tigers ahead of them?
The Czar went 12-5 for the week, while correctly predicting the score of Iowa's 24-21 win over Michigan, and coming within one point of BC's 29-26 victory over Maryland (predicted score 29-27).  He also correctly predicted Baylor's downfall, albeit by a far lesser margin.  For the season, his record is 177-68, for a .722 winning percentage.
Nov. 28
Ole Miss at Mississippi State
The Bulldogs (5-6, 2-5) revived their postseason chances by halting a three-game losing streak with a 24-17 overtime victory over Arkansas.  To this point, their best win of the season has been a 21-20 battle with Bowling Green, but they'll have to be better than that to beat the arch rival Rebels (7-4, 3-4).
Mississippi's four-game winning streak was snapped last week by East division-leading Missouri, 24-10.  Among their four losses, all have been to teams that are currently ranked, three of them in the Top 5.  It's not as if they can't beat quality teams, though.  Among their victims this year have been Vanderbilt, Texas and LSU.
This rivalry game is known as the Egg Bowl, because it is played for an old trophy that features a round-ended football that's been nicknamed the Golden Egg.  The first time it was awarded, the goose that lays the golden egg came with it, but the players killed and et it.  They figured, what are the odds that the same goose will lay more than one golden egg?  It only laid the first one because it was due.
Ole Miss 30, Mississippi State 17 
Texas Tech at Texas
The Longhorns are long shots to win the Big XII, despite the fact that they currently trail Oklahoma State by only half a game.  If they get past Tech, they still must beat Baylor, and also hope that Oklahoma upsets OSU in the Bedlam game.
Kliff Kingsbury's team started the season 7-0, but they've since run out of West Virginias and Stephen F. Austins to beat up on.  Now, they're in danger of losing their fifth in a row to end the season – which way, way back in the 20th Century, would have prevented them from going to a bowl game.  Today, even with a 7-5 finish easily gets the Red Raiders into a postseason game, and perhaps one as prestigious as the Holiday Bowl.
The Czar wishes somebody would kill the goose that lays bowl games – not because there are too many bowl games, but just because he's not partial to geese.
Texas 42, Texas Tech 31
Nov. 29
Miami at Pitt
Thanks to a dominating performance by DT Aaron Donald, the Panthers survived a bruising 17-16 slugfest at Syracuse to become bowl-eligible.  The senior sack-leader put his stamp on the game early, by blocking a first-quarter extra point that would prove crucial.
The Hurricanes are 8-3 overall, but they're only a game ahead of Paul Chryst's club in the ACC standings at 4-3.  They might still be fighting for their postseason lives if their nonconference schedule slate didn't consist of 4-7 Florida, South Florida, Florida Atlantic and I-AA Savannah State.
If you saw what the Canes' front seven did to Florida QB Jeff Driskel, that's the kind of game the Panthers' Tom Savage is in for.  That is, unless his running backs can take some of the pressure off him, like they've been unable to do in their four conference losses this year.
Probably not very many fans will head north from Miami on this frigid Thanksgiving weekend, but those who do should make a point of it to walk over to PNC Park, and get an eyeful of what they're missing.  Sure, they have better weather where they come from, but you'd never know it by watching a Marlins home game.
Miami 25, Pitt 14
Iowa at Nebraska
Even after a blown call cost them a fourth-quarter touchdown, the Cornhuskers kept coming, until they finally fought off Penn State, 23-20 in overtime.  Wide receiver Sam Burtch must not have thought he was going out on a limb by making a perfectly legal block to help tailback Ameer Abdullah into the end zone, but he was mysteriously flagged for a personal foul.  As a result, the N-men settled for a tying field goal, instead of a go-ahead touchdown.
When they start tossing around Coach of the Year candidates, somebody should put in a good word for the Hawkeyes' Kirk Ferentz.  The dean of Big Ten coaches was widely believed to have outlived his time after last year's 4-8 flop.  He now has a chance to reverse that record, currently holding seven wins against four tough losses to excellent opponents.
For the third season, these border foes battle for something called the Hy-Vee Heroes Trophy, so named because of a halftime ceremony to recognize one person from each state who is known to have committed some sort of a heroic act.  The event is sponsored by the Hy-Vee supermarket chain.
The Czar hereby declares that to be the lamest trophy game in Big Ten history.  The way a trophy game between Nebraska and Iowa should work is that they commission someone to make a big, bronze statue of a corn weevil, and name it something like "Chester, the Great Big Stinkin' Corn Weevil."  Don't those people know anything about football?
Iowa 21, Nebraska 20
Fresno State at San Jose State
These two have been fighting over bowl bids ever since they were taking turns representing the old Pacific Coast Athletic Association against the MAC champions in the California Bowl.
If both the Bulldogs and Northern Illinois remain undefeated, it will be a very close call as to which one goes to a BCS bowl.  FSU sure could have benefited from their scheduled game against Colorado, which was wiped out by a flood, and never rescheduled.  Moreover, they've lost their chance to make an impression in the MWC championship, now that Boise State will not be there to face them.  That could make the difference between a Fiesta Bowl battle, perhaps against Oklahoma State, and an appearance in the Las Vegas Bowl, opposite the #5 selection out of the Pac 12.
The Spartans had looked like a shoo-in for the postseason at 5-3, but have since lost three in a row.  If you're supposed to accentuate the positive, then maybe a dismal end to their season will leave them no place to put their pretentious accent mark.
Fresno State 52, San Jose State 24
Bowling Green at Buffalo
The winner of this one captures the MAC East division, and a chance to play undefeated Northern Illinois at Ford Field for the league title.  That's a familiar position for UB, which won its division at 7-5 in 2008, and then shocked an unbeaten Ball State team to win the conference championship.
The MAC is known for its marquee quarterbacks, but one who has flown under the radar all season is Falcon sophomore Matt Johnson, who replaced three-year starter Matt Schilz in an opening rout of visiting Tulsa, and has never relinquished the job.  Johnson has thrown for 17 touchdowns and just six INTs, while completing 65.1 percent of his passes.
Ford Field is not named after the former president.  If it were, OSHA would have shut the place down by now, declaring all the white lines on the field to be trip hazards.
Bowling Green 38, Buffalo 35
Washington State at Washington
A Wazzu win wouldn't be nearly as surprising as it was last year, when they prevailed 31-28 in overtime to salvage their only Pac 12 victory of 2012.  On the other hand, now that both teams are bowl-eligible, with matching conference records of 4-4, the Huskies aren't likely to be caught off guard.
UW rolled over Oregon State for 530 rushing yards in last week's 69-27 slobberknocking.  Bishop Sankey, who ran for his customary 179 yards on 23 carries, was joined by Deontae Cooper with 166, and freshman Dwayne Washington with 141, each of them on only 11 rushing attempts.
What a cruel irony it is to award the Apple Cup at the very end of the season, after the players have already gone through the first eleven games with their apples exposed.
Washington 55, Washington State 44
East Carolina at Marshall
The last time both teams were this offensively potent, the Thundering Herd came charging back from a 38-8 halftime deficit to defeat the Pirates, 64-61 in double-overtime, at the 2001 GMAC Bowl.
ECU quarterback Shane Carden is fifth in the nation in passing yards, but he could easily climb higher.  If he guides his team into the Conference USA championship game, he will have gained a game on three of the four passers in front of him.
The Herd's coach is Doc Holliday, who assisted Marshal Wyatt Earp, but was not himself a marshal, which may be why he misspells the word.  And yet, there he is, head coach at Marshall.  It must be true what they say: those who can, do, and those who can't, teach.
Of course, those who really, really can't, become professors.
East Carolina 49, Marshall 42
Texas State at Troy
The 6-5 Bobcats are already bowl-eligible, but their chances of being invited are in serious doubt after last week's game.  TSU was totally dominated on its home field in a 38-7 loss to Western Kentucky, in which they went minus-5 in turnovers, and were outgained 473 yards to 130.
The Trojans are only 5-6, but their losses have been to Ole Miss, Mississippi State, Duke, and the top three teams from the Sun Belt Conference.  It's actually the games in the W-column that are a greater cause for concern.  They needed an overtime period and lots of dumb luck to beat UAB in their opener.  A month later, they barely beat South Alabama, 34-33 at home, and then followed that up with a 35-28 win over an expansion Georgia State team.  The Bobs have had it just as tough in league play, though, and in addition, only scored 28 points in a win over I-AA Prairie View A&M.
Actually, Troy's initials are TSU, also.  That's because the school's full title is Troy State University.  It's just that it hasn't normally been called that, ever since it became an "international university."  You see, we must share Troy, Alabama with the world.  Consider it revenge for Esperanto.
Troy 29, Texas State 21
Oregon at Oregon State
DeAnthony Thomas has gotten his wish.  The UO running back said he wasn't interested in playing in the Rose Bowl, and lo, he won't be playing in the Rose Bowl.  That's because his Fighting Ducks again surrendered the Pac 12 North lead, and this time for good, in a 42-16 defeat at Arizona that reeked of indifference.
Midway through the season, fans wondered how the Beavers could have lost their opener to Division I-AA Eastern Washington.  Now we know.  OSU scored 27 points in the fourth quarter against Washington, but it hardly mattered, since they had trailed 48-0 at the end of three.  The 69-27 pelt-kicking was their fourth consecutive loss, to drop their record to 6-5.
The only thing that could prevent the Ducks from winning their sixth consecutive game in this series is if Thomas declares himself not to be interested in playing in the Alamo Bowl – which he just might do any minute now.
The winner of this game is awarded the Platypus Trophy, a wood carving of the Australian animal that superficially has physical attributes of both a duck and a beaver.  Considering the way these teams fared last week, you couldn't ask for an award more fitting than a mammal that can lay an egg.
The Mississippi schools used to play for an egg-laying platypus, but they et it.
Oregon 39, Oregon State 20
SMU at Houston
It's a must-win for the Mustangs for a third game in a row.  They've already beaten Uconn and South Florida to level their record at 5-5, but their last two games get a whole lot tougher.  If they don't defeat their old Southwest Conference rivals this week, they'll need to knock off league-leader Central Florida in their finale.
The Cougars (7-4, 4-3) have lost three in a row, but they have been to the top three teams in the American Athletic Conference (Central Florida, Louisville and Cincinnati), and each of them by seven points or fewer.
You might wonder why coach June Jones left a life of luxury in Hawaii to coach in Texas.  It's because he heard they have Frito-Leis there.  Like Vince Lombardi said, "Winning isn't everything; there are also exotic, flowery necklaces."
Mind you, that quote is from Lombardi's unauthorized biography.
Houston 28, SMU 23
Nov. 30
Penn State at Wisconsin
The Badgers (9-2, 6-1) could have been unbeaten this year, if not for very avoidable miscues against Arizona State and Ohio State.  They blamed the officials for their own clock mismanagement in a bizarre 32-30 loss to ASU, and then they refused a gift-wrapped interception before allowing the Buckeyes to score at the end of the first half, in a 31-24 defeat.  Aside from a 27-17 win over Brigham Young, none of their other games have been close, as the UW defense has held seven opponents to 10 points or fewer.
PSU won its first two games of the season over Syracuse and Eastern Michigan, and hasn't won or lost more than one in a row ever since.  Last week's 23-20 overtime loss to Nebraska dropped their record to 6-5.
If the Nittany Lions are facing the Badgers in late November, it must be time for the Second Annual Michael Mauti Telethon.  Since Richie Havens is no longer with us, perhaps Paul McCartney could show up and play some of Havens' songs instead, if he had any.
Wisconsin 31, Penn State 7
Iowa State at West Virginia
Two weeks ago, WVU walked into the end zone for an easy opening score at Kansas.  Little did they know that the next time they hit paydirt, they'd be facing a humiliating defeat that would squelch any remaining postseason hopes.  They finally scored twice in the last five minutes to make it a 31-19 final, but that did little to assuage their embarrassment.
The Cyclones clobbered that same KU team a week later, 34-0.  Freshman quarterback Grant Rohach left quite an ink blot on the stat sheet, passing for an even 300 yards while completing 15 of 20.  The Clones are now only 2-9, but they came very close to upsetting Iowa and Texas early this season.
Now that the Mountaineers are facing ISU on an annual basis, they've learned about clones, and they're not impressed.  Why, they've been creating genetically identical human beings in Morgantown for centuries.  They just didn't know what to call it.
Iowa State 41, West Virginia 26
Alabama at Auburn
The 10-1 Tigers' last game was two weeks ago, when they blew a 27-7 lead against Georgia, only to pull out an incredible 43-38 victory on a 73-yard score with only 25 seconds to play.  Two Bulldog DBs tried to pick the ball off instead of batting it down, and tipped it right into the arms of sophomore WR Ricardo Louis, in a play that had everything but a dopey Kentucky fan charging obliviously onto the field.
Victories have come a little more routinely for the undefeated Crimson Tide, who once again have the nation's leading defense in points allowed, with an average of 9.3 per game.  An early 49-42 shootout with Texas A&M has been the only game in which they've allowed more than 17.
These traditional intrastate foes play in the rivalry game known as the Iron Bowl, not to be confused with the Iran Bowl, in which the players from the losing team have their hands chopped off.
Those Iranian League runners-up don't tend to fare very well in their bowl games.
Alabama 22, Auburn 13
Minnesota at Michigan State
The Golden Gophers were grounded last week by Wisconsin, 20-7.  Going back to the previous week's victory over Penn State, in which the second half was scoreless, they've only tallied seven points in their last six quarters of play.  The MSU defense does not offer them much of an opportunity to reverse that trend.
The Legends division-leading Spartans (10-1, 7-0) haven't been blowing opponents out, but most of their wins have been fairly comfortable.  Six of their victories this year have been by somewhere between 12 and 15 points.  Keep in mind, however, that their three opponents from the Leaders division have been the bottom three (Indiana, Illinois and Purdue), and their nonconference wins have been against Western Michigan, South Florida and I-AA Youngstown State.
There's really no such thing as a golden gopher, you know.  Those are just regular gophers who have spent entirely too much time at the tanning salon.  You can tell, because they've still got gopher-colored eyelids.
Michigan State 17, Minnesota 6
UCLA at USC
Almost everything points to this being a dead-even matchup.  The teams are currently ranked #22 and #23, with the winner finishing second in the Pac 12 South, probably making it the fourth bowl selection out of the conference.  The big difference is that the Bruins have just suffered a severe letdown, when they failed to upend Arizona State for the division title in last week's 38-33 loss.  The Trojans are far more excited to be going wherever they end up, having won five in a row, and 6 of 7 under interim coach Ed Orgeron.
No matter who's the home team, both of these crosstown foes traditionally wear their home uniforms.  That works out fine, just as long as both teams don't declare a blackout.  Then, it would look less like a football game than like 22 Johnny Cash impersonators whomping the tar out of each other.
Come to think of it, that would be a lot more entertaining.
USC 35, UCLA 27
Clemson at South Carolina
The 10-1 Tigers were in an identical position a year ago, with a chance to go to a BCS game, having lost only to divisional rival Florida State.  The only thing standing in their way was SC, which itself entered the game with a record of 9-2.  Steve Spurrier's team won that previous game 27-17, holding Tiger QB Tajh Boyd to his worst completion percentage and TD-to-INT ratio of the season.
There will undoubtedly be a second SEC team invited to a BCS game, which makes this a huge game for Carolina even though it doesn't affect their divisional race with Missouri.  If Alabama handles both Auburn and Mizzou, a win of this magnitude would likely boost the Gamecocks up to the second spot in the pecking order.
Gamecocks.  Pecking order.  It's a joke, son, you missed it.
South Carolina 24, Clemson 20
Ohio State at Michigan
At the beginning of the season, this was expected to be a preview of the Big XII championship to be played a week later – which, frankly, would have been boring.  Instead, the Buckeyes are jockeying for BCS championship position, while the Wolverines are only trying to end the regular season with a .500 conference record.
If UM wanted to develop Devin Gardner into a better passer, giving him the uniform number of a nose tackle may not have been a brilliant idea.  Actually, the junior QB was encouraged to wear #98 as a tribute to Wolverine legend Tom Harmon, who won the Heisman Trophy while wearing that number as a halfback in 1940.  The honor initially energized Gardner, who played a brilliant game in beating Notre Dame on the night of the ceremony, but he's been erratic from that point on.
The lumpy nuts had gone wobbly after taking a 28-0 lead over Illinois, so last week against Indiana, they continued to add points until they could yank their starters, and cruised to victory by that same margin, 42-14.
The maize and blue aren't likely to beat 11-0 OSU on the football field, except maybe at halftime.  Just think how teed-off all the harrumphing gasbags back in Columbus would be, if the Wolverine band spelled "Michigan" on the field in script, complete with not one, but two I's to dot.  That could almost serve as premature revenge, for the pummeling the team would then take in the second half.
Ohio State 59, Michigan 31
Duke at North Carolina
The Blue Devils continue to lead the ACC's Coastal division, but it sure helps that their only two Atlantic division opponents have been Wake Forest and Nc State.  Last week, they came from behind to beat Wake 28-21, for their seventh win in a row since dropping their first two conference games at home.
The Tarheels have won five straight of their own, ever since they blew a 10-point fourth-quarter lead against Miami to fall to 1-5.  Last week, they were only playing a Division I-AA school, but their two scores on kick returns against Old Dominion gives them a total of five over their past three games.
With a win, the Heels could create a tie among as many as five teams at the top of the division, tangling these two up with Georgia Tech, and possibly also Miami and Virginia Tech.  In that case, there is no tie-breaking scenario that might result in the Devils still advancing to the conference championship game.  They should have had the foresight to call dibs, just to be on the safe side.
North Carolina 33, Duke 31
Notre Dame at Stanford
The controversial nature of last year's finish should add some intensity to this game in spite of the essential meaninglessness to both teams.  The Cardinal appeared to score the tying touchdown in overtime last season in South Bend, but the replay officials upheld the errant call on the field, and the Fighting Irish held on, 20-13.
In this year's version of the wittily entitled Big Game, the big game turned out to be the Cal Bears, who just stood there looking stupid as Stanford blasted them, 63-13.  Receiver Ty Montgomery caught five passes for 160 yards and four TDs, in addition to a 31-yard touchdown run to open the scoring.
Oregon handed Stanford the lead in the Pac 12 North three weeks ago, but the Cardinal returned the favor with a loss to USC, and then the Ducks gave it right back in an upset loss at Arizona.  What people won't do, just to avoid meeting Arizona State coach Todd Graham.
Stanford 45, Notre Dame 34
Texas A&M at Missouri
The Conjunction Boys ceased to function last week at LSU, where they got their ampersand kicked, 34-10.  Johnny Hockey Puck was dumped and chased throughout the game, completing only 16 of 41 with two interceptions.
Tiger QB James Franklin returned from a shoulder injury in a 24-10 win over Ole Miss, but he passed for a season-low 142 yards, with one interception and no TDs.
With a win, the Tigers are in the SEC title game, and are virtually assured a BCS bowl bid.  A loss, however, would hand the East division to South Carolina, sending Mizzou to either the Capital One or Outback Bowl.
They'd rather go to the Outback Bowl, for a chance to see all the koalas and emus and wombats, and hoozitswuzzits, and dongadingadongs, that are found way down under there in Tampa.
Okay, so those are just Floridian students in hoozitswuzzits costumes, but why be a killjoy?
Texas A&M 52, Missouri 42
La.-Monroe at La.-Lafayette
The Ragin Cajuns (8-2, 5-0) can clinch the Sun Belt Conference title by winning either of their last two games.  They'll probably be given a chance to win their third consecutive New Orleans Bowl, this time against neighboring Conference USA foe Tulane.
The Warhawks had a far better chance to become bowl-eligible last week, but they were slammed by South Alabama, 36-14.  They were surprisingly stationary in Mobile, where they rushed for only 1.8 yards per carry.
More and more lately, ULL is trying to get away with simply calling itself "Louisiana," suggesting that it has gradually become ashamed of Lafayette.  Talk about team dissention.
La.-Lafayette 37, La.-Monroe 24
Arizona at Arizona State
Wildcat quarterback B.J. Decker didn't put up huge numbers in last week's 42-16 shocker over Oregon, but he did almost everything right.  The senior scrambler picked his spots well, rushing for 102 yards, while completing 19 of 22, often with pinpoint accuracy.
The Sun Devils scorched UCLA for a 35-13 halftime lead before having to hang on, 38-33.  Regardless of this week's outcome, they've earned a berth in the Pac 12 title game, and another shot at the Stanford team against whom they played a pitiful first half in their conference opener.
The Territorial Cup is the oldest trophy in college football, but it hasn't been awarded often, because it had been "lost" for almost a century.  In truth, nobody really wanted to win it.  I mean, who wants to have a cup roaming around the house marking its territory?  Even if you clean it up so that you can't smell it anymore, you know that a bunch of other cups are going to come sniffing around.
Arizona State 49, Arizona 34
Georgia at Georgia Tech
The way the Bulldogs' season had been going, it was only a matter of time before senior QB Aaron Murray suffered a serious injury like so many of his teammates.  Murray tore an ACL in the second quarter of a 59-17 win over Kentucky, and will not return for the postseason.
GT is 7-4, and it's a good thing, because their wussy nonconference schedule included two Division I-AA opponents, meaning that they needed a seventh win in order to be bowl-eligible.  Last week, they beat up on Alabama A&M, 66-7, which might suggest that they've slowed down a bit since their 70-0 opener against Elon.
The Czar usually uses Tech's informal, alternate nickname, the Ramblin Wreck, but their more official name is the Yellowjackets – as in, the blazers that players wear when they're being inducted into the Pro Football Hall of Fame.  That may sound like they're having delusions of grandeur, but imagine the guys in the yellow jackets trying to play a real football game.  They aren't exactly in mint condition anymore, are they.
Georgia 19, Georgia Tech 10
Tulane at Rice
The Owls (8-3, 6-1) lead the West division of Conference USA by a game over not just TU, but also North Texas and Texas-San Antonio.  Considering each team's remaining opponent, a Green Wave victory would make a four-way tie not only possible but likely.
The Wave walloped UTEP 45-3, in what was mercifully their final home game in the Superdome.  Next season, they move outdoors, and into the new, on-campus, 30,000-seat Yulman Stadium.
In an earlier game against that same UTEP team, Owl coach David Bailiff sent 4-foot-9 walk-on running back Jayson Carter in for a carry, on which he gained one yard – meaning that he was tackled the instant he came into contact with anyone.  "I did what I was supposed to do," Carter said.  "I didn't get negative yards."  Has it really come to this?
Carter was apparently a productive rusher in high school.  Who knows, he might have been able to seriously compete in Division III, or the NAIA.  But one look at the video tells you he had no business being on the field against a Division I-A opponent, even if it was UTEP.  Heaven help the game of football if Carter gets another carry, and becomes the object of a "targeting" penalty.  It's almost as if Bailiff put him on the field in a deliberate attempt to contribute to the destruction of the sport, thereby making himself a hero to the namby-pamby, anti-sports, sports media.
Is Bailiff going to issue his offensive players "I didn't get negative yards" rings now?
Tulane 33, Rice 28
Boston College at Syracuse
A rugged Orange run defense collides with NCAA-leading rusher Andre Williams, in a game that SU must have, in its third attempt to become bowl eligible.  Their first chance was a long shot against Florida State, in which they were blown out 59-3.  Last week's 17-16 home loss to Pitt could be the more damaging of the two, since they missed a late field goal that could have won it, but instead left a blocked extra point as their margin of defeat.
With five minutes left at Maryland, the Eagles went in front on a 74-yard strike from QB Chase Rettig to WR Alex Amidon.  They held their lead for officially no time at all, however, letting the Terrapins return a blocked extra point to tie the game.  The Terps were unable to get a hand on Nate Freese's last-second 52-yard field goal, however, as BC pulled it out, 29-26.
You can tell that BC is a religious school, because the atheist pinko meatheads have replaced the term BC with BCE, which they say stands for "Before Common Era."  But then, how can any point in history not be the Common Era?  I mean, that's where everybody was at the time.
Boston College 27, Syracuse 20
a sports publication from The Shinbone