The College Football Czar
Week 13
<![if !vml]>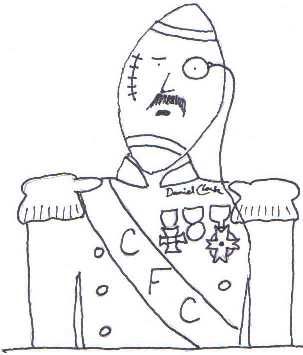 <![endif]>
Week twelve in review: With its 25-20 win over Mississippi State, Alabama has vaulted to #1 in the new CFP ratings, with Oregon holding at #2.  Florida State, the only remaining undefeated major conference team, failed to climb a spot in spite of the fact that they continue to win, while playing like anything but a national contender.  MSU has only slipped to fourth, but the Bulldogs will have a hard time staying in playoff position if they don't earn a berth in the SEC championship.
It has started.  ACC Commissioner John "The Lardhead" Swofford is already saying that expanding the playoff field to eight "would probably be ideal."  Since when?  One of the things fans disliked about the BCS was that there was sometimes a third team that might have really been the best, but was locked out of the championship game.  The current plus-one format solves that.  There is never a fifth team that might really be the best, so why invite teams 5 through 8?
Swofford is a member of the CFP Management Committee, so this is not idle speculation on his part.  So let's say, for the sake of argument, that they could expand the field to eight this season.  That would include TCU, Ohio State, Baylor and Ole Miss.  How "ideal" is that?  You can already hear objections such as, why does the SEC get three teams and the Pac 12 only one, when UCLA has the same record as Ole Miss, but against better competition?  And what about 10-0 Marshall, which the committee hasn't given a ranking at all?  Are they just biased against small-conference teams?
We already know what would happen, because we've seen it in every lower division.  The Division I-AA playoffs, which started at four teams, have by now expanded to 24.  Ditto that for Division II.  The Division III playoff is up to 32 participants.  Everyone who's anyone is able to qualify, just like in every other sport.  Major college football has always had higher standards than that.
If you think nonconference schedules are lame now, just wait until major programs start to realize that they can lose four conference games and still get into the playoffs.  Everybody's nonconference schedule will resemble Baylor's, and who wants to see that?  Moreover, if the four best teams in the SEC West are all shoo-ins anyway, then this year's weekly blockbuster game would mean nothing.  So Mississippi State lost to Alabama.  So what if they lose to Ole Miss, too?  Maybe they'll be seeded #8 instead of #4.  Big stinkin' deal.
The only way to stop that from happening is to stop perceiving the current system as a playoff.  It's just the traditional bowl season, with an additional championship game being played a week later, by the winners of the two biggest bowl games.  So tell that abrasive Dr. Pepper vendor to go get a haircut and a hat, and shut his hoagie hole before a squirrel runs in there and steals his brain.
In Week 12, the College Football Czar predicted that both of the remaining undefeated big-league teams would be beaten, but Florida State foiled that scenario by rallying past a passive Miami team in the second half.  The Czar did pick his first correct final score of the season, although he needed the Utah-Stanford game to be extended by two OTs for the Utes to prevail by the 20-17 final he had predicted.  For the week, the Czar went 14-5, which improves his season record to 157-88, for a .641 winning percentage.
Nov. 21
UTEP at Rice
The Owls had their six-game winning streak snapped by runaway conference favorite Marshall.  That sounds like a pretty good resume, but take a closer look.  Their previous loss was in their C-USA opener against Division I-A newcomer Old Dominion.  Since then, they'd beaten Southern Miss, Hawaii, Army, North Texas, Florida International and Texas-San Antonio – none of which is any better than 4-7.
Mind you, the Miners' identical record (6-4, 4-2) has not been acquired against any better competition, although they did manage to defeat 4-6 ODU.  The team from El Paso has relied heavily on el runo this year, as we saw last week when they rushed for 351 yards in a 35-17 win over North Texas.  Sophomore Aaron Jones, who had been held out with a knee injury for the previous week's loss to Western Kentucky, ran for 177 yards, including a 54-yard TD during which he dragged along a UNT tackler for the last 20.
The Miners haven't won a postseason game since they hosted Ole Miss in the 1967 Sun Bowl, where they prevailed 14-7.  With today's glut of bowl games virtually guaranteeing that every team that's .500 or better gets a bid, beating up on a MAC school in the inaugural Rat Mouth Bowl wouldn't be much of an accomplishment.  If they can win out, however, they'd be the third selection from their conference, which could land them in the Heart of Dallas Bowl against a Big Ten opponent.
It's a little-known fact that Heart of Dallas was an unsuccessful TV show, in which Larry Hagman went around telling people about his feelings for them.  It's reputed to be the second-worst spinoff of all time, next to Touched by Della Reese.
UTEP 44, Rice 38
Air Force at San Diego State
The Aztecs nearly froze their Xuzuzptls off last week in Boise, where they took a 20-0 lead, but then spent the rest of the game in cryogenic suspension.  The 38-29 defeat drops them to 5-5.  They can comfort themselves with the fact that all five losses have been on the road, and they remain unbeaten at Qualcomm Stadium, but that is largely the result of their comparative strength of home and road schedules.  Having won home games against Northern Arizona (I-AA), UNLV, Hawaii and Idaho does not necessarily suggest an advantage against the AFA.
It wasn't exactly a marquee matchup, but the Falcons' 45-38 overtime victory against Nevada was arguably the most exciting and best-played game of the week.  Senior QB Kale Pearson passed and threw for over 100 yards each for the first time of the season, while tallying a total of four touchdowns.
The Aztecs actually had the very first air force in military history.  They didn't have airplanes, of course, but they did hurl people from the tops of pyramids … which was kind of like flying … at least for a little while.
Air Force 31, San Diego State 21
Nov. 22
Syracuse at Pitt
The Panthers have gone with the throwback look for the rest of the season, with the traditional script "Pitt" on their helmets.  When they made that decision, they were probably hoping that the team's play would be thrown back a little farther than the Paul Hackett era.  In what was basically a must-win game at North Carolina, they took an early 14-0 lead, and then helplessly watched it gradually slip away from them, 40-35.  It was the second game in a row in which they'd squandered a 200-plus-yard performance by RB James Conner.
SU has used four different quarterbacks this season, and not one of them has thrown for more touchdowns than interceptions.  Combined, they've thrown a total of 13 picks, while only tossing five TDs.
Probably the best throw by any Orange QB all year was in their opener, when Terrel Hunt threw a roundhouse punch against that Villanova linebacker's helmet.
Pitt 26, Syracuse 14
Penn State at Illinois
The 4-6 Fighting Illini play their second straight home game, which is of little comfort after last week, when the Iowa Hawkeyes went through Champaign like Liz Taylor.  Quarterback Wes Lunt returned from a broken leg, and threw for a season-low 102 yards on 14 completions before giving way to Reilly O'Toole.
The Nittany Lions gave the ball away three times to fall into a 6-6 tie against Temple last week, but then forced the last five turnovers of the game to pull away to a 30-13 victory.  That's a considerably more productive effort than earlier this year, when they intercepted Rutgers five times, and only won 13-10.
Yes, the College Football Czar uses that Liz Taylor gag every season, but this year, he assumes you'll take it to be a tribute to the late Joan Rivers, and will therefore pretend it was funny.
Joan always saved her most vicious put-downs for a fictitious character she invented named Heidi Abromowitz.  Heidi's fiancee, Manti Te'o, was not amused.
Penn State 15, Illinois 3
USC at UCLA
The Trojans have taken over the lead in the Pac 12 South with a conference record of 6-2, half a game ahead of Arizona, Arizona State and UCLA, with fifth-place Utah still in the race at 4-3.
The Bruins have won each of their last five games following an idle week.  They were off in Week 4 of this season, and returned the following Thursday to trample Arizona State 62-27.
Last time SC faced a quarterback who's an excellent runner like Bruin Brett Hundley, it was on their ill-fated road trip to Boston College, where Tyler Murphy rushed for 191 yards in a 37-31 upset.  A year ago, Hundley himself ran for 80 yards and two TDs on only 13 carries, to lead the blue bears to a big 35-14 win over their crosstown rivals.
Southern Cal learned this week that cornerback Josh Shaw will not be charged with domestic violence for a confrontation with his girlfriend, after which he injured both ankles by jumping from the balcony.  The Czar is a bit distressed, however, by people's obsession over the actuality of what Shaw did.  After all, if it's the thought that counts, then the important thing is that Shaw thought about rescuing his drowning nephew, and not about fighting with a woman and running away from the police.  In the parlance of our times, he "identifies as" a hero, and not a cad.  If you don't give him credit for that, you're obviously a somethingophobe or other.
UCLA 29, USC 27
Boston College at Florida State
This season, it's normal for FSU to struggle against the also-rans of the ACC, but in 2013, it was BC who gave them their only competitive game of the regular season.  In fact, the 34 points the Eagles tallied were twice as much as anyone else scored against the Seminoles, with the exception of Auburn in the BCS championship game.
The Seminoles have won six games by 14 points or fewer this year, including last week's 30-26 comeback victory at Miami.  It was the third time they've rallied from more than two touchdowns behind, having spotted the hated Hurricanes a 16-0 advantage in the second quarter.
The Eagles landed with a thud at the end of the first half against Louisville two weeks ago.  They led the Cardinals 13-3 in the second quarter, but gave up the lead before halftime, and then faded to a 38-19 finish.  QB Tyler Murphy was intercepted on three consecutive possessions in the fourth quarter.
Rest assured that the Seminole players will stay out of trouble for the rest of the regular season.  That's because, having both remaining games at home, they don't leave the jurisdiction of the Tallahassee Police Department.
Florida State 27, Boston College 10
Minnesota at Nebraska
The Braskymen have got to be basket cases after the way their blackshirt defense disintegrated against Wisconsin.  If it's not shocking enough that they allowed Melvin Gordon to rush for a record 408 yards in only three quarters, they even found the time to give up an additional 173 rushing yards to the rest of the Badger team.  The Cornhuskers hope to get a better grip on David Cobb, the Golden Gopher running back who is also among the nation's leaders with 1,350 yards.
Cobb's 145 yards and three TDs were not enough last week, as the radiant rodents gave way to Ohio State, 31-24.  That loss doesn't eliminate them from the West division race, although they now must beat both the N-men and the Badgers on the road.
The blackshirts are a longtime Husker tradition, but coach Bo Pelini ought to consider putting an end to it.  It turns out that those black shirts they've been wearing are the same ones that fail to tackle anyone when worn by the Atlanta Falcons.
Nebraska 38, Minnesota 35
Arizona at Utah
Six of the Utes' last seven games have been decided by three points or fewer, with three of them going to overtime.  A week ago, they won in double-OT over Stanford, 20-17, after battling the Cardinal to a 7-7 stalemate in regulation time.  Wide receiver Kaelin Clay, who for the past week had been a bigger bum than Cato Kaelin, has apparently learned his lesson.  When Clay caught a TD pass in the first overtime, not only did he carry the ball all the way into the end zone, but then he handed it to an official, briefly celebrated with his teammates, and ran back to the sideline.
Clay was not the only one redeeming himself in Week 12.  Wildcat kicker Casey Skowron may have been the goat in last month's loss to USC, but he became the goat-to-guy in last week's 27-26 victory over Washington.  Skowron got his team back into the game by scoring an 18-yard touchdown on a fake field goal attempt, and then succeeded at two very real field goal attempts in the fourth quarter, including a 47-yarder as time expired.
Q: What's the difference between a goat and a Ute?
A: The goat's got mohair.
Arizona 21, Utah 20
Louisville at Notre Dame
In last week's 43-40 overtime collapse against Northwestern, Fighting Irish quarterback Everett Golson – who committed two more turnovers – was apparently playing with a sprained shoulder.  At least he has an excuse.
Actually, coach Brian Kelly has an excuse, also.  He's a lardhead.
Kelly called for a two-point conversion attempt after an Irish touchdown put them ahead 40-29, as if he thought the difference between an 11 and a 12-point lead was trivial.  The attempt failed, but when the Wildcats scored a short time later, their two-pointer was good, making it a three-point game.  NU booted a tying field goal at the last second, and then won the game in OT.
When asked to explain his decision, Kelly conveniently began deploying plural pronouns.  "We decided to go for two," he said.  "We felt at the time with the struggles in the kicking game that we would have a good opportunity in the two-point play that we picked and we felt very confident that we would be successful."
While addressing his far more easily defensible decision to run the ball near the end of the game instead of taking a knee and then punting, he was noticeably a lot more singular about it.  When asked if he considered having Golson take a knee, he said, "No, I did not."  Then, he was asked if he had calculated how much time would have been left when he'd have had to punt, he said, "I did, yeah."  Evidently, it's only the stupid decision that was a group effort.
As for those "struggles in the kicking game," Kyle Brindza had gotten an extra point blocked earlier in the game, but it was his first missed extra point of the season, during which he's gone 43-for-44.  There were no struggles.  Kelly just wanted that lost point back, and probably didn't respect the Wildcats enough to think that the decision might hurt him.
Cardinal WR DeVante Parker has only been back in the lineup for three games since returning from a broken foot, and already he's got 25 catches and 490 yards.  He'll have a hard time maintaining that pace without Will Gardner, the starting QB who has suffered a season-ending knee injury.
What kind of excuses must Kelly have given his parents when he was a kid?  "We just felt at the time that the lamp was wobbly to start out with, and so we decided it would have fallen anyway."
Notre Dame 34, Louisville 23
Wisconsin at Iowa
How will the Badgers react this week if they actually face resistance from the opposing defense?  Watching them stroll through Nebraska's alleged tacklers in last week's 59-24 rout was like watching Steve McGarrett appear to solve the crime in the first 15 minutes: "I don't like it, Chin.  It's too pat, too simple."
The 7-3 Hawkeyes are 4-2 in Big Ten play, but those four wins have come against the bottom four teams in the conference (Northwestern, Illinois, Purdue and Indiana).  When they stepped up against divisional contender Minnesota two weeks ago, they got their beaks bashed, 51-14.
Was the Czar the only one who was a little worried when UW coach Gary Andersen yanked RB Melvin Gordon at the end of the third quarter?  Gordon had only surpassed LaDanian Tomlinson's single-game rushing record by two yards.  What if someone had discovered an official scoring error after the game, which meant that Gordon really didn't have the record after all?  You'd think, to be on the safe side, they'd have gotten him one or two more carries.
What did McGarrett ever have against Pat, anyway?
Wisconsin 34, Iowa 20
Stanford at California
What is pompously referred to as The Big Game is at least important this year, if not necessarily big.  Each team enters with a record of 5-5, and each faces a tough enough opponent in its final game that this week's loser will have a difficult time reaching a bowl game.
The Golden Bears have done a lot of driving for show this year.  Their 40.7 point per game average ranks ninth in the nation.  Last Thursday, they threw a 38-30 scare into USC after trailing 31-2 in the second quarter.
There's little doubt why the Cardinal are no longer contending this year, once you see that through ten games, their leading rusher has fewer than 400 yards.  A year ago, Tyler Gaffney led the team with 1,709.
When an offense has to cobble together a ground game in the absence of a star tailback, it's euphemistically referred to as "running back by committee," but why would that ever sound like a good idea?  Just imagine a game between the Chicago Bears and the House Ways and Means Committee.  The bloviating congressmen would set a league record for delay of game penalties.  Besides, if you address an opponent as "my friend, the distinguished gentleman," and you don't mean it, that could be construed as taunting.
California 33, Stanford 25
Western Michigan at Central Michigan
If there's anything worse than a cornball motivational device, it's one that appears to be working.  Last season, coach P.J. Fleck arrived in Kalamazoo with his dopey catch phrase, "Row the boat," which is supposed to make his players pull together as a team.  Geddit?  He even introduced a pair of crossed oars as an additional team logo – to go along with, you know, the horse head.
By the end of WMU's 1-11 campaign, the College Football Czar had hoped we'd heard the end of that sort of drivel, but alas.  Whether or not Fleck's psychological ploy has had anything to do with it, his team has improved to 7-3 this year, and has a very good chance of capturing the MAC's West division.
How weak is the MAC this year?  The Chippewas were blown out by Syracuse 40-3, and then beaten by Kansas 24-10, but have since gone 5-2 in their conference to clinch a bowl bid at 7-4.
Fleck should have thought of a catch phrase that had something to do with horse heads.  Bookends come to mind, but it probably wouldn't go over well with the faculty if he adopted the slogan, "End the books."  Besides, it's already been taken by the University of North Carolina.
Central Michigan 28, Western Michigan 27
Oregon State at Washington
Once every nine or ten games, the Beavers decide to make a serious effort to run the ball, and it works.  So, naturally, they don't want to jinx themselves by doing it more often, thereby disrupting the pattern.  Last year, they averaged 94 yards per game on the ground, but in their regular season finale, they rushed for 231 and almost upset arch rival Oregon.  Almost an entire season later, they ran for 247 yards in a 35-27 stunner over Arizona State.  This probably means whoever plays them near next Halloween is in a lot of trouble, but do the Huskies have much to worry about on Saturday?
Well, yes, but not necessarily because of whom they're playing.  UW put up a good scrap in a 27-26 loss to Arizona last week, but that's probably a better result than any of their wins have been.  Looking at the Huskies' weak nonconference schedule, their only easy victory was at home over Illinois.  Besides that, they only beat Hawaii by a poi in their opener, then barely held off Division I-AA Eastern Washington 59-52.  Although they dominated the second half against Georgia State, they actually trailed that game 14-0 at halftime.
In 229 passing attempts this year, sophomore Husky quarterback Cyler Myles has only been intercepted twice.  That's still two more than have been thrown by his near-namesake, Miley Cyrus, but of course, nobody wants to catch what she's got anyway.
Oregon State 22, Washington 17
Maryland at Michigan
Pundits will be watching this game with a morbid fascination, now that Will Muschamp has been dismissed from Florida as of the end of the season.  Wolverine coach Brady Hoke is widely presumed to be next, but a win over new Big Ten foe Maryland might be enough to buy him a reprieve.
The maize and blue have made their circuitous way to a 5-5 record after winning three of their last four games.  Most recently, they held off Northwestern two weeks ago, by shutting down a late two-point conversion attempt to win 10-9.
The 6-4 Terps have only rushed for 1,137 yards this season, and almost one-fourth of those came in their opener against Division I-AA James Madison.  Quarterback C.J. Brown is the team leader with 375 yards on the ground, and nobody else is especially close.
Last week against Michigan State, the Terrapins only rushed for a total of six yards, as they went minus-4 in turnovers in a 37-15 loss.  Good thing they were wearing their special "Black Ops" uniforms, so that potentially embarrassing performance can remain a secret.
Michigan 23, Maryland 13
Ole Miss at Arkansas
The Hogs slobberknocked LSU 17-0, to end a 17-game SEC losing streak.  That stat is a bit misleading, however, because they've been far more competitive in their conference games in this, Bret Bielema's second season in Fayetteville.  Earlier this year, they went to overtime against Texas A&M, and then only lost to Alabama 14-13.  Three weeks later, they almost forced OT against a top-ranked Mississippi State team, until they were picked off in the end zone with seconds remaining.
At this point, the Rebels might not even remember what it's like to win a significant football game.  Since back-to-back losses to LSU and Auburn, they've beaten up on the I-AA Presbyterian Blue Hose 48-0, and then apparently needed a week to rest up.  The last time they've beaten a Division I-A opponent was a 34-3 win over Tennessee back on October 18th, before you even bought your Halloween candy.  Unless you were really, really excited about Halloween, that is.
The Razorbacks are on their way to having two 1,000-yard rushers this year, whether they play in a bowl game or not.  Jonathan Williams only needs another 68 yards in his last two games, while Alex Collins needs 114.
The Blue Hose mascot is Scotty the Scotsman.  The Czar can't go into detail about how Scotty was chosen to represent the Blue Hose, but suffice it to say, he won first prize.  In the pick-the-mascot contest, that is.
Arkansas 27, Ole Miss 24
Marshall at UAB
All college football fans know what a great quarterback the Thundering Herd have in Rakeem Cato, but did you know that the moo-men actually rank seventh in the nation in rushing yards?  Bruising junior running back Devon Johnson is leading the way with 1,402 yards, while the team overall has 2,940.
An attention-grabbing upset would do wonders for the endangered Blazer program, which is still only 0-1 in bowl games since first establishing a Division I-A team in 1996.  What chance they have of slowing down the Herd rests in the hands of tailback Jordan Howard.  The powerful sophomore, who has gained 1,157 yards so far, needs to carry his team on some long, time-consuming drives to frustrate the unbeaten visitors.
Athletic director Brian Mackin says of his "strategic plan to maximize resources" that, "I firmly believe this approach will lead to the most exciting era in UAB athletics."  But the school is building a new, on-campus soccer stadium, and putting the football program on the chopping block?  Who did Mackin hire as his excitement consultant, Bert from Sesame Street?
Marshall 45, UAB 35
Fresno State at Nevada
The Wolf Pack are a prime example of a team that plays to the level of its competition.  In their ten games this year, the most lopsided was their 16-point victory over San Diego State.  For the season, their games have been decided by an average of 8.8 points, with each of their four losses being within a touchdown.
At 4-6, the Bulldogs still remain alive for a postseason bid after snapping their second three-game losing streak of the season.  Their season-opening slump was a lot more understandable, when they were blown out in consecutive games by USC, Utah and Nebraska.  This more recent skid included an overtime loss at UNLV, and a 45-17 blowout by Wyoming at Bulldog Stadium.
Since coming to FSU as a graduate transfer from Duke, the Phantom has been nowhere to be seen.  Senior scrambler Brandon Connette hasn't attempted a pass since late September, and has only had ten rushing attempts for 39 yards in the meantime.
Only the French could have come up with as lame a movie monster as the Phantom of the Opera.  They might as well have named him Brandon Connette while they were at it.  "Sacre bleu, it's Brandon Connette!  Run for the usual place!"
Nevada 39, Fresno State 30
a sports publication from The Shinbone