The College Football Czar
Week 13
<![if !vml]>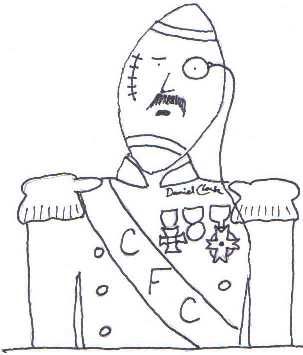 <![endif]>
Week twelve in review: As has become his tradition, the College Football Czar releases his Thanksgiving picks on Tuesday, so his readers are able to peruse them during their breaks at work. As he often asks on such a short week with less editing time, please excuse these picks' relative unliteratude. With a little luck, the difference will not even be noticeable, because the Czar happens to be a proud gradjeeate of the University of Pixberg, where he majored in word-usin.
ESPN billed last week as Statement Saturday, but it turned out to be more like Question Saturday, leaving fans across the country sitting in front of their TVs and saying, "Whaaa?" Fifth-ranked Tennessee was unofficially eliminated from national title contention when they were unceremoniously stomped by South Carolina, 63-38. Undefeated national contenders Michigan and TCU needed very late field goals in order to stave off upset attempts, while #1 Georgia and #2 Ohio State didn't fare terribly much better. In the last televised game of the night, tenth-ranked Utah was toppled by #12 Oregon, mostly because its star quarterback was outplayed by his obviously injured counterpart. Runaway ACC Coastal division winner North Carolina suffered its first conference loss of the season, blowing a 17-0 lead to lowly Georgia Tech. Altogether, another six ranked teams were defeated by lower-ranked or unranked opponents.
As wacky as many of the results were, it was one of the College Football Czar's better weeks of the season, at 13-5. For the year, he is 129-95, for a .576 winning percentage.
Nov. 24
Mississippi State at Ole Miss
If the Bulldogs had their way, this renewal of the Egg Bowl would be renamed the Egg Toss, given coach Mike Leach's propensity to chuck it all over the field. Last year, the yolk was on them, as their O was just offul until the fourth quarter of a 31-21 setback. They have shown somewhat more offensive balance this season, running the ball 30.1 percent of the time, compared to 27.7 a year ago.
Once 7-0, the Rebels have now lost three of their last four, their only win during that stretch being a 31-28 tussle against an aimless Texas A&M team. Last Saturday at Arkansas, they at least managed to reverse their season-long trend of unraveling in the second half, instead rallying for three fourth-quarter touchdowns. The bad news is that they had been trailing by 36 points, before closing the gap to 42-27.
The mud puppies had played a pretty good nonconference schedule until last week's pointless 56-7 pummeling of Division I-AA East Tennessee State. Obviously, the SEC encourages these November games against lower-division opponents, but of what value are they, really? Last season, MSU's 55-10 trouncing of Tennessee State did nothing to prepare them for a high-stakes SEC finale. In 2019, they roughed up Abeliene Christian 45-7, and only beat their rivals from Oxford 21-20, thanks to Elijah Moore's costly 15-yard penalty for piddling.
One tradition in this almost annual Thanksgiving game in the Magnolia State is the pecan pie, which may be served in lieu of pumpkin. The announcing crew always points out that in those parts, it must be pronounced "pi-CAHN," and this insistence on the part of the locals is wholly understandable. Nobody wants to eat pie out of a pee can.
Ole Miss 28, Mississippi State 23
Nov. 25
Tulane at Cincinnati
In a possible preview of the American Athletic Conference championship game, these two ranked teams tangle for the regular season title, while the loser risks falling into a second-place tie with Central Florida and/or Houston.
The 9-2 Green Wave are looking to reverse last year's 2-10 finish, with basically the same lineup. Both of those losses have been at home this season, whereas their 4-0 road record includes a big nonconference victory over Kansas State.
The Bearcats, who trudged past Temple 23-3 last week, have been an offensively pedestrian team this year, ranking eighth in the 11-team conference in yards per game. In AAC play, they haven't scored more than 30 points since a conference-opening 31-21 win over Tulsa. They are leading the league in defense, however, with the Wave running a close second.
In this battle for AAC royalty, UC may reside in the Queen City, but it's the team from New Orleans that has its Mardi Gras tiaras shined for the occasion. Not that there's anything wrong with that, even though there is.
Tulane 24, Cincinnati 21
Nc State at North Carolina
With an ACC championship matchup against Clemson already set, the Tar Heels and their light blue unis took a powder against an unheralded Georgia Tech team, blowing a 17-point lead in a shocking 21-17 defeat. With their flickering CFP hopes now squelched, they have very little to play for this week, other than the chance to beat their arch rivals from Raleigh.
By the rankings, it was an upset when the Wolfpack lost to Louisville last week, but with prolific QB Devin Leary done for the season, and coming off a loss to lowly Boston College, what did anybody really expect? In a game that was a lot closer than the 25-10 final, the NCSU offense became desperate late in the fourth quarter, and failed on two fourth-down conversions in its own territory, which added nine points to the final margin.
James Taylor is going to Carolina in his mind, but why? Do the people there still pay hundreds of dollars to see washed up mumblers perform?
North Carolina 31, Nc State 14
Baylor at Texas
The Waco kids have been in some ugly games this year, though none of them as mucky as that 7-0 slog in Haley v. United States. They'll need to do a better job snatching land if they are to come away from Austin with a win. The no-longer defending Big XII champs are now ending the season against the top three teams in the conference, having been clobbered by Kansas State a week before failing to finish off an upset bid against unbeaten TCU.
In that loss to the Horned Frogs, BU hung onto a 28-26 lead by foiling a two-point conversion attempt with just over two minutes to play, but on the ensuing possession they made the classic mistake of worrying too much about the clock at the expense of their own offense. By predictably plodding for little yardage, they succeeded in making TCU use all of its timeouts, but still punted the ball back to them with 1:30 to play. Two quick completions later, the Frogs found themselves on the cusp of field goal range.
The Longhorns had a far easier time against Kansas this year than they had in any of the past five seasons, when the Jayhawks were horrid. Junior running back Bijan Robinson romped for 243 yards and four touchdowns in the 55-14 runaway. With another performance like that, the pointy cows would still need KU to upset Kansas State to make it to the Big XII title game. More likely, they'll carry Big Mo with them into the Alamo Bowl.
It was after a 2012 Alamo Bowl win over Oregon State that coach Mack Brown made headlines for handing out rings to his team, saying he was rewarding them for building momentum into the following season. As widely ridiculed as he was, it's actually common for players to be given rings for winning bowl games, even minor ones. The famous faux-champions from Central Florida even had rings made to commemorate their victory in last year's Gasparilla Bowl. The College Football Czar will be the first one to tell you that bowl games are not meaningless, but it sure makes it seem that way, when they start handing out the athletic equivalent of local Emmys.
Texas 42, Baylor 34
Florida at Florida State
The Gator ground game abandoned them in a 31-24 loss at Vanderbilt, where they continued the theme that when they don't run, they don't win. In ten games against Division I-A opponents, Billy Napier's team is 5-0 when Montrell Johnson rushes for 75 yards or more, and 0-5 when he does not.
Depending on how North Carolina finishes the season, the Orange Bowl is not out of the question for the Seminoles, who have just dusted off Napier's old school, Louisiana-Lafayette, 49-17 to improve to 8-3. If both UNC and FSU finish with three losses apiece, the Noles' opening victory over LSU could vault them into the second spot in the ACC postseason pecking order.
Until the Seminoles let up on ULL in the fourth quarter, they had led 49-3. They did not let up on their previous two opponents, Miami and Syracuse, whom they suffocated by scores of 45-3 and 38-3. The way that defense is playing, it does not look likely that the UF running backs will have one of their better days.
The Gators were the team that lost last year's Gasparilla Bowl to UCF. As a reward, they got absolutely nothing to remind themselves of the event. If only their fans watching at home were so fortunate.
Florida State 27, Florida 17
Arizona State at Arizona
With the Territorial Cup at stake, one might think the Cats would have a natural advantage, but can you imagine what it must smell like when a Sun Devil marks his territory? ASU has won the last five games in this series, to take the overall lead at 44-40-1.
Tucson was not the name of the cat who could drive a car, but the team from there has shown about as good a sense of direction. A week after they waylaid UCLA 34-28, the Wildcats were eliminated from bowl eligibility with a 31-20 loss to Washington State. Former Wazzu quarterback Jayden DeLaura, now at the U of A, appeared to have divided loyalties as he completed four passes to the wrong team.
The Devils, likewise, notched an unlikely midseason win over Washington, only to lose to Stanford the following week. The problem with their passing game is that there just isn't enough of it. In spite of a 1,000-yard season from leading rusher Xazavian Valladay, they have gone 3-8, while being held under 20 points on five occasions.
Valladay ought to sue Coca-Cola for discrimination. All those Aidan and Caleb and Tristan cans, and not one Xazavaian. Must be some of that unconscious bias we've heard so much about.
Arizona 37, Arizona State 32
Wyoming at Fresno State
Since losing their first four games against Division I-A opponents, the Bulldogs have won six in a row to take first place in the West division. Regardless of this week's outcome, they are on their way to Boise to play for the Mountain West title.
The Cowboys couldn't catch Boise State for the MWC Mountain division lead last week, when the absence of starting QB Andrew Peasley proved costly. In that 20-17 setback, sophomore Jayden Clemons was picked off three times while completing only three of 16 passes to his own teammates. The last of these interceptions came at the end of the game, when the Pokes had just recovered a fumble at the BSU 21-yard-line and could easily have forced overtime.
When asked to comment on Clemons' performance, Pokes' coach Craig Bohl said, "I'm going to love him up. He's hurting." Good grief! Is this what the game has come to? Why doesn't he just say, "I can't quit you, Jayden" while he's at it? If the coach really wanted to be sensitive, he might have tried not to humiliate the kid in a room full of reporters.
Fresno State 31, Wyoming 20
Nov. 26
Pitt at Miami
When are college football coaches going to learn that leaving the head job at Oregon to return home to the Sunshine State is not upward mobility? Following in the footsteps of former UO and Florida State skipper Willie Taggart, head Hurricane Mario Cristobal somehow failed to see this coming. The Canes, at 5-6, can still qualify for a bowl bid with a win on Saturday, but they have shown absolutely no interest in extending their season beyond the originally scheduled twelve games. In their latest lifeless performance, they were squelched for 98 total yards in a 40-10 trouncing by Clemson.
One unfortunate lesson from the 2022 season is not to take in quarterbacks who had previously played at USC. Jaxson Dart isn't doing that great at Ole Miss, and the third-hand pickup of J.T. Daniels hasn't gone at all well for West Virginia. This is the second time the Panthers have come away disappointed by the experience, even though Kedon Slovis gave them infinitely more reason for optimism than Max Browne had. The clutch performer who led SC to a division title in 2020 just doesn't seem to be inhabiting the body that arrived in Pittsburgh during the offseason.
The U plays its home games at Hard Rock Stadium, which is fitting for a program that's stuck between a rock and a hard place.
What a dumb saying! Are we so incapable of thinking of something else hard besides a rock that we need to resort to "a hard place." Never else in the history of the world has anybody ever used the phrase "a hard place" in any other context.
How about "between Pat Narduzzi's noggin and Mario Cristobal's cranium?"
Pitt 22, Miami 14
Michigan State at Penn State
The Nittany Lions complete their romp through the also-rans of the Big Ten East, having already easily dispatched Indiana, Maryland and Rutgers. In their 55-10 onslaught against the Scarlet Knights, they already led 14-10 before recording an offensive score. They didn't even miss injured wide receiver Parker Washington, because QB Sean Clifford hardly had to throw the ball.
Sparty dominated Indiana last week, but lost a 17-point second-half lead, as well as the Brass Spittoon, in a 39-31 double-overtime disaster. They had just taken a 31-14 lead on Elijah Collins' second touchdown run of the day when they let the Hoosiers return the subsequent kickoff for a score to get back in the game.
As long as these teams usually meet at the end of the season, it made perfect sense to try to turn it into a rivalry, but the Land Grant Trophy is without a doubt the lamest trophy in the entire conference. For starters, there are 112 land grant colleges in the United States, so it's not something that distinguishes these two universities. Furthermore, the trophy itself is an entirely too large hodgepodge of smaller trophies, mounted on a C-minus high school woodshop project.
PSU's only other trophy game is against Minnesota, for the almost equally lame Governor's Victory Bell. This just goes to show that the school still hasn't gotten the hang of being an authentic Big Ten institution. Until they start playing an annual game for something like the Broken Butter Churn, or Uncle Luther's Wooden Arm, they should not be eligible for the conference title.
Penn State 34, Michigan State 20
West Virginia at Oklahoma State
That brutal Big XII road schedule has taken its toll on the Mountaineers this season. So far, they have gone 0-3 in conference games away from Morgantown, each of those losses being by 17 points or more. Having come up empty on their last three trips to Stillwater, they'd better bring along the contents of their own still from home, just to be on the safe side.
Trailing Oklahoma 28-0 after one quarter, OSU abandoned the run so completely that QB Spencer Sanders finished the game with 67 pass attempts. Those only included one touchdown, however, as opposed to four interceptions, as the game-long comeback attempt failed, 28-13. It was the fourth game in a row in which the Cowboys were held to 16 points or fewer.
Had it been a baseball game, head coach Mike Gundy would have pulled Sanders on a pitch count by the end of the third quarter. Then he would have loved him up. But we don't really need to know that.
Oklahoma State 20, West Virginia 13
Michigan at Ohio State
The lumpy nuts are looking to start a new winning streak in this series, after being beaten by the maize and blue for the first time in nine years to finish the 2021 regular season. They still haven't lost to the Wolverines in Columbus since 2000.
Both teams have suffered injuries to their star running backs, but the versatility of the Buckeye offense leaves them plenty of options, whereas the Wolverine O, without Corum, is hollow. Blake Corum is currently third in the nation in rushing yardage, and is in a three-way tie for second in touchdowns, one behind Minnesota tailback Mo Ibrahim.
If the Big Ten ditched divisions like most other conferences, these teams would be set to square off twice on consecutive Saturdays, which nobody really wants to see. In addition, if the same team lost both games, it would be dealt out of the CFP, whereas it will probably still make it in at 11-1 as things currently stand.
When the Czar was a kid, watching those bastardized, postwar Popeye cartoons, he didn't think it was possible for Bluto and Brutus to ever be seen at the same time. He was wrong, as he recently realized, upon seeing the Buckeyes' head coach and mascot standing near each other on the sideline.
Ohio State 29, Michigan 19
Notre Dame at USC
The golden domers must wish they'd stayed in the ACC. Their 44-0 blowout of Boston College improves their record to 4-0 against teams from that conference, including victories against both division leaders. Against non-ACC opponents, they're only 4-3, with dismal defeats to Marshall and Stanford.
In a 48-45 shootout win over rival UCLA, Trojan wide receiver Jordan Addison caught 11 passes for 178 yards and a touchdown. It was his biggest game since last year's Pitt-Virginia game, when he reeled in 14 receptions for 202 yards and four scores. Addison had returned from an apparent leg injury to play against Colorado in Week 11, but only caught one ball for two yards that day.
The Irish are 8-1 since making the switch at quarterback, but to view Drew Pyne in that light would be like painting happy trees for the fans back home, when the outlook in Los Angeles is far more foreboding. While the sophomore has been sound, his average of 187 passing yards per game can't keep pace with Caleb Williams, who is averaging 316 yards and three TDs.
Fighting Irish fans can't wait for Southern Cal to join the Big Ten, because that will make the road trips so much easier. Boy, are they in for a disappointment, if they sober up anytime between now and then.
USC 38, Notre Dame 17
South Carolina at Clemson
Gamecock quarterback Spencer Rattler, who had been lying dormant for much of the season, struck a sudden, lethal blow to Tennessee's national title chances, in a 63-38 stunner. The former Oklahoma Sooner slinger toasted UT by completing 30 of 37 for 438 yards and six touchdowns.
It's difficult to say whether the Tigers have clawed their way back since the 35-14 drubbing they took from Notre Dame in Week 10. They have won twice easily, against an offensively undermanned Louisville club that was missing QB Malik/Micale, and a Miami team that has been mailing it in all season long. Now, in order to scrap their way into the CFP, they must record back-to-back victories against their two toughest opponents of the season, hosting SC prior to a conference final against North Carolina.
Once the Czar looks farther back than last week on the Cocks' schedule, however, he remembers how they got squashed by a mediocre Florida team just two weeks ago. Two games earlier, they were beaten handily by Missouri. Sure, they're still 7-4, but up until now, their nonconference schedule has consisted of Georgia State, Charlotte and Division I-AA South Carolina State.
South Carolinians call their home the Palmetto State, but why would they name it after flying cockroaches? It's all a ruse, you see, to prevent the riff-raff from swarming into their state and defiling its pristine beaches. It's a little-known fact that this same motivation is not present in New Jersey, which has adopted the moniker the Flying Cockroach State. In their case, they are simply taking pride in their flying cockroaches.
Clemson 26, South Carolina 10
Air Force at San Diego State
The 8-3 Falcons boast the best defense in the Mountain West, yielding an average of only 14.2 points per game. In their 24-12 triumph over intrastate rival Colorado State, they remained in such total command from the start that they did not even need any completions from starting quarterback Hazziq Daniels, who is normally a somewhat prolific passer for one who runs the wishbone.
SDSU lost its first-ever game in its spanking new Snapdragon Stadium, 38-20, but is now looking to finish its first season there with a home record of 6-1. Mind you, that's partly because the Aztecs have faced most of their toughest opponents on the road, with losses at Utah, Boise State and Fresno State.
The Aztecs mastered flight centuries before anybody could even have imagined the USAF. Well, they wore birds on their heads, so the Czar must have just assumed they could fly. Moreover, they would sometimes throw each other off a pyramid, which was very much like flying, until they hit the bottom. So, according to Snopes, this would be "partially true."
Air Force 17, San Diego State 16
Oregon at Oregon State
Quarterbacks are often denied credit for their statistical success on the basis that they are a product of their systems, which is sometimes true. It seems the opposite may have been the case for Fighting Duck QB Bo Nix, whose struggles in previous seasons may have simply been the by-product of playing at Auburn. Late last Saturday, a gimpy Nix willed his team to a 20-17 win over nemesis Utah, in a display of grit that few would have expected of him a year ago. He now pronounces his ankle to be "ready to go" for this battle with the Beavs, and who could argue?
The Czar, among others, was highly critical of OSU coach Jonathan Smith for passing on two mid-range field goal attempts in a 24-21 loss to Washington, but perhaps he had his reasons. Junior kicker Everett Hayes has only connected on 4 of 10 field goal attempts this season, with one miss from only 23 yards in last week's 31-7 win at Arizona State.
That three-point setback in Seattle has been the only Beaver defeat in six games. Not coincidentally, that streak started right when freshman running back Damien Martinez took command of the offense, rushing for 83 yards against Stanford, and over 100 in each of five games since.
The Ducks and Beavers do battle in the game that's no longer called the Civil War, ever since former UO quarterback Dennis Dixon complained that it was racist to stir up such painful memories of that historic victory over slavery. Does that reflect the kind of education Dixon got at the school that famously doubled as Faber College? Perhaps next, he will tell us all about the time the Germans bombed Pearl Harbor.
Oregon 32, Oregon State 30
Minnesota at Wisconsin
The Golden Gophers look to even things up in this ancient rivalry that dates back to 1890, with the Badgers holding a 62-61-8 lead. UW leads 45-25-3 since Paul Bunyan's Axe was first awarded in 1949, although the radiant rodents' 1948 victory was written onto it retroactively, even though they hadn't played for it that year.
Gopher tailback Mo Ibrahim toted the ball 39 times last week for 263 yards, both career highs. Too bad for him the outcome of the game, a 13-10 loss to Iowa, was not a career high, also. Ibrahim is in the middle of a trio of Big Ten backs who lead the nation in rushing, in between Illinios' Chase Brown and Blake Corum of Michigan.
Badger QB Graham Mertz has played his three Ethelest games over the past three weeks, during which he has completed only 40.8 percent of his passes, with two TDs and three interceptions. Nevertheless, his one-yard plunge into the end zone helped earn a 15-14 win over Nebraska, which makes the Madison Reds bowl-eligible at 6-5.
It's a little-known fact that the original trophy for this game was Paul Bunyan's Bunion Pad, but the players from the winning team were overcome by fumes while carrying it off the field.
Minnesota 16, Wisconsin 12
Louisville at Kentucky
The Wildcats have been formidable for long enough that they ought to be playing a better nonconference schedule by now. Outside the SEC so far, they're 3-0, with two wins over MAC teams, in addition to one against Division I-AA Youngstown State.
It sounds as if quarterback Malik Cunningham might return this week for the Cardinals, who became bowl-eligible in his absence by stopping Nc State, 25-10. Cunningham had already curtailed his running game before sustaining a shoulder injury in a loss to Clemson, after three consecutive 100-yard games in September.
UK running back Chris Rodriguez is nowhere near last year's rushing total of 1,379 yards, but that's mostly because he was suspended for all of September. His 2002 total of 784 yards has been compiled over only seven games. If he keeps that pace up, he'll still finish with more than 1,000 yards. If he bothers playing in his team's bowl game, it's sadly necessary to add.
Kroger Stadium in Lexington was originally named Commonwealth Stadium It's a good thing wealth is common there, or nobody could go to Kroger to buy eggs.
Kentucky 23, Louisville 14
Washington at Washington State
Both of these teams run the ball surprisingly well, which might be partly because they don't do it all that often. When most of your short gains are on quick throws to the sidelines, a run is something of a trick play. The Huskies are gaining 4.4 yards per carry, and the Cougars 4.2, which are the same averages as Pitt and Syracuse, but on far fewer carries.
The Huskies have won five in a row, including two against ranked Oregon State and Oregon teams, since an inexplicable midseason upset at Arizona State. Starting some year soon, they would be able to absorb a bad second loss like that and still make it into the playoff. And to think that people were ticked off when that 12-1 UW team that had lost only to USC became the #4 selection for the CFP in 2016.
The 7-4 Cougars have won three in a row themselves, but those have been against Stanford, Arizona and Arizona State. Prior to that, against Pac 12 opponents the caliber of Kalen DeBoer's team, they competed well, but lost, to USC, Utah and both Oregon schools. Since they could not come up with the apples, they have no need to obtain the Apple Cup.
Washington 45, Washington State 41
Nevada at UNLV
The Wolf Pack have relied heavily on the strength of their Sergeant Hulka this season, but when RB Toa Taua isn't delivering a gut punch, he's getting blowed up, sir. The erratic back is playing well lately, however, with 103 yards against Boise State and 93 against Fresno State. He didn't have much impact on the scoreboard in those games, of course, as UNR was badly overmatched on both occasions.
The Rebels' losing streak, against five formidable opponents, still left open the possibility of a bowl appearance, with two very winnable games left. Last week, however, they were handled in the second half of a 31-25 loss at Hawaii, to fall to 4-7 for the season.
These Silver State rivals play for possession of the Fremont Cannon, a mountain howitzer named after Col. John C. Fremont. A hero in the Mexican War, Fremont was the Republican Party's first-ever presidential nominee, in 1856. Although he was a far better candidate than the incompetent Democrat James Buchanan, he nevertheless lost, due mostly to that regrettable endorsement from Donald Trump.
Nevada 21, UNLV 18
a sports publication from The Shinbone