The College Football Czar
Week 13
<![if !vml]>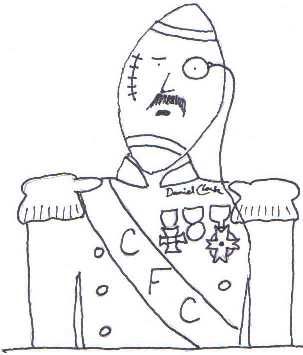 <![endif]>
Week twelve in review:  Things went pretty much as expected, with several of the premier teams taking a breather by beating up on lower-division opponents in mid-November.  The top nine teams in the CFP ratings have held steady, with #10 Oklahoma State's loss to Kansas State being the biggest upset of the week.
But that was the calm before Rivalry Week, which starts with the Egg Bowl on Thanksgiving night, and continues with many of the nation's oldest and most bitter rivalries through Friday and Saturday.  As if defeating an arch rival weren't enough, many of these games involve a bonus award, perhaps in the form of a gigantic axe, a bronze stovepipe hat, a wooden platypus and a milk can.  Anybody who's playing for something called The Victory Bell of The Governors' Trophy, however, needs to appoint a de-lame-ification committee to come up with something else by next season.
In Week 12, the College Football Czar finished 12-5, in spite of a few results – like Western Kentucky-Middle Tennessee, Wake Forest-Nc State, and North Texas-Army – that turned against him at the very last second.  For the season, his record stands at 150-74, for a .670 winning percentage.
As is the case on every Thanksgiving week, the Czar is hurrying his picks out two days early, so that some of his readers can receive them at work before the long weekend.  Of course, this means less preparation time, so please understand that if you come across some passages in this week's edition that are not good wrotely, that's because there was insufficient time to thoroughly editiate them.  The Czar thanks his readers for their patience and understanding
Nov. 23
Ole Miss at Mississippi State
Both teams finished last regular season at 5-7, but MSU received an academic exemption to go to a bowl game, whereas Mississippi did not.  Unless the Rebels have gotten smarter since then, they'd better win this game to level their record at 6-6.  The Bulldogs, meanwhile, are jockeying for New Year's bowl position at 8-3.
A year ago in Oxford, the mud puppies pounded their rivals 55-20, for their most lopsided victory in the Egg Bowl series since 1916.  Quarterback Nick Fitzgerald rushed for 258 yards, to go along with an additional 109 through the air.  The Rebs, who have allowed 35.2 points and 456 yards per game this year, show no signs of slowing him down in this rematch.
If this Rebel team can get revenge this year, they'll have to do it on the road in Starkville, which will be foreign territory for some of the younger players and more recent coaching hires.  If only they had the number of someone who could escort them around town.
Mississippi State 42, Ole Miss 27
Nov. 24
Miami at Pitt
The Pitt Panthers have resorted to Clouseau-esque levels of bungling in order to elude the postseason.  In last week's 20-14 loss at Virginia Tech, WR Jester Weah took a reception down to the one-yard-line with a minute to play, and they failed to score the winning TD in four tries.  Three of these were handoffs to Darrin Hall, who gained only four yards on 15 carries that day.  How hard was it to figure out that he wasn't their best option?  The only reason they threw the ball at all during that series was when they failed on second down, and realized that the clock would expire before they could get off two more running plays.  Freshman QB Kenny Pickett deserved more confidence than that.
Who really didn't have a cleu was the official who had initially awarded Weah a touchdown.  If you watch videos of games from before instant replay, you'll notice that offensive players were often given the benefit of the doubt on close goal line plays, but you won't see a lot of terribly blown calls like that one, where the ball carrier is down before even reaching the one.  Anymore, the on-field officials are generally instructed to make the most passive call available, figuring that replay will fix it if need be.  On this occasion, it worked out that way, but it doesn't always.
The 10-0 Hurricanes hovered just above the level of their competition for a majority of the season, until they finally took off big wins against Virginia Tech and Notre Dame.  Last week against Virginia, they went back to doing just enough, falling behind by two touchdowns on two occasions before rallying to a 44-28 victory.  If they can avoid getting tripped up to end the regular season, it will be asked whether it even matters how they fare against Clemson in the ACC title game.  After all, a one-loss team whose only defeat is to the Tigers should still be in the final four, right?  Then again, the Canes needlessly canceled an early road trip to perennial Sun Belt contender Arkansas State.  Considering the trouble they had at home with MAC West leader Toledo, axing the ASU game should matter.
How on earth did the Pink Panther series ever get off the ground, when it took them all the way until their fifth movie to come up with one that was funny?  That puts it at the same humor success rate that is commonly referred to as the "Czar line."  No relation.
Miami 37, Pitt 24
South Florida at Central Florida
The Knights are one of only four undefeated teams remaining, but they've still got to beat USF and Memphis (both currently 9-1) to secure a New Year's Six bowl bid.  Aside from those three AAC teams, the other "group of five" teams still in the running are Boise State and Toledo, each at 9-2.
If you've ever seen the Running of the Bulls on TV, that's basically what the first half of the season was like for Charlie Strong's team, whose first five wins against Division I-A opponents were by an average of four touchdowns.  Now, we arrive at the considerably less popular event called the Puking of the Bulls, by which point the snarling beasts feel like they've had enough.  In their past four games, they've edged Tulane by six points, been upset by Houston, beaten lowly Uconn 37-20, and held off Tulsa by seven.
Sophomore quarterback McKenzie Milton threw four touchdown passes in last week's 45-19 victory at Temple, increasing his season total to 26, with just five interceptions.  Sometime early in this week's game, he should surpass the 3,000-yard passing mark, and he's rushed for 373 yards and five TDs to boot.  If Mrs. Milton finds him boring, she's rather hard to please.
Central Florida 45, South Florida 31
Virginia Tech at Virginia
If the Gobblers came a yard away from losing to Pitt at home, can they really be said to have ended their slump?  The Czar thinks not.  This young Tech offense has had trouble steadying itself ever since a week 10 meltdown against Miami.
The 6-5 Cavaliers became bowl-eligible with a frantic second-half comeback to beat Georgia Tech 40-36 in Week 10, but that's the only game they've won in their last five.  Not coincidentally, in each of those same five games, leading rusher Jordan Ellis has gained only 58 yards or fewer.
Tech still calls its brand of football "Beamer ball" in honor of legendary ex-coach Frank Beamer, but don't tell that to the school's many engineering students.  They all believe it was named after Scotty.
Virginia Tech 34, Virginia 20
California at UCLA
Each team can become bowl-eligible with a victory, although the Bruins have already fired coach Jim Mora Jr. since last week's 28-23 loss to USC.  They had opened the season with a dramatic 45-44 comeback victory over Texas A&M, in which Josh Rosen threw for 491 yards.  All three times he's passed for more than 400 since then, they've lost.
The Golden Bears' 35-30 opening win at North Carolina doesn't look like much in hindsight, and since then, they've lost all four games away from Berkeley.  Last week at Stanford, they gave up a decisive 57-yard touchdown run to Bryce Love, who was having trouble even walking at the time.  The 17-14 setback drops Cal into fifth place in the Pac 12 North, in spite of their 37-3 whitewash of division leader Washington State back in Week 7.
The Czar doesn't like to see anybody lose his job, but it's just as well that there's no Mora, because that means the moon won't hit your eye.  Just who does the moon think it is, anyway?  Moon Mullins?
UCLA 16, California 12
Missouri at Arkansas
In last year's meeting, the Razorbacks could barely scrape up anything in the second half, after running out to a 24-7 halftime lead.  The 28-24 collapse foreshadowed a similar result in the Belk Bowl against Virginia Tech.
The Tigers have gotten a lot of traction since hitting the soft part of their schedule, which happens to be the majority of it, if you happen to be in the SEC East these days.  Mizzou has averaged 52 points per game in consecutive blowout wins over Idaho, Uconn, Florida, Tennessee and Vanderbilt.  Happily for them, the 4-7 Razorbacks fit right in with that bunch.
Mizzou quarterback Drew Lock leads the nation with 38 touchdown passes – more than Baker Mayfield, Mason Rudolph, Trace McSorley, and all the rest.  Unfortunately, he plays for the team from the Show-Me State, and nobody has seen him do it.
Missouri 56, Arkansas 41
Iowa at Nebraska
Barring a victory in the bright boy loser lottery, this will be Mike Riley's last game as head coach of the Huskers.  His team put up a scrap in the second half against Penn State, but not until the game was essentially over, as they narrowed their 42-10 halftime deficit to 56-44 by the end of the game.
Two games after their big blowout of Ohio State, the Hawkeyes were handled by Purdue, 24-15.  They were held to a meager 258 yards by the Boilermakers, as opposed to 487 against OSU.  Right now, they stand to be the seventh selection out of the Big Ten, which would likely mean a trip to the Foster Farms Bowl in Santa Clara.
This is known as the Heroes Game, not because of any heroism on the field, but because of a presentation that recognizes people who have been nominated by fans of each team for having committed acts of heroism.  For example, this year's honorees are an Iowa man who saved an 8-year-old girl from drowning in a lake, and a Nebraska man who used his belt as a tourniquet to stop a woman from bleeding to death after a car accident.
The tradition of the Heroes Game is now seven years old, and incredibly, never once have any of those red-state yokels nominated somebody for heroically becoming confused about what sex he is.  Thank heaven we still have the ESPYs to right social injustices like that.
Iowa 20, Nebraska 16
Texas Tech at Texas
A certain amount of luck has been involved in the Longhorns' already reaching bowl-eligibility at 6-5.  They watched West Virginia QB Will Grier injure himself in the first quarter a week ago, and they got their hands on Iowa State while it was still starting the wrong player at quarterback.  In addition, it sure helps that they've gotten to beat up on Baylor, Kansas and San Jose State.
The Tech attack was stifled by TCU, 27-3, pushing them to the brink of another losing season.  Nic Shimonek's scant total of 137 passing yards were mostly undone by one 94-yrd interception return for a touchdown.
If the Red Raiders lose this game to finish 5-7 like last year, coach Henri from Cheers might not be smooth enough to talk his way around it.  If he got fired, that would be a real shame.  He might even have to join Norm in going to work for that awful Mr. Crytzer.
Texas 23, Texas Tech 15
Nov. 25
Penn State at Maryland
There was no white-out at Beaver Stadium last week, although the Nittany Lions would have liked some to blot out parts of the box score from their 56-44 win over Nebraska.  It's a good thing they faced so few offensive threats this year, if they're capable of giving up 399 passing yards to Tanner Lee with no takeaways.
The Terrapins took on a tough schedule this year, which has included losses to six teams that currently have eight or more victories, including unbeaten nonconference foe Central Florida.  When they were 4-4, however, they had a letdown in a 31-24 loss to Rutgers that has left them little to play for.
Previewing this week's game, the PSU head coach tweeted, "Maryland Maryland Maryland Maryland Maryland Maryland Maryland Maryland Maryland Maryland Maryland Maryland."  Let that be a lesson to you.  Next time you go inside the mind of James Franklin, be sure to wear your lard galoshes.
Penn State 49, Maryland 30
West Virginia at Oklahoma
The forecast isn't rosie for WVU without quarterback Will Grier, and there's nothing that can wash the sad away.  The starter had thrown at least two touchdowns in every game this season, before leaving the first quarter of last week's 28-14 loss to Texas with a broken finger on his throwing hand.
For behaving like some goober who probably thinks Adam Sandler is funny, Sooner QB and presumptive Heisman frontrunner Baker Mayfield will not be allowed to start this game.  Coach Lincoln Riley has not said when Mayfield, who directed foul language and obscene gestures at the Kansas sideline last week, will enter the game, but we can bet that it will not be as soon as it would have been, had the Mountaineers not lost the services of Grier.
The College Football Czar doesn't mean to single out Dana Holgorsen for his remarks about Grier's injury, because almost every head coach does the same thing, but while purporting to take responsibility for the incident, he passed the buck in the same breath.  Shortly after explaining, "We don't coach diving for the pylon," he added, "we've got to do a better job coaching it."  The really weird thing is there's no reason for anyone to be blamed.  Grier instinctively made an aggressive play.  Injuries happen.  Anyone who, upon seeing Grier clutching his hand in pain, blamed Holgorsen, is a lardhead.
Everyone knows by now that when a head football coach says, "It's on me," the idea he means to get across is that he is selflessly accepting responsibility, even though it's not really his fault.  The Czar only wishes he had thought of that when he was four.
Oklahoma 35, West Virginia 19
Alabama at Auburn
If, two weeks ago, someone had told you that the Tigers "control their own destiny," that would have sounded somewhat promising.  What it means is that, even after slobberknocking SEC East leader Georgia, they must upend the Crimson Tide, and then beat Georgia again for the SEC championship, and then beat two more of the very best teams in the nation in order to win the championship.  Then again, every team controls its own destiny in August.  It's not as easy as it sounds.
Under a lesser coach, the Tide would be in deep trouble this week, but Nick Saban is not about to be tricked into thinking that the shortcomings his team showed in a 31-24 scare against Mississippi State are over, just because they proceeded to pummel Division I-AA Mercer, 56-0.  Bama is not Penn State.  Every opponent is not equal.  There's a world of difference between MSU and Mercer, and they know it.
While offensive "skill players" like QB Jalen Hurts continue to get all the ink, the pachyderms' defense is once again tops in the nation, in both points and yardage per game allowed.  In fact, those 24 points they allowed in Week 11 are a season high.
You know you're at the Iron Bowl when they play "In-A-Gadda-Da-Vida" at the end of the third quarter, instead of "Sweet Caroline."  It's a welcome departure, to be sure, but as a sing-along, it leaves a lot to be desired.
Alabama 28, Auburn 17
Ohio State at Michigan
What already figured to be the least interesting game between these two in recent history has become even more anticlimactic with the probably loss of Wolverine QB Brandon Peters.  The sophomore slinger was wheeled off the field in Wisconsin with a head injury, to be replaced by John O'Korn, who completed just 2 of 8.  Their touchdown-to-interception ratios are near mirror-images, with Peters completing four TD passes with no INTs, whereas O'Korn has been picked off five times and passed for only one score.
In 2016, the Buckeyes advanced to the final four on the strength of their double-overtime victory over the maize and blue, which hinged on a very controversial but correct call on a fourth-and-one play, when OSU coach Urban Meyer eschewed a tying field goal attempt.  The Czar admits he thought lumpy nuts' quarterback J.T. Barrett (the nonth, at the time) was stopped short while watching the game live, but slow-motion replays proved the officials correct in calling the first down.
Nevertheless, U of M running back Karan Higdon remembers it differently.  "I think everyone knows we definitely won that game, hands down," he tells the Detroit Free Press.  Evidently, he has chosen to live in his own alternative reality.  Shouldn't he get an ESPY for that?
Tellingly, Higdon took faux-responsibility by using the magic words, "That was on us to put it in the hands of the refs."  The whole reason he's discussing it now is to claim that the Wolverines were robbed.  Saying the defeat "was on us" does not mean he really thinks he and his mates were to blame.
It would almost be worth going 0-and-everything on this week's picks, just to be able to come back a week from now and declare, "It's on the Czar."
Ohio State 52, Michigan 28
Washington State at Washington
Not only isn't there a viable path for the 9-2 Huskies to return to the national semifinals, but their Week 11 loss to Stanford means they won't be going back to the Pac 12 championship game, either.  At best, they could still go to a New Year's Six bowl game as the second selection from the conference.  In order to get there, they'll have to be a lot tougher in the trenches than they've been in their past two games, a 30-22 bullying by Stanford, and a 33-30 escape against an apparently overmatched Utah team.
A win for WSU would put them in the league title game opposite a USC team that has not improved since the Cougars beat them in Week 5.  Defeating the Trojans again might not be as tough a task as getting past UW, which has won 7 of the past 8 Apple Cups.  That's in part because senior QB Luke Falk and the one-dimensional Wazzu offense play into the hands of a Dogs' defense that is eighth in the nation this year against the pass.
The College Football Czar always wonders why the winners of this game are awarded the Apple Cup, when anybody can see that an apple has got nothing to protect.  If there's any fruit that needs a cup, it's the grape, as is evident from the name of the cereal.
Washington 30, Washington State 28
Georgia at Georgia Tech
The 5-5 Yellowjackets have won all five games at their home field this season, and they'd better make it six, or they'll be staying home until next year.  They would not likely have won their game that was canceled at Central Florida in early September, but the loss of that opportunity means they must beat the Bulldogs to continue the season.  To them, it's almost as if we've flashed back to the early 90s, when a college football team had to achieve the herculean feat of going 6-5 in order to play in a bowl game.
Kirby Smart's 10-1 Bulldogs bounced their way back into the CFP picture by being among the few highly ranked teams to tangle with a real opponent last week, and easily dispatching a competent Kentucky club, 42-13.  Nick Chubb led a yuuuge UGA rushing attack with 151 yards, with Sony Michel adding 87, freshman D'Andre Swift chipping in another 66, and sophomore Brian Herrien 48 more.
Perhaps the most colorfully named rivalry in all of college football, this series is known as "Clean, Old-Fashioned Hate."  The youngsters who play for these two teams are probably wondering where hate used to come from, before social media.  From rubbing two sticks together?
Georgia 39, Georgia Tech 19
Wisconsin at Minnesota
The Golden Gophers haven't won Paul Bunyan's Axe since 2003, at which time they should have used it to chop down the Metrodome.  The Badgers have walked off with the big blade 13 times in a row, to give themselves a one-game lead in the all-time series, 58-57-8.
At 11-0, the cheeseheads are still only #5 in the CFP ratings, but that is of little concern to them with #2 Miami and #3 Clemson on collision course.  If UW wins this game, and beats Ohio State in the Big Ten championship game, they're a cinch to get their national title shot.  You don't win the axe just by axing for it, though, so don't expect them to overlook their ancient rivals this Saturday.
The radiant rodents' 39-0 loss to Northwestern was their worst defeat in that entire series, which dates back to 1892.  Perhaps they decided that it was unfair for Sen. Al Franken to keep all of the embarrassment in their state to himself.  It seems that the USO told the alleged comedian to go to some country called "a rack," and he misunderstood.
Wisconsin 27, Minnesota 7
Notre Dame at Stanford
The Cardinal (8-3, 7-2) must await the Apple Cup to find out if they'll be playing for the Pac 12 championship.  Based on head-to-head results, they'd win a tie-breaker with Washington, but not with Washington State.  To them, this game is inconsequential to the big picture, but don't expect their best players to sit this one out, on the basis that a game against Notre Dame is meaningless.
Fighting Irish running back Josh Adams appears to be reasonably healthy at this point, unlike his counterpart, Bryce Love.  Adams carried the ball 18 times for 106 yards last week, in a tough, 24-17 victory over traditional foe Navy.  The limping Love had almost identical numbers against Cal, but apart from one long touchdown run, he was otherwise ineffective.  In addition to the health factor, the golden domers have motivation on their side, because at #8, they're still not out of it.  The conventional wisdom says an Independent is at a disadvantage without a league championship game to play in, but the Irish get to kick back next week and watch Miami and Clemson, and Alabama and Georgia, beat the phlegm out of each other, while Wisconsin and Oklahoma risk elimination.
In that Navy game, everybody in a Notre Dame uniform was walking around with the name "Rockne" on the back of his jersey.  Gee whiz, ol' Knute must have been busier than Steve Garvey.
Notre Dame 31, Stanford 14
Texas A&M at LSU
Early this season, it would have been a foregone conclusion that the losing coach in this game would be gone, but Ed Orgeron, whose Tigers are 8-3, and Kevin Sumlin, whose Conjunction Boys are chugging along at 7-4, appear to be safe for the time being.
As ugly as the Aggies' year started, they guaranteed themselves a winning record last week with a 31-24 win at Ole Miss.  Nick Starkel is not a chicken of the sea, or on land either, has the freshman QB has proven by returning from a broken ankle to lead his team into the postseason.  Against the Rebels, he completed 19 of 32 for 272 yards.
A three-loss season might have been enough for the Bayou Bengals to dismiss Fewer Miles, but they're not about to make a similar move this year.  Since an upset loss to visiting Sun Belt team Troy, they've gone 5-1, with an upset win over Auburn, and a 24-10 loss to Alabama.
The mascot of A&M, being a military college, is a collie named Reveille, after the trumpet call that is used to wake up the soldiers.  It so happens that "reveille" is a French word, nevertheless it is foreign to the people of Baton Rouge.  Waking up when you don't want to and making yourself do things just doesn't translate into their language.
LSU 23, Texas A&M 17
Arizona at Arizona State
Not only did the Wildcats lose at Oregon by a humbling score of 48-28, but they took a bruising that is likely to linger into this game.  Scrambling sophomore QB Khalil Tate took a beating early in that game, which surely contributed to his being held to only 32 rushing yards.  Three U of A defensive lineman got hurt also, helping to pave the way for 353 rushing yards for the Fighting Ducks.
Needless to say, the Sun Devils had thinks a little bit easier, going up against Oregon State rather than Oregon.  Running backs Demario Richard and Kalen Ballage combined for 222 yards on 36 carries in a 40-24 victory, which made ASU bowl-eligible at 6-5.
This rivalry for the Territorial Cup began in 1899, when ASU, then the Normal School of Arizona in Tempe, defeated the University of Arizona, 11-2.  "Normal school" is what they used to call a teacher's college, but what the Czar doesn't understand is why?  How many teachers do you remember ever having, who seemed to have come out of a normal school?
Arizona State 25, Arizona 22
Louisville at Kentucky
If the 7-4 Wildcats can repeat last year's performance against their intrastate foes, and then go on to win their bowl game, it will make this their best season since they went 10-1 in 1977.  Unfortunately, that team was on probation and unable to play in a bowl game.  Since then, when UK qualifies for a bowl, it has usually been with an SEC record of 2-6, and a 4-0 record against weenie nonconference opponents.
The Cardinals, also 7-4, shouldn't get too worked up about their 56-10 rout of an exhausted, undermanned Syracuse team.  When facing more formidable competition, they've still been allowing lots of points, and still had trouble protecting QB Lamar Jackson.  In fact, things haven't changed much since last year, when they were beaten by the Cats 41-38, with the aid of three interceptions from their soon-to-be Heisman-winning quarterback.
The Czar is glad he doesn't attend games at a place called Commonwealth Stadium, because if wealth is common, that means the refreshments will be very artisan-y.  Gnawing at egg whites on flatbread and sipping pomegranate juice is no way to watch a football game.
Kentucky 47, Louisville 42
Colorado at Utah
The winner of this game ekes into the postseason at 6-6, possibly for a berth in the Arizona Bowl.  The Utes have lost six of their last seven, but they actually seem to be coming on strong recently, losing tough battles to both Washington schools after slamming UCLA.  The Buffaloes' only really good win of the season was the 17-3 thumping they put on Colorado State in their opener.  Their two victories in Pac 12 play have come against Oregon State and Cal.
CU won last year's meeting 27-22 to snap a four-game losing streak in the series, but their offense hasn't been nearly as prolific this season.  Hence, they are fighting to stay out of the basement in the South division, instead of representing it in the conference championship game as they did a year ago.
Have you ever looked at the Rocky Mountain states on a map, and gotten the impression that God is playing Tetris?
Utah 24, Colorado 16
Florida State at Florida
Don't be surprised if the Gators have been working behind the scenes to reschedule a twelfth game, in case they beat FSA to finish 5-6.  The Seminoles, who could also improve to 5-6 this week, have already rescheduled their previously canceled game against Louisiana-Monroe for next week.  UF's problem is that their original opponent, Division I-AA Northern Colorado, has already ended its season and would be likely to return for another game at this point.
The 2017 season has been a long slog for both teams, but at least by the end of the season, the Noles know who their starting quarterback is.  None of the five QBs the Gators started out with has yet forcefully taken the reins of their offense.
Supposedly, the Gators have been in negotiations to hire Chip Kelly as head coach.  Kelly has been asked to confirm this, but nobody knows yet whether he has or not.  We're still waiting for the UF marine biologists to translate his responses from dolphin to English.
Florida State 29, Florida 24
UNLV at Nevada
The 5-6 Rebels are still alive for a possible bowl bid, despite having lost their opener to Howard (and ten other guys, presumably).  They revived their season in a shocking Week 9 upset of division-leader Fresno State on the road, and scored a late TD last week to stay alive with a 38-35 win over New Mexico.
The 2-9 Wolf Pack have been in most of their games, losing three of them by three points or fewer.  They have lost to a Division I-AA team as well (Idaho State), but that was when starting quarterback Ty Gangi was injured.
The trophy for this rivalry game is the Fremont Cannon, a mountain howitzer modeled after the one that Col. John C. Fremont used to repel Indians.  The way it would work was that Fremont would say, "How" to which the Indians would respond, "How who?"  Then, he'd deliver the punch line "howitzer!" and open fire.
Fremont would go on to be the Republican Party's first unsuccessful presidential candidate, in case you were wondering from whom Bob Dole inherited his wit.
UNLV 40, Nevada 31
Clemson at South Carolina
A ranked Gamecock club lurks as a treacherous Tiger trap on the way to an ACC title game against Miami.  The paw boys are on their way to face the Hurricanes in any event, but even if they win the conference, they aren't likely to reach the CFP semis with losses to both Syracuse and South Carolina.
Upon closer examination, many of Carolina's eight wins are not impressive enough to suggest they might topple the defending national champs.  SC has only defeated Louisiana Tech by one point, Tennessee by six, Vandy by seven, and Florida by eight.
On the topic of lame rivalry trophies, this clash between cross-state rivals was christened the Palmetto Bowl in 2014, but it's trophy is just a bronze likeness of some stupid tree.  As long as they're naming the game after flying cockroaches, they might as well have gone all the way with it.
Clemson 27, South Carolina 17
a sports publication from The Shinbone