The College Football Czar
Week 13
<![if !vml]>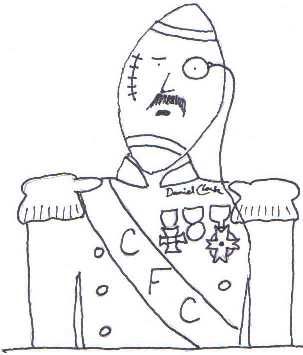 <![endif]>
Week twelve in review: After Houston's 36-10 Thursday night thrashing of Louisville, there were no other major shake-ups, due mostly to a dearth of marquee Saturday matchups.  The survival of most conference contenders have set up an excellent slate for Week 13, however, with 13 of 18 division and conference titles still up for grabs.
Unverified reports have been circulating of the alleged firing of head coach Charlie Strong from Texas, which is widely seen as an inevitability anyway.  The school is angrily denying the rumors, insisting that no decision will be made until the end of the regular season.  Considering that the Longhorns play their regular season finale this Friday, it's not too much to ask to avoid jumping to conclusions until then.
As always on Thanksgiving week, the Czar is releasing his picks two days earlier than usual, so that those of his readers who access them from work may see them on Wednesday.  That leaves him working on an extremely short week, however, so please excuse this week's installment's relative uneditedhood.
Last week, the College Football Czar went 14-5, which gives him a season record of 134-81, for a .623 winning percentage.
Nov. 24
LSU at Texas A&M
The Eye of the Tiger rolled snake eyes, as the Bayou Bengals lost on their gamble to move their rescheduled game against Florida to Baton Rouge.  The 16-10 home defeat drops them into a third-place tie with A&M in the SEC West.  Next year's conference title chances will now be hindered by having to play both Florida and Alabama on the road.
The Conjunction Boys have malfunctioned since losing QB Trevor Knight to a shoulder injury, falling to both Mississippi schools, and scoring an unremarkable 23-10 win against Texas San-Antonio.  Jake Hubenak's passing stats actually compare favorably to Knight's, but he can't make up for the starter's effectiveness on the ground.  Knight is still the team's second-leading rusher, with 583 yards and ten touchdowns.
Louisiana State's ground game is gimpy, also.  A less-than-100-percent Leonard Fournette was eager to get in the game against the Gators after a pregame tussle between the teams, but he wobbled off in the second half with only 40 yards on 12 carries.
It doesn't sound like the Tigers are very interested in keeping interim head coach Ed Orgeron for next season, but the Czar wishes they'd reconsider.  Take a look at Orgeron on the sideline and ask yourself, with the old-fashioned brand of football they play in Baton Rouge, who would be a more fitting leader than Twinkle Toes Flintstone, whose deceptive signal-calling won the big game for Prinstone University against Shale?
LSU 17, Texas A&M 14
Nov. 25
Washington at Washington State
These cross-state rivals compete for possession of the Apple cup, although it's a little late for the Cougars, who already took a shot to the apples last week against Pac 12 South leader Colorado.  That 38-24 road loss does not reduce their chances of winning the North division, and getting a possible rematch against the Buffaloes on neutral ground.
Last year in Seattle, the Cougars coughed up the ball seven times in a 45-10 UW runaway.  Myles Gaskin led the way for the Huskies with 138 rushing yards and two TDs.  This year, his yards-per-carry average has improved by half a yard, to 6.2, and he's been a more productive receiver as well.
The Cougs' offense is slightly more balanced than it's been in recent years, but it still leaves them at a disadvantage against the more versatile Husky O, which can trade big plays with them through the air, or play keep-away with their ground game.  For the season, just over 55 percent of the Dogs' offense comes from its passing game, whereas for Wazzu, that number is almost 80 percent.
WSU coach Mike Leach says he would like President-elect Donald Trump to appoint him as Secretary of Offense.  Sorry, coach, but The Donald is already quite proficient at offending, without any help from you.
Washington 49, Washington State 41
TCU at Texas
A win would give the Longhorns a 6-6 record and a bowl bid, but would that be enough to save head coach Charlie Strong?  The third-year skipper's team was not so much strong like a bull, and more strong like limburger cheese, in a shocking 24-21 loss to lowly Kansas.
With a once-certain postseason berth already in danger, the Horned Frogs jumped from the fire into the dissecting pan last week, when they were systematically dismantled by Oklahoma State, 31-6.  Gary Patterson's team, now 5-5, must beat either the Horns or K-State if they want to get into a bowl game on their athletic merit.
A page on the ESPN website features a video of the University of Texas' season and all-time leading rushers, with the caption, "Ricky Williams shares Longhorn wisdom with D'Onta Foreman."  Really?  What kind of wisdom does Williams have to share?  "Smoke so many mountains of pot that you lose your motivation to earn tens of millions of dollars."  If that's the kind of wisdom that's wafting around Austin, it's no wonder that program is in the shape it's in.
TCU 25, Texas 22
Nebraska at Iowa
This is the "Heroes Game," in which each team nominates one person from its home state, to be recognized at halftime for having committed heroic acts.  Certain players for the Cornhuskers – and they know who they are, would do themselves a favor if they paid close attention.  After that, they might want to consult their textbooks about Fort McHenry.  On second thought, let them search the internet, it's actually more reliable.
The Hawkeyes followed up their upset of Michigan by blanking Illinois, 28-0.  It was the second game in a row that they've won with C.J. Beathard passing for well under 100 yards.  The Huskers haven't had such a prolific passing game themselves.  With starter Tommy Armstrong out, they had to turn to Ryker Fyfe, who used his one bullet in a 28-7 win over Maryland before sustaining a broken wrist.
While most big Ten fans are fixated on the logjam in the East division, there could be a four-way tie atop the West, if only Iowa and Minnesota can pull the mildest of upsets.  Just what would they use as a tie-breaker for that one, cow-tipping?
It's a little-known fact that cows actually seldom tip, but when they do, they only give 2 percent.
Iowa 19, Nebraska 17
Toledo at Western Michigan
There was chaos in Kalamazoo last week, when WMU hosted College GameDay, but the Broncos' 3-0 blowout of Buffalo was never going to be much of a contest.  The real challenge comes this week, with the 9-2 Rockets threatening to take off with the MAC West title in Waldo Stadium.
UT quarterback Logan Woodside lit up the field for 325 yards and three TDs, as he led his team through the fog and the Ball State defense, 37-19.  Woodside is fourth in the nation in passing yardage this year, and first in passing touchdowns, with 40.  The Broncs' Zach Terrell hasn't been quite as productive, but he's only thrown one interception all season, as opposed to 27 scores.
The only thing worse than Coach Tooey's "Row the Boat" mantra is listening to him try to explain it.  So the boat represents sacrifice?  Oh, shut up!  If the College Football Czar wanted to digest that much conceited twaddle, he would go to the Andy Warhol Museum.
… which he won't, of course.
Toledo 32, Western Michigan 31
Nc State at North Carolina
The Czar admits his bias in wanting to see the 5-6 Wolfpack win, just to have one fewer losing team in a bowl game.  In its past five games, however, NCSU has lost four, defeating only undermanned Syracuse along the way.
UNC has had to keep RB Elijah Hood under cover for much of this season, due to a variety of vaguely identified injuries.  Hood, who rushed for 1,463 yards a year ago, has only gotten a little more than 13 carries per game in 2016.
For the Tarheels to return to the ACC title game, they'll have to take care of their rivals from Raleigh, and have Virginia upset Virginia Tech a day later.  Too bad it's such a long shot, because going to a championship outside their home state could be an educational experience.  Did you know, for example, that when women go to the rest room, they aren't really powdering their noses?
North Carolina 38, Nc State 21
Houston at Memphis
The 9-2 Cougars could have trouble keeping their intensity up, a week after putting a 36-10 bruising on Louisville.  They cannot overtake Navy for the AAC West lead, which means that all this game will decide is where they finish in the bowl pecking order, in a league whose affiliated games are all roughly equal.
Since the christening of the American Athletic Conference, UH has won all three games against MU, but they've been by an average of only five points each.  Last season, they trailed by 20 points early in the fourth quarter, but came storming back for a 35-34 victory.
The 7-4 Tigers trampled Cincinnati 34-7, but the highlight of the game was when a guy in a Batman costume successfully kicked a field goal during a promotional gimmick.  The Czar suspects that instead of a cash prize, this guy was awarded the lead role in the next Batman movie.  After all, the only professional actor yet to play Batman is Lou Diamond Phillips, so obviously, it was time to resort to amateur night.
Houston 40, Memphis 37
Boise State at Air Force
In the Czar's opinion, BSU is better than that other Bronco team from Western Michigan, but in order for them to beat out WMU for the "group of five" New Year's Six bowl bid, they must win their own conference.  At this point, that means divisional foe Wyoming, the only team to defeat them, would have to get knocked off by New Mexico.  If that doesn't happen, the Broncs will have to settle for a bid to the Las Vegas Bowl, probably against Stanford or Utah.
The Falcons have recovered from a midseason three-game slump to post their second four-game winning streak of the season.  It hasn't been easy, though, with high-scoring three-point scares in their last two games, against Colorado State and San Jose State.
Against CSU two weeks ago, the flyboys wore helmets with faces, like the ones that were painted on the Flying Tigers during World War II, complete with a series of jagged teeth on either side.  As one-time gimmick helmets go, they were great, but the Czar wonders what's next?  A toddler in a flying helmet, relieving himself on a Boise State logo?
Boise State 27, Air Force 17
Arizona at Arizona State
This has the makings of an entertaining game, even though both teams are having terrible seasons.  Anytime you have a chance to watch Rich Rodriguez and Todd Graham square off, just sit back and let the cranial pyrotechnics begin.
A combination of injuries and a progressively difficult schedule have led the Sun Devils to fall from 4-0 to 5-6, dropping below the .500 mark with a 44-18 loss to Washington.  However, this Wildcat team may be the weakest opponent they've faced since their season opener against Division I-AA Northern Arizona.  Not only is the U of A winless in Pac 12 play, but one of its two nonconference wins was against I-AA Grambling, and Rich Rod's team trailed that game 21-3 at halftime.
When the Territorial Cup was first awarded in 1899, ASU was known as the Normal School of Arizona.  Of course, they could not have kept calling themselves that, once they started inviting weird characters like Dennis Erickson and Sparky to roam the sidelines.
Arizona State 47, Arizona 34
Nov. 26
Syracuse at Pitt
The Panthers put together their only complete game to this point of the season, dusting off Duke 56-14.  Their pass defense, next to last in the nation going in, held the Blue Devils to a reasonable total of 248 yards.  Meanwhile, the offense, run defense, and special teams all dominated.
Pitt brought back its snappy throwback uniforms for the second time of the year, except that those canary yellow helmets they wore need to be more mustardy.  If they had been, however, team alumnus Tony Siragusa, who was present for the game, might have et them all.
Last year in the Carrier Dome, the Orange tied the game with 9:20 to play, only to allow Nate Peterman and the Panther offense to march on a 19-play drive, devouring the clock, and setting up a last-second chip shot by Chris Blewitt.  SU quarterback Eric Dungey, who often confounded Pat Narduzzi's defense before he was injured, is hurt again, and might not be available for this season finale.
Creepy thought of the day:  If there aren't allowed to be Orange-men anymore, then what does that make Otto?
Pitt 34, Syracuse 19
Michigan State at Penn State
The Spartans missed a late two-point conversion that, in such a defensive battle, probably wasn't a good idea in the first place, so they lost to Ohio State 17-16.  The aggressive MSU front seven should cause problems for an ailing Lion OL, but if D dominates, it will go both ways.  PSU's defense is not overwhelming in any particular facet, but it is solid across the board, enough so to stifle another weak Big Ten offense the way it did Iowa and Maryland.
By the time this game kicks off, the Nittany Lions will probably know one way or the other whether they can play their way into the Big Ten championship.  A win over Sparty would clinch a tie with the winner of the noon game between Ohio State and Michigan.  If that team is OSU, then Tony Franklin could end the season with a conference title, when it had looked back in Week 5 as if he might as well legally change his last name to Miles.
If you've ever witnessed a group of Nittany Lion fans in a bar during a game, you understand why the whole universe loathes them, because their over-the-top, unjustified intensity is totally unbearable.  One might wonder why anyone would get so worked up about his team stopping Rutgers on a third-and-2 early in the second quarter.  The answer is that Penn state people are always, first and foremost, celebrating themselves.  The game situation is secondary at best.  Hence their ever-obnoxious "WE ARE" chant.  Those aren't football fans.  They're Star-bellied Sneeches.
Last year, ESPN ran a promo that featured PSU students taking selfies in front of various landmarks around campus.  The Czar, finding that image a perfect fit, decided to nickname the school Selfie University.  That name deserves to stick.
Selfie University 21, Michigan State 13
West Virginia at Iowa State
The Mountaineers' chances of winning the Big XII were buried in the snow in Morgantown, where four WVU turnovers were converted into Oklahoma touchdowns in a 56-28 romp.  Their inevitable third-place finish will probably send them to the Russell Athletic Bowl in Orlando.
The 3-8 Cyclones are not improving any in the standings from year to year, but at least most of their losses are competitive now.  Among their eight defeats, five of them have been by ten points or fewer, including close losses to Baylor, Oklahoma State and Oklahoma.
Memo to ISU:  Your repeated attempts to clone Cy have obviously been unsuccessful, perhaps because Cy was never good at football in the first place.  But please, for the sake of humanity, do not clone Dan Holgorsen!  As Oliver Wendell Holmes once wrote, two Evil Phil Collinses are enough.
All right, so Justice Holmes never really wrote that, but he would have, if he'd ever heard "Sussudio."
West Virginia 36, Iowa State 26
Auburn at Alabama
Not only aren't the 8-3 Tigers in the running for the division title anymore, but they can't even play spoiler.  That's because the 11-0 Crimson Tide will still be a final four team even with a loss in the Iron Bowl, just as long as they don't choke against an overmatched opponent in the SEC championship game.
One might argue that the Tide have still not recovered from the "Kick Six" game in 2013, when AU's Chris Davis fielded a missed place kick near the back of the end zone, and returned it all the way for a touchdown.  The two games since have seemed to be mismatches in the pachyderms' favor, but they needed to rally to win a 55-44 defensive bollix-fest in 2014, and last year, they were trapped in a tight game before pulling away in the fourth quarter, 29-13.
A typically mysterious injury to starting QB Sean White has forced the Tigers to start Jeremy Johnson, who has not had a productive collegiate career after being ambushed by unfulfillable hype as a freshman.  Johnson's running ability may have helped build his confidence in a game against Division I-AA Alabama A&M.  Then again, the ease of that 55-0 victory may leave him shell-shocked once he's got the nation's second-leading defense bearing down on him one play after another.
Bama beat up on the I-AA Chattanooga Mocs last week.  You might remember them as the Tennessee-Chattanooga Moccasins, but they were afraid that "Moccasins," which could be Indians, as well as snakes or footwear, were "hostile and abusive."  So they've shortened the team nickname to Mocs, which means absolutely nothing – other than that they're a mock version of a college football team.
Alabama 26, Auburn 14
Michigan at Ohio State
With Wilton Speight injured, the starting Wolverine QB last week was John O'Korn, who could meet the same fate as John Barleycorn if he has another performance like he did in a 20-10 win over Indiana.  The once-promising Houston freshman passed for only 59 yards, the team's lowest single-game output in 15 years.  Assuming he's still the starter, he'll have more help this week.  Linebacker-slash-most other things Jabrill Peppers has said that "everything is coming out of the bag" this week – including, presumably, the wildcat.
There's been no middle ground for the Buckeyes.  Either they're rumbling to victory by almost 60 points, or else they're getting the nutcrap scared out of them.  After consecutive 62-3 slobberknockings of Nebraska and Maryland, they got bogged down in a 17-16 battle against a badly underachieving Michigan State team.  In certain games, the O at either end of "O-goal posts-triangle-O" just doesn't get rolling.
Why does getting a tough game from Indiana mean the maize and blue can't contend anymore, but when OSU and Penn State had at least as much trouble with that same Hoosier team, they were just gritting it out?  For some reason – probably their head coach's cockiness – the bar has been set higher for the Wolverines than for the other top teams in the conference.  The lumpy nuts had better be leery, because if there's anyone in college football who really hasn't stood a chance this year, it's conventional wisdom.
Michigan 23, Ohio State 21
Utah at Colorado
The Buffaloes would clinch the Pac 12 South with a win over the rival Utes.  If they were to proceed to knock off Washington in the league title game, there's no reason they shouldn't play for the national championship.  Except for the entirely subjective CFP committee "eye test" that is.
UU was left stammering after a 30-28 loss to Oregon, which ended after a replay reversal with no time left on the clock.  The Czar thinks Duck receiver Darren Carrington did stay just barely in bounds for the last-second touchdown, but he's not sure the video evidence was clear-cut enough to justify reversing the incomplete call that was made on the field.
In all the embarrassing suckup interviews that ESPN has done with President Obama about sports, it's a wonder they've never asked him if the Utes are his favorite team, because he uses their abbreviation all the time.  "UU-UU – Letmebeclear!  UU-UU – Letmebeclear!"
Colorado 39, Utah 28
Minnesota at Wisconsin
If Iowa succeeds in knocking off Nebraska on Friday, the Golden Gophers will have a chance to create a four-way fracas at the top of the Big Ten West standings.  If, on the other hand, both favorites win, the Badgers will advance to the conference title game, by virtue of their 23-17 overtime victory over the N-men.
It seems the 8-3 radiant rodents are never out of a game, but then again, seldom are their opponents, either.  Their three losses, to Penn State, Iowa and Nebraska, have been by a combined total of just 17 points.  On the other hand, they've only defeated Oregon State by seven points, and Rutgers by two.
The 9-2 Badgers have only lost back-to-back midseason games to Michigan (14-7) and Ohio State (30-23 in overtime).  Not bad, for a team that has struggled all season long with a competition between two erratic quarterbacks.  It helps that they only allow 13.4 points per game.  Even in that loss to the Buckeyes, in which they gave up a season high in points, the Big Bad Gers only allowed 23 in regulation time.
These teams play for a trinket called the Paul Bunyan Axe, but it's obviously not big enough to have been wielded by the legendary giant.  Surely, it must have belonged to some other freakishly large person instead.  Perhaps if they renamed it the Serena Williams Axe, that would be more plausible.
Wisconsin 19, Minnesota 10
Florida at Florida State
The 8-2 Gators are allowing only 13 points per game this season, but rarely have they been challenged by a potent passing attack like the one they'll face from FSU.  Last time they did, they were unable to keep up with Arkansas, in a 31-10 smoking.
The Seminoles have regrouped from a potentially catastrophic season to go 8-3, but that's after facing the three worst teams in their division in consecutive games.  Winning the defensive slugfest against the SEC East division champs won't be so easy.
Noles' coach Jimbo Fisher is widely expected to jump to LSU after this season is over.  After all, what good are all those Florida fish without generous quantities of Louisiana hot sauce?  The Czar can't help but find the possibility amusing, though.  If the folks in Baton Rouge already had a coach who had lost three games this year, one of those was by a final of 63-20, and whose marquee win for the season was against Ole Miss, they'd throw his big carcass out the door before they could say "Geaux Heauxme!"
Florida State 24, Florida 15
Notre Dame at USC
Freshman QB Sam Darnold's first start at Southern Cal was a 31-27 loss to Utah.  Since then, he and the Trojans have won six in a row, to give themselves a chance to play for the Pac 12 title.  This, being a nonconference game, is of course irrelevant.  Clay Helton's team simply needs to stay sharp, and then root for those Utes later Saturday night against Colorado.
The Fighting Irish resigned themselves to a losing season with a 34-31 loss to Virginia Tech, which would not have necessarily left them out of the postseason, if not for the recent ruling on their academic fraud scandal from 2012-13. Otherwise, they'd be a prime candidate for one of those special dispensations given to losing teams by the NCAA, due to a glut of available bowl berths.  These "get out of crappy season free" cards are issued based on academic achievement, which under different circumstances would put ND near the front of the line if they could upset SC to finish 5-7.  Still, can you imagine the golden domers accepting a loser bid to play Idaho in the Cure Bowl?
The NCAA has ruled that the Irish must vacate all their wins from the two seasons in question.  Those aren't forfeits, mind you, which would allow the losing teams to sneakily add phony victories to their all-time records.  They simply vacate the results on the Notre Dame side of the ledger.  If you lost to them during those two years, you've still lost, but to a whole team full of those ghostly and unfunny "Not Me" characters from The Family Circus.
USC 41, Notre Dame 17
Wyoming at New Mexico
The Cowboys (8-3, 6-1) might have lots of fans in Kalamazoo this week, because if they can clinch the MWC Mountain division, that locks out Boise State, which would give Western Michigan the inside track to a major bowl game, provided WMU has held off Toledo a day earlier.  Following a stunning 3OT loss to UNLV, the Pokes knocked off West division leading San Diego State 34-33, in what now appears to have been a preview of the conference championship game.  Luckily for them SDSU went for two at the end, rather than force them into overtime again.
Bob Davie's Lobos have little to play for, since they've clinched a bowl bid at 7-4, but they fell out of the Mountain West title chase with a 49-31 loss to Colorado State.  Without any upper-echelon bowl games for their conference to play in, UNM will probably be content to stay home for another appearance in the New and Improved Mexico Bowl.
A lot of these New and Improved Mexicans are treMENdous people, BEE-LEEV me!
Wyoming 44, New Mexico 31
Central Florida at South Florida
Oregon fans have got to be wondering how their team let Scott Frost get away.  The former Fighting Duck offensive coordinator took over a UCF team that went 0-12 a year ago, and has already qualified for a bowl game in his rookie season.
Kudos to USF for having the patience to stick with its head coach Willie Taggart, when a lot of other schools would have canned him early last season.  Unfortunately, now that his Bulls have won 16 of their last 19, somebody is bound to hire him away during the offseason.
The Knights' offense rests in the hands of freshman McKenzie Milton, who was named before everyone knew that McKenzie is not a boy's name.  He ought to adopt the nickname "Spuds."  That would sound a lot more manly.
Ironically, Spuds MacKenzie was a girl dog.  If you found it weird that those three models were always treating her like she was a stud, than you are not allowed to host the ACC championship game.  So there!
South Florida 33, Central Florida 20
Mississippi State at Ole Miss
If ever there was such a thing as a one-man team, Dak Prescott was it at MSU.  Without him, the Bulldogs opened the season with a loss to South Alabama, and things didn't get much better until Week 10, when they pulled off a shocker against then-#4 Texas A&M.  The Aggies have since proven that wasn't really such a big deal after all.  Meanwhile, the mud puppies have given up a total of 109 points in losses to Alabama and Arkansas.
The Rebels probably didn't think there'd be more at stake in this game than the Egg Bowl, but their dismal 38-17 defeat to Vanderbilt means they need to beat MSU to go to a bowl game, because they probably won't be getting one of those academic bids extended to them.  Just an hunch.
A week earlier, the Rebs, like their rivals from Starkville, had beaten A&M, perhaps leading them to think the loss of QB Chad Kelly to a season-ending knee injury wasn't such a catastrophe after all.  Against Vandy, however, freshman Shea Patterson only completed 20 of 42.
Stake.  Egg.  It's a joke, son, you missed it!
Ole Miss 20, Mississippi State 19
Georgia Tech at Georgia
A win would make the season for either of these teams, which are generally disappointed despite entering this game with identical records of 7-4 overall, and 4-4 in their respective conferences.  A year ago in Atlanta, the Bulldogs failed to save coach Mark Richt, even as they held of a feisty Tech team, 13-7.
The 7-4 Yellowjackets could win, and still be no higher than eighth in the ACC's bowl game pecking order – which is where they'd probably land with a loss, anyway.  Tech leveled its conference record at 4-4 with a 31-17 win over Virginia, in which they took a beating statistically, with the exception of their plus-3 turnover margin.
Having one of the more colorful names for a football rivalry, this series is known in the Peach State as "Clean, Old-Fashioned Hate."  The Czar loves the fact that they persist with this title in spite of the NCAA's PC police.  Still, he'd like to know in what way hate could be considered old-fashioned.  "Die, Vaudevillian Scum!"
Georgia 14, Georgia Tech 11
Oregon at Oregon State
The Fighting Ducks finally got off the schneid with a 30-28 victory over longtime interconference rival Utah.  It's a good thing, too, because those schneids can be very uncomfortable, especially when you're wearing feathers.  Not that the Czar would know.
OSU snapped a five-game losing streak of its own, with a 42-17 rout of Arizona.  Sophomore slinger Marcus McMaryion threw five TD passes, lifting the Beavers to 3-8 on the season.  Their year hasn't really been all that bad, when you factor in their losses to Minnesota, Utah and Washington State, each by seven points or fewer.
The webfoots have won eight in a row in this series, but during a season like they've suffered, that hardly matters.  Already, they've seen winning streaks of 14 games against Washington and 7 against California come crashing to an end.
These neighboring foes battle for possession of a wood carving of a platypus, which is roughly half-duck and half-beaver.  Exactly how such a creature came into being nobody knows for sure, because that's one nature film that's been banned, even from Cinemax.
Oregon 46, Oregon State 42
a sports publication from The Shinbone