The College Football Czar
Week 13
<![if !vml]>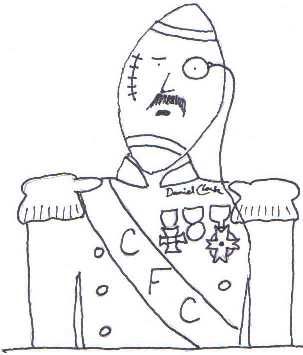 <![endif]>
Week twelve in review:  A promising week for the College Football Czar disintegrated in the small hours of the morning, when Arizona State's late fumble at Oregon, and UNLV's massive fourth-quarter choke at Hawaii, resigned him to a record of 10-7.
With the SEC celebrating its annual November cupcake feeding frenzy, the national title picture wasn't shaken up much, except that West Virginia was eliminated, to the delight of Wazzu, UCF, LSU, and practically everyone outside of Morgantown.  The Mountaineer loss means we probably won't see a WVU-Oklahoma rematch in the Big XII championship game, a week after the same two teams clash to end the regular season.
The Czar, among many others, was critical of Alabama coach Nick Saban for risking the health of QB Tua Tagovalia by playing him against The Citadel.  Well, Tua was no worse for wear after the game, but RB Damien Harris left in the third quarter with a concussion.  How stupid is that?  Getting one of the best players from a national championship contender injured against a lower-division opponent is kind of like breaking your laptop by cracking walnuts with it.
If it's Thanksgiving week, that means the College Football Czar is rushing his picks out two days early, so that people can read them during break time at work before leaving for the long weekend.  As always at this time of year, the Czar asks you to kindly excuse the relatively ungood wordputtingness of this week's picks, due to a lack of time to give them proper editution.
For the season, the Czar's record stands at 137-78, for a .637 winning percentage.
Nov. 22
Colorado State at Air Force
Ewe gotta be kidding me!  The College Football Czar watched the Rams' dramatic last-minute touchdown drive to topple division-leader Utah State on the last play of the game.  After watching them celebrate for over a minute, he changed channels, only to soon discover that it never happened.  It turned out that wide receiver Preston Williams had run out of bounds several steps before conveniently being open for the catch.
The Falcons' fourth-quarter collapse wasn't quite as dramatic, but it was far more damaging, because the flyboys might have been playing for a bowl bid this week, had they not given up three TDs in the last five minutes of a 35-28 loss to Wyoming.  At 4-7, they will now miss the postseason for the second year in a row, something they haven't done since a three-year drought from 2003-05.
If Preston didn't have that pesky "n" on the end of his name, perhaps he could have convinced the officials that he'd appeared in the end zone by magic.
Air Force 34, Colorado State 31
Mississippi State at Ole Miss
Once again these intrastate rivals meet on Thanksgiving night in the regular season finale known as the Egg Bowl.  Mud puppies' quarterback Nick Fitzgerald would like to order it over easy, compared to last year, when he suffered a severe ankle injury in a 31-28 defeat.  He hasn't let that gruesome scene change his style of play, though.  The senior scrambler, who leads MSU with 901 rushing yards, needs 83 more to match last year's total.
The Rebels opened the season with a quality win over Texas Tech, but the rest of their nonconference schedule has consisted of Louisiana-Monroe, Kent State and Division I-AA Southern Illinois.  Still, they're fighting for their postseason lives, because they're only 1-6 in SEC play.  Last week, they suffered their fourth straight defeat, in a critical 36-29 overtime loss at Vanderbilt.
Q: Why do the Bulldog fans ring cowbells throughout their games?
A: Because you can't play a bassoon while holding a flask in your other hand.
Mississippi State 28, Ole Miss 9
Nov. 23
Oklahoma at West Virginia
The winner of this game advances to the Big XII title game to fact Texas, provided the Longhorns can handle last-place Kansas, in spite of QB Sam Ehlinger's shoulder injury.  If the pointy cows lost to KU, the Sooners and Mountaineers will meet again in Arlington.  That might not sound that unlikely, after OU only outscored the Jayhawks 55-40 last Saturday.
As national championship contenders go, the Sooner defense is shockingly bad, at #88 in the nation, averaging 426 yards allowed per game.  Considering this week's opponent, they could easily drop several spots further, behind the likes of Kansas and Texas-San Antonio.  How much longer can they continue winning while yielding 40 or more points a game, as they have in their last three?
By Big XII standards, the Eers have played outstanding defense, with the exceptions of difficult road games against Texas Tech, Texas and Oklahoma State, the last of which upset them 45-41 to rub them out of the CFP picture.  Back home, however, they've only allowed 13.8 points per game.
It's a little-known fact that WVU had once planned a Dana Holgorsen bobblehead night, but it was postponed indefinitely, on account of cooties.
West Virginia 40, Oklahoma 35
Washington at Washington State
All the (mostly justified) hype around WSU quarterback Gardner Minshew must be gnawing at the Huskies' Jake Browning, who was supposed to have been the Pac 12's premier QB and leading Heisman candidate.  Browning can take out his frustrations by bumping the Cougars from the conference championship game and the national title hunt.
There are times you can't help liking Cougar coach Mike Leach, and then there are those other times, which are far more plentiful.  The Czar realizes that the CFP's "eye test" criterion encourages teams to run up the score, but enough is enough.  For Leach to leave Minshew in the game to throw a seventh touchdown pass more than halfway through the fourth quarter of a 69-28 stomping of Arizona was totally classless, as well as an unnecessary injury risk, when the starting QB should have been yanked an hour earlier.
Husky coach Chris Petersen is 4-0 in Apple Cup games, trouncing Leach's team by an average score of 41-14, which just happened to be last year's final.  The UW defense has had a knack for forcing errors from the Air Raid offense, which has turned the ball over 18 times during those four games.
In this era in which it's considered a civil right to be what you're not, far be it for the Czar to inform an apple that it has no need for a cup.
Washington 49, Washington State 33
Houston at Memphis.
Nobody will remember how atrocious the Tigers' 28-18 win over SMU was, if they can beat UH to advance to the American Athletic Conference title game against the Central Florida team that eluded them by one point earlier this season.
Perhaps it's a bad omen that the UH logo on the Cougs' helmets spells the sound one might make while being injured.  Already having lost dominant defensive end Ed Oliver for several games to a knee injury, they will now be without prolific quarterback D'Eriq King for the same reason.  Here's hoping they don't have to carry off freshman QB Clayton Tune in a bucket, the way their season has gone.
Cougar coach Major Applewhite is hoping that Oliver is able to play this game, but if he isn't, then maybe that guy who is not who Oliver is can play in his stead.  It was this other, different non-Ed Oliver who had launched into a furious tirade against Applewhite on the sideline during a 48-17 victory over Tulane.  He said afterward that the person who had been seen screaming at his coach was "not who I am."  So between Oliver and this other mystery person, maybe one of them will be healthy enough to play.  That's the advantage in recruiting schizophrenics.  They add depth to your roster.
Memphis 30, Houston 22
Virginia at Virginia Tech
Two weeks ago, the Gobblers were contenders for the ACC championship.  Now, they're scrambling to give themselves one more chance to become bowl-eligible.  At 4-6, VT has lost four straight, but in the event that they should be victorious against UVa, they will host a game against Marshall on Dec. 1, to make up for the game that each team had canceled back in Week 3.  The College Football Czar says, why make the game conditional?  The season is twelve games long.  You have a chance to reschedule a twelfth game.  Play the twelfth game, dammit.  If Tech is concerned that fans won't turn out in Blacksburg to see a 4-7 team playing out the string, then play the game in Huntington, where fans of the bowl-bound Thundering Herd would pack the stadium.
The Cavaliers have lost 14 in a row in this series, last beating the Blers back in 2003.  They haven't won a game in Blacksburg since 1998.  So why should those streaks be snapped now?  Maybe because Tech is about to have its first losing season since 1992, and their being such a sieve on defense is pretty much unprecedented.
If anything, the prospect of Justin Fuente's team playing another game sounds more like a threat than a reward, based on the way they gave up in the second half of a 38-14 loss to Miami.  If they fall behind again, let's see how hard they fight for the right to play the moo-men a week from now.  The truth be known, they're a lot more inspired to fight for their right to party.
Those lyrics, of course are brought to you by the Beastie Boys, who are very concerned about Tibet, for those who care.  The College Football Czar, for one, prefers to seek his geopolitical guidance from Tone Loc.
Virginia 35, Virginia Tech 24
Nov. 24
Pitt at Miami
The Panthers popped Miami's bubble last year, revealing in the last game of the regular season that the Hurricanes weren't nearly good enough to contend for the national championship.  The U is out for revenge, even though they're too late to prevent Pitt from capturing the ACC Coastal division title.
For the first time in five games, the Canes came out on top in turnovers, and for the first time in five games, they won, 38-14 against Virginia Tech.  The stats were just about dead even, except for a plus-3 advantage in takeaways, and a TD on a punt return by sophomore Jeff Thomas.
Wake Forest threw everyone at the Panther rushing attack, daring QB Kenny Pickett to beat their man coverage.  Pickett, who hadn't had a 200-yard game all season, passed for 316 with three TDs and no picks, while completing 23 of 30.
The Czar hopes there were plenty of bowl representatives watching the Panthers' 34-13 victory in Winston-Salem, so that they could hear the throngs of fans that turned out for the visiting team.  Like a lot of Northern teams, Pitt sometimes gets passed over for bowl bids on the basis that it "doesn't travel well."  Of course, it depends on the circumstances.  When the Panthers have played bowl games in places like Detroit and Annapolis, they have traveled well.  When they've sent mediocre teams with interim head coaches to play in weekday afternoon bowl games in Fort Worth and Birmingham, they haven't.  If Pittsburgh ever hosted a bowl game, fans of 6-6 teams from TCU and UAB wouldn't besiege our city, either.
… Unless the bowl committee would name that game the Jagoff Bowl.  Then, who could resist?
Pitt 23, Miami 21
Maryland at Penn State
The Terrapins' upset bid against Ohio State failed because of a terra-ble two-point conversion attempt in overtime, on which QB Tyrrell Pigrome missed a wide open Jeshaun Jones in the middle of the end zone.  Even though the 52-21 loss pushes the Terps to the brink of bowl ineligibility, fans will usually appreciate a bold call to go for a game winning conversion, but the Czar says interim coach Matt Canada blew it.  In overtime, all the pressure is on the winning team.  Kick the extra point, and keep it there.
Last year, PSU's excessively intense head coach James Franklin demonstrated that he was not looking past the Maryland game by tweeting, and this is a direct quote, "MARYLAND MARYLAND MARYLAND MARYLAND MARYLAND MARYLAND MARYLAND MARYLAND MARYLAND MARYLAND MARYLAND MARYLAND."  If he needs to embark on that kind of an awareness campaign against this year's Terrapin team, he could be in trouble.
Terps' freshman tailback Anthony McFarland has romped for 508 yards in his past two games, against Indiana and OSU.  The Lion defense has been very effective at pressuring quarterbacks this year, but it has come at the cost of leaving themselves vulnerable to long, counterattacking runs up the middle.
In last week's mind-numbing 20-7 trudge over lowly Rutgers, the Nittany Lion offense produced virtually nothing that wasn't simply handed to it by the opposition.  Senior slinger Trace McSorely failed to complete a majority of his passes for the sixth time this season, as his completion percentage dipped to 53.3.
Actually, Coach Franklin was merely trying to write a haiku about Maryland.  In the fine Penn State academic tradition, we'll grade it an "A", for "attempting."
Maryland 31, Penn State 28
South Carolina at Clemson
When the Tigers won the CFP in 2016, they had to overcome a regular season loss to Pitt.  For that reason, this year's ACC championship against the Panthers is being cited as a possible trap game.  In the meantime, they must take on a dangerous Gamecock team, whose four losses have all been against upper-echelon SEC opponents.
This Tiger team has not been seriously challenged since Travis Lawrence made his first start at quarterback.  Last week, they spotted Duke a 6-0 lead at the end of one, but gradually ground the Blue Devils down for a final of 35-6.
It turns out that whoever named South Carolina the Palmetto State was referring to the tree, and not the insect.  All this time, the Czar had thought that state was expressing pride in being roach-infested.  He must have been confusing it with New Jersey.
Clemson 28, South Carolina 17
Auburn at Alabama
A year ago, the Tigers appeared to end the Crimson Tide's national title chances with a solid 26-14 victory, as WR Ryan Davis devastated Bama with 11 catches for 139 yards – both career highs.  The pachyderms' pass defense again ranks in the Top Ten, but against whom?  Their nonconference schedule stunk, and their toughest divisional opponents are offensively impaired.
Last season, AU beat both Alabama and Georgia in the regular season, but both of those games were at home.  Now they must travel to Tuscaloosa, while still picking out thorns from their backsides after the beating they took between the hedges.  In that 27-10 loss at UGA, Gus Malzahn's defense was mulched for 516 total yards.
If Damien Harris can't play, that's OK with the Tide, because they keep another Harris stashed away in a case marked, "In case of injured leading rusher, break glass."  Sophomore Najee Harris only trails Damien by 39 yards on the season, and averages an even seven yards a carry.
This ancient rivalry game, which was played in Birmingham every year from 1904-88, is known as the Iron Bowl, and is played to decide the answer to the question, "Who's the ferrous of them all?"  Um … sorry.
Alabama 33, Auburn 14
Michigan at Ohio State
Both teams may have gotten caught looking ahead last week, when OSU had to rally past Maryland 52-21 in overtime, while the Wolverines recovered from a halftime deficit for a 31-20 win at Indiana.  The difference is that this result was an aberration for the maize and blue, whereas the Buckeyes struggle almost as badly on a weekly basis.
With 1,106 yards, Karan Higdon has become the first Wolverine running back to gain 1,000 or more yards since Fitzgerald Toussaint in 2011.  Not coincidentally, that's the last time they won one of the current New Year's Six games, edging Virginia Tech in the Sugar Bowl in overtime.  It's also the last time they defeated their hated rivals from Columbus.
As uncomfortably as the lumpy nuts have been clinging to victories this year, perhaps their fans should stop singing "Hang On Sloopy," and start exhorting Sloopy to decisively beat the phlegm out of somebody.
Michigan 27, Ohio State 19
Utah State at Boise State
If Central Florida stumbles, the winner of this game could capture a New Year's Six berth by beating Fresno State in the Mountain West championship game.  There would be some whining if two-loss BSU was taken ahead of a one-loss UCF team, but the Knights will have played two fewer legitimate games, having beaten up on Division I-AA South Carolina State a week before having a trip to North Carolina canceled.
Facing the Bronco ground game on its home turf can give opponents the Mattison blues, as in RB Alexander Mattison, who barreled pas the 1,000-yard mark with a big game in last Friday's 45-14 rout of New and Improved Mexico.  The junior juker's three biggest rushing totals have come in his last four games.
Prior to last week's scare at snowy Colorado State, USU looked unbeatable, and no wonder.  Besides these two, the rest of the Mountain division is dismal, and the three West division teams the Aggies don't play are also the three best – Fresno State, Nevada and San Diego State.
At first glance, the blue Albertsons Stadium turf seems to have grown darker since it was installed.  But who knows?  Maybe they recently replaced it, and found that Grover carcasses were cheaper by the square foot than Cookie Monsters.
If you're worried about how to explain that to your children, don't worry.  You're bound to be more tactful than Gordon was to Big Bird about Mister Hooper.
Boise State 45, Utah State 42
Georgia Tech at Georgia
Politically correct killjoys won't let the Bulldogs call their neutral-site game against Florida the World's Largest Outdoor Cocktail Party anymore.  How long before they prohibit this game from any longer being called Clean, Old-Fashioned Hate?  By now, the Car would have thought they'd rename it the Yet To Be Resolved Misunderstanding, or something.
To nobody's surprise, the Bulldogs dominated last year's game 38-7, but the Yellowjackets have won their last two games in Athens, 28-27 in 2016, and 30-24 two years earlier.  In games played this century, however, the Dogs hold a commanding 14-3 lead, and unlike the Virginia-Virginia Tech series, that remains relevant.
The Czar is still puzzling over Tech coach Paul Johnson's decision to go with TaQuon Marshall at quarterback, when freshman Tobias Oliver had done so well in relief.  OK, Marshall did rush for 107 yards in last week's overtime win over Virginia, but he also completed one pass in eight attempts.  Oliver has had the upperhand in completion percentage, TD-to-interception ratio, and even yards per carry.
You can tell it's old-fashioned hate because the two sides don't tweet terrible things about each other.  They simply tell them to Elsie, the town gossip.  It works out pretty much the same in the end.
Georgia 44, Georgia Tech 27
Troy at Appalachian State
In the past, regular season games between contending Sun Belt teams have been cheapened by the fact that all of that league's bowl berths are of approximately equal value.  Finally, there's something more at stake, in that the winner between these East division contenders gets to host the first-ever SBC championship game.
Despite being plus-6 in turnovers, the Trojans never reached the end zone against last-place Texas State, gaining only 220 yards against a team whose coach was fired shortly thereafter.  The fact that they still prevailed 12-7 doesn't really make it that much better.
The Mountaineers had a better idea of what to do with a divisional doormat, wiping their feet on Georgia State, 45-17, as sophomore scrambler Zac Thomas completed 20 of 24.  ASU trails Troy by one game, but would obviously take the tie0breaker with a head-to-head victory.
If this Trojan team seems a bit unstable, maybe it isn't such a good idea that they basically use the same logo as Tesla.
Appalachian State 24, Troy 13
Notre Dame at USC
The 5-6 Trojans get a chance to disrupt the national championship race for the second time, the first being their 39-36 win over Washington State, a result that looks more damaging by the minute.  The way SC has swooned in the second half of the season, losing to them would surely doom the currently undefeated Fighting Irish.
Just in case there's any doubt about it, if the golden domers take home the Jeweled Shillelagh as expected, they will be one of the four teams in the CFP.  The fact that they are an Independent, and will not play in a conference championship, means nothing.  Anyone who pretends otherwise is just trying to stir up controversy where none exists.
Going into last week's game at Yankee Stadium, there was concern about injured Irish quarterback Ian Book, but it was Syracuse QB Eric Dungey who was forced out of the game in the first quarter.  Book was well enough to throw for 297 yards, in a 36-3 thrashing that was as painfully dull as any NYCFC match.
Except, of course, for the time that NYCFC battled to a scoreless draw with FC Dallas.  Or was that Toronto FC?  Whichever it was, the Czar assures you it was riveting stuff.
Notre Dame 42, USC 17
LSU at Texas A&M
The Tigers have won a national championship with two losses before, but it's hard to imagine a path for them to get there this year, since they won't be playing for the SEC championship.  Even if the three one-loss teams ahead of them are all beaten, there are three other teams close behind that will have the advantage of playing for a conference title.
The Conjunction Boys brought UAB's eight-game winning streak to a screeching halt at 41-20, to improve to 7-4.  They're 5-1 at home this season, losing only to Clemson, by a final of 28-26.  The ampersanders would have a chance of overtaking Louisiana State in the standings, if not for some terrible clock management by both coach Jimbo Fishaer and QB Kellen Mond in a Week 11 bungle against Auburn.
Last week, the Bayou Bengals were on Rice like white, as they rolled over the visitors from Conference USA, 42-10.  Come to think of it, "like white on rice" is one of the stupidest sayings ever created.  Ever cut a cooked grain of rice in half?  It's white all the way through.  There is no white "on" it.  To suggest that there is makes about as much sense as saying there's lard on the head of Chris "The Bear" Fallica.
Texas A&M 26, LSU 23
Arizona State at Arizona
Both teams had bad losses last week, but the Sun Devils' was merely of the frustrating variety, as they fell to Oregon 31-29, having already become bowl-eligible a week earlier.  The Wildcats were looking for that all-important sixth victory when they were slobberknocked by Washington State, 69-28.  The U of A's four turnovers included one fumble into each end zone, one scoring a touchdown for WSU, and the other nullifying a potential ASU score, resulting in a touchback.
Eno is the only number for the Sun Devils, or 1,444 is, being his yardage total, which leads the Pac 12 over Oregon State's Jermar Jefferson by 128.  Eno's 149 yards against UO was actually his lowest total in his past four games.
The only Division I-A teams from our 48th state play for possession of the Territorial Cup.  It's value is mostly sentimental, of course.  A cup of territory can only be worth so much, especially when it's only sand.
That reminds the Czar of the customer in a diner who complained that his coffee tasted like mud.  The waitress said, "But it was only ground this morning."  Nyuk-nyuk.
Arizona State 52, Arizona 35
UAB at Middle Tennessee
Since the Blazers (9-2, 7-0) have already clinched a berth in the Conference USA championship, the MT-heads can set up a rematch with them by winning this week, although they'd need a little help from Marshall against Florida International.
The Blue Raiders don't get any mention for a group-of-five New Year's Six bid because they're only 7-4, but three of those losses have come against SEC opponents on the road.  This is something that needs to be understood by all lardheads who want to be "fair" by letting one of the smaller schools into the final four.  Perennially strong small conference teams that are willing to take on a challenge, like MTSU and Northern Illinois, don't get much national attention because they have multiple nonconference losses on their schedules.  Sure, UCF and Boise State can get up for a couple big games a season, but where would either of them be if they scheduled Georgia, Kentucky and Vanderbilt, like the Raiders have?  There doesn't need to be an expanded playoff to match the supposedly downtrodden "little guy" teams against the best in the nation, you know.  They could just voluntarily schedule them.
How come 9-2 Army is now ranked, but 9-2 Alabama-Birmingham is not?  The Black Knights have beaten three MAC teams, three non-contending Mountain West teams, Division I-A newcomer Liberty, and two Division I-AA teams.  Simply by beating Tulane, Louisiana Tech, North Texas and Southern Miss, the Blazers have proven themselves better.  If the Cadets weren't already in the Top 25 at 7-2, how do consecutive November wins over the likes of Lafayette and Colgate qualify them?
The horse on the MT-head helmet shoots lightning bolts through its nostrils!  Compared to that, who cares if a dragon breathes fire?  What's such a big deal about that?
Middle Tennessee 37, UAB 34
Purdue at Indiana
The winner of this battle between 5-6 foes gets the Old Oaken Bucket, as well as a postseason bid, most likely to the Quick Lane Bowl in Detroit.  That must sound like a great opportunity to IU at this point, but the Boilermakers surely expected better after they obliterated Ohio State.  Having lost three of four since then, The Little Engine That Could Puke seems to be having trouble thinking it can do much of anything.
With the exception of a midseason clunker against Iowa, the Hoosiers have been competitive in every game.  What's more, they've finally wised up and started giving freshman 1,000-yarder Stevie Scott as many carries as they need to be.
Even though these interstate foes are in separate divisions, their series must continue to be played annually if only to keep the word "oaken" in the English language, because it doesn't come up in any other context.  Nobody ever says something like, "That's a nice dining room table.  Is it oaken?"  Pretty soon, "oaken" could become an extinct word, like "whom", "phonograph" and "Christmas."
Indiana 33, Purdue 29
a sports publication from The Shinbone