The College Football Czar
Week 13
<![if !vml]>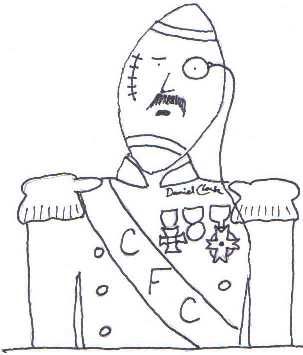 <![endif]>
Week twelve in review: Clemson and Iowa are the only remaining undefeated teams after Ohio State, Oklahoma State and Houston were all toppled last Saturday.  In the new CFP ratings, OSU has now plummeted past the Michigan State team that upset them, a development that would not likely have happened under the old BCS system.
As much as it may feel right to the CFP committee that the head-to-head winner should have the higher ranking, it isn't really logical, which is why the computer-influenced BCS might have figured it differently.  The Buckeyes' only loss is to Michigan State, a Top Ten team with a 10-1 record.  Michigan State's only loss has been to Nebraska, which is 5-6, and has choked in every other close game it has played this season.  When you only have one loss, it should matter whether it was to a contender or an also-ran.
The top four teams in the Big XII continue to beat up on each other, and not just on the scoreboard.  Oklahoma State's Mason Rudolph is the last remaining healthy quarterback of the bunch, a fact that makes the Cowboys' loss to Baylor that much more bitter.  Oklahoma and Baylor try to hobble across the finish line at 11-1, and then root for upsets in the other conferences' championship games.
As always during Thanksgiving week, the College Football Czar posts his picks on Tuesday, meaning that he's had two fewer days to write them, a fact he will try to keep from being painfully noticeable.  In Week 12, the Czar went 12-6, which brings his season record to 142-80, for a .640 winning percentage.
Nov. 26
Texas Tech at Texas
It's not often that a head coach is fired before his third season, and there are good reasons for that.  To those who are calling for the dismissal of second-year Longhorn coach Charlie Strong because of his team's offensive impotence, the College Football Czar suggests that you take a look at what third-year South Florida coach Willie Taggart has accomplished this season.
Nevertheless, Coach Strong has still got to finish season two, which would be an unenviable task even if his Horns didn't still have to face Baylor in Week 14.  At 4-6, they still have a narrow chance to qualify for a bowl game, assuming they really want to prolong their season.  Tech, on the other hand, is already bowl eligible at 6-5, and looking to clinch a winning season.
Before the Red Raiders' Week 11 loss to West Virginia, the Pittsburgh Post-Gazette ran an article about Tech coach Kliff Kingsbury and WVU's Dana Holgorsen, who roomed together while serving on the same coaching staff.  The opening paragraph read, "A two-bedroom apartment in midtown Houston that Dana Holgersen and Kliff Kingsbury shared during their time at the University of Houston remains a legend.  Much is spoken about it, but little is known."  Remember those last few words, in case you're trying to think of what you're most thankful for this weekend.
Texas Tech 35, Texas 20
Nov. 27
Miami at Pitt
This game is a tossup if the Hurricanes decide to show up and play, but that is a tossup in itself.  The Panthers better assume they'll be facing stronger resistance than they did in the second half of last year's 35-23 win in Miami.
Last week was one of those games the Canes came to play, as they proceeded to thump Georgia Tech 38-21.  Sophomore slinger Brad Kaaya threw for an even 300 yards on just 16 completions.  He almost equaled that total as a freshman last year against Pitt, but it wasn't enough to nullify his team's disadvantage in field position.
In that previous meeting, the Hurricane defenders repeatedly shied away from making direct contact with Panther running back James Conner.  He's been out for the season with an injury, but freshman Qadree Ollison, who is nearly as big at 6-2, 230 lbs., rumbled for 152 yards last week in a 45-34 victory over Louisville.  For the season, Ollison now has 1,011 yards and ten touchdowns.
Since The U obeyed the airplane banner guy by firing Al Golden, they'll presumably heed his opinion now that he's demanding the return of former coach Butch Davis.  Who ever thought we'd see the day where major decisions in college football are made to appease banner-flying cranks and Commie student activists?  It's enough to convince the Czar that the CFP format really was the idea of some buffoon who goes around annoying people while failing to sell Dr. Pepper.
Pitt 34, Miami 31
Baylor at TCU
The Bears bounced unbeaten Oklahoma State 45-35, creating a virtual three-way tie among themselves, OSU and Oklahoma.  Texas Christian now has two conference losses, making it impossible for them to catch up with the winner of the OU-OSU game.
For those who are still bothering to try to keep track, quarterback Trevone Boykin might return to action for TCU this week, while both Bears' QBs Seth Russell and Jarrett Stidham are out.  BU will now turn to sophomore Chris Johnson, who completed 5 of 10 with two long touchdowns in last week's putout of the Pokes.  But that's not all.  Tailback Shock Linwood may miss the game also, due to multiple leg injuries.
The Horned Frogs' 16-point fourth-quarter rally ended in a 30-29 defeat against Oklahoma, when their last-minute two-point conversion attempt was thwarted.  "Our rule has always been to get the win on the road," explained coach Gary Patterson.  But wait a minute, OU's offense had been depleted by injuries, which should have given the Frogs the advantage in OT.  To forego that opportunity requires a better explanation than that it's just a thing they do in road games.  That excuse makes it sound as if the decision had been taken out of the coach's hands.  He might as well have blamed the infamous two-point conversion idiot card.
Perhaps Baylor's best chance in this game will be to prevent Patterson from showing up at the stadium, by using the old Wile E. Coyote detour sign trick.
TCU 51, Baylor 40
Navy at Houston
The Midshipmen could be under consideration for a CFP bowl, though not likely one of the semifinals.  If that's the case, those games' invitations cannot go out until after the Dec. 12 Army-Navy game.  Some of the lesser bowl games, not knowing who will be available, will have to hold off as well.  Mind you, the first five games of the bowl season are played on the following Saturday, Dec. 19.
The AAC has been riddled with "aac-aac" lately, as one high-flying conference member gets gunned down after another.  Last Saturday, it was UH going down in flames, in a 20-17 upset loss to enigmatic Uconn.  All of a sudden, starting quarterback at a major college in the Lone Star State is a less desirable position than Harry Callahan's partner.  Cougar QB Greg Ward, who injured his ankle in Week 11 against Memphis, was sidelined against Connecticut until his replacement, Kyle Postma, was injured also.  Ward then entered the game, but was picked off with less than a minute to play.
Dirty Harry was still the best partner Tyne Daly ever had.  Sure, she got killed while working with him, but at least he wasn't an annoying shrew.
Navy 42, Houston 33
Iowa at Nebraska
The 5-6 Cornhuskers need to knock off their league's last unbeaten team to become bowl eligible.  If that sounds unlikely, remember that it was the N-men who rallied their way past Michigan State in the same stadium three weeks ago.
Hawkeye running back Jordan Canzeri seems to be fully recovered from the ankle injury that kept him out for two recent games.  His 95 yards in last week's 40-20 win over Purdue was his highest total since Week 6.
When these teams meet, it is known as the Heroes Game, because each school nominates somebody to be honored at halftime for an act of heroism.  Started in 2011, this tradition has so far been used to recognize genuine heroes who have saved people's lives.  The Czar gives it five more years before they're honoring some dingbat for going on a hunger strike to advocate wind power.
Too bad they don't play a Heroes Game in New York, because to the people up there, a hero is just some type of weird sandwich.  Now that has the makings of a great trophy game.
Iowa 29, Nebraska 20
Western Michigan at Toledo
P.J. Fleck's seahorses will have to start bailing water, after back-to-back losses have caused them to sink to third in the MAC West standings, a game behind both the Rockets and Northern Illinois.
Since having their undefeated season spoiled by NIU, the Rockets have gotten a booster shot with consecutive road wins over good opponents, downing Central Michigan 28-23, and neighboring rival Bowling Green 44-28.  By the time these picks are posted, they'll probably know whether Ohio has helped them to a division title, and a rematch with BGSU at Ford Field.
Fleck should ditch his corny "Row the Boat" slogan, and instead start making his players wear attire that says "Win the Football Game."  The direct approach is usually best.
Toledo 52, Western Michigan 35
Missouri at Arkansas
At 5-6, the Tigers can still become bowl eligible.  This would not be the case had they forfeited the BYU game as Gary Pinkel was prepared to do, after coercing his players into a phony show of solidarity with a snotty pinko graduate student, who isn't even capable of explaining what his own protest was actually about.  That's a heck of a footnote for an otherwise exemplary 24-year coaching career.
The Hogs had a 29-yard field goal attempt blocked with half a minute left in a 51-50 loss to Mississippi State.  Their seven conference games so far have been decided by an average of only 7.3 points per game, and even that number is deceptively high because two of those games went to overtime.
In reaction to criticisms of SEC nonconference scheduling, Razorback coach Bret Bielema is proposing a series of games between that conference and the Big Ten.  The problem with that is that this series already exists, in the form of New Year's bowl games.  A regular season series would create the likelihood of bowl game rematches, which nobody wants.  Not all nonconference games need to be blockbusters, but surely there's a middle ground between the Big Ten and the Ohio Valley Conference.  SEC teams don't have to lock themselves into a commitment like Bielema is talking about.  All they have to do is stop being wusses.
Arkansas is the state where Walmart is headquartered, just in case Mizzou is looking for something else to protest without having the murkiest idea why.
Arkansas 34, Missouri 20
Boise State at San Jose State
Having been burned by triple-option teams in consecutive home losses, the 7-4 Broncos will gladly opt to play on the road this weekend, where the grass is always greener.
The 5-6 Spartans are still playing for a chance to appear in a bowl game.  All they have to do is defeat their old WAC foes for the first time ever.  The Broncs hold a 10-0 lead in the series, going back to their first meeting in 2001.
The Czar has already established to his own satisfaction the fact that one would have to be a sanctimonious, un-American liberal nincompoop to spell the name of an American city with an accent mark.  If the people at BSU were the same way, they'd pronounce the name of their city "BWAHHH!"
Boise State 37, San Jose State 27
Marshall at Western Kentucky
The Thundering Herd will probably never get to pay back WKU for spoiling their unbeaten 2014 season in a 67-66 overtime shootout, but they'd like to hand the Hilltoppers their first Conference USA loss of 2015.
A defeat would topple the Toppers from their perch atop the East Division of C-USA, where they now lead the moo-men by a single game.  This weekend provides what are basically conference semifinal games, with these teams battling for the East, and the West Division to be decided by a head-to-head battle between Southern Miss and Louisiana Tech.
The Herd have got the best defense in the conference, but part of the reason their numbers are so impressive is that they haven't yet played either of the dominant offensive teams in the league, and that their best nonconference opponent has been Purdue.
In 2007, WKU lost a lawsuit in which it claimed that an Italian TV station had ripped off their mascot, Big Red.  In Italy, they understandably found it hard to believe that anyone could have exclusive rights to the image of a misshapen hairy guy with a big mouth.
Western Kentucky 32, Marshall 26
Washington State at Washington
The Cougars are specially motivated to win the Apple Cup this year, because it's the first time they've had any apples to protect in quite a few years.  WSU could wind up being the second bowl selection out of the Pac 12 this year, which would land them in the Alamo Bowl, opposite a Big XII power like Baylor or TCU.
The 5-6 Huskies kept their season alive by kicking some pelt up in Corvallis, where they buried the Oregon State Beavers 52-7.  Freshman quarterback Jake Browning completed 18 of 20 passes, for 211 yards and four touchdowns.
Everyone knows Mike Leach's team can put points on the board, but last game their defense held Colorado out of the end zone for the entirety of a 27-3 trouncing.  The Cougs hadn't given up so few points to a Division I-A opponent since they blanked Navy 12-0 in 2012.
This game is a 3:30 ET kickoff, which is 12:30 PM at Seattle's Husky Stadium.  That's very important to remember.  Why?  Those who are late do not get Apple Cup.
Washington State 38, Washington 22
Nov. 28
Penn State at Michigan State
100,000 ferocious white PSU pom-poms were not enough to scare off the Michigan Wolverines, who raided the Nittany Lion backfield with impunity for most of the day.  The 28-16 defeat drops James Franklin's team to fourth place in the Big Ten East.  Another setback would likely send them to the Pinstripe or Music City Bowl.
Not only did the Spartans knock off #1 Ohio State, but they did it without the services of quarterback Connor Cook, who had sustained a shoulder injury a week earlier.  Not that they didn't miss him, as backup Tyler O'Connor scraped up a meager 89 passing yards in his absence, but Mark Dantonio's defense squelched OSU's O for a total of only 132 total yards.  Dantonio is calling Cook a game-time decision for this week, but the Czar doesn't believe in game-time decisions.  The coach will know whether his QB can go long before 3:30 Saturday, and probably has a good idea already, but why tip off PSU about what to prepare for?
The Penn State pom-pom phenomenon never ceases to amaze the College Football Czar.  It seems the folks in Happy Valley will never learn to distinguish between intimidating and creepy.
Michigan State 23, Penn State 17
Iowa State at West Virginia
ISU's series with Kansas State is nicknamed Farmageddon, and when they met last Saturday the end was nigh for Cyclone coach Paul Rhoads.  The seventh-year skipper was fired effective at the end of the season, after his team blew a 35-14 halftime lead to KSU, fumbling three times in the last seven minutes of the 38-35 catastrophe.
All of the Mountaineers' losses have come in a row, against the top four teams in their conference.  Having once dropped to 3-4, they have now come back to become bowl eligible, with consecutive wins over Texas Tech, Texas and Kansas.  A lock for fifth place in the Big XII, they will probably be headed to either the Sun or Gator Bowl.
Anyone under 30 who is reading this probably thinks Farmageddon is something that Tony Soprano says.  Mind you, if Tony ever watched an ISU football game, he really would want to forget about it.
West Virginia 41, Iowa State 15
Ohio State at Michigan
The Wolverines trudged past Penn State 28-16, in a manner that was almost too methodical.  When they needed to open the game up with a more vertical passing game, they did, but why wait until they need to?
In 2011, the maize and blue snapped a seven-game losing streak to their rivals from Columbus.  They've since lost another three in a row, but those have all been very competitive games against a Buckeye team that was clearly superior.
After last week's 17-14 upset loss to Michigan State, Buckeye junior tailback Ezekiel Elliott announced that he'd played his last home game for OSU.  The College Football Czar thinks coach Urban Meyer should scratch the word "home" from that sentence and part ways right now, but he's apparently not going to.  Elliott publicly called out his coaches for their play calling in general, and for not giving him enough carries in particular.  He has since apologized, and all is ostensibly well.  And if you believe that one, the Czar has got some stolen valuables from Maurice Clarett's car to sell you.
Michigan 21, Ohio State 20
Alabama at Auburn
Last time the Iron Bowl came to Jordan-Hare Stadium, the Tigers went hoser on the Crimson Tide, scoring the winning touchdown Canadian-style, by returning a missed field goal for a touchdown.  Not much chance of that happening again this year, eh?
The loser from Bama's most recent game was arguably its own running back, Derrick Henry.  With the Heisman race wide open, the Tide decided to beat up on Division I-AA Charleston Southern in mid-November.  Obviously, Nick Saban is not going to let his starters stay in a game like that very long, so Henry got yanked after only nine carries, leaving him at #4 in the nation in rushing yards.  Had he been facing a real opponent, he would likely have picked up another 67 yards, leaping over Royce Freeman, Christian McCaffrey and Leonard Fournette.
The Iron Bowl Trophy is too big and fragile to be awarded on the field.  It would probably help these schools' academic reputations if it occurred to them to retire the trophy, and start giving the winning team … oh … an iron bowl, or something.
Alabama 24, Auburn 6
UCLA at USC
There's a three-way tie atop the Pac 12 South, but each of these teams has already beaten Utah head-to-head, which means that the winner of this game will advance to the conference title game to face Stanford.
Since the Trojans whacked Utah way back in Week 8, they haven't looked much like a conference contender, despite the fact that they'd won four in a row before being gunned down 48-28 by Oregon.  In three previous games, they had only prevailed over Cal by six points, Arizona by eight, and Colorado by three.
Freshman Bruin quarterback Josh Rosen has risen in stature since mid-October, going five consecutive games without an interception.  Not coincidentally, the blue bears have gone 4-1 during that stretch.
One of the great traditions about this game, revived in 2008, is that both teams wear their home jerseys.  At least in college ball, Los Angeles can have two home teams without robbing them from some other cities that have supported them better.
UCLA 31, USC 24
Oklahoma at Oklahoma State
While making this pick, the Czar is assuming that Sooner QB Baker Mayfield will play.  Mayfield was taken out of last week's 30-29 win over TCU with a concussion, but has been cleared to practice and says he expects to start.
The Cowboys might just as well face their opponents' star quarterback for an entire game, after the way they were picked apart in the third quarter by Baylor third-stringer Chris Johnson, who beat them for TD passes of 39 and 71 yards.
Mayfield's status reminds the Czar of the demented tirade coach Bob Stoops threw on sideline reporter Heather Cox during OU's 2009 opener, because she innocuously asked what he planned to do differently in the second half since starting QB Landry Jones had been injured.  Why, how dare she impugn the Sooner's second-stringer?  There's no need to do anything differently, because all of Stoops' players are equally marvelous – which of course is why some of them start and others don't.  Unsurprisingly, they lost that game to BYU.  Presumably, Stoops has since learned to devise a backup plan.
These intrastate foes play in a rivalry known as the Bedlam series, which the Czar supposes must be named after the trophy, which would be a bedlam.  Through most of the country, we don't have lambs that are designated for bed, but it's a cultural difference and we shouldn't judge.  This is a collegiate event, after all.
Oklahoma 49, Oklahoma State 42
Notre Dame at Stanford
The Fighting Irish brought their act to Fenway Park, where they tried to play the role of the Green Monster, but proved to be barely more imposing than Elmo.  The 19-16 win over a dismal Boston College club cost them the services of leading rusher C.J. Procise, who left the game with a high ankle sprain.
After allowing 214 rushing yards to that Eagle team, the golden domers may be dreading this meeting with Cardinal tailback Christian McCaffrey.  Although he is also a threat as a receiver and kick returner, McCaffrey is currently second in the nation in rushing, and will almost surely overtake LSU's Leonard Fournette, since he will have the benefit of playing in a conference championship game.
If you stayed tuned to the Cardinal's late-night 35-22 victory over Cal, you saw that Stanford's mascot had been made over into the LGB Tree.  It's a good thing that a tree is a rest room unto itself, otherwise how would it know where to go?
Stanford 28, Notre Dame 18
Wisconsin at Minnesota
Badger fans had plenty of reasons to be angry during their team's 13-7 loss to Northwestern.  The running game was nonexistent, the team went minus-5 in turnovers, and a last-minute go-ahead touchdown was nullified twice by dubious replay decisions.  So, they reacted in the most logical manner possible, by pelting their own cheerleaders with snowballs.  It's a good thing UW is on the road for this battle for the Paul Bunyan Axe.  There's no telling who could be on the chopping block if they brought the trophy back to Camp Randall Stadium.
With 80 bowl bids to go around, the NCAA is belatedly starting to worry about a dearth of qualified participants.  Especially vexing is the Big Ten West Division, where three teams – Nebraska, Illinois and Minnesota – have records of 5-6, but appear to be in over their heads in their season finales.  Of the three, this Golden Gopher club stands the best chance of leveling its record.
There really is no axe, you know.  It's just that every member of the winning team gets to axe Paul Bunyan a question.  It's not all it's cracked up to be.  Most of the questions are along the lines of, "So do you, like, get your plaid shirts from the big & tall department, or what?"
Wisconsin 19, Minnesota 14
Ole Miss at Mississippi State
The entire SEC West Division is bowl eligible, but the Rebels can still capture the division title with a win, paired with an Auburn upset of Alabama in the Iron Bowl.  If that were to happen, it would give Mississippi a chance to avenge a humbling loss to Florida in the SEC title game.
Bulldog QB Dak Prescott has a higher completion percentage than he did last year, he will almost surely pass his 2014 yardage total, and his TD-to-interception ratio is dramatically improved.  The Czar points this out to illustrate how dumb the Heisman is.  Prescott was in the running last year, when MSU started 9-0, but because they lost two of their first five this year, he gets no consideration.  In last week's 51-50 donnybrook against Arkansas, Prescott threw for 508 yards and five TDs.  Had that been a conference opener, he'd have been a Heisman frontrunner, but in Week 12, it almost goes without notice.
The winner of this game gets the Egg Bowl, but learning how to eat out of it is the tricky part.  I mean, the eggs just roll right off the end of your knife.
Mississippi State 37, Ole Miss 34
Florida State at Florida
Even at 10-1, Gator coach Jim McElwain continues to berate the character of his team, and not entirely without reason, following a 20-14 overtime tussle with Florida Atlantic.  "They [the offensive linemen] just mope around when something bad happens," he said.  That's probably a correct assessment, but a strangely detached one.  You're the coach, Jim, not some goober watching the game in a bar.
Last week, the Seminoles beat up on the Division I-AA Chattanooga Mocs.  They used to be called the Moccasins, but that must have been deemed hostile and abusive toward foot fetishists, or something.
Did you know that Burt Reynolds played halfback for the Seminoles, but that he also appeared in a pair of movies as a character named Gator?  You darn well would have known it, if you were still trying to find something interesting to say about two such boring teams by Week 13.
Florida State 16, Florida 13
Illinois vs. Northwestern
The Land of Lincoln Trophy will be awarded at Soldier Field, where Honest Abe would often unwind by attending a Chicago Bears game, after a long weekend of killing vampires.
The 9-2 Wildcats have won their last four Big Ten games, each of them by seven points or fewer.  The defense that opened the season by stuffing Stanford has proven that wasn't a fluke.  For the season, Pat Fitzgerald's team has allowed only 16.6 points per game, which is good for ninth-best in the nation.
Early this season, the Fighting Illini posted consecutive clutch victories against Middle Tennessee and Nebraska to run their record to 4-1.  Since then, they've lost five out of six, to push themselves to the brink of postseason elimination.
Okay, so Lincoln killed vampires only fictitiously, if you really want to get technical about it.  Still, that's more than Martin van Buren ever did, right?
Northwestern 22, Illinois 7
a sports publication from The Shinbone