The College Football Czar
Week 13
<![if !vml]>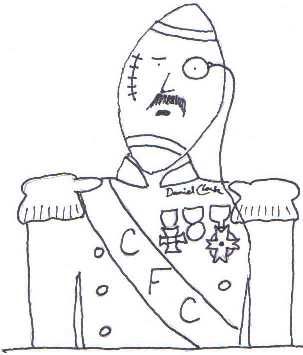 <![endif]>
Week twelve in review: The sexual assault investigation involving Florida State quarterback Jameis Winston has taken an especially disturbing turn this week, with his accuser now saying that she had not voluntarily dropped the charges as previously reported, but that she was intimidated into silence.  Perhaps the worst part of the story is that whatever the outcome, it is bound to be a miscarriage of justice.  If Winston is innocent, he'll still have suffered great damage to his reputation, and possibly to his career, depending on how he lets the attention affect him on the field.  If he's guilty, he'll probably go on to become President of the United States, then have his screeching wife appointed Secretary of State, and one day be awarded the Presidential Medal of Freedom.
Ohio State coach Urban Meyer doesn't seem especially concerned that Baylor jumped over his team to #3 in the BCS ratings, but he did reveal a streak of bitterness about it, when he facetiously claimed to be "disappointed" that his team only beat Illinois 60-35.  "We didn't cover whatever spread that we needed to, didn't score enough points to boost up our rating."
Mind you, if the ratings were only based on scoreboard aesthetics, or "style points" as they are cynically called, 60-35 looks pretty impressive.  The next thing that must be taken into account, however, is the quality of the opposition, and the Illini haven't won a Big Ten game in more than two years.  Okay, so OSU's star players put up big rushing numbers in the game, but why were they able to do it?  Why, for example, was Carlos Hyde still out there running for TDs of 51 and 55 yards during the last five minutes of play?  Because the lumpy nuts started resting on their laurels with a 28-0 lead, which they let dwindle to 47-35 midway through the fourth quarter, that's why.
By that stage of the game, it should have been such a blowout that Meyer could have been able to suit up Brutus the Buckeye and the sousaphone player who dots the "I", but instead he still had Braxton Miller handing off to Carlos Hyde.  So they succeeded in extending Illinois' monumental conference losing streak.  That doesn't make them the third-best team in America.
Will somebody please shut Oregon RB DeAnthony Thomas up already?  Now, he's dismissing the possibility of playing in the Rose Bowl as "not that big a deal at all.  We already won a Rose Bowl (against Wisconsin, two years ago), so it feels like, 'Whatever.'"  Memo to coach Mark Helfrich: If your team does make it to the Rose Bowl, you must bench this guy.  The game would surely be a big deal to Byron Marshall and Thomas Tyner, so divide Thomas' carries between them.  If Thomas doesn't like that, just tell him, "like, whatever."
The College Football Czar correctly predicted that USC would upend Stanford by three points, along the way to a 13-4 record for the week.  His season record stands at 165-63, for a .723 winning percentage.
Nov. 22
Navy at San Jose State
The 5-5 Spartans suffered a damaging 38-16 setback against Nevada last week, which means that if they want to reach their second straight bowl game, they must either upend the Naval Academy, or score a far bigger upset in their finale against undefeated Fresno State.
The Midshipmen pulled away from South Alabama 42-14, after trailing 14-10 in the second quarter, to pick up their sixth win of the season.  That entitles them to a berth in the Armed Forces Bowl in Fort Worth, where they will take on their fourth Mountain West opponent of the year, most likely Utah State.
Contrary to the lettering in the Spartan Stadium end zone, and in the politically correct ESPN graphics, there is no accent mark in San Jose, which after all is the name of an American city, dammit.  Millions of people haven't sneaked into this country just to continue the annoying practice of putting primitive, sub-letter particles in their words.  Americans already know which syllable in "Jose" to accentuate, and if the Mexicans haven't got the hang of it by now, they never will.
Navy 33, San Jose State 24
Nov. 23
Pitt at Syracuse
These familiar foes meet for the first time as ACC opponents in the Carrier Dome, where the Cuse won their last Big East battle a year ago, 14-13.  The visitors were without their best carrier for most of that game, as Rushel Shell got only one rushing attempt, before being sidelined with a bad back.  This time, freshman James Conner is only gaining strength, as he continues to rebound from a shoulder injury.
It was only a matter of time before the Panthers' punt coverage cost them a game, and so it did last week against North Carolina.  Paul Chryst's team rallied from a 24-point deficit to tie the game, but then lost 34-27, by allowing their second punt return TD of the game.
An SU field goal was the only score in the fourth quarter of their game against Florida State.  It was a little anticlimactic, considering that they lost, 59-3.  The Orange had won two in a row since their previous loss, 56-0 to Georgia Tech.  If their plan all along has been to win two games after each eight-touchdown defeat, they're definitely pressing their luck a bit.
It's a little-known fact that the Carrier Dome got its name because that's where all the cable and satellite carriers hold their annual convention.  It always erupts into a huge brawl, because everybody gets ticked off at being told, "I understand your frustration" by every other moron in the building.
Pitt 22, Syracuse 19
Nebraska at Penn State
PSU picked up its sixth win of the season, 45-21 over Purdue.  They're still bowl-ineligible, of course, because of their probation, so a win on Senior Day is the biggest reward they have to strive for.  Zach Zwinak rushed for 149 yards against the Boilermakers, one yard short of his season-high, from one week earlier.
The Nittany Lions are 5-1 at home this year, but four of those victories have been against Eastern Michigan, Kent State, Illinois and PU.  Their big win was in triple-overtime against Michigan, which itself is having a very disappointing season.
The Cornhuskers' 41-28 loss to Michigan State was their last home game of the season, but never fear.  If coach Bo Pelini needs some fans to curse at, Beaver Stadium will have 106,000 of them who are just begging for it.
Husker QB Tommy Armstrong Jr. fumbled twice and threw an interception in that defeat, while completing just 9 of 21.  Still, he handled the pressure better than his uncle, Stretch Armstrong, who was known to soil the carpet on occasion.
Nebraska 31, Penn State 24
Baylor at Oklahoma State
The Cowboys (9-1, 6-1) gunned down one of the two teams that stood between them and a Big XII championship.  The unsuspecting Texas Longhorns never knew what they got roped into, until OSU had taken total control of the 38-13 rout.
By the end of last week's showdown against the Waco kids, all Texas Tech could do was stand there looking stupid, grasping their hands in pain.  BU trailed Tech 20-7 in the first quarter, but outscored them 56-14 the rest of the way.
The Bears have only played one true road game against a quality opponent, and it resulted in their lowest point total of the season, when they won 35-25 at Kansas State.  They actually trailed that game after three quarters, and they only outgained the Wildcats by a single yard.
The Pokes' home field is called Boone Pickens Stadium, named after the school's famous benefactor, T. Boone Pickens.  So why is there no "T" in the stadium's name?  They omitted it, believing that it stood for Pickens' home state of Texas.
Actually, the Czar is just making that up, but it's probably a better explanation than whatever the real one is.
Oklahoma State 45, Baylor 42
Texas A&M at LSU
By the College Football Czar's ciphering, if the Conjunction Boys beat the Bayou Bengals, they'll be on track for a Cotton Bowl collision with estranged arch rival Texas.  That is, unless they get invited to a BCS game, but as we remember from last season, no more than two teams from the same conference can belong to that 10-team field.
A&M's 51-41 victory over Mississippi State may have seemed like cause for concern, until MSU battled Alabama deep into the fourth quarter a week later.  Nevertheless, ten penalties and three interceptions hardly makes a winning formula for the Aggies, especially in their division. 
The Tigers (7-3, 3-3) are currently fifth in the SEC West, as a result of their head-to-head loss to Ole Miss in Week 9.  Another loss could drop them to ninth in the league's bowl game pecking order.  They haven't lost four regular season games in the same season since 2008, but even in a down year like that, they went on to win the Peach Bowl.
As long as they're bringing Schoolhouse Rock to Baton Rouge, the Czar has got to know, how can the Eye of the Tiger come before E except after C, when it already has an "E" on the front of it?
Bet you don't get probing questions like that from Tim Brando, do you?
Texas A&M 36, LSU 26
Arizona State at UCLA
With a win, the Bruins would tie ASU for first place in the Pac 12 South, where they would likely be joined by USC, which is expected to blow through Colorado like a rolling cannabis cloud.
The Sun Devils (8-2, 6-1) are only 2-2 away from home, and they had to rally from a 19-7 deficit to salvage a one-point win at Utah.  Now they travel to face a Bruin team that was the last to have beaten them on their home field, 45-43 last October.
Converted linebacker Myles Jack is getting lots of attention for his offensive exploits, and rightly so, after rushing for four touchdowns in last Friday's 41-31 win over Washington.  Jack is just one of three backs whose relentless running game gave them the victory, though, as he teamed with Paul Perkins and Malcolm Jones in a 206-yard effort.
Since the Devils have about 14 different uniforms this year, you'd think at some point their Disney-inspired Sparky logo would make an appearance.  Actually, it's been a well-kept secret that Sparky sneaked out of town one night during the offseason.  He sent Todd Graham a text message, telling him not to let the gates of hell slam on his posterior.
UCLA 44, Arizona State 30
Wisconsin at Minnesota
These second-place teams in their respective Big Ten divisions won't likely play for the Stagg-sans-Paterno Trophy, but one of them will take home the Paul Bunyan Axe, which is by far the more coveted prize.  The Badgers hold a commanding 38-24-3 lead since the axe has been awarded, although the Golden Gophers dominated the early years of the series, which it leads overall by a count of 58-56-8.
Scoring 51 points was not the impressive part of the Badgers' win last weekend, compared to the fact that they only allowed a field goal to an Indiana team that's been averaging over 39 points a game.  IU had even put up 28 in a loss to mighty Michigan State, but they didn't even cross the Badger 45-yard line in the first half last week in Madison.
The radiant rodents trail MSU by two games in the Legends division, but since those teams meet in their season finale, they still have a chance to close the gap.  First, they must bump off the Big Bad Gers, however, while also needing Northwestern (4-6, 0-6) to topple the Spartans.
The axe actually isn't the original trophy for this rivalry.  In the years leading up to the Second World War, they played for the Slab of Bacon, which mysteriously vanished for decades, before turning up in Camp Randall Stadium.  Any suspicions that Barry Alvarez had been hoarding it are purely understandable.
Wisconsin 41, Minnesota 32
Brigham Young at Notre Dame
Each of these Independents is 7-3, which means that their postseason plans have basically been decided.  BYU has a berth reserved in the Food Fight Bowl, where it will meet a Pac 12 opponent.  The Fighting Irish don't know where they will end up, but it will be the same place whether they finish 9-3 or 7-5.  The Czar suspects they'll claim the spot vacated by Army in the Poinsettia Bowl, opposite the home team, San Diego State.
In one of the golden domers' many near-disasters of the 2012 season, they trailed 14-0 against an offensively toothless Cougar team.  It took them all game to come back, but they escaped by a final of 17-14, on their way to an undefeated regular season.
As many narrow escapes as the Irish made a year ago, they couldn't get out of their own way two weeks ago at Heinz Field.  Tied 21-21 early in the fourth quarter, they forced a fumble from Pitt QB Tom Savage, which looked initially as if it might be ruled an incomplete pass.  Still, you'd think they'd try to recover the ball, just to be on the safe side, but no.
The ball bounced right into the hands of defensive end Sheldon Day, who quickly tossed it aside as if it were a spider that just rappelled onto his shoulder.  Rather than taking over on the cusp of field goal range, they gave the Panthers a chance to punt, and set them back about 30 yards.  Day's explanation: "It's just a bad, bad moment, I guess." That gives him a winning percentage of a thousand on his guesses so far.  If he doesn't make it in the NFL, he may have a bright future as a czar.
Brigham Young 26, Notre Dame 23
Missouri at Ole Miss
Quarterback James Franklin returns to the lineup for the Tigers (9-1, 5-1), who must beat both Mississippi and Texas A&M in order to jump over South Carolina and into the SEC title game.  Franklin has sat out the past four games with a variety of injuries, and was badly missed in an overtime loss to the Gamecocks.  In his three conference games so far, the senior slinger has tossed eight touchdown passes and no interceptions.
The Rebels (7-3, 3-3) have rattled off four straight, after losing three in a row to Alabama, Auburn and A&M.  Last week, they trampled Troy for 721 total yards, while holding the Trojans to minus-13 yards rushing, in a 51-21 trouncing.  It was a battle between teams that have named themselves after history's most famous losers, but somebody had to win.
This is the final game in the Rebs' six-game homestand, which has got to be awfully tiring.  They can't wait to travel to Starkville for their finale, just so that they can take a load off their feet.
Missouri 45, Ole Miss 37
Oklahoma at Kansas State
K-State's rebuilding project appears to be way ahead of schedule.  Last season's Big XII champions won their fourth in a row, 33-31 over TCU, to clinch a postseason bid at 6-4 overall and 4-3 in the conference.  Kicker Jack Cantele was more predictable than his surname would suggest, as he went 4-for-4 in field goals, including a 41-yarder with three seconds to play.
A mismatch against Iowa State gave OU coach Bob Stoops a chance to get all three of his quarterbacks in the game.  Following the 48-10 blowout, he settled on freshman Trevor Knight as this week's starter.  Injuries to Knight and Kendal Thompson had left Blake Bell as the starter for much of the season, but as you can tell by his nickname, The Belldozer is not known for finesse.  It was largely because of Bell's plodding style that the Sooners were unable to compete with Baylor, even after their defense seemed to have staggered the Bears early.
Manhattan, KS is known as the "Little Apple."  Being a small, Midwestern town just off Interstate 70, does that make it a road apple?
Oklahoma 27, Kansas State 22
Boston College at Maryland
First-year BC coach Steve Addazio may not be addazling anybody, but he has dramatically improved the team's offensive output, from a meager 19.8 points per game last year to 28.1 so far in 2013.  Andre Williams is now the nation's leading rusher, 361 yards ahead of his nearest competitor, with a total of 1,810.  If you're unaware of this, that's because it's a recent development.  In the past two games, against New Mexico State and Nc State, he has piled up a total of 634 yards.
Terrapin quarterback C.J. Brown matched his season-high in rushing last week, when he ran for 122 yards and two scores in a 27-24 overtime victory over Virginia Tech.  He didn't have a great game throwing the ball, completing only 12 of 25, but his Terps (6-4, 2-4) are 6-2 in games he has started.
If they used accent marks in Boston, Addazio's name might be pronounced, "Add a zio."  But of course, zio plus zio is still zio, which only goes to prove that accent marks are stupid.
Boston College 29, Maryland 27
Oregon at Arizona
A late-season game in Tucson is an ominous sign for the Fighting Ducks and quarterback Marcus Mariota.  In 2005, UO was headed for a BCS bowl when Kellen Clemens' leg was broken in a costly 28-21 win over the Wildcats.  In 2007, they were ranked #2 when Dennis Dixon left the game with a torn ACL.  Now, they appear to be Rose Bowl-bound, but Mariota is already hobbled.
A year ago, the U of A was off to a 3-0 start, including a big win over Oklahoma State.  Their conference opener in Eugene was expected to be a preview of the league championship, but the Cats were clobbered 49-0.  From there, they staggered to a 4-5 finish in Pac 12 play, and were extremely lucky to pull out a 49-48 comeback victory over Nevada in the New Mexico Bowl.
In theory, this year's 6-4 Wildcats could still miss out on the postseason.  Sure they're already bowl-eligible, but they're in line to be the #8 selection out of a league that has only seven reserved bids, and lame ones at that. If they don't beat either Oregon or Arizona State, they'll probably end up playing the University of Louisiana-Walla Walla in the FarmersOnly.com Bowl.
Not that FarmersOnly.com isn't a fine institution.
Oregon 58, Arizona 38
Colorado State at Utah State
Teams that play a game at Hawaii are allowed to schedule 13 games, but CSU is the only one to have done so this season.  That being the case, they are not yet bowl-eligible at 6-5, but must still beat either USU or Air Force in order to make it.  The Rams have come a long way since the start of their second year under coach Jim McElwain.  If only they could take today's team, and replay their September losses to Colorado and Tulsa, those games would very likely turn out differently.
The Aggies (6-4, 5-1) became bowl-eligible last week with a clutch 28-24 road win over UNLV.  With two winnable games remaining, they'd like to play their way into a higher-profile postseason game.  Not that they weren't happy to be invited to the past two Famous Idaho Potato Bowls, but the result has been that the potatoes are a heck of a lot more famous than they are.  If you've never heard of a famous potato, you must not remember Spud Webb, or the late Tim Russet.
Wow.  Potato puns.  The season can't end soon enough, can it?
Utah State 43, Colorado State 39
Boise State at San Diego State
Last year's 21-19 loss to the Aztecs was the Broncos' only defeat in their past 13 home games.  They won the Mountain West in spite of that, but they probably won't have a chance to repeat unless they avenge that defeat, on the road.
Each of SDSU's last six games has been decided by seven points or fewer, the only loss among them being a 35-28 overtime loss to Fresno State.  Last week in Hawaii, they played their third OT game during that streak.  Running back Adam Muema's season-high 163 yards included a two-yard TD in the extra frame.
This game, of course, is being played in San Diego, and not Los Angeles.  Nevertheless, expect to see lots of stale celebrities in attendance.  Why?  So that they can wave their "Free Muema" signs for the cameras.
Nobody ever accused celebrities of being very bright people.
Boise State 28, San Diego State 20
Illinois at Purdue
The Fighting Illini's 60-35 loss to Ohio State was their 20th consecutive defeat in Big Ten play.  The Czar doesn't believe in the idea of a team being "due," but he'll make an exception if that same team also happens to be due to play Purdue.
The Little Train That Could Puke is on the wrong track, also, tied with the Illini in the basement at 0-6 in league play.  At 1-9 overall, the Boilermakers' only consolation is that at least this year, they won't put themselves through the embarrassment of losing a bowl game by 44 points.
You've probably already gathered that PU won last year's meeting, but it wasn't easy.  They failed to convert any of the Illini's three fumbles for points, but still prevailed 20-17, thanks in part to a 63-yard reception by running back Akeem Hunt.
The Czar was wondering how these two sorry clubs ended up in the Leaders division, but then he discovered that it's actually called the Liters division.  No wonder they're so weenie.  They've gone metric.
Illinois 18, Purdue 12
Washington at Oregon State
A shoulder injury to QB Keith Price may force the Huskies to turn to redshirt freshman Cyler Myles [Enter sleazy Hannah Montana joke here].  Myles came off the bench to throw two interceptions in last Friday's 41-31 loss to UCLA, but he wasn't the only one on his team who could have stood to be sharper.  The Huskies had already dug themselves a 14-0 deficit with two fumbles, and they committed 11 penalties for 113 yards.
The Beavers traditionally start the season slow, but finish strong.  Well, at least they got the first half right this year, dropping their opener to Division I-AA Eastern Washington, 49-46.  A six-game winning streak against weak competition set them up for a fall, facing their five toughest opponents in a row to end the season.  They put up a scrap in a 20-12 loss to Stanford, but have since been bottled up by USC and Arizona State.
Through that Stanford game, OSU quarterback Sean Mannion had 30 TDs and only three interceptions, and was considered a dark horse for the Heisman.  Some of the more fickle fans might now want him to be sent to the glue factory, after throwing three TDs and seven picks in his last two games.
In case you are unable to think of a sleazy Hannah Montana joke, its name is Billy Ray Cyrus.
Washington 37, Oregon State 34
Michigan at Iowa
The Wolverines forced overtime against Northwestern on a last-second kick with the clock running, when holder Drew Dileo did his best Ron LeFlore impression, sliding into place to take the snap just before the final second ticked off.  The successful boot tied the game at 9-9, and three OTs later, the maize and blue prevailed, 27-19.
At 6-4, the Hawkeyes may be better than many people think.  So far, they've been competitive in all four of their losses, which have been to Northern Illinois, Michigan State, Ohio State and Wisconsin, which have a combined record of 38-4.  Despite their schedule strength, they're only allowing 18.7 points per game.
LeFlore famously tried out for the Detroit Tigers while serving time in prison for armed robbery.  In addition, he was sentenced to be portrayed by LeVar Burton in a made-for-TV movie.  A prima facie case of cruel and unusual punishment, if you ask the College Football Czar.
Iowa 24, Michigan 21
a sports publication from The Shinbone