The College Football Czar
Week 13
<![if !vml]>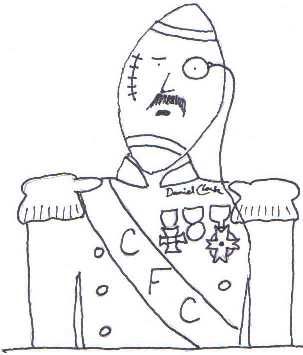 <![endif]>
Week twelve in review: The top two teams in the BCS ratings were upset, which, according to the media template, has thrown the championship picture into "chaos."  Top-ranked Kansas State should now be out of the running altogether, after getting the phlegm beaten out of them by ninth-place Baylor, 52-24.  Oregon, having lost to Stanford 17-14 in overtime, still has a chance, although they need help from a couple conference rivals.
Not only did Oregon lose a much better game to a much better opponent than K-State did, but the human polls are bound to account for the fact that the Ducks became the latest victims of a replay officiating atrocity.  With less than two minutes remaining, Cardinal TE Zach Ertz attempted to make a catch in the back of the end zone, but bobbled the ball as he slid out of bounds.  The on-field officials correctly called the pass incomplete, but the replay official overruled them, apparently concluding that Ertz had landed in bounds with the possession prior to the bobble.
Hardly a game goes by without a potential touchdown catch being reviewed, and as everyone is aware by now, the receiver must maintain possession all the way through contact with the ground.  Ertz did not do this.  By the time he established possession of the ball, his helmet and shoulders were clearly out of bounds.  Phooey on ABC for trying to back up the call with an absurd freeze frame, showing Ertz's shoulder touching the turf short of the boundary line, and helpfully circling the ball in his hands.  Never mind that the play wasn't over yet.  The same method could just as well have been used to prove that Jackie Smith scored a touchdown in Super Bowl XIII.
The College Football Czar does not find the championship picture to be nearly as chaotic as many others do.  With Kansas State presumably eliminated (and if they're not, there ought to be an investigation) that leaves seven teams with any chances of reaching the BCS title game.  Here they are, with the most likely scenarios for them to get there, in order of probability:
Notre Dame – beat USC, and they're in
Alabama – should handle rival Auburn, and then must win SEC championship game against Georgia.
Georgia – basically the same scenario as Bama, they must defeat Georgia Tech, and then topple the Tide for the SEC title.
Oregon – need help from both conference foes from Los Angeles.  If the Ducks beat Oregon State, they also need USC to defeat Notre Dame to open a spot in the BCS title game, and UCLA to beat Stanford, which would let UO advance to the Pac 12 championship.  If they then win their conference title rematch against UCLA, they advance to face the SEC champs for the BCS championship.
Florida State – also needs USC to take Notre Dame out of the way.  The Seminoles must defeat Florida, then win the ACC championship against Georgia Tech.  In addition, they need either for Oregon to lose a second game, or for Stanford to beat UCLA, thereby locking the Ducks out of the Pac 12 title game.
Florida – needs both SEC division winners to lose.  The most plausible scenario would be for Georgia to be upset by Georgia Tech, and then knock off Alabama.  Then, of course, there's the small matter of needing to beat Florida State.  In addition, the Gators need for either Notre Dame or Oregon to be eliminated. 
Clemson – Admittedly, this is the longest of long shots, but it is theoretically possible, so here it goes.  The SEC scenario described above must unfold, with Florida left as the highest-ranking SEC team.  The Tigers need Florida to eliminate Florida State, and USC to eliminate Notre Dame.  Since they do not play in their own conference championship game, it's not enough for Oregon not to play for the Pac 12 title.  The Tigers need the Ducks to either lose to Oregon State, or to advance to the conference championship and lose to UCLA.  Mind you, they still must win their rivalry game with South Carolina.  This would produce the unlikely but still possible result of two teams that do not win their respective divisions (Florida and Clemson) facing each other for the BCS championship.
Okay, so maybe that sounds a little chaotic, but the Czar doesn't see any gray areas.  This should be the pecking order, and it should not result in any legitimate controversy.  If the Czar has it figured correctly, the two most deserving teams will square off in Miami on Jan. 7, and anyone who doesn't like it can lump it, whatever that means.
The Czar went 16-3 in week twelve, which improves his overall record to 156-69, for a .693 winning percentage.
In order for many of the Czar's regular readers to be able to get this week's picks at work before Thanksgiving weekend, he must wrap up this installment two days early.  So, as he always asks during this particular week, please excuse the picks' relative brevity and semi-literacy.
Nov. 22
TCU at Texas
For much of the season, the pointy cows have lacked a sense of direction, but last week's commanding 33-7 victory over Iowa State raised their record to 8-2, and kept them alive in the race for the Big XII championship.
Like fellow conference newcomer West Virginia, the Horned Frogs (6-4, 3-4) have had a rougher transition into their new league than most people expected, although they've got a better excuse.  Texas Christian was 4-0 until starting QB Casey Pachall was dismissed from the team.  His replacement, freshman Trevone Boykin, had to take over just as they got to the meat of their schedule.
These former Southwest Conference foes meet to find out which group of critters with horns reign supreme, although the answer to that question is pretty obvious.  It's the sousaphone players.  Those guys rule!
Texas 49, TCU 33
Nov. 23
West Virginia at Iowa State
Another week, another quality Big XII opponent, a 50-49 loss.  What else is new in Morgantown?  WVU's record fell to 5-5 with last week's defeat to Oklahoma, despite their having piled up 778 total yards.
The Cyclones blew away Kansas 51-23, to secure their third postseason during Paul Rhoads' four years as head coach.  ISU's latest starting quarterback, freshman Sam Richardson, completed 23 of 27 with four touchdowns.
At 870 miles, this is the shortest road trip the Mountaineers can have in conference play.  Still, think of all the opportunities they'll have to pull over and buy fireworks and adult videos along the way.
West Virginia 55, Iowa State 44
Syracuse at Temple
Owl running back Montel Harris romped over Army for 351 yards and seven touchdowns as his team rolled over Army, 63-32.  This result was tempered by the fact that Temple was unsuccessful in trying to add a late game against Hawaii.  As a result, they only play eleven games this season, and at 4-6, cannot advance to a second straight bowl game whether they upend the Orange or not.
If SU suffered any hangover from their upset of Louisville, they got over it late in the second quarter of last week's game, when they trailed Missouri 17-3.  Wide receiver Alec Lemon squirted into the eye of the Tigers, blinding them as he dashed for a career-high 244 yards and two TDs on twelve catches.  The 31-27 comeback victory completed a season sweep for the Big East over the SEC, at 3-0.
BIG EAST! BIG EAST! BIG FREAKING EAST!
Syracuse 21, Temple 16
LSU at Arkansas
In coach Les Miles' unhinged press conference following last week's 41-35 scare against Ole Miss, The Hat appeared to be throwing his hat in the ring for vice president.  Alas, he's a couple weeks too late, so he'll have to settle for being second banana in the SEC West.
When the Razorbacks suffered an early upset against Louisiana-Monroe, the injury to QB Tyler Wilson was expected to be their downfall.  As it turned out, Wilson only sat out one game, and has gone on to pass for over 3,000 yards, yet his team is just 4-7.
Wouldn't you love to hear whatever transpires between Miles and John L. Smith after the game?  It will be like the time that MSNBC's Chris Matthews got in an argument with Howard Dean about which one of them is loonier.
LSU 30, Arkansas 17
Washington at Washington State
Nobody expected WSU to compete in the Pac 12 North during Mike Leach's first season as head coach, but at the very least, they were supposed to have fielded a formidable offense.  To the contrary, the Cougars are scoring 10.3 fewer points per game than they did in 2011.
Since an embarrassing 52-17 midseason loss to Arizona, the Huskies have won four straight, including an upset of Oregon State, to improve to 7-4.  Last week, they rang up a 38-3 win over Colorado, on the strength of five touchdown passes from Keith Price.
These cross-state rivals meet annually for possession of the Apple Cup, which is actually the most valuable trophy in all of college football.  Think of it; the losing team must play the entire following season with its apples completely unprotected.
Washington 26, Washington State 10
Arizona State at Arizona
The Wildcats (7-4, 4-4) dominated the fourth quarter against Utah, scoring 17 consecutive points to eliminate the Utes from the postseason, 34-24.  Running back KaDeem Carey followed up his 366-yard game against Colorado with another 204 yards on 26 carries.  Carey is now the nation's leading rusher, 21 yards ahead of Nevada's Stefphon Jefferson.
Following consecutive losses to Oregon, UCLA, Oregon State and USC, the Sun Devils (6-5, 4-4) took it out on Washington State, 46-7.  ASU's shutout bid was spoiled with less than a minute to play, when the defensive backups were burned for a 54-yard TD pass.
If the Devils lose to fall to 6-6, first-year coach Todd Graham may figure his work in Tempe is done, and so it's off to greener pastures.  All in a year's work for a contemptible sneak.
What we Pitt fans lack in number, we make up for in bitterness.
Arizona 40, Arizona State 35
Nov. 24
Rutgers at Pitt
The rumor mill has Rutgers likely following Maryland into the Big Ten, perhaps not long after this issue is posted.  From the look of the Scarlet Knights' plodding 10-3 win over Cincinnati, they'd fit right in.  BTN viewers must already be salivating at the prospect of seeing them in annual slog-offs against the likes of Illinois and Purdue.
The Czar fully expected Panther QB Tino Sunseri to give a public apology for making kicker Kevin Harper the fall guy for the Notre Dame game, but instead, he took more of a "move along, there's nothing to see here" approach.  Between that incident, and the fact that three of the team's best players are under investigation for an on-campus assault, one must wonder how the team is holding together at this point.  If the first half of their languid 24-17 loss to Uconn is any indication, they'll gladly take a pass on a third consecutive berth in the BBVA Compass Bowl.
Last year, the Panthers thought they had turned their season around with a nationally-televised Thursday night thrashing of a somehow-ranked South Florida team.  A week later, they got the pisketti beaten out of them in Piscataway, 34-10.  It's a little-known fact that it was that game that originated the suddenly popular "me eat sketti" motion that football players are doing to celebrate big plays.  The Czar trusts that the officials will start flagging it for unsportsmanlike conduct, just as soon as they figure out what in tarnation it is.
Rutgers 19, Pitt 7
Wisconsin at Penn State
The Badgers' defense roughed up Ohio State last week, but they lost the game because of a Buckeye touchdown on a punt return, and a late, goal-line fumble by tailback Montee Ball.  The 21-14 overtime loss prevents Bret Bielema's team from winning their division outright, but they will still play in the Big Ten title game, with both OSU and PSU being ineligible.
The Nittany Lions' defensive leader, Michael Mauti, will miss his final game with a knee injury sustained during last week's 45-22 rout of Indiana.  Mauti was out for most of last season also, including a regular season-ending 45-7 blowout loss to UW.
How lardheaded was it to insist on using Ball at the goal line, when he was one touchdown away from breaking the NCAA record for career touchdowns?  All they did was telegraph the play to a very formidable opposing defense, when they still have this game, along with the league championship and a bowl game, to get Ball the record anyway.
The people in Happy Valley have had an ice cream named after Jerry Sandusky.  If you think that's sick, the folks from the Dairy State have a cheese named after the Swiss.  Not only were the Swiss neutral during The Big One, but they don't even know how to singularize themselves.  One of them is not called a Swissian or a Swissman, but only "a Swiss."  How creepy can you get?
Wisconsin 34, Penn State 24
Notre Dame at USC
Has yet another of the golden domers' apparently fearsome opponents disintegrated right before their eyes?  That's up to freshman SC quarterback Max Wittek, who takes over because of a shoulder injury suffered by Matt Barkley, late in last week's 38-28 loss to UCLA.
No wonder the Fighting Irish are agreeable to scheduling more games against ACC teams.  Including last week's 38-0 wipeout of Wake Forest, they're 3-0 against teams from that league, having outscored Miami, BC and Wake by a combined score of 99-9.  Sophomore QB Everett Golson threw for a career-high 346 yards against the Demon Deacons.
If the Irish are supposed to be so tough, then how come they're a dame, and a neutered one at that?
Notre Dame 16, USC 13
Michigan at Ohio State
Even without RB Fitzgerald Toussaint, the Wolverines might be more dangerous now than at any other time this season, with Denard Robinson entering the formation as a tailback, while QB Devin Gardner provides a more potent downfield passing threat.  Robinson is the team's leading rusher anyway, with 1,044 yards, more than doubling Toussaint's output.
Buckeye quarterback Braxton Miller was held to a season-low 97 passing yards in last week's overtime win over Wisconsin, while rushing for 2.1 per carry.  Will that performance let any of the air out of the Family of Networks' season-long Miller for Heisman campaign?  The College Football Czar guesses no.  Instead, they'll simply point to OSU's 11-0 record, and fall back on the lardheaded rationalization that "he's just a winner."
Everyone raves about the Buckeye band spelling out "Ohio" on the field at halftime, as if they were the Flying Wallendas or something.  Well, they don't even spell it right.  As any dorky fan who does the Hang On Sloopy sing-along knows, "Ohio" is spelled with goal posts and a triangle between the two O's.  Until the band pulls that off, the Czar is unimpressed.
… Except with the sousaphone players.  They rule!
Michigan 36, Ohio State 28
Stanford at UCLA
A Bruin loss would mean they'd travel to Palo Alto for a rematch in the Pac 12 championship game.  They'd much rather beat David Shaw's team the first time, and then try to avenge last year's conference championship loss to Oregon.
How much different might the BCS picture look right now if freshman Kevin Hogan had quarterbacked the Cardinal all year long?  Hogan didn't put up big numbers in last week's OT victory at Oregon, but he did keep his cool in situations in which the Duck defense has rattled far more experienced QBs.  In barely over three games, Hogan has thrown seven touchdown passes, as opposed to ten for junior Josh Nunes through the first two months of the season.
Speaking of outstanding freshman QBs, the blue bears' Brett Hundley is 27 yards away from a 3,000-yard season, with 25 TDs and only nine picks.  His team is now 20th in the nation in scoring, up 68 spots from a year ago.
The name on the jersey of the Cardinal tight end is actually incorrect.  When he told the equipment manager, "Zach Ertz," he was only trying to say that he needed some liniment.
UCLA 24, Stanford 21
Florida at Florida State
At one point, the Gators had won six in a row in this series, but they've only put seven points on the scoreboard in each of their last two meetings with FSU.  Last season, they went minus-3 in turnovers to lose a defensive slugfest 21-7, despite holding the Noles to 95 total yards.
UF quarterback Jeff Driskel is expected to return this week from an ankle injury that he sustained in a 27-20 win over Louisiana-Lafayette.  Regardless of whether Driskel or sophomore Jacoby Brissett plays, the Gator passing game is the fifth-least productive in Division I-A.
In this battle between two of the nation's five best defenses, the edge has got to go to the Seminoles, whose kicker has hit 22 of 26 field goals, going 3-for-3 from outside 50 yards.  Everyone cringes whenever a Florida State kicker takes the field with the game on the line, but Dustin Hopkins has been as reliable a player as they've ever had at that position.  … And Ishtar wasn't his fault, either.
Florida State 16, Florida 7
Oregon at Oregon State
The first time Beaver quarterback Sean Mannion returned to the lineup, he wasn't ready yet, and it cost his team in a loss to Washington.  In his comeback from that comeback, last week against California, he returned to his pre-injury form, completing 24 of 34 for 325 yards and four touchdowns.
For a solid decade, these teams battled to a standstill, with the home team winning every single year.  That ended when OSU won an overtime game in Eugene in 2007, but since then, the Fighting Ducks have won all four.  Last year, UO ran up a now-routine total of 670 yards, in a 49-21 trouncing.
The Ducks and Beavs are supposed to be competing for a wood carving of a platypus, but it's never actually there at the game, because both teams suspect it of being a double-agent.  Kind of like James Bond, now that he looks Russian.
Oregon 41, Oregon State 32
South Carolina at Clemson
Steve Spurrier's Gamecocks are 9-2, but they really haven't improved since dropping back-to-back games to LSU and Florida.  During their three game winning streak, they've edged defenseless Tennessee 38-35, trudged over woeful Arkansas 38-20, and broken a halftime 7-7 tie to down Division I-AA Wofford, 24-7.
Tiger quarterback Tajh Boyd might be the runaway Heisman favorite, if not for the mitigating factor of the defensive weeniness of his ACC opponents.  Boyd has had three 5-TD games in the past four weeks.  His only statistical drawback is his 11 interceptions, which isn't many compared to 33 touchdowns, but it does compare unfavorably with many of the nation's other top QBs.
These teams are located in the Palmetto State, whose nickname is sort of like a more subtle version of "Don't mess with Texas."  The idea that the less brash Carolinians are getting across is, "Don't tee us off.  We've got flying cockroaches."
Clemson 48, South Carolina 34
Indiana at Purdue
A pair of three-point road wins over Iowa and Illinois have improved the Boilermakers' record to 5-6.  Robert Marve was the starting QB for both of those games, so one would assume he'll get the nod again over Caleb TerBush.
The 4-7 Hoosiers were officially eliminated from postseason contention in last week's 45-22 loss to Penn State.  Where they really blew their chance, however, was during a midseason three-game stretch in which they lost to Michigan State, Ohio State and Navy by a total of only eight points.
If the action in this game in any way resembles poetry in motion, that poetry will be the most lardheaded limerick, from which the game trophy, the Old Oaken Bucket, is derived.
Purdue 29, Indiana 21
Georgia Tech at Georgia
Unlike their hosts in Athens, Tech (6-5, 5-3) is not in contention for a national title, but it will be playing for the ACC championship next week in Charlotte.  It would look a lot better if they had a winning record when they did.
The Bulldogs have been about as enigmatic as a 10-1 team can possibly be.  On one hand, they've handed Florida its only loss, and pounded a very good Vanderbilt team 48-3.  Then again, they've struggled against Buffalo, Tennessee and Kentucky.
You know you're a .500 team when, like the Ramblin Wreck, you have a leading rusher whose first name is Orwin.  They don't call it option football because winning is just one of multiple options.
Georgia 35, Georgia Tech 23
Oklahoma State at Oklahoma
This is the 107th edition of the Bedlam Series, in which the Sooners hold a commanding historical lead of 82-17-7.  They had won eight in a row, until the Pokes pummeled them 44-10 a year ago to claim the Big XII title.
8-2 OU has barely beaten Baylor and West Virginia in their past two games, by scores of 42-34 and 50-49, respectively.  Last week against the Mountaineers, they scored the winning touchdown with 24 seconds left, as the teams combined for 1,440 yards.  Things have gone more smoothly for OSU, which rolled over that same WVU team 55-34, and tatered Texas Tech last Saturday, 59-21.
The name "Bedlam" is taken from an insane asylum in London.  Once the NCAA finds that out, they'll change this game to the "Psychologically Differently-Abled Series," or something like that.  The players will be forced to wear awareness ribbons that are blellow, or whatever color is fashionable among crazy people these days.
Oklahoma State 52, Oklahoma 40