The College Football Czar
Week 12
<![if !vml]>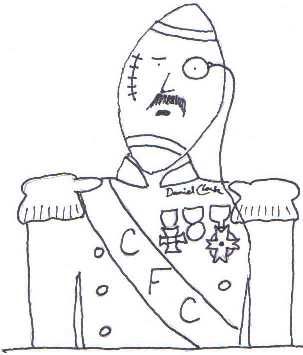 <![endif]>
Week eleven in review: The College Football Czar has finally seen ESPN's new Saturday night intro featuring Eminem's "Berzerk."  In case you haven't yet had the misfortune of experiencing it, Mr. Em liberally samples (i.e., steals) parts of Billy Squier's 1981 hit, "The Stroke."  Memo to ESPN: You can't have it both ways.  You must now either pretend that Billy Squier is cool, or admit that Eminem is not.  So which is it?
The BCS picture cleared up very slightly last Thursday, with Oregon's 26-20 loss at Stanford, a game whose tone was set when rookie coach Mark Helfrich unwisely eschewed a 21-yard field goal attempt in the first quarter.  Sophomore tailback DeAnthony Thomas embarrassed himself even worse than in last year's game, first bragging that his team would score 40, and then helping to prevent them from doing it by fumbling at the Cardinal two-yard line.
Ohio State coach Urban Meyer, who would rather not be in a position of having to back up billboard material from his own players, has very publicly told Buckeye wide receiver Evan Spencer to shaddap, after Spencer had boasted that OSU would "wipe the field with" Alabama or Florida State.  "Evan won't talk to the media for a long, long time," Meyer promised.  Spencer then tweeted an apology, thus demonstrating the gaping loophole the coach had left open.
Eastern Michigan fired head coach Ron English last Friday, after he was recorded using a derogatory term for homosexuals while angrily addressing his players.  So that's what did it?  Not his 11-46 record?  Ah, but a .193 winning percentage can in no way be characterized as "bullying."  Now it all makes sense.  To a dingbat.
The SWAC has penalized Grambling for forfeiting its game at Jackson State, and bully for them (if we're still allowed to say that).  The conference may be the only entity involved in this entire episode that has gotten it right.  The exact amount of the fine being levied has not been disclosed, but there's no way it could amount to enough anyway.  Therefore, the SWAC has also rearranged its future scheduling, so that Grambling's next three games against JSU are all on the road.
Don't tell this to any lardheads or they'll become furious, but Oregon should still be ahead of Stanford in the BCS ratings.  These teams are in the same division, and have played comparable schedules, with each of them losing one game.  The Ducks' loss, obviously, was to a Top 5 team.  The Cardinal's loss was to Utah, which only has a record of 4-5 overall, and 1-5 in Pac 12 play.  The magnitude of the difference between those results outweighs the value of Stanford's head-to-head win.
It's all academic, of course.  If the Cardinal continue to win, they would deserve to be ranked ahead of the webfoots after the conference championship game anyway.  The Czar is just taking this opportunity to point out that only a simpleton thinks a head-to-head result outweighs all else.  Don't make the Czar facetiously explain again how Prairie View A&M is better than Notre Dame in order to prove his point.
There may be a relative dearth of great games being played this Saturday, but that's partly because the midweek schedule has been so strong, especially for the Mid-American Conference..  On Tuesday night, Bowling Green caught up to Buffalo for a first place tie in the MAC East, with those teams set to face each other to end the regular season.  Northern Illinois' big win over Ball State gives them the top spot in the West, but if they get tripped up by Toledo, it could result in a three-way tie.
The Czar had his worst week to this point in the season, at 11-8.  For the season, his record stands at 152-59, for a .720 winning percentage.
Nov. 15
Washington at UCLA
The 6-3 Huskies have bounced back from being ambushed at Arizona State, by scoring back-to-back blowouts at home.  Mind you, their opponents, California and Colorado, are dead last in their respective divisions without a Pac 12 victory between them.  Battling Bishop Sankey rushed for a total of 384 yards between the two, giving him a slight lead over Arizona's KaDeem Carey for the league lead.
Jim Mora's Bruins jumped over Arizona in the South division standings with a 31-26 win last week.  With starting tailback Jordon James injured, Mora turned to freshman linebacker Myles Jack, who peppered the Wildcats with 120 yards on six carries, in his first action on the offensive side of the ball.  Those totals included one touchdown run of 66 yards, which may not be miles, but it'll do.
Myles Jack doesn't have the coolest name of everyone in his team's backfield, though.  That distinction goes to sophomore Steven Manfro, who ought to try to grow one someday, just to prove that he can. That would make Bruin football look kind of like Room 222, except that people would be willing to admit having watched it.
UCLA 35, Washington 31
Nov. 16
North Carolina at Pitt
The key to this game might be just how stubborn each team is in trying to establish a running game.  Through nine games, the Panthers have only rushed for 1,093 yards as a team, for a 3.5 per-carry average.  The Heels have only averaged 3.2, while scraping up a total of 1,068 yards.
All of a sudden, everyone wants to be pals with Ray Vinopal, and not just in hopes that he might share his vino.  The junior Panther safety intercepted two passes, and forced a fumble, in last week's 28-21 triumph over Notre Dame.  Vinopal could have been the hero in Week 9 against Navy also, except that his acrobatic INT on the sideline was completely missed by the officials, and for some reason was not reviewed.
Marquise Williams played quarterback in place of an injured Bryn Renner last week for the Tarheels, although he could have played practically any position he wanted.  Williams passed for two TDs and rushed for one, and even scored on a reception from WR Quinshad Davis, in a 45-14 victory over Virginia.  The sophomore QB, who is expected to start for the rest of the season, is now 1-1 behind center, having lost to Virginia Tech 27-17 back in Week 7.
Freshman running back James Conner scored two TDs against the Fighting Irish, including the game winner, which slipped out of his grasp shortly after he crossed the goal line.  The replay showed that he was quick to let go of the ball with his right hand, because he had to do a one-handed version of the ubiquitous "me eat sketti" motion in the back of the end zone.  Too bad the Czar can't see these invisible edibles all these football players are forking up, or he'd go shake a bottle of pantomime Tabasco on them while they weren't looking.
Pitt 27, North Carolina 24
Purdue at Penn State
When the Nittany Lions gave up a score with 17 seconds left before halftime to trail Minnesota 24-10, it looked like the pace of the game would afford them plenty of opportunities to come back.  The Gophers ground the game to a halt, however, and neither team scored another point all day.
You could tell what kind of season the Boilermakers were having two weeks ago when they faced Ohio State, and they wore new black helmets with a railroad track pattern down the middle, apparently to make it more convenient for opponents to run over them.  The Buckeyes obliged, in a 56-0 annihilation.  PU has since dropped a 38-14 decision to Iowa, to fall to 1-8 on the season, having managed only a 20-14 win over the Division I-AA Indiana State Sycamores.
If you think Sycamores is a silly name for a football team, ISU originally called itself the Fighting Teachers, which also happens to be the title of a reality show, seen Tuesday nights on The Inanity Channel.
Penn State 31, Purdue 12
West Virginia at Kansas
Mountaineer QB Paul Millard was picked off in the end zone in overtime for his team's fifth turnover of the night, to end a 47-40 loss to Big XII leader Texas.  Millard and Clint Trickett were sacked a combined total of seven times, four of which resulted in fumbles, three of those being recovered by the Longhorns.
Now that "bullying" has become football's latest awareness fad, let's look back a few years at what hypersensitivity over bullying has done for the KU-KU pigeon sisters.  Coach Mark Mangino took the Jayhawks to four bowl games in six years, including an Orange Bowl victory to end the 2007 season.  His 50-48 overall record made him the school's first winning coach since the Gale Sayers era.  Nevertheless, he was fired for – get this – allegedly, verbally abusing his players.  Since his departure, KU has gone 6-30 overall, and 1-25 in Big XII play.  Now that beating someone in a lopsided football game constitutes "bullying," the Jayhawk players have had it much harder in the past three and a half years than they ever did under the mean Mangino.
The Jayhawks' current coach, the Offensive Goo, is 0-15 in the Big XII, and in fact has never won a conference game in his seven-year head coaching career.  Okay, so five of those were at Notre Dame, which does not even belong to a conference.  Still, if the Goo is as brilliant as he's reputed to be, he should have thought of some way to pull that off.
There can never be a Mangino-like episode at WVU, because in Morgantown, their idea of verbal abuse is to go dig up one of them verbals, and whomp it with a stick.
West Virginia 56, Kansas 33
Georgia at Auburn
Looking back at the Bulldogs' schedule, it's easy to see the mounting injuries taking their toll.  Their season peaked with a dramatic 44-41 victory over LSU back in Week 4, and their results since then have resembled anything other than those of a defending SEC East division champion.  They managed to turn back Tennessee in OT, and then suffered consecutive losses to Missouri and Vanderbilt.  After clinging to a 23-20 win over a foundering Florida team, they needed a big second half to blow open their game against Division I-AA Appalachian State.
If the Tigers take care of UGA this weekend, they may have more to look forward to than merely spoiling the season for arch rival Alabama.  It's not hard to imagine AU, currently #9 in the BCS ratings, vaulting all the way to a position in the finals if they can knock off #1, and then go on to win the SEC title game.
Former Tiger offensive coordinator Gus Malzahn is already challenging for the SEC championship in his first year as head coach in that league, after winning the Sun Belt Conference in his only season at Arkansas State.  The College Football Czar is considering starting a rumor that he'll jump to Texas next season, just to cause trouble.  Then, the Czar will be just like a real sports journalist.
Auburn 34, Georgia 14
Stanford at USC
The Cardinal played a nearly flawless game last Thursday, but still needed the benefit of many UO miscues in order to cling to a 26-20 victory.  Southern Cal, which is now 4-1 under interim coach Ed Orgeron, is not likely to be as accommodating.  The Trojans bombarded the Cal Bears 62-28 last week, but they've also scored recent wins over quality opponents Arizona and Oregon State.  (Orgeron vs. Oregon State?  Sounds to the average gambling addict like the fix was in.)
As weak as SC looked heading into this matchup last season, the tree-men didn't show any bark, let alone bite, until the second half of a 21-14 win in Palo Alto.  In what by now is a typical performance by David Shaw's defense, they held the visitors to just 26 rushing yards for the game.
Sophomore Trojan tailback Javorius Allen has been leaving a bad taste in opponents' mouths lately.  In his last two games against OSU and Cal, he's rushed for 268 yards on only 22 carries.  He's also caught five passes for 98 yards and a touchdown.  If Silas Redd is not reddy to return, expect Allen to get more than his career-high 16 carries.
How do you know when Silas is reddy?  If he stands up and sings, "I Am Silas, Hear Me Roar," that would be a pretty good hint.  Don't really expect him to do it, though.
USC 13, Stanford 10
Michigan State at Nebraska
The Cornhuskers (7-2, 4-1) are the only Legends division team within range of the first-place Spartans.  In fact, a win this week would give Bo Pelini's team the inside track to the Big Ten championship game against Ohio State.  Not that anyone wants to see them there, after their performance in last year's title game, and the one in their regular season meeting with OSU.
MSU (8-1, 5-0) is only allowing an average of 11.6 points per game, but its defensive style of play has prevented it from blowing out bad opponents like Western Michigan (26-13), South Florida (21-6) and Purdue (14-0).  In their last game, two weeks ago, Sparty dominated virtually every facet of the game against rival Michigan, but only led by 10 points after three quarters, before pulling away to a more comfortable final of 29-6.
Next year, the Big Ten will expand and realign, into the more sensibly named East and West divisions.  That means the Legends division will have become the stuff of legend.  Today's fans will one day tell their grandchildren all about the mighty Cornhuskers' 2012 division championship team.  About those 70 points they gave up to Wisconsin in the league title game?  Well, a legend, by nature, always leaves certain things out.  For instance, we're all aware that Paul Bunyan named his favorite farm animal "Babe," but the rest, thankfully, remains a mystery.
Michigan State 23, Nebraska 21
Baylor at Texas Tech
The 7-3 Red Raiders continued to get routed by reality, as well as the better teams from their conference, in a 49-26 trouncing from Kansas State.  Tech started the season 7-0, but that was against SMU, Texas State, I-AA Stephen F. Austin, and the bottom four teams from the Big XII.  To say the least, their chances of bumping off BU are remote – as in the thing you'll use to turn the game off three minutes into the first quarter.
The blazing Bears' offense took a while to find a spark last Thursday against Oklahoma, but it eventually found one in freshman running back Shock Linwood, who gained 182 yards on 23 carries in the 41-12 win.  It was the underappreciated BU defense that gave the O a chance to get going, though, by holding the Sooners out of the end zone until late in the third quarter.
Shock Linwood was forced to play a bigger role last week, with both Lache Seastrunk and Glasco Martin banged up on the bench.  He was well prepared to substitute on short notice, because he's used to being a stand-in for Dash Riprock.
Baylor 66, Texas Tech 42
Houston at Louisville
The winner remains within range of the American Athletic Conference lead, and its accompanying automatic BCS bid, but that would all be contingent upon Central Florida slipping up in two of its last three games.
The College Football Czar needn't have been concerned about nomadic running back Michael Dyer disrupting the Cardinal offense.  The former Auburn back, who had transferred to Arkansas State but never played there, has only gotten 44 carries for the U of L all season.  He only had one carry in a Week 8 loss to Central Florida, and has been what is known in hockey as a healthy scratch for the past two games.  Meanwhile, the familiar duo of Dominique Brown and Senorise Perry have combined for 995 yards and ten touchdowns.
UH came one yard away from becoming the unlikely leaders in the AAC last week, but lost to UCF 19-14, when they failed to convert on a fourth-and-goal from the seven-yard line with 14 seconds to play.  The Cougars' only other defeat has been at the hands of BYU, by a single point.
What's a healthy scratch?  It's kind of like acupuncture, only more ornery.
Louisville 38, Houston 33
Utah at Oregon
The Utes had a fierce rivalry with their foes from Eugene during the previous two decades, but this will be the first time they've faced each other as Pac 12 opponents.  The series last left off at the end of the Auts, in Autzen Stadium, where the Fighting Ducks prevailed 31-24 in 2009.  Each team ended that season at 10-3.
Duck quarterback Marcus Mariota says he's ready to go, in spite of a knee injury that has gradually degenerated since a mid-October win over Washington.  Last Thursday at Stanford, Mariota was repeatedly reluctant to run, even when he stepped up in the pocket and had first-down yardage staring right at him.  The sophomore scrambler's rushing yardage has declined every game since that UW game, to the point where he lost a total of 16 yards against the Cardinal, when he was sacked four times, and only seriously tried to run the ball twice all night long.
Ute QB Travis Wilson has been hurt, also, having left the Arizona game three weeks ago with a hand injury.  Wilson saw limited action the next week against USC, and then returned to the starting lineup last Saturday against Arizona State.  His team has lost all three games, while he has completed only 14 of 44 passes among them.
UO coach Mark Helfrich would be wise to follow the lead of the veteran Ohio State skipper, and forbid DeAnthony Thomas from publicly saying another word for the rest of the season.  The jawing junior had better keep his predictions to himself from now on, even if they're as innocuous as "we'll probably be wearing funny pants."
Oregon 32, Utah 20
Oklahoma State at Texas
All eyes in the Big XII have been on Baylor's BCS run, and the Longhorns' inspired stampede to save Mack Brown's job.  OSU is quietly lurking a game behind, however, with both of those league-leaders remaining on its schedule.
The Cowboys (8-1, 5-1) have been putting up big numbers since Clint Chelf took over at quarterback from J.W. Walsh, in spite of the fact that Chelf has only completed 50.7 percent of his passes.  Take away a meaningless 6-for-6 performance against Division I-AA Lamar, and he's completed fewer than half of his passes against legitimate competition.
Okie State is sometimes known as the Cowpokes, but this week they meet the cows that poke back.  Whoa, heavy irony.  It's kind of like the time that Kermit the Frog started eating a worm, that turned out to really be the end of the long snout of a giant, frog-eating monster.  The difference is that hopefully the Czar can watch this one without getting ascared.
Texas 45, Oklahoma State 34
Florida at South Carolina
The Old Ball Coach once again takes on his old ball club, which this year looks not just old, but decrepit.  The Gators fell to 4-5 with their first loss to Vanderbilt in 23 years, and it wasn't even close.  The 34-17 setback pushes them to the brink of their first losing season since 1979.
UF's opening 24-6 victory over Toledo was met with a yawn, but that has been by far their most impressive win of the season.  The only SEC teams they've beaten have been Tennessee, Kentucky and Arkansas, who have the three worst conference and overall records in the league.
Gator QB Tyler Murphy might not be able to play this game, due to a sore shoulder.  If he can't, his team's third starting slinger of the year will be freshman Skyler Mornhinweg, the son of Marty, the offensive coordinator of the New York Jets, who had a forgettable 5-27 stint as head coach of the Detroit Lions.
Too bad Mornhinweg the Elder wasn't coaching the Oakland Raiders with a record like that, or some ingenious college athletic director would figure he was due, and ink him up to a head coaching job.
South Carolina 31, Florida 13
Oregon State at Arizona State
The Sun Devils still cling to the Pac 12 South lead, but barely, with a one-game lead over UCLA and USC.  Last week, they trailed Utah 19-7 at the end of the third quarter, but rallied for two late touchdowns to win, 20-19.  Junior QB Taylor Kelly survived a sluggish 19-for-31, 144 yard performance, the only time all year he's thrown for under 200.
In the Beavers' last game, two Friday nights ago, quarterback Sean Mannion doubled his interception total for the season, in a 31-14 loss to USC.  Mannion threw one touchdown and three interceptions that night, whereas in his previous eight games he had totaled 30 TDs and only three more INTs.  In addition, he failed to reach the 300-yard mark for the second game in a row, after throwing for at least 367 in each of his first seven.
You can tell that coach Todd Graham set out to put a lot of points on the board at ASU, from the fact that they put forks on their helmets as soon as he arrived.  Since it's almost obligatory for players to eat sketti upon reaching the end zone, they might as well be prepared.
Arizona State 32, Oregon State 29
Texas State at Arkansas State
The Red Wolves aren't likely to catch Louisiana-Lafayette for the Sun Belt title, but one more win will practically assure them a postseason bid, in either the GoDaddy or New Orleans Bowl.  TSU is already bowl-eligible at 6-3, but will have to go fish for one of the at-large bids that will be opened up by bigger conferences failing to fill all of their reserved berths.
The Bobcats have three tough games to end the season, with Western Kentucky and Troy lying ahead.  They need to win at least one more game, not only to secure a winning record during their second season of Division I-A play, but also because they'll need a subjective invitation to go to a bowl, and their most significant win to this point has been against 4-5 Wyoming.
ASU is about the only team you'll see whose players don't mimic the eating of spaghetti when they get into the end zone.  It's not that they're more sportsmanlike than everyone else; it's just that they don't know how to pretend to use a fork.
Arkansas State 34, Texas State 27
Louisiana Tech at Rice
It's beginning to look like LTU might spend another whole year waiting for just the right bowl invitation to come around.  First-year coach Skip Holtz has the Bulldogs at 3-2 in Conference USA play, but terrible nonconference losses to Kansas and Army have them on the outside of the bowl bubble at 4-5.
The Owls (6-3, 4-1) haven't played since Halloween night, when they lost the C-USA West lead to North Texas, 28-16.  During the fourth quarter of that game, David Bailiff's team had a first-and-goal from the one.  They were stopped on three plays in a row, but awarded a first down on a UNT penalty, after which they failed to score on yet four more downs.
Last season, the 9-3 Dogs were offered a bid to the Independence Bowl in Shreveport, where the stadium would have been buzzing over their matchup with intrastate foe Louisiana-Monroe.  Athletic director Bruce Van De Velde declined, certain that he'd eventually receive an invitation to the barely more prestigious Liberty Bowl, but it never materialized.
Never trust anybody whose last name is comprised of three little bitty other names.  The guy sounds like he's bucking for UN Secretary General.
Rice 26, Louisiana Tech 14
Cincinnati at Rutgers
When the Scarlet Knights opened the season by nearly knocking off Fresno State on the road, it didn't seem unrealistic to picture them challenging for the inaugural AAC championship.  Now, if they don't beat the Bearcats, they'll probably finish no better than fifth, which would send them to the BBVA Compass Bowl.  That might be exactly what they need, seeing that they've been directionless up to this point in the season.
The Bearcats (7-2, 4-1) remained in the AAC title race in spite of going minus-3 in turnovers in a 28-25 scare against SMU.  That game wasn't quite as close as the score, however, in light of the fact that Tommy Tuberville's team drove to the Mustang five-yard line before taking a knee on consecutive plays to end the game.
The two big topics of the week being "bullying" and a totally stupid thing players do to celebrate a play, the Czar is reminded of the 2006 meeting between these teams, when the 9-0 Scarlet Knights were smashed by Cincy 30-11, in a game in which the Bearcat players repeatedly mocked Greg Schiano's lame "choppin' wood" shtick.  A couple of RU players moped after the game about how mean and hurtful that was, because woody-choppy-thingey was deeply important to them.  How in tarnation does a team like that win its first nine?
In case that's not weenie enough for you, the Knights have worn jerseys on which the players' names have been replaced with the initials "F.A.M.I.L.Y."  That acronym, designed to stress team unity over individualism, stands for "Forget About Me, I Love You."  No, really!  Evidently, this is what happens when the Barney generation grows up and goes to college.
Cincinnati 38, Rutgers 23
Miami at Duke
When told to put up their dukes, the Hurricanes were suddenly unarmed.  With leading rusher Duke Johnson out for the season, his team only gained 28 yards on the ground in a 42-24 loss to Virginia Tech.
The last time the Blue Devils lost, they trailed Pitt 51-28 in the third quarter, but mounted a furious comeback that fell short, 58-55.  Since then, they've won five in a row, including a 35-7 romp over Navy, and a 13-10 upset of Virginia Tech.  Don't ask how they've managed to pull out their last two against VT and Nc State, with quarterback Anthony Boone completing just 20 of 46, with seven interceptions and no TDs.
At "The U," they have their own motivational device which is similar to that employed by Rutgers, except that their version says, "I Love U, U Is Me; Therefore I Love Me."
The Czar is only kidding about that, of course.  Miami students wouldn't use the word "therefore."  Scratch that out, and pencil in "so" instead.
Miami 31, Duke 29
a sports publication from The Shinbone