The College Football Czar
Week 12
<![if !vml]>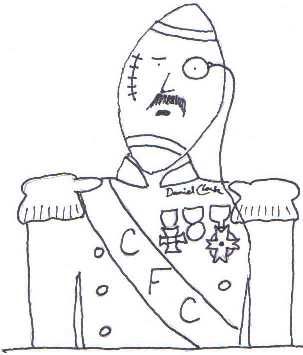 <![endif]>
Week eleven in review:  For those readers who are unsure about the chronology, last week's issue was published the night before Gary Pinkel announced his retirement due to his having been diagnosed with lymphoma.  Had this been revealed a day sooner, the College Football Czar would have thought it distasteful to criticize the coach over the previous week's events.  Nevertheless, Pinkel's unfortunate personal circumstance and his handling of the campus "hunger strike" are two separate issues.  What the Czar wrote about the latter is accurate, and he retracts nothing.
The number of undefeated teams has been reduced to five, and could have been all the way down to three, if not for fourth-quarter rallies by Houston and Oklahoma State.  Top-ranked Clemson survived a 37-27 struggle at Syracuse, whereas Baylor was bounced by Oklahoma for its first loss of the season.
The College Football Czar went 12-4 for the week, correctly predicting the downfall of Stanford, LSU and Temple.  For the season, he is 130-74, for a .637 winning percentage.
Nov. 20
Cincinnati at South Florida
USF has arguably had the most dramatic midseason turnaround of anyone in the nation.  That still doesn't actually place them in South Florida, but that's of little importance to them at the moment.  Nearing the end of Willie Taggart's third season in Tampa, the Bulls are finally starting to look like his team.  A week ago, they torched Temple 44-23, behind sophomore RB Marlon Mack and his season-high 230 yards.
Unfortunately, there's not much point to all the jockeying for position in the AAC, because the league has puny bowl affiliations that are of roughly equal value.  The champion stands a good chance of going to one of the six major bowl games, but the difference between the second and seventh selection is trivial.
Nevertheless, the 6-4 Bearcats are trying to climb over their old C-USA foes for second place in the East Division.  UC's three conference losses have been to contenders Temple, Memphis and Houston.  Unfortunately for them, the Bulls now belong in that same category.
It's a wonder the AAC doesn't actually have a reserved bid in the Puny Bowl.  It could be sponsored by Taco Bell.  At least that would be a better advertisement than their dorky "My name is Ronald McDonald" commercial.
South Florida 28, Cincinnati 24
Air Force at Boise State
The Broncos hope all the mystique hasn't worn off their blue turf, on which they were beaten for the first time in 19 games in a 31-24 shocker against New and Improved Mexico.
That outcome leaves the Falcons in first place in the MWC Mountain Division, one game ahead of both Boise and UNM.  With a win this week, the lightning eleven could be storming their way to their first conference title since they defeated old rival BYU to win the Western Athletic Conference in 1998.
The AFA is not known for taking to the air on the gridiron, but Karson Roberts threw for 271 yards on only 11 completions in a 35-28 win over Utah State.  That's the greatest single-game passing total at the academy since 1989, when diminutive Dee Dowis threw for 306 in a 41-27 loss to Notre Dame.  For 26 years since then, Air Force and its relentless ground game relied heavily on un-reverse psychology.  Those opposing defensive coordinators were really slow to catch on – which explains why most of them had been banished to the WAC in the first place.
Air Force 35, Boise State 32
Nov. 21
Louisville at Pitt
The Cardinals are on a four-game winning streak, albeit against ACC opponents with a combined conference record of 4-21.  Quarterbacks Lamar Jackson, Reggie Bonnafon and Kyle Bolin have failed to distinguish themselves this year, as injuries to the first two have been the only reasons to bother making a change.  Bolin played most of last week's 38-31 win over Virginia, but he only completed 10 of 21 in doing so.
The Panthers pounded Duke for 268 rushing yards to snap a two-game skid with a 31-13 victory.  At 7-3, they've lost only to #4 Notre Dame, #5 Iowa, and #17 North Carolina – and really, the Tarheels deserve to be higher than that.
These two had been developing a good rivalry in their Big East days, but now that they're in opposite divisions of the ACC, they'll meet only once every six years.  This Saturday, they battle in the Burgh.  Hopefully the Cards will no longer be wussily calling their hometown "the Ville" by 2021.  They might as well just change their team nickname to "Celine Dion" and get it over with.
Pitt 41, Louisville 28
Michigan at Penn State
The unrealistic expectations for Nittany Lion quarterback Christian Hackenberg probably stem from the Wolverines' last visit to PSU two years ago, when he made a series of clutch throws to rally his team to a four-overtime, 43-40 victory.  He had a more typical outing a year ago in Ann Arbor, in an ugly 18-13 defeat.
The Wolverines try to recapture their defensive play from early this season, when they shut out three consecutive opponents.  They might not be as far away as last week's 48-41 win over Indiana makes it look.  Subtract IU's overtime TD, and the touchdown they scored on a punt return, and the maize and blue defense only allowed 27 points to a potent offensive team.
Jim Harbaugh wants to end the season in Indianapolis, to play in the Big Ten championship game, not to leave the Wolverines for the head job with the Indy Colts.  Nobody really thinks the coach is leaving the U of M after one season.  The reporter who asked was just trying to start trouble to make himself feel important.
This being PSU's Senior Day, the Lions have called for another of their lame "white outs."  That's obviously an example of what the collegiate sniveling class would call a "microaggression."  Unfortunately for them, the official microagression awareness ribbon color happens to be white, which in this case is kind of self-defeating.
Michigan 23, Penn State 13
West Virginia at Kansas
After consecutive home wins over Texas Tech and Texas, the Mountaineers head back out on another long road trip, which is the price they pay for having joined the Big XII.  So far, they're 0-3 away from Morgantown, with lopsided losses at Oklahoma, Baylor and TCU.  Obviously, that doesn't necessarily mean they should have any trouble with winless KU.
WVU converted five Texas turnovers into 24 points, blowing open an otherwise even game for a 38-20 victory.  Senior LB Nick Kwiatkoski forced a fumble, and later made the interception that put the game out of reach.
Those Texas turnovers will never catch on.  For one thing, they're too big to dunk.
West Virginia 40, Kansas 7
Baylor at Oklahoma State
OSU had been the forgotten team for much of the season, lagging behind the Bears and Horned Frogs in the rankings, but for the time being, Mike Gundy the Man is head and shoulders above the Waco kids.
The contenders in the Big XII need to pay more attention to what they're doing on the football field, and let the CFP ratings take care of themselves.  BU fell from the ranks of the unbeaten with a 44-34 loss to Oklahoma, but Okie State and TCU played worse while winning their games than the Bears did in defeat.
A week after toppling unbeaten TCU, the Cowboys got ambushed in Ames.  Only a fourth-quarter rally behind backup quarterback J.W. Walsh prevented a repeat of their upset loss to Iowa State in 2011, which kept the Pokes from playing for a national championship.
That 2011 game was probably the biggest win in ISU Cyclone history.  The second the game ended, however, the fans' enthusiasm was squashed because the banana-brains running the stadium decided to blare "Sweet Caroline" at a zillion decibels.  You have to hand it to the people who take it upon themselves to ruin football.  They're very good at it.
Oklahoma State 51, Baylor 43
Michigan State at Ohio State
If not for a last second giveaway by rival Michigan, the Spartans would be in danger of losing a third consecutive road game.  In Lincoln two weeks ago, they blew a 12-point lead in the last five minutes of a 39-38 collapse, against a Cornhusker club that hadn't had any luck or played with any resiliance to that point in the season.
The lumpy nuts' offense has been bouncing along so slowly, it's easy not to notice that tailback Ezekiel Elliott has piled up 1,425 rushing yards this year.  That leaves him 453 yards behind last season, but he may have as many as five games remaining to make that up.
The College Football Czar would like to offer a little czarly advice to Buckeye QB J.T. Barrett.  If you're ever pulled over by the police again, do not pull the "don't you know who I am" bit by volunteering the information that you're the quarterback at Ohio State.  When you did this, you were practically challenging them to book you.  Had they been inclined toward leniency because of your identity, you should have let them discover it on their own, by reading your driver's license.
The Czar speaks from experience, you know.  When the cops pulled him over, he said, "Don't you know who I am?  I'm the College Football Czar!"  For the record, the food is better at the loony bin than it is in jail.
Ohio State 24, Michigan State 16
USC at Oregon
That Friday night SC-Colorado game the Czar didn't find worthy of a pick turned out to be competitive after all.  The Trojans eked out a 27-24 win, despite not having to face CU quarterback Sefo Lifau for much of the game.
In 2011, the Fighting Ducks lost to Southern Cal 38-35, and thus were eliminated from the BCS championship race, due partly to a poor last-second field goal attempt.  They didn't learn their lesson, and had their 2012 title hopes dashed in similar fashion against Stanford.  Evidently, former coach Chip Kelly felt that, since he intended to score a TD on every possession, there was no point to recruiting a good kicker.  The webfoots are now in better hands with sophomore kicker Aidan Schneider, who has made 28 of 30 field goals in two seasons.
As Kelly himself put it, "Whaddaweewannakickerforwereheretoscoretouchdownswerenotintresteddinfielgoalswewannagettinneeennzone!"  The Czar can't argue with that, because he couldn't even follow it.
At the U of O, they think they're really innovative, but have you ever seen ducks actually fly in formation?  It looks like they're trying to run a flying wedge.  That formation was banned more than a century ago, due to the number and severity of resulting injuries.  In a related story, the NFL has prohibited place kicking, after a league investigation found that several ball holders had suffered stoved fingers.  Well, not really, but it's only a matter of time.
Oregon 41, USC 32
Memphis at Temple
It's hard to say which team suffered the more deflating loss last Saturday – the Owls, who were stomped at South Florida 44-23, or the Tigers, who blew a 20-point fourth-quarter lead in a 35-34 letdown against West Division leader Houston.
If South Florida beats Cincinnati on Friday night, TU will need this game to maintain its grip on the AAC East Division lead.  In last week's 44-23 loss to USF, they were uncharacteristically outgained on the ground, 326 yards to 121.  It was the continuation of an unsettling trend, however, in which leading rusher Jahad Thomas came nowhere near the 100-yard mark for a fourth consecutive game.  During that stretch, the Owls have been defeated twice, and needed late rallies against East Carolina and SMU.
The team whose home stadium is called the Liberty Bowl visits the city where the Liberty Bowl game originated, and was played from 1959-63.  The College Football Czar and his co-author, historian Martin Dugard, researched this matter and found that the game originated in Philadelphia because that's where our founding fathers signed the Declaration of Independence.  Then, they learned that there was already a game called the Independence Bowl being played in Shreveport, so they changed the name of the document to the Declaration of Liberty.  Here endeth the lesson.
Memphis 42, Temple 38
TCU at Oklahoma
It used to be that Texas Christian, back in its Mountain West days, only had to get up for a few big games in order to qualify for a major bowl game.  The Sooners now have some idea how that feels, after dumping Baylor 44-34 in their first competitive game in over a month.  Suddenly, they find themselves in the thick of the Big XII title chase, and still having a shot at a CFP semifinal bowl game.
The Horned Frogs averted a humiliating defeat by turning away Kansas 23-17, but they lost their quarterback, presumptive Heisman contender Trevone Boykin to an ankle injury.  Coach Gary Patterson says his other injured superstar, WR Josh Doctson, is out, and that Boykin is questionable for this week's trip to Norman.
Not that he's that badly hurt.  It's just that he doesn't think Norman sounds like a very swinging place to go.
Oklahoma 37, TCU 28
Arizona at Arizona State
These presumptive contenders both find themselves wallowing near the .500 mark, with little time left to salvage their seasons.  The last team from their state to turn in such a disappointing performance was the Clantons, who were famously killed at the Golden Corral when they foolishly trusted the seafood.
The Wildcats picked an unlikely time to end their losing streak, as they yanked Utah out of the national title hunt with a 37-30 double-overtime upset.  The U of A had previously been blown out by Washington 49-3, in between far more competitive losses to Washington State and USC.
ASU is ahead of its arch rival in the Pac 12 South standings, but at only 5-5 overall, needs another win in order to join the Cats in the postseason.  The Sun Devils, too, snapped a three-game losing streak last week, as they pitchforked Washington 27-17, after spotting the Huskies a 17-0 lead.
It's fitting that these teams play for something called the Territorial Cup, because when cantankerous coaches Rich Rodriguez and Todd Graham are prowling the sidelines, one might describe them as feral.
Arizona State 33, Arizona 31
LSU at Ole Miss
The Tigers had no hope of clawing their way back once Arkansas had gotten the jump on them in last week's 31-14 loss.  They can't afford to fall behind this Rebel team, which is averaging 40.7 points per game, tops in the SEC.  On the other hand, Mississippi's defense has let it down against its better opponents this year, even in their 43-37 upset of Alabama.
Louisiana State tailback Leonard Fournette failed to gain 100 yards for a second game in a row.  In this case, it was because his team abandoned the running game altogether in the second half.  His 91 yards on 19 carries suggests that the Bama game was an aberration, and that he's still capable of producing the way he did prior to his team's two-game skid.
Rebel linebacker Denzel Nkemdiche is questionable for this game, after checking into the hospital for unknown reasons on Monday.  The Czar assumes that if it were for anything very serious, the status of his brother, DT Robert Nkemdiche, would be in doubt also, but apparently is not.
Tiger coach Fewer Miles is taking some flak for saying that Ole Miss isn't a difficult atmosphere to play in.  His surprise at the ease of the transition is quite understandable.  His team so rarely travels outside its own state to play a game, he'd gotten the impression that Oxford, Mississippi was on another planet.
LSU 29, Ole Miss 27
North Carolina at Virginia Tech
Lane Stadium has been a path to victory for Tech's opponents this year, as they have suffered tough home losses to Ohio State, Pitt and Duke.  Going back to last season, the Gobblers have lost 7 of 10 games to Division I-A opponents in Blacksburg.
The Tarheels ground a divisional opponent into the dirt for a second consecutive week, this time against Miami, 59-21.  There seems to be nothing that can stop them from clinching the Coastal Division title, which they will do with another W, regardless of the outcome of Pitt-Louisville.
The Heels' weak schedule is rightly weighing them down in the rankings, but their fans should rest assured that it won't matter if they win out.  If UNC topples Clemson to win the ACC championship with a record of 12-1, the only thing that could deny them a shot at the national championship would be if the CFP bids were whimsically assigned on a totally subjective basis, by a dozen inescapably biased people.  Oh … wait a minute.
North Carolina 36, Virginia Tech 7
California at Stanford
These two schools are reputed to be outstanding academic institutions, which must explain why they so lyrically refer to this traditional rivalry as The Big Game.  No yokel from Fresno State could have possibly come up with that one.  That's the kind of wit you can only get from the pipe-and-slippers crowd.
The Cardinal might want to stick more exclusively with the shotgun formation this week, after two fumbled exchanges with QB Kevin Hogan behind center cost them in a 38-36 loss to Oregon.  If they hadn't gone minus-2 in turnovers that game, they'd probably still be in the running for a national championship.  With each division leader having taken a second loss, however, it looks like the Pac 12 won't be packing any bags for the final four.
Golden Bear quarterback Jared Goff will try to tee off, with senior Stanford CB Ronnie Harris hobbled by an ankle injury.  In last week's 54-24 flogging of Oregon State, Goff gobbled up 453 passing yards and six touchdowns, both season highs.
These teams play for the Stanford Axe, which is really just an axe blade, with no handle.  It turns out that the colleges in the Bay Area are axe-handle-free zones.  It kind of defeats the purpose of having an axe, really.  Besides, when they finally need one to fend off an attacker, everybody will get killed.  That's what college dingbats mean when they yammer about "making a difference."
Stanford 51, California 34
Northwestern at Wisconsin
The Badgers are 8-2 with losses only to national contenders Alabama and Iowa, but the teams they've beaten have a combined record of 25-59.  If they can beat the Wildcats, who are also 8-2, it would be their first victory against a team that currently has a winning record.
The Cats won last year's meeting 20-14, when safety Godwin Igwebuike, then a freshman, intercepted three passes.  Closing in on the end of his sophomore year, those remain the only three picks of Igwebuike's career.  Still, he and the rest of the defense must be doing something right, to hold their opponents to an average of fewer than 18 points per game.
NU players used to put their decals way up on the crown of the helmet, so that the "N" logo looked like it was floating away.  The Czar wonders if this was meant to convey the impression that it was a superscript, as in "to the Nth power."  That would be pretty cool, in an insufferably geeky kind of a way.
Northwestern 23, Wisconsin 22
Colorado State at New and Improved Mexico
The first question about this game is how the Rams will be able to cross over into New and Improved Mexico.  All they have to do is go to the yooooooge wall, and then look for the big, byooo-dee-full door that they may walk through.  Either that, or they can just book a flight to Albuquerque, but where's the yoooooooge-ness in that?
CSU has rallied its way back to 5-5, but now they must win a road game either this week, or next Saturday in Fresno, in order to play in the postseason for a third year in a row.
Bob Davie is finally having some success at UNM, so he won't be returning to the announcers' booth anytime soon.  Not that many people would mind if he did, the way they would if Terry Bowden returned from the studio.  (Please, oh please, make it to a bowl game this year, Akron!)  Come to think of it, if any school would like to hire Chris "The Bear" Fallica as its head coach, it would be greatly appreciated.
At 6-4, the Lobos are eligible to go to their first bowl game since 2007, when they played in the New Mexico Bowl.  That invitation was about as unexpected as the time that Johnny Depp was given the Academy Award for Best Portrayal of an Androgynous Freak.
New and Improved Mexico 45, Colorado State 41
UCLA at Utah
Ute running back Devontae Booker is out for the remainder of the season with a knee injury that will require surgery.  The 23-year-old senior finishes the year with 1,261 rushing yards, and another 318 yards in receptions.  With QB Travis Wilson second on the team in rushing yardage, their leading running back is now junior Joe Williams, who has 78 yards on 19 carries for the season.
Contrary to expectations, the Bruins' 31-27 home loss to Washington State has not eliminated them from contention in the Pac 12 South.  Jim Mora's team now trails both the Utes and USC by one game, and ends the season against both of those teams.  If they win out, they advance to the title game, despite having three conference losses.
Bruin linebacker Deon Hollins has been reprimanded for publicly criticizing the officials after last week's game.  Among Hollins' scathing remarks were the following: "It was just appalling.  I was appalled."  Guess we know what the Word of the Day was on the team's bulletin board.
UCLA 24, Utah 10
Iowa State at Kansas State
Football fans might be surprised when they look at the standings and see K-State, and not Iowa State, battling Kansas to stay out of the basement.  The Cyclones are only 3-7, but they've trounced Texas 24-0, and played competitive games against Toledo, Iowa, TCU and Oklahoma State.
The Cats have hung even tougher against the top teams on their schedule, throwing scares into Oklahoma State, TCU and Baylor, but their problem is that they make every opponent look as good as those three.  Last week, they trailed by three touchdowns in the first quarter of a 59-44 loss to Texas Tech.
The season's been a drag for the 3-6 Wildcats, who are 0-6 in Big XII action this year.  One must wonder if legendary coach Bill Snyder might decide to call it quits, following the lead of Steve Spurrier and Frank Beamer.  It's often said that things go in threes, and the Czar has incontrovertible proof that it's true.  First, President Kennedy was assassinated, then Eddie Murphy was caught with a transvestite prostitute, and then Paula Deen got hit in the face with a flying ham.  See?
Iowa State 37, Kansas State 31
a sports publication from The Shinbone