The College Football Czar
Week 12
<![if !vml]>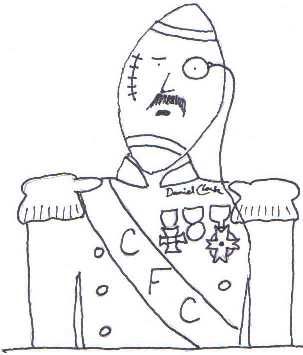 <![endif]>
Week eleven in review:  Two of the nation's top three teams were defeated, while Alabama escaped with a 24-17 win over a Mississippi State team that became too tentative toward the end.  The biggest story of the week, though, was the resurgence of "The U," which dismantled Note Dame 41-8.  The new CFP rankings place the Hurricanes third, behind unbeaten Bama and 9-1 Clemson.
The Czar's question is not why Clemson is still ranked ahead of Miami, but why it is ahead of other one-loss teams like Oklahoma and Georgia.  Okay, so Clemson beat Auburn and Auburn beat Georgia, but another way to look at it is that Georgia's only loss is to the current #6 team, whereas Clemson lost to Syracuse.  When comparing one-loss teams, the opponents to whom they've lost should matter a little more than it apparently does.  But that's the kind of results we can expect from rankings that are determined entirely subjectively, by human beings prone to overreact to the most recent results rather than look at the season as a whole.  The BCS ratings sometimes produced perplexing results also, but at least their formula included some modicum of objectivity.
The College Football Czar had his worst week of the season, especially in the big games, in which he picked Notre Dame, Georgia and Iowa.  He barely escaped a losing overall record with a 10-8 mark, which brings his season record to 138-69, for a .667 winning percentage.
Nov. 17
Middle Tennessee at Western Kentucky
These presumptive Conference USA favorites find themselves struggling for survival, each with a record of 5-5.  The MT-heads are likely headed to a bowl game, following this toss-up tussle with a home finale against Old Dominion.  This is more of a must-win for the Hilltoppers, who still face Florida International on the road.
Another factor in MTSU's favor is that starting QB and coach's son Brent Stockstill returned to the lineup two games ago, and is now 3-1 as a starter, including a victory at Syracuse.  For the season, Stockstill has ten TDs and three INTs, compared to backup John Uruza, who would like to U-rase his nine picks, as opposed to seven touchdowns.
WKU may be ready to throw in the towel after a 5-2 start.  They've lost consecutive games to Florida Atlantic, Vanderbilt and Marshall, and in their previous four-game winning streak, the best opponent they defeated was the aforementioned 4-6 ODU Monarchs.
The lardhead stat of the week is that the Blue Raiders are 1-0 against teams from places called Bowling Green, having beaten a BGSU team from Bowling Green, Ohio.  Now, they travel to Bowling Green, Kentucky to take on the Toppers.  What every lardhead needs to know is, do the Raiders have a hex on Bowling Greens, or are the Bowling Greens due?
No wonder Uruza has struggled so.  You don't get quality football from someone named after a pretentious vegetable from Whole Foods.
Middle Tennessee 42, Western Kentucky 34
Nov. 18
Pitt at Virginia Tech
In order to pull off a loss to a one-win North Carolina team, the Panthers needed a perfect combination of a dozen or so different screw-ups, but they were up to the challenge.  The back-breaker was a goal-line fumble by WR Qadree Henderson that was returned into field goal range, resulting in a ten-point swing.  The resulting 34-31 loss has cost them any realistic chance of playing in a bowl game, as they now must beat both Tech and Miami.
Since the calendar turned to November, the Gobblers have gotten carved up, first in a lopsided 28-10 loss to Miami, and then in a 28-22 upset at Georgia Tech.  The Yellowjackets surprised VT by uncharacteristically taking to the air for two long TDs.  It might be even more unexpected if the Panthers were to do the same.
In last year's 39-36 loss at Heinz Field, Pitt coach Pat Narduzzi had a valid point about the Tech receivers repeatedly getting away with obvious push-offs, but the way he carried on about it was kind of an embarrassment.  Last time the Czar had seen a character so animated, it was Daffy Duck, after Bugs had called him a dirty skunk.
Virginia Tech 23, Pitt 16
Nebraska at Penn State
Is there any chance that Oregon State will take Mike Riley back yet again?  Last week, Riley's Cornhuskers were outrushed 409-69, in a 54-21 loss to a Minnesota team whose offense had previously been eleventh-worst in the nation.
None of the nation's top running backs are healthy at this point in the season.  Like Bryce Love and Josh Adams, PSU's Saquon Barkley is playing through something that's surely worse than his team is letting on.  In last week's woeful 35-6 win over Rutgers, Barkley sought attention from the trainers after his first carry, and ended up rushing for a season-low 35 yards.
Husker athletic director Bill Moos, who was last heard pitching moo to UCF's Scott Frost, says "Mike Riley deserves to finish the 2017 season," which sounds more like a condemnation than a vote of confidence.  Most pundits would attribute Nebraska's decline over the years to a series of strangely misguided coaching hires like Riley's.  The Czar knows that the real reason is that they were the first school to introduce the remote-controlled, inflatable, gigantic goofy kid with his hat on backwards.  Surely, an offense such as that would not be allowed to pass without some sort of cosmic punishment.
Penn State 38, Nebraska 22
Texas at West Virginia
The Longhorns defeated Kansas by an uncomfortable-looking score of 42-27, but in truth, the game never seriously became competitive after they stampeded out to a 28-7 first-quarter lead.  Tom Herman's team has leveled its record at 5-5, which means they'll be in a bowl game if they can defeat either WVU or Texas Tech.
The Mountaineers (7-3, 5-2) are in a three-way logjam, one game behind an Oklahoma team against whom they finish the season.  Of those three contenders, WVU stands the most remote chance of reaching the conference championship game, needing to beat a desperate Longhorn team before tangling with national contender OU.  If they win both of those games, they're in, but more likely, they'll be headed to the Alamo Bowl, perhaps to face the loser of the Pac 12 title game.
Luckily, the folks in Morgantown know their way through a logjam, because they've had their logs on wheels for several years now.  Before that, they just used to sit around on logs and wait for somebody to come along and give them a push.
West Virginia 23, Texas 14
Navy at Notre Dame
Earlier this season, Fighting Irish coach Brian Kelly said there was no question about injured quarterback Brandon Winbush's readiness to play, and he was right.  The Czar therefore believed him when he said RB Josh Adams wasn't really hurt.  In hindsight, that was really lardheaded of the Czar.  Perhaps he should have consulted The Bear about the odds of Kelly telling the truth twice in a row.
Malcolm Perry was thrust into the Middies' starting QB position by a series of injuries to Zach Abey.  The sophomore scrambler's only pass fell incomplete, but he rushed for 282 yards and four touchdowns, in a 43-40 victory over SMU that snapped a three-game losing streak, and made the Midshipmen bowl-eligible at 6-3.  Perry's one-dimensional production is not encouraging, however, against a golden domers' defense whose liability is against the pass.
Most people don't even realize that the Irish have a navy of their own, but the College Football czar has seen a documentary about it that was chock full of interesting little-known facts.  For instance, the Czar hadn't known that Ernest Borgnine was even Irish.
Notre Dame 35, Navy 17
Michigan at Wisconsin
Victories continue to mount for the unbeaten Badgers, but so do injuries.  The latest is center Tyler Biadasz, who hobbled off the field during last week's 38-14 win over Iowa.  One player who's still in their lineup is freshman running back Jonathan Taylor, who has rushed for 1,525 yards this season, while averaging an even 7 yards per carry.  Taylor has the third-most rushing yards in the nation, and is the Big Ten's runaway leader, 487 yards ahead of Ohio State's J.K. Dobbins.  Penn State's Saquon Barkley trails him by 626 yards, just in case anyone cares.
Since their second-half disintegration against Penn State, the Wolverines have won easily against Big Ten foes Rutgers, Minnesota and Maryland, who have a combined conference record of 7-14.  Aside from the level of competition, the biggest change for them has been sophomore quarterback Brandon Peters, who has yet to be intercepted in 46 pass attempts.
UW is the only team other than Alabama to be 10-0 at this point, and yet they're only #5 in the CFP ratings.  It makes perfect sense, once you see that they've only faced one opponent up until now that is currently ranked (Northwestern, at #23).  The 9-1 Oklahoma team that's ahead of them has beaten #9 Ohio State, #12 TCU and #13 Oklahoma State.
Lots of football players think they're biadaszes, but how many really are?
Wisconsin 23, Michigan 20
Texas A&M at Ole Miss
During last year's second-half collapse, A&M's most damaging defeat came at home to this Rebel team, 29-28.  Mississippi still finished with a losing record, while the Conjunction Boys crashed to an 8-5 finish after winning their first five.
Aggie QB Nick Starkel threw for 416 yards in last week's 55-14 rout of New Mexico, while completing 21 of 30.  The freshman, who suffered a broken ankle in an opening loss to UCLA, has reestablished himself as the starter for as long as he remains healthy.
Hawaiian-born Rebel quarterback Jordan Ta'ama has shown lots of poi in the pocket, since taking over for injured starter Shea Patterson.  The JUCO transfer is completing 73.5 percent of his passes, and gaining 10.65 yards per attempt. Still, he doesn't really need to show us the pocketful of poi.  What would possess anyone to even think about eating that slime, especially in a land where pork chops grow on trees?
Oh, sure, like anyone has ever been born in Hawaii.
Ole Miss 38, Texas A&M 34
Nc State at Wake Forest
The Demon Deacons must have seen divisional foe Boston College playing offense for a change, and decided it was a pretty clever idea.  In their last three games, against Louisville, Notre Dame and Syracuse, they've averaged 649 yards and 47.7 points per game.  What's disconcerting is that they're giving up an average of 41 points during that same stretch.
The 7-3 Wolfpack are 5-1 in ACC play, but even if they win out, they can't climb over Clemson, which has already finished its conference schedule at 7-1, because of their 38-31 head-to-head loss to the Tigers in Week 10.  NCSU has already won as many games as it did a year ago, but its vaunted defense is closer to the middle of the NCAA pack.  Against the run, they've fallen from #8 in 2016 to #40 entering play this week.
Q: Why is Nc State the Wolfpack, whereas Nevada is the Wolf Pack?
A: Because Nevada got the space from between Colin Kaepernick's ears.
Nc State 41, Wake Forest 31
UCLA at USC
Quarterback Josh Rosen returned to the Bruin lineup last week, and threw for 381 yards in a critical 44-37 victory over Arizona State.  Without him last year against Southern Cal, his team was stifled, 36-14.  Between the two seasons, the blue bears are 8-7 with Rosen in their lineup, and 1-6 without him.
The Trojans have already clinched a berth in the Pac 12 championship, but if they lose both that game and this one to fall to 9-4, they could be as low as the fifth selection from their conference, which would likely land them in the Sun Bowl.  According to school tradition, they would then underperform in that game, and lose a klunker to a middle-echelon ACC team.  They'll try to prevent that from happening right now, while they still can.
These teams traditionally both wear home uniforms for this crosstown clash.  These days, doesn't that mean they'll both be wearing hideous dark gray duds from head to toe?  That would just make the game look like a food riot from Soylent Green, which doesn't make for good TV until the scoops arrive.
Actually, the scoops are really overrated.  Even Max Browne would be able to elude those things.  Almost.
USC 33, UCLA 25
Army at North Texas
These teams meet for the third time, in a third different stadium, in just over a year.  In 2016, the Mean Green won at West Point 35-18, but the Black Knights avenged that defeat in the Heart of Dallas Bowl, 38-31 in overtime.  Military recruiters sometimes tell young men that if they sign up, they'll get to see the world.  It turns out that includes Denton, Texas, where this three-match takes place.
When a wishbone team like the 8-2 Cadets is having a winning season, it doesn't tend to put the ball in the air very much.  Nevertheless, it's a little unusual that Ahmad Bradshaw has not attempted more than eight passes in a game all year, or completed more than three.  In last year's regular season loss, however, he threw a career-high 21 passes, so don't expect him to deviate from his script like that again this Saturday.
To get to that bowl game, 5-7 UNT needed one of those loser dispensations from the NCAA for having a high Academic Progress Rate.  This year, they are relieved to already be legitimately bowl-eligible at 7-3.  Now, they don't have to be smart!
Army 21, North Texas 19
TCU at Texas Tech
In spite of last week's 38-20 loss to Oklahoma, the Horned Frogs have the inside track to a rematch with OU in the Big XII championship game.  Beat both Tech and Baylor, and they're in.  Unfortunately, they'll have to do it without leading rusher Darius Anderson, who is out for the remainder of the season with a foot injury.
The Red Raiders ran out to a 3-0 start this season with good nonconference victories over Arizona State and Houston, but since starting league play, they've gone 2-5, with their only wins against – all together now – Kansas and Baylor.  Keep in mind that a year ago, they won three Big XII contests, against Kansas, Baylor and TCU, the last of those coming in a double-overtime upset in Fort Worth, where the lizard kings missed kicks of 37, 32 and 39 yards.  Their new kicker, Jonathan Song, hasn't attempted anything farther than 39 yards out, but he's 8-for-8 within that range.
For the first time since 1971, these cross-state foes are playing for possession of the Saddle Trophy.  News reports celebrating the trinket's return don't offer any explanation as to why it was retired in the first place, but the Czar has an hypothesis.  Perhaps the teams thought it was really the Sad Ol' Trophy, and each tried to throw the game rather than be awarded such a thing.
The real Sad Ol' Trophy is awarded for the most convincing portrayal of a sad, old person.  By now, Meryl Streep's got more of those things than Ozzie Smith has Gold Gloves.
TCU 39, Texas Tech 31
California at Stanford
Both schools are reputedly excellent academic institutions, and if you don't believe it, the Czar presents as Exhibit A the Golden Bears' leading rusher, Patrick Laird.  How do we know he's so intelligent?  Easy.  There's no "I" in "lard."
The Cardinal waylaid Washington 30-22 last Friday, dominating the defending Pac 12 champions on both offensive and defensive lines.  They can now advance to the conference championship by taking care of Cal, and rooting for the Huskies to win the Apple Cup in their finale against Wazzu.
These teams compete for the Stanford Axe, which was originally used by the Stanford pep team to decapitate a straw man in Cal garb, while supporters cheered, "Give 'em the axe, the axe, the axe!  Right in the neck, the neck, the neck!"  How times have changed.  Today, if you walk onto the campus of either of these Bay Area schools and say "bang," you'll be cited for violating a "safe space."
Have you noticed that these collegiate "safe spaces" are safe for everybody but non-loony people?
Stanford 45, California 21
Fresno State at Wyoming
The Dogs and Pokes have identical records of 7-3 overall and 5-1 in the Mountain West conference.  For FSU, that means a division lead, whereas the Cowboys need an unlikely amount of help if they are to catch Boise State.
Bulldog QB Marcus McMariyon has 11 TDs to thee INTs, and a completion rate of 63 percent.  His replacements at Oregon State have combined for ten touchdowns and eight picks, while completing 58 percent.  Just in case there's still any doubt about why Gary Andersen had to go.
Cowboy quarterback Josh Allen injured his throwing shoulder in last week's 28-14 win over Air Force, and had to give way to little-used junior Nick Smith.  In a matchup between the league's two dominant defenses, that loss of firepower will likely prove the difference.
So if their team name is the Cowboys, why do they go by the Pokes?  Perhaps they're hoping that by adopting that name, they will make Kelly Bundy want to become their sope girl.
Fresno State 27, Wyoming 16
Minnesota at Northwestern
The competition at the top of the Big Ten is such that the 7-3 Wildcats could win their last two games and still be the #6 selection from the conference, which would likely land them in the Foster Farms Bowl in Santa Clara.
The row-dents ran for 409 yards in a 54-21 romp over Nebraska, to improve to 5-5.  Their last two games are against the top two teams in their division, however, with the battle against unbeaten Wisconsin for Paul Bunyan's Axe to follow this treacherous road trip to Evanston.
Here's Golden Gopher coach P.J. Fleck explaining last week's suspension for OT Donnell Greene:  "I've never been one of those guys – 'yeah, yeah, that happens on the field, emotions run high.'  It's all about controlling your emotions."  This, from a coach who controls his emotions about as well as Joe Pesci.
Seriously, this is a guy who reacts like a Price Is Right double-showcase winner when he gets lucky numbers in his fortune cookie.
Northwestern 41, Minnesota 30
Air Force at Boise State
After scoring 45 points apiece in consecutive road wins over Nevada and Colorado State, the Falcons have fallen flat in home losses to Army (21-0) and Wyoming (28-14).  If they can't repeat last year's 27-20 toppling of BSU, they'll be on the sidelines for the postseason, for only the second time in ten years.
The Broncos rallied from a 35-10 deficit to defeat Colorado State, 59-52 in overtime, but not without help.  Trailing 52-38 with under two minutes to play, a BSU incompletion should have brought up a third-and-13 at the Rams' 27-yard-line, but that's when CSU defensive back Shun Johnson stood over and taunted a fallen receiver, resulting in a first down.  The Broncs quickly scored, and then successfully onside-kicked to set up a tying TD to force OT.
The Denver Post obliviously called Johnson's penalty "questionable," but when it was committed, there was no question on the part of one Ram fan, who audibly blurted out, "Way to go, jackass!"  The College Football Czar wishes referees would start calling taunting penalties just like that.  "Way to go, jackass.  Number 17, defense.  Fifteen yards."
Boise State 26, Air Force 10
Central Florida at Temple
A year ago in Orlando, the Owls staged an unlikely comeback to stop UCF, 26-25.  That result launched them on a seven-game winning streak, which carried them through the end of the regular season.  They need nothing so dramatic this season, at 5-5, with a season finale against a two-win Tulsa team yet to play.
The 9-0 Knights defeated Uconn 49-24, but they didn't take home the Civil ConFLiCT Trophy – not just because they don't want it, but also because nobody knows where it is except for its inventor, former Connecticut coach Bob Diaco.  Now the defensive coordinator at Nebraska, Diaco has no desire to talk about his contrived award, reacting to its mention as if he were being questioned about a bimbo scandal, or a shady business dealing.
Ironically, Diaco seems to be getting his way in the long run.  Every time UCF gloats about not having accepted a trophy for beating Connecticut, they reinforce the fact that they really, really do care about it.  In other words, the rivalry is on!  So take heart, Bob.  After all, Ed Wood wasn't appreciated in his time either.  Come to think of it, he still isn't.  So, you're in good company, sort of.
Central Florida 38, Temple 29
Arizona at Oregon
How valuable is injured QB Justin Herbert to the Fighting Ducks?  Freshman Braxton Burmeister has played five whole games in a row, and has not yet compiled as many passing yards as Herbert did against Nebraska.  As of this writing, it sounds as if Herbert is likely to return from a broken collarbone, in an effort to lead the 5-5 webfoots to a winning season.  Then, Burmeister can go back to doing what he does best, which is to spare your house from the clutter of all those cans and bottles, while giving you a professional pour on every try.
The Wildcats' Khalil Tate leads all quarterbacks in rushing yards, with 65 more than Army's Ahmad Bradshaw, on 51 fewer carries.  When he's forced to throw, however, he gets intercepted once in every eight attempts.
The Duck defense has improved dramatically under coordinator Jim Leavitt, the former head coach of South Florida who was fired from that school for reasons that were never substantiated.  So far, UO has allowed 140 yards per game fewer than it did a year ago, and has given up an average of 11 fewer points.  The turnaround might never have happened if not for some good old-fashioned nepotism at Kansas State, where Bill Snyder's demand that his son succeed him nixed a plan for that school to hire Leavitt as coach-in-waiting, according to an ESPN report.
The Czar understands how important Coach Snyder is to that program, but isn't there anybody with the power to tell him no?  Just because K-State plays in something called Bill Snyder Family Stadium doesn't mean his progeny must physically occupy the building until its implosion.
Oregon 33, Arizona 30
a sports publication from The Shinbone