The Original College Football Czar
Week 12
<![if !vml]>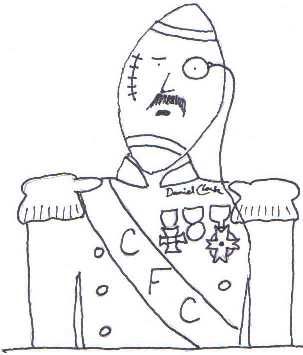 <![endif]>
Week eleven in review:  Top teams Alabama, Clemson, Notre Dame, Michigan and Georgia all moved on with ease, the only complication being another shot to the knee of Bama quarterback Tua Tagovailoa, which forced the sophomore slinger to leave the Tides's 24-0 win over Mississippi State.  The Czar is not yet nominating coach Nick Saban for the Lardhead of the Year Award for playing his starter this week against The Citadel, a Division I-AA opponent, but keep this one on the Lardhead watch list.  If the pachyderms don't end up packing their bags for Santa Clara because they got Tua more seriously injured by making him kick a tomato can around, this could prove to be an historically awful decision.
The following division titles have now been wrapped up:  Clemson in the ACC's Atlantic division, Northwestern in the Big Ten West, and UAB in the Conference USA West.  Central Florida, Pitt and Fresno State have a chance to clinch this weekend, whereas MAC division frontrunners Buffalo and Northern Illinois both blew their chances on Wednesday night.
The College Football Czar had a good comeback week with a record of 14-3.  For the season, he is now 127-71, for a .641 winning percentage.
Nov. 16
Memphis at SMU
Last week, the Mustangs scored a field goal on their opening possession and led for the rest of the game, but the fact that they couldn't shake lowly Uconn from their tails is a little alarming.  In the end, they only outgained the Huskies by 11 yards, in a 62-50 track meet, which could serve as an unpleasant reminder of last year's 66-45 defeat against this MU team.
Aside from defeating ACC doormats ECU, Tulsa and Uconn, this Tiger team has beaten up on two lower-echelon Sun Belt opponents, and Division I-AA Mercer.  They're also the only Division I-A squad to have lost this year to Navy.  Yet the AAC commissioner wants to expand the CFP to include a Central Florida team that had to rally from 30-14 down to beat these same Tigers by a single point.  After all, every other division of college football has an expanded playoff format, and aren't they exciting?  Um … no, they're not.
Gerald J. Ford Stadium in Dallas is not named after the former president and Michigan center, whose middle initial was "R."  That's a good thing, because it just so happens that "J" is an easier letter to trip over.
SMU 55, Memphis 44
Nov. 17
Pitt at Wake Forest
The Demon Deacons' gutsy and dramatic upset of Nc State does not erase the problems they had going into that game.  Most notably, their injury-riddled defense was able to withstand NCSU's subpar running game, but now they face a Panther OL and fullback who have been blowing holes in opponents bigger than the Fort Pitt Tunnel.
The Panthers' greatest liabilities have been their pass defense and kick coverage, which gives Wake wide receiver and punt returner Greg Dortch a chance to set the BB&T Stadium field ablaze.  Dortch also returns kickoffs, and although he hasn't been as effective in that capacity, he might intimidate Pitt coach Pat Narduzzi into squib-kicking like he did once last week, when he gave Virginia Tech the ball at the 40-yard-line.
The College Football Czar regards the squib kick as the worst play in football, in that it backfires a majority of the time, and even when it is executed correctly, the results are not what one would call good.  Giving away half the field in hopes that it will prevent your opponents from taking the whole thing is the way they would play football in France, which they don't, because they'd always lose, because they'd squib kick.  And yet every head coach in Division I-A football is convinced it's a brilliant thing to do.
Now, if it were a squab kick, that's another story.  Who doesn't want to kick a pigeon?
Pitt 49, Wake Forest 41
Penn State at Rutgers
The Nittany Lions survived their scary six-game stretch with a 3-3 split, thanks to a 22-10 win over Wisconsin, in which they had the good fortune to face an untested and seemingly terrified backup quarterback.  PSU can finish no higher than third in the Big Ten East, but that would probably be good enough to be the third selection out of the conference, which would likely send them to the Citrus Bowl.
With fewer than half his passes completed, while throwing four touchdown passes and 16 interceptions, Scarlet Knight QB Artur Sitkowski has become the Angelo Spagnolo of college football.  In a deflating Week 8 loss to Maryland, the freshman completed just 2 of 16, with four INTs.  Yet, RU has nobody capable of challenging him for the starting job?
Angelo Spagnolo, you might remember, was declared the "world's worst avid golfer" for quite a number of years in a row.  That's kind of a phony distinction, because his aim was never to golf well in the first place.  To truly find out who was the worst, the golfers would have to be unaware that they weren't competing for that distinction.  Then again, if it meant so much to Spagnolo to famously become the worst at something, then he was a big enough loser to deserve it.
These Scarlet Knights should have that good an excuse.
Penn State 38, Rutgers 3
West Virginia at Oklahoma State
The Cowboys fell a late conversion short of knocking off one of the Big XII co-leaders, losing to Oklahoma 48-47 in the Bedlam game.  While they've saved their best play for their best opponents, the Pokes have lost four of their last five, to jeopardize their season at 5-5.
The 8-1 Mountaineers finish the regular season at home against Oklahoma, and it looks increasingly likely that the two will meet again in an exceedingly uninteresting rematch, in exceedinglier uninteresting AT&T Stadium in Arlington.  If WVU were to win both games, and also defeat OSU along the way, how much should it hurt them that their early game at Nc State got wiped out?  After all, without their marquee nonconference opponent, their schedule has consisted of Tennessee, Division I-AA Youngstown State, and a Big XII conference that has been far soupier than expected.
In the tradition of cheesy TV "evil twin" story lines, Cowboy coach Mike Gundy takes on a unique challenge when he comes face to face with his counterpart, Dana Holgorsen, in that he is the only person in recorded history to ever be confronted by his own before picture.
Seeing Gundy in last week's postgame press conference, in his mullet and his visor, he obviously had the look of a winner.  Unfortunately, that winner was Nancy Lopez.
West Virginia 45, Oklahoma State 42
Notre Dame vs. Syracuse
Another college football game is being played in the relatively new but still venerable Yankee Stadium.  That used to be kind of a big deal, before that venue defiled itself by welcoming a Major League Soccer expansion team.  Oh, well, it still beats the Carrier Dome, and it least it still has real dirt instead of rubber pellets, unlike the stadium in South Bend.
Although this is not a true road game for the Orange, it might matter that they've fared poorly outside the confines of the dome this year.  They did defeat Wake Forest 41-24 their last time away from home, but they've lost at Clemson and Pitt, and gotten whaled on in the second half of a win at Western Michigan.
The Fighting Irish flogged Florida State 42-13 with Brandon Wimbush at quarterback, but Ian Book will return this week, and yes, it matters.  Wimbush was every bit the liability against FSU that he was in his three starts early this year, completing 12 of 25 with three TDs and two INTs.  Coach Brian Kelly made a big show of how much confidence he has in Wimbush, to the point of joking that he once again had a QB controversy on his hands, but he's obviously in need of some remedial blarney lessons.
The surviving Beatles are celebrating the 50th anniversary of The White Album.  Why does the Czar consider this relevant?  Because he has officially ranked The White Album as the absolute most overrated thing in world history, just barely beating out Knute Rockne's halftime speeches.  Have you ever seen film of Rockne during one of these allegedly stirring moments?  The man was a yammering automaton, who rarely took a breath between sentences, spoke with no voice inflection, and generally exhibited little awareness of what he was saying.  "We're gonna go, go, go, go, go, go, go.  Now get in there and fight, fight, fight, fight, fight, fight."  Seriously, he could have recited the lyrics to "Ob-La-Di, Ob-La-Da" without becoming any less inspirational.
"Ob-La-Di, Ob-La-Da" wasn't even that bad compared to much of The White Album, which easily contained a half-dozen of the worst songs ever recorded ("Why Don't We Do It in the Road" being the worst, followed by "Helter Skelter" and "Birthday," just for starters).  The record was a prime example of an accomplished band resting on its laurels, assuming that anything it does is wonderful, and fancying itself to be in the vanguard of innovation, when actually being the epitome of complacency.  You know, kind of like the Charlie Weis era.
Notre Dame 38, Syracuse 31
Cincinnati at Central Florida
The 9-0 Knights seem to be losing momentum as the reality sets in that they're not a CFP ream.  Look how easily they dispatched Pitt and SMU in the middle of this season, and their past four performances have been pedestrian by comparison.
The Bearcats, conversely, have een on the rebound, beating SMU and South Florida since suffering an overtime setback against Temple.  At 9-1, UC is playing in what is likely its biggest game since getting granulated in the Sugar Bowl by Tim Tebow and Florida to end the 2009 season.
AAC commissioner Mike Aresco makes the following argument for expanding the CFP:  "If certain teams, like Ohio state and others, maybe had the schedule UCF has and they ran the table, would they still be in the playoff?"  No, Mike, they wouldn't.  If the Buckeyes played in a second-tier conference in which they had yet to face the two next-best teams, so that their conference opponents to date were a combined 15 games under .500, the committee would wonder why they bothered beating up on Division I-AA South Carolina State.  In fact, Ohio State has played Ohio State's schedule, and surely fared better than UCF would have, yet the lumpy nuts still must beat Michigan and Northwestern to reach the final four.
Aresco laments that many Division I-A schools stand no chance of winning the national championship, but that's always been true, and it's never harmed the popularity of the game.  College football is not, and can never be, a league, with a central authority dictating teams' schedules and conference affiliations.  There will never be parity between the Big Ten and the AAC, any more than between the AAC and the MAC.  Besides, the idea that an expanded playoff gives everyone s shot is a fallacy.  Look at the lower divisions.  The same three or four teams are in the running every year.  North Dakota State, Northwest Missouri State and Mount Union are more dominant than Alabama could ever hope to be.  Commissioner Aresco can butter that in his pipe and sleep on it!
Well why not?  It makes no less sense than what he said.
Cincinnati 37, Central Florida 35
Iowa State at Texas
The Cyclones will gladly take their 28-14 win over Baylor, but it may prove costly, because of a second-half fracas.  As a result, ISU leading rusher David Montgomery and his 765 yards will watch the first half from the sidelines.
The 7-3 Longhorns halted a two-game skid by holding off former Southwest Conference rival Texas Tech, 41-34 in Lubbock.  Leading receiver Lil'Jordan Humphrey, whom you surely remember fondly from Moesha, is only 53 yards short of 1,000, after reeling in eight catches for 159 yards and two TDs against the Red Raiders.  Lil'Jordan is actually 6-foot-4 and 225 pounds.  So who's BigJordan, the country?
The Czar is fortunate to get to see this game because, being a Dish subscriber who buys the Multi-Sport Pak, he is among the tiny minority of the population that gets The Longhorn Network.  We're about as plentiful as albino midgets who are blood type AB negative, are allergic to cauliflower, and now that because they've actually eaten cauliflower at some point.
Texas 21, Iowa State 20
Northwestern at Minnesota
The radiant rodents are finally rolling at 5-5, after a 41-10 pounding of Purdue.  Now they try to take advantage of a Wildcat team that may be in for a letdown, one week after clinching both bowl eligibility and the Big Ten West title.
Cats' QB Clayton Thorson has amazingly played every game this season, even though his playing time was limited in the beginning because of a difficult recovery from knee surgery.  He does seem to be slowing down as the campaign goes on, though.  His passing totals in the last four games have been his four lowest of the season.
To make this road trip, Northwestern had to travel northwest, which to those collegiate types is some kind of a meta-something or other.  (In college, they make you use the prefix "meta" in a sentence, or else prosecute you for conspiracy to commit speech crimes.)  On a related topic, the players from these teams have never metaphysical they didn't cough at.
Strange, that one had them rolling in the aisles at the coffee shop.
Minnesota 20, Northwestern 16
Stanford at California
Chase Garbers hasn't been a statistically great QB for Cal, but his most important numbers are that the Golden Bears are 3-1 since he became the starter, with victories over Washington and USC.  Their last game without him was a 37-7 loss to last-place UCLA.
The Cardinal ground game continues to go nowhere, without any other backs to take some of the weight from the shoulders of injured RB Bryce Love.  Neither junior Trevor Speights nor senior Cameron Scarlett is gaining as much as four yards a carry, and their combined yardage is still below 400, while Love continues to lumber along at 580.
Since last year, the venue in Berkeley is once again called Memorial Stadium, just like every third stadium west of the Mississippi.  It had sold its naming rights to Kabam, which is an "interactive entertainment company" that the Czar would explain to you, if only he could.  Kabam had originally signed a 15-year deal, but found that it had been overly-ambitious, and bought its way out.  At least people remembered "Kabam," though.  You can't remember one "Memorial Stadium" from another without a program.
California 24, Stanford 19
Virginia at Georgia Tech
In a 45-24 nonconference win over Liberty, the Cavaliers showed no signs of improvement in their run defense from the previous week's loss to Pitt.  They'd better improve in a hurry, if they're going to contain the nation's leading rushing attack on its home field in Atlanta.
The Yellowjackets staved off a challenge from Miami 27-21, but the Czar is perplexed by their giving TaQuon Marshall back the starting QB job uncontested, after backup Tobias Oliver tore up Virginia Tech and North Carolina in consecutive road victories.  Oliver is outrushing Marshall by 1.2 yards per carry, and even his passing numbers, though sparse, are superior.
There's been such a depressing dearth of quality Lardhead of the Year Award nominees over the course of this season, the College Football Czar was thinking of producing a special entitled Yes, Virginia, There Is a Lardhead, in order to keep his readers' sprits up.  Then, he slept it off and forgot about it.
Georgia Tech 30, Virginia 23
UAB at Texas A&M
The 6-4 Aggies beat Ole Miss 38-24 last week, to improve to 5-1 at home.  Their only loss in College Station has been to undefeated Clemson, 28-26.  After this nonconference game, they finish the regular season at home against LSU, with a chance to finish as high as the #3 bowl selection out of the Southeastern Conference.
Lots of SEC teams have scheduled mid-November breathers for themselves, and the Conjunction Boys probably thought they were doing the same when they inked up Alabama-Birmingham, a team in its second season back from oblivion.  However, the Blazers have won eight in a row since an inexplicable blowout loss to Coastal Carolina in their first Division I-A game of the season.  Evidently, that tune-up game did nothing to prepare them, as is usually the case.
Specifically, they had taken up temporary residence in La Paz, Oblivion – a swinging town, as Mike Tyson can tell you.
Texas A&M 33, UAB 28
Arizona at Washington State
WSU quarterback Gardner Minshew has been one of the best stories of this football season, but let's not get carried away with the Heisman talk for a guy who seldom throws downfield.  The former East Carolina QB is 148 yards away from 4,000, but it's taken him 52.3 pass attempts per game to get there.  Minshew may lead the nation in passing yards, but his 7.3 yard-per-attempt average ranks ninth among starters in the Pac 12.
The 5-5 Wildcats are 2-0 since the return of quarterback Khalil Tate, who tossed eight TDs to only two picks in victories over Oregon and Colorado.  Tate's team lost both games while he was nursing an ankle injury, in a blowout at Utah, and a far more embarrassing 31-30 upset at UCLA.
If Minshew did win the Heisman, it'd be a shame they couldn't get the late Ed Sullivan to present it.  Of course, the Downtown Athletic Club would surely have no problem booking John Byner, who is probably speaking as Ed Sullivan right now while boiling water for tea.  But that would be just plain sad.
Washington State 51, Arizona 42
Georgia Southern at Coastal Carolina
Right when the could least afford it, the 5-5 Chanticleers suffered their worst loss of the season, both in terms of margin of defeat and quality of opposition, 44-16 to Arkansas State.  Still, all five teams that have beaten them are bowl-bound, and they've defeated both UAB and Louisiana-Lafayette.
The Eagles are still as shoo-in for a bowl game at 7-3, even after absorbing consecutive losses to Sun Belt Conference division leaders Louisiana-Monroe and Troy.  Wishbone quarterbacks don't tend to make the most accurate passers, but GASO's Shai Werts has thrown eight touchdown passes this year with no interceptions, while completing a respectable 53 of 92.  That would make a pretty good two weeks, by Minshew standards.
Why the Chanticleers, Chico Marx might ask.  "Vy not a cheekin?"  He's got a point there, but his hat fits over it nicely.
Georgia Southern 35, Coastal Carolina 20
Middle Tennessee at Kentucky
One might say the MT-heads had lost their minds – if one had no compunction about over-explaining a bad pun – for playing a nonconference schedule that includes three SEC teams.  At 0-2 with ugly losses to Vanderbilt and Georgia, the Blue Raiders now battle a UK team that until recently had been in the Top Ten.
Don't let the final score of MTSU's 48-32 win over UTEP fool you.  The Raiders had already run away with that game in the first half, and led 34-10 after three before letting up.  Of greater concern is the fact that their current four-game winning streak has come against opponents who are 9-31 overall, and 6-19 in Conference USA.
For the second game in a row, the plodding Wildcat offense demonstrated its inability to come from behind, this time in a surprising 24-7 loss to rival Tennessee.  Aside from their leading rusher, the offensive unit is such a joke it could be nicknamed Benny and the Jest.
Kentucky 17, Middle Tennessee 14
South Florida at Temple
USF may be slumping, having lost three consecutive games to fall to 7-3, but it's still among the top three former schools where Willie Taggart would rather be right now.  And, yes, Western Kentucky still makes that list, also.
TU running back Ryquell Armstead is feeling Owl right, after rushing for six touchdowns and 210 yards in a 59-49 victory at Houston.  Armstead has had two of his two biggest games of the season after losing two games to an ankle injury, and will probably eclipse the 1,000-yard mark at some point in the first half against the Bulls.
The truth be known, Taggart would rather be sewn inside a bag of wet skunks with halitosis, if it meant a few weeks away from Tallahassee.
Temple 34, South Florida 24
Arizona State at Oregon
When Herm Edwards was hired at ASU, many reporters suggested the old timer was of diminished mental capacity.  It turns out that ol' Herm knows exactly what he's doing, whereas first-year UO coach Mario Cristobal seems so confused he barely knows which end of the football to brush his teeth with.
The Sun Devils are a far more dangerous team than their 6-4 record would suggest.  Each of their four losses has been by exactly seven points, and they have arguably taken down their three toughest opponents:  Michigan State, USC and Utah.
The Fighting Ducks lost 32-25 to a Utah team that was without its starting quarterback and leading rusher, yet Cristobal called this "progress."  His reasoning was that this webfoots had also come out flat against Washington State and Arizona, but at least against the Utes, they were still in the game by halftime.
If that's not lardheaded enough, while discussing his team's unsuccessful attempt to stop the clock by spiking the ball on the last play, the coach repeatedly referred to QB Justin Herbert "clocking" the ball, which is illiterate in football terms, as well as any other.  When you spike the ball to stop the clock, you're spiking the ball, not "clocking" it.  To "clock" it would be to measure how fast it's going, not to bounce it off the ground.  No wonder the play didn't succeed.  Herbert probably had to pause for a second and wonder, "How does one clock a football, anyway?"
Arizona State 35, Oregon 31
Miami at Virginia Tech
The Tech run defense is ranked #109 out of 130 after giving up well over 400 rushing yards for the second time in three games, while getting pulverized by Pitt, 52-22.  At 4-5, the Gobblers must snap a three-game losing streak, and probably a wishbone as well, to return to the postseason for the 26th consecutive season.
Unfortunately for the Hurricanes, they don't appear ready to take advantage of VT's liability.  Leading rusher Travis Homer is hobbled by a calf injury, and sophomore DeeJay Dallas has fumbled three times in the last two games, in what have got to be his worst performances since the Larry Hagman Rap.  Coach Mike Richt will now turn to freshman Cam'Ron Davis, who will lose his redshirt because he's appeared in four games already. 
The albatross has continued to put on weight, as the Hurricanes went minus-2 in turnovers in a 27-21 loss to Georgia Tech.  It was the fourth straight game in which they failed to win the turnover battle, and consequently also their fourth consecutive defeat.
Note that the Czar is not accusing Albert Ross of putting on weight, whoever he is, because that would be "cyber-bullying."  And we know that's bad, because it causes Monica Lewinsky to appear in public.
Virginia Tech 36, Miami 28
UNLV at Hawaii
It may be true that what happens in Vegas stays in Vegas, but what happens in Hawaii gets remade with inferior acting, stupid dialogue and pointless explosions.  Over the course of the Rainbow Warriors' season, though, it's not the quality of their production that's changed, but that of the opposition.  UH started 6-1 by beating nobody better than Wyoming, and have since lost four straight to BYU, Nevada, Fresno State and Utah State.
The 3-7 Rebels scored an inspiring 27-24 upset at San Diego State last week.  Until then, their only wins were against UTEP and I-AA Prairie View A&M.  Against the Aztecs, senior running back Lexington Thomas had his most productive day of the season, supplementing his 133 rushing yards with another 34 yards on three catches.  It was his 75-yard streak that put Vegas ahead to stay, with under two minutes remaining.
From that first paragraph, you probably think the Czar is squawking again about what those CBS Philistines have done to Five-O and Magnum.  But seriously, by now, they've probably made a more badly written and acted, splosion-riddled remake of that Brady Bunch episode in Hawaii.  You know, the one where Bobby finds the carved idol that turns out to be a bad luck charm, as it demonstrates by introducing him to Don Ho.
UNLV 47, Hawaii 34
a sports publication from The Shinbone