The College Football Czar
Week 12
<![if !vml]>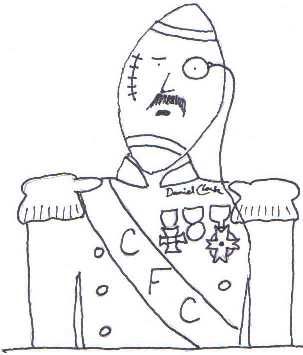 <![endif]>
Week eleven in review: Alabama was bounced from the #1 position in the BCS, though not out of the national championship picture, in a 29-24 loss to Texas A&M.  The Crimson Tide spotted the Conjunction Boys a 20-0 lead, before pulling within a field goal in the third quarter.  A&M, defying well-founded expectations, opted not to choke this time.
Although the SEC now dominates the BCS ratings, that league would not currently have a representative in the national championship game.  This week's ratings place Kansas State #1, followed by the only other eligible unbeatens, Oregon and Notre Dame.  The SEC then occupies spots 4 through 9, with Bama, Georgia, Florida, LSU, A&M and South Carolina.
Washington State University and the Pac 12 are investigating claims by former wide receiver Marquess Wilson, that coach Mike Leach and his staff have engaged in a pattern of abusive behavior toward their players.  It's distinctly possible that Wilson, who walked off the team after being suspended, may be using the circumstances of Leach's dismissal from Texas Tech against him in an act of spite.  However, Leach's willingness to publicly rip into his players lends credibility to the accusation.  If Wilson needs to provide more detail, then so does Leach.  Wilson had been suspended for an unspecified violation of team rules.  One of those rules better not have been to get in the shed, and stay there until further notice.
The College Football Czar went 11-6 for the week, which brings his season record to 140-66, and drops his winning percentage to .680.
Nov. 16
Florida International at Florida Atlantic
Each program has taken its turn atop the Sun Belt Conference, but not this season, in which they're fighting with expansion team South Alabama to stay out of the basement.  The Burrowing Owls of FAU (3-7, 2-4) have been digging their way out in recent weeks, with impressive wins over Troy and Western Kentucky on either side of a 24-17 loss to Navy.
The offensive production of the Golden Panthers (2-8, 1-5) has actually improved slightly from last year's bowl team, but their defense is giving up two touchdowns more per game.  Last week, they snapped a seven-game losing streak by beating South Alabama, 28-20, but even then they were gashed for 458 yards, although they nullified much of that total with four takeaways.
FIU coach Mario Cristobal must have seen the future last season when he was considered for several other schools' vacancies, but insisted he'd rather stay in Coral Gables.  This offseason, he will assuredly get his wish.
Florida Atlantic 45, Florida International 33
Hawaii at Air Force
The "Hawaii rule," an exception to the normal scheduling regulations, allows the Warriors a thirteenth regular season game.  As of now, they're slated to play only twelve.  They've been negotiating with Temple to hastily add a game on Dec. 7, but coach Norm Chow may be content to put his first season out of its misery.  In nine games, his only win is against Division I-AA Lamar, and most of the losses have been horrid.
The 5-5 flyboys were ack-acked by the Aztecs, 28-9 last week in San Diego.  Another outing like that would leave them in jeopardy of being grounded for the postseason.  The Falcons lost three fumbles in the game, including one that was returned 52 yards for a touchdown.
UH has lost its five previous road games by an average score of 47-12.  Anymore, before they depart for the mainland, they always turn on their TVs in hopes of seeing Jack Lord pounding his fist and saying, "Nobody leaves this rock!"
Air Force 51, Hawaii 21
Nov. 17
Indiana at Penn State
The replay officials again proved to be about as forceful and effective as the UN Security Council, as they stood by and allowed the Nittany Lions to be deprived of a go-ahead touchdown in last week's 32-23 loss at Nebraska.  The replay clearly showed that TE Matt Lehman had extended the ball over the goal line before a Husker defender knocked it away.  The fumble call, and the Lions' 27-23 deficit, nevertheless stood.
The candelabra-heads thought they were starting to see the light, after consecutive wins over Illinois and Iowa improved their record to 4-5.  Then they were blown out at home by Wisconsin, 62-14, while being outrushed by a total of 564-61.
Since PSU joined the Big Ten in 1993, the Hoosiers are the only conference opponent to whom they've never lost, with an overall record of 12-0.  Last time they met was in a strange neutral-site game in Landover two years ago, where the Lions prevailed 41-24.
Oh, sure, like Hoosiers is a much better name for a football team.  At least people can figure out what a candelabra-head is.
Penn State 38, Indiana 27
Oklahoma at West Virginia
Had the Sooners appeared sooner on the Mountaineers' schedule, then maybe so many people would not have been under the delusion that WVU was a national contender.  After an attention-grabbing 5-0 start, Dana Holgorsen's team now sits at 5-4 overall, and 2-4 in the Big XII, good for only seventh place in the conference.  At the start of the year, a finale against Kansas just looked like a good opportunity to score 100 points or so.  Now, they might need to win that game just to qualify for the Meineke Car Care Bowl of Texas.
Since a dismal 30-13 loss to Notre Dame, Big Game Bob's team has gotten back into the W-column, defeating Iowa State 35-20 and Baylor 42-34.  At 7-2, and with their wins becoming less impressive as they go along, the only thing keeping them at #12 in the BCS ratings is the fact that their two losses have been to teams ranked among the top three.
OU has already angered half the country by keeping that pedestrian Fighting Irish team undefeated.  If they let Holgorsen walk away happy, they might become the first team ever to be placed under probation by the College Football Czar.  The terms would be that they'd never be allowed to appear in this publication again, unless being referenced in the most unflattering terms imaginable.
Okay, so that's a far cry from the Death Penalty, but the last thing the Czar needs is to have Ed Asner and the rest of the Free Mumia crowd making a racket while he's trying to watch the football games.
Oklahoma 37, West Virginia 34
USC at UCLA
The Pac 12 South title is at stake between these crosstown rivals, meaning that if the Bruins return to the conference championship game, they'll have earned it this time.  Last season, they finished an extremely distant second in the division with a league record of 4-5, which ended with a 50-0 pummeling by Southern Cal.  That Trojan team went 9-0 in the conference, but was ineligible for the postseason.
Jim Mora's blue bears went into hibernation with a 37-7 halftime lead on Washington State, only to have it dwindle to 44-36 by the end of the game.  Mora and his team denied afterward that they'd taken WSU lightly, insisting instead that they were satisfied with their effort, if not the final score.  That sounds to the Czar like the equivalent of a prize fighter who doesn't respect an unheralded opponent, then after going the distance offers the feeble explanation, "I needed the rounds."
The Trojans turned things around after back-to-back losses, pulling away from Arizona State 38-17, despite a lackluster showing by QB Matt Barkley.  Since getting scorched for 730 yards by Oregon, coach Lane Kiffin must have been relieved to see his dad's defense snuff the Sun Devils' "high octane" offense for a total of 250.
So why were UCLA's players rewarded with a championship berth after a 50-point loss, and then with a bowl bid for a record of 6-7?  Well, it is a public school, you know.
USC 42, UCLA 32
Central Florida at Tulsa
This is a likely preview of the Conference USA championship game, since this week's loser will remain in first place in its division.  The Knights' earlier win over East Carolina gives them the equivalent of a two-game lead in the East, whereas TU leads the West in a runaway.
In 2007, UCF dusted the Golden Hurricane in the league title game 44-25, almost duplicating an earlier 44-23 regular season win.  Since then, it has been the prevailing winds with both victories, including a 24-17 decision in Orlando a year ago.
Tulsa touchdown specialist Alex Singleton has reached the end zone 18 times this season.  This ties him with Arizona's KaDeem Carey for fifth in the nation in rushing TDs, although he's only the Cane's third-leading rusher with 572 yards, behind JaTerian Douglas and Trey Watts.
The University of Central Florida used to be the Golden Knights, but now they're just the Knights.  It's hard to blame them, given the temptation of those ubiquitous "Cash for Gold" places.
Tulsa 28, Central Florida 24
Ohio State at Wisconsin
Last week's 62-14 annihilation of Indiana means the Badgers will again represent the Leaders division in the Big Ten title game, but they'd actually like to be the division leader when they head to Indianapolis.  They'll have a chance if they can beat the undefeated but ineligible Buckeyes.
OSU's Braxton Miller may not be Heisman material, but he is second in the nation in rushing among quarterbacks, trailing only Northern Illinois' Jordan Lynch.  Miller's modest passing total of 1,753 yards looks a lot better when added to his 1,166 yards on the ground.  With his help, the lumpy nuts are nipping at Nebraska's heels to become the leading rushing team in the Big Ten.
Badger RBs Montee Ball and James White combined for 359 yards against the Hoosiers.  The pressure's on the running game to continue that dominance, because the quarterbacking duties have fallen to little-used senior Curt Phillips, whose 4-for-7, 41-yard performance was the first time he put the ball in the air since he completed 7 of 12 passes over his entire freshman season.
The Big Ten divides its divisions into Leaders and Legends, but if the legends are not leaders, what is it for which they are legendary?  Unspeakable amorous exploits?  Unparalleled exhibitions of gluttony?  Long-distance bogey flicking?  The Czar demands to know.
Ohio State 19, Wisconsin 13
Stanford at Oregon
In 2001, the webfoots were on their way to a national championship, until they had two fourth-quarter punts blocked in a wild 49-42 upset loss to the Cardinal at Autzen Stadium.  They had a chance at a title game again in 2009, until they were derailed in Palo Alto, by an eerily similar score of 51-42.  Now, the wounded Ducks waddle into a mid-November game against their nemeses, with an injury-ravaged defensive line, and a starting QB and leading rusher who were both banged up in last week's 59-17 beating of the Cal Bears.
The Fighting Ducks' Marcus Mariota isn't the only freshman quarterback to watch out for in this game.  The Cardinals' Kevin Hogan, who took over the starting job two weeks ago, was more willing to open his game up in the tree-men's 27-23 triumph over Oregon State.  His 22-for-29 performance was good for 254 yards and three TDs.
Last offseason, UO coach Chip Kelly was being considered for the head NFL coaching job with the Tampa Bay Buccaneers.  The deal fell through when he went to the Sunshine State for an interview.  He talked so fast that he could only be understood by the dolphins -- who found him annoying.
Oregon 50, Stanford 38
Tennessee at Vanderbilt
If Volunteer coach Derek Dooley didn't have enough reasons to hang down his head, he gave himself one more in last week's 51-48 four-overtime loss to Missouri.  In the final frame, Dooley eschewed a field goal attempt to go for a fourth-and-3.  The unsuccessful attempt meant the Tigers only needed a field goal of their own, and they got it.
The Commodores (6-4, 4-3) have clinched their third bowl appearance in five years, but the other two have come after regular seasons in which they've finished 6-6.  By beating Tennessee and/or Wake Forest, they will assure their first winning regular season since 1982.
The Vols hold a commanding lead in this cross-state series, 73-27-5.  It's still a bitter rivalry, though, because the fans from Music City keep reminding their aesthetically challenged counterparts from Knoxville that Rocky Top really sucks skunk.
Vanderbilt 20, Tennessee 16
Kent State at Bowling Green
The Falcons (7-3, 5-1) overtook Ohio for second place with last Wednesday's 26-14 victory, and now they can climb into the MAC East lead by knocking off KSU (9-1, 6-0).  They can't count on getting as much help from their opponents this week, after capitalizing on two muffed punts to beat the Bobcats.
At 9-1 overall, with an upset of otherwise unbeaten Rutgers, and a 6-0 mark in the highly competitive MAC, the Golden Flashes leave the Czar at a loss to explain the week two clobbering they took from that dismal Kentucky team, which hasn't beaten anybody else all season.
"Bowling Green" is what eco-dingbats call it when you bowl with a small "carbon footprint."  Of course you can't do that in those big, clowny rental shoes, which means that nobody ever really bowls green.  Nor could anybody give a flying squirrel's posterior.
Kent State 30, Bowling Green 22
Utah State at Louisiana Tech
These teams are tied for the WAC lead with conference records of 4-0, half a game ahead of surging San Jose State.  LTU's only loss of the season has been a 59-57 shootout with the same Texas A&M team that just felled national favorite Alabama.
Sonny Dykes' Bulldogs were marked men last week in San Marcos, where they barely outbattled the blazing guns of Division I-A newcomer Texas State.  Tech trailed three times in the first half, and found themselves tied 48-48 early in the fourth quarter, before pulling out a 62-55 victory.  Bulldog backs Ray Holley and Kenneth Dixon rushed for 145 and 144 yards respectively, but the decisive number might have been the Bobcats' 125 yards in penalties.
The Aggies had beaten that same TSU team 38-7 a week earlier, and have allowed an average of only 13.5 points per game this season.  Their only losses have been to Wisconsin (16-14) and BYU (6-3).
Dykes is the third consecutive son of a Division I-A head coach to be hired to the same position in Ruston, following Derek Dooley and Jack Bicknell III.  In expectation of Dykes' being hired away, they've got a vial of dad gum stored away in the fridge, so they can stir up the next batch of Bowden on short notice.
Utah State 28, Louisiana Tech 27
Rutgers at Cincinnati
The Scarlet Knights (8-1, 4-0) still lead the Big East, but hardly convincingly so.  Last week, they followed up their loss to Kent State with a drab 28-7 win over Army, which was much closer than the final score suggests.
Senior quarterback Brendon Kay got his first start for the Bearcats last week, in a 34-10 trouncing of Temple.  Kay completed 13 of 24 for 244 yards and two scores, displaying a vertical passing game that his team had been lacking behind erratic scrambler Munchie Legaux.
It's often observed that there's no such thing as a bearcat, meaning that each of the Cincy players is "with cat).  See? You probably thought it was something silly.
Rutgers 17, Cincinnati 10
Texas Tech at Oklahoma State
Neither team can win the Big XII, but whoever prevails this week will remain in the running for the Cotton Bowl.  At least, if both Kansas State and Oklahoma get invited to BCS bowls, that is.
The Red Raiders needed double-overtime to put away last-place Kansas, 41-34, after blowing a 27-17 fourth-quarter lead.  Tech's only losses this season have been to powerhouses Oklahoma, Kansas State and Texas.  Looking back at their season, though, there aren't any really big wins that jump out at you, now that their 49-14 rout of West Virginia has become the norm.
The Pokes overwhelmed WVU a week ago, 55-34, behind first-time starting quarterback Clint Chelf.  Season-opening starter Wes Lunt is expected to return from his latest injury this week, after sustaining a head injury in a tough loss to Kansas State.
The Cowboys went on national TV last week wearing colorless, dark gray uniforms.  They must have thought they were co-starring with Hoot Gibson or Buster Crabbe.
Oklahoma State 56, Texas Tech 51
Arkansas State at Troy
The Trojans (5-5, 3-3) can't win the Sun Belt Conference, but if they can end the season by toppling league-leaders ASU and Middle Tennessee, they couldn't possibly be left out of the postseason altogether.  Last week's 41-31 victory over Navy rounds out a nonconference slate that has included tough losses to Mississippi State and Tennessee.
Last Thursday, the defending conference champion Red Wolves walloped a worn-down Louisiana-Monroe team, 45-23.  Junior tailback David Oku was more than oku-doku, with a season-high 131 rushing yards and three touchdowns.
There are some names for which one bad pun just isn't enough.  With that in mind, the Czar has decided to compose an oku:
Czars like cotton clouds / drift high above the treetops / after too much beer
Arkansas State 39, Troy 29
Iowa at Michigan
In a 24-24 tie, the Hawkeyes turned the ball over on downs at the Purdue 34-yard-line, with 21 seconds to play.  In that time, they gave up 37 yards on two plays, and allowed the Boilermakers to beat them on a last-second, 46-yard field goal.  Second-guessers will say they should have punted on their previous possession, but it's hard to argue with going for a fourth-and-3, if a successful conversion means putting the game away.
Backup quarterback Devin Gardner rallied the Wolverines past a ranked Northwestern team 38-31 in overtime, by throwing for 286 yards and two TDs, with one interception.  In case the fans in Ann Arbor were missing Denard Robinson's running ability, Gardner gained another 47 yards and two scores on nine carries.
If the Hawks wanted to wear those dopey silver helmets they had on last week, that's their problem, but why did they have to justify it by claiming it was a tribute to veterans?  They could just as easily have said it was a tribute to veterinarians, and, given that there's a picture of an animal on the helmet, it would have been far more relevant.
Michigan 31, Iowa 12
Syracuse at Missouri
Each team, currently 5-5, needs one more win to become bowl-eligible.  That makes this game far more important to the Tigers, who must then travel to face fellow SEC newcomer Texas A&M, than to the SU, which winds up the regular season against Temple.
Wide receiver Alec Lemon of the Orange delivered a citrus punch to Louisville last week, as he tied a career high with 179 receiving yards and two touchdowns to stun the previously unbeaten Cardinals, 45-26.  By comparison, the Tigers need to get mo out of T.J. Moe.  The senior WR has only collected 303 yards this season, down significantly each year from a high of 1,045 as a sophomore.
Missouri not only needed a tie-breaker with Tennessee on the football field, but the two are also tied as the states that border the most other states, at eight apiece.  Missourians do not, however, offer in-state tuition rates to the children of residents of those other states.  If one were a stereotypical liberal dingbat, one might call them xenophobic for that, to which their response would be, "Yes, the Warrior Princess frightens us very much."
Syracuse 45, Missouri 42
Nc State at Clemson
The Wolfpack's 37-6 wipeout of Wake Forest was the first good game they'd played since shocking Florida State more than a month earlier.  In the meantime, they've edged injury-riddled Maryland 20-18, collapsed in the fourth quarter of a 43-35 loss to rival North Carolina, been blown off their home field by a bad Virginia team, 33-6.
When the topic of the Tigers comes up, everyone talks about QB Tajh Boyd, and for good reason, but if this team secures a BCS bowl bid, it will be because of the way its defense has tightened up in the second half of the season.  Over their past four games, they've given up only 50 points, after yielding 111 in their previous three.
If the Son of Clem is a Tiger, then he must be the son of Clem the Tiger, the ripoff mascot of Flaky Puffs, one of those discount cereals that comes in a bag instead of a box.  No wonder Dabo Swinney's team is playing with a chip on its shoulder, having grown up in the shadow of a big celebrity like that.
The end of the season can't come soon enough, can it?
Clemson 52, Nc State 34
Arizona at Utah
Bruising Wildcat running back KaDeem Carey set a Pac 12-slash-10-slash-8 single-game rushing record last week, with 366 yards in a 56-31 rout of Colorado.  Carey also scored five touchdowns, while carrying the ball just 25 times, for an average of 14.6 per carry.
The Utes had been feeling their oats after consecutive 49-point explosions against California and Washington State, until they were dominated in virtually every facet of last week's 34-15 loss at Washington.  For the game, Kyle Whittingham's team only scraped up 188 total yards, while going 1-for-13 on third-down conversions.
The College Football Czar once purchased a box of Quaker Oats just so he could feel them.  It turned out to be one of the more overrated experiences of his life.  Just in case you were thinking of trying it yourself.
Arizona 47, Utah 28
Brigham Young at San Jose State
The Cougars' 52-13 mashing of Idaho guarantees them a berth in the Poinsettia Bowl, where they may face one of their traditional rivals from the Mountain West.  Since that game gets the second selection out of that league, there is a good chance that BYU would face the home team, the San Diego State Aztecs.
SJSU has proven that the scrap it put up in an opening 20-17 loss to Stanford was no fluke.  Mike MacIntyre's team has since won eight of nine, including a quality road win over that Aztec team, and a shutout of Navy.
It's a little-known fact that the Spartans' hometown was originally called "Sans Jose."  Then, one day Jose showed up, and nobody knew what to do.
San Jose State 21, Brigham Young 20