The College Football Czar
Week 12
<![if !vml]>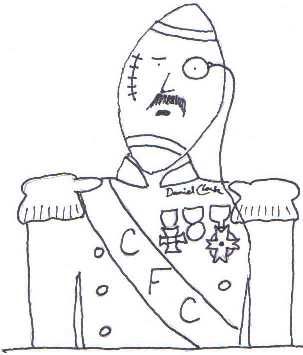 <![endif]>
Week eleven in review:  The College Football Czar should have stuck with his preseason projection of Pitt-Clemson as a booby-trap game, but by the time Week 11 rolled around, it just didn't seem realistic.  The #2 Tigers were the highest among a trio of Top 5 teams to get toppled last Saturday, followed by #3 Michigan and #4 Washington.  Of the three of these, the Czar correctly picked UW's loss to USC.
It's been over a month since Fewer Miles was fired, but now there are even fewer Miles left among the head coaching ranks, with Trent Miles being dismissed from Georgia State after going 2-8 in 2016.  Just last year, he was being lauded for leading GSU to its first bowl appearance, but he didn't even last until the end of this season.  The Panthers must be confident that they can attract a better candidate, now that they're moving into their new digs at Turner Field.
Despite the dramatic shakeup, the Czar managed to keep his sea legs to finish the week at 11-7.  For the season, his record stands at 120-76, with his winning percentage unchanged at .612.
Nov. 18
Memphis at Cincinnati
The Tigers had three shots into the end zone in an effort to tie the game against South Florida with seconds remaining. If they hadn't begged for flags on the first two plays, perhaps they would have gotten the call on the blatant interference penalty on fourth down.  Instead, they walked off with a 49-42 defeat, leaving them at 6-4, and out of the race in the AAC West.
Bad officiating marred last year's 53-46 Tiger victory over UC as well.  That game was tied with about two minutes left, when the Bearcats clearly recovered a fumble in Memphis territory, but the replay officials overruled the correct call that had been made on the field, allowing MU to proceed on its drive for the winning touchdown.
As long as the Tigers are in town, we'll see if the Cincinnati Bengals ask for their helmets back.  If somebody was going to swipe its helmets from the NFL, you'd think they'd pick a helmet design that was a little less embarrassing, like that of the Jacksonville Jaguars, perhaps.
Sike!
Of course, the Czar is aware that it's spelled "psych," but people who actually use the word don't know that.
Memphis 49, Cincinnati 31
UNLV at Boise State
BSU went on a road trip to Hononlulu last week, where they beat the poi out of Hawaii, 52-16.  And then they stuffed it right back in, because poi is nasty, and they didn't want to look at it any longer.  The Broncos so humiliated the Rainbow Warriors that UH coach Nick Rolovich had the benches taken away from his sideline so that his players would be forced to stay on their feet for the rest of the game.  The College Football Czar only wishes he'd been there, so he could ask the players, "You gonna stand for that?"  Then he could have sued the school for a bundle, after whatever happened next.
The Rebels (4-6, 3-3) cannot catch San Diego State in the West division of the MWC, but they threw the Mountain division into chaos last week, with a zany 69-66 triple-overtime upset of Wyoming.  In the only defensive highlight of the game, cornerback Torry McTyler picked off a pass in the third frame of OT, allowing his team to win with a field goal.  Frankly, the Czar was surprised Torry was able to maintain his concentration to make the play, the way his party has been roiling over Brexit these days.
For the benefit of any Gary Johnson voters out there, "Brexit" is short for "British exit," meaning from the European Union.  Just in case you were wondering why you've never heard of such a thing as "Brteeth."
Boise State 38, UNLV 20
Nov. 19
Duke at Pitt
The Panthers aren't the only ones who pulled off a shocker in the ACC last week.  In a Thursday night game, the Blue Devils notched their first conference victory of the season, downing rival North Carolina 28-27.  In doing so, they kept their flickering postseason hopes alive, but it will be a cold day in you-know-where if they actually make it.  After this visit to Heinz field, they finish the regular season with another road game, in Miami.
For anyone who doesn't already know, Pitt knocked off #2 Clemson 43-42, in the biggest among many upsets in Week 11.  Their defense was gashed again, this time for 630 total yards, but they held the Tigers off the board in the fourth quarter, during which they rallied from an 8-point deficit.  Senior kicker Chris Blewitt drilled a game-winning 48-yard field goal with six seconds remaining.  As if he hadn't had enough motivation already, he learned earlier in the game that if he misses, coach Pat Narduzzi is liable to kiss him.  Not that there's anything wrong with that, even though there is.
Aside from dropping UNC, the Devils had Louisville on the ropes in Week 8, but let them escape after a totally needless roughing the kicker penalty.  Against the ACC's also-rans, however, they've been run over, with losses to Wake Forest, Virginia and Georgia Tech.
Panther defensive end Ejuan Price has a silent "E" on the front of his name, and he plays in cutoff shorts.  The rules just don't apply to this guy.  He probably even eats those little moisture packets out of the shoeboxes.
Pitt 42, Duke 37
Penn State at Rutgers
The Nittany Lions' struggles away from home continued in a 45-31 win at Indiana, which was a lot tougher than the final score suggests.  They're no more threatened by a trip to Piscataway than they would be by psketti, however, the way the Scarlet Knights have given one limp performance after another.  True, PSU is badly beaten up on its offensive line, but don't expect that to show as a real liability until their bowl game.
A week ago, RU had a chance to break into the win column against another team that had been o-fer in conference play up until that point, but they got slobberknocked by Michigan State, 49-0.  It was the Knights' third shutout loss of the season, and the other two, to Ohio State and Michigan, were by even greater margins.
Last year, a bunch of typical collegiate rattlenoggins protested the Scarlet Knight mascot, on the basis that he, being an individual, is not "diverse."  They proposed to create multiple mascots, representing all ethnicities and sexual proclivities.  If they can come up with at least eleven of them, rookie coach Chris Ash might ask them to walk on.
Penn State 58, Rutgers 7
Oklahoma at West Virginia
The Mountaineers have got the best overall record in the Big XII at 8-1.  If they can hand the Sooners their first conference defeat, they'll be rooting for OU in the Bedlam game, because they'd lose a tie-breaker with Oklahoma State.
At this rate, Big Game Bob might get another chance to try out his moniker this year.  Finishing the season with consecutive games against ranked teams, his Sooners stand a chance to jump over all the other two-loss teams, even without getting to play in a conference championship game.
Against Texas, WVU was outgained by 153 yards.  They gave up more yardage than they gained both on the ground and through the air.  They were a minus-one in turnovers and had five more penalty yards than the Horns did.  Yet they won, 24-20, without even the benefit of a score on special teams.  That's a pretty neat trick, but they'd better not count on being able to do it again.
Perhaps jealous of the attention being heaped on OSU coach Mike Gundy's mullet, Dana Holgorsen has reclaimed the title the Czar bestowed upon him a few years ago: the Medusa of Morgantown.  You won't really turn to stone if you look at him, which is a good thing, because if you did you might crumble after you fell over laughing.
Oklahoma 34, West Virginia 27
Stanford at California
The Golden Bears went kerplooey at Kabam Field in a 66-27 loss to Washington two weeks ago, but until then they'd won five straight at home, including an upset of Utah back in Week 5.  They've also defeated Texas and Oregon, although those results don't mean nearly as much as one would have thought they did ten weeks ago.
At 7-3, with a 5-3 record in Pac 12 play, the Cardinal are considered a disappointment, but consider that the three teams that have beaten them are Washington, Washington State and Colorado, which have a combined record of 25-5 overall and 19-2 in the conference.
The people from these elitist Bay Area institutions are so insular that they imagine the whole country recognizes this as "The Big Game."  Then again, they also think people love tofu, and demand to know what Lena Dunham thinks about things before they make up their minds.
Stanford 23, California 12
Florida at LSU
This meeting was originally scheduled in Gainesville in Week 6, but it was canceled due to Hurricane Matthew.  When the two schools negotiated its rescheduling, Louisiana State managed to have the game moved to Baton Rouge.  For an encore, they will now make Mexico pay for the wall.
Actually, they've merely swapped this year's game for next, meaning that in 2017 they play at The Swamp, which might not prove to be so shrewd after all.  If the Tigers contend next season, as they always expect to do, there better not be any squealing about their having to face both UF and Alabama on the road.
In addition to home field, the Bayou Bengals also get Leonard Fournette, who would have missed the game due to injury when it was supposed to have been played.  Fournette was flummoxed by Alabama two weeks ago, but in his other two games since returning, he scored three touchdowns apiece against Ole Miss and Arkansas.
The Gators were originally supposed to have had a date with the Presbyterian Blue Hose this Saturday.  A date?  With hose?  My, but those Presbyterians are formal
LSU 22, Florida 7
Virginia Tech at Notre Dame
North Carolina's loss to Duke left the Gobblers in sole possession of first place in the Coastal division, until they became the latest ranked ACC team to be upset, 30-20 by Georgia Tech.  Still, Tech would advance to the conference title game if the season ended today, by virtue of their earlier blowout win over UNC.
In case you were wondering what that nearly invisible pattern was on the Fighting Irish helmets during last week's 44-6 romp over Army, it was the facade of the Basilica of Sacred Heart on the Notre Dame campus.  It was not Notre Dame cathedral, which we all know is not in South Bend, but in Ireland.
What?  The golden domers named their school after the cathedral, and Maureen O'Hara was in the movie.  So it must be Irish, right?
Virginia Tech 20, Notre Dame 10
San Diego State at Wyoming
Rampaging running backs Donnel Pumphrey and Brian Hill lead their respective teams into a game that could be a preview of the Mountain West conference championship.  That league actually boasts three of the nation's five leading rushers, including Boise State's Jeremy McNichols, which probably says more about the brand of defense that's played in the MWC than it does about those three players, excellent though they are.
According to the corny theme song, the Man from Laramie "was friendly to everyone he met," but that's no reason for the four giveaways that cost the Cowboys their 3OT game against UNLV.  The Pokes' generosity may have come at the expense of their first division title since they lost the WAC championship to Brigham Young in 1996.
The Aztecs have the same overall record as, and a better conference mark than, #20 Boise State.  If only their one loss had been to a more formidable opponent than South Alabama, they'd be in the running for a New Year's Six game.
In The Man from Laramie, Jimmy Stewart's character is on a deadly mission of vengeance.  He carries it out really pleasantly, though.  "Reach for the sky, and Meeerr-ry Christmas, you wonderful old villain, you!"
San Diego State 47, Wyoming 43
Clemson at Wake Forest
Through most of the first half, the Demon Deacons' game against Louisville looked like it was following a movie script.  Unfortunately, that movie was Gus, in which the good guys could do nothing but kick field goals.  Not only did Wake's 12-0 lead not hold up, but the Cardinals piled up 34 fourth-quarter points for a 44-12 final.
Tiger QB Deshaun Watson passed for an ACC record 580 yards against Pitt, but his team only rushed for 50 yards on 25 carries.  With a chance to put the game away, they failed at two attempts to pick up a single yard, giving the Panthers a short field from which to set up the winning field goal.
Okay, so the Deacons' game wasn't exactly like Gus, considering the fact that the title character in that film was … um … a mule, if you want to get really technical about it.  They don't let mules play football in North Carolina.  Just wait until the NCAA, the ACC and PayPal find out about that.  There'll be hell to pay.
This just in: Wake now suspects somebody of stealing their game plan and providing it to the Cardinals for last week's game.  How else would the Cards have guessed that the Deacons would repeatedly trudge very slowly and deliberately toward the line of scrimmage, in hopes of the defenders happening to saunter out of the way?
Clemson 33, Wake Forest 18
USC at UCLA
Maybe the Trojans won't win the Pac 12 championship, but they've been the best team in the league for as long as freshman Sam Darnold has been the starting quarterback.  Any doubts about that were answered in last week's emphatic 26-13 road win over previously unbeaten Washington.
The Bruins' season would lie in ruins if they hadn't ended a four-game losing streak by beating Oregon State, 42-28.  If the 4-6 blue bears can beat SC in this rivalry game, they'll have a chance to salvage their season in their finale against Cal.
In this game, both teams traditionally wear their home uniforms, even though only one of the crosstown rivals can be the official home team.  Hmmm.  Combatants clad in red and blue, each claiming ownership of the same turf in Los Angeles.  This will not end well.
USC 30, UCLA 13
Northwestern at Minnesota
The Gophers didn't go very pher in the second half of a 24-17 defeat at Nebraska.  Leading 17-10 at halftime, they were held to 93 yards the rest of the way, 56 of which were wasted on a late drive that ended with an interception.  The loss takes the luster off a promising season for the radiant rodents, who have fallen to third in the Big Ten West.
NU has made an impressive rally from a disastrous 0-2 start, but it will mean nothing if they don't win at least one of their last two games to secure a bowl bid.  Not that 5-3 in their last eight games is a big deal, but those three losses have been competitive games against Nebraska, Ohio State and Wisconsin.
The Golden Gophers get to keep TCF Bank Stadium all to themselves this season.  That's because the Vikings have moved into their new, stinkbug-shaped, domed monstrosity, that has the additional effect of deafening the fans, promising oodles of lawsuits in decades to come.  The total cost of the building is just over a billion dollars, more than three times the cost of the Gophers' digs.
The amount the state agreed to kick in, just under $350 million, was supposed to have come from – all together now – casinos!  If only they'd had the foresight to bet that projected gambling revenues would fall far short of expectations, they might actually be able to pay the place off someday.
Northwestern 25, Minnesota 21
Washington State at Colorado
The Buffaloes (8-2, 6-1) lead USC by half a game in the Pac 12 South, but if the Trojans handle UCLA as expected, CU will need to beat both WSU and Utah.  At least they do have both games at home in Boulder, where they are 5-0 this season.
The window of opportunity for the rest of the conference to stop Mike Leach's team may have closed.  The Cougars had only scraped by UCLA, Arizona State and Oregon State by an average of five points each.  They'd have been in big trouble if they'd run into a contender during that time, but since then, they've trounced Arizona 69-7 and California 56-21.  True, the Buffs are rated #11 in pass defense, but in the only test they've had comparable to this one, USC's Sam Darnold perforated them for 358 yards and three TDs.
Cougar coach Mike Leach should fit right in when he travels to Colorado.  Ever since that ballot initiative passed a few years back, a lot of the people in that state have been walking around with the exact same facial expression he's always got.
Washington State 40, Colorado 31
Southern Miss at North Texas
The Golden Eagles (5-5, 3-3) have lost consecutive games to the two newest teams in Conference USA: Charlotte and Old Dominion.  With a season finale against runaway West division leader Louisiana Tech, they'd better do a bang-up job this week in Denton if they want to play in the postseason.
A year ago, UNT suffered the worst defeat to a lower-division team in Division I-A history, 66-7 to Portland State.  Now, under rookie head coach Seth Littrell, this season's Mean Green are 4-6.  With their final game at UTEP, a bowl bid is not that unlikely.
Shouldn't USM be called "Southern Mrs.," since they play in the state of Missus-sippi?  Perhaps the Czar oughtn't complain.  At least it's not "Southern Gender-Based Appellation of One's Choice."  Not yet, anyway.
Southern Miss 46, North Texas 38
Arizona at Oregon State
Both teams are 2-8, but only the Wildcats are winless in Pac 12 play.  Ironically, their only conference game that's even been competitive was an overtime loss to North division powerhouse Washington.  Meanwhile, the Beavers' blowout loss to that same UW team has been the only game in their five-game losing streak that hasn't been reasonably close.  Last Saturday in Pasadena, they stayed within a touchdown of UCLA until a late interception return put them away, 38-24.
U of A coach Rich Rodriguez might turn to Anu Solomon at quarterback for this game, although if he does, there might be an element of superstition in that decision.  In last year's meeting, Solomon returned from injury to start.  He was unremarkable, but the Wildcat running game and defense dominated OSU, 44-7.
Cat fans should take heart, because there is a bright side to their season ending in November.  Now, Rich Rod with his red face so bright, will be free to guide Santa's sleigh.  They won't let him play in any reindeer games, though.  It's not that the reindeer are bigoted against the red-faced.  It's just that they're afraid he'll get mad and start breaking things.
Oregon State 18, Arizona 15
Miami at Nc State
The Wolfpack ended a four-game slide to even their record at 5-5 with a 35-20 win at Syracuse.  The Orange, however, are a losing team that was without its starting quarterback, so that result is no more encouraging for NCSU than its losses to Clemson and Florida State.
Prevailing winds have returned to Coral Gables, as the Hurricanes have handed lopsided losses to Pitt (51-28) and Virginia (34-14), to become bowl-eligible at 6-4.  Quarterback Brad Kaaya gets straight A's for his outing against the Panthers, but he could have stood to bone up on the Cavs a little more, before getting crammed for a 14-for-29 performance.
These teams have split the four games they've played since becoming conference foes.  Before that, it was the Canes of the Big East who won when they met at the prestigious Micron PC Bowl in 1998.  It helped that they got to play in their hometown, but then you knew that, because if there's anything easily identifiable with the city of Miami, it's microns.
The Miami Microns were not the team that Gus played for, but perhaps it will be, in the sadly inevitable Tony Danza remake.
Miami 45, Nc State 27
South Florida at SMU
Some of us had the misfortune of reading John Steinbeck's tedious book The Red Pony in middle school, even though the stupid horse met its demise a third of the way through the story.  That's what the Mustangs' season must have seemed like until their shocking 38-16 romp over Houston in Week 8.  They've since rallied to a 5-5 record, but they still must upset USF or Navy.
The doorknocker-heads are banging away at the entrance to the AAC title game, but in order to get in, they'll have to win their last two games, say "swordfish," and hope that Temple is upset by either Tulane or East Carolina.  Their finale against neighboring rival Central Florida is a big game, but not enough so to make them look past this surging Southern Methodist team.
Okay, so it probably isn't really important that they say "swordfish," but can they afford to take that chance?
South Florida 34, SMU 32
New Mexico at Colorado State
The Rams are 5-5, right where they were at this time last season, when they went to Albuquerque and knocked off UNM, 28-21.  They finished the regular season at 7-5, but were upset that they were matched against Nevada, another Mountain West team, in their bowl game.  The Czar suspects that if they get a similar opportunity this year, they'll gladly accept it, and shaddap.
The Lobos couldn't go much lower than consecutive losses to New Mexico State and Rutgers, so they've turned things around to win five straight, tying Wyoming and Boise State atop the MWC Mountain division standings.  They may not have one of this league's dominant running backs, but they do have two rushers, Tyrone Owens and Teriyon Gipson, with over 900 yards apiece.
Sophomore RB Izzy Matthews is not the star of this CSU team, nor does Izzy emit stars from his posterior like his namesake, the 1996 Olympic mascot.  He sure does shine when he gets the chance, though, scoring six touchdowns on 49 carries over the past four games.
In cartoons, stars emanating from one's body indicate pain, yet Olympic Izzy looks positively giddy about it.  Perhaps he could become one of those many new mascots at Rutgers.
Colorado State 27, New Mexico 23
Oklahoma State at TCU
The Cowboys remain in the Big XII race, but barely, after Texas Tech missed an extra point with less than two minutes to play in a 45-44 OSU victory.  In that game, they actually scored one point fewer than the average that the Red Raiders are giving up.
Two weeks ago, the Horned Frogs went through Waco like Janet Reno, leaving Baylor's season smoldering after a 62-22 siege.  Many of their previous efforts have been far less incendiary, however, including an opening struggle against I-AA South Dakota State, a one-point win over woeful Kansas, and an overtime loss in which they only scored 24 points against Texas Tech.
You can tell with one look at Pokes' coach Mike Gundy that he's not in the habit of listening to people.  Nevertheless, the College Football Czar would like to pass along to him the sage advice of "idea man" Bill Blazejowski: "TRIM THAT!
Oklahoma State 48, TCU 29
a sports publication from The Shinbone