The Original College Football Czar
Week 12
<![if !vml]>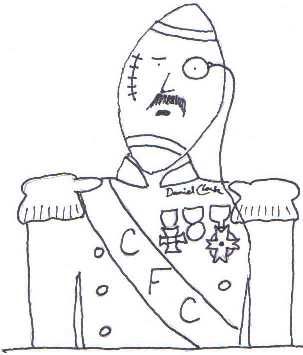 <![endif]>
Week eleven in review: Fifteen more games were postponed or canceled in Week 11, and it looks like Week 12 is going to challenge that mark. The Czar agreed with the way this was phrased on the Fox Sports ticker, which was that the games were scratched "due to COVID-19 concerns." It's not literally COVID-19 that's been responsible, but "concerns."
The non-sheep-people among us have been observing the logical inconsistency of coronavirus shutdown rules for eight months now. For instance, why are you only allowed to go to a bar until 10PM, and then only if you're ordering appetizers? Does the coronavirus go seepy-bye at ten o'clock? And why are pharmaceutical companies racing each other to develop a vaccine, if an order of zucchini sticks will repel the virus just as effectively? The College Football Czar would like to add to that list the question of why the incubation period is so much longer, and so many more contacts are identified, among college football players than in the pros. We know that Antifa mobs are exempt from social distancing guidelines, so maybe the NFL gets a pass for the same reason.
With such a wide disparity in games played among the teams at this point in this most abnormal season, the AP seems to have the rankings pegged pretty well, as far as having those teams most likely to reach the CFP ranked at the top. One could quibble with Ohio State being #3 with only three games played, whereas Cincinnati and Brigham Young have proven themselves over two-thirds of a season, but really, which team among those three is most likely to be there by the time they're all finished playing their regular season games? The Coaches Poll, unfortunately, is still subscribing to the SEC supremacy theory. All right, so Wisconsin and Oregon are each only 2-0, but why should they both be ranked behind 4-2 Georgia? Are the Bulldogs still being given that much credit for beating Auburn? That's the way things go, according to the theory. The SEC is presumably so far greater than all the other leagues that every win is more impressive, and every defeat less damaging, among games played within that conference.
Among the games the Czar picked that were actually played last week, he finished 7-3. His season record stands at 91-51, for a .641 winning percentage.
Nov. 20
Syracuse at Louisville
SU was often a stumbling block for apparently superior Cardinal teams in the Big East, but since these two have become divisional rivals in the ACC, Louisville has won five out of six, to break a 6-6 series deadlock and take an 11-7 lead.
The 2-6 Cards are in a four-way tie for last place in the conference, along with the Orange-don't-call-us-men, Duke and Florida State, with a league record of 1-6. A week ago, they fumbled twice in the fourth quarter, leading to ten Virginia points in a 31-17 setback. This, in spite of a career-high 197 rushing yards by quarterback Malik Cunningham, who also threw for 161, but gave up a costly pick-six. Speaking of Malik, there hasn't been a Micale sighting in quite a few weeks. Has he been quarantined? And if so, how does Malik avoid being identified as a contact?
Dino Babers' high tempo offense has been going nowhere fast. In fact, they rank fourth-worst in the nation in total yardage, at 263.8 yards per game. The three teams rated below them at least have the excuse of not having played many games, so that their pitiful results might be an aberration. The Orange, on the other hand, have had eight games in which to establish their impotence.
In the Middle Ages, people sometimes studded oranges with cloves, and carried them around believing they warded off infections. Turns out the orange was no more successful then than it is now. Neither were the voices of science.
Louisville 30, Syracuse 15
New Mexico at Air Force
The Lobos are 0-3 under rookie coach Danny Gonzales, but over the past two weeks, they've only lost at Hawaii by six points, and to Nevada by seven. They might have knocked off UNR had quarterback Tevaka Tuioti not missed the game with a concussion. Backup Trae Hall was picked off twice, but he did record a touchdown reception, on the other end of a pass thrown by running back Bryson Carroll.
One might have thought the Lightning Eleven had been on strike, it's been so long since they've been seen in action. The postponement of their visit to Army was followed by the cancelation of last week's game at Wyoming. At 1-2, they haven't won since their season opener, a 40-7 romp over Navy back in Week 5, while the rest of the Mountain West was still in mothballs.
Tevaka Tuioti has a Hawaiian name, but he hails from Long Beach. So, he's really a throwback to the non-Hawaiian quarterbacks form days of yore. Did you know, for example, that Y.A. Tittle was not Hawaiian? Just a tantalizing tidbit of trivia that the Czar likes to use to impress people at parties.
How did they get to be days of yore anyway? Are you hoarding them? Time fascist!
New Mexico 33, Air Force 26
Nov. 21
Virginia Tech at Pitt
The Panthers were still stalking a division title last year when they were blanked in Blacksburg, 28-0. This time, they're just trying to salvage a reasonable shot at a winning season, currently at 4-4 with a game left against Clemson.
Tech tailback Khalil Herbert is #6 in the nation in total rushing yards, but for someone with more than a hundred carries, his 8.2 per-carry average is astronomical. A significant factor in last week's 25-24 loss to Miami was the fact that Herbert, who is healing from a hamstring injury, only got eight carries for 49 yards.
The 4-4 Gobblers battled for several difficult weeks through a massive rash of coronavirus quarantines, which makes the College Football Czar wonder how necessary it really was to postpone last week's Pitt-Georgia Tech game. On a roster of a hundred or so, you're still going to have enough players to put on the field, even if somebody has to play out of position. This is football. Stuff happens. Adapt and move on, already.
It was only two years ago that Pat Narduzzi's team trampled Tech 52-22, with 492 rushing yards. The only thing harder to believe is that they voluntarily abandoned their dominant ground game the next season with the hiring of offensive coordinator Mark Whipple, and that Narduzzi doesn't seem to second-guess that decision.
The College Football Czar is unsure of what Whipple's role is, actually. He runs the offense of a team that compiles fewer yards per game than Middle Tennessee, and there's not even any Charmin on the shelves for him to ask people not to squeeze.
Virginia Tech 12, Pitt 10
Iowa at Penn State
Since every Penn State game is the Super Bowl, and they've lost four in a row, they must now be the Buffalo Bills. Is that a promotion?
For the second week in a row, the Nittany Lions coughed up an untimely touchdown on a fumble return in an unexpected loss. In Week 10 they gave up a defensive TD to trail Maryland 35-7 on the way to a 35-19 defeat, and last Saturday their offense gave up a score to give Nebraska a 24-3 lead, in a game they ultimately lost 30-23. Both of those opposing scores resulted from fumbles by QB Sean Clifford. Largely as a result of that, sophomore Will Levis stepped in against the N-men, but he completed only 14 of 31.
The Hawkeyes went hog wild on rival Minnesota last Friday, as they ran away with Floyd of Rosedale by a final of 35-7. Since a tough 0-2 start, they have now squelched two consecutive opponents to a single score apiece, having handled Michigan State 49-7 a week earlier.
PSU's James Franklin is definitely not having one of his better years as a football coach. Luckily, he is a man of many talents: impressions, for instance. Have you seen him with his gaiter pulled up over his nose? He's one of the scrubbing bubbles. Hoo-hoo-hoo-hooooo!
Iowa 17, Penn State 13
Appalachian State at Coastal Carolina
The two-time defending Sun Belt Conference champions from Boone, NC take the teal field of Brooks Stadium to face the 7-0 Chanticleers. Nobody, including the College Football Czar, gave CCU half a Chants of reaching the conference championship game, but if they can upend App State, they'll have the equivalent of a two-game lead in the East division.
The Mountaineers barely survived a 17-13 scrap last week against Georgia State, the same team that had been annihilated a week earlier by this Chanticleer club, 51-0. Is that comparison indicative of this week's matchup? The College Football Czar is guessing no. It could simply be that the Panthers inexplicably played a terrible game against Coastal, and that the Eers took them lightly because of it.
Coastal Carolina is so named because it is right next door to Myrtle Beach. For that reason, they refer to their aqua-colored field as "surf turf." They just can't afford to let the App State running game scampi around. ASU is the ninth-best rushing team in the nation, just a tenth of a yard per game behind Wisconsin. Wait a minute, there was no seafoody reference in that last sentence. Oh, um ... they would have easily made up that tenth of a yard, if they hadn't gotten a bad spot. Get it?
Can you believe there's still a month of this to go?
Appalachian State 34, Coastal Carolina 32
Indiana at Ohio State
At 4-0, the Hoosiers are the closest thing to competition for the Buckeyes in the Big Ten East. Last Saturday, they took the Old Brass Spittoon from a meandering Michigan State team, 24-0. This team's success is somewhat illusory, however, in light of the underachievement of both Penn State and Michigan. Including those two, IU's opponents so far have a combined record of 3-13.
The 3-0 Buckeyes have beaten both Penn State and Rutgers more easily than the final scores would lead one to think. They pounded PSU early for a 21-3 lead before cruising the rest of the way to a 38-25 win, and they let up on Rutgers with a 42-9 lead after three, yielding three late scores for a final of 49-27. In three games, QB Justin Fields has thrown eleven TDs without a pick, while completing 86.7 percent of his passes. In 2019, he was only intercepted once all regular season, but then tossed two away in that epic Fiesta Bowl loss to Clemson, including that decisive INT in the end zone.
A lardhead conundrum: The Hoosiers had gone 1-22 all-time against Penn State before edging them in this year's opener. Then, they were only 9-59 against Michigan before beating the Wolverines for the first time since 1986. Now, they face an OSU squad against which they have a record of 12-76-5, without a victory since 1988. Does that mean they're due to bump off the lumpy nuts? Or are they due to lose to a team to whom they usually lose?
Ohio Stadium is known as The Horseshoe, for obvious reasons, if you've seen it. They say that close only counts in horseshoes. It doesn't count so much in spittoons. Nor does not-close count for much in The Horseshoe.
Ohio State 41, Indiana 23
Oklahoma State at Oklahoma
This may not be as big a game as it has been throughout much of the past 20 years, but there's still probably a conference championship berth at stake. OSU is only a half-game behind league-leader Iowa State, with a head to head victory as a potential tie-breaker. The Sooners (5-2, 4-2) are in a three-way tie for third place, but a win could potentially pull them into a three-way tie for first.
Under-utilized Sooner senior Rhamondre Stevenson has only played the past two games of this season, during which he's rushed for a total of 191 yards with five TDs, while also gaining 73 yards on six catches. Stevenson is from Las Vegas, but he bears no resemblance to Sin City native Andre Agassi, except for his long locks. Perhaps if he starts balding, he can shave his head and play it off as a fashion statement. Presumably, the similarities would end there. He will not proceed to brag about testing positive for ecstasy, for example, or show people a nude picture of his wife against their will.
This rivalry has been known for decades as the Bedlam series, but perhaps no longer. Cowboy running back Chuba Hubbard probably objects, on the grounds that it's lunaphobic, or some such thing. Perhaps they could rename it the Equality series! Won't that be fun?
Chuba Hubbard is Canadian. So is Dominion Voting Systems. So is William Shatner. Coincidence? The College Football Czar thinks not! Shatner is the exception that proves the rule. Hubbard is in cahoots with Dominion to foist upon the American people a president who doesn't know the color of orange juice. A retweet with 19 Likes doesn't lie.
Oklahoma 39, Oklahoma State 30
Cincinnati at Central Florida
Last time sports in Cincy saw a machine like this, Johnny Bench was known as something other than the Blue Emu guy. The 7-0 Bearcats have been beating their opponents by an average score of 42-12. That's not being warped by a couple mismatches, either. UC has stomped SMU 42-13, Memphis 49-10, and Houston 38-10.
UCF quarterback Dillon Gabriel doesn't blow his own horn, or else everybody would know about the season he's having. The Hawaiian-born (unlike Y.A. Tittle) sophomore trails SMU's Shane Buechele by only seven yards for the national lead, while having played two games fewer. Meanwhile, he has thrown 23 touchdown passes, with only two picks.
Being without a sponsor this season, the stadium that is nicknamed The Bounce House has temporarily adopted that as its official title. It was so named because the stands tend to bounce and shake when the fans get excited. The same is supposedly true of Heinz Field, but the College Football Czar has never observed it first-hand. Being a longtime Pitt season ticket holder, he has yet to experience this phenomenon of fan excitement.
Cincinnati 38, Central Florida 17
Wisconsin at Northwestern
The rest of the Big Ten regular season could be anticlimactic, once each division is left with one unbeaten team after this Saturday. While 4-0 Indiana travels to 3-0 Ohio State in the East division, 2-0 Wisconsin tangles with 4-0 Northwestern for sole possession of the lead in the West.
The Wildcats have won their last three games by a combined total of 16 points. They've played excellent defense as usual, but their offense has not been able to pull away. Quarterback Peyton Ramsey has only six touchdowns to four interceptions, and nobody on the whole team is averaging as much as 50 rushing yards per game.
Generally speaking, the College Football Czar loathes the running back by committee approach, but in the Badgers' case, they must have held a Zoom meeting against Michigan, when their two tailbacks and two fullbacks combined for a total of 234 yards.
The Czar can't explain why running back by committee seems like a bad idea to him, especially when officiating by committee has been working out so well.
Wisconsin 20, Northwestern 13
Kansas State at Iowa State
For the past decade, this border rivalry between the Wildcats and Cyclones has been nicknamed Farmageddon, which of course is the name of the battle of the end times, in which most of the combatants have already lost body parts to farm machinery mishaps.
It's fitting that running back Breece Hall plays for the Clones, because he replicates himself on a weekly basis. In every game so far, he has rushed for at least 100 yards and one touchdown. Conversely, the K-State ground game has ground to a halt without senior QB Skylar Thompson to complement it. They now find themselves in the precarious position of relying on backup freshman quarterback Will Howard to gain their yardage on the ground, as well as through the air.
Some country folks thought they'd seen the Four Horsemen of the Apocalypse earlier this year, when the formerly Dixie Chicks made a brief reappearance. Except that there were only three, of course, and there were no men on them.
Iowa State 32, Kansas State 20
Mississippi State at Georgia
A pair of Bulldogses do battle in the SEC, which might as well give up its geographic distinctions and just divide itself into the Bulldogs division and the Tigers division. The winners could square off annually in the Clever Bowl.
Everything's gone ugainst UGA in recent weeks, as lopsided losses to Alabama and Florida have all but taken them out of conference title contention. Against UF in Jacksonville, they let the Gators more than double their total yardage. Quarterbacks Stetson Bennettiv and D'Wan Mathis combined to go 9 for 29 with two TDs and three interceptions. Bennettiv sustained a shoulder injury, and may not be able to return to action this week.
Since their big opening victory over LSU, the mud puppies had lost four straight until beating Vanderbilt, 24-17 in Week 10. Even then, Mike Leach's team only scrounged up 204 yards, but made up for that shortfall by going plus-5 in turnovers.
So why is the Air Raid offense moving so slowly at MSU? Somebody convinced Coach Leach that, by rule, his players must say, "one Mississippi, two Mississippi" before making their move.
Georgia 28, Mississippi State 9
UCLA at Oregon
Having opened the season with quality wins over Colorado and California, Bruin coach Chip Kelly might finally be ready to take on his former team in Eugene. Against another up-tempo offense a week ago, the webfoots were kept on their heels for much of the night, before beating back Washington State 43-29.
The Fighting Ducks have lost a lot of talent since the Pac 12 reundispostponified its 2020 season, but they still have plenty of talent and depth in their backfield, with C.J. Verdell, Travis Dye, and short-yardage specialist Cyrus Habibi-Likio. Last season, the three of them combined for 2,315 rushing yards.
Fifty years ago, the people of Lane County, Oregon decided to dispense of a beached whale by blowing it up, as if that would simply make the carcass go away. The people who gathered to watch discovered, to their surprise and horror, that searing hot chunks of blubber soon came raining down upon them. With that kind of foresight, they all could have become Pac 12 commissioners.
Oregon 36, UCLA 27
LSU at Arkansas
The Tigers haven't taken the field since they were blown out by Auburn, 48-11 on Halloween. Their only scheduled game since then, last Saturday against Alabama, was canceled, and anyone in Baton Rouge who claims not to be relieved is lying threaux his teeth.
The 3-4 Razorbacks are one of the most improved teams in the nation, but considering where they are coming from, that does not make them formidable. Last week, they were floored by Florida for four second-quarter touchdown passes in a 63-35 thumping. Granted, their losses have all been to quality opponents, but wins over Mississippi State, Ole Miss and Tennessee don't say a lot about their chances against the team from Baton Rouge.
The winners of this game receive the Golden Boot, a sculpture in the likeness of their two states, which combine to form the image of the aforementioned footwear. If the Bayou Bengals think capturing that trophy would salvage their season, they're lying to themselves, when they ought to be truthin.
If Nancy Sinatra could have a conversation with Ed Orgeron, the English language might never recover.
LSU 27, Arkansas 22
San Diego State at Nevada
Last week, Aztec quarterback Carson Baker only went 4-for-13, for 30 yards and two interceptions. Believe it or not, they won, and without much trouble, 34-10 over Hawaii. It helped that SDSU outrushed the visiting Rainbow Warriors, 326-66.
Following a 27-20 win at New Mexico, the Wolf Pack had better pick up the pace if they want to remain undefeated. In the second half of their season, they face traditional division foes SDSU, Hawaii, Fresno State and San Jose State.
This game is in the Pack's hometown of Reno, a city known to the sports world for its association with a highly controversial sports figure with big, frizzy hair, who says lots of things that rub people the wrong way. Beloved by the media, he is nevertheless, undeniably a villain. But enough about Big Ern.
Nevada 28, San Diego State 24
USC at Utah
The defending Pac 12 South champions could put themselves on course to repeat, by beating this year's favorites from SC. The 2-0 Trojans pulled out another last-minute victory, 34-30 over Arizona. Wide receiver Amon-Ra St. Brown made four of his seven catches on the game-winning touchdown drive. Still, one must wonder, should it have even been necessary against the reeling Wildcats?
The Utes have yet to get their season underway, having been canceled against both Arizona and UCLA. The last two times they took the field, they got blown right off it, in last year's conference title game against Oregon, and then in an uninspired Alamo Bowl performance against Texas.
St. Brown's entire name is Amon-Ra Julian Heru J. St. Brown. His brothers are Equanimeous Tristan Imhotep J. St. Brown and Osiris Adrian Amon-Ra J. St. Brown. The "J." in each of their names is for their father, John Brown, who added the "St." just to be schmantzy. There's a psychology term paper in there somewhere.
One would have to be a special kind of a megalomaniac to add the abbreviation "St." to his own name. What do you suppose his confirmed miracles were? That he may already be a winner?
UCLA 19, Utah 17
Liberty at Nc State
The 8-0 Flames are already 2-0 against opponents from the ACC, having beaten both Syracuse and Virginia Tech on the road. Overall, they've now won their last ten, their most recent loss being almost exactly a year ago, against another ACC foe, Virginia.
The 5-3 Wolfpack won last week to halt a two-game skid, but does beating Florida State really spell an end to their slump? A week earlier, they were walloped for 620 total yards in a 44-41 loss to Miami, in which they let a ten-point, fourth-quarter lead slip away.
If you take a closer look at LU's undefeated record, you'll see that they haven't beaten a single Division I-A team that currently has a winning record. Two of their wins have been against I-AA opponents, and they've defeated such dismal group-of-five teams as Western Kentucky, Florida International, Louisiana-Monroe and Southern Miss.
Cary Angeline may not be a very manly name, but don't tell that to the 6-7, 250-pound NCSU tight end. The senior stomper has at least one catch in every game this year, and his average of 15.5 yards per reception shows just how hard he is to bring down. Actually, he's probably willing to take a certain amount of guff about his name, just as long as you don't sing it to the tune of that cloying Neil Diamond song.
Nc State 41, Liberty 33
Georgia Southern at Army
The 6-2 Eagles are 5-1 in games decided by seven points or fewer. The only two that have not been especially close are a 28-14 loss to division-leading Coastal Carolina, and a 41-0 nonconference smashing of Umass. Expect some great finishes from the rest of their season, during which the Statesboro Blues face Georgia State, Florida Atlantic and Appalachian State.
The Black Knights are 6-2 also, but they lack a win against any opponent better than Texas-San Antonio. Last week, they washed out against the Tulane Green Wave 38-12. Perhaps Army should have stayed leggy for the time being, with QB Christian Anderson throwing two picks, while completing only 4 of 12. When one of the academies has success throwing the ball, it's usually because they do it seldom enough for it to be something of a trick play.
"Statesboro Blues" was written by Georgia bluesman Blind Willie McTell. What the College Football Czar doesn't understand is how Blind Willie knew that he ain't good-lookin. Did he just ask around?
Georgia Southern 22, Army 19
Boise State at Hawaii
Because the Broncos took on nonconference opponent Brigham Young, to whom they lost 51-17, they play seven Mountain West games, whereas most of their conference competitors play eight. That means that even if they win their last four games for a league record of 7-0, they'll still need Nevada to get knocked off by somebody else in order to win the regular season conference title.
These teams met twice last season, once in the regular season, and once in the Mountain West championship game. The Broncs won both of those games on their home field, 59-37 and 31-10, respectively. They're now 7-0 against UH in Boise, but only 6-3 on the road. Throw in a pair of Hawaii Bowl losses, and they're 6-5 all-time in Aloha Stadium.
Todd Graham's "high octane" offense has not been knocking, nor has it announced its arrival in Honolulu in any way. The 2-2 Rainbow Warriors have been held well under 300 total yards in each of their losses, to Wyoming and San Diego State. Come to think of it, what kind of a lardhead brags that his offense doesn't make any noise?
Politically correct rattlenoggins insist on spelling "Hawaii" with an okina. That's the apostrophe that represents a stop between two vowel sounds, as in "Hawai'i." Because the okina is not part of the English language, we're supposed to believe that excluding it is an act of bigotry. One of many problems with that is the fact that the okina is not really Hawaiian, because Hawaiians had no written language until one was created for them by British missionaries. Hooray, colonialism! Right, Barack?
Boise State 30, Hawaii 18
a sports publication from The Shinbone