The College Football Czar
Week 11
<![if !vml]>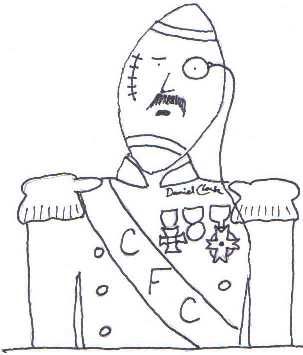 <![endif]>
Week ten in review:  The week certainly had its share of wacky results, but the five remaining unbeaten teams kept their records intact.  The two biggest upsets both came out of the Big Ten, where a lethargic Michigan State offense lit up Penn State for 400 passing yards, while Ohio State played as if the pink had really gotten to them at Kinnick Stadium in Iowa.
The College Football Czar is working on another short week, due to this Thursday's Pitt home game against North Carolina.  Therefore, he must ask once again that you kindly excuse the relative brevity and unliteratude of this week's installment of picks.  As you've probably inferred from the Czar's continued attendance, the Panthers' last home game against Virginia went without incident.  Hopefully, one of the actual players got a hold of Ian Troost and told him that no third-string kicker was going to continue making their season any tougher than it needs to be.  Heaven knows, Coach Narduzzi was not about to do any such thing.
The top five spots in the CFP rankings have held firm since last week, and there are still four one-loss teams ahead of undefeated Miami and Wisconsin.  The Czar sees nothing wrong with that, nor does he have a problem with 8-0 Central Florida being ranked #18, one spot behind Virginia Tech.  UCF is an excellent team, but it is highly unlikely that the 7-2 Gobblers would have a blemish on their record if they'd played the same schedule.  
In Week 10, the Czar went 11-7, which drops his season record to 128-61, for a .677 winning percentage.
Nov. 10          
Washington at Stanford
It's no coincidence that Cardinal running back Bryce Love was contained for the first time all year, nine days after missing a game due to injury.  Without him to rely on, sophomore quarterback K.J. Costello going up against the defending Pac 12 champs will be like the time he met Frankenstein.
Conventional wisdom says this conference is already shut out of the CFP, but what if the 8-1 Huskies proceed to beat Stanford and Utah, then down WSU for the Apple Cup and USC for the Pac 12 championship?  Sure, that's a long way off, but the same can be said of any other one-loss team.
UW won handily a week ago over hated rival Oregon, largely because Duck quarterback Braxton Burmeister posed no threat to them.  Costello, like Burmeister, began the season as a third-stringer, and it showed in last week's 9-for-20 performance in a 24-21 loss to Washington State.
Actually, the Czar must confess that he has no idea what happened when Costello met Frankenstein, because he's never inflicted that movie on himself.  In fact, if we haven't already forced detainees at Guantanamo to watch an entire Abbott and Costello movie, that's something we should seriously consider.
Washington 34, Stanford 20
Nov. 11
Rutgers at Penn State
By NCAA rule, last week's Michigan State-Penn State game should not have been delayed when it was, because there had not been a lightning strike within eight miles of the stadium.  MSU has its own, stricter policy, however, that mandates a delay if the strike is within 15 miles.  Okay, so that explains the initial decision to stop the game, but it doesn't explain why they didn't resume until three hours and 22 minutes later.  Make no mistake about it, that was a rain delay, not a lightning delay.  The hours-long duration of the interruption was announced ahead of time, based on radar images of the approaching weather system, without regard to whether there was any lightning in the area.
This was done in the name of player safety, of course.  Heaven forbid that a football player should ever slip while running on a wet field, and fall down and go boom.  The College Football Czar remembers another MSU-PSU game in East Lansing many years ago, when the old, flat Astroturf had field had frozen solid.  To prevent the players from slipping, the grounds crew scattered the field with nitrogen fertilizer pellets.  That melted the ice all right, but when the game resumed, the players were having their skin and eyes burned whenever they tackled each other.  So thanks, Sparty, but no thanks, for your concern over player safety.
Nevertheless, the Nittany Lions let another one get away, 27-24.  It was the sixth time in eight games that Saquon Barkley was held under 100 yards rushing, and no wonder, since they only gave him the ball 14 times.  Barkley, until recently the presumptive Heisman frontrunner, is averaging 5.7 yards per carry this season, but fewer than 17 carries per game.
The Scarlet Knights' 31-24 win over Maryland was originally scheduled to be played at Yankee Stadium, but had to be moved because they weren't sure the Yankees wouldn't be using it.  If they can pull of an upset of PSU, they may yet live to fight another day in that same ballpark, with an invitation to the Pinstripe Bowl.  More likely, they'll get a one-way ticket to Palookaville.
If there really were such a place as Palookaville, you'd better believe it would be in New Jersey, and that Bruce Springsteen, Joe Piscopo and Chris Christie would be perversely proud of it.
Penn State 55, Rutgers 31
West Virginia at Kansas State
It's been a typically tough year for the Mountaineers in Big XII road games.  So far, they've lost at TCU, and barely escaped Kansas and Baylor.  It's a good thing they've already clinched a bowl bid, because they finish the regular season with another long road trip to face Baker Mayfield and Oklahoma.
The perennially overachieving Wildcats are 5-4 after toppling Texas Tech in overtime last week in Lubbock.  Skylar Thompson – yet another third-string QB pressed into action – threw the game-winning touchdown pass the extra frame to win the game, 42-35.  The freshman had previously led KSU on a late touchdown drive, which he capped by throwing a completion to WR Dalton Schoen for a tying two-point conversion.  You couldn't see from under his helmet whether Dalton Schoen said "thank you" in German after the play, but if he did, it was in a far more masculine voice than Wayne Newton's.
K-State plays its home games at the quaintly named Bill Snyder Family Stadium.  It's a good thing they don't have a family stadium back in Morgantown, because you wouldn't want to be there when they did the "Kiss Cam."
Kansas State 36, West Virginia 33
Georgia at Auburn
A week after holding Florida to 66 passing yards, the Bulldog defense stuffed South Carolina for 43 yards on the ground.  Even the last time they faced this multifaceted an offense, way back in Week 2 at Notre Dame, they only allowed 55 rushing yards, and 266 altogether.
For the first time in over a month, the Tigers return to Jordan-Hare Stadium, where they're 4-0 this season, including a 49-10 mauling of a ranked Mississippi State team.  AU has now won nine consecutive home games, since dropping decisions to Clemson and Texas A&M early last season.  At #10, they are the nation's highest-ranked two-loss team, just ahead of USC and Michigan State.  Needless to say, they will get a shot at the national title if they finish with just two losses, because that would mean they'll have defeated both UGA and Alabama in the meantime.
Does Bulldog coach Kirby think he's so Smart?  He must, because he's got the telltale visor that is worn by every head coach who fancies himself some kind of ultra-innovative genius.  If these guys are so brilliant, then why do they let some slickster sell them 50 percent less hat for their money?
Georgia 21, Auburn 17
Notre Dame at Miami
Does it seem like even the guys at The U are nostalgic for the 1988 "Catholics vs. Convicts" game?  It's as if they don't realize that convicts are bad guys.  After all, the Mean Machine were convicts, and everybody was rooting for them.  Mind you, that's only because the guards' team so closely resembled Penn State.
The Hurricanes' not-always-justified pride was evidently wounded by being ranked tenth despite an unbeaten record, so they took it out on Virginia Tech, 28-10.  In what had figured to be their toughest game to this point in the season, they outscored their opponents by as many points than they had in their previous four games combined.
The Fighting Irish, on the other hand, did not play their best game, but still staved off a very game Wake Forest team, 48-37.  Leading rusher Josh Adams played only the first quarter, during which he got no carries, before being pulled from the game due to fatigue.  Coach Brian Kelly says Adams' absence was not the result of concussion symptoms, but that he just didn't feel right.  Whatever's the matter with him, the golden domers are confident that he and his 8.7 yard-per-carry average will be well enough to play for four quarters this Saturday.
If the Irish win the turnover battle in this game, do they get to wear the Canes' "turnover chain"?  If they did, then they would look just like House of Pain.  And who doesn't want to see those guys again?
Notre Dame 23, Miami 13
TCU at Oklahoma
If you manage to beat Oklahoma State, you can't be too picky about how, but TCU's way of doing it was a lot better than the Sooners' 62-52 shootout victory last Saturday.  As impressive as QB Baker Mayfield's team record 598 passing yards is, that's kind of a dubious accomplishment, in that the team had to keep him in for the entire game in spite of their tremendous offensive output.
The Horned Frogs have held five of their opponents to seven points or fewer, including Texas, whom they defeated 24-7 a week ago.  In this season's only loss, they allowed just 14 points to Iowa State, even though they were a minus-2 in turnovers.  In the Big XII, they are the runaway defensive leaders in both yards and points allowed per game.  The Sooners, to put it charitably, are not.  In conference play, OU is yielding an average of 36.2 points.
The likelihood of a rematch in the Big XII championship game means that one of these teams must beat the other twice to get into the CFP.  In the absence of a conference title game, this week's winner would likely have made it anyway.  It's enough to make the commissioner of the XII start consuming mass quantities of XXX.
TCU 28, Oklahoma 24
Michigan State at Ohio State
Buckeye quarterback J.T. Barrett IV threw an interception for every one of himself, thereby quintupling his total for the season in a shocking 55-24 shellacking by Iowa.  The difference between Barrett's performance against Penn State and the one against the Hawkeyes is such that the Czar may have to revert to his "Five Chinese Brothers" theory.  One week, he completes 16 straight passes while going 33 of 39 with four TDs and no INTs, and the next week he completes barely more than half of his passes, while throwing four interceptions.
Spartan wide receiver Felton Davis must have felt "on" last week against Penn State, when he made 12 catches for 181 yards – both career highs – in a 27-24 victory that leaves his team tied with OSU for first place in the Big Ten East.  All but two of their games this year have been played in their own state, the exceptions being an alarmingly close 30-27 win at Minnesota, and a triple-overtime loss to Northwestern.  Going back to last season, they've been left out in the cold five of the last six times they've ventured outside the Big Mitten.
As I was going to St. Ive's, I met J.T. Barrett IV.  Then I thought, this is going to be a really stupid riddle, and turned around and went home.
Ohio State 32, Michigan State 29
Oklahoma State at Iowa State
The Cyclones have scored big victories over Oklahoma and TCU, each of them in the Top Five at the time.  Their most significant win in team history, however, was a 37-31 upset of OSU in 2011, which kept the Pokes out of the BCS title game.  That victory would be an even better memory for ISU fans if, as they poured onto the field afterward, some lardhead hadn't squashed their enthusiasm by blaring "Sweet Caroline" over the p.a. system at an eye-bleeding decibel level.  Moments like that don't come along often, especially for the Clones, who haven't won a game against the Cowboys since.  Why not give the obnoxious gimmick a rest, just for a few minutes?
After last week's loss to arch rival Oklahoma, Cowboy coach Mullet-head Mike Gundy the Man received some written words of encouragement from OSU benefactor Boone Pickens, whose "T" must be playing checkers with Ross Perot's "H" in the eccentric old folks' home for pompous first initials.  Frankly, the Czar doesn't understand why Pickens' fickle friendliness toward the coach is considered newsworthy, since his relationship to Gundy has in the past been not unlike that between Lennie and the mouse in his pocket.
Speaking of first initials and mediocre "classic" literature, the first time the College Football Czar saw the name "F. Scott Fitzgerald" in print, he thought it was an editorial remark by a typically ornery literary critic.
Oklahoma State 45, Iowa State 34
Alabama at Mississippi State
One would think that the elephant team might not mind losing a few LBs, but the Crimson Tide are hoping to gain a couple back before the end of the regular season.  In last week's 24-10 win over LSU, starting linebacker Shaun Dion and second-stringer Mack Wilson suffered season-ending injuries.  Christian Miller and Terrell Lewis, both injured in the opener against Florida State, were thought to be out for the year also, but recent reports sound hopeful of their return.
If the 7-2 Bulldogs meant to give Bama a false sense of security by only beating Umass 34-23, they probably only failed as far as that "false" part is concerned.  MSU was picked off three times that day, and didn't put the game away until a late, 83-yard punt return for a touchdown by Deddrick Thomas.
Thomas' parents showed tremendous foresight naming their son "Dead Rick."  Who else knew the whole zombie phenomenon would be so popular these days?  That's got to make for a great ice-breaker at frat parties.
Alabama 38, Mississippi State 13
Nc State at Boston College
It's probably been since the years B.C. that BC has fielded this potent an offense.  The only thing that prevented them from scoring in the 40s for a third game in a row was that their Week 9 Friday night rout of Florida State was so firmly in their grasp at 35-3, they didn't need to try to score again.
Last week, Wolfpack defensive end Bradley Chubb repeatedly swiped the hand towel from Clemson QB Kelly Bryant's belt.  At the time, that might have seemed more clever than winning the football game, but it was hardly as practical.  NCSU now needs help from as unlikely a source as Florida State in order to win the ACC's Atlantic division.
After facing their two toughest opponents in consecutive games, the Pack's ferocious front seven will be slobbering to get at freshman Eagle QB Anthony Brown, who has 11 TDs and 8 interceptions this season.  Brown completed only 6 of 20 for 54 yards last time out against the Seminoles.
A supercilious nincompoop would find it strange that the College Football Czar used the abbreviation "B.C." meaning "Before Christ," instead of the politically correct and therefore factually incorrect "B.C.E." for "Before Common Era."  I mean, how can that not have been the common era, when that's where everybody was at the time?
Nc State 26, Boston College 16
Iowa at Wisconsin
The unbeaten Badgers have lost the services of wide receiver Quintez Cephus, and if you don't ce what the phus is all about, you haven't watched him play.  Cephus leads the Badgers in receiving yards with 501, and his 30 receptions are tied for the team lead, also.  In addition, he is an excellent blocker, which is unfortunately how he injured his right leg during a 45-17 win at Indiana.
The Hawkeyes won't often score 55 like they did last week against Ohio State, but they've been consistently competitive against the best teams in their conference, and it turns out that their nonconference win over Iowa State is not so insignificant either.
At Camp Randall Stadium, they play "Jump Around" before the start of every fourth quarter.  The College Football Czar only mentions this to work another House of Pain reference into this week's picks, which he does for the simple reason that he's receiving payola.  Don't believe it?  Just wait until next week, when Bryan Adams will suddenly become relevant to college football in ways you'd never imagine.
Iowa 24, Wisconsin 21
Florida State at Clemson
One thing for sure is that neither of these teams will get caught looking ahead.  That's because these ACC powers are following the disturbing trend set by the SEC of beating up on lower-division teams in mid-November.  Next week, the Seminoles will do stuff to Delaware State, while the defending national champion Tigers sit on the Citadel.  If any star players choose to take a pass on those games on the basis that they're meaningless, that would make infinitely more sense than skipping their bowl games.
If the 3-5 Seminoles can stop the Son of Clem, they will almost assuredly go to a bowl game.  That's because they've rescheduled their hurricane-canceled game against Louisiana-Monroe.  That meeting could not be moved to Dec. 2nd at the time it was washed out because, for all anyone knew, FSU might have had to play in the ACC championship that day.  Kind of embarrassing in hindsight, really.
Even in last week's 27-24 win over Syracuse, the Noles were knocked around for 463 yards.  They prevailed partly because of two totally senseless fourth-down conversion attempts by the Orange.  Nothing about that suggests that they're about to knock off the defending national champs.
Do you suppose that by now, Jimbo Fisher has stopped gloating that he isn't the head coach at UAB?
Clemson 27, Florida State 9
SMU at Navy
Believe it or not, the Midshipmen trail Southern Methodist by half a game in the AAC West standings.  After a 5-0 start, the Naval Academy has lost three straight, and there's no guarantee they'll ever get that all-important sixth victory.  After this, they finish the regular season against Notre Dame, Houston and Army.
At 6-3, this Mustang team has already reached the postseason for the first time since 2012.  Their only losses so far have been to TCU, Houston and Central Florida, and it is not at all clear that the Middies are in a class with those three.  A week ago, the red ryders ran stride for stride with unbeaten UCF, before falling by a final of 31-24.
The Mustangs were a national powerhouse in the early 80s, but have barely been heard from since.  This fact is often attributed to the NCAA's imposition of the "death penalty" in 1987-88, but the Czar thinks the real reason is that they informally nicknamed themselves the Ponies.  I mean, why not just call themselves the Strawberry Shortcakes, or the Cabbage Patch Kids, while they were at it?
SMU 44, Navy 36
Florida at South Carolina
Carolina coach Will Muschamp has followed in the footsteps of Steve Spurrier, another ex-Gator coach who later settled in Columbia.  As a Gamecock, Spurrier went a respectable 3-4 against his old school.  Muschamp is seeking to level his record against UF, after losing to them on his first attempt, 20-7.
The 3-5 Gators have lost four in a row, and the results are becoming more dismal by the week.  Last Saturday's meeting with Missouri should have been a great opportunity for them to get off to a fresh start under interim coach Randy Shannon, but they were easily muzzled by Mizzou, 45-16.  It was an embarrassing display of effortlessness, for which linebacker David Reese publicly called out his teammates, and rightly so.
The College Football Czar doesn't claim to be clairvoyant, but he thinks he can guess what most Gator fans are thinking right about now.  "As long as we're sending ex-coaches to a divisional rival, then why not Ron Zook?"
South Carolina 31, Florida 7
Washington State at Utah
The 5-4 Utes have only faced one prolific quarterback so far.  That was USC's Sam Darnold, who dusted them for 358 yards and a big second-half comeback.  After facing freshman backup QBs in their last two games, how prepared can they be for all-time Pac 12 leading passer Luke Falk?
WSU defeated Stanford last week, 24-21, which gives them the head-to-head edge in case of a tie for the division lead with the Cardinal.  If they can avoid getting licked in Salt Lake City, they'll have a chance to win the Pac 12 North in the Apple Cup against UW on Thanksgiving weekend.
The school that informally calls itself "Wazzu" wants everybody to know that it is in no way affiliated with the late-90s catchword "Wazzuuuup!"  In fact, that short-lived irritant has not yet worked its way to Pullman, Washington, where the word "grody" is just now catching on.
Washington State 40, Utah 24
Virginia Tech at Georgia Tech
The 7-2 Gobblers were out to lunch in a 28-10 loss to unbeaten Miami.  Their offense squandered almost every chance it got, letting down a defense that did its best to keep them in the game by picking off three passes and making a great stand inside the two-yard-line.
At 4-4, the Yellowjackets have imperiled their season by blowing a 28-13 lead against a Virginia team that had been reeling.  Because of that 40-36 defeat, and the fact that they had an early game against Central Florida canceled, GT can only afford one loss in their last three games, and of course they finish the regular season against top-ranked Georgia.
Then again, there's always hope for a five-win team to get one of those academic exemptions from the NCAA, that lets a few teams a year play in bowl games without the supposedly required six victories.  One would think that either of these two schools, well known for their academic achievement, would stand a great chance of garnering one of those bids.  I mean, their names even end with "teach."
Virginia Tech 22, Georgia Tech 10
UAB at UTSA
Three weeks ago, it looked like the Blazers' comeback season had imploded with an overtime choke against previously winless Charlotte.  Since then, they've manhandled Southern Miss (30-12) and Rice (52-21), to clinch the second bowl bid in program history.  Rumbling freshman running back Spencer Brown has already cleared the 1,000-yard mark, and the 235-pounder only figures to get stronger during the rest of his four-year stay in Birmingham.
The 5-3 Roadrunners failed to become bowl-eligible in a suffocating 14-7 loss to Florida International.  Dual-threat Dalton Sturm had an okay day running the ball, gaining 82 yards on 18 carries, but he passed for a season-low total of 105.
Like all of Texas-San Antonio's home games, this one is being played in the Alamodome.  The Czar's regular readers are fully aware of how much he hates indoor stadiums, but if you're going to have one, it might as well be one that is topped with ice cream.
UAB 30, UTSA 23
Wyoming at Air Force
The Cowboys captured the Bronze Boot in a 16-13 battle with border rival Colorado State in the snow.  The people in East Lansing must be scandalized that the game was allowed to take place under such conditions.
It was stupid of anyone to expect Pokes' quarterback Josh Allen to put up big numbers without any help from a ground game that had lost Brian Hill to the NFL.  The Men from Laramie have rallied on defense to save the season, though.  In Mountain West play, they have only allowed an average of 16.8 points per game.
The 4-5 Falcons were flummoxed last week in a 21-0 loss to Army, which marks the first time they've gone 0-2 against the other academies since 2012.  It was also the first time the flyboys have failed to score since a 13-0 Liberty Bowl loss to Ole Miss on New Year's Eve of 1992.
Since these players are college students, does that mean the AFA squad are the Millennial Falcons?  If so, how can they stand to be a part of those corny old special effects in the movie they think is entitled Star Wars IV: A New Hope?  I mean, Yoda isn't even a computer animation in that one.  How unrealistic can you get?
Wyoming 17, Air Force 7
a sports publication from The Shinbone