The Original College Football Czar
Week 11
<![if !vml]>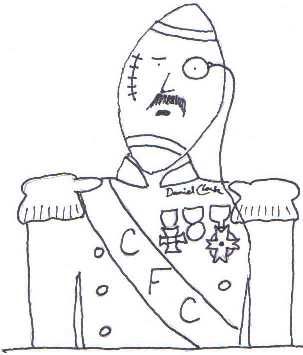 <![endif]>
Week ten in review:  Contrary to what the expansion-mongers in the media would have us believe, the CFP picture actually has quite a bit of clarity at this point, owing largely to the number of second-echelon teams that have been getting rubbed out on a weekly basis.  For example, anybody who'd been delusional enough to still hold out hope for Texas, Florida or Penn State making it into the final four can stop now.  As a result, there are really no credible national contenders once you get outside the current Top Ten, and some of those teams must still play each other.  The way the Czar sees it, the pecking order for filling in those four CFP berths goes like this: (1) Clemson; (2) Alabama; (3) Notre Dame; (4) Michigan-Ohio State winner; (5) Big XII champion (Oklahoma-WVU); (6) Georgia; and (7) Washington State.
If no more than three of those teams survive, the bracket will still need to be rounded out, of course, with the fourth team most likely being either an undefeated Central Florida or a two-loss LSU, and whichever one doesn't make it will not have a valid argument, because neither of them really belongs.  The purpose of the CFP is to make sure the best team is not left out of the championship, by tacking one additional game onto the bowl season, thus expanding the field to four.  With the one-game BCS championship, there was sometimes a third team that was left out, which was arguably better than the two that played for the title.  The same can never be said about a #5 team.  If neither UCF nor LSU gets in, one might argue that either of them is better than the #4 team, but no reasonable case can be made for either of them being the best in the nation.  No matter how many teams were let into the field, there would always be a next-best team that feels slighted.  That's no logical justification to go to an expanded playoff, and turn all these big November college football games into the equivalent of NFL Week 17.
A promising week for the College Football Czar collapsed during the Saturday prime time games, as he stumbled to a 10-8 finish.  If he could, however, he'd like to formally protest that Stanford-Washington game, at the end of which the Cardinal got royally jobbed.  On two consecutive plays on their final drive, they made first downs, but the clock never paused for even a moment to move the sticks.  K.J. Costello was finally picked off on a last-second 34-yard heave into the end zone, but he should have had enough time to run two more plays.  Costello did not seem to have even realized this during his postgame interview, when he complained that the game clock on the Husky Stadium scoreboard had been turned off at the time.
For the season, the Czar's record stands at 113-68, for a .624 winning percentage.
Nov. 9
Fresno State at Boise State
These teams last met in the 2017 Mountain West championship game, also in Boise, where the Broncos prevailed 17-14.  The fact that they had home field advantage, though, was a fluke.  In order to facilitate the organization of the title game, the conference awarded home field before the last week of the regular season, when these same teams would play each other in Fresno.  The Bulldogs won that regular season game 28-17, and with it should have gotten to play the championship at home, also.
BSU needs a win to give themselves a chance to repeat as Mountain division champs when they end the regular season against border rival Utah State.  The Broncs (7-2, 4-1) are still winning games, but not as authoritatively as the fans in the Tater State are used to seeing.
Small-conference West Coast teams aren't generally known for their defense, and neither is FSU, because quarterback Marcus McMariyon commands so much of his opponents' attention.  Nevertheless, this team is tied with those other Bulldogs from Mississippi State for the second-fewest points allowed per game, at 12.3.
That "V" on the back of the Dogs' helmets stands for "Valley," as in the San Joaquin Valley, which they claim as their fan base.  The Czar used to think they wore the decal because when they all lined up on the field, they made a cool Electric Football sound.  "V-V-V-V-V-V-V-V-V-V-V!"
Fresno State 19, Boise State 10
Nov. 10
Virginia Tech at Pitt
Last year in Blacksburg, the Panthers had a first-and-goal, one yard away from a victory that would ultimately have sent them to a bowl game.  At that point, they embarked on a series of offensive plays that demonstrated all the ingenuity of somebody whose reaction upon running out of staples is to hit the stapler harder.  They soon walked off the field stunned, with a 20-14 defeat that assured them of a losing season, their following upset of Miami notwithstanding.
The Gobblers can't wait to get back on the road, because for the past two games, they've been what might be called "home kill," as they've been run over in the middle of Lane Stadium by Georgia Tech and Boston College.  Now, they've got to slow down a Panther ground game that gashed Duke for 484 yards, and Virginia for 254 more.
It's fitting that a Tech school should use as its helmet logo a mathematic symbol, in this case the square root of one, which of course equals one.  But wait a minute, does that mean the Gobblers are saying they're #1, in spite of the fact that they're only 4-4?  And if so, why be subtle about it?  Modesty?  It just don't add up, as we Pitt gradjeeates like to say.
Pitt 28, Virginia Tech 23
Wisconsin at Penn State
Too bad the Nittany Lions are "only a great team," otherwise they might not have been manhandled by Michigan 42-7, in a game that was so totally one-sided that it made Bama-LSU look like Super Bowl X.  PSU only managed to scrape up 186 total yards in that game, while going minus-3 in turnovers.
Badger quarterback Alex Hornibrook is questionable for this game with a possible concussion.  The Lions were lucky not to have faced him in the last meeting between these teams, in the 2016 Big Ten title game, when they rallied from a 28-7 deficit to win, 38-31.  Backup Bart Houston did not work the clock effectively while trying to preserve the lead in that game.  This time, the Badgers may have to rely on sophomore Jack Coan, who is redundantly from Sayville, NY.  (Where in New York are they not saying?)  If he can bring home a big win from Beaver Stadium, don't be surprised if some Coan-heads come out to greet him at his next home game – although if the Czar had his choice, he'd rather be sitting behind someone wearing a wedge of cheese.
The people at Happy Valley aren't exactly known for winning visiting fans over, so why has ESPN's Kirk Herbstreit, an Ohio State alumnus, seemingly defected to PSU?  Even since Herbstreit's own school defeated the Nittany Lions, the ex-Buckeye receiver has only embraced his adopted team more fervently.  Perhaps he feels jilted, because Brutus the Buckeye keeps returning to his first love, Lee Corso.
Penn State 13, Wisconsin 12
TCU at West Virginia
Lots of weird things will still happen this season, but for these Horned Frogs to spoil the looming Big XII showdown between the Mountaineers and Sooners would be about the unlikeliest of all.  In conference play, the leaping lizards have been at a standstill, averaging fewer than 16 points per game.
The College Football Czar has concluded that, when one interviews for a job as a college football announcer, one must be required to love unsportsmanlike conduct more than money, beer, and attractive members of the opposite sex.  This was particularly evident during last Saturday's games, and especially WVU-Texas.  Announcers Gus Johnson and Joel Klatt actually sounded angry with the officials for flagging WR David Sills after a touchdown, because he mocked his opponents by making a "horns down" signal with both hands.  Late in the fourth quarter, QB Will Grier did the same thing.  If you want an illustration of unsportsmanlike conduct for the rulebook, that's it.
Only an old, frumpy square would want to stop a player from "celebrating" a touchdown, right?  Well, maybe, but it really ticks the Czar off when a referee explains that a penalty is for "excessive celebration," because that's not what it is.  If you want to see a celebration, watch the way the players of any college sport react when they win a national championship.  A spontaneous outburst like that is a celebration.  Performing a rehearsed routine is not a celebration.  Taunting one's opponents is not a celebration.  These are the acts of a selfish putzhead, and any announcer who characterizes them otherwise is being dishonest.  Furthermore, any coach who tolerates, or even applauds, such actions by his players should at least have the decency not to bore us with insincere blather about molding young men's character ever again.
Not that the Medusa of Morgantown, Dana Holgorsen, makes any pretense of doing that in the first place.  The coach is obviously practicing his permanent mug shot look, so that the next time he becomes unruly at a casino, it will look as if nothing is wrong.
West Virginia 32, TCU 14
Clemson at Boston College
The way the Paw Boys played their last four games you'd never guess their ACC Atlantic division lead was being threatened, but if they get roasted at Chestnut Hill, it would likely be BC who goes to Charlotte to face either Pitt or one of the Virginia schools.
The Eagles already played a role in the Coastal division race last week, by defeating Virginia Tech 31-21 to deny the Gobblers a share of the lead.  Still, they have yet to beat any team that has a current record any better than 5-4, which of course the undefeated Tigers do.
Tiger tailback Travis Etienne is tenth in the nation in rushing with 998 yards, but his 116 carries are far fewer than anyone ahead of him has.  The sophomore is averaging 8.6 per carry, and has rushed for 15 touchdowns.
If Clemson wins the national championship this year, do you suppose Kelly The Quitter Bryant will have the nerve to show up and ask for his ring?
Clemson 42, Boston College 31
Mississippi State at Alabama
Heaven help anyone who actually watched last week's Alabama-LSU game in its entirety, expecting it to eventually morph into a great game just because both teams were so highly ranked.  Stylistically, the annual renewal of the Game of the Century is almost always a total mismatch, and tends to be reflected that way on the scoreboard.  You need to have a prolific offense in order to threaten the Crimson Tide, and the Tigers seldom have anything close.
Alas, MSU is not enough better in that department.  Like Bama and Louisiana State, the Bulldogs do most of their damage on defense.  Even in last week's 45-3 trampling of Louisiana Tech, QB Nick Fitzgerald only matched his season high of 243 passing yards.  The senior scrambler is barely completing half of his passes, and he only has ten TDs in eight games.
The Tide's Tua Tagovailoa, by contrast, has 27 touchdown passes, and just threw his first interception of the season.  By the end of this game, he's likely to have doubled Fitzgerald's yardage for the season.
Rookie Bulldog head coach Joe Moorhead is proud of having encouraged Trace McSorley's swinging-for-the-fences routine when he was at Penn State, and brags that he likewise encourages his mud puppies to jerk around on the sideline.  The athletic director in Starkville must have misinterpreted Moorhead's resume.  He hadn't been an "OFF-ensive" coordinator in his previous position, but had been an "OFFENS-ive" coordinator instead.  I mean, really.  He was coming from Penn State  Learn how to utilize context clues, MSU.
Alabama 27, Mississippi State 10
Ohio State at Michigan State
The Spartans squelched Maryland for an even 100 yards of total offense in a 24-3 trouncing.  Now they host a Buckeye team that has played very poorly in its only two road games so far, barely beating Penn State, and getting pureed at Purdue.
Last season, the OSU defense was #9 in the nation, giving up 301 yards per game.  So far in 2018, they're yielding almost one-third more, for an average of 397.  That puts them in a three-way tie for #67, along with Arkansas State and East Carolina.  So if you think last week's 36-31 struggle against Nebraska was a fluke, it wasn't.  Luckily for them, Sparty couldn't move the ball with a U-Haul this season.  Quarterback Brad Lewerke's numbers are way down from last year, and RB Connor Heyward just picked up his team's first 100-yard rushing game of the season.
There's been a lot of concern lately about fans around the country rushing the field after the game, and it's warranted for this post-Halloween contest as well.  Not because MSU is likely to win the game, that is, but because their fans might mistake Brutus for a gigantic, walking Reese's cup.
Ohio State 16, Michigan State 6
South Florida at Cincinnati
The way the Bulls have struggled through may of their victories this year, it wasn't so devastating that they were beaten 57-36 by AAC West leader Houston.  But getting blown off their home field, 41-15 by Tulane, pretty much assures them a berth in the somewhat less-than-prestigious Gasparilla Bowl, which is played in a gloomy cave in neighboring St. Petersburg.
The 8-1 Bearcats torpedoed the Naval Academy 42-0, stopping the Middies on all three of their fourth-down conversion attempts along the way.  It was the second shutout for a defense that's only allowed more than 21 points once this season.
Just for the record, Gasparilla was not a Hanna-Barbera cartoon character.  You must be thinking of Grape Ape.  He gets a lot of that.
Cincinnati 41, South Florida 20
Texas at Texas Tech
In a 51-46 scare of Oklahoma, Red Raider QB Alan Bowman went 21-for-26, before being hospitalized with a collapsed lung for the second time this season.  Ironically, they've had to take some of the air out of the ball when turning to backup Jett Duffey, who has kept them in games against West Virginia and OU out of sheer tenacity.
The Longhorns lost to WVU on a late two-pointer, 42-41.  Too bad the rules didn't allow them to have Will Grier's unsportsmanlike conduct penalty assessed on the conversion, of it might yet have been a suitable punishment.  The defeat was the second in a row for the pointy cows, who have been in five straight games decided by six points or fewer.
"Jet" would be an unusual enough name to start with, but why did his parents spell it with two T's?  It seems unlikely that they might have been Joan Jett fans.  No offense to those who are, however unlikely their existence may be.
Texas 38, Texas Tech 28
Auburn at Georgia
The Tigers trampled the Bulldogs in last year's regular season meeting, 40-17, but in the SEC championship, it was all UGA, 28-7.  This season, they're not nearly so evenly matched, even before factoring in that this meeting is between the hedges in Athens.  Granted, AU made a gutsy comeback last week to beat Texas A&M 28-24, but that was largely due to the Aggies' ineptitude in running both their offense and the clock in the second half.  They won't be handed a win like that by Kirby Smart's club.
The Dogs dominated Kentucky 34-17, to clinch the SEC East division, and a berth in the conference championship game in Atlanta.  While UK's Benny Snell soaked in the publicity, it was Bulldog running backs D'Andre Swift and Elijah Holyfield who combined for 271 yards and three touchdowns on 34 carries.
So what's the difference between the Tiger team that beat the Bulldogs by 23 points, and the one that lost by 21?  The first of these is the team that Central Florida tells everybody they defeated in the Peach Bowl, but the second is the one they actually played.
Right now, UCF loyalists are probably accusing the Czar of being a group-of-five-o-phobe, or some such twaddle.
Georgia 35, Auburn 13
California at USC
The College Football Czar is not partial to a two-quarterback system in the first place, but why must some coaches be so stubborn about rotating QBs regardless of the game situation.  The Golden Bears would have beaten Washington State if Chase Garbers had been allowed to play the entire second half.  Instead, they continued to shuttle in Brandon McIlwain for a play here and there, and the backup wound up throwing the decisive pick.  In the Czar's opinion, it wasn't his fault.  You put a young QB in for one play in a series, and he's not likely to throw the ball out of bounds, even if that's the correct decision under the circumstances.  Naturally, he's going to be pressing to make something happen on one of his widely scattered opportunities, and he'll eventually make an aggressive mistake.
Trojan tailback Aca'Cedric Ware capped off a great game against Oregon State with a 62-yard touchdown run to give his team a 14-point lead.  He immediately jeopardized it, however, by doing some kind of a Sha-Na-Na dance in the end zone, for which his team was set back 15 yards on the ensuing kickoff.  Naturally, the announcers agreed that anything Ware wanted to do, even to the detriment of his team, should be considered part of his reward for making a big play.
Not that the Czar needs any of this analysis to know who's going to win the game.  The Bears may be Cal, but Southern California is So Cal, as in, the even Cal-lier of the two.  You can't argue with science.
USC 45, California 34
Oklahoma State at Oklahoma
Mullet-head Mike's perpetually perplexed facial expression has been completely understandable in recent weeks, during which his Cowboys were beaten by last-place Kansas State, then they upended first-place Texas, before yielding a last-second touchdown in a 35-31 loss to Baylor.
Like probably most people, the Sooners do not miss Heisman winner Baker Mayfield.  Behind former Texas A&M quarterback and outfielder Kyler Murray, the OU offense has bombed its opponents for an average of 49.1 points per game – third-best in the nation, behind Alabama and Utah State.  With at least five games left, including the postseason, Murray has a chance to outdo Mayfield's 2017 season statistically.  He already has an almost identical completion percentage (70.6, to Mayfield's 70.5).
This is the latest installment in what is known as the Bedlam series, a peculiar, Plains States trophy game in which the winners are awarded a "bed lamb."  You know what they do with that, don't you?  They count it, and go to sleep.
Oklahoma 59, Oklahoma State 44
Northwestern at Iowa
The Czar is shocked that a veteran coach like Kirk Ferentz blew a game by following the dreaded two-point conversion idiot card, but that's what happened.  The supposedly authoritative guide that factors in exactly one variable says that if you score to trail by five points, you should go for two in order to pull within a field goal.  Ferentz made just such a call, even though he was only five minutes into the second half of a high-scoring game.  The Hawkeyes missed the conversion, which meant that when they took the lead by one late in the fourth quarter, they had to go for two again to stretch their lead to a field goal.  The second attempt failed also, allowing Purdue to win 38-36, rather than merely forcing overtime, with a chip shot field goal in the final seconds.
The Wildcats injured Notre Dame quarterback Ian Book's ribs enough that he can't play against Florida State this week, but that didn't do NU any good last Saturday, when Book and his 343 passing yards beat them, 31-21.  If Pat Fitzgerald's team now causes the Irish to go down in defeat, they'll only have helped conference rival Michigan or Ohio State in their race for the CFP.  The Wolverines or Buckeyes may be able to thank them in person at the Big Ten championship game, because the Cats are in the catbird seat of the West division.  At 5-1 in conference, they lead Wisconsin and Purdue by a game, and they can eliminate the Hawks with a win at Iowa City.
How come every head coach in college football thinks he's the most brilliant and innovative in the history of the game, and yet they all obey a two-point conversion chart that was invented by Dick Vermeil in the 70s?
Northwestern 17, Iowa 16
Southern Miss at UAB
Even with second-string freshman quarterback Tyler Johnson in the game, the Blazers bombarded Texas-San Antonio for 668 total yards, in a 52-3 runaway that moved Alabama-Birmingham to the brink of a division title that would have been unthinkable through most of that team's history.
The 4-4 Golden Eagles had a game washed out against Appalachian State early this year, so they badly need a win against either this division-leading Blazer team or second-place Louisiana Tech, in order for a bowl bid to be in play by the time they beat up on UTEP.  The College Football Czar would like to see USM and ASU make their game up the first week of December, but the Mountaineers might remain in the running for the East division of the Sun Belt until their regular season finale against Troy.
Construction is expected to begin very soon on a new 45,000-seat stadium in Birmingham, but until that's completed, Bill Clark's team will continue to play at the cavernous, crumbling Legion Field.  The name of the building reminds the Czar of that scene in Beau Geste where the sadistic Sergeant Markoff orders those two captured escapees to escape Fort Zinderneuf again.  Realizing that the brutality of the desert will kill them, they plead to be allowed to stay, but he forces them outside the gate anyway.  Had he ordered them instead to escape Legion Field, they'd have not only gone, but probably whistled along the way.
UAB 37, Southern Miss 29
Miami at Georgia Tech
This year's newer, bigger version of the turnover chain features a likeness of Miami's mascot, Sebastian the Ibis.  It ought to have been an albatross instead, because that's what the Hurricanes' reliance on takeaways has become to them.  The last time Mark Richt's team won the turnover battle was in their 28-27 comeback victory over Florida State.  Since then, they've gone minus-2 in turnover margin, and 0-3 games.
The reason is plain to see.  The Canes' offense simply cannot often drive the length of the field.  If the defense doesn't give them a short field on a takeaway, they just don't tend to score very often.  During this three-game stretch, for instance, they've been held to 13, 14 and 12 points.
Freshman Yellowjacket quarterback Tobias Oliver has had a tendency to bias the fans in Atlanta against the pass.  For the season, he's completed only 6 of 12 with two TDs, but he's gained 780 yards on the ground, where he's hit paydirt 12 times, to lead his team in both categories.
For the record, the plural of albatross can be either "albatrosses," or just plain "albatross" – just in case some team still lamely calling itself the Aggies is in the market for an upgrade.
Georgia Tech 24, Miami 7
South Carolina at Florida
There was no division title at stake, but the game to watch in the SEC in Week 10 was the Gamecocks' seesaw victory over Ole Miss, in which the lead changed hands four times in the second half, with SC finally rallying from ten points down to win, 48-44.  At 5-3, they've taken the mystery out of their pursuit of a postseason bid, especially since they've made up for an early cancelation by scheduling a home game against Akron in early December.
No sooner did Gator QB Kyle Trask take over the starting job than he suffered a season-ending foot injury in practice.  This means his fellow sophomore Feleipe Franks gets the job back, even though he's failed to move the offense in consecutive losses to Georgia and Missouri.
Steve Spurrier coached for a stint at each of these schools, so the Czar predicts he'll bring back the same bet he pitched to former LSU coach Fewer Miles a month ago.  Whichever way this game goes, the Old Ball Coach will have to eat a bowl of grass from the Swamp, while wearing his own dopey visor.  Come to think of it, he would probably be doing both of those things anyway.
South Carolina 22, Florida 10
Brigham Young at Umass
Freshman quarterback Zach Wilson has shown some promise for BYU, but he's also made his share of rookie mistakes.  Last week, on second-and-goal from four yards out, with seven seconds to play, Wilson ran down the clock and took a sack, when he should have been able to throw through the end zone and preserve one more play.  The resulting 21-16 defeat has jeopardized the Cougars' postseason hopes.  A week earlier, the freshman flinger got the ball with almost two minutes remaining, and was immediately picked off on an impetuous first-down pass in a 7-6 loss at Northern Illinois.
Minuteman WR Andy Isabella padded his national lead with a team record 303 receiving yards in a 62-59 triple-overtime victory over Liberty.  Unfortunately, it looked like he could use some of that padding, the way he was limping by the long-awaited end of that game.
It's a little-known fact that the last Mormon to win in Massachusetts was Mitt Romney, who was last elected there in 2003.  It took all the way until this past Tuesday for him to celebrate a subsequent victory in Utah.  Cougar coach Kalani Sitake shouldn't take nearly that long, following this road trip with a home game against New Mexico State, but if he blows that opportunity, a 15-year wait for the next one is entirely plausible.
Brigham Young 26, Umass 23
a sports publication from The Shinbone