The College Football Czar
Week 11
<![if !vml]>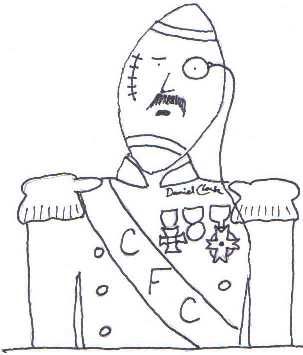 <![endif]>
Week ten in review: It was a tough week for the Mississippi schools, with top-ranked MSU slipping past Arkansas 17-10 on an interception in the end zone, and #4 Ole Miss losing a hard-fought 35-31 game to Auburn, with WR Laquon Treadwell suffering a broken leg on the decisive play.
There were a handful of other key injuries during the week.  Nebraska running back Ameer Abdullah left the first half against Purdue with a sprained knee, but the injury is being characterized as mild, and with a timely idle week to rest up, he is expected to play next game against Wisconsin.  Heisman-winning Florida State QB Jameis Winston hobbled his way through a Thursday night comeback win over Louisville, but will start against Virginia this Saturday.  The season is over, however, for prolific Washington State slinger Connor Halliday, whose ankle was broken during a blowout loss to USC.
The Big Ten has suspended Maryland WR Stefon Diggs for one game as a result of the pregame melee between the Terrapins and Penn State.  During the scuffle, Diggs' hand came in contact with the face of an official who was trying to separate the players.  Presumably, this action was believed to be unintentional, otherwise he wouldn't have been allowed to play in that game, during which he made six catches for 53 yards.  Following the incident, Diggs, being one of the team captains, went to the middle of the field for the coin toss, where he and his mates refused to shake the Nittany Lions' hands.  Coach Randy Edsall, who apologized for his players' actions, was reprimanded by the league for not controlling his team, and the university was fined $10,000.
The College Football Czar correctly picked most of the week's biggest games, and finished with a record of 17-4.  For the season, he is now 133-75, for a .639 winning percentage.
Nov. 7
Memphis at Temple
The otherwise outplayed Owls swooped down on five East Carolina fumbles to torpedo the nation's #23 team, 20-10.  The victory was the third in team history against a ranked opponent, but their first in front of the home fans.  Mind you, there didn't used to be any home fans in front of whom to perform such a feat.
The Tigers, who like TU are 5-3, have not defeated any ranked teams this year, but two of their losses have been competitive games at UCLA and Ole Miss.  Last Friday against Tulsa, senior RB Brandon Hayes rushed for a career-high 199 yards and three TDs in a 40-20 runaway.
Currently, Memphis is in a five-way tie atop the American Athletic Conference, along with ECU, Houston, Cincinnati and Central Florida, with Temple trailing by half a game.  The final standings hardly matter, however, when you look at the AAC's bowl tie-ins.  Among this year's six reserved bids, the most prestigious game is the Armed Forces Bowl in Fort Worth.
The fans at Tiger home games like to dress up as Elvis.  In Philadelphia, it sometimes appears as if some of the Owl fans pose as one of that city's most famous residents, Benjamin Franklin.  They really don't, though.  Those are just some elderly beatnik professors.
Memphis 41, Temple 26
Utah State at Wyoming
The Cowboys gave freshman running back Brian Hill his first career start last week at Fresno State, and not coincidentally ended their four-game losing streak.  Hall rushed for 281 yards and two touchdowns, and also had 106 receiving yards on three catches.  The 45-17 rout revives the Pokes' bowl hopes, if they can win at least two of their last three.
USU is 2-0 since losing QB Darell Garretson to a wrist injury.  Garretson was the Aggies' second starter of the season, with Chuckie Keeton having limped off the field back in Week 3.  Third-stringer Kent Myers completed 14 of 15 last week in Hawaii, for 186 yards and three touchdowns.  It makes a difference, however, that the two victories he's helped produce have been against UH and UNLV, the teams with the two worst records in the Mountain West.
Why do the Cowboy jerseys have only the letters "WYO" across the front, instead of spelling out the whole word?  It looks like someone needs to tell them it's mink that's expensive, not ming.
Wyoming 30, Utah State 21
Nov. 8
Penn State at Indiana
Last season, the Nittany Lions couldn't handle the speed of the IU offense, and got dusted, 44-24.  They should have little trouble keeping up this time, because the Hoosiers are hardly even ambulatory.  Quarterback Nate Sudfeld, who threw for 321 yards in that game, suffered a season-ending shoulder injury against Iowa in Week 8. Tre Roberson, who had split time with Sudfeld in 2013, transferred to Division I-AA Illinois State shortly before the season began, and backup Chris Covington is sidelined with a torn ACL.
The new Hoosier QB is freshman Zander Diamont, is the son of Don Diamont, a soap opera actor.  You can tell because Zander has looked too young and restless in his first two starts, in which he completed only 10 of 23 for a total of 35 yards.  The coaches expect him to eventually become a dangerous dual threat, but did not anticipate having to remove his redshirt this season.
With the exception of a shocking 29-6 loss to Northwestern, the Nittany Lions have held every opponent under 300 total yards this year, and yet they have now lost four in a row to fall to 4-4.  Last week, the PSU defense manhandled Maryland, giving up only 194 yards, but a fumbled kickoff return set up the Terrapins for a go-ahead fourth-quarter score in a bitter 20-19 defeat.
Zander's mother, Cindy Ambuehl, is in show biz also, mostly in TV acting.  Her most significant movie role was in the 1997 film Meet Wally Sparks.  If you've never seen it, please don't.  Aside from Ambuehl's role as a bimbo with a cringe-worthy Southern accent, it features Rodney Dangerfield at his unfunniest, David Ogden Stiers as the governor (no, really), Cindy Williams displaying parts of herself that didn't exist 20 years earlier, Burt Reynolds apparently having no idea where or who he is, and Michael Bolton, being treated as if the whole world thought he was cool.  Perhaps the best acting performance came from, believe it or not, Tony Danza, who was actually somewhat convincing as a cab driver.
At least in RB Tevin Coleman, the Hoosiers have one star, which is one more than the Czar can give that movie.
Penn State 22, Indiana 0
West Virginia at Texas
The way the Longhorns played at Texas Tech last weekend, first-year coach Charlie Strong might not have to throw anyone off the team for a while.  With an offensive attack as well-balanced as the horns on their helmet logo, the pointy cows pounded their rivals in Lubbock, 34-13.  Sophomore QB Tyrone Swoopes passed for 228 yards with no interceptions, while Malcolm Brown rushed for a season-high, by gaining 116 of his team's 241 yards on the ground.
The Mountaineers committed five turnovers against TCU, which was just enough to keep them out of a tie for first place in the Big XII, with a 31-30 loss.  When the Horned Frogs' last-second, 37-yard field goal sailed through the uprights, the only sound that could be heard was the collective sigh of relief from property owners throughout Morgantown.
At this point in the season, one would expect the rigors of the WVU travel schedule to be taking their toll.  For the third time in five weeks, they head to the Southwest, having already won road games against Texas Tech and Oklahoma State.  Surely, they're not as worn down as they would be if they'd gone on the road to face Baylor, Oklahoma and TCU instead.
So why do the West Virginians keep coming back to Texas?  For the toast, of course.  One of these days, they'll have to ask for the recipe.
West Virginia 28, Texas 12
Ohio State at Michigan State
Spartan quarterback Connor Cook is from Hinckley, Ohio, and he's circling like a buzzard around the Buckeye team whose national title hopes he buried in last year's conference title game.  Cook's season-high 303-yard performance snapped OSU's 24-game winning streak, and denied the lumpy nuts a berth in the final BCS championship game opposite Florida State.
The Buckeyes bounced Illinois 55-14, in a win that was comfortable enough for them to get backup QB Cardale Jones his most significant action to date.  Jones tossed his first two career TD passes, while completing 5 of 9 for 82 yards in the second half.
Last time OSU faced a challenge, they gave up a 17-0 halftime lead before beating Penn State in double-overtime, 31-24.  One of the reasons they won that game was that safety Vonn Bell was awarded an interception that had clearly hit the ground, but there was no chance of an overrule because of a technical glitch in the replay booth.  They'll need to have that same kind of luck this week in East Lansing, but don't count on it.
Okay, so buzzards don't bury carcasses, they eat them.  So who are you, the ornithology police?
Michigan State 35, Ohio State 23
Alabama at LSU
It's "Game of the Century V," for those lardheads who are still counting at home, although this edition only has national championship implications for one team.  With as much parity as we've seen this year, a two-loss team among the final four is certainly not out of the question, but for Louisiana State to get there, they'd need to enhance their resume with an SEC title game.  Since they've lost to Mississippi State head-to-head, that means they must win out, and hope MSU loses its last three conference games – including one at home against Vanderbilt.  In addition, they'd need Auburn to lose two of its last three.
The Crimson Tide was idle last week, but may have gained ground in the committee's estimation from the fact that the Tennessee team they defeated two weeks ago scored an overtime upset of South Carolina.  When Bama beat the Volunteers, QB Blake Sims threw 9 of his 14 completions to WR Amari Cooper for 224 yards.  A very impressive number, but against better opposition like he'll face this week, Sims had better spread it around a little more effectively.
As dominant as the Tigers have been over the past 15 years, the quarterback position never seems to be a particular strength of theirs, and this year is no exception.  Sophomore Anthony Jennings has completed exactly half of his passes this season, and has kept very close to that mark every single game.  If his team is going to win, it will have to create a repeat of the 9-6 slugfest they won in the original GOTC, in the regular season of 2011.
When the BCS title game of that same year was dubbed "Game of the Century II," Bama hammered their rivals from Baton Rouge, 21-0.  Perhaps the Roman numeral in the title meant it was the Game of the Second Century.  TV must have really stunk back then.
Alabama 23, LSU 13
Oregon at Utah
The Fighting Ducks demolished nemesis Stanford 45-16, but only superstition could have led one to expect the Cardinal to end their championship run again this season.  The rugged 6-2 Utes, who are more like last year's Stanford team than Stanford is, should prove a far more formidable obstacle.
These teams were evenly matched as interconference opponents going back through the 90s, but in last year's first meeting as conference foes, the UO rolled by a score of 44-21.  Mind you, Ute QB Travis Wilson missed that game with a concussion.  He's played in all eight games so far this season, and hasn't been picked off once in 165 passing attempts.
Kyle Whittingham's club held Arizona State's offense in check in last week, but missed an overtime field goal and lost 19-16.  They'd previously beaten UCLA and USC, however, and although they face a great offensive team on an almost weekly basis, they have yet to allow more than 28 points in a single game.
An old wives' tale says that if you put salt on a bird's tail it can't fly.  That means if the Ducks go for a dip in the Great Salt Lake, they'll be thumbing it all the way back to Eugene.
Old wives have really got to find something better to do.
Oregon 31, Utah 23
Kansas State at TCU
The once wide-open Big XII could dwindle to a two-team race if K-State can defeat the Horned Frogs, like they did in last year's 33-31 thriller.  Ironically, the hero of that game was kicker Jack Cantele, who is no longer in the lineup since kicking the ball like a cantaloupe in a 20-14 loss to Auburn.
The Frogs' purple home uniforms will help conceal the bruises from a wild rumble at West Virginia, where Gary Patterson's team absorbed a majority of the punishment, but prevailed 31-30 with a field goal on the last play of the game.  They could've made it easier on themselves, but repeatedly failed to cash in on WVU turnovers.
Once again, Bill Snyder brought his Wildcats into the season with lukewarm expectations, and has them contending for a conference title.  He can't be a brilliant coach, because he doesn't wear a visor.  Just look at Patterson on the opposing sideline.  He couldn't be any smarter if his visor had a propeller.
Kansas State 28, TCU 24
Iowa at Minnesota
There's more at stake in this year's Floyd of Rosedale game than a big bronze pig, with these Big Ten West opponents entering the game with identical records of 3-1 in the conference, and 6-2 overall.  The winner will climb into a first-place tie with Nebraska, with the Huskers still looming on both schools' remaining schedules.  Yet, ultimately, it must be acknowledged that victory is fleeting, whereas a big bronze pig is forever.
Why do they call it Floyd of Rosedale, anyway?  Are they worried that it might be confused with some other Floyd from someplace else?  Just how many Floyds are there, that we need to be so specific?  I mean, it's not like it's a common name, like Shaq, or something.
In last week's 48-7 blowout of Northwestern, the Hawkeyes finally got their first 100-yard rusher of the season, when freshman running back Akrum Wadley gained his first 106 yards since arriving in Iowa City.  Prior to making his debut on the gridiron, Akrum Wadley's collegiate career consisted of being a character in a Charles Dickens novel, but he turned to athletics because he found Dickens boring.  Mrs. Dickens found him boring, too.
The Golden Gophers have lost their luster since capturing the Little Brown Jug against Michigan.  They've since defeated Northwestern 24-17 on a fourth-quarter kickoff return, edged Purdue 39-38, and gotten knocked off by Illinois 28-24.
You mean you've never heard of gopher luster?  It's kind of like muskrat love, but naughtier.
Iowa 37, Minnesota 27
Notre Dame at Arizona State
In last year's neutral-site game in Arlington, the Fighting Irish were able to keep pace with ASU's offense in a 37-34 victory, but that was when they were quarterbacked by Tommy Rees, whose low completion percentage was overcome by his ability to attack the Sun Devil defense vertically.  The golden domers' record may be a lot better behind Everett Golson, but can he throw the deep ball accurately when they need him to?
The Irish always try to put together a great schedule, but whom have they beaten this year that would justify considering them as a national contender?  Next to Stanford, which has since fallen to 5-4, their biggest wins have probably been against 4-5 North Carolina and C-USA also-ran Rice.
ASU is not known as a defensive football team, and usually there's a very good reason for that.  In their last three games, however, they've held Stanford and Washington to 10 points each, and outslugged Utah 19-16 in overtime.
Sun Devil Stadium once felt the need to cover up images of mascot Sparky during a 1987 visit from Pope John Paul II, but it won't be required to do the same while hosting the Catholics from South Bend.  After all, it's only a matter of time before Pope Francis declares that God is open-minded enough to tolerate a certain amount of evil now and then.
Arizona State 29, Notre Dame 20
Baylor at Oklahoma
The College Football Czar would like to know who started spreading this nonsense about the Big XII being better than advertised.  It looks like they're following the SEC logic that if you don't play formidable nonconference opponents, then most of the conference members' losses are to each other, thus somehow or other proving how tough the conference is.
In the opening CFP rankings – which, again, require no objective criteria – the Bears were placed ahead of Arizona State, Nebraska and Ohio State.  BU's nonconference schedule consisted of Buffalo, SMU, and Division I-AA Northwestern State of Louisiana.  They've played two tough conference games so far, and split them.  Their other Big XII opponents have been Iowa State, Texas and Kansas.  They couldn't find easier prey if they were foraging for nuts and berries (Yeeesh!)
The Sooners' record may be one game worse, but they've played more opponents from the top half of the league to this point, and at least they were willing to tangle with Louisiana Tech and Tennessee.  They are definitely missing injured RB Keith Ford, however.  Freshman Samaje Perine has not been able to follow up the West Virginia game, when he exploded onto the scene for 242 yards and four TDs.  In each of his next three games, he gained fewer than 100 yards, and less than four per carry.
Not only isn't the Big XII better than advertised, but it's even two teams short.  They couldn't oversell themselves much worse unless they included one tiny sliver of fatty tissue and called themselves "Pork n' Big XII."
Baylor 34, Oklahoma 31
Louisville at Boston College
The Cardinals capitalized on three Jameis Winston interceptions to take a 21-0 lead on Florida State last Thursday, but once the FSU miscues stopped, so did the momentum for the ACC newcomers, who unraveled late in a 42-31 loss.
Eagle quarterback Tyler Murphy should reach the 1,000-yard rushing mark for the season against the Cards.  The former Florida QB's 122 yards in last week's 33-31 win over Virginia Tech brings his total to 965.  More notably, BC as a team only needs 288 more rushing yards to surpass last season's total, when they boasted the nation's leading running back, Andre Williams.
Team sack leader Lorenzo Mauldin: Don't leave home without him.  Unfortunately, the visitors from "The Ville" aren't able to follow that advice, because the senior linebacker aggravated a hamstring injury against FSU, and will have to miss this critical road game.
Why must we not leave home without American Express traveler checks?  Because Karl Malden nose all!
Sorry.
Boston College 26, Louisville 19
UCLA at Washington
The Bruins are back in the Pac 12 South race after bottling up Arizona, 17-7.  They trail Arizona State by a game, but they'd have the advantage in a tie-breaker, having blown out ASU earlier this season.
UW is 6-3 but not yet bowl-eligible, because their opener at Hawaii entitled them to play a 13th game, and supposedly only non-losing teams can play in bowl games.  It sounds like a cinch, given that they only need to win one of their last four, but if they don't upend UCLA or Arizona, things will start to get sticky in Seattle.
If you've never seen Sticky In Seattle, you're not missing much, but you might be able to catch it on The Movie Channel in the small hours of the morning.  The actress doesn't look anything like Meg Ryan, but she makes all the same noises.
UCLA 36, Washington 21
Georgia at Kentucky
The Bulldogs can hardly blame Todd Gurley's suspension for their shocking 38-20 loss to rival Florida in Jacksonville.  Freshman RB Nick Chubb fattened up his stats with another 156 rushing yards, but the UGA defense gave up 418 on the ground to fall out of first place in the SEC East.
Kentucky has been uncompetitive for so long, even its fried chicken refuses to publicly associate with it, but instead only refers to it by its initial.  The Wildcats haven't had a winning season since 2009, under coach Rich Brooks.  That's also the last time they won a game in their series with UGA.
The Cats shouldn't take the "KFC" thing too hard.  After all, chickens are not renowned for their loyalty.  Nobody has ever said, "if you want a friend in Washington, buy a chicken."  There has been the occasional congressman who might have bought a chicken because he wanted more than a friend, but we don't need to get into that right now.
Georgia 24, Kentucky 7
Michigan at Northwestern
Wolverine coach Brady Hoke says he's not concerned about his job since athletic director Dave Brandon was forced to resign last week.  That's actually not as dumb as it sounds.  If the U of M can win its next two games, make a respectable showing against Ohio State, and then win a bowl game to finish 7-6, the fourth-year coach might be given a chance to continue, with one of his own recruits at quarterback.
In hindsight, the current 4-5 record of the maize and blue is not really so bad, with the exception of an upset loss at Rutgers.  Their other four losses have been to Notre Dame, Utah, Minnesota and Michigan State.  In particular, the Utes and Gophers are better than they were tought to be at the time.
The Wildcats opened Big Ten play with a pair of big wins over Penn State and Wisconsin, but they've since lost three in a row to fall to 3-5.  If they can turn things back around against either Michigan or Notre Dame, they'll still have a good chance of reaching a bowl game, after finishing the regular season with Purdue and Illinois.
At their last road game, the Wolverines drove a spike into the field at Michigan State, and it was they who got pounded, 35-11.  This time, they'll settle for using a golf ball marker.  That way, maybe they'll only get pressed a little bit.
Michigan 21, Northwestern 17
Louisiana Tech at UAB
Bulldog coach Skip Holtz is having his best season since leaving East Carolina after the 2009 season.  Although he's only two wins away from 100 for his career, he was only 12-24 from his second year at South Florida through his first season at LTU.  This year, his team is 6-3, and 5-0 in Conference USA.
A group of former Alabama-Birmingham players have grown concerned about the future of their program, for some pretty logical reasons.  In a letter to the president of the university, they note that the team has not scheduled any nonconference games beyond 2016, which is also when the contract of first-year coach Bill Clark expires.  Considering the team's dramatic turnaround this season, one would think an extension would be a foregone conclusion.  If Clark has to try to recruit next year with only two years left on his contract, that would strongly suggest that the program is doomed.
The team's troubles escalated in 2011, when the board of trustees for the University of Alabama system (consisting of Alabama, Alabama-Birmingham and Alabama-Huntsville) put the kibosh on plans for a new on-campus stadium for the Blazers.  Apparently, the U of A system cannot handle the expense, at least not for Birmingham.  At the main campus of Alabama, the Tuscaloosa – and so, presumably, are the purse strings.
Louisiana Tech 44, UAB 40
Iowa State at Kansas
Could this trip to Kansas be the end of the yellow brick road for ISU coach Paul Rhoads?  The Cyclone skipper, in his sixth season, has a record of 29-42.  In Big XII play, he is 14-34, and has never had a season better than 3-5.  Keep in mind that the Mayor of Oz, Mark Mangino, was hired to assist Rhoads this season.  Mangino is the former coach of KU, who led that team to a Sugar Bowl victory at the end of the 2007 season.
The Jayhawks forced the corpulent coach to resign after the 2009 season for allegedly verbally abusing his players, a charge for which the details were murky to say the least.  After an unsuccessful stint by his successor, Turner Gill, the school returned to rotundity with the hiring of Offensive Goo Charlie Weis, who was let go earlier this season.  In the post-Mangino era, the Hawks are 0-4 in their series with the Cyclones, including a 34-0 thumping in 2013.
When Mangino was with the Jayhawks, he often resembled a giant berry bouncing along the sideline, but that's because the games were played on Saturdays.  On a Sunday, he's a Mangino cherry.
Iowa State 21, Kansas 6
Uconn vs. Army
This game is being played at Yankee Stadium, which might be seeing its worst football since the NFL's New York Yanks went 1-9-2 during their final season of 1951.
The Black Knights of the Hudson last played at this ballpark in 2011, when they lost in a languid performance against Rutgers, 27-12.  They've now been defeated in their last six in the Bronx, last winning there over Syracuse in 1960.
It's been tough sledding for the Huskies this season, but they've finally pulled themselves out of last place in the American Athletic Conference with a 37-29 upset of Central Florida.  If X marks the spot, it's no wonder the UCF defense was disoriented, with Deshon Foxx leading the way.  The senior wide receiver moved to tailback for the game, and gained 102 yards on eleven carries.
Okay, so this is a different Yankee Stadium than the one the New York Football Yanks played in, but how do you expect the Czar to tell, unless it gets "Stadium Jr." printed on the back of its jersey?
Uconn 25, Army 11
a sports publication from The Shinbone