The College Football Czar
Week 11
<![if !vml]>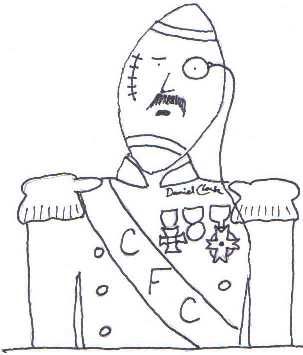 <![endif]>
Week ten in review: Florida State's big win over Miami pushed them back up to #2 in the BCS ratings, but there was otherwise very little movement, what with unbeaten Alabama, Oregon and Baylor all being idle.
Since taking over as head coach at Grambling, former Pittsburgh Steeler linebacker Dirt Winston is 1-1, with an overtime loss to Texas Southern, and a 47-40 victory over Mississippi Valley State, which snapped an 18-game losing streak against NCAA opponents.  Granted, those are not two of their better opponents in the SWAC, but the results are enough to get the point across that the team's losing ways have not been all about money.
Two of this week's biggest games will not appear in this installment of picks, because they are being played on Thursday night, and will already be underway by the time the College Football Czar posts this edition.  Sixth-ranked Baylor hosts #10 Oklahoma at 7:30, and #3 Oregon visits #5 Stanford at 9:00.  DeAnthony Thomas, the usually soft-spoken and often injured Duck running back, has boasted that his team will score at least 40 points against the Cardinal.  After last year's 17-14 overtime upset, Thomas wasn't in a position to say anything, what with his head so firmly ensconced in a place it oughtn't have been.  Just play the game, DeAnthony, and leave the score predictions to the Czar.
The Czar went 13-4 last week, including a pretty good guess at Minnesota's 42-39 win at Indiana (predicted score 45-42).  For the season, his record is 141-51, for a .734 winning percentage.
Nov. 8
Air Force at New Mexico
The AFA outran Army 49-35, but still cannot recapture the Commander-in-Chief's Trophy.  Even if Army knocks off Navy at the end of the season to force a three-way tie, the trophy would be retained by last year's winner, which is the Naval Academy.
If you watch the Lobos play, they are visibly better than they were before Bob Davie's hiring, but since his arrival, they're only 1-11 in Mountain West Conference play.  Last week's 35-30 loss at San Diego State drops them to 0-4 in the MWC, and 2-6 overall.
In that Army game, Falcon running back Anthony LaCoste didn't need a little alligator on his polo shirt to let people know he was better than they were.  His 263 yards and three touchdowns on 23 carries were enough to accomplish that.  The little-utilized senior sure took long enough to get the point across.  It was halfway through his final season before he finally had a 100-yard game, which he did by rushing for 109 last month against SDSU.
Believe it or not, the Czar used to own a copy of The Preppy Handbook.  He hated it, but his alter ego, Biff, thought it was just yummy.
Air Force 55, New Mexico 52
Nov. 9
Notre Dame at Pitt
It was only thanks to their plus-3 turnover margin that the Panthers led for as long as they did in last year's 29-26 triple-overtime defeat in South Bend.  They were only 1-for-15 on third and fourth-down conversions against the Irish defense, and they gained only eleven yards on four possessions in the fourth quarter.  Too bad their offensive line hasn't solidified a bit since then, as evidenced in bruising losses to Florida State, Virginia Tech and Georgia Tech
Pitt's OL has been protecting QB Tom Savage the way a leotard protects one's sensitive parts.  Savage has been the victim of 29 sacks this year, and has thrown away countless balls in order to avoid even more.  In addition, the line has left nowhere to go for the running backs, who lack the speed to beat the swarming defenders to the sideline.
The Fighting Irish let their guard down on defense last week, but still scored a 38-34 decision over Navy.  The domers' D was expected to struggle this season, in the absence of Manti Te'o, but that generally hasn't been the case.  It should especially be a non-factor against the Panthers, whose greatest offensive success in last year's meeting was that they nullified Te'o, to the point that they're not sure he ever really existed.
Notre Dame 16, Pitt 6
Penn State at Minnesota
For the second time in three games, the Nittany Lions prevailed in overtime, against an opponent that became too timid late in the game.  PSU fumbled away a chance to take the lead with 3:23 to play, giving Illinois the ball at its own two-yard line.  After a first-down incompletion, the Illini decided to meekly soak some time off the clock with a pair of one-yard running plays, knowing completely well that they'd be giving the Lions the ball back near midfield with almost two minutes remaining.  One Sam Ficken field goal and one OT interception later, and Bill O'Brien's team escaped, 24-17.
The burrow almost caved in on the Golden Gophers last week at Indiana, where the Hoosiers hammered them for 26 consecutive points to take a 39-35 lead.  That's when freshman Maxx Williams proved he's not a discount tight end, by taking the lead back with a 50-yard touchdown.  Even then, the radiant rodents needed a late fumble recovery inside their 10-yard line to seal the 42-39 victory.
Williams' name isn't really Maxx, you know.  That was just a typo on the team roster.  His real name is Ma the Twentieth.
Minnesota 51, Penn State 38
Texas at West Virginia
At 5-0 in conference play, Mack Brown's Longhorns have regained the moo-mentum they lost during their early nonconference schedule.  Since there are now only X teams in the Big XII, it does not have an official league championship game, but the Horns' season-ending trip to Baylor works out all the same.  (That is, unless BU loses to Oklahoma shortly after this edition of picks is posted.)
If you doubt that there are too many bowl games, consider that the Mountaineers (4-5, 2-4), stand a very good chance of playing in one.  Even if they get stampeded this week, they can become bowl-eligible by beating Kansas and Iowa State, each of which is 0-5 in the conference.
Dana Holgorsen could never reward his team with rings for winning a momentum-building game like Coach Brown did after last year's Alamo Bowl.  That's because the WVU players would spend the rest of the season trying to figure out which ones among them were married to which.
Texas 39, West Virginia 14
LSU at Alabama
If you're a lardhead, and you're keeping count, this will be "Game of the Century IV."  Actually, if the 7-2 Tigers lose, they'll drop to 3-3 in the conference, which will make this more like the fourth-biggest SEC West game of the year.
The College Football Czar doesn't believe for a second that the top four teams will all finish undefeated, but if they did, why should the argument be over who plays Alabama for the BCS championship?  The idea that SEC teams have a superior strength of schedule just isn't true anymore.  The Crimson Tide play a weenie nonconference schedule, and their only two SEC East opponents have been Tennessee and Kentucky.
The first time a game in this series was billed as Game of the Century, the Czar thought that meant it would be played by half-horse-people.  Then, he looked up "century" and it spoiled everything.
If there were such a thing as a half-horse-people football league, do you suppose it would be enough to coax John Elway out of retirement?
Alabama 31, LSU 21
Brigham Young at Wisconsin
Among two-loss teams, the Badgers are perceived to be the Big Cheese, but that perception is about as real as the stuff on the stadium nachos.  UW bagged its biggest foe of the year last week, by stifling Iowa 28-9.  Aside from that, they've defeated Northwestern, Illinois, Purdue, Umass and I-AA Tennessee Tech.
Everyone remembers how BYU trounced Texas, but their past four victories have been against Utah State, Georgia Tech, Houston and Boise State – all contenders in their respective conferences.
Many of the Cougars are older than the average college athlete, because they've gone on their two-year Mormon mission to spread the faith overseas.  The Badger players do something similar, except that in their case, it consists of going to neighboring states and giving bowling lessons.
Brigham Young 24, Wisconsin 21
Virginia Tech at Miami
Since nobody expected the Hurricanes to contend for the national championship, their 41-14 loss to Florida State isn't exactly a crushing blow.  What might be is the loss of tailback Duke Johnson to a broken ankle for the remainder of the season.  Johnson finishes his sophomore year with 920 yards, making him the only Miami back other than Edgerrin James to rush for over 900 yards two years in a row.
The Gobblers (6-3, 3-2) are still alive in the parity-riddled Coastal division of the ACC, even after consecutive losses to Duke and Boston College.  Last Saturday, quarterback Logan Thomas turned the ball over four times, leading to 17 BC points in the 34-27 setback.  Nevertheless, a win over the Canes could leave these teams in a four-way race, with Georgia Tech and Duke also having two conference losses apiece.
You'd think a program that's had as much success as "The U" would have had plenty of 1,000-yard rushers.  Unfortunately for them, yardage accumulated in the end zone while dancing around like a boob doesn't count.
Miami 22, Virginia Tech 10
UCLA at Arizona
The Bruins halted a two-game skid by collaring Colorado, 45-23.  Sophomore WR Devin Fuller got his foot in the door to brush aside the Buffaloes, with 99 yards and two scores on only three receptions.  You'd think the blue bears would be out of the woods after road losses to Stanford and Oregon, but they still must play Washington, Arizona State and USC.
The Wildcats (6-3, 3-2) only beat the Cal Bears (1-8, 0-6) by a final of 33-28.  That's because it was a road game.  You see, the turf didn't say "Bear Down" like it does at home in Tucson, so they forgot to tackle.
For that same reason, Jim Mora's team hopes the U of A isn't a good enough academic institution for its players to realize that a bruin and a bear are the same thing.  Perhaps they can convince the Cats that the Bruins are an Indian tribe, which would explain why their mascot is a bear.
If that's not plain enough, "bear" in mind that the Division II school Indiana University of Pennsylvania used to be called the Indians, but in the early 90s, it adopted a bear as its mascot, for the simple reason that bears are less offensive than Indians.  Although the whole point was to unIndianify the team, the oblivious IUP students voted to name the bear Cherokee.  He was Cherokee, the officially inoffensive IUP Indians' bear.  So you see, the Czar's advice to the UCLA Bruins is perfectly sensible, if you're a politically correct inhabitant of a college campus, and are therefore stoned.
UCLA 37, Arizona 32
Nebraska at Michigan
Cornhusker QB Ron Kellogg III must have eaten his Wheaties before heaving a 49-yard game-winning TD on the last play of the game to beat Northwestern.  The long bomb bounced into the arms of WR Jordan Westerkamp in the end zone, to turn away the Wildcats 27-24.
Kellogg will likely share the snaps with Tommy Armstrong Jr. again this week.  That's because, according to coach Bo Pelini, starting QB Taylor Martinez is out with turf toe, a hip pointer, a pulled abdominal muscle and an injured shoulder.  If only he were to get a really bad haircut, he could pose for the next edition of the game "Operation."
The Wolverines (6-2, 2-2) plummeted to fourth place in the Legends division when they were manhandled by rival Michigan State, 29-6.  That score doesn't nearly describe the decisiveness of the beating, in which the maize and blue finished with an all-time worst total of minus-48 yards rushing.  In reality, their ground game has rarely gotten going all season to this point.  All their running backs combined have a total of just 740 rushing yards this season.  By comparison, the N-men's Ameer Abdullah has 1,108 all by himself.
Okay, so Wheaties aren't a Kellogg's product, and they aren't even made out of corn.  But you can't expect the guy to only eat Corn Flakes, can you?  On second thought, if he did, he could film a documentary about what it's like to eat Corn Flakes every day  Then, every lardhead who watched it could start telling everybody at work that Corn Flakes are evil.
Nebraska 30, Michigan 21
Houston at Central Florida
Although three other teams are still in the running, the winner of this game will likely capture the inaugural AAC title and its accompanying BCS berth.  That's especially true if the winner turns out to be UCF, which has already won at Louisville, and whose only loss has been to South Carolina by three.
The 7-1 Cougars probably played their best game in a 47-46 loss to Brigham Young in Week 8.  Many of their wins were a lot less encouraging, including their Halloween night 35-23 scare against South Florida.
It was a UH professor who led the protest that stopped Houston's Major League Soccer team from naming itself in such a way as to glorify the founding of the city.  That, you see, was deemed un-Mexican, and therefore racist.  How, then, can he let his own school get away with joining the American Athletic Conference?  Considering the outcome of the Mexican War, could there possibly be a more open-and-shut case of bullying?
Central Florida 42, Houston 25
Mississippi State at Texas A&M
In 2000, MSU beat A&M 43-41 in the Independence Bowl, when a freak blizzard pounded Shreveport, Louisiana on New Year's Eve.  That's the kind of intervention the Bulldogs will need if they are to derail the Conjunction Boys in this critical SEC West game.  Barring that, the result will more likely resemble that of their only meeting since then, when the Aggies won last year in Starkville, 38-13.
The ampersanders increased their scoring average to an even 49 points per game with a 57-7 trouncing of UTEP.  The coaches put Johnny Hockey Puck on ice in the middle of the third quarter, by which time he'd thrown for 273 yards and four touchdowns.
This is the Bulldog fans' first trip to Aggieland, so they'd better be careful.  When they start ringing their cowbells, they're liable to attract some real cows, who are bound to be disappointed once they get there.  Then what?
Awkward moments with cows are best avoided.  The College Football Czar is pretty sure Ben Franklin said that, but he hasn't quite bothered to look it up.
Texas A&M 46, Mississippi State 29
Arkansas State at La.-Monroe
Both teams are still in the running for the Sun Belt Conference title, although the Warhawks, who have yet to play league-leader Louisiana-Lafayette, are in a better position than the two-time defending champs from Jonesboro.
Each of these clubs has played a challenging schedule that has left it with a deceptively unimpressive record.  The Red Wolves (4-4, 2-1) suffered early losses to SEC contenders Auburn and Missouri.  The belligerent birds (5-4, 3-1) faced their usual quota of three BCS-AQ conference opponents, getting blown out by Big XII powers Oklahoma and Baylor, but clawing out a tough 21-19 win over Wake Forest.
Little-used ULM senior running back Centarius Donald might be the #1 draft prospect for the new half-horse-people football league, the way he's played over the past two games.  In wins over Georgia State and Troy, he galloped for a combined total of 240 yards on just 30 carries.
Louisiana-Monroe hasn't been on TV as much this year, but the Czar doesn't really mind.  He's always preferred Mary Ann, anyway.
La.-Monroe 26, Arkansas State 24
Syracuse at Maryland
To college football viewers, there are few things worse than an early afternoon game that's played in a dome, but one of those things is such a game that ends with a score of 13-0.  The Orange don't care how it looked, as long as their shutout of Wake Forest got them back in the bowl picture at 4-4.
Two weeks ago, Randy Edsall's shell-shocked shellbacks were missing a slew of injured offensive starters as usual, including quarterback C.J. Brown and wide receiver Stefon Diggs.  Still, they were able to compete with Clemson into the fourth quarter, before falling by a final of 40-27.  The Terrapins have had an idle week since that game, and are now hoping for Brown's return against SU.
According to the injury report, Brown had suffered a "trunk injury."  That's because the coaches had sent him to the team tree surgeon by mistake.  It turns out the on-field positions aren't the only part of the game that has become too specialized.
Maryland 17, Syracuse 16
Kansas State at Texas Tech
The Red Raiders (7-2, 4-2) are still wondering who was holding the panhandle when they got whomped in their past two games against the Oklahoma schools.  After falling to the Sooners 38-30, they were ousted from their home stadium by OSU, 52-34.  Still, their only two setbacks of the year have been to the teams currently ranked 10th and 14th.  The same can't be said for K-State, which lost its opener to Division I-AA champion North Dakota State.
The rivalry game known as Farmageddon was only the end of the world for Iowa State, which was wiped out by the Wildcats 41-7.  The College Football Czar will leave it at that, and spare you the cornball Grantland Rice "Four Horsemen of the Apocalypse" shtick.
Rice, for those who don't know, was the legendary Southern sportswriter whose highbrowed but factually-impaired accounts of the events he covered (Did a "bewildering panorama" really describe Notre Dame's 13-7 win over Army in 1924?) has inspired other profiles in pomposity ranging from Howard Cosell to Frank Deford.  The flourishes with which Rice puffed up his subjects were so gaseous, he would more aptly have been named Grantland Beans.  That may not exactly be poetic, but at least it's true.
Texas Tech 48, Kansas State 34
Vanderbilt at Florida
At 4-4, with three weak opponents remaining, the Commodores can all but clinch an unprecedented third straight bowl game with an upset of the Gators.  Even if they lose, they'll only need to take two of their final three, against Kentucky, Tennessee and Wake Forest.
Having trailed Georgia 23-3 at halftime, the Gators seemed sure to finish their comeback, once they'd pulled within three, less than a minute into the fourth quarter.  The Bulldogs tried to change the momentum by going on a fourth-and-one inside their own 40, but the UF defense stopped them.  That's when lardheaded linebacker Neiron Ball removed his helmet to take credit for the play, and was flagged for a 15-yard penalty.  The blown opportunity turned out to be their last chance, because when UGA got the ball back, they ground out the last 8:17 of the game, before killing the clock inside the Gator 20.
As if that weren't banana-brained enough, coach Will Muschamp suggested after the game that, because the Gators historically have been among the league's penalty leaders, that probably means the SEC officials have been consistently biased against the school for almost a quarter-century.  Of course, anyone can see that the league has been conspiring on behalf of Vandy for all these years.
Florida 14, Vanderbilt 10
Utah State at UNLV
If quarterback Darell Garretson had been put in half a game earlier, the 6-3 Aggies might be closing in on a division title.  Garretson had taken over the starting job while trailing Boise State 31-10, in a game that would end 34-23.  Since then, USU has used New Mexico 45-10 and Hawaii 47-10, to improve to 4-1 in the conference.
The Rebels (5-4, 3-2) remain a win away from their first bowl bid in more than a decade, but their chances for a conference title all but officially ended with last week's 34-24 loss to San Jose State.  Since Vegas has already lost to Fresno State, they're essentially three games back of the Bulldogs in the MWC's West division.
Although the Rebs have got a winning record, their early tune-up game against Division I-AA Western Illinois has been the only time they've led at the half.  So it appears that the team from Sin City has been tanking the first halves, and then coming on strong in the second, often enough to win the games.  Good thing this game is not on "the Family of Networks," or else gambling expert Brent Musburger would surely regale us with a perfectly boring theory to explain it.
Utah State 41, UNLV 37
Western Kentucky at Army
The Black Knights may need to throw the ball more than usual against a WKU team that proved to be tough in the trenches earlier this year, when they nullified Navy's option game, 19-7.
This game is doubly important to the Hilltoppers (5-4, 2-3) because there will be no reserved bowl bid waiting for them if they become eligible, and another loss for the 3-6 Cadets will open up an at-large bid in the Poinsettia Bowl.  Big Red got the last available berth last year when the Little Caesar's Bowl controversially passed over an 8-4 Middle Tennessee team that had beaten them head-to-head.
… Which begs the question, how in the world could the Toppers lose head-to-head to the MT-heads?  Those guys must be really good bluffers.
"You stupid mullet heads, they beat you with heads full of nuthin!"
Western Kentucky 24, Army 12
Tulane at UTSA
The Green Wave had been having its best season since the Tommy Bowden era, leading the Conference USA West division at 4-0, and 6-2 overall.  For their next feat, all they had to do was beat a 2-6 Florida Atlantic team, whose coach had been fired days earlier for allegedly using illegal drugs.  Whatever could go wrong?  They soon found out, as they only managed to lap up 167 total yards in the 34-17 defeat.
The Czar doesn't know if there are such things as Texas-San Antonio Roadrunner fans at this point, but any who may exist will be going off the meep end if their team makes it to a bowl game in its second year of Division I-A play.  The Runners will soon be able to see the finish line, if they can win their third in a row to climb to 5-5.
If you've never heard of a Green Wave, that's what they call it when "renewable energy" is harnessed from a stadium full of blithering nincompoops who shouldn't be allowed to vote, taking turns standing up and sticking their hands in the air, for no better reason than that some megalomaniacal loser told them to.
UTSA 37, Tulane 35
SMU at Cincinnati
Bearcat QB Brendon Kay began the year as a backup due to a shoulder injury, but by now looks like the same slinger who won the starting job midway through last season.  Kay threw for a season-high 321 yards in last Wednesday's 34-21 win over Memphis, falling just short of his career-high from last season's Belk Bowl against Duke.
The 3-4 Mustangs have played a far tougher schedule than most AAC teams, and it looks like they may be punished for it, after having lost three nonconference games to former Southwest Conference foes Texas Tech, Texas A&M and TCU.  If they could level their record by upsetting UC, however, they'd stand a great chance of clinching a postseason bid in their following two games, against Uconn and South Florida.
It worked out great for Tommy Tuberville when he coached Texas Tech, because that meant all his coach's caps and jackets were monogrammed.  Rumor has it he's now in the process of having his name legally changed to Udo Chung, but not so that he'd fit in the same way at UC.  It's just that he thinks it's silly for a grown man to be called Tommy.
Cincinnati 36, SMU 28
a sports publication from The Shinbone