The College Football Czar
Week 11
<![if !vml]>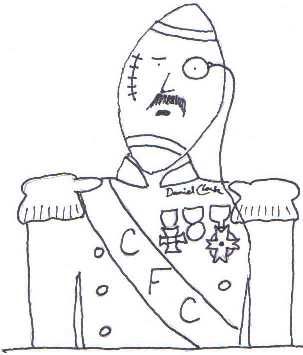 <![endif]>
Week ten in review: For the second time this season, the College Football Czar must issue a retraction.  A few dozen more, and he may find himself writing for the New York Times.  Last week, he wrote that Air Force was looking to clinch the Commander-in-Chief's Trophy against Army, when in fact, they were merely trying to stay in contention for it, having lost to Navy in overtime earlier this season.  Army's 41-21 shocker over the AFA means that possession of the trophy will be decided in the season-ending Army-Navy game.
All the undefeated teams kept their records intact, although Alabama and Oregon had to fight off their first serious challenges of the season, the Crimson Tide rallying to down LSU 21-17, and the Fighting Ducks outgunning USC, 62-51.  Kansas State had a comparatively easy time in a 44-30 win over Oklahoma State, but lost QB Collin Klein to injury late in the third quarter.  The exact nature and extent of the injury is not known at this time, but his return is reportedly likely.
Notre Dame made yet another narrow escape in a subpar performance at home, surviving a 29-26 triple-overtime scare against Pitt in part because of a missed Panther field goal in the second OT. For the third time this season at South Bend, the striped leprechauns came running to rescue the Fighting Irish, in this case handing them a fourth-down conversion on a phantom pass interference penalty, while they were trailing 20-6 in the fourth quarter.  Unlike the Purdue and Stanford games, which the Irish may still have won without any help, it would have been very difficult for them to retain any hope of winning this one, if they'd turned the ball over on downs as the actual events had dictated.
In addition, the Irish had two players with the field wearing the same uniform number for Pitt's ill-fated FG attempt, but it wasn't called.  If it had been, the result would have been a first down, and almost certain defeat for the golden domers.  The Panthers have referred the matter to the Big East, which will presumably forward their protest to the NCAA, which will deliver a report to its president, Mark Emmert, who will put it in a paper bag, wave it over his head, and scream like a chicken.  It won't change the result of the game, but what can it hurt, really?
Week ten produced the season's first coaching casualty, and it was not a move that was likely to surprise anybody.  A day after absorbing a 40-0 pummeling from Vanderbilt, Kentucky dismissed head coach and former offensive coordinator Joker Phillips.  The third-year coach will be allowed to finish the 2012 season, but at this point, his career record is 12-23.  This season, the Wildcats are 0-7 in the SEC, and 1-9 overall.  Under previous coach Rich Brooks, Phillips spent two years as "head coach in waiting," or as his position was officially entitled, "head coach of the offense."  If that semantic flumdummery was supposed to prepare him for the real job, it didn't.
The Czar's week ten record was 12-4.  For the season, he is now 129-60, for a .683 winning percentage.
Nov. 9
Pitt at Uconn
It was on Ray Graham's first carry against the Huskies last year that he was lost for the season to a knee injury.  Graham's play this season had been tentative until two weeks ago, when his coaches challenged him to start running with more aggression.  We'll see if he can keep his confidence up, while staring across the line at the Conn Men again.
Connecticut is 120th out of 124 teams in Division I-A in rushing, averaging an even 82 yards per game.  There is nobody on their roster who is averaging as much as 4.0 yards per carry.  Not coincidentally, they've only scored 33 points during their current four-game losing streak.
If the introduction to this week's picks gave you the impression that the College Football Czar is a bitter Panther fan, that's because he is.  Nevertheless, he realizes that just because Notre Dame did not deserve to win last week's game does not mean that the Panthers did.  That blown call was just one of countless opportunities that eluded Pitt during that game.  They'd still have won if they hadn't settled for a field goal to lead 20-6 in the third quarter after having a first-and-goal from the 2.  Had they instead banged it in for a 24-6 lead, the events that followed would have hardly mattered anyway.
Although QB Tino Sunseri didn't mention kicker Kevin Harper by name, he nevertheless summed up the defeat by saying, "We missed a field goal.  That's why we lost the game.  It came down to special teams and we didn't make the play."  Anyone who watched the day-long debacle knows that there's plenty of blame for everybody, including a quarterback who picked up a puny total of 164 yards on 19 completions.  It wouldn't be hard to review the game and find at least a dozen plays in which Sunseri could have done something differently that might have changed the outcome of the game.  It's unseemly for any member of a team sport to start pointing fingers at teammates, but especially if that member is one whose own poor play as a sophomore was instrumental in getting coach Dave Wannstedt fired.
As long as the Czar is getting the bitterness out of his system, he hopes there's such thing as college football in Venezuela, because as of this past Tuesday, we're there.
Pitt 23, Uconn 13
Nov. 10
Penn State at Nebraska
The Nittany Lions pounded Purdue 34-9 to improve to 6-3, which would make them bowl-eligible, if only they were eligible to become bowl-eligible.  Matt McGloin had his second consecutive 300-plus passing game, completing 22 of 36 for 321 yards, with two TDs and no picks.
With Minnesota and Iowa remaining on their schedule, the Cornhuskers could take command in the Legends division if they can get past PSU.  They're currently tied atop the division with Michigan, whom they've already defeated.
It was in the pregame to last year's meeting at Beaver Stadium that Penn State University tried to turn the Sandusky scandal into a perverse celebration of "the Penn State community."  The N-men spoiled the party with a 17-14 victory.  Running back Rex Burkhead, who led the way with 121 yards and a touchdown, has played sparingly since injuring a knee in this year's opener, and has missed the Huskers' last two games.  Despite lacking Burkhead's size, Ameer Abdullah has had no trouble stepping into his shoes, gaining 826 yards and eight TDs so far this year.
Officially at 5-9, 185, Abdullah's name might trick people into thinking that he's "merely" an Abdullah.  After three consecutive 100-yard games, his future opponents are trying to assuage their fears by muttering to themselves, "It's only an Abdullah.  It's only an Abdullah."
Nebraska 24, Penn State 17
West Virginia at Oklahoma State
The once-mighty Mountaineers lost their third game in a row, although this time, it may not have been all their own fault.  It sure looked to the Czar like TCU receiver Josh Boyce trapped the ball – twice, actually – on a two point conversion that gave the Horned Frogs a 39-38 double-overtime victory.
Nevertheless, the decline in the Eers' offensive productivity continues to be alarming.  Quarterback Geno Smith, who was thought to have the Heisman in the bag after four games, has not come anywhere near the 300-yard mark in any of the four games since.  His 2,677 passing yards now ranks him only #15 in that category, and he has thrown his first three interceptions of the season in the past two games.
The Cowboys are on their third starting QB of the season, since Chris Chelf took over for a reinjured Wes Lunt in the third quarter of last week's 44-30 loss to Kansas State.  The little-utilized junior completed 16 of 27 for 233 yards, with one touchdown and one pick.
Q: Why are they called the Cowboys, and not the Cowmen?
A: Because they're not 40, of course.
Oklahoma State 42, West Virginia 37
Texas A&M at Alabama
The Aggies (7-2, 4-2) have sole possession of second place in the SEC East, after mauling Mississippi State, 38-13.  They probably can't catch the top-ranked Crimson Tide for the division lead, but they could drop an aTm-bomb on Bama's aspirations to repeat as national champions.
Nick Saban has got to be a bit concerned about facing A&M's offense after last week's 21-17 escape against LSU, in which the Crimson Tide allowed Tiger QB Zach Mettenberger to throw for a season-high 298 yards.
The Conjunction Boys are into sumlin good with former Houston coach Kevin Sumlin.  Even if they don't turn back the Tide, he'll probably have them in a New Year's bowl game, with a chance for a ten-win season.
The original Junction Boys were the survivors of an infamously brutal training regimen under coach Bear Bryant in 1954.  Bryant, of course, eventually left the Aggies to coach at Alabama, whom he led to six national championships.  That training camp in Junction, TX was not the worst experience he ever put his players through, however.  Back in 1947, when Bryant coached the Kentucky Wildcats, he actually took them to play in the one and only Great Lakes Bowl, where they defeated Villanova 24-14, amid all the pageantry that Cleveland Municipal Stadium had to offer.  Had ESPN made a movie about that story, nobody would have believed it.
Alabama 28, Texas A&M 20
Kansas State at TCU
First-year Big XII member Texas Christian (6-3, 3-3) is in the middle of the pack, for now.  As noted above, they got away with one last week at WVU, and their other conference victories have been against bottom-feeders Baylor and Kansas.
Wildcat QB and presumptive Heisman contender Collin Klein left last week's 44-30 win over Oklahoma State late in third quarter, after banging his head of the ground in the end zone.  Coach Bill Snyder will say little to reveal the nature or severity of the injury, but he says he's confident that Klein will return against the Horned Frogs.
In his postgame interview with ABC's Heather Cox, an oblivious Snyder claimed to know nothing about Klein's injury, and nothing about how the other highly-ranked teams had fared that day.  In addition, she'd asked him how important the victory was for his current players, since his teams hadn't beaten OSU during his second stint as head coach.  He angrily pointed out that he'd beaten the Cowboys many times in his career, which of course he did during his first go-round at K-State, which ended in 2005.  She rephrased the question, apparently just so he'd know she didn't mean to offend him, and he still didn't get it.  He must have been too preoccupied, wondering what day it was, where he'd put his keys, and how he was going to explain to his wife why he was talking to this tall redhead after the game.
Kansas State 35, TCU 29
Oregon State at Stanford
Each team has yet to face Oregon, which means that this week's winner, having only one loss in conference play, remains in the running for the Pac 12 championship.  Altogether, the Cardinal have the tougher remaining schedule, since they must travel to Eugene to face the Fighting Ducks, and then finish the season at UCLA.  The Beavers, by comparison, get their intrastate rivals at home this year, after also hosting a slumping California team.
Sophomore tailback Terron Ward rushed for 146 yards and a touchdown on 19 carries in the Beavs' 36-26 win over Arizona State, more than tripling his previous career-high.  The implausibly named freshman Storm Woods, whose carries had declined since tweaking a knee against BYU, sat out the game.
Mike Riley's offense has been dealt a lot of injuries this year, but for the most part has taken them in stride.  WR Markus Wheaton, who had left the previous game against Washington after taking a big hit, returned against ASU for 108 receiving yards and two TDs, along with 57 yards on three rushes, to help new first-string QB Cody Vaz recover from a shaky start.
Cardinal coach David Shaw benched struggling QB Josh Nunes early in his last game, giving Kevin Hogan his big break against woeful Colorado.  Sticking mostly to safe passes, Hogan completed 18 of 23 for a modest total of 184 yards, but guided his team to four second-quarter touchdowns in the 48-0 blowout.  He'll face far greater resistance this week against an OSU team which, if not for the ill-timed return of injured QB Sean Mannion, would still be undefeated, and in the Top 10.
The Stanford tree might want to buy some of those Fire Hose work pants.  According to the ads, they protect against attacks from giant, angry beavers.  But oy, how those must chafe!
Oregon State 26, Stanford 17
Louisville at Syracuse
Before you Cuse them, take a look at last week's highlights.  The Orange (4-5, 3-2) committed 12 penalties for 104 yards, fumbled twice, botched two field goal attempts, and then let Cincinnati's backup quarterback burn them for the deciding touchdown, in a 35-24 loss at Nippert Stadium.  Okay, you may Cuse away now.
Too bad Cardinal QB Teddy Bridgewater is such an accurate passer and not much of a running threat.  Had he instead been a scrambling Scud-missile launcher, he would officially be declared an "ath-uh-lete," and therefore a Heisman candidate.  Last week, Bridgewater bombarded Temple for 324 yards and five touchdowns, as the Cards cruised, 45-17.
The College Football Czar does not comprehend the "ath-uh-lete" designation.  Unless he's running a wishbone offense, the most important part of a quarterback's job is to pass the ball accurately downfield.  Very few people are capable of throwing pinpoint 30-yard spirals, as Bridgewater has done often in recent weeks.  What makes that any less ath-uh-letic than running around in circles going "woobwoobwoobwoob" in your own backfield?
Louisville 42, Syracuse 23
Mississippi State at LSU
The Rude Awakening tour continues for Dan Mullen's Bulldogs, who had started 7-0 against a soft schedule, before running into Alabama, Texas A&M and reality.  They were trailing 24-0 at halftime of each of those games, before their opponents eased up a bit in the second half.
The remarkable systematic consistency for which the Bayou Bengals are known has abandoned them this season..  After such a great performance against Alabama ended in defeat, what's to stop them from reverting to the way they played against Auburn, Towson and Florida?  Perhaps the more relevant question is whether the visitors from Starkville would be able to take advantage anyway.
MSU is now 3-2 in the SEC, but the three teams they've beaten (Auburn, Kentucky and Tennessee) have a combined conference record of 0-18.  They've also gotten by three Sun Belt teams and beaten up on Division I-AA Jackson State.  After this trip to Baton Rouge, they finish the season against aimless Arkansas and cross-state rival Ole Miss.  Enough of this crud about the SEC being so tough that its teams can't be expected to play challenging nonconference games.  This particular SEC team has played a remarkably weak schedule, both in and out of the conference.
All of Les Miles' clever calls backfired on him in last week's 21-17 loss to #1 Alabama.  Rather than attempt a 44-yard field goal, he ran a fake, which he does so often that Bama was more than ready for it.  Later in the first half, he inexplicably attempted a 54-yard kick rather than going for it on fourth-and-4.  After pulling within four points in the third quarter, he onside kicked, unsuccessfully, giving up the ball at his own 44-yard-line.  That move might have effectively ended the game, if not for a Crimson Tide fumble at the Tiger 10.  If not for his meddling, his team may very well have won the game, and re-entered the BCS championship chase.
The Czar suspects there wouldn't be room for all those gadgets under Miles' trademark hat, if there hadn't already been a vacancy there.
LSU 20, Mississippi State 6
Arizona State at USC
Matt Barkley's brilliant game against Oregon was overshadowed by the inability of the Trojan defense to impede the Onslaught of the Quack Attack.  Barkley passed for 484 of SC's 615 total yards against an excellent UO defense, but it wasn't enough, as Monte Kiffin's D was victimized for a team record 730 yards, to come out on the wrong end of a 62-51 donnybrook.
How do you suppose Southern Cal head coach Lane Kiffin goes about trying to hold his own father accountable for the worst defensive showing in team history?  The Czar pictures Monte responding, "Nah, I've seen worse than that," and Lane just walking away flummoxed.
Last year, Todd Graham brought his "high octane" attack to Pitt, where he went 6-6 before ditching the team along the way to its bowl game.  He was supposedly entering a more favorable situation at ASU, where the players he inherited seemed to be more conducive to his offense, but he's now only 5-4.  The Czar is starting to think "octane" and "salary" must be synonymous.
A Trojan equipment manager has been fired for partially deflating footballs during last week's game.  Although nobody else has been implicated at this point, the Pac 12 handed down a $25,000 fine and a reprimand to the USC program.  Kiffin claims to have had no knowledge of the incident beforehand; therefore the Czar is thoroughly convinced that the FORMER OAKLAND RAIDERS' HEAD COACH is wholly innocent!
USC 72, Arizona State 45
La.-Lafayette at Florida
The Ragin' Cajuns have thrown the Sun Belt Conference into chaos, by upending rival Louisiana-Monroe, 40-24.  That drops ULM into a tie with Arkansas State and Middle Tennessee, with ULL and Western Kentucky trailing by only one game.
The #6 Gators remain well within range of a national championship, except that they're headed in the wrong direction.  Following a 17-9 loss to Georgia, they had to come back from a 7-0 deficit to defeat the Misery Tigers, 14-7.  Will Muschamp's defense saved the day with four interceptions, to make up for an offense that only managed to scrape up 276 total yards.
It's a little-known fact that these teams were scheduled to play once before, but that game was canceled because the Cajuns never made it to the stadium.  They'd been told that the game was being played at The Swamp, so they just walked a few miles from their campus in Lafayette until they were knee-deep in water, and stood around looking at each other and saying, "Where is dey?"
Florida 22, La.-Lafayette 10
Northwestern at Michigan
Everything came up roses for Wolverine QB Devin Gardner, who threw for 231 yards and two scores in Denard Robinson's absence, to help capture the Little Brown Jug with a 35-13 victory over Minnesota.  Robinson's possible return is again expected to be a game time decision.
Wildcat QB Cain Kolter rushed for three touchdowns, and passed for one more, in a 28-17 win over Iowa that improved their record to 7-2 (4-2 in the Big Ten).  His 166 rushing yards were a career-high.
The Cats are a far more formidable opponent for Michigan than Minnesota is, but little attention is ever paid to this game.  In the Big Ten, the game doesn't count unless it's being played for some unsanitary vermin magnet from the dollar table at the flea market.  Nobody cares that the winner stays in the race for a division title, but if there were a second-hand lava lamp at stake, you'd be reading previews of the storied Lava Lamp Rivalry.
Northwestern is on pace to make Pat Fitzgerald the winningest coach in the history of the program this season.  He currently needs two more victories to tie Lynn Osbert "Pappy" Waldorf at 49.  He didn't really like the nickname "Pappy," you know.  It's silly.
Michigan 29, Northwestern 24
Cincinnati at Temple
The Bearcats (6-2, 2-1) averted a three-game losing streak when coach Butch Jones benched Munchie Legaux in favor of backup QB Brandon Kay.  UC trailed Syracuse 24-21 when Munchie came close to throwing his second interception late in the third quarter.  Second-stringer Kay entered the game after his team had recovered a blocked punt at the SU 15-yard-line, and he promptly completed two passes for the go-ahead score, en route to a 35-24 final.
Everything had been going Owl right for TU in its return to the Big East, until consecutive lopsided losses to Rutgers (35-10), Pitt (47-17) and Louisville (45-17), dropped their conference record to 2-3 (3-5 overall).  A loss this week would seem to end their chances of returning to a bowl game, because in the process of their transition from the MAC, the Owls were only able to schedule 11 games this season.  However, they reportedly remain in negotiations to add a Dec. 7 game at Hawaii.
If Munchie Legaux ever gets tired of people making fun of his name, "Lynn Osbert Waldorf" is currently available.
Cincinnati 34, Temple 31
Iowa State at Texas
This game is being played in Darrell K. Royal-Texas Memorial Stadium, which is named in part for former coach Darrell Royal, who died this week, after a long bout with Alzheimer's disease.  The stadium was rededicated to include Royal's name 15 years ago.  The name Memorial Stadium is in recognition of the Texans who died during the First World War.
The Horns haven't had a 1,000-yard rusher since Jamaal Charles in 2007.  They aren't likely to have one this year, either, but the future looks good for freshman Jonathan Gray, whose back-to-back 100-plus games have raised his season total to 533.
Last time the Cyclones visited Austin, they won 28-21, at which time media accounts trumpeted that it was their FIRST EVER win in the series.  That's a lot less remarkable when you consider that they've only been in the same conference since 1996, and that they were in separate divisions most of that time.  That the storied Longhorn program had been 7-0 against ISU to that point would have surprised nobody.
You might wonder why the Cyclone mascot is a cardinal.  Well, the original team name, until 1895, was the Cardinals.  So why do they still have their Cy the Cardinal mascot 117 years later?  They could have made Cy a clone, except that nobody would know what a clone looked like, other than that it would look exactly like something else.  So why not make Cy the clone of a cardinal?
Ames, Iowa must be one lazy town.
Texas 44, Iowa State 26
Utah at Washington
The Utes, like their rivals at BYU, have lots of Mormon players who go away on their two-year missions, and therefore don't exhaust their athletic eligibility until their mid-20s.  So you see, they're not such Utes after all.  Then again, nobody playing for San Diego State is really an Aztec, either, so why split hairs.
Utah (4-5, 2-4) has responded to a four-game losing streak with consecutive 49-point explosions against California and Washington State.  A win this week would bring them within one victory of bowl-eligibility, with a season-ending game at Colorado.
Last Friday night in Berkeley, the Huskies (5-4, 3-3) defeated the Cal Bears 21-13, on the strength of RB Bishop Sankey's 189 rushing yards and two touchdowns.  The Golden Bear defenders had no answer for Sankey, other than, "You're welcome."
Washington 25, Utah 14
Missouri at Tennessee
The College Football Czar has nicknamed Volunteer coach Derek Dooley "Eb" after the character from Green Acres, but perhaps "Ebb" would be more accurate, because his program seems to be in an incurable state of decline.  If he doesn't win at least two of his last three, and then win a bowl game, he may be the next SEC coach to follow Joker Phillips out the door.
Dooley's running game had been his biggest problem before this season, but his defense is now the greater concern, as anyone knows who watched last week's 55-48 cliffhanger against Troy.  QB Tyler Bray had to throw for 530 yards and five TDs to help his team escape, after being outgained by the Trojans by three yards, 721-718.
The guys from the Show Me State arrive in Knoxville expecting to see fox in socks on box on Knox for themselves.  If they lose the football game too, theirs will be the most badly wasted trip since the Griswolds drove to WallyWorld.
Tennessee 45, Missouri 34
Air Force at San Diego State
Aztec coach Rocky Long has finally helped the program get over the loss of Brady Hoke to Michigan.  Long's team has now won five straight, including big road wins over former WAC powerhouses Nevada and Boise State.
The Falcons (5-4, 4-1) have been so successful in Mountain West play that they practically have a lock on a postseason bid, despite having lost to both Navy and Army.  That conference mark is a bit deceiving, however, since the one team in the league they don't play this year is Boise State, and they have yet to face either the Aztecs or Fresno State.  That means they've only met teams number 5 through 10 in the standings.
With regard to the Aztec reference in the Utah-Washington pick above, although nobody on SDSU is factually an Aztec, they do have one player who "identifies as" one.  The Czar did not mean to appear insensitive by suggesting that he's wrong.
San Diego State 58, Air Force 41
Navy at Troy
Larry Blakeney's team rolled up more yardage last week than the other Trojans did in their shootout loss against Oregon.  Unfortunately, TSU's eruption at Tennessee produced no more favorable a result, as the Volunteers prevailed 55-48.
Last season, the Midshipmen stopped a six-game losing streak by trouncing this Trojan team 42-14 at Annapolis, after rolling out to a commanding 35-0 halftime lead.  Running back Gee Gee Greene was a wiz, collecting an even 100 yards and two touchdowns, while only getting his hands on the ball six times all day.
The Men of Troy went to Helen back that day.  After the game, they decided that launching those thousand ships wasn't really such a good idea after all.
Navy 33, Troy 18