The Original College Football Czar
Week 11
<![if !vml]>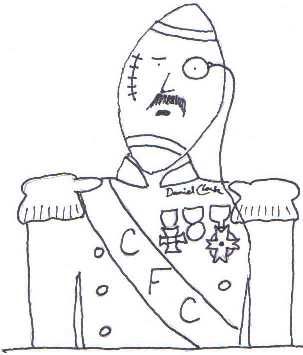 <![endif]>
Week ten in review: The first CFP ratings of the season are upon us, so let the extremely premature and ultimately pointless controversies begin. Okay, so the College Football Czar doesn't think Penn State is that good a team, either. But they will be if they continue to win, and if they don't, then they'll drop in the rankings. Either way, the dispute ultimately settles itself. Regardless of what the committee says now, any one of the top six teams is in the CFP if it wins out.
The first major coaching shakeup has taken place with Florida State firing Willie Taggart, which has been followed by rumblings from Southern Cal, where new athletic director Mike Bohn is trying to stave off questions about coach Clay Helton. Meanwhile, Rutgers, which dismissed Chris Ash several weeks ago, is in negotiations for the possible return of former coach Greg Schiano.
The Czar correctly foresaw the downfall of undefeated SMU at Memphis last Saturday, and otherwise had a successful week at 13-5. For the season, his record stands at 117-64, for a .646 winning percentage.
Nov. 8
Washington at Oregon State
Among the four Pac 12 teams in the Great Northwest, this is the only matchup that's not a rivalry, with the possible exception of those several years when Dennis Erickson was head coach at OSU. The Huskies have won the last seven games in the series, and are 19-8 all-time in Corvallis.
The Beavers are all alone in second place in the Pac 12 North. They could conceivably be the #3 selection out of the conference, which would send them to the Alamo Bowl. However, if they lose this week to fall to 4-5 with a game remaining at Oregon, they could still miss the postseason altogether.
Reser Stadium is a fitting home for a Beaver team that never gives its fans much of a payoff. The sponsor of that facility, Reser's Fine Foods, is the maker of those pretty good but too-tiny cups of macaroni and cheese you've probably seen in the refrigerated section at the supermarket. Seriously, if a genie popped out of a cup of Reser's mac & cheese, you'd probably ask him for some mac & cheese.
Washington 42, Oregon State 32
Nov. 9
Penn State at Minnesota
Golden Gopher coach P.J. Fleck made a pitch for ESPN College GameDay to appear in Minneapolis this weekend, but he lost out to Tuscaloosa. The College Football Czar thinks he was right. The GameDay crew goes to the Bama-LSU game every season. When's the next chance they'll get to visit such a traditional football school as Minnesota for this big a game? Okay, so they were just in South Dakota a couple weeks ago, but if you're going to host an on-location football show, you've got to expect to get cold once in a while. What's the worst that could have happened if ESPN had taken Fleck up on his invitation, a chance meeting with Al Franken? Suck it up, guys. If you want to keep your show fresh, stop recycling the same dozen venues all the time.
The Nittany Lions' dominant defensive play has been concealing a troubling trend on offense. For the season, PSU is averaging 422 yards per game, but in their past three games, that number has dropped to 293. That's only an average of 13 more yards than their D has given up this year.
The rowdents have hit their stride after a treacherous nonconference schedule, during which they beat Division I-AA South Dakota State by a touchdown, and then Fresno State and Georgia Southern by three points each. After winning another close game in their Big Ten opener at Purdue, they've dispatched four consecutive league opponents by an average margin of 31.8 points.
When the two most excessively intense head coaches in America meet to shake hands at the end of the game, they just might spontaneously combust. How do you suppose the CFP Committee would factor their disappearance into the winning team's rating?
Minnesota 22, Penn State 17
Texas Tech at West Virginia
Tech cornerback Douglas Coleman must have wanted to go back to his corner and stay there after his role in a Week 9 loss to Kansas. When a late KU field goal attempt was blocked, Coleman fielded the ball, which itself was unnecessary because it had crossed the line of scrimmage. Then, he lateraled the ball to nobody, leaving it for the Jayhawks to recover for another chance at a winning kick. This time, it was good, and Coleman and his team were losers by a final of 37-34. If he was trying out for our Rugby World Cup team, he'd fit right in, except that he was a little late.
The Mountaineers came a blocked field goal away from forcing overtime against unbeaten Baylor, but they were outgained by better than a 2-to-1 ratio, and only stayed in the game because of a 95-yard kickoff return by Winston Wright. It was the third game in a row they were held to 14 points, dropping their record to 3-5.
TT is looking for a turnaround in this series, now that each team has hired a new coach. Former Red Raider head man Kliff Kingsbury liked to play pretty-boy ball, with lots of finesse, but he lost his last five games against WVU's ex-coach Dana Holgorsen, who is far less afraid to get dirty. No wonder Holgorsen and Kingsbury look like before and after pictures in an ad for soap.
Texas Tech 19, West Virginia 17
LSU at Alabama
President Trump is expected to attend this game, and if you care one way or the other, you're boring.
Ever since the original Game of the Century between these teams in 2011, this series has been about as exciting as a hundred-year-old egg, and twice as pungent. Including that game, which was Louisiana State's last victory in the series, they've averaged 8.2 points per game since then. That trend may be finished with the Tigers' hiring of offensive coordinator Steve Ensminger, who has made them the fourth-most productive offense in the nation.
Tua Tagovailoa is not an Irish lullaby, but if the quarterback does not remain healthy for the remainder of his junior year, the Tide can wave nighty-night to their national championship hopes. Backup QB Mac Jones performed very well in his first start, but he faced about as much resistance from Arkansas as a certain former governor from that state faces in a Hot Springs house of ill repute.
LSU 38, Alabama 21
Iowa State at Oklahoma
The Cyclones' sophomore quarterback had his team sitting Purdy as a pitcher, until an ugly three-INT performance against Oklahoma State sent them tumbling out of contention with their second conference setback, 34-27.
A year ago, OU prevailed 37-27, perhaps starting a new winning streak in this series, after the Clones had upset them in 2017 to halt an 18-game skid. If they win a second in a row, Lincoln Riley's team will have a chance to catch Baylor next week for the league lead.
The last thing anyone in this conference expected was that the Sooners might not make it to the championship game, but if they lose to ISU, they could find themselves at the bottom of a three-way tie-breaker for second place in the ten-team Big XII. And being at the bottom of a three-way is not much fun, unless you happen to be congresswoman Katie Hill.
Oklahoma 45, Iowa State 34
Wake Forest at Virginia Tech
VT safety Divine Deablo took time off from being the official mascot of Burgatory to return a fumble 98 yards for a touchdown in South Bend. The Gobblers had bitten off more than they could chew, however, as a Notre Dame team that had statistically dominated the game came back with a late drive to beat them, 21-20.
With the Week 12 clash with Clemson looming, the Demon Deacons (7-1, 3-1) still have a chance to win the ACC. Last week, Jamie Newman returned from a shoulder injury to throw three TD passes and run for two more scores, in a 44-10 trouncing of Nc State. Got that? Newman scored five touchdowns altogether. Not "was responsible for"; he scored them. Dammit.
Divine Deablo against the Demon Deacons? What is this, the Moral Relativism Bowl? It seems nobody can simply be good or evil in this game. Everybody's got to be half of each. You know, just like Xuxa.
Oh, come on. Xuxa's got her good points too, you know.
Wake Forest 33, Virginia Tech 19
Kansas State at Texas
The Corvette could never be confused with Skylar, but Wildcat QB Skylar Thompson is running efficiently, completing 60 percent of his passes with seven scores and only one interception.
Horns' quarterback Sam Ehlinger is no longer ehlingible for many postseason awards, after what had been a gradual decline accelerated during a 37-27 loss to TCU. The junior, who had completed 15 touchdown passes before his first interception of the year, threw picks number 4 through 7 against the Horned Frogs, while completing fewer than half of his passes for the first time in 2019.
At 5-3, the Longhorns' chances of returning to the Big XII title game are remote, and nobody uses a remote anymore. Nowadays, people just walk around the house talking to inanimate objects as if they were mentally impaired, which they soon will be if they keep it up.
Kansas State 25, Texas 21
USC at Arizona State
In hindsight, perhaps it wasn't a good idea for the Trojan fans to start their "overrated" chant in the first quarter of their team's 56-24 loss to visiting Oregon. It sounded good when they were up 10-0, though.
When the Sun Devils left home after Week 7, they were one win away from bowl-eligibility, and that's still where they are today, following road losses to Utah and UCLA, and an idle Week 10. Tailback Eno Benjamin is tough, but is he enough? Through two-thirds of the season, he's only got about 40 percent of last year's yardage total.
Since SC had been a few weeks without an athletic director, there's been nobody to ironically damn Clay Helton by giving him the dreaded vote of confidence, so the coach made a point of giving a vote of confidence to himself after the UO game. The Czar has got to admire his initiative, if not his head for tactics.
USC 38, Arizona State 35
Iowa at Wisconsin
Both teams trail Minnesota by two games, but each of them still has a head-to-head game remaining against the Golden Gophers. So, if the radiant rodents fail to beat Penn State in a noon game, this 4 o'clock tilt suddenly becomes very important.
It seems like the Hawkeyes just stand around watching whenever one of the Big Ten's best defenses comes charging into their backfield. In their two losses, to Michigan (10-3) and Penn State (17-12), they allowed a total of 20 tackles-for-loss.
You'll understand why the Badgers have adopted "Jump Around" if you ever hear that school's official fight song, "On, Wisconsin." Contrary to popular belief, that song was not written by UW alumnus Steve Miller, even though the lyrics are every bit as hackneyed and clunky as those to "Abracadabra."
Actually, "On, Wisconsin" never does say that the thing that goes on Wisconsin is cheese. Everybody must have simply assumed that, for some reason or other.
Wisconsin 23, Iowa 13
Baylor at TCU
Just a few days after Horned Frog quarterbacks Max Duggan and Mike Collins were injured in a 34-27 loss to Oklahoma State, former starter Alex Delton announced that he was leaving the team. Next up in the pecking order would be Justin Rogers, except that he announced his intention last week to become a leaping lizard, and transfer out.
Coach Gary Patterson thinks Duggan will be able to play. If not, he may have to start running the Wild Frog. This formation is doubly deceptive in that, first of all, it involves a direct snap to a running back, and second, by the time defenders realize the "frog" is really a lizard identifying as a frog, it will have run right by them.
If the 8-0 Bears aren't mentioned in the same breath as the other unbeaten teams, perhaps that's because they don't deserve to be. If not for a blown call in the first overtime against Texas Tech, they'd be just another team with an inflated record against weenie competition. Not only is the Big XII easily the weakest of the Power Five conferences, but BU's best nonconference opponent by far was the Roadrunners of Texas-San Antonio. Had the real Waco Kid been that averse to competition, he'd have blasted that six-year-old kid to smithereens, and then done a celebratory dance.
Baylor 26, TCU 14
Louisville at Miami
The Cardinals' conference results are so nonsensical, they really ought to be in the Coastal division. Since losing to Florida State, they've handed Wake Forest its only loss to this point of the season, and also toppled Coastal leader Virginia.
Whatever mysterious turbulence Canes' QB Jarren Williams had encountered has surely settled down since his 313-yard, two-TD performance against Florida State. The way things have gone recently, occasional starter N'Kosi Perry had better find himself n'cozy spot on the bench.
In the least surprising news item of the season, a Hurricane defensive back is now lost for the season because he got injured celebrating a takeaway. Safety Bubba Bolden had just intercepted a pass during his team's 27-10 win over FSU, when he and teammate Gurvan Hall mistimed their butt-bump, resulting in a serious ankle injury to Bolden. As he sat, ailing and probably embarrassed on the bench, an assistant coach came along and hung the Turnover Chain around his neck. Yet another moment of self-parody in the life of the university whose slogan ought to be, "The U: We Never Learn."
Miami 30, Louisville 27
Appalachian State at South Carolina
For the second year in a row, the Mountaineers have been upset by Georgia Southern, but anyone who expects it to affect the rest of their season is likely to be disappointed. In 2018, they followed up their loss to GASO by winning their last six, including the Sun Belt Championship and the New Orleans Bowl.
In spite of their big victory over Georgia in Week 7, the Gamecocks are only 4-5, with games remaining against Texas A&M and Clemson. If things go as expected, they'll miss out on a bowl game for the second time in the past dozen years.
The folks at SC are incredulous that their neighbors to the North would consider themselves the Appalachian State. They latch their share of apples in the South, also; they just don't make such a big to-do about it.
Appalachian State 28, South Carolina 24
Wyoming at Boise State
The Broncos averted the upset late last Saturday in a 52-42 comeback victory at San Jose State, but they should nevertheless be alarmed by the 497 yards they yielded to the fifth-place team from the MWC's West division. The once-vaunted BSU defense has now allowed 107 points in three games. Who vaunts them now?
The Cowboys are second in the Mountain West in rushing, next to only Air Force, at 239 yards per game, even though no single back is anywhere near the 1,000-yard mark. Their leader in rushing touchdowns is quarterback Sean Chambers, who has scored ten TDs on the ground, as opposed to only seven through the air. For all the College Football Czar knows, he could be "responsible for" others, but those are the only 17 he scored.
Why is ESPN suddenly using this nonspecific "responsible for" terminology? Is that a statistic that's being used by DraftKings? Perhaps the Czar shouldn't complain. At least some star athletes are finally being held responsible for something.
Wyoming 35, Boise State 34
Florida International at Florida Atlantic
With a 35-24 win at Western Kentucky, the Burrowing Owls remain in contention in the East division of Conference USA, although they may need some help from this FIU team in its final regular season game against Marshall. Yet all of a sudden, there's reason for pessimism in Boca Raton, in that there's probably never been a head coach more cut out for the Florida State job than current FAU skipper Lane Kiffin. The College Football Czar will leave it up to his readers to decide upon whom that reflects more poorly.
The International Men of Mystery are 5-4, but with games remaining against Miami and Marshall, this becomes a critical result in their hunt for a third consecutive bowl appearance. In truth, the postseason would be better off without them. The first of FIU's wins this year was against Division I-AA New Hampshire, and since then they've beaten Umass, which is likely dead-worst among I-A teams, and then arguably the three worst teams in the C-USA: Charlotte, UTEP and Old Dominion.
This matchup of small-conference Sunshine-Staters is known as the Shula Bowl, which is like the Hula Bowl, but with everybody wearing shoes. Unlike hula dancers, those shula dancers can become modest about the most peculiar things. Sorry, fetishists.
Florida Atlantic 25, Florida International 12
Florida State at Boston College
Eagle running back A.J. Dillon climbed into second place in the nation in rushing, with a 242-yard, three-TD game to stomp Syracuse, 58-27. Dillon actually leads among American-born backs, trailing only Oklahoma State's Chuba Hubbard, who hails from Canada. But of course, Hubbard has grown up playing on Canadian football fields, which are much larger, thereby giving him an unfair advantage. Ergo, the Czar has decided to penalize him 400 yards, making Dillon the new leader. MAGA!
Head coach Willie Taggart has been fired after only 21 games in Tallahassee, during which he went 9-12. If that seems abrupt, it is, but it's nine more games than he gave his players at Oregon before bolting for sunnier pastures. At the time, he called FSU his "dream job." He should have laid off the jalapeno-flavored ice cream before bedtime.
Taggart's motivational slogan is "Do Something." We'll see how much he means that, now that the Seminoles are going to be paying him $17 million not to do his job anymore.
Boston College 17, Florida State 10
Tennessee at Kentucky
Despite the loss of Bennie Snell to the Pittsburgh Steelers, the Wildcat offense has only declined by 5.5 yards per game. So how have they gone from 10-3 to 4-4? There are lots of reasons, but a minus-5 swing in turnover margin has got more than a little to do with it.
With three wins in four games, and bowl-eligibility within their grasp, Tennessee hasn't had this much fun since last time Stanley Livingston went on vacation. Against the top teams in the SEC, they try but can't succeed-o, but things should be different in a season-ending stretch against UK, Mizzou and Vandy.
The Czar is referring, of course, to the cartoon character Stanley Livingston from Tennessee Tuxedo, and not the real person who played Chip on My Three Sons. In case you're wondering how the Czar is even aware of this second Stanley Livingston, that's because the former child-actor recently appeared on Celebrity Dog Groomers, where he threw a hissy fit on Belinda Carlisle for using too much mousse on a cockapoo.
The only reason you know that last item is made up is because you haven't heard people talking about it at work. How sad is that?
Tennessee 24, Kentucky 16
Illinois at Michigan State
Now, when Lovie sings, "You Need Me," the folks at the U of I are more inclined to believe him, even though he hasn't got Ginger's or Mary Ann's gams. The Illini's lopsided win over Rutgers extends their winning streak to three, and brings them within one victory of bowl eligibility at 5-4. That might not sound like such a big deal, until you realize that this team hasn't had a winning season since 2011, when they defeated a sub-.500 UCLA team in the Kraft Fight Hunger Bowl to finish 7-6.
The MSU running game has abandoned it, literally, with Connor Heyward and LaDarius Jefferson both transferring out. Elijah Collins has their only 100-yard rushing game of the season, and that was way back in Week 2 against Western Michigan.
Actually, the College Football Czar has never seen Lovie Smith's gams. He's only guessing, which is probably terribly unfair of him.
Illinois 13, Michigan State 10
a sports publication from The Shinbone