The College Football Czar
Week 11
<![if !vml]>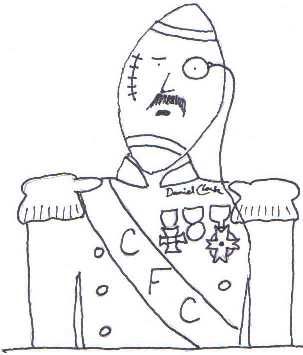 <![endif]>
Week ten in review: The number of unbeaten teams has dwindled to six, as TCU, LSU, Michigan State, Memphis and Toledo were all defeated.  There can be no more than four left by the start of the bowl season, because Baylor and Oklahoma State must play each other, and Ohio State and Iowa are on course to meet in the Big Ten title game.  The CFP isn't placing such a high value on that 0 in the L-column, though, and that's a good thing.  As great a season as 9-0 Iowa is having, it's not comparable to what Notre Dame has accomplished in going 8-1.
ND is #4 in the new poll, while Alabama, also 8-1, has shot up to #2 with a commanding performance against previously unbeaten LSU.  This has resulted in the predictable yelping from the precincts of the Big XII, because BU and OSU are only rated sixth and eighth, respectively.
The College Football Czar hereby nominates Missouri coach Gary Pinkel for the Lardhead of the Year Award, for having briefly shut down his team, thus threatening to forfeit this week's game against BYU, in support of a graduate student who claimed to be on a hunger strike.  The protest was supposedly against the "systematic oppression" of various minority groups on campus, although this charge was entirely factually unsupported.  That student – a Communist agitator named Jonathan Butler, who's bent on bringing the Ferguson riots to the U of M campus – demanded the resignation of university president Tim Wolfe.  By supporting Butler, Pinkel was also demanding that Wolfe resign, although he now claims that's not really what he meant to do.
Even though there was no specific accusation against him, Wolfe acquiesced, largely due to Pinkel's support for the protest.  With Butler's demand met, the Tigers could retake the field.  By midweek, however, there had been a pair of genuine racist threats made against Mizzou students through social media.  School officials are not to blame, but why should that start mattering all of a sudden?  Surely a direct threat to shoot people is more serious than a hearsay account of somebody using a racial slur.  So why isn't Pinkel re-suspending his team's operations?  Assuming he isn't, then how does he justify the previous stoppage?
In a disjointed letter attempting to explain his protest, Butler mentioned no specific grievance that should have affected Pinkel or his team, but instead whined about "graduate students being robbed of their health insurance," and "Planned Parenthood services being stripped from campus."  The first of these references is to the health insurance subsidies that the school had been giving its graduate students, the discontinuation of which was mandated by the law that is comically known as the Affordable Care Act, although Butler does not acknowledge this.  The second is to a state law denying university hospital privileges to Planned Parenthood, meaning that there is no longer an abortionist practicing on campus.  Are these the issues for which the Tiger players were so willing to forfeit a game?  Don't hold your breath waiting for reporters to ask them.
Having succeeded in forcing Wolfe's resignation, Butler appeared at an Occupy encampment on school grounds, surrounded by stooges wearing shirts with a raised fist logo, and looking remarkably well for someone claiming not to have eaten in eight days.  He did not sound conciliatory, either.  One might wonder, then, what was the purpose of Wolfe's ouster.  It serves as a confession of guilt on behalf of the university, the thing of which it is guilty to be decided at some later point.  Let the Stalinist show trials begin.  Here's hoping the cowardly Coach Pinkel is first on the docket.
The College Football Czar usually likes to include at least one Friday game among his picks, but he has decided that this week's only Friday game, between USC and Colorado, is not competitive enough to justify making a pick.  Ergo, we'll proceed directly to Saturday.  Last week, the Czar lost the big one between Bama and LSU, but still finished 13-6.  For the season, his record stands at 118-70, for a .628 winning percentage.
Nov. 14
Pitt at Duke
The 6-3 Panthers' only losses have been to Iowa, North Carolina and Notre Dame, but the best team they've beaten has been Virginia Tech.  They end the regular season against three opponents that lie somewhere in between.
Duke quarterback Thomas Sirk will probably play in this game, but he is suffering from what is being described as an "upper body injury."  (What?  Did he get it playing hockey?)  Sirk is not only his team's only experienced passer, but he's also its leading rusher, with 555 yards.
After the Blue Devils' 66-31 thrashing at the hands of UNC, Tarheel quarterback Marquise Williams claimed to have overheard a Duke defender in the first quarter, remarking that it was going to be a long day.  There's no reason to doubt the story, because that sense of resignation showed for the rest of the game.
During the offseason, the Devils had Wallace Wade Stadium renovated, with the running track removed and the seats closed in tighter around the field.  Considering the program's history, it's no wonder they didn't want to keep track any longer.
Pitt 35, Duke 27
Texas at West Virginia
The 4-5 Longhorns are the visiting team for only the fourth time all season.  In the first three, they've been blown out by Notre Dame 38-3, TCU 50-7 and Iowa State 24-0.  No herd of cows had fared so poorly on the road since that busload from Bovine High went on a field trip to see how gelatin is made.
WVU is back in business for the postseason, after topping Texas Tech 31-26.  At 4-4, with remaining games against Kansas and Iowa State, they would be virtually bowl eligible with a win this week.  The Eers' offense uncharacteristically wound the last 6:47 off the clock against Tech, with RB Wendell Smallwood getting six carries for 42 yards on the final drive.
If you think that field trip was a terrible idea, the next year they introduced "whole language."  That's why this generation of cows can't even spell "eat more chicken."
West Virginia 42, Texas 23
Alabama at Mississippi State
The Crimson Tide so totally dominated LSU that it's a wonder the game was still competitive at halftime.  The Tide expected Tiger RB Leonard Fournette to get the ball on first down, and he usually did, so they stopped the nation's leading rusher for only 31 yards on 19 carries.
Dak Prescott threw for a season-high four touchdowns to lead MSU to a 31-13 win over a Missouri team that was not on strike at the time, but sure seemed like it.  Prescott has passed for over 300 yards in each of three straight games.
The mud puppies haven't made much of an impression on their foes from Tuscaloosa in the past seven years.  Last year's 25-20 loss was the only one during that time that's even been close.
It's being reported that Bama OL coach Mario Cristobal might be hired as the next head coach of Miami.  If Cristobal looks into The U's future and sees promise, he must be cracked.
Alabama 26, Mississippi State 10
Oklahoma at Baylor
The 8-1 Sooners are still in the thick of the Big XII race, but are they really?  Since a shocking loss to Texas, OU has obliterated the bottom four teams in the league by a combined score of 232-50.  Now, they must face BU, TCU and Oklahoma State in succession.
BU got a tough game from Kansas State, but that wasn't the fault of new starting quarterback Jarrett Stidham.  The freshman completed 23 of 33 for 419 yards, with three TDs and no interceptions.  Still, the Bears needed a late pick from senior safety Terrell Burt to seal the 31-24 victory.
Sooner coach Bob Stoops has tried for years to shed his derisive nickname "Big Game Bob," and he appears to be succeeding.  Nobody's had any reason to call him that all year, which is another advantage to playing no big games until Week 11.
Baylor 39, Oklahoma 35
Memphis at Houston
The Tigers got trampled by Navy 45-20, which means they can get on with the rest of their season, without being distracted by absurd speculation about their being a final four team.  Undefeated UH inherits that absurdity, as the new leader of the "little guy" schools.
Last time the Cougars were undefeated at this point in the season was 2011, when they suffered their first loss in the Conference USA championship game against Southern Miss.  Before they can reach the first-ever American Athletic Conference title game, they must survive a pair of challenges from ranked opponents Memphis and Navy.  The 33-30 scare they got from Cincinnati last week suggests it won't be easy.
The Cougs' home stadium is called TDECU Stadium, which would be a really bad omen if they were playing East Carolina.  The fact that it isn't called "TD Memphis Stadium" will therefore give them a false sense of security.
Memphis 49, Houston 47
Oregon at Stanford
The Fighting Ducks' 44-28 triumph over the Cal Bears appears modest, considering that they rolled up a team record 777 total yards.  That late night win prevented the Cardinal from clinching the division title – which they almost inevitably will, regardless of this week's outcome.
Cardinal tailback Christian McCaffrey is a remarkable triple-threat player, with 1,207 rushing yards, 325 receiving yards, and 642 yards on kick returns.  His rushing stats are being buoyed by a pair of huge midseason games against Arizona and UCLA, during which he exploded for a total of 309 yards and five TDs, while averaging 9.5 per carry.  Duck rusher Royce Freeman, leading the conference with 1,287 yards on the ground, has been more consistent on a game-by-game basis.
UO has ditched the lame winged helmet this year, and has usually gone with headgear adorned with a mascot named Puddles.  Sure, his team plays some exciting football, but that bird has got to learn to control himself.
Oregon 41, Stanford 38
Arkansas at LSU
There were those who questioned whether coach Bret Bielema would fit in with the Razorbacks, but there's no longer any doubt that he belongs.  By the look of him, he gave his razor back quite some time ago.
The Tiger game plan against Alabama was so devoid of wit, the Czar wonders if somebody slipped the Mad Hatter a Prozac mickey.  It was almost as if his strategy was to give the Crimson Tide a false sense of security, but then he simply forgot to spring his trap in the end.
ESPN ran a story this week detailing some of the terrible treatment QB Brandon Allen has received during his time with the Hogs.  Aside from enduring heaps of verbal abuse, Allen has had his apartment vandalized, and his truck egged and later set on fire.  There can be only one answer to this.  The president of the University of Arkansas must step down immediately!
Arkansas 17, LSU 14
Minnesota at Iowa
It's only right that the Golden Gophers honor coach Jerry Kill, so far be it for the Czar to point out that the man's not dead, only retired, and that covering the back of the helmet with a gigantic Mr. Yuk sticker is not very dignified.
The Hawkeyes remained unbeaten, but still didn't do their CFP rating any favors, in a 35-27 struggle against Indiana.  As usual, they've got injury problems in their backfield, with Jordan Canzeri out, and Akrum Wadley questionable, both with ankle injuries.
The radiant rodents no longer have an interim coach, because they've signed Tracy Claeys to a three-year contract.  Claeys is 0-2 so far, but in competitive battles with Michigan and Ohio State.
The winners of this game take home Floyd of Rosedale, a big bronze pig.  If that doesn't sound like much to play for, consider that the losers have to go home with Floyd the Barber, from The Andy Griffith Show.  No wonder this is such an intensely fought game.
Iowa 16, Minnesota 14
Washington State at UCLA
WSU didn't let a frustrating loss to Stanford slow them down, as they torched Arizona State 38-24, behind Luke Falk's 497 passing yards and five touchdowns.  If not for a blown fumble call against the Cardinal, they could be poised to win the Pac 12 North.
With a win, the 7-2 Bruins could catch Utah for first place in the South, when they take on the Utes head-to-head next Saturday.  Still, the Czar has a hard time seeing how a defense that allowed 554 yards to Colorado two weeks ago can possibly contain the Cougars.
After beating Arizona State 38-24, Cougar coach Mike Leach mocked ASU's Todd Graham about the latter's defense of signal-stealing.  This puts the College Football Czar in the uncomfortable position of defending Graham, but the Sun Devil skipper is obviously correct.  Signals are just a form of communication, no more deserving of protected status than if the offense were simply saying what they meant to do, like Chico Marx playing quarterback. ("13, 22, end run, hike!")
If stealing signals wasn't fair game, there'd be no need to disguise them with these four-square panels that feature apparently irrelevant objects, and usually an ESPN personality, just to suck up.  If Coach Graham and his assistants can figure out that a Calgary Flames logo, a Brussel sprout, Hannah Storm and Yosemite Sam equals a halfback option, then bully for them.
Mind you, Coach Leach is the one who excuses the New England Patriots for allegedly altering game balls in contravention of league regulations.  Someone might ask him to explain that inconsistency, but then he'd just go into his Mr. Oblivious routine, staring at the clouds with his mouth open, and asking if anyone has seen his pet sponge.
Washington State 51, UCLA 44
Georgia at Auburn
The Bulldog defense battered Kentucky last week, 27-3, and it's a good thing they did, because their passing problems persisted.  Greyson Lambert was back behind center, where he completed only 6 of 13 for 64 yards.
In a 26-10 victory over Texas A&M, the Tigers tore off a big gain when diminutive WR Ryan Davis crouched down and hid behind the offensive line, and then carried the ball on an end around.  This trick play used to be known as a "midget" formation, until media rattlenoggins who take it upon themselves to become offended on behalf of others became offended.  Not only is the word "midget" verboten, but it's probably incorrect to even acknowledge that a player's size was even a determining factor in the play.
The College football Czar once designed a play called the Bossy Squaw.  It was brilliant, but there was no legal way to signal it in.
Auburn 24, Georgia 17
Nc State at Florida State
It is said that too many cooks spoil the soup, but the Seminoles could probably use at least one more, considering that RB Dalvin Cook accounted for 198 of their 361 yards in a 23-13 loss to Clemson.
The Wolfpack are already bowl eligible at 6-3, but they should have enough scruples to decline the invitation if they don't beat a single bowl-worthy opponent in the regular season.  So far, they've defeated Troy, Eastern Kentucky (I-AA), Old Dominion, South Alabama, Wake Forest and Boston College.
It's too late to spoil the soup anyway, because the Federal Food Police have already seen to that.  Give us back our salt, damn you!
Florida State 32, Nc State 14
Washington at Arizona State
If you don't understand why the College Football Czar was reluctant to defend Sun Devil coach Todd Graham, that's because the Czar is a season ticket holder for the Pitt Panthers, whom Graham lied to and abandoned after one turbulent season.  The coach's dishonesty is plain for anyone to see.  In a previous life, he was Paul Sorvino as the corrupt evangelist in Oh, God!
The 4-5 Huskies' only victory in their last four games was against an Arizona team that had already defeated itself before coming out of the tunnel.  Their previous win was in Steve Sarkisian's final game at USC.  They have yet to show that they can beat a formidable team that isn't in a state of total disarray.
ASU, being only partially in disarray, has held fourth-quarter leads in consecutive losses to Utah, Oregon and Washington State.  Like UW, they are now 4-5 overall, and 2-4 in Pac 12 play.
Okay, so Paul Sorvino is still alive, but that's just the way Coach Graham is.  He keeps leaving his previous lives, before they're even dead yet.
Arizona State 40, Washington 31
Southern Miss at Rice
The 4-5 Owls will probably be bowl eligible after finishing against UTSA and Charlotte, but that doesn't guarantee them a bid.  If they want to make it to a fifth consecutive postseason, they'd better make sure by bumping off 6-3 USM.
At 6-3 in Conference USA play, the Golden Eagles need to keep winning to stay even with Louisiana Tech, so that the two can play for the division title on the Saturday after Thanksgiving.  Quarterback Nick Mullens has flown under the radar this year, but has shown remarkable consistency, throwing for at least 265 yards in every game, while tossing 25 TDs and seven picks.
… And since when does an opposing defense use radar, anyway?  Is that the latest trick out of the Patriots' playbook?
Southern Miss 37, Rice 22
Miami at North Carolina
The Hurricanes held off Virginia 27-21, for their second win since getting Al Golden fired.  With a win on Saturday, they would jump ahead of the loser of the Pitt-Duke game, and pull within a game of the Tarheels for the division lead.
At 8-1, the Heels do not look like they're about to let that happen.  In hindsight, they've got to be kicking themselves over that 17-13 opening loss to South Carolina, in which UNC was minus-3 in turnovers.  Still, it would be a lot easier for the CFP to forgive them for that, if they didn't damage their schedule strength with two Division I-AA opponents.
These two programs are known for academic fraud, which ought to entitle them to more positive media coverage, if the treatment of Mizzou "educational leadership" student Jonathan Butler is a fair indicator.
North Carolina 28, Miami 9
Temple at South Florida
Those doorknockers on the Bulls' helmets have a point for a change, as they're suddenly banging on the door of the AAC East leaders form Philadelphia.  If they beat the Owls this week, they can still catch them for the division title, although they'd still need a little help from Memphis next week.
The Owls' most recent game at SMU was a lot scarier than the 60-40 final score suggests.  The Mustangs had made it a 45-40 game, until TU scored twice in the final two minutes.  Matt Rhule's team is 4-0 on the road this year, but they've needed a dramatic last-second victory at Uconn and a fourth-quarter rally to beat East Carolina.
USF is still seeking its first title of any kind.  Since joining Division I-A in 2000, the Bulls fielded a lot of competitive teams in Conference USA and the Big East, but never finished on top.  Curse those Tampa-proof lids!
South Florida 24, Temple 23
Brigham Young at Missouri
Thankfully, this game is being played at Kansas City's Arrowhead Stadium, and not at the chaotic Mizzou campus in Columbia.  Getting away from school grounds is the only reason season ticket holders would bother making the trip to this game.
The 7-2 Cougars almost got caught napping last Friday night against San Jose State.  What might have become a blowout turned into a 14-10 game at halftime, when QB Tanner Mangum threw what had to be his worst pass of the season for a pick six.  BYU needed to foil a two-point attempt in the final minute, to hang onto a 17-16 victory.
Even without any distractions, the Tigers have had trouble keeping their eye on the ball.  Gary Pinkel's team is dead last in the nation in total yardage, and in scoring, they're ahead of only Kent State.
At the only Division I-A school in the Show Me State, it seems strange that they're making such a big deal out of the swastika o' dung that was found on a dormitory men's room door, when this Tiger offense is so much stinkin' uglier.
Brigham Young 16, Missouri 6
a sports publication from The Shinbone