The College Football Czar
Week 11
<![if !vml]>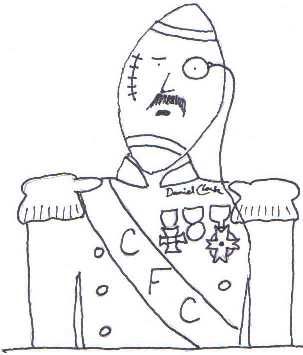 <![endif]>
Week ten in review: The season's first overblown CFP rankings controversy ended abruptly when Texas A&M, which had controversially been placed fourth ahead of Washington, was upset by Mississippi State.  This week, the four major conference unbeaten teams are ranked 1 through 4, with 9-0 Western Michigan lurking back at #14.  The highest-rated one-loss teams are Louisville and Ohio State.
The College Football Czar got off to a good start with two wins on Friday night, and finished the week at 14-7.  There will be no Friday pick this week, however, as there is only one game being played that night, between Florida State and Boston College, and the Czar deems it too uncompetitive to pad his record with.  For the season, he stands at 109-69, for a .612 winning percentage.
Fresno State's head coaching position hasn't remained vacant for long, because the Bulldogs jumped at the chance to hire former California head coach Jeff Tedford, From 2002 through 2012, Tedford led the Golden Bears to a record of 82-57.  Before that, he was offensive coordinator of the Joey Harrington-led Oregon team that should have played for the 2001 BCS championship.
Georgia State has finally closed its purchase of Turner Field, which it will modify into a 23,000-seat football stadium, hopefully in time for next year's kickoff.  The stadium will leave them an option to expand by 10,000 seats, and will be 100 percent less gloomy than the Georgia Dome, which is going to be razed anyway.  The ballpark sold for the modest sum of $22.8 million, which says a little something about the neighborhood it's in, but what the heck?  The Panthers have got to have someplace to play.
In his preseason issue, the Czar celebrated the fact that, because there are usually multiple college football games on at once, you don't have to stick around for the commercials.  Nevertheless, he was too slow on the draw last week to turn off one of the next-generation "Most Interesting Man In The World" Dos Equis ads.  On his list of the worst commercial spokes-characters of all time, the Czar rated Mr. MIMITW #6, so one would think his replacement would be an improvement, almost by default.  Alas, the new MIMITW is so completely not up to the job that he makes George Lazenby seem like the Sultan of Smooth by comparison.  For starters, he looks like somebody who just got kicked out of his parents' house unexpectedly.  Presumably, he's supposed to be suave and dashing, but instead he comes off like an illiterate Bulgarian tennis bum, who doesn't know a comb from an aardvark's posterior.  He ought to stay thirsty alright, because he really should be using that beer to wash his head.
… But I digress.  Without further ado, on to this week's games.
Nov. 12          
Pitt at Clemson
There was a preseason incident near the Pitt campus that may have seemed irrelevant to the football world at the time, but instead it could serve as an omen for the Panthers' season.  A student was trying to impress his girlfriend by jumping between the rooftops of two buildings like he was in a 70s cop movie, but he overestimated himself a bit, and plunged into the crevice between them.  Firemen had to rescue the young man by jackhammering out a section of wall from a Qdoba restaurant.  If he had the good sense to be humiliated by the incident, it didn't show.  As they hauled him away, he gave a double thumbs-up, as if he were the injured hero from the big game, instead of a certified, bona fide, grade-A lardhead.
Likewise, the Panthers, once 5-2, seemed to think they could leap tall buildings in a single bound, just because they failed to choke away the Penn State game as they were bent on doing.  Last week at Miami, they finally faced an opponent that succeeded in containing their ground game and daring them to attack through the air.  The result was a 51-28 drubbing that left them looking totally helpless.  Will they be rescued from the tight spot they've gotten themselves in?  Not this week, against a run defense that will have them pinned between Howard's Rock and a hard place.
"Between a rock and a hard place" has got to be the most lazy-minded cliche ever invented.  "Say, this is like being between a rock and something else hard.  What's hard besides a rock?  Sponges?  No.  It's probably something that has the word 'hard' in it.  I know, it's like being between a rock and a hard thing.  But wait a minute, a rock is a hard thing.  How about a hard place?  Yeah, let's go with that one."
Tiger QB Deshaun Watson left last week's game early with a bruised shoulder, but will almost definitely be able to start on Saturday.  The Czar suspects he could have even returned that day if they'd needed him, but why bother, while they were cruising past Syracuse, 54-0?
The College Football Czar, being a grad-jee-ate of the University of Pittsburgh hisself, would like to vouch for that school's academic credentials.  But how can he, after watching a horde of Pitt students take to the streets to protest the totally valid results of an American presidential election?  They better all be getting gold stars from the professor of their Communist Agitation 101 course, because otherwise, it makes about as much sense as if they were to demonstrate against the outcome of this week's game.
Clemson 54, Pitt 24
Penn State at Indiana
The Nittany Lion defense squelched Iowa, especially in short-yardage situations, throughout a suffocating 41-14 pile-on that makes a 10-win regular season appear all but certain.  The only things standing in their way are IU, Rutgers, and an incredibly disappointing Michigan State team.
Obviously biased BTN announcers repeatedly opined that PSU's Saquon Barkley is the best running back in the nation.  He's not, but being #12 statistically, with 1,055 yards and 6.3 per carry, is more than enough to overwhelm the Hoosiers, who are 5-4, but with wins against the three worst teams in their division, as well as Florida International and Ball State.  Those Big Ten teams they've beaten – Michigan State, Maryland and Rutgers – have a combined conference record of 2-16.
Lion fans don't understand why their team is given so much grief over the Sandusky case, while the Hoosiers get off scot-free.  I mean, Gene Hackman smashed some poor kid in the face, and not only did he get rehired, but they treated him like a hero!
Penn State 44, Indiana 15
West Virginia at Texas
The 7-1 Mountaineers used their 48-21 win over Kansas to pad their rushing stats, as Justin Crawford and Kennedy McKoy ran for season highs of 129 and 127 yards, respectively.  Crawford has done more than just crawl forward, as he has taken the team rushing lead while gaining 6.2 yards per carry.
Conventional wisdom says all these long road trips should take their toll on WVU, but since joining the Big XII in 2012, the Eers 8-12 in conference road games, while going 11-10 at home.  That's not disproportionate, compared to the standard disadvantage faced by visiting teams.  Nor does this challenging league schedule seem to wear them down as the season goes on.  In November games, their Big XII road record is 4-4.
The Longhorns, however are 4-0 at home this season, including a big victory over Baylor two weeks ago.  Darrell K. Royal Stadium has left such a bad taste in visitors' mouths, it might as well be named Royal Crown Cola Stadium.
If it's an odd-numbered week, Horns' head coach Charlie Strong must be a genius.  The head heifer is 5-4 in his third season, after holding off Texas Tech 45-37.  D'Onta Foreman rushed for 341 yards and three touchdowns, both career highs.  As far as the Czar is concerned, the junior tailback should be allowed to foreman all he wants, whatever that means.  D'Onta listen to-a the naysayers!
Texas 35, West Virginia 34
USC at Washington
The Huskies have now got the #4 ranking they should have had a week ago, but can they hang onto it any longer than Texas A&M did?  Unlike the Aggies, they don't need to have a letdown, because they're facing an opponent that's been every bit as dominant as they have over the past five games.
Last season, it was UW that toppled the Trojans 17-12, in a game that ultimately cost former Dogs' coach Steve Sarkisian his job at Southern Cal.  Current SC head coach Clay Helton may soon make them sorry they did that.  So might flamethrowing freshman QB Sam Darnold, who won't have to worry about being chased by Husky sack leader Joe Mathis.  The senior linebacker is out for the rest of the regular season with an injured ankle.
A loss wouldn't necessarily end the Huskies' national title hopes, but it would probably mean they'd have to face Helton's team again in the Pac 12 title game.  For that rematch to happen, the Huskies would need to beat WSU for the Apple cup, while Colorado loses to one of two ranked opponents to end the regular season.
Why do they call themselves UW, when a triple-U would be so much simpler?  Because there is no such stupid thing.  See?  The simplest answer is often the correct one.
USC 28, Washington 26
LSU at Arkansas
The Tigers' 10-0 loss to Alabama last week in Baton Rouge might have been a thrilling game, had there been any hope in the world that the home team might score.  The Louisiana State offense was stifled for a total of just 125 yards, as Leonard Fournette was held to 35 yards on 17 carries.  By now, the Bayou Bengals have lost enough Games of the Century to last them until the Phlendrazoic Era (which some era or other will inevitably be named, infinity being what it is).
A week ago, the Razorbacks faced another plodding SEC power when they hosted Florida.  When they got the early jump on them, the Gators were unable to come back, in a 31-10 runaway.  Wide-body sophomore running back Rawleigh Williams rallied the Hogs with 148 yards and two touchdowns.  Rawleigh, he did.
What, you've never seen jumping hogs?  They're doing wonderful things with GMOs these days.
Arkansas 20, LSU 13
Baylor at Oklahoma
Do the Waco kids need any help?  Oh … all they can get.  Last week, TCU came a-ridin' into town, a-whompin' and a-whumpin', working up a Number 6 on them – eleven times, in a 66-26 stomping.  The Bears committed 121 yards worth of penalties, as well as the game's only turnover, which was returned for a touchdown.
The Sooners (7-2, 6-0) lead the Big XII, but they must face the fourth, third and second-place teams in succession to end the regular season.  They don't exactly look up to the challenge, if last Thursday's 34-24 trudge past Iowa State is any indication.
BU coach Jim Grobe has suspended ultra-cocky running back Shock Linwood for this game, due to what he described as "attitude issues."  Now there's a shock for you.
Oklahoma 47, Baylor 42
Army vs. Notre Dame
The Fighting Irish play their third neutral-site game of the season.  In the first two, they've been stuck in neutral, staggering past Syracuse 50-33 in the Meadowlands, and losing to Navy 28-27 last week in Jacksonville.
The Czar likes to see our military academies qualify for bowl games, just like most other people probably do, but if the Black Knights fail to beat either ND or Navy, they should stay home.  By rule, you can only count one win against a Division I-AA team toward bowl eligibility, whereas the Cadets have already beaten up on Lafayette, and will pick on Morgan State next week.  Yet if they finish 6-6, and there aren't enough bowl-eligible teams to go around, they'll probably get a special dispensation.  Not only would they be 4-6 against legitimate competition, but that would include a 2-2 mark against bottom-rung Conference USA teams.
This game is being played in the Alamodome, which explains why Travis, Crockett and the boys were so badly outnumbered.  Had they held the battle in an outdoor stadium, attendance would have been much better.
Notre Dame 23, Army 6
Tulsa at Navy
The Golden Hurricane has sandblasted three consecutive Conference USA opponents to tie the Midshipmen for the West division lead, half a game ahead of preseason favorite Houston.  Senior tailback James Flanders has said toodley-doo to would-be tacklers this year, as he has dashed for 1,080 yards and 14 touchdowns.
Coach Ken's Middies became bowl-eligible at 6-2 with a gritty 28-27 victory over traditional foe Notre Dame in Jacksonville.  Quarterback Will Worth demonstrated his value by orchestrating a 14-play drive to exhaust the last 7:28 of the fourth quarter, after the Irish had kicked a field goal to pull within one.  Speaking of worth, however, a win over the golden domers doesn't count for all that much this season.
The Naval Academy was the official home team for that game, but they were playing in Jacksonville.  Were they just stopping by to pick up some Naval oranges?
Oh sure, like the oranges are really spelled "navel" instead.  What kind of a creep wants to eat belly button fruit?
Tulsa 48, Navy 45
Auburn at Georgia
Bulldog kicker Rodrigo Blankenship went 4-for-4 in field goals against Kentucky, including a 25-yarder as time expired in a 24-21 victory.  The win practically hands the division title to rival Florida, but it also puts 5-4 UGA back on course for a bowl appearance.  Not that this is any sort of accomplishment.  The last time they failed to reach a bowl game was 1996 – five years prior to the start of the Mark Richt era.
Mysteriously injured AU quarterback Sean White is expected to play on Saturday, but SEC-leading rusher Kamryn Pettway might not.  Pettway pulled up lame in the second half of an unsettling 23-16 win over Vanderbilt.  They may have to carry on with Kerryon Johnson, who has not been nearly as effective since returning two weeks ago from an ankle injury.
According to Dr. Howard, Dr. Fine and Dr. Howard, White has suffered a strained anacanapunah.  That may not exactly be official, but is it any less informative than the injury reports we're receiving already?
Auburn 45, Georgia 24
Texas Tech at Oklahoma State
The 4-5 Red Raiders may yet salvage their season, but in spite of their Week 9 upset of TCU, their defense is third-worst in the nation in yardage allowed, at 534 per game.  They gave up 658 in last Saturday's 45-37 loss to Texas, undoing whatever progress they'd appeared to make the week before.  That leaves them one yard-per-game better than the justly maligned Oregon defense, but at least the Ducks are yielding that yardage while in an exceptional state of calamity, whereas for the Raiders, it's business as usual.
If only the Cowboys (7-2, 5-1) had run into Baylor now instead of in September, they might be running neck-and-neck for the Big XII lead with intrastate rival Oklahoma.  OSU rallied past Kansas State last week, 43-37, to stay within range of OU with a chance of overtaking them in the Bedlam game.
Is Mike Gundy sure he's a man?  This season, he appears to have morphed into the never-aging Ralph Macchio, who isn't due to finish puberty until sometime around 2023.  Perhaps the coach could clear up the matter by singing a few bars of "Macchio Macchio Man" during his next postgame tirade.  Or not.
Oklahoma State 59, Texas Tech 48
South Carolina at Florida
Freshman Gator quarterback Luke Del Rio isn't feeling so grand after a 31-10 loss to Arkansas, during which he suffered an injured shoulder.  Del Rio missed two games earlier this year with a leg injury, but Purdue transfer Austin Appleby proved a serviceable replacement, completing 62.7 percent of his passes and throwing three TDs to one interception.
The Gamecocks' three-game winning streak hasn't exactly been what you'd call impressive, but it's pulled them to within a game of bowl eligibility, with a game coming up next week against Division I-AA Western Carolina.  If the SEC pecking order holds, the Cocks should be headed for the Liberty Bowl.
Steve Spurrier, former coach of both of these teams, returned to UF last year as an "ambassador" of the athletic program.  That's a curious title, considering that the Old Ball Coach was not exactly famous for his diplomacy.  When Spurrier was still with the Gators, he coached in a game at Auburn during which there was a fire in the school library across the road.  The real shame of it, he said, was that most of the books hadn't even been colored in yet.
Florida 17, South Carolina 9
Appalachian State at Troy
The Old College Troy hosts the upstarts from App State in a Sun Belt Conference elimination game.  Fans of conclusive endings would rather see the Trojans win, because the Mountaineers and Arkansas State don't play each other, and therefore could both finish undefeated in the conference.
It was the Mountaineers who grabbed the attention of the national media this year by forcing Tennessee to overtime in their opening game, but they were mauled by Miami two games later, whereas TSU's only defeat has been to Clemson, 30-24.  There was nothing fluky about that final score, as they competed with the Tigers in almost every statistical category.
Why do teams named the Trojans keep winning, when they're named after the most famous stupid losers in world history?  The Rebels were losers, too, but look where Ole Miss and UNLV are.  That makes sense.  But not only were the Trojans bigger losers than that, but really, really stupid ones, to boot.  They couldn't have come up with a more embarrassing name for their team unless they'd called them the Troy Fedayeen Saddam.
Troy 37, Appalachian State 34
Stanford at Oregon
With 199 rushing yards, RB Christian McCaffrey was back in top form, but the cardinal team as a whole still seems to be reeling.  Quarterback Keller Chryst only collected 60 yards on 10 completions in the 26-15 win over Oregon State.  The team from Palo Alto is seventh-worst in the nation in passing, so expect them to stick to the run, against a UO defense that has gotten ground up all season.
The Fighting Ducks have freshman QB Justin Herbert playing behind an equally inexperienced offensive line, but at least when he gets in trouble, he's got two very reliable tight ends to check down to.  Pharoah Brown and Johnny Mundt were both injured earlier this season, but in the last three games, they've combined for 27 catches totaling 349 yards, with 6 TDs
Naturally, the Ducks always have tight ends.  Otherwise, they'd probably just sink.
Oregon 32, Stanford 30
South Florida at Memphis
As many good years as USF has had since joining Division I-A, they have yet to win a conference or division title.  They still have a chance to take the AAC East this season, if Temple trips up somewhere along the way.  The Bulls have had an idle week to prepare for this late-season run, since holding off Navy 52-45 back in Tampa.  Quarterback Quinton Flowers passed for 219 yards that day, while rushing for 172 more, with a pair of touchdowns.
The Tigers halted a two-game skid last week in a 51-7 romp over SMU.  They went back to their faux-Bengal helmets for that game, leading the Czar to conclude that they must actually think the Cincinnati Bengals look cool.  Then again, they also think it's cool to dress up as Elvis, and not even the young Elvis, but the old, fat, glittery, clowny Elvis.
Why must people keep insisting Elvis is still alive?  Don't they remember what he was like 40 years ago?  If he were alive today, you'd have to take Keith Richards' unhealthiness and multiply it by Robbie Robertson, and then feed it a plate of bad oysters, in order to simulate the condition of Elvis circa 2016.
If that's not a valid basis for predicting the result of a football game, the Czar doesn't know what is.
South Florida 45, Memphis 33
Boise State at Hawaii
The Broncos' results are good enough to keep them in competition for the "group of five" New Year's Six bowl berth, but they can't get it without winning their division, which makes the last-minute safety they allowed in a 30-28 loss to Wyoming critical.  They must now win out, while hoping the Pokes drop two of their last three.
UH plays a 13-game regular season schedule, which means they must win seven games to be bowl eligible.  At 4-6, they desperately need to pull an upset over BSU, but if they succeed, all they'll need to do is beat Fresno State and Umass, which are a combined 3-17.
As much as the Czar hates the non-natural-colored turf trend that was started in Boise, he thinks it would be kind of fun if the Rainbow Warriors installed rainbow-striped turf in Aloha Stadium.  Could you imagine trying to run on a field like that?  It would be kind of like that event at minor league baseball games, where two contestants make themselves dizzy and then race each other.
Boise State 34, Hawaii 20
Illinois at Wisconsin
There just isn't enough lard to go around to all the potential Lardhead of the Year Award nominees in Madison.  It all started with two supreme lardheads in attendance at the Week 9 game against Nebraska, who thought it would be a really good Halloween gag for one of them to wear a Barack Obama mask, with a noose around his neck.  (What kind of person even knows how to make or where to purchase a noose, anyway?)  The university released a steaming heap of gobbledy, on the one hand condemning this alleged witticism, and on the other hand defending it as protected free speech.  This, despite the facts that: (1) actions are not speech; (2) the First Amendment only forbids the federal legislature from abridging freedom of speech, whereas the NCAA already prohibits certain forms of speech at athletic events, including any verbal equivalent of what the offending parties had done, and; (3) UW is itself infamous for its oppressive campus speech codes, making its deference to "free speech" in this case plainly hypocritical.
Under heavy criticism, the school revisited the incident, and took the belatedly sensible step of revoking the season tickets of the two offenders.  Nevertheless, it was then that a group of black Badger athletes decided to protest.  At first, the players very correctly blasted the university's initial response to the incident.  Then, they got silly.  The statement they released complains about "microaggressions," a popular whining point on college campuses today.  For those unfamiliar with the term, a "microaggression" is anything you might say or do that someone else might interpret as offensive, even though you obviously meant no offense by your statement or action (i.e., not a noose).  For example, some colleges no longer use the word "orientation," because they would consider that a microagression against any students from the Far East.  No, really!
The athletes demand that the chancellor "create real programs" to address such things.  Like what?  Subjecting all incoming students to the Clockwork Orange eye drop treatment?  Issuing handbooks instructing that anything anybody might say is bound to offend somebody, so shaddap?  At least this proves that these student athletes are actually going to class, because they would never have thought to respond this way without the prodding of typical Stalinist professors.
This game against the Illini, by contrast, is completely uninteresting.  The Czar's analysis therefore consists of the overwhelming likelihood that the Badgers will win.  Just don't let the fans do that "Jump Around" thing at the beginning of the fourth quarter.  A microaggression against the differently-abled, don't you know.
Wisconsin 30, Illinois 8
Colorado State at Air Force
Neither of these cross-state foes remains in the race in the MWC Mountain division, but the Falcons are already bowl-eligible at 6-3, whereas the 5-4 Rams must pick up another win somewhere, with New Mexico and San Diego State remaining on their schedule.
Arion Worthman, the AFA's running quarterback who never threw the ball after taking over for Nate Romine against Fresno State, suddenly launched the long ball against Army, completing 6 of 9 for 195 yards.  The 31-12 torching guaranteed that the Commander-in-Chief's Trophy will return to Colorado Springs.
These cross-state rivals play annually for a prize called the Ram-Falcon Trophy.  Where do they think of these things?  Bob Diaco, eat their dust!
Air Force 27, Colorado State 22
Kentucky at Tennessee
The Wildcats remain in contention in the SEC East, in spite of their last-second 24-21 loss to Georgia.  If they beat the Volunteers, they will finish the season with a conference record of 5-3, which means they would reach the conference title game if Florida loses to both South Carolina and LSU.  Sure, it's a long shot, but who would have guessed they'd be in this position while they were choking a big lead against Southern Miss back in September?
With a win, the Vols (6-3, 2-3) could be back in the race also.  Their two remaining games will be against Vanderbilt and Missouri, who have a combined record of 1-9 in conference play.  UT has itself lost three straight SEC games, however, and last week's 55-0 drubbing of Division I-AA Tennessee Tech does nothing to end that slump.
The Volunteers love to wear those revolting "Smokey Gray" uniforms that somehow seem to have caught on across the nation.  Actually, the Czar's laundry often comes out looking not dissimilar to those.  Who'd have ever thought he'd be a trendsetter?
Kentucky 13, Tennessee 10
a sports publication from The Shinbone