The College Football Czar
Week 10
<![if !vml]>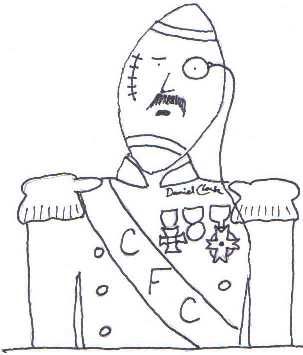 <![endif]>
Week nine in review: We have a new runaway favorite nominee for the Lardhead of the Year Award, and that is fired Florida head coach Jim McElwain, who embarrassed the university by making unsubstantiated claims of death threats against his coaches, players and family.  The UF athletic department later released a statement that read, "The University Athletic Association takes the safety of our student-athletes, coaches, staff and families very seriously … Our administration met with Coach McElwain this afternoon and he offered no additional details."  Gulp!
McElwain has yet to explain exactly why he would care to make up such a thing, but the College Football Czar can take a pretty good guess.  Another SEC head coach, Texas A&M's Kevin Sumlin, was widely expected to be fired early this season, until his wife produced a threatening letter, purportedly from a crazed, racist fan.  Immediately afterward, Sumlin appeared to no longer be endangered.  Of course, this has more to do with A&M's on-field results than the letter, but it's easy to see how another coach who was under intense criticism from fans and media would look at Sumlin's situation and think that the public sympathy generated by the threat saved his job.
The Gators' 42-7 drubbing at the hands of rival Georgia probably didn't factor into UF's decision, but it certainly made it more palatable to the fans.  Defensive coordinator Randy Shannon, who served as head coach at Miami from 2007-10, has been elevated to the top spot in Gainesville, on at least an interim basis.
The season's first CFP rankings are out, and Georgia is #1 ahead of Alabama, with one-loss teams Notre Dame, Clemson and Oklahoma rounding out the Top Five.  Gee, who'd have thought that in an entirely subjective system, the Fighting Irish would get the most generous ranking they possibly could?  With the fall of Penn State, TCU and South Florida, the ranks of the unbeaten have dwindled to five (Alabama, Georgia, Wisconsin, Miami and Central Florida).  Three teams (Baylor, UTEP and Georgia Southern) remain winless.
Aside from correctly predicting the fall of PSU, the College Football Czar did not have one of his more successful weeks, at 10-6.  For the season, his record stands at 117-54, for a .684 winning percentage.
Nov. 3
UCLA at Utah
Bruin quarterback Josh Rosen left last week's 44-23 loss to Washington in the third quarter with an injury to the ring finger on his throwing hand.  How much this may impair him this week is of questionable relevance to a Ute team that faced an ineffective freshman QB last week against Oregon, but still lost 41-20, by giving up 347 rushing yards.  It was the fourth loss in a row for Kyle Whittingham's team, which had started 4-0, but now looks like a long shot for a bowl game.
Utes' leading receiver Darren Carrington had a field day against his former mates, except for the one play when he lost his feel for the ball.  Carrington made nine catches for 130 yards, but he gave back 47 of those yards on a fumble that was returned for a Duck touchdown.
In 1998, Ute Stadium was renamed Rice-Eccles Stadium, after two wealthy donors who paid for its renovation.  It is surrounded by the Wasatch Mountains.  However much Bigfoot paid to rename those must have been astronomical.  Who knew he even had pockets?
UCLA 33, Utah 16
Nov. 4
Penn State at Michigan State
Last week in Columbus, everything seemed to be conspiring to produce a Nittany Lion victory, including unforced Ohio State miscues, bizarre tactical gaffes by Urban Meyer, some mind-bogglingly bad officiating, spaceships burning crop circles right in the paths of Buckeye tacklers, an army of flying monkeys chanting gibberish, and the chance discovery of flubber in the PSU locker room before kickoff, and still it wasn't enough.  They lost the game 39-38, and with it, all but the unlikeliest of chances to return to the Big Ten title game.
It what was basically a replay of the Lions' game against Indiana, but against a better opponent.  Just like against IU, they opened the game with a touchdown on a kick return by Saquon Barkley, and then pulled out to a big lead by forcing turnovers.  Apart from a handful of big plays, however, they looked to be on even terms with the Hoosiers, and they were dominated by the Buckeyes, being outgained by almost a 2-to-1 ratio.
The Spartans also spilled from the three-way tie atop of the Big Ten East standings, in a 39-31 triple-overtime loss to Northwestern.  Tailback L.J. Scott supposedly has a valid license now, but we won't find out because he'll never get pulled over for a moving violation, if he continues to creep along at a rate of 16 yards on eight carries.
PSU didn't face any good offensive teams before Ohio State, nor do they afterward.  The second-best offense on their schedule belongs to Nebraska, which is tied for #65, placing it exactly in the middle of the 130-team field.  In other words, the lumpy nuts have the only above-average O they'll have faced all regular season.  Will the CFP committee even bother to notice that, let alone care?
Being Nittany Lion head coach James Franklin means you always get an immediate shot at redemption.  Just last week, they lost to Akron in the Super Bowl, and now this week, they play in the Super Bowl, against Akron!  How fortuitous!
Penn State 20, Michigan State 13
Iowa State at West Virginia
Based on the way they've played in wins over Kansas and Baylor, one would expect the Mountaineers to get massacred by any ranked opponent, but they've been surprisingly competitive in losses to TCU and Oklahoma State.  In last week's 50-39 defeat against OSU, they trailed 30-10 in the third quarter, before rallying their way into the game with consecutive touchdowns on a blocked punt and an interception return.
The Cyclones stifled fourth-ranked TCU 14-7, for their second victory over a Top Five opponent this season, having earlier upended Oklahoma, 38-31.  ISU is now in a four-way tie for first place in the Big XII, with head-to-head wins over two of the other three teams.
The Czar doesn't mean to belittle the Clones' accomplishments, but OU obviously looked past them, and Texas Christian committed unforced errors by the bushel.  WVU, in fifth place and trying to clinch a bowl bid, will not likely do either of those things.
Cy is not only the Hair Club president, but he's also a client.  Now he takes sadistic pleasure in watching his unsuspecting clone become distraught over its premature balding.  You always knew you didn't like that guy.
West Virginia 30, Iowa State 28
LSU at Alabama
This is Game of the Century VIII, for those lardheads trying to keep count at home.  Since losing the original GOTC in 2011 by a final of 9-6, the Crimson Tide have won six in a row, including the BCS Championship at the end of that same 2011 season.  If anyone actually still refers to this as the Game of the Century, that's because it's usually such a drag it seems like it takes a hundred years to finish.
Last year's meeting went into the fourth quarter scoreless, until the pachyderms overpowered the Tigers, as everybody knew they would, 10-0.  Quarterback Jalen Hurts ran 21 yards for the game's only touchdown, as his team held the Louisiana State ground game to just 33 yards on 27 carries.
Bama coach Nick Saban says he doesn't care about the opening CFP ratings, and if you believe that one, the Czar has got some BCS Championship tickets to sell you.  The Tide is out to prove a point this week, just like they were when they opened SEC play by beating Vandy and Ole Miss by a combined score of 125-3.
Lots of people make fun of the dated, formerly cool "Eye of the Tiger" in Baton Rouge, but in Tuscaloosa, the midfield logo is a gigantic "Ayyy," and nobody ever laughs at that.  Then again, if everyone is so scared of The Fonz that they won't even make fun of Carmine, then pretty much anything goes.
Alabama 42, LSU 10
Oklahoma at Oklahoma State
Sophomore RB Rodney Anderson has taken over the Sooner running game, averaging over 7.5 yards per carry in consecutive wins over Kansas State and Texas Tech.  His 328 rushing yards between those two games gives him 410 for the season, and the likelihood of assuming the team lead in that department this week.  Anderson impressed YouTube viewers by jumping out of a swimming pool from knee-deep water.  He'll find more resistance when he wades into Stillwater against an OSU defense that's allowed only 1,003 rushing yards in eight games.
Cowboy quarterback Mason Rudolph had by far his worst game of last season in Norman, where he completed just 11 of 25 for 186 yards, and no touchdowns, in a 38-20 loss.  Only twice in his career has he thrown for less yardage than that, and for the other two, he was playing injured.  One of those was the previous year's game against OU, when he only played one series, going 0-for-3 with an interception.
Since 1904, this rivalry has been known as the Bedlam series, because originally, the winning team was awarded a bed and a lamb.  The reason for this was ... um … so that they could count it and go to sleep.  Yes, let's go with that one.
Oklahoma 25, Oklahoma State 19
Virginia Tech at Miami
The 7-0 Hurricanes, who have won each of their last four games by eight points or fewer, now host ranked opponents VT and Notre Dame in consecutive games.  Last week, they barely survived against a badly undermanned North Carolina team, 24-19, thanks to a fumble recovery in their own territory with just over two minutes to play.
Tech easily downed Duke last week, 24-3, but their biggest wins so far this season have been against former Big East rivals West Virginia and Boston College.  If they can go 4-for-4 against their old league by beating the Canes and then winning at Pitt two weeks from now, that's probably justification enough to issue team rings.
The Gobblers have won their last ten games against teams that aren't called Clemson.  As luck would have it, the University of Miami is not called Clemson either, not even for short.  Talk about a tailor-made opponent.
Virginia Tech 22, Miami 17
Arizona at USC
The Czar admits he thought the Trojans (7-2, 5-1) would come out flat after being basically eliminated from national contention in a dismal defeat at Notre Dame.  Instead, they popped up and swatted away upstart Arizona State, 48-17, to reestablish themselves as Pac 12 South favorites.  Running back Ronald Jones rolled up a season-high 216 yards with two touchdowns, including one score from 67 yards out.
The 6-2 Wildcats are 4-0 since Khalil Tate took over at quarterback, and that's not by coincidence.  In Tate's first start, he set an all-time, single-game NCAA rushing record for a QB, with 327 yards in a 45-42 victory over Colorado.  For the season, Tate now has 962 rushing yards, to go along with another 784 through the air.  The question is how the Cats can keep up, knowing that their defense allows just over 300 passing yards per game, third worst in the nation after Uconn and East Carolina.
If Southern Cal's Sam Darnold can throw for at least 529 passing yards against Arizona and Colorado, he will have surpassed last year's yardage total in the same number of games.  Mind you, this is on a unit that has undergone massive turnover in its offensive line and receiving corps since last season.
It's being reported that Darnold may return to SC for his junior year, rather than be drafted by the Cleveland Browns.  It's nothing in particular against that team, really.  He probably just wants to be as little like Johnny Manziel as possible.
USC 52, Arizona 41
Ohio State at Iowa
It's not easy to second-guess a head coach who's won three national championships, as Urban Meyer has.  Wait a minute, yes it is.  Now that that's settled, if there's any call worse than the squib kick, with which OSU imperiled its comeback victory over Penn State last week, it's a decision to decline a holding penalty that would drive your opponents deep in their own end for a second-and-23.  PSU happily accepted that act of generosity, converted a third-and-11, and proceeded to drive for a touchdown to lead 35-20 midway through the third quarter.
Running back James Butler bolted Nevada for Iowa because the Wolf Pack was de-emphasizing its ground game.  Little did he know the Hawkeyes would rank #100 in the nation in rushing, 1.3 yards per game worse than the Pack.
Hawks are known to have powerful, majestic-looking eyes that help them spot their prey from hundreds of feet above.  Bucks, on the other hand, have vacant-looking eyes that make them appear dumb as doorknobs.  If it were true that they eyes have it, then Iowa would win.  It's when it comes to what their arms and legs are doing that they get themselves in trouble.
Ohio State 26, Iowa 7
South Carolina at Georgia
The Bulldogs must be secretly disappointed to be picked #1 in the initial CFP rankings.  Every team loves to play the "no respect" card, but now, they'll have to get pretty creative in order to pull it off.  Mind you, it's their own fault for being the only team to defeat Notre Dame, because ranking Georgia #1 makes it that much easier to justify placing the Irish at #3.
In the old BCS formula, UGA would have been hurt by Appalachian State's inexplicable loss to Umass a week ago, because until then, the Mountaineers were one of the better teams the Dogs had beaten.  In that system, when your opponents weakened over the course of a season, it affected your schedule strength, and therefore your ranking.  Everyone knows it wasn't perfect, but at least there were often explanations for how it turned out.  Now, everybody tries to guess at what guidelines the committee is using, when in fact they're not bound to any at all.
One high-profile SEC head coach who's escaped controversy this year is Will Muschamp, whose Gamecocks (6-2, 4-2) have quietly climbed into second place in the East division.  Part of the reason they've gone unnoticed is that their four SEC victories are against teams with a combined conference record of 1-18.  That's like turning a horde of real gamecocks loose on a meandering flock of puffins.
Georgia 37, South Carolina 24
Texas at TCU
The horny toads weren't so great in a 14-7 loss to Iowa State, in which they turned the ball over twice inside the ISU 10-yard-line, and committed 11 penalties for 104 yards.  Gary Patterson's offense was held off the scoreboard altogether, with the Frogs' only score coming on the second-half kickoff return.
Patterson's lizard kings haven't fared nearly as well since joining the Big XII as they did during their years as a "BCS-buster" out of the Mountain West and Conference USA.  In this series, however, they're 4-1 since leaping up to the big leagues, even though they still trail overall, 59-23-1.
The two Longhorn quarterbacks are statistically similar, but Shane Buechele, the current starter due to Sam Ehlinger's concussion symptoms, did not play against ranked opponents USC, Oklahoma and Oklahoma State.  He did throw for 256 yards in last week's 38-7 win over Baylor, but that, and whatever a slice of Texas toast costs, will buy you a slice of Texas toast.
You didn't expect the Czar to bother looking that up, did you?
TCU 17, Texas 13
Stanford at Washington State
With RB Bryce Love injured, some analysts offered the possibility that his Heisman stock would only go up, what with the Cardinal's ugly 15-14 escape from Oregon State highlighting his importance.  The Czar thinks anybody who bought into that argument was outwitting himself.  Nobody wins an award for being unable to play.  A nationally televised Thursday night game against the Beavers provided Love an opportunity for a huge statistical outburst, while getting the kind of exposure that West Coast teams are always whining that they don't get.  It's unfortunate that he couldn't play, and there's no way to spin that into something good.
When Cougar coach Mike Leach benched QB Luke Falk against Boise State, it turned out to be brilliant.  Doing the same thing against Arizona was not.  Tyler Hilinski did throw for 509 yards, but was intercepted four times in a 58-37 thumping.  Leach has already named Falk as the starter for this Saturday.  We'll see how long that lasts.
Explaining his decision, Coach Leach said, "Sometimes, you've just got to ride the Zamboni that ran over your neighbor's poodle."  All right, so the Czar is just making that up, but can whatever Leach really said be substantially different?
Stanford 65, Washington State 44
Auburn at Texas A&M
The Tigers have been led by RB Kerryon Johnson, who has 723 yards and 14 touchdowns so far this season.  Since this is a road game, they must be careful not to let Kerryon bring a laptop with him on the trip, or he may never make it through to College Station.  If such problems have arisen before, that would explain why 6-2 AU has lost twice on the road this year.  Either that, or it's simply because their opponents in those games, Clemson and LSU, are the best they've faced so far.
The Conjunction Boys could have used more "and" and less "but" after an inspired 27-19 loss to Alabama, but in their two games since, they've only beaten beleaguered Florida 19-17, and been manhandled by Mississippi State 35-14.  At 3-2 in the conference, they're only tied for fourth in the far more competitive West division.
The pressure might be back on A&M coach Kevin Sumlin after his Aggies fell to 5-3 with humbling defeat against MSU.  If his team loses again this week, his wife will have to produce a letter threatening that if he is fired, Larry the Dr. Pepper vendor is never going away!
Auburn 28, Texas A&M 20
Wake Forest at Notre Dame
Wake is hoping to echo last week's abnormal offensive outburst, in which QB John Wolford threw for 461 yards and five TDs in a 42-32 win over Louisville.  No Demon Deacon quarterback had thrown for more yardage since 1995, when Rusty LaRue racked up 478 yards in a 42-26 loss to Duke.
The Fighting Irish improved their overall record against the ACC to 43-20, with a surprisingly easy 35-14 victory over Nc State.  It did temporarily cost them the services of tight end Alize Mack, who suffered a concussion.  Mack is currently second on the team in receptions, behind only Equanimeous St. Brown, thereby providing the Czar an excuse to reference that name.
The College Football Czar has complained before about the non-traditional turf in South Bend, but it did allow the Irish to add a permanent midfield logo, which has become part of the stadium's religious tradition, along with Number One Moses and Touchdown Jesus.  In case you haven't placed it, the logo is a partial quote from the Book of Revelation, in which the Lord says, "I am the beginny and the N-D."
Don't you just hate these "modern language" translations?
Notre Dame 38, Wake Forest 16
Central Florida at SMU
The Mustangs defeated Tulsa 38-34 last Friday, with the margin of victory being provided by a penalty on Golden Hurricane receiver Justin Hobbs.  Coasting into the end zone, Hobbs briefly broke into a Deion Sanders-style high step at the 10-yard line.  Therefore, the touchdown was called back, and a 15-yard penalty assessed from that spot, which ultimately resulted in TU having to kick a field goal.
As much as the Czar loves the enforcement of unsportsmanlike conduct penalties, he suspects if he were an official, he would have let Hobbs go when he caught himself in midstride and ran normally the rest of the way into the end zone.  Nevertheless, each of the ESPN announcers, and everyone else who railed against not the call, but the rule, is officially a tweezer-brain.  Unsportsmanlike conduct is not "fun."  If you have a good time watching selfish displays of buffoonery, go and join the nine other people who are still watching the NFL, and leave real football alone.
Just as the undefeated Knights are getting used to the idea of being competitive, second-year head coach Scott Frost is being publicly courted by Nebraska athletic director Bill Moos, at the school where he had once played quarterback.  UCF surely saw this coming, just as soon as the N-men parted ways with the weirdly hired Mike Riley.  You'd probably rather not know this, but Frost "has got the full package," just in case you were wondering what a Moos' mating call sounds like.
Central Florida 52, SMU 35
Minnesota at Michigan
P.J. Fleck's Golden Gophers are still 4-4 overall, but they've fallen to 1-4 in Big Ten play, with most of their toughest games still lying ahead.  Last week against Iowa, they lost the game 17-10, and along with it a chance to jump two spots in the standings, and most importantly, a big bronze pig.  Perhaps if Fleck were to informally nickname his team the Row-dents, the wittiness of that would somehow or other carry them to a winning season.
The Wolverines (6-2, 3-2) finally told John O'Korn that they don't care, and handed the ball to Brandon Peters instead.  The 6-5 sophomore was able to play it safe against Rutgers, completing 10 of 14 with a touchdown, after O'Korn had been picked off early.
The winner of this game takes home the Little Brown Jug, which is actually painted in both school's colors, with one side blue, and the other maroon.  It also holds about five gallons, which is actually pretty big, jug-wise.  So of the three words in its title, "Jug" is the only one that fits.  Not that the Czar is suggesting that universities would tell us anything that isn't true.
Michigan 19, Minnesota 9
Florida at Missouri
Ex-Gator coach Jim McElwain has been fired, but he probably doesn't know it yet, because he's still trying to find out who made a duplicate key to the icebox in order to filch that quart of strawberries.  In his stead, Randy Shannon has a great chance to restart his head coaching career with a victory, against a Tiger team that given up an average of 44 points in conference play so far.
Mizzou won a disturbingly out-of-control opener against Division I-AA Missouri State, 72-43, and has more recently scored back-to-back blowout victories against Idaho and Uconn.  In between, they lost five games in a row, to four SEC opponents and Purdue.
Shannon has declared that the quarterback competition at UF is back open.  Unfortunately, so is the starting tailback position, where freshman Malik Davis has been lost for the remainder of the season to a knee injury.  The other Malik, former golden domer Zaire, will get the start at QB this week, but there's probably nobody in the UF backfield capable of making up Davis' 6.7 yards per carry.
It's been such a brutal year for the Gators that the letters "UF" are less often pronounced as initials these days than as a word.
Florida 29, Missouri 17
Army at Air Force
The Falcons currently hold the Commander-in-Chief's Trophy, but since their 48-45 loss to Navy, they need to win this week, and root for Army to repeat its upset of the Midshipmen in order to bring the award back to Colorado Springs.
At 6-2, the Black Knights have won two games in which they did not complete a single pass.  It should be needless to say that this does not mean that completing no passes is a formula for victory.  The Czar watched Pitt try that approach for the first four games of the season, and it definitely doesn't work.
The winners of the trophy will be hosted at the White House by the Commander-in-Chief, who hopefully will be able to address them without the unsolicited interference of some loony congresswoman in a gigantic ugly hat.  Whether he actually gives the Commander-in-Chief's Trophy to the team is yet to be seen.  After all, it's his trophy.  It says so, right in the name!
Air Force 40, Army 35
Clemson at Nc State
Wolfpack quarterback Ryan Finley threw his first interception of the season in a 35-14 loss at Notre Dame, and frankly, the Czar is amazed it's taken this long.  Finally facing an opponent that pressured him, Finley repeatedly threw against his body and off his back foot, so that he seemed to be tempting the Irish to pick him off at least once every series.
Tiger QB Kelly Bryant, coming back from an ankle injury, ran well on a muddy track last week in a 24-10 win over Georgia Tech.  Estimating himself to be at about 80 percent, Bryant carried the ball 12 times for 67 yards, while throwing for 207 yards and two touchdowns.  Most importantly, he did not at any point need to give way to one of his freshman backups.
You can tell that NCSU is a tough team, because the wolf mascot on its helmet has just eaten a sailor.  We know that because the wolf is wearing a sailor's hat, and whenever a cartoon animal is wearing a hat, that means it has just eaten the person who had previously worn it.  The Czar has researched this extensively.
Clemson 24, Nc State 13
a sports publication from The Shinbone