The Original College Football Czar
Week 10
<![if !vml]>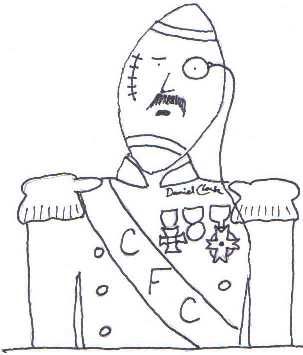 <![endif]>
Week nine in review:  The University of Maryland has dismissed head coach D.J. Durkin, one day after its Board of Regents recommended that it not do so.  The College Football Czar has no opinion on whether or not Durkin is culpable in the death of offensive lineman Jordan McNair, but rightly or wrongly, the coach was damaged goods, and would not have been able to recruit effectively if the school had kept him on.
Frankly, the Czar was surprised by the recommendation that Durkin be retained, because college officials are not known for making tough decisions, and the obviously easy decision was to let the coach go.  The board relented once university president Wallace Loh presented them with a "he-goes-or-I-go" ultimatum.
Elsewhere, Ohio State coach Urban Meyer has divulged that he's got a cyst in his brain that causes him severe headaches.  The coach was visibly staggered by the pain from this ailment during a game against Indiana in Week 6, but he says it was diagnosed back in 1998, and that he intends to remain on the sidelines at OSU for the foreseeable future.
With South Florida getting hammered by Houston, the number of unbeaten teams has dwindled to four:  Alabama, Clemson, Notre Dame and Central Florida.  The Czar hastens to add that, no, Central Florida is not ranked among the top four, and no, the fact that they aren't does not demonstrate a need to expand the playoff.
Everyone can stop arguing about whether Texas should be ranked ahead of Oklahoma, because the Longhorns' loss to Oklahoma State has settled that issue for the time being.  Even before that happened, there was no serious justification for putting the Horns above the Sooners.  Yes, they won the head-to-head matchup, but each team had one loss.  OU's loss was to Texas, whereas Texas had lost to Maryland.  The team whose defeat was to a major conference contender has got to get the nod over the team that was beaten by the ninth-best team in a comparable league.
The Czar came crashing to a record of 9-8, thanks to late collapses by Iowa, Stanford and Missouri.  He did, however, pick his first correct score of the season, as he accurately foresaw Michigan State's 23-13 victory over the hungover Purdue Boilermakers.  For the season, the Czar's record is now 103-60, for a .632 winning percentage. 
Nov. 2
Pitt at Virginia
If the Cavaliers can get past Pitt, they'll have likely set up their regular season finale against Virginia Tech to decide the ACC's Coastal division.  Maybe that still doesn't give them much of a chance, since they've lost 14 in a row to VT, but they've also dropped their last three against the Panthers, so let's not look ahead to Tech just yet.
Panther wide receiver Maurice Ffrench proved he can cut the mustard in last week's wild 54-45 win over Duke, in which his winning score was one of his two TD catches totaling 75 yards, to go along with another 69 yards on six rushing attempts.
Ffrench isn't the only one who had success on the Ffly sweep for the Panthers.  They also sprang V'Lique in the Dukes of Oil defense, with unknown freshman V'Lique Carter, who is getting a late-season test drive thanks to the new four-game redshirt rule.  The converted cornerback prospect streaked for 137 yards and two touchdowns on seven carries, including a 16-yard scamper to tie the game in the fourth quarter.
Tickets at Scott Stadium should be selling by hotcakes, the way quarterback Bryce Perkins is playing.  In last week's 31-21 win over North Carolina, Perkins passed for 217 yards and three touchdowns, and ran for another 112 yards, and one score more.
Have you ever wondered how hotcakes became a popular enough item to justify a saying like that?  It turns out that, just as with everything else under the sun, our current president is responsible.  You see, Barbra Streisand says it's Donald Trump's fault she's gotten fat, because he depresses her, and when she's depressed she eats lots and lots of hotcakes.  How's that for an economic stimulus plan?  Depress zillionaire celebrities into spending all of their money on food!
Pitt 28, Virginia 27
Colorado at Arizona
The 4-5 Wildcats ran their record against Pac 12 North teams to 3-0 with a surprising 44-15 rout of Oregon, in QB Khalil Tate's first game back from an ankle injury.  They're 0-3 against their own division, where CU resides, but those results include two games without Tate, and a tough 24-20 loss to USC.
The Buffaloes, who started 5-0, remain one win short of bowl eligibility after blowing a 31-3 lead against one of the worst teams in the nation, finally falling to Oregon State 41-34 in overtime.  A blocked extra point prevented the Beavers from putting the game away in regulation time, but the Buffs failed to take advantage.
Gee, it's almost as if residents of the state of Colorado have difficulty remaining focused and motivated.  Whatever do you suppose could be causing that?
Arizona 36, Colorado 24
Nov. 3
Penn State at Michigan
A goal line interception by S Nick Scott saved the day for the Nittany Lions, who held off Iowa 30-24, in spite of giving up two safeties, and having a generally poor offensive performance.  Quarterback Trace McSorley completed only 11 of 25, but scored on a 51-yard scramble to give PSU the lead early in the second half.
The Wolverines opened with an ugly 24-17 loss in South Bend, but since then, they've improved just as much as the undefeated Fighting Irish have.  The maize and blue continue to lead the nation in defense by a long shot, allowing just 220 yards per game.
Considering that PSU coach James Franklin owes his job security to McSorley, it only stands to reason that he speaks of him glowingly, but isn't it a little unrealistic to call him the best player in college football, when he's only completing 52.8 percent of his passes?
Oh, wait a minute.  It turns out that McSorley has led his team to six Super Bowl victories so far this season.  For a minute there, the Czar thought Franklin was given to hyperbole.
Michigan 27, Penn State 13
West Virginia at Texas
With a shocking 38-35 loss to a rebuilding Oklahoma State team, the Longhorns fell into a three-way tie atop the Big XII, with WVU and Oklahoma.  Still, the pointy cows have already beaten OU head-to-head, which means a win this week would effectively give them back sole possession of first place.
The Mountaineers beat up on Baylor, 58-14 last Thursday in Morgantown, but they've seemed to wear down on their first two of these long-distance Big XII road trips.  In fact, the vaunted WVU offense was shut out in the second half of a 42-34 win at Texas Tech, and then again in a 30-16 loss at Iowa State.
A year ago, the Horns clinched a bowl bid by beating the Eers, 28-14 on the road.  WV quarterback Will Grier left that game with an injured hand, which he mangled while diving head-first toward the end zone.  That's reason #78B why Pete Rose was a bad role model, for those who are keeping score at home.
Texas 23, West Virginia 19
Alabama at LSU
With a win in Game of the Century IX, the Crimson Tide would already clinch the SEC West, whereas a Louisiana State victory would create a three-way race, with Texas A&M included.  More importantly, it would almost certainly vault the Tigers ahead of the Tide in the race for the CFP, based at least as much on schedule strength as on head-to-head results.
Tiger kicker Cole Tracy has kicked nine field goals in his past two games, all of them from 40 yards or fewer.  In order to beat Bama, his team must make him Cole his heels on the sideline while the offense finishes a few more drives.
They're especially unlikely to outscore the Tide three points at a time while their best defensive player, LB Devin White, is suspended for the first half for targeting.  White's hit on Mississippi State's Nick Fitzgerald looked innocent enough, but the crown of his helmet did make contact with the QB's facemask.  It was a call that would have been made against anyone, and the SEC was right not to overturn it just because of the magnitude of this game.
Do you get the impression that all the SEC loyalists who hype this game up every year don't quite grasp the definition of the word "century"?
Alabama 31, LSU 15
Notre Dame at Northwestern
The Wildcats watched a 17-point lead slip away in a 20-17 setback against Michigan in Week 5; otherwise, they'd now be undefeated in conference play, and runaway leaders in the Big Ten's West division.  Once having lost three in a row, including a 39-34 home loss to Akron, Pat Fitzgerald's team has won four straight.  A week ago, they seized sole possession of first place from Wisconsin in a 31-17 bruising.
The Irish easily handled Navy 44-22, in a game they led 27-0 at halftime.  The Middies are arguably the weakest team on their schedule, however, and could give them the false impression that they've recovered from the shortcomings that plagued them against Pitt.  NU is not likely to get dominated on their home field by RB Dexter Williams for 142 yards and three scores, the way the Naval Academy was in that neutral-site game in San Diego.
Every lardhead on ESPN thinks that because the Fighting Irish beat Michigan, they should remain ranked ahead of the Wolverines even if they lose a game.  But what if that loss were to come against the Cats, in which case all three teams would have taken turns beating each other?  Would the ND-Michigan result still be the only factor worth considering?  Of course it would.  These are lardheads we're talking about, remember?
Northwestern 21, Notre Dame 19
Boston College at Virginia Tech
The good news for the Gobblers is that they didn't give up a single passing yard last Thursday night against Georgia Tech.  The bad news is that the Yellowjackets attempted only one pass, because their ground game ran over the VT defense like a tractor over a pumpkin.
The Eagles turned the turnover tables on Miami last Friday, when they converted two third-quarter interceptions into ten points to pull away, 27-14.  The Canes got to break out their turnover chain once in return, but the recipient didn't look like he was in the mood to celebrate.
Tech seems to still be living off its reputation from a widely viewed 24-3 Labor Day victory over Florida State, but how indicative was that of their abilities, really?  For once, the NCAA has it right about that Seminole team.  They haven't been "hostile and abusive" at all this season.
Boston College 22, Virginia Tech 14
Air Force at Army
The winner of this clash captures the Commander-in-Chief's Trophy.  The AFA, having already defeated Navy, can go 2-0 in the three-team pseudo-league with a win in Michie Stadium.  The Cadets, who currently hold the trophy, would retain possession in the event of a three-way tie, which would become a worst case scenario if they can fend off the flyboys.
The Black Knights are already bowl-eligible for a third year in a row, but this time there's no reserved bid waiting for them.  The College Football Czar predicts that they'll land in the Armed Forces Bowl in Fort Worth, where he expects a reserved berth to be vacated by the Big XII.
Ever since an opening drubbing at the hands of Duke, the Cadets have gone 6-1, their only other loss being a 28-21 overtime decision at Oklahoma.  They haven't had any huge wins this season, but they are the only team yet to defeat 8-1 Buffalo.
When the winners of this game go to the White House to pick up their hardware, they won't have to wait in line behind the Seattle Storm.  The WNBA champs preemptively announced they would not accept an invitation to visit the White House, which they were nowhere close to receiving anyway.  It turned out that they were too busy to travel to our nation's capital, because they were scarfing down hotcakes with Barbra Streisand.
Army 34, Air Force 17
Georgia at Kentucky
Not only is Bama-LSU not the Game of the Century, but it might not even be the Game of the SEC in Week 10.  That's because the Bulldogs and Wildcats meet to all but officially decide who represents the East division in the conference championship game.
The Wildcats rallied past Missouri 15-14, with a touchdown on the final play of the game.  Their offense remains a concern, however, scoring 14 points in each of their two previous games against A&M and Vanderbilt, and needing a TD on a punt return to get back into the game against Mizzou.
UGA's defense is comparable to the Cats', averaging only 11 yards and 3.4 points more per game.  On offense, however, the Dogs are the better team by 96 yards and 13 points.  The only time they've given up 30 or more points was in a 36-16 loss to LSU, during which they were minus-4 in turnovers.
UK's Commonwealth Stadium has been renamed Kroger Field, but if the Wildcats were at all cinematically astute, they would have simply called it Pinto.  Why Pinto?  Why not!
Georgia 20, Kentucky 17
Florida State at Nc State
The Wolfpack pass defense was exposed again during a 51-41 shootout loss at Syracuse, in which Eric Dungey dusted it for 411 yards and three TDs.  Coming off back-to-back bad outings, NCSU looks to get better against the 4-4 Noles, who are in serious danger of having their first losing season since 1976.
FSU coach Willie Taggart is willie, willie angwy with his team over last week's 59-10 drubbing at the hands of Clemson – the most lopsided home loss in team history.  The first-year Seminole skipper is promising to shake things up, after seeing some of his players quit on the field during the second half.
Mind you, Taggart calling his players quitters is kind of like Michal Moore railing against rich white men who consume more than their fair share.  Just last year, the coach was preaching commitment at Oregon, but he abandoned that team quicker than you can say "Todd Graham."
Nc State 27, Florida State 17
Stanford at Washington
The Cardinal got conned into playing Washington State's game, and lost 41-38 as a result.  K.J. Costello's 43 pass attempts nearly doubled his team's 23 rushing plays, with RB Bryce Love limping off in the fourth quarter with only six carries.
If anything was more surprising than the Huskies' 12-10 defeat against the Cal Bears, it's the fact that four-year starting QB Jake Browning was benched for a series early in the second half.  He soon returned to the lineup, after backup Jake Haener threw a pick-six that proved to be the decisive score.
At the start of the year, UW was the Pac 12's best hope for a national championship.  When they end up not going to the White House for a championship celebration, it won't be out of solidarity with their hometown Seattle Storm.  They may be depressed enough to fatten up on hotcakes, though.
Stanford 17, Washington 13
Appalachian State at Coastal Carolina
With one more win, the Chanticleers (5-3, 2-2) would qualify for a bowl game during their first year of eligibility.  Their next three games are all very challenging (App State, Arkansas State and Georgia Southern), but keep in mind that CCU is still the only team to defeat UAB this season, and they did so handily.
The Mountaineers were ranked for two days before getting dumped by Georgia Southern, 34-14.  Much like in their opening OT loss to Penn State, they did themselves in with poor discipline.  Against GASO, they were minus-5 in turnovers, while committing 11 penalties for 91 yards.
As the Czar likes to say, some say "Appa-lay­-chian" and some say "Appa-latt-chian."  Why does he like to say that?  Because it really bugs him that nobody really says, "tomahto," which makes that other saying a lie!
Coastal Carolina 30, Appalachian State 27
Duke at Miami
The Blue Devil run defense had outwitted wishbone teams Army and Georgia Tech, but Pitt pounded them for 484 rushing yards by taking a more direct approach.  That's welcome news for the Hurricanes, whose QBs have been capable of little more than handing the ball off in recent weeks.
The question for the Canes is whether their ground game is able to take advantage.  Leading rusher Travis Homer has only one touchdown through the first eight games of the season. (Doh!)  The U still has its D, which is ranked second behind Michigan, so don't expect Devil RB Deon Jackson to romp freely for 251 all-purpose yards like he did a week ago at Heinz Field.
Remember that zany finish three years ago, when the Hurricanes returned a last-second kickoff all the way with the help of eight laterals?  The results of the officials' review have just come in, and they've concluded they need to review it for three more years.  It's all worthwhile, of course, just as long as they get the call right in the end – whenever that is.
Miami 20, Duke 10
Florida Atlantic at Florida International
FAU coach Lane Kiffin is good at getting into the headlines, but it's Butch Davis whose Golden Panthers headline the Conference USA East division standings.  FIU is all alone at the top, with a league record of 4-0, thanks to a 24-21 Week 7 win over its nearest competitor, Middle Tennessee.
The Burrowing Owls have dug themselves a hole mostly through poor QB play.  Freshman Chris Robison was finally yanked in favor of senior Rafe Peavey in a 21-13 loss to Louisiana Tech last Friday.  Has anyone bothered to tell Kiffin that Matt Leinert's sixth-grade son isn't eligible for this season?
Remember, Coach Kiffin was responsible for Alabama's 2015 national championship.  He'll probably also take credit for making Barbra Streisand fat.
Florida International 35, Florida Atlantic 25
Iowa at Purdue
The Hawkeyes had four chances to run for three yards to score a late go-ahead touchdown at Penn State.  Instead, they tried to cram a first-down pass through a crowd at the goal line, and got picked off.  It was a peculiar call, even if QB Nate Stanley hadn't had a horrendous day to that point.  On 49 attempts, he completed 18 passes, with two interceptions.
The 4-4 Boilermakers were brought back to earth in a 23-13 stuffing at Spartan Stadium, a week after pummeling second-ranked Ohio State.  Quarterback David Blough threw three interceptions against Michigan State, more than doubling his season total.
PU's home field, Ross-Ade Stadium, is undergoing a lengthy series of renovations, which are badly needed to bring the facility up to date.  How out of date is it?  It's a little-known fact that Ross-Ade Stadium was named after the stuff people drank that made them vote for Ross Perot.
Iowa 30, Purdue 16
La.-Lafayette at Troy
In a possible preview of the Sun Belt championship, the Ragin Cajuns try to prove that somebody – anybody – in the West division is capable of competing with one of the powerhouses from the East.  At the moment, there is nobody in the West with a winning record, either in the conference or overall.  ULL (4-4, 2-2) is tied with rival Louisiana-Monroe on both counts.
The Old College Troy remained unbeaten in conference play with a 38-17 victory at South Alabama, bouncing back from an embarrassing nonconference defeat against Division I-A newcomer Liberty.  Over the course of the two games, sophomore Sawyer Smith has become comfortable at quarterback, replacing junior Kaleb Barker, who has been lost to a season-ending knee injury.
The Sun Belt divisions may be unbalanced, but at least each team that reaches the title game will be the champion of something.  In the Big XII, which also has ten teams but hasn't broken into divisions, the league regular season champion will be forced to defend its title against some team that won a three-way tiebreaker for second place.  It's kind of like when you would play an imaginary game in the backyard, but you failed to make the game-winning play, so you had to dream up some excuse to prolong the game to give yourself a second chance.
The College Football Czar remembers that as if it were only yesterday, which it was.
Troy 38, La.-Lafayette 29
Texas A&M at Auburn
The Aggies have shown a tendency to give up on their running game when things aren't going well, and that trend continued in a 28-13 loss to Mississippi State, in which RB Trayveon Williams only gained 26 yards on 10 carries.  For the season, the Conjunction Boys are 5-0 when Williams gets 19 or more carries, and 0-3 when he gets fewer than 19.
Leading Tiger rusher JaTarvious Whitlow is a freshman who's got to be getting "that not-so-fresh feeling" by now.  Already nursing a shoulder injury, he hobbled off the field during a 31-16 win over Ole Miss, in which he rushed for a season-high 170 yards.  He's being called day-to-day, which the Czar takes to mean he's going to play.
If you pull up an article about JaTarvious Whitlow in the Alabama papers, you'll see they refer to him by the nickname Boobee Whitlow.  The Czar hereby predicts that game announcers will be under strict orders to always call him JaTarvious, rather than feel the screeching wrath of the MeToo movement.
Texas A&M 26, Auburn 23
Liberty at Umass
The College Football Czar admits he needs some enlightenment on the concept of being a "transitional" Division I-A member. The 4-3 Flames are a Division I-A Independent.  So far, they have beaten three I-A teams and one I-AA team, which, under normal circumstances, would mean they'd become bowl-eligible with two more wins over I-A opponents.  Yet, because of this "transitional" designation, the Powers That Be Stupid say they're ineligible for the postseason.
At 3-6 with a game remaining against Georgia, the Minutemen have little more to play for, as far as postseason chances are concerned.  Umass did keep its season alive by out-U-ing Uconn, rallying to win 22-17 after trailing 17-9 in the fourth quarter.  WR Andy Isabella only caught four passes, but hung onto his NCAA lead in receiving yards, with 1,091 for the season.
After toppling Troy, LU let down against Division I-AA Idaho State, escaping with a 48-41 win in spite of allowing 631 total yards, 397 of them through the air.  They don't know if Isabella is necessary on a fire engine, but after it's run them over, who cares?
Who knew that the NCAA was discriminating against the "transitional"?  Looks like they owe the state of North Carolina the mother of all apologies.
Umass 49, Liberty 31
a sports publication from The Shinbone