The College Football Czar
Week 1
<![if !vml]>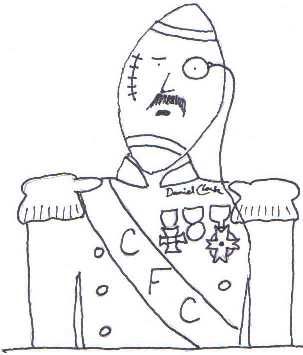 <![endif]>
If you're reading the College Football Czar's week one picks, that must mean that yet another long summer of terrible TV is about to come to a merciful end. So – if you're so desperate for something to watch that you were disappointed to learn that Major League Lacrosse had no national TV contract this year; if you've actually resorted to drafting a fantasy team in half-court, 3-on-3 trashketball; if you're among the dozen or so people who have broken down and turned on ESPN at some point during the college football offseason; if you have spent the summer carrying around a football at all times, just waiting for a trombone player to happen by so you can reenact the '82 Cal-Stanford game – then do not despair, for another exciting, fun-filled season of college football has arrived, not a moment too soon.
A peculiar thing you'll notice about Week 1 this year is that it's two weeks long.  That's because a smattering of other games has joined the Australian opener on the last Saturday of August, but the College Football Czar does not find their number significant enough to designate them their own week of the season.  Some other publications are referring to it as "Week Zero," but the Czar finds the dystopian connotations of that to be incongruous with his celebration of another year of college football.  Therefore, he declares that the games from the opening Saturday through Labor Day, nine days later, to all be encompassed in Week 1.  If the anti-mathematic nature of that designation is bothering you, just think of it as the Big Ten of weeks.
No matter how excited the Czar gets about every new season, there's always something that dampens his enthusiasm a bit.  Roughly 100 percent of the time, that something is the insufferable political posturing of the sports media.  Thanks to our Lardhead-in-Chief's reticence to condemn the Nazi demonstrators in Charlottesville, you can bet that almost every college football announcer and studio analyst will be trying to show him how it's done.  "Get me!  I disapprove of Nazis!  See what a bigot I'm not?"
In fact, ESPN has already gotten the jump on this trend, by removing an announcer from its broadcast of the Virginia-William & Mary game, just because that announcer's name happens to be Robert Lee.  Had the network not taken this action, few people would have even noticed that mildly amusing irony, let alone made an issue of it, because the regionally broadcast game will only be available to most of the country online at ESPN3.  Upon receiving criticism for the move, ESPN released a statement that said in part, "It's a shame that this is even a topic of conversation," but who made it one?  This is an egregious example of what is known in the Twittersphere as "virtue signaling," whereby ESPN flaunts its own smug dingbattery so that it may bask in the envy of other dingbats.
The Czar, expecting a bombardment of similar intrusions, suggests that you do yourself a favor.  When you sit down to watch for these first few weeks, make sure you have an iPod, or a stack of your favorite CDs handy, so that you can hit the mute button and enjoy your football in peace.
And now, without further ado:
Aug. 26
Oregon State at Colorado State
Just about the only new face on this veteran Ram team is the facade of the new, 41,200-seat CSU Stadium, which they unveil for this national season opener against the perennially rebuilding Beavers.  OSU is the first big league team to travel to Fort Collins since Cal Bear-ly staved off a rousing Rams' comeback in 2007.
One-time Idaho Vandal QB Jake Luton has gotten the handle on the Beaver offense, causing Marcus McMaryion to transfer to Fresno State.  Luton, a 6-7 junior, was reportedly head-and-shoulders above his more seasoned competitors in camp.
The entire name of the Rams' new home is Sonny Lubick Field at CSU Stadium.  Until this year, they played at Sonny Lubick Field at Hughes Stadium.  Do you realize what this means?  They only moved the headstones!
Oh, wait a minute.  Sonny Lubick is still alive.  Never mind.
Colorado State 30, Oregon State 27
Hawaii at Umass
Last November in Honolulu, Rainbow Warrior QB Dru Brown threw his fifth TD pass of the day, a 56-yarder to WR Keelan Ewaliko, to give UH a late 46-40 lead.  The extra point was missed, but a late stand by the Warriors' defense preserved the victory with a turnover on downs.
The Minutemen try to develop a fan base by keeping all their home games in Amherst this season, whereas for the past few years, most of the more significant ones had been moved to Foxboro, almost the entire width of the state away.  Now, they can get used to a little home cooking, like Amherst baked beans, for instance.  Those are kind of like Boston baked beans, but not quite as pompous.
The College Football Czar hereby officially declares that the University of Massachusetts will henceforth be nicknamed "The Yoom."  His hope is that others around the nation will recognize that the idea came from him, thus preventing it from ever catching on.
Umass 38, Hawaii 34
Stanford vs. Rice
This is the second consecutive regular season game between these teams, after the Cardinal ended the Owls' 2016 season with a methodical 41-17 mulching on the farm in Palo Alto.  Hopefully, word of that outcome hasn't reached Sydney, Australia, where this second annual neutral-site game is being played.  Promoting this game should really be easy, because Christian McCaffrey ran the ball 30 times for 204 yards on that previous occasion, and returned three punts.  He's gone, of course, but the fact that the Sun Bowl against North Carolina was too meaningless for him to risk injury must mean that this matchup is terribly important by comparison.
Last year, the Aussie crowd got to see plenty of big plays, but no suspense, as California easily kept pace ahead of Hawaii, 51-31.  Looks like they're in for more of the same, with this Owl defense having yielded 37.3 points per game a year ago.
While Down Under, the players will be learning to speak Australian, like it says on the commercials.  For one thing, they'll be able to use the objective pronoun "me" in place of the possessive, "my" – as in, "Tie me kangaroo down, sport."
Boy, those Australian SATs must be a real pushover.
Stanford 49, Rice 24
Aug. 31
Ohio State at Indiana
While many other national powers are experiencing significant turnover on their rosters, the lumpy nuts return a seasoned squad, led by quarterback J.T. Barrett, now in his eleventeenth year of eligibility.  What puzzles the Czar is just what good it does to season a buckeye in the first place.  It's not as if they were edible.
The Hoosiers' senior slinger Richard Lagow can't be so eager to lagow of the ball this season.  In 2016, he threw 17 interceptions, to go along with his 19 TDs.  As Lagow goes, though, so goes the team, which has few options remaining after backup Zander Diamont decided to retire from football.
Inexplicably fired Hoosier head coach Kevin Wilson, who had given OSU problems in the past, is the new Buckeye offensive coordinator.  Reportedly, IU athletic director Fred Glass dismissed Wilson over "philosophical differences," and the Czar has obtained some inside info – leaked to him as usual by Reince Priebus – detailing just what those philosophical differences were.  It turns out Wilson declared that Friedrich Nietzsche is a stupid bottom burp.  Glass then felt compelled to get rid of Wilson, in order to test Nietzsche's hypothesis that from chaos comes order.
Ohio State 42, Indiana 10
Tulsa at Oklahoma State
The big question for the Golden Hurricane is whether to leave QB Chad President hanging and go with freshman Luke Skipper instead.  If the Broward County canvassing board tallied up Chad President's career stats, the only way they'd come up with more than 9 passing yards is because they had a special talent for counting things that were invisible to you and me.
By the way, if you search for the keywords "Chad President," you will come up with the president of Chad, Idris Deby Itno, who is an acolyte of the late Muammar Qaddafi.  Too bad he wasn't on that Florida ballot, too.  Those Broward canvassers wouldn't have known for whom to make up votes.
OSU has decisive advantages in talent and experience, so if they leave themselves in position to have the game taken from them on one blown call, they'll have nobody to blame but themselves.  In other words, we really didn't need to keep hearing about that Central Michigan game for the duration of last season.
Cowboy coach Mike Gundy is now 50 years old.  There was really no need for him to inform us that he was a man ten years ago, but it might soon become necessary, if he grows that mullet any longer.  "I'm identifying as a man!  I'm 50!"  How times have changed.
Oklahoma State 52, Tulsa 33
Sept. 1
Navy at Florida Atlantic
The mighty Midshipmen sail down the coast to face the nation's leading boat-rocker, first-year FAU head coach Lane Kiffin, in Boca Raton.  By the end of this season, the former Tennessee and USC coach will have only seven more conferences to completely alienate.
The Middies will get on their high horse by giving more carries to senior fullback Chris High.  The returning starter will be relied upon for stability, if the less experienced ball carriers have trouble getting a handle on the offense.
Since joining the Owls, the journeyman coach Kiffin has decided to "fix our roster" by bringing in several ne'er-do-well players, including former Florida State QB DeAndre Johnson, last seen punching a woman in the face in a Tallahassee bar.  Who will be next to transfer to Kiffin's team, the Baylor Bears' entire 2015 roster?
Navy 24, Florida Atlantic 14
Colorado State vs. Colorado
In this traditional neutral-site battle of the horny-headed critters in Denver, the Rams have the advantage of having already played a regular season game.  If they haven't won their opener against Oregon State, however, they may not be ready to lock horns with the defending Pac 12 South champions from nearby Boulder.
Last year, the Buffaloes blew open what has traditionally been a very competitive rivalry game, stomping their foes from Fort Collins, 44-7.  Starting CSU quarterback Nick Stevens was benched after completing 6 of 20 with two picks.
There's no QB controversy at CU this season, where sophomore Steven Montez has the job all to himself.  Montez stepped in for an injured Sefo Liufau last season to win a cliffhanger against Oregon, and went on to pelt the OSU Beavers a week later.
Whenever the Buffs and Rams clash, the Czar is reminded of that dopey saying, "Let the chips fall where they may."  What are your options, really?
Colorado 34, Colorado State 20
Boston College at Northern Illinois
For MAC teams, scheduling home nonconference games is half the battle.  NIU has won its last four games against current "power five" conference teams at Huskie Stadium in DeKalb, last losing there to Kansas State in 1997.
Last season, the Eagles only managed to claw their way to an average of 20.4 points per game, in spite of a nonconference schedule that consisted of Uconn, Umass, Buffalo and Division I-AA Wagner.  Any expected offensive improvements for this year have been a well-guarded secret.
It's not widely known to outsiders that the "L" in DeKalb is silent.  That's because, being just outside of Chicago, it inevitably witnessed a mob hit one day.
Northern Illinois 13, Boston College 10
Sept. 2
Akron at Penn State
After last year's 2-2 start, it seemed like a foregone conclusion that Nittany Lion coach James Franklin would be fired.  A nine-game winning streak and a narrow Rose Bowl defeat later, he has signed a lucrative extension through 2022, worth about 5.8 million a year.  (Memo to lardheads: insert pointless "it's all about da munny" complaint here.)
To Franklin's credit, he does not agree with Ohio State coach Urban Meyer's statement that PSU "absolutely" deserved to be in last year's playoff.  After all, those first four games still matter.  Meyer is just trying to puff up the perception of the Big Ten in general.  Of course, after blowing a 14-point, fourth-quarter lead in their bowl game, for the Lions to claim a right to play for the national championship would take an extraordinary amount of gall.  Not that they haven't got it.
Is this Z end for Terry Bowden at the U of A?  Probably not, but the former Auburn coach could sure use a good showing against heavily favored PSU.  After injuries doomed his promising 2016 squad to a 5-7 finish, Bowden has brought in Virginia transfer Nick Johns as insurance for ailing QB Thomas Woodson.
The Zips' logo may be a Zorro-esque "Z", but their mascot is not Antonio Banderas, even though he's probably got nothing better to do.
Penn State 35, Akron 16
Florida State vs. Alabama
In a possible preview of a final four game, these teams have the honor of opening the new wonder-cave in Atlanta, which replaces that city's original wonder-cave, which is being mercifully collapsed after only 25 years.  Pretty soon, Nick Saban's dynasty will have lasted longer than that.
The youthful Seminoles are probably not ready for this big a game this early in the season.  Of the 22 players on their two-deep offensive roster, eight are either freshmen or sophomores.  Among those is highly-touted freshman tailback Cam Akers.  The green Akers may be the dahlink of the local media, but he'll have to endear himself to the team by taking some of the pressure off sophomore QB Deondre Francois.
The 65-year-old Saban says he hasn't seriously thought about retirement, but perhaps he'd change his mind if he read the transcripts of some of his recent press conferences, in which he seems to be morphing into Bobby Knight.  Last week, he launched into a harangue against the reporters, in which he said, "I don't even know why we play.  Why do we even play?  Why do we even have practice?  Why do we compete?  Why do we coach guys? … Because you guys have got all these conclusions already drawn about who's what, how good they are, what they can do, so why would you ask me?"
What was it that set him off?  One of the reporters had asked how linebacker Christian Miller was faring in practice.  The nerve of some people!  This has not been the coach's only recent mindbarf, either.  If he continues on his current trajectory, by the end of the season he could find himself berating the waitress at Bob Evans because his hash browns aren't brown enough, and wondering how he managed to put on his underwear upside down.
Alabama 31, Florida State 14
Temple at Notre Dame
Fighting Irish coach Brian Kelly has called himself "the absent professor" in reference to his responsibility for last year's 4-8 implosion, but accepting the blame for making mistakes is one thing.  Kelly's admission that he was so busy fundraising that he neglected his coaching duties goes quite a bit farther than that.
The Czar is reminded of Michigan State coach Bobby Williams, who in 2002 admitted that he didn't know if he was still in control of his team, and was rightly dismissed shortly thereafter.  How much more damning is it for Kelly to admit that he'd been blowing off a job that almost anyone else in his profession would love to be doing?  Alas, Kelly had just signed a new contract before last season, so the golden domers have passed the buck to his assistants, half of whom have been sacked since a year ago.
Last season, the Owls' defense ranked first in the AAC, and third nationally, in yards per game allowed.  Only one of that team's starting front seven is back this year, however, and defensive coordinator Phil Snow has followed head coach Matt Ruhle's trail to Waco.
The ego of the long-suffering Owl program has withstood yet another blow, with head coach Ruhle leaving them to take the same position at Baylor.  Never mind what BU is paying him, that's got to be the most unwanted job in the entire sports world since Steve Garvey's nanny.
Notre Dame 29, Temple 22
Michigan vs. Florida
Oh, boy.  Another chance to watch the insomnia-curing Gators play in a dome.  What a fitting matchup for the first college game of the season to be played at Jerry Jones' House of Inadequacy.  UF meets the maize and blue in Arlington, as both teams' QB competitions remain up in the air.  In addition, Gator coach Jim McElwain has been forced to suspend seven players for fraudulent use of their student debit cards.
No longer having reliable receivers and rumbling tight end Jake Butt to throw to, Wolverine QB Wilton Speight has fallen back into a tussle for the starting job with ex-Houston slinger John O'Korn.  That uncertainty probably means more is expected of sophomore tailback Chris Evans, who will try to become the school's first 1,000-yard running back since Fitzgerald Toussaint in 2011.
Too bad the standout TE for the U of M has moved on to the NFL.  Now the College Football Czar will have to drive all the way out to Denver to sell those "Fear The Rumbling Butt" tee-shirts.
Michigan 21, Florida 7
Umass at Coastal Carolina
The Yoom may have a little more zoom in its step than the home team, having played a high-paced game at home against Hawaii a week earlier.  It's very important for Mark Whipple's team to win this road opener, because the rest of their travel schedule consists of Temple, Tennessee, South Florida, Mississippi State and BYU.
The Czar is surprised that the Chanticleers' first-ever Division I-A game is not being broadcast on television, but is only being streamed online.  Perhaps the lack of coverage is the result of its being literally painful to watch.  That's because Brooks Stadium has teal turf, making CCU the third I-A team to play on a non-green surface.  Boise State pioneered this idiocy by rolling out a carpet made of cookie monster carcasses, and Eastern Michigan introduced a gray field that makes live games look like newsreels from the Forties.
If you're wondering what a chanticleer is, it's a chicken.  In fact, if you're not wondering what it is, it's still a chicken, so there.  More precisely, it's what one calls a chicken if one is determined not to admit it's a chicken.  The Czar has to concede that this semantic evasion is effective.  You never hear anyone say, "how do I get out of this chanticleer outfit," even though it's teal.
Umass 37, Coastal Carolina 29
Wyoming at Iowa
The Men from Laramie hit the trail for Big Ten country, for the first time since just about a year ago, when their hides were paddled raw at Nebraska, 52-17.  All time, they're only 1-11 against that conference, salvaging the last of three meetings with Wisconsin in 1986.
Josey Jewell doesn't sound like the name of a tough guy, but while opponents may snicker, the Hawkeye linebacker has become the leading tackler on a team that held opponents to 18.8 points per game last season.
Where the Cowboys are coming from, they probably think Josey Jewell is the madam at the local house of ill repute, but they won't be the first opponents to fall for a psychological ploy at Kinnick Stadium.
Iowa 26, Wyoming 14
Vanderbilt at Middle Tennessee
The MT-heads had their minds boggled by the surprising 47-24 thumping they took last season in Nashville.  Running back Ralph Webb, who carried the Commodores with 221 rushing yards and two TDs, returns for his senior year.
Blue Raider WR Richie James is the nation's leading returning pass catcher, with 1,625 yards in 2016.  He's also MTSU's leading returning rusher, with I'Tavius Mathers gone, and no suitable replacement in sight.
Legendary cornball sportswriter Grantland Rice of "Four Horsemen" fame was a Vandy alumnus, who was born in the Raiders' hometown of Murfreesboro.  It's too bad he's not around to watch this rivalry develop.  Then again, he didn't need to witness interesting things happening, since he made his living mostly by making crap up.
Vanderbilt 45, Middle Tennessee 41
California at North Carolina
West Coast teams don't tend to play well on long trips east, especially early in the day.  Unlike their rivals from Stanford, however, the Golden Bears won their daytime season opener at Northwestern to kick off the 2014 season.
If the Tarheels' cast of offensive castoffs ever gets its act together, it won't be this soon.  Coach Larry Fedora tries to pull something out of his hat by cobbling together a collection of transfers.  Underachieving LSU quarterback Brandon Harris looks like a particularly unlikely solution, though, having failed to win the starting job at a program famous for its pedestrian passers.
You might wonder how the Bears from Berkeley can justify this visit to the Land of the Lavatories of Hate.  They don't have to, because this week, California is identifying as Tennessee, and thus is free to enter NC without hypocrisy.  See?  Once truth has become a civil rights violation, all things are possible.
California 27, North Carolina 19
Arkansas State at Nebraska
Tulane transfer Tanner Lee takes over at quarterback for the Cornhuskers, who lost four of their last six games of 2016.  To whom the erratic junior will throw remains a mystery.  The N-men have had three WRs injured in training camp, out of an already inexperienced group.
Unlike others who go by his first name, Justice Hansen does not strive for a career on the bench, and it shows.  If the one-time Oklahoma recruit had started sooner at quarterback, his Red Wolves would likely have won ten games last season.
Unfortunately for him, the ASU offensive line must replace all five of last year's starters, which means Justice will have no peace.  Sure, that's not how the slogan goes, but what do you expect from mobs of angry people chanting in unison?  Accuracy?
Nebraska 10, Arkansas State 7
Nc State vs. South Carolina
This is the kind of neutral-site opener we could stand to have more of, one that's played in a genuine outdoor football stadium, well within driving range of fans of both schools.  Bank of America Stadium is far more familiar turf to the Wolfpack, although they haven't fared very well there, at 3-4.  The Gamecocks have only played there once, in their 2015 opener, when they knocked off UNC 17-13.
If these teams look evenly matched, that's because they usually are.  I fact, SC just took the lead in their all-time series at their last meeting, a 7-3 slugfest in 2009.  Each school has a decisive home field advantage, with this being the first time they've met each other halfway.
Last season, the Cocks were the second-worst rushing team in the SEC, next to Will Muschamp's old school, Florida.  Now they run headlong into the teeth of a Pack defense that allowed only 109 yards per game on the ground.
The Czar once had occasion to wager a few dollars on a gamecock.  Little did he know that this particular bird's game was Parcheesi.  Needless to say, it did not end well.
Nc State 27, South Carolina 14
Troy at Boise State
The Old College Troy finally succeeded last year, completing a 10-win season with a victory over Ohio in the Dollar General Bowl.  Their 2016 road opener, a 30-24 loss at Clemson, was somewhat more imposing than the vaunted blue turf of Albertson's Stadium.  That fact, combined with the warm weather, should diminish BSU's intimidation factor.
The Broncos must find a way to replace workhorse running back Jeremy McNichols, who scored 23 TDs while carrying the ball 314 times a year ago.  Sophomore Alexander Mattison was expected to shoulder most of the load, but he's reportedly been held out of practices lately, and all coach Brian Harsin will say is that he's "still in the mix."
The Trojans finally get their shot at revenge, as they are wheeled within the city walls of the unsuspecting horses.  Boy, talk about carrying a grudge.
Troy 28, Boise State 23
Kentucky at Southern Miss
There must have been a Wildcat strike during the second half of last year's meeting, when UK suddenly stopped playing.  The Golden Eagles rallied from a 35-10 deficit to win 44-35, in their first defeat of an SEC opponent since blanking Alabama 21-0 back in 2000.
The Eagles have a three-way quarterback controversy, with freshman Marcelo Rodriguez joining Kwadra Griggs and Keon Howard in the running.  Look for two of them to see action against the Cats, with the following week's tune-up against Southern presenting an opportunity for a starter to emerge.
USM will therefore lean harder on diminutive running back Ito Smith.  If that name sounds familiar, that's because his mother gave it to him when she'd been engrossed in the O.J. trial, and thought her newborn son looked just like Judge Lance Ito.
… And you thought that hanging chad reference was dated.
Kentucky 30, Southern Miss 17
Nevada at Northwestern
New Wolf Pack coach Jay Norvell's offensive scheme leaves little room for a running game, forcing RB James Butler to transfer to Iowa.  Norvell has hired Matt Mumme, son of "Air Raid" innovator Hal, to open up the UNR passing attack, but is ex-Alabama QB David Cornwall really suited for it?
Many fans would be surprised to learn that Wildcat RB Justin Jackson was last year's Big Ten leading rusher, 28 yards ahead of Penn State's Saquon Barkley.  In fact, Jackson has been that good throughout his first three years in Evanston, compiling a total of 4,129 yards.
If you're wondering why the Pack goes by UNR, that's because, in its Division II days, the school was called the University of Nevada-Reno, as in the city where Johnny Cash shot a man, just to watch him die.
What?  Are you calling Johnny Cash a liar?
Northwestern 28, Nevada 12
Brigham Young vs. LSU
Louisiana State opens its season at NRG Stadium, which should hardly be considered a neutral site, since you could practically hit Houston from Baton Rouge with a red stick.  Well, all right, so you'd have to tie the stick to the nose of a Tomahawk missile, but you could still get it there.  Last season, the Tigers lost their first game to Wisconsin at Lambeau Field, but this year they're back to their usual travel schedule, in that they venture no farther north than Knoxville.
Starting with this, the Cougars play their six biggest games all in a row, before beating up on a bunch of Mountain West also-rans late in the season.  The same was true last year, when they won their last five games after starting 4-4.
The Czar says good riddance to Leonard Fournette, and the Bayou Bengals won't miss him either.  Last year, Darrius Guice already outgained him by more than a yard per carry, and two yards per reception, while scoring twice as many touchdowns.  Yet Fournette skipped the "meaningless" Citrus Bowl against Louisville, showed up overweight at the NFL combines, and soaked up all the glory.
Notice how the letters "NRG" almost sound like a word when you say them all together.  The company that sponsors the stadium probably generates some product called "Nurge."  You can't get anything past the College Football Czar.
LSU 23, Brigham Young 9
Appalachian State at Georgia
Last year, the Mountaineers pushed Tennessee to OT before falling 20-13, on the season's opening Thursday night.  In hindsight, that should not have been a surprise, but it will be if they put up as much of a fight against a Bulldog team that is poised to contend for the SEC title.
Remember Nick Chubb?  Don't worry, you're going to.  The oft-injured Bulldog running back looks ready to return to the form of his freshman year of 2014, when he gained 7.1 yards per carry, and also proved to be a capable receiver.  In last year's Liberty Bowl, the big guy barreled for 142 yards on 17 carries, in a 31-23 win over TCU.
App State has been very successful since climbing to Division I-A in 2014, but the vanishingly small script "Mountaineers" across the beam of the "A" on their helmets still suggests that they're not mindful of being televised.  Late in their I-AA days, their helmet logo was a more viewer-friendly corncob pipe-smoking hillbilly, but that has surely by now been deemed "hostile and abusive" by the NCAA.  I mean, everyone knows that hillbillies don't really smoke corncob pipes, or if they do, it must be a practice, like scalping, that was adopted from the French.
Yes, let's blame France, as usual.  After all, we got away with pinning the late Jerry Lewis on them, didn't we?
Georgia 38, Appalachian State 21
Sept. 3
West Virginia vs. Virginia Tech
In what is bound to be a difficult season for the Big XII, it is very important that the league's presumptive contenders win big nonconference games like this one.  The Mountaineers have beaten five straight regular season Division I-A opponents, since putting up a tough scrap in a 33-23 loss to Alabama in their 2014 opener.
The Gobblers bring back all starters from an excellent defensive backfield, but that unit can only hold out for so long, if the rebuilt defensive line gives former Florida QB Will Grier too much time to find his receivers.
These former Big East rivals meet in a neutral-site game in a location that was once known as Raljon, so named because the Washington Redskin fans would raljon each other by halftime of one of their team's putrid games.  Say what you will, but at least that was a better tradition than "Sweet Caroline."
West Virginia 19, Virginia Tech 15
Texas A&M at UCLA
The losing coach will not be fired immediately after this game, but he will be fired, and soon.  Aggie head man Kevin Sumlin can't possibly compete in the SEC West if he can't win this opener on the Left Coast, against a team whose ground game operates as if it were being powered by solar panels.
Fielding the nation's third-worst running game made it difficult for Jim Mora's team to protect its quarterback in 2016.  The Bruins were only 3-3 after Josh Rosen suffered multiple injuries in a loss to Arizona State, and the season unraveled to a 4-8 finish form there.
Rosen is hereby nominated for the Lardhead of the Year Award, for saying that college football and academics are incompatible, forcing Coach Mora into damage control mode.  The Czar doesn't remember exactly what Rosen said, but it was something like, "Smarty-thingey no go with throw things.  Me play ball no need know stuff.  Me no need talk good, robble-robble, blah-de-blah-de-blah, fum-fum."
Well, all right, that's not a direct quote, but it's close enough by modern sports media standards.
Texas A&M 20, UCLA 10
Sept. 4
Tennessee vs. Georgia Tech
Not to be overly dramatic, but where the Yellowjacket backfield is concerned, the Czar asks, "Depth, where is thy sting?"  Among last year's leading rushers, QB Justin Thomas has graduated, Marcus Marshall decided to transfer, and now, Dedrick Mills has been dismissed for a "violation of athletic department rules," which is like a violation of team rules, but bigger.  The leading returning rusher is now Clinton Lynch, who had a tremendous 11.2 yard-per-carry average in 2016, but must now be the main ball carrier, instead of an occasional change of tempo back.
The Volunteers are also missing most of their offense from last year, in the form of current Pittsburgh Steeler Josh Dobbs, who aside from throwing for almost 3,000 yards in 2106, also led the Vols in rushing, 200 yards ahead of tailback John Kelly.
This game, being played in the new Mercedes-Benz Stadium, is not really a neutral-site game because that stadium is in Atlanta, where it replaces the Georgia Dome.  One wonders why, when Georgia Tech already has a perfectly good stadium in Atlanta, they don't just play the game there.  Why, because the new stadium has a state-of-the-art retractable roof, which, when opened, reveals a 360-degree video board that hangs directly over the playing surface.  Mind you, the roof will remain closed for both of this weekend's Chick-fil-a Kickoff games, and like all other retractable domes, it will seldom be retracted.
Still, it only coast $1.2 billion to build it.  A small price to pay, to watch Atlanta United FC afternoon games in the dark.  That's not to be confused with the other MLS expansion team, Minnesota FC United.  Get used to that, because that's where the NCAA's jihad against team nicknames that describe things will inevitably end.
Tennessee 26, Georgia Tech 21
a sports publication from The Shinbone