The Original College Football Czar
Week 1
<![if !vml]>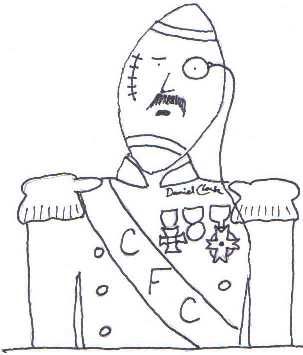 <![endif]>
If you're reading the College Football Czar's week one picks, that must mean that yet another long summer of terrible TV is about to come to a merciful end. So ... if you've been drinking heavily in the parking lot before entering the supermarket every week, just to keep up the tradition; if the long stretches of boredom have led to arguments with your wife or husband, in which you've threatened to move out and join the SEC; if you've been watching CFL games on ESPN-plus and replaying every second down to make it seem more like real football; if you've been annoying your friends by answering every question with a hackneyed football chiches like "it all depends on the spot" -- then do not despair, for another exciting, fun-filled season of college football has arrived, not a moment too soon.
This week's installment of picks will be abnormally long, in that it encompasses the Week Zero games as well as those on the following Thursday, then running all the way through Labor Day Weekend. And now, without further ado:
Aug. 28
Nebraska at Illinois
Scott Frost was already under scrutiny, with a 12-20 overall record in three seasons with the Huskers, and a Big Ten mark of only 9-17. In addition, he is now being investigated for violating COVID restrictions, by moving prohibited practices off-campus to be held in secret.
The last time Bret Bielema met the N-men was at the 2012 Big Ten championship in Indianapolis, where his team ran them out of the Circle City by a final of 70-31. Alas, that was his final game as head coach of Wisconsin. He has since had a far less successful stint at Arkansas, before clunking around the NFL for a few years as an assistant. At this point, neither he nor his newly adopted Fighting Illini team is likely to make a run at a conference title.
That doesn't preclude him from getting off to a successful start, however. The highlight of the 2020 Illini campaign was a decisive 41-23 victory in Lincoln, over the lackadaisical Cornhuskers, who went minus-5 in turnovers that day.
It's a little-known fact that the reason Indianapolis is known as the Circle City is that two guys had a race to the corner one day, and they were never seen again.
Illinois 20, Nebraska 10
Hawaii at UCLA
At least this is one Week Zero game that's not likely to bore us, with both coaches Todd Graham and Chip Kelly taking a great deal of pride in the speed with which they operate. In Kelly's case, his up-tempo offense started paying off last season, as the blue bears finished the year at #21 in yards per game.
The Rainbow Warriors make their first of seven long road trips this season. They usually have little trouble scheduling nonconference home games, but this year they don't have anywhere to host them. Their practice field has been expanded to a capacity of 9,000, whereas the Bruins play in the 91,000-seat Rose Bowl. In fact, UH doesn't even need the 9,000 anymore, thanks to the re-imposition of state COVID lockdown rules. The renovation has been a waste, at least for this season.
Second-year Warrior coach Graham has already been in Honolulu longer than he stayed in Pittsburgh, which of course is no surprise. Oahu has a real North Shore, and not just a river bank it calls that.
UCLA 45, Hawaii 27
UTEP at New Mexico State
At first glance, one might think the Miners made major strides last year, finishing at 3-5. Then again, one might notice that two of those wins were against lower-division opponents, and the other against Louisiana-Monroe. Texas-El Paso has still not defeated more than one Division I-A team in a season since 2016.
NMSU declined to field a team last fall, but appeared in the spring for only two games, and those against lower-division opponents as well. In fact, Tarleton State and Dixie State had just climbed up to Division I-AA from Division II, and yet the Aggies got blown out by Tarleton 43-17, and had to rally past DSU 36-29, after trailing 14-3.
Dixie State is actually located in St. George, Utah. It's called Dixie because the Southerners who settled the area found the soil to be good for growing cotton and tobacco, just like back home. You can see why people would be outraged.
UTEP 43, New Mexico State 38
Sept. 2
Ohio State at Minnesota
THE Ohio State University is "hi" in the middle on late-arriving freshman QB Quinn Ewers, but redshirt freshman C.J. Stroud will be the starter for the time being. How long this time bes depends on his performance against the radiant rodents. OSU cannot afford a question mark at quarterback heading into a Week 2 game against Oregon.
Again this year, the Buckeyes' greatest vulnerability should be their pass defense, but are the Golden Gophers equipped to take advantage? Quarterback Tanner Morgan's production dropped off sharply last half-season, about 50 passing yards per game fewer than in 2019. On the plus side, he's already adjusted to the absence of star WR Rashod Bateman. The current Baltimore Raven rookie quit on his college team with two games remaining.
Lee Corso can't help but pick this game correctly. That's because the same head could pass for Brutus the Buckeye or P.J. Fleck.
Ohio State 31, Minnesota 21
Boise State at Central Florida
The Broncos put up plenty of points last year, but their chances of reclaiming the Mountain West depend on the success of new head coach Andy Avalos at reviving their once-fearsome defense. Avalos arrives from Oregon, where he'd been the Ducks' defensive coordinator for the past two seasons.
Dynamic QB Dillon Gabriel returns for the Knights this year, but so does the nation's eighth-worst defense, which appears to have only marginal potential for improvement. A year ago, their average final score was a 42-33 victory.
This is the kind of group-of-five blockbuster that we need to see more often, especially if teams from the AAC and Mountain West are going to make any serious argument about playing for the national championship. By contrast, when UCF awarded itself a faux national title in 2017, its best regular season nonconference opponent was 4-8 Maryland.
What else would you expect of a team from Disney World, the Making Crap Up Capital of the Universe?
Boise State 38, Central Florida 31
Temple at Rutgers
The Owls' quarterbacking corps leads the nation in non-alphabetic characters, and nothing else. With three-year starter Anthony Russo having transferred to Michigan State, they are forced to turn to former Georgia third-stringer D'Wan Mathis, who gets the opening-night nod over sophomore Re-al (with cheese) Mitchell.
These two were impeccably evenly matched for all those years that they were the dregs of the Eastern Independents, and then of the Big East. The Scarlet Knights have taken the past four games against TU, however, for a 20-16 lead in the overall series.
RU has a tough time drawing a crowd even when it's having a good season, and for that the Czar blames the fact that the name of their hometown sounds like it's saying "get out." When people come across a sign that says Piscataway, they tend to do so.
Rutgers 32, Temple 13
East Carolina vs. Appalachian State
In 2019, the Mountaineers toppled both North Carolina and South Carolina on the road, so they're not likely to be intimidated by a home game against an ECU team that has a proud history, but hasn't had a winning season since 2014.
All of a sudden, App State is the forgotten team in the Sun Belt Conference, but they're coming off a 9-3 season, during which their only setbacks were against both division winners, and Marshall. In a 56-28 Myrtle Beach Bowl rout of North Texas, RB Camerun Peoples seemed like there was more than one of him in the backfield, as he rolled up 317 yards and five touchdowns.
This is the first of two games being played at Bank of America Stadium in Charlotte, ECU-ASU being the undercard for Saturday's heavyweight bout between Clemson and Georgia. You might think that playing in the Queen City would benefit the team whose mascot resembles Freddie Mercury. Then again, how could that ever be beneficial to one's chances of winning a football game?
Appalachian State 48, East Carolina 27
Sept. 3
North Carolina at Virginia Tech
The Tar Heels are expected to repeat as Coastal division champs, but if they are to beat out Miami they cannot afford horrendous road losses like they had a year ago against Florida State (31-28) and Virginia (44-41).
The College Football Czar is a bit perplexed by the regard that some of the pundits have for this Tech team. Having gone 5-6 last year with a porous defense, and with Braxton Burmeister Meisterburbraxton back as the starting QB, they'd better hope Santa Claus is coming to town if they stand any chance of getting their hands on a division title.
If the Gobblers are looking for a reason for optimism, they were down about two dozen players due to coronavirus when these teams met a year ago, and they only lost by a final of 56-45 at Chapel Hill. It's kind of hard to put any kind of positive spin on a game after giving up eight touchdowns and 656 yards, though.
Optimism for a gobbler doesn't usually end well anyway. "Hey, at least I'm getting well fed in the meantime!"
North Carolina 51, Virginia Tech 28
Duke at Charlotte
A 53-17 blowout in this matchup was a rare highlight for the 2020 Blue Devils. Nine of their other ten opponents peeled that Commiefisty off their helmets and pounded them into submission with it.
The 49ers had a magical season in 2019, but out the Pick-Cs went last year, through the window of Martini's pub, and also out of Conference USA contention, as they fell to a 2-4 finish. Things could have been worse, except that their six COVID cancelations included road games against North Carolina and Marshall.
This is the one Week 1 game out of three in Charlotte that is not being played on the Carolina Panthers' home field. Instead, UNCC is hosting it at the comparatively humble Jerry Richardson Stadium, which is named after the man who owned the Panthers at the time it was built, and contributed a great deal of money to the school. The College Football Czar was disappointed to hear that. He had assumed the stadium was named after Jerry the dentist from The Bob Newhart Show.
Well, why not?
Duke 32, Charlotte 29
Michigan State at Northwestern
The Wildcat defense isn't likely to lead the Big Ten in fewest points allowed again this year, but it could be ahead of last year's 15.9 point average after this visit from MSU. The Spartans, who only averaged 18.8 points on offense, look to Temple graduate transfer QB Anthony Russo to lead them back into contention.
This will be the first full season for Spartan coach Mel Tucker, who toughened up Colorado before making the trek to East Lansing. If his team isn't ready to compete defensively with the Cats, the rest of his road schedule, including Miami, Indiana and Ohio State, could make him wish he was back in Boulder.
Pat Fitzgerald's fighting felines were 5-0 in 2020, when they lost a 29-20 shocker at Spartan Stadium. The last of their four turnovers was a fumble that was recovered in the end zone to put the game away. It was their only regular season loss, before falling to Ohio State in the Big Ten championship.
Evanston, Illinois is pretty far north, but it's not very western at all. Mind you, the city was founded way back during the Civil War. When they named it, they must have been using MapQuest.
Northwestern 10, Michigan State 9
Sept. 4
Umass at Pitt
For the past two seasons, the Minuteman roster has been as thin as a minute steak. The College Football Czar wonders how long they will be able to survive in Division I-A without a conference, and in a stadium with a meager capacity of 17,000.
Former Massachusetts head coach Mark Whipple is now the offensive coordinator in Pittsburgh. Of course, college football fans already know that from making fun of the Panthers' offensive scheme, which requires quarterback Kenny Pickett to repeatedly run back and forth to the sideline so that the coach can give him the next play by direct word of mouth. Want to know how badly Pickett will be missed by Panther fans when he's finally gone? Just ask yourself what coveted high school quarterback, let alone a transfer from a halfway-decent college team, will volunteer to be a part of such an idiotic system.
If you look closely and are able to read lips, the secret play that Whipple can often be seen calling is, "Please don't squeeze the Charmin."
Look it up, Millennials! Can't you be bothered to do a simple keyword search, or is that just so 90s?
Pitt 41, Umass 11
Penn State at Wisconsin
The Nittany Lions started last season 0-5 before winning their last four. Yes, their play improved, but the turnaround had just as much to do with the level of competition, and they're not playing Michigan State or Illinois in this opener. Their schedule sets up for another likely 4-0 finish, but in the meantime they must cut down on last year's atrocious turnover ratio.
In his first third of a season with the Badgers, freshman tailback Jalen Berger got exactly 15 carries in each of his four games. What, did Paul Chryst have him on a pitch count? On those 60 carries, he gained 301 yards, putting himself just about a divot over a five-yard average.
It's a little-known fact that cheeseheads are effective in preventing the spread of COVID. You might think that because the cheese is filled with holes, the minuscule virus particles would permeate it easily. All that means is that you must wear two of them. You idiot.
Wisconsin 24, Penn State 14
West Virginia at Maryland
Even though these neighboring foes have never belonged to the same conference, they have met with relative frequency, with WVU leading the series, 28-22-2. The Mountaineers have won 9 of the last 10, but it's not as if they still have momentum, having not met the Terrapins since 2015.
The Eers had the nation's leading pass defense last season, although that stat is surely embellished by the facts that their game against Oklahoma was canceled, they didn't face Kansas State until after Skylar Thompson's season-ending injury, and they played their bowl game against an Army team that only put the ball in the air six times all day long. We should get a more realistic impression of where they stand after they've taken on shellback slinger Tualia Tagovailoa.
Until 2015, Maryland Stadium was Byrd Stadium, named after former university president Harry C. "Curley" Byrd. His name was removed from the stadium because in 1954, the Baltimore Democrat narrowly lost the state's gubernatorial election while running on a segregationist platform. The folks from Morgantown might be a bit puzzled as to why this would be stigmatized, since practically half of their state remains named after Robert C. Byrd, the longtime Democrat senator and one-time Exalted Cyclops of the KKK. The College Football Czar assumes that Harry C. Byrd and Robert C. Byrd must have been related somehow. Perhaps they were bruncles, or however that kind of thing works down there.
West Virginia 23, Maryland 20
Georgia vs. Clemson
If you started to become disappointed upon seeing that "vs." instead of an "at," never fear, because this game is being played in an actual football stadium in Charlotte. That ought to make for a raucous atmosphere, as opposed to the usual opening-week, neutral-site game that is held indoors, at some gloomy monument to unfunnery that would depress Mary Lou Retton.
Tiger fans must be praying that nobody asks Dabo Swinney where he'd rank the Bulldogs, after the "number eleven" Ohio State Buckeyes granulated his guys 49-28 in the Sugar Bowl. He'll need a far better performance out of his defense, with QB Trevor Lawrence, RB Clifford Etienne and WR Amari Rogers all gone to the NFL.
UGA, by contrast, returns its starting and backup QBs, its five leading rushers and five leading receivers from an offense that ranked second in the SEC. Oft-injured quarterback J.T. Daniels played only the last four games of last season, and boy, could they have used them in their only losses, to Alabama and Florida.
Back in 2003, these teams met in a season opening 30-0 Bulldog blowout, the most memorable moment of which was when the Tiger center threw up on the ball. That player will probably be watching this game from his living room, but his reaction will be much the same.
Georgia 44, Clemson 26
Miami vs. Alabama
This game, which would be a blast to watch at either team's home field, or even at a neutral, genuine stadium, will instead be played at Atlanta's indoor Mercedes-Benz Stadium, which tends to make football games somewhat less exciting than the Atlanta Rhythm Section.
It's one thing to recruit well, but Nick Saban always has his new players ready to complete a seamless transition, regardless of the losses incurred from the previous year. It doesn't take much of a drop-off not to play for a national championship, though, and this will be what suffices for one of the Crimson Tide's down years.
The Hurricanes' promising 2021 season has been overshadowed for the time being by the arrest of former cornerback Rashaun Jones, who has finally been nabbed for the 2006 murder of his teammate, defensive tackle Bryan Pata. An eerie picture from late in that season shows the Miami players kneeling with their helmets off in prayer, around a banner bearing Pata's likeness. If you've seen this photo, you've probably noticed that Jones, #38, is the only one with his eyes open.
Columbo would have nailed this guy about fourteen and a half years sooner. The only differences would be that George Hamilton would portray Rashaun Jones, and he would introduce himself by saying something convincing like, "As if such a disheveled, absent-minded bumbler could ever outwit as arrogant a villain as I!" Okay, so it's a corny show, but it still beats the snot out of NCIS Walla Walla, or wherever it is by now.
Miami 20, Alabama 17
La.-Lafayette at Texas
After the Ragin Cajuns routed Iowa State 31-14 in last year's opener, just about all the pundits, with the exception of some Czar or other, declared the Cyclones' season to be D.O.A. In reality, ISU was still an excellent team. They had just stumbled against a quality opponent in a tougher season opener than many teams are willing to schedule. The College Football Czar respected ULL enough to declare at the time that ISU was still a favorite in the Big XII in spite of that loss. In fact, the Clones won 8 of their next 9 to reach the conference championship game.
So, does that mean the Cajuns will also beat this Longhorn team, which enters this season in not nearly as favorable a position as ISU did a year ago? No. For starters, both teams are ranked, which means the pointy cows are not going to be caught off guard. Also, this is the first game in Austin for the controversially hired head coach Steve Sarkisian, who realizes how important it is to establish his credibility right away. Finally, Louisiana-Lafayette beat Iowa State last year with the help of two special teams touchdowns and a plus-two turnover margin. Asking them to repeat that performance against the Horns is simply too much.
In Louisiana, a long horn is a trombone. So why would a team that adopted the longhorn name have a bull for a helmet logo? The answer is perfectly simple, for anyone who's followed the past 20 years of college football, and sports in general. Trombones, evidently, are racist.
Texas 35, La.-Lafayette 17
Arizona vs. Brigham Young
These frequent foes meet in a neutral site game at Allegiant Stadium in Las Vegas. The fact that this is a domed stadium already means it will make for awful TV, but the Czar hopes they are at least allowed to play on the retractable grass field that is used by the NFL's Raiders, and not the UNLV roll-out rug with the visibly treacherous crinkles.
New Wildcat head coach Jedd Fisch never played college football. He and his team have got a lot in common. The U of A lost its last 12 games under former coach Kevin Sumlin, culminating in a 70-7 blowout loss to arch rival Arizona State. In an attempt to remedy this, Fisch has hired offensive coordinator Brennan Carroll off his father Pete Carroll's staff with the Seattle Seahawks.
BYU has got to adapt to life after Zach Wilson, now a New York Jet, but also to life after the kind of COVID-diluted schedule that allowed them to compile an 11-1 record last year. In 2021, the Cougars collide with five Pac 12 teams, including USC in their regular season finale.
One might wonder why the Cougs, of all teams, would be invited to play a game in Sin City, because the Mormons don't have much of a penchant for gambling. Or do they? By the looks of things, they have been quite successful at playing You Bet Your Wife.
Brigham Young 33, Arizona 16
Indiana at Iowa
This is basically an early elimination game in the race for the Big Ten championship, each team having gone 6-2 a year ago. Whichever team fails to win this interdivisional game will almost surely need to go undefeated in its own division.
Despite playing an all-Big Ten schedule last year, the Hawkeyes held their opponents to 16 points per game. They're replacing three defensive linemen, however, which might give Hoosier QB Michael Penix enough time to find his big playmaker, WR Ty Fryfogle, one time too many. If the candelabra-heads are able to light up the scoreboard early, the plodding Iowa offense can't keep pace.
This will be the biggest sporting event held in the state since that Field of Dreams baseball game, played on a field modeled after the one from the classic movie. At least it's a classic the first few times you watch it. Once the magic wears off, and you can't overlook all the obnoxious hippiedom anymore, you can't help but realize that Ray Kinsella is such a total posterior-pickle that he actually deserves his wife. A fine example he sets for his daughter, too. Yes, Shoeless Joe took the gamblers' money, but then he double-crossed them! Ergo, he was innocent!
Anymore, the College Football Czar roots for Kinsella's dead dad to bean him at the end. It's never happened yet, but there's always hope for a director's cut.
Indiana 27. Iowa 21
San Jose State at USC
The defending Mountain West champions will have the advantage of having played a Week Zero tune-up game against the Division I-AA Southern Utah Thunderbirds, whereas the Trojans are taking the field for the first time since a week before Christmas.
You probably remember Southern Cal QB Kedon Slovis' heroics in his first two games of last season, in which he pulled out unlikely comeback victories against Arizona State and Arizona. The season didn't end that well for him, though. He still threw for 344 yards against UCLA, and another 320 against Oregon, but those two games accounted for 5 of his 7 interceptions for the season.
SJSU has got nine starters returning on offense, and all eleven on defense from the team that brought home that school's first conference title since it won the Big West in 1990. They didn't play any nonconference games until getting bowled over by Ball State in the Arizona Bowl, however, and they were fortunate enough to have back-to-back road games against Fresno State and Boise State canceled.
The Spartans put an accent mark over the "E" on their uniforms, which of course is incorrect. San Jose, California is an American city, therefore it has no accent mark, because the English language does not use them. If the Mexicans still need help pronouncing "Jose," that's their problem.
USC 42, San Jose State 32
Louisiana Tech at Mississippi State
At the end of MSU's 28-26 win over Tulsa in the Armed Forces Bowl, a melee erupted, involving arguably criminal activity on the part of several players. A few weeks later, Tulsa announced disciplinary actions against 13 of its players, including some suspensions. Still no word of any punishment of any kind for Mike Leach's mud puppies. Even wide receiver Malik Heath, who kicked an opposing player in the head while he was down and then ran away, and later bragged about the incident on Instagram, is expected to play this opener against LTU.
Heath wasn't suspended for last year's opener, either, even though it was played less than a month after his DUI arrest. He had been speeding more than 20 mph over the limit while drunk, without a license and with no auto insurance. You might think this would qualify him for a Lardhead of the Year Award nomination, except that he seems to have Leach, among others, outsmarted. Heath has decided that the rules don't apply to him, and nobody in Starkville has yet disputed his point.
Tech suffered a rare bowl loss, and a bad one, 38-3 to Georgia Southern in the New Orleans Bowl. One big reason for that was the compound leg fracture that quarterback Luke Anthony suffered in the final regular season game against TCU. As horrible as the injury was to see, Anthony is supposedly fully recovered. We'll see how well he handles a pass rush the first time he faces one in a game situation.
LTU is the Bulldogs, but so is MSU. So are Georgia, Samford, South Carolina State, Gardner-Webb, Alabama A&M and The Citadel. It's as if some flim-flam artist rode all through the South in the 1930s, selling team nicknames door-to-door.
Mississippi State 35, Louisiana Tech 31
Stanford vs. Kansas State
Two former powerhouse teams whose best years are well behind them, neither of which is now able to move the ball downfield with a bulldozer, meet in a game 500 miles from the closer of the two schools, and of course, in a dome. AT&T Stadium in Arlington, better known on these pages as Jerry Jones' House of Inadequacy, is in a way a perfect site for a contest to see which team is more lacking in potency.
The Wildcats only went 4-6 last year, but that was after Skylar Thompson suffered a season-ending injury in their third game. A week earlier, they had upset Oklahoma 38-35, thanks to Thompson's 334 passing yards and three rushing touchdowns.
Not long ago, the Cardinal were arguably the nation's most feared power-running team, but between 2017 and 2018, their rushing yardage was cut in half, and it has yet to recover. Austin Jones gained an impressive total of 550 yards in six games in 2020, but at a pedestrian average of 4.4 per carry.
The College Football Czar used to look at that partially covered stadium the Cowboys called home in Irving and think that they needed to finish it. Chalk one up in the L-column for that call.
Kansas State 21, Stanford 19
UTSA at Illinois
The Texas-San Antonio Roadrunners are One (1) Acme Dangerous Small-Conference Opponent this year. With lots of experience on both sides of the ball, they are led by tailback Sincere McCormick. The third-year sophomore ran like he really meant it last year, gaining 1,467 yards and 11 TDs, without losing a single fumble on 249 carries. He was second in the nation in rushing, 45 yards behind Iowa State's Breece Hall, who played one more game and carried the ball 30 more times.
It's easy for a team to get carried away after winning its first game under a new head coach, so if the Czar is correct in picking the Fighting Illini to be 1-0 at this point, that could make them all the more vulnerable to an attack from a potential group-of-five powerhouse.
As soon as the rules allowed him to do it, Runner QB Frank Harris changed his uniform number to zero. All the better to draw targeting penalties.
UTSA 25, Illinois 22
Nevada at California
No matter how good the Wolf Pack look the rest of the time, they still tend to play like a Division II team from their hyphenated Nevada-Reno days when they face a Pac 12 team on the road. Within the past decade, they've lost at Oregon by scores of 69-20 and 77-6, at UCLA 58-20, and at Washington State 45-7. Their loan road victory over a Pac 12 team during that stretch, however, has been a 31-24 win at Cal-Berkeley to open the 2012 season.
The Golden Bears have lots of experience on offense, but at what? Last season, they finished outside the Top 100 in rushing, passing, total yardage and scoring. Incoming offensive coordinator Bill Musgrave might actually prefer to have fewer veteran players to work with.
Nevada-Reno is no relation to the late attorney general Janet Reno, the resemblance of the helmet logo notwithstanding.
Nevada 24, California 23
Marshall at Navy
The College Football Czar has got to hand it to the Midshipmen. Already with their traditional nonconference games against Notre Dame, Army and Air Force, they didn't need to add a fourth opponent as formidable as the Thundering Herd.
There are still three players vying to become the Middies' starting quarterback. They never really did settle on one in 2020, when four different QBs took snaps over the course of the season, which ended with consecutive losses by scores of 10-7 (Memphis), 19-6 (Tulsa) and 15-0 (Army). The most experienced of this year's group is Xavier Arline, who rushed for 210 yards in 2020, while completing only 4 of 12 passes.
Late last season, we caught a rare glimpse of the dark side of the moo, when previously unbeaten MU lost a 28-0 stunner to Rice, and then were beaten by UAB in the C-USA championship game, and by Buffalo in the Camellia Bowl, to finish 7-3.
The College Football Czar predicts that withing five years, the Thundering Herd will be pressured into changing their nickname, on the basis that it is glorifying those dastardly methane emissions.
Marshall 22, Navy 7
Fresno State at Oregon
Don't blame the Fighting Ducks if they're preoccupied with the following week's visit to Ohio State, which is practically a CFP elimination game. In addition, they open the season unsettled at quarterback, just like OSU. With Tyler Shough having transferred to Texas Tech, freshman Ty Thompson is challenging the infinitely more experienced Anthony Brown, formerly of Boston College.
The U of O has won seven straight games in this series, after dropping the first two in the early 80s. Those two Bulldog victories, and the first five that were won by the webfoots, were all decided by seven points or fewer. Only the past two meetings have been uncompetitive.
Versatile running back Ronnie Rivers has caught 20 or more passes in each of his four seasons at FSU, to go along with 100 or more carries in each season, for a four-year total of 3,682 all-purpose yards. Look for QB Jake Haener to throw to him often, in an effort to beat the pass rush from Duck DE Kayvon Thibodeaux.
By this point, the Dogs will surely have already won their Week Zero game against Connecticut, for which they'll have been awarded the Fresconn Trophy, which they'll retain until the rivalry renews in 2083.
Oregon 31, Fresno State 17
Army at Georgia State
In 2020, the Black Knights went 9-3, which isn't as impressive as it sounds, when you realize that it included wins over Division I-AA opponents Abilene Christian, the Citadel, and Mercer. Two of their best showings were actually in defeat, to Cincinnati 24-10, and to West Virginia 24-21 in the Liberty Bowl.
The Panthers didn't score a big nonconference victory like most of the Sun Belt Conference did, but they did finish 6-4, with a 39-21 win over Western Kentucky in the Lendingtree Bowl. Not bad, considering that they'd been 2-3 after a horrific 51-0 home loss to Coastal Carolina.
The U.S. Army is 3-4 all-time in Atlanta. In addition to a 28-21 loss to this GSU team in 2019, they're 1-3 at Georgia Tech, and they defeated Illinois in the 1985 Peach Bowl. They also came to town back in 1864, for what CNN would call a "fiery but mostly peaceful demonstration."
Army 29, Georgia State 26
Oregon State at Purdue
With a power vacuum in the Big Ten West, PU could come out smelling pretty sweet, if not like a rose, depending on how often starting QB Jack Plummer can find game-breaking receiver David Bell. The understated junior is the league's leading returner in touchdown receptions, one ahead of Ty Fryfogle and Chris Olave.
Boilermaker junior Zander Horvath is not one of the better-known running backs in the Big Ten, either, but he gained an even 5.0 yards per carry in a six-game 2020 season, for a total of 442 yards. More significantly, he developed into a significant receiving threat out of the backfield, pulling down 30 catches for an additional 304 yards. That pretty much makes him an ideal asset for the alma mater of Jim Everett and Drew Brees.
The Beavers will have to restrict themselves to conventional weaponry, after waging three years of Jerm warfare with tailback Jermar Jefferson, who is now a Detroit Lion. This year, OSU will be playing running back by committee, which is usually about as effective as it sounds. It will probably be the middle of the third quarter by the time they've decided whether to have bagels or muffins.
Purdue 27, Oregon State 23
LSU at UCLA
Chip Kelly's Bruins can pile up the points and yardage, but mostly on the ground. They aren't likely to victimize the Tigers' pass defense the way Mississippi State did in last year's opening upset (as some wily Czar or other had the foresight to predict).
The Tigers probably aren't missing Les Miles these days, but they wish they could have mor Myles, as in QB Myles Brennan. Their most effective passer, Brennan only played three games in last year's 5-5 campaign, and now he's out of the lineup due to offseason surgery to his left, non-throwing arm. Freshman Garrett Nussmeier is expected to start.
SEC teams have an aversion to nonconference road games in general, and Louisiana State in particular hasn't ventured west of Austin for a regular season game since their 2009 opener at Washington. What's been keeping them away? Fish too bland?
UCLA 42, LSU 34
Sept. 5
Notre Dame at Florida State
In Tallahassee, they'll be celebrating the life of legendary coach Bobby Bowden, who died recently at the age of 91. Perhaps it's not a good omen for FSU that the first memory of Bowden that pops into the College Football Czar's mind is that he coined the word "bumfuzzled" after a 34-24 loss to the Fighting Irish in 2002.
Omens, however, are the least of the Seminoles' worries. Their defense was dismal last season, resulting in blowout losses to ACC also-rans Louisville and Pitt. They don't protect their QBs well, which contributes to a high number of turnovers. None of their wide receivers has yet distinguished himself. Moreover, an abbreviated 2020 season impaired new coach Mike Norvell's ability to address these problems.
What problems the Fighting Irish may have are of a more routine variety, as they need to replace nine offensive starters from last year's CFP team. Graduate transfer Jack Coan arrives not from France, but from Wisconsin, to take over at quarterback.
Wisconsin is nothing like France, you know. For starters, the people of Wisconsin have better etiquette. Oh, they may wear cheese on their heads, but at least they don't eat soup with scissors.
Notre Dame 30, Florida State 14
Sept. 6
Louisville vs. Ole Miss
Statistically, the Cardinals had the best pass defense in the ACC last year, but that was largely due to the opposition, as they fared poorly on the only occasions in which they faced a potent passing offense (Miami, BC). The Rebels, led by Matt Corral, definitely fall into that same category.
The Mississippi defense finished last in the conference in most categories a year ago, yielding 38.3 points and 519 yards per game. An SEC supremacist would point out that those stats were compiled exclusively in conference games, with the exception of a 26-20 Outback Bowl victory over Indiana. The Czar hates it when the SEC supremacists have a point.
If Cardinal QB Malik Cunningham is also Micale Cunningham, and is the team's leading returning rusher this season, does that make him a quadruple threat? And how many of Malik's 20 passing and 7 rushing touchdowns was Micale "responsible for"? Furthermore, if Malik is also Micale, but they prefer singular pronouns, does that still mean you're a multiphobe, or what?
Ole Miss 38, Louisville 28
a sports publication from The Shinbone