The Original College Football Czar
Week 1
<![if !vml]>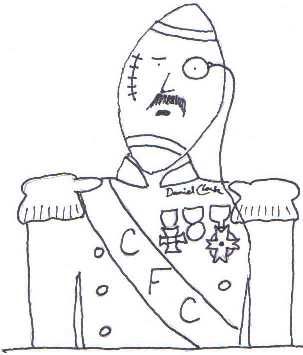 <![endif]>
If you're reading the College Football Czar's week one picks, that must mean that yet another long summer of terrible TV is about to come to a merciful end. So – if you've forced yourself to start watching cornhole on ESPN, figuring that's what football will be like once the Safety Police are through with it; if you've made a habit of sitting through the first 20 minutes of SportsCenter that's invariably dedicated to the NBA, just to get to the eventual football story that will make you hate the NFL, but hey, at least it's about football; if you've written a letter to your state legislature arguing that nobody who is unable to distinguish between a fly sweep and a jet sweep should be allowed to vote  – then do not despair, for another exciting, fun-filled season of college football has arrived, not a moment too soon.
And now, without further ado:
Aug. 30
Central Florida at Uconn
Anyone expecting the floor to drop out from under Central Florida due to coach Scott Frost's departure is going to be disappointed, at least as long as junior QB McKenzie Milton is still at the helm.  Milton the Toaster burned opponents for 4,037 passing yards last season, averaging an eye-popping 10.2 yards per attempt.
The Knights get another chance to ridicule Connecticut for having attempted to create the "Civil ConFLiCT" between these teams, for which then-Husky coach Bob Diaco had actually created a trophy.  In 2015, Diaco brought the trinket with him to Orlando, where he proudly awarded it to himself after a 40-13 victory, and went home.  UCF won the next meeting in East Hartford, where they walked off the field without acknowledging the trophy.  Diaco was fired at the end of that season, and the rest is history.
That is, until the Knights decided to award themselves rings for a national championship they did not win during last year's 13-0 season.  Their delusion has gone so far that even the facade on the Spectrum Stadium press box now says, "2017 National Champions."  So, Diaco's attempted prefabrication of a rivalry game was the worst thing to ever happen to football, but for the Knights, in the parlance of our times, to "identify as" national champions, is presumably legitimate?  How fitting that their next game should be against the team they mock for congratulating itself over a fictitious accomplishment.  As naturally as sarcasm comes to college students, it will be a tremendous disappointment if Husky fans don't taunt UCF by making all sorts of self-congratulatory claims.  Perhaps they could unfurl a giant banner declaring their team to be Two Thousand Eleventeen Intergalactic Champions.
These teams' ongoing need to needle each other will only mean one thing:  Bob Diaco has won.  The rivalry is on.  The on-field product may not yet be competitive, but when the Knights prevail in this Thursday night opener, and inevitably claim that it's no different from any other game on their schedule, they'll be liars.  The Uconn game now has a unique importance to the team in Orlando, whether anyone wants to admit it or not.
Central Florida 45, Uconn 21
Northwestern at Purdue
The Wildcats have won eight in a row, but they lost starting QB Clayton Thorson to a torn ACL in their 24-23 Music City Bowl victory over Kentucky, and his status for his senior year is far from certain.  Aside from that postseason one-pointer, their streak includes three OT wins, which suggests how costly the loss of his leadership could be.
Jeff Brohm wasted no time in brushing aside five years of losing football in West Lafayette.  The former Western Kentucky coach carried home a 7-6 record last season, culminating in a 38-35 win over Arizona in the Foster Farms Bowl.  PU's next step is to try to qualify for a bowl game that fans will still have heard of five years from now.
The Einsteins from Evanston must find it amusing that their opponents would take such pride in making boilers, as if that were some sort of an academic achievement.  Put pot on fire.  What's so hard about that?  Probably just one of those scholastic exercises designed to build self-es-steam.
Purdue 27, Northwestern 23
Wake Forest at Tulane
These same teams met in a Thursday night opener two years ago, when the Green Wave was left in the Demon Deacons' wake, 7-3.  TU totally dominated time of possession in that defensive battle, in which they outgained WF, 280-175.  They never got anywhere near the goal line, though, despite entering plus-territory on each of their final four possessions.
This Wake offense is awash in talent and experience, led by four fifth-year seniors on its offensive line.  A year ago, the Deacons finished second in the ACC in both points scored and yards gained, behind only Lamar Jackson and Louisville.
Contrary to the conventional lardheaded wisdom, the Wave's attendance has risen significantly since the team moved its games outdoors to Yulman Stadium.  To most people, that only stands to reason.  I mean, how many football fans really wanted to go to the Superdome, what with all the murders, cannibalism and necrophilia going on there?
See, Geraldo?  Some of us still believe you!
Wake Forest 39, Tulane 22
Aug. 31
Syracuse at Western Michigan
It's so rare that the Broncos play a big nonconference game at home that most players from the major conferences think Kalamazoo is what you put on jungle animals when they get poison ivy.  The last time WMU hosted a current power five team from outside their own state was in a 37-27 loss to Indiana in 2007.
Since last October's shocking upset of Clemson, the Orange have lost five in a row, but those were all against ACC teams with winning records.  A year ago, they easily handled upper echelon MAC opponent Central Michigan, 41-17.
It's a little known fact that the Broncs' home field, though pronounced "Waldo Stadium" is actually named "Wall Dough Stadium."  With some of these small-conference facilities, they had to be a little thrifty with building materials.
Syracuse 30, Western Michigan 28
Army at Duke
The West Pointers were unable to obtain another year's eligibility for three-year starting quarterback Ahmad Bradshaw.  Whoever takes over for last year's NCAA-leading rusher will have little preparation for this challenging opener in Durham.
The Blue Devils didn't like it at Michie Stadium last year, where they fell to the Cadets 21-16, for their sixth loss in a row.  After that, they went 3-0, scoring a total of 110 points against formidable foes Georgia Tech, Wake Forest and Northern Illinois.
Once known only for basketball, Duke is now a competent school in most athletics across the board.  Not coincidentally, Durham has also become a more popular destination for sports fans.  Of course, it helps that the city's board of tourism came up with the catchy slogan, "Come to Durham:  Susan Sarandon and Tim Robbins don't really live here."
Duke 24, Army 6
San Diego State at Stanford
SDSU has got its next in a long line of small but explosive running backs in 5-foot-7 junior Juwan Washington, who dashed for 759 yards and seven touchdowns while backing up Rashad Penny a year ago.  In limited action last year against the Cardinal, Washington made a key 12-yard reception on the game winning drive, to help secure a 20-17 Aztec upset.
The Cardinal counter with Bryce Love, who was in the same position as Washington a year ago, when he emerged from the shadow of Christian McCaffrey after gaining 779 yards as his understudy.  The leading toter for the tree-men is now embarking on a Heisman campaign of his own, following a 2,118-yard junior season.
The Aztecs are continuing to use that team nickname, but they've decided to downplay their use of Aztec imagery, including human mascots, lest they be "hostile and abusive" in NCAA lingo.  They might as well become sensitive toward stegosauruses, Neanderthals and dodo birds.  Exactly who is going to take offense on the Aztecs' behalf, Elizabeth Warren?
Stanford 23, San Diego State 14
Colorado vs. Colorado State
Conventional wisdom says that CSU, having played a Weak Zero game, has an upperhand against a Buffalo team that's taking the field for the first time this season.  The same was supposed to be true a year ago, however, when the Rams routed Oregon State 58-27 in Weak Zero, only to be stifled by CU 17-3 in Week 1.  This time, the buttheads are hoping there's just as little carryover, since they were defeated in their opener, 43-34 by Hawaii.  Initially taken aback by the UH run-and-shoot offense, the Rams trailed 37-7 midway through the third quarter, before finally taking advantage of their opponents' own inability to defend the pass.
Early in that game, there was no guesswork involved in the Ram offense, insofar as the question of Izzy or izn't he was concerned.  Every time they went into hurry-up mode, they handed off to tailback Izzy Matthews.  Whenever they took their time and wound the play clock, K.J. Carta-Samuels came out throwing.  If they don't become a lot less predictable in a hurry, they're in for a long September, with their next two games against Arkansas and Florida.
Although the Buffaloes hold a commanding 60-22-2 lead in this battle of the hairy horny-heads, it has become far more competitive since being played as a neutral-site game in Denver.  At one point, the Buffs' lead in the Mile High City had dwindled to two games, but they've since won three in a row to improve their mark to 11-6.
In case you were wondering, and you know you were, Izzy Matthews was not the official mascot of the 1996 Atlanta Olympics.  Therefore, he does not emit stars from his posterior.  Glad to have cleared that up.
Colorado 42, Colorado State 23
Sept. 1
Appalachian State at Penn State
The Czar is surprised that most of the pundits foresee no drop-off at all for PSU, which has to find a way to replace not only all-time leading rusher Saquon Barkley, but also offensive coordinator Joe Moorhead – now head coach at Mississippi State – and eight defensive starters.
Those wholesale changes might make this a tempting upset pick, except that the Nittany Lions don't have a history of taking small-conference opponents lightly.  In fact, the last time they took on a Sun Belt team, they were widely criticized for the intensity with which they pummeled Georgia State, 56-0.
If you ask App State, this Division I-A football isn't so hard after all.  In their first year of big time ball in 2014, they went 7-5, but because of one of the NCAA's stupider rules, were not allowed to play in the postseason because it was a "transitional year."  So, their clutch late-season victories over Arkansas State and Louisiana-Lafayette went for naught.  In three years since, they've compiled 30 wins and three bowl appearances, all victories.  They seem to be doing everything right, but there is one exception.  If they're going to remain this good a program, they should develop a helmet logo that looks like one they expect to be seen on TV once in a while.  That script "Mountaineers" is so tiny that it just looks like the letter "A" has grown a moustache.
Late last season, just to prove that he wasn't looking past lesser opponent Maryland, Lion coach James Franklin tweeted the following, and this is an exact and entire quote: "MARYLAND MARYLAND MARYLAND MARYLAND MARYLAND MARYLAND MARYLAND MARYLAND MARYLAND MARYLAND MARYLAND MARYLAND.  If he approaches Appalachian State with that same zeal, he just might tweet himself into spontaneous combustion before kickoff.
Penn State 38, Appalachian State 14
Tennessee vs. West Virginia
The Volunteers have arguably given their best performance in each of the past two seasons in one of these early neutral-site games.  Last year, they held off Georgia Tech 42-41 in the Yellowjackets' home city, but across town at Mercedes-Benz Stadium.  In 2016, they rode rings around Virginia Tech, 45-24, in a raucous event closer to home at Bristol Motor Speedway.  This year, they take a short trip to Charlotte, where opponent WVU is 0-2 all-time.
Mountaineer quarterback Will Greer gives his team a big advantage in firepower.  These offensively impotent Vols, and new head coach Jeremy Pruitt, former defensive coordinator at Alabama, don't have any realistic way of nullifying this disadvantage, apart from forcing an inordinate number of turnovers.
The Eers had to postpone their fan appreciation day last week because of an outbreak of hand, foot and mouth disease.  Where else would people come down with such a livestocky ailment but in Wild, Wonderful West Virginia?  Seriously, guys, next time, just go to Farmers Only dot-com.
West Virginia 35, Tennessee 16
Washington vs. Auburn
West Coast teams don't tend to fare well on long, season-opening road trips to the East, but this veteran Husky pack should be running like a well-oiled machine when it rolls into Mercedes-Benz Stadium in Atlanta.  AU, however, must establish a new number one running back, or else resign themselves to the same fate they faced in this building in last year's SEC title game, a bruising 28-7 loss to Georgia.
If the Dogs are the better prepared team, they'll need to be, because the Tigers are better able to afford a loss and remain in the national championship picture.  There should be a lot of parity in the Pac 12 this year, and UW doesn't play USC in the regular season, so their only remaining opportunities for a big makeup victory are against Stanford and maybe Oregon.  Auburn has bigger games remaining, but is less likely to win them, with Alabama, Georgia and Mississippi State all on the road.
How did Mercedes-Benz ever get to be the name of a popular luxury car?  It sounds like a source of visceral discomfort, something akin to Montezuma's Revenge.
Washington 26, Auburn 17
Michigan at Notre Dame
When the Fighting Irish announced in 2013 that they were ending this series, Wolverine coach Brady Hoke accused them of "chickening out."  In keeping with that theme, the loudspeakers at the Big House taunted the golden domers with the Chicken Dance during a 41-30 maize and blue victory.  There was one game left in the series, however, during which the Irish could have reciprocated by playing the Hokey Pokey, but instead they simply sealed the doom of the opposing coach with a 31-0 thumping.  The rivalry now returns for a home-and-home, but is not yet scheduled to resume beyond next year.
The Wolverines haven't had a 1,000-yard running back since Fitzgerald Toussaint in 2011, but Karan Higdon only fell six yards shy of that mark a year ago.  If the U of M's ground game can start imposing itself again, the program might have finally recovered from its needless overreaction to the Appalachian State upset of 2007.
The Irish would probably rather play this game later in the season, because their roster is currently unsettled at many positions.  Coach Brian Kelly says Brandon Winbush will start at QB ahead of Ian Book, even though the former completed fewer than half his passes in 2017.
Speaking of hokey, that 2014 meeting was the first game in this series that was played on an artificial surface at South Bend.  At the time, the athletic director explained that since commencement had been moved to the stadium, it tended to kill all the grass every year.  So, imagine you're the one calling the shots at "Wake Up the Echoes" University.  Do you defile one of the world's most iconic sports venues by rolling a rubber rug over top of it, or do you move the commencement back wherever it had been held before?  If you chose Option A, then congratulations, you are a lardhead.
Michigan 24, Notre Dame 20
Ole Miss vs. Texas Tech
These teams, who meet this week at NRG Stadium in Houston, are no strangers to neutral-site games.  Of their five previous meetings, three have been in bowl games.  Mississippi won all three of those, while Tech took both games of a home-and-home.  So who should win this one, the team that's 3-0 at neutral sites, or the one that's 2-0 in regular season meetings.  The College Football Czar will pick the team he thinks is simply better right now, and leave the meaningless number crunching to Phil Steele.
The Red Raiders return nine starters on defense this year.  Unfortunately, all that means is that they've got plenty of experience at giving up 443 yards per game.  Opening the season indoors against a deep and accomplished Rebel receiving corps is not likely to improve that average.
The Czar can hardly go anywhere in public lately without encountering obnoxious NRG sales representatives.  He can't imagine how fans will find themselves besieged by them upon entering NRG Stadium.  Yes, of course I pay an electric bill, you knob!  Any more blitheringly stupid questions?
Ole Miss 51, Texas Tech 38
Marshall at Miami OH
Not exactly one of the opening week's blockbusters, this game nevertheless promises to be M-M-good, as these small-conference contenders clash in the Cradle of Coaches, Oxford, Ohio.  The Thundering Herd, now from Conference USA, have beaten their former MAC rivals in 9 of the last 10, but the RedHawks (nee, Redskins) still hold a commanding 18-10-1 all-time lead.
Since Chase Litton lit out a year early for the NFL, the Herd have no quarterbacks with any major college attempts.  The only one with significant experience is Alex Thomson, a grad transfer from Division I-AA Wagner.  Do you suppose he and other Wagner alumni pronounce it "VAHG-ner," in an attempt to make it sound Ivy League-ish?
The Hawks have no such concerns with senior Gus Ragland behind center.  Ragland took over midway through his sophomore season, when he led MU from an 0-6 record to six straight wins and a bowl game.
Marshall coach Doc Holliday says he's your huckleberry, and that very well may be, but that's between you and him.  Too much information for the Czar, frankly.
Miami OH 17, Marshall 14
North Carolina at California
The College Football Czar wishes everyone would get off UNC coach Larry Fedora's case about his remarks on CTE, especially those smug journalists who automatically assume the endorsement of science for every one of their opinions.  Sure, most people seem to agree that there's a correlation between CTE and football-related head injuries, but that's merely an observation, not science.  Attempts to scientifically establish a causal relation between the two suffer from the almost complete absence of a control group.  Odds are, if you're not a football player, nobody does an autopsy to check you for CTE.  The same goes if you are a former football player who's never shown any sign of neurological problems.  Only if you're a football player who is known to have suffered brain injuries do they examine you for the disease.  The frequency with which they discover it may strongly suggest a connection, but that's hardly a scientific conclusion.
Then again, if these liberal rattlenoggins really had much of a grasp of science, they would not be taking seriously the suggestion that plastic drinking straws are threatening the earth.  The truth be known, it's not Fedora's remarks on CTE that have the sports media so riled up.  It's the fact that his linking the War on Football to anti-Americanism hit too close to home for their liking.
The coach's big mistake was in tangling with the media before he got his team turned around.  If his Tarheels don't improve much on last year's 3-9 record, he'll really have invited their wrath.  Perhaps he's set up that scenario intentionally, as a sort of perverse incentive for himself.
The Golden Bears made the long road trip a year ago, and went home from Chapel Hill with a 35-30 victory that was not nearly as impressive as they must have thought at the time.  That helped them to a 3-0 start, but from there they dropped 7 of their last 9.
Last time the forces of political correctness clashed so publicly with Carolina football was in 2016, when the knuckle-dragging cavemen of that state were still clinging to an outmoded superstition, having to do with something called chromosomes, which they said objectively determined one's sex.  For that reason, the ACC withdrew its championship game from the state until they got their minds right, which they did.  Happily, they're now in agreement with the rest of the civilized world that a man and a woman are no more distinct from each other than two dust bunnies.  Hooray for science!
California 39, North Carolina 27
Texas vs. Maryland
A year ago, the Longhorns were surprised on their home field, in a sloppy 51-41 loss to this same Terrapin team.  Evidently, Tom Herman had neglected to tweet "MARYLAND MARYLAND MARYLAND MARYLAND MARYLAND MARYLAND MARYLAND MARYLAND MARYLAND MARYLAND MARYLAND MARYLAND."
To the degree to which the Terps can focus on football right now, they won't like what they see.  Having lost 7 of 8, they're now switching to a pro-set offense, and relying on freshman quarterback Kasim Hill to guide them through the transition.
The Longhorns are in for a long season if they can't take this opportunity to avenge their worst loss of 2017.  The ongoing investigation of the Terrapin program and head coach D.J. Durkin have left that team in greater disarray than their harlequin-like uniforms are able to convey.
Texas 42, Maryland 20
Washington State at Wyoming
It seems tasteless to even speculate about the effect of QB Tyler Hilinski's suicide on WSU's offense, but it's a tragic fact that the Cougars must find a way to get along without him, and it's not all that clear that they can.  One way could be to get more use out of a ground game that was the second-least productive in the nation a year ago, averaging 68 yards per game.
The Pokes are breaking in a new quarterback themselves, in freshman Tyler Vander Waal.  They've got experience almost everywhere else on the field, especially on the offensive and defensive lines.  It was Craig Bohl's team that led the nation in turnover margin in 2017.  We just didn't notice it because they didn't behave like a bunch of unsportsmanlike boobs about it, and therefore could not bask in media suckuppery.
The Cowboys won their Weak Zero game at New Mexico State, 27-7.  That, and a nickel, will get you a 29-7 win over New Mexico State.  And a nickel!  If you're a Trumpee, you'd consider that a shrewd negotiation.
Wyoming 15, Washington State 12
Middle Tennessee at Vanderbilt
MTSU used to relish these opportunities against their neighboring SEC foes, but in recent years they haven't been able to cut the mustard.  One might say they've failed to play ketchup, if one wanted one's readers to groan and turn away in disgust – but one doesn't, so one will keep one's tired, condiment-inspired puns to oneself.
Regardless, the MT-heads have gotten rolled in the past two games in this series, by a combined score of 75-30.  Add a 17-13 setback in 2015, and Vandy has won three straight to even the all-time series at 3-3.  Last year's opener was one of the rare times the Blue Raiders have had QB Brent Stockstill healthy, nevertheless, they were held scoreless until the fourth quarter of a 28-6 bruising.
Penn State coach James Franklin ued to coach the Commodores.  If he were there today, he'd be tweeting "MIDDLE TENNESSE MIDDLE TENNESSEE MIDD – Aw, skip it.
Vanderbilt 23, Middle Tennessee 21                                                                                                                                                                                                                                                                                                                                                                                                                              
Brigham Young at Arizona
Cougar quarterback Tanner Mangum is not to be confused with former Navy QB Thomas Magnum, even though he's nearly as old.  Like many BYU players, the oft-injured senior slinger spent two years on a Mormon mission – in his case to Chile – before resuming his collegiate football career.  At 24, he's now trying to recover from offseason Achilles surgery, while also fending off a challenge from freshman Zach Wilson.
Hard as points have been to come by for the Cougars, they did beat the Cats two years ago, 18-16, in the middle of an otherwise terrible slump.  Alas, they weren't facing the same UA offense that ranked third in the nation in rushing a year ago.
New Wildcat coach Kevin Sumlin got himself in trouble at Texas A&M by failing to keep starting quarterbacks from transferring away.  This seems to give Cats' QB Khalil Tate quite a bit of leverage.  The College Football Czar imagines him having a little bell to ring, whenever he wants Sumlin to fluff his pillow, or bring him some hot cocoa.  Not that the Czar grew up watching too many trite sitcoms, or anything.
Arizona 26, Brigham Young 14
Northern Illinois at Iowa
The Hawkeyes will try to use their fearsome pass rush to mask the massive turnover in their linebacking corps and defensive backfield.  That makes their ability to contain NIU scrambler Marcus Childers the key to this game.  Childers' elusiveness would pose a challenge by itself, even if he didn't have five returning starters on his offensive line.
The Huskies must be happy to start the season with a high-profile game, after a rash of injuries robbed them of any chance in the Quick Lane Bowl, where they were demolished by Duke, 36-14.  NIU finally broke through to beat this Hawkeye team when they last met in 2013, having lost the previous eight games in the series.
The pink visitors' locker room at Kinnick Stadium is meant to lull the opposing team into a state of namby-pamby passivity.  What the Hawkeyes didn't count on is that the significance of this would be lost on the team that plays its home games in Huskie with an "ie" Stadium.
Northern Illinois 20, Iowa 19
Louisville vs. Alabama
The last time these teams met at a neutral site was New Year's Day of 1991, when the Cardinals crushed Bama 34-7 in the Fiesta Bowl to cap a 10-1-1 season.  That and fifteen dollars will get them a dry pizza with a nasty cup of garlic goo from Papa John's.
For the second year in a row, the pachyderm defense is down two linebackers to injury before the season kicks off, an obstacle they overcame last year, obviously.  This time, their youthful squad is less well equipped to get along without Terrell Lewis (ACL) and Christian Allen (knee surgery).  They will now rely heavily on senior LB Christian Miller, who himself missed most of last season with a torn bicep.
The Iranian Mullahs prohibit the use of the word "pizza," requiring instead that it be called an "elastic loaf."  Who knew Papa John's delivered to Teheran?
Alabama 45, Louisville 27
Old Dominion at Liberty
The Flames host their first game as a Division I-A program, against an ODU team that made the same jump four years ago, with modest success.  Unfortunately, the most notable moment in Monarch football to this point has been their 2016 Bahamas Bowl victory over Eastern Michigan, after which coach Bobby Wilder had a Joe Namath episode with sideline reporter Kaylee Hartung.  The Czar suspects the incident helped chase Hartung away to CNN, where she will never again be seen, other than by the Commiebastards who actually watch that network.
LU brings coach Turner Gill back to big time college football, where he won a MAC championship at Buffalo in 2008, before a predictably catastrophic two-year stint at Kansas.  Legend has it Gill is one of only two people to disappear into Kansas and ever be seen again, the other being Jerry Maren.  He was the last surviving Munchkin, who kicked a very small bucket earlier this year.
The Czar actually apologizes to Namath for that earlier remark.  Broadway Joe only said what he wanted to do, whereas Wilder went ahead and did it.  Seriously, the Czar is surprised that the MeToo movement has left the ODU coach alone until now.  Just a word of advice, by the way:  If you're going to level an accusation against somebody, joining a hodgepodge of others under the banner of "MeToo" is not very persuasive.
Liberty 22, Old Dominion 19
Navy at Hawaii
Former UH quarterback Ken Niumatalolo is 1-1 against his alma mater since becoming head coach at the Naval Academy.  On his team's previous trip to Honolulu, they were toppled 24-17, amid an otherwise successful 10-4 season.
Last week, the Rainbow Warriors dared to play a road game while a hurricane struck at home, and they won.  That must have seemed terribly insensitive to the University of Miami, which canceled its game at Arkansas State last year for reasons not yet adequately explained.  New starting Warrior QB Cole McDonald had not a farm, but a field day, with 418 yards and three TDs in a 43-34 victory at Colorado State.
It used to be that a hurricane in the Pacific Ocean was a typhoon, but now, typhoons are being called hurricanes as well.  Why don't we stop labeling them altogether, and let each storm decide what it feels it wants to be on a case-by-case basis?  It is the way of things.
Hawaii 47, Navy 42
Sept. 2
Miami vs. LSU
Jerry Jones' House of Inadequacy seems like the ideal place for those strutting braggarts from The U to open their season.  Besides, they might want to keep their distance from their home crowd, until they end the dismal three-game losing streak on which they finished the 2017 season.
The Canes will be taking the field in new, dingbat-approved uniforms, which ESPN giddily informs us are made with "repurposed marine materials" in order to promote – all together now – "sustainability."  So now, a football team is "sustaining The Planet" by wearing garbage onto the field.  "The new uniforms are made, in part, with a regenerated yarn that has been transformed from fishing nets and other nylon waste picked up from marine environments."  Enough already!  The oceans do not need to be saved from evil manmade plastic, but if they did, the amount that's allegedly used in The U's unis is spit in the ocean, so to speak.  There is no Texas-sized continent of plastic in the Pacific Ocean, as is now widely assumed without evidence, but if there were, "The Planet" wouldn't give a flying organic garbanzo one way or the other.  Everything on earth is biodegradable, given enough time, and The Planet literally has all the time in the world.  Like all other examples of sanctimonious eco-blather, this is an exercise in style over substance, not unlike Miami Hurricane football.
The Tigers, meanwhile, are more concerned with sustaining the career of head coach Ed Orgeron, whose tentative goal-line decision-making cost them the Citrus Bowl against Notre Dame last time out.  New offensive coordinator Steve Ensminger may be named after the world's worst snack cake, but Orgeron hopes he can deliver a treat to the fans in Baton Rouge.
Louisiana State's previous offensive coordinator was Matt Canada, who has since been dismissed.  In keeping with the times, Orgeron had planned to abandon Canada, and instead strike a bilateral deal with Ron Mexico, but unfortunately, there's no such person.
LSU 20, Miami 17
Sept. 3
Virginia Tech at Florida State
The Gobbler defense is now down to three starters, since CB Adonis Alexander was ruled academically ineligible, and coach Justin Fuente had to dismiss LB Mook Reynolds after his arrest for distributing marijuana.  Still, Fuente's concern is not so much his starting eleven as a second unit riddled with sophomores and freshmen.  Expect the new FSU coach, wily Willie Taggart, to pick up the pace on offense, and make Tech substitute more often and more quickly than they'd like.
Upon arriving at FSU, Taggart publicly struck up a friendship with legendary coach Bobby Bowden.  The Czar doesn't doubt his sincerity, but it's undoubtedly a brilliant career move.  Jimbo Fisher's relationship with the fans was inevitably poisoned by his "head coach in waiting" status, which made him appear to be a conspirator to a mutiny.  Taggart, by treating Dad Gum as a father figure, is buying some needed patience from the people of Tallahassee.
Labor Day is, counterintuitively, a day on which nobody works.  Good thing it's not called Football Playin' Day, or what would we watch on TV this Monday night?  Celebrity drain snaking?
Florida State 24, Virginia Tech 13
a sports publication from The Shinbone