The Original College Football Czar
2018 Season Preview
a sports publication from The Shinbone
by Daniel Clark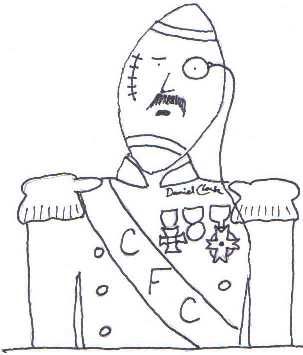 Welcome to the 2018 season preview issue of The College Football Czar, a seasonal sports publication by the author and editor of The Shinbone. In the coming months, you will find weekly analyses of upcoming college football action posted at this site. To find out more, please see the Ground Rules.
This issue contains the Czar's rankings for all 130 teams in Division I-A football, as well as conference preview capsules, potential upsets to watch for, bowl projections, and a guide to help you locate head coaches on the move. Most importantly, it includes early nominees for the Lardhead of the Year Award, which the Czar never gets around to actually awarding, but for which he dispenses nominations promiscuously.
* * * * * * * * * * * * * * * * * * * *
COACHING MOVES
New coach ….. arriving at ….. previous position ….. former coach
Kevin Sumlin ….. Arizona ….. head coach Texas A&M ….. Rich Rodriguez
Herm Edwards ….. Arizona State ….. head coach K.C. Chiefs ('08) ….. Todd Graham
Chad Morris ….. Arkansas ….. head coach SMU ….. Bret Bielema
Josh Heupel ….. Central Florida ….. off. coord. Missouri ….. Scott Frost
Dan Mullen ….. Florida ….. head coach Mississippi St. ….. Jim McElwain
Willie Taggart ….. Florida State ….. head coach Oregon ….. Jimbo Fisher
Chad Lunsford ….. Georgia Southern ….. sp. teams/interim HC Ga. Southern ….. Tyson Summers
Sean Lewis ….. Kent State ….. off. coord. Syracuse ….. Paul Haynes
Billy Napier ….. LA-Lafayette ….. off. coord. Arizona St. ….. Mark Hudspeth
Joe Moorhead ….. Mississippi State ….. off. coord. Penn St. ….. Dan Mullen
Scott Frost ….. Nebraska ….. head coach C. Florida ….. Mike Riley
Mario Cristobal ….. Oregon ….. OL coach Oregon ….. Willie Taggart
Jonathan Smith ….. Oregon St. ….. off. coord. Washington ….. Gary Andersen
Mike Bloomgren ….. Rice ….. off. coord. Stanford ….. David Bailiff
Sonny Dykes ….. SMU …. head coach California ('16) ….. Chad Morris
Steve Campbell ….. South Alabama ….. head coach C. Arkansas (I-AA) ….. Joey Jones
Jeremy Pruitt ….. Tennessee ….. def. coord. Alabama … Butch Jones
Jimbo Fisher ….. Texas A&M ….. head coach Florida St. ….. Kevin Sumlin
Chip Kelly ….. UCLA ….. head coach S.F. 49ers ('16) ….. Jim L. Mora
Dana Dimel ….. UTEP ….. off. coord. Kansas St. ….. Sean Kugler
ROLLING HEAD WATCH
The following coaches will have a difficult time hanging onto their noggins through the 2018 season:
Kalani Sitake, Brigham Young – Do you know the Mushroom Man?  You might not get the chance, once this season is over.  Not only did the former BYU fullback lead his alma mater to its first losing season since 2004, but its 4-9 record was its worst since 1970.  In addition, the team's offensive impotence made their games downright painful to watch.  As of this writing, it appears as if 24-year-old quarterback Tanner Mangum may win the starting job again, which does not inspire hopes of a turnaround among the Cougar faithful.  If Sitake does not deliver some excitement, along with a return to winning football, the fans in Provo are likely to demand a new Latter-day coach.
Scottie Montgomery, East Carolina – Is his third season too soon to beam him up?  Montgomery has gone 3-9 in each of his first two campaigns, and even that is better than one would expect from last year, when the Pirate defense got the pieces of eight beaten out of it for 45 points and 542 yards per game, placing it dead last in the nation in each category.  The former arena league quarterback has got to learn quickly that giving up six touchdowns a game is not the norm in real football.
David Beaty, Kansas – The fourth-year coach has not done beaty-thingeys to many opponents to this point.  So far, he's 3-33, but even that figure is flattering, because two of those wins have been against lower-division teams.  In I-A games, his Jayhawks are 1-32, for an .003 winning percentage.  Granted, he's not in the easiest place to succeed, but KU could have hired Ned Beatty to coach their team, and gotten results not much worse than these.
Bob Davie, New Mexico – Considering the troubles the former Notre Dame skipper has had, he might consider returning to ESPN so that nobody will see him for another ten years.  Last season started with him facing vague accusations of player mistreatment, continued with the public relations disaster of his enthusiastically supporting protests against our national anthem, and ended with him being suspended for supposedly obstructing investigations into alleged sexual misconduct by some of his players.  In the meantime, his Lobos tumbled to a record of 3-9 overall, and 1-7 in the Mountain West, both career lows.  UNM's outlook for this season is, to put it mildly, not promising.  Davie's contract does run until 2021, but the school sure seems to be building a case to terminate it sooner.
Kliff Kingsbury, Texas Tech – Surviving for another season was a close shave for the former Red Raider quarterback and current fashion plate of the NCAA.  Then again, he'd probably rather be fired than get a close shave, so maybe he's not too happy in his current position anyway.  Kingsbury has compiled a record of 30-33 in Lubbock, but his most dubious accomplishment is that he was fortunate enough to have Baker Mayfield walk onto his team, and let him get away.
Tony Sanchez, UNLV – Could it get any worse than losing to Howard?  How 'ard could it have possibly been to beat those guys, anyway?  The 43-40 shocker caused the slowly improving Rebels to finish 5-7, which means the former high school coach has yet to justify Vegas' gamble on him, with three losing seasons for a combined record of 12-24.  Four of a kind would surely give him a losing hand, what with a favorable 2018 Mountain West schedule that includes neither Boise State nor Wyoming.
WHAT'S NEW IN 2018
* Redshirt rules revamped – No longer must coaches torment themselves with the decision to waste a freshman's redshirt status in order to play him in an emergency situation.  Starting this season, a player can appear in as many as four games and still be eligible for a redshirt.  The Czar, for one, sees little harm in this.  If this hypothetical player is really as good as his coaches think he'll be, he's not likely to stick around for a fifth year anyway.
* Unfair catches – In the latest phase of the NCAA's misguided Player Safety Uber Alles campaign, it is allowing any kickoff to be fair caught for a touchback, even if the receiver is not in the end zone.  This takes away the motivation for the kicking team to try to drop balls inside the five-yard-line, where the coverage team might be able to make a big play.  Basically, it's the next incremental step toward removing the kick return game from football altogether.  It can't be long before they simply dispense with the kick, and start the ensuing possession on the 25.  Say what you will about most of what North Carolina coach Larry Fedora has said, but he's indisputably right about one thing:  Football is under attack.
* You might S-E-E Conference USA again --  For the past couple season, little has been seen of C-USA football, apart from the occasional regional Fox-slash-Root-slash-AT&T game, and a smattering of quasi-national broadcasts on beIN Sports.  This year's schedule features 9 games each on CBS Sports and beIN, as well as a handful of interconference games to be shown by the opposing leagues' affiliates at ESPN and Fox.  The most important difference, however, will be in the league's online broadcasts, which had previously been streamed on the league's own, universally unwatched subscription site, but will now be available on ESPN+.
WHAT'S NOT NEW
* Division I-A membership holds steady at 130 – While Idaho has returned to the I-AA Big Sky Conference, their place in Division I-A has been taken by Liberty University, which memorably opened its final season of I-AA ball with a 48-45 upset of Baylor.  There's little doubt that the Flames are good enough to initially compete among the big schools, but the question is how long they can survive as an Independent, having voted to make the jump without any promise of I-A conference affiliation.  Neither Conference USA nor the Sun Belt has immediate plans to expand, which could leave LU floating around as the New Mexico State of the East until further notice.  As for Idaho, the Czar hates to see them go, but the Vandals were never going to compete in major college football as long as they insisted on playing in the 16,000-seat Kibbie Dome.
* Domes still stink, yet they still get preferential treatment for big games – The Peach Bowl, Fiesta Bowl, and Cotton Bowl "Classic" have signed agreements to remain in the rotation for the CFP "New Year's Six" bowl games.  What else do these three games have in common?  They all used to be played outdoors like the Good Lord intended, but have since moved into grim, depressing caves that suck the life out of all but the most extraordinary games.  Add the Sugar Bowl, which was also once played in a legitimate football stadium, and a majority of the CFP games are being played in unfootbally conditions that are terrible for TV.  Think the Czar is exaggerating about the awfulness of domes?  Just wait until the Week 1 neutral-site clashes kick off, and notice how much more enjoyable the games in Charlotte, Orlando and Landover are than the ones in Arlington, Atlanta and Houston.
* Gambling – It's always been around, but since May's Supreme Court ruling in the New Jersey Thoroughbred Horsemen's Toffee-Nosed Scumbuckets' Association v. NCAA, it will become even more widespread and in-your-face, not unlike legalized pot smoking in Colorado.  Don't get the Czar wrong.  He completely agrees that the NJTHTNSA was on the right side constitutionally, even though he dislikes the societal outcome of the case.  The Court ruled, correctly, that the Professional and Amateur Sports Protection Act was an unconstitutional usurpation by the federal government of a power that is delegated to the states under the Tenth Amendment.  One unfortunate side effect is that college football fans can expect to be treated to increasingly gambler-centric coverage of the sport, which will make them have to translate everything back into real-world results.  For example, if SportsCenter is reporting the Wisconsin-Illinois outcome as if the Illini had won, that simply means that they'd lost by fewer than 35 and a half points.
* The San Francisco Bowl – Demonstrating why the Czar does not like selling the naming rights for a bowl game as opposed to simply taking on a sponsor, the game that had once been named after Emerald Nuts, and most recently has been called the Foster Farms Bowl, is seeking a new sponsor, and therefore is temporarily going incognito.  Whereas a game with a traditional name, like the Holiday Bowl, is remembered for all the great games it has put on throughout its history, the San Francisco-Diamond Walnut-Emerald-Kraft Fight Hunger-Foster Farms Bowl has no special meaning for football fans, even though some of the games have been outstanding.  The game will probably have resold its naming rights by December, but in the meantime, it reverts to calling itself the San Francisco Bowl, even though it is now played at Levi's Stadium in Santa Clara.
* Bad announcing cliches – The College Football Czar does not begrudge announcers the occasional cliche, as long as it's basically accurate.  After all, it can't be easy to fill three and a half hours of airtime with entirely original thoughts.  What's maddening are those football cliches that aren't true, but are used by nearly all broadcasters on an hourly basis anyway.  Dammit, you haven't scored any number of "unanswered points" if your opponent has done any scoring since then.  It doesn't all depend on the spot; it depends on whether the ball-carrier gained enough yardage.  On the rare occasion that it comes down to who wants it most, that's a game you don't even want to be watching.  Seldom does one team want it any less than the other.
LARDHEAD OF THE YEAR AWARD NOMINEES
* The University of Central Florida – The Knights had rightly ridiculed Uconn coach Bob Diaco when he tried to fabricate the "Civil ConFLiCT" rivalry between their two schools by creating his own trophy, and presenting it to himself after his Huskies won in Orlando the following season.  Now, all of a sudden, self-awarded trophies for mythical accomplishments are totally legitimate, according to the "2017 National Champions" of UCF, who intend to raise a banner in Spectrum Stadium declaring themselves as such.  So explain again how wrong it was of Coach Diaco to take his trophy and go home.
* People who accept UCF's unofficial national championship – B-b-but … they beat the Auburn team that had beaten both of the teams in the CFP championship!  As any observant fan knows, there is no transitive property of football.  Two years ago, the College Football Czar used the Team A beat Team B which beat Team C method to facetiously illustrate that tiny Dordt College of the NAIA was better than Big Ten champion Penn State. ("We Are!  Dordt!")  You need to win more than one big game in order to become national champs.  That means, if you belong to a "group of five" conference, your nonconference schedule cannot include a team from Division I-AA.  You cannot decline to move the Georgia Tech game to Atlanta, rather than cancel it altogether because of an approaching hurricane.  Your best remaining nonconference opponent cannot be Maryland.  In short, if you're going to demand a chance to play for the championship based on whom you've beaten, you need to have started doing that a lot earlier than December.
* "Papa" John Schnatter – whose naming rights for Louisville's football stadium were revoked after Forbes magazine reported that he'd used a racial slur (you know the one) during a "diversity media training session."  At first, Schnatter publicly apologized, but he later claimed that the person who conducted the session made him say it.  He immediately reversed himself, however, declaring himself responsible and apologizing again.  There seems to be agreement on the point that Schnatter did not direct the slur at anyone, but instead said it in order to accuse the late Colonel Sanders of having said it.  The Sanders family has angrily denied that their patriarch ever used such language, and Schnatter has produced no evidence that he had.  Schnatter has now re-re-reversed himself, releasing a statement through his attorney that he'd been quoting somebody saying the word, which is not the same as using it as a racial slur; therefore, the Forbes story was actually false.  The problem the Czar has with this explanation is that Schnatter has referred to the training session as a "role playing" exercise.  Does this mean he was speaking as Colonel Sanders, making racially inflammatory remarks in a Foghorn Leghorn voice?  If so, how does he think the public would react if they could hear the audio?  He was probably better off a couple explanations ago.  It's as if all those years of crazily nodding have rendered him incapable of holding a thought still in his mind.
* Oregon head coach Mario Cristobal – In his first game following Willie Taggart's abandonment, the former Florida International coach took his Fighting Ducks into the Las Vegas Bowl more ill-prepared than the Czar had ever seen a Division I-A team for a postseason game.  Perhaps part of the reason was that he had not yet established control, but had to that point left his players to go feral.  When the school's all-time leading rusher, Royce Freeman, opted not to play in that bowl game against hated Boise State, Cristobal not only allowed him to travel to Vegas with the team, but let him address them before the game.  Was that meant to be inspiring?  What could Freeman say, go out there and win one for the guy who's too important to risk injury by playing in it?  That's even worse than Coach Dale's it's-okay-to-lose speech in Hoosiers.
* Royce Freeman – The all-time leading rusher in University of Oregon history had a chance to make an impression on his potential NFL suitors by playing in the Las Vegas Bowl, but instead, he showed them nothing but selfishness and disloyalty.  Freeman, with his 6,435 all-purpose yards and 64 touchdowns, didn't get drafted until the third round, by which time he was the seventh running back taken.  Did he really help his draft status by sitting out?  The Czar thinks not.
* Illinois linebackers Jimmy Marchese and Drew Murtaugh – who were arrested for stealing a sculpture of a deer from a nearby park.  This crime was easily traced back to them, because they had transplanted the steel stag to the roof of their apartment building.  With tactical minds like that, these two will surely be pegged as coaching material by the time they leave the Illini.
* Bonobos – The clothing manufacturer and Walmart subsidiary is running an ad that questions the meaning of masculinity, by having a collection of fops, wimps, milksops, mollycoddles and wusses take turns observing that the word doesn't seem to apply to them.  They somehow consider this to be our problem, the solution being that we redefine "masculine" in such a way as to make it "fair" to effeminate men.  What a bunch of typically self-centered liberal mindbarf.  Don't like the truth?  Assume the power to change it, by calling things what you know perfectly well they're not.  Is there any doubt that this ad, running on ESPN, is meant to target football?  It even employs the trendy feminist catch phrase "toxic masculinity," which is fast becoming a favorite among sniveling pinko sportswriters (but I repeat myself).  See?  Woody Allen is every bit as masculine as Clint Eastwood, just in a different way.  If you disagree, you're obviously some kind of a somethingist-or-other.
THE CZAR DECREES …
If the College Football Czar could issue proclamations changing college football, these are some of the things he would do:
* No more weak "week zero" games – Either formally add another week to the college football season, or don't.  "Week Zero" came about two years ago as a result of those horrific mismatches being staged in Australia, apparently to squash whatever interest that nation's sports fans might have had in American football.  Rather than have a single game being played a week early, a handful of other teams scheduled games on that weekend also.  This year, there is no game in Sydney, so Week Zero consists only of a smattering of games played in the States, most of which involve a lower-division team.  The only matchups between Division I-A opponents are Hawaii at Colorado State, and Wyoming at New Mexico State.  Excited yet?  This year, the Czar is going to dispense with those uninteresting openers, and issue his Week 1 picks shortly before the start of the real Week 1.
* Play some old-time hockey – The Czar is no neurologist, but it seems to him that the most significant cause of traumatic brain injuries in football is that the helmets have become so durable that players and coaches came to perceive them more as weapons than as protective equipment.  This problem really should have been addressed the first time some lardheaded coach publicly encouraged his team to play "hat on hat football."  (Are there not heads under those hats, coach?)  If the players wore lightweight hockey helmets instead, that would be enough to protect them from incidental contact, without creating a false sense of indestructability.
* Be done with domes – The Rose Bowl and Orange Bowl should be allowed to remain among the New Year's Six, but if the Fiesta Bowl and Cotton Bowl "Classic" want to qualify, they should have to return to their former venues, Sun Devil Stadium and the Cotton Bowl, respectively.  The Sugar Bowl should be thrown out of the rotation altogether, in favor of the Liberty Bowl, which will soon have an expanded capacity comparable to that of the Superdome.  The Peach Bowl would be out, too, and replaced by the Belk Bowl in Charlotte – which, for continuity's sake, must adopt a traditional bowl name rather than being named after a sponsor (e.g., the "Capital One Orange Bowl" is OK, but the "Capital One Bowl" isn't).  Perhaps they could revive the Aviation Bowl, whose namesake was played only once, in Dayton in 1961.  The game's home, Bank of America Stadium, already has a greater capacity than that new monstrosity in Atlanta.
* Wescue West Virginia – The College Football Czar doesn't have many problems with the current state of conference alignment, but he would like to propose a few changes.  For starters, the Big XII should expand back to 12 teams, by plucking Air Force and Colorado State out of the Mountain West, and also inviting Brigham Young, while jettisoning geographically mismatched West Virginia.  The MWC would add independent New Mexico State, and invite UTEP to leave Conference USA to join them.  The C-USA would make up for that loss by inviting Division I-A newcomer Liberty to join its Eastern division, and sliding Middle Tennessee into the West.  WVU would join the American Athletic Conference, along with independent Umass, so that the AAC could realign into a North division consisting of Cincinnati, East Carolina, Navy, Temple, Uconn, Umass and West Virginia, and a South division of Central Florida, Houston, Memphis, SMU, South Florida, Tulane and Tulsa.  The addition of the Eers would justify elevating the AAC to "power six" conference status, thus making it worth their while to make the jump.
* Let it rain – Is the entire universe conspiring to ruin football?  There are no rain delays in football games, or at least, there shouldn't be. (This means you, Michigan State!)  A temporary stoppage after a lightning strike near the stadium is only sensible, but too often (and every time it happens is too often), a game is held in limbo long after the lightning has gone, in order to let the entire weather system pass before the teams are allowed to retake the field. The players must not be allowed to run in the rain, you see, lest they fall down and go boom.  Honestly, Marge and Lisa Simpson don't watch football anyway.  Stop letting them dictate the rules of the game.
TEAM RANKINGS, 1-130
| | | | |
| --- | --- | --- | --- |
| 1. Clemson (ACC) | 41. S. Carolina (SEC) | 81. Arizona St. (P12) | 121. Liberty (Ind.) |
| 2. Oklahoma (XII) | 42. Oklahoma St. (XII) | 82. Troy (SB) | 122. San Jose St. (MW) |
| 3. Washington (P12) | 43. Minnesota (B10) | 83. Arkansas (SEC) | 123. N. Mex. St. (Ind.) |
| 4. Alabama (SEC) | 44. Navy (AAC) | 84. Colorado (P12) | 124. E. Carolina (AAC) |
| 5. Georgia (SEC) | 45. Iowa (B10) | 85. Umass (Ind.) | 125. UTEP (C-USA) |
| 6. Ohio St. (B10) | 46. San Diego St. (MW) | 86. UNLV (MW) | 126. C. Carolina (SB) |
| 7. Auburn (SEC) | 47. Iowa St. (XII) | 87. Cincinnati (AAC) | 127. Kent St. (MAC) |
| 8. Michigan St. (B10) | 48. Duke (ACC) | 88. Virginia (ACC) | 128. Texas St. (SB) |
| 9. W. Virginia (XII) | 49. Purdue (B10) | 89. Rutgers (B10) | 129. Charlotte (C-USA) |
| 10. Miami (ACC) | 50. UCLA (P12) | 90. Miami OH (MAC) | 130. Kansas (XII) |
| 11. Wisconsin (B10) | 51. Army (Ind.) | 91. UAB (C-USA) | |
| 12. Stanford (P12) | 52. Va. Tech (ACC) | 92. Vanderbilt (SEC) | |
| 13. Missouri (SEC) | 53. Marshall (C-USA) | 93. Ga. Southern (SB) | |
| 14. Boston Coll. (ACC) | 54. Tennessee (SEC) | 94. SMU (AAC) | |
| 15. Houston (AAC) | 55. Louisville (ACC) | 95. Baylor (XII) | |
| 16. USC (P12) | 56. Ohio (MAC) | 96. Syracuse (AAC) | |
| 17. Notre Dame (Ind.) | 57. Memphis (AAC) | 97. UTSA (C-USA) | |
| 18. Texas A&M (SEC) | 58. N. Texas (C-USA) | 98. Uconn (AAC) | |
| 19. Florida St. (ACC) | 59. California (P12) | 99. Colorado St. (MW) | |
| 20. Miss. St (SEC) | 60. BYU (Ind.) | 100. ULM (SB) | |
| 21. Kansas St. (XII) | 61. Indiana (B10) | 101. W. Kent. (C-USA) | |
| 22. No. Illinois (MAC) | 62. Mid. TN (C-USA) | 102. Bowl. Grn. (MAC) | |
| 23. Nebraska (B10) | 63. App. St. (SB) | 103. Oregon St. (P12) | |
| 24. Texas (XII) | 64. Nevada (MW) | 104. Akron (MAC) | |
| 25. Ga. Tech (ACC) | 65. Nc State (ACC) | 105. O. Dom. (C-USA) | |
| 26. Fresno St. (MW) | 66. N'western (B10) | 106. Air Force (MW) | |
| 27. Oregon (P12) | 67. Texas Tech (XII) | 107. E. Mich. (MAC) | |
| 28. TCU (XII) | 68. Fla. Atl. (C-USA) | 108. Georgia St. (SB) | |
| 29. Arizona (P12) | 69. Wyoming (MW) | 109. N. Mexico (MW) | |
| 30. Temple (AAC) | 70. Kentucky (SEC) | 110. Maryland (B10) | |
| 31. Boise St. (MW) | 71. W. Mich. (MAC) | 111. C. Mich. (MAC) | |
| 32. W. Forest (ACC) | 72. Ole Miss (SEC) | 112. Illilnois (B10) | |
| 33. S. Florida (AAC) | 73. N. Carolina (ACC) | 113. Fla. Int'l (C-USA) | |
| 34. Michigan (B10) | 74. LSU (SEC) | 114. ULL (SB) | |
| 35. Utah (P12) | 75. Toledo (MAC) | 115. Buffalo (MAC) | |
| 36. Penn St. (SEC) | 76. Wash. St. (P12) | 116. Tulsa (AAC) | |
| 37. Arkansas St. (SB) | 77. La. Tech (C-USA) | 117. Rice (C-USA) | |
| 38. Pitt (ACC) | 78. Utah St. (MW) | 118. S. Alabama (SB) | |
| 39. C. Florida (AAC) | 79. So. Miss. (C-USA) | 119. Hawaii (MW) | |
| 40. Florida (SEC) | 80. Tulane (AAC) | 120. Ball St. (MAC) | |
CONFERENCE CAPSULES
American Athletic Conference (east)
Temple Owls – QB

Nutile

must spread the ball around like hazelnut butter

South Florida Bulls – Strong finds this team of cattle a lot easier to steer

Central Florida Knights – Milton the toaster burned opponents for over 4,000

yds

Cincinnati Bearcats – Coach

Fickell's

fate depends on developing a ground game

Uconn

Huskies – nation's worst pass D made them retch at

Rentschler

Field
East Carolina Pirates – had a worse year than Johnny Depp, yielding 45

ppg
American Athletic Conference (west)
Houston Cougars

*

– DT Oliver puts opposing QBs in a fine mess

Navy Midshipmen – The Middies need a stronger

endie

than they had in 2017

Memphis Tigers – soft Sept schedule helps them settle on a slinger

Tulane Green Wave – driving in the fast lane, with experienced QB, WRs

SMU Mustangs – Coach Dykes tries to plug many holes in defensive wall

Tulsa Golden Hurricane – more yellow wind wafting through

Okieland
* projected conference champion
Outlook:  UH looks like a cinch to win the West division, while the Owls try to bounce back for their third 10-win season in four years.  Expect USF to end the season strong (so to speak), but it may take half a season for them to settle on a starting QB.  The Knights will not go undefeated again this season, but what if they decide to say they did anyway?  So who's to say they can't identify as undefeated?  What are you, some kind of Fact Nazi?
Atlantic Coast Conference (atlantic)
Clemson Tigers

*

– Paw Boys return a wealth of talent on defense

Boston College Eagles – looking to relive glory days of a bygone era at BC

Florida State Seminoles – in for a good Semi-season, before schedule toughens

Wake Forest Demon Deacons – veteran unit will practice some OL-time religion

Louisville Cardinals – Opposing offenses will get their

fille

in The Ville

Nc

State Wolfpack – down to half a six pack of returning starters on defense

Syracuse Orange – glad they're not a banana, what little consolation that is
Atlantic Coast Conference (coastal)
<![if !supportLists]>1. <![endif]>Miami Hurricanes – tired out from lugging ball and chain around late last season
<![if !supportLists]>2. <![endif]>Georgia Tech Yellowjackets – simplified D takes beeline toward ball carriers
<![if !supportLists]>3. <![endif]>Pitt Panthers – New starting QB Pickett threatens strikes against those who cross him
<![if !supportLists]>4. <![endif]>Duke Blue Devils – in too deep when they leave Wallace Wade Stadium this year
<![if !supportLists]>5. <![endif]>Virginia Tech Hokies/Gobblers – Early D-partures leave their roster too soph
<![if !supportLists]>6. <![endif]>North Carolina Tarheels – looking for a best foot to put forward at quarterback
<![if !supportLists]>7. <![endif]>Virginia Cavaliers – Coach Bronco should've stayed in Mile High country
* projected conference champion
Outlook: The Son of Clem is playing a sequel we've seen before, as the Tigers contend once more for the CFP. In fact, the College Football Czar is picking them to win the national title.  A BC D is always a good start, but this year, they've got an equally hard-hitting offense in Beantown to go with it.  Parity reigns in the Coastal, where any of the top five teams is capable of becoming that division's sacrificial representative in the league title game.
Big Ten Conference (east division)
Ohio State Buckeyes

*

– Young Bucks still rack up enough points to hunt down trophy
Michigan State Spartans – The sky's never falling while they have QB

Lewerke

Michigan Wolverines – maize and blue offense lacks any sense of direction

Penn State

Nittany

Lions –

McSorley's

longballs

will be mostly solo shots this season

Indiana Hoosiers – Coach Tom Allen still lacks tools to make needed improvements

Rutgers Scarlet Knights – Grad transfer Jonathan

Hilliman's

an ex-trohr-

dnerry

pickup

Maryland Terrapins – new pro-set 'Pins might be even easier to bowl over
Big Ten Conference (west division)
Wisconsin Badgers – Once again, the West is won through

Ger

warfare
Nebraska Cornhuskers – New coach Scott Frost makes himself UCF-

ul

right away

Minnesota Golden Gophers – Boat sprang holes (as in 0's) on scoreboard in last 2 games

Iowa Hawkeyes – most damaging roster turnover since Trapper and Henry left

Purdue Boilermakers – Too many boilers spoil the broth at key offensive positions

Northwestern Wildcats – hoping injured quarterback Thorson is feline groovy

Illinois Fighting Illini – The honeymoon's over for third year coach Lovie Smith
* projected conference champion
Outlook: The Czar expects the Urban Meyer investigation to come to nothing, causing the Buckeyes to rally around their coach for the conference title.  That won't be easy, because Sparty is the most likely uninvited guest to crash the CFP party this year.  PSU coaches and players have wisely tried to tamp down the oblivious expectations of analysts who think the losses of Saquon Barkley and eight defensive starters hardly matter.  The cheeseheads won't have a hole lot of trouble repeating in the West.
Big Twelve Conference
Oklahoma Sooners – Kyler Murray gives Boomer Sooners some pop in their bats

West Virginia Mountaineers – defensive injuries give them a higher hill to climb

Kansas State Wildcats – little appeal to perennial overachievers in the Little Apple

Texas Longhorns – hoping new Hand as OL coach can lead them on their cattle drive

TCU Horned Frogs – too many high value players gone from Fort Worth

Oklahoma State Cowboys – Cornelius replacing Rudolph is nothing to wa-hooo about

Iowa State Cyclones – thankful to keep QB Kempt for additional year of eligibility

Texas Tech Red Raiders –

Coack

KK is pretty

blankin

' far from OK these days
Baylor Bears – early schedule's all nuts and berries, but then … YEESH!

Kansas Jayhawks – stopped asking how long to the point of no return
Outlook: RB Rodney Anderson makes it easy for OU to transition to a new quarterback.  Will Grier and WVU won't survive a November onslaught against conference powers.  Coach Bill Snyder always leads K-State to two more wins than they really ought to have.  TCU gets both Oklahoma schools at home this year, and Ohio State right next door in Arlington.
Conference USA (east division)
Marshall Thundering Herd

*

–

fyoo

noo

moo-men on this familiar roster

Middle Tennessee Blue Raiders – face fellow MT-heads from the SEC in 3 road games

Florida Atlantic Burrowing Owls –

Kiffin

hires Offensive Goo II as new coordinator

Western Kentucky Hilltoppers – With no replacement for White, their season's a wash

Old Dominion Monarchs – experienced offensive and defensive lions lead the way

Florida International Golden Panthers – as successful as that dopey "

ihob

" promotion
Charlotte 49ers – Will dual-threat QB have a

Klugh

in running new pro-set offense?
Conference USA (west division)
North Texas Mean Green – QB Fine says "Heeeeey, spread out!" – and they do
Louisiana Tech Bulldogs – matched Miami's TOs without being U-know-

whats

about it

Southern Miss Golden Eagles – Things keep humming along at M.M. Roberts Stadium

UAB Blazers – Can't let last year's enthusiasm disappear like a puff of smoke

UTSA Roadrunners – Can O-coordinator Borges punctuate a victorious season?

Rice Owls – Smart kids and a Cardinal coach doesn't make them Stanford

UTEP Miners – Their only points last year were the ones on their pickaxes
* projected conference champion
Outlook: Good thing there's a championship game in this league, because UNT faces neither the Herd nor MTSU in the regular season.  The key to the title may be whether the Raiders can succeed in protecting senior QB Brent Stockstill for an entire season, which the Czar will believe when he sees it.  The big question for the rest of the conference is whether Birmingham can keep the fire burning from the excitement of last year's rekindling.
Independents
Notre Dame Fighting Irish – in for a shamrock shake-up at most offensive positions

Army Black Knights – not much razzle dazzle to this Hudson brothers' show

Brigham Young Cougars – Disgusted fan base might leave them to go it Provo-lone

Umass

Minutemen – talented troops could start spreading some musket love

Liberty Flames – QB Buckshot Calvert is more accurate than his nickname suggests

New Mexico State Aggies – first bowl since 1960 might have to last another 57 years
Outlook: The Irish may decline slightly, but they'll still pick off one of the better bowl bids from the ACC.  The West Pointers need to play a more competitive schedule.  No matter the Cadets win total, back-to-back November games against Lafayette and Colgate do not justify a postseason berth.  On the other hand, if the M-men win 7 or more, it will be a great injustice for them to sit out the bowl season behind some league's eleventh-place 6-6 team.
Mid-American Conference (east division)
Ohio Bobcats – Can Coach

Solich

eclipse last year's offensive team records?
Miami OH

RedHawks

– This team's got more returning seniors than Cracker Barrel

Bowling Green Falcons – Carl Pelini's a stimulant for this stupor-stricken defense

Akron Zips – cant wash out the taste of last season's Rat Mouth Bowl

Buffalo Bulls – Why is there a "y" in 6-7 quarterback Tyree Jackson?

Kent State Golden Flashes – Golden years are far off for 31-year old coach Lewis
Mid-American Conference (west division)
Northern Illinois Huskies

*

– A rugged D and gritty scrambling QB?

 

What else is NIU?

Western Michigan Broncos – Fleck's former team is still offensive, if not annoying

Toledo Rockets – could be out to launch, with no experienced signal-callers

Eastern Michigan Eagles – "Block E" will be blocky, but can they run, throw or catch?

Central Michigan

Chippewas

– couldn't handle hot potatoes in 8-turnover tater bowl loss

Ball State Cardinals – Injuries put the crunch on them in Muncie last season
* projected conference champion
Outlook: Watch for the Bobs to pull off a big one in a Sept. road schedule consisting of Nebraska, Northwestern and Iowa State.  NIU plays an even tougher nonconference schedule – the kind you'd expect from a group-of-five team that means to be nationally competitive.  Miami senior Gus Ragland stands out among an uncharacteristically weak class of passers in this league.
Mountain West Conference (mountain division)
Boise State Broncos – D isn't famous like an Idaho potato, but it's just as loaded

Wyoming Cowboys – Experienced Pokes should

git

-along without Allen just fine

Utah State Aggies – Seasoned squad is ready to play for all the marbles

Colorado State Rams – tough rebuilding task leaves buttheads little to chuckle about

Air Force Falcons – Lightning Eleven remain caught in their own bottle

New Mexico Lobos – When they knelt, it should've been to say their prayers
Mountain West Conference (west division)
Fresno State Bulldogs

*

– Spinster

McMariyon

proved a perfect match for this team
San Diego State Aztecs – Juwan Washington?

 

Jugottim

, as SDSU's latest breakaway back

Nevada Wolf Pack – nonconference slate sets up for a nice run at UNR

UNLV Rebels – new coordinator Skipper needs more little buddies on defense

Hawaii Rainbow Warriors – Costly transfers cause these rainbows to go to pot

San Jose State Spartans – can't find many positives to accentuate
* projected conference champion
Outlook: It should be a fun year to watch the MWC, as the experience and depth of the Mountain division leaders contrasts with the explosive offensive talent in the West.  The Czar expects Jeff Tedford's Bulldogs to beat out Boise for the championship, with the right team getting to host the league title game this year.  Many more misdeeds in Sin City could create a lot of unlove toward the Rebel regime.
Pac 12 Conference (north division)
Washington Huskies

*

– Pack of old dogs on offense needs no tricks
Stanford Cardinal – tree-

fense

has too many saplings to reach the top of the division

Oregon Ducks – ex-coach Willie's hand jive leaves the winged ones flailing

California Golden Bears – RB transfers leave Berkeley meatless, as usual

Washington State Cougars – turbulent offseason makes for a lousy year on the Palouse

Oregon State Beavers – Smith's hiring Riley makes one wonder who's the dam boss
Pac 12 Conference (south division)
USC Trojans – schedule forces Clay Helton to mold young team into shape quickly

Arizona Wildcats – Forget "Bear Down"; they need to play "Cats Up"

Utah Utes – Will

yoot

movement at DL revive their languishing pass rush?

UCLA Bruins – Blue bears are too Kelly green in new coach's offensive system

Arizona State Sun Devils – must be possessed to have hired Herm Edwards

Colorado Buffaloes –

Ralphie's

pregame stomp's the only drive they can finish
* projected conference champion
Outlook: Hopefully, this league can persuade some of its star players to stick around for the postseason, after last year's embarrassing 1-8 bowl record, which was marked by visible indifference.  One team that's sure to give an effort is UW, which ought to contend for the national title.  The opponent most likely to topple them is enigmatic Oregon, led by the steadying hand of QB Justin Herbert.  The South may be decided by the Utes' consecutive home games against Arizona and SC.
Southeastern Conference (east division)
Georgia Bulldogs – Replacing RBs Chubb & Michel no modest proposal for

soph

Swift

Missouri Tigers – There's no way to keep QB Drew Lock caged at the 'Zou

Florida Gators – New coach is Mullen over some insufficient choices at quarterback

South Carolina Gamecocks – They may be the Cocks of the walk, but can they run?

Tennessee Volunteers – found a few good men in grad transfers

Chryst

, London, Kennedy

Kentucky Wildcats – In the Bluegrass State, the grass is always greener elsewhere

Vanderbilt Commodores – ground game ran off with their gal, their truck and their dog
Southeastern Conference (west division)
Alabama Crimson Tide

*

– Young pachyderm defense mustn't strain its calves

Auburn Tigers – schedule sets a Tiger trap, with Nov. road games vs. UGA, Bama

Texas A&M Aggies –

Jimbo

needs to be a Fisher of men to round out this roster

Mississippi State Bulldogs – QB Fitzgerald scrambles to return from Egg Bowl ankle injury

Ole Miss Rebels – not the "

Runnin

" Rebels, and there's a reason for that

LSU Tigers – can't play kick-the-Canada when their offense fails this season

Arkansas Razorbacks – Hogs will look sloppy, while trying to catch up with Coach Morris
* projected conference champion
Outlook: There should be more parity in the SEC this year, even though Bama and UGA will probably eke out their respective divisions.  Auburn must break in some new RBs, and break through a daunting conference road schedule. Mizzou may spring a big upset, but cannot be consistent enough to win the East.  Phooey on Florida, which plays two Division I-AA opponents, Charleston Southern and Idaho, in addition to Mountain West also-ran Colorado State and a weak SEC East schedule.
Sun Belt Conference (east division)
Appalachian State Mountaineers – picking

Appal

is almost too easy these days

Troy Trojans – The Old College Troy succeeded last year in big win at LSU

Georgia Southern Eagles – playing the blues in Statesboro after 2-10 finish

Georgia State Panthers – went down looking in home games at renovated Turner Field

Coastal Carolina Chanticleers – Don't start planning those cock-teal parties just yet
Sun Belt Conference (west division)
Arkansas State Red Wolves

*

– QB Justice Hansen is confirmed as their decision-maker

Louisiana-Monroe

Warhawks

– must build stronger defenses to uphold Monroe Doctrine
Louisiana-Lafayette Ragin Cajuns – were floored-de-

lis

for 40 points per game last year

South Alabama Jaguars – First-year coach Campbell needs to add some salt to this team

Texas State Bobcats – Coach Everett Withers watches his program do likewise
* projected conference champion
Outlook: The two A-States finally meet in an early Week 7 game in Jonesboro, and perhaps again in the inaugural conference championship game.  Whereas experienced Arky State should easily win the West, App State is in for an argument from East division foe Troy.  Georgia Southern should be back in its comfort zone, entering its second season since returning to the wishbone offense.
BOOBY-TRAP BALLGAMES
The College Football Czar has no idea who he will end up picking to win the following games, but he highlights them now as possible upsets which threaten to ensnare some of the nation's most prominent programs. The favored teams appear in bold face.
Sept. 8
Clemson at Texas A&M – What few troubles the Tigers had last year, they had on the road.  This season's first test comes at Kyle Field, where old foe Jimbo Fisher looks to start his era at A&M by getting a leg up on the Paw Boys.  If the ampersanders can keep adding to the scoreboard, they could take advantage of a Tiger team whose quarterback competition might not quite be settled.
Sept. 15
Central Michigan at Northern Illinois – This MAC opener sneaks up on NIU between two huge nonconference games.  Fresh from the hoopla of a home game against Utah, the Huskies mustn't look ahead to the Florida state team they last met in the Orange Bowl at the end of the 2012 season.  The Chippewas, who prevailed in last November's meeting, are an excellent road team, as they showed last year at Ohio and Western Michigan, and in that controversial 2016 upset at Oklahoma State.
Sept. 22
Notre Dame at Wake Forest – They've started firing bb's at BB&T Stadium, where the Demon Deacons were third in the ACC in passing a year ago.  The improving Irish secondary will have been untested in three home games, leading into their first road challenge since last year's losses to Miami and Stanford.  The Golden Domers, whose next five foes are all formidable, and include traditional rivals Pitt, Navy and Florida State, risk getting smoked in Winston-Salem by a Wake team against which they're 4-0.
Oct. 13
Missouri at Alabama – A rebuilding Bama defense had better be prepared for a visit from Drew Lock, who tossed 44 TDs for the Tigers last year, while falling just 36 yards short of 4,000.  If the Crimson Tide has a QB controversy this year, it won't likely be resolved by this point.
West Virginia at Iowa State – The Mountaineers' back-loaded big XII schedule finishes with Texas, TCU, Oklahoma State and Oklahoma in November. A comparatively soft first half could give them a false sense of security, especially with a feelgood home game against Kansas leading into this visit to Ames.  These long conference road trips tend to wear on WVU, which struggled past Kansas and Baylor in 2017.
Washington at Oregon – After 12 consecutive losses in this series, the Huskies have easily taken the last two, to restore what their longtime fans would consider the natural order of things.  They haven't been facing typical Quack Attack QBs, however, a fact that will become immediately apparent once Justin Herbert steps onto the field.  The junior didn't play against the Dogs last year, because he'd suffered a broken collar bone against Cal.  With Herbert in the lineup, the Fighting Ducks were 6-2 in 2017.  Without him, they fell to 1-4.
Oct. 26
Miami at Boston College – If Willie Taggart doesn't make Florida State formidable this year, the Hurricanes' schedule sets up for another long unbeaten run before taking their first loss.  A statistically average defense that survived on takeaways is going to have its hands full with a veteran Eagle offense that features a great ground game, with five returning offensive linemen.
Oct. 27
Florida vs. Georgia – Last year, the Bulldog offense was #9 nationally in rushing, and #105 in passing.  Considering that, the pundits seem to be taking it rather lightly that UGA must replace excellent running backs and high draft picks Nick Chubb and Sony Michel.  Week 9 is no time to face the Gators this year, because new coach Dan Mullen will surely have found his man at QB by then, and the Dogs are not designed to be a comeback team.
BOWL PROJECTIONS
Just for fun, the Czar takes his best preseason guesses at how the postseason might turn out.
Bowl …….... Date …….... Matchup …….... Projection
New Mexico ….. Dec 15 ….. Mtn. West vs. C-USA ….. Wyoming vs. Middle Tenn.
Cure ….. Dec. 15 … AAC vs. Sun Belt ….. Temple vs. Georgia Southern
Las Vegas ….. Dec. 15 ….. Pac 12 vs. MWC ….. UCLA vs. Fresno St.
Camellia ….. Dec. 15 ….. MAC vs. Sun Belt ….. Miami OH vs. Troy
New Orleans ….. Dec. 15 ….. C-USA vs. Sun Belt ….. So. Miss vs. Arkansas St.
Boca Raton ….. Dec. 18 ….. American vs. MAC ….. C. Florida vs. Toledo
Frisco ….. Dec. 19 ….. American vs. At-large ….. Tulane vs. Ohio
Gasparilla….. Dec. 20 ….. American vs. C-USA ….. S. Florida vs. UAB
Bahamas ….. Dec. 21 ….. C-USA vs. MAC* ….. Fla. Atlantic vs. BYU
Famous Idaho Potato ….. Dec 21 ….. Mtn. West vs. MAC ….. Boise St. vs. W. Michigan
Birmingham ….. Dec. 22 ….. American* vs. SEC ….. Louisville vs. Ole Miss
Armed Forces ….. Dec. 22 ….. Big XII* vs. AAC ….. Army vs. Memphis
Dollar General ….. Dec. 22 ….. Sun Belt vs. MAC ….. Appalachian St. vs. No. Illinois
Hawaii ….. Dec. 22 ….. Mtn. West vs. C-USA ….. San Diego St. vs. Marshall
Heart of Dallas ….. Dec. 26 ….. C-USA vs. Big Ten* ….. N. Texas vs. Utah St.
Quick Lane ….. Dec. 26 ….. Big Ten vs. ACC ….. Indiana vs. Pitt
Cactus ….. Dec. 26 ….. Big XII vs. Pac 12 ….. Iowa St. vs. Utah
Independence ….. Dec. 27 ….. ACC vs. SEC* ….. Duke vs. Louisiana Tech
New Era Pinstripe ….. Dec. 27 ….. ACC vs. Big Ten ….. Boston College vs. Purdue
Texas ….. Dec. 27 ….. Big XII vs. SEC* ….. TCU vs. La.-Monroe
Music City ….. Dec. 28 ….. SEC vs. Big Ten ….. Tennessee vs. Iowa
Camping World ….. Dec. 28 ….. ACC vs. Big XII ….. Georgia Tech vs. Kansas St.
Arizona ….. Dec. 28 … Mtn. West vs. Sun Belt* ….. Nevada vs. W. Kentucky
Alamo ….. Dec. 28 ….. Big XII vs. Pac 12 ….. Texas vs. Arizona
Peach ….. Dec. 29 ….. At-large vs. At-large ….. Miami vs. Michigan St.
Belk ….. Dec. 29 ….. ACC% vs. SEC ….. Notre Dame vs. S. Carolina
Cotton ….. Dec. 29 ….. Semifinalist vs. Semifinalist ….. Oklahoma vs. Washington
Orange ….. Dec. 29 ….. Semifinalist vs. Semifinalist ….. Alabama vs Clemson
Military ….. Dec. 31 ….. ACC vs. American ….. Wake Forest vs. Navy
San Francisco ….. Dec. 31 ….. Big Ten vs. Pac 12 ….. Minnesota vs. California
Liberty ….. Dec. 31 ….. Big XII vs. SEC ….. Oklahoma St. vs. Mississippi St.
Holiday ….. Dec. 31 ….. Big Ten vs. Pac 12 ….. Penn St. vs. Stanford
Gator ….. Dec. 31 ….. SEC vs. ACC ….. Florida vs. Virginia Tech
Sun ….. Dec. 31 ….. Pac 12 vs. ACC ….. Oregon vs. Florida St.
Outback ….. Jan. 1 ….. SEC vs. Big Ten ….. Missouri vs. Michigan
Citrus ….. Jan. 1 ….. SEC vs. Big Ten ….. Texas A&M vs. Nebraska
Fiesta ….. Jan. 1 ….. At-large vs. At-large ….. Wisconsin vs. Houston
Rose ….. Jan 1 ….. At-large vs. At-large ….. Ohio St. vs. USC
Sugar ….. Jan. 1 ….. At-large vs. At-large ….. W. Virginia vs. Auburn
Championship ….. Jan. 7 ….. Cotton winner vs. Orange winner ….. Oklahoma vs. Clemson
* At large bid opens due to lack of eligible team to fulfill commitment
% Notre Dame is eligible for ACC bids
^ If eligible