The Original College Football Czar
2018-19 Bowl Game Picks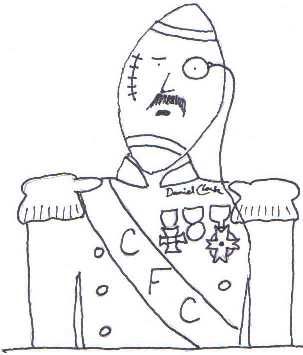 a sports publication from The Shinbone, by Daniel Clark
Week fourteen in review:  For a second year in a row, there is no serious doubt about which four teams belong in the CFP, however hard ESPN may have tried to stir up controversy.  In particular, Kirk Herbstreit sounded as if he must have been Herbie: Fully Loaded as he energetically made the case for Georgia, which had taken a bruising from LSU earlier in the season, and had just failed to play its way in against an Alabama team with a wobbly starting quarterback.  The College Football Czar actually agrees with Herbstreit that if you've watched each team play, Georgia seems like a better team than Oklahoma, but it matters that they've failed to demonstrate it on the field, whereas the Sooners had only one loss, which they avenged in their conference championship.
Whereas the major conference championships held to form, the group-of-five games did not, with slight underdogs Fresno State, UAB and Northern Illinois prevailing, while Central Florida rallied past Memphis without QB McKenzie Milton.  With Navy's 17-10 loss to Army, the Czar's Week 14 record fell to 7-6.  For the 2018 regular season, he finished 157-90, for a .636 winning percentage.  That's not nearly as good as last season, but it shouldn't be hard for the Czar to make up for that by improving considerably on last year's bowl record.
Dec. 15(Saturday)
New Mexico Bowl – Albuquerque – 2:00 (ESPN)
Utah State (10-2) vs. North Texas (9-3)
The winner of this game literally receives a bowl of new Mexico, in that the uniquely crafted annual trophies are made of adobe.

 

At least we hope it's genuine New Mexican adobe.

 

Nobody wants a bowl made of dung smuggled in from the old Mexico.

 

That would be revolting.
The Aggies will need interim coach Frank

Maile

to deliver a victory, because Matt Wells has been tapped as the new head coach at Texas Tech.

 

Maile

has been on the USU staff since 2009, except for a two-year stint as DL coach at Vanderbilt.

 

He will likely remain in Logan for the near future, because the school has announced that his old boss, Gary Andersen, has been hired for a second stint, having previously coached there from 2009-12.
Even without Wells on the sideline, the

Agathas

should prove to be too tough.

 

Yes, they lost their last game at Boise State, and they also dropped their opener, on the road against Michigan State, but they won all ten games in between, most of them easily.

 

By contrast, UNT has been involved in four games decided by a field goal apiece, including a loss at Old Dominion, and an even more embarrassing 27-24 win over UTEP.
Mean Green coach Seth

Littrell

has rebuffed an overture from Kansas State, but that's not to say he's necessarily content to stay in Denton.

 

The reality is that he's likely to get a better offer if he holds out for another year.
You'd think buffing KSU once would have been enough.

 

Talk about being unable to take a hint.
Utah State 40, North Texas 29
Cure Bowl – Orlando – 2:30 (CBSSN)
La.-Lafayette (7-6) vs. Tulane (6-6)
The Green Wave play in their first postseason game since 2013, when they lost the New Orleans Bowl to this same ULL team, 24-21.

 

Timid play-calling cursed TU that day, when they ceded yardage while setting up a late 48-yard field goal attempt, which was missed.
In their regular season finale, the Wave were in no such mood to play it safe.

 

Having squandered a 21-3 lead to trail Navy by seven, senior QB Justin McMillan connected with

Jaetavian

Toles

for a 26-yarder to potentially tie the score.

 

Instead, coach Willie Fritz went for two, and got it, for a 29-28 victory.
This is the first time the Ragin Cajuns have played in a bowl game other than the N.O. Bowl.

 

They won there four times in a row against different opponents, before finally falling to Southern Miss in 2016.

 

Playing a postseason game outdoors in sunny Orlando, they're probably all going to walk around squinting like James Carville.
Tulane 35, La.-Lafayette 23
Las Vegas Bowl –

nuff

said – 3:30 (ABC)
Fresno State (11-2) vs. Arizona State (7-5)
The Sun Devils must feel like they're playing with house money, having already won their gamble in hiring Herm Edwards.

 

The former NFL coach, who had been out of the game for nine years, has clearly had the best season among the five first-year skippers in the Pac 12.
The red, white and blue Bulldogs were stars on the blue field in the Mountain West championship, where they finally broke through for a big road win over Boise State.

 

FSU blocked an extra point to force overtime, where they prevailed by a final of 19-16.
The Dogs' defense has yielded just 13.7 points per game this year.

 

That ties them for second in the nation with Clemson, and is a significant improvement over last year, when they were #10 with an average of 17.9.
As if that weren't enough bad news for the ASU offense, the Devils' leading receiver,

N'Keal

Harry, has designated himself too important to play in this game.

 

As you'll have gathered by the time you're finished reading these picks, that's not "N'K" as far as the College Football Czar is concerned.
Fresno State 26, Arizona State 16
Camellia Bowl – Montgomery – 5:30 (ESPN)
Eastern Michigan (7-5) vs. Georgia Southern (9-3)
The bowl committee blew this one by inviting EMU instead of a 6-6 Miami Ohio team that went 6-2 in the MAC, but will now stay home for the postseason.

 

This punishes the

RedHawks

for playing four very good nonconference opponents (Marshall, Cincinnati, Minnesota and Army), while rewarding the Eagles for beating up on Division I-AA Monmouth.
Conventional wisdom says a triple-option team like GASO is at a disadvantage in a bowl game because the opposing defense has had extra time to prepare for it.

 

But then, conventional wisdom is at a loss to explain the bowl success of the military academies, isn't it?
One convenient thing about playing a game called the Camellia Bowl is that it makes Boy George a natural choice to be grand marshal of the Camellia Bowl Parade.

 

And then, he can sweep the street afterward.
Georgia Southern 51, Eastern Michigan 24
New Orleans Bowl – New Orleans, obviously – 9:00 (ESPN)
Appalachian State (10-2) vs. Middle Tennessee (8-5)
The MT-heads lived up to that moniker at the end of the Conference USA championship.

 

Trailing 27-25 with over a minute to play, they got caught with 12 men on the punt return team.

 

The resulting penalty gave UAB a first down, allowing them to run out the clock.
The Blue Raiders made a four-year investment in Brent

Stockstill

, and it has undoubtedly paid off.

 

The coach's son has thrown for a total of 12,165 yards and 105 touchdowns at MTSU.

 

His last game playing for his father has got to be a big one, not for any sappy reason, but just because they're both that good.
The Mountaineers are 3-0 in bowl games since joining Division I-A, with an overall record of 48-15.

 

There are many reasons for this success, but one is that they take the field appearing to be the Hamilton Tiger-Cats, which gives opponents a false sense of security.

 

Seriously, though, this game is a step up for App State, having recorded all three bowl victories against teams from the MAC.

 

Having to play it with an interim coach doesn't help matters, with Scott Satterfield leaving for Louisville.
Remember, it's not "Central" Tennessee; it's "Middle" Tennessee.

 

The folks in Murfreesboro don't see any need to use geographically proper adjectives, any more than we do up here in Left Pennsylvania.
Middle Tennessee 30, Appalachian State 27
Dec. 18 (Tuesday)
Boca Raton Bowl – Rat Mouth – 7:00 (ESPN)
Northern Illinois (8-5) vs. UAB (10-3)
After all the excitement of the Blazers' successful return last season, it's no wonder their intensity let up in an empty stadium at the Bahamas Bowl, where they were overpowered by Ohio, 40-3.

 

This time, they can count on more of their fans to make the trip, for which no visa is necessary.
The Huskies bullied Buffalo in the second half of the MAC championship, when they rallied from 19 points down to win, 30-29, and in doing so captured their fourth conference title in eight years.

 

The Czar thinks NIU's long-term success would be more widely appreciated, except that they stupidly removed the highly recognizable Huskie logo from their helmets since appearing in the 2012 Orange Bowl.
The entire name of this game is the Cheribundi Boca Raton Bowl, which means that it is sponsored by Cher's buns, which were surgically removed in the late 80s.

 

It's amazing the things you can find on Overstock these days.
Northern Illinois 37, UAB 33
Dec. 19 (Wednesday)
Frisco Bowl – Frisco, TX (not S.F.) – 8:00 ESPN
Ohio (8-4) vs. San Diego State (7-5)
In his 20th year as a head coach, OU's Frank

Solich

is averaging more than eight wins a season, so he needs to beat SDSU in order to consider this year a success.

 

The 74-year-old former Nebraska fullback is now 105-75 with the Bobcats, after his Cornhuskers had deemed his coaching record of 58-19 in Lincoln to be insufficient.
The backbone of the Aztecs in recent years has been their running game, but they've had trouble staying healthy at the tailback position this season.

 

They've gone 0-3 since the return of RB Juwan Washington from a broken collarbone, with oft-injured sophomore Chase Jasmin being sidelined, getting only four carries in those three games.
"Chase Jasmin."

 

Envelope please.

 

Pfffft!

 

"What Harpo Marx would do if he co-starred in Disney's Aladdin."
Ohio 27, San Diego State 14
Dec. 20 (Thursday)
Gasparilla – Tampa – 8:00 (ESPN)
Marshall (8-4) vs. South Florida (7-5)
For whatever the Thundering Herd must have gotten paid to go to Virginia Tech for an abruptly scheduled season finale, it was surely worth it to the university.

 

The team itself must be having second thoughts, after getting trounced 41-20 when they thought their regular season had already ended.
Midway through the season, the 7-0 Bulls were Exhibit C, along with Central Florida and Cincinnati, demonstrating that the AAC was really an unappreciated power conference.

 

Since then, USF has lost five in a row, giving up an average of 39.6 points per game during that stretch.

 

The only real turning point was in their strength of schedule.

 

In the first half of the season, they didn't even win very convincingly over East Carolina, Illinois,

Umass

, Tulsa and

Uconn

.
This game, named after a mythical Spanish pirate, moves from St. Petersburg to Raymond James Stadium in Tampa.

 

It's a more fitting setting, not just because it's outdoors in a real football stadium, but because, being the home of the NFL's Buccaneers, it features a replica pirate shirt in the north end zone.
It's just as well that Gasparilla didn't exist, because he's reputed to have been a murdering, kidnapping coward.

 

So by all means, let's celebrate him.

 

One of the game's former titles was the Beef 'O' Brady's Bowl, which was supposedly named after a crappy family restaurant.

 

In unreality, Beef

O'Brady

was a rugged,

gunslinging

rustler, who would have punted Gasparilla's puffy-panted posterior had the two ever met.
Marshall 25, South Florida 22
Dec. 21 (Friday)
Bahamas Bowl – Nassau – 12:30 (ESPN)
Toledo (7-5) vs. Florida International (8-4)
The sponsor of the Makers Wanted Bahamas Bowl is a group that's trying to lure businesses to the Elk Grove Industrial Park, outside of Chicago.

 

Hopefully, they'll at least succeed in landing a good advertising agency.

 

Then, they can stop sponsoring an event half a continent away, and wasting their naming rights by not bothering to put "Elk Grove" in the title.

 

Even Steve Martin's ad campaign for Okra Cola had more going for it than this.
FIU leads the series between these two, 2-1, with their last meeting in the 2010 Little Caesars Bowl in Detroit.

 

The Rockets took a late one-point lead in that game, but then resorted to the worst play in all of football, the squib-kick, letting the Golden Panthers start their final drive outside the 40.

 

Two first downs later, they sent in their field goal team, and won, 34-32.
Until now, that had been the highlight in the history of the International Men of Mystery, whereas UT has remained perennially competitive.

 

Since that loss eight years ago, the Rockets are 3-3 in bowl games, whereas the Panthers are 0-2.
As long as the Czar calls FIU the International Men of Mystery, do you suppose he ought to also nickname Toledo the Rocket Men?

 

No, that would be too witty.
Toledo 49, Florida International 41
Famous Idaho Potato Bowl – Boise – 4:00 (ESPN)
Western Michigan (7-5) vs. Brigham Young (6-6)
The Cougars play in Albertsons Stadium for the second time in two months.

 

Against Boise State in Week 11, they fell short 21-16, when freshman QB Zach Wilson took a sack on a second-and-goal from the two, allowing the last 13 seconds of the game to expire.
The Broncos bumped off Northern Illinois 28-21 in their regular season finale, to snap a three-game skid.

 

Those who believe in the transitive property of football will note that BYU lost to that same Huskie team 7-6, and assume that WMU has the advantage.

 

That was in Wilson's second career start, however, and he's shaped up into a pretty good passer since that time.
This is the Broncs' first bowl appearance since losing ludicrous head coach P.J. Fleck, who led them to a Bahamas Bowl victory over Middle Tennessee, and a very respectable 24-16 Cotton Bowl loss to Wisconsin a year later.

 

Before his arrival in Kalamazoo, they went 0-5.
People can laugh all they want at the idea of the Idaho potato being famous, but the College Football Czar says, better it than Spuds Mackenzie.
Brigham Young 17, Western Michigan 9
Dec. 22 (Saturday)
Birmingham Bowl – um … Birmingham – Noon (ESPN)
Wake Forest (6-6) at Memphis (8-5)
It's hard to overestimate the magnitude of MU's meltdown in the AAC championship against Central Florida.

 

Seeking revenge for blowing a 16- point lead in an earlier 31-30 loss to the Knights, the Tigers took a slightly bigger 38-21 halftime lead in the rematch.

 

Even without having to defend against injured QB McKenzie Milton, they surrendered five second-half touchdowns, and seemed to have no will to continue by the end of the 56-41 debacle.
Contrast that with the way the Demon Deacons wrapped up their regular season, with a 59-7 demolition of Duke.

 

It was Wake's most lopsided victory since a 53-0 whitewash of the Presbyterian College Blue Hose, whose mascot for some reason is Scottie the Scotsman. (Because the blue hose means he's won first prize?)
This game has added a new sponsor, and is now officially the Jared Birmingham Bowl.

 

Relax.

 

It's being named for the jeweler, not the hamster-faced, child-molesting, formerly fat wuss-monster from the Subway commercials.
Wake Forest 58, Memphis 44
Armed Forces Bowl – Fort Worth – 3:30 (ESPN)
Army (10-2) vs. Houston (8-4)
After throwing a sideline tantrum against coach Major Applewhite, Cougar defensive end Ed Oliver issued the standard excuse, "That's not who I am."

 

Now, Oliver is abandoning his teammates for their biggest game of the season.

 

Yes, Ed, this prima donna is most definitely who you are.

 

If you're not going to change that fact, at least own up to it.
The Black Knights are already 1-0 against the American Athletic Conference this year, having just beaten Navy 17-10 in Philadelphia.

 

The Cadets stifled their arch rivals from Annapolis, holding them to 208 total yards while forcing four turnovers.
Isn't "Armed Forces" a mite redundant?

 

Even Swiss forces are armed, in a way.

 

What would unarmed forces even look like?

 

A platoon full of Woody

Allens

, making snide, unfunny remarks until the enemy dies of boredom?
Army 21, Houston 18
Dollar General Bowl – Mobile – 7:00 (ESPN)
Buffalo (10-3) at Troy (9-3)
Through most of the season, 6-foot-7 UB quarterback Tyree "The Tree" Jackson was head and shoulders above the rest of the MAC, but in the last four games he's fallen to a 50 percent completion rate, while throwing four TDs to three interceptions.
The Trojans are going for a third bowl victory in as many years, after holding off Ohio in this same bowl in 2016, and hanging half a hundred on North Texas last year in New Orleans.

 

Not that these have been their biggest victories.

 

The Old College Troy has also succeeded in knocking off LSU last season, and Nebraska back in Week 3.
The fact that times change is the only explanation why George Washington is our Dollar General, while Ulysses S. Grant rates a fifty.

 

It's kind of like Tom Savage getting paid more than Terry Bradshaw did.
Troy 31, Buffalo 26
Hawaii Bowl – Honolulu – 8:30 (ESPN)
Louisiana Tech (7-5) vs. Hawaii (8-5)
Of the eleven bowl games the Rainbow Warriors have ever played, they've hosted nine of them in Aloha Stadium.

 

You'd think that one of these seasons, they'd opt for a change in scenery, and accept an invitation to play in Boise.

 

Just kidding.
LTU lucked out by getting a bowl bid to Honolulu, while a five-loss Southern Miss team that defeated them in Week 12 stays home.

 

The Bulldogs' only W in their four November games was a modest 28-13 home win over Rice.
Q: Why does the NCAA sanction the

SoFi

Hawaii Bowl?
A: Because the

SoFi

Bulgaria Bowl sounded like a comparatively bad idea.
Hawaii 38, Louisiana Tech 21
Dec. 26 (Wednesday)
First Responder – Dallas – 1:30 (ESPN)
Boston College (7-5) vs. Boise State (10-3)
The traditionally deliberate Eagle offense opened things up for 32 points per game in 2018, but can they keep it up now that offensive coordinator Scott

Loeffler

has been hired away to be head coach of Bowling Green?
The Broncos are not competing for the national championship, and there's no doubt four-year starting quarterback Brett

Rypien

will be drafted.

 

So why is he playing this game, assuming he does?

 

Is he just stupid, or is it that he's an actual member of a football team that's playing a game on this particular day?
Come to think of it, why does anybody play in the truly meaningless Senior Bowl?

 

The whole point of it is that the players are supposed to be pro prospects.

 

Don't they risk injury by putting on that pointless exhibition, when the scouts all have video of their real games anyway?

 

The common thread between blowing off bowl games and playing in dopey exhibitions is selfishness.

 

Those all-star games involve no commitment to a team.

 

They're the Me Show.
This game, and its new sponsor

Servpro

, are paying tribute to first responders, who will be given over 10,000 complimentary tickets.

 

The College Football Czar was interested to learn that by "first responders," they mean cops, firefighters and paramedics.

 

He had assumed that the game had been named instead after Arnold

Horshack

("Oooh! Oooh!").
Boston College 23, Boise State 15
Quick Lane Bowl – Detroit – 5:15 (ESPN)
Georgia Tech (7-5) vs. Minnesota (6-6)
Paul Johnson goes for win #190 before stepping down.

 

The

Yellowjacket

coach, still only 61, is not sure he's retiring, but only says he needs a break.

 

The Czar wouldn't be surprised if he ends up being asked to revive the wishbone attack at Air Force before long.
The Golden Gophers got into the postseason by beating Wisconsin 37-15 to capture the Paul Bunyan Axe.

 

The dominant defensive performance was more than a little surprising coming from a team that had given up 53 points to Nebraska and 55 to Illinois.
The only bowl hosted by an NFL team, this game's entire name is the Detroit Lions Quick Lane Bowl.

 

At 5-8, with fewer than 21 points per game, where is it the Lions are on the quick lane to?

 

The golf course?
Georgia Tech 45, Minnesota 42
Cheez
-It Bowl – Phoenix – 9:00 (ESPN)
California (7-5) vs. TCU (6-6)
Texas Christian is only .500, but half of their losses have been to New Year's Six teams Ohio State, Texas and Oklahoma, and all of those were reasonably competitive.

 

One of the Horned Frogs' other three defeats, however, came at Kansas.
The Golden Bears have been bullish on defense, ever since being embarrassed in a midseason loss to UCLA.

 

Over their past six games, they've allowed an average of 15.3 points, during a stretch of schedule that included Washington, Washington State, USC and Stanford.
The Czar doesn't like it when bowl games jettison their traditional names – like this, originally the Copper Bowl and later the Cactus Bowl – in favor of their sponsorships, but who could resist the

Cheez

-It Bowl?

 

Yes, Cheese

Tid

Bits were better, but they don't exist anymore, for reasons that would probably really tick us off if we knew.

 

Still, the

Cheez

-It Bowl is a far better idea than the Corn Nuts Bowl or the

Funyuns

Bowl, insofar as neither of those products contains genuine

cheez

.
California 15, TCU 13
Dec. 27 (Thursday)
Independence Bowl – Shreveport – 1:30 (ESPN)
Temple (8-4) vs. Duke (7-5)
For the second time in three years, the Owls enter their bowl game with an interim head coach.

 

This time, it's Ed Foley taking over for Geoff Collins, who has been hired away by Georgia Tech.

 

In 2016, it was Matt

Rhule's

departure that left Collins to coach the Military Bowl, a 34-26 loss to a Wake Forest team with a far inferior record.
The Blue Devils were waylaid by Wake 59-7 in their regular season finale, depressing the home crowd in Durham just in time for the bowl invitations to go out.

 

The loss was their fifth in eight games, following a 4-0 start.
The College Football Czar wonders how much longer this venerable event will last.

 

Not only does the 46,000-seat Independence Stadium have no regular tenant bigger than a fourth-division soccer team, but the "Independence Bowl"?

 

In this day and age?

 

That sounds too much like the "You're On Your Own Society Bowl."

 

Independence is too much like, you know, like, having to pay for your own stuff, and stuff.
Temple 34, Duke 27
Pinstripe Bowl – New York – 5:15 (ESPN)
Miami (7-5) vs. Wisconsin (7-5)
These same two teams met a year ago in the Orange Bowl, where the Badgers won 34-24, but this weak sequel promises to be the Indana Jones and the Temple of Doom of football games.

 

The Hurricane quarterbacks have been totally unreliable this year, and UW's Alex

Hornibrook

has barely been any better, even when healthy.
The difference is that

Hornibrook

will be facing far more intense pressure, from a Cane defense that ranks second nationally in yardage allowed, while racking up 37 sacks and 17 interceptions.

 

They've had lots of success in the past two games barging through the backfields of Pitt and Virginia Tech, and there's no reason the Madison Reds should put up much more resistance.
Those Yankee stripes should suit The U well.

 

Just right for breaking rocks in.
Miami 20, Wisconsin 10
Texas Bowl – Houston – 9:00 (ESPN)
Vanderbilt (6-6) vs. Baylor (6-6)
Each team has mucked its way through the season, but at least the Commodores have shown some character.

 

Following a particularly devastating defeat against Missouri,

Vandy

rallied to take two must-win games against opponents – Ole Miss and Tennessee – who needed to win just as badly.
The Waco kids have always wanted to go nowhere special.

 

Once they've made their three-hour return trip home after falling below .500 for the season, at least they'll have accomplished that much.

 

The Bears have only reached a bowl game in the first place by winning their last regular season game against a Texas Tech team that was preparing to fire its head coach soon afterward.
There are seven bowl games that are played in the state of Texas, so to call this one the Texas Bowl isn't very specific.

 

They ought to rename it something to do with Houston in particular.

 

For example, they could call it the Astronaut Bowl, for those who actually believe in those kinds of fairy tales.

 

Eh, Steph?
Vanderbilt 26, Baylor 14
Dec. 28 (Friday)
Music City Bowl – Nashville – 1:30 (ESPN)
Auburn (7-5) vs. Purdue (6-6)
Why is everyone surprised that Jeff

Brohm

chose to stay at Purdue? Okay, so Louisville is his alma mater, but look at the state of that program today.

 

Why leave a Big Ten school to join a team whose chief rivalry has been with its own sponsor.
Tiger quarterback Jarrett

Stidham

was supposed to reinvigorate Gus

Malzahn's

offense when he transferred, but

Stidham

has been at a standstill, with well under 200 yards in each of his past three games.

 

The former Baylor baller's only 300-yard game of the season came in an unsuccessful comeback effort against Tennessee.
The College Football Czar can't figure out why the Music City Bowl is played in Nashville, when everyone knows that

Zamfir

isn't from anywhere near there.

 

He sold more albums than Elvis or the Beatles, you know.

 

Then again, so did Slim Whitman and Boxcar Willie.

 

Come to think of it, practically everybody claims to have sold more albums than Elvis and the Beatles, so why do we even know who they were?
Purdue 33, Auburn 29
Camping World Bowl – Orlando – 5:15 (ESPN)
Syracuse (9-3) vs. West Virginia (8-3)
The game of college football badly needs for everyone to become more judgmental about players skipping their bowl games.

 

Will Grier accepted a scholarship to play this season at WVU.

 

He's supposed to be the leader of a team that is counting on him.

 

He's a Mountaineer.

 

The Mountaineers are playing a football game.

 

He should be playing.

 

His refusal to do so is not an innocuous personal decision.

 

It is a selfish act of betrayal, and ought to be recognized as such.
Stylistically, Orange QB Eric

Dungey

is not cut out for the NFL, which may help explain why he's playing in this game, while his counterpart isn't.

 

In four seasons at the helm at SU, the loping 6-foot-4 scrambler has collected 9,037 passing yards, and another 1,971 on the ground.
When these teams were conference rivals in the Big East, it looked like WVU might soon pull even in the head-to-head series, but the Orange ("Don't call us men!") ended an eight-game losing streak to take the last three, to lead 33-27 all-time.

 

Their most recent meeting was also their only previous clash in a bowl game, as the

underdogged

Orange dusted their foes from Morgantown on a snowy day at Yankee Stadium, 38-14 in the 2012 Pinstripe Bowl.
Mountaineer fans are bound to be disappointed when they go to Camping World and start shopping for outdoor supplies.

 

I mean, where are the sofas?
Syracuse 45, West Virginia 31
Alamo Bowl – San Antonio – 9:00 (ESPN)
Iowa State (8-4) vs. Washington State (10-2)
Cougar AD Pat Chun has complained that his school should have been in a New Year's Six game, but for the CFP committee's bias in favor of the SEC and Big Ten.

 

He hastily added, "but we're ecstatic to be in the Alamo Bowl."

 

No, Pat.

 

If you think you should be in the Fiesta Bowl, you are not "ecstatic" to be in the Alamo Bowl instead.

 

While reversing himself, he may have remembered the time that 1998 Kansas State team whined about only going to the Alamo Bowl at 11-1, and was upset in that game by 7-4 Purdue.
The Cyclones barely survived an awkward struggle against Division I-AA Drake to finish the regular season, 27-24.

 

The ISU offense was held to 273 yards by their lower-division opponents, who outdid them by six.
In the only version of The Alamo that counts, the Duke as Davy Crockett says, "You don't get lard

less'n

you boil the hog."

 

Now we know what

Wazzu

coach Mike Leach does to keep his office warm in the winter.
Washington State 42, Iowa State 25
Dec. 29 (Saturday)
Peach Bowl – Atlanta – Noon (ESPN)
Michigan (10-2) vs. Florida (9-3)
The Wolverines' top-ranked defense D-

sintegrated

in a D-

sasterous

62-39 loss to Ohio State, but they could hardly have hand-picked a better opponent to bounce back against than the Gators.

 

Last year these same teams opened the season in a different depressing cave in Arlington, where the maize and blue held the UF offense out of the end zone.

 

Interception returns accounted for their only two TDs allowed in a 33-17 victory.
In Dan Mullen's first season at UF, the Gator offense is 91 yards and 12.3 points per game better than it was in 2017.

 

Running backs

Lamical

(pronounced "La-Michael")

Perine

and Jordan (pronounced "Jordan") Scarlett have combined for 1,467 rushing yards, with each of them averaging 5.9 per carry.
Even though the Peach Bowl is a football game, one might suspect it was named after famous Georgia slugger Ty Cobb.

 

How do we know it wasn't?

 

Because It's named the "Peach Bowl," not the $#&*@! Bowl.
Michigan 28, Florida 20
Belk Bowl – Charlotte – Noon (ABC)
Virginia (7-5) vs. South Carolina (7-5)
Gamecock WR

Deebo

Samuel is among those who have deemed themselves too important to play their "meaningless" bowl games.

 

Yet it wasn't beneath him to score three touchdowns in a hastily scheduled Week 14 afterthought against Akron.

 

Where's the logic?

 

Did he only learn after the Akron game that he was going to be drafted?

 

If these players truly feared risking their draft status by getting injured, they'd bail out long before the bowl season.

 

Playing hooky from bowl games has gotten to be all about status.

 

Every cocky jerk who expects to go high in the draft figures if

Fournette

and McCaffrey were too good for it, then so am I.
The Cavaliers' only win in their last four games was against Division I-A newcomer Liberty.

 

In fact, weak finishes have become a tradition at

UVa

, which has lost 15 straight to rival Virginia Tech, and gone 7-12 in bowl games.
A Belk Bowl hardly sounds sanitary.

 

The airlines have clearly got a better idea, by giving you a bag in which to

belk

instead.
South Carolina 23, Virginia 10
Arizona Bowl – Tucson – 1:15 (CBSSN)
Arkansas State (8-4) vs. Nevada (7-5)
This game has a very brief but peculiar history, in that it originally tried to appeal to Millennial cord-cutters, by signing a carriage deal with the multi-platform American Sports Network, predecessor to the far inferior Stadium network.

 

By now, it has accepted the fact that people watch college football games on TV, and not on their phones, and they also tend to subscribe to cable or satellite providers that offer a significant amount of sports programming.

 

Hence, last year it settled in to its new home on the CBS Sports Network, where people don't have to search quite so hard to find it.
Another oddity was that, by the time the invitations went out for the inaugural game in December of 2015, there were so few bowl-eligible teams remaining that the committee ended up inviting two teams from the same conference.

 

To put it mildly, that was not a popular thing to do at the time, but the controversy quickly faded, when this Nevada team won a 28-23 duel with Colorado State that was easily among the most entertaining games of that bowl season.
By Sun Belt standards, the Red Wolves are a good postseason team, with a bowl record of 3-5.

 

As you're likely aware by now, ASU was the last team to defeat Central Florida, and handily, 31-13 in the 2016 Cure Bowl.
If the people at Stadium are such high-tech, ahead-of-the-curve wunderkinds, they why can't they produce an over-the-air broadcast with a clear picture?

 

I mean, the channels are all digital now.

 

If you can tune it in at all, it should come in clearly.

 

Last time the Czar watched a football game through such blurry reception, the winning touchdown was scored by Alfalfa.
Nevada 43, Arkansas State 37
Cotton Bowl – Arlington – 4:00 (ESPN)
Notre Dame (12-0) vs. Clemson (13-0)
Last time the Fighting Irish went unbeaten in the regular season, their performance in the 2012 BCS championship was so pitiful, they were upstaged by Brent Musburger's libido.

 

That 42-14 drubbing at the hands of Alabama was no surprise to anyone who had seen both teams during the regular season, and this year's CFP semifinal appears to be every bit as bad a mismatch.
Like the golden

domers

, the Tigers could have been taken early this season, but they've dominated since a few weeks in, when they made a change at quarterback.

 

Trevor Lawrence's 6-to-1 TD-to-interception ratio is a dramatic improvement over what Kelly Bryant had delivered in the previous year and a half.
The College Football Czar will never understand how some analysts talk about a game being played in "Jerry's World," as if that were an asset.

 

Since when is it fun and exciting to experience an approximation of Jerry Jones' personality in architectural form?

 

If it were instead being held in Berry's World, Jim Berry's old comic strip, filled with voluptuous women and talking inanimate objects, now that would be enjoyable.
Clemson 45, Notre Dame 19
Orange Bowl – Miami – 8:00 (ESPN)
Oklahoma (12-1) vs. Alabama (13-0)
One way to look at it is that the Crimson Tide have got an embarrassment of riches at quarterback.

 

Another is that they've got an injured starter with limited mobility, and may have to turn to their second-stringer.

 

An excellent second-stringer, perhaps, but this is the final four, and the difference between best and second-best matters.
SEC loyalists may turn up their noses at Big XII defenses, and understandably so up to a point, but one must take stylistic differences between the leagues into account.

 

If the pachyderms had played Texas, Texas Tech, Oklahoma State and West Virginia, they'd have given up some points, also.
Even though Sooner quarterback Kyler Murray won the Heisman, he is eschewing pro football to play Major League Baseball instead, and who can blame him?

 

After all, you're not nearly as likely to get a concussion playing outfield for the Oakland A's.

 

That is, unless you're Jose Canseco, and you try to catch fly balls with the hardest part of your cranium.
Oklahoma 38, Alabama 31
Dec. 31 (Monday)
Military Bowl – Annapolis – Noon (ESPN)
Cincinnati (10-2) vs. Virginia Tech (6-6)
Just to quell the inevitable rumors, Bearcat coach Luke

Fickell

will absolutely not be rehired as head coach at Ohio State.

 

That would be like his evil twin Adam Sandler going back to do a second extremely unfunny football movie riddled with irritating celebrity cameos, and what are the chances of that?

 

There will be suitors from other power-five conference teams, though, so Bearcat fans better enjoy this season while it lasts.
The Gobblers almost let an amazingly long streak of bowl appearances get snapped, but they won their regularly scheduled final game, then won an abruptly scheduled make-up for a game that had been canceled by a hurricane, to salvage a .500 season and return to the postseason for one more year.

 

If that script sounds familiar, it's the same one that Florida State followed a year ago.

 

Justin Fuente's team hopes the similarities end there.
This bowl is sponsored by Northrop Grumman, a defense contractor that specializes in manufacturing military and aerospace technology.

 

Just in case you're watching the game, and would like to purchase a stealth bomber, to go along with your

Cheez

-Its.
Virginia Tech 22, Cincinnati 16
Sun Bowl – El Paso – 2:00 (CBS)
Pitt (7-6) vs. Stanford (8-4)
The Cardinal are far too speedy for the Panthers to beat on the fly sweep they've employed for so much of the season, but they've got to continue using that play in order to thin the defense out and attack up the middle.

 

That's where running backs

Qadree

Ollison

and Darrin Hall, each of whom has gained over 1,000 yards, come into play.
On those occasions when Pitt does try the end-around, they've got to move the end far enough away for the play to be effective.

 

Too often, they've run it to the short side, which is almost like putting another tackler on the field.

 

The whole point is to get the ball carrier into open space as quickly as possible.

 

It's kind of important for the space to actually be there.
Cardinal QB K.J. Costello has topped the 300-yard mark seven times this year, and can be expected to pick apart the Panthers on the underneath routes, in which his receivers will make big gains after the catch.

 

Quality running backs have always gotten their yardage against David Shaw's defense, however, and there's no reason to expect this game to be any different in that regard.
A Stanford fraternity was reportedly warned by a school administrator to remove the American flag from in front of its frat house, to avoid offending some group of vile pus bags or other.

 

Any university officials who are accompanying the Cardinal football team to El Paso might as well keep on going, and hop a caravan to some country they find less shameful than ours.
Pitt 30, Stanford 29
Redbox Bowl – Santa Clara – 3:00 (FOX)
Michigan State (7-5) vs. Oregon (8-4)
This is a prime example of why a bowl game should maintain a traditional name apart from its sponsor.

 

Nobody remembers great moments in Diamond Walnut-Emerald-Kraft Fight Hunger-Foster Farms-Redbox Bowl history.

 

Yet the game has certainly had its moments, with 7 of the past 11 being decided by 8 points or fewer.

 

Unfortunately, the new sponsor, the company that operates those movie rental kiosks in supermarkets, does not exactly suggest a great deal of staying power.

 

Three years from now, the game will probably be renamed the Botox Self-Injection Kit Bowl, or something.
It's been an up-and-down season for first-year Fighting Duck coach Mario Cristobal, and it's important that he finish on the upswing.

 

Cristobal took the helm prior to last year's Las Vegas Bowl, when he fielded as ill-prepared a team as the Czar has ever seen, in a 38-28 loss to a bumbling Boise State club.
The Czar expected the Spartans to challenge for the Big Ten, but instead it is they who are challenged, offensively.

 

Having been held to six points each by Ohio State and Nebraska, they finally managed to beat Rutgers 14-10 to end the regular season.
At first glance, the Czar thought this was the Redbook Bowl, as if football players were expected to read that magazine to get eyebrow-plucking tips from Jennifer Garner.

 

Not that there's anything wrong with that, even though there is.
Oregon 20, Michigan State 13
Liberty Bowl – Memphis – 3:45 (ABC)
Oklahoma State (6-6) vs. Missouri (8-4)
Okie State has been an enigma this year, blasting Boise State and beating West Virginia, but also getting routed by Texas Tech and Kansas State.

 

Once the Cowboys clinched a bowl bid with that big 45-41 victory over WVU, they turned around and dropped their regular season finale to TCU, 31-24.
The Tigers haven't been a terror this year, but neither have they been an easy out.

 

All four of Mizzou's losses have come in SEC play, against Georgia, South Carolina, Alabama and Kentucky.

 

As of this writing, fourth-year starting quarterback Drew Lock is expected to play, and to therefore top the 12,000-yard mark for his career.
As Patrick Henry once said, "Give me Liberty, or give me the

Cheez

-It Bowl, whichever is most convenient for our traveling fans."

 

What a visionary!
Missouri 55, Oklahoma State 47
Holiday Bowl – San Diego – 7:00 (FS1)
Northwestern (8-5) vs. Utah (9-4)
A game that's historically been characterized by wild end-to-end action will be hard to recognize when these scrappy conference runners-up take the field, but it should be no less entertaining.

 

A game doesn't need to be high-scoring in order to be good football, and the Utes demonstrated during their 10-3 defeat against Washington in the Pac 12 title game.
Injured Wildcat quarterback Clayton Thorson has given it a game effort this season, but what else he's given have been 14 interceptions, as opposed to throwing only 15 touchdown passes.

 

The Ute front seven has rattled plenty of passers who have been a lot steadier than that throughout the season.
Do yourself a favor this holiday season, and take time out from holiday shopping and holiday parties to watch the Holiday Bowl.

 

Gee, the way politically correct, sniveling drips talk on TV sure looks dumb in print, doesn't it?
Utah 21, Northwestern 10
Gator Bowl – Jacksonville – 7:30 (ESPN)
Texas A&M (8-4) vs.

Nc

State (9-3)
Once considered a major bowl game, the

Taxslayer

-nee-Gator has had a steady diet of .500 teams.

 

Since the return of the traditional Gator name last season, however, it's gotten a couple matchups that fans can finally sink their teeth into.

 

It's almost as if the

Taxslayer

Bowl just wasn't prestigious enough.
What's the Aggie offense to do?

 

The Wolfpack's one-dimensional defense is stout against the run and porous against the pass, but when A&M doesn't run the ball enough, they lose.

 

The most reliable indicator of whether the

ampersanders

win or not has been the number of carries they give RB

Trayveon

Williams.

 

What if NCSU stops him throughout the first half?

 

Do they give up on their running game, like they have in all four losses this year, or do they continue to run right into the teeth of the defense?

 

The Czar thinks they've learned their lesson since they failed to put away Auburn, and will keep Williams running for as long as it takes.
The Wolfpack must prepare for and play this game without offensive coordinator Eli

Drinkwitz

, who has been hired away as the new head coach at Appalachian State.

 

What an interesting surname.

 

Usually, people who think they drink

witz

don't actually turn out to be so witty.
Texas A&M 27,

Nc

State 17
Jan. 1 (Tuesday)
Outback Bowl – Tampa – Noon (ESPN2)
Iowa (8-4) vs. Mississippi State (8-4)
Iowa's Kirk Ferentz is the only coach the Czar has seen who has expressed any degree of dissatisfaction about a player skipping his bowl game.

 

Ironically, that player is Noah

Fant

, who isn't even the team's leading tight end this season.

 

Sophomore T.J.

Hockenson

won the Mackey Award as the nation's top TE, and he's likely to enter the NFL draft, where he'd probably be taken ahead of

Fant

.
The Hawkeyes had lost their momentum, dropping three in a row by a total of 12 points.

 

In Week 13, however, they went through Champaign like Liz Taylor, scoring a historic 63-0 victory over Illinois that was such a total team effort that nobody stood out statistically.
The losing team has scored 13 points or fewer in every game the Bulldogs have played this season.

 

Unfortunately for them, that includes their four losses, in which they've scored an average of four points each.
Four points a game?

 

That sounds like the Saskatchewan Roughriders, when they had

Tino

Sunseri

at quarterback.
Iowa 9, Mississippi State 7
Citrus Bowl – Orlando – 1:00 (ABC)
Penn State (9-3) vs. Kentucky (9-3)
After the Wildcats' loss to Northwestern in last year's Music City Bowl, the big question is whether RB Benny Snell can keep his composure long enough to disrupt that of the PSU defense.

 

Snell was controversially but correctly booted against NU, but if he can keep his head and body in the game this time, he could break some big runs against a

Nittany

Lion run defense that has been weak between the tackles.
The Lions have compensated for their susceptibility against the run by pressuring quarterbacks in order to force lots of long-yardage situations.

 

In Week 11, for example, they minimized the damage done by Wisconsin RB Jonathan Taylor by

shellshocking

freshman quarterback Jack

Coan

.

 

Taylor still got his yardage (185 on 20 carries), but PSU walked away with a 22-10 victory.
Before being renamed the Citrus Bowl, this game was known for 35 years as the Tangerine Bowl, which, as enlightenment set in, was found to be a social injustice.

 

All the lemons, limes, grapefruits and especially the kumquats declared it a

microaggression

to have been excluded.

 

They had a point, though.

 

Admittedly, that was rather

kumquaphobic

.
That last paragraph is a cautionary example of what can happen to you if you don't get the hell out of college before it's too late.
Kentucky 19, Penn State 16
Fiesta Bowl – Glendale – 1:00 (ABC)
Central Florida (13-0) vs. LSU (9-3)
This hasn't been as good a season as last year for UCF, but they have a chance for an even better finish.

 

In last year's Peach Bowl, they outscored an Auburn team that had taken a bruising in the second half of the season.

 

This time, they take on a Louisiana State squad that's still in midseason form.
The Tigers' 29-0 loss to Alabama wasn't the end of the world, and there's no disgrace in losing to Texas A&M in eight overtimes.

 

Their conference win that fell in between, 24-17 against Arkansas, is a little harder to justify.
If somebody's throwing a fiesta, you know it's got to be in an indoor stadium in Glendale for an 11AM local kickoff.

 

One wonders if the team from Disney World will be able to withstand all that relentless fun.
Central Florida 34, LSU 20
Rose Bowl – Pasadena – 5:00 (ESPN)
Ohio State (12-1) vs. Washington (10-3)
This will be the final game in the illustrious career of ailing OSU coach Urban Meyer.

 

Does anybody believe there's any chance he won't go out with a win?

 

Meyer's career bowl record is 11-3, and he's 16-5 in the postseason if you include conference championship games.
After the Huskies' 28-15 victory over Washington State in this year's snow-covered Apple Cup game, RB Myles Gaskin was quoted as saying, "I ain't ever lost to no Coug!"  Ray Parker Jr. could not have said it better.  In fact, he didn't.
The College Football Czar knew that "The Granddaddy of Them All" was somewhere in the Los Angeles area.  But he always thought it was Steve Garvey.
Ohio State 32, Washington 21
Sugar Bowl – New Orleans – 8:45 (ESPN)
Texas (9-4) vs. Georgia (11-2)
Are you outraged that the four-loss Longhorns are playing in a New Year's Six bowl game?

 

Imagine if we had an expanded playoff, such that they would have gotten a shot at a national championship.

 

Why do so many people seem to think that would be a good idea?
The Bulldogs would like to prove a point against Oklahoma by not only beating Texas, but shutting them down.

 

That won't be easy, because the defensive superiority of the SEC is exaggerated by the lack of opposition.

 

When your own league is dominated by defensively oriented teams like LSU, Mississippi State, Florida and Kentucky, facing a potent offense could come as a bit of a shock.
In fact, in UGA's 66-27 November blowout of unheralded

Umass

, they yielded 219 yards and two touchdowns on 15 catches to the nation's leading receiver, Andy Isabella.

 

The Horns'

Lil'Jordan

Humphrey will be the second-leading WR they will have faced, with 1,109 yards and nine TDs on the season.

 

With that kind of production, it's a wonder that

Lil'Jordan

still finds the time to squeak at people about drinking Diet Dr. Pepper.
Georgia 54, Texas 42
Jan. 7 (Monday)
CFP Championship Game – Santa Clara – 8:00 (ESPN)
Predicted matchup – Clemson vs Oklahoma
How refreshing it is to have a championship football game being played in a legitimate football stadium for a change.

 

They ought to just keep the game in Levi's Stadium permanently, and officially rename it the Pants Bowl.

 

That might be about the eleventh-silliest bowl name of all time, but it still beats the "CFP Championship Game."

 

Casual fans probably hear that and think "CFP" is another euphemism for some lower division of football.
Does defense win championships?

 

It certainly can, but there's something to be said for leading the nation in offense with 578 yards per game, as the Sooners are doing this year.

 

They were thought to be in serious trouble when RB Rodney Anderson went down early in the season, but freshman Kennedy Brooks has topped the 1,000-yard mark by tearing off an incredible 9 yards per carry.
The Tigers lead the all-time series against OU 3-2, after losing the first two in Norman decades ago.

 

They've won the last three meetings, all in bowl games, and two of those recently.

 

In 2014, they romped over the Sooners, 40-6 in the Russell Athletic Bowl, and almost exactly a year later, they rolled over them in the Orange Bowl, 37-17.
This meeting clearly runs afoul of the NCAA's guidelines against "hostile and abusive" American Indian imagery.

 

How?

 

If you look at the helmets, you'll see that when they clash, they will create a "Paw-OU."
It's like Mel Brooks says, you always need at least one really bad pun.
Clemson 39, Oklahoma 35
a sports publication from The Shinbone