The College Football Czar
2017-18 Bowl Game Picks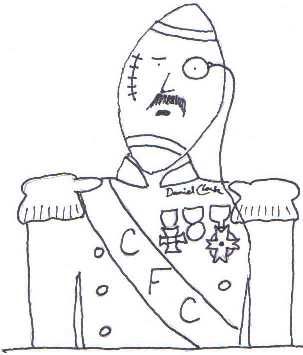 a sports publication from The Shinbone, by Daniel Clark
Week fourteen in review:  Try as they might, the sports media could not generate any controversy about this year's CFP semifinal selections, the correct four teams having obviously been chosen.  Especially tiresome were protests from ESPN's Jesse Palmer that the committee was supposed to prioritize "resume," but that by picking Alabama over Ohio State, they seemed to weigh records far more heavily than "resume."  Apparently too angry to bother using articles in his speech, Palmer repeatedly demanded, "What about 'resume'?"  "What about 'resume'?"
The Czar will tell you what about "resume."  A resume is a subjective record made to put the applicant in the best possible light, which is to say that, by design, it is missing information that could prove valuable.  For instance, if you've lost by 31 points to a middle-echelon conference opponent, you're probably not going to put that on your resume.  Yet, it happened, and everyone knows it.  So what's a CFP committee member to do, disregard those parts of a team's record that fail to make its case for inclusion?  There's little point in going back and reviewing the resume of somebody you've already seen in action for an entire year.
The College Football Czar went 8-1 in conference championships, but the more mundane Sun Belt Conference regular season games proved far more problematic.  Including Navy's near miss against Army, the Czar finished the week 10-7.  His final regular season record is 176-88, for a .667 winning percentage.
Dec. 16 (Saturday)
New Orleans Bowl – New Orleans, obviously – 1:00 (ESPN)
North Texas (9-4) vs. Troy (10-2)
There are no losing teams invited to bowl games this season, but the Mean Green pioneered the practice at the first N.O. Bowl in 2001, when they were 5-6, but were allowed to participate as inaugural champions of the Sun Belt Conference.

 

They never stood a chance in a 45-20 trouncing by a Colorado State team that had gone 6-5 against far better competition.

 

Now, they're a winning team representing Conference USA, but again facing a tall task against ten-win TSU.
The Trojans took a share of the SBC title with a 32-25 victory at Arkansas State, to finish 7-1 in the conference.

 

They ended the year tied with Appalachian State, but they played a tougher Sun Belt schedule than the Mountaineers, who faced neither Troy nor the ASU Red Wolves.
You mean there's a new Orleans?

 

Gosh!

 

That's got to be the best news since the formation of the Dr. Hook Tribute Band.
Troy 34, North Texas 21
Cure Bowl – Orlando – 2:30 (CBSSN)
Western Kentucky (6-6) vs. Georgia State (6-5)
The Panthers' only previous bowl appearance in their program's brief history was at this same game two seasons ago, where they turned in a disappointing performance in a 27-16 loss to San Jose State.

 

Like that GSU team, this one has seemed indifferent at times, like when they opened their new stadium with a 17-10 defeat against Division I-AA Tennessee State, and then, having clinched bowl-eligibility, they lethargically lost their last game, 24-10 to visiting Idaho.
WKU had a touch of the USC disease this season, with expectations heaped on quarterback Mike White, while much of the talent around him had departed.

 

In this, White's senior year, he and the Hilltoppers are averaging 26.2 points per game, down 18.9 from a year ago.
As should be obvious from its title, this game was founded for the purpose of raising funds for breast cancer research.

 

So, this ought to be one football game that will be safe from attack by the forces of political correctness, right?

 

Perhaps not.

 

When the first Cure Bowl was played, way back in 2015, the uncured meats craze had not yet started among the foodie snobs.

 

Wait until they find out there's a game called the "Cure" Bowl, as in preserving meats, perhaps through the use of evil sodium.

 

Why not have the game sponsored by saturated fats, while they're at it?
Western Kentucky 22, Georgia State 19
Las Vegas Bowl –

nuff

said – 3:30 (ABC)
Oregon (7-5) vs. Boise State (10-3)
In the only two previous meetings between these neighboring teams, the Broncos took both ends of a home-and-home in 2008-09, each of them involving a very ugly incident that has undoubtedly stuck with the fans to this day.

 

In the first game in Eugene, BSU prevailed 37-32, but only after safety Ellis Powers knocked

quacker

QB Jeramiah

Masoli

out with one of the filthiest helmet-to-facemask launches you'll ever see.

 

Leading up to the next year's opener in Boise, Duck running back LeGarrette Blount boasted that he was going to punt some posteriors, but it was the Bronco defense that dominated, handing Chip Kelly a 19-8 defeat in his first game as head coach.

 

Afterwards, BSU defensive lineman Byron Haut cleverly took his helmet off to taunt Blount, who responded with a sock on the chin that got the tailback suspended for most of the season.
Coach Willie Taggart has done the hand jive to the U of O, waving goodbye after only one season at the helm, to take his "dream job" at Florida State.

 

Unsurprisingly, Todd Graham was not considered among the Fighting Ducks' potential successors.

 

Offensive line coach Mario Cristobal, the former Miami OT and Florida International head coach, has been tabbed as Taggart's successor, perhaps in part to prevent the outgoing coach from taking all of his Floridian imports back with him to FSU.
Meanwhile, rampaging running back Royce Freeman, whom Taggart had talked into returning for his senior year, has decided there's no reason for him to stick around either.

 

By now, we all know that bowls are "meaningless" games that present an unnecessary chance for injury, so we're not supposed to criticize the decision of a player with NFL aspirations to sit it out.

 

Nuts.

 

Royce Freeman is an Oregon Duck.

 

The Oregon Ducks are playing a football game.

 

Royce Freeman should play, and he's a poor sport for not doing so.

 

Did he not already know he was turning pro three weeks ago, when he had 19 carries and two receptions in a ridiculous 69-10 romp over lowly Oregon State?

 

Why stop playing now?
The College Football Czar had suspected that ex-Cane Cristobal was responsible for the Ducks' ripping off Miami's "turnover chain" in their Week 13 win over Arizona, but it turns out he is not to blame.

 

Supposedly, there's been a fan showing up at

Autzen

Stadium for years wearing a giant Mr. T necklace with the Big O on it, and that person tossed the chain down to the players to celebrate an interception against the Wildcats.

 

(Is Mr. T cool again?

 

Just checking.)

 

The UO coaches disavowed the chain, and it did not return during the following week's home game against OSU.
 

The

webfoots

have understandably been almost universally trashed over the incident in the media, but mostly by

lardheads

who just love the Miami turnover chain, and were offended by the theft of what would pass for the Hurricanes' intellectual property.

 

Well, if the sports media are so judgmental against unoriginal idiocy, then why haven't they brought the same, shaming chorus of criticism down on every sports team outside of Boston that blares that odious ode "Sweet Caroline" at least once every game?
Oregon 38, Boise State 28
New Mexico Bowl – Albuquerque – 4:30 (ESPN)
Marshall (7-5) vs. Colorado State (7-5)
The Thundering Herd have been heard thudding late this season, as they have dropped four of their last five.

 

Those have all been close games, however, with the last two being a 9-7 setback to Texas-San Antonio on a last-second field goal, and a 28-27 shortfall against Southern Miss, after a failed, last-minute, two-point conversion attempt.
CSU has seen better times, also.

 

Their late-season three-game skid was stopped thanks only to the presence of San Jose State at the end of their schedule.

 

Prior to the losing streak, they had beaten New Mexico by just three points, and Nevada by only two.

 

Even when they were winning more easily, the closest thing to a quality opponent they've beaten has been a .500 Utah State team.

 

Still, .500 in the Mountain West translates to well above average in Conference USA, so the Czar gives the Rams the edge on strength of schedule.
The New Mexico Bowl continues to be sponsored by

Gildan

, which has been with it since its inaugural game in 2011.

 

Gildan

is the Czar's favorite bowl sponsor, because it makes XL tee-shirts that are truly extra-large.

 

Seriously, what do other clothing manufacturers mean when they use the term "extra-large"?

 

Is it extra-large Indonesians they have in mind?
Colorado State 48, Marshall 41
Camellia Bowl – Montgomery – 8:00 (ESPN)
Middle Tennessee (6-6) vs. Arkansas State (7-4)
With the number of bowl-eligible Conference USA teams exceeding that league's number of reserved berths, it was inevitable that somebody would be left out, so the MT-heads are a little lucky to get this bid over 6-5 Texas San-Antonio.

 

MTSU has a better conference record, and is also being rewarded for a good nonconference schedule, consisting of wins over Syracuse and Bowling Green, and losses to Vanderbilt and Minnesota.
The Red Wolves, nee, Indians, have been unusually competitive in the postseason as Sun Belt Conference teams go.

 

Last season, they improved their bowl record to 3-4 by salting away a 31-13 victory over Central Florida in the Cure Bowl.
Last year's leading Blue Raider running back was

I'Tavius

Mathers, and it turned out he

mathered

a whole lot.

 

Whereas Mather rushed for more than 1,500 yards in 2016, nobody on this year's roster has yet gained a third as much.
Some fans might think this game is called the Chameleon Bowl, and it's too bad it's not.

 

What a great idea for a trophy, a bowl that changes colors to blend in with whatever it contains.

 

Just don't fill it with water, or you might never find it again.
Arkansas State 27, Middle Tennessee 24
Dec. 19 (Tuesday)
Boca Raton Bowl – Rat Mouth – 7:00 (ESPN)
Akron (7-6) vs. Florida Atlantic (10-3)
The Zips' chances amount to zilch for a second postseason game in a row.

 

In this year's MAC championship, Toledo toasted them 38-7 through three quarters, before a late rally made the final score respectable at 45-28.

 

FAU did the exact opposite to win the Conference USA title, as they took control early in a 41-17 victory over North Texas.
All of a sudden, Owl coach Lane

Kiffin

has turned over a new leaf.

 

Rather than alienate everyone around him as usual,

Kiffin

is engaging in profuse

suckuppery

toward his former boss Nick

Saban

, his predecessor at FAU, Charlie Partridge, and practically everybody else he ever mentions.

 

It couldn't be more transparent that the reformed coach is supposed to make for a more attractive hiring prospect, which means he hopes this is his last-ever home game in Boca Raton.

 

Perhaps now we'll see if "resume" can supersede a more comprehensive record that all of college football has already seen.
This is the fourth Boca Raton Bowl, but the first Cheribundi Boca Raton Bowl.

 

The Czar's first thought upon seeing that was, why is the nation formerly known as Upper Volta sponsoring an American sporting event?

 

In fact,

Cheribundi

is a tart cherry beverage that is supposed to help muscles rejuvenate after exercise, cure insomnia, and get rid of ring around the collar.

 

And if you believe that one, the Czar has got a cherry tree in Upper Volta to sell you.
Florida Atlantic 55, Akron 31
Dec. 20 (Wednesday)
Frisco Bowl – Frisco, TX (not San Francisco) – 8:00 (ESPN)
Louisiana Tech (6-6) vs. SMU (7-5)
LTU was one of those Conference USA teams sweating it out even though they were bowl-eligible, but their Week 13 win over Texas-San Antonio was evidently a decisive factor in their favor.

 

The Bulldogs' losses this year have been to the league's four best teams, along with SEC foes Mississippi State and South Carolina.
Southern Methodist coach Chad Morris went 14-24 in three seasons, and got hired away to become head coach of an SEC team.

 

Then again, NFL commissioner Roger Goodell has just gotten a raise.

 

Evidently, football is no longer a meritocracy.

 

But seriously, even though Morris has made significant strides since taking the reins of the Mustangs, are this year's biggest wins over North Texas and Arkansas State enough to qualify him for the top spot at Arkansas?
Morris' replacement, who will assume coaching duties for this game, is the once widely sought-after Sonny Dykes, formerly of California and, as coincidence would have it, Louisiana Tech.

 

Sonny is known as a wily offensive strategist, which stands to reason, because his father was longtime Texas Tech coach Spike Dykes.

 

Not only was Spike a famed schemer as well, but he nicknamed his boy Sonny, which is mighty clever.

 

After all, not just anyone can be named Sonny, just any boy who has at least one parent.

 

It's a little-known fact that Sonny has an also cleverly-named little brother, called Small Person We Have To Feed.
SMU 44, Louisiana Tech 26
Dec. 21 (Thursday)
Gasparilla – St. Petersburg – 8:00 (ESPN)
Temple (6-6) vs. Florida International (8-4)
The Owls would just as soon glide into this game under the radar, because being a big favorite hasn't worked out very well for them the last couple years.

 

At the end of consecutive ten-win seasons, they were totaled by Toledo in the Boca Raton Bowl, and ambushed in the Military Bowl by a 6-6 Wake Forest team.
There's not much new with Alex McGough.

 

The Golden Panther QB has been steady if unspectacular as a four-year starter, as he looks to eclipse the 3,000-yard mark for the first time.

 

To do it, he needs to throw for 209 yards, which he has done in seven of his past eight games.
When the College Football Czar heard that this game was being renamed the Gasparilla Bowl, he assumed it was being sponsored by that "fizzy lifting drink" from Willy Wonka's factory.

 

Actually, it's named for the Gasparilla Pirate Festival that is held in Tampa later on in the winter, and is named after a probably nonexistent Spanish Pirate named Jose Gaspar.

 

According to legend, Gaspar was a murderer, a rapist, a kidnapper and a thief, who died a coward's death by drowning himself seconds before the U.S. Navy could apprehend him.

 

So why are the Floridians celebrating him?

 

Because everybody is feeling wistfully nostalgic about the Miami Hurricanes of the 80s, of course.

 

Hooray, sociopaths!
By the way, if you're actually participating in pirate festivals, you're probably not the kind of person who enjoys college football anyway.

 

Not that there's anything wrong with that, even though we all know there is.
Temple 35, Florida International 31
Dec. 22 (Friday)
Bahamas Bowl – Nassau – 12:30 (ESPN)
Ohio (8-4) vs. UAB (8-4)
Not that anyone wouldn't enjoy a trip to the Bahamas, but why were the Blazers so quick to jump at the chance, before the rest of the invitations went out?

 

Considering all the excitement over their return to the gridiron, you'd have thought they'd be angling for the Camellia Bowl in Montgomery, so that their fans could easily make the trip.
The Bobcats hadn't beaten a non-losing team all season, until a 38-10 rout of eventual MAC champion Toledo in Week 11.

 

At the time, the victory put OU in the East division lead, but that's where their four-game winning streak ended, with consecutive, season-ending losses to Akron and Buffalo.
This game is without a major sponsor, now that Popeye's chicken has ended its affiliation.

 

The College Football Czar would like to see it reach a deal with Yamaha, because every time the announcer welcomed us back to the Yamaha Bahamas Bowl, he would sound just like Ralph

Kramden

, in search of a thought.
UAB 29, Ohio 20
Famous Idaho Potato Bowl – Boise – 4:00 (ESPN)
Central Michigan (8-4) vs. Wyoming (7-5)
Cowboy quarterback Josh Allen says he can play in this game, but that report has yet to be corroborated by head coach Craig

Bohl

.

 

In their last regular season game without the injured Allen, the Pokes were unable to penetrate the flimsy defense of San Jose State in a 20-17 loss.

 

The Czar believes he will play.
The

Chippewas

have won their last five games, culminating in a comeback from 17-0 down to beat perennial MAC power Northern Illinois, 31-24.

 

CMU has lost its last three bowl games, however, including last year's 55-10 laugher in what was just as hilariously called the Miami Beach Bowl, in Marlins Park, of all places.

 

The truth be known, they'll get more sun at this year's game in Idaho.

 

But of course, Idaho is in the Sun Belt Conference, for now.
Just as

Tinseltown

stars are often seen at USC games, this bowl game in Boise is usually populated by a Who's Who of famous Idaho potatoes.

 

Suddenly, many of the celebrity spuds have made themselves scarce, due to scandal.

 

After years of telling each other what a famous potato can get away with, it turns out not to be so.

 

Seriously, they all should have known better.

 

If there's anything that can't be tolerated in the Tater State, it's a masher.
Wyoming 14, Central Michigan 10
Dec. 23 (Saturday)
Birmingham Bowl – um … Birmingham – Noon (ESPN)
Texas Tech (6-6) vs. South Florida (9-2)
USF returns to the same game it won a year ago, 46-39 in overtime against another .500 major conference team, South Carolina.

 

They were forced to an extra frame after blowing an 18-point second-half lead, however, which is something to keep in mind if they get the early jump against this quick-striking team from Tech.
At the end of the regular season, the Red Raiders took the heat off head coach

Kliff

Kingsbury by announcing that he would return to Lubbock next season.

 

Were they premature?

 

Looking at some of the unconventional coaching moves that have been made already, it's not inconceivable that Kingsbury may be hired away.
The Bulls actually gained 120 more yards than unbeaten Central Florida did when they met in Week 13, but 95 of those were nullified by the kickoff return with 1:28 to play that decided the game in UCF's favor, 49-42.

 

Much of that long afternoon turned into the Quinton Flowers hours, as the Bulls' senior scrambler passed for 503 yards, and ran for 102 more.
Benched Raider QB

Nic

Shimonek

re-entered the lineup in the fourth quarter to help his team become bowl-eligible, by tossing two TDs to lead them past Texas, 27-23.

 

To

Shimonek

, the worst part about not being in the game is having to just sit there, while passers-by couldn't resist singing that dopey Knack song at him.
South Florida 51, Texas Tech 41
Armed Forces Bowl – Fort Worth – 3:30 (ESPN)
Army (9-3) vs. San Diego State (10-2)
Aztec running back Rashaad Penny was not a Heisman finalist despite leading the nation with 2,027 yards, but that only means he's had no disruptions while preparing for this collision between two of the nation's most powerful ground attacks.

 

Whereas Penny is the leading individual rusher, it is the Black Knights who are #1 in rushing as a team.
The Cadet defense has proven that it can stop other triple-option teams, as it has done against its academy rivals, blanking Air Force 21-0, and staving off Navy 14-13.

 

Overall, their run defense is in the middle of the pack, nationally, as more conventional rushing attacks, from the likes of Tulane, UTEP and Temple, have proven far more troublesome.
You could say that SDSU has "run Rashaad" over the opposition this year.

 

Then, everybody else could groan at you.

 

It goes with the territory.
San Diego State 40, Army 24
Dollar General Bowl – Mobile – 7:00 (ESPN)
Toledo (11-2) vs. Appalachian State (8-4)
App State edged the Rockets 31-28 in last year's Camellia Bowl, just a bit upstate in Montgomery.

 

Far from being led to the slaughter, quarterback Taylor Lamb had a feast, rushing for a career-high 126 yards, including a ten-yard scramble to set up the game-winning field goal.
Rocket QB Logan Woodside has taken the lumber to the hides of most opponents this year.

 

He won't come anywhere near matching last season's total of 45 touchdown passes, but he could surpass his 2016 yardage total, if he can amass 371 against the Mountaineers.

 

That would take a dramatic improvement over last bowl game's total of 247, but last year's

Eers

were a more formidable opponent, losing only to Tennessee, Miami and Troy.

 

This year, ASU has been beaten by such lesser foes as

Umass

and Louisiana-Monroe.
You just can't buy a good general for a dollar these days.

 

Maybe a buck could get you the Surgeon General, but since he's not really a general, nor even a surgeon, that's kind of a rip-off.
Toledo 33, Appalachian State 29
Dec. 24 (Sunday)
Hawaii Bowl – Honolulu – 8:30 (ESPN)
Houston (7-4) vs. Fresno State (9-4)
Lots of teams have had a tough time staying focused during road trips to Hawaii, but that is no big deal to the Bulldogs, who are rivals with the UH Rainbow Warriors in the West division of the MWC.

 

In fact, their last game at Aloha Stadium was a 31-21 victory in Week 11 of this season.
The College Football Czar can't believe he's making this dorky a reference, but in Superman II, General

Zod

somewhat famously remarked, "So this is planet

Hooston

."

 

He couldn't say that in 2017, because UH has got such an identity problem that he'd never recognize them.

 

The same Cougar team that has beaten South Florida and Navy has also been defeated by Tulane, and embarrassed in a four-TD loss to Tulsa.
The Bulldogs were expected to get buried like a bone in the Mountain West this year, but their defense has dug in under first-year coach Jeff

Tedford

, yielding modest averages of 319 yards and 17.2 points per game.

 

They would have probably become conference champions, if not for a system that gave home field advantage in the title game to the wrong team.
General

Zod

would probably be worth about a dollar.

 

In today's value, that is, not when he appeared in that movie in 1980.
Fresno State 26, Houston 23
Dec. 26 (Tuesday)
Heart of Dallas Bowl – Dallas, strangely enough – 1:30 (ESPN)
West Virginia (7-5) vs. Utah (6-6)
For the last game of the regular season against Colorado, the Utes wore what might be the dopiest helmets yet, featuring a multicolored hand extending its thumb and index finger.

 

It was supposed to resemble the gloved hands of a UU player, so that when viewed from the back, the two hands formed a letter "U."

 

Either that, or they were making paper football goal posts.

 

Whichever.

 
If they wore them again this game, it would be at least in part to taunt WVU, which lost starting quarterback Will Grier to a broken finger in Week 13 against Texas.

 

There is a chance that Grier may return, but that would not necessarily be good news.

 

For a passer already with a propensity for throwing picks (12 in the regular season) the additional difficulties caused by an injured middle finger on his throwing hand could create a field day for an opportunistic Ute defense.
Union general Philip Henry Sheridan may have been worth a lot more than a buck, but the Czar wouldn't give a penny for his thoughts, because it was he who said that if he owned both Texas and Hell, he would live in Hell and rent out Texas.

 

Well, the Heart of Dallas Bowl is played in Texas, in the venerable stadium that is named the Cotton Bowl.

 

The game that is called the Cotton Bowl is now played in Hell, and Sheridan can have it.
Utah 20, West Virginia 16
Quick Lane Bowl – Detroit – 5:15 (ESPN)
Duke (6-6) vs. Northern Illinois (8-4)
The Blue Devils had to give the boot to starting punter and place kicker Austin Parker, who has been dismissed for violating the school's academic policies.

 

Considering the team's kicking woes prior to Parker's arrival, coach David

Cutcliffe

will probably consider anything outside the 20 to be four-down territory.

 

The same may be true of NIU, whose kicker, Christian Hagan, is 6-for-6 inside 30 yards, but only 3-for-10 from beyond that distance.
Huskie defensive end Sutton Smith should start pronouncing his name "Sudden," as unexpectedly as he comes darting into the opposing backfield.

 

The lean, 225 pound sophomore leads the nation in sacks, with 14.
Perhaps you've heard that the reason this is called the Quick Lane Bowl is because the locals have to drive in the quick lane to attend the game immediately after work.

 

You've probably already spotted the flaw in that theory, in that it could only be true if the people in Detroit were, for the most part, employed.

 

Playing the game at 5:15 just means they have time to watch Judge Judy and still make it in time for kickoff.
Northern Illinois 27, Duke 21
Cactus Bowl – Phoenix – 10:00 (ESPN)
Kansas State (7-5) vs. UCLA (6-6)
The Wildcats went 4-1 down the stretch behind third-string freshman quarterback Skylar Thompson, who led a late comeback last time out to defeat Iowa State, 20-19.

 

The biggest offensive problem for K-State is that the three quarterbacks they've used this year have also been three of their four leading rushers.
Bowls being neutral-site games, there are two ways a Bruin can look at this.

 

On one hand, they're 0-6 away from Pasadena, but on the other, they're 6-0 when they are not the visiting team.

 

The answer can't be in the uniforms, though, because they wore their home blues in their road loss to USC.
For now, this is yet another indoor bowl game, being played at the Arizona Diamondbacks' home at Chase Field, but it will be moved back to Sun Devil Stadium in Tempe once that building is renovated.

 

The covered ballpark is not without its charms, though.

 

For instance, there's that strip of dirt that runs between home plate and the pitcher's mound, which is so narrow that it would make a great drunk test.

 

Come to think of it, it's a good thing Mike

LaValliere

never had to play there.
UCLA 33, Kansas State 30
Dec. 27 (Wednesday)
Independence Bowl – Shreveport – 1:30 (ESPN)
Florida State (6-6) vs. Southern Miss (8-4)
Seminole interim coach Odell

Haggins

looks to end his head coaching career undefeated at 2-0, having already beaten Louisiana-Monroe 42-10 in a rescheduled game, in order to qualify for this bowl battle with USM.

 

The

Noles

haven't been themselves in big games this year, but they still know how to handle lesser competition as they've shown during their past three games, one of those a 38-22 stroll past weakened rival Florida.
Junior Korey Robertson leads Conference USA in receiving, with 1,070 yards.

 

It's a good thing the Golden Eagles have Robertson around, because without him, their leading WR would be

Allenzae

Staggers, and that's hardly the most effective way of reaching the end zone.
How ironic that the Independence Bowl should feature two teams that used to be Independents, but no longer are.

 

Turncoats!

 

Why don't they become the next Americans to marry into the Royal Family, while they're at it?

 

Before much longer, they'll have us all speaking English!
Florida State 39, Southern Miss 22
Pinstripe Bowl – New York – 5:15 (ESPN)
Iowa (7-5) vs. Boston College (7-5)
The Eagles have tallied 35 points or more in five of their last six games, the only exception being a 17-14 loss to

Nc

State.

 

The last time they scored more than 40 points in three different games in the same season was 2002, when they were led by quarterback Brian St. Pierre.
Things got a little

Akrum-onious

in the Hawkeyes' regular season finale against Nebraska, when RB

Akrum

Wadley finally broke out for 159 yards and three TDs on 19 carries.

 

Wadley's production has been way down this year, so he'll be looking to make another big impression in his final game as a senior.
The venue for this game, for anyone oblivious enough not to know, is Yankee Stadium, which is also known as "The House That Ruth Built."

 

You can tell that it really is, from the simple fact that there's a refrigerator in every room, and … well, … the sofa flushes.
Boston College 28, Iowa 23
Foster Farms Bowl – Santa Clara – 8:30 (FOX)
Purdue (6-6) vs. Arizona (7-5)
The Boilermakers qualified for this game by beating ancient rival Indiana for the Old Oaken Bucket – which is really a lidless barrel, but don't tell it that.

 

Running back Markell Jones made his mark in that game with a career-high 217 rushing yards, in his first big breakout since coming back from knee surgery midway through the season.
The Cats' games have been nothing if not wild this year, with their average outcome being a 42-34 victory.

 

Quarterback Khalil Tate led the nation in rushing until sustaining assorted injuries in a Week 12 setback against Oregon.

 

In that game, and the bitter Territorial Cup loss to Arizona State that followed, he ran for a combined total of just 60 yards, and has dropped all the way to #15 in rushing yardage, which is good for only third among quarterbacks.

 

We'll see how much good a month's rest has done him.
When Foster Farms began sponsoring this game, the Czar thought the title was a verb.

 

He should have known that was incorrect, because you can't foster farms by playing a football game.

 

The way to foster farms is to put on an annual concert with a bunch of septuagenarian, socialist musicians, so that they can spout a bunch of anti-capitalist eco-twaddle about how GMOs are to blame for your dog having worms.

 

So next time you sit down at the dinner table and say Grace, save some thanks for Willie Nelson, Neil Young, and John

Mellencamp

.

 

Wherever would American agriculture be without them?
Arizona 45, Purdue 39
Texas Bowl – Houston – 9:00 (ESPN)
Missouri (7-5) vs. Texas (6-6)
Tiger quarterback Drew Lock has been as smooth as cream cheese, and twice as nasty.

 

The 6-4, 225 pound junior has fired 43 touchdown passes, and is 305 yards away from reaching the 4,000-mark for the season.
It's hard to imagine the Longhorns beating any opponent that's playing well at the time.

 

Their most impressive victory by far has been a home overtime win against Kansas State.

 

Aside from that, they got to Iowa State before the Cyclones made a change at quarterback, they've been lucky enough for West Virginia QB Will Grier to break a finger just as he was about to score a touchdown against them, and they've defeated Kansas, Baylor and San Jose State.

 

Suffice it to say that if the Horns had been left home at 6-6, nobody would be shouting, "What about 'resume'?"
Still, there's something basically unfair about having to play Texas in the Texas Bowl.

 

That's like facing Amos Alonzo Stagg in the Amos Alonzo Stagg Bowl.

 

On second thought, Coach Stagg has been dead for more than half a century, so you're chances in that one would be pretty good, really.

 

Sorry, that's not a very good example.

 

Maybe it's more like having to compete in the Dinah Shore classic against … aw, skip it.
Missouri 42, Texas 32
Dec. 28 (Thursday)
Military Bowl – Annapolis – 1:30 (ESPN)
Virginia (6-6) vs. Navy (6-6)
A rare disciplinary breakdown cost the Midshipmen in a 14-13 loss to Army, when their last-second field goal attempt was moved back ten yards by a pair of false start penalties.

 

Bennett

Moehring's

48-yard boot through the snow, which sailed just slightly to the left, would surely have been good from five yards closer.
The Cavaliers have only won one game in their last six, but that was against Georgia Tech, a wishbone team just like the Naval Academy, and in fact one led by a former Navy head coach.

 

By keeping the Tech ground game in check, they forced an option QB to throw more often than he was comfortable doing.

 

Expect more of the same against the Middies, whose new starting quarterback Malcolm Perry threw the ball only twice against Army, completing one.
Thomas Jefferson founded the University of Virginia.

 

He was also largely responsible for building the U.S. Navy.

 

Yet somehow, it never occurred to him to organize a football game between the two.

 

Some visionary.
Virginia 19, Navy 17
Camping World Bowl – Orlando – 5:15 (ESPN)
Oklahoma State (9-3) vs. Virginia Tech (9-3)
The College Football Czar often opines about the total disconnect between sports journalists and the normal people who make up the vast majority of the fan base.

 

Exhibit A demonstrating this is that they've treated Miami's turnover chain as if it were the greatest thing to happen to college football in years.

 

Exhibit B is that before that, it was OSU coach Mike Gundy's mullet.

 

They also tend to think that taunting and showboating are good for the game, and the guys on ESPN even thought that Eminem sampling Billy

Squier

was cool.

 

Why don't these people go try to revive the XFL, and leave real football alone?
The Gobblers have never really recovered from their Miami meltdown.

 

Since then, they were upset by Georgia Tech, they tried to give a game to a Pitt team that refused delivery, and they trudged past Virginia, 10-0.

 

The Cowboys' season may not be going quite how they had hoped, either, but QB Mason Rudolph still leads the nation in passing with 4,553 yards.

 

His Pokes are second only to rival Oklahoma in total offense, with 576 yards per game.
Is the Czar the only one who finds it creepy that the Camping World Bowl would be held in Orlando, that modern day Disney and Gomorrah?

 

Camping?

 

Is that what they're calling it these days?

 

Just imagine someone being irresponsible enough to let his child go off to live in the woods with Goofy for a few days.

 

Hasn't college football had enough of that sort of thing?
Oklahoma State 35, Virginia Tech 24
Alamo Bowl – San Antonio – 9:00 (ESPN)
Stanford (9-4) vs. TCU (10-3)
As of this writing, Cardinal tailback Bryce Love is expected to play in this game, perhaps not realizing how meaningless it is compared to that season opener against Rice in Australia.

 

Last year, with Christian McCaffrey sitting out the Sun Bowl, Love ran for 119 yards, and also made a 49-yard touchdown catch, in a 25-23 win over North Carolina.

 

Looks can be deceiving, but when McCaffrey's team thwarted a late UNC two-point conversion attempt, and then recovered the onside kick to win the game, the guys who showed up to play behaved as if it mattered.
The Horned Frogs, however, have the fourth-stingiest run defense in the nation, yielding just 99.8 yards on the ground per game.

 

Of their three losses, two are to Oklahoma, and as much as freshman Cardinal QB K.J. Costello has improved since making his first start, nobody would mistake him for a Heisman-winning passer.
There's no NFL team in San Antonio, so you might wonder what was the impetus for the construction of the

Alamodome

.

 

It all started one day, when the Mexicans didn't feel like attacking because there was a chance of rain.
TCU 24, Stanford 17
Holiday Bowl – San Diego – 9:00 (FOX)
Michigan State (9-3) vs. Washington State (9-3)
The Cougars enter this game without their top two wide receivers – Tavares Martin, who has been dismissed for violating team rules, and Isaiah Johnson-Mack, who is looking to transfer.

 

Mike Leach would tell you he's got plenty more where they came from, and he'd be right.

 

Wazzu

has still got nine other players (including three RBs) who have double digits in pass receptions, six of whom have made multiple touchdown catches this season.
MSU's defense is seventh-best in the nation, but when it comes to defending against the pass, they drop to #31.

 

Even that rating may be a bit flattering, considering the lack of offensive firepower they've faced this season.

 

Rarely did the Spartans take on a prolific quarterback, and on one occasion that they did, the weather helped them bog down the passing game of Penn State.
Perhaps somebody from the Holiday Bowl committee can answer some questions about the holiday season that have been gnawing at the College Football Czar for quite some time.

 

For instance, if you wash down

figgy

pudding with eggnog, will that cement your throat shut and kill you, or is that just an urban legend like the coke and pop rocks thing?

 

Furthermore, did the dreidel receive its name because children dread receiving it?

 

And did Santa name the one reindeer Donner because he ate some other reindeer while trapped in a blizzard?

 

Enquiring czars want to know.
Washington State 37, Michigan State 29
Dec. 29 (Friday)
Belk Bowl – Charlotte – 1:00 (ESPN)
Texas A&M (7-5) vs. Wake Forest (7-5)
Fired A&M coach Kevin

Sumlin

went 51-26 during his tenure at College Station, but now must step aside to make room for

Jimbo

Fisher.

 

The only coach at that school with a better record was R.C. Slocum, who was just as unceremoniously dumped because the Aggies couldn't resist the opportunity to hire Dennis

Franchione

, who proceeded to go 32-28 in five seasons, with a losing record in Big XII play.
The Conjunction Boys' interim coach, Jeff Banks, looks as if he's still in the interim between his freshman and sophomore years, but the former Washington State punter has got 20 years' coaching experience, beginning as a graduate assistant at

Wazzu

in 1998.
The Demon Deacons persevered to clinch a winning season, even after losing freshman WR Greg Dortch to an abdominal injury with four games remaining.

 

Dortch had just lit the way past Louisville, with ten catches for 167 yards and four TDs when he was forced from the lineup.
Aggies' starting DT

Zycoven

Henderson won't be available for this game, because he's been arrested for aggravated assault with a deadly weapon, possession of marijuana, and tampering with evidence.

 

Welcome home,

Jimbo

!
Texas A&M 21, Wake Forest 20
Sun Bowl – El Paso – 2:00 (CBS)
Nc
State (8-4) vs. Arizona State (7-5)
The Wolfpack defense is basically still living off the reputation it earned last season.

 

This year, it is not far above average, at #52 in the nation.

 

Their defensive highlight of the year has probably been DE Bradley Chubb swiping hand towels from opposing quarterbacks.

 

The key to their season instead has been a quietly productive offense, led by QB Ryan Finley and his 3,200 passing yards, 1,040-yard rusher

Nyheim

Hines, and 993-yard receiver Kelvin Harmon.
ASU wide receiver

N'Keal

Henry has kept things on an

ev-N'Keal

this season, making at least three catches in every game, while compiling a total of an even 1,000 yards to this point.

 

Surprisingly, he did not have a multiple-touchdown game until the season-ending battle for the Territorial Cup, in which he scored twice in a 42-30 victory over rival Arizona.
The Sun Devils have fired sixth-year coach Todd Graham, even after his team exceeded expectations in 2017.

 

Just goes to show how things can turn out when your "dream job" involves pitchfork-wielding embodiments of evil running all over the place.

 

Graham will stick around to coach this bowl game, though.

 

Strange, he's been far more eager to leave every school that's actually wanted him.
Nc
State 30, Arizona State 27
Music City Bowl – Nashville – 4:30 (ESPN)
Northwestern (9-3) vs. Kentucky (7-5)
These two

Wildcatses

are traditionally perceived as underdogs when it comes to football, even though those infamous losers from Evanston have had seven non-losing seasons in the last ten years.

 

It's been the UK Cats who have had a tougher time recently, stopping a six-year losing streak in 2016 with a 7-6 season that ended with a loss to Georgia Tech in the Gator Bowl.
Kentucky tailback Benny Snell has had a nose for the goal line this season.

 

Of his 18 rushing touchdowns, 12 have come in the past five games.

 

Snell's success doesn't always spread to the rest of his team, however.

 

Last game against Louisville, he rushed for a career-high 211 yards with two TDs, but in a 44-17 loss.
Northwestern running back Justin Jackson has had a strong second half of the season, also.

 

His 1,154 yards is still not very good by his standards, but believe it or not, it's 20 more rushing yards than Penn State's

Saquon

Barkley has.
Where do they get off calling Nashville the Music City, anyway?

 

Is Billy Idol from Nashville?

 

Well, then.
Northwestern 42, Kentucky 35
Arizona Bowl – Tucson – 5:30 (CBSSN)
Utah State (6-6) vs. New Mexico State (6-6)
The nation's longest bowl drought has finally ended, as NMSU plays its first postseason game since the 1960 Sun Bowl, where they won a previous battle of the

Aggieses

by defeating USU 20-13.

 

That victory capped an 11-0 season for the team from Las Cruces, then representing the Border Conference, while the Skyline Conference champs finished 9-2.
To get an idea of how long ago that really was, 1960 was the year of Bill

Mazeroski's

series-winning homer at Forbes Field, the Kennedy-Nixon election, the USA's first hockey gold medal at the Squaw Valley Olympics, and the very first Peanuts comic strip, in which the kids' heads were oval, instead of round.

 

The Czar can't help but regret seeing a tradition that goes back that far end on account of something as lame as a 6-6 season out of the Sun Belt Conference.
You know you've got a weak football matchup when it's between two teams called the Aggies.

 

Is there supposed to be something intimidating about that?

 

"Eek!

 

Big marbles!"
Utah State 30, New Mexico State 16
Cotton Bowl – Arlington – 8:30 (ABC)
Ohio State (11-2) vs. USC (11-2)
If any of the Buckeyes seriously think their team should be in the CFP semifinals, they need to stop thinking about it and pay attention to this Trojan team standing in front of them.

 

A year ago, it was Penn State that felt jilted by the CFP, only to have their argument undercut when they lost the Rose Bowl to this same Southern Cal club in a 52-49 firefight.
Like everyone else in the Big Ten, OSU hardly remembers what it's like to face a formidable air attack.

 

When they did, way back in Week 2, Oklahoma's Baker Mayfield bombarded them for 386 yards and three scores, while completing 27 of 35.

 

They haven't necessarily recovered from that, just because they've been able to shut down Army, Rutgers, Maryland and Illinois.
Even with a poor start and an inexperienced supporting cast, Trojan quarterback Sam

Darnold

is well within reach of the 4,000-yard mark.

 

To get there, he needs 213 more yards, a total he's surpassed in every game except for a Week 5 loss at Washington State.
As if all the "resume" stuff weren't bad enough, Jesse Palmer was excited about the atmosphere for this game, being played in "Jerry's World."

 

See what the Czar means about the disconnect between the sports media and normal people?

 

Is "Jerry's World" anyone else's idea of fun?

 

Like all domed stadiums, it's got less atmosphere than the moon.

 

The Czar's nickname for that cavernous building with its famously gargantuan video screen is Jerry Jones' House of Inadequacy, and it is wholly inadequate to host an otherwise great, traditional game like the Cotton Bowl.
USC 37, Ohio State 33
Dec. 30 (Saturday)
Gator Bowl – Jacksonville – Noon (ESPN)
Louisville (8-4) vs. Mississippi State (8-4)
Lamar Jackson isn't the Heisman winner this year, not even close.

 

Still, the Cardinal are very happy to still have the prototypical dual-threat QB and his 42 touchdowns.

 

MSU, however, is without Nick Fitzgerald, who suffered a gruesome leg injury in a Thanksgiving night upset loss to hated rival Ole Miss.
The Bulldogs are without not only their quarterback, but their head coach as well, with Dan Mullen being hired away by conference foe Florida.

 

The mud puppies have in turn tabbed Penn State offensive coordinator Joe Moorhead to be their new skipper, but not until after running backs and special teams coach Greg Knox has guided them through this bowl game.
The College Football Czar persists in calling this game the Gator Bowl, knowing that it will eventually revert to its traditional name, just like the Sun Bowl and Peach Bowl before it.

 

In the meantime, its official name is the TaxSlayer Bowl, which makes it sound about as enjoyable as doing your taxes and watching a Slayer concert simultaneously.

 

Please try to contain your excitement.
Louisville 38, Mississippi State 24
Liberty Bowl – Memphis – 12:30 (ABC)
Iowa State (7-5) vs. Memphis (10-2)
For the first time ever, the Tigers participate in the bowl game that's played in their home stadium, where they are 7-0 this season.

 

That means ISU must contend not only with the nation's sixth-most potent offense, but also with being heckled by a whole herd of

Elvises

(or is that

Elvi

?).
Cyclone QB Jacob Park, who started for the first third of the season, has announced that he is leaving the program.

 

To anyone who saw him barking at coach Matt Campbell during a dismal performance against Texas in Week 5, it seems incredibly generous of the coach to let him go voluntarily.

 

He won't be missed, what with Kyle Kempt having given the team from Ames some direction, while leading them to victories over conference finalists Oklahoma and TCU.
The Clones ended the regular season with a tough 20-19 defeat against Kansas State, in the rivalry known as "

Farmageddon

."

 

Had it simply been called "Armageddon," they might have thought to arm themselves, but instead, they prepared for the game by farming.

 

Sure, it sounds like a dumb idea in hindsight, but who knew it back then?
Memphis 49, Iowa State 45
Fiesta Bowl – Glendale – 4:00 (ABC)
Penn State (10-2) vs. Washington (10-2)
If the

Nittany

Lions win, the fans over there at Jonestown, East of Johnstown will take it as proof that they deserved a shot at the CFP championship last season, even though they went on to lose the Rose Bowl to USC.

 

The Huskies got the #4 seed ahead of PSU in 2016, which was considered controversial in spite of the Lions' two bad losses, because that one-loss UW team had faced a nonconference schedule consisting of Rutgers, Idaho, I-AA Portland State, and a school of mackerel.
Here's why the Lions don't play for national championships.

 

Saquon

Barkley has 199 rushes this season, for an average of 5.7 per carry.

 

Quarterback Trace

McSorley

has run the ball 132 times, for an average of 3.3 per carry.

 

Basically, they're letting opposing defensive coordinators tell them not to give Barkley the ball so much.

 

When they run the read-option, the defense almost always blankets Barkley, which means if

McSorley

reads the play properly, he keeps the ball.

 

Offensive coordinator Joe Moorhead has never understood this, yet he's been hired away to be the next head coach at Mississippi State.
The defense that powered the Huskies into the final four a year ago has only improved since, in spite of the departure of several leaders from that unit.

 

The Dogs are holding opponents to 14.5 points per game, as opposed to 17.7 in 2016.
When last he heard from PSU coach James Franklin, he was tweeting the word "Maryland" twelve times in a row to demonstrate how focused he was on his last regular season opponent.

 

This low-risk tactic appeared to pay off when his team dominated the Terrapins 66-3.

 

What the Czar would like to know is why every other team on Franklin's schedule is Akron, except for Maryland.

 

Why did the opponent never matter, until he decided he must focus like a laser on the 4-8

Terps

?

 

And if every week against Akron was the Super Bowl, and Maryland is not Akron, does that mean the

Nittany

Lions didn't make it to the Super Bowl last time out, and therefore they're on the decline heading into their bowl game?
Somehow, Franklin never gets asked these kinds of questions, perhaps because it would only lead to him saying things.
Washington 29, Penn State 27
Orange Bowl – Miami – 8:00 (ESPN)
Wisconsin (12-1) vs. Miami (10-2)
The Hurricanes halted a six-game bowl losing streak last season, when they roughed up West Virginia in the Russell Athletic Bowl, 31-14.

 

One of those six defeats was in their only previous postseason matchup with the Badgers, a frustrating 20-14 loss in the 2009 Champs Sports Bowl.
Both teams defied the laws of gravity by staying undefeated for almost the entire season, even though everybody really knew that neither of them was good enough to play for the national title.

 

Finally, they fell to earth, like Wile E. Coyote when he realizes that he'd run off the edge of the cliff three seconds ago.

 

That's not surprising in UW's case, but who knew that anybody at The U had ever studied law?
One of the surprising things about the Big Bad Gers is that they weren't known to have any superstars on this year's team, but maybe that's just because of the lack of media attention they've received in general.

 

If football fans were asked who leads the Big Ten in rushing, how many people would come up with Jonathan Taylor?

 

Yet the freshman ranks third in the nation with 1,847 rushing yards, while chomping off 6.8 per carry.

 

Nobody else in the conference is within 400 yards of him.
Can you believe that the creator of Miami's turnover chain is actually a professional jeweler?

 

A word of advice: When it comes time to go shopping for an engagement ring, don't pay that guy a visit, unless you happen to be the next classy gent who's marrying Carla

Tortelli

.
Wisconsin 31, Miami 13
Jan. 1 (Monday)
Outback Bowl – Tampa – Noon (ESPN2)
Michigan (8-4) vs. South Carolina (8-4)
Sophomore slinger Brandon Peters returns to the Wolverine lineup, after leaving a Week 12 loss to Wisconsin with a concussion.

 

In the three games he's played from start to finish, Peters has led the maize and blue to three lopsided victories, while throwing four touchdown passes and no interceptions.
The Gamecocks' last three wins against Division I-A competition have been by six points over Tennessee, seven over Vanderbilt, and eight over Florida.

 

Some years, that's a great record, but not in 2017, when those are the bottom three teams in the continually underperforming SEC East.
At a recent fundraiser, the University of Michigan failed to sell an autographed pair of head coach Jim Harbaugh's khakis.

 

The reason nobody bid on them was most likely the fact that the opening price was $900.

 

Used coach pants just don't command that level of interest, unless they're being auctioned off at "Thon," on the Penn State campus, of course.
Michigan 26, South Carolina 14
Peach Bowl – Atlanta – 3:00 (ESPN)
Auburn (10-3) vs. Central Florida (12-0)
Head coach Scott Frost has been hired away by Nebraska, but he will continue to coach UCF through this bowl game.

 

Should that even be legal?

 

Once a coach has accepted an offer from another school, staying with his current team creates a built-in conflict of interest.

 

At the very least, in provides him with continued access to players he might yet coax into following him to his new gig.

 

Consider, also, if Frost's team were playing, say, Wisconsin, instead of Auburn.

 

Wouldn't it financially benefit his new conference, and therefore his new school, if he didn't coach a very good game?

 

This is not to suggest that Frost himself is inclined to do such things, but the simple fact that the opportunities are created poses a problem.
Knights running back Adrian

Killins

threw down the gauntlet when he said of the Tigers, "They're in for a rude awakening because UCF football, we're UCF fast and UCF fierce."

 

Just prior to this remark, he made the curious claim, "SEC football, they don't have a lot of speed."

 

Thanks to

Killins

, his opponents have already had their rude awakening.

 

He can forget any chance that he and his mates might have of catching them cat-napping.
The 28 points that AU allowed in the SEC championship against Georgia were the most they've given up in a single game all season.

 

Their 17.3 point per game average is good for tenth in the nation, but it's really better than that, when you consider that they've taken on UGA twice, Clemson and Alabama.
UCF's offense may be fast and fierce, but on defense, they're ranked #111 against the pass.

 

That should mitigate the impact of the injuries in the Tiger backfield, by letting QB Jarrett

Stidham

open the game up the way he did when he was a freshman at Baylor.
This is the Peach Bowl's first year in the new Mercedes-Benz Stadium, but long ago it was played at Fulton County Stadium, which was primarily a baseball park.

 

That's only fitting, because baseball legend Ty Cobb was known as the Georgia Peach.

 

Actually, he was known as the Georgia Son-of-a-Peach, but newspapers had editors back then.
Auburn 31, Central Florida 20
Citrus Bowl – Orlando – 1:00 (ABC)
Notre Dame (9-3) vs. LSU (9-3)
This has a reputation for being a traditional rivalry, but the teams have only met eleven times before, and not once prior to 1970.

 

The Tigers, who lead the series 6-5, have won two of their three previous bowl games, but it was the Fighting Irish who prevailed in their most recent meeting, in the 2014 Music City Bowl.
The way that Tiger quarterback Danny

Etling

has played in his senior year has got to make fans of his former school, Purdue, mad enough to kick the bucket.

 

Etling

has tossed 14 TDs with only two picks, and completed over 60 percent of his passes for reasonably good distance.

 

His 347 yards out last time out against Texas A&M came on just 19 completions, three of them for scores.
The Fighting Irish spent most of the season not only in the playoff race, but near the top of the ratings in turnover margin.

 

They still finished at plus-5, but only after going minus-7 in their last three games.

 

Miami broke out the dreaded turnover chain four times against them, and Stanford played takeaway three times in ND's last game of the regular season.

 

There was no trinket given to the Cardinal defenders for their efforts, though.

 

Their reward for forcing turnovers was that their team got to keep possession of the football.

 

Imagine that.
LSU 30, Notre Dame 24
Rose Bowl – Pasadena – 5:00 (ESPN)
Georgia (12-1) vs. Oklahoma (12-1)
In the Bulldogs' only defeat of the season, they scraped up just 46 rushing yards in a 40-17 embarrassment against Auburn.

 

When they beat that same Tiger team for the SEC championship, they ground up 238 yards, more than five times as much as before.
The four CFP teams appear evenly matched, but with one glaring difference among them.

 

The Sooners have Heisman-winning quarterback Baker Mayfield, whereas they face a formidable but somewhat raw freshman in The Man From M, and then, potentially, one scrambling QB in Jalen Hurts who doesn't throw that often, or another in Kelly Bryant who doesn't look very far downfield.

 

It's not hard to see how Mayfield's 4,340 yards and 71 percent completion rate give OU an edge.
Stop the presses!

 

We have a late entry for the Lardhead of the Year award, in UGA freshman defensive back

Latavious

Brini

, who has been arrested for passing a counterfeit $100 bill.

 

Brini

broke the bill while buying eight dollars' worth of merchandise at a pet supplies store, so that he could pocket the $92 in change and go on his way.

 

His plan hit a snag when he agreed to let the cashier sign him up for a "rewards card."

 

He actually wasn't stupid enough to use his own name and address, but apparently only went through the process so as not to arouse suspicion.

 

Because of their extended conversation, however, the cashier was able to recognize him a week later, when he returned to the same store and used his own debit card, at which time she had the manager call the police.
So

Brini

gets busted, and the "rewards" go to some fictitious person he invented named Trevon Shorter.

 

Whoever said life was fair?

 

In this case, that would be the College Football Czar.
Oklahoma 34, Georgia 19
Sugar Bowl – New Orleans – 8:45 (ESPN)
Clemson (12-1) vs. Alabama (11-1)
As usual, the SEC champions land in New Orleans, Louisiana, a city that goes by the abbreviation NOLA.

 

The Czar doesn't know why they make such a big deal out of there being NO LA, but at least SO must be relieved not to have that nosy LA skulking around behind it all the time.

 

(By the way, if you haven't bothered to look it up yet, the country that used to be Upper Volta is Burkina Faso, whose national soccer team is not named the

Latido

, but why not?

 

There are plenty of worse soccer team names out there.)
Everyone knows that these two teams have met in each of the past two national championships, and that both of those games have been classics.

 

Nevertheless, this is not the "Game of the Century."

 

No, that title is reserved for the Bama-LSU game, which is never, ever interesting, and which usually results in both teams combining for something in the neighborhood of 20 points.
If "resume," whatever in tarnation that means, had carried the day, this game would have pitted Ohio State against Clemson with a berth in the CFP championship at stake.

 

Would anybody have expected that to work out much better than it did last time?
On the other hand, the Superdome has been a house of horrors for the Crimson Tide in recent years, save for their eye-glazing 21-0 win over LSU in the 2011 BCS championship.

 

In Sugar Bowls, they fell to Utah in 2008, Oklahoma in 2013, and Ohio State in 2014.
The pachyderms aren't about to pack it in, but they've looked a bit languid down the stretch, not only in their Iron Bowl loss to Auburn, but also in their usual boring win over LSU, and the following seven-point scare against Mississippi State, in which a more mature opponent would have put them away.
Tiger coach

Dabo

Swinney used to get angered by the use of the term "

Clemsoning

," to describe the act of underachieving, or blowing a big game, but at least the word meant something then.

 

By beating Bama in last year's CFP title game, he's

Munsoned

it all up.
Clemson 25, Alabama 21
Jan. 9 (Monday)
CFP Championship Game – Atlanta – 8:30 (ESPN)
Predicted matchup – Oklahoma vs. Clemson
If these teams meet for the championship as the Czar is predicting, a lot of Sooner fans might not be too happy about it, because their team went

kerplooey

against Clemson in the 2014 Russell Athletic Bowl, 40-6, and again in the following year's Orange Bowl, 37-17.

 

In their all-time series, OU once led 2-0, but the Tigers have now taken a 3-2 lead, all in bowl games, including a 13-6 victory in the Citrus Bowl to finish the 1988 season.
Baker Mayfield played in that Orange Bowl loss, in which he passed for 311 yards but was picked off twice.

 

He's bound to be better this time around, whereas the Tigers don't have nearly the running game they did that day, when RB Wayne

Gallman

and QB Deshaun Watson combined for 295 rushing yards and three TDs.
When Sooner coach Bob Stoops stepped down abruptly before the season, the last thing the College Football Czar expected was that he'd be picking first year coach Lincoln Riley to lead Stoops' ex-team to a national championship.

 

Then again, Big Game Bob is gone, so there's nobody there to Munson it up.

 

It stands to reason.
Fairly or not, Mayfield has been repeatedly likened to the eminently dislikeable Johnny

Manziel

, a comparison from which he'll never extricate himself if, like

Manziel

, he is drafted by the Cleveland Browns.

 

If this year's Heisman winner has as much "Johnny Football" in him as many people think he does, he'll assume that the 0-16 parade that the city of Cleveland is planning is really meant as a celebration of their opportunity to select him with the #1 pick.
The Browns are determined never to embrace the old Chicago Cubs' "loveable losers" image.

 

They'd much rather be the irascible, vulgar, surly losers with whom nobody wants to associate.

 

Well, what do you know?

 

They've finally found something they're good at!
Oklahoma 41, Clemson 27
a sports publication from The Shinbone