The College Football Czar
2016-17 Bowl Game Picks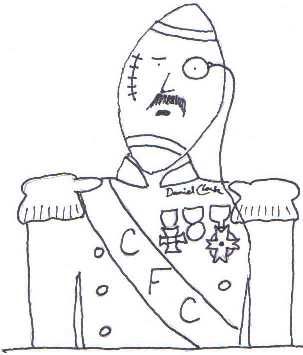 a sports publication from The Shinbone, by Daniel Clark
Week fourteen in review:  Championship weekend went pretty much as expected this season, with the exception of the downfall of Navy, due to the injury to quarterback Will Worth.  Army's 21-17 win in the final game of the regular season means not only that their bowl qualification is now 100 percent legitimate, but also that the most storied rivalry in the game has a chance to become genuinely interesting again.
As much as the sports media tried to add some drama and controversy to the release of the CFP, the committee's selections of Alabama, Clemson, Ohio State and Washington were virtually unassailable, the Huskies' comparatively weenie schedule being the only factor to cause any serious doubt.  Penn State fans have tried to make an issue of the fact that their team won the Big Ten, but still did not displace the Buckeyes in the semifinals.  The simple explanation that nonconference wins and losses count too is sufficient reason for most football fans to grasp why things turned out as they did.
Some rather obvious picks in the conference title games helped the College Football Czar to one of his better weeks of the season at 13-4.  His record for the regular season finishes at 160-95, for a .627 winning percentage.
Dec. 17 (Saturday)
New Mexico Bowl – Albuquerque – 2:00 (ESPN)
UTSA (6-6) vs. New Mexico (8-4)
The Roadrunners happily

meep

their way through the desert on their way to their first-ever bowl appearance, but they'd better watch that they don't make that wrong turn in Albuquerque.

 

Bob Davie's Lobos have overcome a slow start to win six of their last seven, including a regular season-ending 56-35 rout of division champion Wyoming.
In Texas-San Antonio's brief history, they have already met this Lobo team twice, splitting a home-and-home.

 

UTSA was charmed on its previous trip to the Land of Enchantment, a 21-13 victory in 2013.

 

A year later, it was UNM that prevailed in the

Alamodome

, 21-9.
This game's trophy is never the same two years in a row, because every year it is a new handmade, hand-decorated adobe pot.

 

That makes it basically irreplaceable, and it is probably the most fragile of all bowl trophies as well.

 

Ergo, it must also be the most valuable of the bowl trophies on eBay.

 

Take that, you "power five" saps!
New Mexico 35. UTSA 23
Las Vegas Bowl –

nuff

said – 3:30 (ABC)
Houston (9-3) vs. San Diego State (10-3)
With the departure of coach Tom Herman to Texas, the Cougars have opted for consistency, by plucking Major Applewhite from their own coaching tree, rather than going to the barrel.

 

At least as far as this bowl game is concerned, that continuity should serve them well, as opposed to other schools who are being guided by entire lame-duck interim staffs in the postseason.
The Aztecs avenged a damaging loss to Wyoming, 27-24 in the Mountain West Conference championship.

 

In between their two trips to Laramie, they suffered a terrible letdown at home against Colorado State, 63-31.

 

SDSU's defense, which allowed an average of only seven points per game during the season's middle six games, has returned to the form of its first three games, which included a shocking 42-24 loss to South Alabama.
UH has had its share of letdowns, too.

 

When the

Cougs

have prepared for a big game, on the other hand, they've been up to the task, dumping Oklahoma in their opener, and

slobberknocking

Heisman-winner Lamar Jackson and Louisville, 36-10.
Have you ever actually tried to knock slobber?

 

It's a surprisingly resilient substance.
Houston 52, San Diego State 34
Camellia Bowl – Montgomery – 5:30 (ESPN)
Toledo (9-3) vs. Appalachian State (9-3)
The Mountaineers return to the scene of their bowl debut from a year ago, when they edged Ohio 31-29 in one of the most exciting games of the postseason.

 

App State is now 2-0 all-time against opponents from the MAC, having outgunned Akron 45-38 earlier this season.
Unlike most of their MAC rivals, the Rockets have fared well in bowl games.

 

Their 10-5 record memorably includes a classic 40-37 victory over Nevada in the 1995 Las Vegas Bowl, which was the first overtime game in Division I-A history.

 

Two decades later, they pulled off one of the biggest surprises of the 2015 bowl season, bottling up a potent Temple offense, 32-17.
It's a little-known fact that when the Rockets accepted an invitation to this game, they thought it was being played in a stadium called the

Kramden

Bowl, not the Crampton Bowl.

 

What a disappointment.

 

It turns out their road trip ends in Montgomery, Alabama, but they wanted to go to the moon.

 

POW!

 

ZOOM!
Toledo 23, Appalachian State 19
Cure Bowl – Orlando – 5:30 (CBSSN)
Arkansas State (7-5) vs. Central Florida (6-6)
A minor bowl appearance is good for what ails the hometown Knights, who travel across town to the Citrus Bowl from their home field at Bright House Networks Stadium.

 

Under rookie head coach Scott Frost, they have a chance to finish with a winning record, just one year after an 0-12 season.
And yet, UCF really has not scored a significant victory this season, having let their upset bid against Temple slip away, 26-25.

 

The Knights' four victories in the AAC have come against East Carolina,

Uconn

, Tulane and Cincinnati, each of whom finished with a conference record of 1-7.
As a side note, the Knights used to be called the Golden Knights, but they figured out what a lame nickname that was.

 

So why doesn't the new NHL franchise in Las Vegas get that?

 

Teams that use the modifier "Golden" as part of their name are turning themselves into knick-knacks on a shelf.

 

It's so girly-

manny

that it's a wonder Mark Cuban's basketball team isn't called the Golden Mavericks.
It does not speak well of the Sun Belt Conference that the Red Wolves fell to 0-4 with a loss to Division I-AA Central Arkansas, but then turned things around as soon as league play began.

 

In truth, the difference has as much to do with the emergence of sophomore QB Justice Hansen, and the demotion of Pitt transfer Chad

Vojtik

to a situational role.

 

The turning point was when the fans wised up and stopped chanting, "No Justice, No P's," and instead began saying, "No Justice, No W's."

 

Coach Blake Anderson said, "Oh, now I get it," and the rest is history.
Arkansas State 29, Central Florida 26
New Orleans Bowl – New Orleans, obviously – 9:00 (ESPN)
Southern Miss (6-6) vs. LA-Lafayette (6-6)
Before stumbling to a 5-7 finish last season, the Ragin Cajuns appeared in four consecutive New Orleans Bowls, winning all of them, against favored opponents San Diego State, East Carolina, Tulane and Nevada.
The Golden Eagles opened the season with a great comeback to beat Kentucky, and finished with a big victory over Conference USA West winner Louisiana Tech, but most of the results in between didn't measure up.
USM once won a New Orleans Bowl in ULL's home stadium.

 

In 2005, Hurricane Katrina forced the venue to be moved to Cajun Field, where the Eagles defeated Arkansas State, 31-19.

 

As we all remember, the Superdome was being used at that time for rampant acts of cannibalism and necrophilia, all caused by George W. Bush.

 

Good thing we didn't have any of that "fake news" back then that we're hearing about today.
Southern Miss 49, LA-Lafayette 42
Dec. 19 (Monday)
Miami Beach Bowl – Miami – 2:30 (ESPN)
Central Michigan (6-6) vs. Tulsa (9-3)
The Golden Hurricane deserves a better bid than this, but the American Athletic Conference simply doesn't have quality bowl affiliations.

 

Hopefully, the league's continued improvement will soon change that.

 

Surely, one of the more traditional games, like the Independence Bowl, would rather have an AAC contender than the #9 selections from two "power five" conferences.
The

Chippewas

never contend in their conference, but they always seem to eke their way into a bowl bid.

 

Last year, they finished under .500 after a tough 21-14 loss to Minnesota in the Quick Lane Bowl.

 

Quarterback Cooper Rush has been a typically prolific four-year starter in the MAC, but he's been consistently reckless with the ball, throwing between 11 and 15 interceptions in each season.
Anymore, TU seldom has any gold in its uniforms.

 

Perhaps "Golden" Hurricane is one of those sarcastic nicknames, like Curly Neal, or Funny Amy Schumer.
Actually, nobody ever calls her that.

 

The Czar was just testing you.
Tulsa 59, Central Michigan 28
Dec. 20 (Tuesday)
Boca Raton Bowl – Rat Mouth – 7:00 (ESPN)
Memphis (8-4) vs. Western Kentucky (10-3)
The Hilltoppers finished at the top of the heap in Conference USA this year, by avenging an earlier loss in their league championship game, where they outlasted West division champion Louisiana Tech, 58-44.
Mike

Norvell

is arguably the most underappreciated head coach in the nation.

 

It's tough enough to follow hotshot coach Justin Fuente, now at Virginia Tech, without also having to bring in former Tennessee QB Riley Ferguson to fill in for flamethrower Paxton Lynch, who departed early for the NFL.

 

Nevertheless, one more win would equal the Tigers' record from a year ago.
This trip to the beach should prove an educational experience for you fans from Western Kentucky.

 

You see, the object that's depicted on your team's helmets is called a "towel," which may be used to dry oneself after one has been covered with water.

 

Here

endeth

the lesson.
Memphis 42, Western Kentucky 39
Dec. 21 (Wednesday)
Poinsettia Bowl – San Diego – 9:00 (ESPN)
Wyoming (8-5) vs. Brigham Young (8-4)
Look for BYU to blitz Cowboy QB Josh Allen, who held the ball far too long, far too often in a 27-24 Mountain West Conference title game loss to San Diego State.

 

The Aztec defense forced Allen to toss up two interceptions, while also sacking him four times, and holding him to 14 completions on 31 attempts.
The Cougars' four losses have been by a combined total of only eight points, and three of those have been to teams that are currently ranked.

 

Of course, no team ever loses by much if it only allows an average of 19.4 points per game.
It was 20 years ago that these teams met in Las Vegas for the Western Athletic Conference championship, when Cowboy coach Joe Tiller made that transparently unwise intentional safety call that set the

Cougs

up for the tying field goal, and ultimately to prevail 28-25 in overtime.

 

Tiller never returned to the big square state, but instead fled half a continent away, to become head coach at Purdue.

 

Just because the man's a lardhead, that doesn't make him stupid.
Brigham Young 27, Wyoming 20
Dec. 22 (Thursday)
Famous Idaho Potato Bowl – Boise – 3:30 (ESPN)
Colorado State (7-5) vs. Idaho (8-4)
The Rams let their rivalry game against Air Force get away from them, 49-46, but then they finished the regular season by scoring a total of 112 points in shootout wins over New Mexico and San Diego State.

 

During that three-game stretch, WR Michael Gallup raced for a total of 468 yards and five touchdowns.
In the Vandals final season of Division I-A football, they return to postseason action in Boise, where they've won both of their previous bowl appearances on the same blue turf.

 

Well, on its flatter,

Astroturfier

predecessor, anyway, but still in the same stadium.

 

UI has previously upset Southern Miss 42-35 in the 1998 Humanitarian Bowl, and edged Bowling Green in a 43-42 cliffhanger in that same game in 2009.
One of their regular season games leading up to that '09 bowl victory was the last meeting between these teams in the Tater Sate, in which the Vandals triumphed, 31-29 in the

Kibbie

Dome.

 

Moscow was as gracious a host to CSU as its namesake had been to Napoleon, as the Rams took the field to be greeted by a large banner that read, "Ewe Suck!"
Hopefully, the

Russkies

never said anything that mean to Mr. Bonaparte.

 

He was sensitive, you know.
Colorado State 41, Idaho 29
Dec. 23 (Friday)
Bahamas Bowl – Nassau – 1:00 (ESPN)
Eastern Michigan (7-5) vs. Old Dominion (9-3)
Throughout the past five games, this Monarch team has floated like a butterfly, and stung like … a much larger, angrier butterfly, equipped with some sort of stinging device or other.

 

Not a perfect metaphor, the College Football Czar admits, but you get the point.

 

ODU has qualified for its first bowl appearance, with plenty of room to spare, while scoring an average of 36 points per game.
Meanwhile, EMU goes bowling for the first time since 1987, when they were still named the

Hurons

.

 

That was back when the champion of the MAC played the winner of the old Pacific Coast Athletic Association in the California Bowl, in Fresno.

 

Most of the nation must have been rooting for the

Hurons

that day, as they scored a mild 30-27 upset over an extremely cocky San Jose State squad.

 

This year's Eagle team isn't nearly as formidable, but certainly good enough to quell any more rumors about downgrading or disbanding the program.
The Eagles' helmet logo might not look like much to outsiders, but they've grown very proud of the "Block E" they debuted 15 years ago.

 

They got the idea from listening to the fans in Ypsilanti yell, "Block, E!

 

Aw, c'mon, block!

 

Just this once, please?"
Old Dominion 45, Eastern Michigan 31
Armed Forces Bowl – Fort Worth – 4:30 (ESPN)
Navy (9-4) vs. Louisiana Tech (8-5)
In the Midshipmen's last two games with Will Worth at quarterback, they scored a total of 141 points in road wins against East Carolina and SMU.

 

Since his ankle injury, they've lost neutral-site games to Temple (34-10) and Army (21-17).
Senior Bulldog quarterback Ryan Higgins has been ex-trohhhrr-

dnerry

, passing for 4,208 yards, while completing 37 TDs to eight interceptions.

 

Binky Farnsworth and the other lads from the regiment would be proud, if only Binky hadn't bought it at El Alamein.

 

Pity.
There's actually a very brief history between these teams, with the Middies taking both ends of a home-and-home series in 2009-10.

 

They were taking quite a chance by playing that first game in Ruston.

 

Any frogmen spotted down around those parts are putting themselves in danger of being

et

.
Louisiana Tech 28, Navy 23
Dollar General Bowl – Mobile – 8:00 (ESPN)
Ohio (8-5) vs. Troy (9-3)
The Bobcats almost wiped out Western Michigan's undefeated season in the MAC championship game at Ford Field.

 

Senior quarterback Greg Windham threw three TD passes to keep them in the game, but his only interception snuffed a potential game-winning drive, as they fell by a final of 29-23.
The Old College Troy was not enough in its regular season finale against Georgia Southern, as the Trojans fell out of a three-way tie for the Sun Belt Conference lead in a 28-24 setback in Statesboro.

 

On their last possession of the game, they drove the ball 77 yards, all the way to the Eagles' 9-yard-line, before turning it over on downs.
Last time TSU had a winning season was 2010, when they won the New Orleans Bowl in a 48-21 rout over none other than the Ohio Bobs.

 

What relevance has that game to this one?

 

Well, you're bound to see a graphic referencing it at some point, but that's about it.
When this game was known as the

GoDaddy

Bowl, professional auto racer Danica Patrick could often be seen slinking up and down the sidelines.

 

Now there's a new discount sponsor, but never fear, they can still afford to employ the second most famous woman in motor sports, Pinky

Tuscadero

.
Well,

whaddaya

want for a buck?
Ohio 13, Troy 10
Dec. 24 (Saturday)
Hawaii Bowl – Honolulu – 8:00 (ESPN)
Middle Tennessee (8-4) vs. Hawaii (6-7)
As long as the NCAA is giving special dispensations to three 5-7 teams, it would be difficult to explain why the 6-7 Rainbow Warriors should be left out, so here they are.

 

As usual, they get to play their bowl game at home, which suits them just fine, after the regular season road schedule they played.

 

UH opened with a game in Sydney, Australia against the Cal Bears, and then had to play a road game a week later against Michigan.
The MT-heads got kicked around for a couple games after starting quarterback and coach's son Brent

Stockstill

suffered a broken collarbone, but they are hopeful of his return against UH.

 

Last game, freshman backup QB John

Urzua

left the game with a concussion, so the Blue Raiders remained grounded.

 

Running backs

I'Tavius

Mathers and Richie James each rushed for over 200 yards in a 77-56 romp over Florida Atlantic.
In order to be allowed in this game, the Warriors should have been forced to demonstrate their academic fitness, by spelling "Hawaii" without an apostrophe.

 

And then, they might actually bother to learn the other 13 letters.
Middle Tennessee 21, Hawaii 16
Dec. 26 (Monday)
St. Petersburg Bowl – Not Stalingrad – 11AM (ESPN)
Miami OH (6-6) vs. Mississippi State (5-7)
The

RedHawks

are the first team ever to become bowl eligible after starting 0-6.

 

Their turnaround started when sophomore Gus Ragland took over at quarterback.

 

In six consecutive victories, Ragland has completed a total of 15 touchdown passes, without a single interception.
Just when it looked like the Bulldogs had nothing to play for, they mauled arch rival Ole Miss 55-20 to eliminate the Rebels from bowl contention.

 

Then, they were awarded a postseason slot themselves, for having achieved a high enough Academic Progress Rate, another area in which they outperformed their foes from Oxford.
The Devil stuck around St. Petersburg when he saw it was a time for a change.

 

It was then that he built an hideous dome that he comically named Tropicana Field.

 

Just because he's the Prince of Darkness doesn't mean he has to be such a total

jagoff

about it.
Mississippi State 37, Miami OH 24
Quick Lane Bowl – Detroit – 2:30 (ESPN)
Boston College (6-6) vs. Maryland (6-6)
These former conference foes meet for the first time since the Terrapins joined the Big Ten.

 

When they were still ACC rivals in 2013, BC beat the shellbacks 29-26, on a last-second, 52-yard field goal, to give them an 8-3 advantage in the head-to-head series.
The

Terps

are so sad, they could be related to the mock turtle played by Cary Grant in Alice in Wonderland.

 

(He was still cool, by the way, even as a blubbering lizard.)

 

They'd have to be from such a nonsensical place to lose six out of seven games, most of them badly, and still be rewarded with a bowl bid just by beating Rutgers.
This game is so named because the quick lane is the one that fans take to Ford Field.

 

That's because there's nobody else on it.

 

All the rest of the traffic is in the lane heading outbound from Detroit, to civilization.
Boston College 17, Maryland 12
Independence Bowl – Shreveport – 5:00 (ESPN2)
Nc
State (6-6) vs. Vanderbilt (6-6)
The Commodores played their way into the postseason with a 45-34 victory over Tennessee, even though had they lost, they would have been first in line for one of those academically-based bids for teams with losing records.
Having fallen short in previous upset bids against Clemson and Florida State, the Wolfpack finally broke through for a 28-21 victory against North Carolina to end the regular season.

 

Their kicking game continued to let them down, though.

 

Connor Haskins missed a chip shot that could have put the UNC game away early, just as Kyle Bombard had yanked a short kick that would have defeated Clemson.

 

The two are a combined 9-for-17 this season.
Over the past couple years,

Vandy

has added a nautical motif to its uniforms, to remind people of the meaning of its team nickname.

 

Otherwise, the refined folk of that area might think a Commodore is where one keeps one's chamber pot.
Vanderbilt 21,

Nc

State 20
Dec. 27 (Tuesday)
Heart of Dallas Bowl – Dallas – Noon (ESPN)
Army (7-5) vs. North Texas (5-7)
Nobody likes to see a rematch of a regular season game in a bowl, except for the team that had lost the previous matchup.

 

The Black Knights got off to an excellent start this year, but jeopardized their season with a 35-18 home loss to the team from Denton.
Although the Mean Green have still had a losing season, their turnaround has been even more dramatic than Central Florida's.

 

It was only a year ago that they suffered a record blowout loss to a lower-division opponent, 66-7 to Portland State.
In the traditional regular season finale, the Cadets said goodbye to Verne Lundquist and their 14-year streak of futility against Navy.

 

If only they'd known the two were a package deal, they would have done away with Verne years ago.

 

Perhaps they could have coaxed him into walking too close to the cannon, or had some tainted S.O.S. sent up to the booth.
Sorry, Verne, but all's fair.
Army 22, North Texas 7
Military Bowl – Annapolis – 3:30 (ESPN)
Wake Forest (6-6) vs. Temple (10-3)
Whatever Baylor is paying coach Matt

Ruhle

to leave Temple, it isn't enough.

 

Ruhle

is abandoning relative job security with a championship team from the up-and-coming AAC to jump aboard a foundering BU program in the rudderless Big XII.

 

That's like a game show contestant winning a new convertible, and trading it in for the Box O' Mystery.
Earlier this year, the Demon Deacons suspected that someone was leaking their game plans, and they were right.

 

Former Wake player and coach Tommy Elrod, who had been one of their radio broadcasters this season, has been caught providing secret information to the Deacons' opponents.

 

Now that the mystery is solved, their secrets are safe.

 

So, next time they go three-and-out after two runs up the middle and a bubble screen, it will be a total surprise.
The Owls have extended their lease at Lincoln Financial Field through 2018, by which time they hope to have completed a new on-campus stadium.

 

Following that announcement Temple University alumni across the country expressed shock at the discovery that their school has a campus.
Temple 42, Wake Forest 13
Holiday Bowl – San Diego – 7:00 (ESPN)
Scenario A
Minnesota (8-4) vs. Washington State (8-4)
After an 0-2 start, Cougar coach Mike Leach publicly slammed his players for being soft.

 

What must he have to say, now that they've been

squooshed

in consecutive games against division winners Colorado and Washington?
The Golden Gophers' four losses have been to Penn State, Iowa, Nebraska and Wisconsin, which have a combined record of 38-12.

 

It's a wonder the radiant rodents have fared this well, considering the play of QB Mitch

Leidner

.

 

Against Division I-A opponents, the senior scrambler has only three TD passes to 12 interceptions, and his rushing total of 340 yards doesn't nearly make up for that.
Ten Gopher players have been suspended for this game, under suspicion of sexual assault.

 

The rest of the team has taken the position that the charges are baseless, and are threatening to boycott the game.

 

The College Football Czar hasn't got nearly enough information to establish any opinion over who's in the right.

 

Everyone remembers how terribly Duke University treated its lacrosse team, which proved to be entirely innocent, but then, everyone also knows that such accusations against athletes are too often true, and deserve to be taken more seriously than they have been at Baylor.
The Czar predicts that by this game's halftime interview, Leach will conclude that being soft is not necessarily a bad thing.

 

After all, bubble wrap is soft, and who doesn't love bubble wrap?
Washington State 31, Minnesota 28
Scenario B
Northern Illinois (5-7) vs. Washington State (8-4)
If the Gophers refuse to play, word is that they will be replaced by the Northern Illinois Huskies, next in line for eligibility according to the Academic Progress Ratings.

 

Had their season not been marred by a loss to the Division I-AA Western Illinois Leathernecks, their inclusion in the postseason would be otherwise defensible.

 

The no-longer defending three-time MAC West champions opened the season with a trio of tough games against Wyoming, South Florida and San Diego State.

 

Once 1-6, they have since gone 4-1, including an overtime win at Eastern Michigan.
Not that Cougar coach Leach will be impressed with the Huskies' academic prowess.

 

He'll take one look at those "NIU" helmets and think, "Those guys can't even spell "Minnesota."
Washington State 36, Northern Illinois 17
Cactus Bowl – Phoenix – 10:15 (ESPN)
Baylor (6-6) vs. Boise State (10-2)
Not only have the Bears had a dismal second half of a scandal-plagued season, but now their remaining coaches are probably busier updating their resumes than preparing their team for this game.

 

Perhaps it's actually better that way, so that they don't see what they're up against.
The Broncos are the best team in the Mountain West, even though they didn't make it into the conference championship game.

 

Anyone who doesn't understand how that's possible is not smart enough to have a valid opinion about the CFP semifinal selections, or of the electoral college, for that matter.
Such a person would, however, figure that BU, having lost in a six in a row since a 6-0 start, is due.
Boise State 51, Baylor 31
Dec. 28 (Wednesday)
Pinstripe Bowl – New York – 2:00 (ESPN)
Northwestern (6-6) vs. Pitt (8-4)
Had these teams met a year ago, the Wildcats would have been completely ill-equipped to take advantage of Pitt's porous pass defense, but sophomore Clayton Thorson is only 32 yards away from a 3,000-yard season, and he's taken much better care of the ball this season , with 21 TDS to only eight interceptions.
To nobody's surprise, this is the last game for Panther RB James Conner before entering the NFL draft.

 

The ACC's all-time TD leader, who come back this year from

Hodgkins

lymphoma, also suffered a season-ending knee injury in the 2015 opener.

 

For him to risk injury for another season without getting paid would have been sheer lunacy.
As if in anticipation of Conner's departure, the Panthers have discovered a passing attack.

 

Over the past five games, quarterback Nate Peterman has had five of his six best performances of the season.

 

In his team's 43-42 upset of Clemson, Peterman passed for a season-high 308 yards, with five TDs and no picks.
Sure, a pinstripe bowl sounds nice, but if you own one, beware. The Czar once had a pinstripe bowl., and he foolishly poured Chex into it.

 

The sight of it made him so woozy, he couldn't keep his breakfast down.

 

The only thing he can think of that would be even more unsettling would be if the Pinstripe bowl were sponsored by Pop Rocks and Coke.
Pitt 44, Northwestern 35
Russell Athletic Bowl – Orlando – 5:30 (ESPN)
West Virginia (10-2) vs. Miami (8-4)
Since halting a midseason four-game losing streak, the Hurricanes have now won four straight, and convincingly so.

 

In their last defeat, they spotted Notre Dame a 20-0 lead, but they've since outscored their opponents by almost a 2-to-1 ratio.
WVU has resumed its winning ways since getting hammered by Oklahoma, but its blowout of Iowa State was only a 21-16 game at halftime, and at this point, beating Baylor 24-21 is just as good as a loss.

 

To find any quality wins on the

Eers

' schedule, you'd have to go back to Weeks 4 and 5, when they held off BYU 35-32, and rallied past K-State 17-16.
ESPN has been commemorating the Notre Dame-Miami "Catholics vs. Convicts" game.

 

Mountaineer fans hoped to capitalize on that concept, but they found that "

Snakehandling

Chicken Blood Cultists vs. Convicts" is too expensive to print on a tee-shirt.
West Virginia 25, Miami 22
Foster Farms Bowl – Santa Clara – 8:30 (FOX)
Indiana (6-6) vs. Utah (8-4)
The Hoosiers have given all kinds of heck to Ohio State, Penn State, Michigan and Nebraska, but the fact remains that they are 0-4 against teams with winning records this year.

 

As if that streak of futility isn't discouraging enough, IU hasn't won a postseason game since blanking Baylor 24-0 in the 1991 Copper Bowl.
Early this season, Ute running back Joe Williams took the Urban Meyer retirement plan, except that when he abruptly returned, it was with the same team he'd been with before.

 

In his six games since coming back, Williams has rushed for 1,110 yards and nine touchdowns.
Since Utes are Indians, you might wonder why the NCAA isn't hounding them for being "hostile and abusive."

 

That's because the university has threatened that if they had to change their name, it would be to the Utah Putty-Tats.
Yeesh! Is the College Football Czar really resorting to that?

 

Good thing the season is nearing an end.
Utah 26, Indiana 14
Texas Bowl – Houston – 9:00 (ESPN)
Kansas State (8-4) vs. Texas A&M (8-4)
As unpredictable as this season has been through much of the country, one thing you knew you could count on was that Bill Snyder's lightly regarded Wildcats would exceed expectations yet again.

 

Before the season started, nobody expected K-State to finish ahead of TCU, Texas, Texas Tech and Baylor, even though they pull off a season like this every other year.
A shoulder injury to starting QB Trevor Knight has dropped an

aTm

-bomb on the Aggies' season.

 

The Conjunction Boys were 7-1, with their only loss at Alabama, until their senior slinger went down.

 

Then they lost to both Mississippi State and Ole Miss, and struggled past Texas San-Antonio.

 

Knight returned in a Thanksgiving weekend loss to LSU, but had to leave that game with a knee injury.
One of many arguments for keeping traditional bowl names instead of naming the games after the sponsors is that this is about the

eleventeenth

bowl game sponsored by

Advocare

, those ubiquitous purveyors of heaven only knows what.

 

If

Advo

really cared, they'd pick one bowl game and stick with it, and not be such a hussy.
Kansas State 35, Texas A&M 31
Dec. 29 (Thursday)
Birmingham Bowl – um … Birmingham – 2:00 (ESPN)
South Florida (10-2) vs. South Carolina (6-6)
By the records, this is a mismatch, and it really would be if USF coach Willie Taggart hadn't been tagged "it" by Oregon.

 

The Bulls have responded by hiring outgoing Texas coach Charlie Strong, which might or might not end up being a brilliant move, but where does it leave them for this game?
From the Gamecocks' perspective, the best thing about having a month off before their bowl game is that it has killed their momentum.

 

Following a 20-7 defeat to Florida in their SEC finale, SC won an uncomfortably close 44-31 decision against Western Carolina – a Division I-AA team, and by no means a good one.

 

Then, in their alleged rivalry game, Clemson left those little paw prints all over them after a 56-7 trampling.
If the Bulls' helmet logo looks familiar to you, maybe that's because it's very similar to the Jack's Links logo.

 

The Czar must confess that he's never gotten the selling point of Jacks' Links commercials.

 

"Buy our beef jerky, and Bigfoot will beat the snot out of you."

 

Where do you go to sign up for that?
South Florida 28, South Carolina 10
Belk Bowl – Charlotte – 5:30 (ESPN)
Arkansas (7-5) vs. Virginia Tech (9-4)
During coach Justin Fuente's first year in Blacksburg, the Gobblers have already got more wins than they've had in any season since 2011.

 

Their first bid for a tenth victory fell short in the ACC title game.

 

Nevertheless, they showed great resilience in that 42-35 loss to national contender Clemson.
The Razorbacks were sharp as ever in taking a 24-7 halftime lead over Missouri, but then things got hairy.

 

Not only did their defense break down, but three offensive forays deep into Mizzou territory ended with two Austin Allen interceptions, and a last-minute turnover on downs.
Speaking of razorbacks, it would sure make for a happy ending if Hogs' head coach Bret

Bielema

would get his razor back.

 

Viewers across the nation might consider that to be the greatest

feelgood

hit since Snoopy Come Home.
Virginia Tech 49, Arkansas 34
Alamo Bowl – San Antonio – 9:00 (ESPN)
Colorado (10-3) vs. Oklahoma State (10-2)
In their first postseason appearance since jumping leagues in 2011, the Buffaloes face their longtime Big 8-slash-XII foes from Stillwater.

 

Until this season, CU might have wondered if they'd made the right move, but the Big XII is confirming that for them on a daily basis.
The Cowboys' seven-game winning streak was put to Bedlam in a 38-20 loss to Oklahoma.

 

That rivalry game has been pushed up earlier on the schedule in 2017, so that those teams can't play each other twice in a row, with the addition of a conference championship game.

 

Since the Big XII is not splitting into divisions, however, there's really no avoiding the possibility of regular season-ending opponents squaring off again in the league title game.

 

The people running that conference are so stupid, they probably think that by using the Roman numeral XII, they're appealing to Latin American fans.
Pokes' quarterback Mason Rudolph has had his two least productive outings of the season in his last two games.

 

Things don't figure to get any easier against the Buffaloes, who boast the leading defense in the Pac 12.
At the Alamo, the women and children were evacuated unharmed, but there's no escaping for Mike Gundy the Man, for obvious reasons.

 

And that hair isn't fooling anyone.
Colorado 32, Oklahoma State 27
Dec. 30 (Friday)
Liberty Bowl – Memphis – Noon (ESPN)
TCU (6-6) vs. Georgia (7-5)
The horny toads haven't been so great this year.

 

In fact, they're in danger of having only their third losing season since hiring coach Gary Paterson in 2000.

 

Their only two-game winning streak of the season has been against Iowa State and SMU.
With mostly the same personnel as last year, the Bulldogs' ground game is down about 250 yards from last season, and approximately half a yard per carry, with six fewer touchdowns.

 

The team may be celebrating the announcements that both Nick Chubb and Sony Michel will return next season, but then again, where else would they go?
UGA freshman quarterback Jacob Eason is Tony's son, but not the Tony Eason who played quarterback for Illinois and the New England Patriots.

 

Jacob's dad was the lesser-known Tony Eason who played college ball a few years later, having a modest career as a wide receiver for Notre Dame.

 

Just stepping on the field in South Bend was probably enough to get him more Heisman votes than the other Tony, though.
Georgia 16, TCU 14
Sun Bowl – El Paso – 2:00 (CBS)
North Carolina (8-4) vs. Stanford (9-3)
Between the Cardinal's Christian McCaffrey and Ryan Switzer of UNC, this game could easily be decided by a long punt return.

 

However, it could just as easily be decided by special teams timidity by whichever team is more afraid of the opponents' return game.
Stanford is hoping that El Paso does not live up to its name, because the

Tarheels

have a prolific passing attack, whereas they are dead last in passing yards in the Pac 12.

 

The Heels have the worst run defense in the ACC, however.

 

In fact, if there were some sort of a term that applied to a heel having a fatal weakness, the Czar would be inclined to use it right here.
Why, of course El Paso is Spanish for "the pass."

 

The College Football Czar is as certain of that as he is of the fact that the "M" on the hillside next to the stadium is a tribute to Marty Robbins.
Stanford 24, North Carolina 21
Music City Bowl – Nashville – 3:30 (ABC)
Nebraska (9-3) vs. Tennessee (8-4)
In honor of the victims of recent wildfires, the Volunteers will be wearing their "

smokey

gray" uniforms.

 

Boy, for college people, they aren't very good at this sensitivity thing, are they?

 

Rather than paying respect to the dead, it will look like they're commemorating the phenomenon that killed them.

 

Obviously, the

Vols

like wearing their gray uniforms anyway, so why not use the "awareness" cult as an excuse?
The Cornhuskers will be wearing white helmets with a plain red "N" on them, in order to raise awareness of Nebraska football, of all things.

 

Their fans actually may have forgotten what Husker ball is like, the way their team was systematically dismantled in their last game against Iowa, 40-10.

 

Unfortunately for them, a repeat of that outcome appears likely, with WR Jordan Westerkamp out with a knee injury, and QB Tommy Armstrong unlikely to play either.
Nebraskans quietly resent having to travel all the way to Nashville to see a game called the Music City Bowl.

 

Who needs the Grand Ole Opry when you've got the Otoe County Hardware Store Band?

 

That Lester plays a mean saw!
Tennessee 31, Nebraska 16
Arizona Bowl – Tucson – 5:30 (ASN)
South Alabama (6-6) vs. Air Force (9-3)
This game is a first, in that it actually matches two teams from different conferences.

 

Last year's inaugural Arizona Bowl invited two MWC teams – Nevada and Colorado State – to play each other.

 

The idea didn't go over well, but it proved to be one of the bowl season's more riveting games, with Nevada winning 28-23.
The Jaguars' two consecutive upsets of Mountain West powerhouse San Diego State have surely made an impression on the Falcons, who are not about to take this matchup lightly, regardless of what these teams' schedules and records would suggest.
For the third consecutive year, the flyboys foiled Boise State, this time by a score of 27-20, to keep BSU out of the conference championship game.

 

It was the fifth straight victory for the AFA, whose Commander-in-Chief's Trophy-clinching 31-12 road win over Army is looking a lot more impressive all of a sudden.
Two of the Jags' six wins this season have come against Division I-AA opponents Nicholls State and Presbyterian, a fact that ought to have left them bowl-ineligible, if the NCAA weren't so desperate for participants of any sort.

 

These guys have so little business playing in a postseason game that, somewhere in America, there's probably some idiot running a bowl game office pool who drew up a template representing South Alabama with the helmet of Georgia Southern by mistake.

 

Hypothetically speaking, of course.
Air Force 45, South Alabama 19
Orange Bowl – Miami – 8:00 (ESPN)
Michigan (10-2) vs. Florida State (9-3)
The fact that FSU got the major bowl bid over the Louisville team that skunked them 63-20 has been a minor source of controversy, but the Seminoles have since defeated South Florida, Miami and Florida, whereas the U of L has not defeated another winning team all season long.
It's been refreshingly uncontroversial that the Wolverines are not in one of the semifinal games.

 

They really don't belong there, but not because they lost to Ohio State head-to-head so much as because they have another loss in addition to that, against a second-echelon Iowa team.

 

Yet, there were those clamoring for a two-loss Penn State team to have a shot at the national title, even though the maize and blue mulched them 49-10 early this season.
Believe it or not, these two storied programs have only met twice before, and never in a bowl game.

 

In 1986, the Wolverines prevailed 20-18, but the

Noles

rolled over them five years later, by a final of 51-31.

 

Current Michigan coach Jim Harbaugh quarterbacked his team to that '86 victory.
The College Football Czar won't believe these are such great football teams until they stop referring to their team colors as things like "maize" and "garnet."

 

What's next, periwinkle?

 

Real football team colors stick to the Crayola 8-box.
Michigan 22, Florida State 19
Dec. 31 (Saturday)
Citrus Bowl – Orlando – 11AM (ABC)
LSU (7-4) vs. Louisville (9-3)
The College Football Czar isn't certain that coach Ed

Orgeron

will succeed in Baton Rouge, but he sure seems to be popular with his players, who will be eager to validate their school's decision with a big postseason victory.
Based on his season-long performance, there's no question Cardinal QB Lamar Jackson deserves his Heisman Trophy, but he and his OL must be far better than they were against Houston and Kentucky when they tangle with this Tiger defense.

 

Jackson obviously wanted to win the Heisman very badly.

 

Now that he has accomplished that, how much do you suppose he really cares whether or not the Cards win the Citrus Bowl?
Nowadays, people probably think the Citrus Bowl is just a more socially acceptable title for the Orange Bowl, because citrus is a larger domain that encompasses oranges, among other things.

 

That's the way political correctness works, by expanding the definition of what is being talked about until it is essentially meaningless.

 

It's not Oriental, it's "Asian."

 

They're not midgets, they're "little people."

 

Never mind that most Asians are not Oriental, and most little people are not midgets.

 

A lack of accuracy is what we strive for these days.

 

You can't just go around referring to oranges, lemons and grapefruits anymore.

 

That's discriminatory!

 

So enjoy your "citrus juice,"

 

but don't drink so much that you have to stop at a public "people's room."
LSU 23, Louisville 13
Gator Bowl – Jacksonville – 11AM (ESPN)
Kentucky (7-5) vs. Georgia Tech (8-4)
This bowl was a big game back in the 70s and 80s, but in recent years it has become the home of disappointed major conference teams disinterestedly playing out the string at the end of their .500 seasons.

 

Not so this year, as each of these teams enters this postseason with a full head of steam.

 

The Wildcats toppled Louisville on the road to clinch a winning season, while the Yellowjackets have won their last three, including visits to Virginia Tech and Georgia.
UK is actually a very respectable 7-3 since handing the starting QB job to Stephen Johnson.

 

The big sophomore Drew Barker was worse than his bite, which probably would not have tossed five picks in barely over two games.

 

Barker was pulled from the lineup due to a back injury, which the Czar presumes had something to do with his inaccuracy.
Now officially the TaxSlayer Bowl, this game awards a trophy that features a likeness of an alligator punting a football.

 

Is that the varmint that's supposed to slay our taxes?

 

It can't even pick up a first down.
Kentucky 34, Georgia Tech 27
Peach Bowl – Atlanta – 3:00 (ESPN)
Washington (12-1) vs. Alabama (13-0)
Crimson Tide fans may be the only people in America who will be sad to see the Georgia Dome go.

 

In this same building four weeks earlier, they flogged Florida 54-16 to win the SEC Championship.

 

It was their seventh victory in a league title game, and sixth since that game has been played in Atlanta.
The Huskies demonstrate the importance of being punctual.

 

We know that because those who are late do not get fruit cup, yet UW ran away with the Apple Cup by routing rival Washington State 45-17, and here they are looking for seconds at the Peach Bowl.

 

Quarterback Jake Browning has bombarded opponents for 42 TD passes this season, one behind Toledo's Logan Woodside for the nation's best.

 

Other prolific passers like Chad Kelly of Ole Miss and Austin Allen of Arkansas have given the Tide a tough time, but haven't beaten them, of course.
Under Nick

Saban

, the pachyderms have had their share of postseason collapses, but only in the Sugar Bowl, where their defense has disintegrated against Utah, Oklahoma and Ohio State.

 

In all other bowl appearances, they're 7-0, and their play on the field has been nearly as perfect as that record.
It's a good thing this game involves a peach bowl and not a peach basket, because if the latter were the case, it would be a basketball game, and who would rather see that?

 

Besides, if Dr. Naismith was so brilliant, why did it take him so long to think to cut out the bottom of the basket?
Alabama 51, Washington 40
Fiesta Bowl – Glendale – 7:00 (ESPN)
Clemson (12-1) vs. Ohio State (11-1)
Including a 42-35 scare against Virginia Tech in the ACC title game, the Tigers have won six games by seven points or fewer.

 

Granted, they also appeared wobbly after last year's league championship win over North Carolina, when they proceeded to pound Oklahoma in the Orange Bowl, and put up a ferocious battle against Bama for the CFP title.

 

Their struggles have been more consistent this year, however.

 

It's not only that they lost to Pitt, but also their six-point scare against Troy, and their overtime escape against

Nc

State that makes the Czar doubt their chances against another of the nation's top teams.

 

In hindsight, even their 42-36 victory over Louisville is troublesome.
Buckeye defensive coordinator Luke

Fickell

has done a tremendous job since making a difficult decision to stay at OSU, after being demoted from the head coaching position after the 2011 season.

 

There's no doubt he's committed to see his job through in Columbus this postseason, even though he's already accepted the head job at Cincinnati.
The lumpy nuts are 0-2 all-time against the Tigers, both of those results coming in bowl games – the Gator Bowl in 1978, and the Orange Bowl at the end of the 2013 season.

 

It's a good thing they didn't win that '78 game, or coach Urban Meyer might have to go punch one of the Tiger players in the throat for old times' sake.
College football coaches are very superstitious that way.
Ohio State 30, Clemson 23
Jan. 2 (Monday)
Outback Bowl – Tampa – 1:00 (ESPN2)
Iowa (8-4) vs. Florida (8-4)
They might as well really play this game in the Outback, because it figures to be a test of endurance, with each team allowing only 215 points in 12 games this season.

 

The Hawkeyes have won three games in which they've scored only 14 points, including a 14-13 shocker over Michigan.

 

Meanwhile, the Gators have allowed 14 or fewer in each of their eight victories.
Iowa's

Akrum

Wadley needs only 34 more yards to join teammate

LeShun

Daniels as 1,000-yard rushers.

 

Between the two, the shifty junior Wadley has by far the better per-carry average, at 6.6 yards.
What can you say about this UF offense?

 

They're the SEC's worst running team, gaining under 130 yards per game on the ground, and their QBs get picked off a lot, despite the fact that they seldom challenge opponents directly downfield.
Come to think of it, maybe they're the team that should get the punting alligator trophy.
Iowa 19, Florida 9
Cotton Bowl – Arlington – 1:00 (ABC)
Western Michigan (14-0) vs. Wisconsin (10-3)
How come Central Michigan's upset of Oklahoma State is forever asterisked because of a blown call, but when Northwestern was mugged on a pair of late goal-line calls in a 22-21 loss to Western Michigan, nobody cared?

 

Is it just because the Wildcats didn't whine like OSU did?

 

Yes, of course it is.
The Broncos are actually already 2-0 against the Big Ten this season, but their other win, aside from Northwestern, was a 34-10 romp over Illinois.

 

It was an impressive victory at the time, but hardly comparable to what it will take for them to bump off the Big Bad Gers.
It's not often that the Badgers get a big lead against a quality opponent, but they led Penn State 28-7 in the Big Ten title game, and blew it, 38-31.

 

The turning point was their failure to increase their three-TD lead after PSU's second consecutive overzealous decision to go for a fourth down in their own territory.
Considering the tremendous job he's done at WMU, why was coach P.J. "

Tooey

" Fleck not the first head coach hired away at the end of the regular season?

 

Well, just look at him in that dopey sweater, hyperventilating and generally displaying an extremely dorky degree of intensity.

 

See?

 

The simplest answer is usually the correct one.
Wisconsin 23, Western Michigan 7
Rose Bowl – Pasadena – 5:00 (ESPN)
Penn State (11-2) vs. USC (9-3)
To hear the

Nittany

Lions tell it, they're not the least bit disappointed about where they're going.

 

That's a good thing, because they objectively don't belong in the CFP semifinals, whereas their Big Ten championship does qualify them for the Rose Bowl.

 

Besides, this Trojan team they're facing is playing better than anybody, with the exception of #1 Alabama.
Freshman quarterback Sam

Darnold

got his first start in a 31-27 defeat at Utah, which dropped Southern Cal's record to 1-3.

 

They've since won eight in a row, including victories over division champions Colorado and Washington.
PSU slinger Trace

McSorley

played yet another brilliant game in his team's dramatic 38-31 comeback win over Wisconsin for the Big Ten championship.

 

His quick release was the key to that game, because his offensive line was getting perforated on nearly every play by the Badger front seven.

 

Can he possibly be expected to perform so well again, while under the same kind of duress from SC?
If you're among those who believe the

Nittany

Lions should be ranked ahead of Ohio State on the strength of their head to head victory – even though the rest of their resume doesn't stack up – perhaps you should consider the following.

 

Penn State lost to Pitt, which lost to Oklahoma State, which lost to Central Michigan, which lost to Kent State, which lost to North Carolina A&T, which lost to Richmond, which lost to Stony Brook, which lost to Sacred Heart, which lost to Central Connecticut State, which lost to Robert Morris, which lost to Alderson-Broaddus, which lost to St. Joseph's College of Indiana, which lost to Missouri S&T, which lost to the University of Indianapolis, which lost to Quincy, which lost to Davenport, which lost to St. Francis of Illinois, which lost to Trinity International, which lost to St. Ambrose, which lost to Dakota State, which lost to Valley City State, which lost to Hastings, which lost to

Dordt

.

 

Therefore, according to lardhead football logic, tiny

Dordt

College, an NAIA school from Sioux Center, Iowa (one hour's drive from Sioux City, according to the school's website), should now be competing for the Division I-A football championship.
WE ARE …
DORDT
!
USC 24, Penn State 17
Sugar Bowl – New Orleans – 8:30 (ESPN)
Oklahoma (10-2) vs. Auburn (8-4)
Why must there be a second SEC team in a New Year's Six bowl game, when Alabama is the only team in that conference with fewer than four losses?

 

If you're looking for some qualified teams that were shut out of the major bowl games, Oklahoma State, Colorado, West Virginia and Stanford spring readily to mind.
The fact that Ohio State made it into the semifinals ahead of Penn State tells the Sooners that it really would not have mattered if their conference had played a championship game this season.

 

If you want to be among the four elite teams in the nation, you can have one loss to another contending team like OSU, but add another loss to a good but not great team like Houston, and you're done for.
The Tigers have lost their last two legitimate games, sandwiched around a pointless 55-0 blowout of Division I-AA Alabama A&M.

 

Their season-ending 30-12 setback against Alabama is certainly nothing to be ashamed of, but how does a team drop four games, one of them being to Georgia, and still make it into as prestigious a game as this?
Tailback Joe

Mixon

has been doing just that to the Sooner offensive playbook.

 

The sophomore stomper leads the team with 1,183 rushing yards, but he's also gained 449 yards on 32 catches, and has scored a combined total of 13 touchdowns rushing and receiving.
Why would OU bother to be sooner in this game, when there's not even a fruit cup at stake?
Oklahoma 49, Auburn 31
Jan. 9 (Monday)
CFP Championship Game – Tampa – 8:30 (ESPN)
Predicted matchup – Ohio State vs. Alabama
Oh, no!

 

The national championship game is being played outdoors this year!

 

What if it rains, and the players get all wet and fall down?

 

Furthermore, the field is made of grass and dirt, which could smudge the uniforms.

 

For shame!

 

The Czar thought everyone knew by now that every really important football game is supposed to be played in a large-scale model of the Cone of Silence.

 

No wonder this is called a mythical championship, if the NCAA is willing to subject it to all sorts of unnatural influences, like air.

 

On the bright side, just think, when all championship football games are played in domes, and we are nearing that point rapidly, each of them will be every bit as visually captivating as the NFL combines.

 

Woo-

hoo

.
As certain as most people are that Bama is the best heading into the bowl season, if this is the matchup that occurs, all of a sudden people will remember the lumpy nuts' 42-35 upset in the Sugar Bowl two years ago, and a triumph for the Tide won't seem so inevitable after all.
The Buckeyes don't exactly have momentum on their side, though.

 

If they don't play considerably better than they did in their last two regular season games, they could be in for an embarrassment.

 

Yes, that was a legitimate fourth-down conversion in their 30-27 double-overtime win over Michigan, but boy, did they get away with a blatant interference penalty to force the Wolverines to kick during that second OT.
The Czar is thankful that the CFP selections this year were obvious enough not to stir up any enthusiasm for playoff expansion.

 

Not only does he think expansion beyond the plus-one model would be detrimental to the game, but the larger the playoff format becomes, the more we'll be subjected to Dr. Pepper vendor Larry Culpepper.

 

If we were showing that guy's commercials to the detainees at Guantanamo, the ACLU would raise hell – and for once, they'd have a point.
Alabama 34, Ohio State 20
a sports publication from The Shinbone